Paccheri with Fresh Tuna Ragu: Recipe from Sicily
Fresh tuna has been fished and eaten in Sicily since the time of the Phoenicians and possibly longer! This easy to make paccheri with fresh tuna ragu is a delicious example of the many ways Sicilians pair pasta and tuna.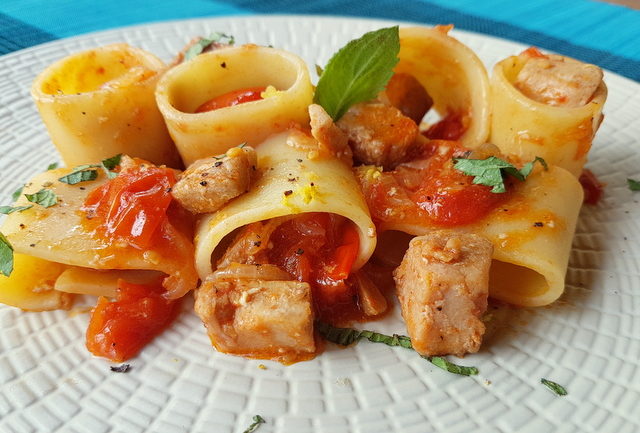 Mezzi paccheri con ragu di tonno fresco.
Fresh tuna has been part of the Sicilian diet since Phoenician times and possible longer. This is because Atlantic Bluefin tuna migrate past Sicily every year in May and June to reach their spawning grounds in the Eastern Mediterranean and then return again after spawning. Tuna fishing has, therefore, been an important seasonal economic activity on the island for hundreds of years.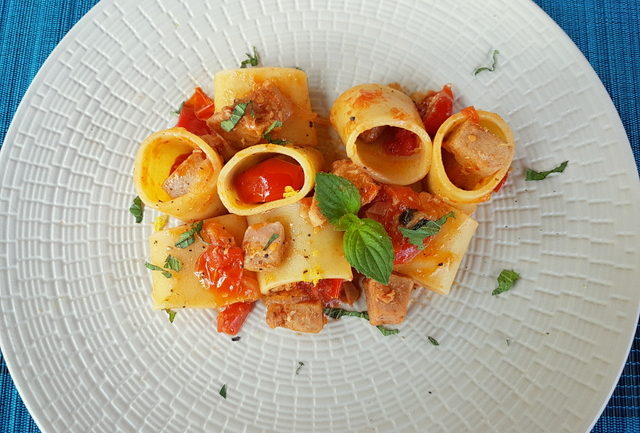 Recipes for pasta with fresh tuna.
Needless to say, there are many delicious Italian recipes for fresh tuna. The simplest is to eat it raw (tuna tartare), which I really like, or just grill it. Tuna has a darker meatier flesh than most fish and no small bones. So it's usually sold in 'steaks', which are perfect on the grill. However, pasta with fresh tuna is definitely one of my favourite ways to eat this fish.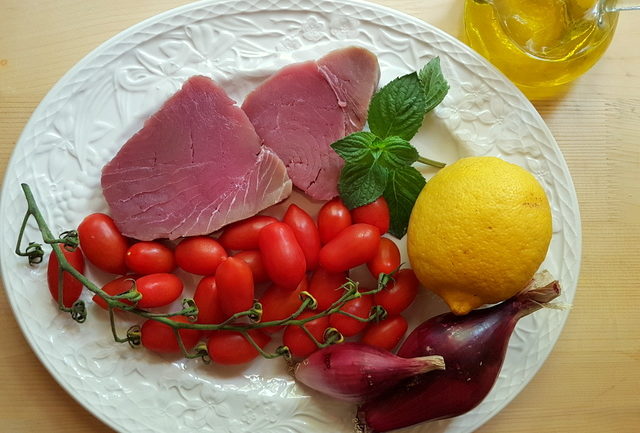 As you can imagine there are also quite a few recipes for fresh tuna and pasta. Here on The Pasta Project, I have already published one called pasta all'eoliana from the Aeolian Islands. This includes capers (which the islands are famous for), olives and peperoncino. Another yummy pasta with tuna recipe is mafaldine with tuna. That one has pine nuts, raisins and sun dried tomatoes. All typical Sicilian ingredients.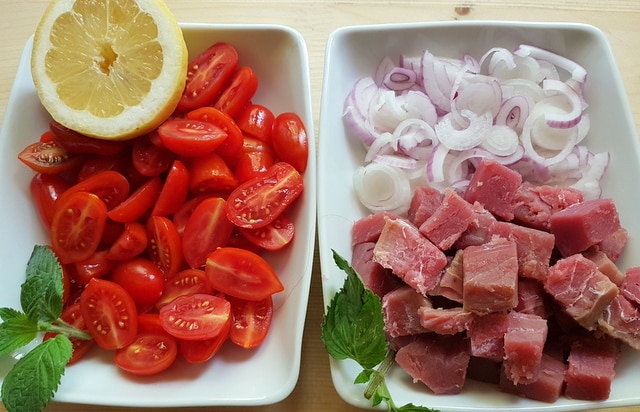 This pasta with fresh tuna ragu.
Mezzi paccheri with fresh tuna ragu is yet another delicious way to enjoy pasta with fresh tuna Sicilian style The sauce contains fresh tuna, of course, datterini tomatoes, onions and mint! Then I grated some lemon zest over the pasta before serving.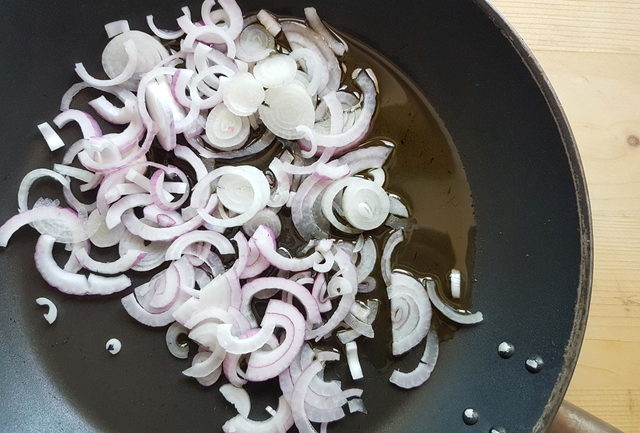 Like so many Italian pasta recipes, this mezzi paccheri with fresh tuna ragu contains just a few fresh ingredients and doesn't take long to make! In fact, by the time you have boiled the water and cooked the pasta, the sauce is ready. Then just mix the two together and serve! A perfect summer pasta dish!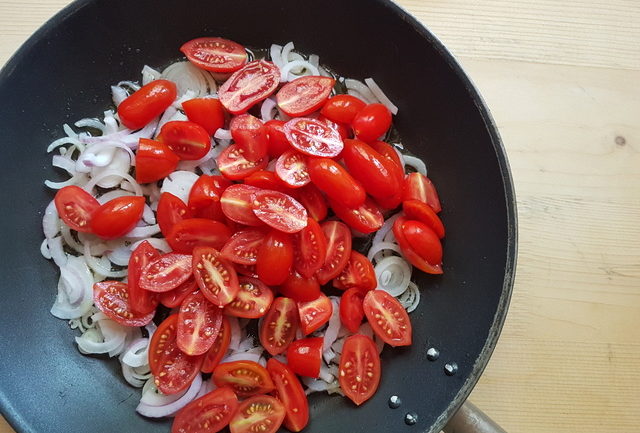 Other main ingredients.
Tomatoes: For this recipe I used datterini (date) tomatoes from Sicily. If you can't find the same tomatoes, you can use other small date or cherry tomatoes. It's important that they are ripe and a deep red colour.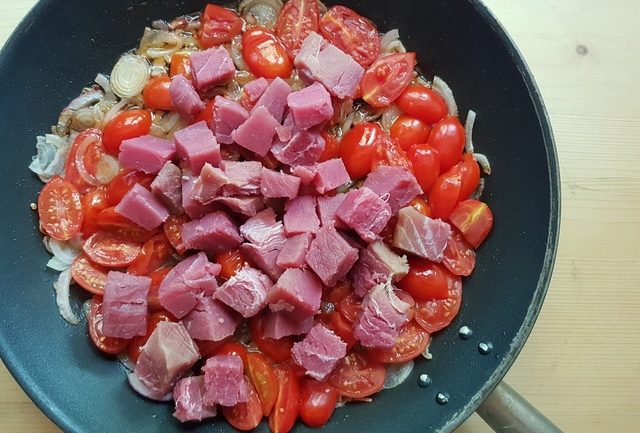 Lemon: The lemon I grated for the zest was from Sorrento. Obviously not everyone can find Sorrento lemons. Just be sure that you use an organic lemon with edible peel.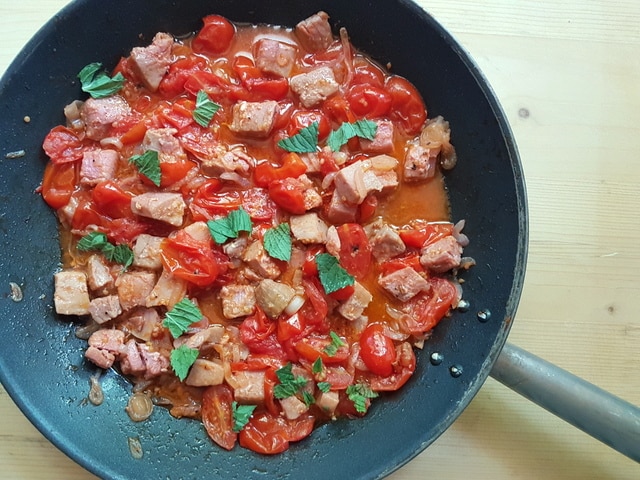 Onions: In addition, the recipe I followed called for a red Tropea onion. These onions come from Calabria and are much loved by Italians as they are slightly sweet. Other types of red onions would also work well.
The pasta I used.
Finally, the pasta I used was organic mezzi paccheri from a small pasta maker in Gragnano, near Naples called Pastificio Sorrentino. Pastificio means pasta maker in Italian. This company produces 2 ranges of pasta.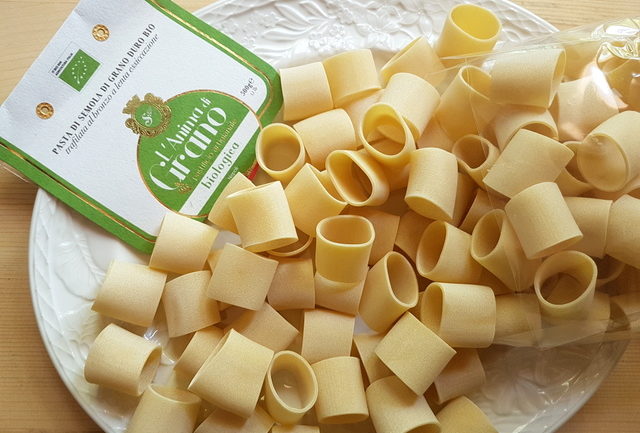 One is sold under the L'Oro di Gragnano label and is a certified Pasta di Gragnano IGP. The other is a bio range made with organic durum wheat semolina and it's sold under the L'Anima di Gragnano label. The latter is the type of pasta we ate with our fresh tuna ragu!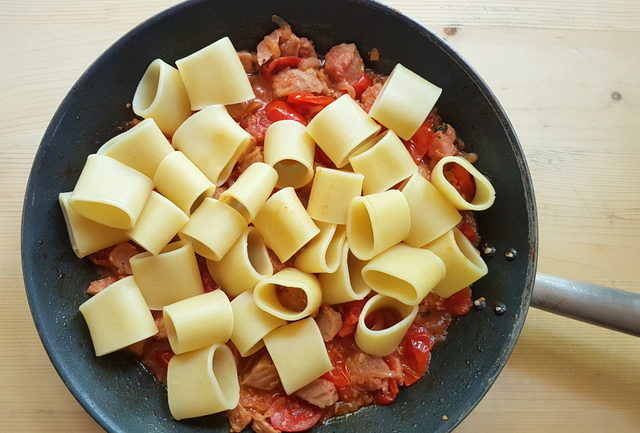 I actually was given this mezzi paccheri by Pastificio Sorrentino when I was in Gagnano last month at the invitation of another pasta company called Pastificio dei Campi.
Pasta di Gragnano IGP is for pasta what DOC is for wine!
You can read all about Gragnano and what Pasta di Gragnano IGP means in my post about my visit. But in short, Gragnano is a town located close to Naples. It's been a centre of dried pasta production for 500 years and pasta carrying the Pasta di Gragnano IGP certification is made under strict production and ingredient quality regulations. It's like saying DOC for wine!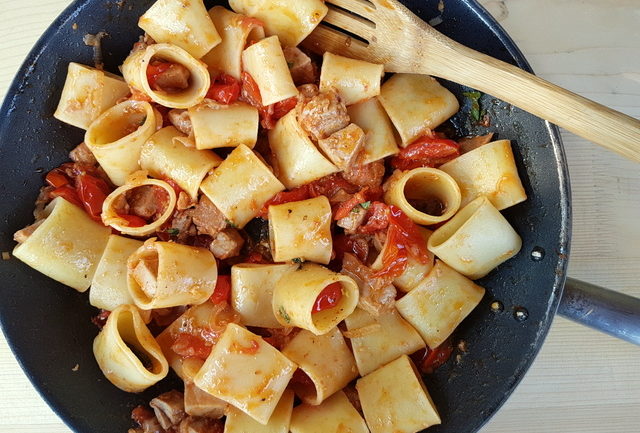 What is paccheri pasta?
Paccheri pasta is large pasta tubes traditionally from Naples and Gragnano. This pasta is very popular in Southern Italy and often served with seafood. Mezzi paccheri are half sized paccheri. So, not as long as the traditional tubes. I love both types.
You can use either for this recipe. I would definitely recommend the organic pasta from Pastificio Sorrentino. It was excellent. My Sicilian hubby was really impressed by it too!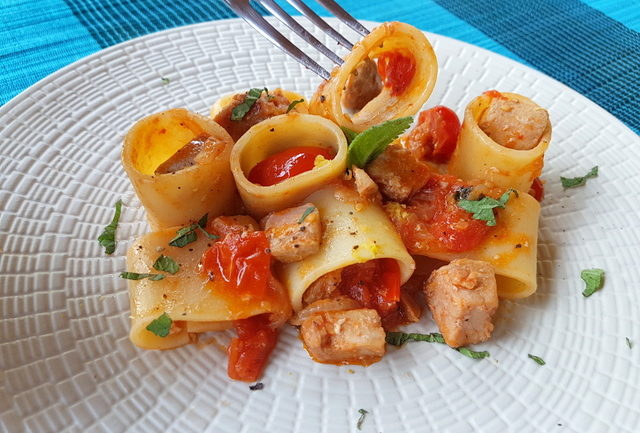 If that isn't available, look for any paccheri or mezzi paccheri with the Pasta di Gragnano IGP certificate. Among the companies I know who make paccheri or mezzi paccheri are Pastificio dei Campi, Di Martino, Afeltra, Liguori, Gentile and Faella. There are more, of course, plus some excellent producers of good quality pasta in other parts of Italy.
Other pasta shapes you can use.
As an alternative to paccheri, you can also make this pasta with fresh tuna ragu using mezze maniche, giant penne (pennoni) or even rigatoni. In Sicily they also make it with busiate. Whichever pasta you use, I'm sure you'll love this Sicilian pasta recipe!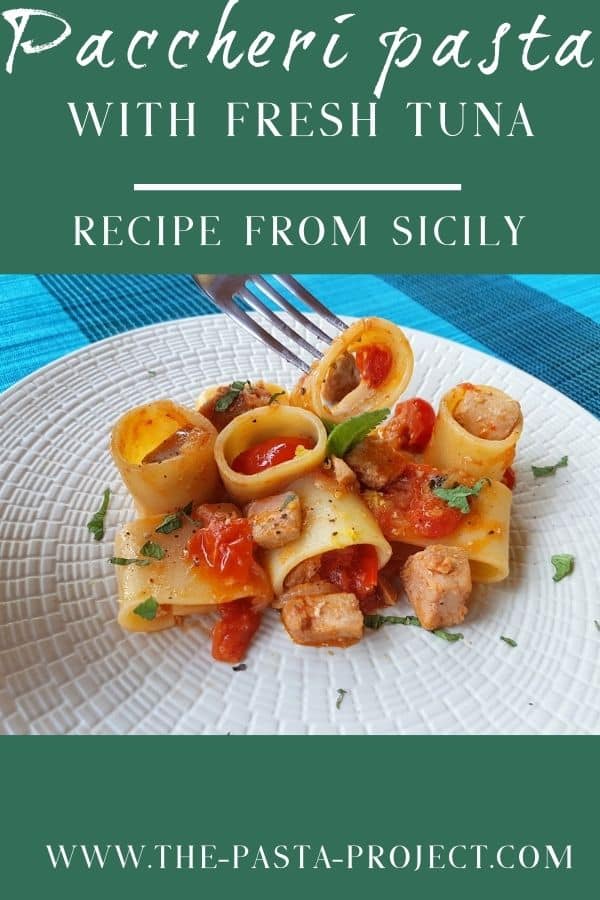 If you make this pasta recipe, I'd love to hear how it turns out and if you liked it. Please leave a comment here on the blog or on The Pasta Project Facebook page.
Looking forward to hearing from you!
Buon appetito!
Other seafood pasta recipes to try
Save this recipe for later?
If you want to save this recipe for later, you can print it, bookmark this page or save it to Pinterest.