Fresh Tuna Pasta all'eoliana; recipe from the Aeolian Islands.
With this beautiful fresh tuna pasta recipe from the Aeolian islands, you can bring a taste of the Mediterranean to your table this summer!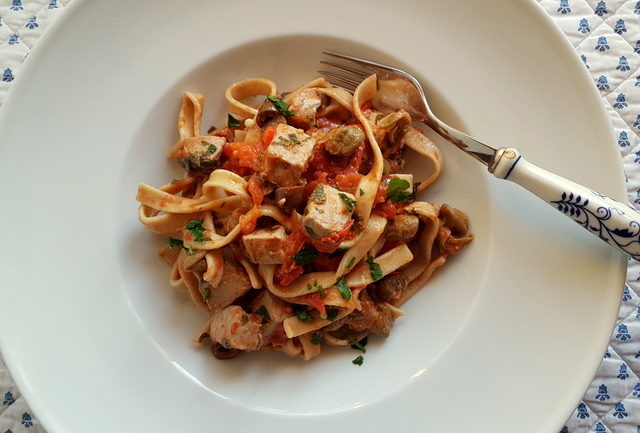 Pasta con tonno all'eoliana.
This fresh tuna pasta recipe comes from the Aeolian islands off the northeastern coast of Sicily. These 7 volcanic islands have been famous for their capers and seafood since the times of Ancient Greece and Rome. Capers find their way into almost every local dish (even ice-cream!) and fish, especially swordfish and tuna, is an important staple.
(click to go straight to recipe)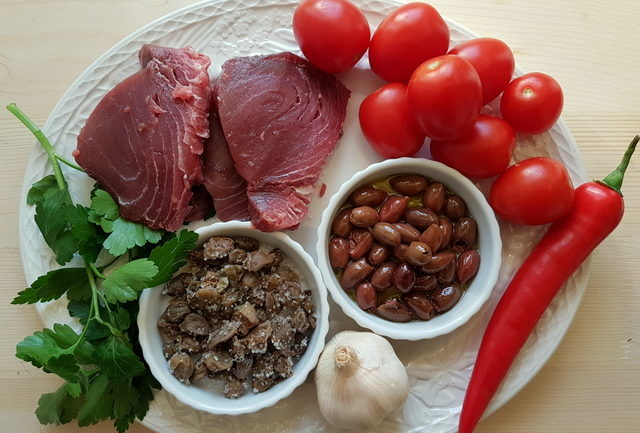 Capers of the Aeolian Islands.
Capers grow wild on the islands and are picked by hand one by one. They are usually preserved in salt with some olive oil added later. The islanders do the same to 'cucunci', caper flowers. One of the islands, Salina, is very famous for its capers which are sought after by chefs from around the world! The number of local dishes that includes capers is too numerous to list here. Needless to say many pasta recipes include this edible bud.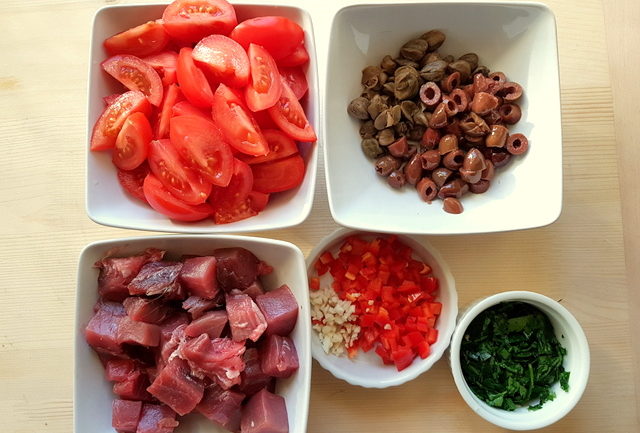 With or Without Fish.
This sauce, known in Italian as all'eoliana, is made both without fish and with. Fresh fish is commonly added when available during the fishing season. Sicilians have fished tuna for centuries. In fact, the north and northwest coast of Sicily is the location of an annual natural phenomenon. Towards the end of May and beginning of June, large schools of Bluefin tuna arrive from the Atlantic Ocean on their way to their spawning grounds. As they migrate the tuna pass close to the Egadi Islands. They then move along the Sicilian coastline as they head towards Palermo and the southern Tyrrhenian sea, where the Aeolian islands are.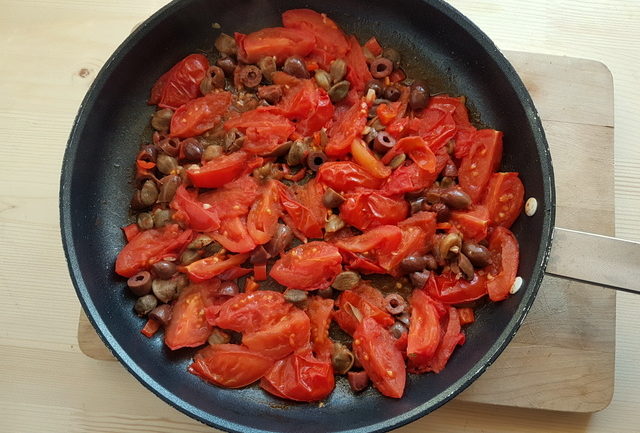 Unfortunately, nowadays, fish populations have declined in the Tyrrhenian sea because of overfishing, industrial and illegal fishing and Japan's insatiable demand for Bluefin tuna. As a result, the fishing industry of the Aeolian islands is under threat! However, Bluefin tuna, swordfish, amberjack and grouper, among others, are still caught, cooked and eaten on the islands.
Canned tuna is good too.
Instead of tuna, you can also make this dish with swordfish or any other steak fish. In the winter, pasta all'eoliana is traditionally made without fish or with canned tuna. So, if you don't have fresh tuna, you can also use canned. Of course it won't taste exactly the same but it will still be very good!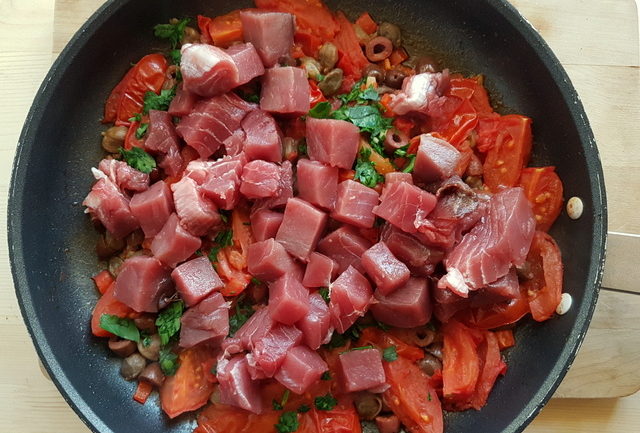 The Pasta.
Although tagliatelle isn't a traditional Sicilian pasta, it has become popular throughout Italy. I used dried tagliatelle which was made in Sicily by a small pasta maker called Fontana Murata. This company specializes in making pasta from organic heritage grains. The tagliatelle I used for this tuna pasta recipe was made with tumminia.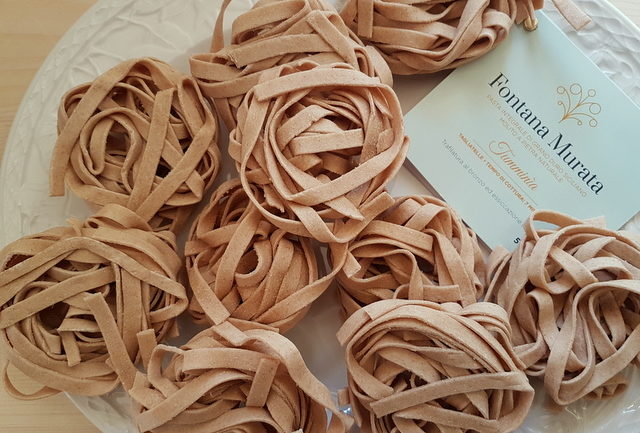 Tumminia is an ancient Sicilian grain which Sicilians grew until the 1950s. However, production was largely abandoned in favour of other grains because tumminia has to be grown organically and has a lower yield. Nowadays, it's becoming popular again because of its health benefits for people with dietary problems. Tumminia is high in fibre and proteins but low in gluten. It also gives the pasta a slightly sweet taste because of the sweetness of the grain itself.
You can use different pasta.
Traditionally this fresh tuna pasta recipe would be served with spaghetti, although other long pasta types such as linguine, bucatini or fettuccine would work well too!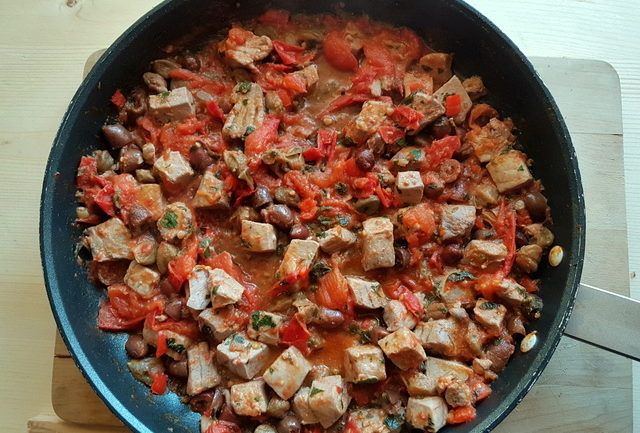 Other Ingredients.
Apart from the fresh tuna, capers and pasta, this tuna pasta recipe has only a few other ingredients. Being a Mediterranean dish, tomatoes are, of course, included and some peperoncino (red chili pepper) to give it a little kick. Parsley, garlic and olives are the other ingredients.
This is a very quick dish to make because the ingredients take very little time to cook. In fact, you can make the sauce while you wait for the pasta water to boil and cook the pasta. In addition, although fresh tuna, especially Bluefin tuna, can be very expensive, serving it in this way means you only need 250 grams of tuna for 4 people!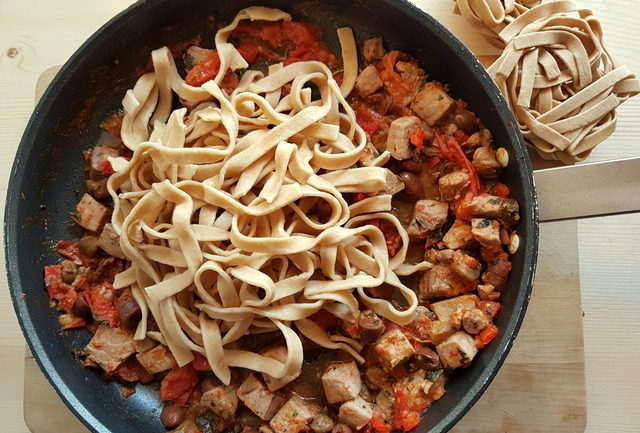 I love this fresh tuna pasta recipe because it is not only delicious but really is a taste of the Mediterranean. I think if you try it, you'll agree with me!
If you make this recipe I'd love to hear how it turns out and if you liked it. Please leave a comment here on the blog or on The Pasta Project Facebook page. Looking forward to hearing from you!
Buon appetito!
(See the recipe on the next page. Just scroll down and click 2)
If you like pasta with seafood take a look at these recipes too