Linguine pasta (little tongues)
Linguine pasta is one of the most well-known and popular types of long dried pasta after spaghetti. This pasta is usually made just from durum wheat semolina and water. It belongs to the same pasta family as bavette and trenette, all originating from Genova in Liguria, where the most popular sauces for this type of pasta are either pesto or seafood.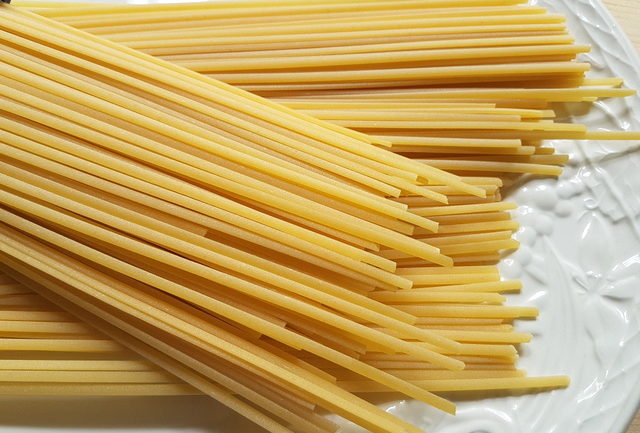 Many Italians and non-Italians think of linguine, trenette and bavette as being the same thing. However, after much research. I think there are slight differences in the way the pasta is cut or sectioned. In general, Linguine (meaning little tongues) is slightly oblong in shape. It's a bit like flattened spaghetti! Trenette (in Genovese 'trena' means 'strings') on the other hand are slightly thicker than linguine. Bavette are rectangular and slightly convex. Barilla, for example, makes both bavette and linguine, so they can't be exactly the same. There are also different sizes of linguine pasta. Thinner linguine are called linguini fini.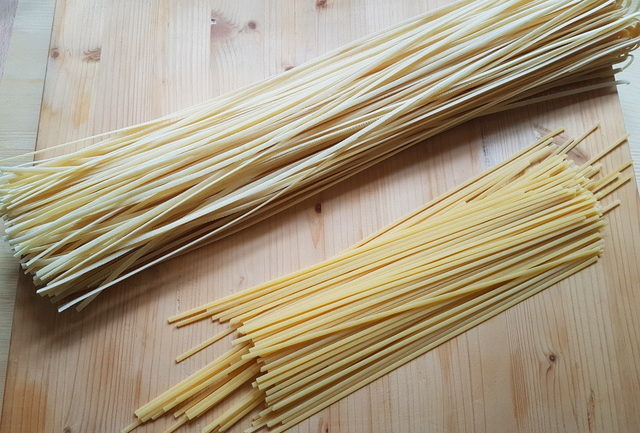 A little linguine history.
This pasta shape (basically flattened spaghetti) seems to have first appeared in 1700s. Giulio Giacchero, author of a book on the economy of Genova in 1700s, writes about trenette seasoned with pesto, green beans and potatoes. He says it was the typical festive dish of Ligurian families of the time. In those days, of course, the pasta would have been made mostly by hand and most probably with eggs. But it's interesting that trenette (or linguine) with pesto, beans and potatoes is still a popular dish in Liguria today.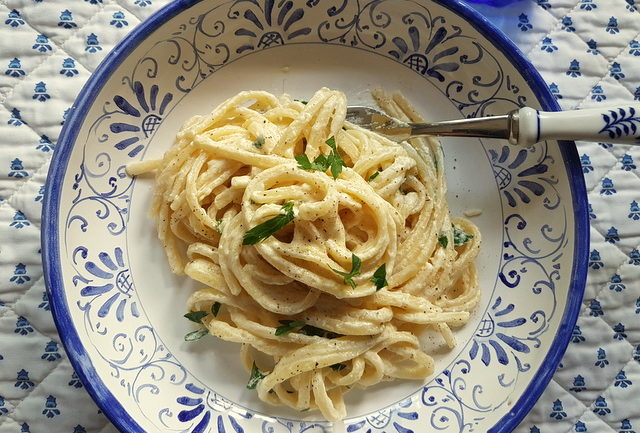 Traditional recipes with linguine pasta.
In general, linguine, trenette and bavetta are mostly served with vegetable or seafood sauces. As mentioned above, in Liguria the typical condiment is pesto Genovese. But, there are also a number of regional seafood pasta recipes with linguine pasta such as linguine 'al batti batti' (with sea cicadas), with anchovies and pine nuts and 'alla Ligure' with anchovies and basil.
Linguine pasta is loved throughout Italy. Some recipes are eaten in practically every region of the Italian peninsula, particularly in coastal areas. The very popular and delicious linguine with clams ( 'al vongole') is one such recipe, as is 'allo scoglio' with mussels, clams, calamari and prawns. Other recipes are more specific to a certain region or area like linguine 'al limone' which is a traditional dish in Campania, especially on the Sorrento peninsula.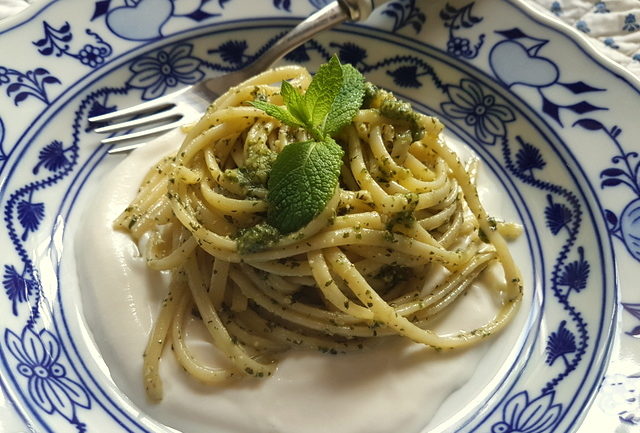 In Tuscany, they like to serve linguine 'alla Livornese', made with totani (a type of squid) shrimps and tomatoes . In Lazio, a popular linguine recipe is linguine 'Serena'. This is an unusual seafood pasta dish made with mussels, pumpkin and creamed salmon. And in Sardinia, linguine with lobster or crayfish is a typical seafood pasta recipe. There are many more linguine pasta with seafood recipes, as well as some vegetarian pasta dishes other than pesto. However, this pasta isn't traditionally served with meat or other heavy sauces.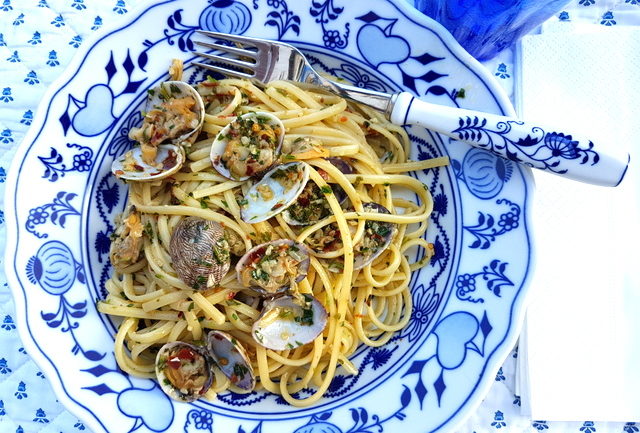 Linguine or spaghetti?
Linguine can be, and is, often used instead of spaghetti or other long pasta types such as tagliolini. So, it's a good and typical pasta choice for hundreds of recipes. The first recipe I have posted here for this pasta is linguine with mint pesto and ricotta cream. This is quite a contemporary recipe, one that has developed out of the modern trend for different types of pesto. However, since linguine is a perfect pesto pasta partner, it goes fantastically with the fresh taste of the mint and the creaminess of the fresh ricotta!
I'll be posting more linguine recipes very soon. In fact, I have two already cooked and photographed. All I need is time to write the posts and publish them. Meanwhile, take a look at the linguine with mint pesto I mentioned before. I'm sure you'll love it!