Linguine pasta with mint pesto and ricotta cream.
This fresh and creamy contemporary linguine pasta with mint pesto recipe is perfect for summer days when mint is in season and heavy meals are the last thing on our minds!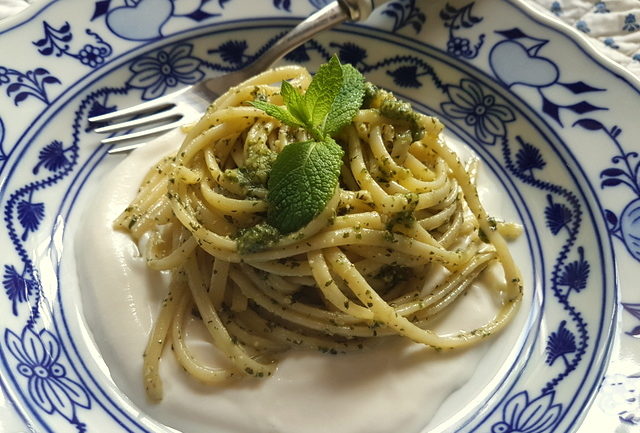 The Pasta.
Linguine is a type of pasta that is often paired with pesto in Italy. In fact, it originates from Liguria where it, or its almost identical pasta cousin trenette, is often eaten with basil pesto Genovese. It's also served throughout Italy with fish or seafood sauces. However, linguine is very rarely served with meat or heavy sauces in Italy. Most probably, because it is actually quite light and delicate and heavy sauces would not adhere to this type of pasta so well.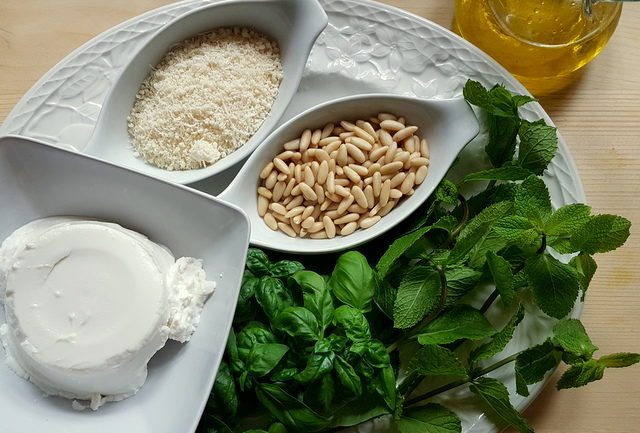 The Pesto.
Pesto had become a very popular type of pasta sauce worldwide. The first pesto was the one I mentioned above from Liguria made with fresh basil. There are a number of other traditional pesto sauces in Italy, most especially in the South. However, nowadays Italians are making pesto with many other ingredients, including pesto made from rocket (rucola), pesto made with red peppers and pesto made from Italian chicory (radicchio) . There's even pesto made with dandelion!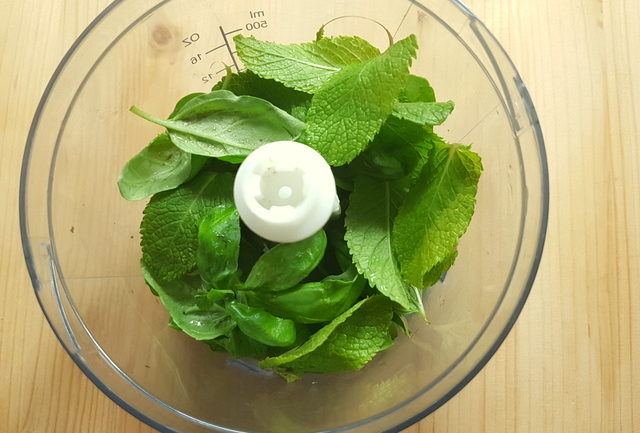 The Mint
I came across a recipe for pasta with mint pesto some time back and wanted to make it but mint wasn't in season and, of course, it needs to be fresh! Mint is available and growing everywhere now! In fact, I have mint in my garden and there's wild mint in the fields surrounding my house.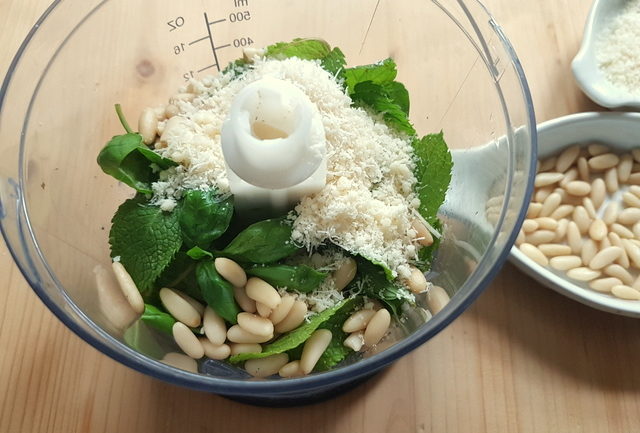 There are many kinds of mint, so the taste of this pesto will slightly depend on the type you use. Some types are better suited to using in desserts and drinks, others are great in savoury dishes. Here in Italy many recipes call for a type of mint called 'nepitella' (Calamintha nepeta), lesser calamint in English. This herb has a milder taste than the other types of garden mint. However, I used what Italians call 'menta Romana' which is similar to spearmint.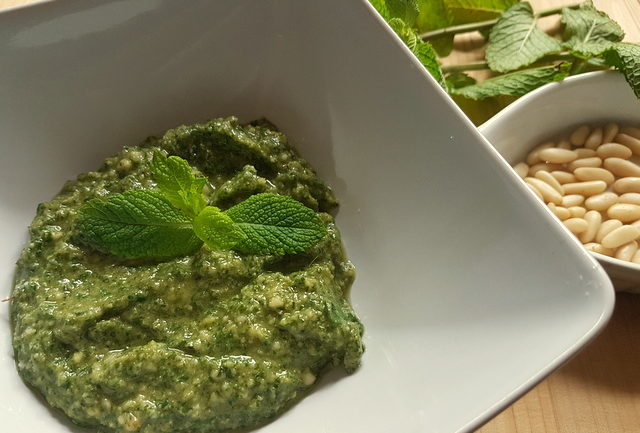 Other Ingredients.
Apart from the mint, this pesto has some fresh basil, pine nuts, grated Parmigiano and, of course, extra virgin olive oil. No garlic, however! I found many recipes for mint pesto but this was the one that appealed to me the most. My hubby thought I should have toasted the pine nuts and I might try that next time. Strict vegetarians will want to replace the Parmigiano with a vegetarian cheese.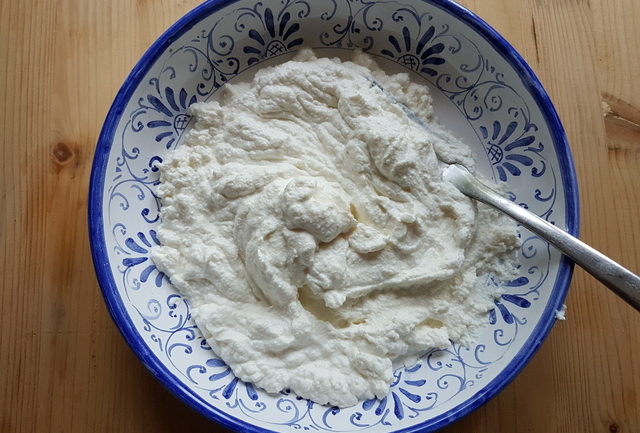 Some pasta with mint pesto recipes include pistachios or almonds instead of pine nuts. Others call for parsley instead of basil or no other leaf herb. I think this is a recipe you can play around with until you find your favourite combination of ingredients. And, as with other pesto sauces, you can use this pesto in other ways. I found a great recipe for potato salad with mint pesto which I'd really like to try.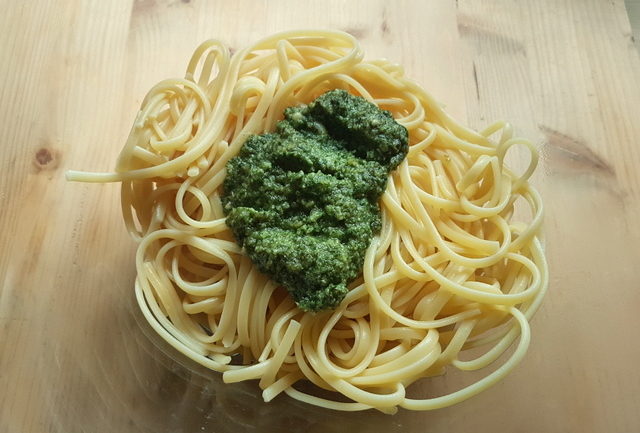 Surprisingly enough, the taste of mint wasn't overpowering and the addition of a ricotta cream really gave this dish a wonderful subtle creamy flavour. Apart from being delicious this recipe requires no cooking except for the pasta and can be ready in no time!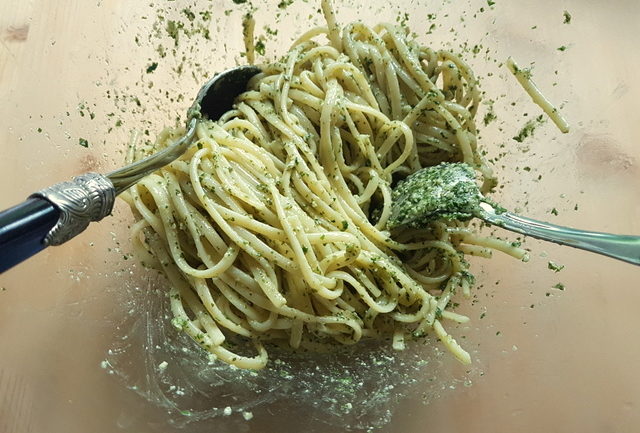 If you make this recipe I'd love to hear how it turns out and if you liked it. Please leave a comment here on the blog or on The Pasta Project Facebook page. Looking forward to hearing from you.
Buon appetito!
Want to try some other pesto sauces? Check out these recipes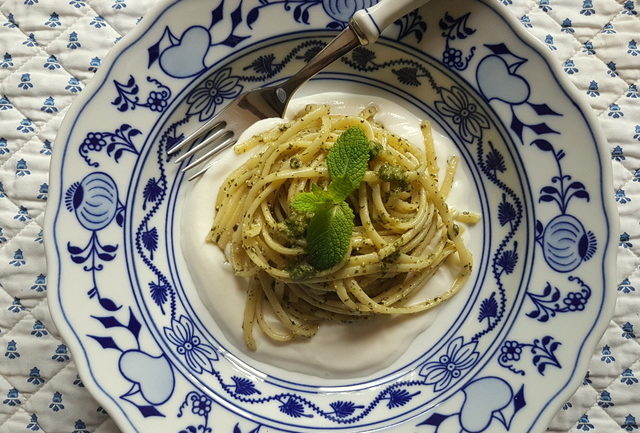 Save this recipe for later?
If you want to save this linguine with mint pesto and ricotta cream recipe for later, you can print it, bookmark this page or save it to Pinterest.
Pin for later.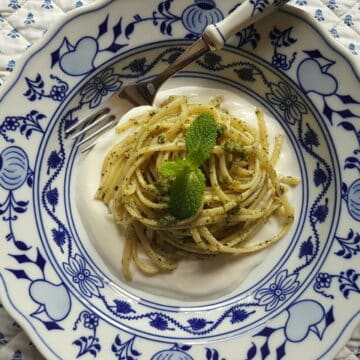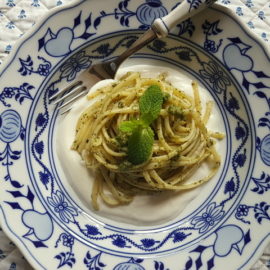 Linguine with mint pesto and ricotta cream
This fresh and tasty contemporary Italian mint pesto recipe is easy to make and perfect for summer meals. Serve it with pasta, on bruschetta or as a dip. Also delicious with fish!
Ingredients
400

g

linguine

(14oz) or spaghetti (I used linguine from La Molisana)

1

handful

fresh mint leaves

1

handful

fresh basil leaves

50

g

Parmigiano Reggiano

(2oz) grated. Vegetarians should use a vegetarian parmesan.

1

handful

pine nuts

extra virgin olive oil

as required

salt

for pasta and to taste
Instructions
Put a pot of water on to boil for the pasta. Add salt once it starts to boil.

Wash the basil and mint leaves and pat dry with kitchen paper or a cloth.

Put the washed mint and basil, the pine nuts, the grated cheese and a pinch of salt into a blender or food processor. Add a little olive oil and pulse. Continue to add oil and pulse until you get a homogeneous sauce.

Cook the pasta al dente according to the instructions on the packet. When the pasta is half cooked put the ricotta in a bowl and cream it using a fork with a little of the pasta cooking water.

When the pasta is cooked. Save a bit more of the cooking water and drain the pasta. Mix the pasta and pesto together in a bowl with some of the saved pasta cooking water.

Put some creamed ricotta on the bottom of each person's bowl (better bowls than flat plates) and place some pasta with mint pesto on top.

Serve immediately decorated with a little mint and sprinkled with more grated cheese if required.
Notes
You can use spaghetti instead of linguine for this recipe, as well as other pasta types that go well with pesto such as trofie
Want to know more about my life in Italy? Why not subscribe to my newsletter? New subscribers get a free series of recipe e-books too!
Pin for Later.

If you are interested in learning how to make homemade pasta and different types of gnocchi, check out my shop page for some great video online courses from my friends in Rome! Nothing beats learning to make pasta from Italians! Plus while you're there why not order a copy of one of my pasta recipe cookbooks?