Matcha Pesto; the healthiest pesto around!
The concept of pesto; grinding raw ingredients such as herbs, cheese and nuts into a paste, dates back to Ancient Rome and the Japanese have been producing and consuming matcha since the 12th century. This recipe brings two ancient foods together to make a very healthy version of a popular pasta condiment.
Pesto is one of my favourite pasta condiments, but not just the traditional basil pesto Genovese (which is yummy of course!) but lots of other kinds as well. Since starting to make my own, I don't buy it anymore. It's really easy to make and the fact that homemade pesto contains only fresh ingredients makes it a much healthier option too.
In recent years pesto has become very trendy and much more sophisticated and versatile. There are now a number of different types served in restaurants here in Italy including rocket, pistachio, sun-dried tomatoes, garlic scapes, parsley and dandelion. Yes dandelion! I ate that last year for the first time in a Michelin star restaurant my husband and I like to go to on special occasions. Very expensive dandelions!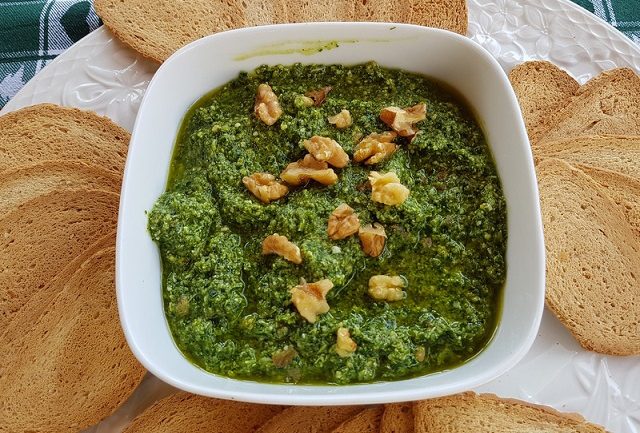 Pesto has also started to be used on other foods, not just pasta. It can be served on bread (my other favourite way to eat it), pizza, baked potatoes or burgers; added to seafood or soups or just used as a dip. And I'm sure there are many other recipes which can include it.
But the best thing is that one can make pesto with lots of different ingredients. The basics are usually the same; a leaf vegetable such as spinach or rocket and/or herbs like basil or parsley, plus good olive oil, some kind of nuts (usually pine nuts, walnuts or almonds), garlic and for those who are non-vegan, grated parmesan. However you can play around, use different combinations of ingredients and create your own recipe very easily.
Then just throw everything into the blender with some olive oil and pulse. Ready!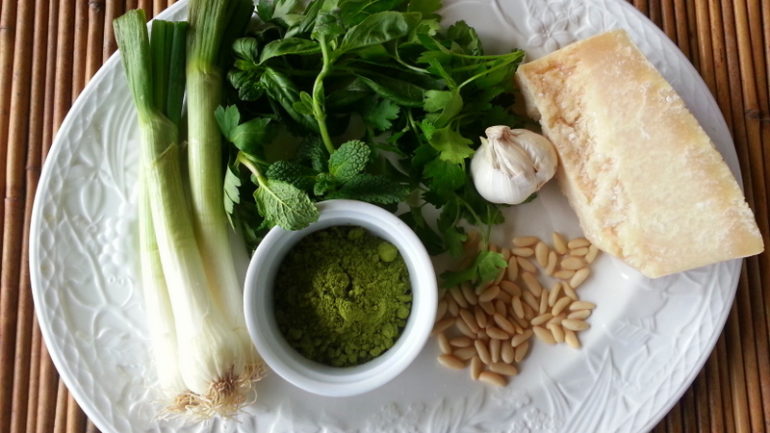 I've been experimenting a lot with pesto. Among my successes (we won't talk about the failures!) were rocket pesto, radicchio pesto and roasted pumpkin and orange pesto However my latest one is definitely tops at the moment; not only because of the taste but also the healthfulness level. I'm talking about Matcha pesto. As you probably know or have realized matcha, which is pure ground specially grown and processed green tea powder, is the new 'it' beverage and superfood. Everybody is drinking matcha lattes or smoothies! And it is now sneaking its way into cooking too!
When I got the idea to make a matcha pesto, I, of course, googled it to see what recipes were out there. I found a few but not a lot. I used the one I found on www.panateamatcha.com for inspiration, but changed a few things. The result was exceptionally good and I will be adding this recipe to my go-to list for quick healthy meals, especially because I usually have matcha in my fridge as I add it to my yoghurt for breakfast!
Do let me know if you try it and how it turns out.
Buon appetito!
(see the recipe on the next page)