Casarecce Pasta with Pumpkin and Orange Pesto & olives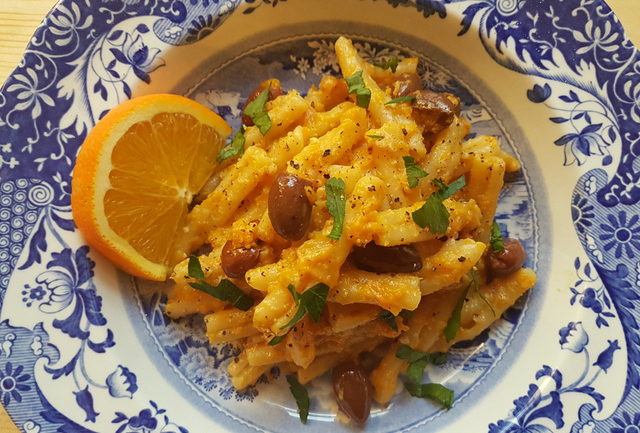 Pumpkin and Orange is a wonderful pesto combination!
I have long been into trying different kinds of pesto, both traditional or modern versions and my own inventions. Although the majority of recipes here on the Pasta Project are either traditional or popular contemporary Italian recipes, I believe creativity in the kitchen is important too. So every now and again I may include recipes I have invented myself and want to share with others. Among my own inventions is this brightly coloured tasty pumpkin and orange pesto. This combination of colour and taste has been a favourite of mine for some time.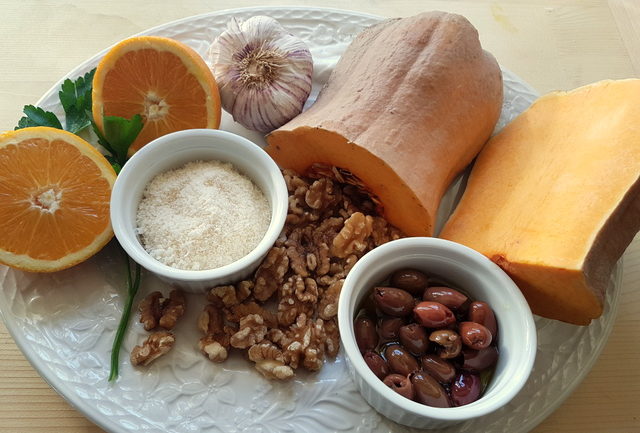 Why pumpkin and orange pesto?
One of my favourite special occasion dishes is Osso Buco with pumpkins and oranges and I love pumpkin and orange soup! However, this was the first time I had tried these ingredients as the basis for a pasta sauce! I have to say it was a great success and a recipe that will be repeated. I could only find a couple of existing pumpkin pesto recipes. Pumpkin seeds, on the other hand, are a popular addition to pesto sauces. Whilst researching this recipe I came across a pumpkin seed and dandelion combination which I intend trying one of these days!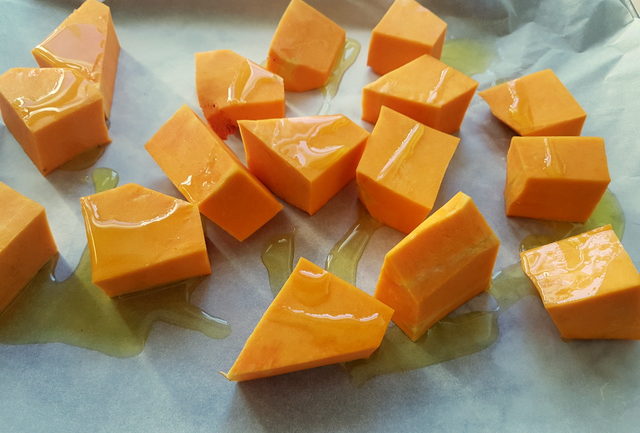 The only actual pumpkin pesto recipes I found included lemon juice and honey, but not oranges and the pumpkin was canned not fresh and roasted. I'm sure you'd agree that roasting fresh pumpkin gives a particular sweet taste that canned pumpkin lacks. It's also healthier to use fresh ingredients. One recipe used pistachios instead of walnuts. It also included basil and parsley but I decided not to include these as I felt they would spoil the colour and change the taste.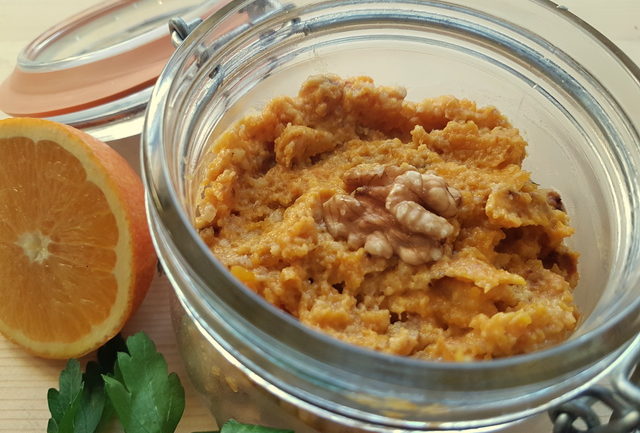 Taggiasca olives were a perfect addition!
This pesto can be served alone. I decided to add taggiasca olives. These are small fruity olives from Liguria. They are also the same type of olives that the French use for salad Nicoise, although the Nicoise olives go through a different curing process. I love using these olives and they worked so well together with the pumpkin and orange pesto! If you decide to add olives, the best way is to heat a little oil in a medium sized frying pan, fry the olives for a little then add your pre-made pesto. Mix the olives into the sauce well and when the pasta is cooked, drain it and add it to the sauce. Mix well and serve!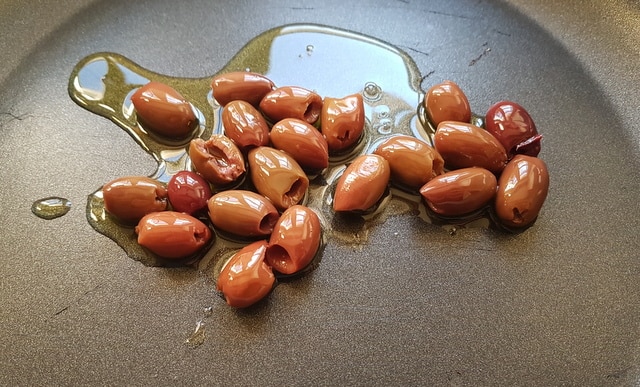 With or without olives, I'm sure you'll enjoy this dish. I used casarecce pasta as it's one of my favourites, particularly for pesto sauces. If you cannot find this pasta, you can use short tubular pasta like penne, fusilli, cavatappi, gemelli, elbow macaroni or homemade casarecce.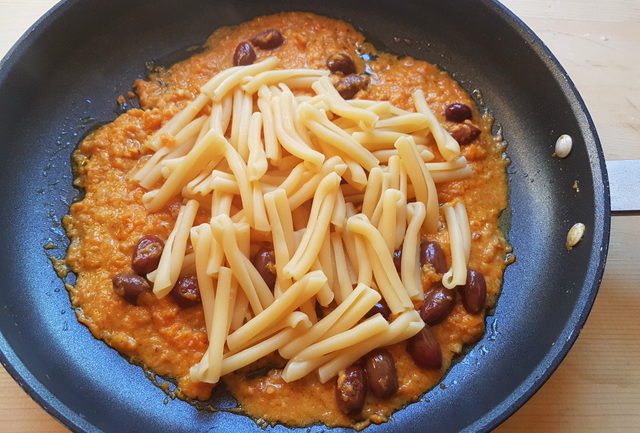 If you decide to make this recipe I would love to hear how it turns out. Please leave a comment here on the blog or on The Pasta Project Facebook page. If you take photos, please join and share them on my Pastaliciousness Facebook group. Your feedback is much appreciated!
Buon Appetito!
(see the recipe on the next page. Just scroll down and click 2)