Spaccatelle pasta with Sicilian sun-dried tomato pesto and burrata.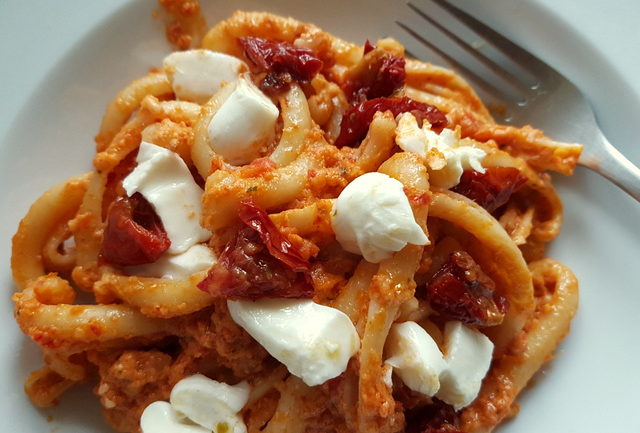 Apart from the addition of burrata, this spaccatelle pasta with sun-dried tomato pesto recipe is a very typical Sicilian dish. There are a number of Sicilian pesto recipes including pistachio pesto and pesto Trapanese. However, I think this is my new favourite. I'm a big sun-dried tomato fan! I just love the intense flavour they have and combining them with the garlic, pecorino, olive oil, pine nuts and almonds in this recipe really brings out the flavour!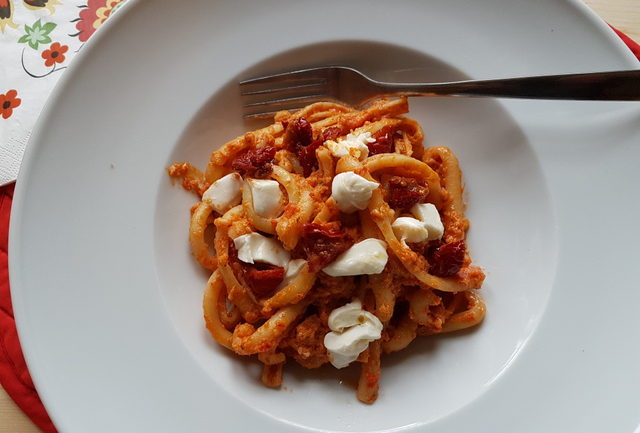 The pesto!
Sicily is well-known for the deliciousness of its tomatoes. In fact, Sicily produces more tomatoes than any other Italian region. There are a number of different tomato based pesto sauces eaten on the island. Some have cherry tomatoes, some vine tomatoes and some, like this recipe, sun-dried tomatoes. Also, the type of nuts used may vary. Sicily is famous for its pistachios so these are often added, as are almonds, walnuts or pine nuts. Not everyone toasts the nuts but I like to do this, as I think it brings out the flavour.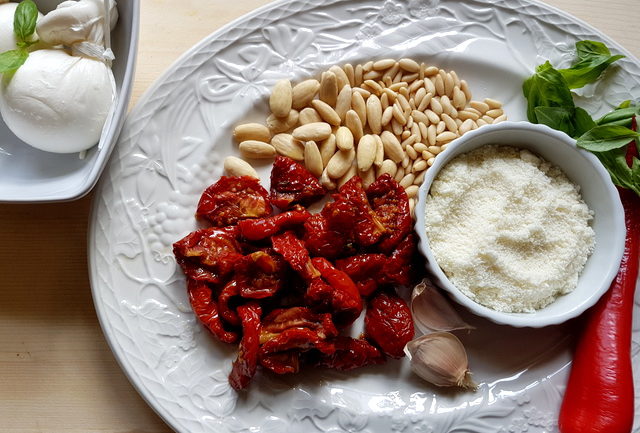 Lastly the cheese used in the different Sicilian pesto recipes is not always the same. Pesto Trapanese usually includes Sicilian pecorino, pesto alla Siciliana is made with ricotta and parmesan and some recipes for sun-dried tomato pesto don't include any cheese at all. They also may or may not include basil. I put a little because the recipe I decided to follow included it.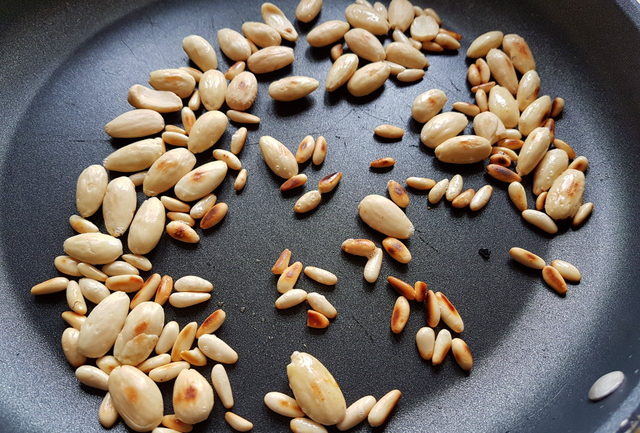 Making your sun-dried tomato pesto.
Even today, here in Italy, there are those who dry their own tomatoes and make pesto the traditional way, using a pestle and mortar. I have actually dried my own tomatoes in the past, and boy were they good! However, I didn't do it in the sun because here in Northern Italy there's less of it than down south. I dried them in the oven and only small cherry tomatoes, as it takes hours even when drying small ones. We haven't grown anything in our vegetable garden for a couple of years for various reasons, but it's something I'm hoping to start again soon! I miss those tomatoes!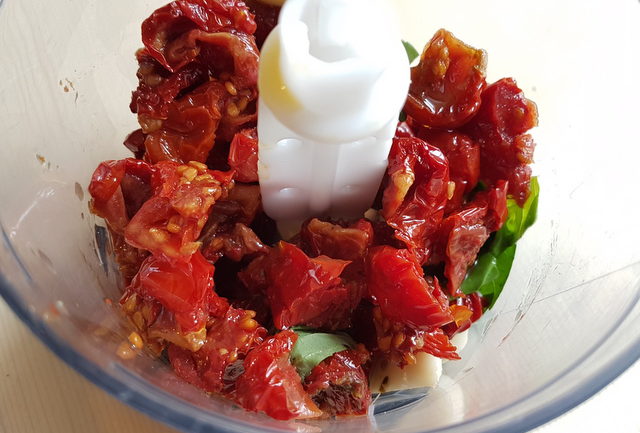 As much as I like the authenticity of using a pestle and mortar, I love my mini food processor! Pasta with homemade pesto is one of the fastest meals you can put together. The pesto is made from raw ingredients and needs no cooking and the whole thing takes only the time you need to boil the water and cook the pasta (thanks to the food processor!)
Like other kinds of pesto, this sun-dried tomato pesto can be eaten in different ways. It's great served as a dip or on bread and can also accompany fish or meat. Very versatile and if kept in an airtight jar in the fridge, will last for up to 2 weeks.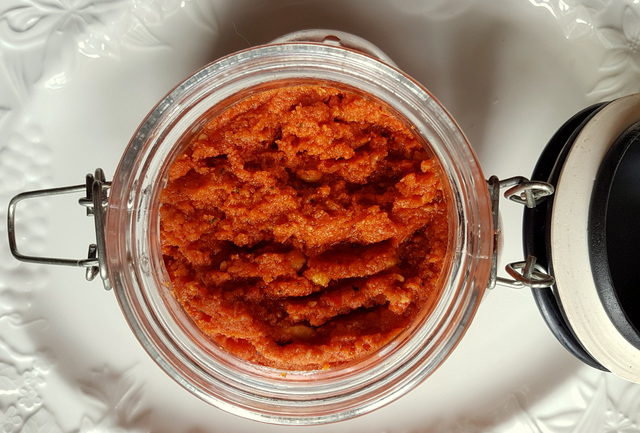 The Pasta.
I served this sun-dried tomato pesto with a typical Sicilian pasta called spaccatelle. This pasta isn't well known outside of Sicily, although a number of large pasta makers such as De Cecco and Barilla make it. So if you come across it, do grab a packet. It's perfect with pesto as well as with seafood or vegetable pasta recipes and really deserves more popularity! Of course you can serve sun-dried tomato pesto with other types of pasta. I would recommend short shapes such as penne, rigatoni, fusilli etc.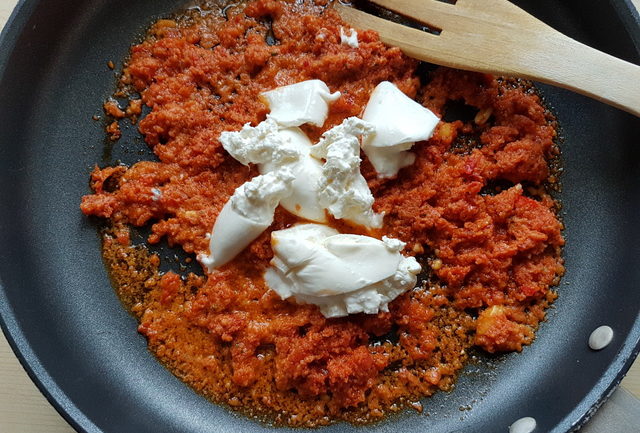 The Burrata!
Burrata is not Sicilian. It comes from Puglia, where they also make sun-dried tomato pesto (but with oregano and capers). Burrata is usually made by hand. The outside of this cheese is mozzarella (It actually looks like a soft mozzarella ball) but the inside is made from stracciatella cheese and cream. It has a rich buttery flavour, hence the name burrata, Believe me when I say the combination of sun-dried tomatoes and burrata is to die-for! I often have them together on a pizza and, of course, it was divine with this sun-dried tomato pesto.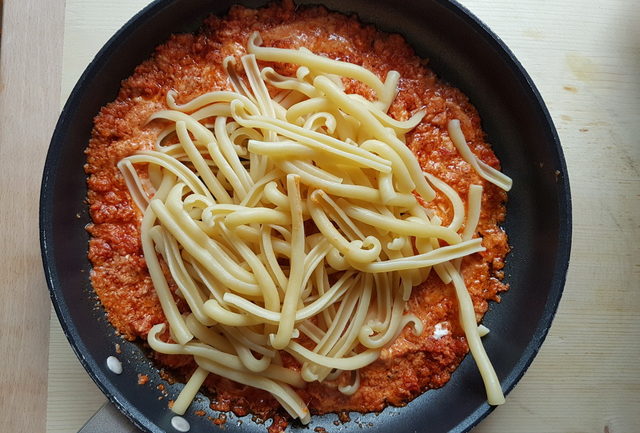 If you can't find burrata, you could also add some fresh ricotta to the dish (not to the pesto) or just eat it without. Either way you are bound to love this sun-dried tomato pesto and I'm willing to bet it may well become your favourite too!
Buon appetito!
If you like this recipe, please leave a rating and a comment at the bottom of the recipe page. This will help more people find the recipe as Google gives search results based on a recipe's popularity! Thank you so much!
(go to page 2 to see recipe. Just scroll down and click 2)