Casarecce with roasted red pepper pesto.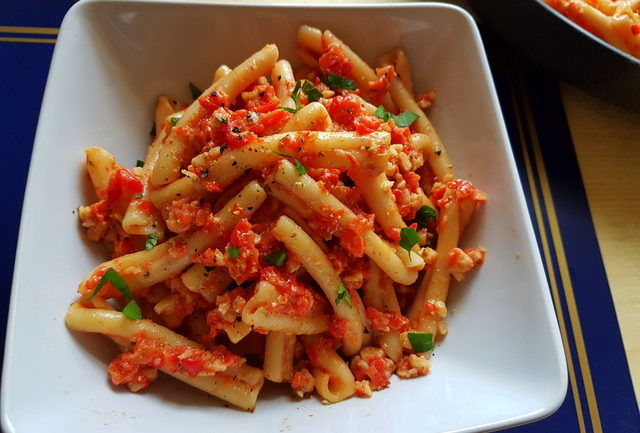 Casarecce al pesto di peperoni arrostiti.
As I have mentioned in an earlier post, casarecce have long been one of my favourite types of pasta. Of course, it all depends on how you are going to serve your pasta. Certain pastas go well with light creamy sauces, other are better suited to a heavier meat sauce. In fact, this aspect of pasta eating is very important here in Italy. Italians are quite fussy about which pasta to eat with a particular sauce. That doesn't mean that people don't mix and match a bit, but tradition is important to the Italians and there are many traditional recipes still being made the way they were invented decades ago, especially in the regions where they originated.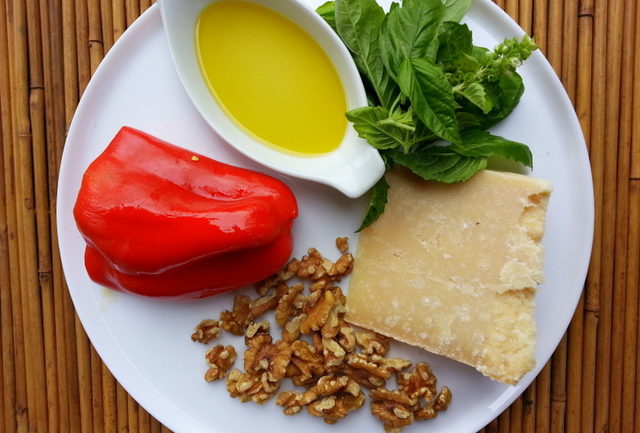 Casarecce is perfect with pesto!
Back to casarecce! This short scroll like pasta is one of my favourite pesto partners. I guess because they're not too big and not too small and the groove in the middle works really well for retaining sauces like pesto which tend to cling to pasta with this shape better than to spaghetti, for example. That's my opinion anyway! Traditionally Italians don't eat casarecce with the well-known pesto sauces such as pesto Genovese. However, they do serve pesto with trofie which is quite a similar pasta.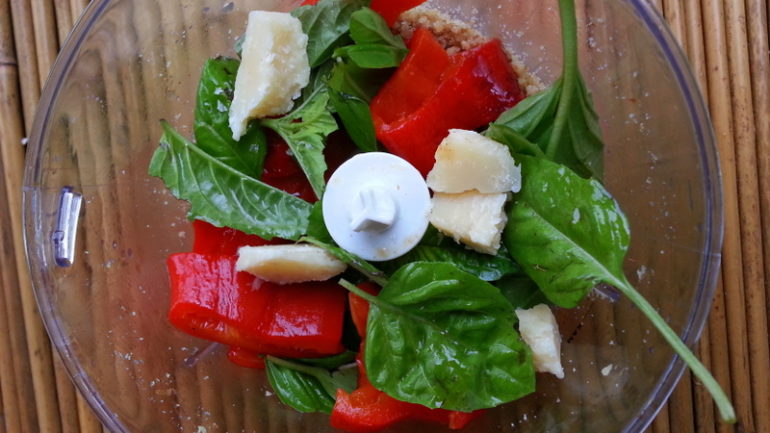 Roasted red pepper pesto my way!
This pesto recipe is basically my own invention. I love bell peppers especially red ones and I'm totally addicted to roasting them and then using them in all kinds of recipes such as soups, omelette, quiches and pasta sauces! Roasting the peppers really brings out the flavour and is so much healthier than frying them. Using red peppers in pesto has become quite popular here in Italy and there are other similar recipes but not with the exact same ingredients, well at least I haven't found one!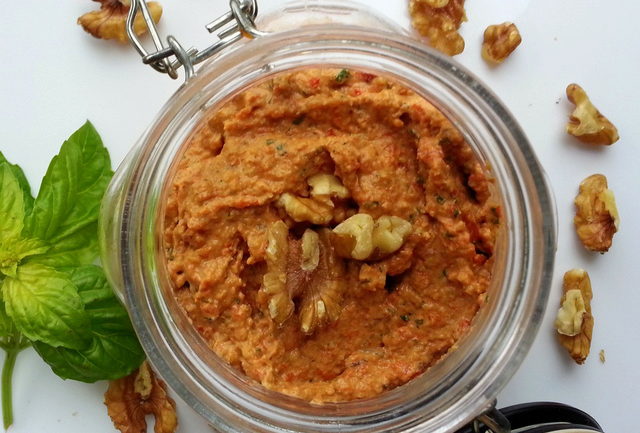 Apart from the roasted peppers, I used some basil leaves, Parmesan and walnuts for this roasted red pepper pesto. The resulting sauce was delicious and you can also put it on pizza, eat it on bread and add a little to grilled, baked or fried fish before serving! Alternatively, it can be used to fill pasta such as cannelloni if you add some ricotta to give it more bulk and of course you can eat it with other types of pasta. Using casarecce is not a rule! Fusilli are great too or penne and even gnocchi are a yummy pesto partner! Give it a try! I'm sure you'll like it!
Buon appetito!
(see the recipe on the next page. Just scroll down and click 2)