Casarecce Pasta alla Peperonata (sweet pepper sauce); Southern Italian Recipe.
The star of this seriously tasty casarecce pasta alla peperonata is a stewed sweet pepper sauce that's very traditional in Southern Italy. Peperonata can also be eaten as a side dish or on bruschetta.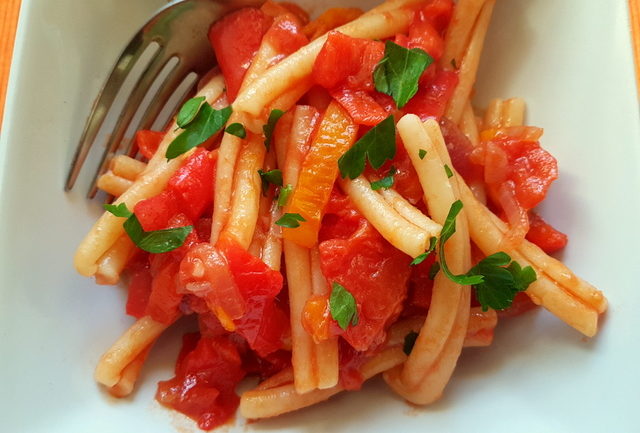 Pasta alla Peperonata.
Peperonata is a vegetarian Mediterranean recipe based on sweet peppers (capsicums) stewed in a pan with garlic, onions and tomato sauce. This is a typical Southern Italian recipe, originally from Sicily, Calabria and Campania. But, it is eaten in many other parts of the Italian peninsula.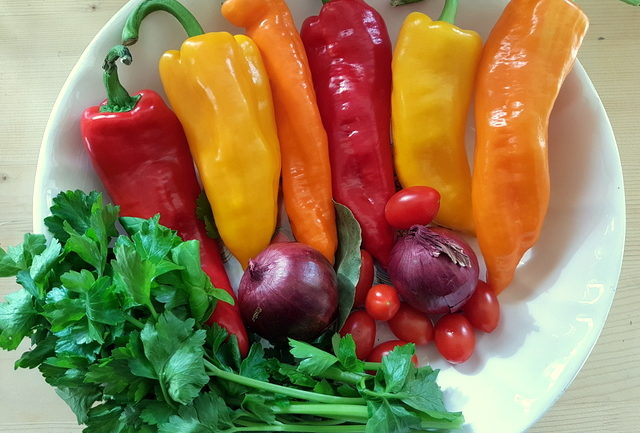 Peperonata is traditionally a summer dish, since sweet peppers are in season in Italy from June to September. Like many Southern Italian recipes, this is a simple uncomplicated dish made with seasonal ingredients that have bold flavours brought out by the way they are cooked. Many Italians prefer to eat peperonata cold and, as is often the case with stewed dishes, it is even better eaten the next day.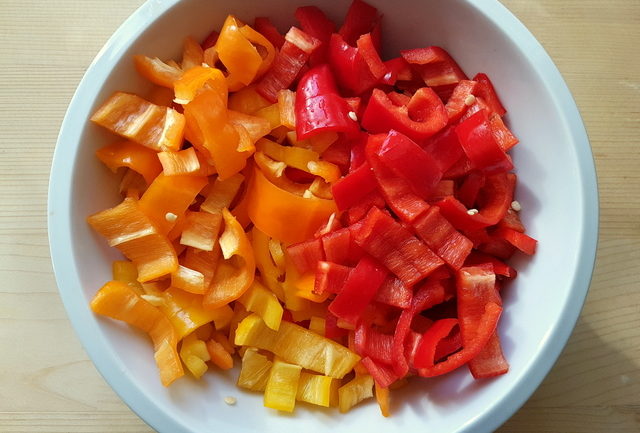 Italians eat peperonata as a side dish with both meat and fish, but also on bruschetta or on pasta, like in this casarecce pasta all peperonata.  I think eating it with pasta is my favourite way to have it!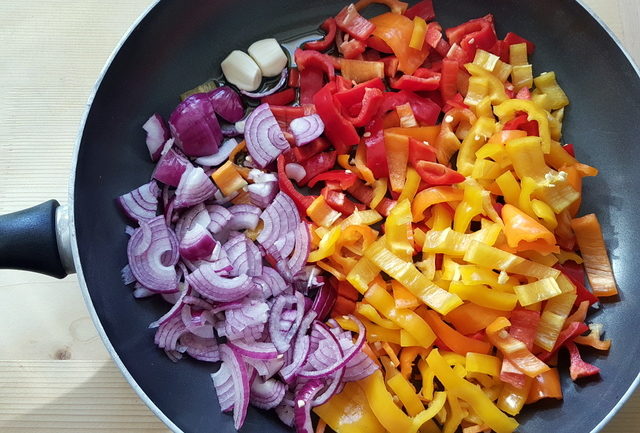 Shopping for ingredients.
When buying peppers for this pasta alla peperonata choose medium-sized and firm ones. They are usually  sweeter. Also, look out for the orange ones. Those are the sweetest of all. Some people include green peppers but, I prefer the red, yellow and orange ones. You can also just use red ones. In addition, if you can find them, use Tropea red onions from Calabria. These are more delicate than other onions. If not, red onions are best or shallots.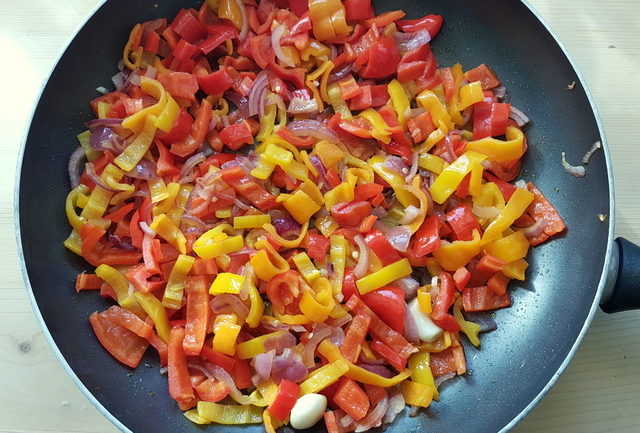 This casarecce pasta alla peperonata is made with a classic peperonata. This is a very simple and reasonably fast sauce. However, simple and fast doesn't mean bland. This is really tasty! Every region, or even every town, in Southern Italy has its own recipe for stewed sweet peppers. For example, one version in some areas of Sicily includes breadcrumbs, which are added just before the sauce is ready.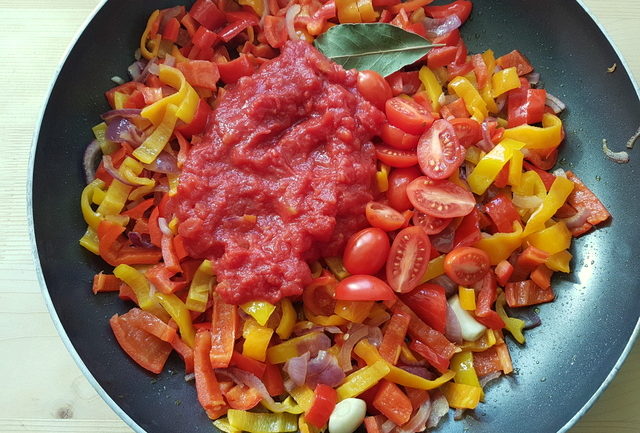 The Pasta.
I served this pasta alla peperonata with casarecce pasta from Gragnano. This is a traditional short pasta originally from Sicily but popular throughout Southern Italy. Casarecce are short pasta noodles with curled edges and a groove down the middle. They look a bit like little rolled up scrolls.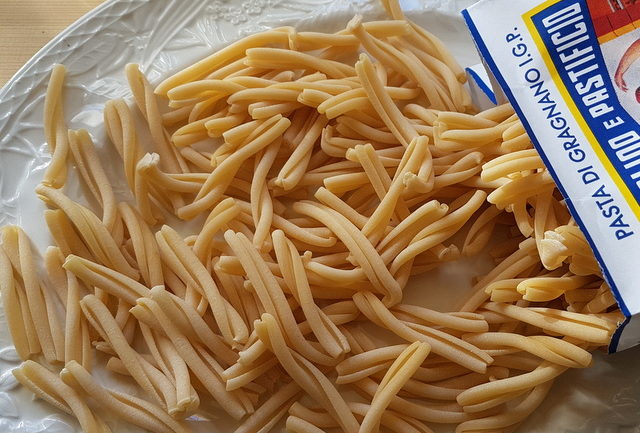 You can read more about this pasta on my casarecce post. I used this particular pasta because it's typical Southern Italian and goes really well with the sweet pepper sauce. In fact, I think this is one of the best casarecce pasta recipes I know! However, you can use any type of pasta. I would recommend short pasta like penne, cavatelli, orecchiette or rigatoni.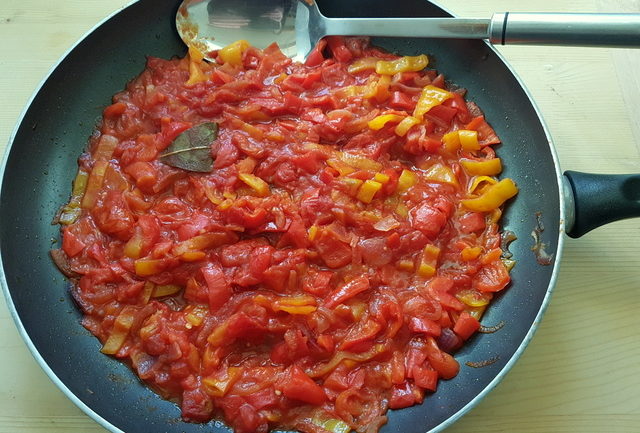 Making pasta alla peperonata.
Making casarecce pasta alla peperonata is simple. Just gently fry the onions, garlic and pepper strips until they start to soften. Then add tomatoes and passata and a little wine vinegar and simmer covered for about 30 minutes until the peppers are really soft and everything has come together in a rich stew. While the peppers are cooking you can boil the water for the pasta and cook it. Add the drained pasta to the ready sauce and serve with grated cheese and some parsley or basil if you like.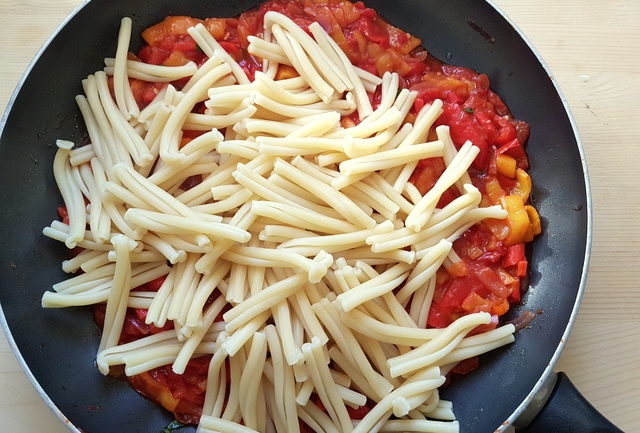 If you do try this casarecce alla peperonata recipe, I'd love to hear what you think. Please write a comment here on the blog or post a comment on the Pasta Project Facebook page.
Your feedback means a lot to me!
Buon Appetito!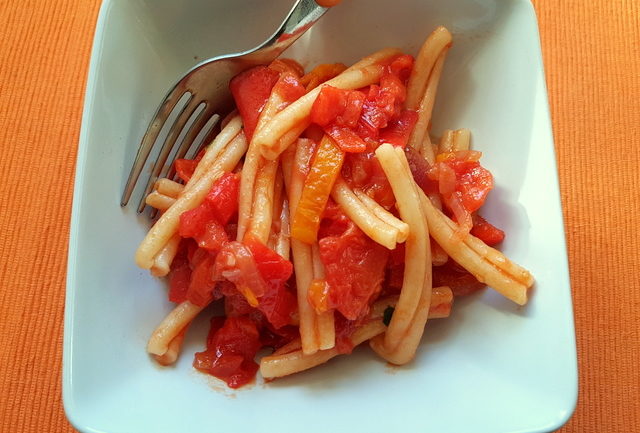 Foodie Travel Tip!
In Italian, sweet peppers (bell peppers/capsicums) are called peperoni (with one 'p'!). When on holiday in Italy, many non-Italians make the mistake of ordering pizza con peperoni, expecting pepperoni (spicy sausage). Here, spicy sausage/salami isn't known as pepperoni. If you want spicy salami or sausage in Italy, ask for salame piccante, salamino piccante  or salsiccia Napoletana piccante. (piccante means spicy/hot)
Save this recipe for later?
If you want to save this recipe for later, you can print it, bookmark this page or save it to Pinterest.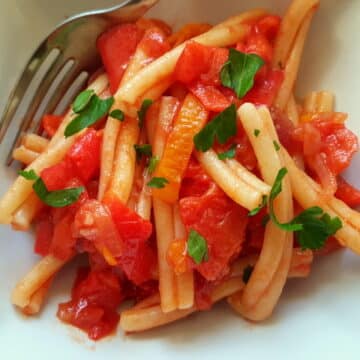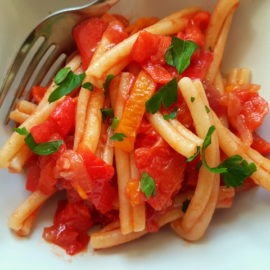 Casarecce Pasta alla Peperonata (sweet pepper sauce)
Stewed sweet peppers are the star of this Southern Italian peperonata pasta recipe. In Italy, this sauce can be served with pasta or as a side dish. It's simple to make and full of flavour.
Ingredients
400

g

casarecce pasta

(14oz)

2

red sweet peppers

(bell peppers/capsicums)

2

yellow sweet peppers

2

orange sweet peppers

2

garlic cloves

peeled

2

red onions

preferably from Tropea. Peeled and sliced

1

handful

cherry tomatoes

cut in half

300

g

tomato passata

(10 oz) I use Cirio or Mutti rustica

1

bay leaf

3-4

tbsp

extra virgin oilve oil

1

tbsp

wine vinegar

salt

for pasta and to taste

black pepper

to taste

fresh basil or parsley

as required

grated grana or Parmigiano Reggiano

as required
Instructions
Wash and dry the peppers well,. Cut them in half lengthwise and remove the stalk with seeds and internal white filaments. Cut the peppers into smallish strips.

Wash the cherry tomatoes, dry them and cut them in half.

Peel the onions and slice (not too finely). Peel the garlic.

Put the extra virgin olive oil into a deep frying pan or skillet and add the onions , garlic cloves and peppers. Cook over a medium heat until all the ingredients start to soften. Stir often.

Add the tomato passata, the cherry tomatoes, the bay leaf and wine vinegar, plus salt to taste. Mix everything together well and cook covered for 30-40 minutes over a low to medium heat. Stir occasionally. (some Italians cook it for longer but as a pasta sauce I think 40 minutes is more than enough) 

While the pepper sauce is cooking, put a pot of water on to boil for the pasta. Add salt once it starts to boil and bring to the boil again. Cook the pasta al dente according to the instructions on the packet. Before draining the pasta save a cup of the cooking water.

Remove the bay leaf from the sauce. Add the drained pasta to the peperonata and mix together well. If the sauce seems dry add some of the pasta cooking water.

Serve immediately with a sprinkling of ground black pepper, chopped basil or parsley and grated cheese (if required)
Notes
If you make a larger quantity you can save some peperonata to eat as a side dish or on bruschetta. You can also bake the pasta and sauce before serving. Before putting it in the oven, add some grated parmesan or grana on top (or mozzarella) (It's very good).
You can use other pasta for this recipe. I would recommend other typical Southern Italian short pasta like penne, cavatelli, orecchiette or rigatoni.
Pin for Later