Orecchiette pasta from Puglia.
Italians have been making and eating orecchiette for almost 700 years and the way this pasta is made has changed very little in all that time! I just love food with history, don't you?

Orecchiette means 'little ears'!
Although orecchiette pasta is traditionally from Puglia, and neighbouring Basilicata, it is very popular throughout Italy today. The word 'orecchiette' means 'little ears' and, obviously, the name derives from the shape. Orecchiette are said to have become popular in Puglia between the 12th and 13th century. So, this is definitely a pasta of ancient origin. However, some food historians say that originally this pasta arrived in Southern Italy from Provence during the 13th century with the Angevins, who brought a form of pasta with them called 'crosets' similar to the orecchiette of today.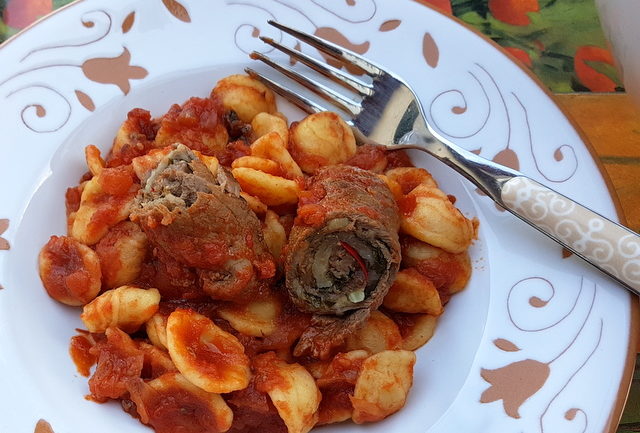 In the same way that Parma ham originally comes from Parma and Gorgonzola cheese comes from Gorgonzola, almost every traditional pasta shape has a hometown in Italy. By this I mean, the place where it was invented or first started to become popular (even if it isn't named after the place). As a result, a lot of pasta types have traditional ways of being served using locally grown ingredients from the area or region they came from.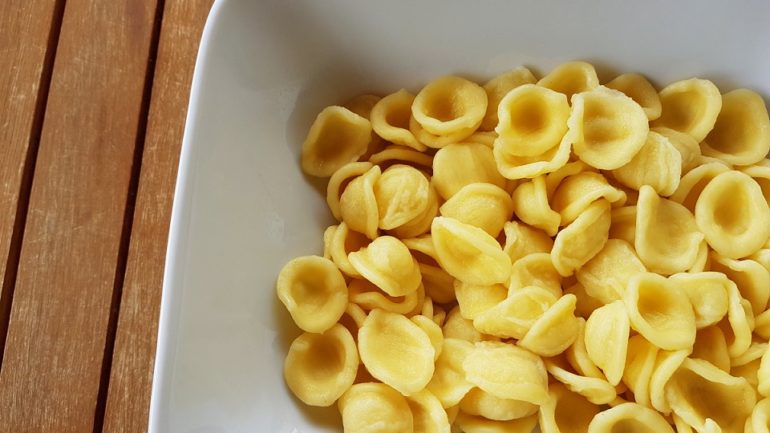 Traditional orecchiette recipes!
In Puglia, orecchiette are traditionally cooked with broccoli rabe (rapini) known as 'cima di rapa' in Italian. This slightly bitter leafy vegetable is extremely popular in Italy, especially in Lazio, Puglia and Campania, all regions where it is grown. However, orecchiette are also served with normal broccoli as well as with cauliflower, and other vegetables. Many of these vegetable recipes are based on just vegetables sautéed in extra virgin olive oil, of which Puglia is the largest producer in Italy.
Orecchiette comes in different sizes.
The size of orecchiette in Puglia may be different depending on the place the pasta is made and the ingredients being used. Larger ones are often eaten with vegetables. Much smaller ones are served with a meat sauce or ragù or tomato sauce with tiny meatballs. This is a very typical Sunday dish on Pugliese tables.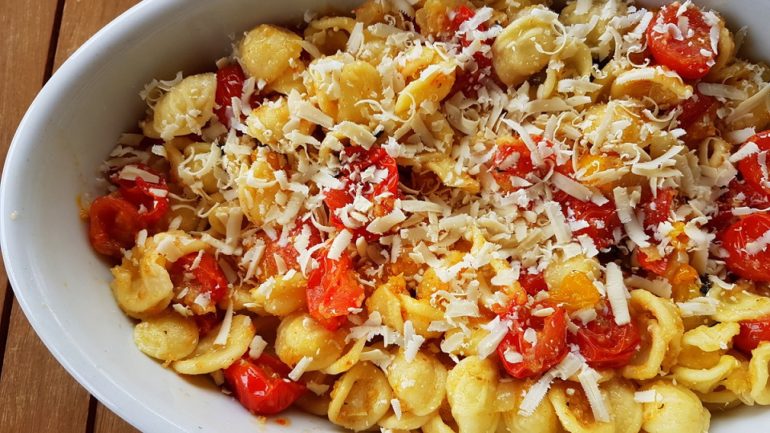 Italians like to celebrate their food and wine. Most towns have an annual festival in honour of some local produce. I live near Soave, a town which has given its name to the wine produced in the area. Of course, every year we have a wine festival! At Latiano, in Puglia, there is an annual orecchiette festival called 'la sagra degli stacchioddi', another name for orecchiette.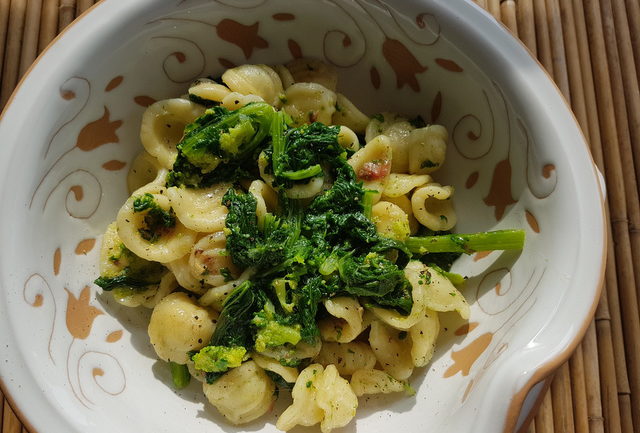 Orecchiette are normally a bit less than an inch (2.5 cms) across and slightly dome-shaped with a rough surface. Their centres are thinner than their rims, a characteristic that gives them an interesting, variable texture, soft in the middle and somewhat chewier around the edges. There is also a version made without the dome shape, better known as 'strascinati' .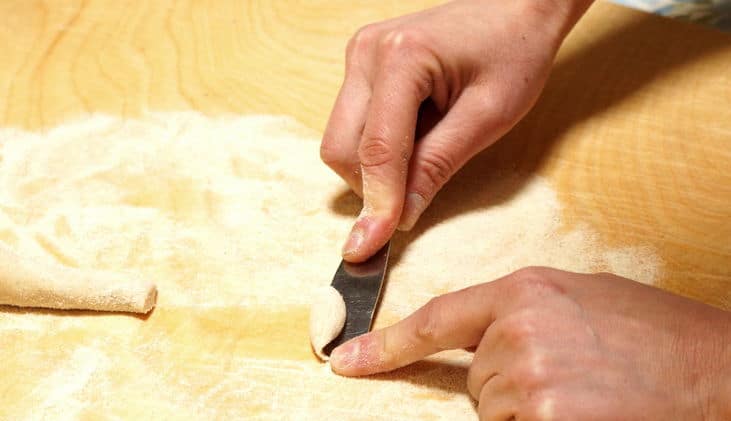 Homemade Orecchiette!
In Puglia and Basilicata, orecchiette are normally handmade. Throughout Italy, they can also be bought fresh. A dry version exists as well, but making them yourself or buying the pasta fresh is the best option. To make this pasta yourself all you need is 400 g of durum wheat semolina flour, which Italians call 'semola' (this is harder than normal white flour) and 100ml of warm water! (some people also add a pinch of salt)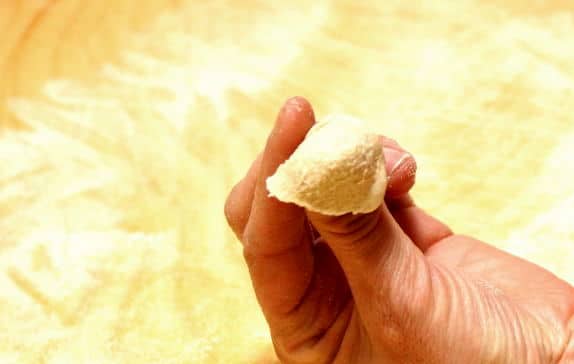 Mix the warm water into the flour until you obtain a firm dough, which you must then knead quite vigorously for about 10-15 minutes. Then, roll pieces of the dough out into finger-thick 'snakes'. Using a knife, cut a piece the size of a thumbnail and flatten it out across the work surface with the knife (the cutting and spreading should be one motion), then turn the pasta pieces inside out using your thumb; doing so will make the center of the bit of pasta form up into a dome or 'little ear'! You can see it being done in Bari in the video below from Pasta Grannies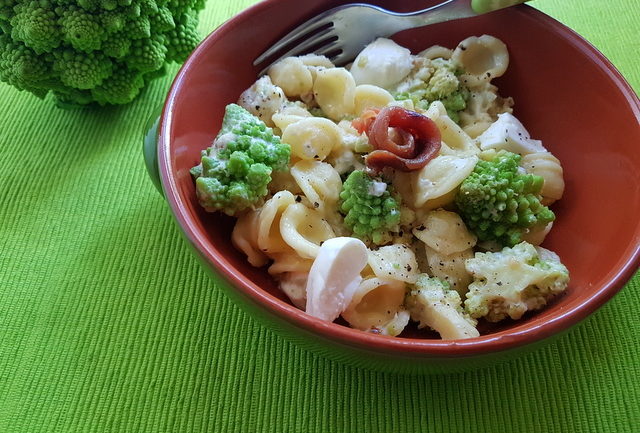 Because broccoli rabe is an autumn/winter vegetable, the first recipe I posted for orecchiette is a delicious yet unusual one from Puglia made with roasted tomatoes. In fact, the 'sauce' is roasted NOT cooked in a pan. It's a great summer recipe as this dish can be eaten tepid or cold as well. I hope you enjoy it as much as we did. In the meantime, watch out for other orecchiette recipes which I plan to post in the not too distant future!
Update: Some other recipes with orecchiette now on The Pasta Project.
Orecchiette with nduja and eggplant.
Braciole alla Barese with orecchiette (with beef rolls)
Orecchiette with zucchini and speck
Romanesco broccoli with orecchiette