Orecchiette with Nduja and Eggplant; recipe from Southern Italy.
If you like spicy pasta recipes then orecchiette with nduja and eggplant is one to try. The tomatoes, nduja, eggplant and ricotta salata combine to make a dish that is full of rich, bold Southern Italian flavour.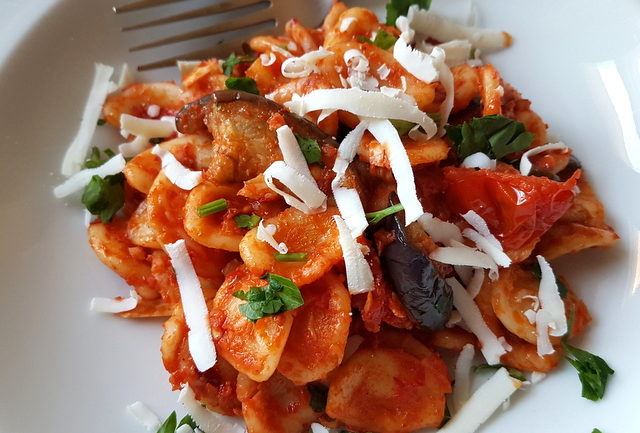 This orecchiette with nduja and eggplant may seem to be a Calabrian dish. After all, the spicy soft salami, known as nduja is typical of Calabria. In reality, this is a dish that contains the culinary traditions of three Southern Italian regions; obviously Calabria, but also Puglia where orecchiette originated. In addition, Basilicata, the small southern region between Calabria and Puglia, where orecchiette is also a traditional pasta type. As is the addition of spicy sausage and peperoncino to pasta and other dishes.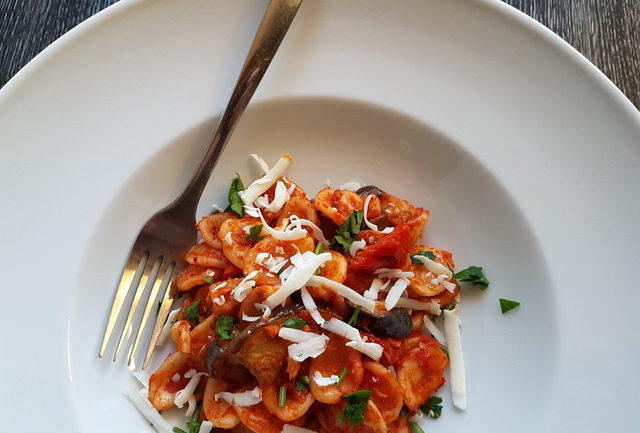 So, what is nduja?
As I mentioned above, nduja is a spicy soft salami from Calabria. It's produced with pork meat, a bit of fat, salt and a lot of peperoncino (Italian red chilli pepper). Ndjua is one of the most well-known and exported of Calabrian foods. The word nduja comes from the French 'andouille', meaning sausage.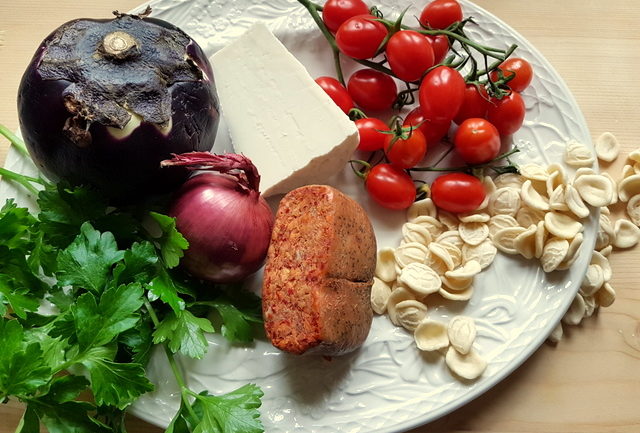 Calabrians eat nduja in frittata, on pizza, on bread or melted into a tomato based pasta sauce like in this orecchiette with nduja and eggplant recipe. However, in Calabria, the pasta is usually fileja. Neighbouring Basilicata is where you are more likely to find orecchiette with nduja.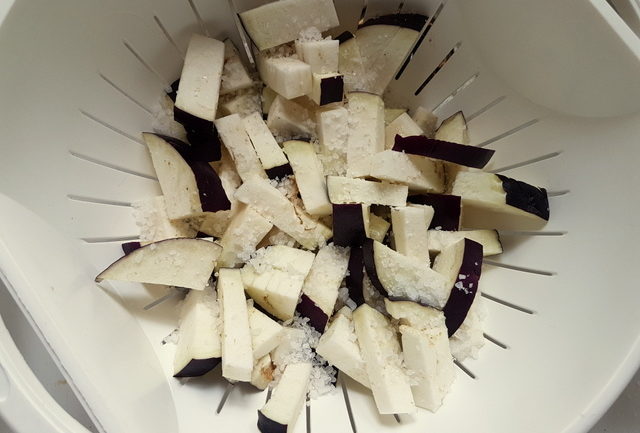 The pasta.
Although orecchiette, meaning little ears, is originally from Puglia and traditional in Basilicata, it is a popular pasta throughout Italy. In the south, housewives still make it by hand. However, both fresh and dried orecchiette can be found everywhere in Italy.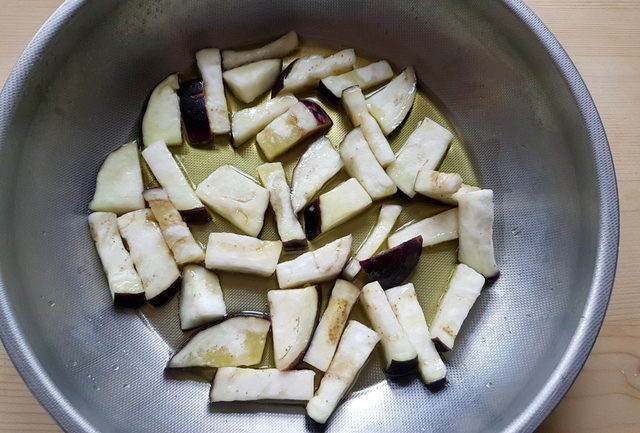 For this orecchiette with nduja and eggplant recipe, I used ready made fresh orecchiette from Giovanni Rana. You can use dried pasta instead, or even make your own. For more about the history of orecchiette pasta and how to make it click here.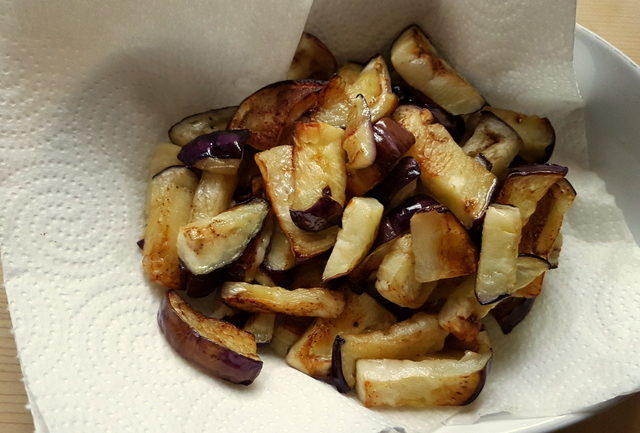 Eggplant, aubergine or melanzane!
Did you know that eggplants, or you may call them aubergines, are actually classified as a berry? The Arabs introduced them to Sicily in the Middle Ages. In Sicily and much of Southern Italy, they are used in many many dishes, including pasta recipes. In fact, here on the blog I have a number of other eggplant pasta recipes including pasta parmigiana and pasta alla Norma.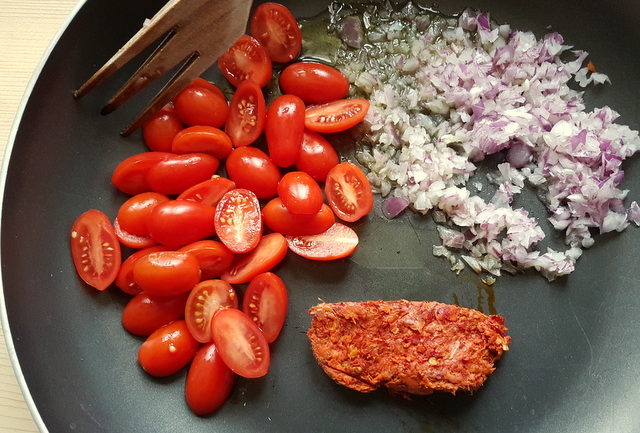 I usually have different types of eggplant available at my local supermarket or greengrocer's; the very dark oval or long ones that most people know, oval zebra eggplants which have a striped skin and the lighter coloured rounder Sicilian variety. I used the latter for this orecchiette with nduja recipe. This type of eggplant has a dense white flesh and less seeds than the more common type. However , you can use whichever kind you prefer.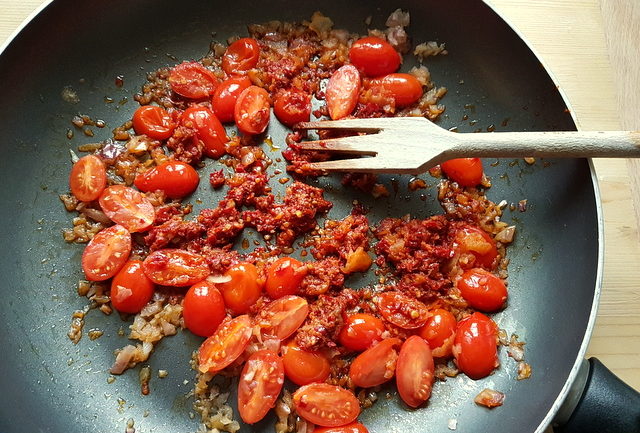 Making this orecchiette with nduja and eggplant recipe.
As is typical in Southern Italian cuisine, tomatoes form the basis for the sauce in this orecchiette with nduja and eggplant recipe. You can use just tomato passata or make the sauce only with fresh tomatoes. I like to use fresh tomatoes and passata together. The tomato sauce for this dish is enriched with onions, fried eggplant and nduja.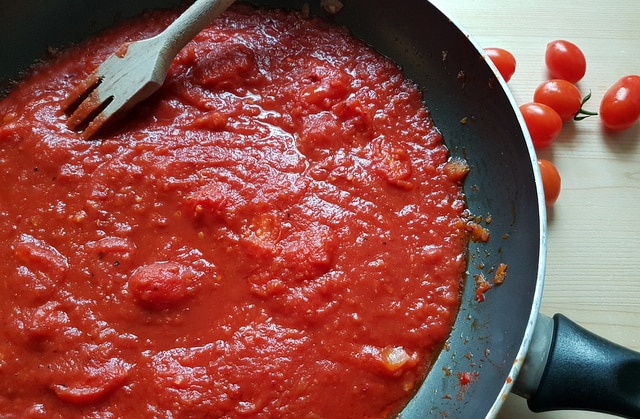 You can, of course, cook the eggplant in the oven, but it will be less flavourful. However, it's a good idea to use salt to degorge the eggplant pieces before frying them so they absorb less oil (see recipe for instructions).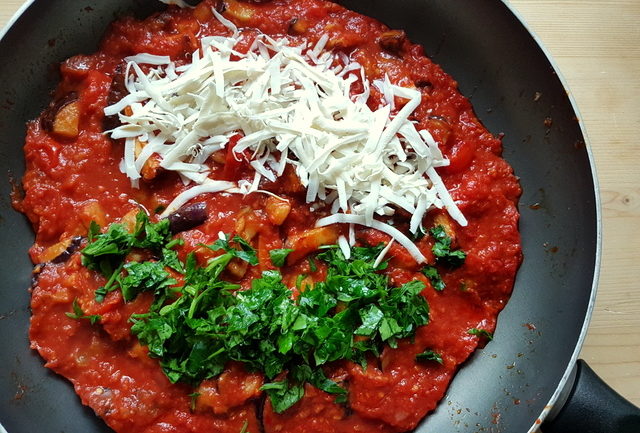 A little nduja goes a long way. So, it's best to start with less if you don't like very spicy food or have never used Nduja before. You can add more to the finished sauce or just add some peperoncino flakes if you prefer it spicier! Nduja has become very popular outside of Italy in recent years and can be bought in both Italian food stores and online.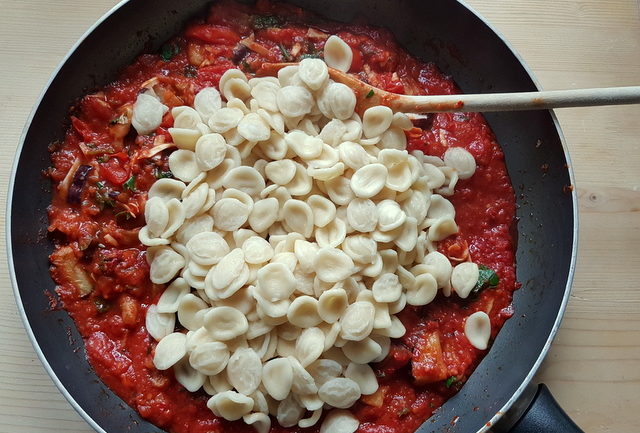 Let me know what you think.
My hubby is Sicilian so he loves this orecchiette with nduja and eggplant dish. He says the flavours make him feel nostalgic for his 'homeland'! Those of you who have been to Southern Italy, will know what he means. If you haven't this, recipe will introduce you to the fabulous flavours that can be found in the Southern Italian kitchen!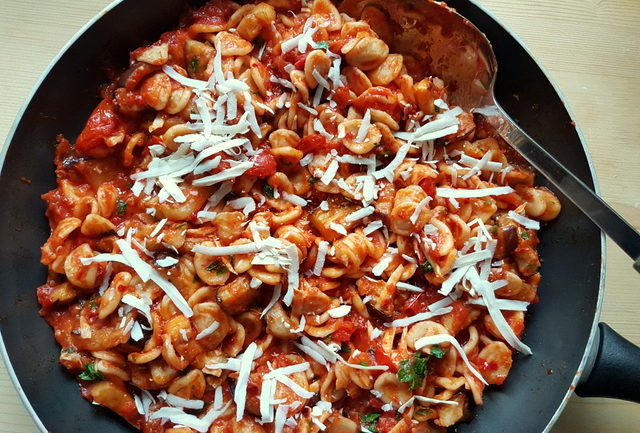 If you do try this orecchiette with nduja and eggplant recipe, I'd love to hear what you think. Please write a comment here on the blog or post a comment on the Pasta Project Facebook page.
Your feedback means a lot to me!
Buon Appetito!
Some other orecchiette recipes on The Pasta Project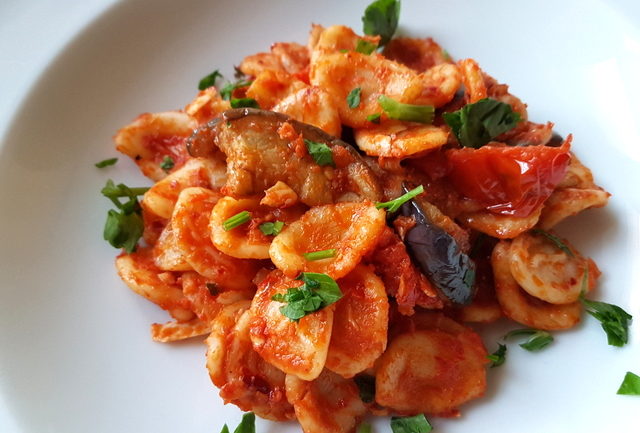 Save this recipe for later?
If you want to save this recipe for later, you can print it, bookmark this page or save it to Pinterest.
Pin for Later