Rigatoni pasta alla Parmigiana recipe (alla Siciliana)
This rich and tasty vegetarian rigatoni pasta alla parmigiana recipe from Southern Italy is made with the same ingredients as eggplant parmigiana and tastes just as wonderful! It can be baked or eaten without baking.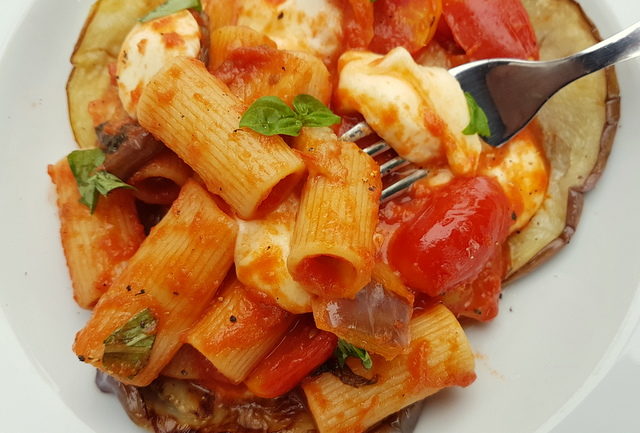 Pasta alla Parmigiana
The combination of baked eggplant, tomato sauce, mozzarella and basil known as eggplant parmigiana is one of Southern Italy's most famous dishes. And, quite rightly so! It's so delicious! Do you like it? If so, you'll love this pasta recipe!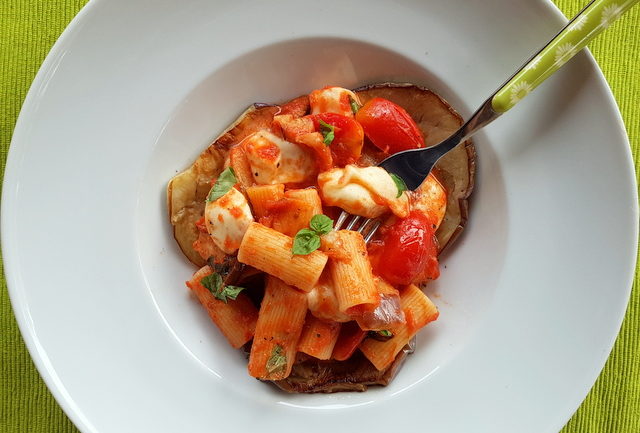 Eggplants, Aubergine, Melanzane.
Here in Italy; Sicily, Naples and the city of Parma claim to be the birthplace of eggplant parmigiana. So, where it actually originated is the cause of much culinary wrangling! We know that the Arabs brought eggplants (also known as aubergines) to Europe in 15th century. Like tomatoes, eggplants were at first treated with suspicion. In fact, the Italian name for this vegetable, melanzane, means unhealthy apple! (mela insana)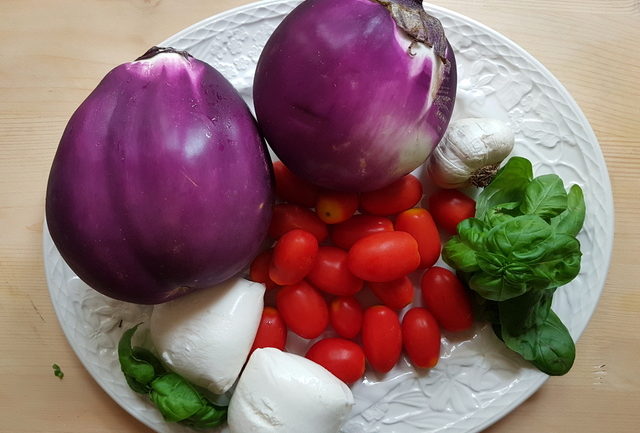 A little alla Parmigiana history.
Many food historians believe that the word parmigiana actually comes from the Sicilian word "parmeciana", the set of wooden slats that form a window shutter. Whereas, others claim that 'parmigiana' derives from 'petronciana' a word of Persian origin, which was the name given to eggplants when they first arrived in southern Europe.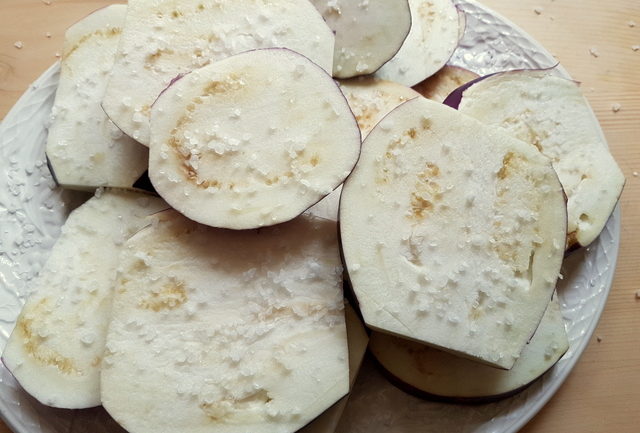 In addition, there are those who believe that the expression cooking 'alla parmigiana' originally meant cooking Parma style. This, they say, was a method used in the Middle Ages of preparing vegetables by layering and stuffing them. This method spread from Parma to Campania and Sicily through the centuries. And, over time, became popular in recipes made with ingredients that didn't exist in Italy in Medieval times.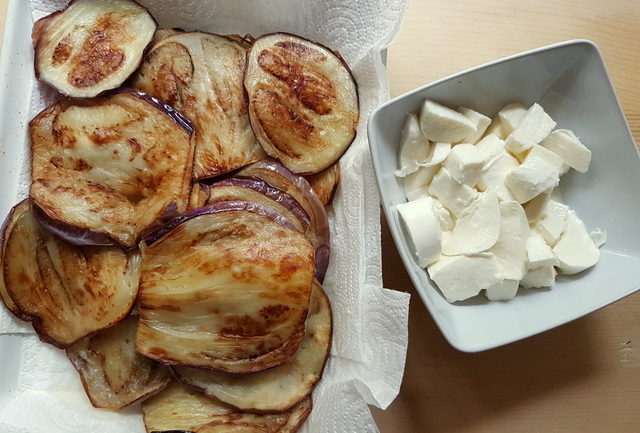 The origins of 'alla parmigiana' seem unclear. However, the first published recipe for eggplant parmigiana (as we know it) is in the 1839 Neapolitan cookbook 'Cusina casarinola co la lengua napolitana' by Ippolito Cavalcanti. But, early Sicilian versions weren't made with mozzarella since this cheese was first produced in Campania and Molise. It's most likely the Sicilians used pecorino.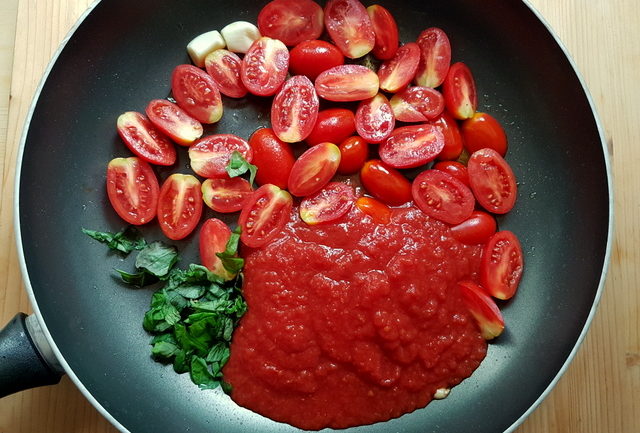 Pasta plus Parmigiana
In Sicily, a similar recipe to rigatoni pasta alla parmigiana is pasta alla Norma. This is also made with fried eggplant, tomato sauce and cheese, but the cheese is usually salted ricotta (ricotta salata) and the dish is not usually baked, although it can be. In fact, some Italians refer to pasta alla parmigiana as pasta alla Siciliana because of the similarities between the two dishes. You can find recipes for both versions of pasta alla Norma here on The Pasta Project.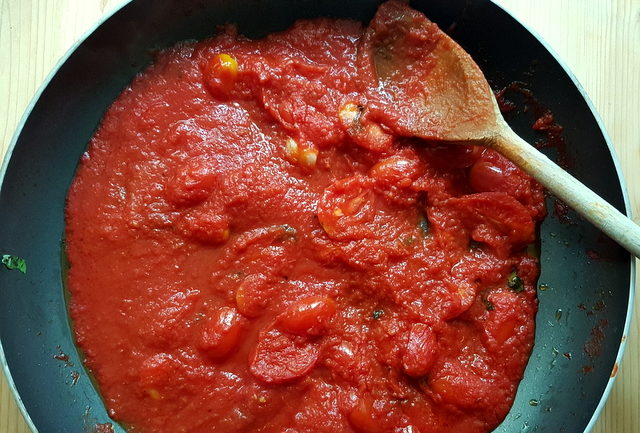 Different pasta alla Parmigiana recipes.
As I mentioned before, pasta alla parmigiana can be baked or served straight from the pan without baking, like in this recipe. When baked, it can either be prepared like a classic pasta al forno or as a timballo. Al forno involves just mixing the sauce with the precooked pasta and baking it in a hot oven with a layer of mozzarella and Parmesan on top. A timballo is slightly more complicated. In this recipe, the pasta, sauce and mozzarella slices are encased in the eggplant slices and baked in a high sided loaf or cake tin. Parmigiana timballo is usually made with long ziti or zitoni pasta.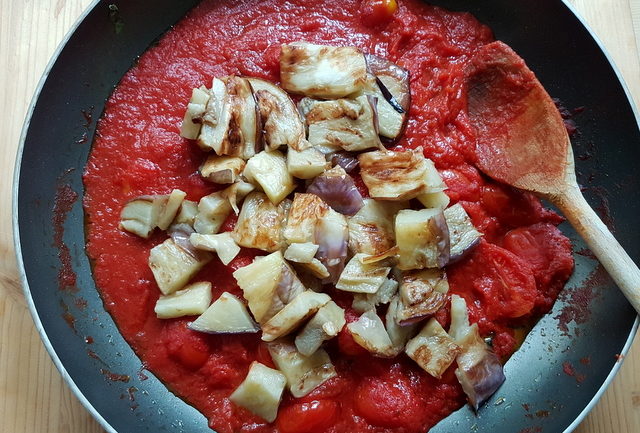 Although much has been written about the history of eggplant parmigiana, I couldn't find the origins of when Italians started to eat parmigiana together with pasta. However, when or where ever that was, the idea was brilliant. This is a super tasty vegetarian dish that is bound to be a winner with anyone who likes the flavours of eggplant parmigiana.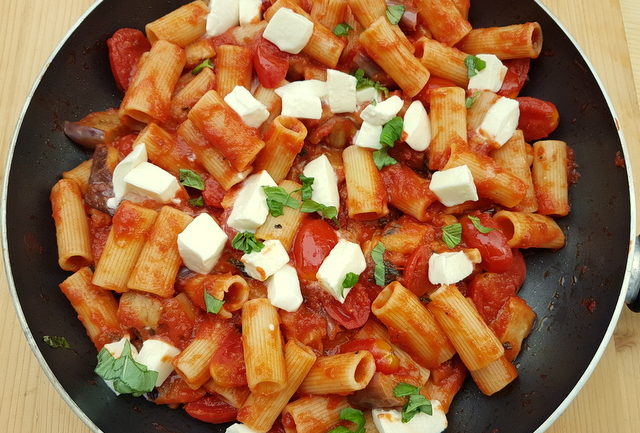 Let me know what you think.
If you make this rigatoni pasta alla parmigiana recipe, I'd love to hear how it turns out and if you liked it. So, please leave a comment here on the blog or on The Pasta Project Facebook page.
Looking forward to hearing from you!
Buon appetito!
Other eggplant and pasta recipes to check out here on The Pasta Project!
Save this recipe for later?
If you want to save this recipe for later, you can print it, bookmark this page or save it to Pinterest.
Pin for Later