Bring a taste of Sicily to your table in under one hour with this authentic swordfish pasta. This stunning recipe combines swordfish with ripe cherry tomatoes, fried eggplant, aromatic herbs and lemon. This is a simple recipe packed with fresh Mediterranean flavor.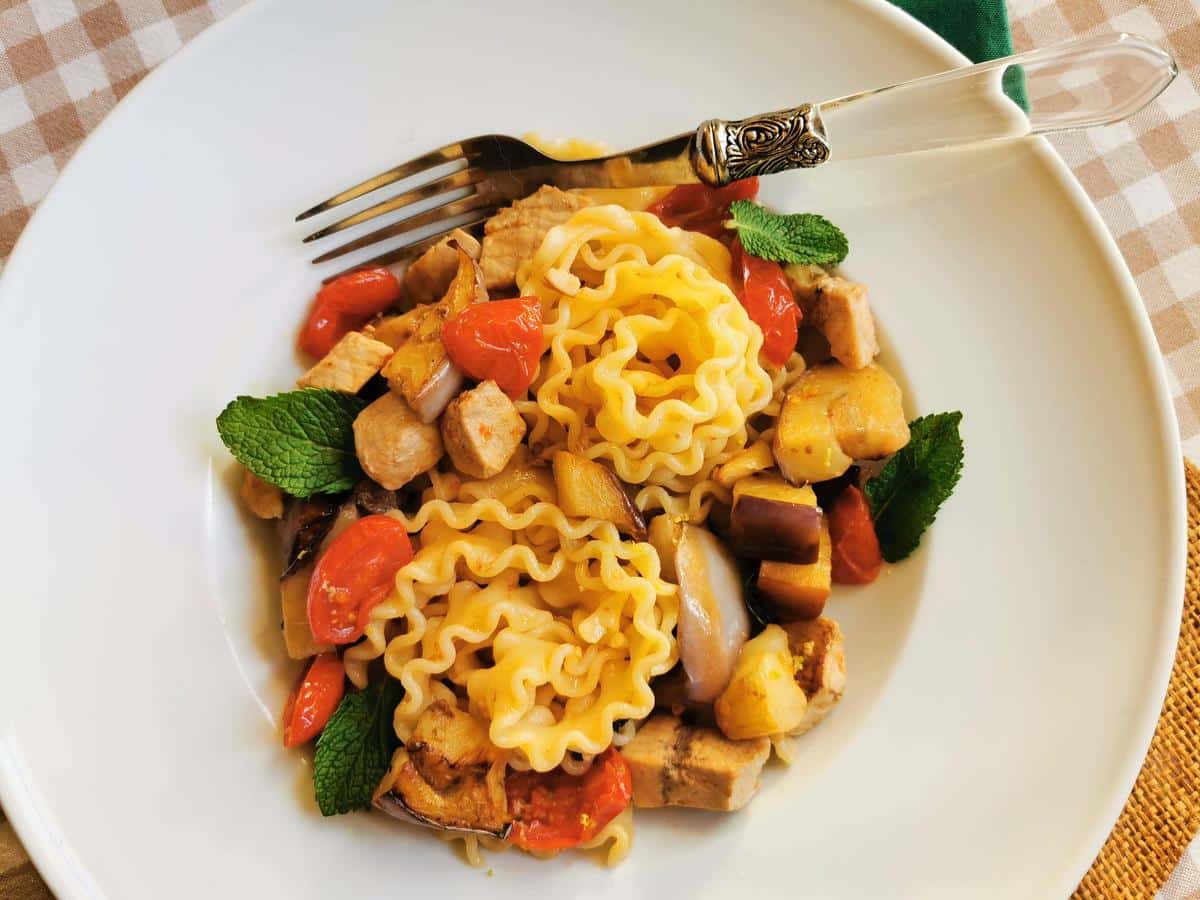 History
Pasta with swordfish is a very popular and typical Sicilian dish. In fact, swordfish plays a big part in Sicilian seafood cuisine. The Sicilians grill it, bake it, put it in pies, make involtini or carpaccio with it and serve it with pasta in a number of different ways.
The most traditional ways to eat swordfish pasta are either with eggplant, like in this recipe, or with the typical Mediterranean ingredients of garlic, capers, olives, tomatoes and peperoncino, as in my recipe for strozzapreti with swordfish.
However, there are also a few other delicious swordfish and pasta recipes from Sicily and other Southern regions which include ingredients such as pistachios, pine nuts, almonds, zucchini or breadcrumbs.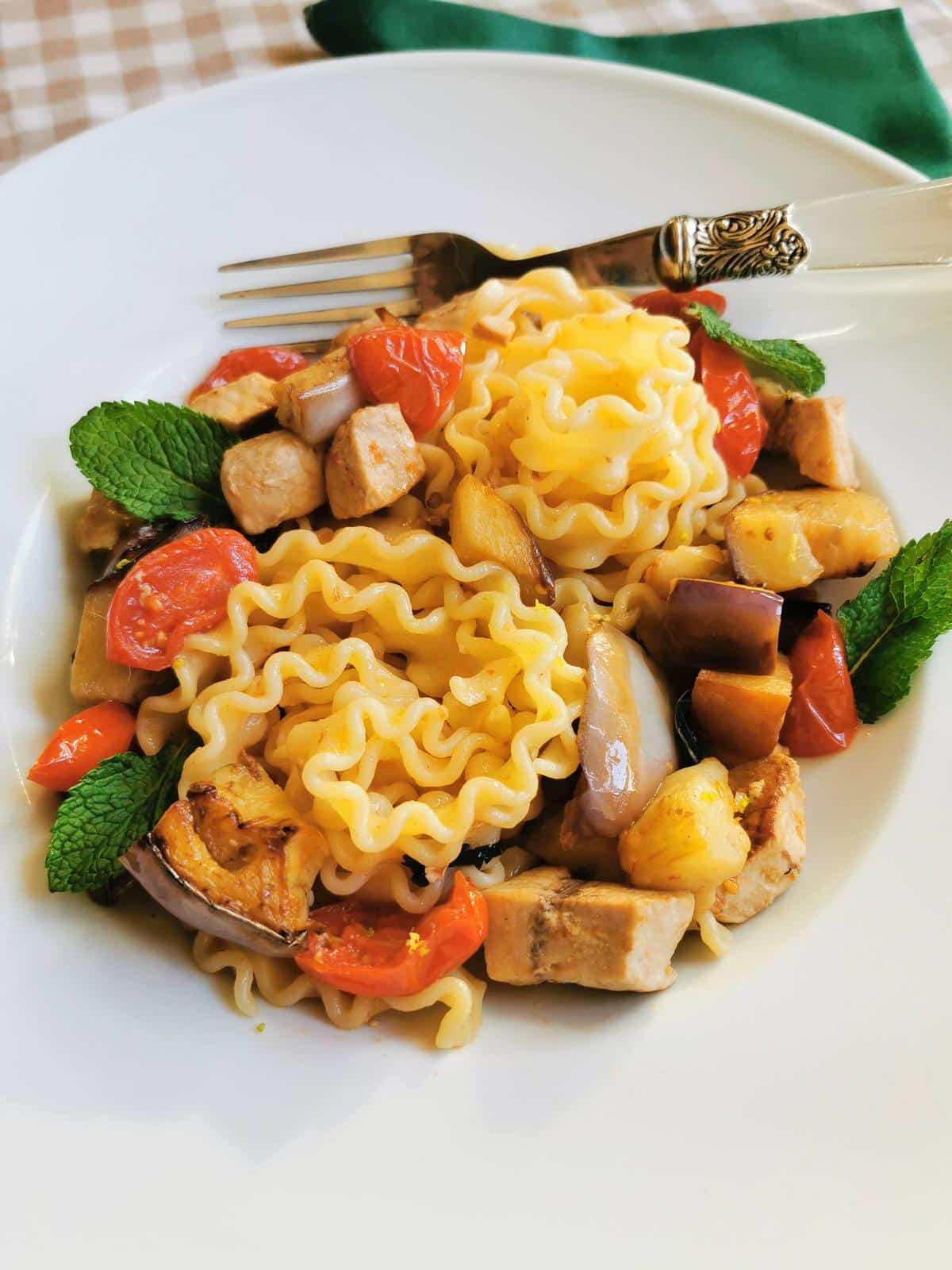 Some recipes are 'al bianco', meaning without tomatoes and some are traditional to the province they originate from such as 'alla Messinese' from Messina; made with red onions, celery and green olives, as well as capers and tomatoes.
I particularly like this pasta with swordfish recipe because it really is a treat for the taste buds! It includes fried aubergine, which gives it that authentic Sicilian taste, along with fresh mint and some grated lemon rind. Both really add a distinctive flavor to the eggplant and the swordfish.
In Italy and most of the Mediterranean, swordfish can be found in abundance during the summer, so that's when it is most often served at Italian tables. This swordfish pasta can also be eaten cold or tepid, if you use short pasta. If you like the idea of pasta, aubergines/eggplants and swordfish, then you are bound to love this combination.
Ingredients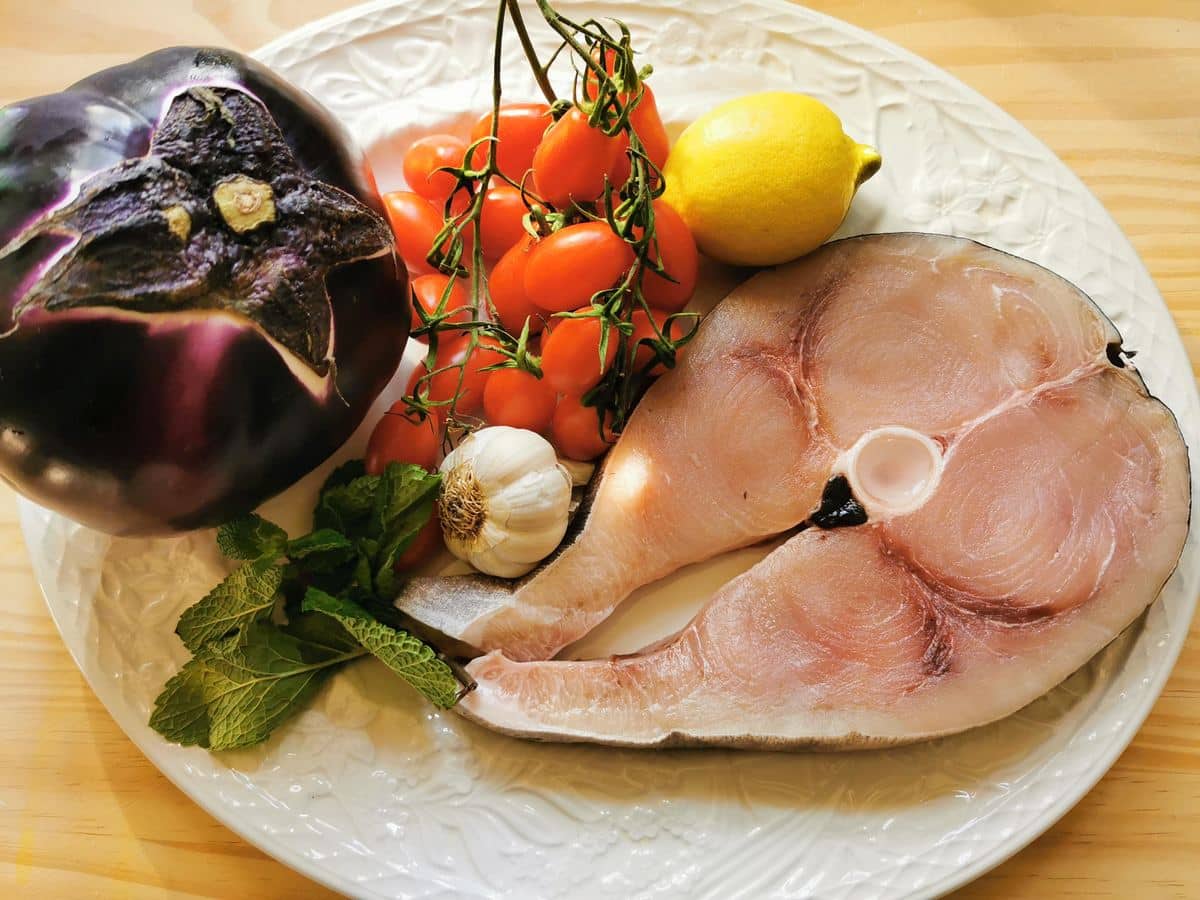 Pasta: Long pasta varieties like mafaldine (reginette) or spaghetti are traditionally used when serving this dish hot. However, if you plan to enjoy the dish tepid or cold, short pasta types like casarecce or penne are excellent choices.
Swordfish Steaks: You can use both fresh or frozen swordfish. When selecting fresh swordfish, look for clean steaks with a slightly oceanic smell. The meat should be firm and spring back when pressed.
Eggplant: Choose eggplants that are firm with glossy, smooth skin. I used a Sicilian Prosperosa eggplant. These round Italian heirloom eggplants are meaty with a mild flavor. Of course, other eggplant varities are fine too.
Cherry Tomatoes: Use ripe cherry tomatoes for their sweet and slightly acidic flavor, complementing the swordfish and eggplant.
Garlic Cloves: Slightly browning the garlic before adding the swordfish will add a more robust flavor.
Fresh Mint Leaves: Use fresh mint over dried mint to get the full aromatic flavor. The leaves should be vibrant and green.
White Wine: A dry white wine will add the most depth of flavor.
Lemon zest: Choose organic unwaxed lemons, as we will use lemon zest.
Extra Virgin Olive Oil: Pick a high-quality olive oil as it forms the base of the sauce.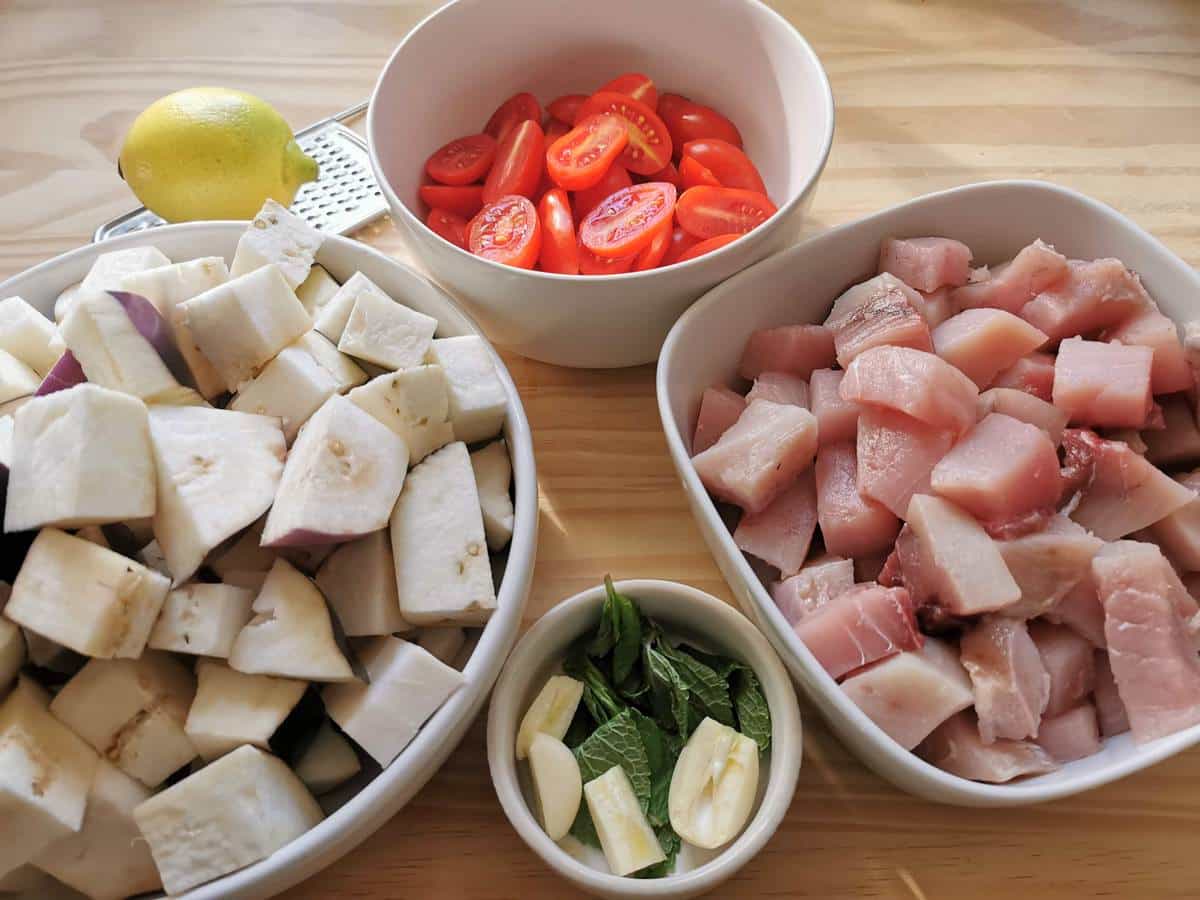 Expert Tips
Cooking the Swordfish: For the best texture and flavor, fry the swordfish until it's just cooked through. Avoid overcooking, as it can make the fish tough and dry.
Mint and Lemon Zest: Add these at the last minute to preserve their fresh and vibrant flavors. This will bring a burst of freshness to the dish, contrasting beautifully with swordfish and cooked vegetables.
Step by Step Instructions
1) Put a large pan of water on to boil for the pasta. Add salt once it starts to boil and bring to the boil again.
2) In a large frying pan, heat some olive oil over medium heat. Add the eggplant cubes and fry until golden brown, usually about 5-7 minutes.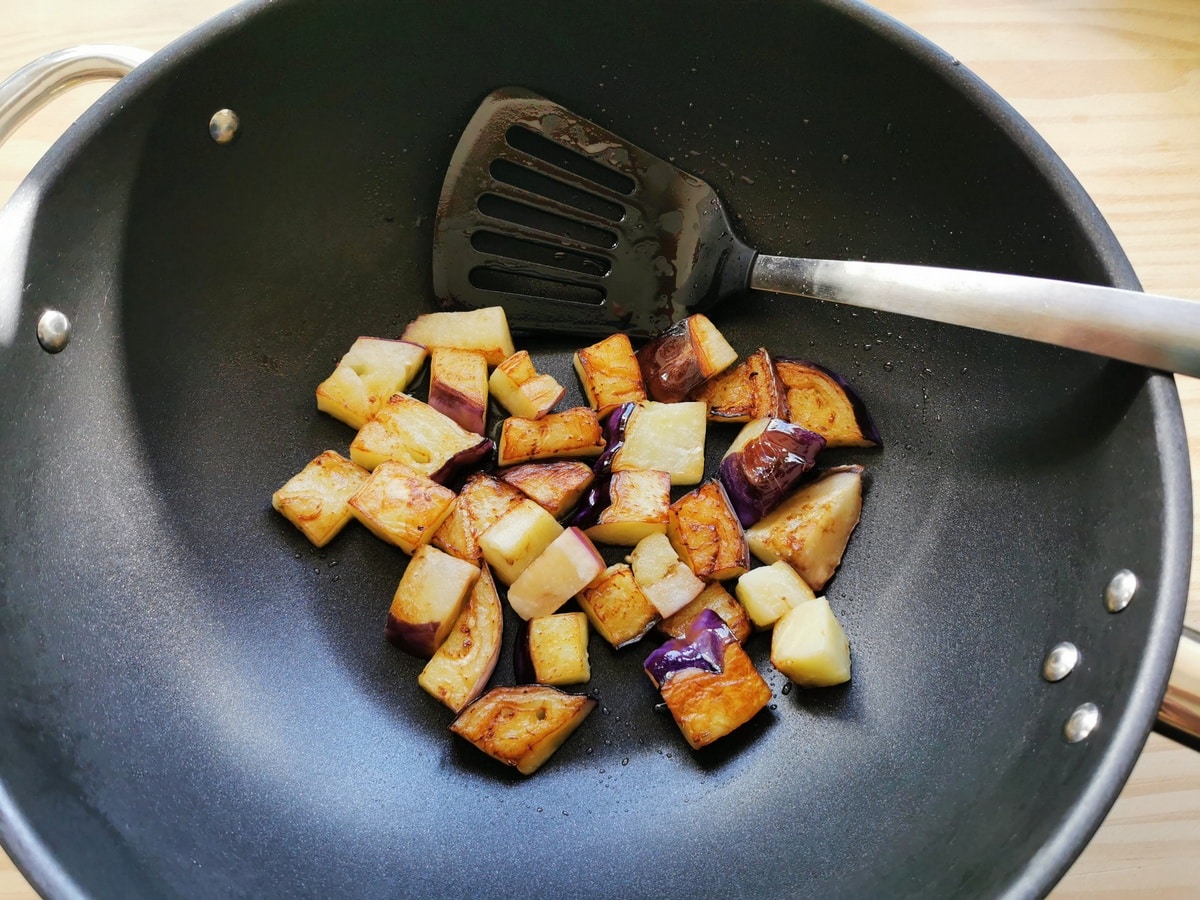 3) Using a slotted spoon, transfer the fried eggplant onto paper towels to drain excess oil.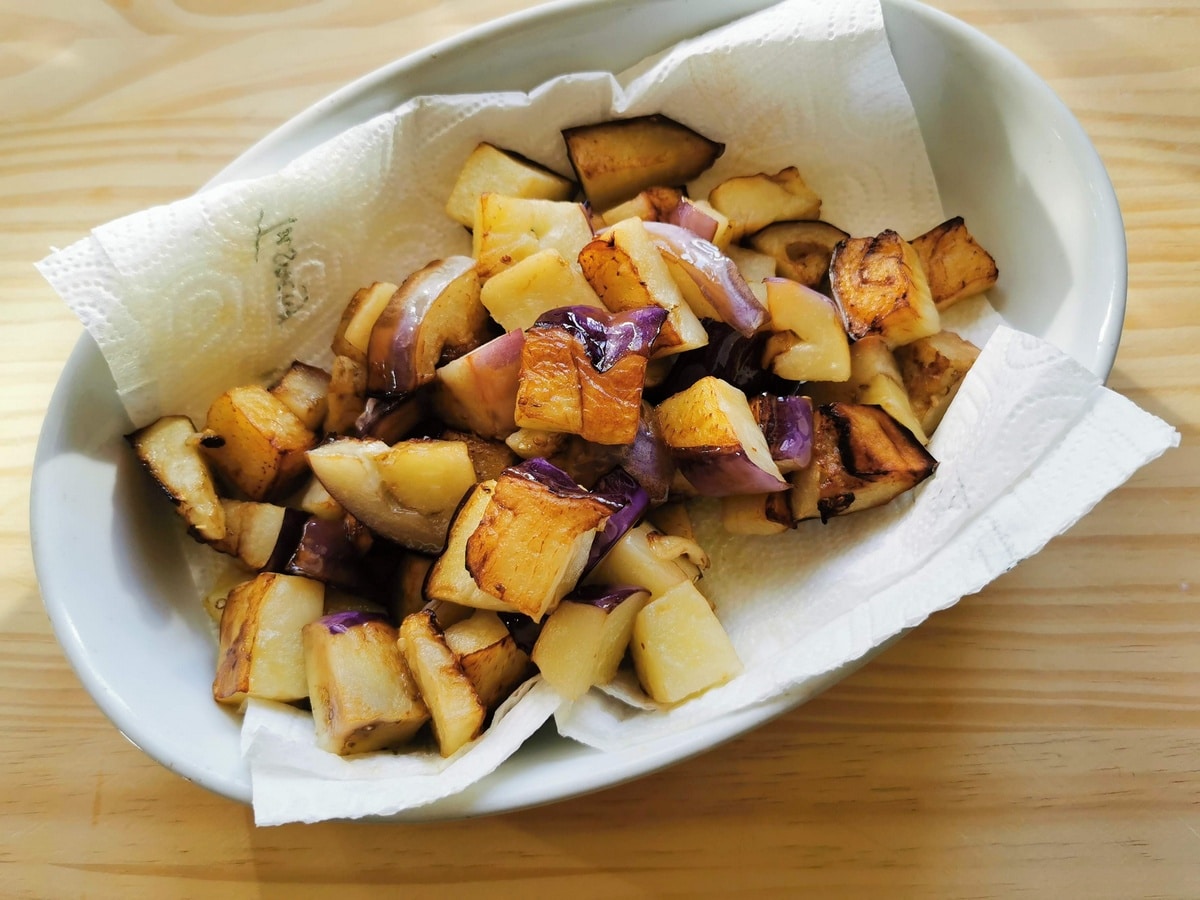 4) In the same pan, add the cherry tomatoes and sauté until they begin to soften, about 3-4 minutes. Then add them to the eggplant.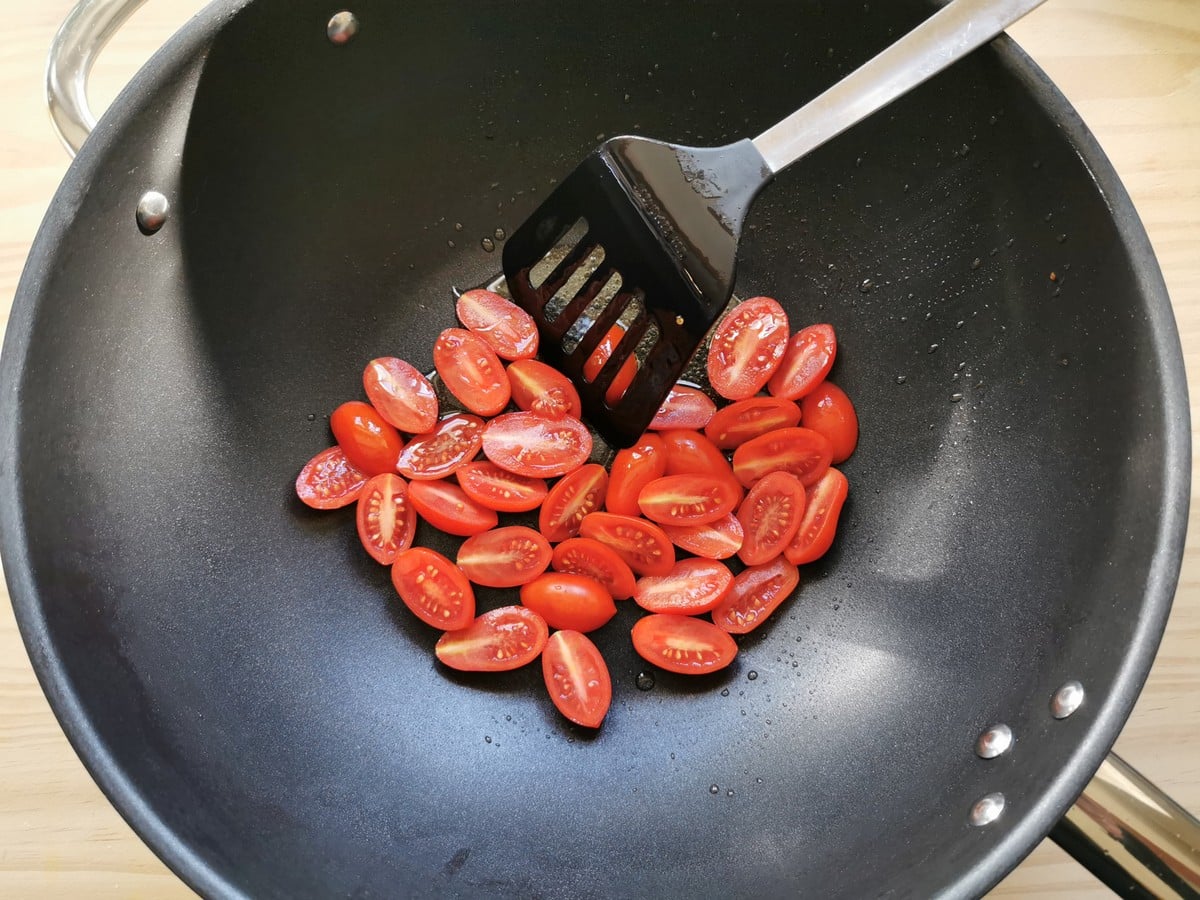 5) Give the pan a wipe with kitchen paper. Add a bit more olive oil and sauté the garlic cloves. Once the garlic starts to color, add the swordfish steaks.
6) Fry the swordfish cubes for about 2-3 minutes, turning half way through to ensure even cooking. Then, mix in the cooked tomatoes and eggplant to the pan, sautéing until the fish is fully cooked.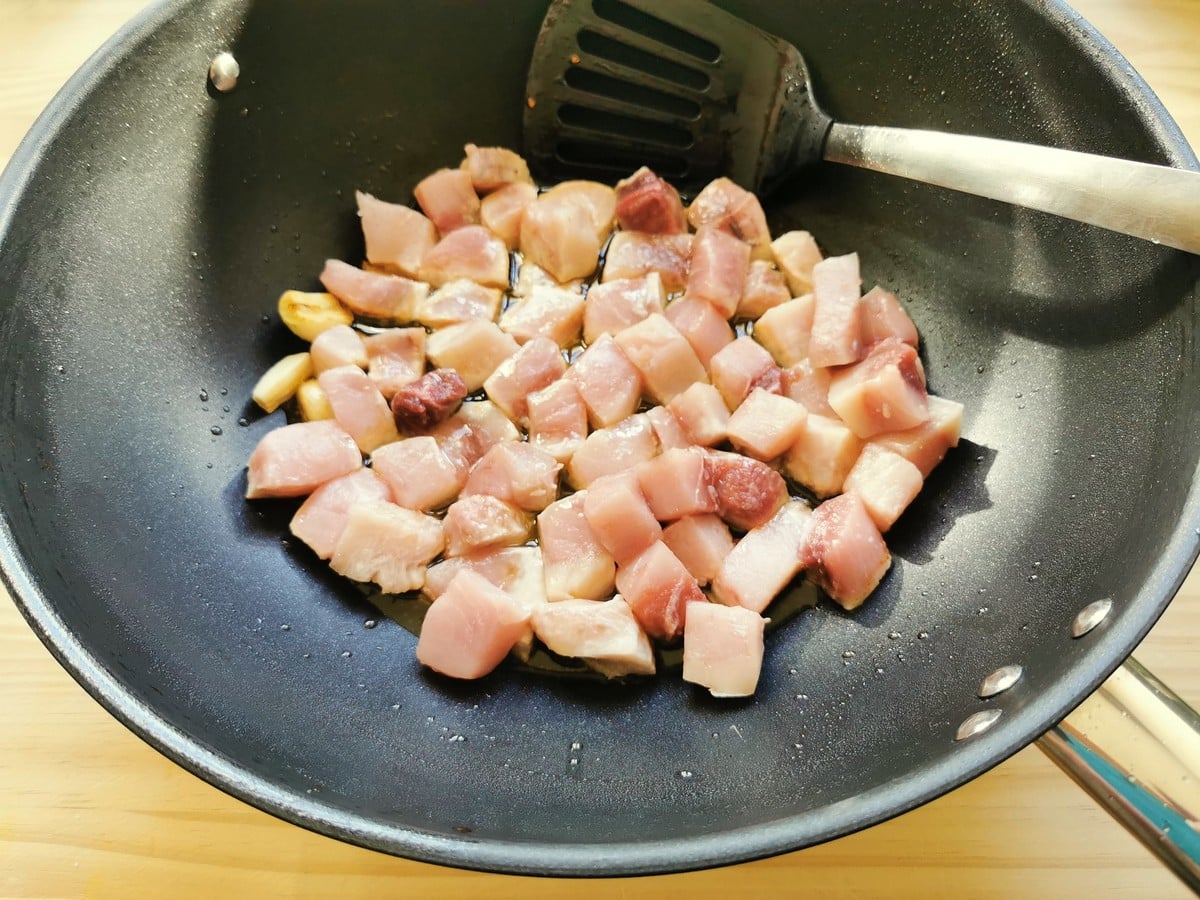 7) Pour in the white wine, increase the heat to high, and cook until the alcohol evaporates. Remove from heat and sprinkle in chopped mint and grated lemon zest. Let it sit to marinate briefly.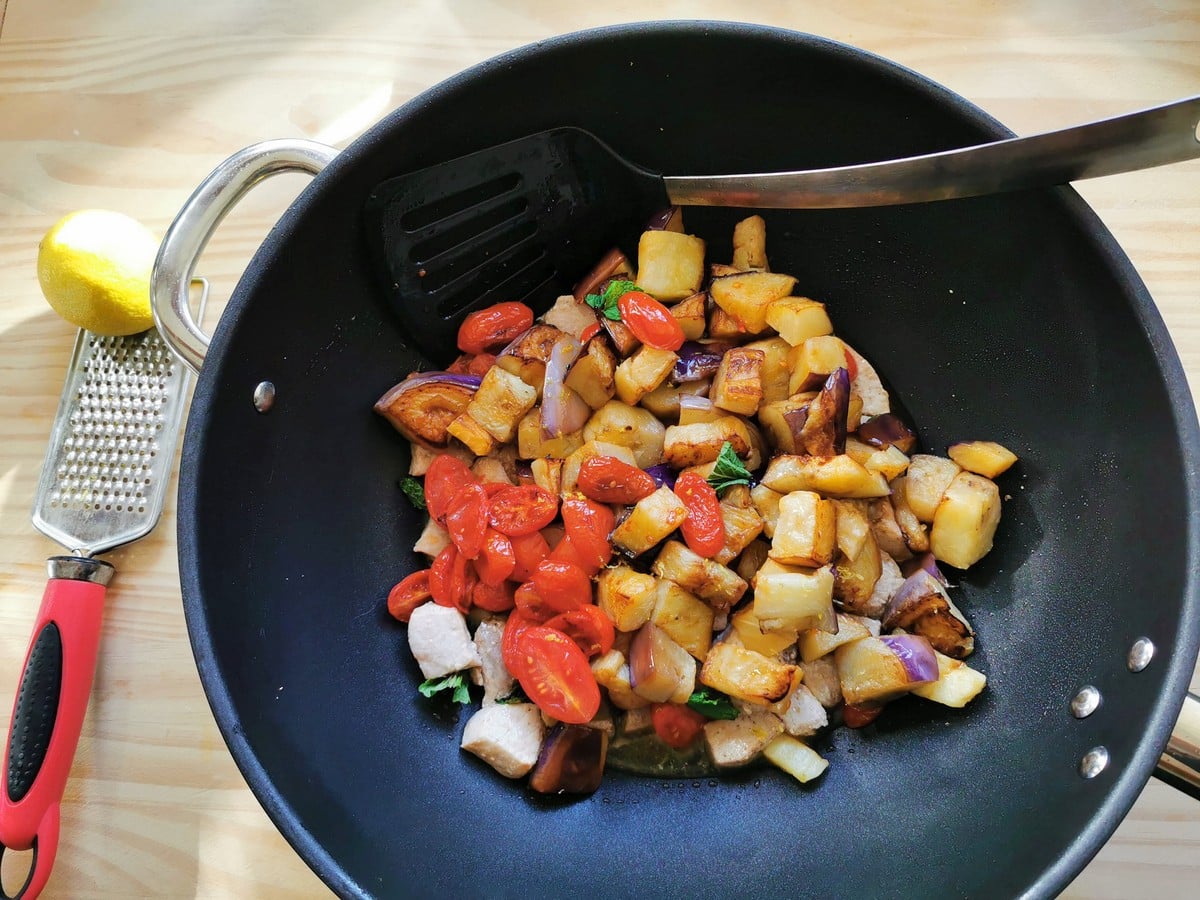 8) Meanwhile, cook the pasta al dente according to package instructions. Once cooked, quickly drain the pasta and combine it in the pan with the swordfish over a low heat for a minute.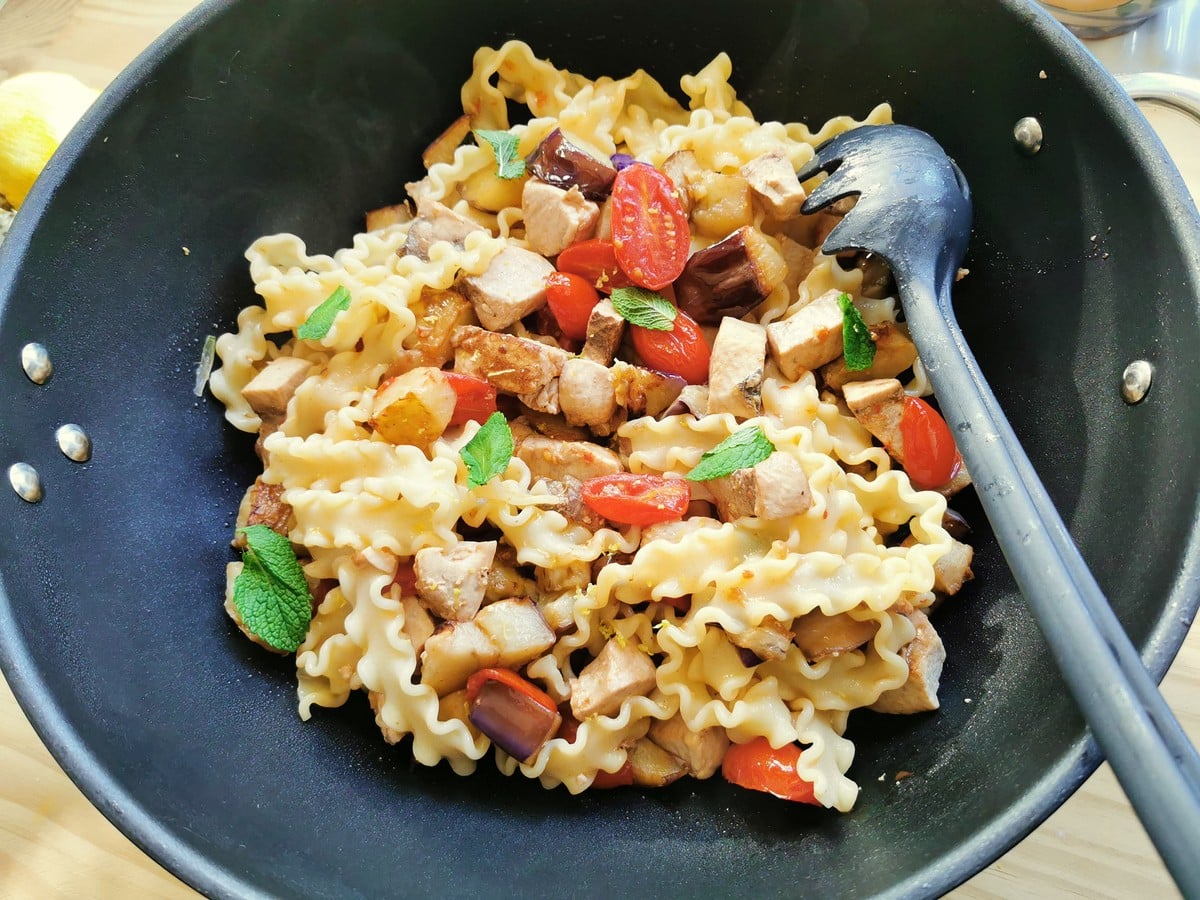 9) Serve immediately if you are using long pasta, however this dish can also be eaten tepid or cold if made with short pasta.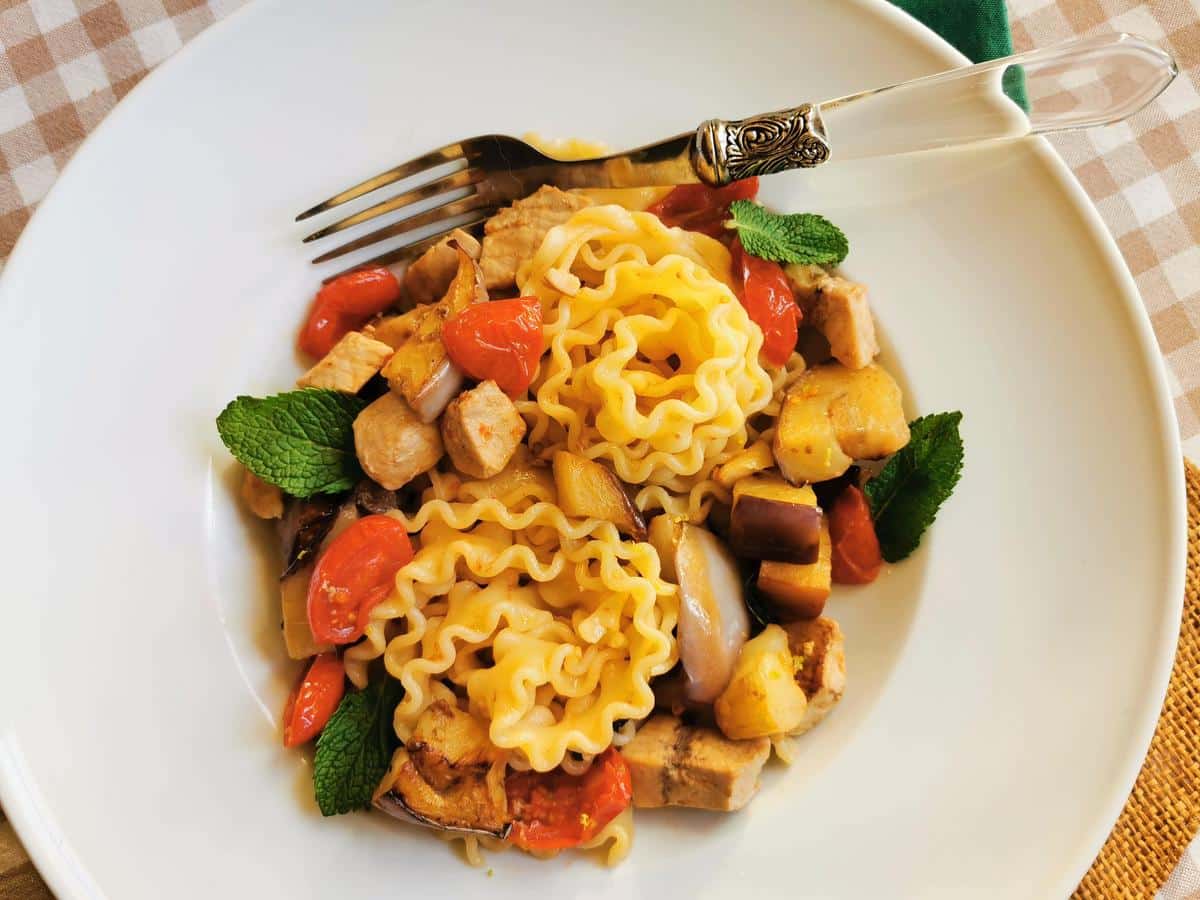 Storage and Leftovers
Allow the pasta with swordfish to cool to room temperature. Transfer the cooled pasta with swordfish to an airtight glass container and refrigerate. This dish will stay fresh and retain a good quality for up to 2 days.
For reheating, place the desired portion in a microwave-safe dish, cover loosely, and heat for 2-3 minutes, stirring halfway through to ensure even heating. Avoid overheating the dish to stop the fish from becoming too dry.
FAQs
Do swordfish steaks have bones?
Swordfish steaks are typically sold either boneless or with a large central bone. Generally, they don't contain any smaller bones. When purchasing swordfish steaks, you may encounter a large, single bone in the middle, which is easy to remove. However, many markets and fishmongers also offer completely boneless options for convenience.
Do I need to salt the eggplant before cooking?
Although this used to be common practice, said to be necessary to remove bitterness, nowadays many chefs no longer do it as modern varities of eggplant are less bitter than in the past. I never salt my eggplants.
How Do I Know When the Eggplant is Perfectly Cooked?
Eggplant is perfectly cooked when it's soft throughout but not mushy. It should have a slightly browned exterior from the frying process and a tender interior. If you can easily pierce it with a fork without any resistance, it's done.
More Recipes You May Like:
If you make this pasta with swordfish recipe I'd love to hear how it turns out and if you liked it. Please leave a comment here on the blog or on The Pasta Project Facebook page. Looking forward to hearing from you.
Buon appetito!
This recipe was originally published in 2017, but it has been updated with new photos and text.
Pin for Later: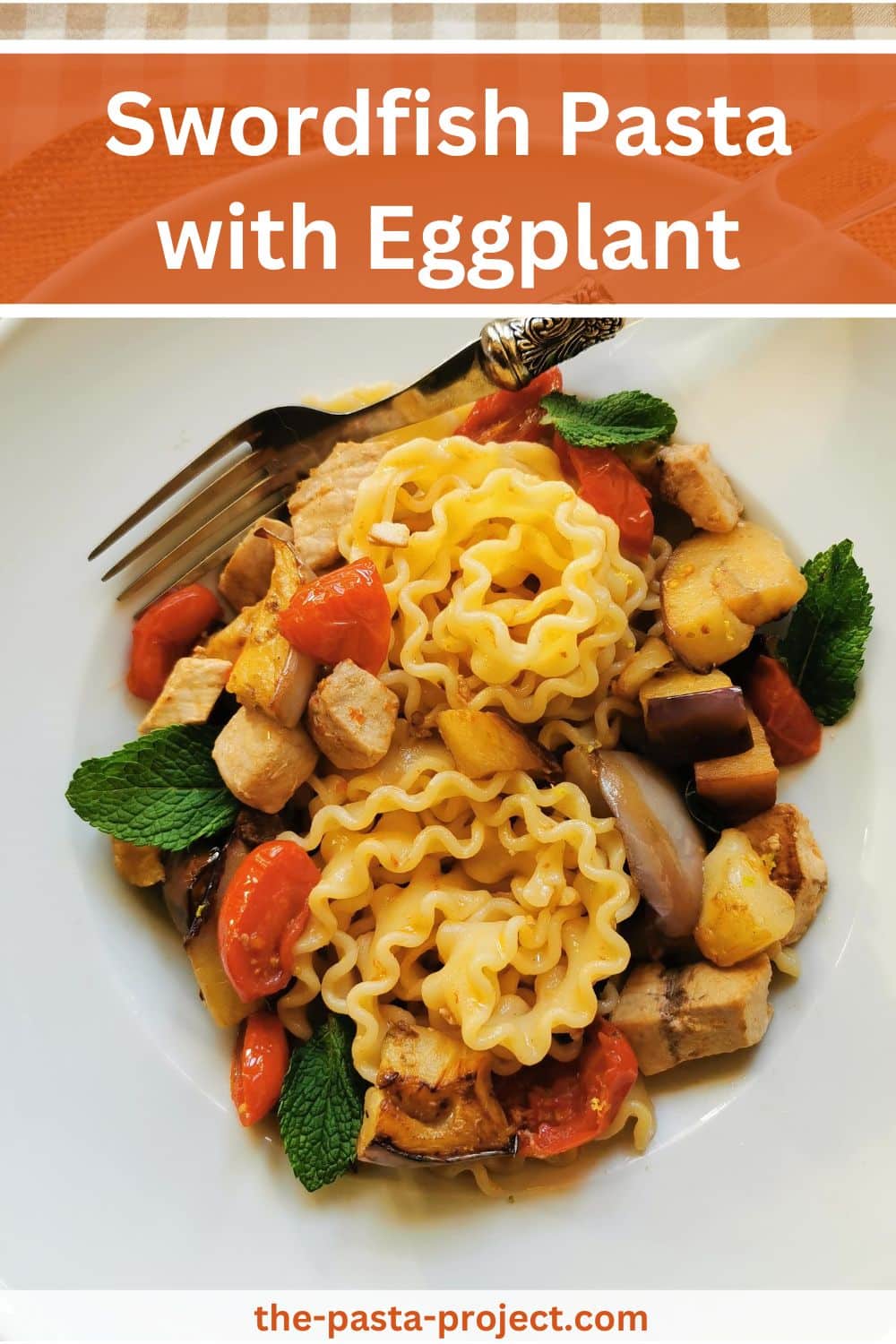 If you are interested in learning how to make homemade pasta and different types of gnocchi, check out my shop page for some great video online courses from my friends in Rome! Nothing beats learning to make pasta from Italians! Plus while you're there why not order a copy of one of my pasta recipe cookbooks?!