This Italian carbonara with asparagus is a delicious version of Rome's most famous and favourite pasta recipe. It's made the same way as authentic carbonara but the addition of fresh green asparagus adds a bright spring flavour and lots of nutrients.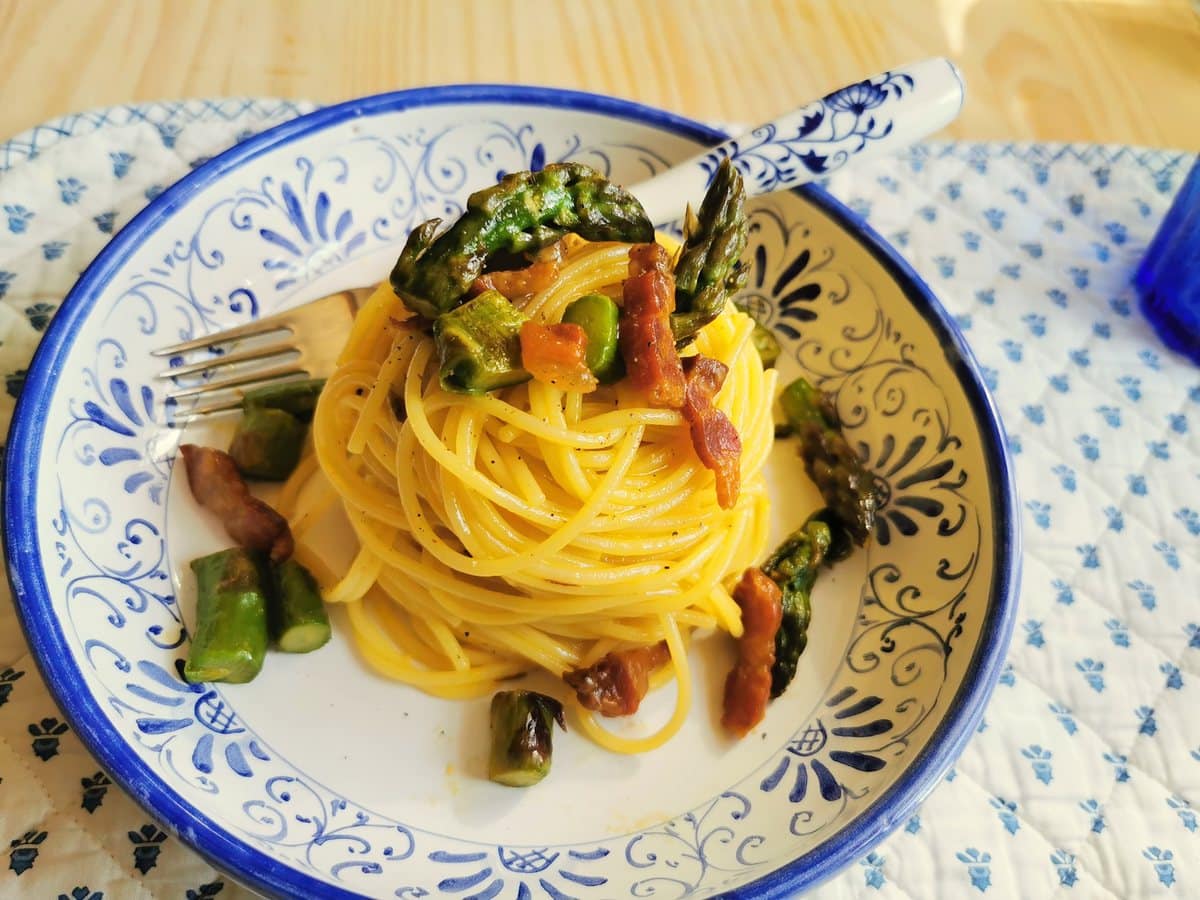 How is authentic carbonara made?
Unlike versions that are popular outside of Italy, spaghetti 'alla carbonara' is a simple dish with just a few ingredients. Personally, I think of carbonara as Italian bacon and eggs because all it contains, apart from pasta and seasoning, is eggs, cheese and bacon. Traditionally the 'bacon' is guanciale, but many people use pancetta instead.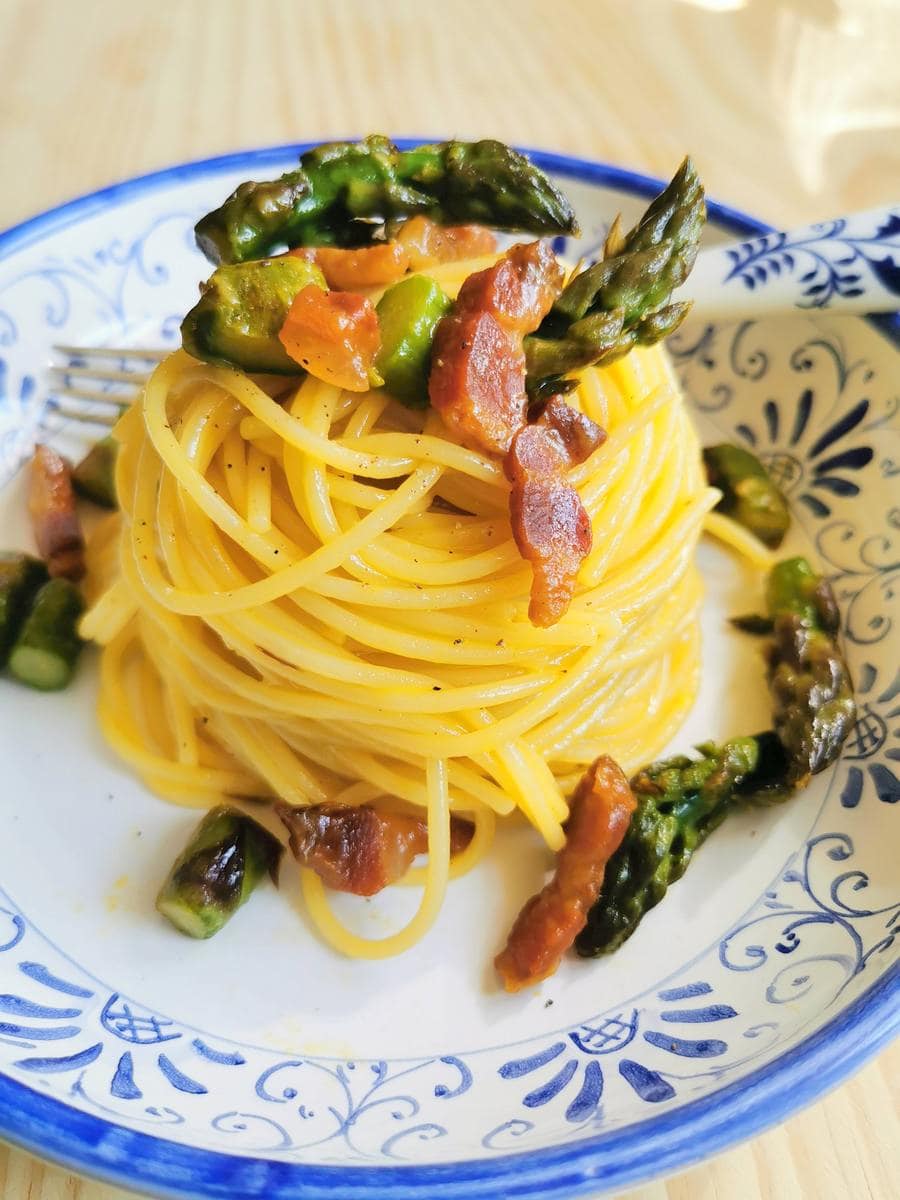 What's the difference between guanciale and pancetta?
The word 'guancia' means cheek in Italian. So, guanciale is actually cured pork cheek (jowl). Pancetta, on the other hand, is more similar to bacon as it's cured pork belly. But, pancetta is different to bacon in that bacon is cured and smoked, whereas pancetta is cured with salt and spices and hung to dry.
Despite what I have read on various non-Italian recipe sites, pancetta is fine to eat uncooked. In fact, Italians add it in thinly cut slices to sandwiches and charcuterie boards.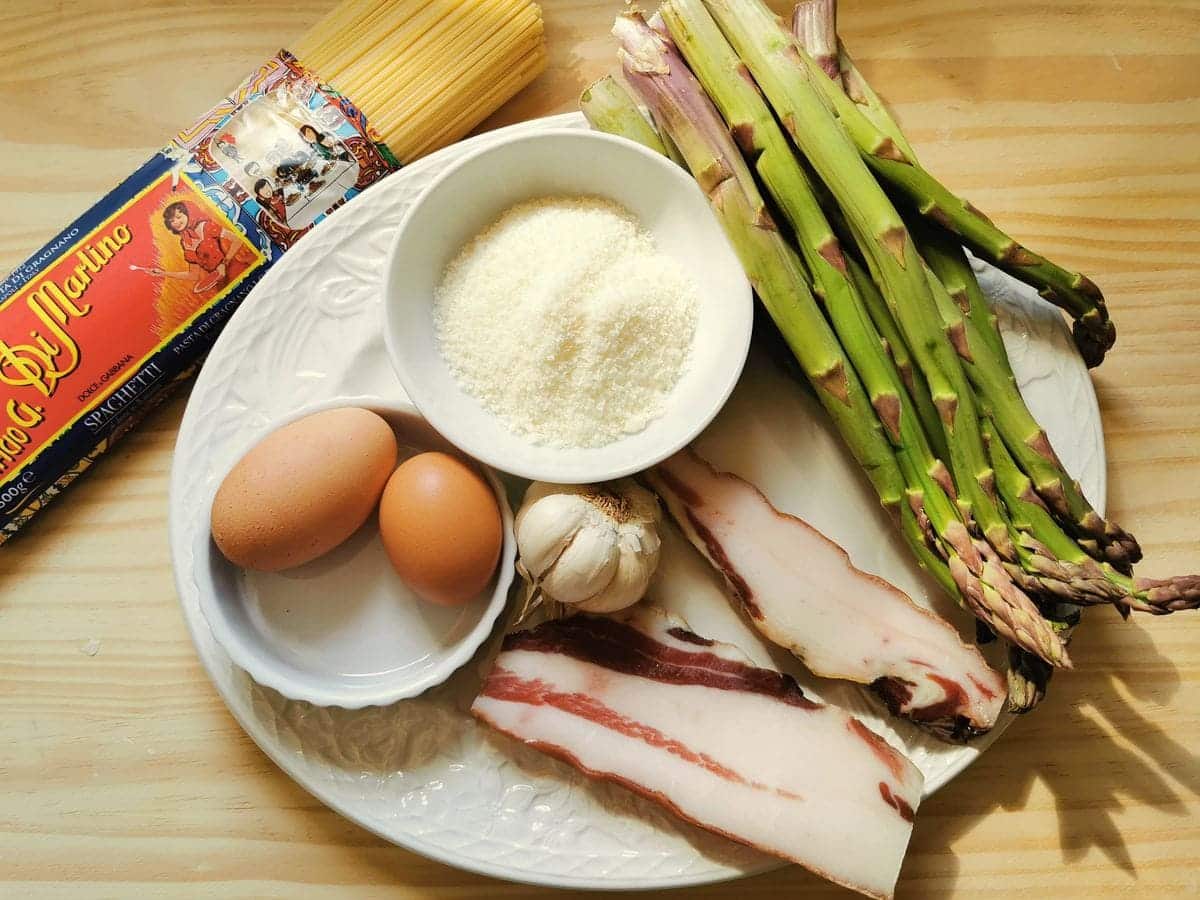 Guanciale has a higher fat content than pancetta which actually makes it more flavourful when cooked. In fact, the fat melts and adds a rich depth of flavour to dishes. Guanciale is the star ingredient in pasta recipes such as authentic carbonara, amatriciana and alla gricia. I used guanciale for this Italian carbonara with asparagus, but pancetta works as a good substitute. Guanciale tends to be more expensive and harder to source.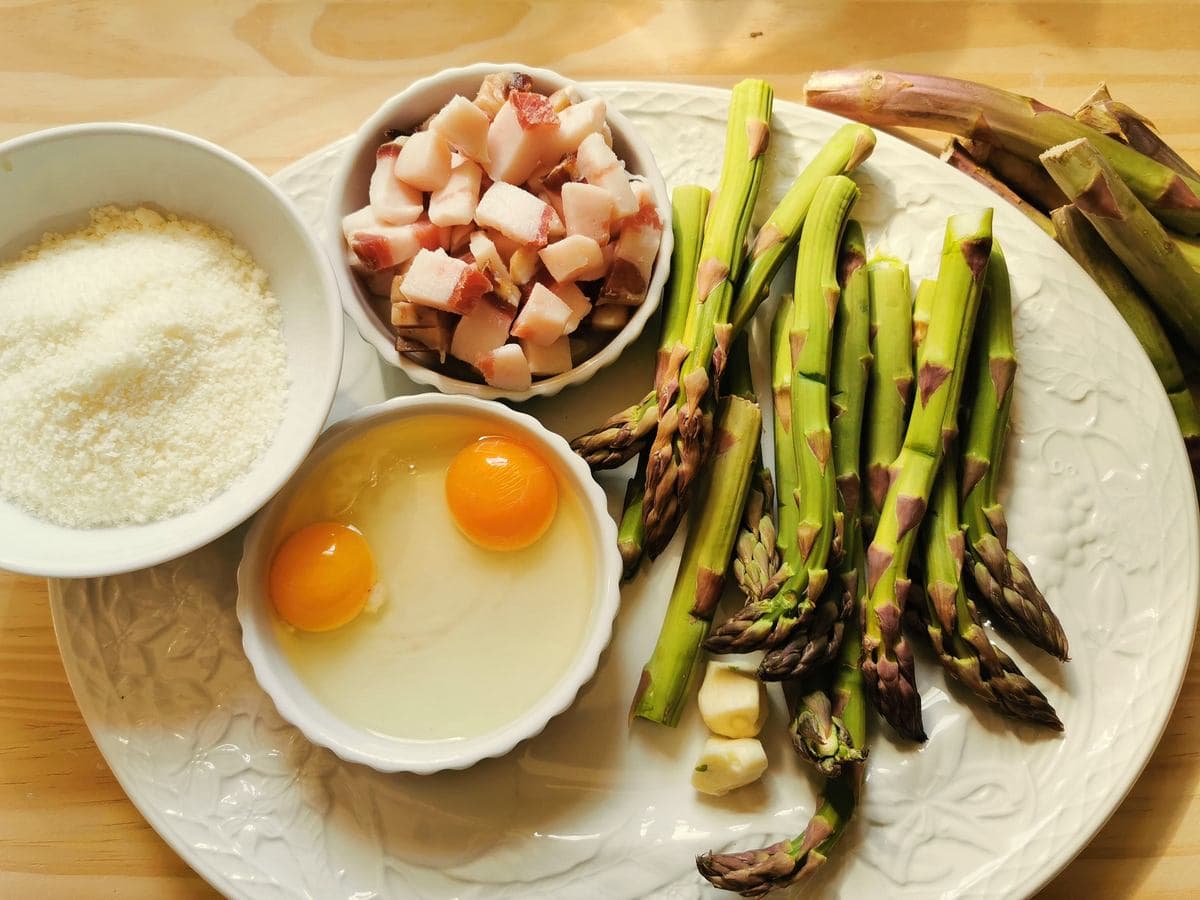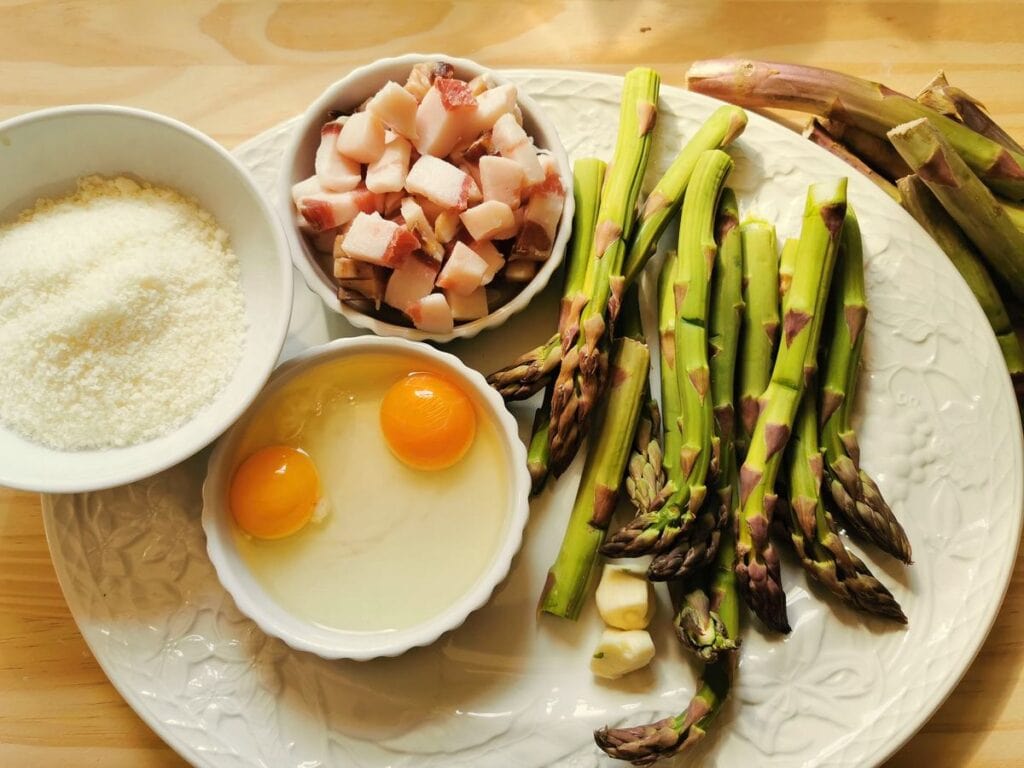 Different versions of carbonara in Italy.
In general, Italians have a reputation for being quite rigid when it comes to changing the ingredients in traditional dishes. However, when it comes to carbonara, new versions are becoming popular and trendy. Nowadays, people also make seafood carbonara like my tuna carbonara recipe (link below). Some of these recipes only call for seafood and others include guanciale or pancetta.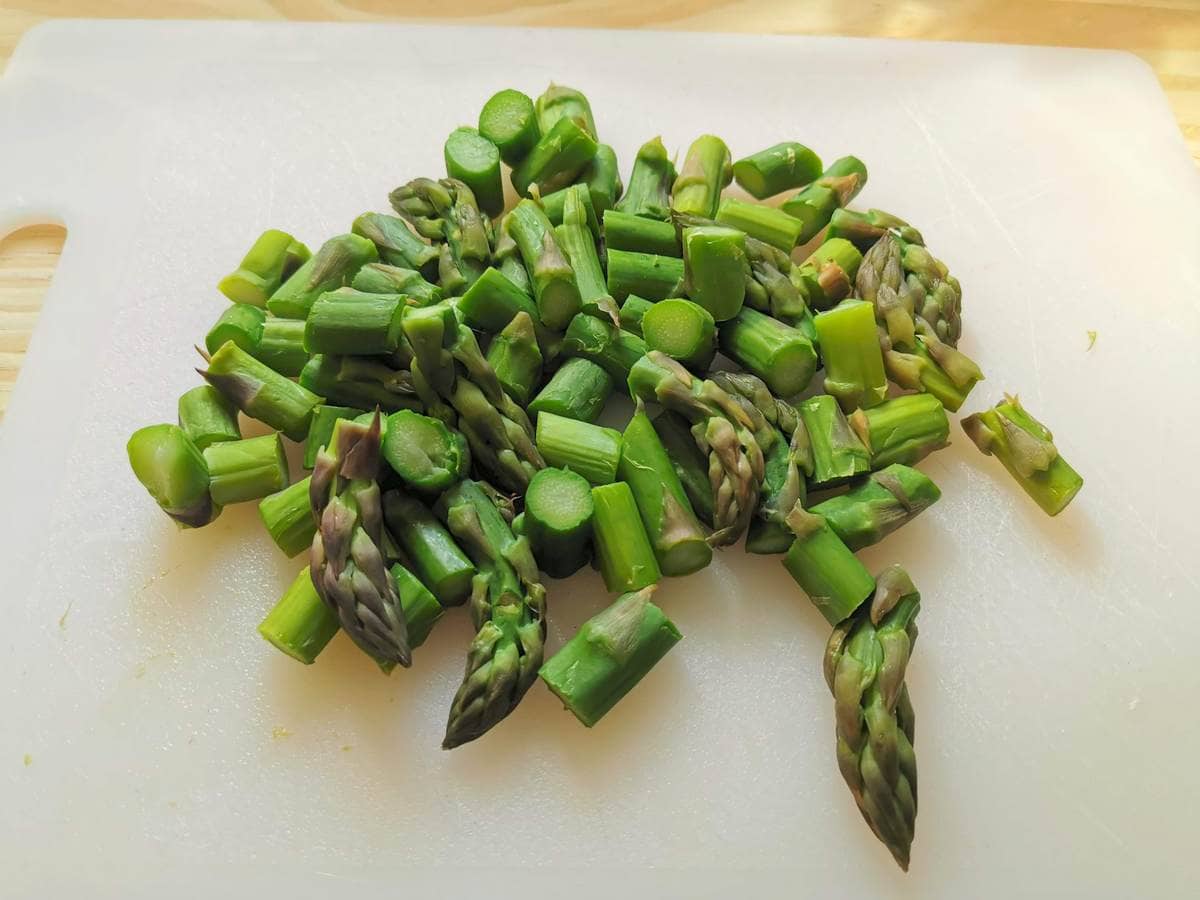 There are also carbonara recipes with veggies like this asparagus version. These too can be with just a vegetable or with guanciale or pancetta as well. What all Italian carbonara recipes have in common is the use of eggs and the pasta cooking water to create a creamy sauce. One thing Italians don't do is add cream!
Asparagus in Italy.
People in this part of the world have been eating asparagus since 3,000 B.C! The ancient Greeks, Egyptians and Romans, all loved them. In fact, the Romans even went so far as to freeze asparagus by transporting quantities into the Alps and preserving them there!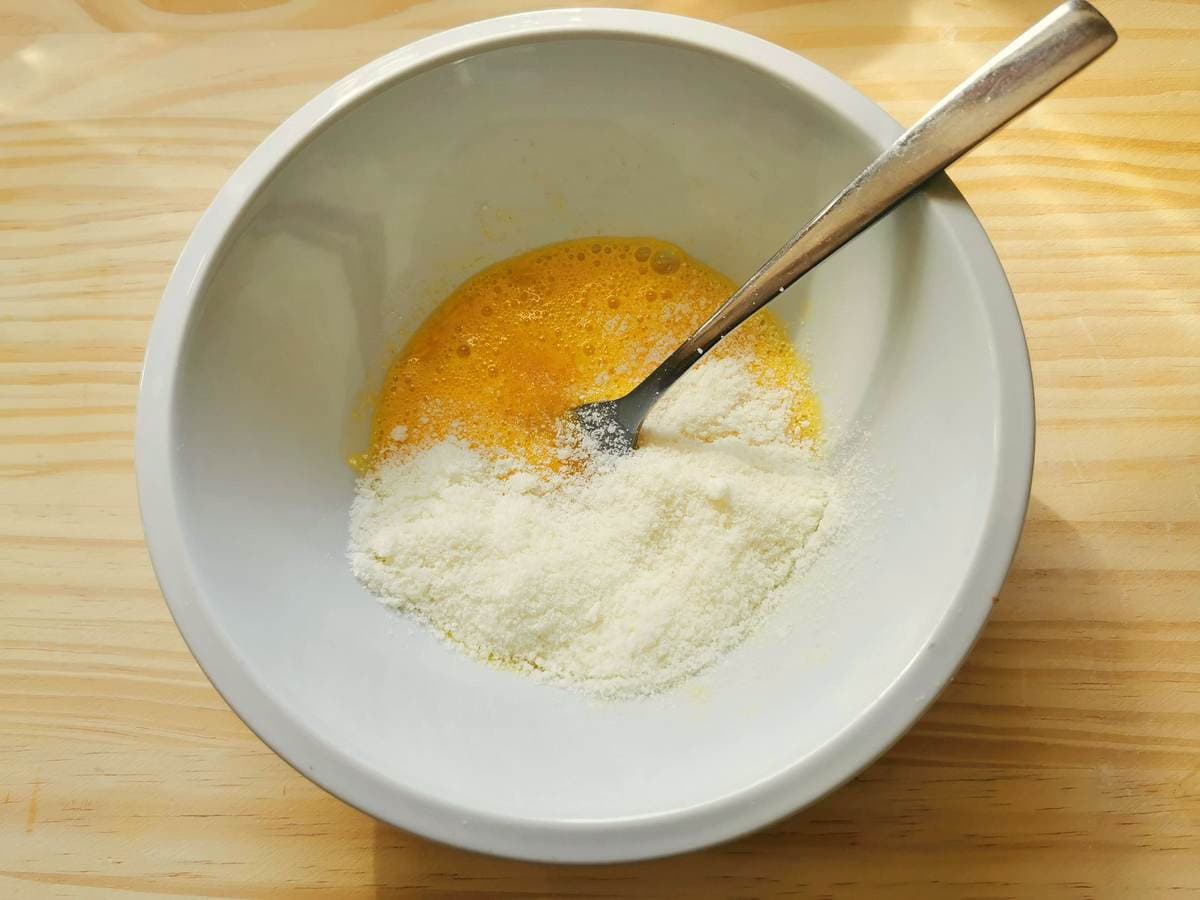 Needless to say, we don't need to freeze asparagus in the mountains anymore. We have fridges, freezers and other ways of storing them. However, Italians mostly eat asparagus when they are in season.
Italy cultivates the largest number of green asparagus in Europe. Plus, it's the third largest producer of white asparagus. Both white and green are used in local recipes. This Italian carbonara with asparagus recipe is best with fresh or wild green asparagus.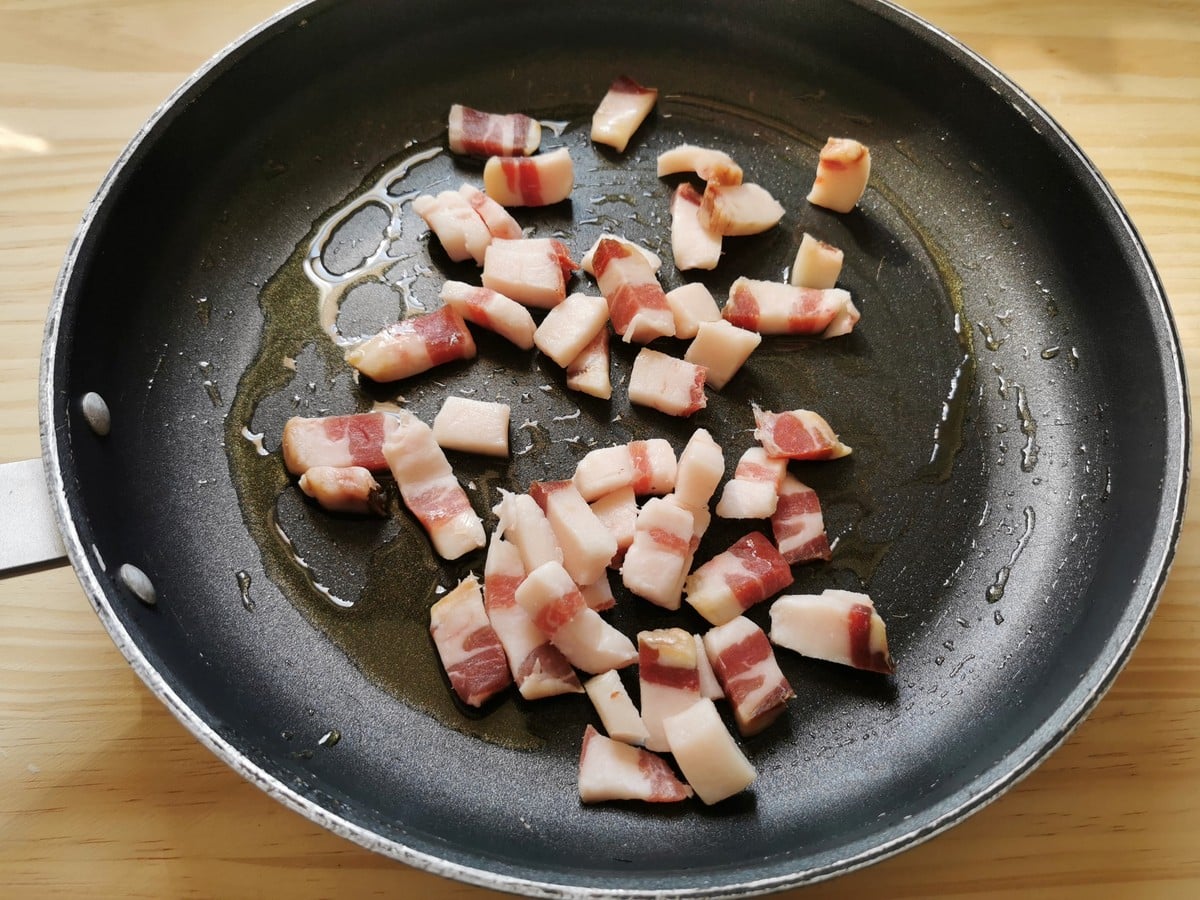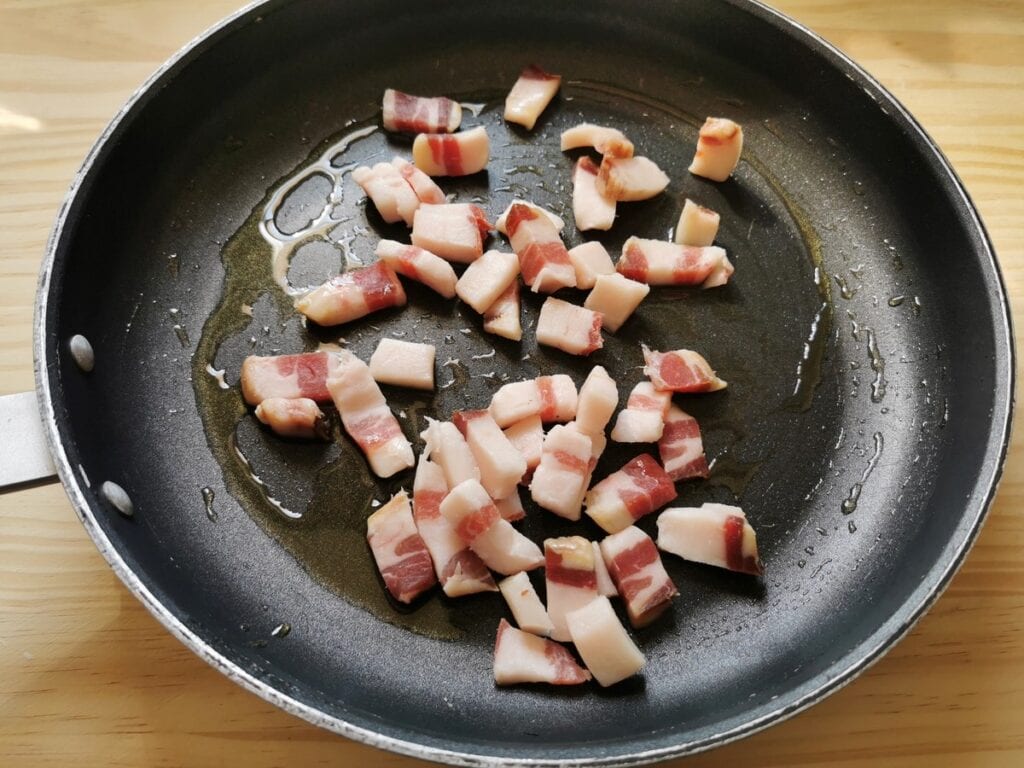 Here in Veneto, where I live, asparagus are a star ingredient in spring dishes. Given that this region grows the most asparagus in Italy, I guess that's not surprising. We can buy asparagus from roadside stalls when in season and all grocers and supermarkets sell them.
The most popular ways to serve asparagus are in soups, risottos or with pasta. This Italian carbonara with asparagus is just one example of how well this nutritious low-calorie spring veg goes with pasta.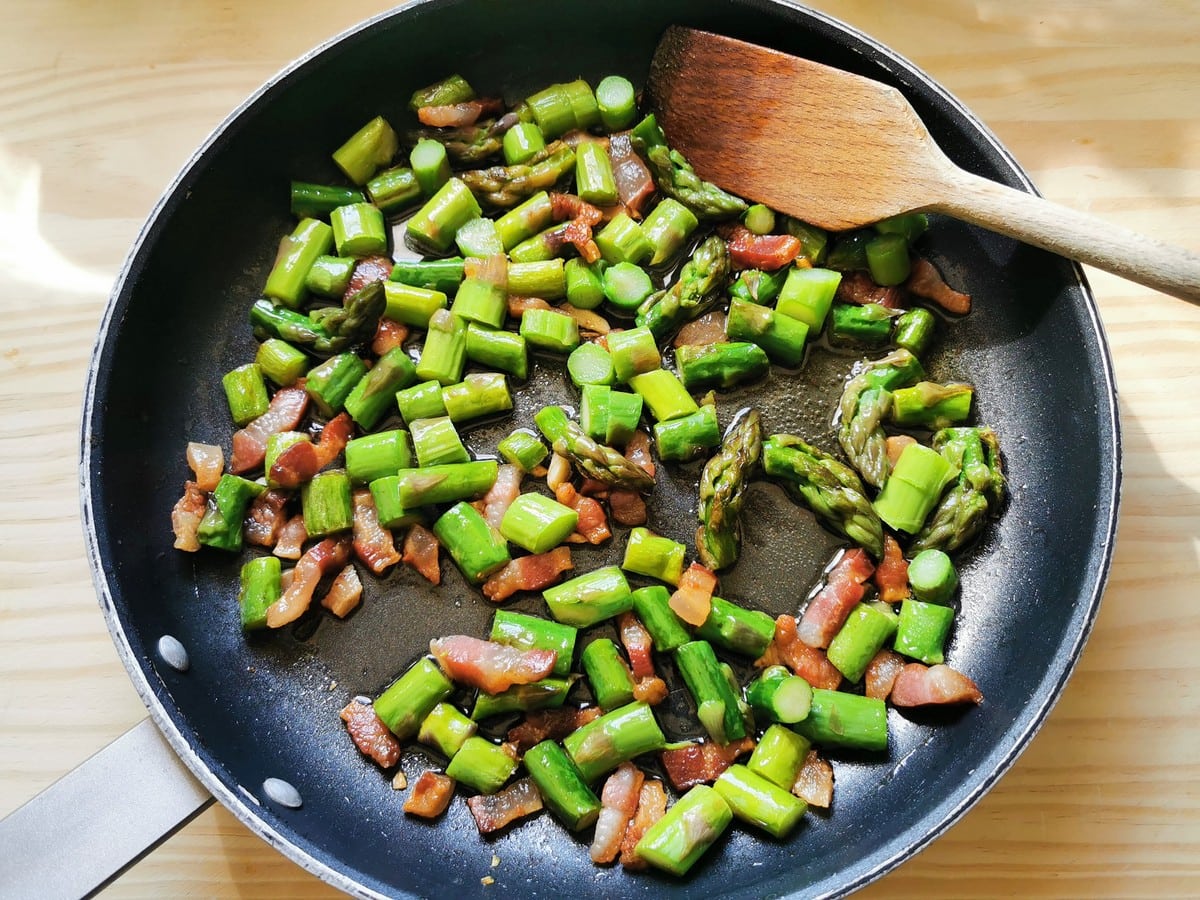 How to prep this Italian carbonara with asparagus.
This Italian carbonara with asparagus is made exactly the same way as normal carbonara, the difference being the addition of some garlic and fresh asparagus. The latter need to be parboiled first. Because asparagus tend to be tougher at the bottom end of the stem, I broke them in half and then parboiled the stems for longer than the spears. That way neither were too hard or soft! I kept the water to cook the pasta in.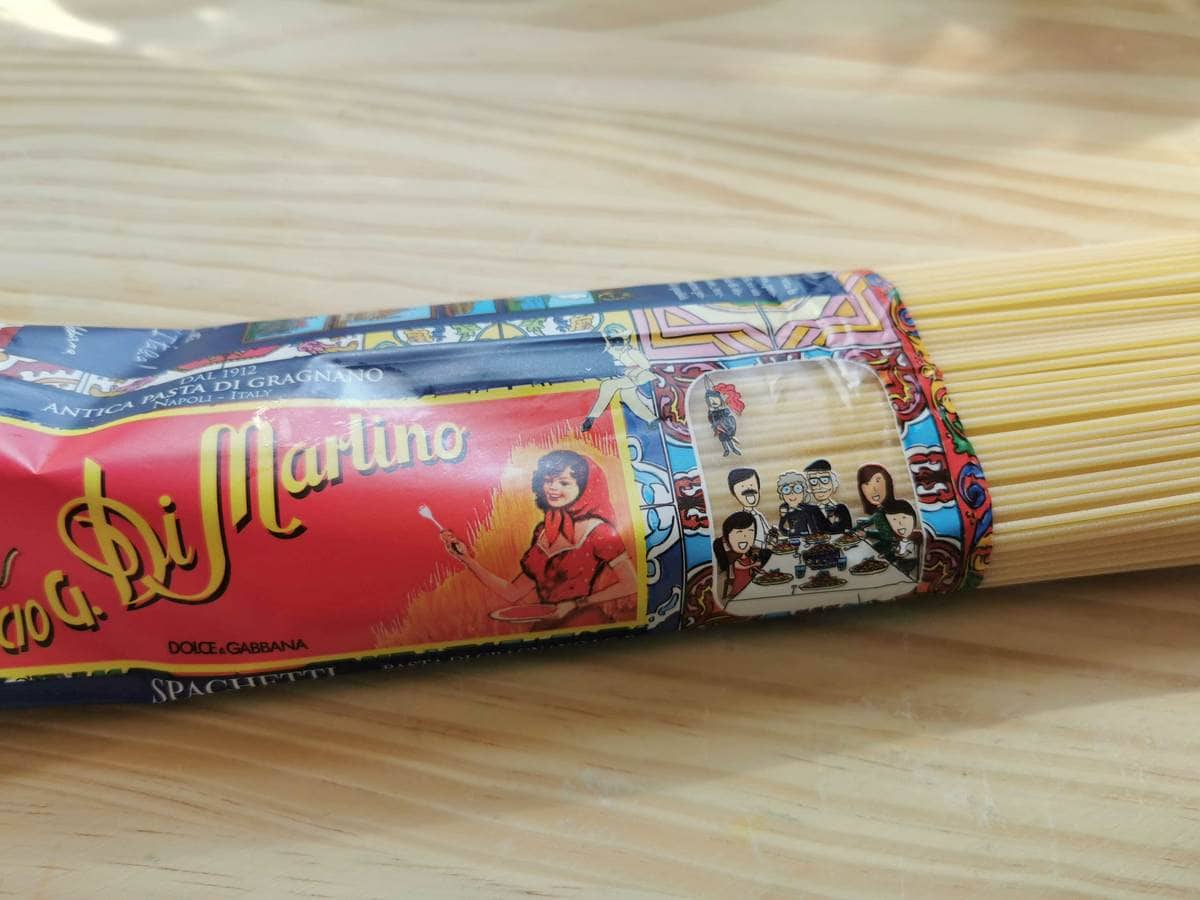 After parboiling the asparagus, you need to cut the stalks and the spears into small pieces. The guanciale will need to be cut into cubes if it's one large piece like mine was. The same goes for pancetta if you are using it instead. Finally, the garlic has to be peeled.
The only other prep step is to separate one yolk and then beat the whole egg and the yolk with the grated pecorino and/or parmigiano.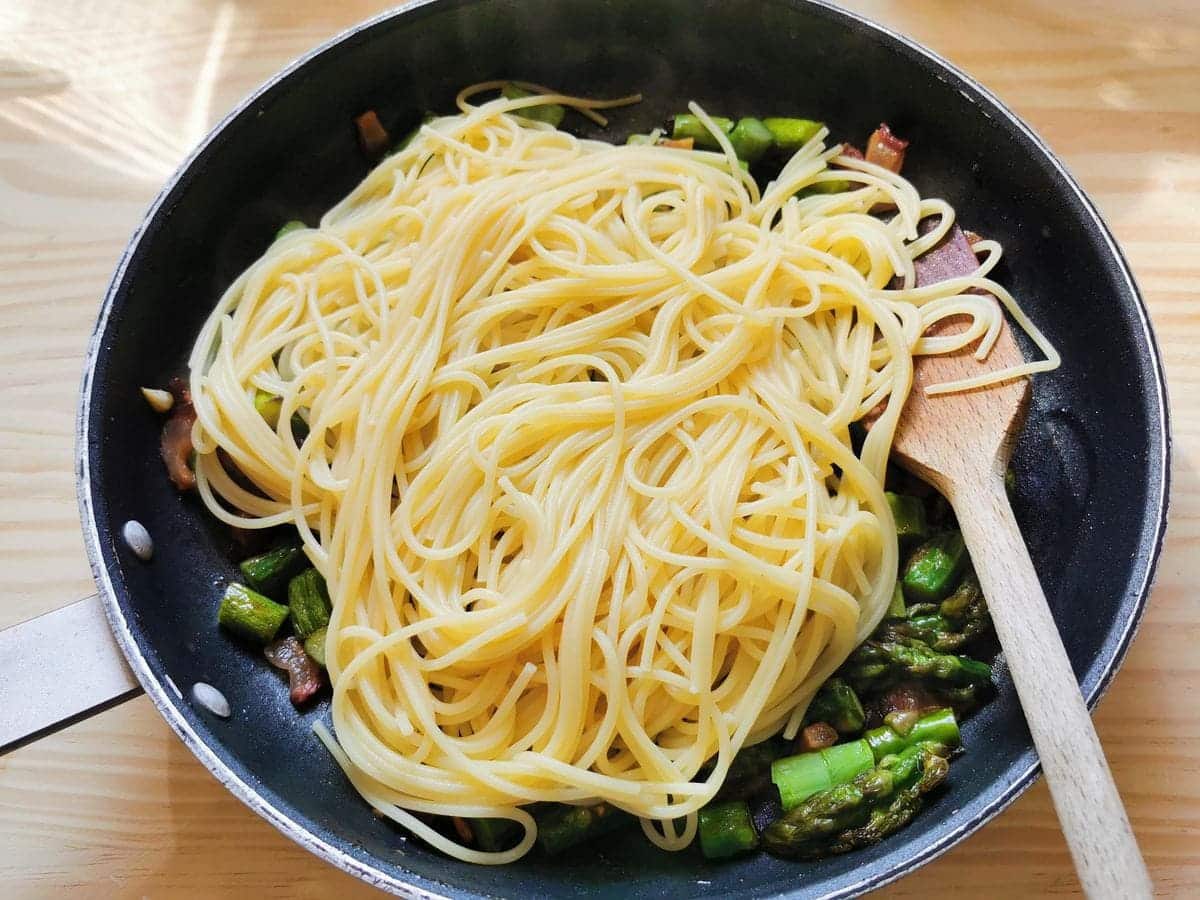 How to make and serve asparagus carbonara.
Carbonara is best made and served immediately. So, while the water is boiling for the pasta, sauté the garlic cloves and guanciale in a little olive oil. Guanciale renders its own fat, so you need less oil than with pancetta. Once the guanciale is starting to brown, add the asparagus pieces and sauté them for about 2-3 minutes. Then remove the garlic and add salt and pepper to taste.
Cook the spaghetti al dente and just before draining save some of the pasta cooking water. Add the drained spaghetti to the asparagus, mix well then add a little pasta cooking water. Mix everything together carefully for about a minute over a medium heat and then remove from the heat.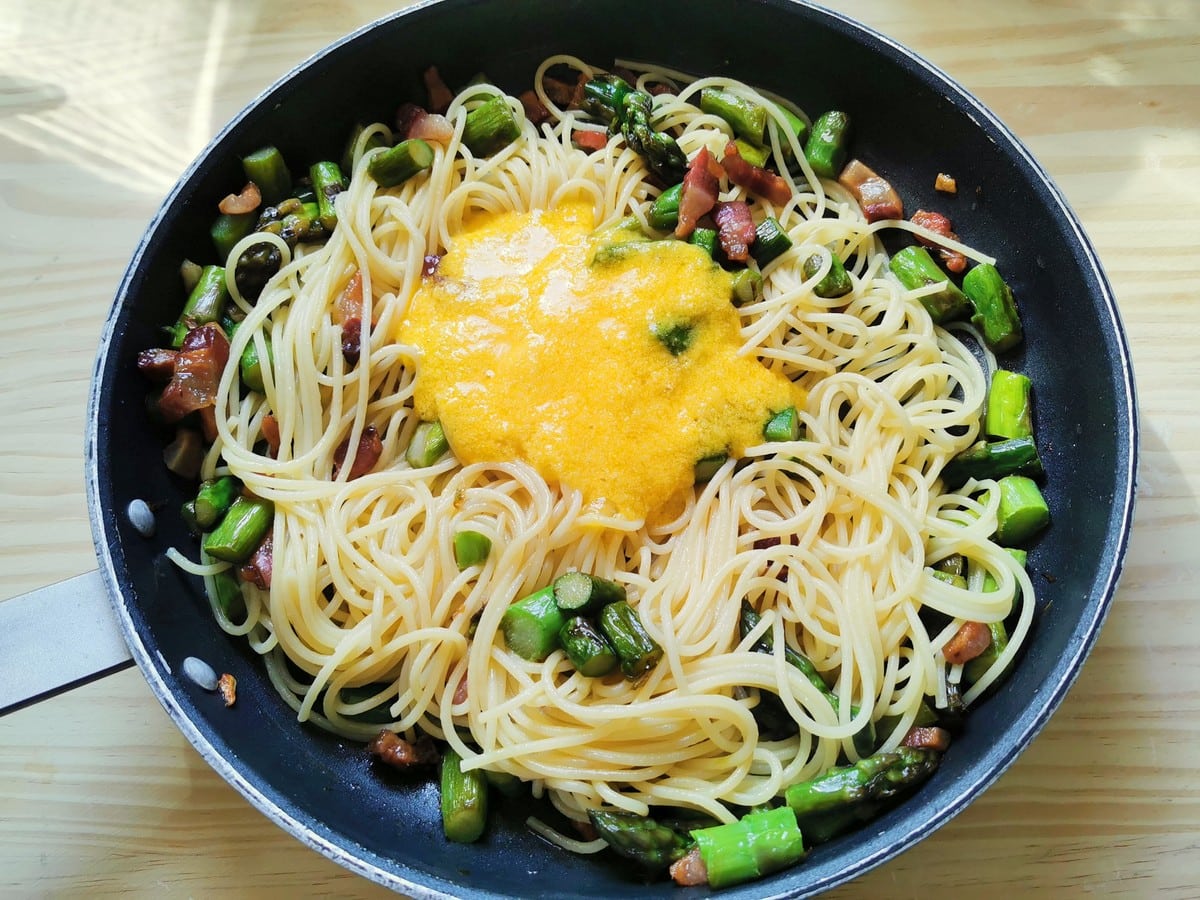 Finally add the egg and cheese and mix and stir until the sauce becomes creamy. It's better to do this off the heat so the eggs won't scramble. But, the pasta will be hot enough to cook the eggs, so don't worry, you won't be eating raw egg!
Plate your Italian carbonara with asparagus immediately and serve with more grated cheese and some freshly grated black pepper.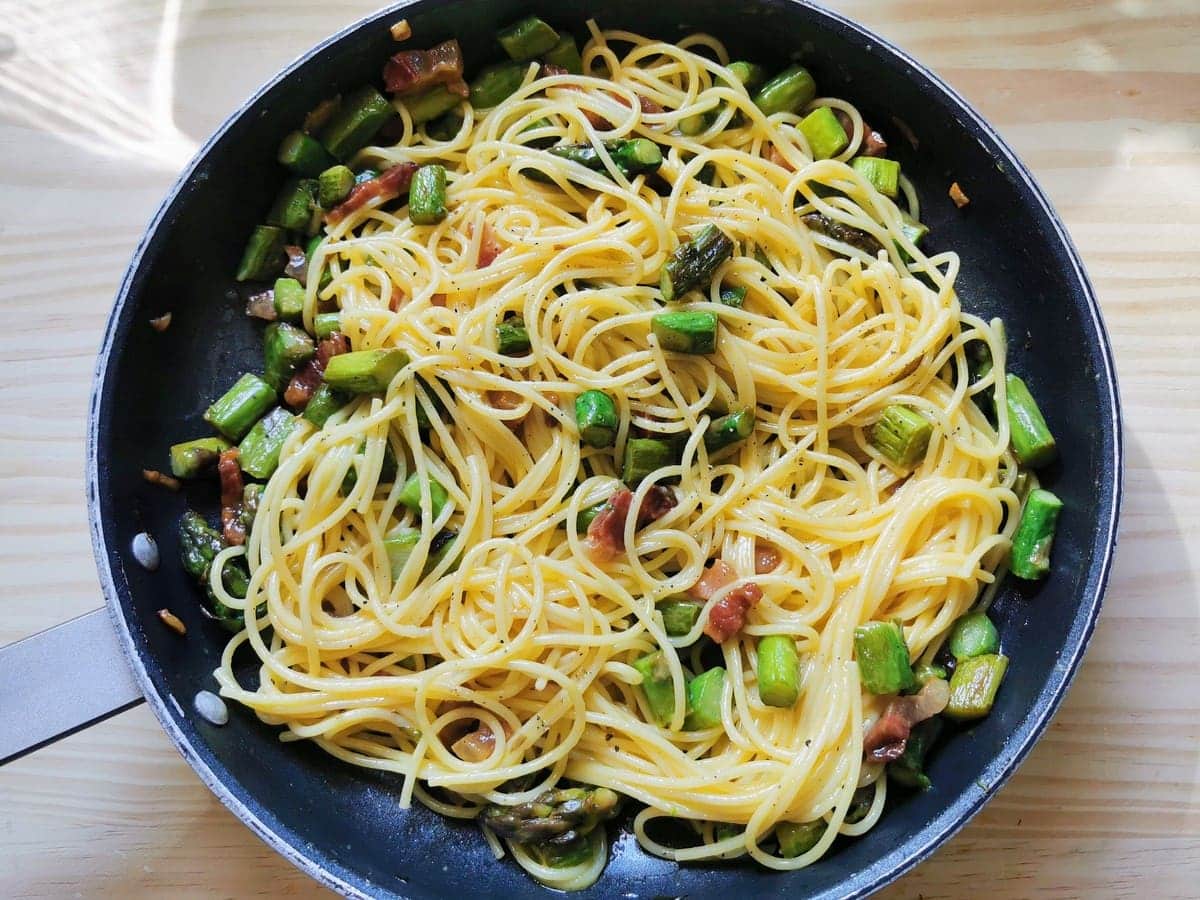 Substitutions for asparagus.
When asparagus aren't in season or if you don't like them, you can make this recipe with zucchini, peas or even pre-roasted sweet peppers. Zucchini don't need to be par-boiled nor do frozen peas. Fresh peas have to be cooked in advance and zucchini work best if you fry slices before adding the guanciale.
Substitutions for guanciale.
As I mentioned above, you can use pancetta instead of guanciale or even fatty bacon. I've also seen this recipe made with sausage meat or no meat at all.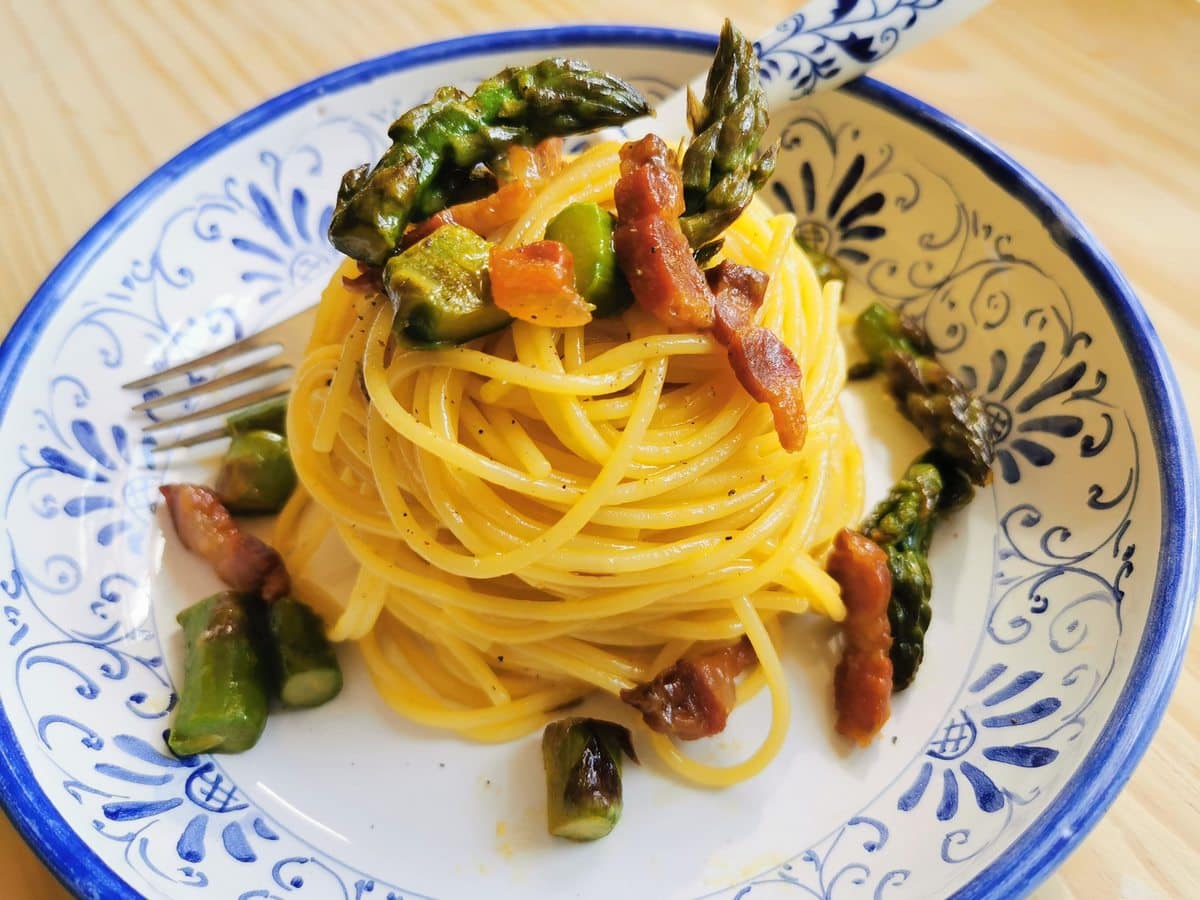 The pasta for Italian carbonara with asparagus.
Italian carbonara is most often made with spaghetti. I used spaghetti from a company called Di Martino, one of a number of pasta makers from the town of Gragnano near Naples. Gragnano is famous for dried pasta. In fact, it's been a center for pasta making for more than 500 years. I visited the town a couple of years ago at the invitation of a subsidiary company of Di Martino called Pastificio dei Campi. If you want to learn more about Gragnano and the pasta they make there, you can check out the post about my visit.
Needless to say, you can use other types of pasta with asparagus carbonara. Italians often make carbonara with pasta tubes like rigatoni, paccheri and mezze maniche. Whichever pasta you choose, I'm sure you'll enjoy this recipe as much as we did.
Let me know what you think.
If you make this Italian carbonara with asparagus, I'd love to hear how it turns out. Please write a comment here on the blog, email me or post a comment on the Pasta Project Facebook page.
Your feedback is really appreciated!
Buon Appetito!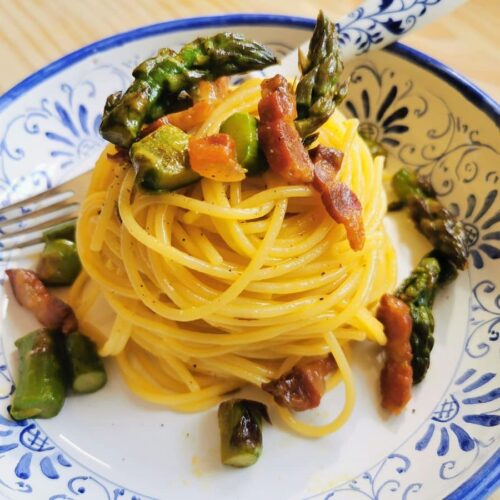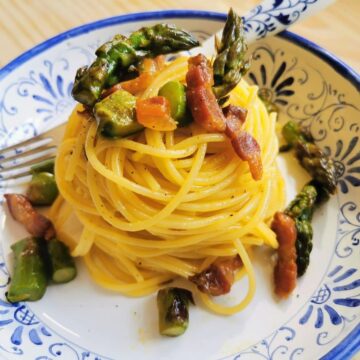 Italian carbonara with asparagus
This Italian carbonara with asparagus is made the same way as authentic carbonara but the addition of fresh green asparagus adds a fresh spring flavour and lots of nutrients.
Ingredients
320

g

spaghetti (12 oz)

or other pasta of your choice

200

g

guanciale (7oz)

or pancetta

300

g

green asparagus (12oz)

preferably fresh

30

g

Pecorino Romano (1oz)

grated or just parmigiano

30

g

Parmigiano Reggiano (1oz)

grated

2

eggs (large)

1 separated 1 whole

1-2

garlic cloves

peeled

1-2

tbsp

extra virgin olive oil.

salt

for pasta and asparagus and to taste

freshly ground black pepper.

to taste
Instructions
Prepare the ingredients
Wash the asparagus and break off the stems. If you bend asparagus, they will break in the right place naturally.  Cut off the very hard end of the stemss. Par-boilthe spears in salted water for just a minute. Remove from the water and then par-boil the stems for 2-3 minutes. Keep the water to cook the pasta in and cut the asparagus (spears and stalks) into small pieces.

Cut the guanciale or pancetta into cubes if necessary. Peel the garlic cloves. Beat the egg yolk and whole egg together and then add grated pecorino and/or parmigiano, salt and pepper. Beat again to incorporate cheese and eggs.
Cook and serve the asparagus carbonara
Sauté the guanciale or pancetta in a little olive oil. Guanciale requires less oil as the fat in it melts. Add the garlic cloves and sauté for a minute. Add the asparagus pieces and cook them with the guanciale and garlic for two to three minutes.

Re-boil the water used for the asparagus and then cook the pasta al dente according to the instructions on the packet. When the pasta is ready, save a cup of cooking water and drain. Add the hot pasta to the asparagus, mix well and then add a little pasta cooking water.

Mix again over a medium heat, then remove the pan from the heat and add the eggs and cheese. Stir and mix continuously until the pasta is covered in a creamy sauce.If necessary, add a little more pasta cooking water.

Serve immediately with more grated cheese and freshly ground black pepper.
Nutrition
Calories:
791
kcal
Carbohydrates:
64
g
Protein:
25
g
Fat:
48
g
Saturated Fat:
18
g
Polyunsaturated Fat:
1
g
Monounsaturated Fat:
5
g
Trans Fat:
0.01
g
Cholesterol:
148
mg
Sodium:
676
mg
Potassium:
377
mg
Fiber:
4
g
Sugar:
4
g
Vitamin A:
776
IU
Vitamin C:
4
mg
Calcium:
217
mg
Iron:
3
mg
Other carbonara recipes on The Pasta Project.
More pasta with guanciale recipes.
Additional pasta with asparagus recipes.
CHECK OUT MY SHOP PAGE.
If you are interested in learning how to make homemade pasta and different types of gnocchi, check out my shop page for some great video online courses from my friends in Rome! Nothing beats learning to make pasta from Italians! Plus while you're there why not order a copy of one of my pasta recipe cookbooks or checkout some recommended pasta making tools? All great prezzies for pasta lovers!