Asparagus is a popular ingredient in the Italian spring kitchen. It's traditionally used in risotto, soup, frittata and with pasta. This asparagus pasta with walnuts from Marche in Central Italy is one of many delicious ways Italians pair asparagus with pasta. This recipe is very easy to make, super nutritious and delicious. It's also easily made vegetarian by just replacing the Pecorino with a vegetarian parmesan.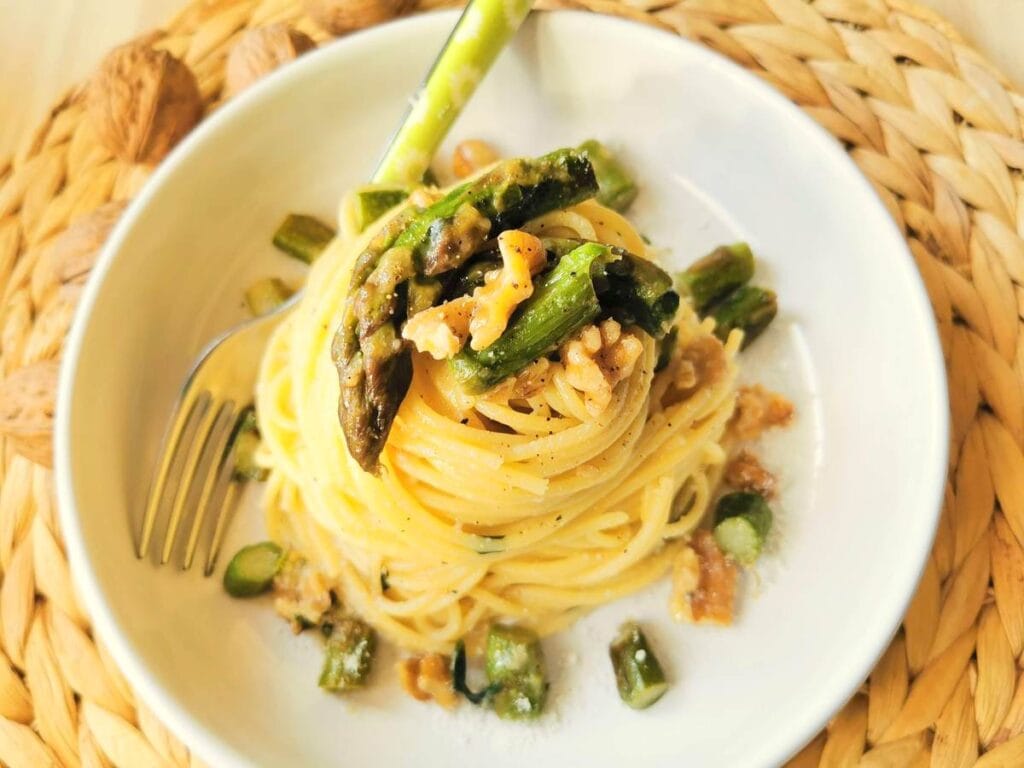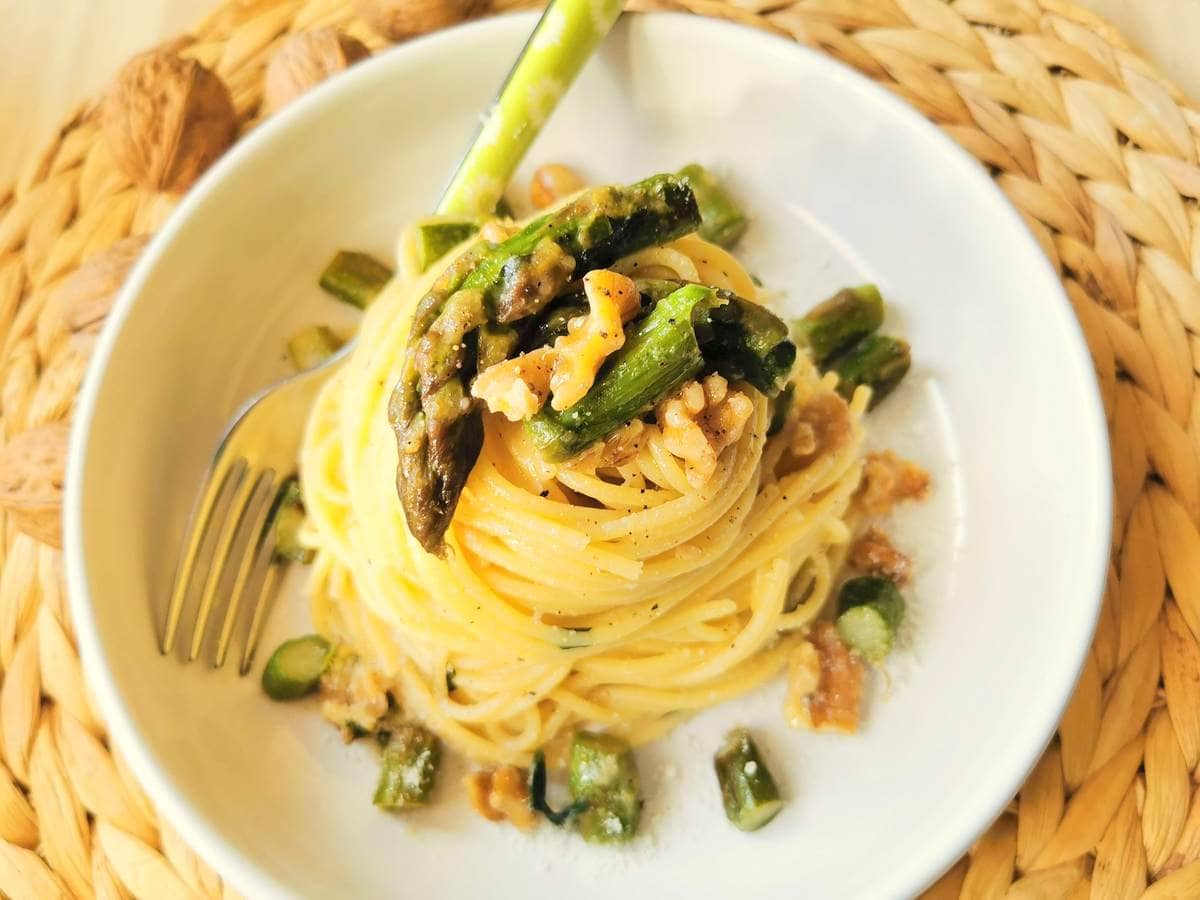 Spaghetti con asparagi e noci.
This recipe for asparagus pasta with walnuts comes from the Marche region in Central Italy. In the past, this dish would have been made with wild asparagus and locally grown or wild walnuts. Like many of Italy's traditional dishes, this one originated in la cucina povera (the peasant kitchen). The farmers and peasants of those times lived mostly on foraged or local and home-produced ingredients.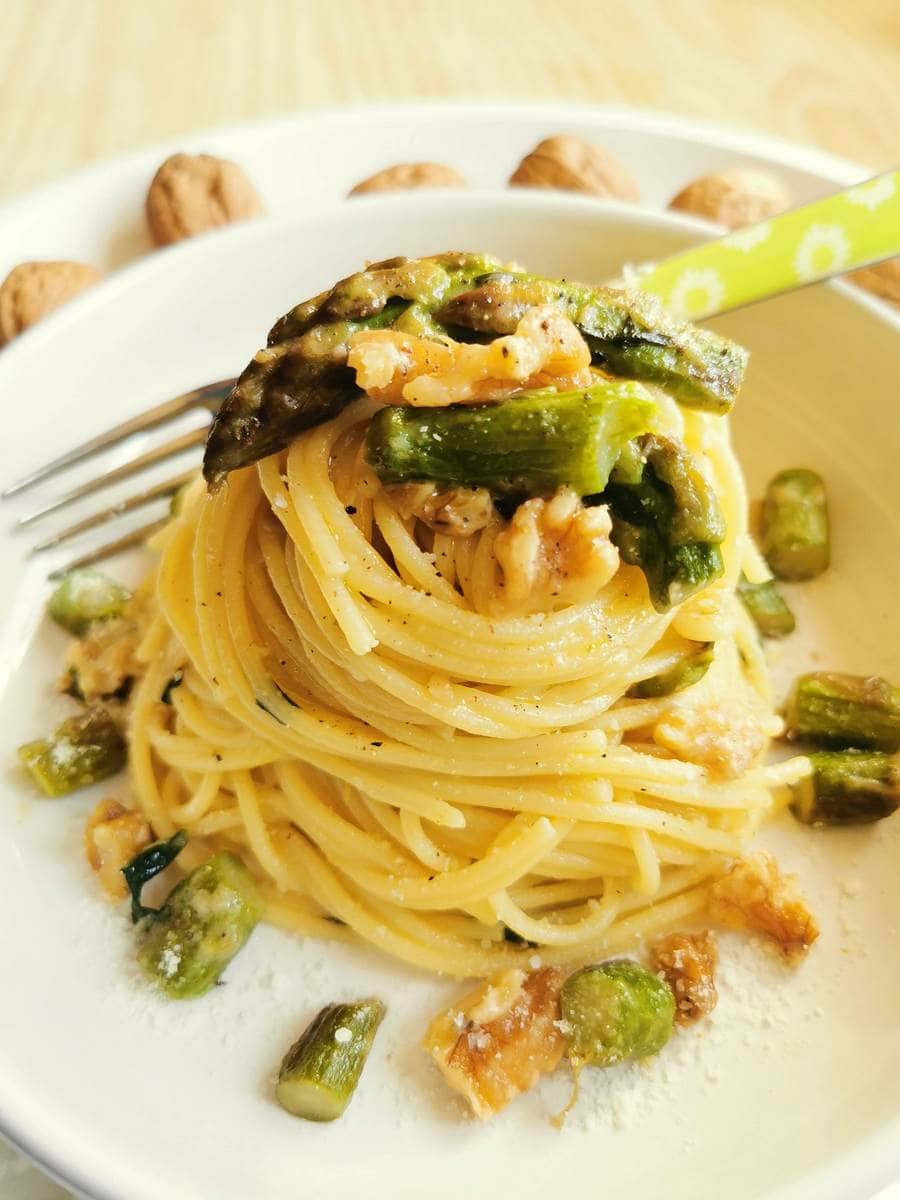 I first found this recipe in an Italian cookbook of recipes from Marche called La Cucina delle Marche by Petra Carsetti. The author is a celebrity chef, etiquette expert and cookbook and restaurant guidebook author from Macerata in Marche. But, there are also versions online.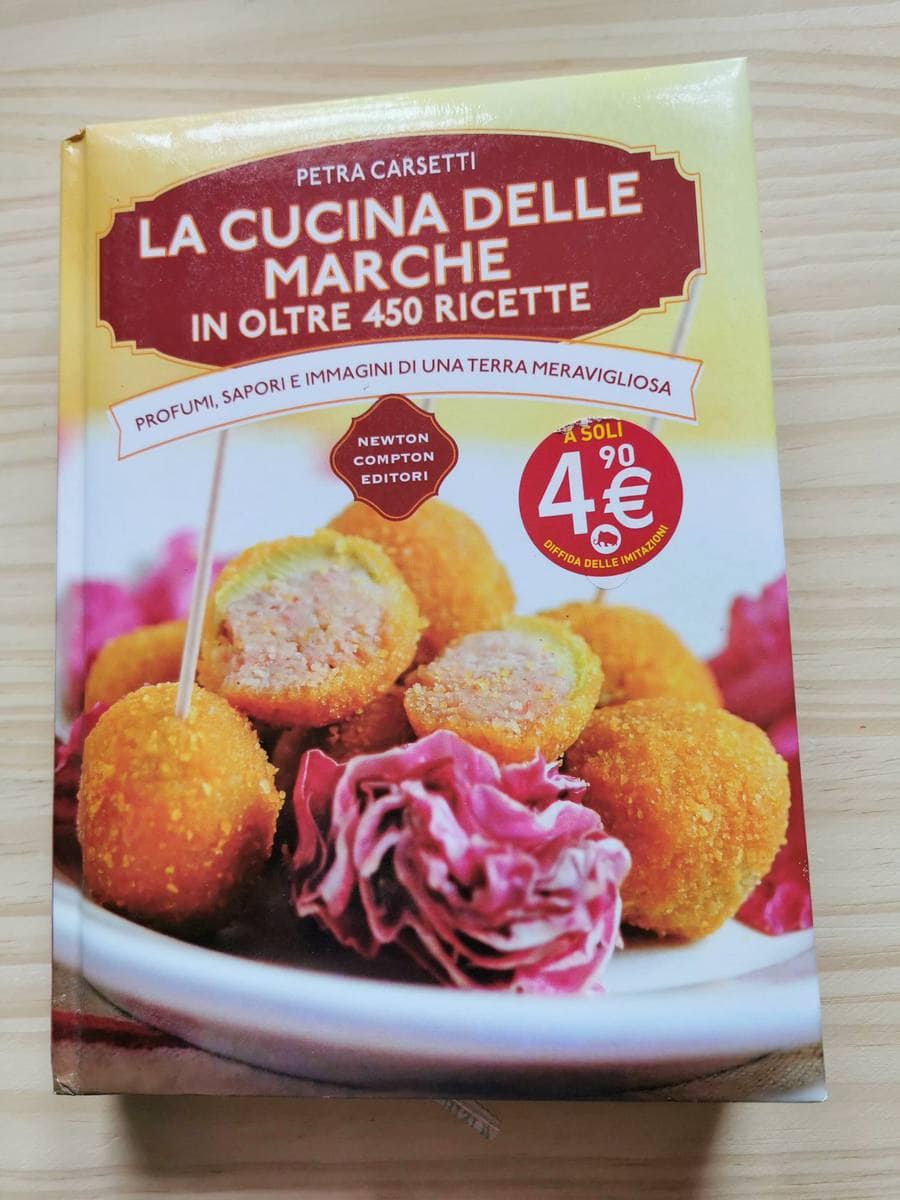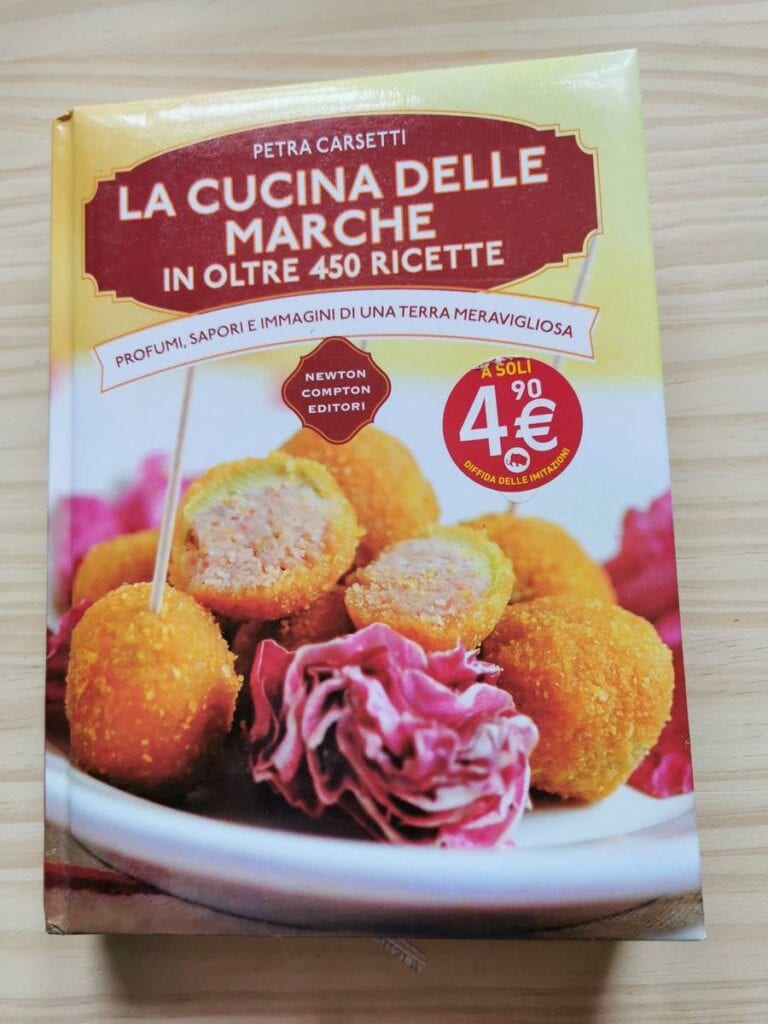 The difference between the cookbook and the online versions is that in the book the recipe calls for sweetcorn kernels (chicci di mais in Italian). Apparently, these were a typical ingredient in the past to add a little sweetness to dishes. The cookbook doesn't include butter and garlic, whereas the online versions do.
A little walnut history.
Walnut trees grow all over Italy and walnuts appear in both sweet and savoury traditional dishes throughout the peninsula. In fact, people have been eating walnuts in this part of the world for thousands of years.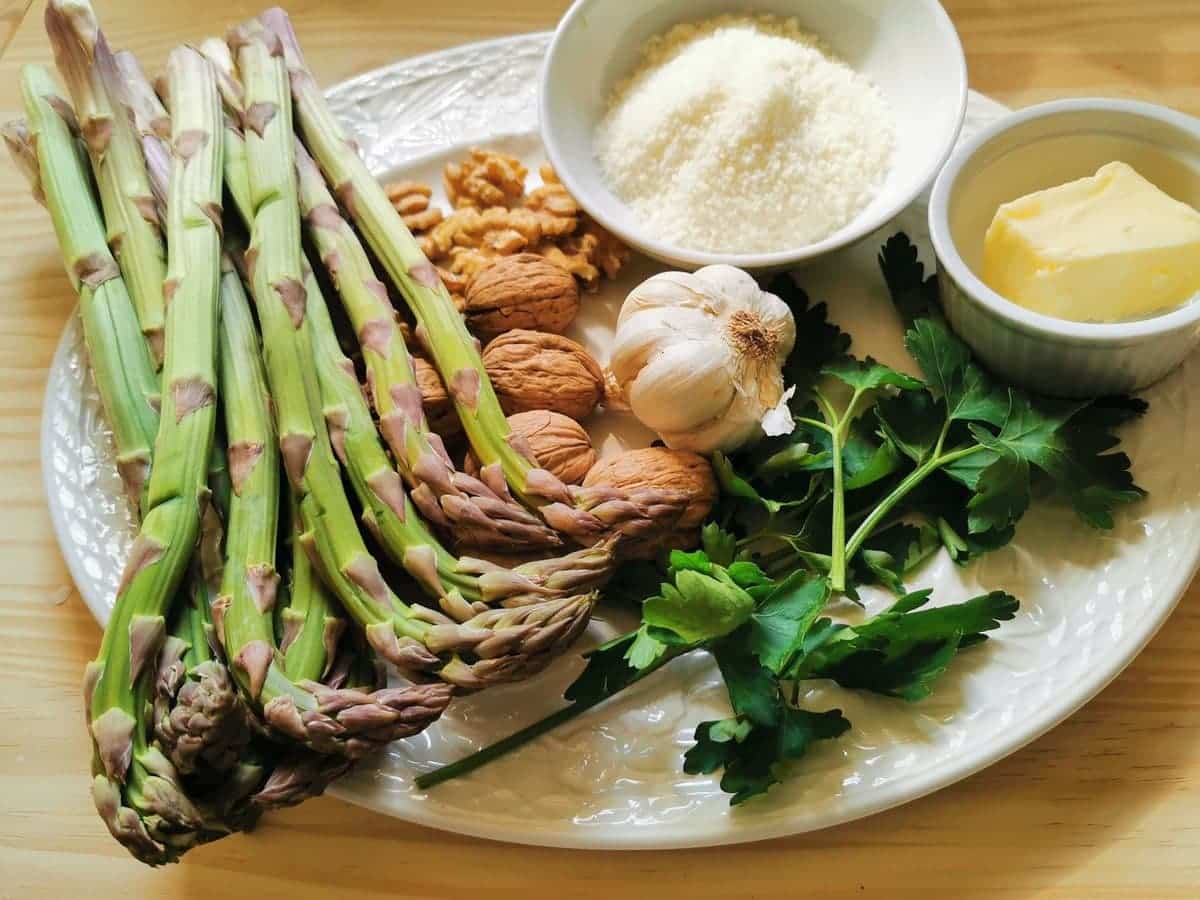 The Ancient Greeks and Romans liked walnuts. The Greeks were actually the first to cultivate walnut trees. The early Romans considered these nuts food for Gods. They also used walnut oil and they ground walnuts into a flour used to thicken food, like how we use corn-starch today. They also used walnut wood for furniture.
History tells us the Romans introduced Persian walnut trees to the UK. Then English settlers took them to USA in the 17th century.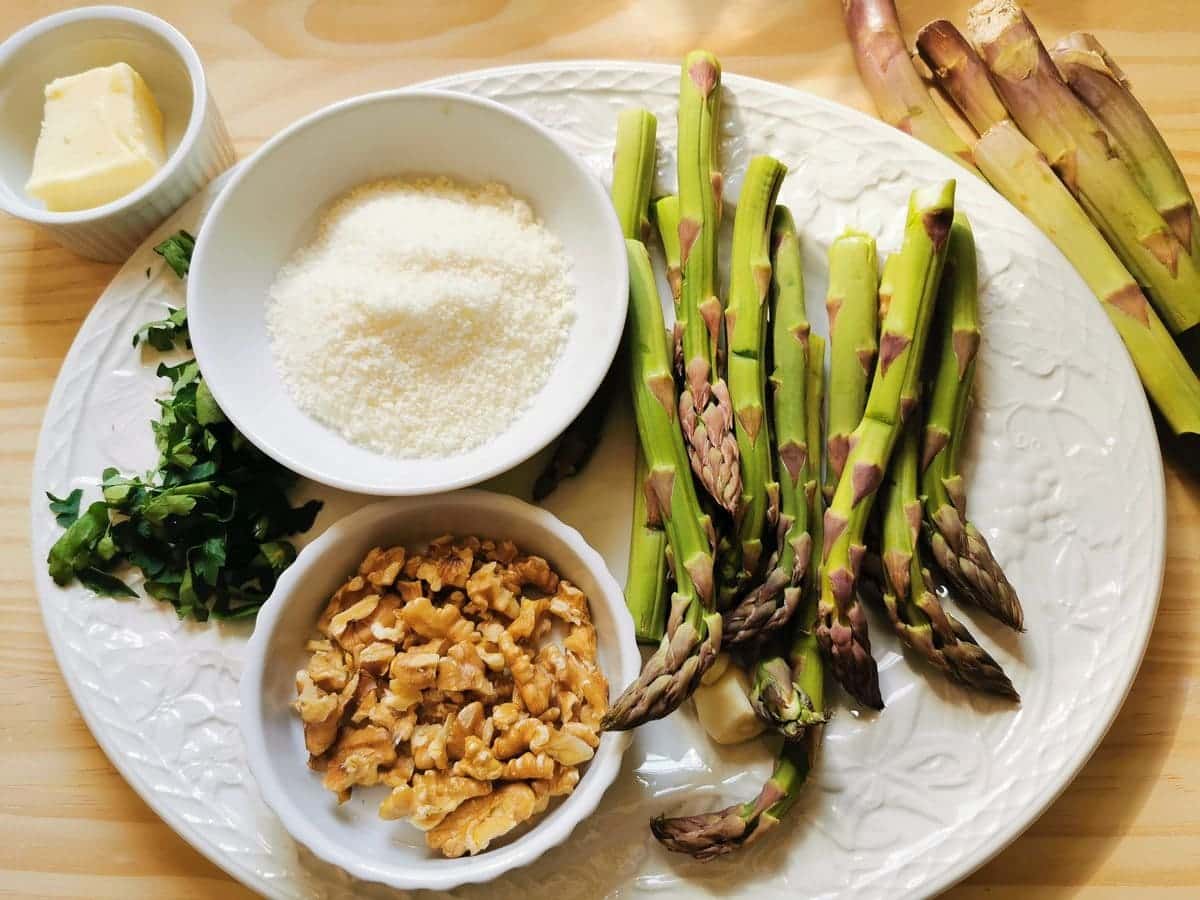 In the past, family run and small farms throughout Italy typically had a few walnut trees, which they planted in the corner of a field or in courtyards. You can still see these in some places. There's a big old walnut tree next to a vineyard near our house from which I sometimes collect nuts. Sadly, modern farming methods have contributed to a decline in small farms and the traditional farming landscape.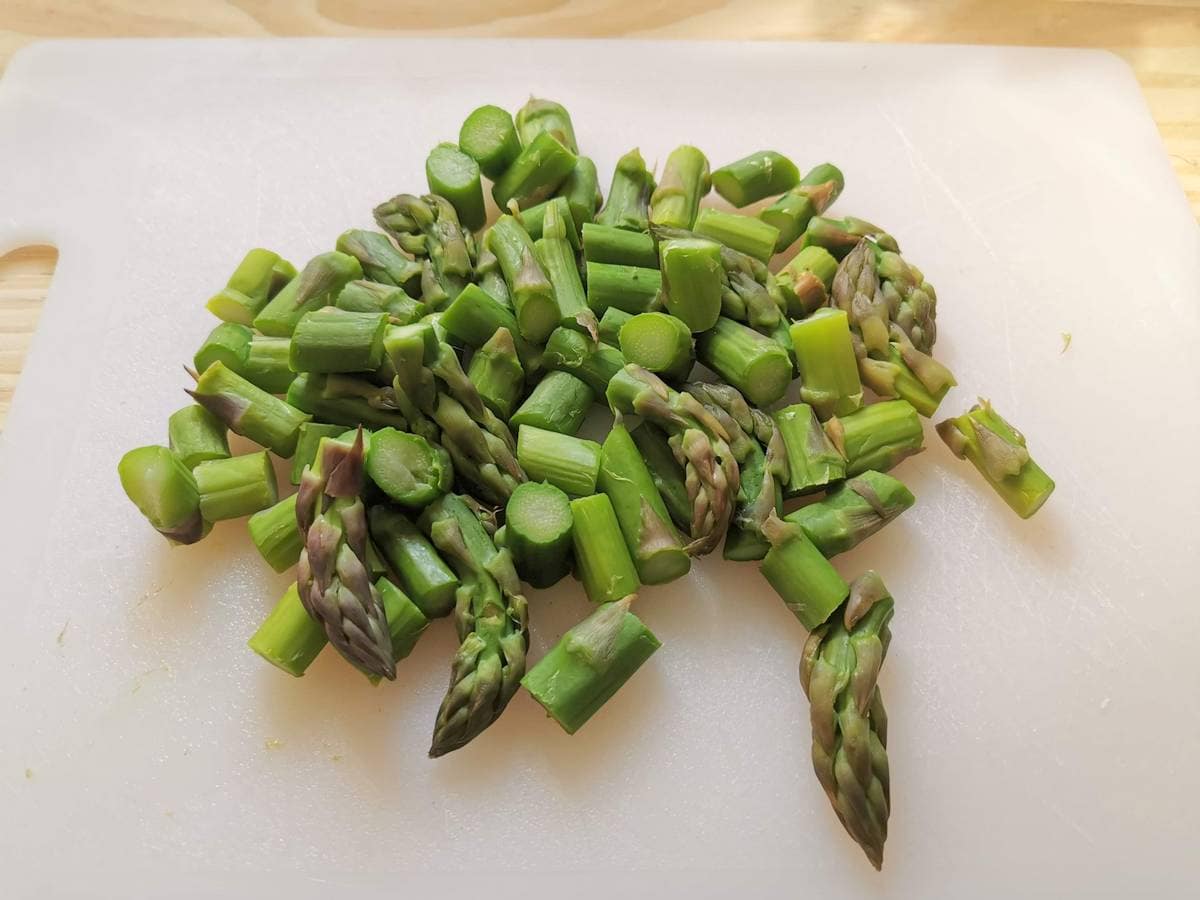 Walnuts grown in Italy.
However, there's also quite a lot of walnut cultivation in Italy. Most of the crop comes from Campania, where the Sorrento walnut is the best-known varietal. Here in Veneto and in Piemonte, they grow Lara walnuts which are slightly sweet and less bitter than other types, as well as Chandler and Tulare varieties.
Italy was once one of the top walnuts exporting countries in Europe. But, production now doesn't satisfy local demand and the Italians import walnuts from other countries to make up the deficit.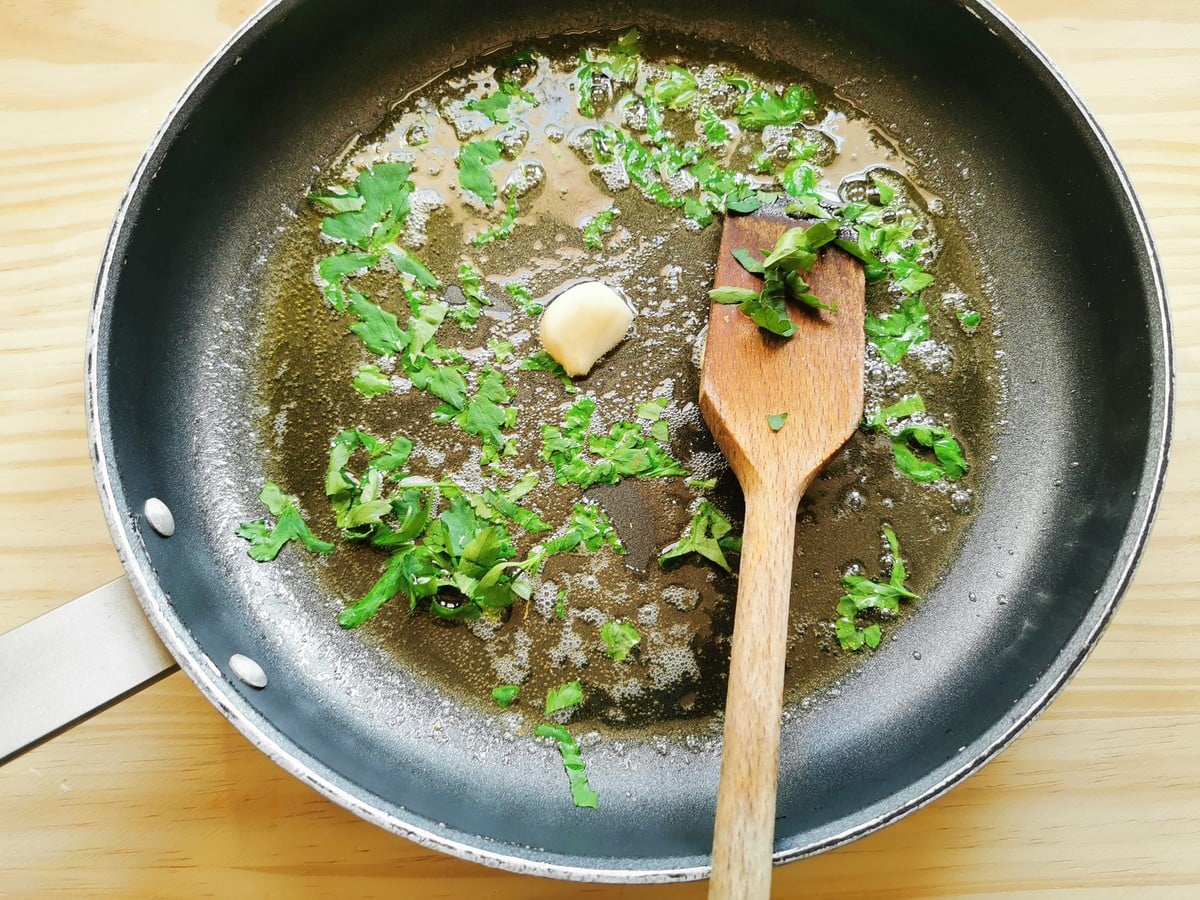 Asparagus in Italy.
Asparagus are also an ancient food that has been eaten and cultivated in Italy for millenniums. The Ancient Romans also loved asparagus. They used to freeze them in the Alps and had an 'asparagus fleet' of ships that transported these nutrient rich and low-calorie veggies to colonies around the Empire!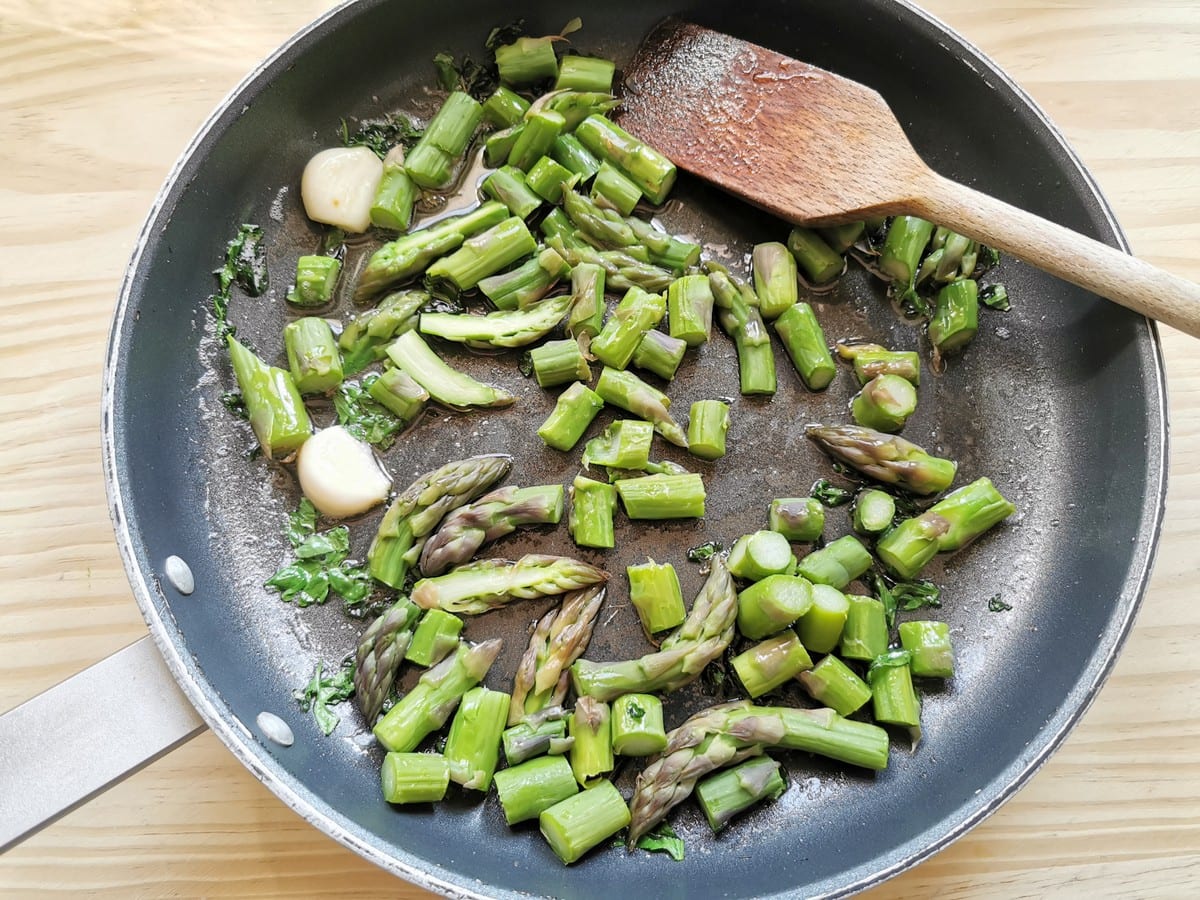 Italy is the largest exporter of green asparagus in Europe and the third biggest of white asparagus. Veneto, the region we live in, cultivates about 20% of the asparagus grown in the country. So, as you can imagine, Venetians have lots of traditional asparagus recipes. Puglia, Veneto, Tuscany, Campania and Emilia-Romagna are the regions that grow most of Italy's asparagus.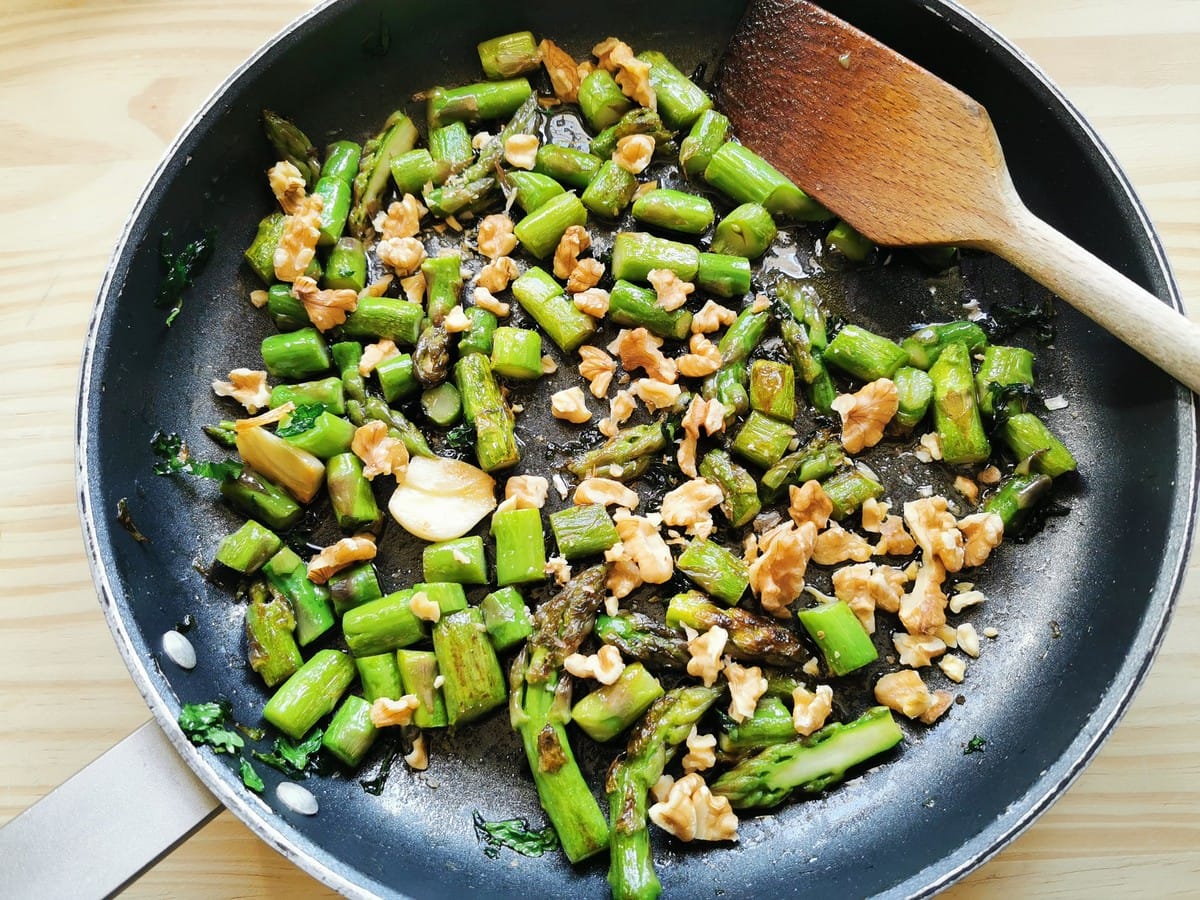 However, wild asparagus grow spontaneously in many places, particularly in the Central and Southern regions. So, in these parts, there are also many recipes which traditionally have wild asparagus, like this asparagus pasta with walnuts recipe.
Marche is not a region where they farm asparagus. But, it is home to the Monti Sibillini National Park, where wild asparagus and walnuts grow in abundance and are popular foraged foods even today.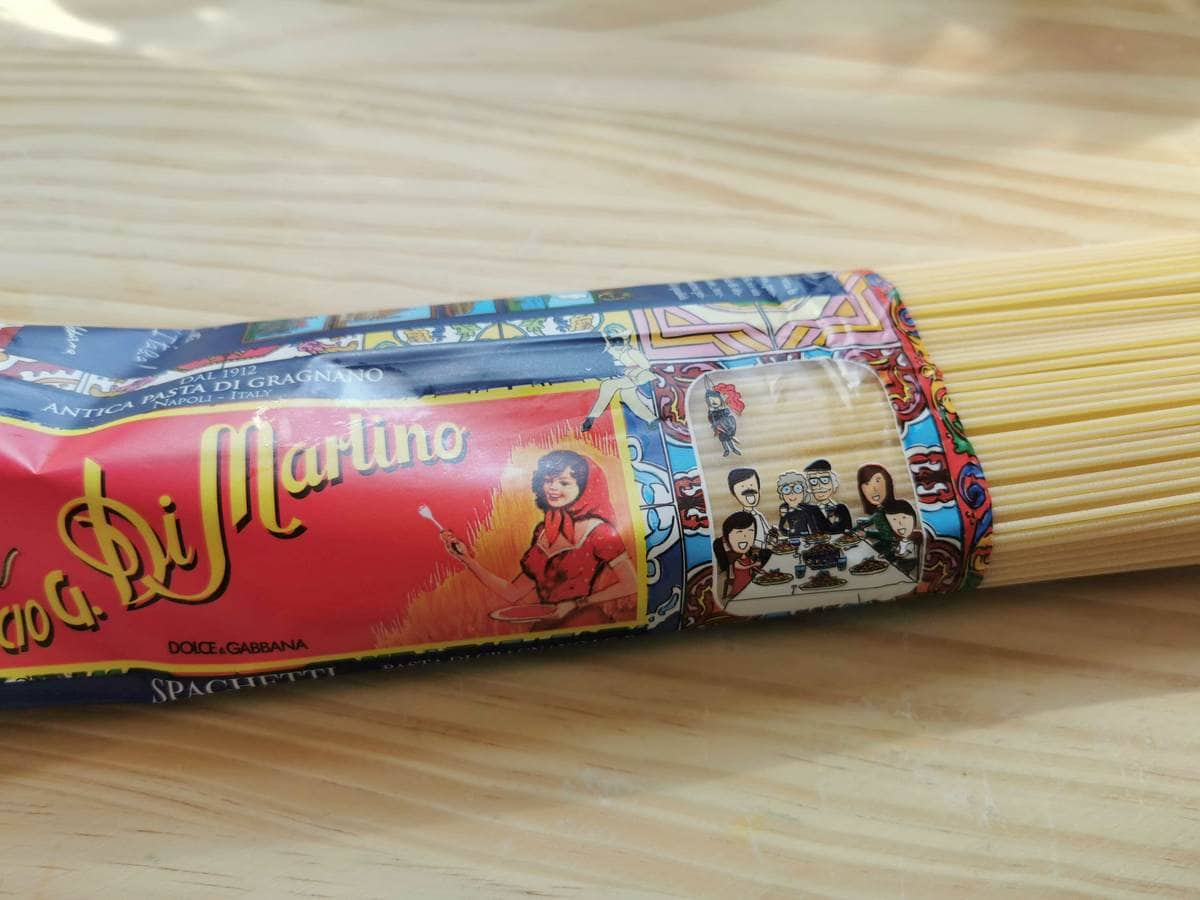 Asparagus and walnuts are a healthy combination.
Both asparagus and walnuts are very healthy foods. Asparagus are low in calories (90g/3oz = 20 calories) and full of essential vitamins, minerals and antioxidants. Interestingly, wild asparagus are said to be more nutritious than their cultivated cousins!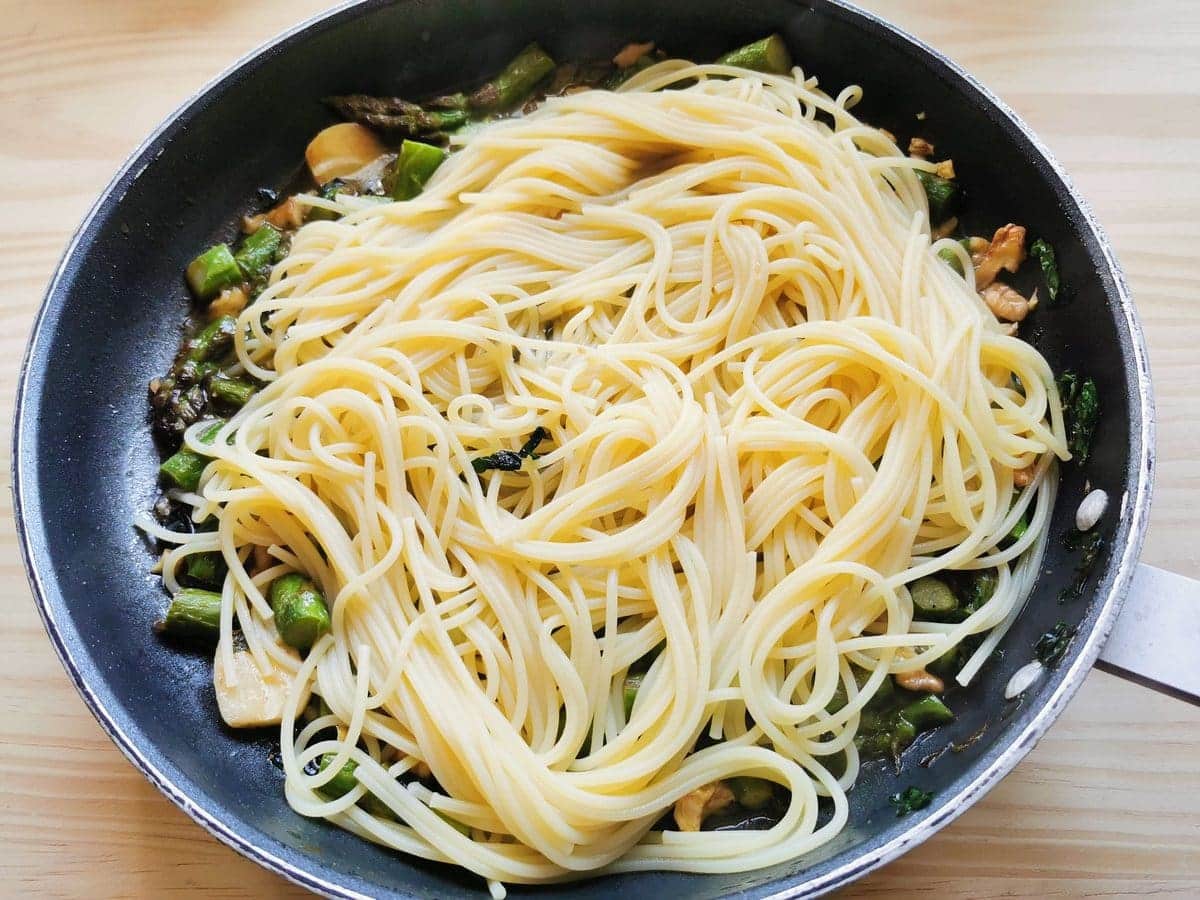 Walnuts are practically a super food. They contain healthy fats, fibre, vitamins and minerals. They are an excellent source of antioxidants and are higher in omega-3 fat than any other nut. Although high in calories (30g/1oz = 185 calories), there are many health benefits associated with walnuts, such as reduced inflammation and improved heart disease risk factors.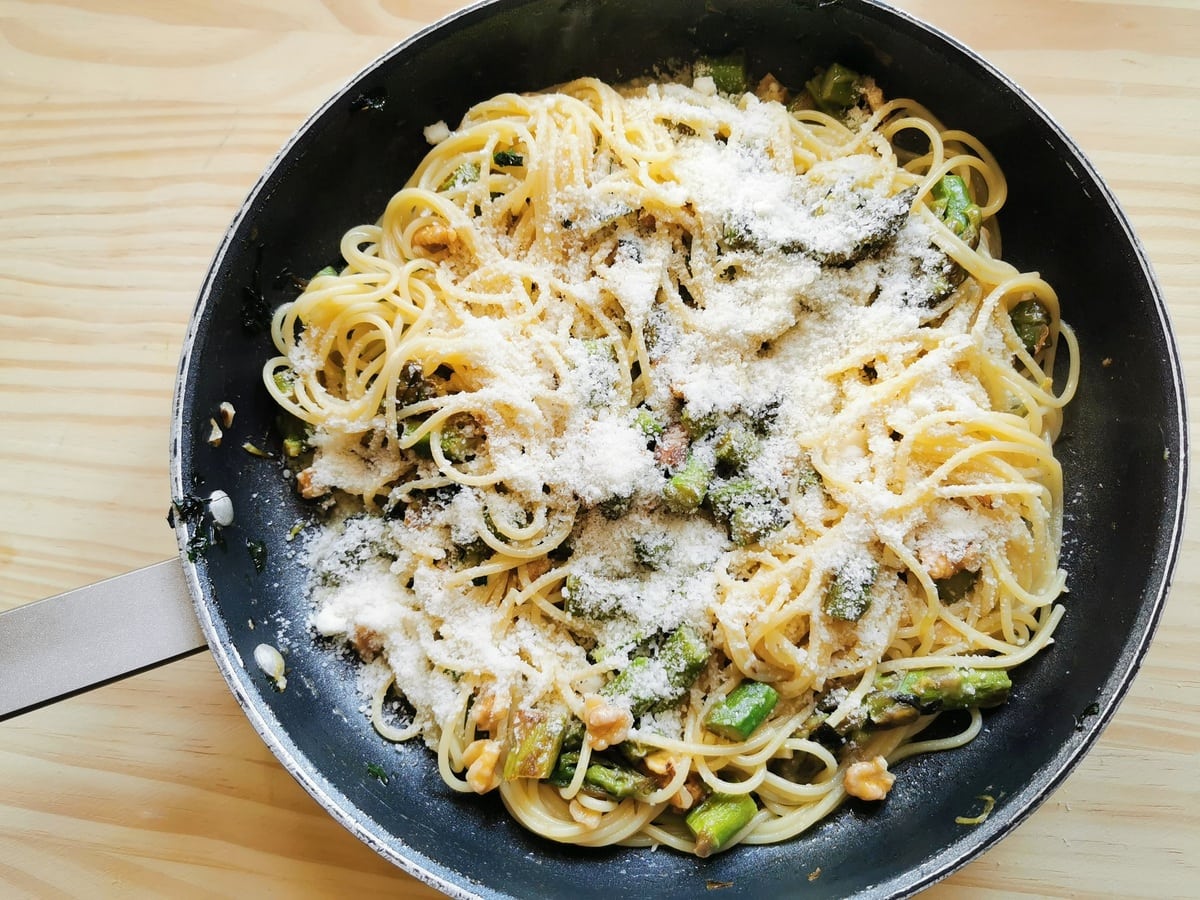 Even though the rural population of Italy in days gone by may not have understood nutrition as we look at it today, it's interesting that this recipe has such a high nutritional value. It seems they knew how to eat healthily instinctively!
Other ingredients in this asparagus pasta with walnuts.
Unlike in the past, nowadays we make this recipe with fresh cultivated asparagus rather than wild. But, of course, you can use the latter too. Apart from the walnuts and asparagus, all you need is some garlic, parsley, butter, olive oil and grated pecorino. Italian pecorino isn't vegetarian. So, vegetarians will need to replace it with vegetarian parmesan.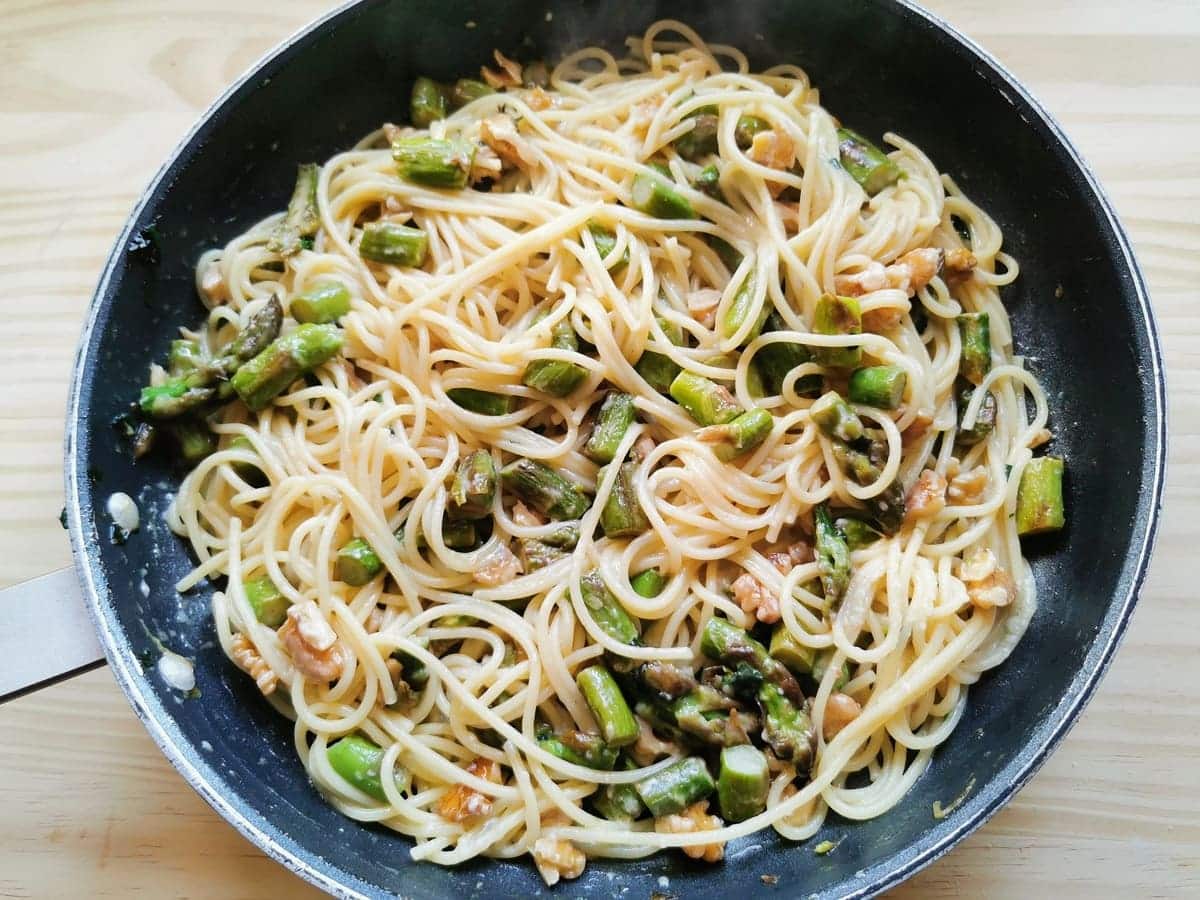 I used spaghetti as per the recipe in my book. The spaghetti I chose was made by Di Martino, one of my favourite brands from Gragnano, near Naples. Gragnano has been a pasta making town for about 500 years.
There are about 15 companies based there that produce pasta with the Pasta di Gragnano IGP certification, meaning the pasta is certified by the EU as being produced in a particular geographical area according to certain rules of production.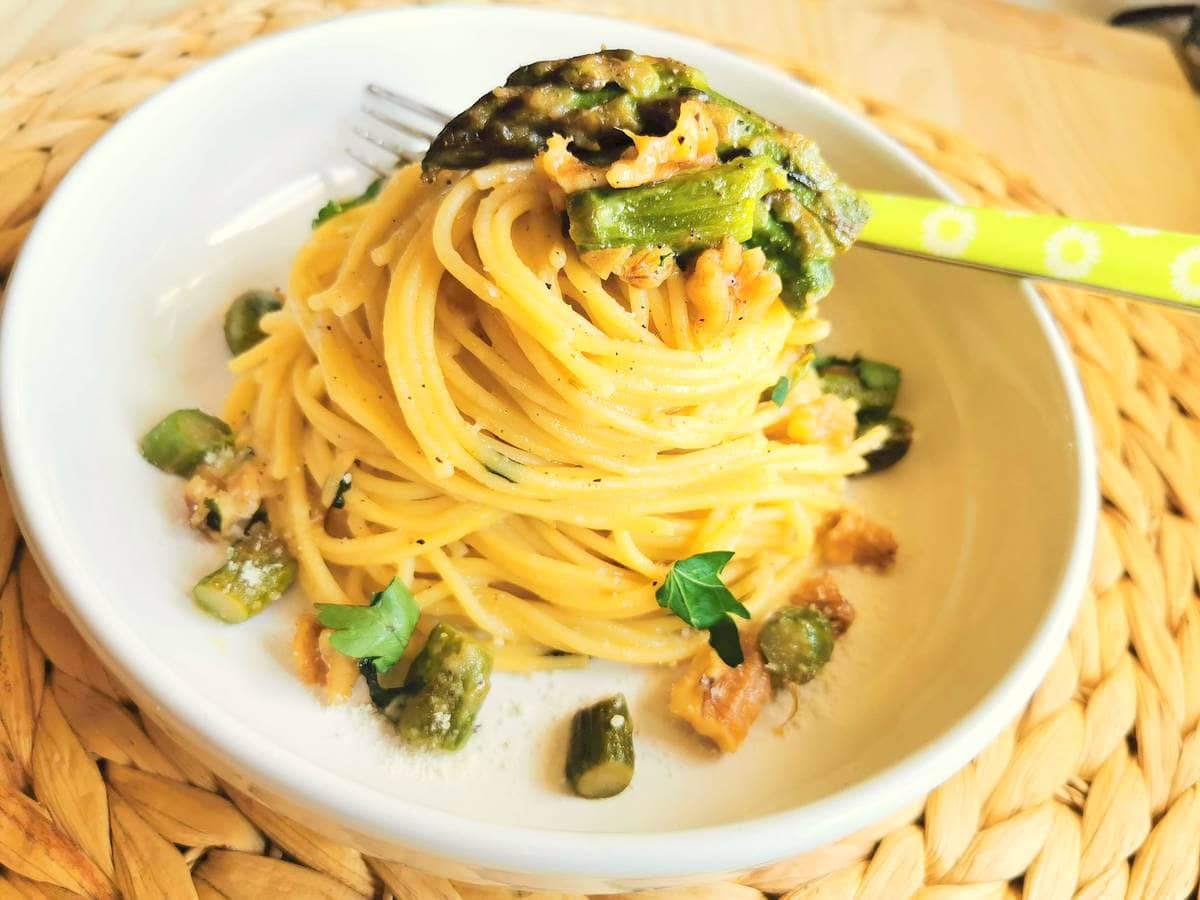 How to make asparagus pasta with walnuts.
This is a pretty simple recipe. The most time-consuming part of the prep is par-boiling the asparagus stalks and spears separately as the stalks take longer to cook. Once you have prepared the asparagus, just cut it into pieces and sauté the pieces in olive oil with garlic. Then add the walnuts and cook for another couple of minutes.
Finally, all that's left to do is cook the spaghetti al dente, drain it and add it to the asparagus and walnuts with a little cooking water and grated cheese. Then, mix everything together and serve. Simple, healthy and delicious!
Let me know what you think.
I'm sure you'll enjoy this easy asparagus and walnut pasta recipe. It's easy to prepare, full of traditional Italian flavours and super healthy! What more could you want?
You can also try this pasta recipe for lent, as asparagus comes into season at the same time!
If you make this recipe, I'd love to hear how it turns out. Please write a comment here on the blog, email me or post a comment on the Pasta Project Facebook page.
Your feedback is really appreciated!
Buon Appetito!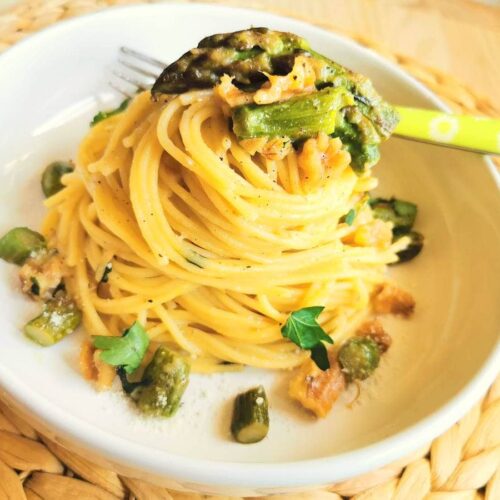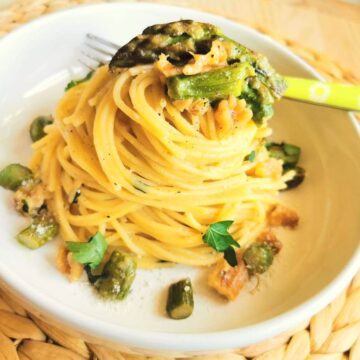 Asparagus pasta with walnuts recipe from Marche, Central Italy
This vegetarian asparagus pasta with wanuts is a simple traditional recipe from the Marche region in central Italy. It's easy to make, full of typical Italian flavours and very nutritious.
Ingredients
320

g

spaghetti (11oz)

500

g

fresh green asparagus (1lb)

or wild asparagus

60

g

shelled walnuts (2oz)

chopped or crushed into pieces

30

g

butter (1oz)

2

tbsp

extra virgin olive oil.

1-2

garlic cloves

peeled and crushed

1

handful

fresh parsley

chopped

50

g

Pecorino Romano or vegetarian parmesan (1.7oz)

grated

salt

for asparagus, pasta and to taste

freshly ground black pepper.

to taste
Instructions
Prepare the ingredients
Wash the asparagus and break off the harder stalk ends. If you bend asparagus, they will break in the right place naturally. Cut the very end of the stalks off. Par-boil the spears in salted water for just a minute. Remove from the water and then par-boil the stalks for 3-4 minutes. Keep the water to cook the pasta in and cut the asparagus (spears and stalks) into small pieces.

Crush or chop the shelled walnuts into small pieces. Peel and crush the garlic cloves. Wash and chop the parsley.
Cook and serve
Heat the butter in a pan with 2 tablespoons of oil and brown the garlic cloves. Add a little chopped parsley. After a couple of minutes, add the asparagus (tips and stalks) and fry them on a low heat for another 5 minutes.

Add the chopped walnuts to the pan, remove the garlic, season with salt and a pinch of freshly ground black pepper. Then sauté over a low heat for the last 2 minutes. You can use a fork to crush the asparagus stems slightly to make the sauce a little creamy.

Cook the spaghetti al dente in the water used to par-boil the asparagus, save a little of the cooking water and drain the pasta. Add the drained pasta with a little cooking water to the asparagus and walnuts. Add 2 heaped tablespoons of grated cheese, mix well over a low heat until the sauce becomes creamy.

Serve immediately with more chopped parsley and more grated cheese if required.
Notes
What to do with leftovers. 
If you have leftovers, you can keep them sealed in the fridge for 1-2 days. The best way to use the leftovers of this dish is to make a frittata. Fry the leftovers in a little oil and butter, then add beaten eggs and cook until the underside starts to brown. Turn the frittata over or place it under a grill to brown the other side.
Nutrition
Other pasta with asparagus recipes to try.
Other walnut pasta recipes on The Pasta Project.
Check out our shop page.
If you are interested in learning how to make homemade pasta and different types of gnocchi, check out my shop page for some great video online courses from my friends in Rome! Nothing beats learning to make pasta from Italians! Plus, while you're there why not order a copy of one of my pasta recipe cookbooks or check out some recommended pasta making tools? All great prezzies for pasta lovers!