Known as trofie con salsa di noci alla Genovese in Italian, this walnut sauce pasta is a traditional dish from Liguria in Northwest Italy. Although not as famous as pesto Genovese (basil pesto), walnut sauce is another delicious type of Ligurian pesto. It's also just as easy to make!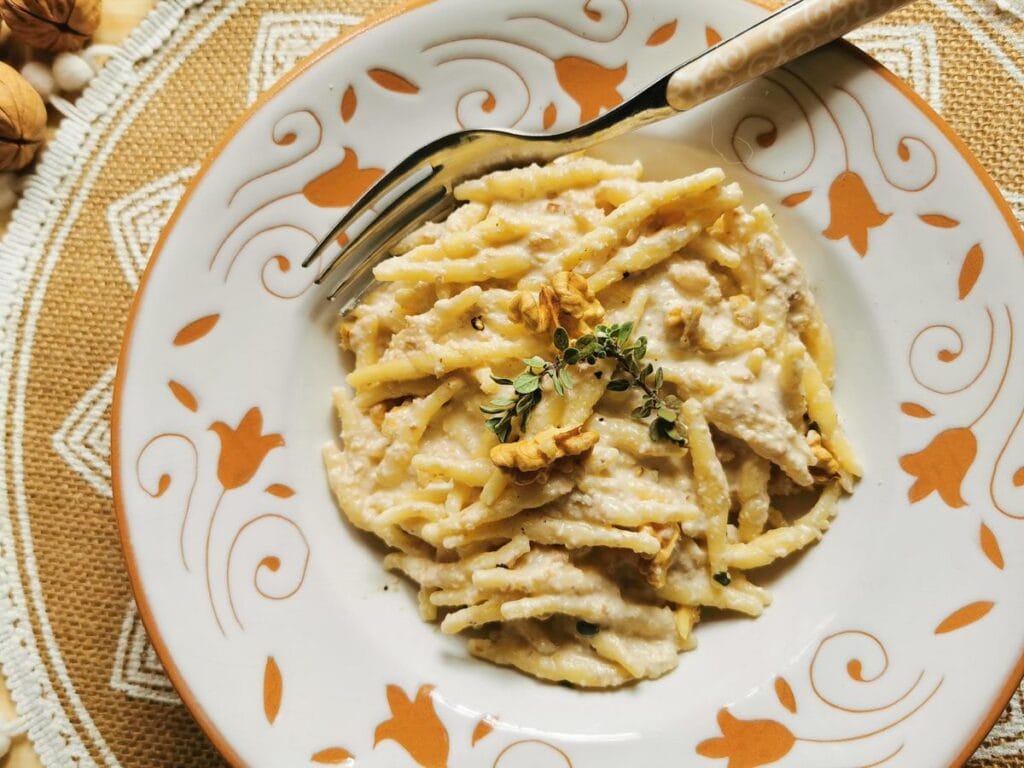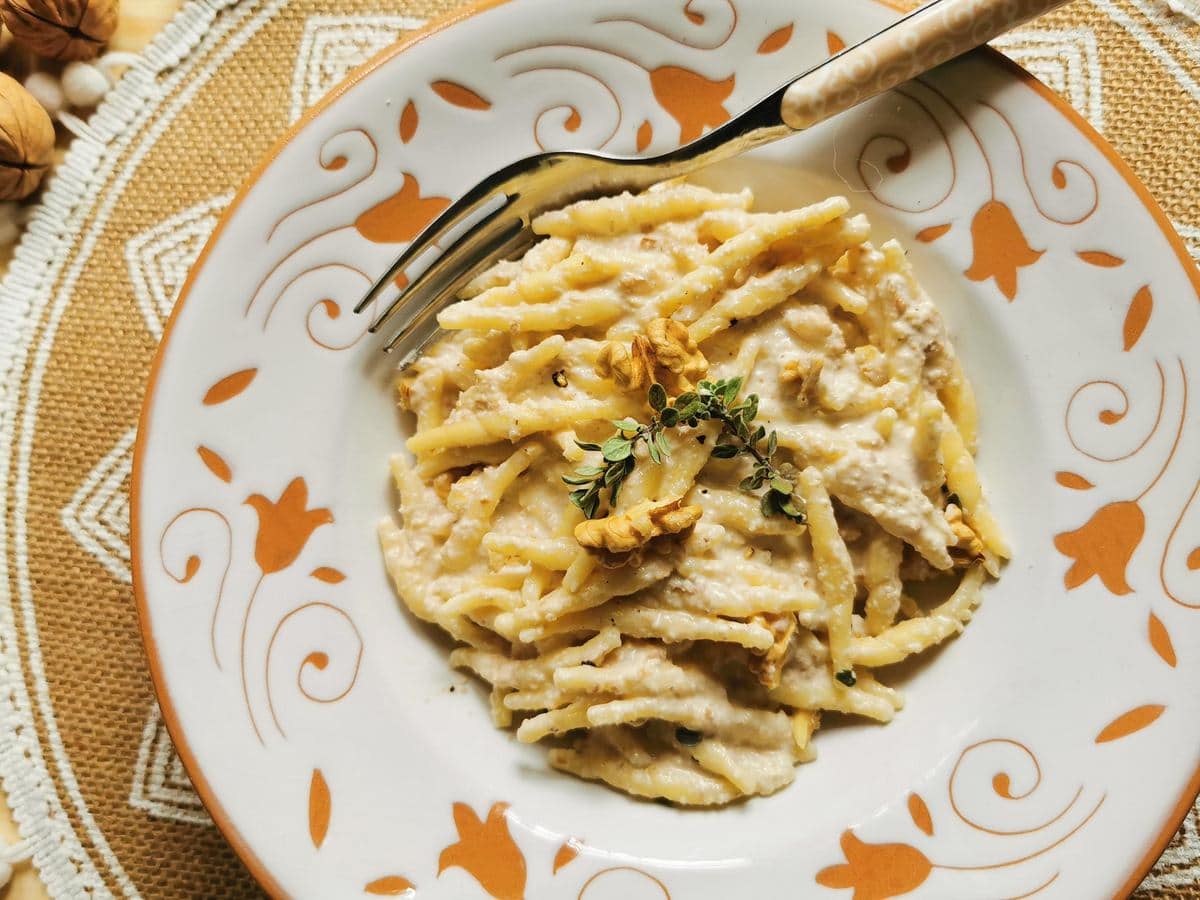 A little walnut sauce history.
Like other kinds of pesto, Ligurian walnut sauce started as a condiment made using a pestle and mortar. These sauces existed for hundreds of years before we had electric kitchen tools like food processors! In fact, it is likely that this sauce even predates basil pesto.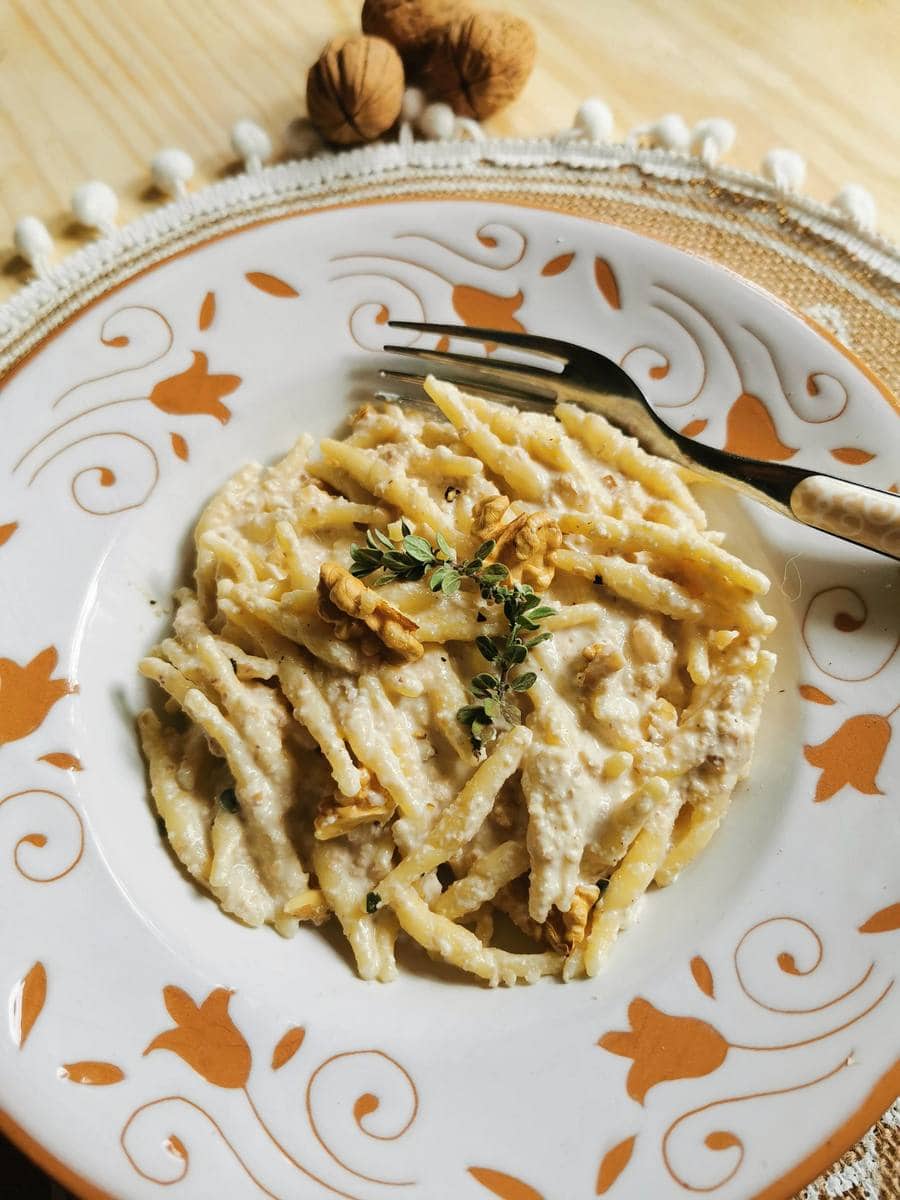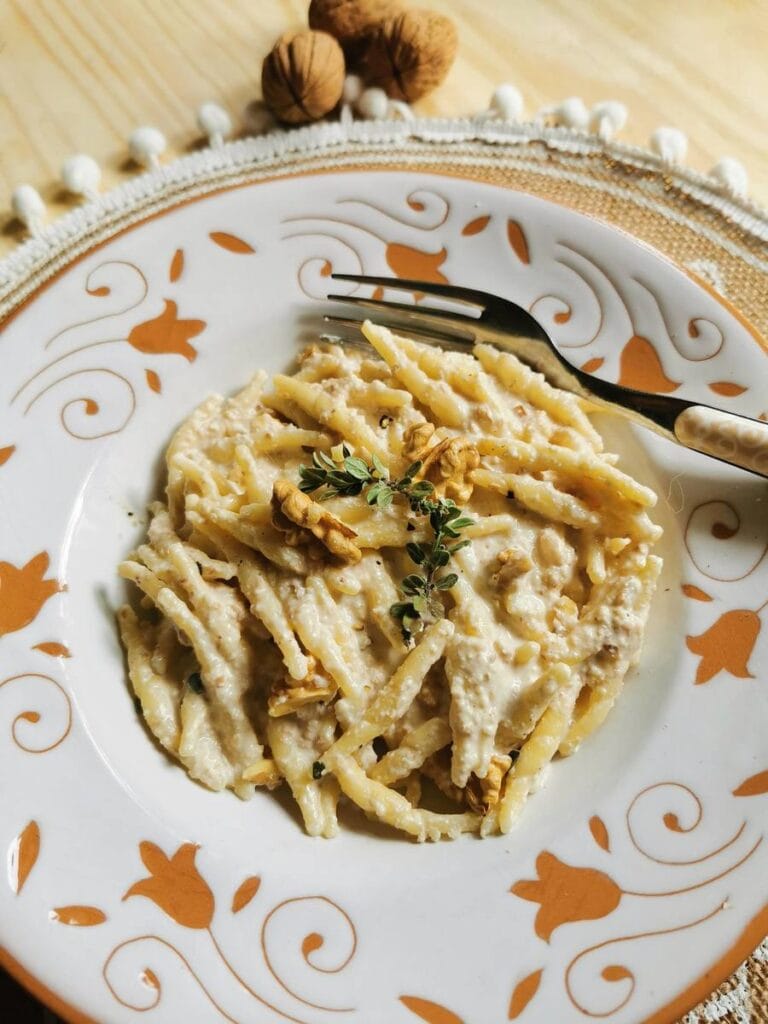 Originally, the Genovese called their walnut sauce 'agliata bianca' or 'agliata alle noci' (walnut agliata). Agliata is a Ligurian garlic sauce that dates back to Ancient Rome. It's made with garlic, olive oil, breadcrumbs and vinegar. You can find it served with meat and fish. Interestingly there's a Balkan walnut, bread and garlic sauce that's traditionally served with meat too.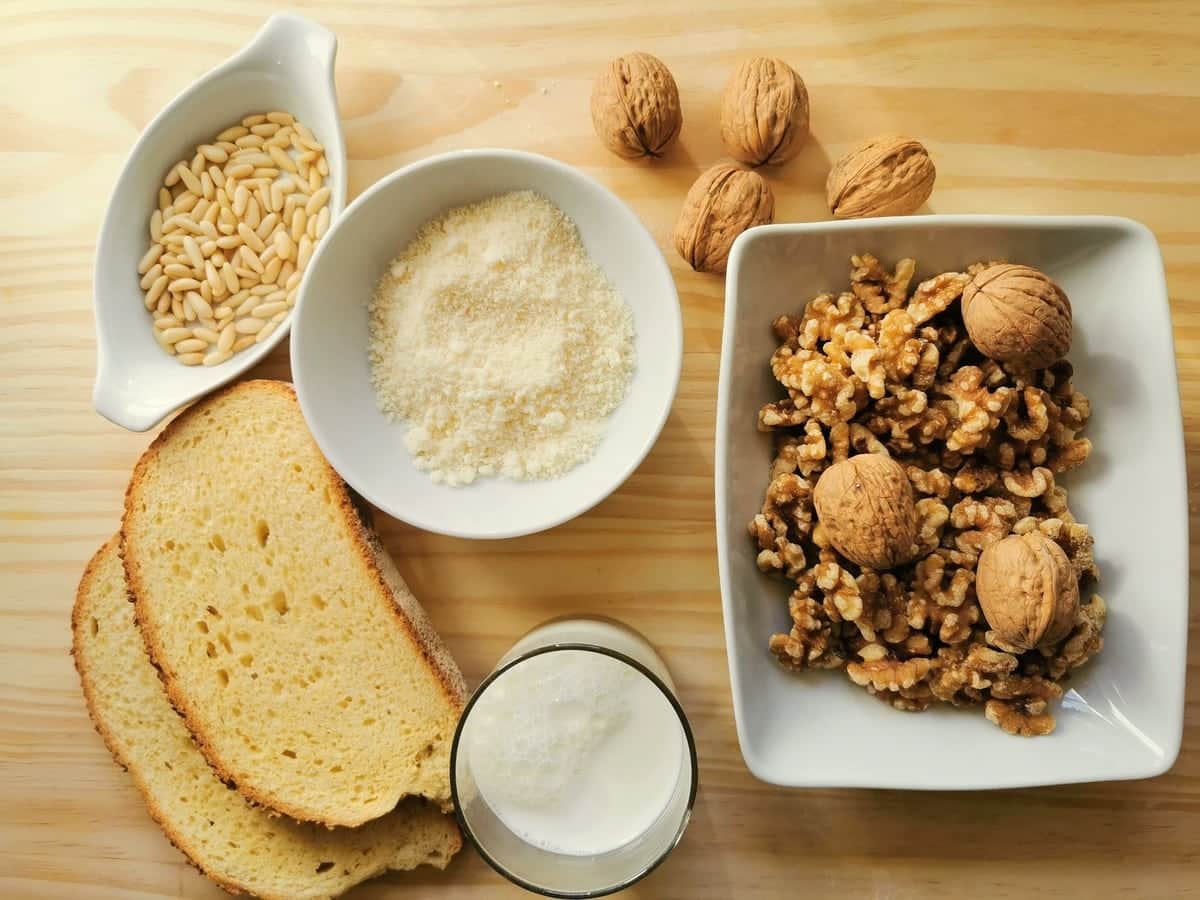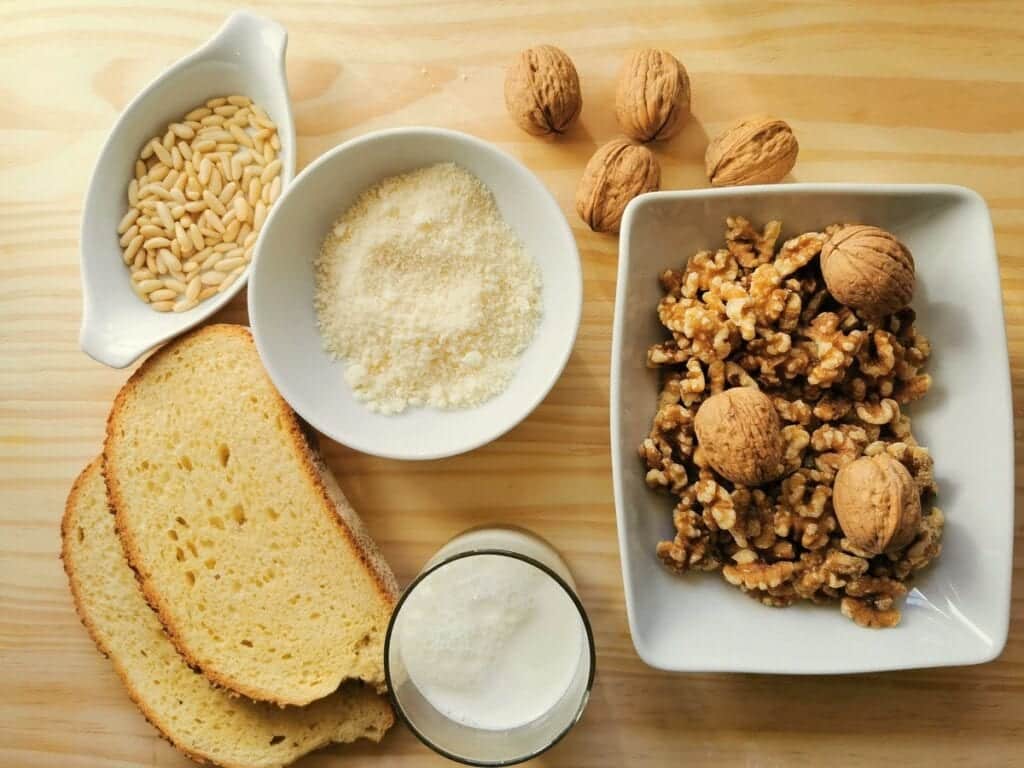 Did you know? The botanical name for the walnut is Juglans Regia, a name that derives from Jovi Glans meaning 'the acorn of Jupiter'! Walnuts are an ancient fruit which has been celebrated since Roman times.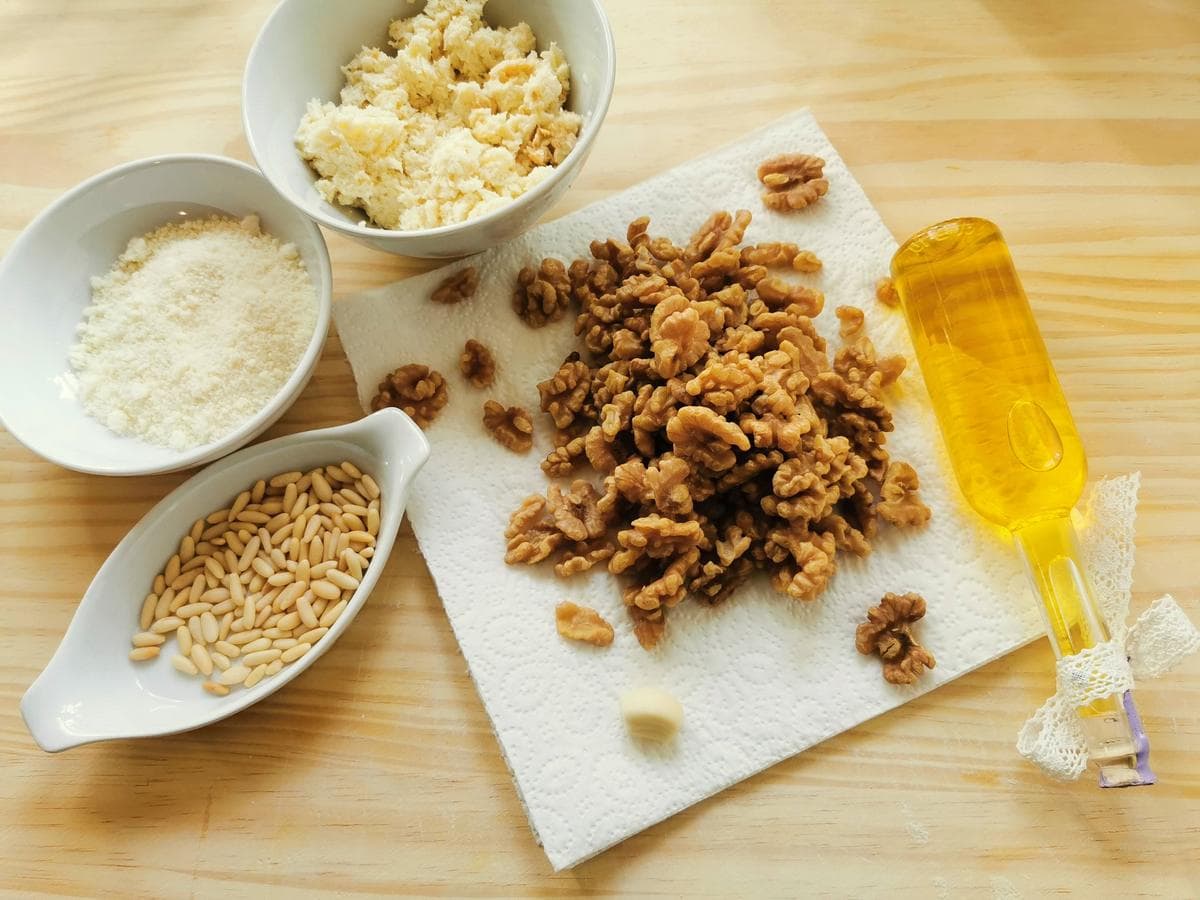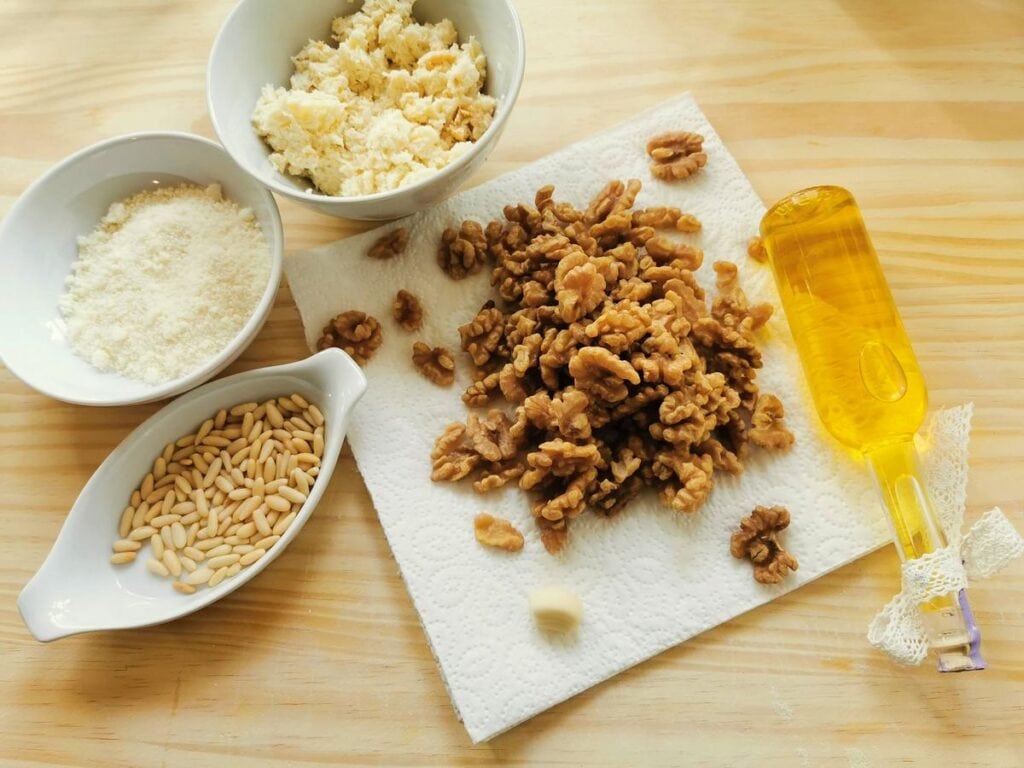 Walnuts in Italy.
They grow walnuts throughout Italy and trees can be found scattered around the countryside. There are a couple in the fields near my house, which I gather nuts from! Italy has a long long history of walnut eating. In fact, walnuts have been collected and eaten here for about 9,000 years.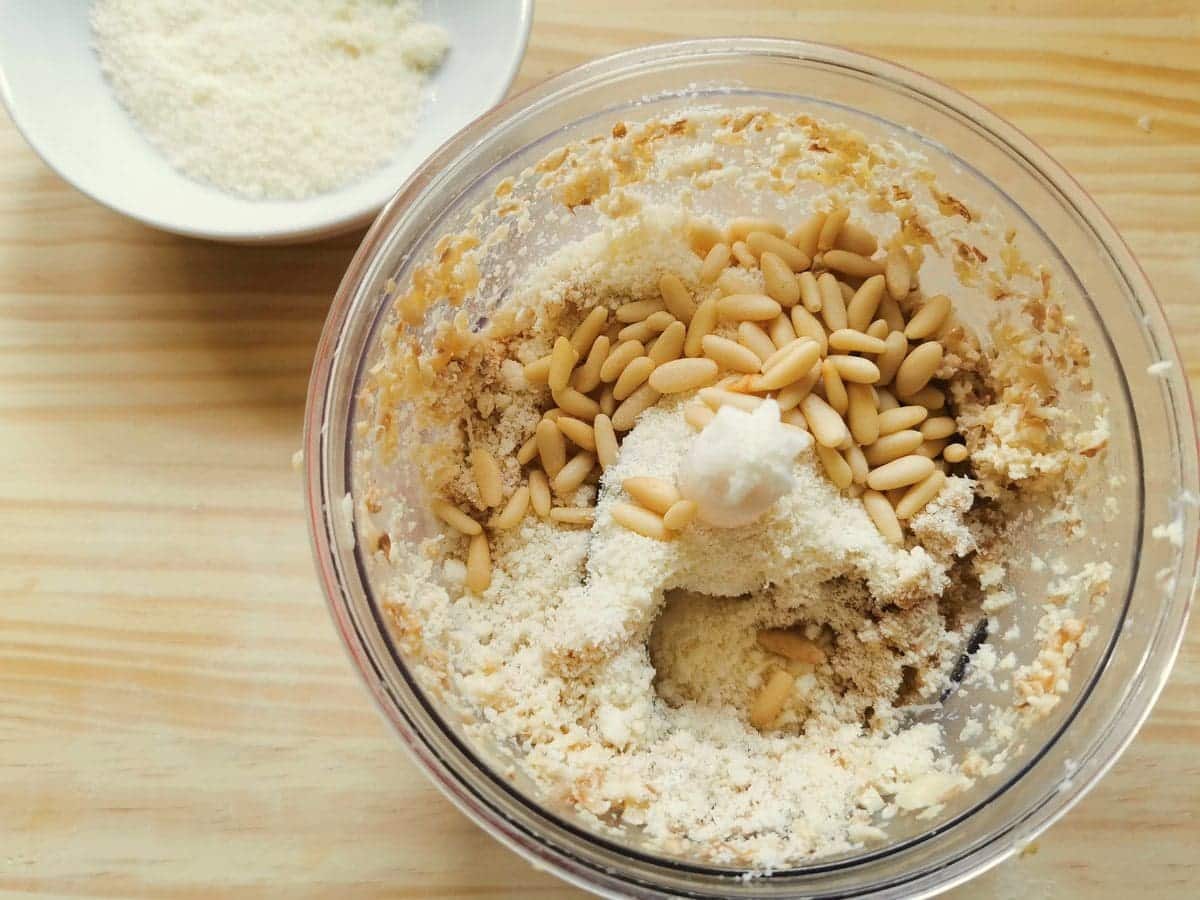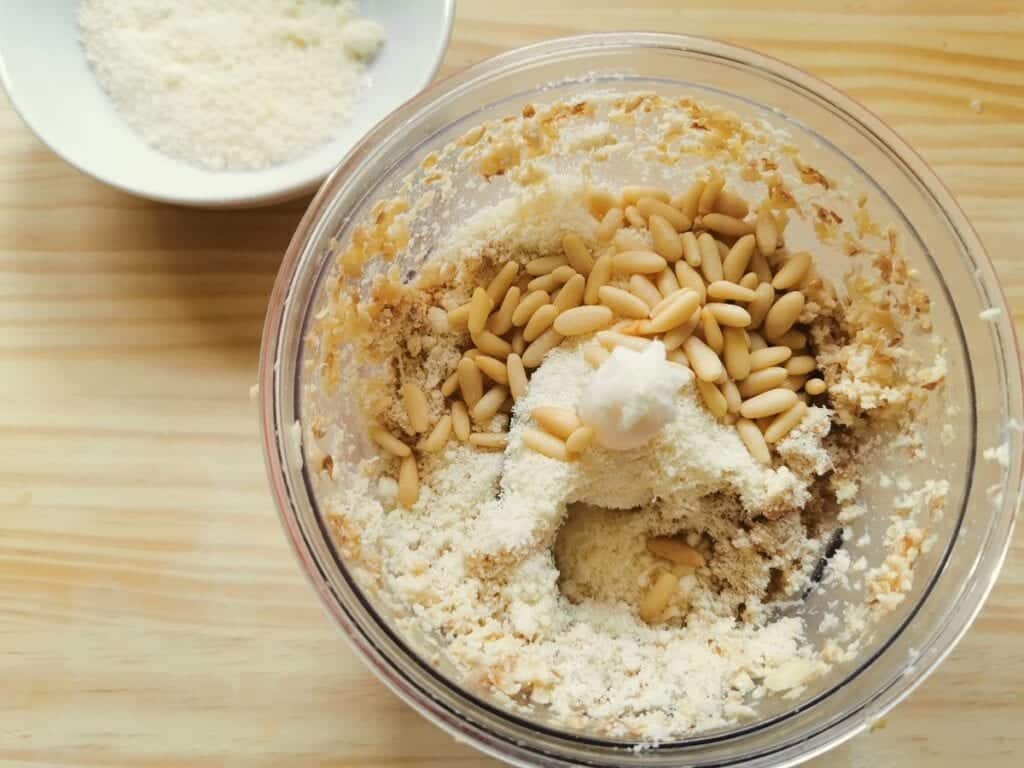 There are even some towns and villages with names like Nogara, Noceto, and Nogare, which derive from 'noci' the Italian word for walnut. Most probably, these places got their names because of the centuries-old presence of this crop. Apart from eating walnuts and using them in desserts and cooking, the Italians also make a wonderful liqueur out of fresh walnuts called Nocino! Do you know it?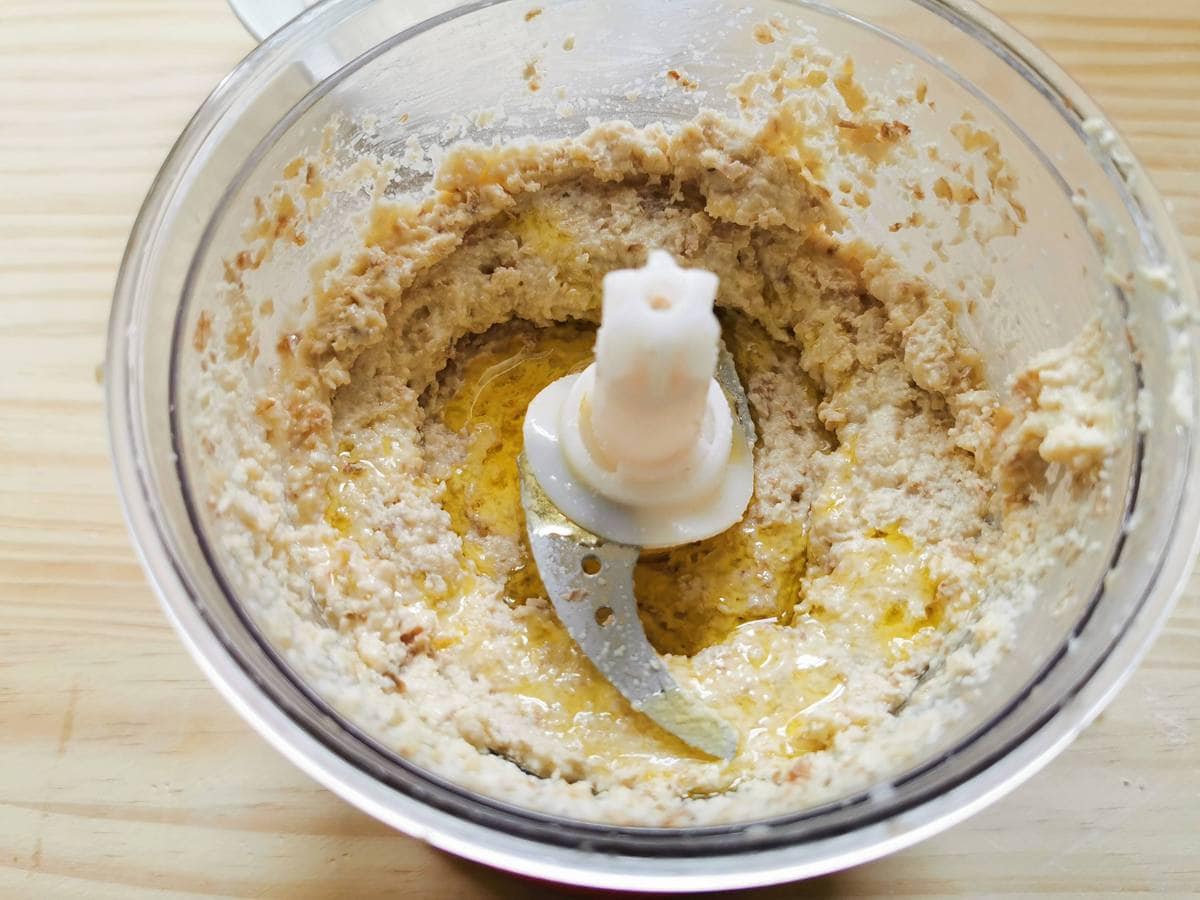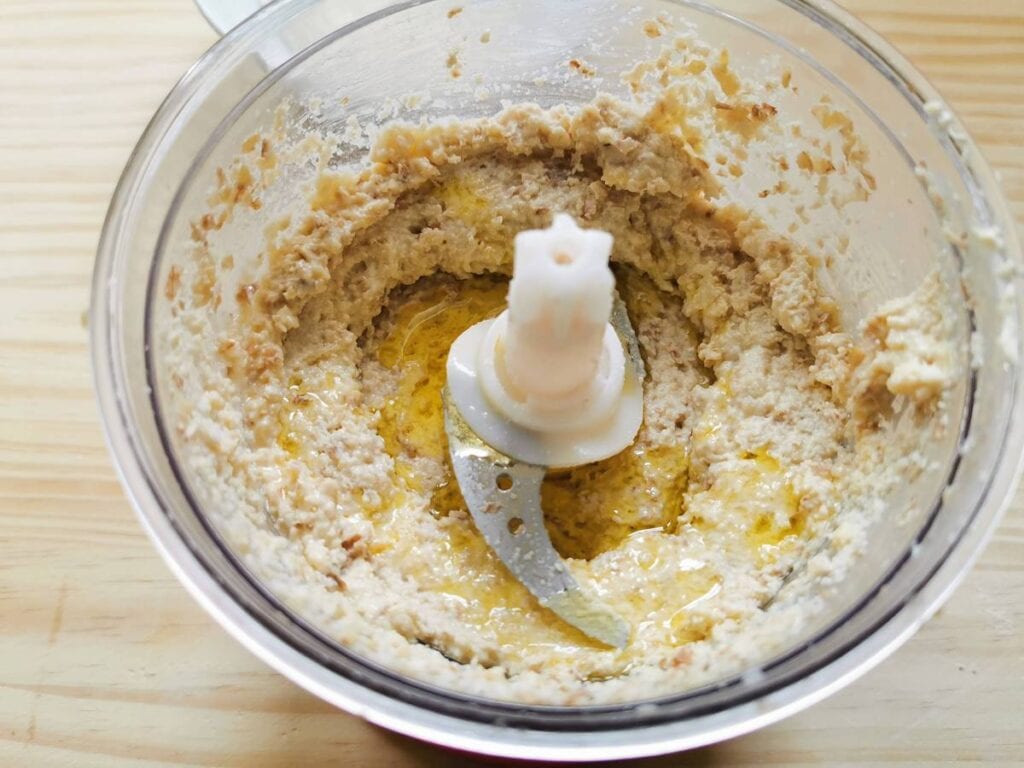 The best Italian walnuts.
Fresh walnuts are available in Italy for a few weeks from the end of September. These have a more delicate taste than dried ones. However, once collected, most of the walnut crop is dried. Once dried, walnuts can last for months and even up to a year. The two most well-known types cultivated in Italy are the slightly sweet and less bitter Lara walnuts, mostly in Piemonte and Veneto, or Sorrento walnuts from Campania. However, it's possible to buy small, but very tasty, homegrown ones everywhere.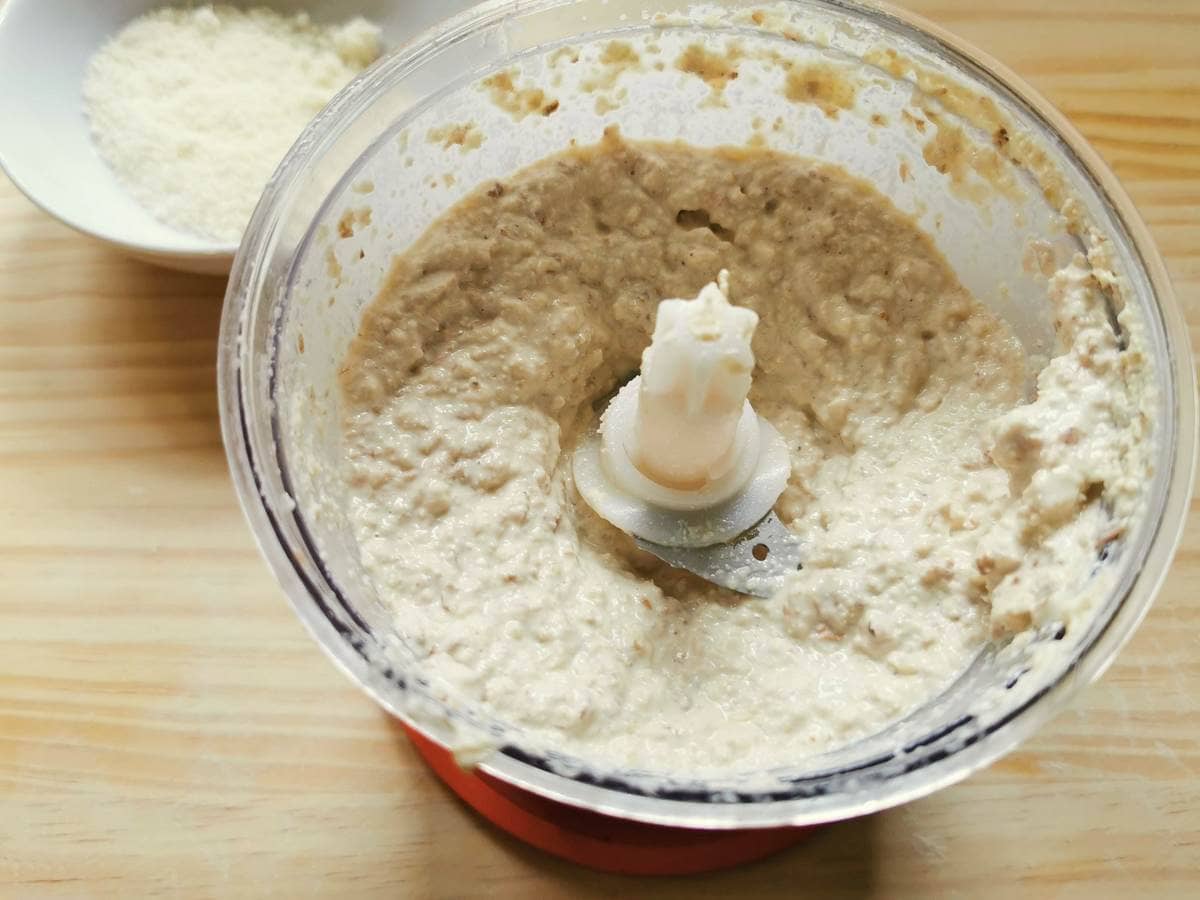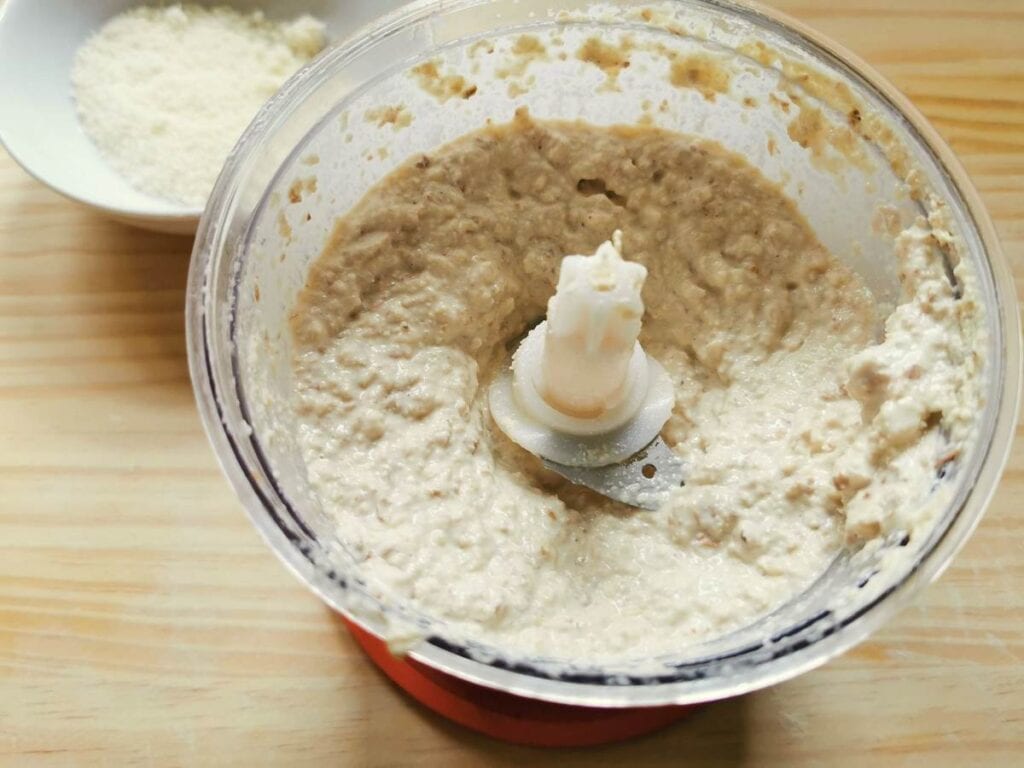 How to make Ligurian walnut sauce.
Traditionally, this walnut sauce pasta is made with fresh walnuts. But, of course you can use dried ones. I did. Most recipes include boiling the shelled walnuts for a few minutes and then peeling them. This makes them less bitter and sweeter. Not everyone does this as it's a little time consuming. However, I think it's worth it, unless you are using sweet walnuts like the Lara varietal mentioned above.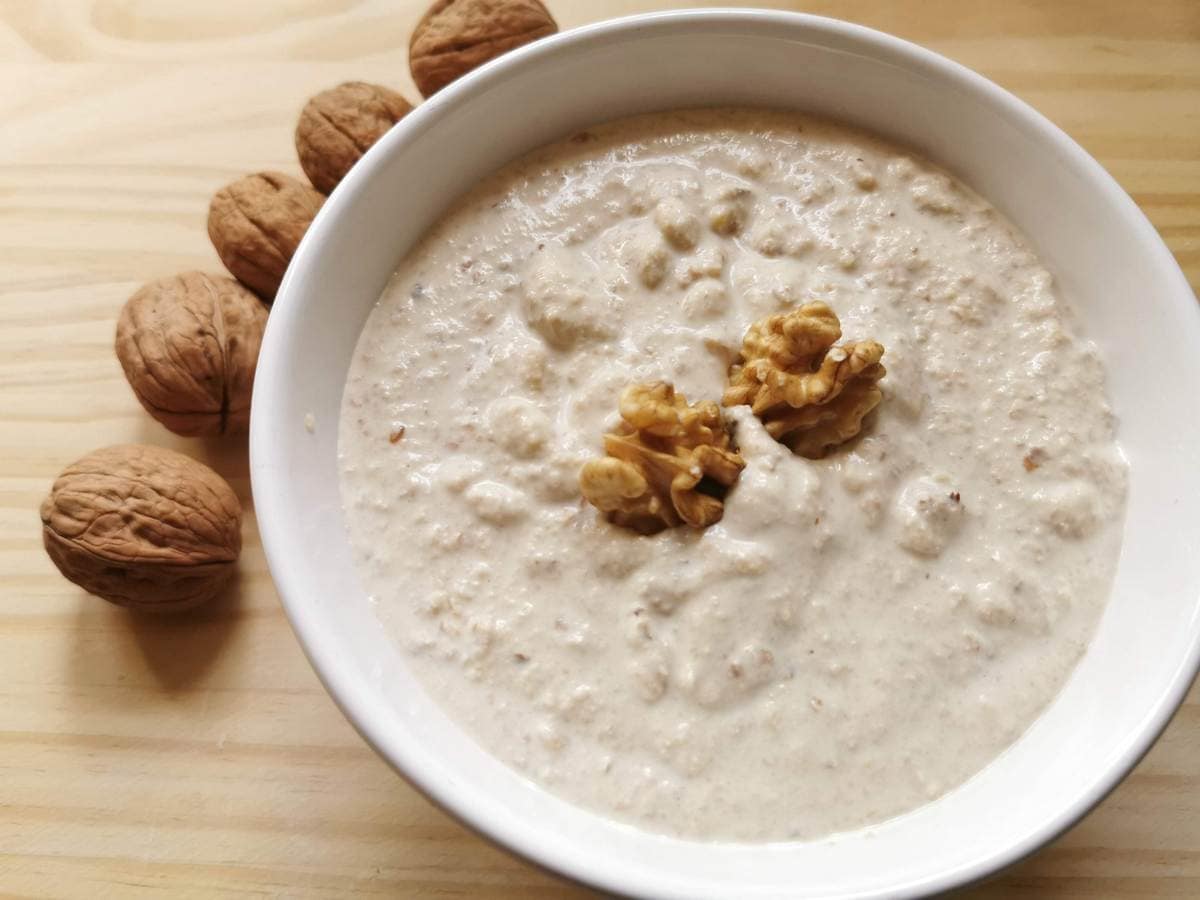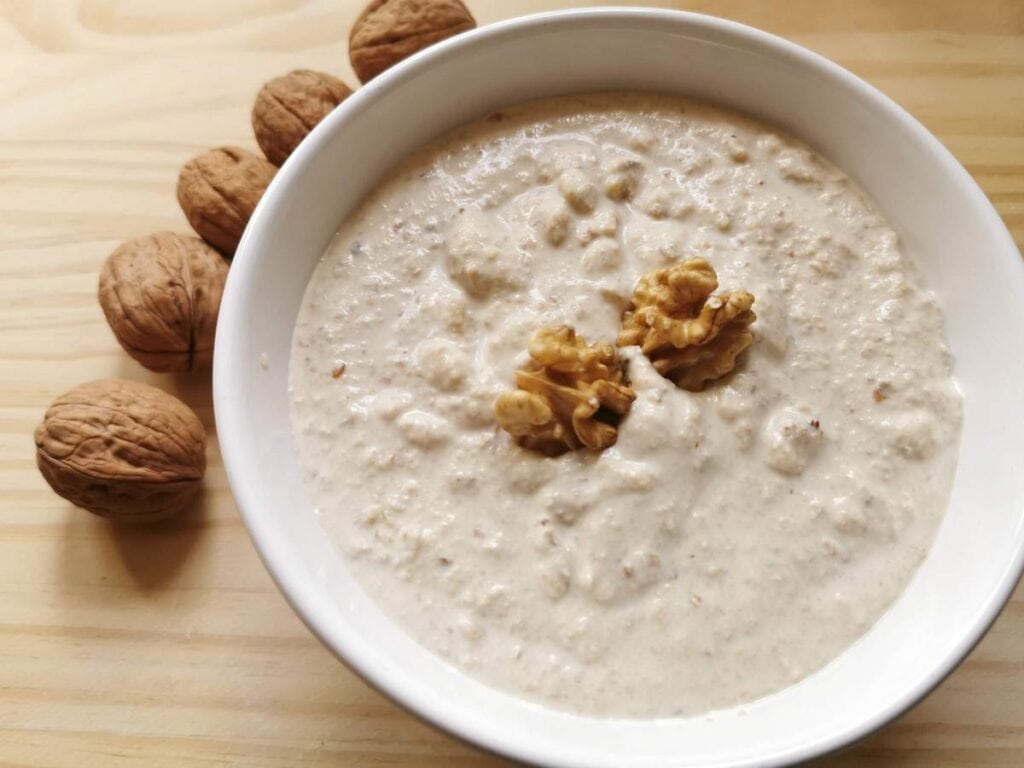 Once you have prepared the walnuts, you need to soak the bread in milk for a while. Then you make the rest of the sauce like other pesto. Just add the ingredients to a food processor, pulse until you get the right consistency, adding olive oil a little at a time. Before serving your walnut sauce pasta, you'll have to dilute the sauce with some pasta cooking water.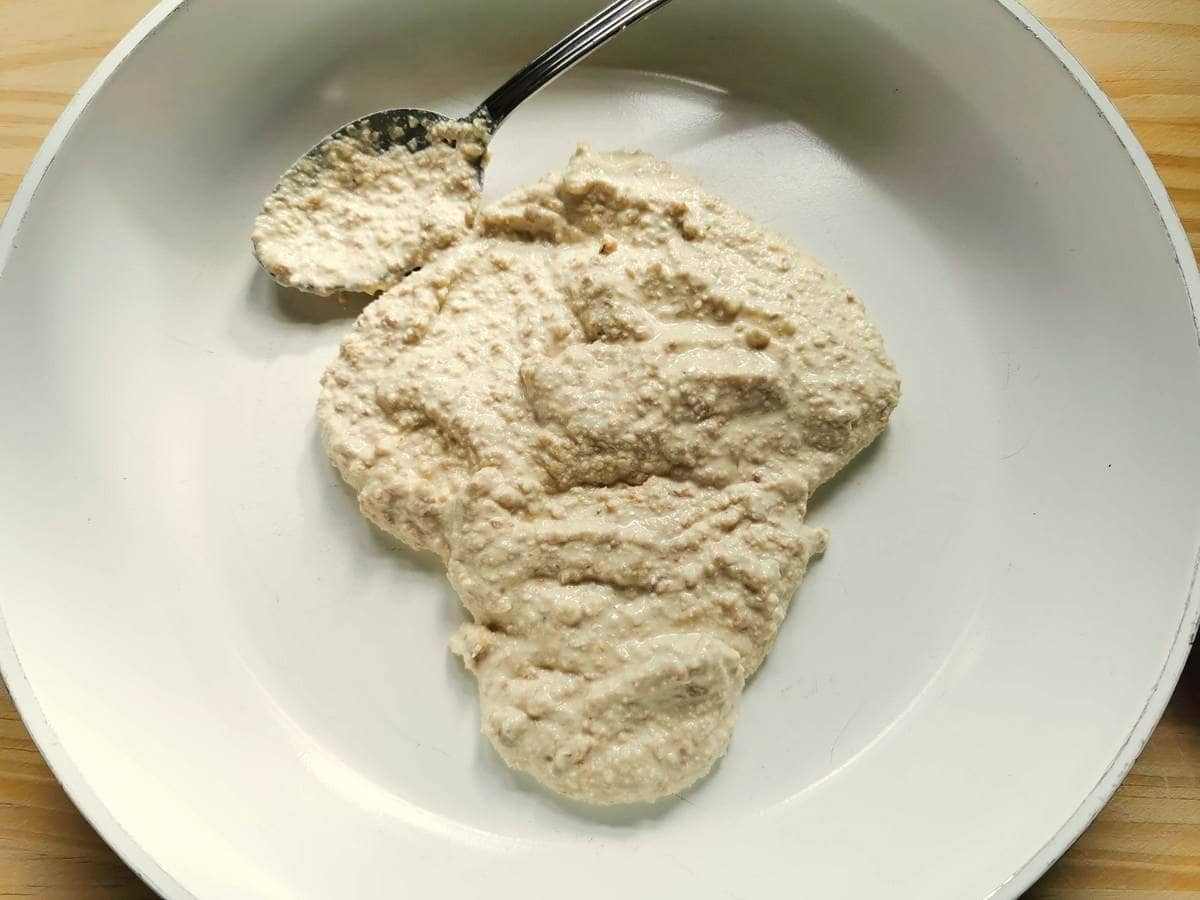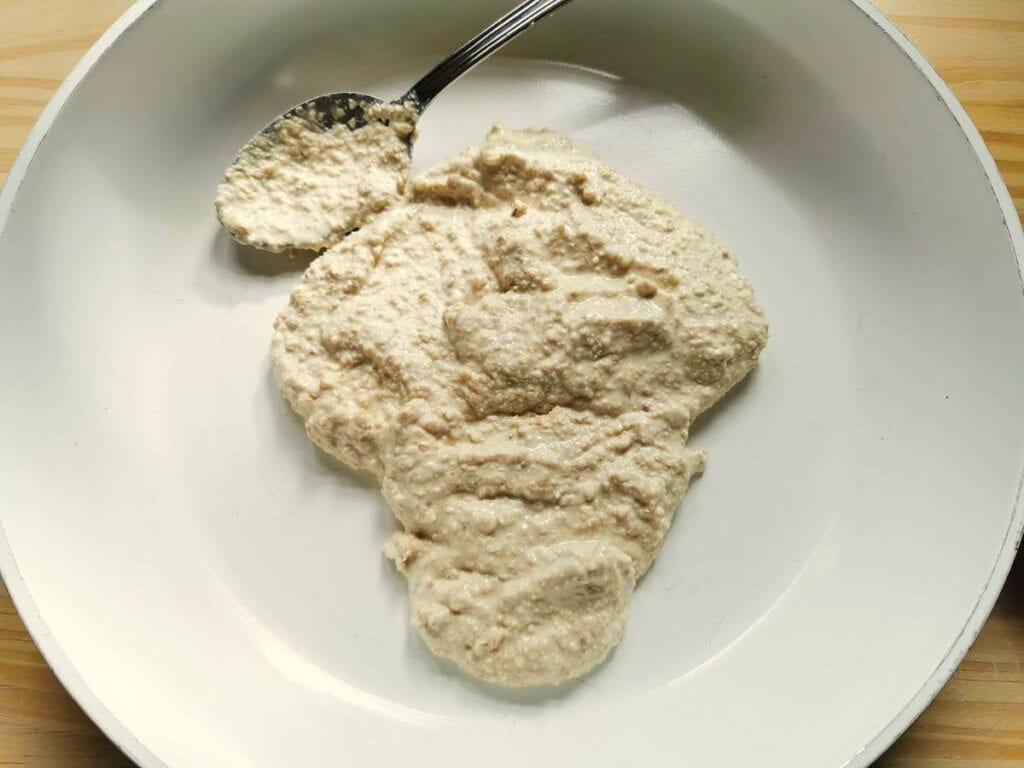 Put it in a pan that's big enough to fit the pasta too. Then add the pasta cooking water to make it creamy and more liquid. Finally, you just need to add the cooked pasta, some fresh marjoram, walnut pieces, black pepper and more cheese. Mix and serve. So creamy and delicious!
You can make your Ligurian walnut sauce in advance and keep it in a sealed container in the fridge. It lasts 3-4 days.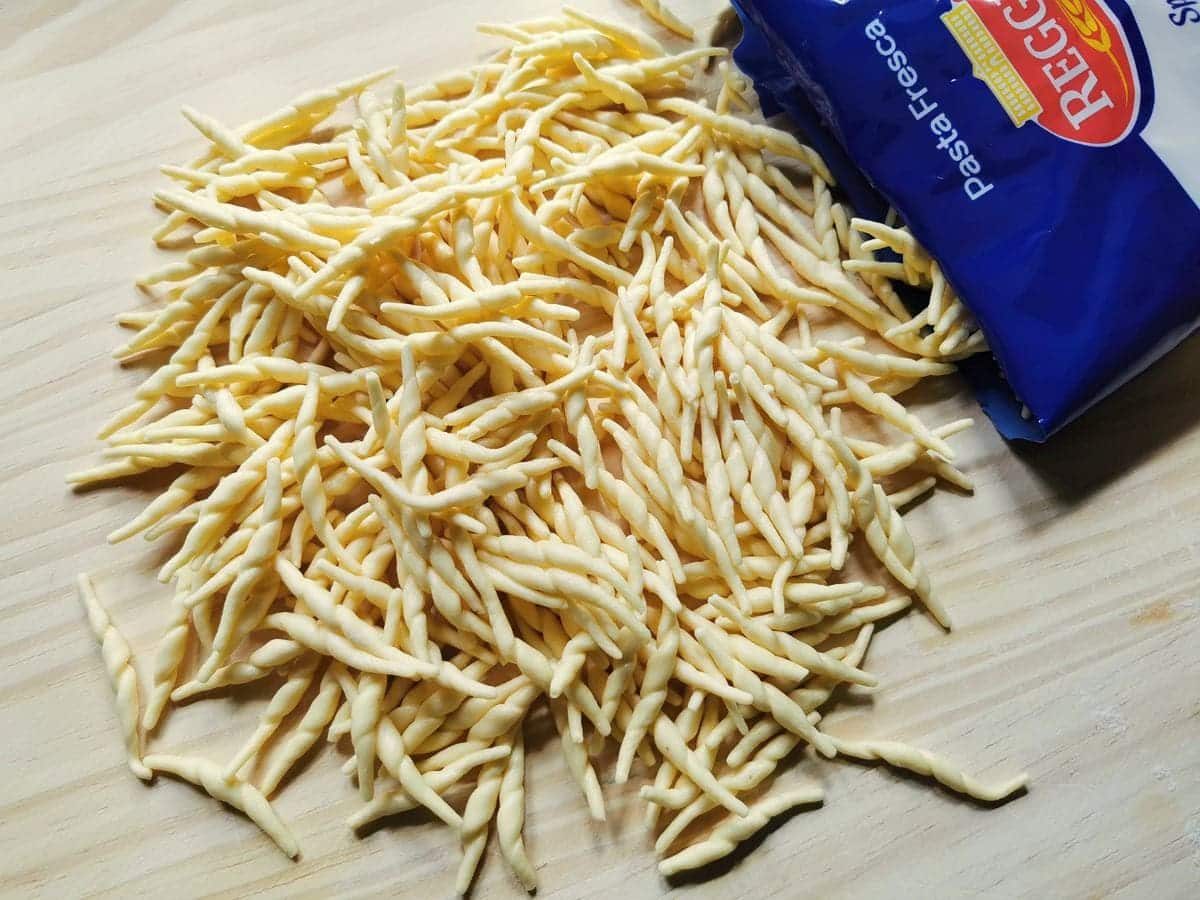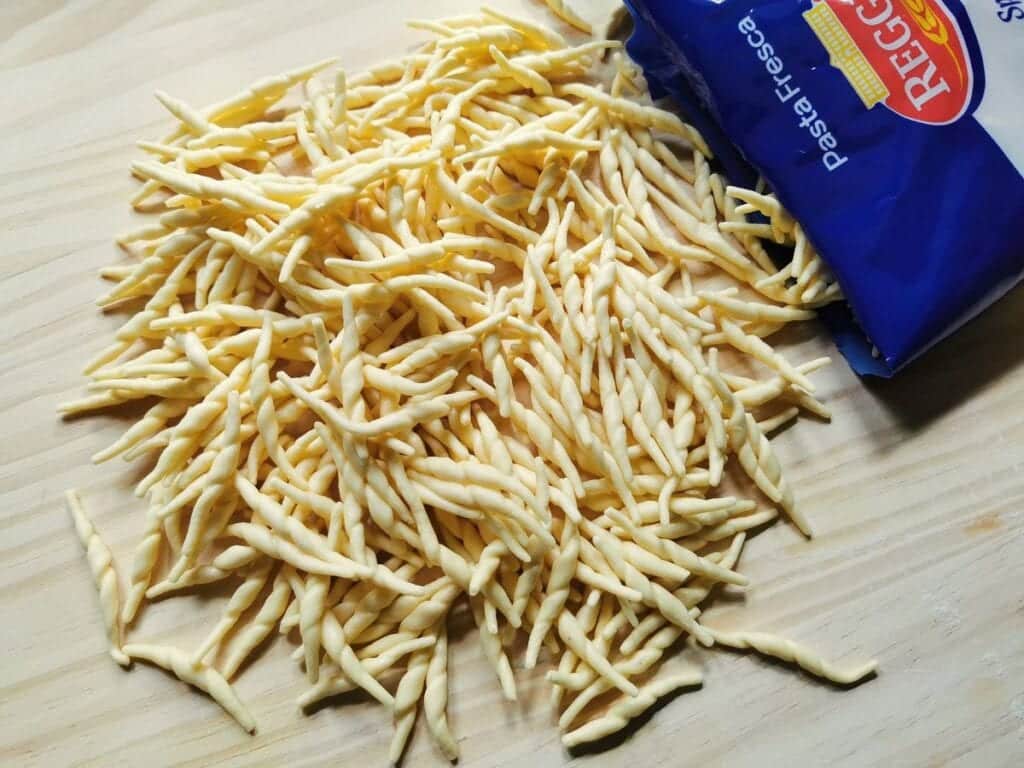 What's the best pasta for walnut sauce?
Of course, you can use many different types of pasta in this walnut sauce recipe. But, if you want to enjoy this dish the Ligurian way, then the traditional pastas are firstly, pansotti, a type of ravioli from Genova. This stuffed pasta is typically filled with wild herbs and a fresh local cheese. However, many people make pansotti with more easily available greens such as spinach, chard, borage and endive, and ricotta. Check out my homemade pansotti recipe if you'd like to give it a try.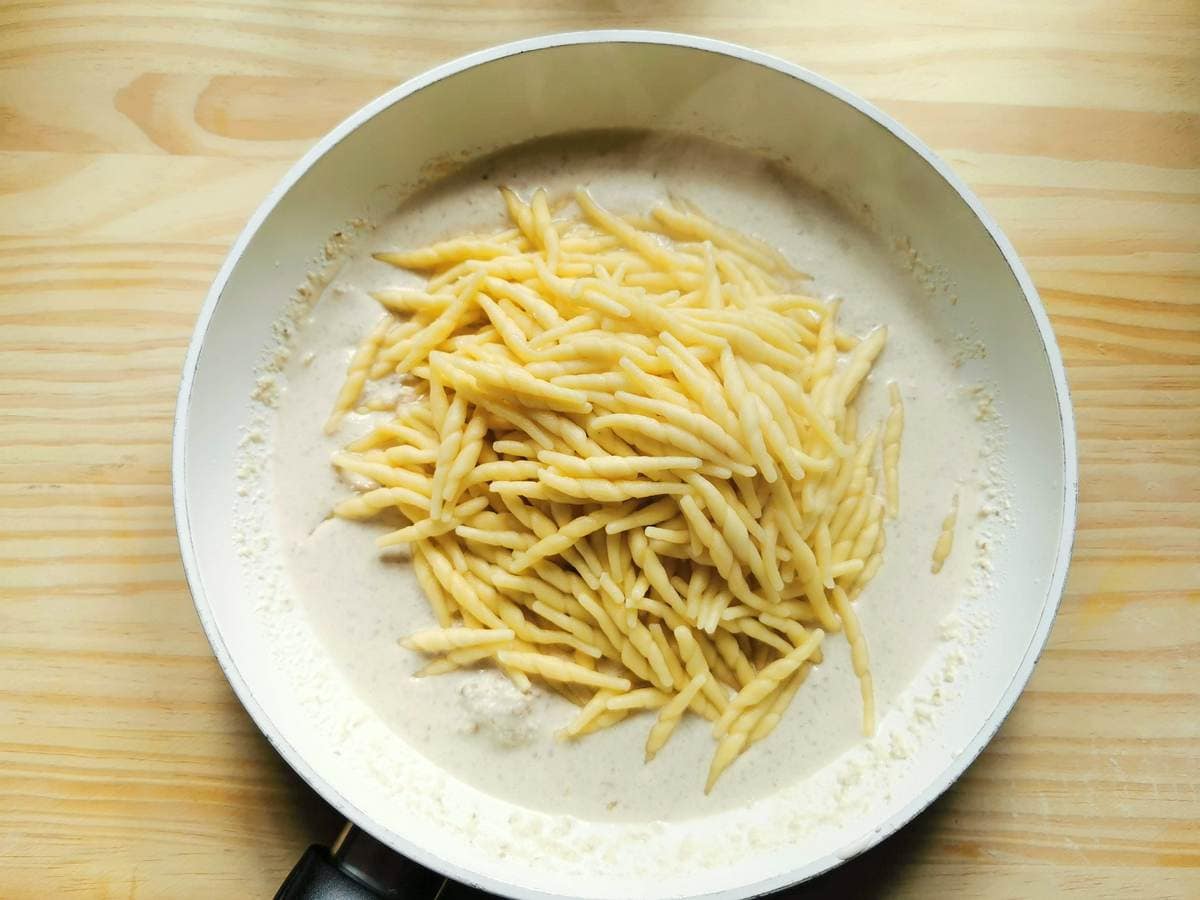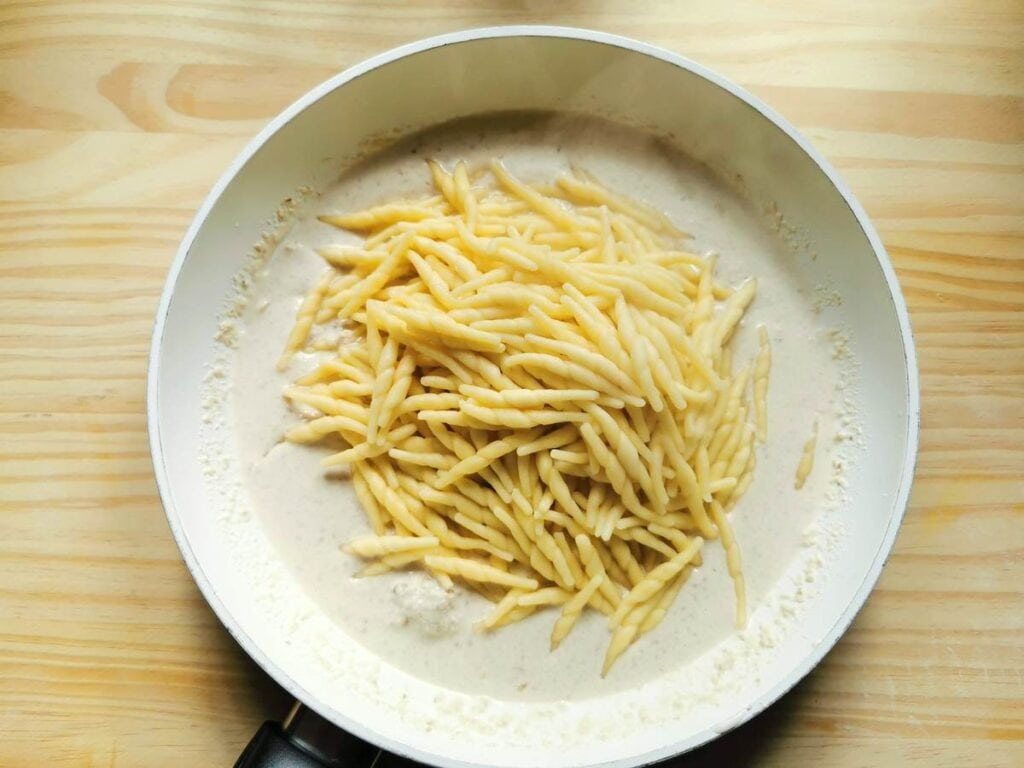 The other two typical pasta partners for Ligurian walnut sauce are corzetti, pasta medallions that date back to Medieval times, and trofie. The latter is what I used in this walnut sauce pasta recipe. Trofie is another ancient Ligurian pasta, traditionally homemade and served with basil or other types of pesto. In Italy we can buy both fresh and dried trofie.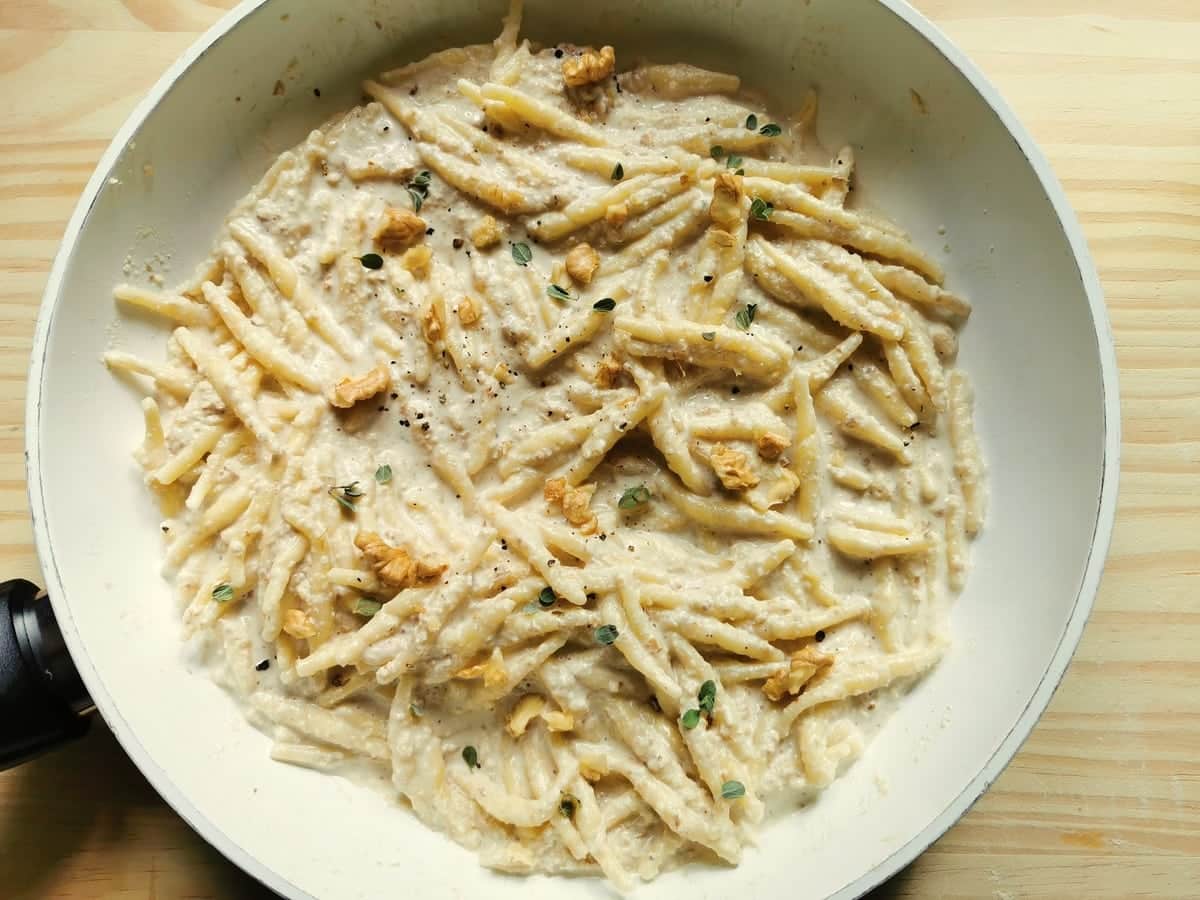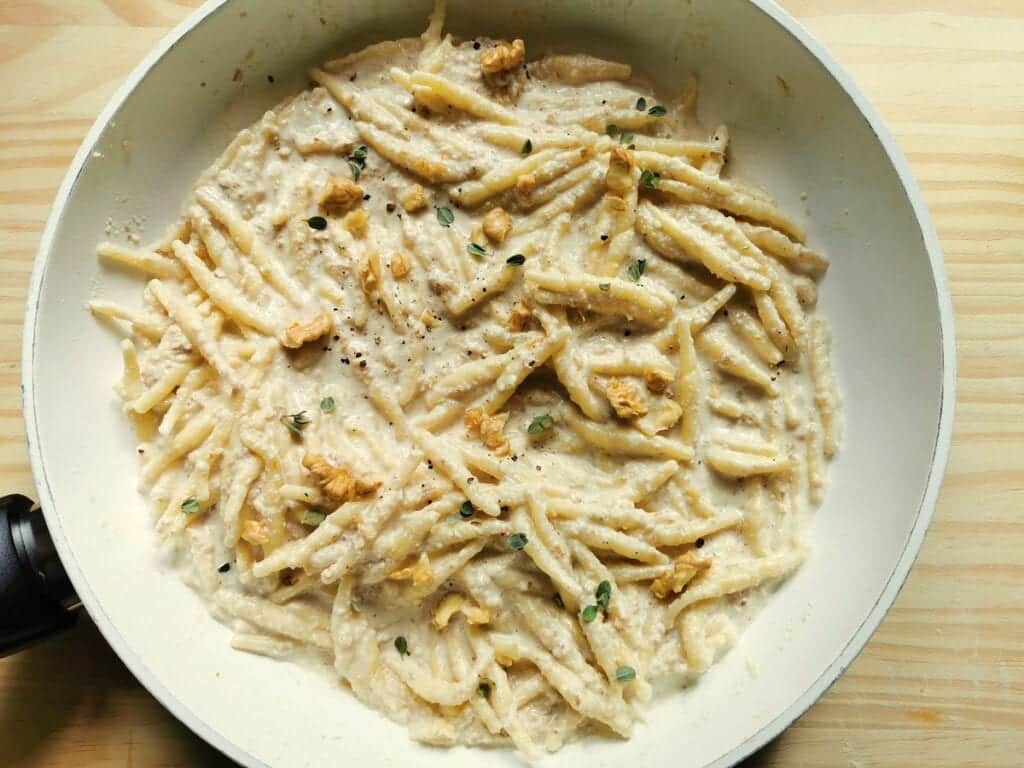 If you can't find trofie, then strozzapreti, casarecce, cavatappi (cellentani) or gemelli are all similar shapes you can use. But, even penne would work or spaghetti. Whichever, pasta you use I'm sure this walnut sauce pasta will become a regular dish in your kitchen. It's creamy, healthy, easy to make and so yummy! What more could you want?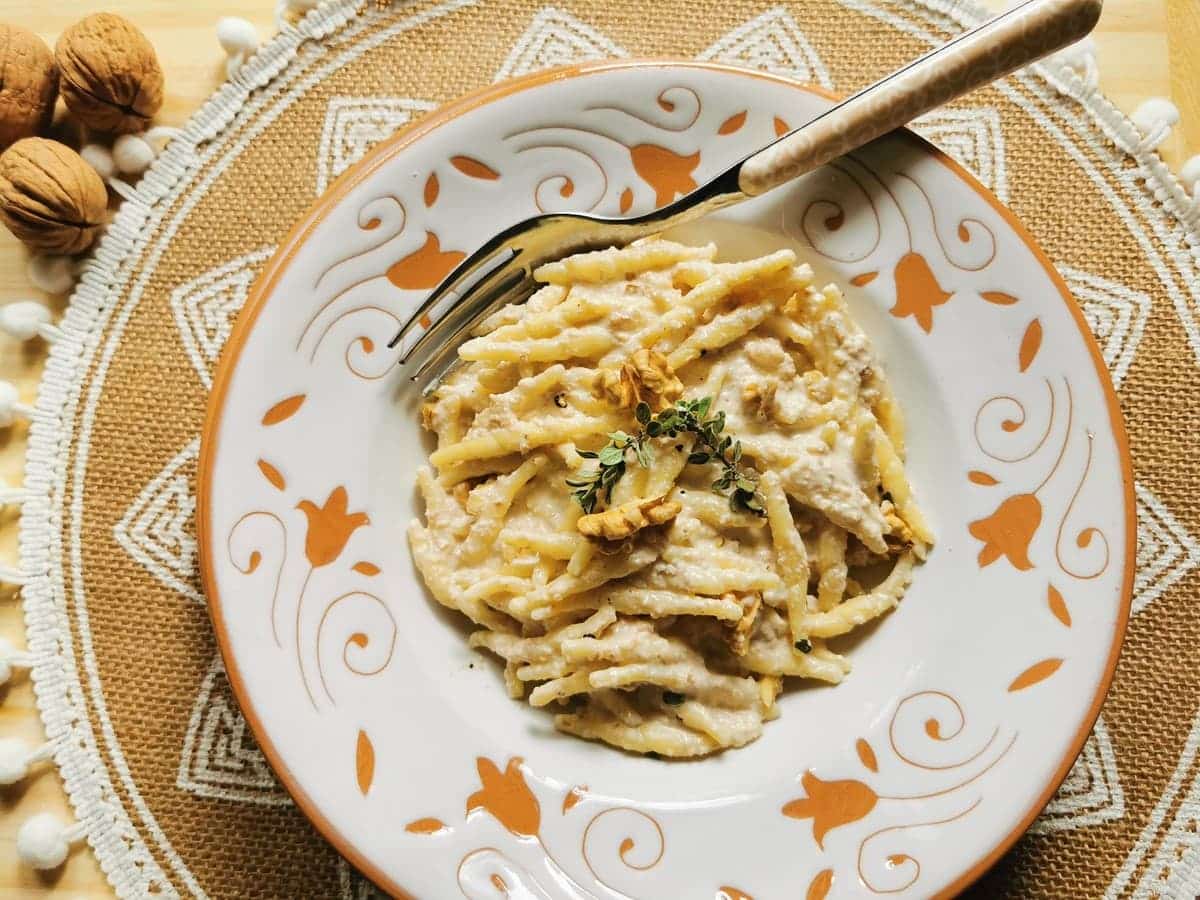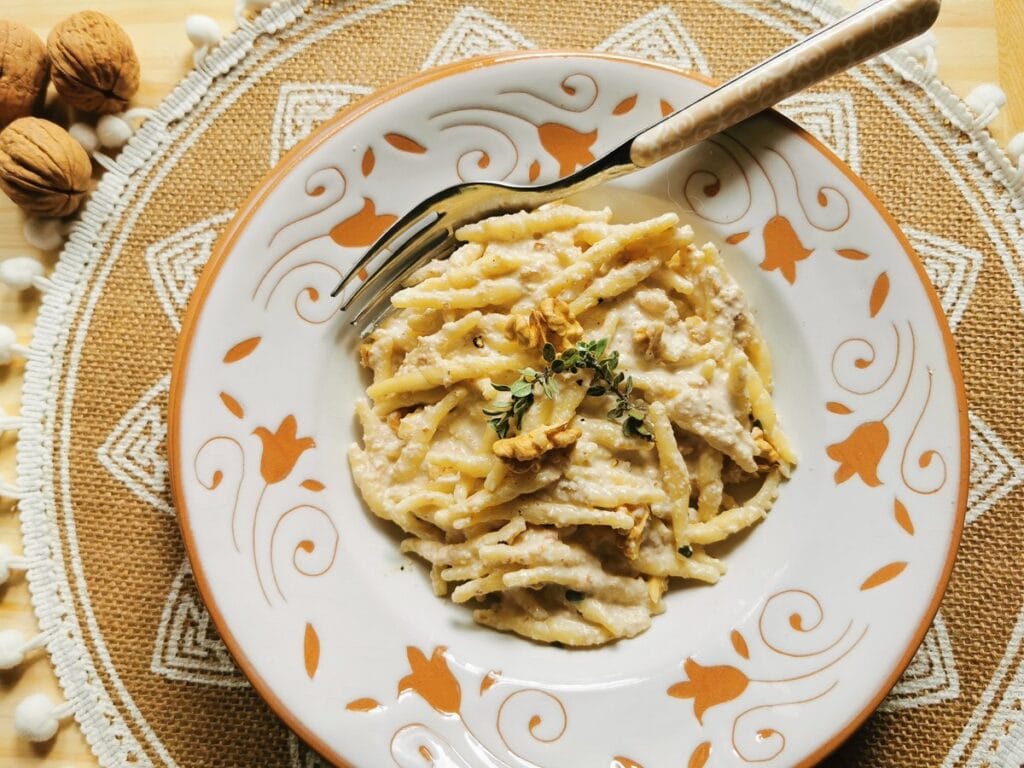 If you make this Ligurian walnut sauce pasta recipe, I'd love to hear how it turns out and if you liked it. Please leave a comment here on the blog or on The Pasta Project Facebook page.
Looking forward to hearing from you!
Buon appetito!
Other fab pasta recipes from Liguria.
SAVE THIS RECIPE FOR LATER?
If you want to save this recipe for later, you can print it, bookmark this page or save it to Pinterest.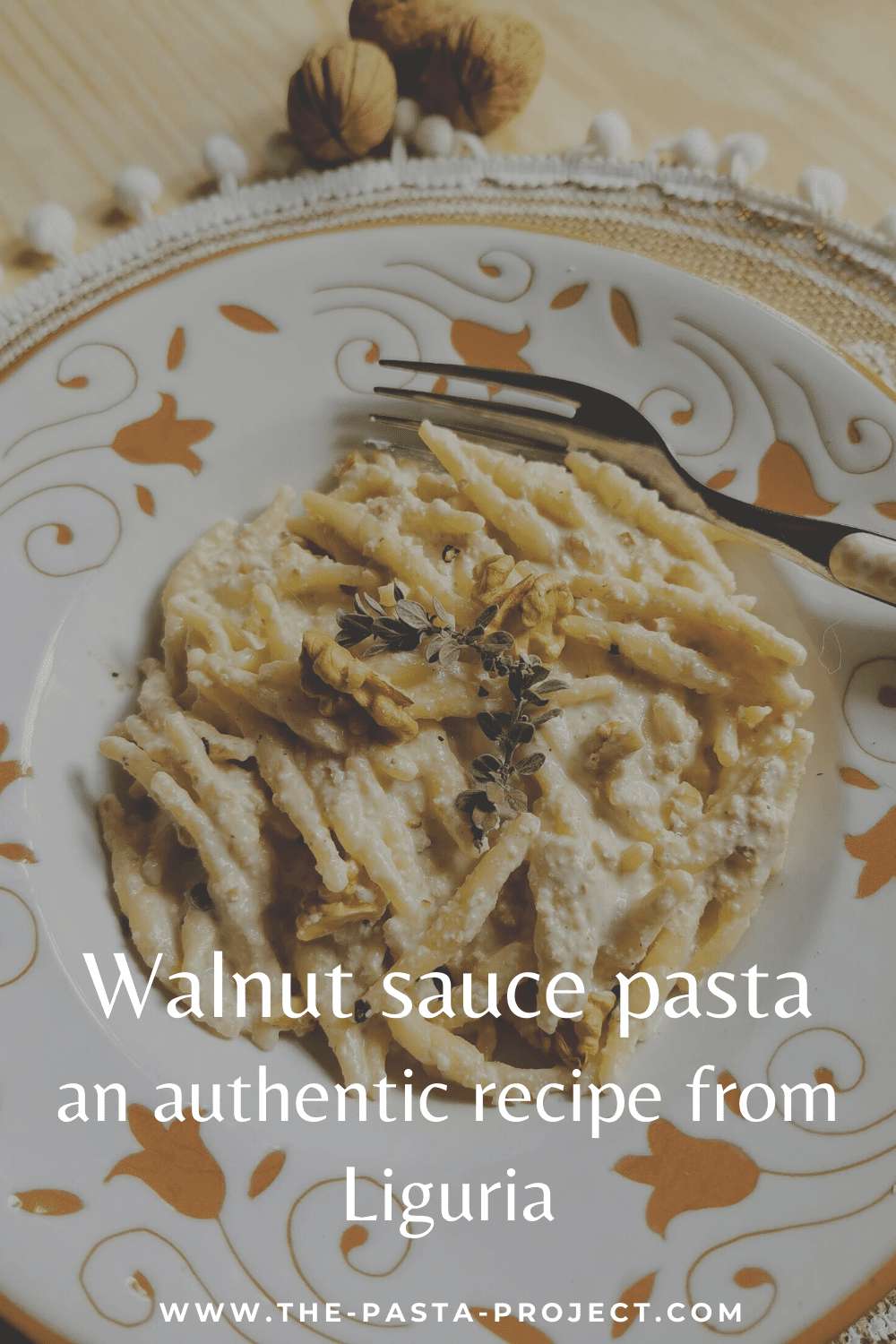 If you are interested in learning how to make homemade pasta and different types of gnocchi, check out my shop page for some great video online courses from my friends in Rome! Nothing beats learning to make pasta from Italians! Plus while you're there why not order a copy of one of my pasta recipe cookbooks or checkout some recommended pasta making tools? All great prezzies for pasta lovers!