Pansotti pasta with walnut sauce is a traditional dish from the Italian Riviera in Liguria, Northwest Italy. Similar to cappelletti or tortellini, pansotti (or pansoti) is stuffed ravioli-like pasta filled with ricotta and a variety of herbs and greens. This is a delicious easy to make vegetarian recipe that is popular on Sundays and religious days of abstinence from meat such as Christmas Eve and particularly during Lent.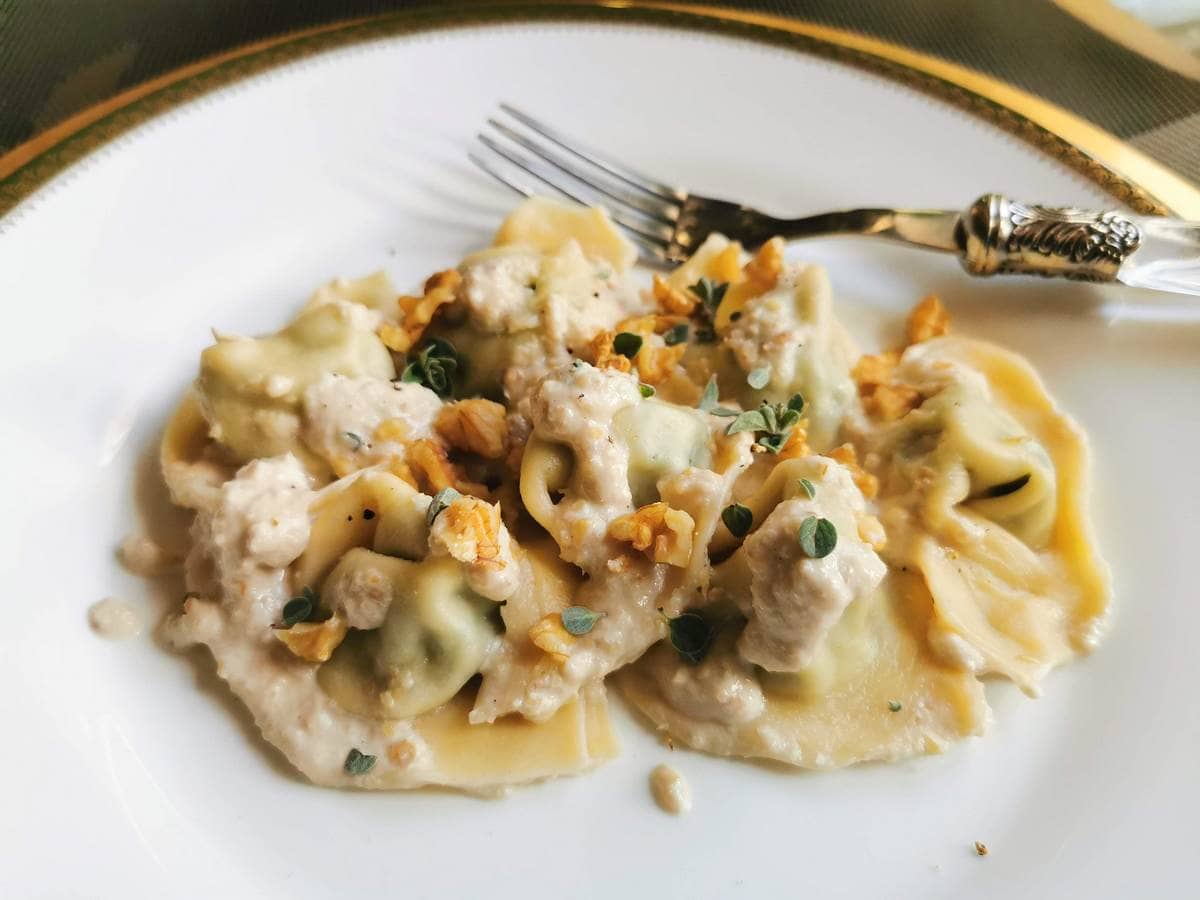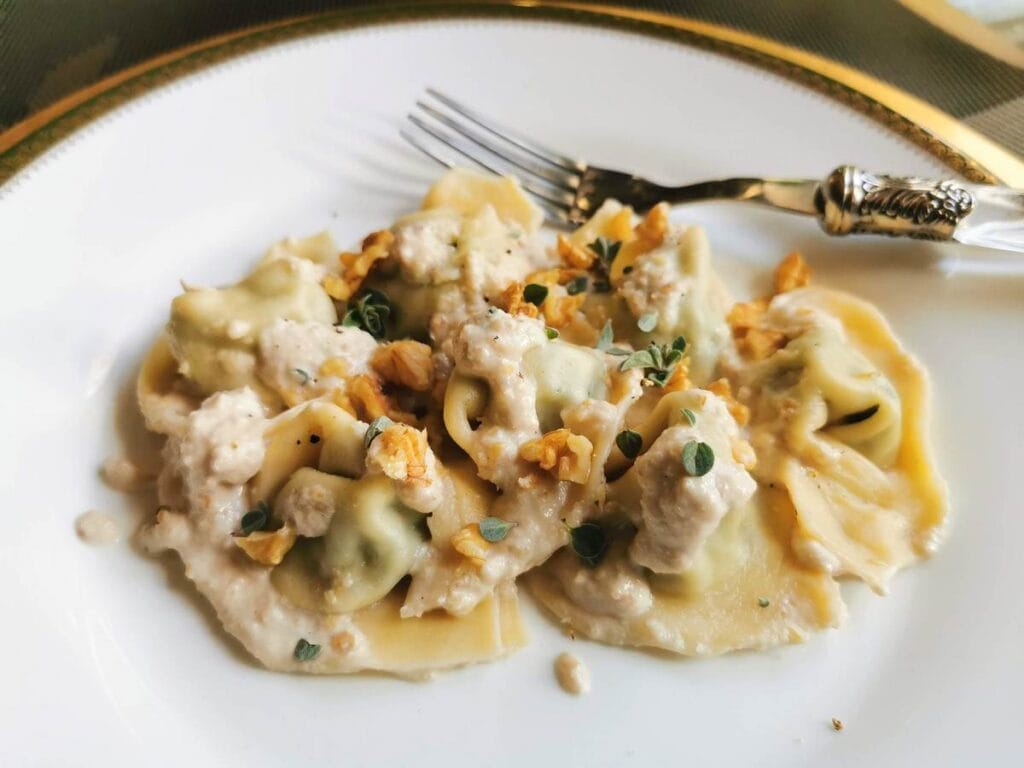 Pasta in Liguria.
According to food historians, Liguria is where ravioli was invented. In fact, they have been making fresh egg pasta in the region since the 13th century. So, as you can imagine, there are many traditional and ancient Ligurian pasta types and recipes. One of my favourites is silk handkerchief pasta with pesto which is said to be the oldest pasta and pesto recipe. I also love Ligurian corzetti, medallions of pasta stamped with a design that date back to Medieval times!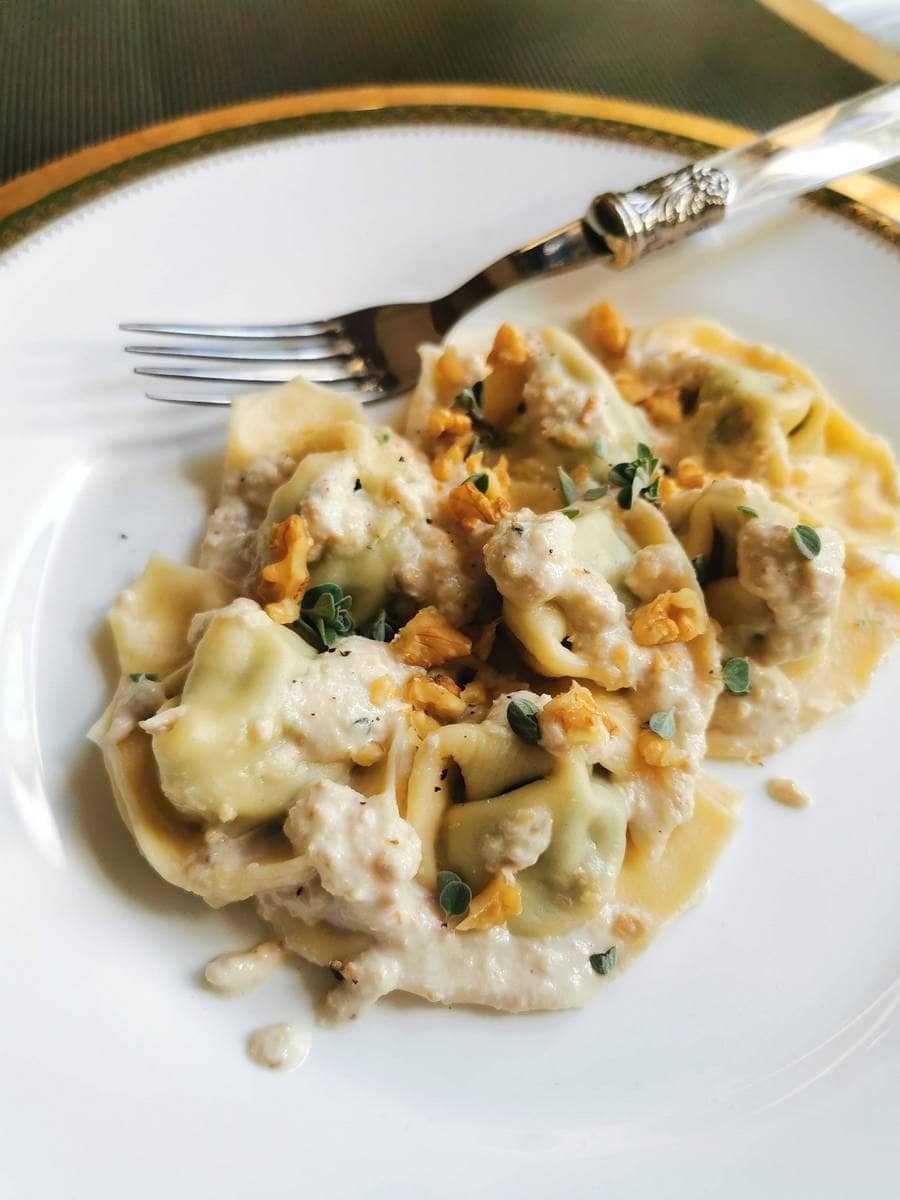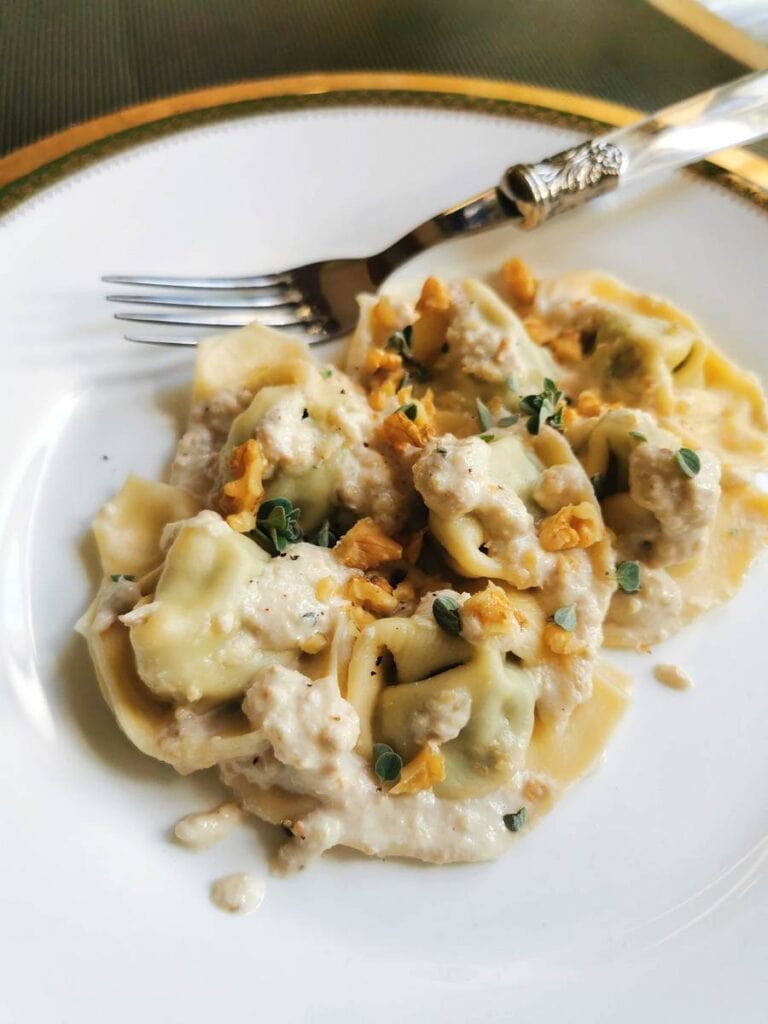 The origins of pansotti pasta with walnut sauce.
This pansotti dish is actually a more modern pasta recipe. It was first referred to in print in the 1931 Italian gastronomic guide published by Touring Club Italia. This publication mentioned a recipe from the town of Rapallo on the Italian Riviera called 'pansoti cu a salsa de nuge' in the local dialect. As you can imagine, that means pansotti with walnut sauce!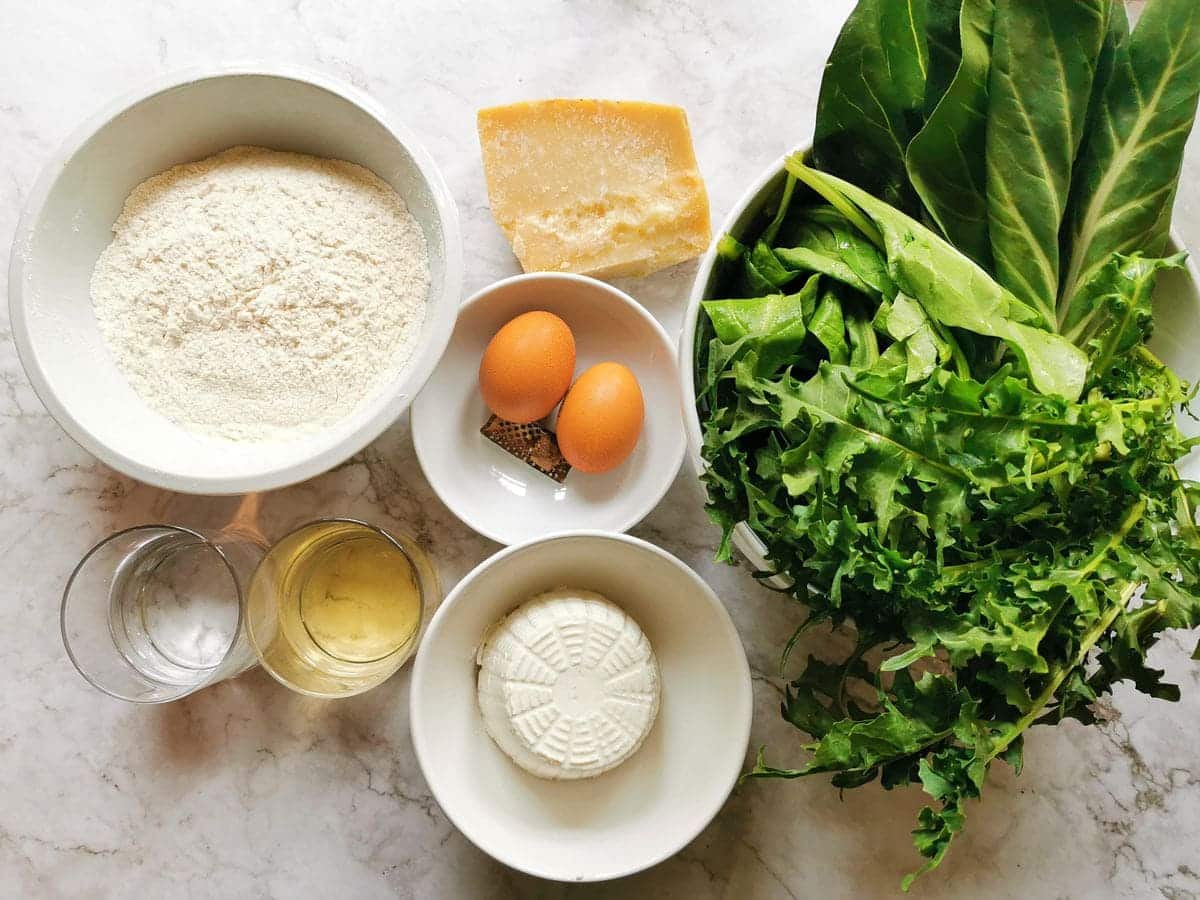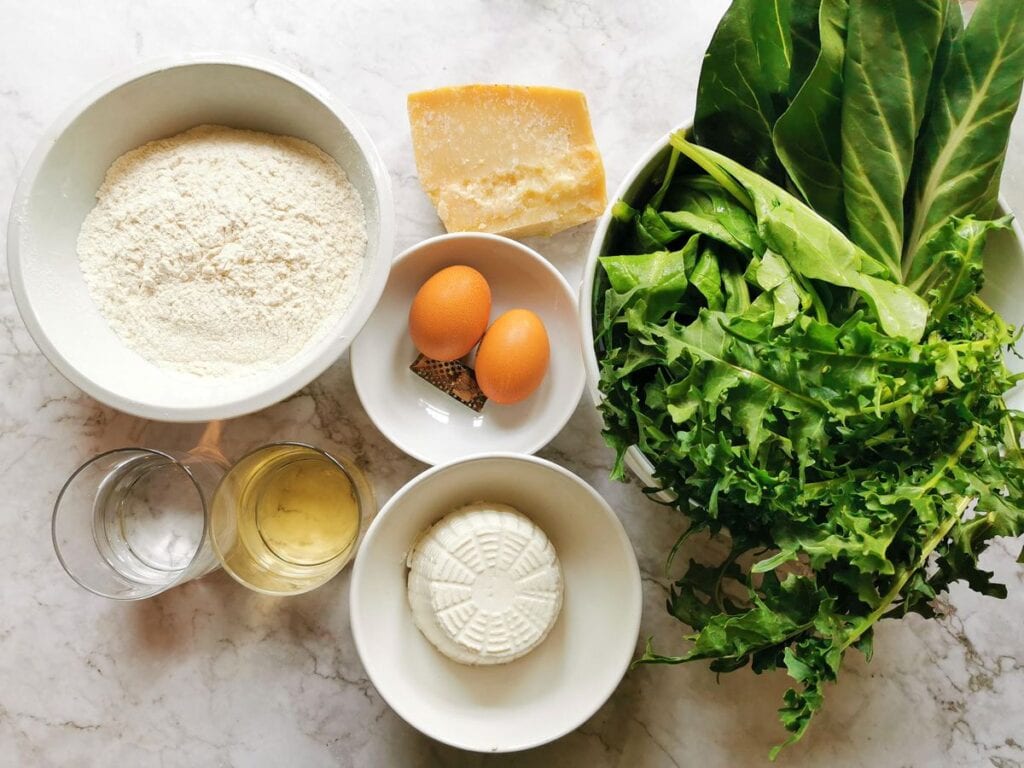 What does the name pansotti mean?
The word 'pansotti' (or pansoti) comes from the Italian word 'pancia', meaning belly or potbelly. In the Genovese dialect, they say 'pansa', hence pansotti! Although in some parts of Liguria they make make pansotti shaped as triangular ravioli or mezzalune (half-moons), the name refers to a pasta with a paunchy shape. In Genova province, this pasta is usually shaped like a large tortellini or tortello, which is how we made it.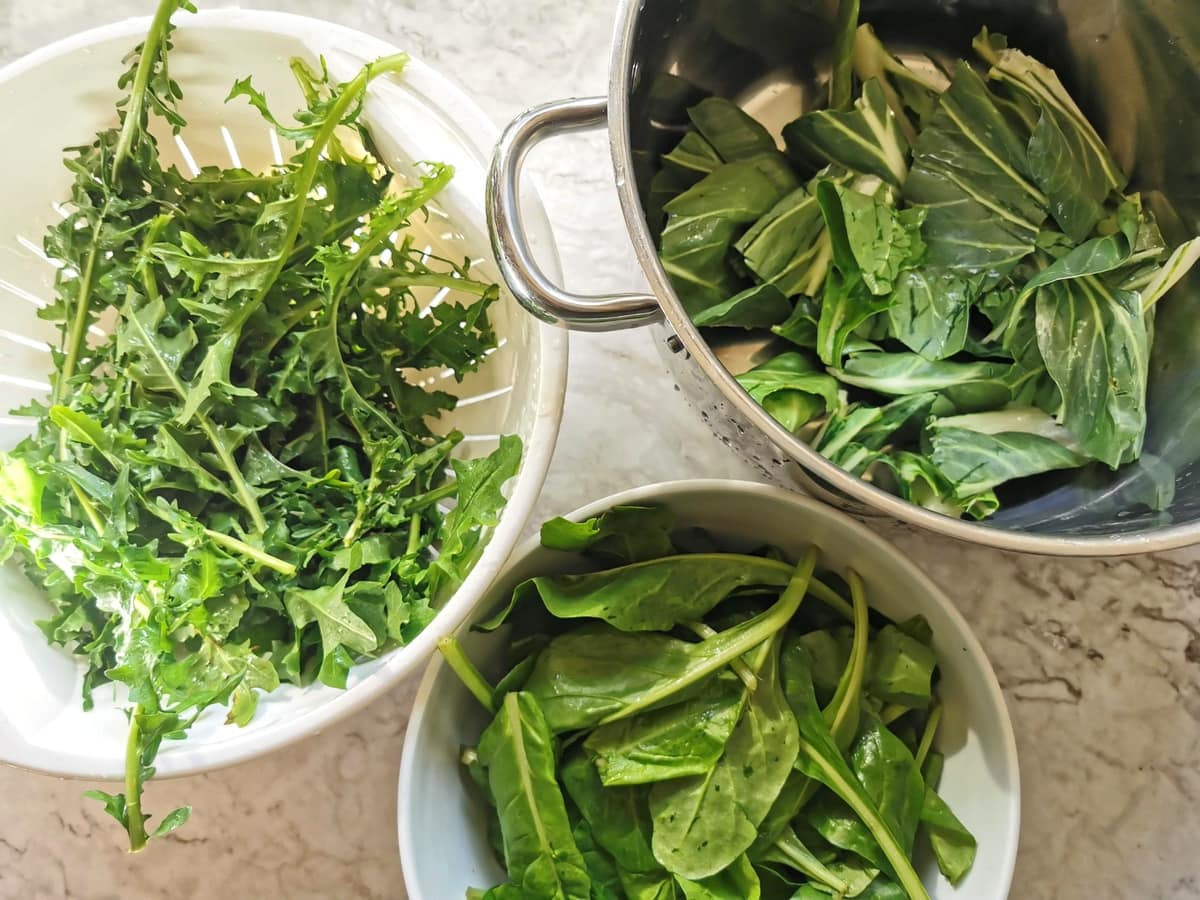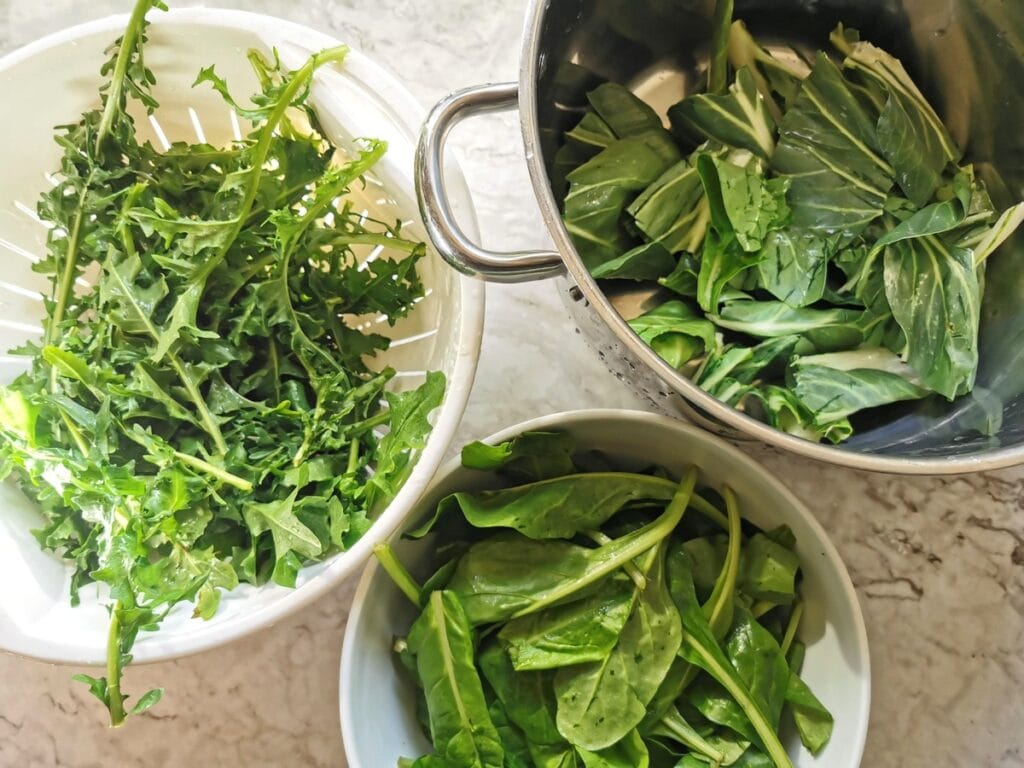 Pansotti pasta with walnut sauce is a dish that symbolizes Ligurian foods and flavours. All the ingredients traditionally used in making this dish are typical of the Ligurian kitchen. The original filling is made with what locals call preboggion, or prebuggiun. This word cannot be translated into standard Italian, much less into English.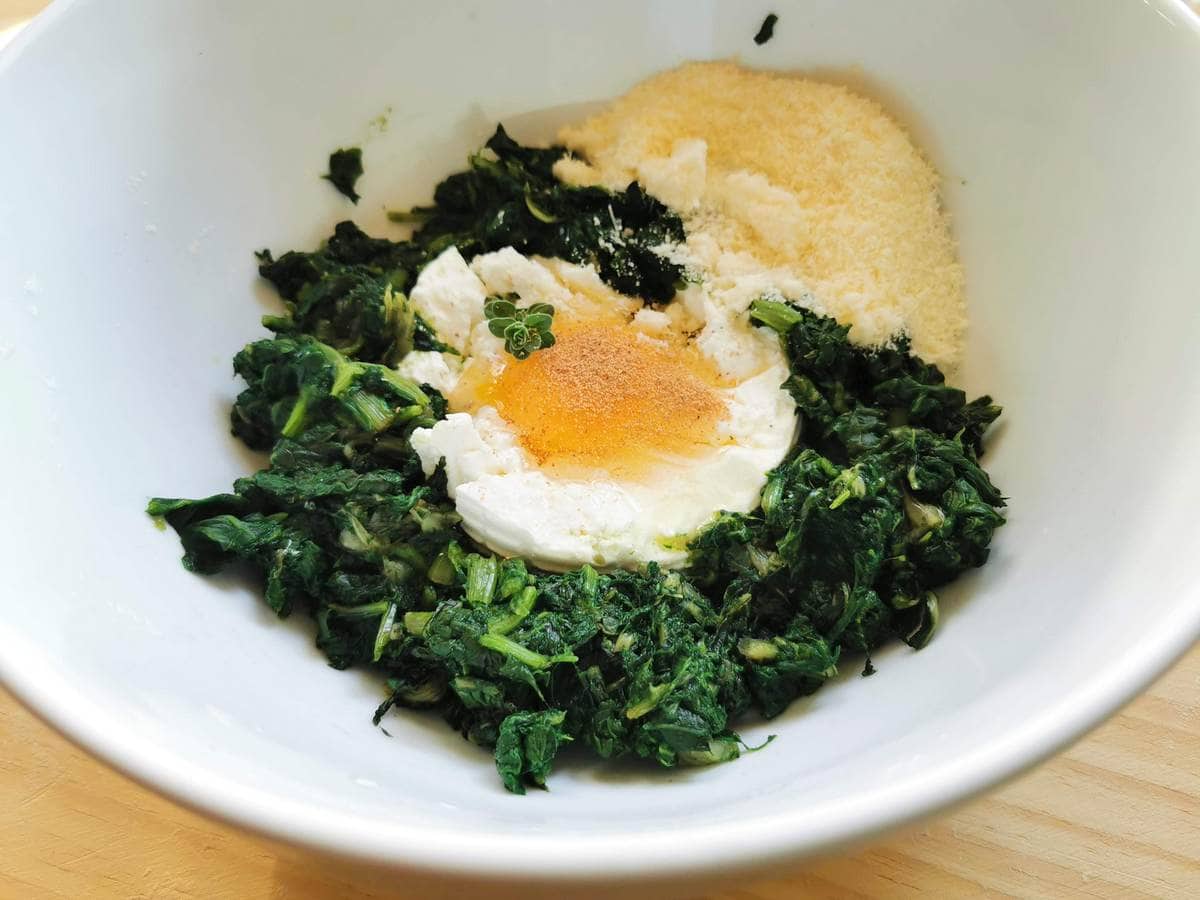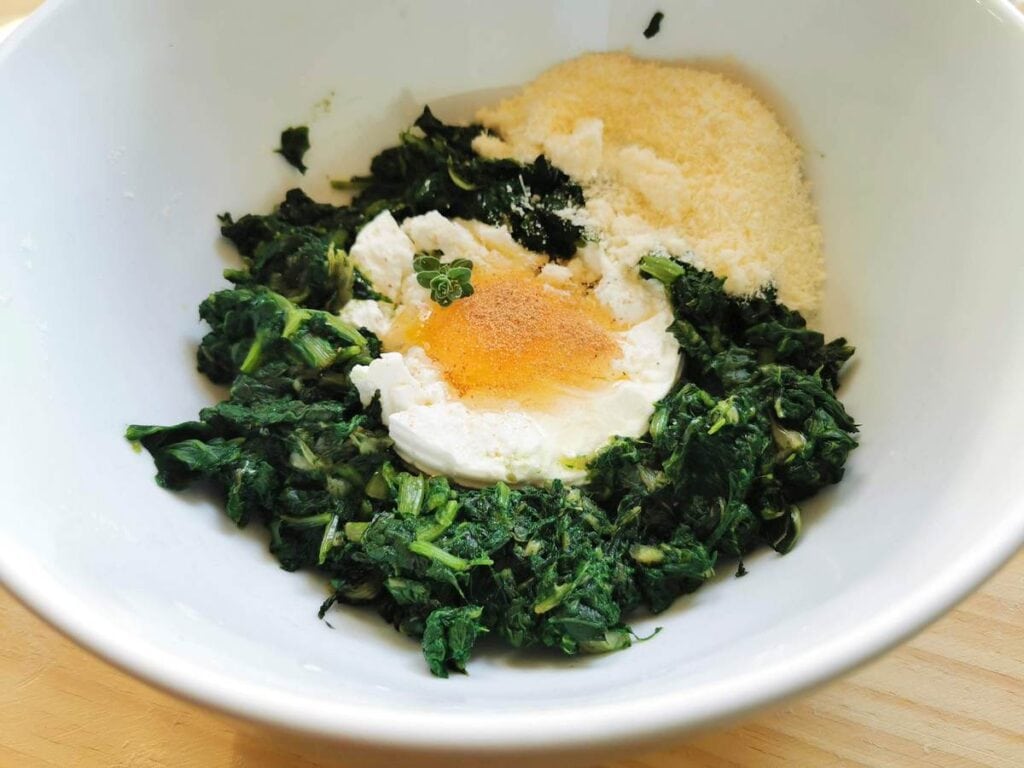 What is preboggion?
In short, preboggion is a mix of wild herbs that have been foraged, boiled and served together. There are 14 herbs that make up the Ligurian preboggion. These include wild chicory (radicchio), wild Swiss chard, dandelion, poppy, borage, wild fennel and nettles, plus others I'm not sure of the translation for!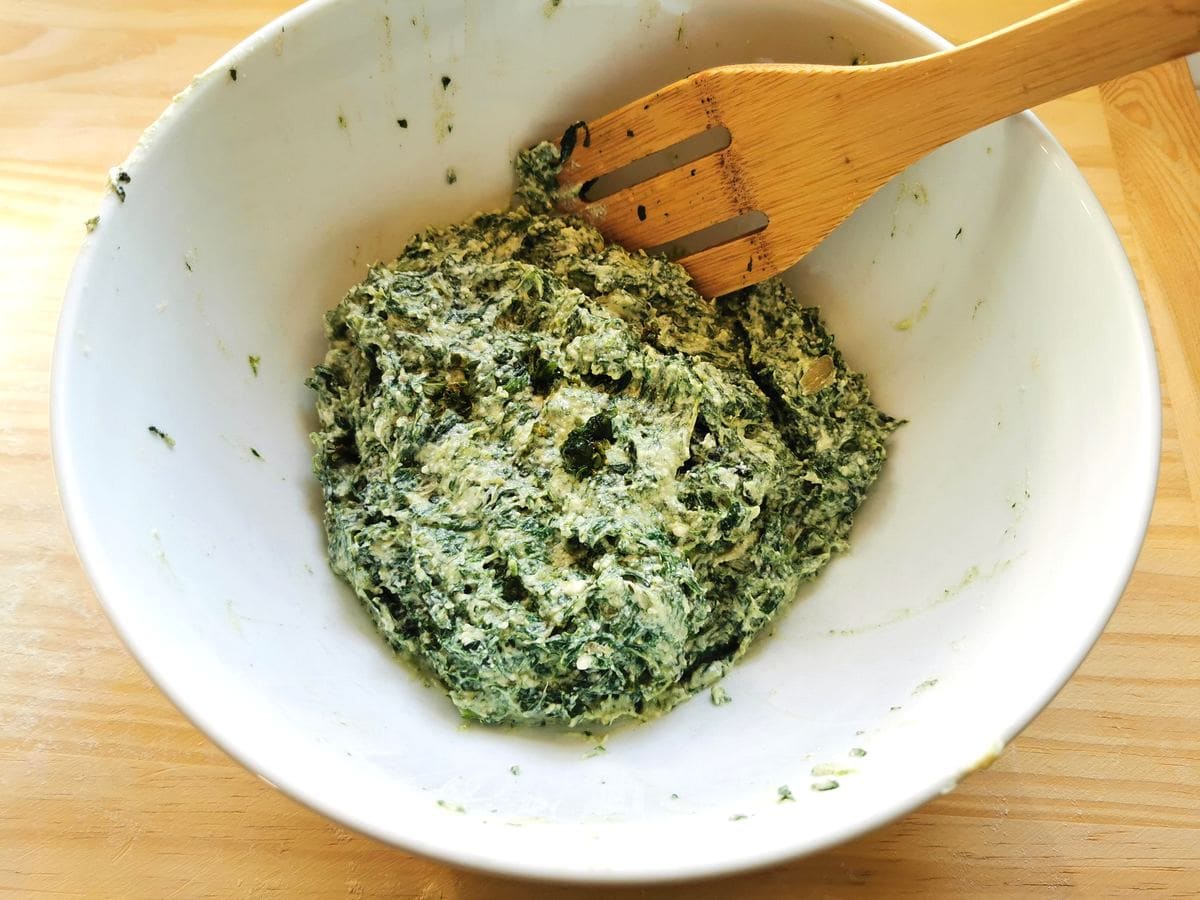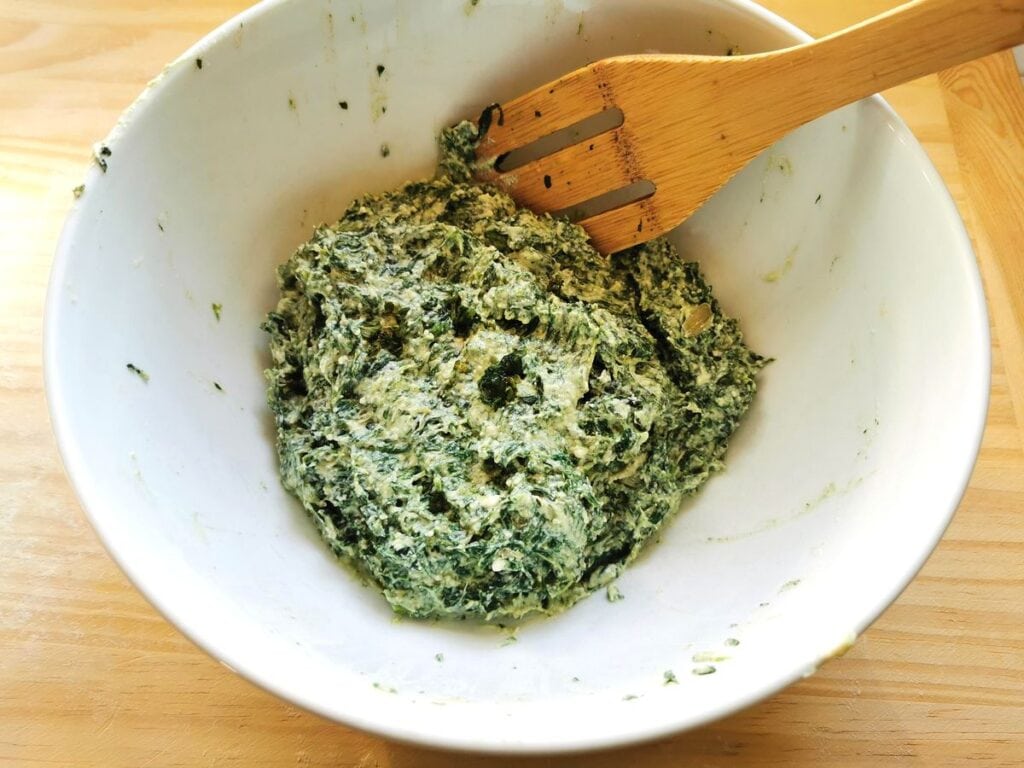 Of course, Ligurians don't use all 14 in their pansotti filling. These herbs don't all grow at the same time of year or in the same areas! In fact, preboggion tastes different depending on the season, so too do the pansotti filled with it!
What herbs or greens can you use in pansotti?
According to the official recipe for pansotti pasta in Rapallo (yes there's an official recipe), there should be a minimum of 4 types of wild herbs/greens in particular quantities of which at least 50% is borage and not more than 20% is wild Swiss chard!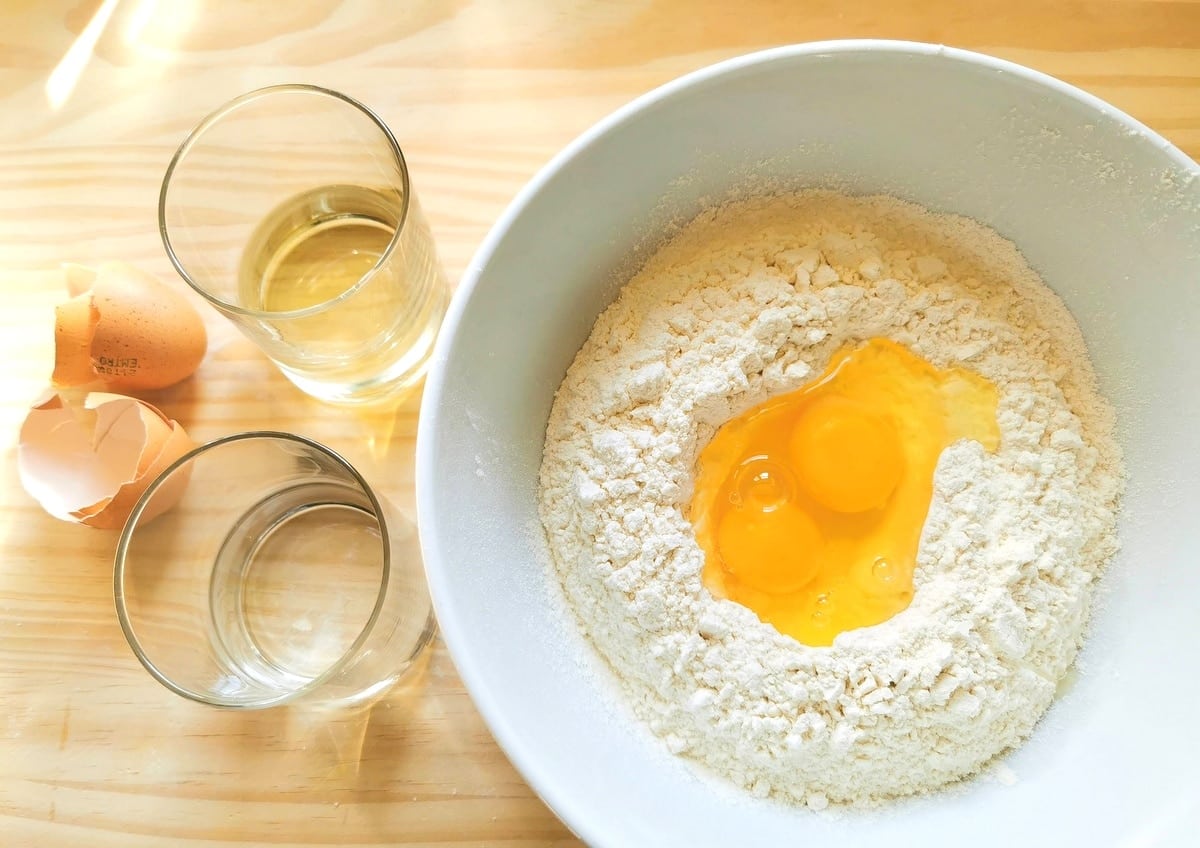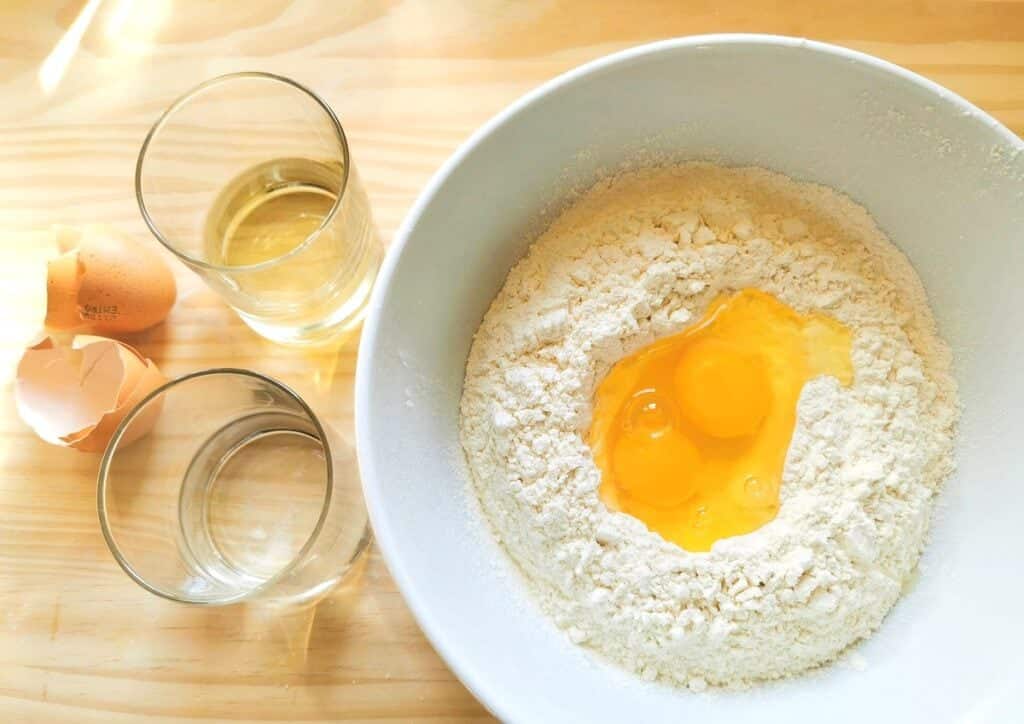 In the past, they made pansotti with at least 7 wild herbs which had to be picked in the morning! Of course, even in Liguria, it's not possible to forage wild herbs when you want them. Plus, most of the herbs in preboggion aren't available to buy at the local veg market!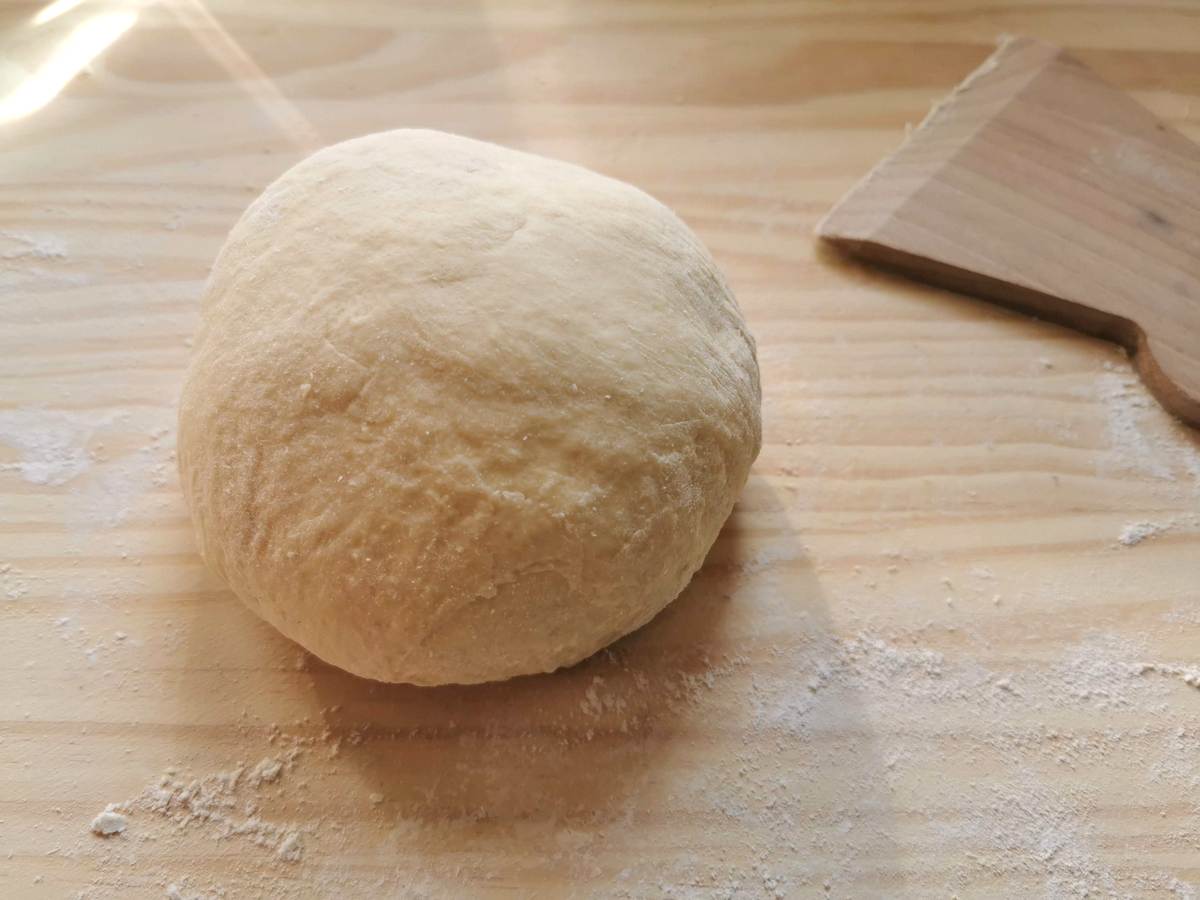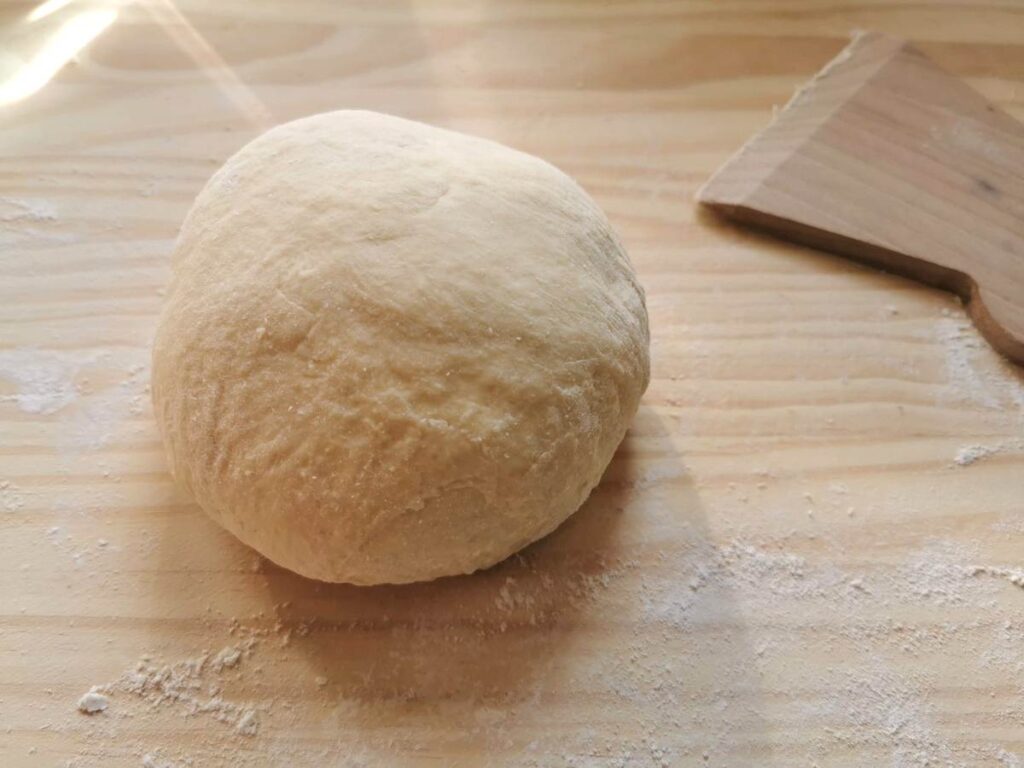 Subsequently you can make your pansotti with a variety of other greens. I used swiss chard, wild radicchio, and spinach. But, you can also leave out the wild radicchio or use borage instead.
Other pansotti filling ingredients.
Apart from the herbs and greens, the filling for pansotti includes egg, cheese, nutmeg and marjoram. Some people use only nutmeg or only marjoram. The cheese is traditionally parmigiano or grana and prescinsêua. The latter is a curd cheese, typical of the Genova province. It's kind of a cross between ricotta and yogurt. Of course, you can use normal ricotta, or you can mix ricotta with yogurt or sour cream to get a similar flavour.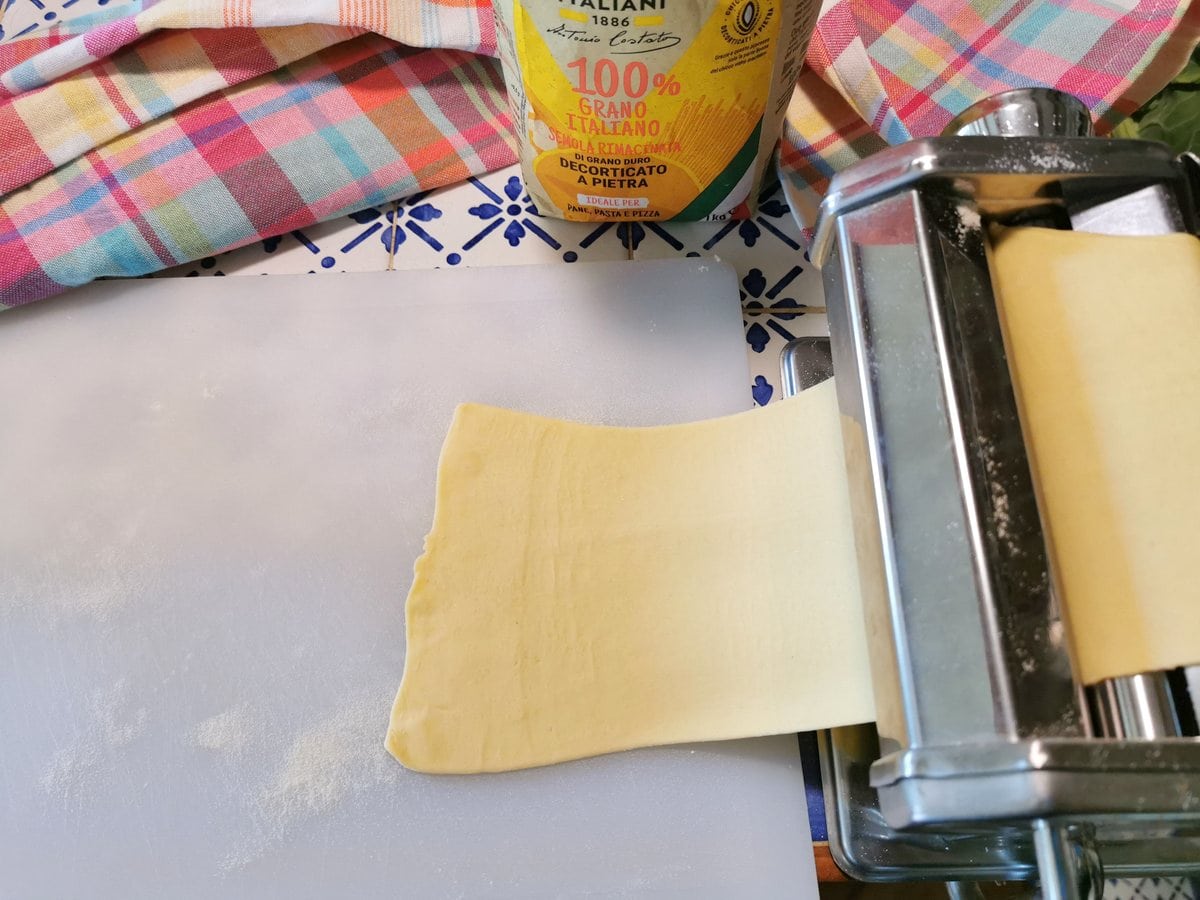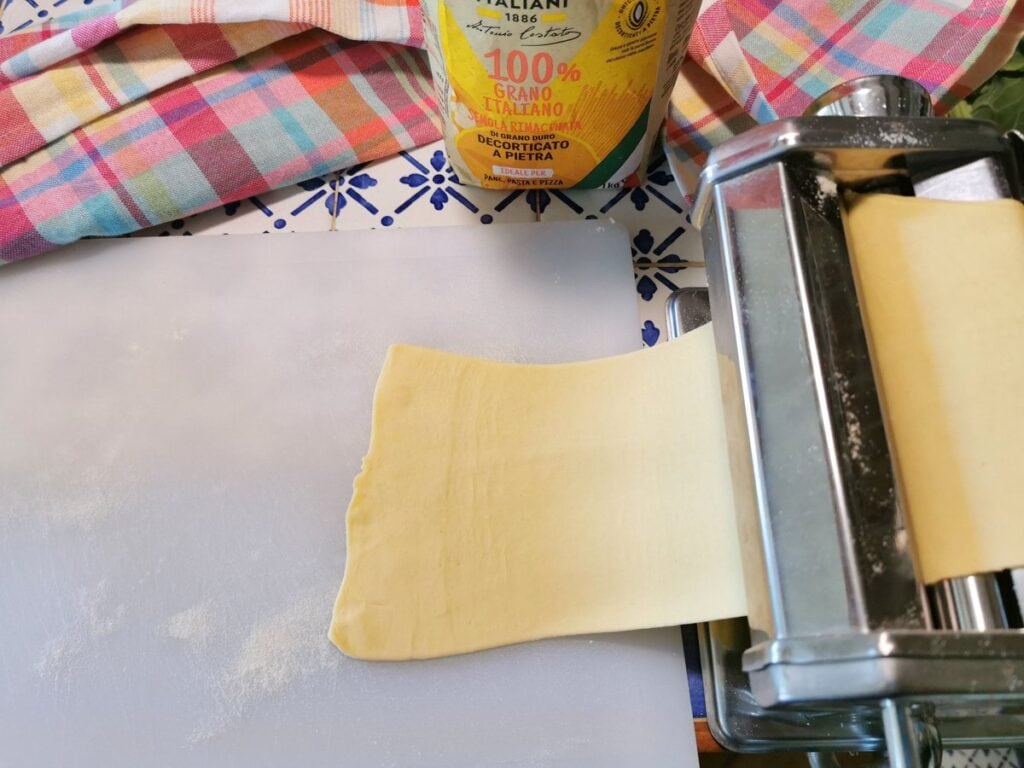 How to make pansotti filling.
The first step in this pansotti pasta with walnut sauce recipe is to make the pasta filling. The herbs and greens need to be washed, chopped and boiled. Then after draining and removing as much liquid as possible, you need to chop the greens and then put them in a bowl. Add the cheeses, egg, marjoram and nutmeg, mix everything together and your filling is ready!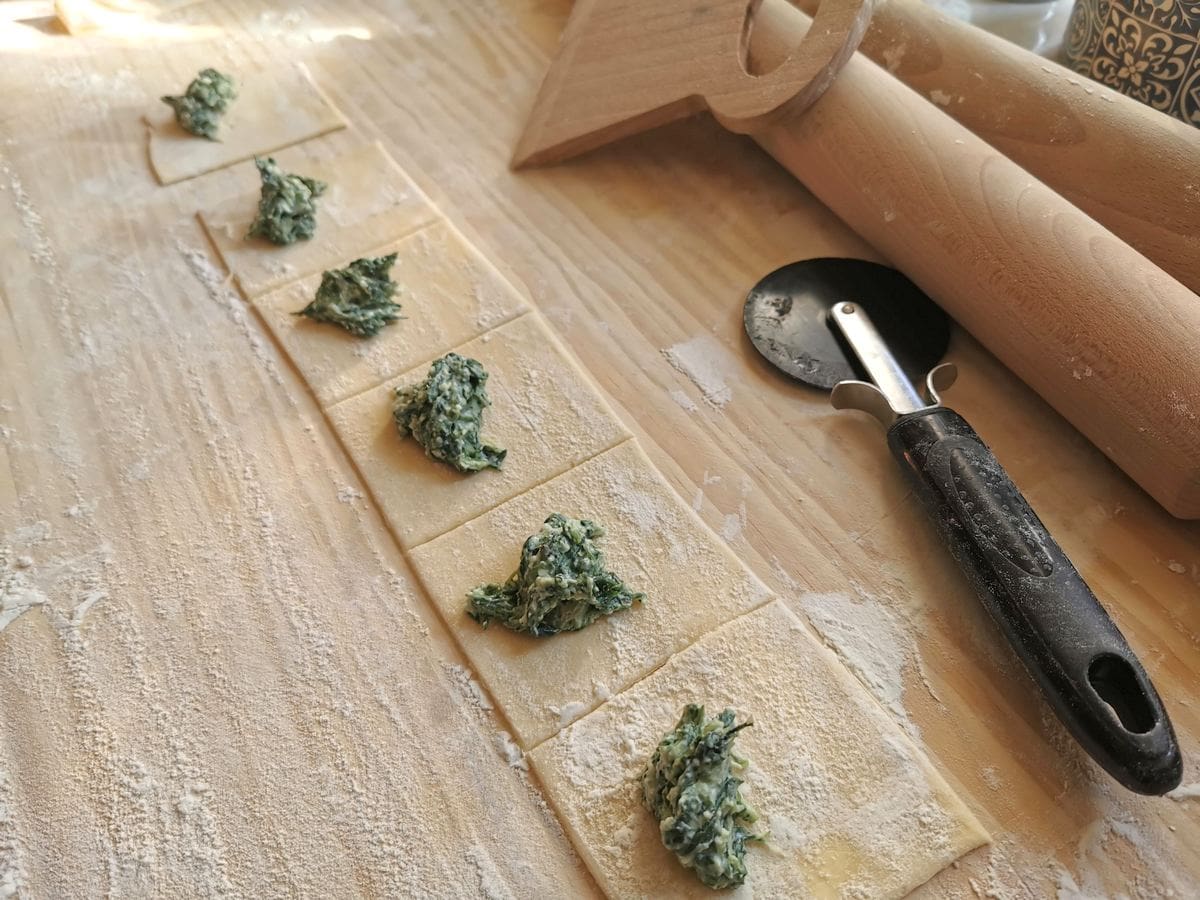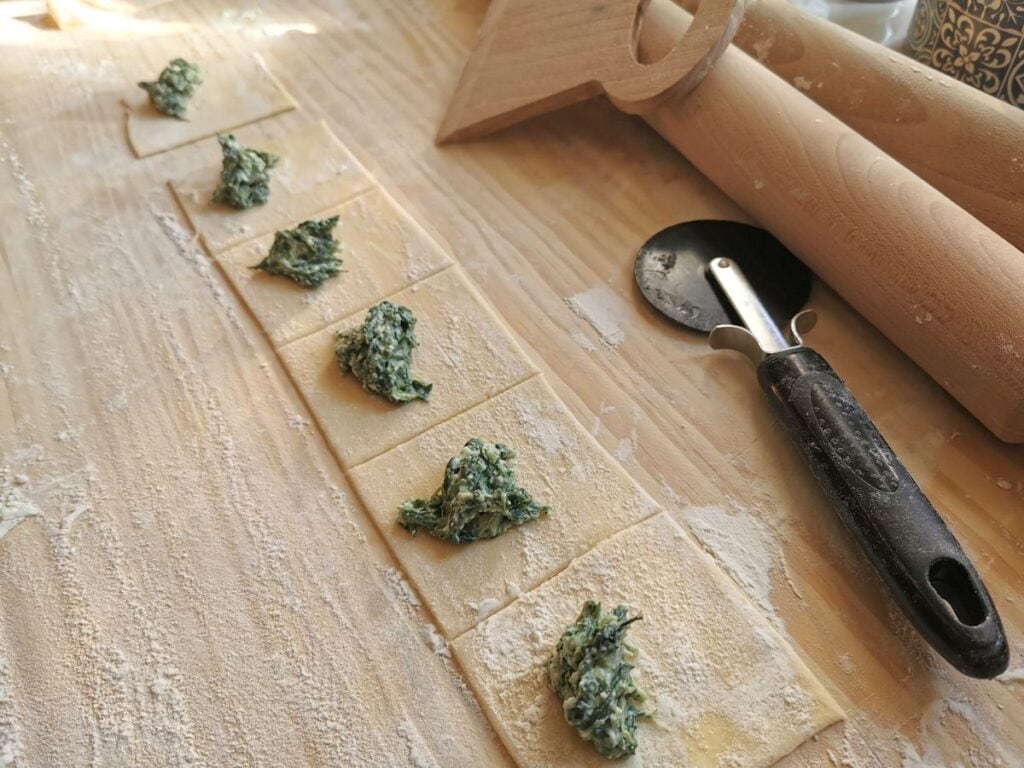 How to make pansotti dough.
The next step is to make the pasta dough. Pansotti pasta dough has flour, water, egg and wine, although some recipes omit the egg. Recipes without egg, increase the amount of water or wine! The dough is made like other egg pasta dough by mixing the ingredients together in a bowl or on a wooden pastry board. Then you have to knead the dough until it's soft and pliable. After letting the dough rest for 30 minutes, roll it out using a rolling pin or pasta machine.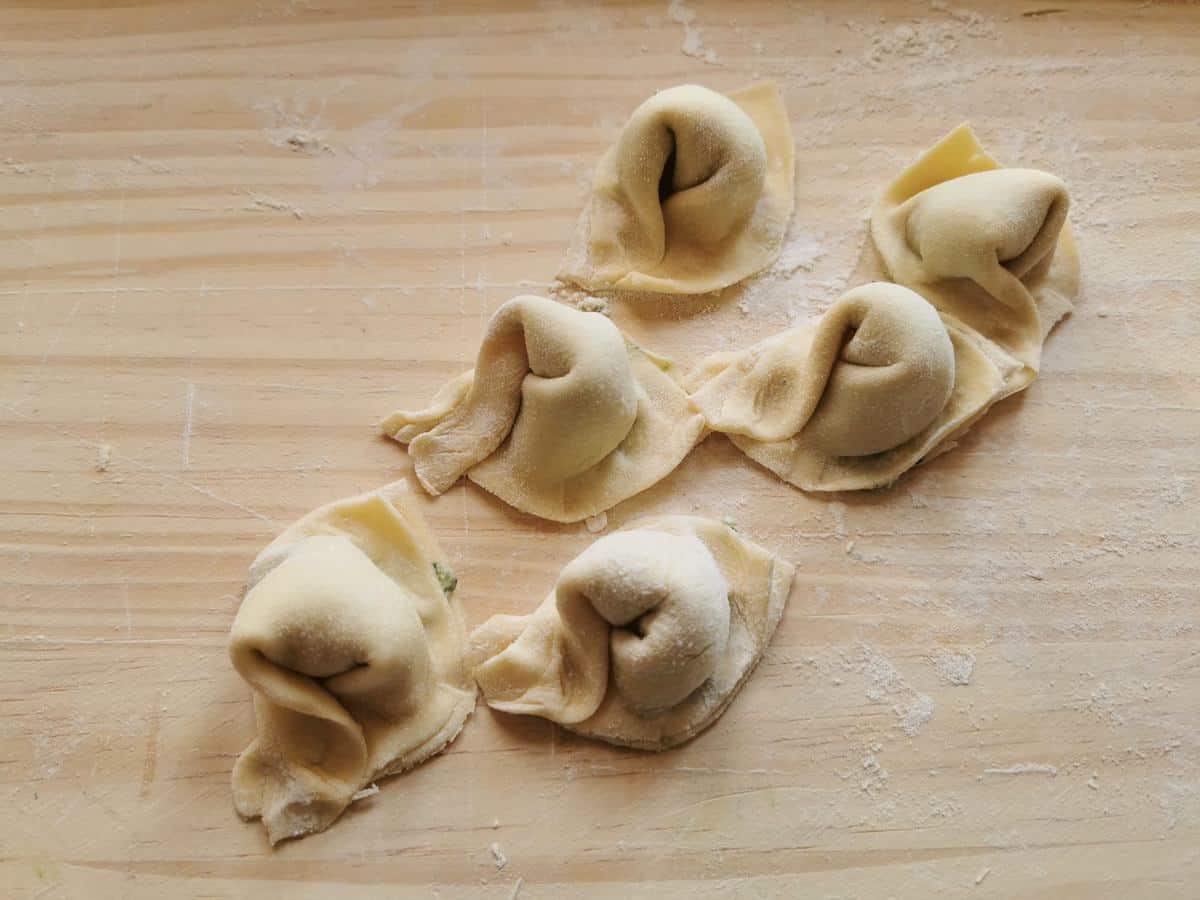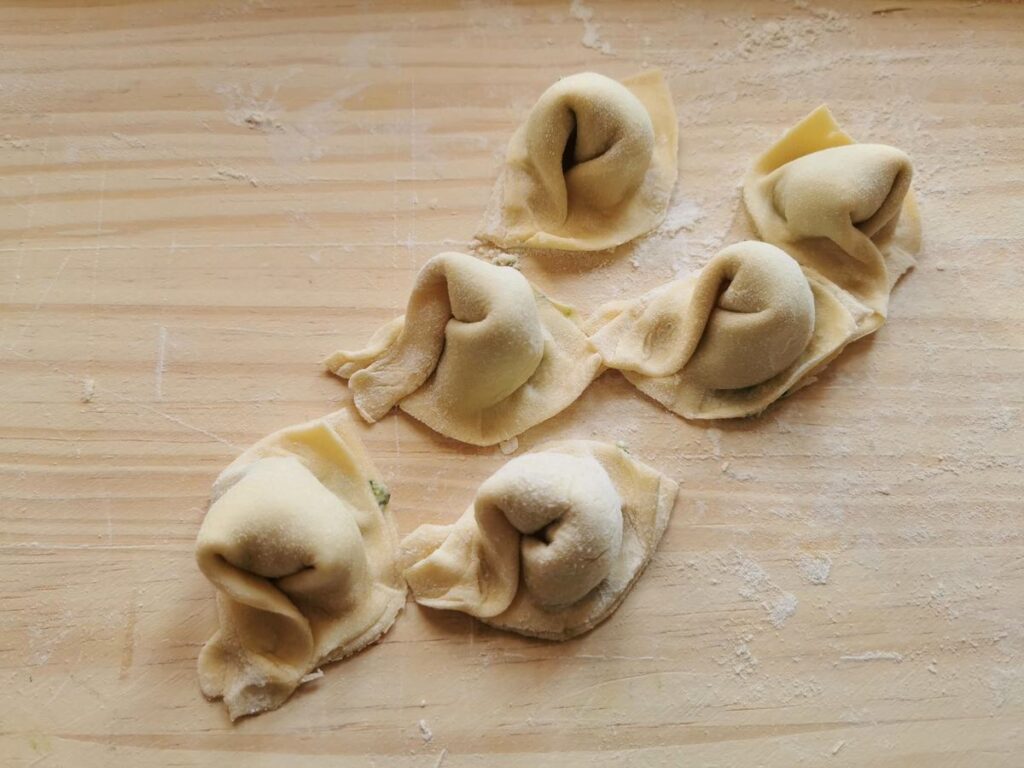 How to fill and shape your pansotti pasta.
Finally, once you have rolled out the dough, cut it into squares of about 5-7 cm (2-3ins), place a large teaspoon of filling in the middle of the pasta square and fold it over into a triangle, pressing around the edges to seal. You can also brush the edges with water so your pansotti seal better.
To keep it simple, you can leave the pansotti as triangles. But if you want to make the traditional tortello shape, then bring the 2 outside corners of the triangle together and join them by pressing and sealing.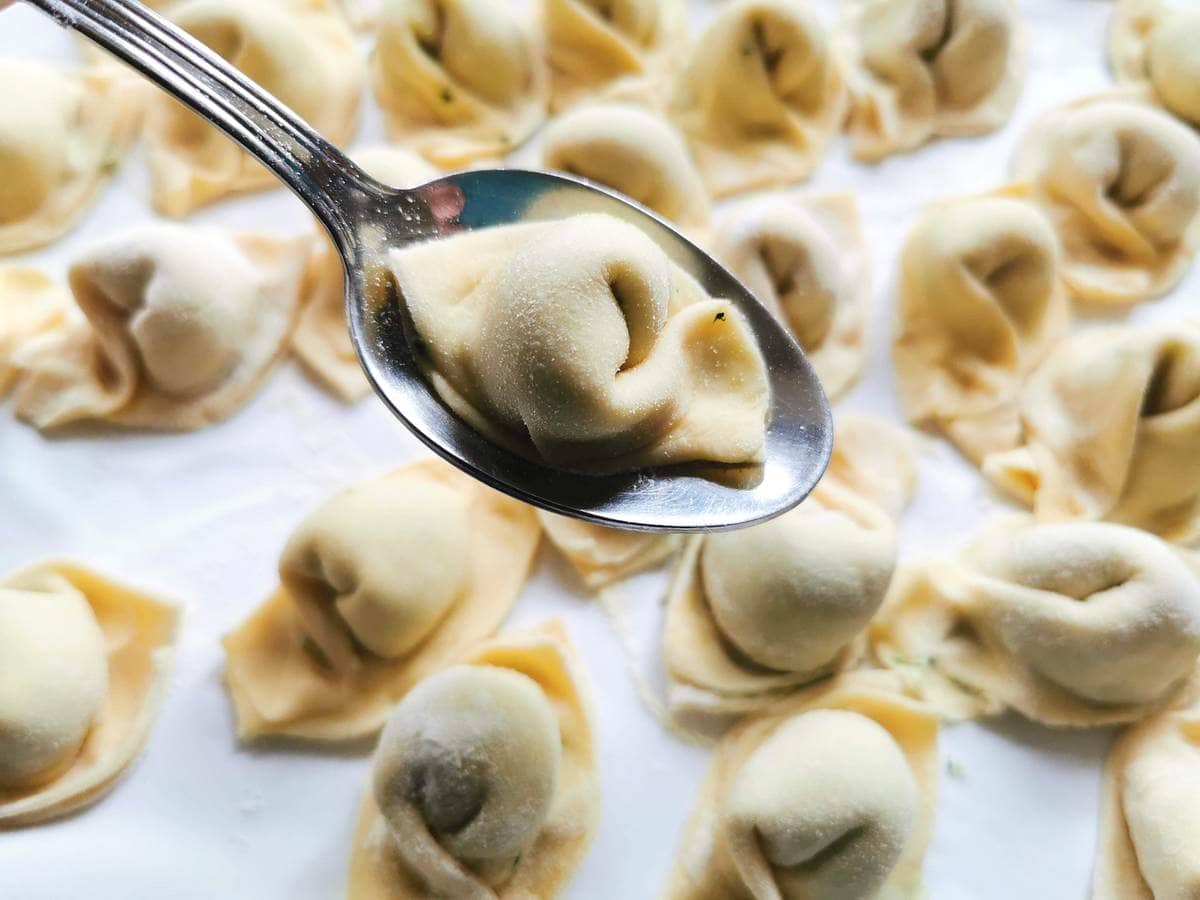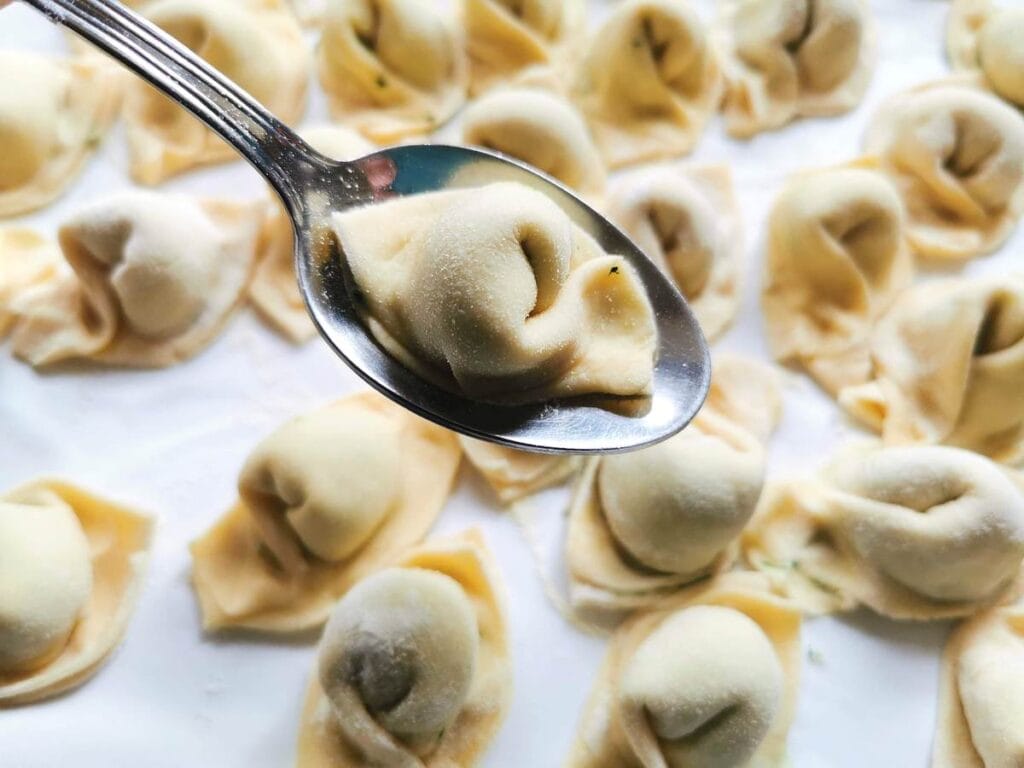 Place your ready pansotti on a floured surface while you finish the rest of the dough and filling. We had extra filling which my husband, Salvatore, used to make fritters! Very good!
How to make the walnut sauce.
Pansotti is nearly always served with walnut sauce. Traditionalists say this pasta doesn't work with basil pesto, even though Ligurians use that pesto in many pasta dishes. Some people serve pansotti with a hazelnut sauce or just butter and sage.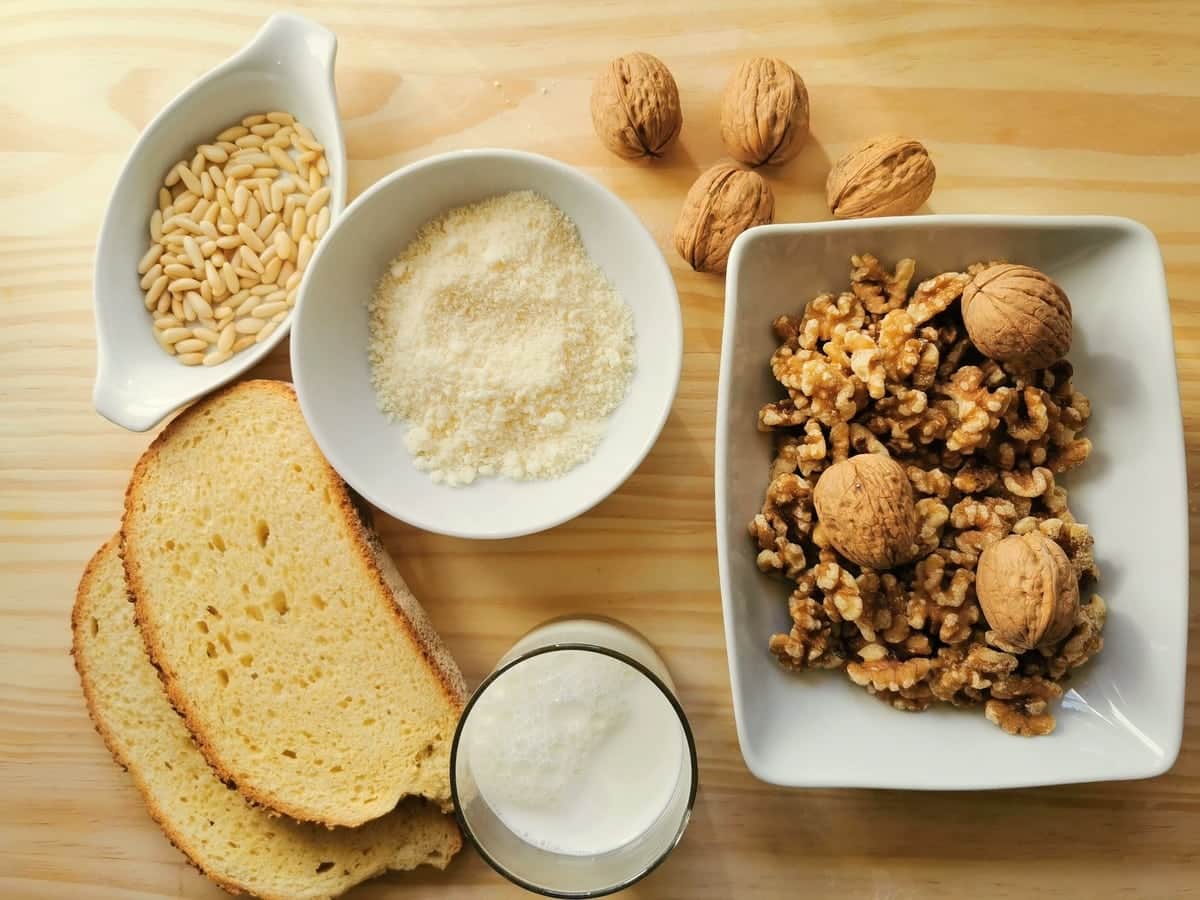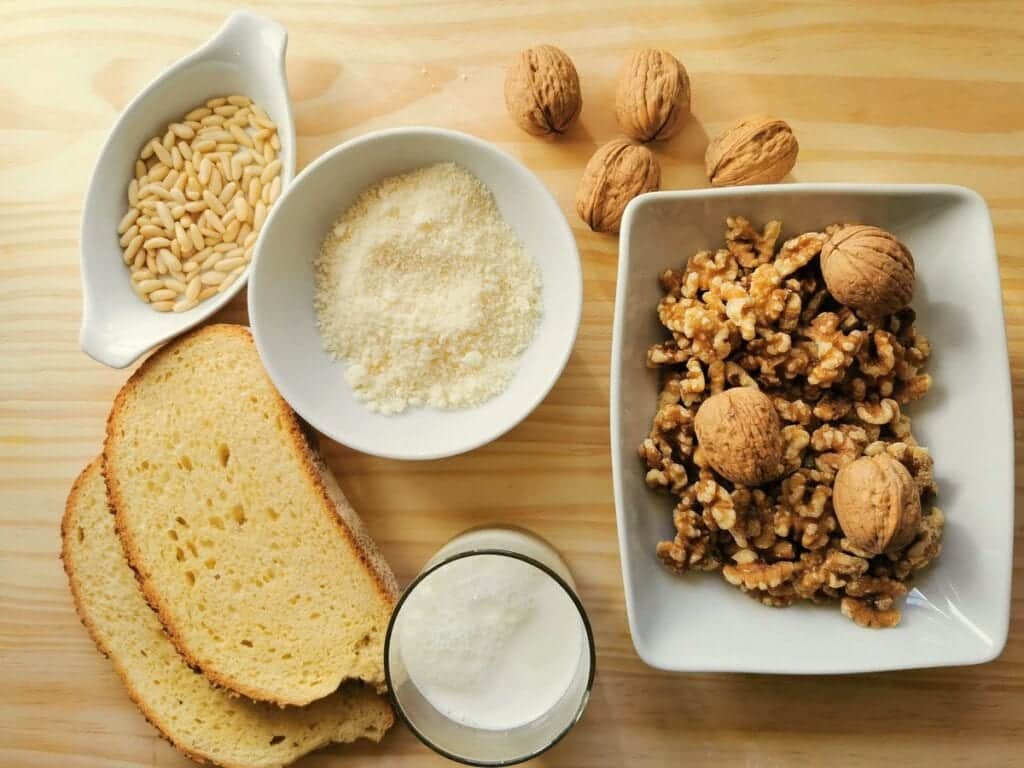 This walnut sauce is really a 'white' pesto as it's made almost the same way as other types of pesto. The main difference is that it's quite thick and needs to be diluted with pasta cooking water before adding the pasta to it.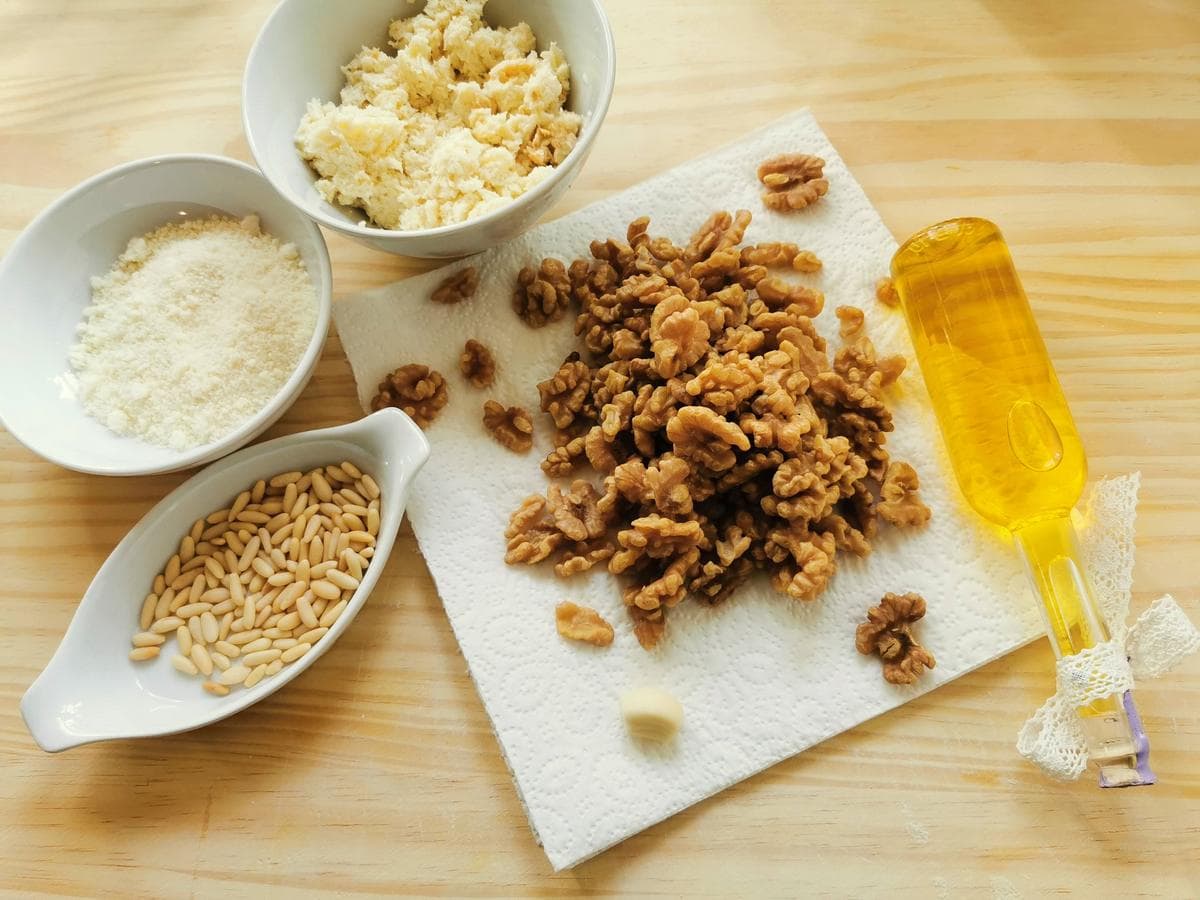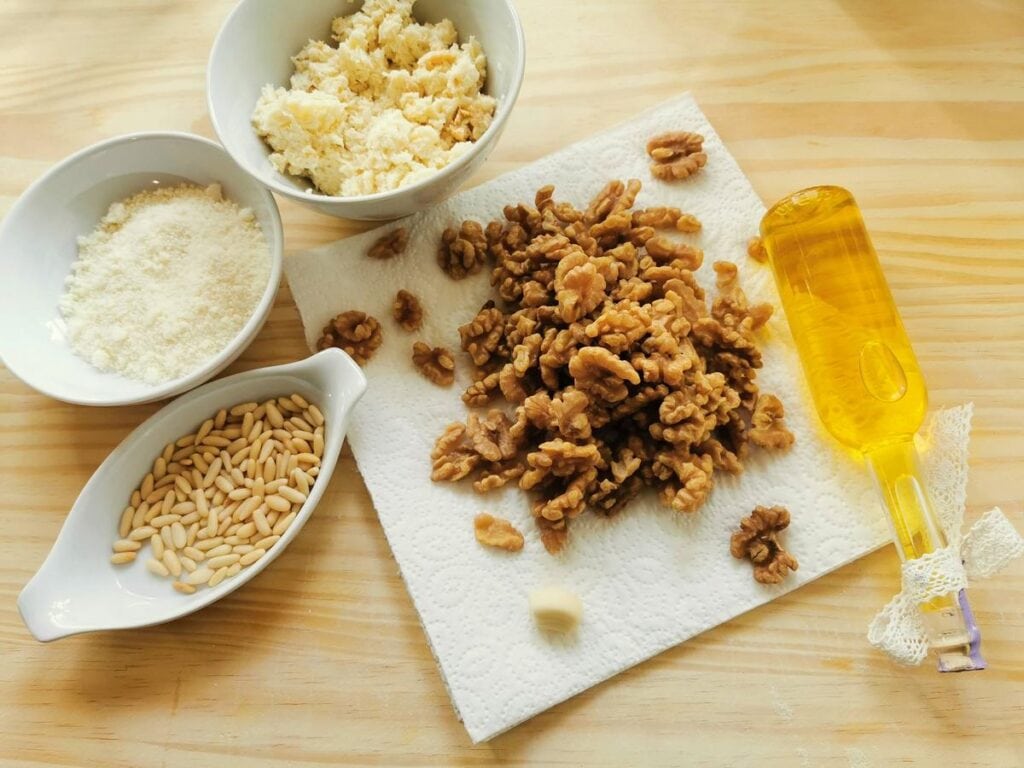 You can read more about the history and origins of Ligurian walnut sauce in my other walnut sauce pasta recipe. Apart from walnuts, you will need bread, milk, garlic, pine nuts, marjoram, olive oil and Parmigiano. Strict vegetarians will want to use a vegetarian parmesan as Italian Parmigiano is made with animal rennet.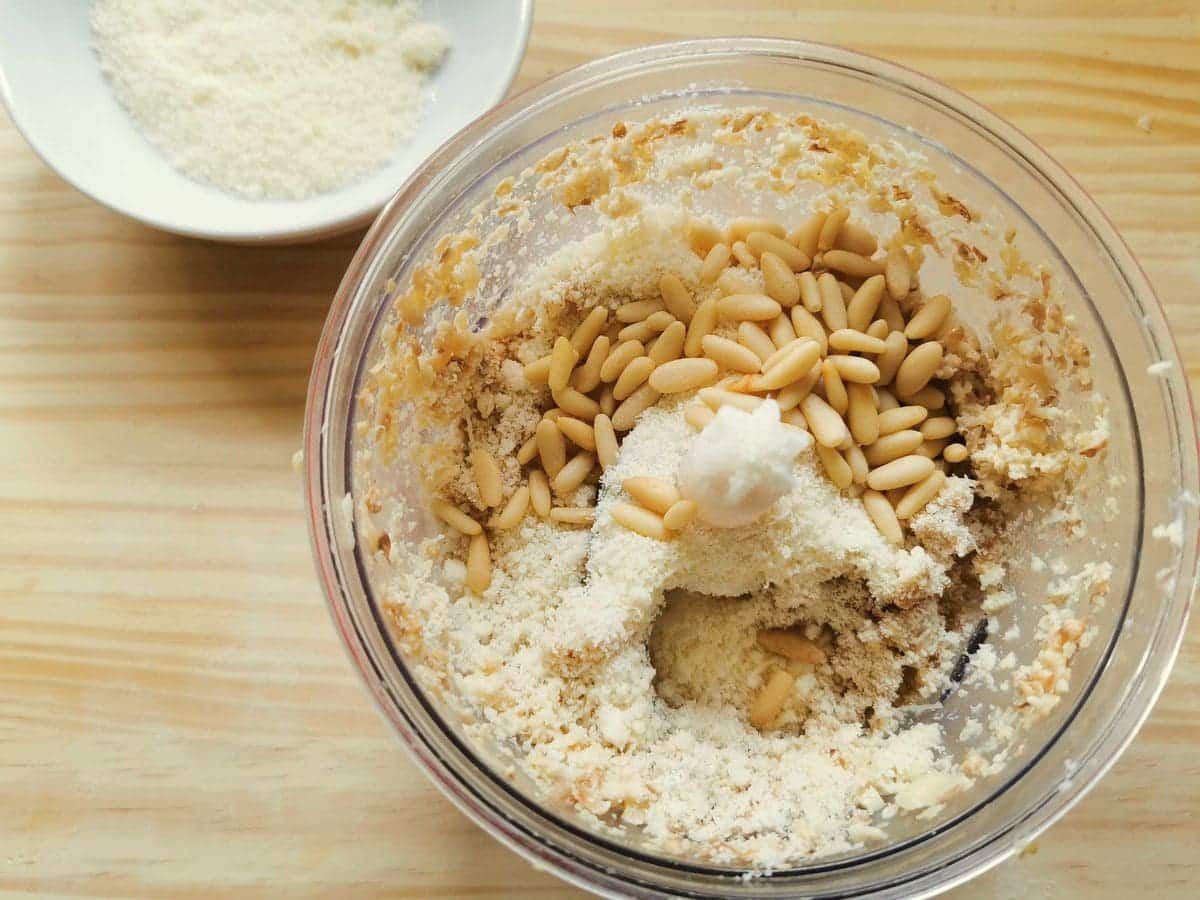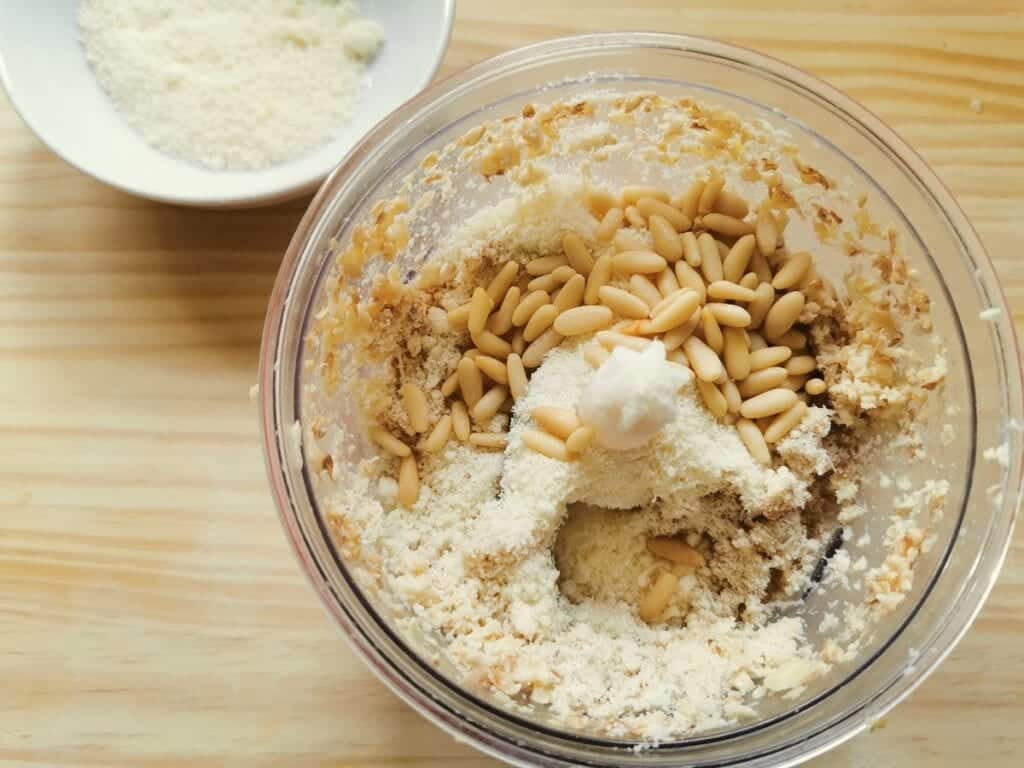 In the past, this sauce was made with a pestle and mortar like other types of pesto! But today with kitchen tools like immersion blenders and food processors, it's really fast and easy to make. The walnuts taste sweeter if you boil them first but it's not essential. The bread needs to be soaked in milk and then all the ingredients go into your food processor or blender. Pulse intermittently until you get the right consistency, adding more extra virgin olive oil, water or milk as necessary. Done!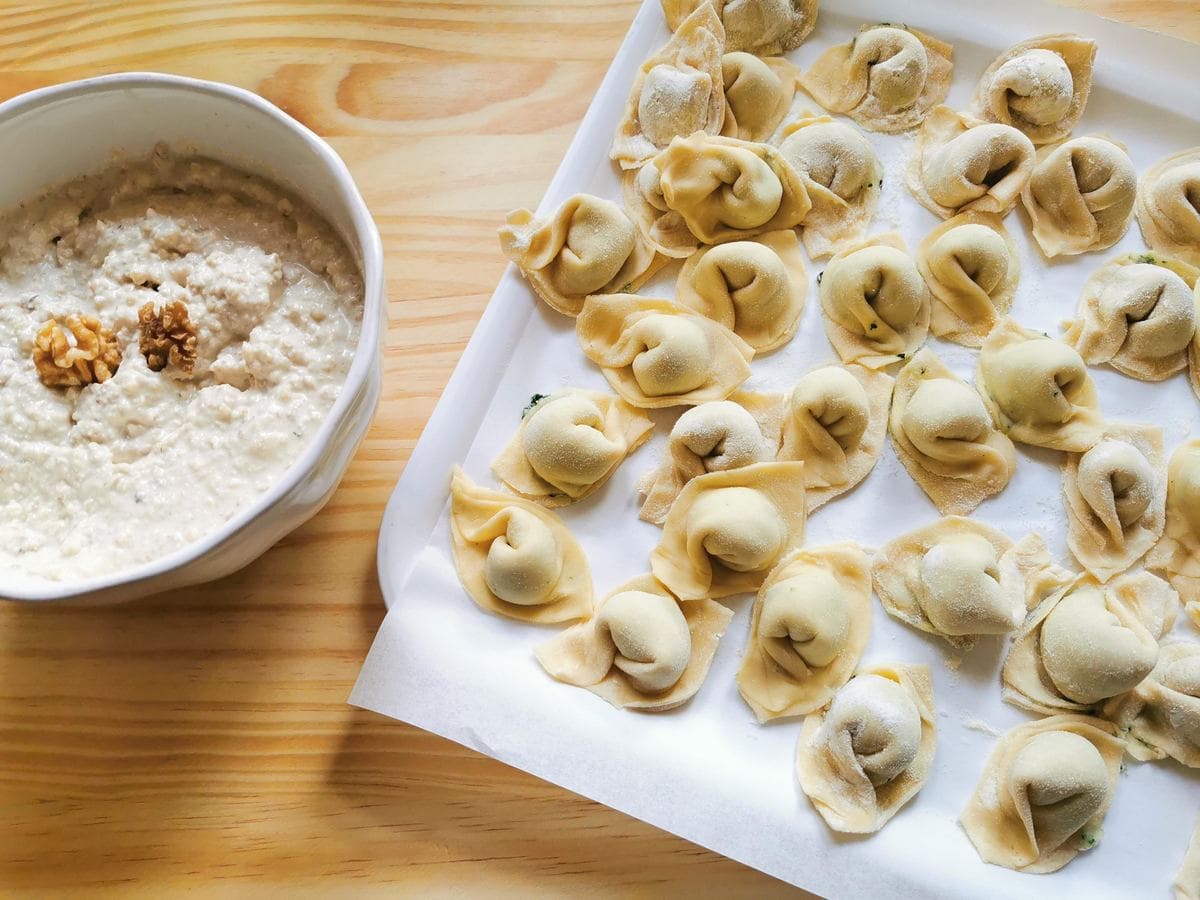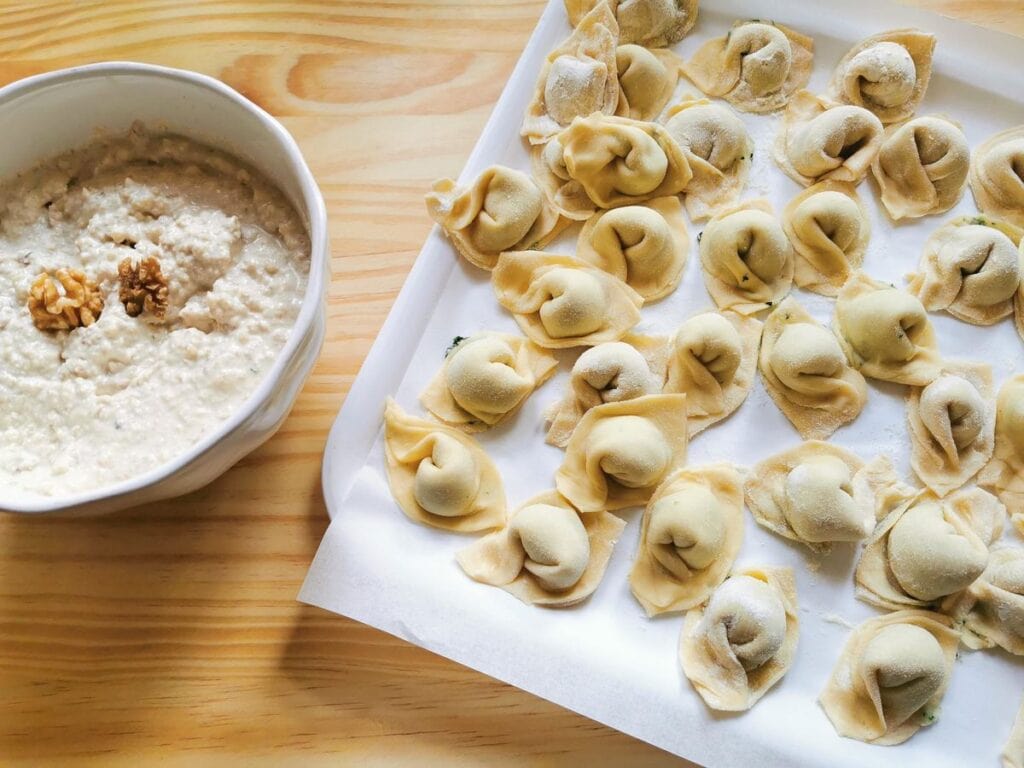 Serving or freezing your pansotti pasta.
Like most filled pasta, it's better to cook the pansotti the day you make them or freeze them. Because of the moisture in the filling, the pasta dough can start to get soggy after a while. So, it's also not a good idea to store this pasta uncooked in the fridge. To freeze, place the pasta spread out on a tray that fits your freezer. Once the pansotti are frozen, transfer to a freezer bag and seal.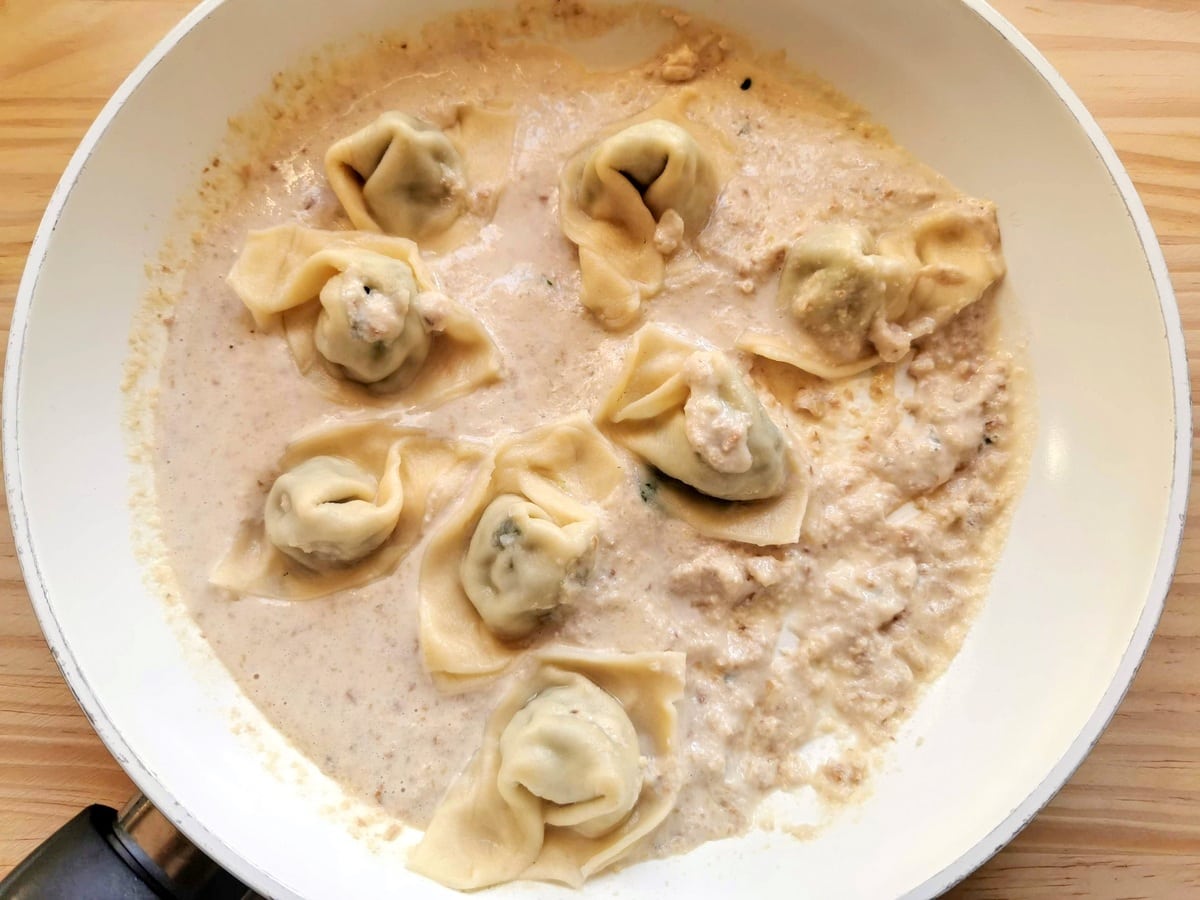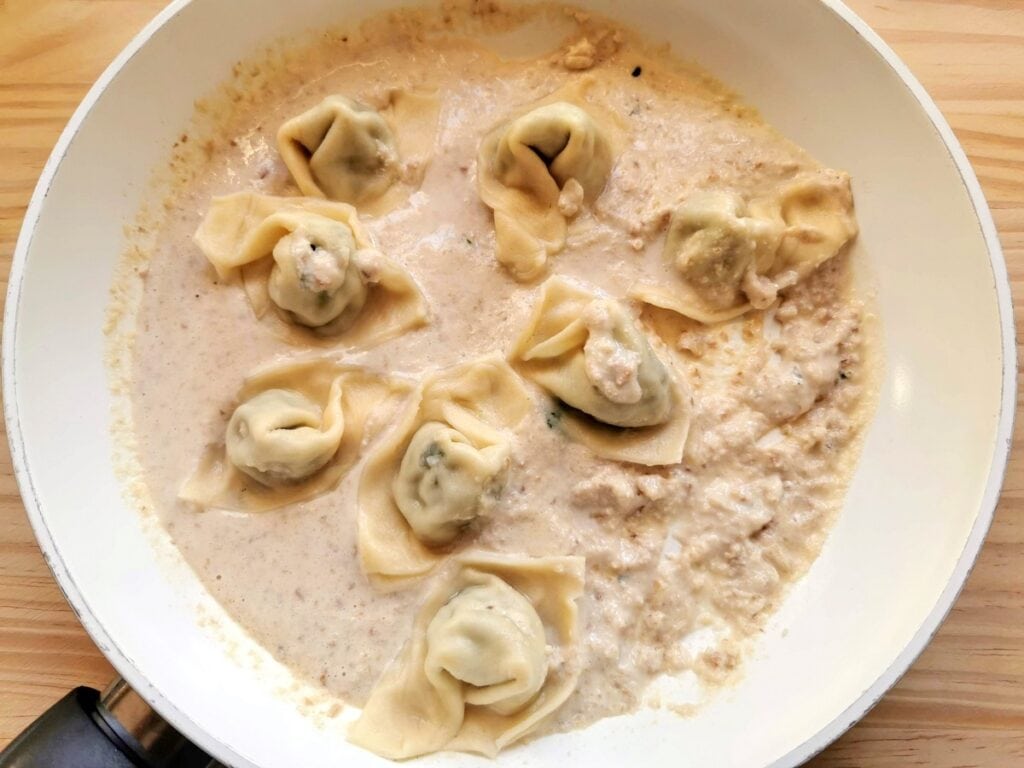 Pansotti are quite large so they need a little time to cook. However, cooking time obviously depends on how big you make them and how full they are. Generally, 8-10 minutes in boiling salted water is enough, but test taste before draining and adding to the sauce! Frozen pansotti should be cooked without defrosting. However, cooking times may be longer.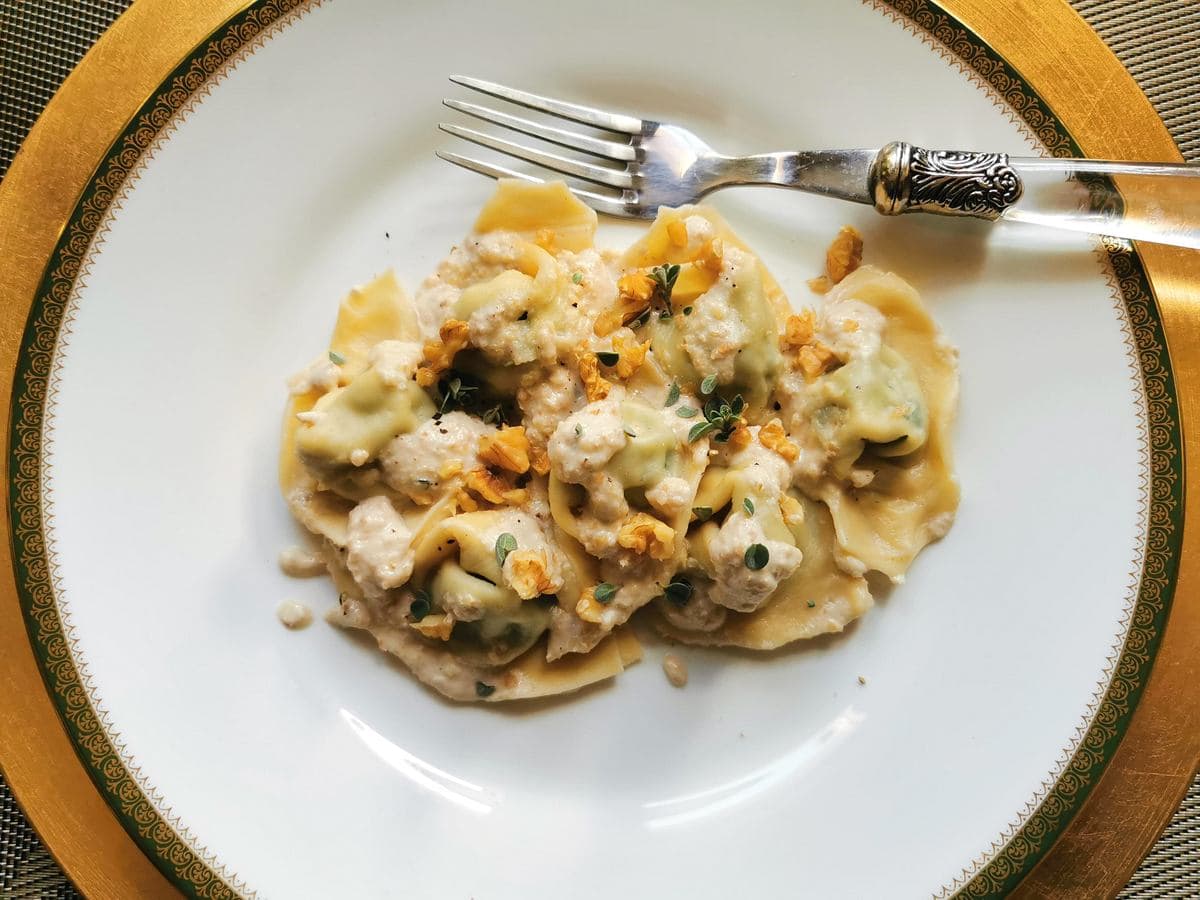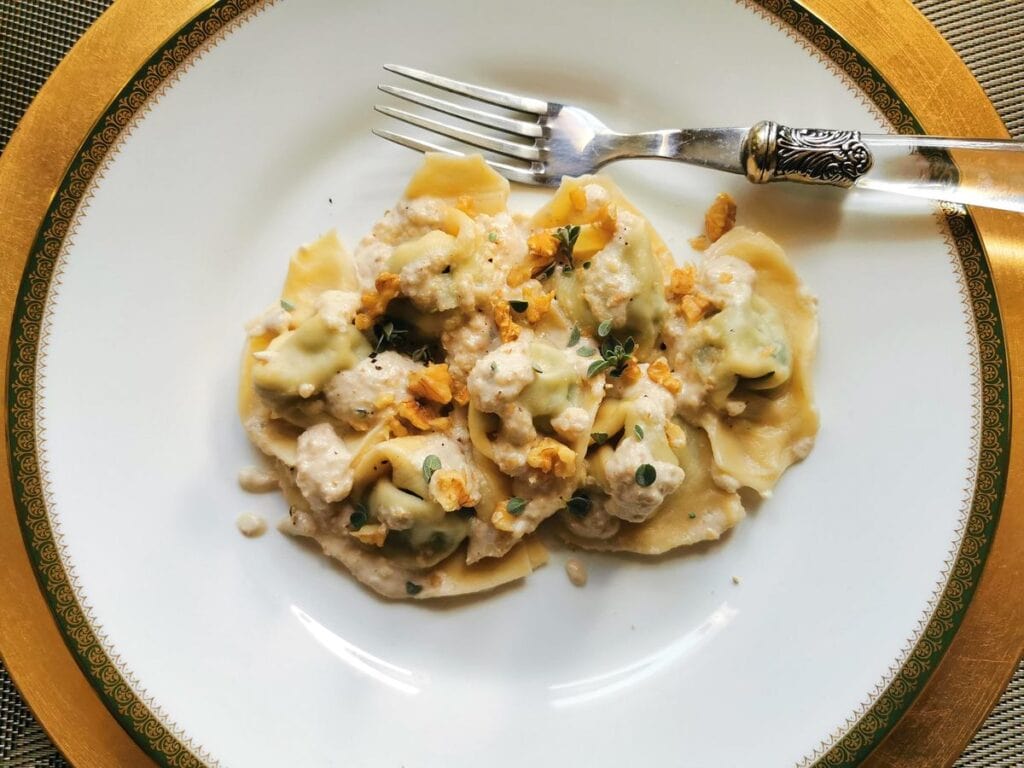 If you make this pansotti pasta recipe, I'd love to hear how it turns out. Please write a comment here on the blog, email me or post a comment on the Pasta Project Facebook page.
Your feedback is really appreciated!
Buon Appetito!
SAVE THIS RECIPE FOR LATER?
If you want to save this recipe for later, you can print it, bookmark this page or save it to Pinterest.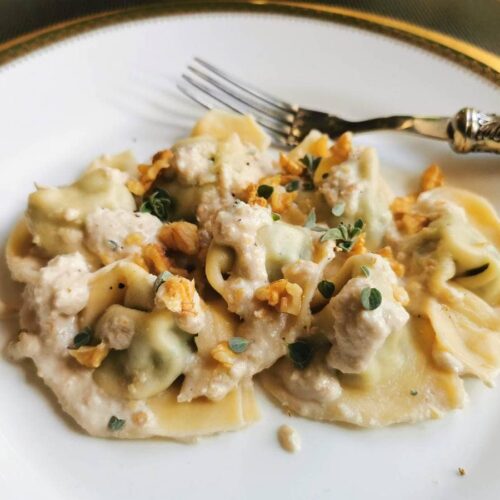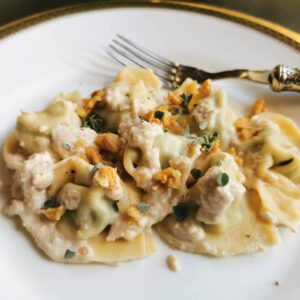 Pansotti Pasta with Walnut Sauce Recipe from Liguria
Pansotti pasta with walnut sauce is a traditional dish from the Italian Riviera in Liguria, Northwest Italy. It is a stuffed ravioli-like pasta filled with ricotta and a variety of herbs and greens. A delicious easy to make vegetarian recipe that is popular on Sundays and days of abstinence from meat such as Christmas Eve and particularly during Lent. A beautiful dish to serve at any occasion.
Ingredients
For pasta dough
500

g

Italian '00' flour or all purpose flour (1.1lbs)

2

eggs

1/2

serving

white wine (2.5floz)

1/2

glass

lukewarm water (4 floz)

add gradually. you may need slightly less or more

1

pinch

salt
For filling
300

g

fresh Swiss chard (10.5oz)

Stems removed

200

g

spinach (7oz)

200

g

wild chicory (radicchio) 7oz

or borage

200

g

fresh ricotta (7oz)

1

egg

40

g

Parmigiano Reggiano (1.5oz)

or vegetarian parmesan

2

sprigs

fresh marjoram

salt

to taste

freshly ground black pepper.

to taste

1

pinch

freshly grated nutmeg
For walnut sauce
200

g

shelled walnuts (7oz)

1

tbsp

pine nuts

40

g

Parmigiano Reggiano (1.5 oz)

or vegetarian parmesan

1

garlic clove

200

ml

fresh milk (1 cup)

2

slices

country bread

extra virgin olive oil.

as required

1

tsp

fresh marjoram leaves

salt

to taste

freshly ground black pepper.

to taste
Instructions
Make the filling
Clean the greens and cook them in slightly salty water for 5-10 minutes until tender. Then drain, allow to cool and then squeeze out as much liquid as possible. Chop the greens finely and put them into a bowl, add the egg, the ricotta, the Parmigiano cheese and the marjoram and add pinch of nutmeg. Mix everything together well. Add salt and pepper as required.
Make the pasta dough
Sift the flour into a bowl or onto a wooden pastry board. Make a well in the middle and crack the eggs into it. Beat them slightly with a fork, add the white wine, the water and a pinch of salt. Start mixing the liquids into the flour with a fork and then your hands.

When the dough starts 'sticking together' turn it out onto a pastry board (if starting in a bowl) and start kneading it by pressing and stretching it with the lower part of your palm, then roll it up and knead again. Continue until the dough is quite smooth and elastic (about 10 minutes).

If the dough seems too dry and flaky add a small quantity of water. You can check if it's elastic enough by pushing a finger into the dough. If it returns to its previous shape and the hole almost disappears, it's ready.

Roll your dough into a ball and let it rest wrapped in plastic wrap or under a humid tea cloth for 30 minutes.
Make the walnut sauce
Put the shelled walnuts into a pan, cover with water, bring to the boil and simmer for 3-4 minutes. Drain and rinse the walnuts, remove the skins by wiping with a cloth and pat the walnuts dry with kitchen paper or a clean tea towel  (this step is optional).

Break the bread into pieces, put it in a bowl and cover with the milk. When it is completely wet, drain and squeeze the milk out with your hands.

Put the drained bread in the blender along with the walnuts and the garlic. Pulse a few times until the walnuts are quite small. Add the parmigiano cheese, pine nuts and 2 pinches of salt. Pulse for about 20 seconds until the sauce becomes a bit smooth.

Continue to pulse while adding olive oil a little at a time and the remaining milk from the bread or water as needed to obtain a thick creamy sauce.
Make the pansotti
Cut off about quarter of the dough. Leave the rest under a humid cloth or wrapped in plastic wrap (if the dough dries it will become more difficult to roll out and shape).

Roll the dough into a thin sheet by hand or with the help of a pasta machine and cut it into squares of 5-7 cm (2-3"). Put a heaped tsp of filling in the centre of each square. Wet the sides of the square with some water with the help of a brush and fold the dough over the filling into a triangle.

Press along the edges in order to seal the filling inside the pasta. Join the outer corners of the triangle together and press with your fingers to seal them. Lay the ready pansotti on a surface dusted with flour and sprinkle with a little more flour. I like to use semolina flour for dusting.
Finish and serve
Put a pot of water on to boil for the pasta. Add salt and bring to the boil again. Cook the pansotti for 8-10 minutes. Test taste before draining

Before draining the pasta, dilute the Ligurian walnut sauce with about ½ ladle of pasta cooking water in a pan large enough to hold the pasta too. Stir until the sauce becomes creamy and the right consistency. Also save a cup of the water to add later just in case your walnut sauce pasta seems dry.

Add the drained pansotti to the sauce along with some fresh marjoram leaves, freshly ground black pepper, some broken pieces of walnuts and a little more grated parmigiano. Mix everything together well gently and serve immediately.
Notes
You can make pansotti without eggs in the dough. Just increase the amount of water and wine slightly.
You can substitute the bread in the walnut sauce with ricotta.
Pansotti freeze really well. Just place the ready made pasta spread out on a tray in the freezer then transfer to a sealed freezer bag once frozen. Cook from frozen, don't defrost.
Vegetarians will need to use vegetarian parmesan as Italian parmigiano contains animal rennet.
This recipe makes 6 generous servings, but quantities can vary depending on the size of your pansotti.
Other homemade ravioli recipes you will love.
If you are interested in learning how to make other homemade pasta and different types of gnocchi, check out my shop page for some great video online courses from my friends in Rome! Nothing beats learning to make pasta from Italians! Plus while you're there why not order a copy of one of my pasta recipe cookbooks or checkout some recommended pasta making tools? All great prezzies for pasta lovers!