Also called le turle de Mendatica, this Ligurian potato and mint ravioli recipe is a traditional dish from the Ligurian Alps, particularly the area around the village of Mendatica on the slopes of Mt Fronté, between Liguria, Piemonte and Provence-Alpes-Côte d'Azur. There, the mountain folk have a unique kitchen known as la cucina bianca della Liguria (the white cuisine of Liguria).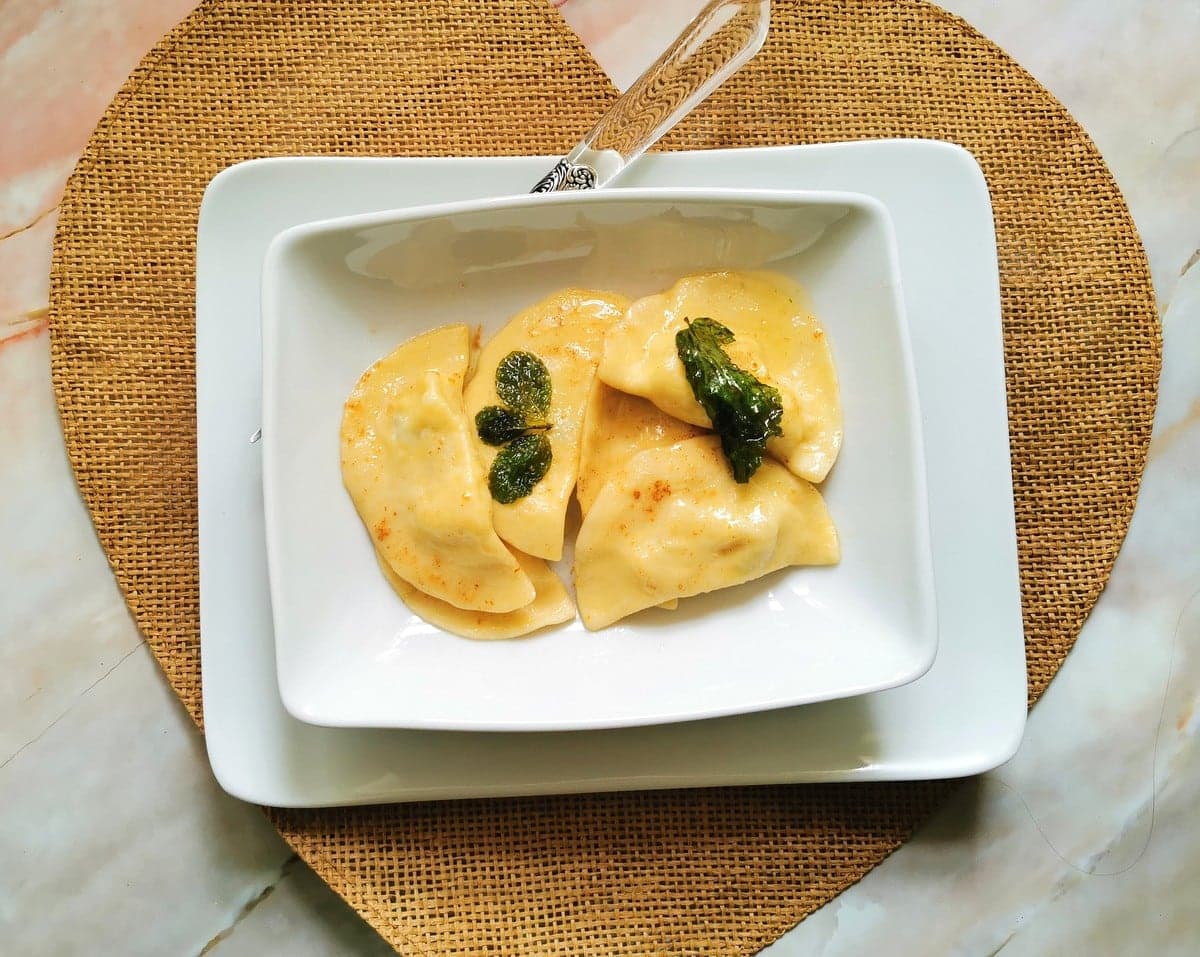 Pasta in Liguria.
Liguria in Northwest Italy is famous for its fresh pasta, of which there are several kinds both unique to the region and dating back hundreds of years. Corzetti and trofie are two that come to mind! Plus, Liguria is also where ravioli was invented. In fact, there are a number of traditional regional ravioli recipes. This potato and mint ravioli is probably one of the simplest and easiest to make. Full of typical Alpine flavours, these raviolis are so worth trying!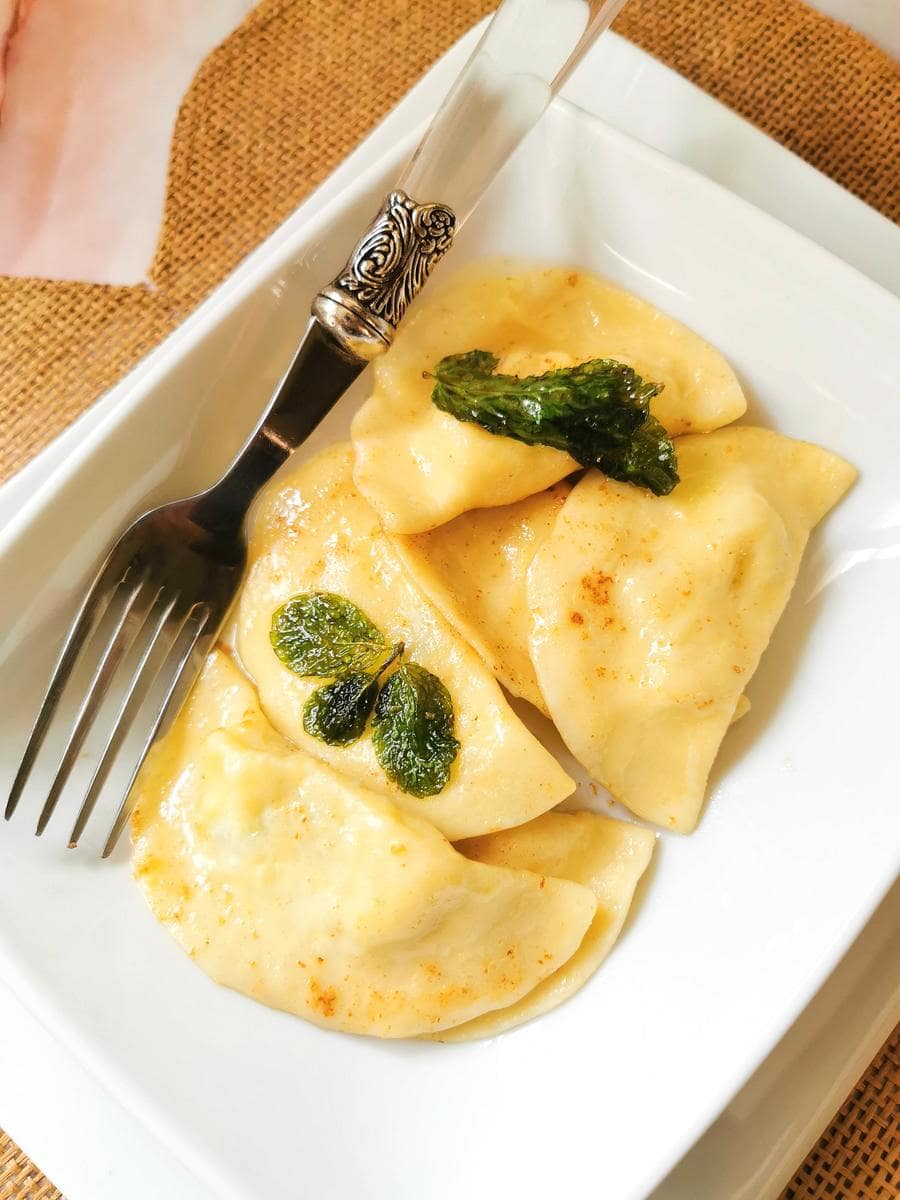 What is Liguria's white cuisine?
Liguria's white kitchen or cuisine is a particular gastronomy developed among the sheep farming communities of the Ligurian and Maritime Alps. It originated in the ancient pastoral traditions of the farming families who took their flocks of sheep into the mountains in the summer and brought them down to lowland farms in the autumn.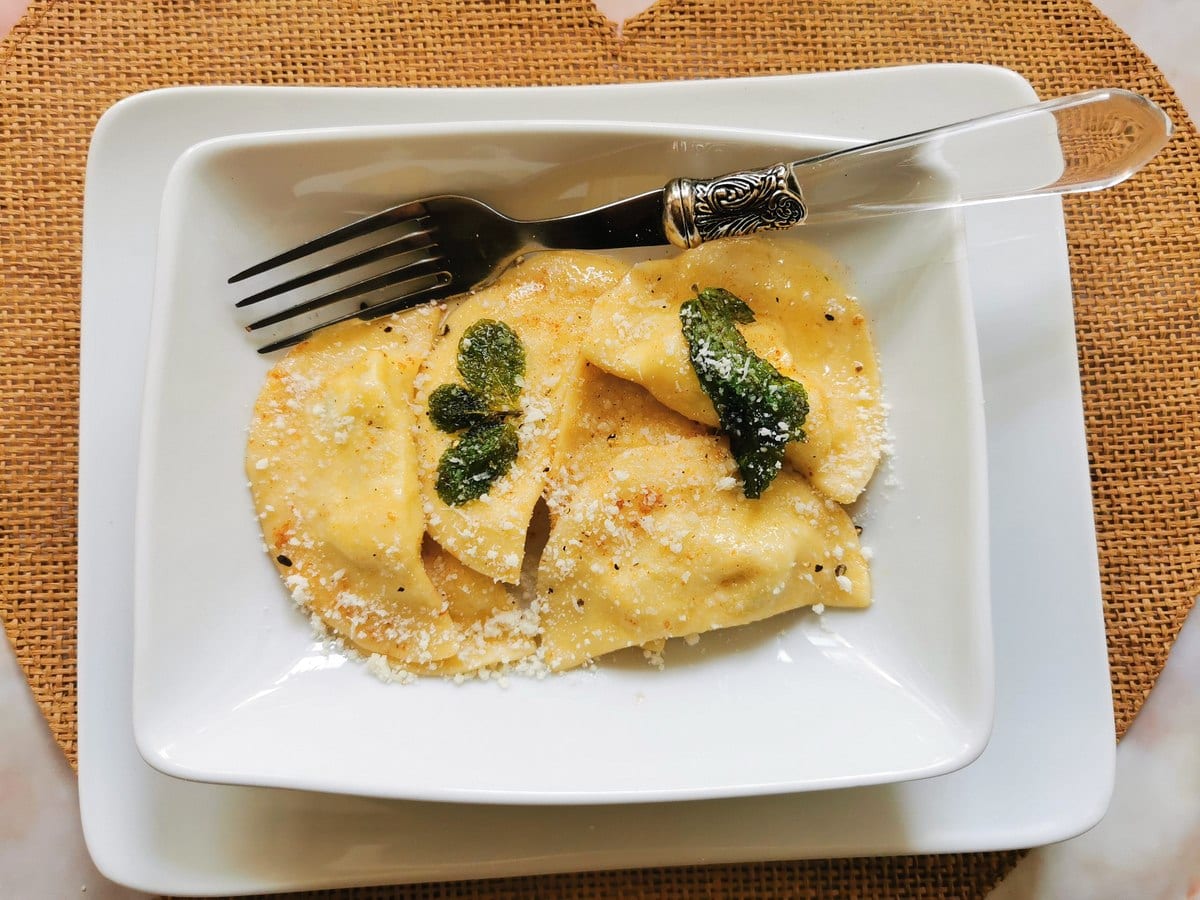 Known as transhumance, the tradition of taking livestock into the mountains to graze on summer pastures is still very common in the Alps. In fact, last year, my husband Salvatore and I accompanied local farming friends as they herded their 100 cows up to 1,700 metres above sea level where they have a summer dairy farm, which Italians call a 'malga'. That was quite an experience!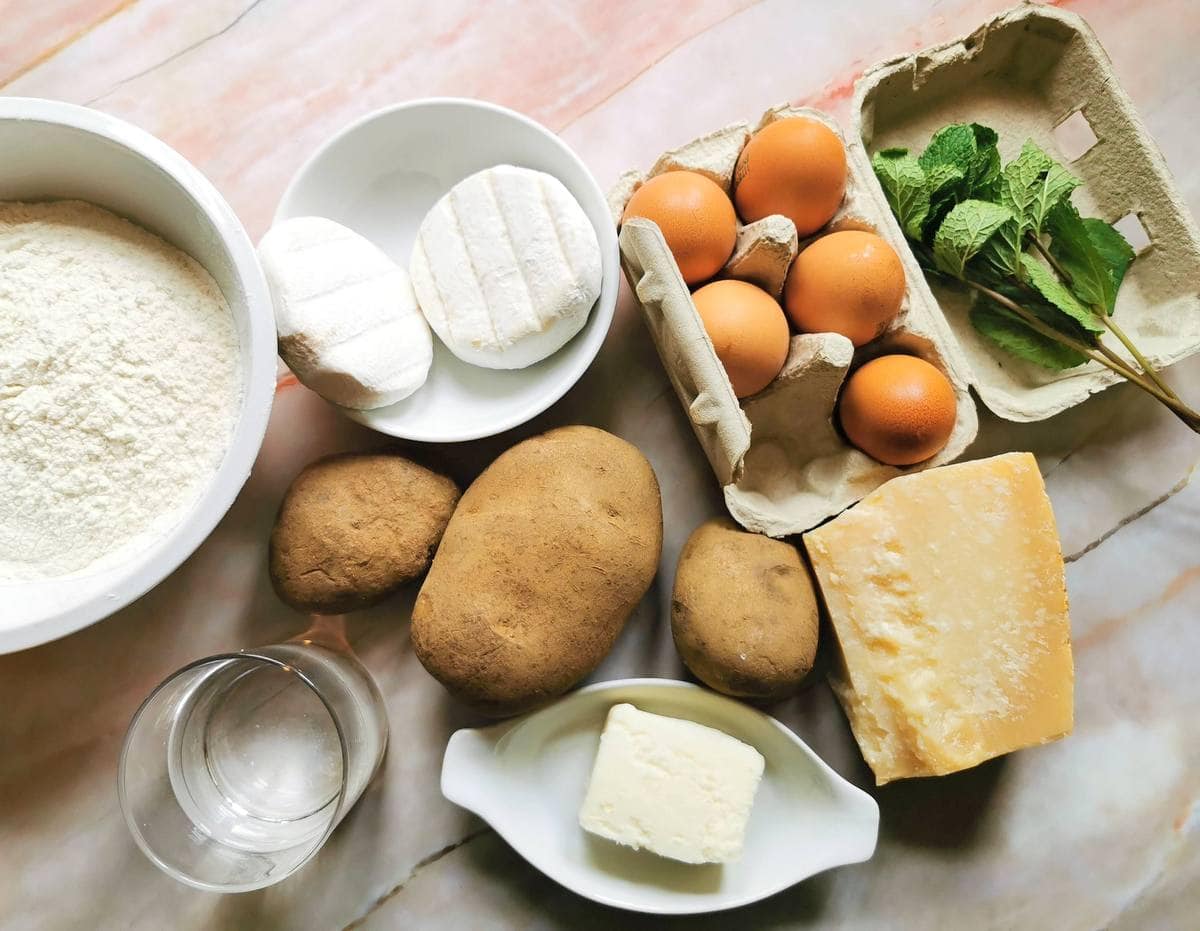 The food in these mountain areas used to depend on what could be cultivated, foraged and produced 1,000 metres and even higher above sea level. Plus, the cooking facilities available were pretty basic. Nowadays, of course, the inhabitants and farmers of these areas have access to four-wheel transportation and better facilities.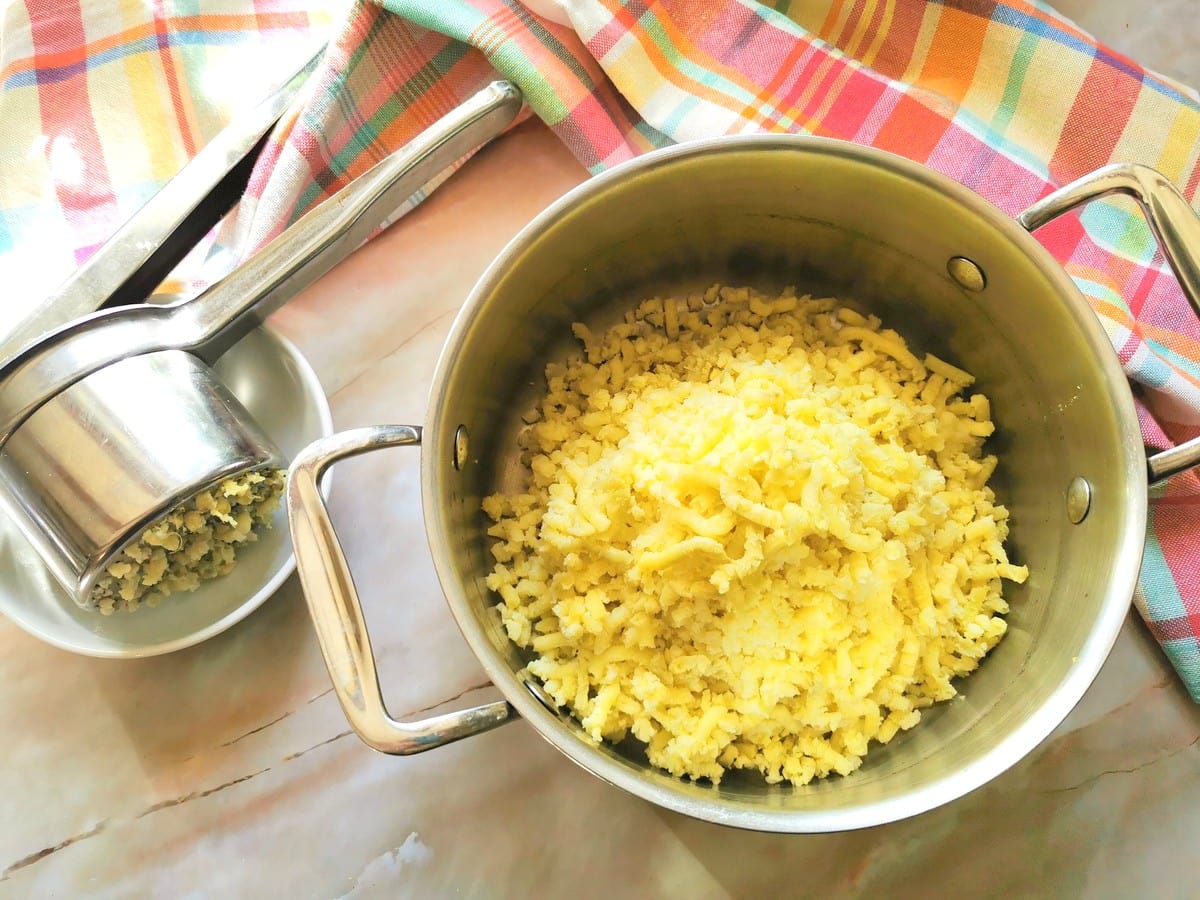 The traditional dishes included in Liguria's white cuisine are made from starchy foods (Italians say farinacei) like flour, rice, corn etc, dairy products, eggs, light coloured vegetables such as potatoes, cabbage, leeks, turnips etc and beans. The term 'white kitchen' was coined in the 1950s. But, it obviously came from the achromaticity of the food. Although wild herbs and edible plants add a touch of colour to the dishes.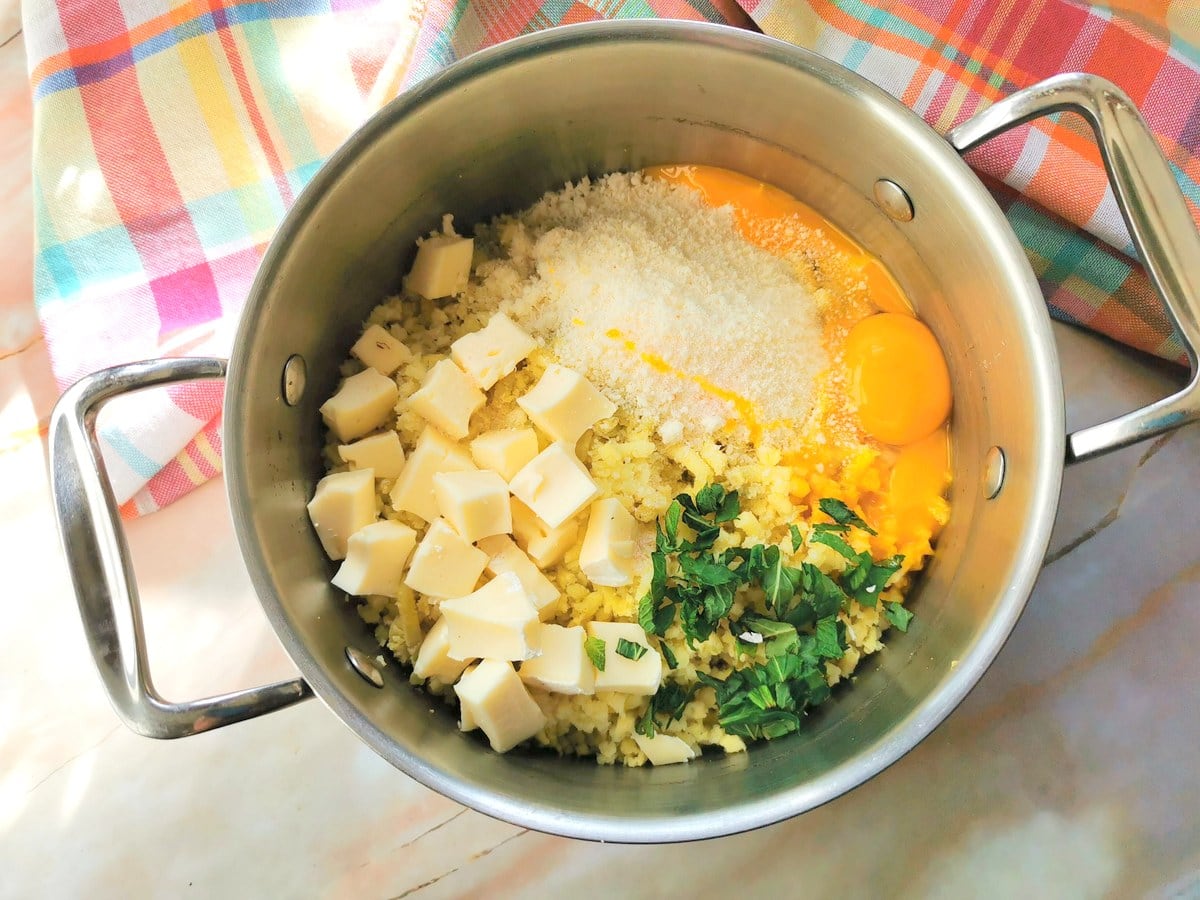 The filling for Ligurian potato and mint ravioli.
However, colourless doesn't mean tasteless! In truth, the simplicity of these potato and mint raviolis belies how delicious this dish is! Apart from the potato and mint, the filling contains eggs, local mountain cheese and grated parmigiano. Potatoes and cheese are a common ingredient in Alpine dishes, for example Swiss raclette or pizzoccheri from the Valtellina in Lombardy.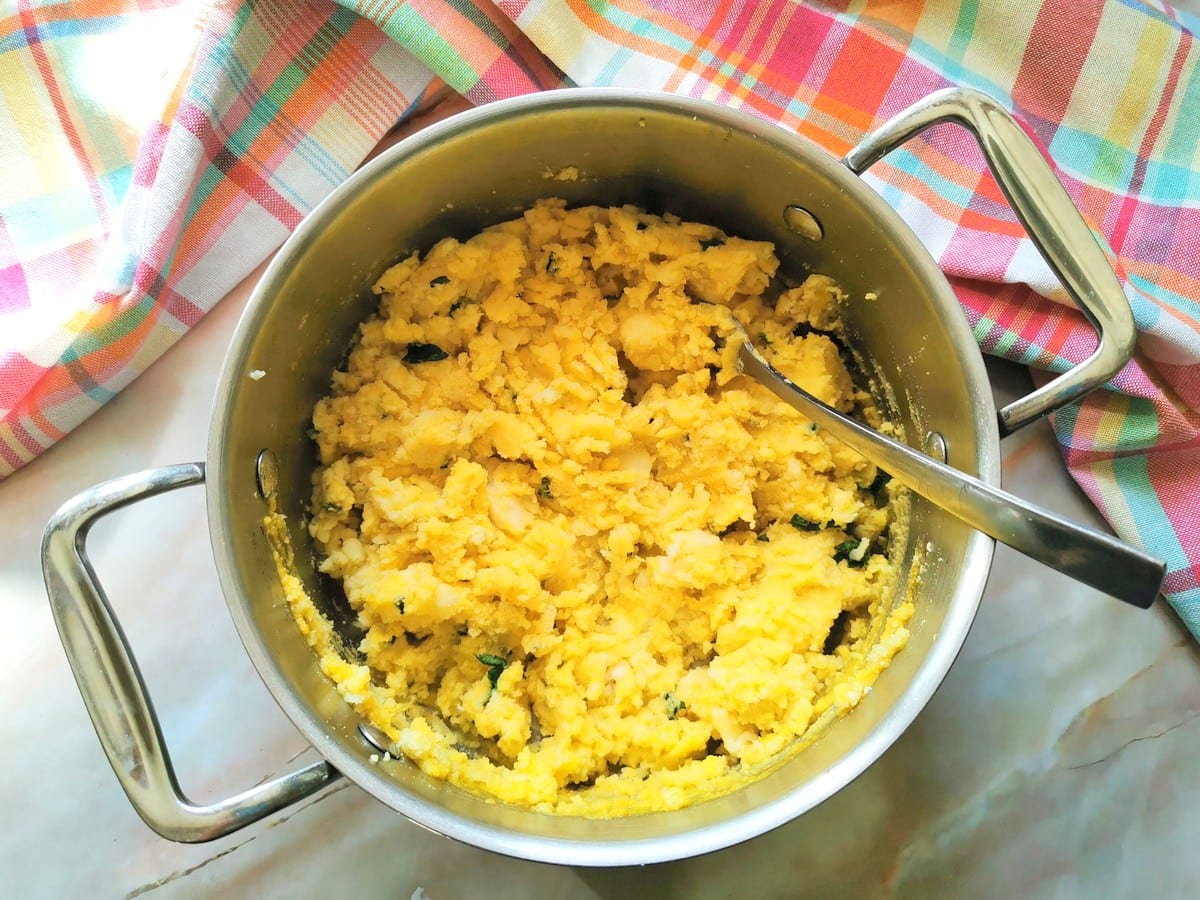 The potatoes.
Many varieties of potato are cultivated in the Italian mountains. In fact, potatoes have long been a staple food for the inhabitants of mountainous regions where wheat doesn't grow. Apparently, it's possible to grow potatoes at 2,000 metres above sea level in the Western Alps!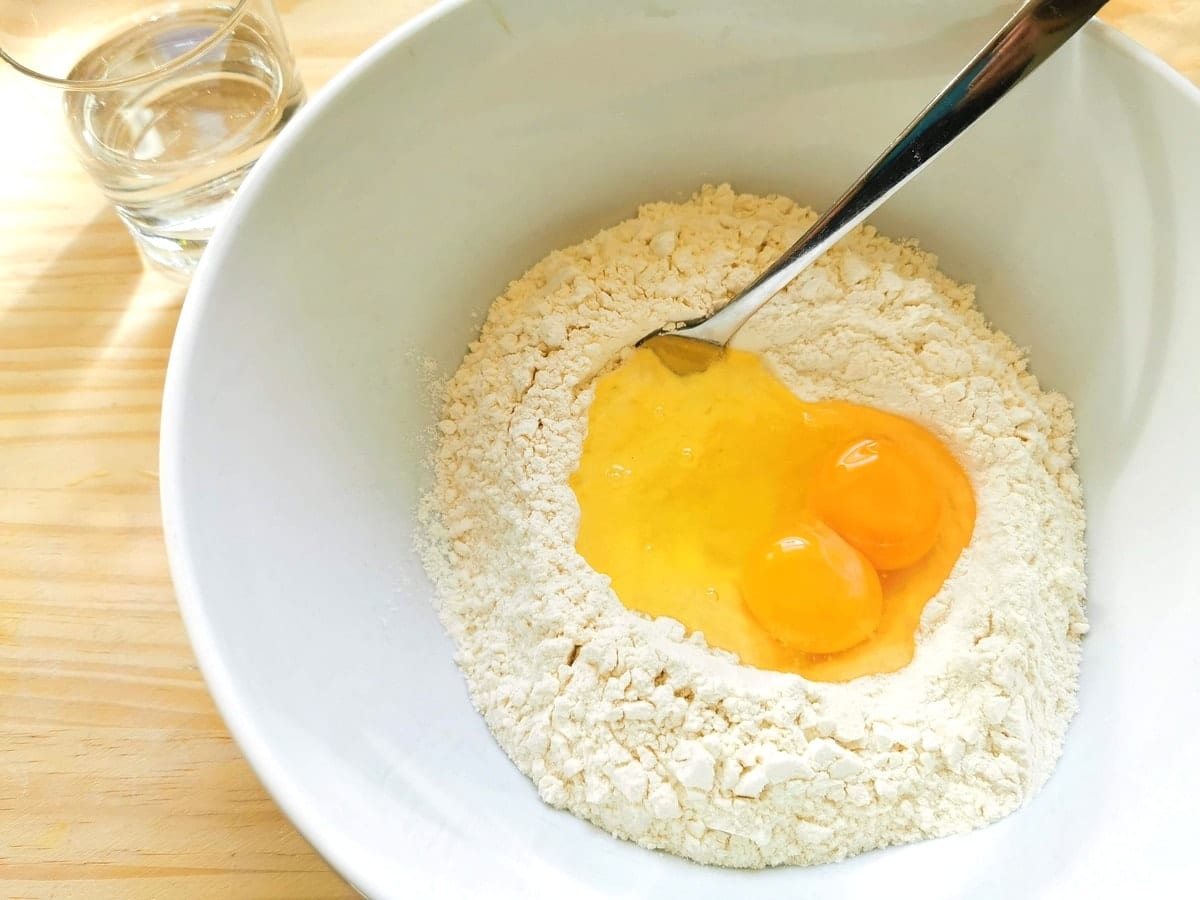 The potatoes I used came from the Sila mountains in Calabria. These are actually my favourite Italian potatoes. They have a higher-than-average starch content which makes them more nutritious and flavourful. There are different varieties of potatoes grown in the Sila.
I used Marabel which are creamy, buttery and a bit sweet. They're perfect for mashed potatoes and so perfect for the ravioli filling. If you can't find Marabels, Desiree or King Edwards are great for mashing (and fillings) too! You can alo use leftover ready boiled or mashed potatoes. Just reheat in the microwave when making the filling!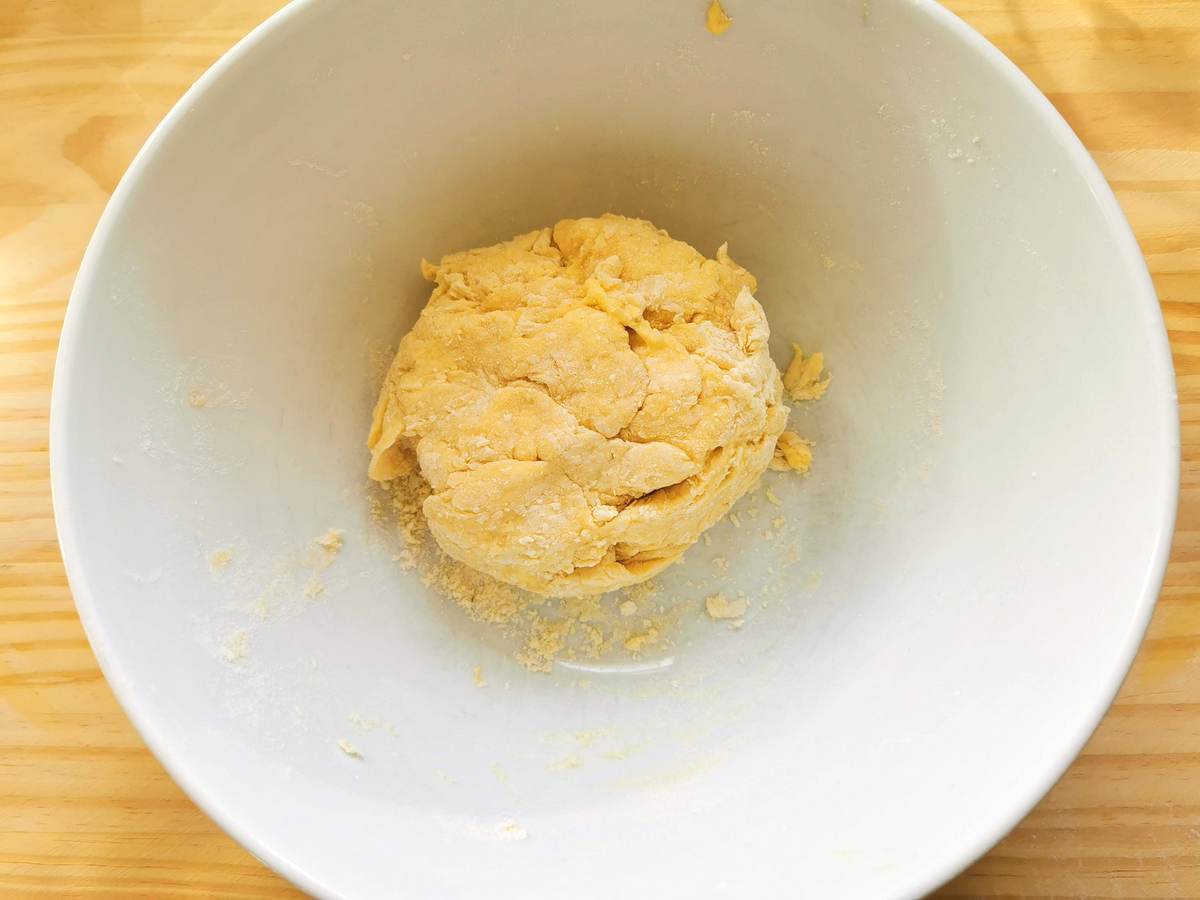 The cheese.
Cheese is also a staple in the mountains. During the summer, the cheeses are made in the mountains in small dairy farms called 'malghe' or 'malga'. Since they are made from the milk of cows or sheep grazing on mountain pastures, these really are among the best types of cheese! Nearly every Italian region has its own mountain cheeses.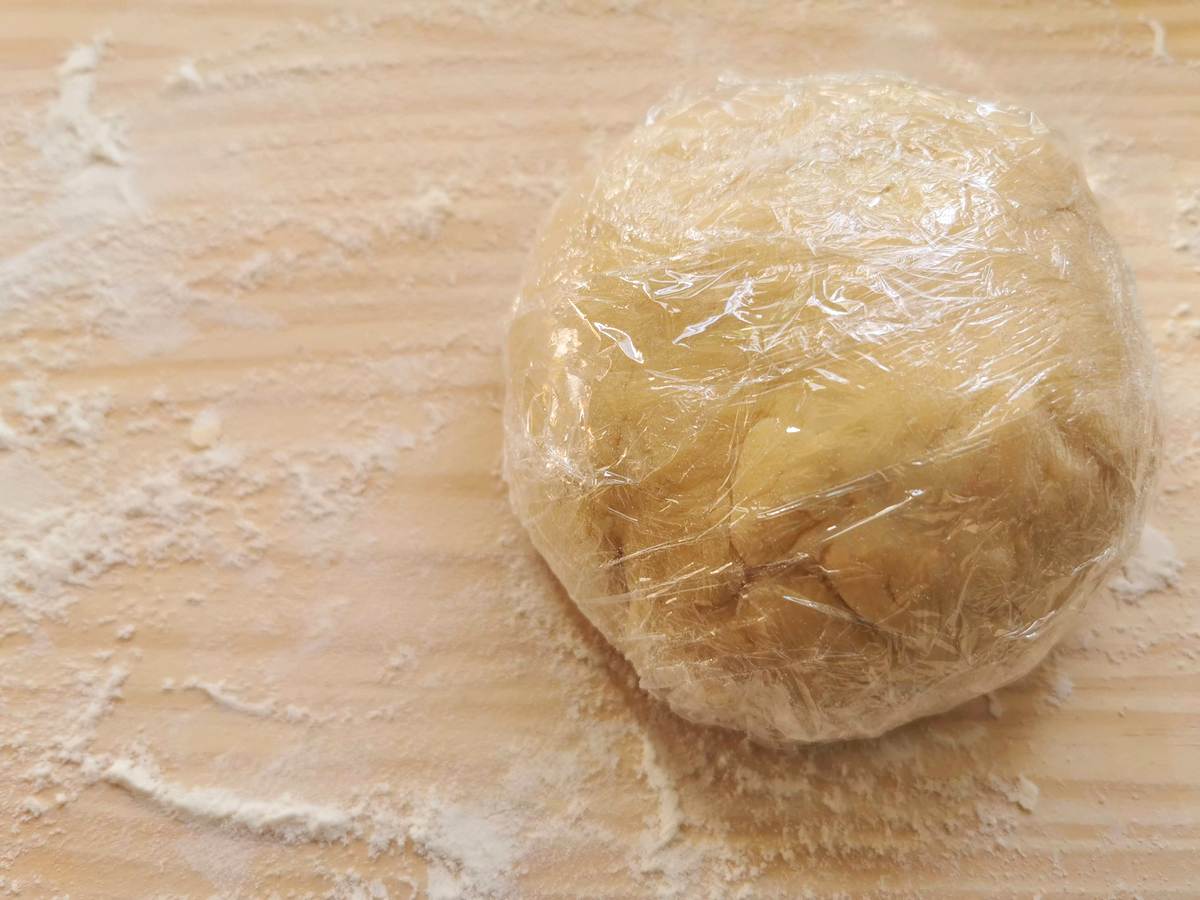 Traditionally this Ligurian potato and mint ravioli is made with Toma. Toma is a soft or semi-hard cow's milk cheese that is great for melting. You can find a very similar cheese in the French Alps called Tomme.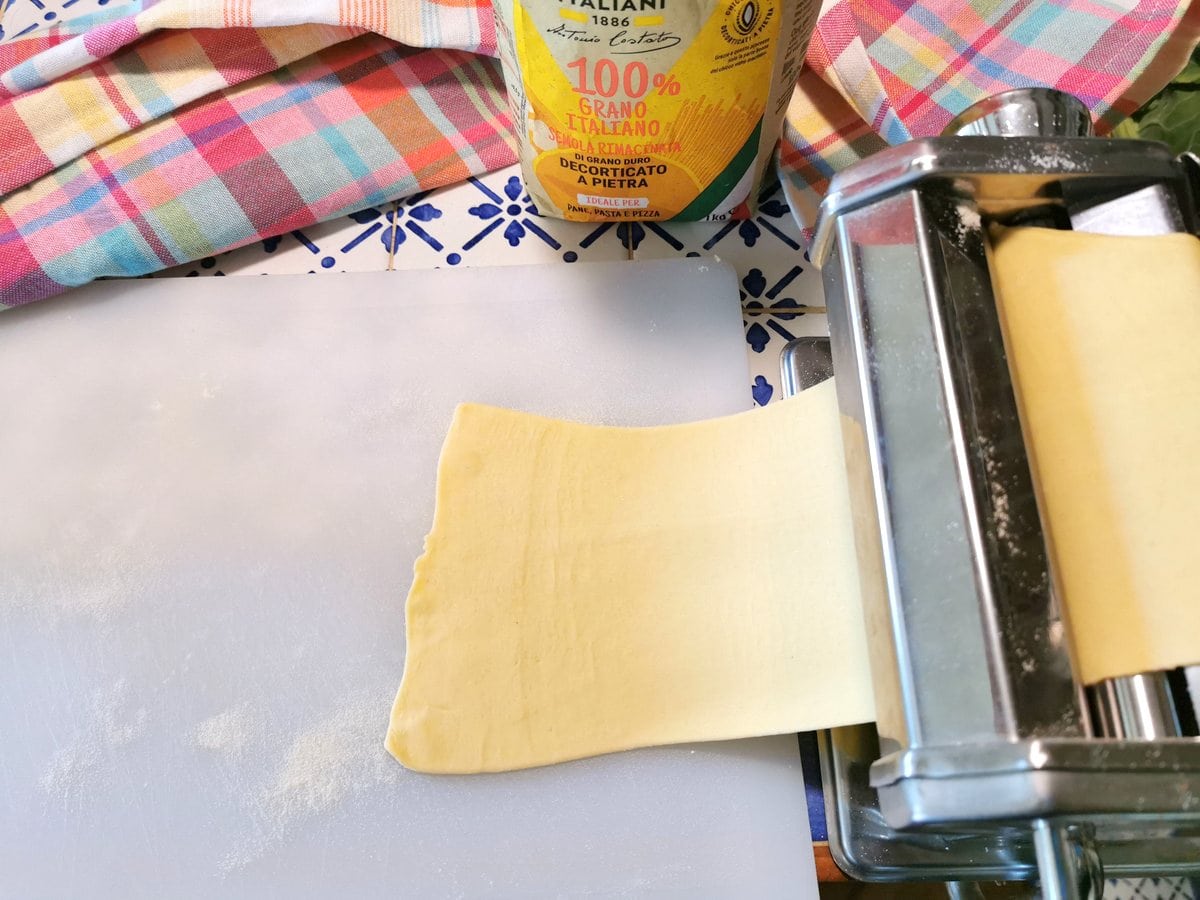 I used Tomino which is really just a type of Toma available in small individual portion wheels. This is a great cheese for grilling too. It's a bit similar to brie, which I think would be a good substitute (skin removed). Alternatively, you can use other melting cheeses like fontina or provolone or even ricotta.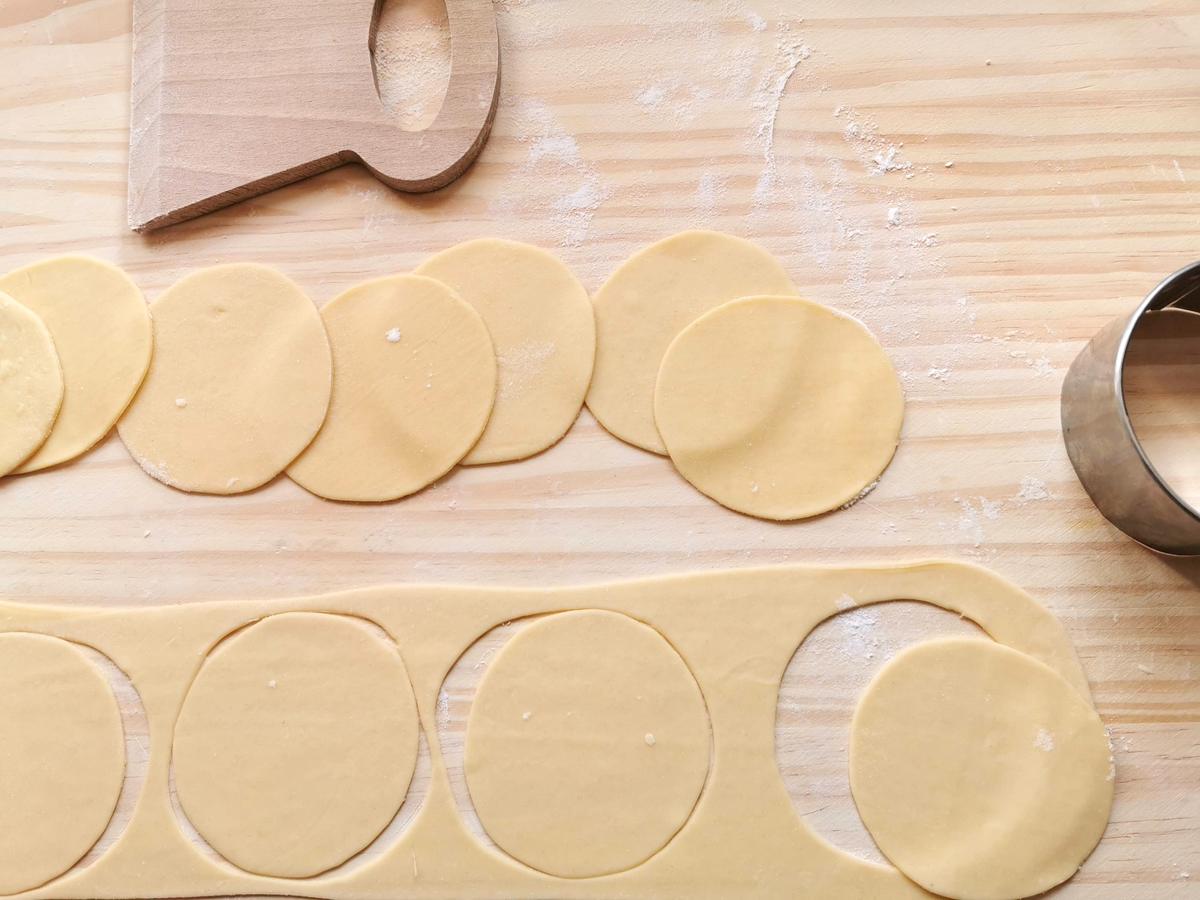 How to make the ravioli dough.
The dough for these Ligurian potato and mint raviolis contains soft wheat flour, egg and water. So, it's not as rich as some egg pasta doughs. However, the water helps to make it more elastic. This dough is made the same way as other egg pasta. You need to mix the flour, egg and water together and then knead the dough until it's smooth and elastic.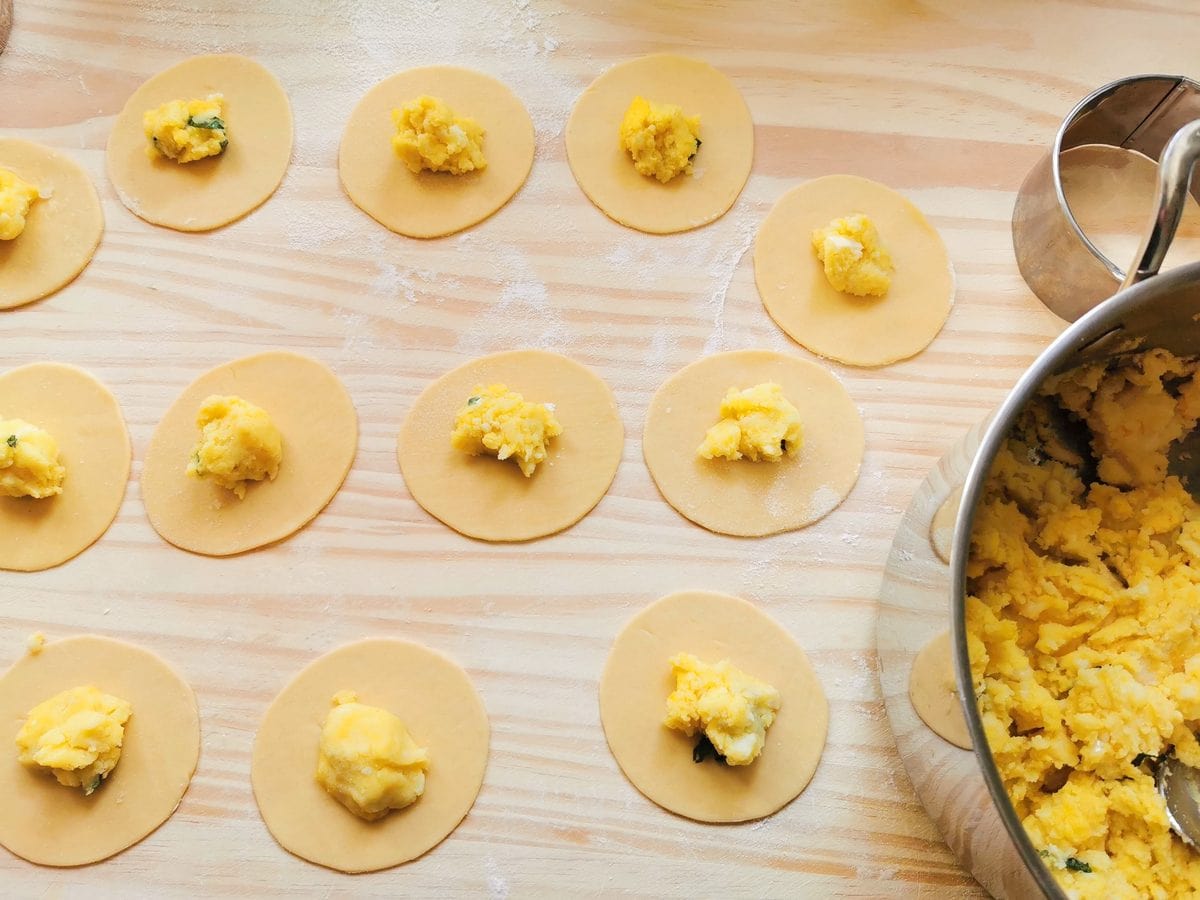 After you have let it rest, you can roll it out using a rolling pin or pasta machine. I used the latter. The sheets need to be about 2mm thick (0.08in). Thin enough that you can just about see your hand through the dough sheet.
How to make the filling.
Making the filling for these potato and mint ravioli requires cooking the unpeeled potatoes in boiling salted water until they are soft. Then, you will need to peel and mash them while still hot. Be careful not to burn your fingers!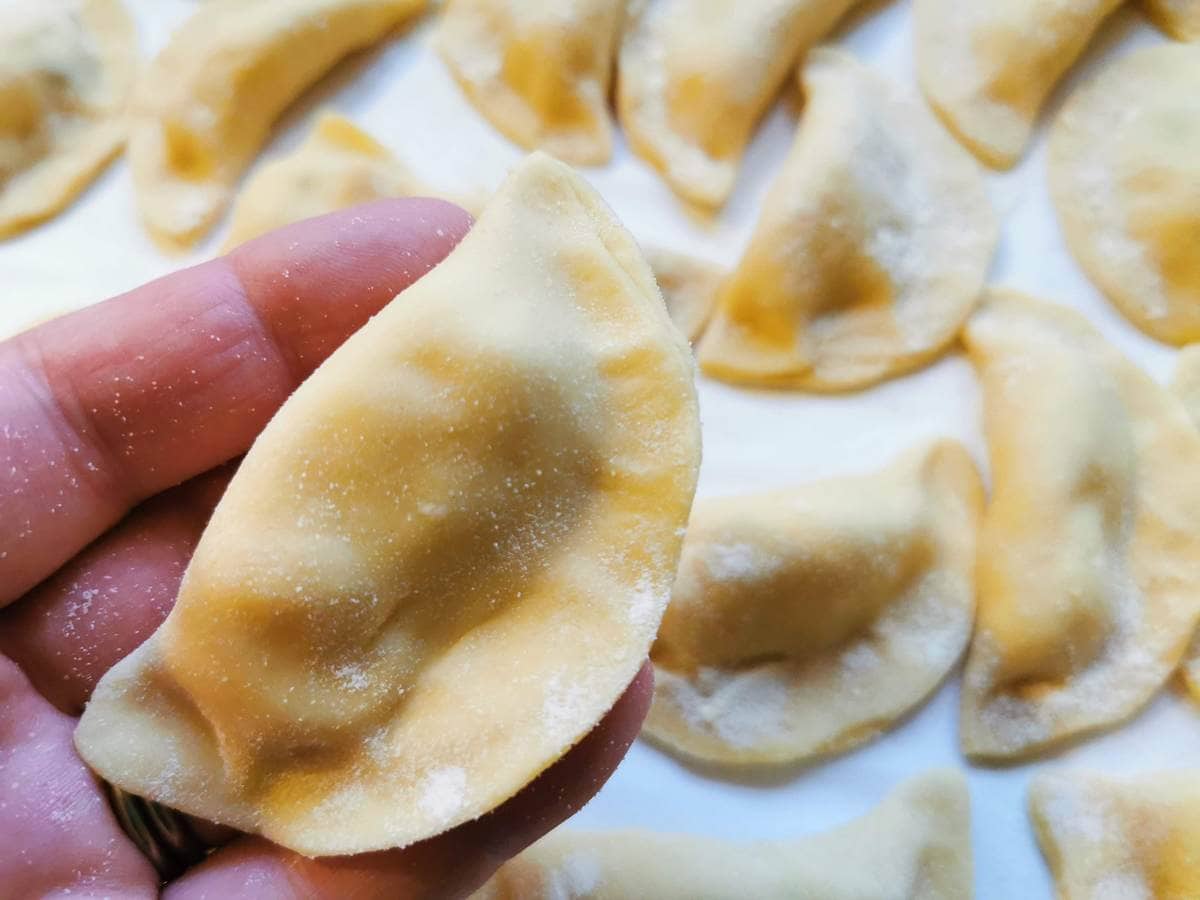 I used what Italians call a 'passapatata', a potato ricer. If using the same, you don't need to peel the potatoes first. I cut them in half and put them in the ricer peeled side down. The skin stays inside the ricer when you press the potato through it.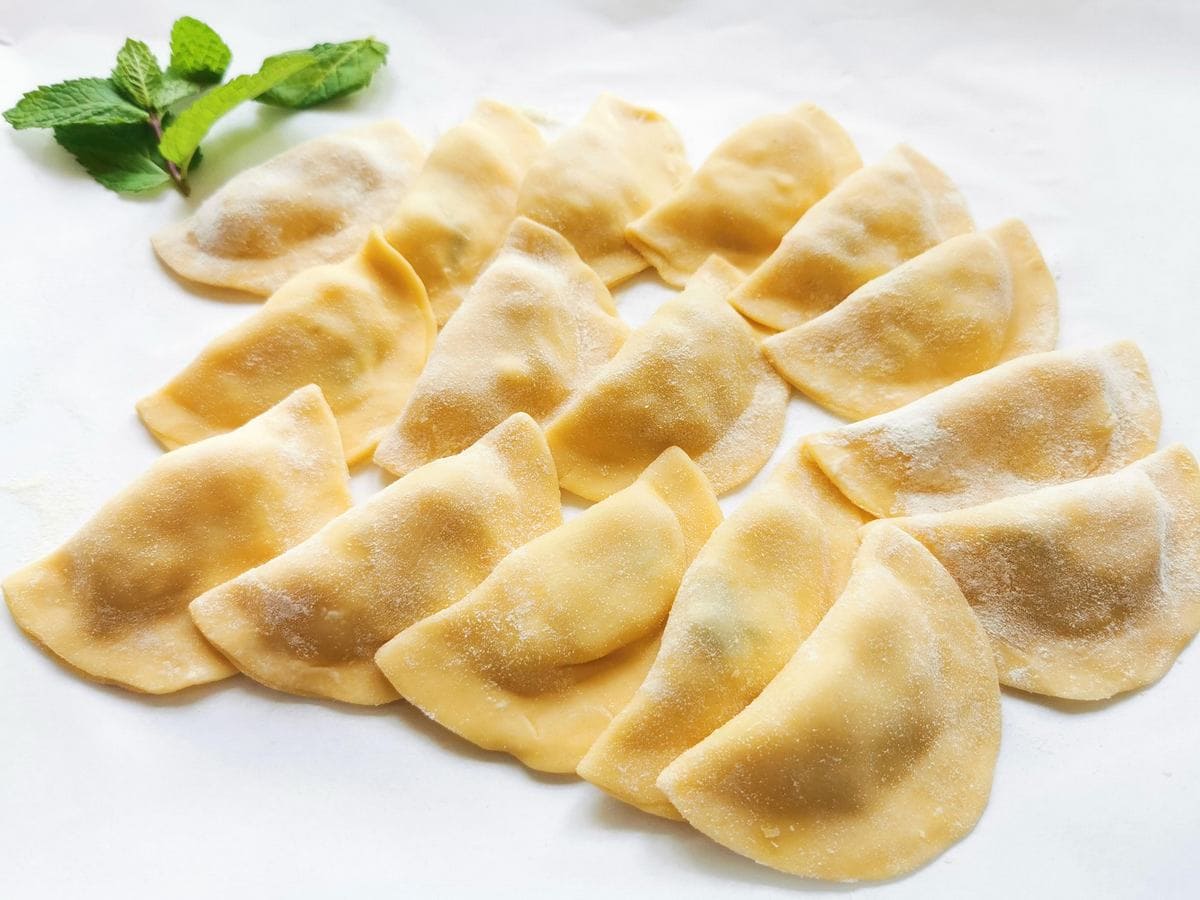 Once you have mashed or riced your potatoes into a bowl and while the potatoes are still hot, you add the egg yolks, 2 kinds of cheese and some mint leaves and mix everything together. Add salt to taste.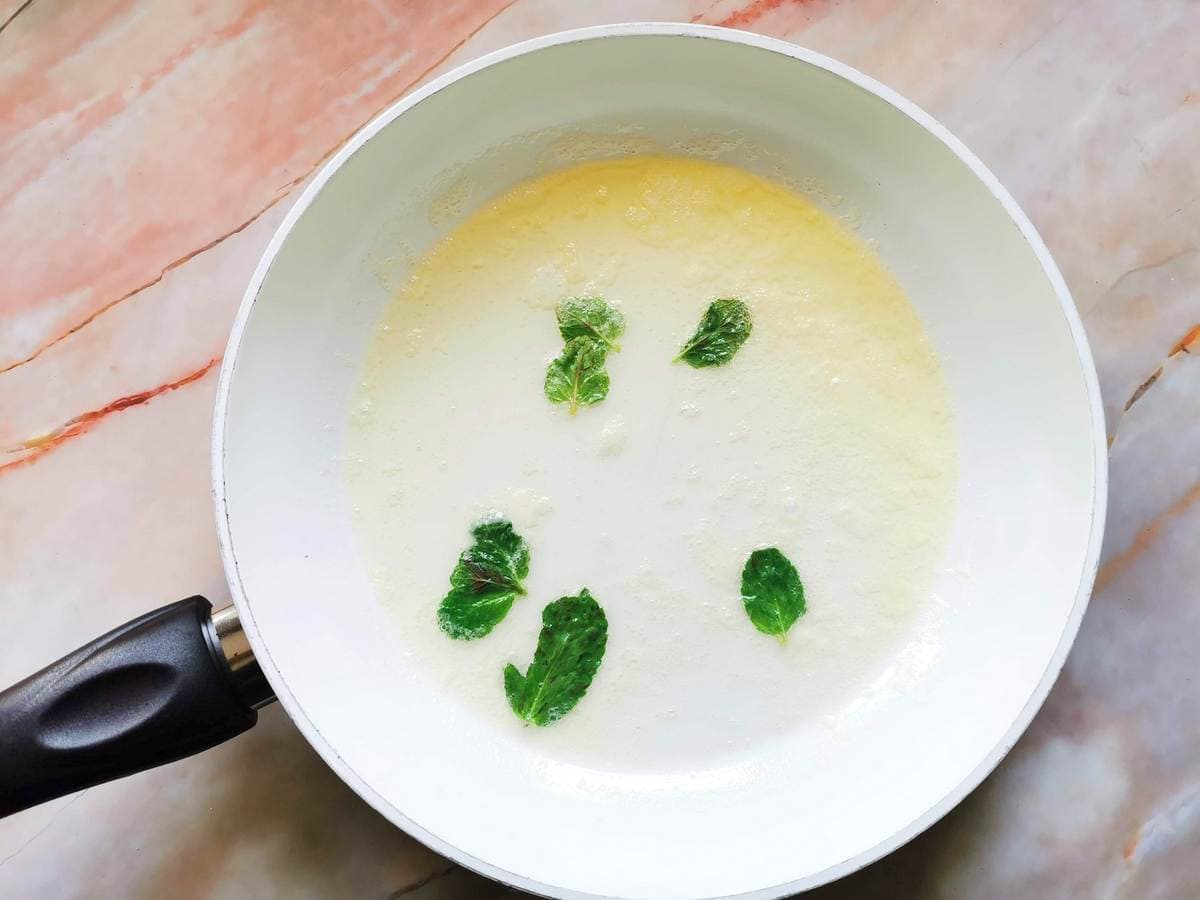 How to make the Ligurian potato and mint ravioli.
When your filling and dough sheets are ready, then use a circular pastry or cookie cutter or even a glass to cut out pasta discs. These can be any size you want but are usually 8cm (3in) in diameter.
Put a heaped teaspoon of filling on each disc, then fold the pasta in half to form a half moon shape. Press out any air gently and seal the edges by pressing down with your index finger or a fork. Place the ready ravioli on a floured tea towel or tray until you have finished them all and are ready to cook and serve.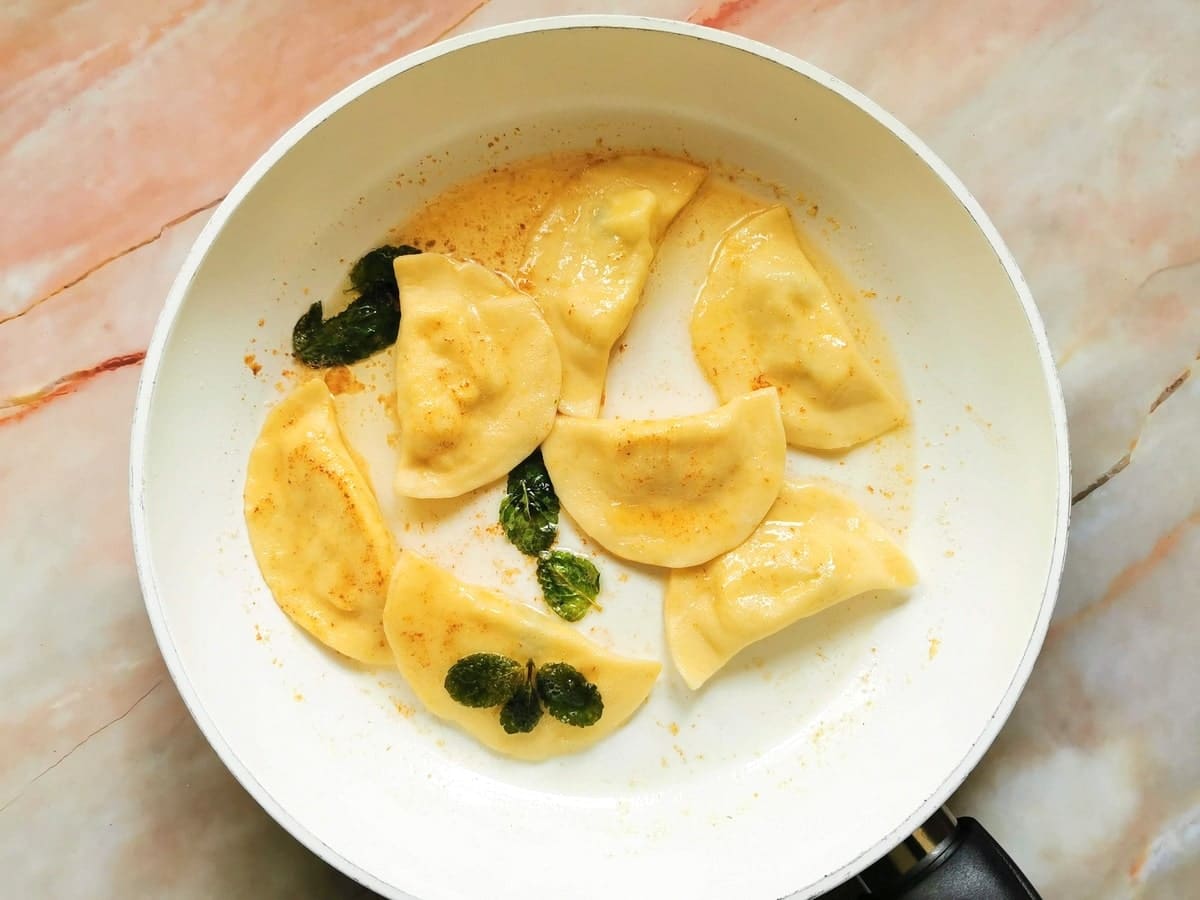 Cook and serve or freeze!
If you don't want to cook your Ligurian potato and mint ravioli the same day, you can freeze the pasta and cook from frozen. Otherwise cook the ravioli in boiling salted water for about 8 minutes and then strain and add to a pan where you have crisped some mint leaves in melted butter. Mix and serve immediately with more grated parmigiano. Traditionally, they also add crushed and toasted hazelnuts to the dressing.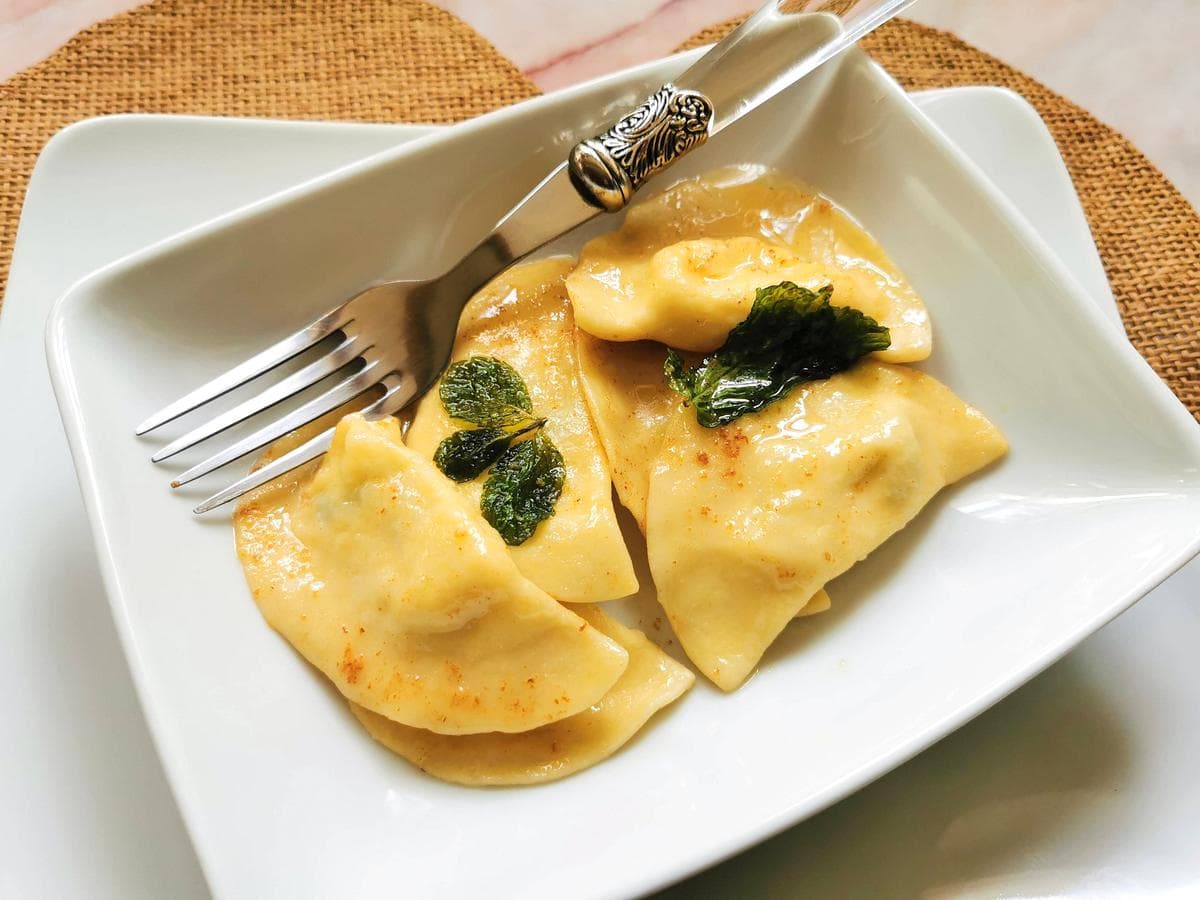 This Ligurian potato and mint ravioli is a wonderful example of Italian Alpine cuisine. It's simple food that's been made for generations by villagers and farmers living high up in the Western Alps. Traditionally this ravioli was made with ingredients they mostly produced or foraged themselves. I find that really romantic, don't you?
If you make this recipe, I'd love to hear how it turns out. Please write a comment here on the blog, email me or post a comment on the Pasta Project Facebook page.
Your feedback is really appreciated!
Buon Appetito!
More traditional homemade ravioli recipes
If you're looking for more homemade ravioli recipes, have a look at my favorites.
SAVE THIS RECIPE FOR LATER?
If you want to save this recipe for later, you can print it, bookmark this page or save it to Pinterest.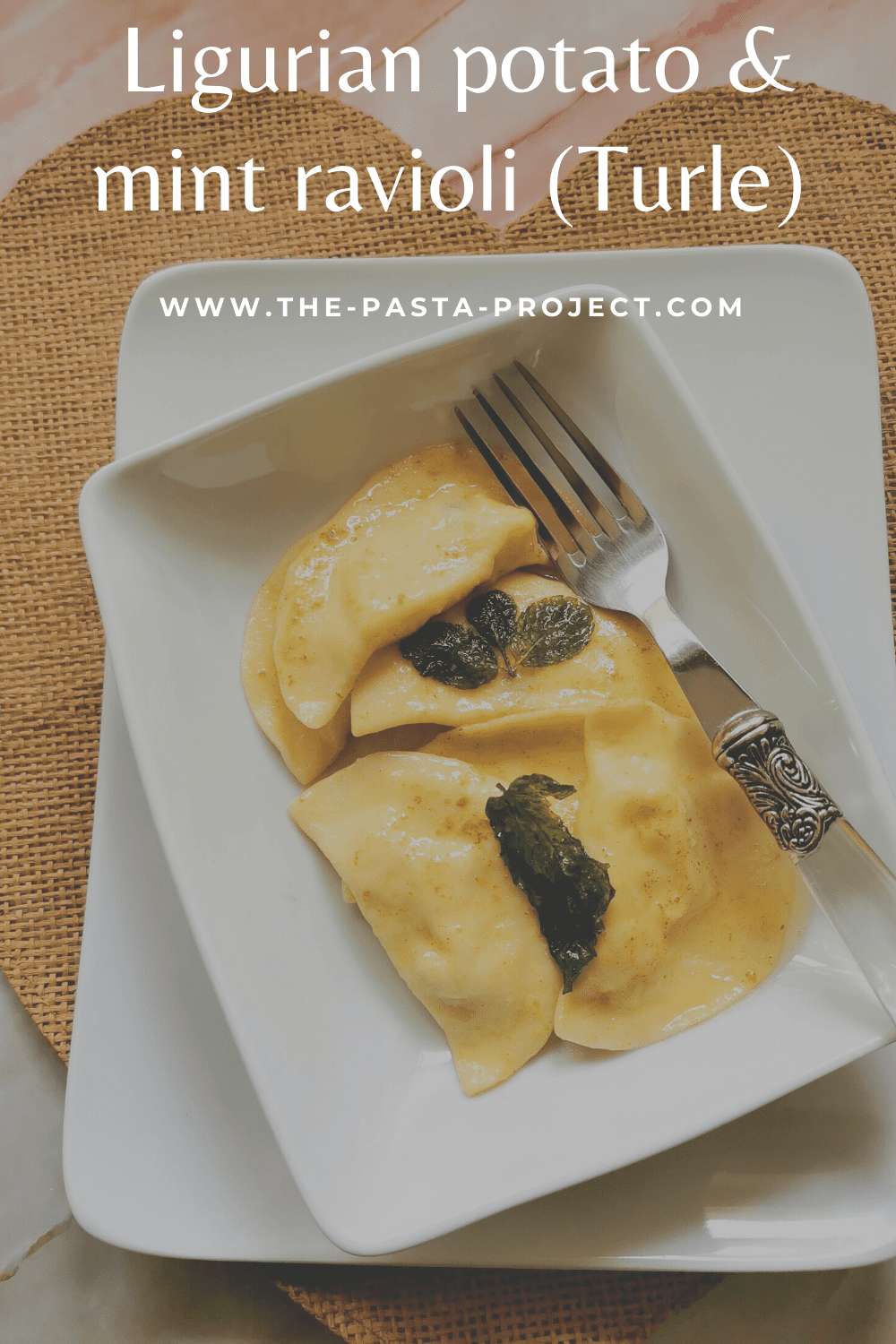 If you are interested in learning how to make homemade pasta and different types of gnocchi, check out my shop page for some great video online courses from my friends in Rome! Nothing beats learning to make pasta from Italians! Plus while you're there why not order a copy of one of my pasta recipe cookbooks or checkout some recommended pasta making tools? All great prezzies for pasta lovers!