Cheese Stuffed Agnolotti del Plin Pasta Recipe from Piemonte.
Cheese stuffed agnolotti del plin are a unique type of ravioli from Northern Italy. These fresh homemade pasta parcels are filled with a creamy Italian cheese fondue and served in a simple butter and sage sauce! Heaven on a plate!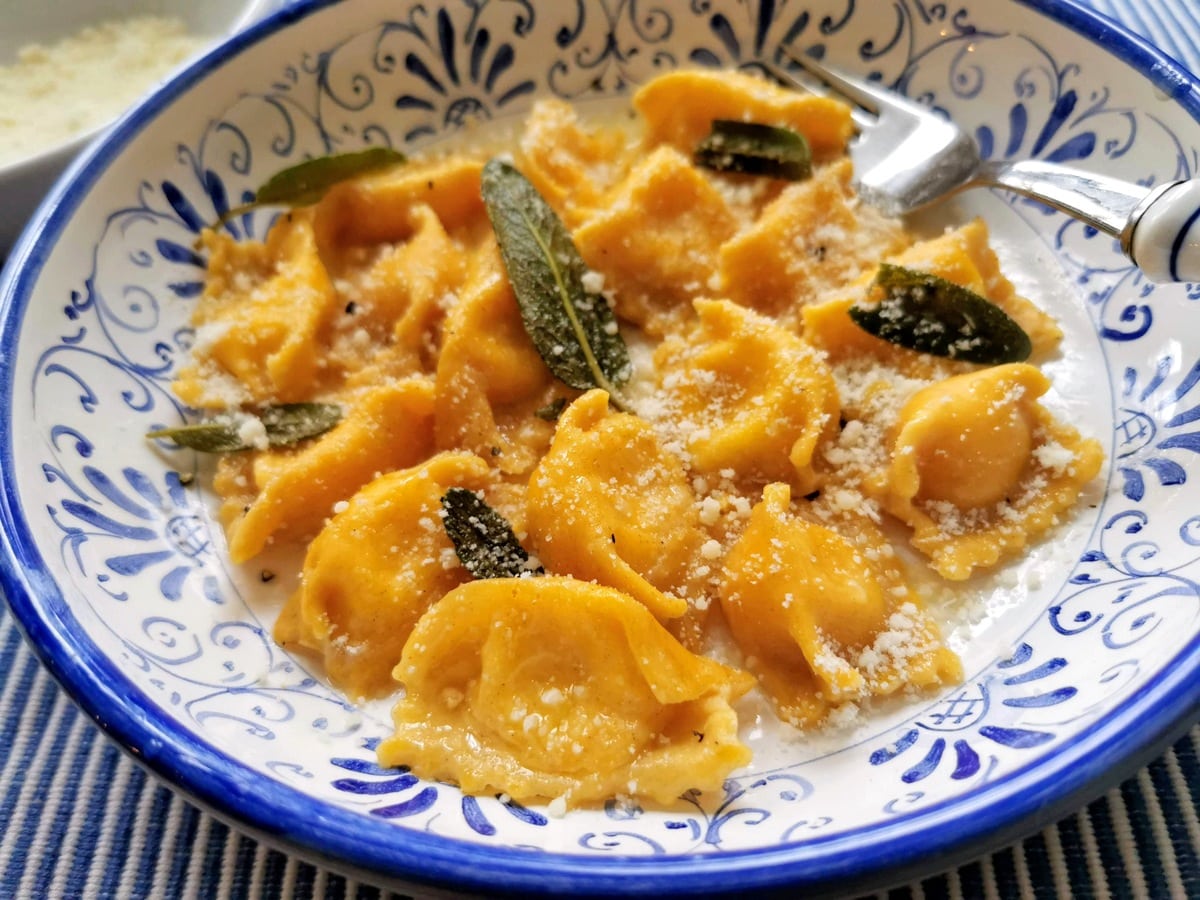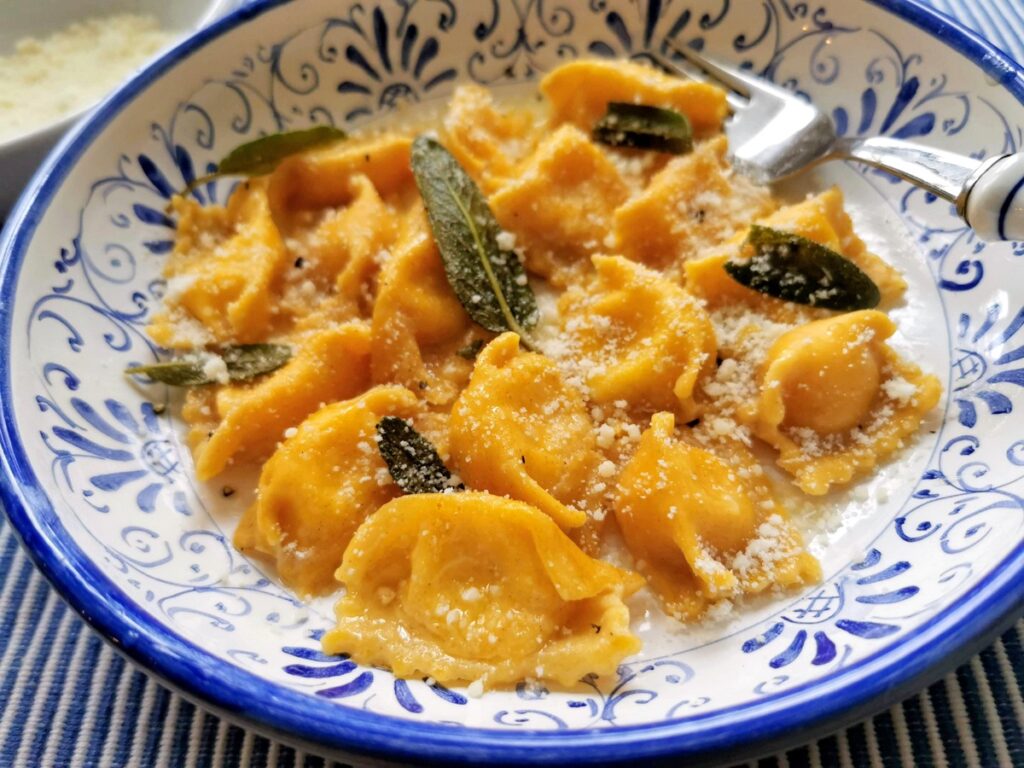 Agnolotti del plin con fonduta.
Agnolotti del plin, also called ravioli del plin or langaroli, is a type of stuffed pasta from Piemonte (Piedmont), Northern Italy. It's particularly traditional in the beautiful Langhe region, famous for its wines and truffles. These rather delicate and small pasta parcels are usually stuffed with braised or roasted meats with veggies (often savoy cabbage) or without. They are also sometimes filled with cheese.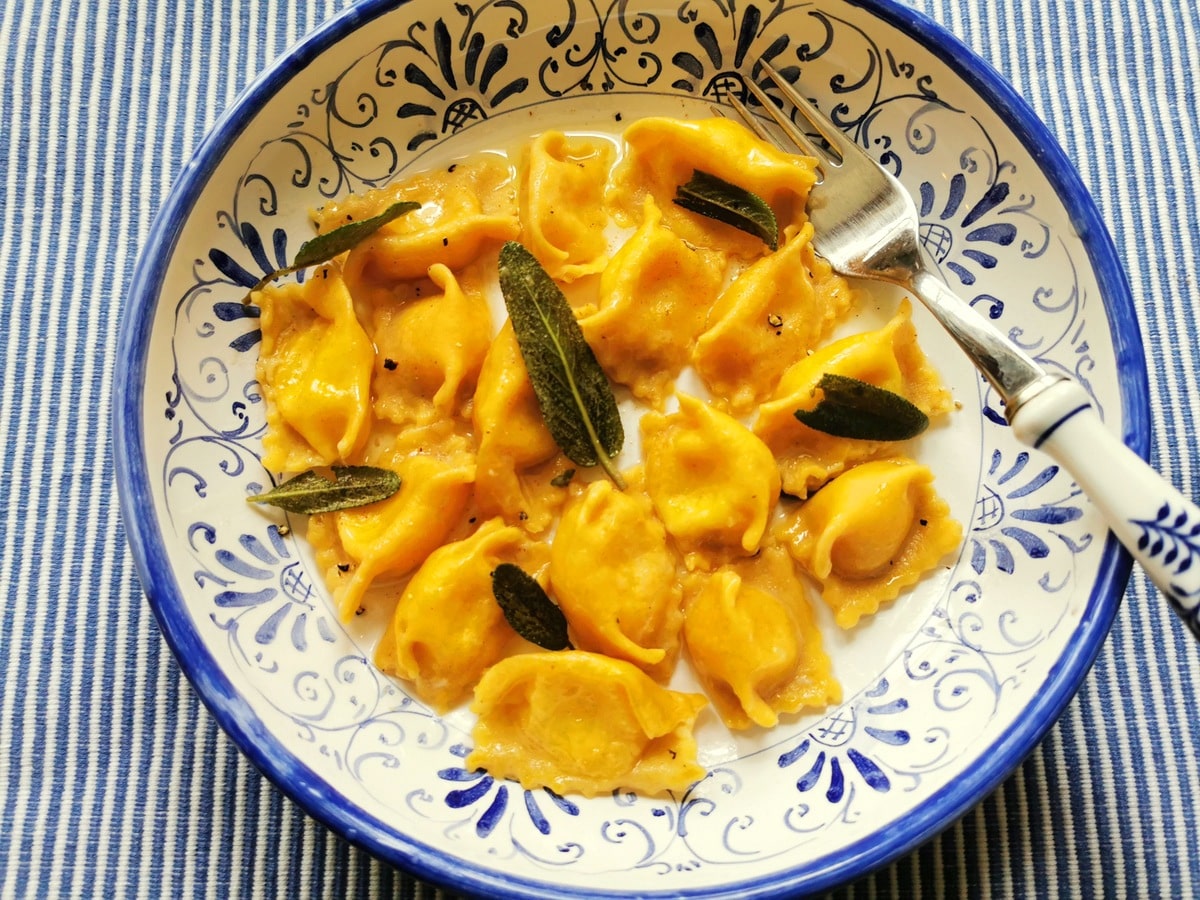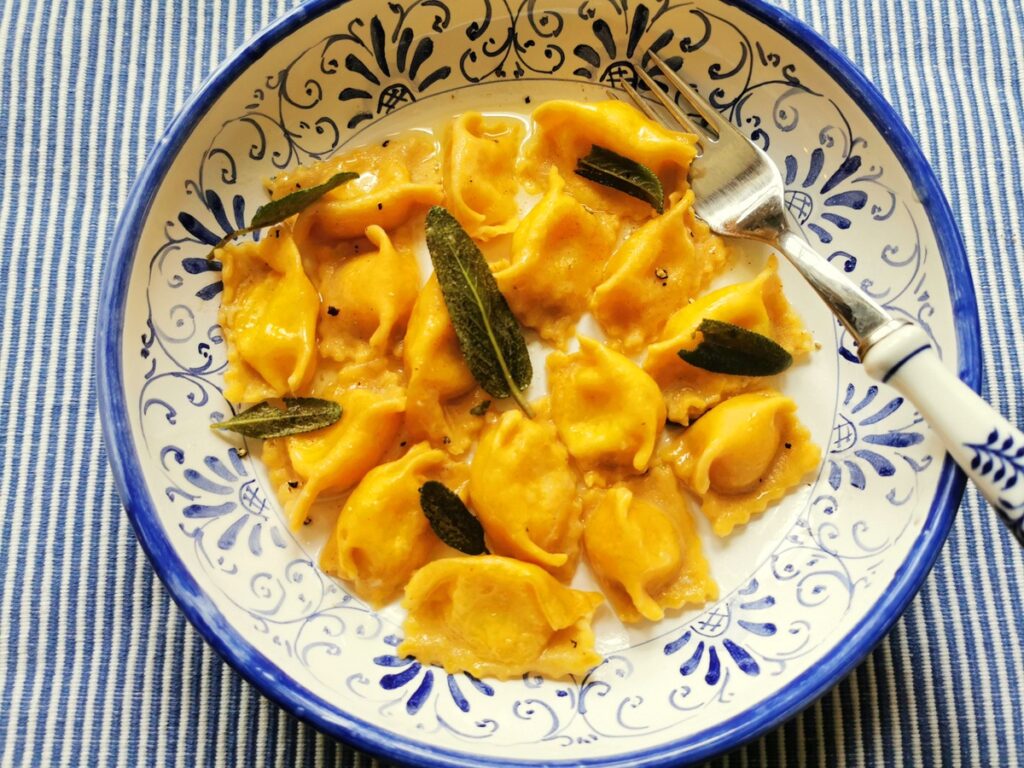 A little agnolotti history.
Piemontese ravioli is generally referred to locally as 'agnolotti'. Like for many other antique Italian recipes, there are various theories to how this stuffed pasta got its name. One food legend has it that the word 'agnolotto' comes from the name of a cook, Angiolino or Angelot, who some believe invented it. However, the well-known 19th century Savoy court chef, Giovanni Vialardi, believed that the original word was 'agnellotto'. The Italian word for lamb is 'agnello' and, apparently, this pasta was originally stuffed with lamb.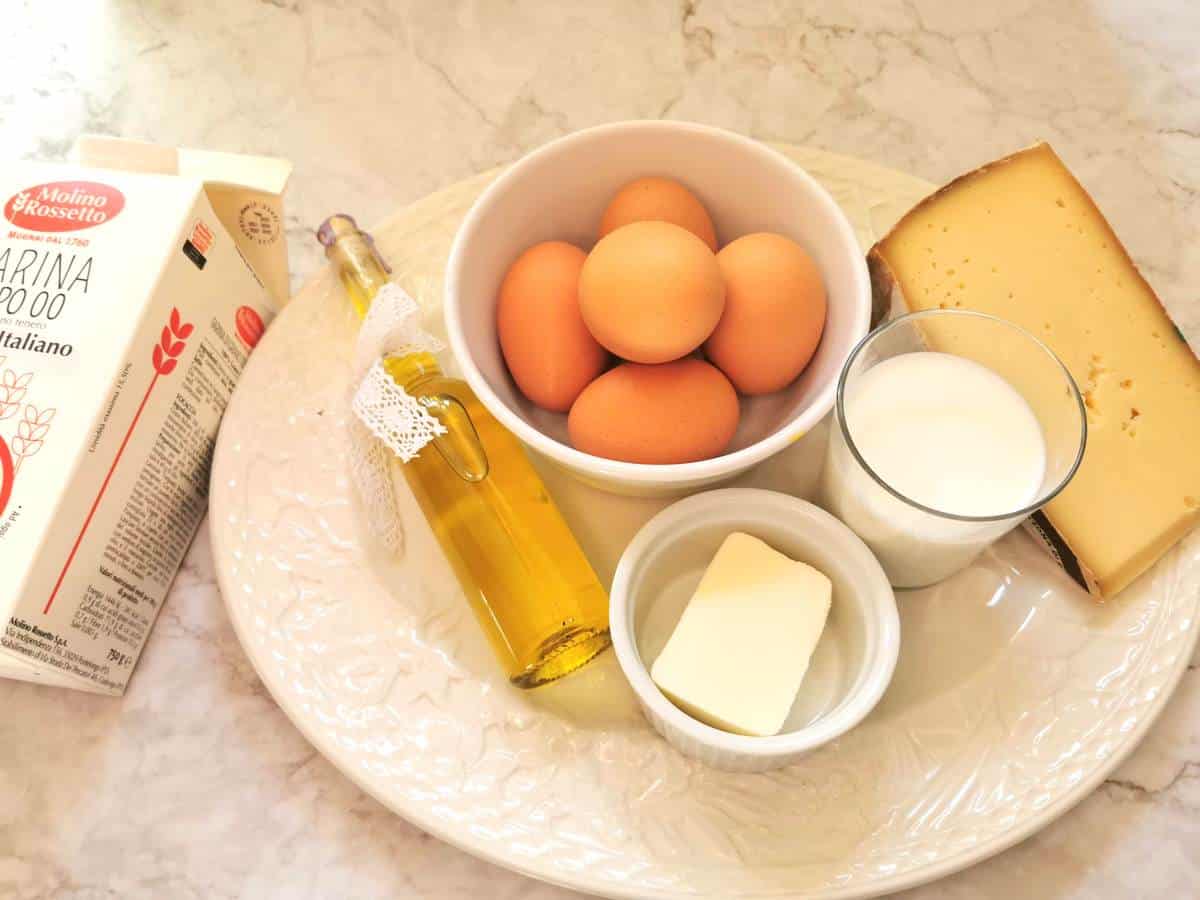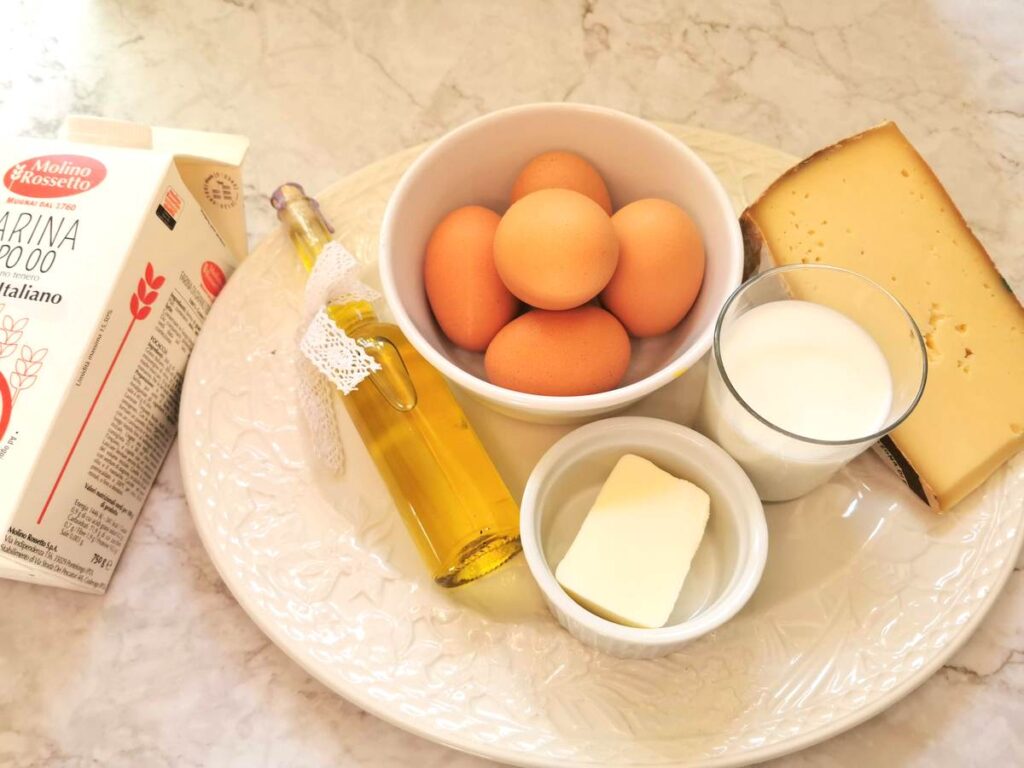 A third and more modern theory is that the name comes from 'anulòt', the local dialect word for the traditional iron utensil they used to cut the pasta. This tool was ring shaped because once upon a time agnolotti were traditionally round/circular. You can still find round agnolotti in Piemonte. But, in general, this fresh pasta is mostly the same as ravioli. In its basic form, it's usually square or slightly rectangular. However, agnolotti del plin have a different shape.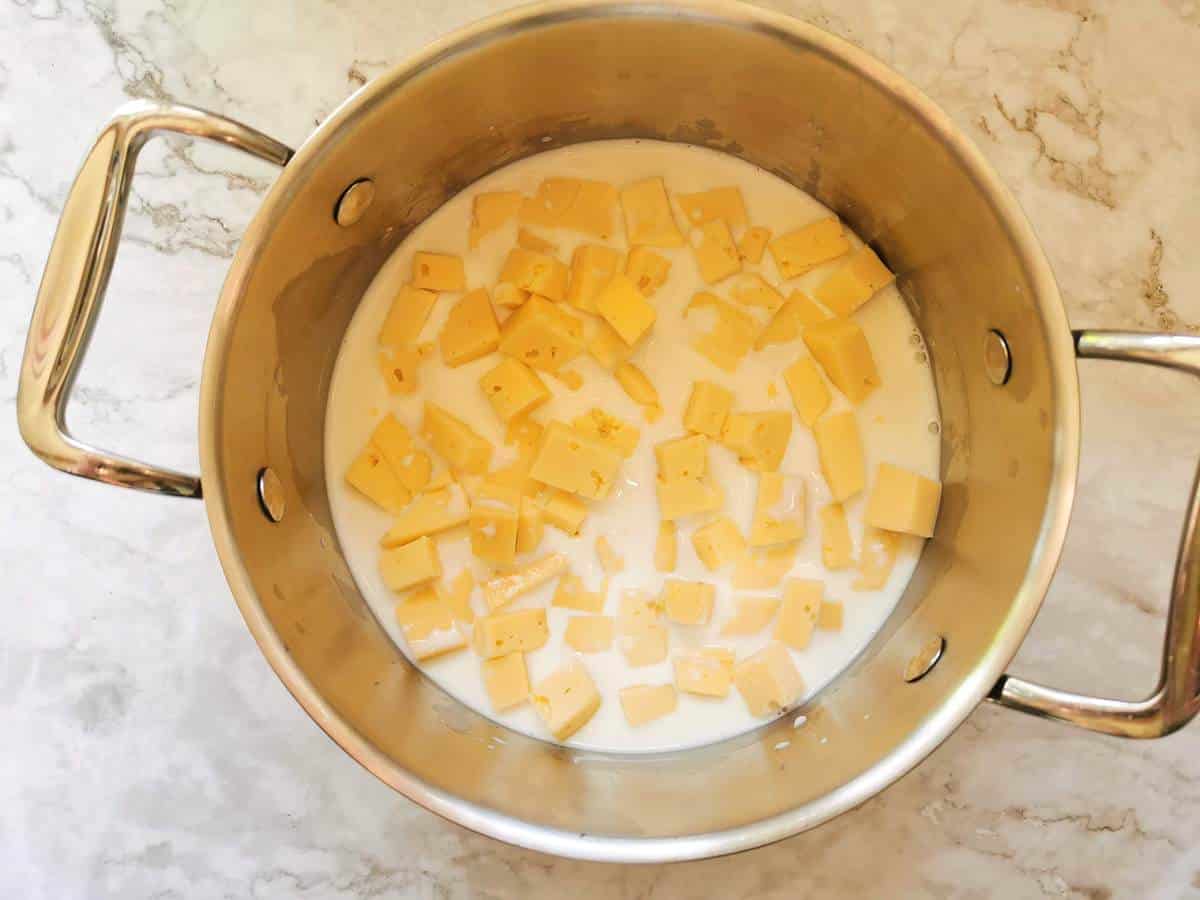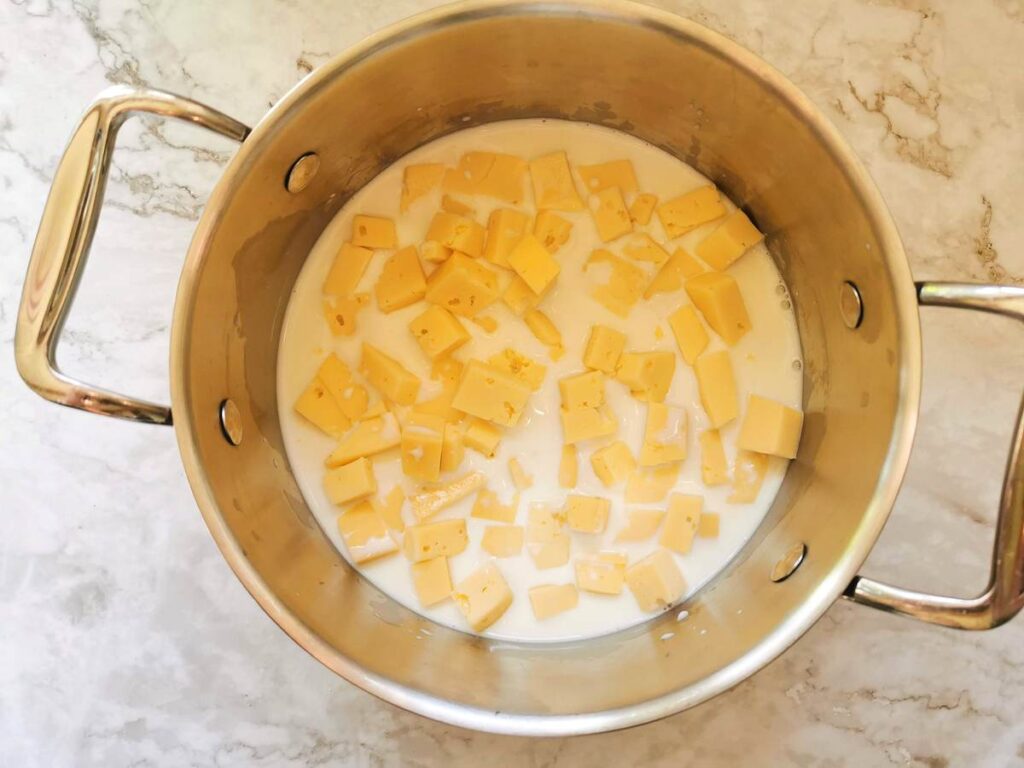 What does 'plin' mean?
The word 'plin' translates to 'pinch' in the local Piemontese dialect (pizzico in standard Italian). It refers to the way these pasta parcels need to be 'pinched' in order to give them their rather unique shape. Agnolotti del plin are normally pretty small, which makes them a little fiddly to make. The cheese stuffed agnolotti we made are a little bigger than normal. But, when it comes to homemade pasta, I think taste is more important than perfection!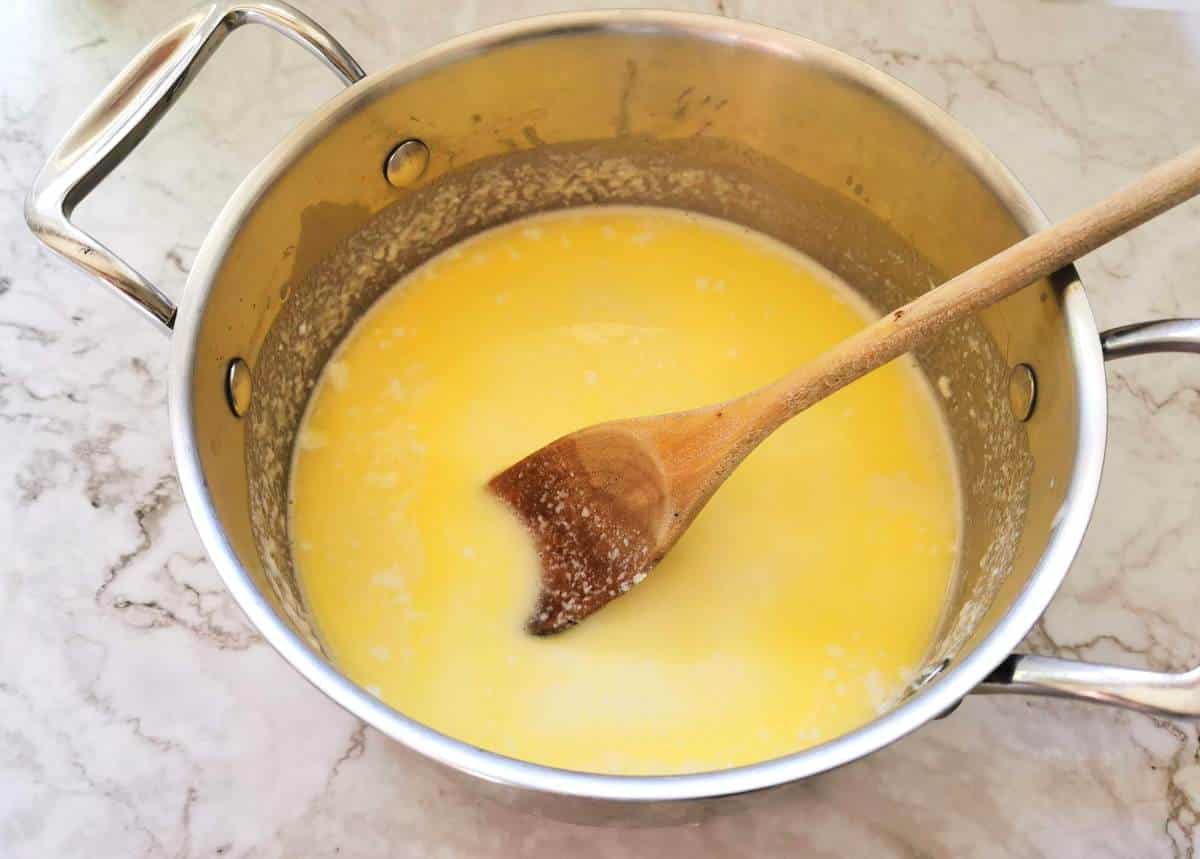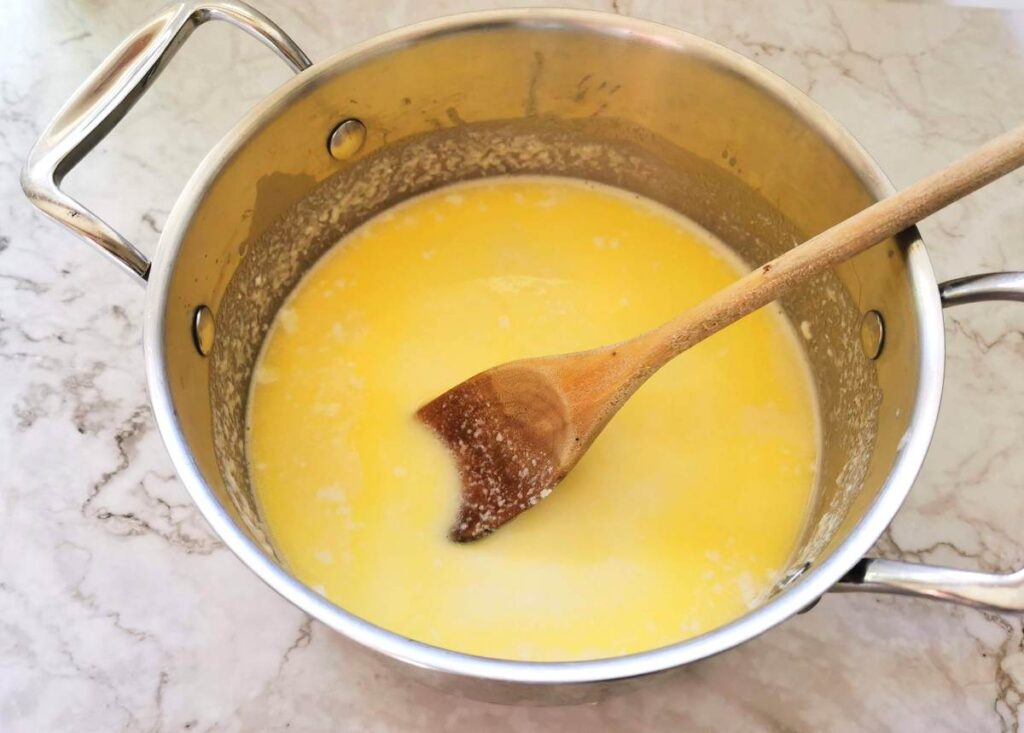 Different agnolotti del plin recipes.
Meat filled agnolotti del plin are often eaten with the meat sauce from the braised meat they use to produce the filling. This is called 'brasato'. It is actually the most time-consuming and laborious way to make these ravioli. But it's so delicious! Some people make green ravioli del plin by adding spinach to the pasta dough. Others include spinach in the filling. You can also find this pasta filled with the classic combo of spinach and ricotta.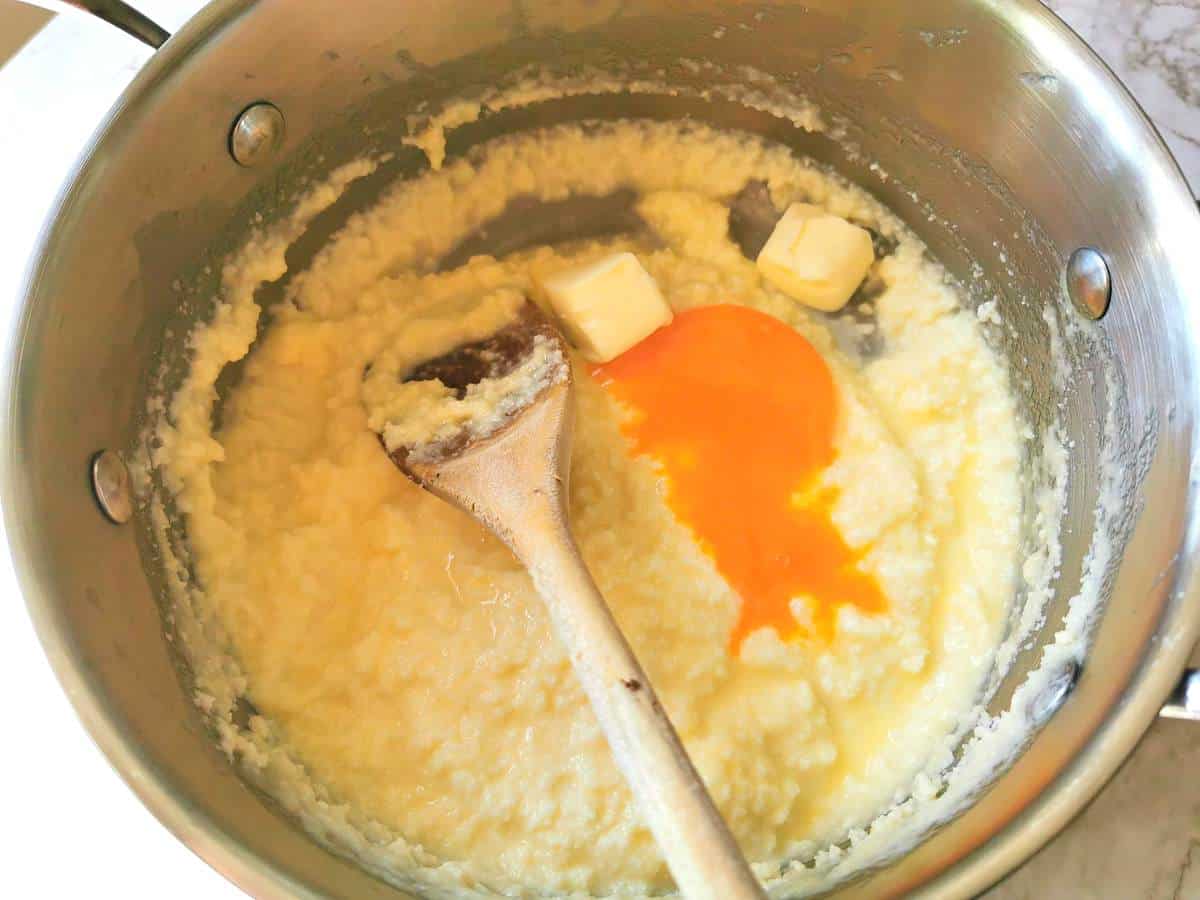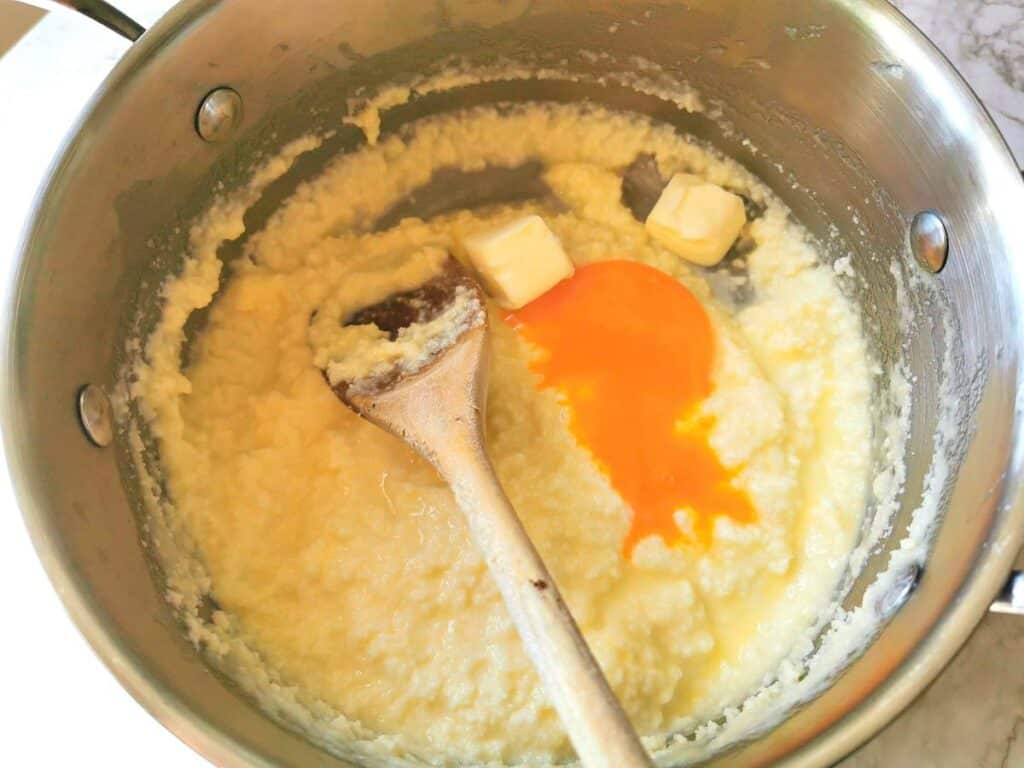 What's in this recipe.
This recipe is for cheese stuffed agnolotti del plin. However, the cheese filling is actually a delicious fondue made with Fontina cheese, butter, egg yolks and milk or cream. Italians call this type of fondue, fonduta. I served my agnolotti with just butter and sage as is often done in Piemonte. But it's also common to serve them with truffle shavings, when truffles are in season. Definitely, on my to do list when I next have truffles!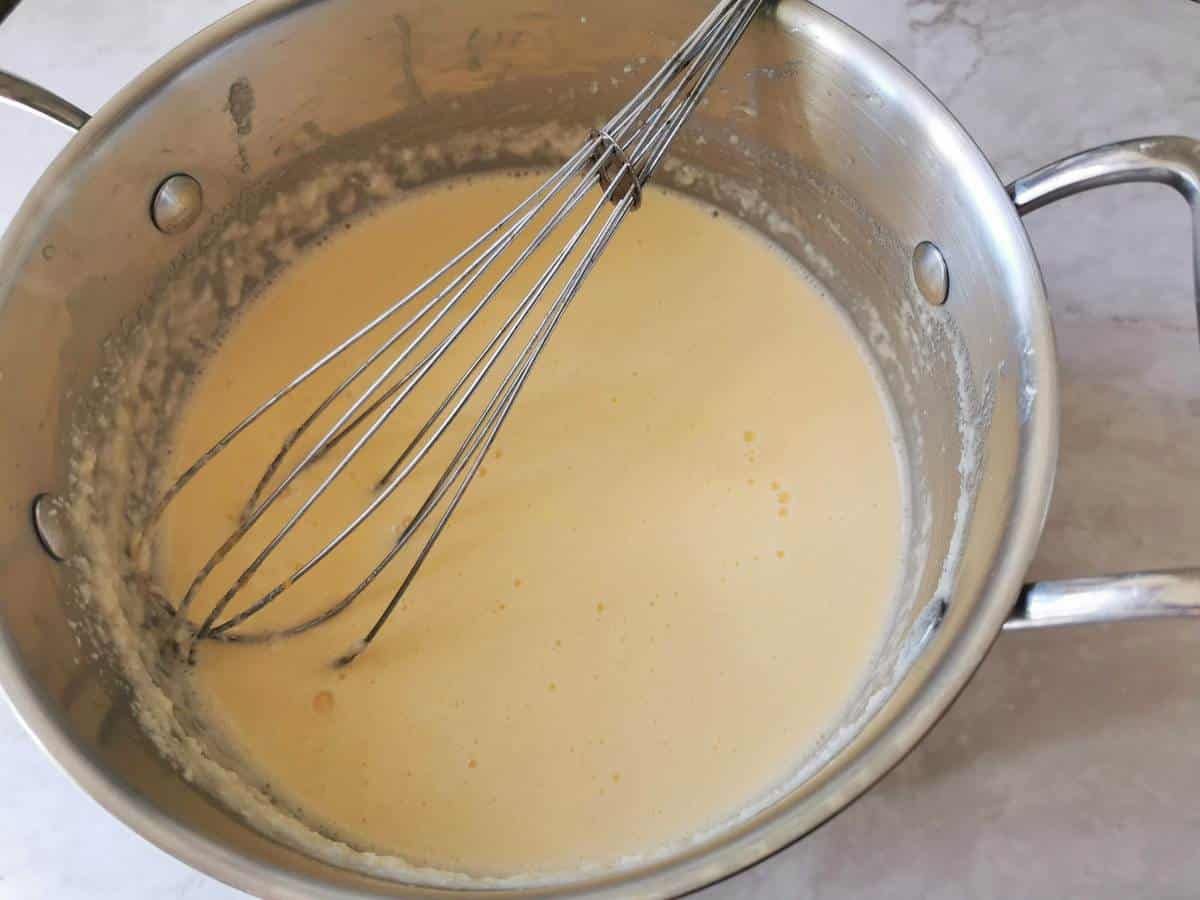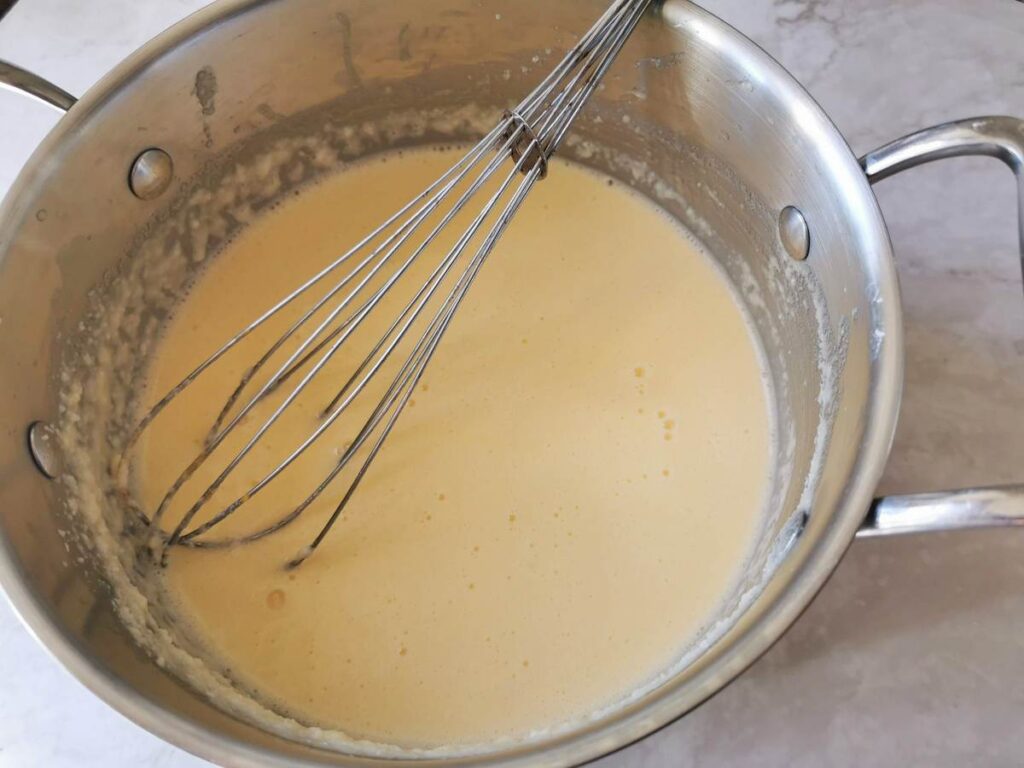 Making the fondue filling.
Italians call their fondue, fonduta and, unlike Swiss cheese fondue, it has butter and milk or cream in it. The cheese filling for this agnolotti del plin recipe also has an egg yolk in it. It's not difficult to make but needs to be refrigerated to cool and thicken before you use it to fill the pasta. So, it's a good idea to make the cheese filling first and then move on to the pasta dough.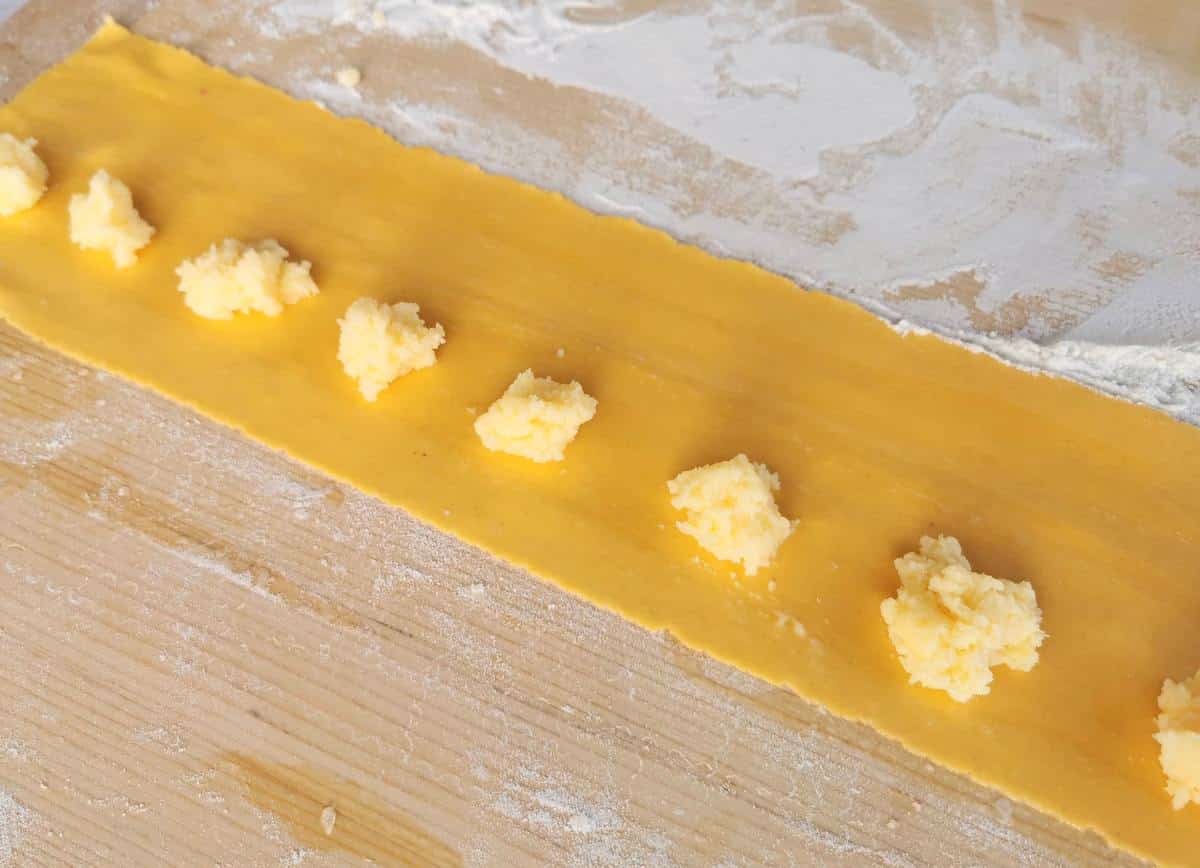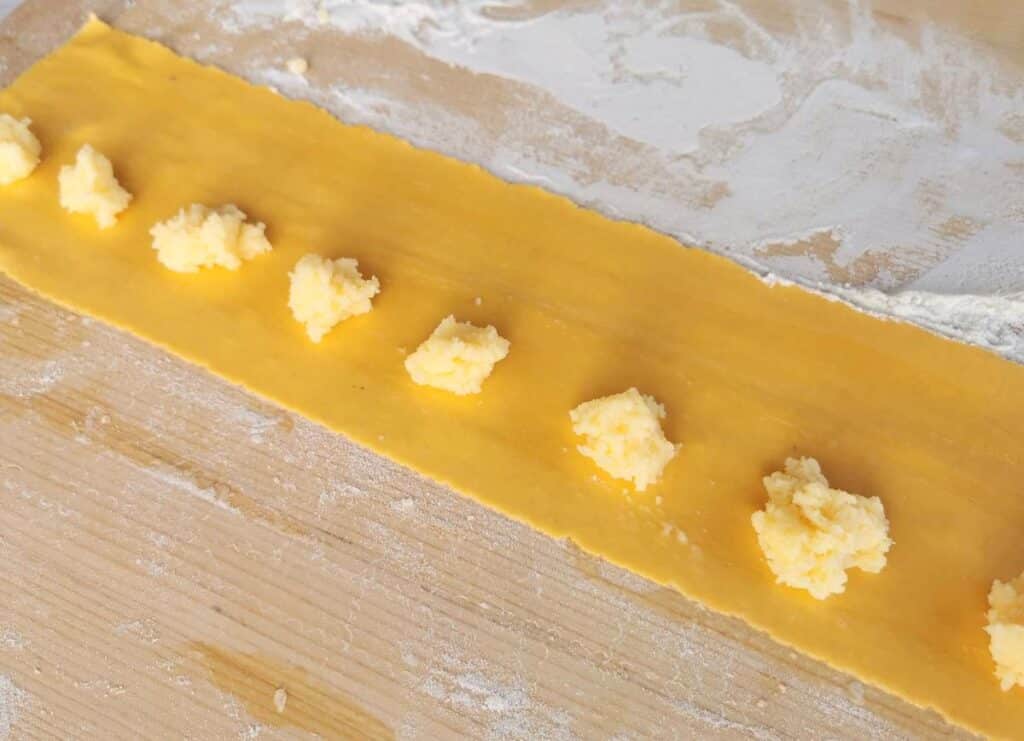 Making the agnolotti pasta dough.
In Piemonte, the ingredients for agnolotti del plin pasta dough varies slightly from family to family. And, as I mentioned above, some people add spinach to the dough. There are those who make the dough with a lot of eggs or egg yolks, whereas others use only one egg with extra water to make up the liquid.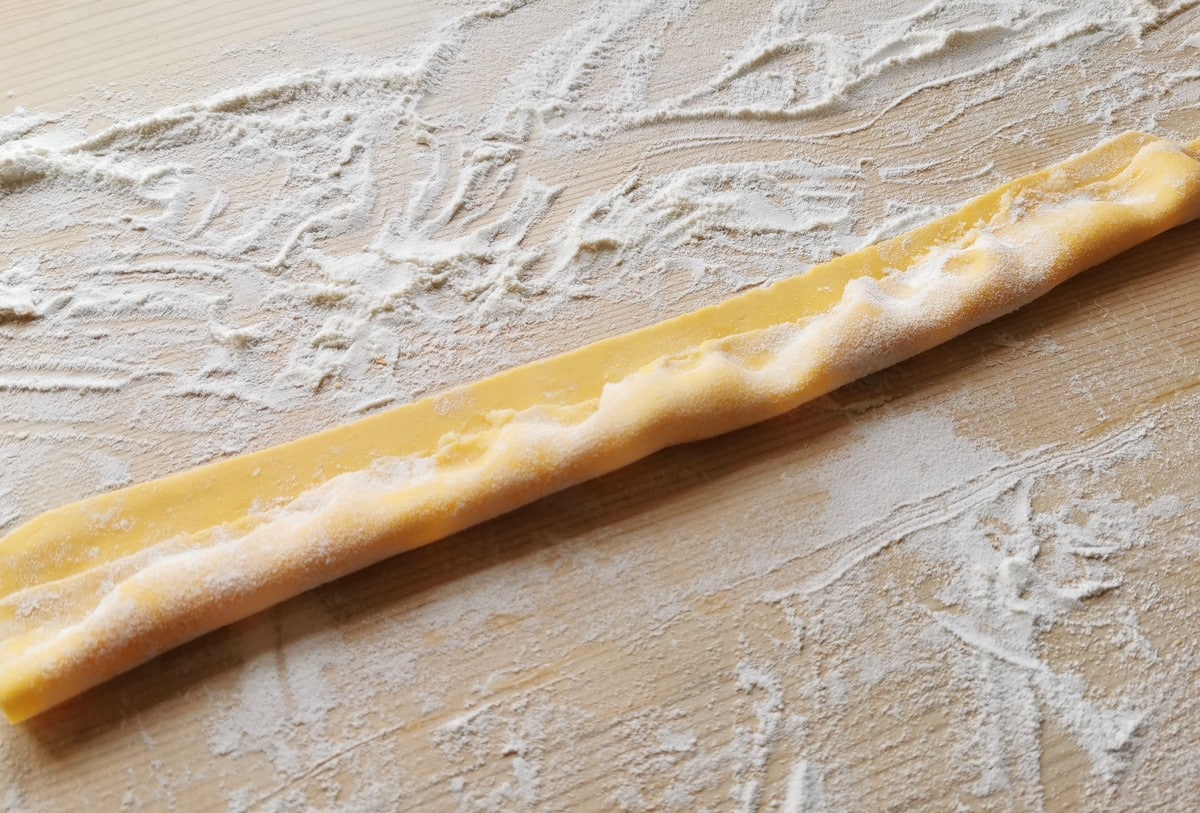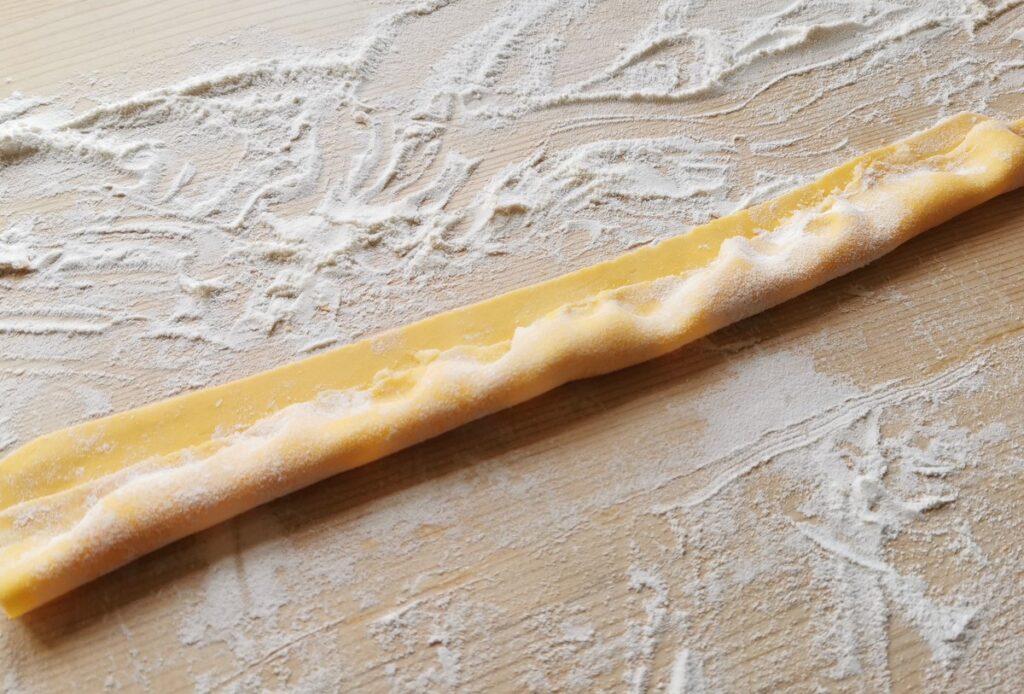 Here in Italy, we can buy large eggs with orange yolks specifically for pasta making! In Piemonte, they often make fresh pasta with only egg yolks instead of whole eggs. This also gives the pasta a more golden colour! I used Italian 00 soft wheat flour, 3 large whole eggs and one egg yolk, and a little olive oil.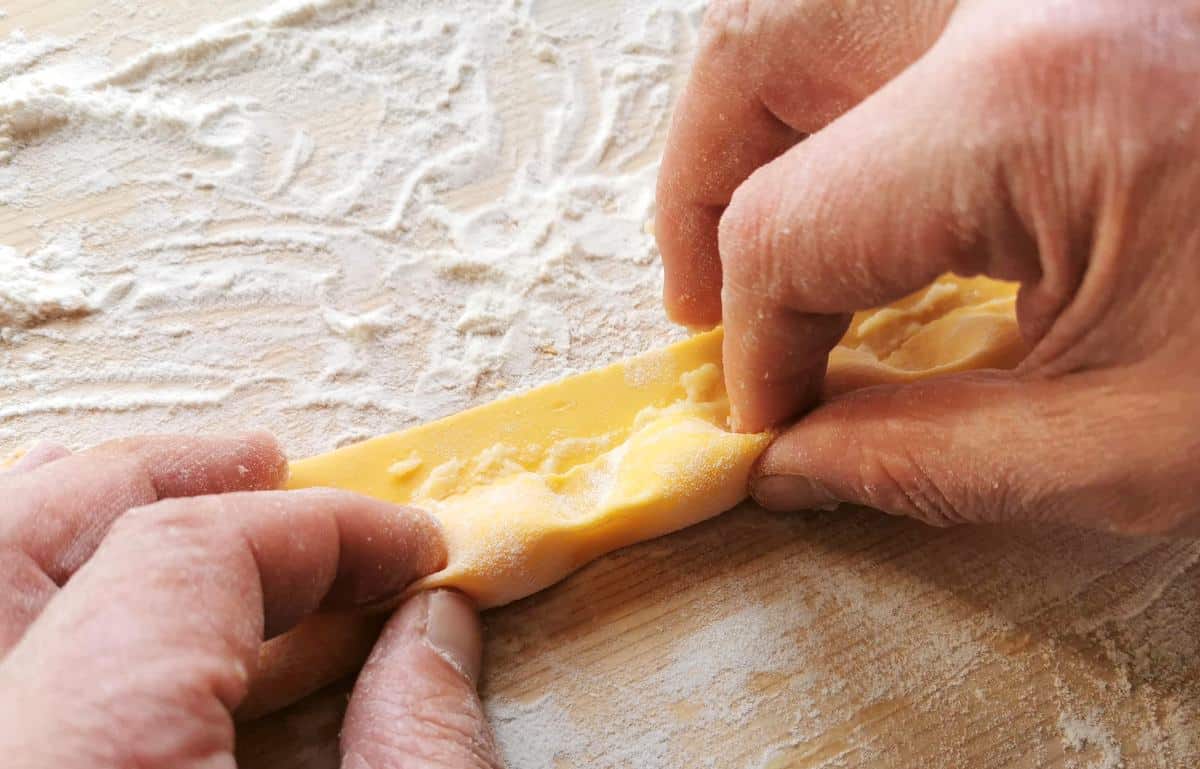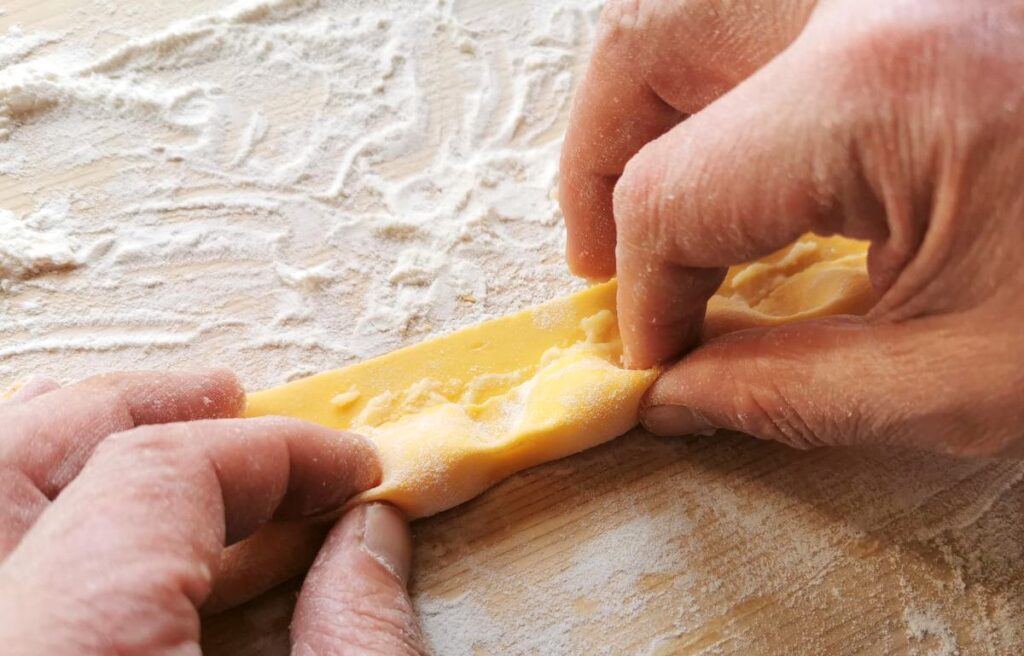 Flour and eggs vary in different countries, so it's good to be flexible. If your dough seems to dry, add a little warm water. If it's too wet, add some more flour. But, don't forget, it takes time for the dough to come together (about 15 minutes) especially when kneading by hand.
Serving your cheese stuffed agnolotti del plin.
We served our agnolotti del plin with a simple butter and sage sauce, plus a sprinkling of Parmigiano cheese. Although not traditional, I think this ravioli would be good with a fresh tomato sauce too or served in a clear meat broth (which is traditional!). Of course, if you have fresh truffles (particularly white), then those would be a stunning and luxurious way to finish off this dish.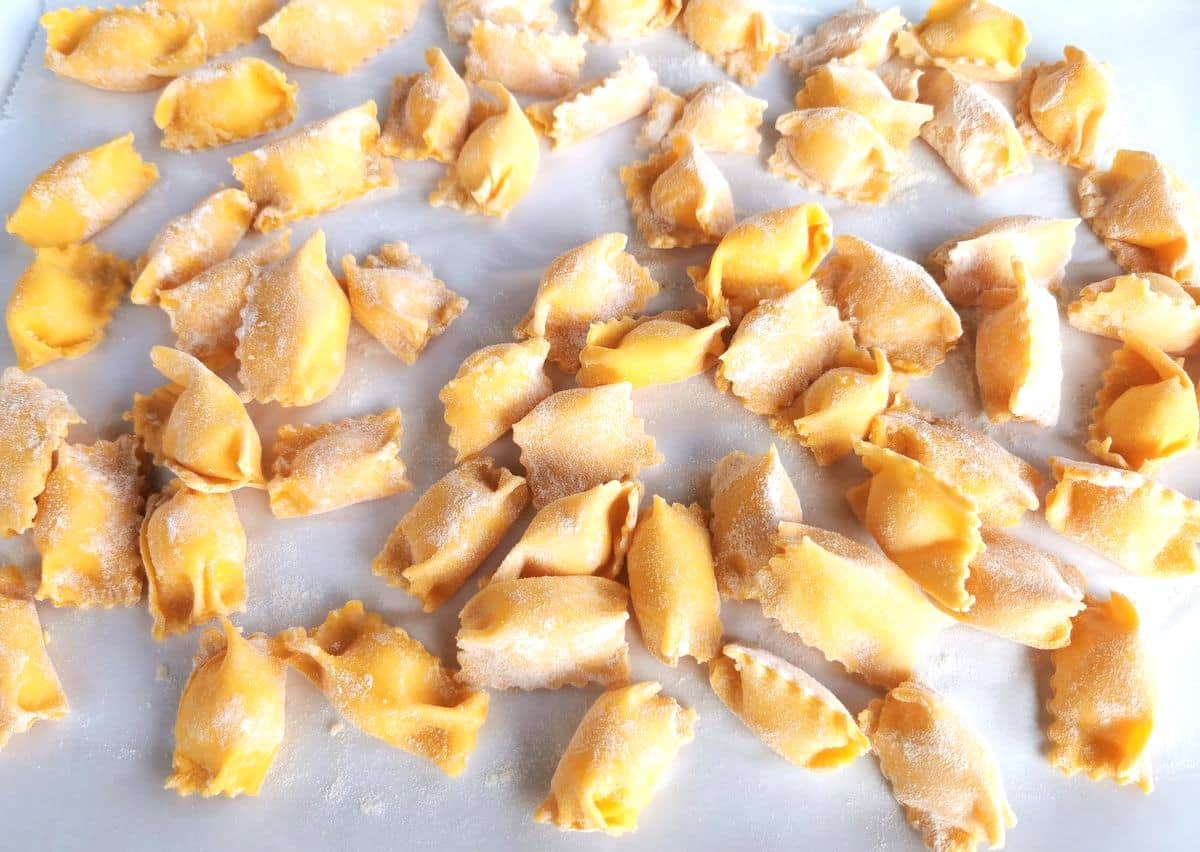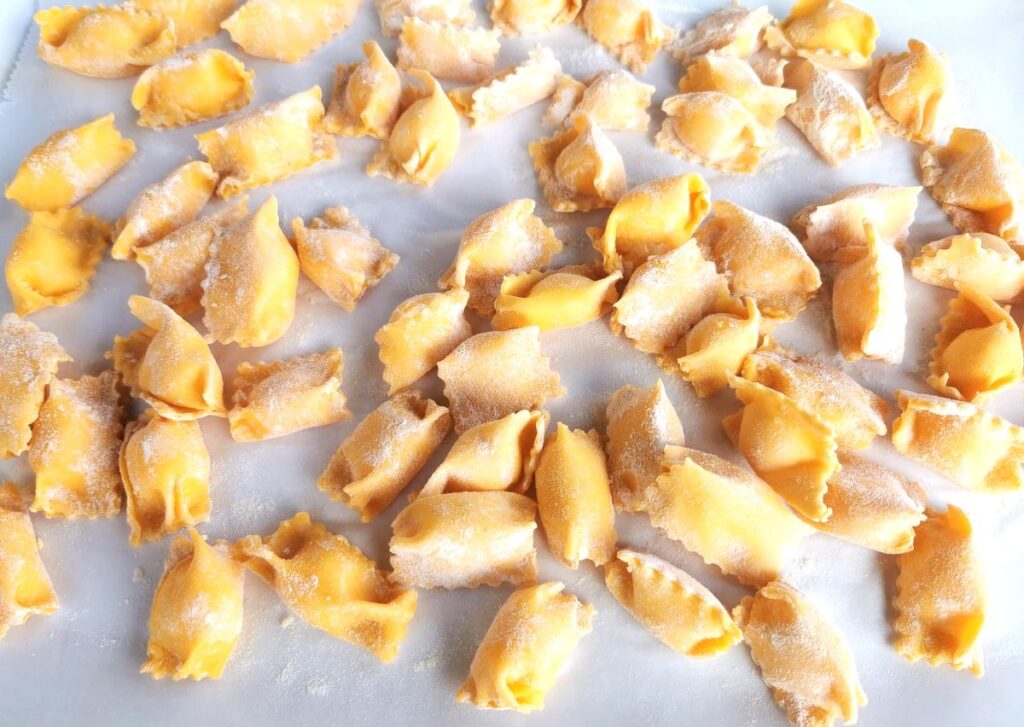 Freezing cheese ravioli del plin.
Like most filled fresh pasta, it's not a good idea to make your cheese stuffed agnolotti del plin too far in advance. The pasta dough will start to get sticky because of the filling. But, if you aren't going to cook the pasta within an hour or so, you can freeze the ready uncooked agnolotti and then cook from frozen. I also like to make extra and freeze the leftover ones. That way I get two delicious meals with the work for one!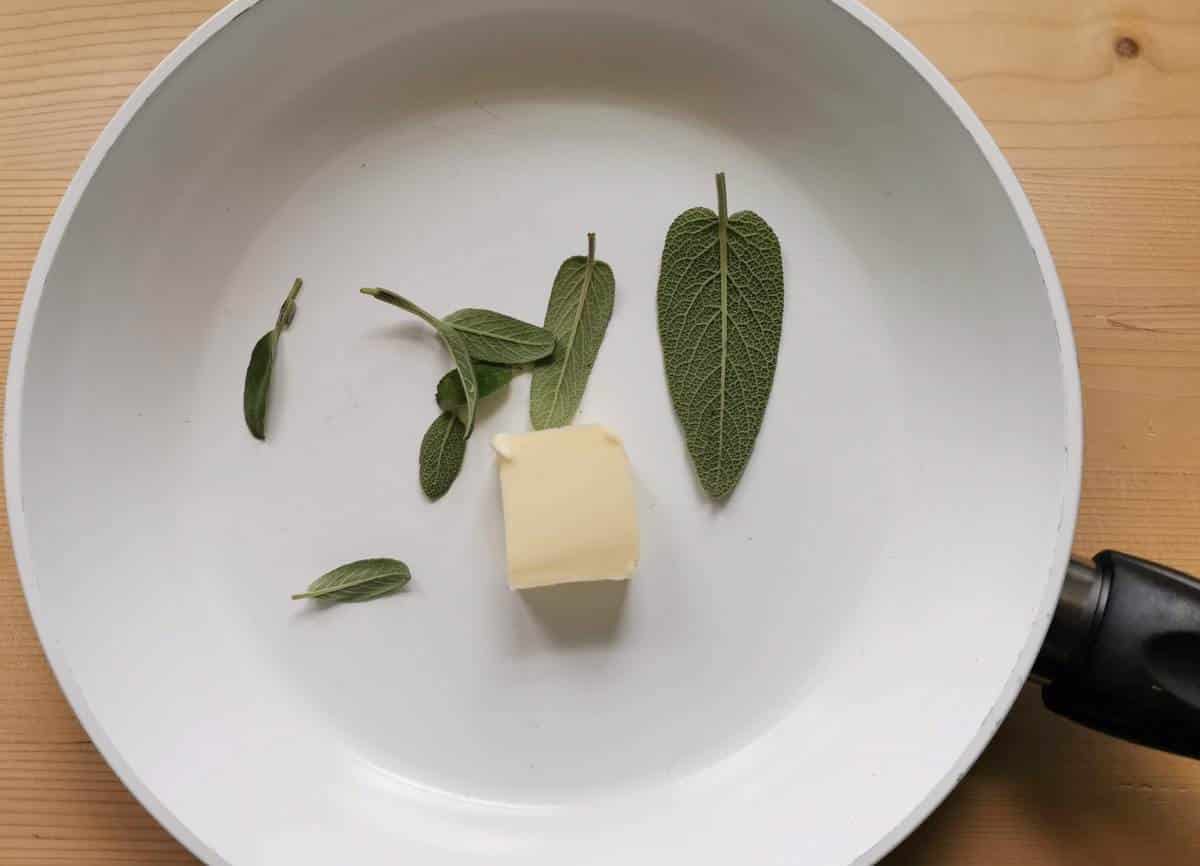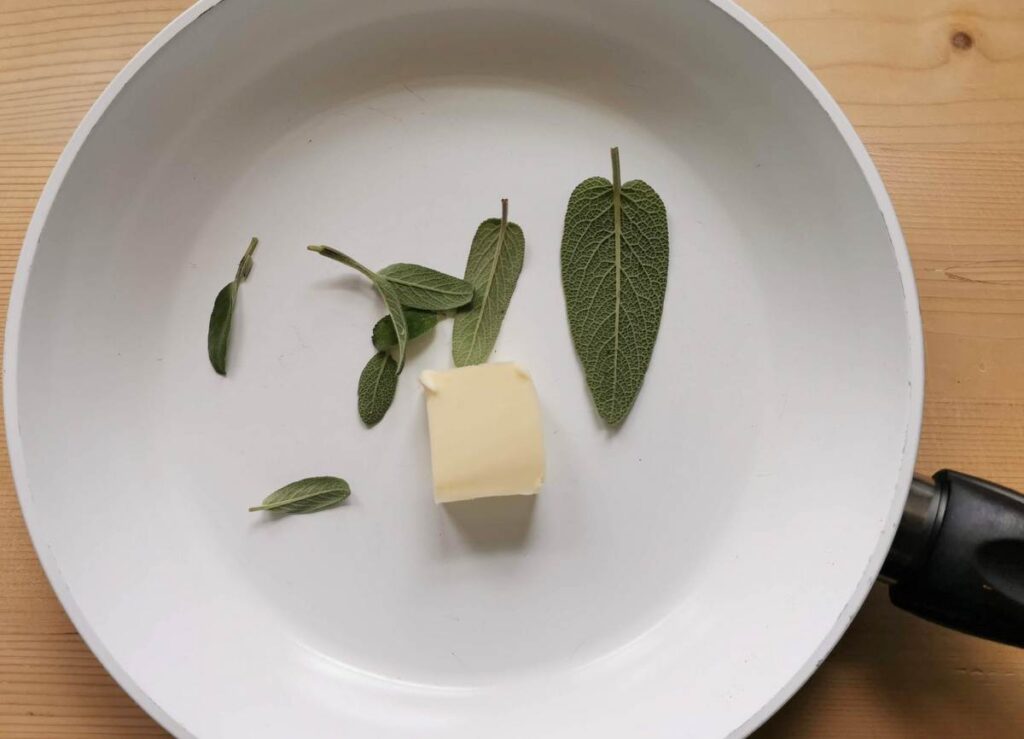 Whether you make and freeze or cook from fresh, I'm sure you'll love these delicate ravioli from Piemonte. This is one of the most divine homemade ravioli recipes I have tried. Italian pasta dishes can be both filling and hearty family meals but also a unique food experience. This recipe is definitely the latter!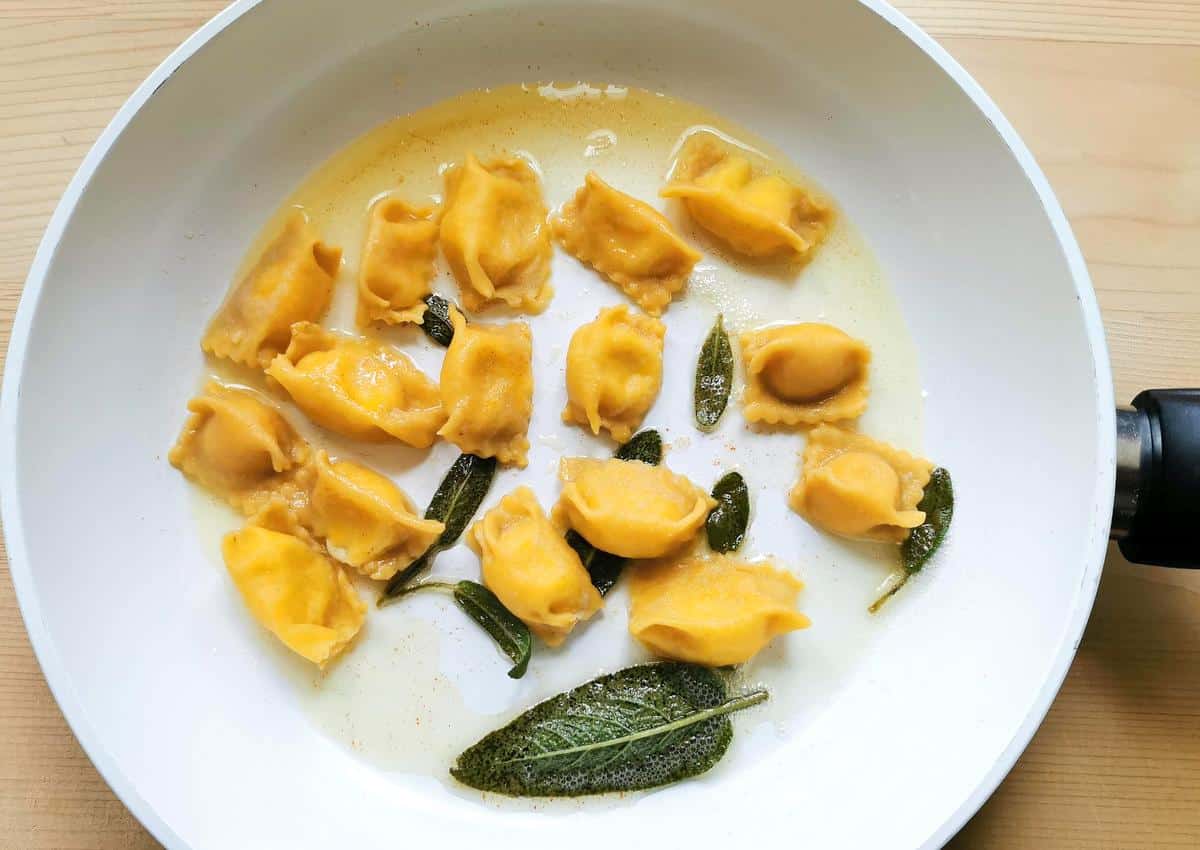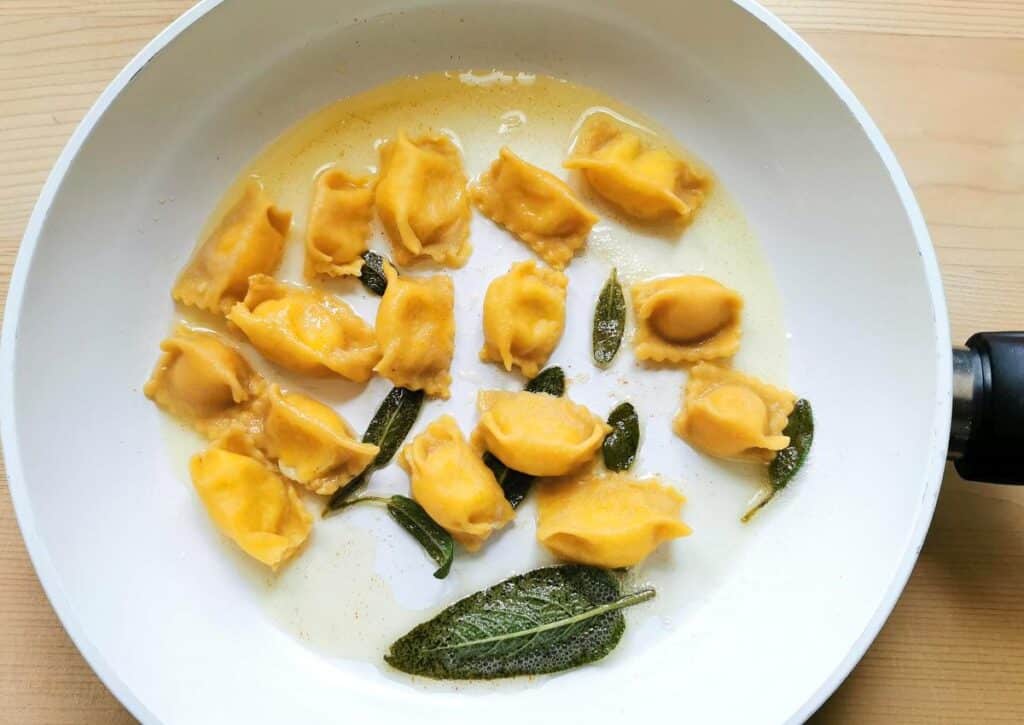 If you do try this cheese stuffed agnolotti del plin, I'd love to hear what you think. Please write a comment here on the blog or post a comment on the Pasta Project Facebook page.
Your feedback means a lot to me!
Buon Appetito!
Other types of homemade ravioli on the blog.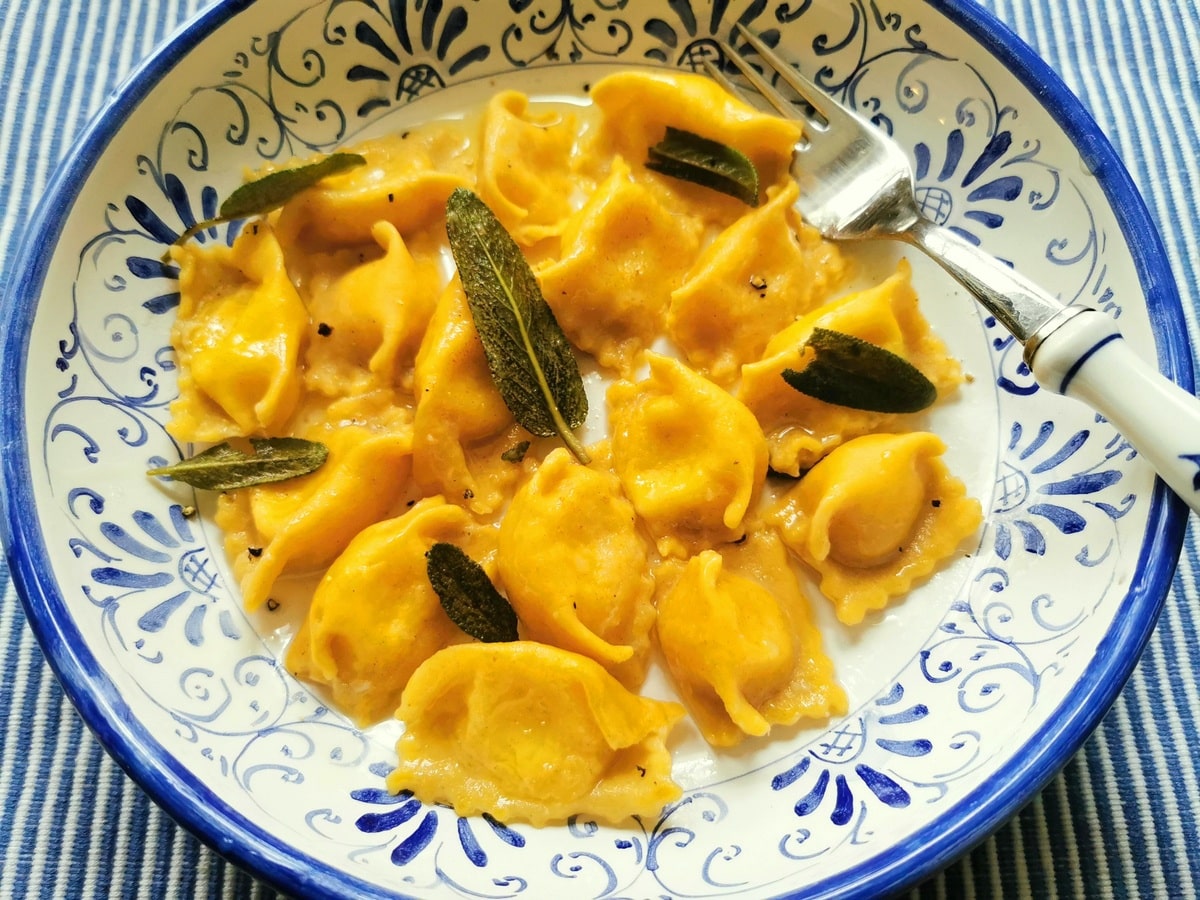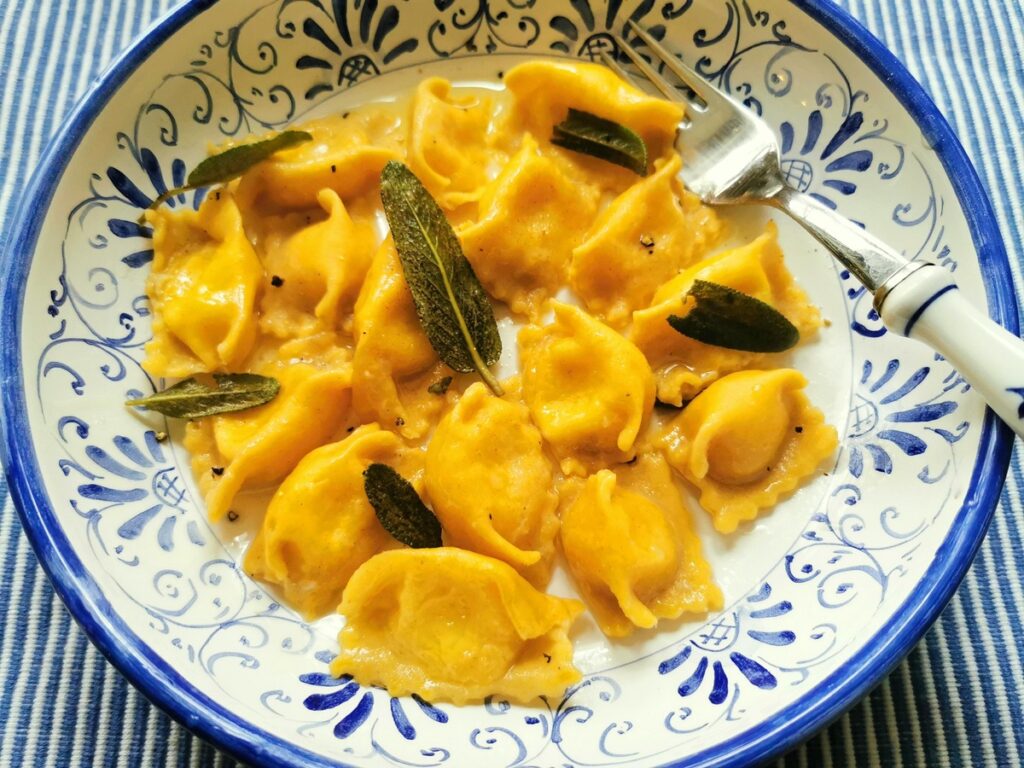 SAVE THIS RECIPE FOR LATER?
If you want to save this recipe for later, you can print it, bookmark this page or save it to Pinterest.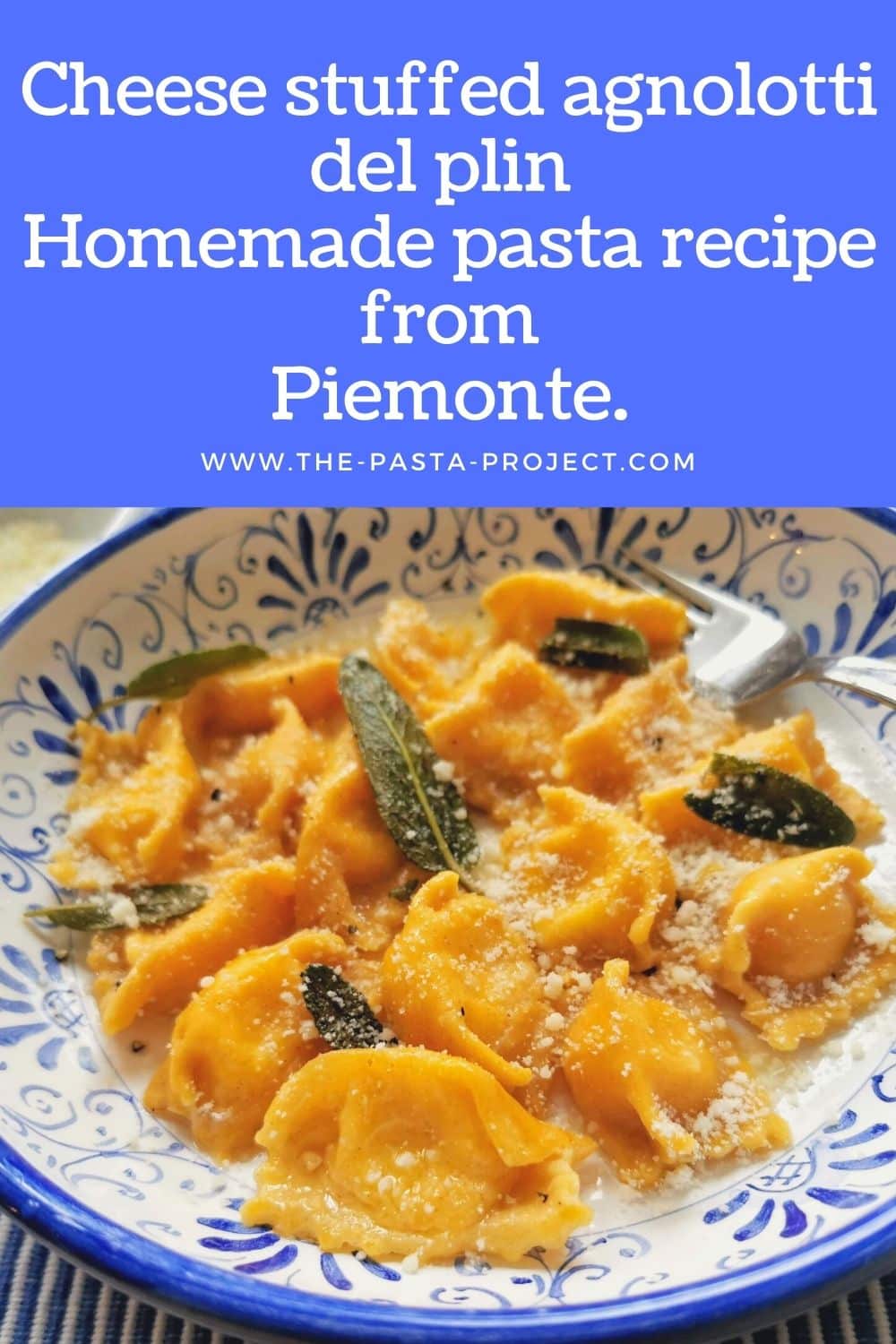 If you are interested in learning how to make other homemade pasta and different types of gnocchi, check out my shop page for some great video online courses from my friends in Rome! Nothing beats learning to make pasta from Italians! Plus while you're there why not order a copy of my newly published autumn/winter pasta recipes cookbook!?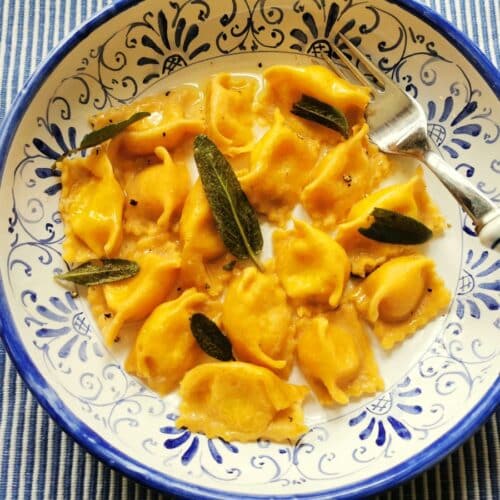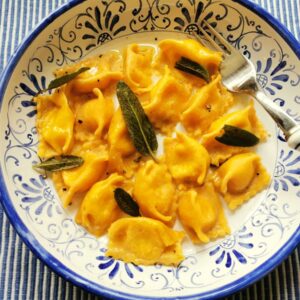 Cheese stuffed agnolotti del plin pasta recipe from Piemonte.
These fabulous homemade agnolotti del plin or ravioli del plin are filled with cheese fondue and served in a traditional butter and sage sauce. A divine recipe to impress your guests and for special occasions.
Ingredients
For cheese fondue filling
150

g

Fontina cheese

(5oz) or gruyère or provolone

50

g

butter

(2oz)

120

ml

milk

(1/2 cup)

1

egg yolk
For pasta dough
400

g

Italian '00' soft wheat flour

(14oz) or all-purpose flour – sifted

3

eggs

large

1

egg yolk

keep white to brush pasta dough

1

tbsp

extra virgin olive oil.

durum wheat semolina flour

for dusting and flouring
For sauce
fresh sage leaves

as required

50

g

unsalted butter

(2oz)

50

g

Parmigiano Reggiano

grated (2oz) Strict vegetarians should use a cheese that's made without animal rennet.

salt

for pasta and to taste.
Instructions
Make the filling
Cut the cheese into small chunks. Warm the milk and add the cheese and stir. Once the cheese has melted, allow to cool and then add the butter and egg yolk. Cook over a low heat while whisking/stirring continuously until the butter has melted and the sauce has thickened. Remove from heat, allow to cool and refrigerate while you make the pasta dough.
Make the pasta dough
Pour the flour into a mound in a bowl, on a wooden pastry board or in your stand mixer. If using a bowl or wooden board create a well in the middle of the flour and add the eggs and egg yolk (usually unbeaten) and the olive oil. Using a fork first, beat the eggs and then with the same fork or a pastry scraper bring flour from the edges of the mound into the centre until the eggs are no longer runny.

If using a stand mixer begin mixing all the ingredients and start kneading dough in the mixer. Then turn out on to a pastry board.

Knead the dough using the heel of your hand and continue until you have a homogeneous dough that is only slightly sticky to touch (usually about 10-15 minutes). If the dough is dry add a little warm water and knead some more.

Form the dough into a ball and leave it to rest for20-30 minutes covered with a tea towel or covered in plastic wrap. I used my kitchen stand mixer to start the dough but finished kneading on my pastry board.
Make the agnolotti del plin.
After the dough has rested, roll ¼ of it into a thin sheet a couple of millimeters thick with a rolling pin or with the help of a pasta machine, starting with the widest setting and then using the narrower ones.

Take the rolled out portion of pasta dough, place it on a floured pastry board and cut off the ends to make a rectangle. Disperse a row of small mounds of filling along the long edge of the pasta sheet closest to you. You can do this with a teaspoon or with the filling inside a pastry bag. We used a teaspoon. Continue along the edge of the pasta sheet, just far enough apart to pinch between each mound with your fingers.

Once the pasta sheet is lined with small mounds of filling, brush around each mound with egg white. Then take a firm hold of each end of the sheet, and turn it over on top of itself, ensuring there is an edge formed on the outer side. Cut away most of the excess dough on the outer side.

Using the index finger and thumb of both hands, pinch the dough on each side of each mound of filling starting at one end. Move down the row of mounds, repinching the one pinched side and closing the open side with a new pinch until the entire row is pinched.

Again, cut any excess pasta dough away from the outer side of the dough sheet using a pastry wheel, leaving enough space to form the agnolotti.

Then with the same pastry wheel, cut between the agnolotti to separate them. Transfer to a well-floured tray while you make more agnolotti. Repeat with the rest of the dough and filling.
Cook and serve
Put a pot of water on to boil for the pasta. Add salt once it starts to boil and bring to the boil again. Add the agnolotti and cook until they rise to the surface of the water. Remove with a slotted spoon and add to the sauce. It's a good idea to try one before removing them all.

In the meantime, melt the butter in a pan that's large enough to hold the pasta. Add the sage leaves and sauté them until they are slightly crispy.  Add the drained pasta to the butter and sage. Toss gently and serve with a sprinkling of Parmigiano (if required).
Notes
If you aren't going to cook the pasta within an hour or so, you can freeze the ready uncooked agnolotti and then cook from frozen.
Want to know more about my life in Italy? Why not subscribe to my newsletter? New subscribers get a free recipe e-book too!
Pin for later.