Beautiful traditional homemade Italian ravioli or agnolotti with a typical meat and spinach filling. You can serve this meat ravioli in different ways. Cook and eat these delectable pasta parcels in broth, or just a delicate but rich sage and butter sauce. Also delicious with a simple tomato sauce and grated cheese.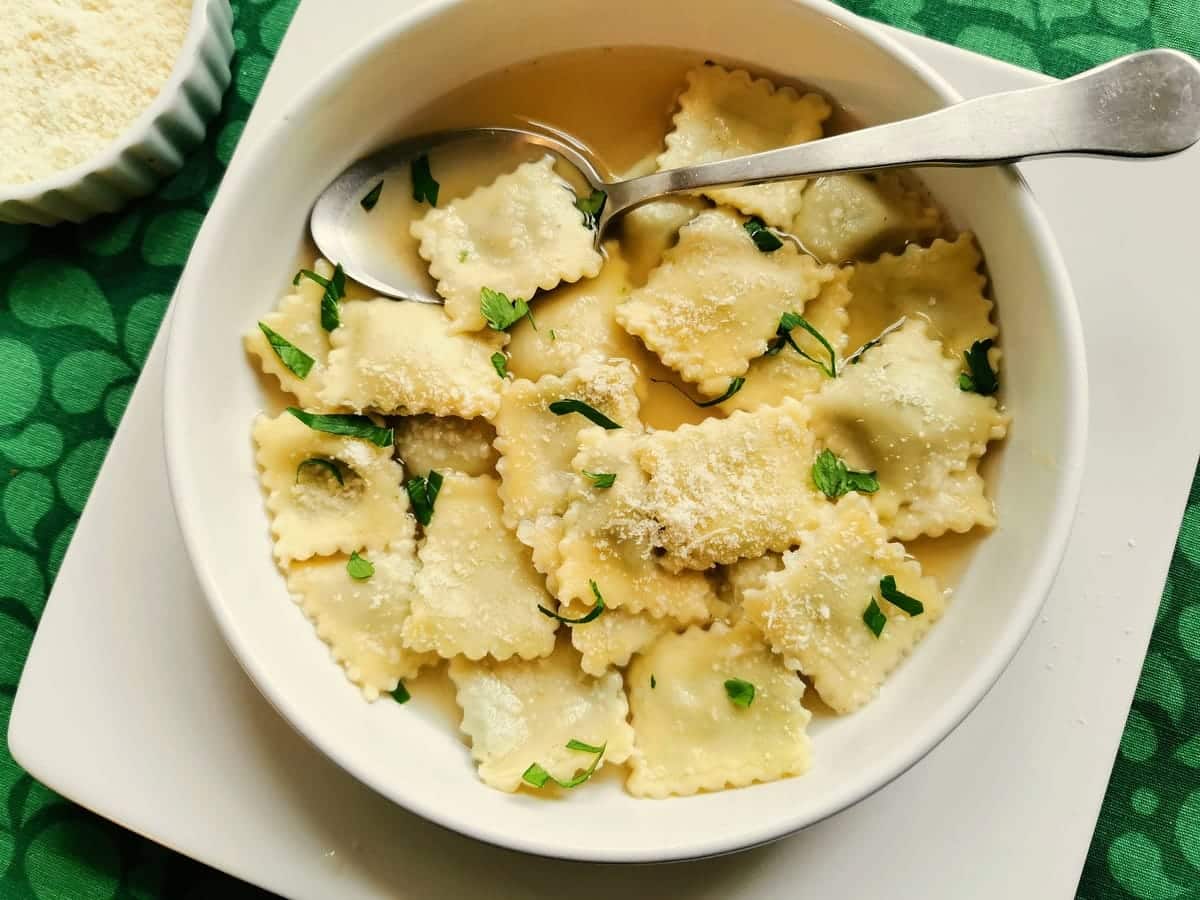 A Northern Italian meat ravioli recipe.
This recipe for homemade meat ravioli comes from the Northern Italian region of Piemonte (Piemont). There, they refer to the local ravioli as agnolotti.
In fact, you can find Italian ravioli called by a number of different names depending on the region the recipe comes from and the shape. For example, in Tuscany, Emilia-Romagna and Lombardy, they often call filled pasta squares tortelli.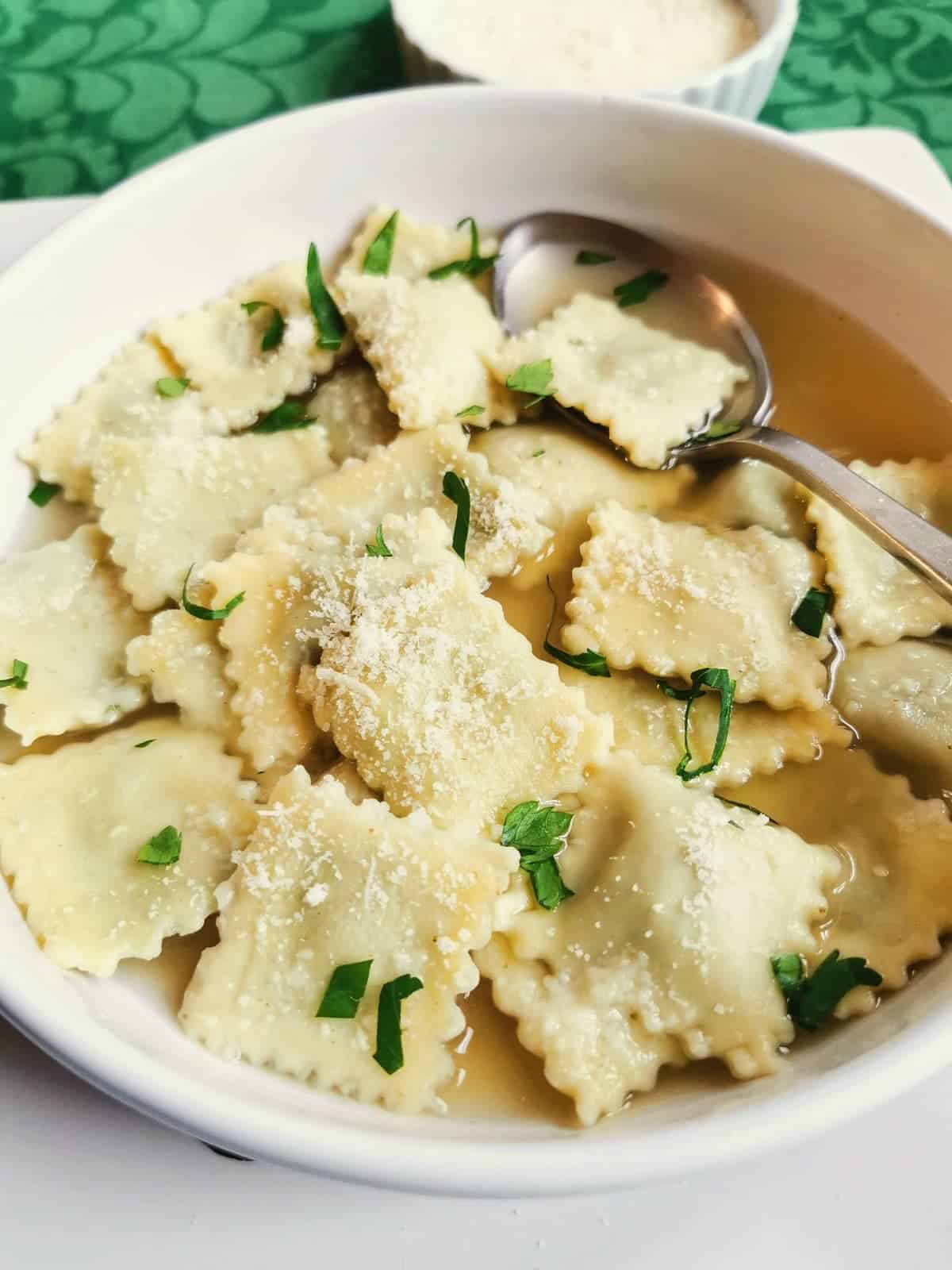 Two types of Agnolotti.
In Piemonte, there are two types of agnolotti. The first is small squares of usually meat filled pasta like in this recipe. The other is agnolotti del plin, although many people refer to these pasta parcels as just agnolotti.
Agnolotti del plin has a unique shape. This filled pasta is slightly rectangular because each raviolo is pinched at both ends. In fact, the word 'plin' means pinch.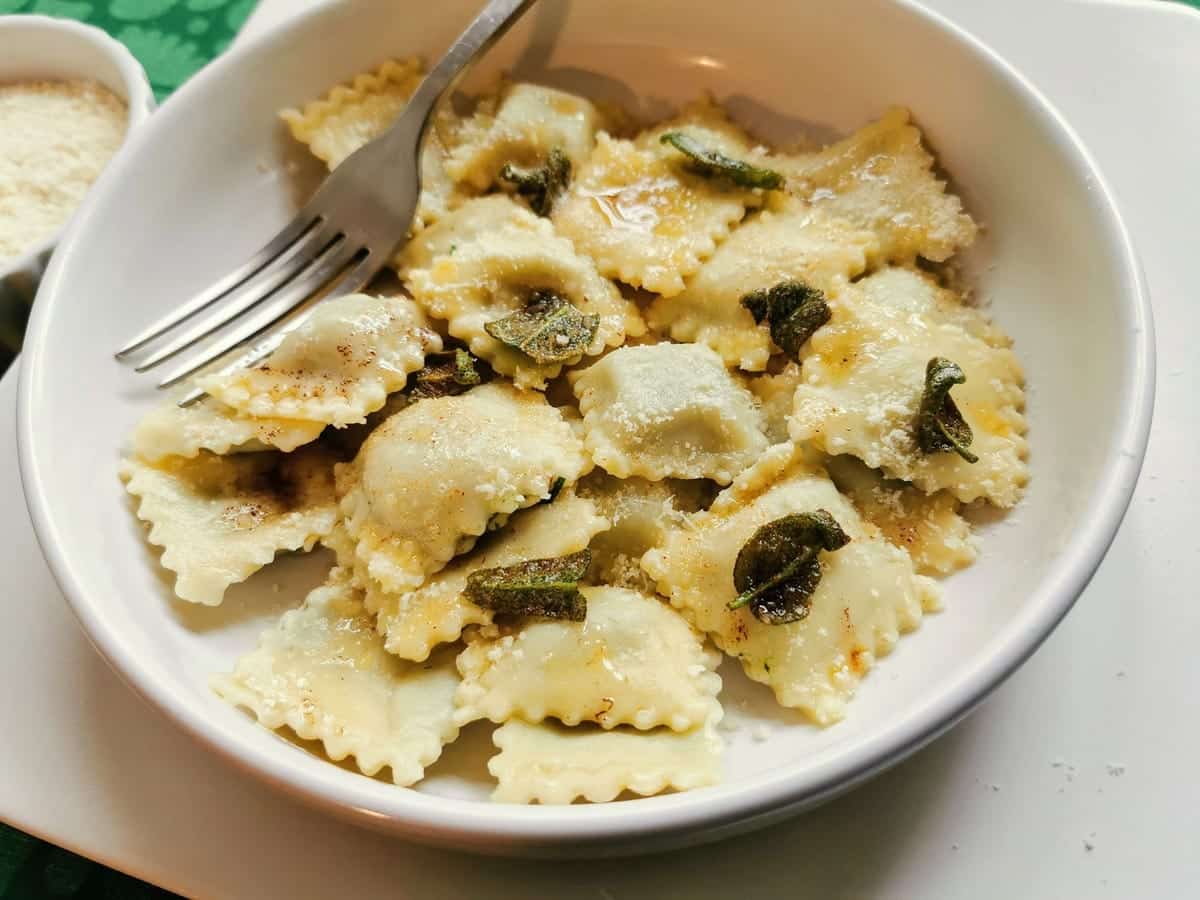 If you want to try making pinched agnolotti yourself, you can check out my recipe on how to make agnolotti del plin. I filled this pasta with a cheese fondue, but you can also use the filling in this classic agnolotti recipe as well.
What's the difference between agnolotti and ravioli?
Classic agnolotti and ravioli are practically identical. What differs in most versions is the filling and the shape. Ravioli isn't always square. Italians also make rectangular, round or half-moon shaped filled pasta and call it ravioli.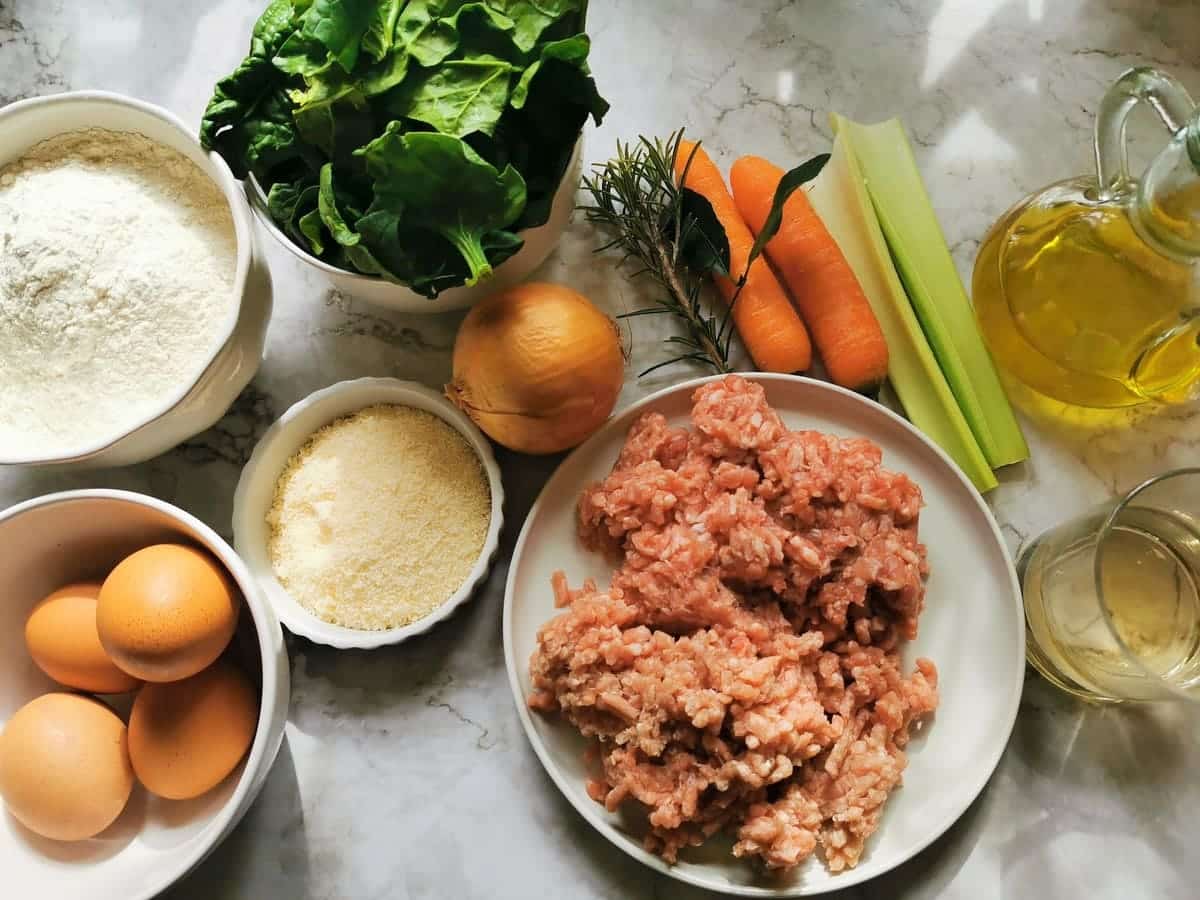 Nowadays, agnolottis are mostly always small, filled pasta squares, except when pinched. However, in the past, people also made them round.
The filling for classic Italian ravioli can be made with a number of different ingredients. Ricotta with or without a green leaf vegetable such as spinach or chard is a popular and very traditional ravioli filling. Some ravioli is filled with meat and others with fish.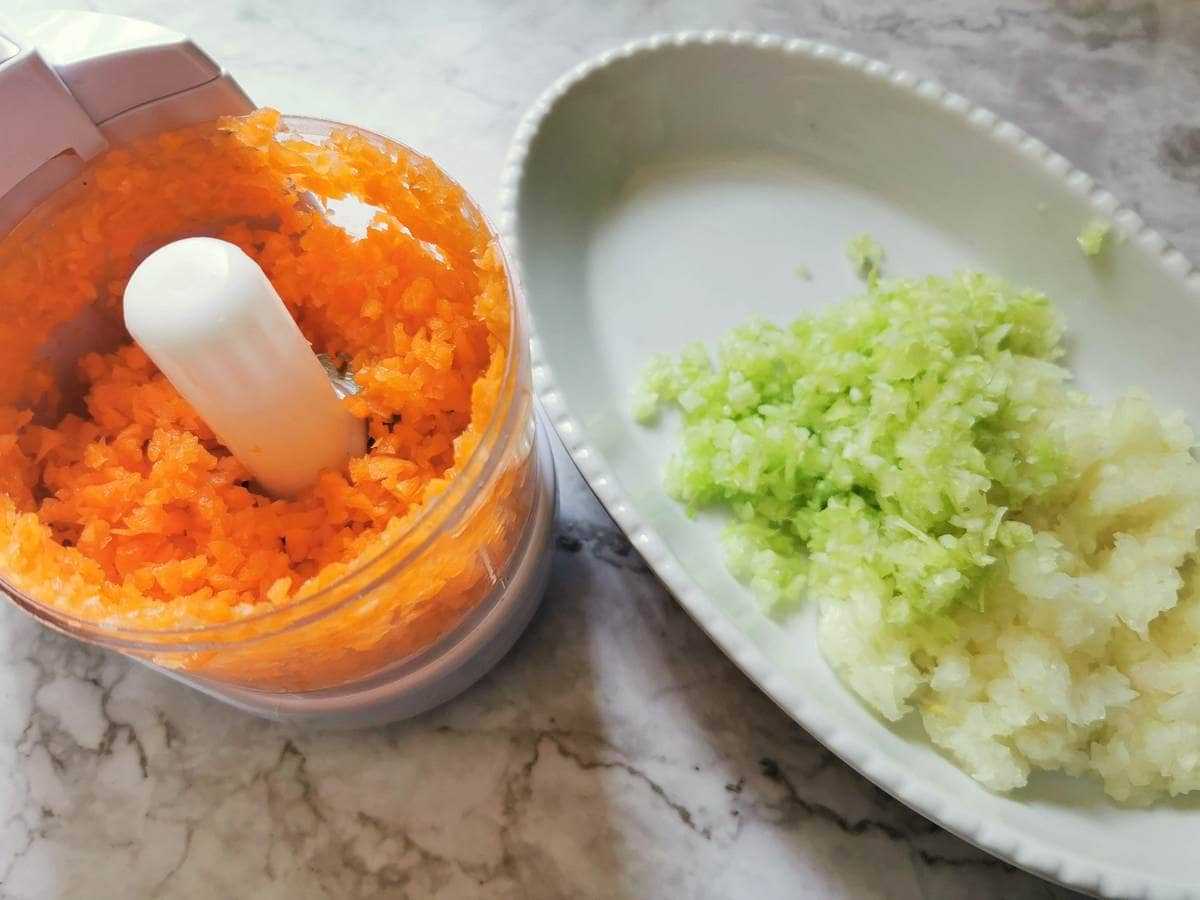 Piemontese agnolotti filling is nearly always a combination of 2 to 4 different meats such as pork, veal, rabbit, chicken and sausage. The meat is often braised or pot roasted beforehand and then combined with vegetables such as spinach, chard or escarole. The filling also usually includes grated Parmigiano, egg and nutmeg.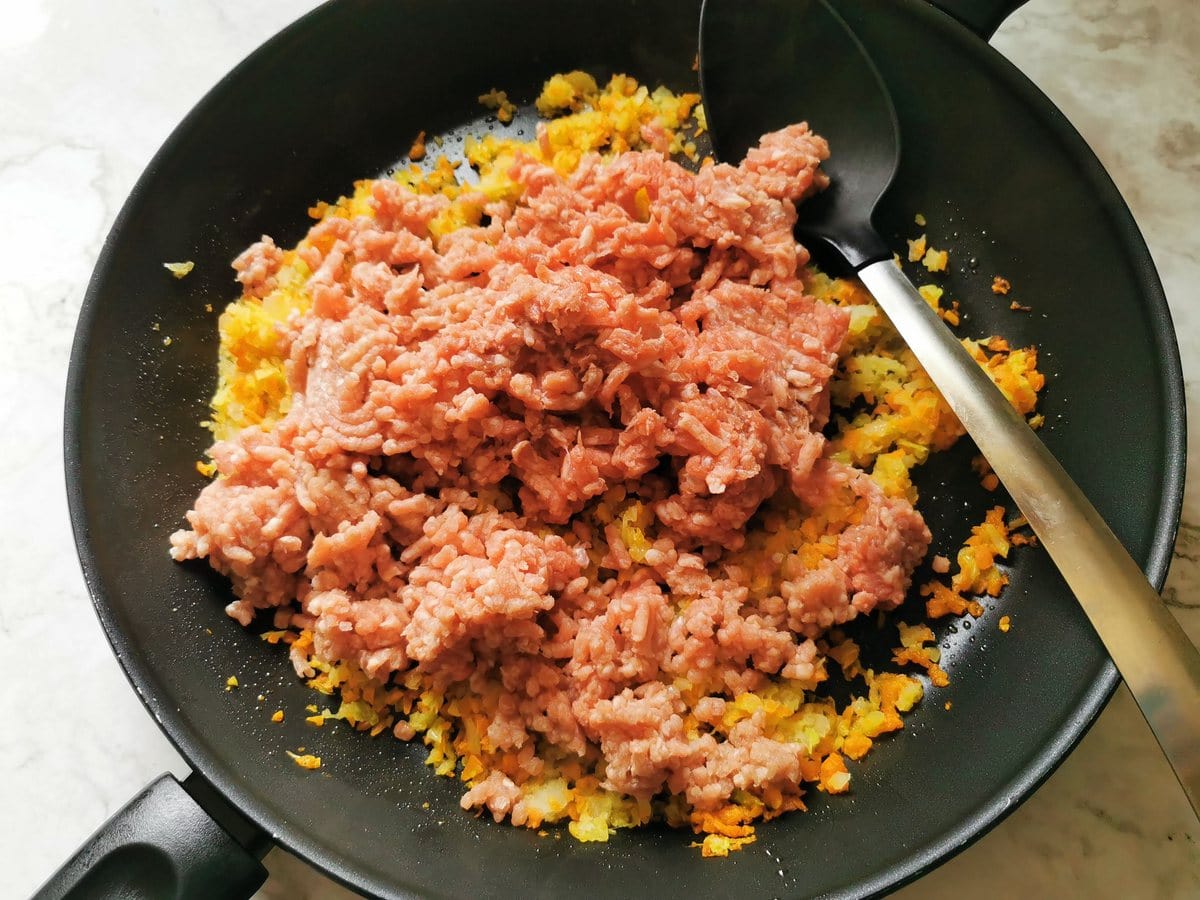 How to make the meat filling the traditional way.
To make the filling for this meat ravioli (agnolotti), the traditional way would be to first braise each type of meat separately! So, you would have a pork pot roast, a beef pot roast and maybe a rabbit pot roast going on the stove! Once each type of meat is ready, the cooking juices are mixed together to make the sauce for the agnolotti.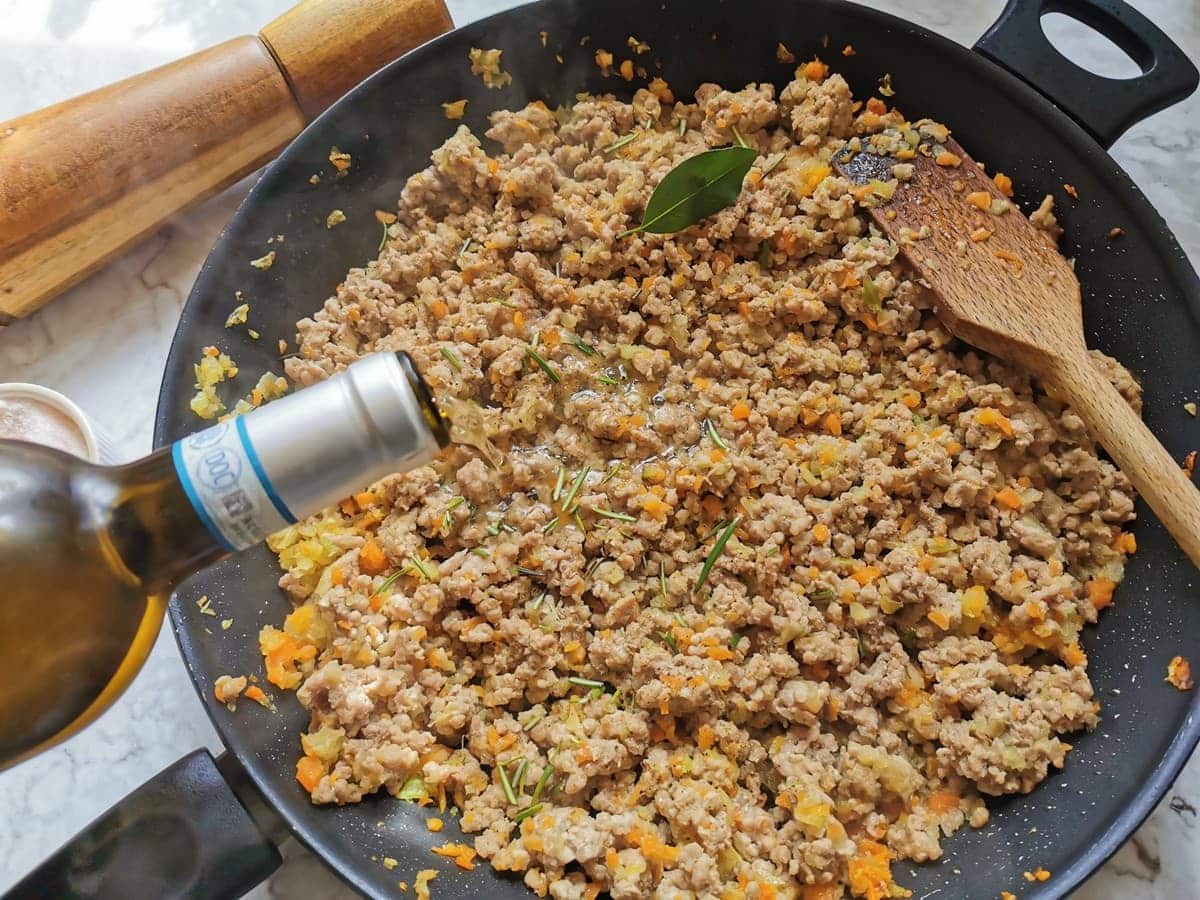 The meat is than removed from the bone and puréed in a food processor along with the precooked greens some parmigiano and sometimes an egg! Pretty time consuming and lots of pots to wash!
How to make the meat filling the easy way.
Here in Italy, as in other countries, these days home cooks often like to make dishes in easier ways than how they were prepared in the past. When looking for recipes for this meat filled agnolotti, I came across a number of versions that call for ground meat instead of cuts that need braising.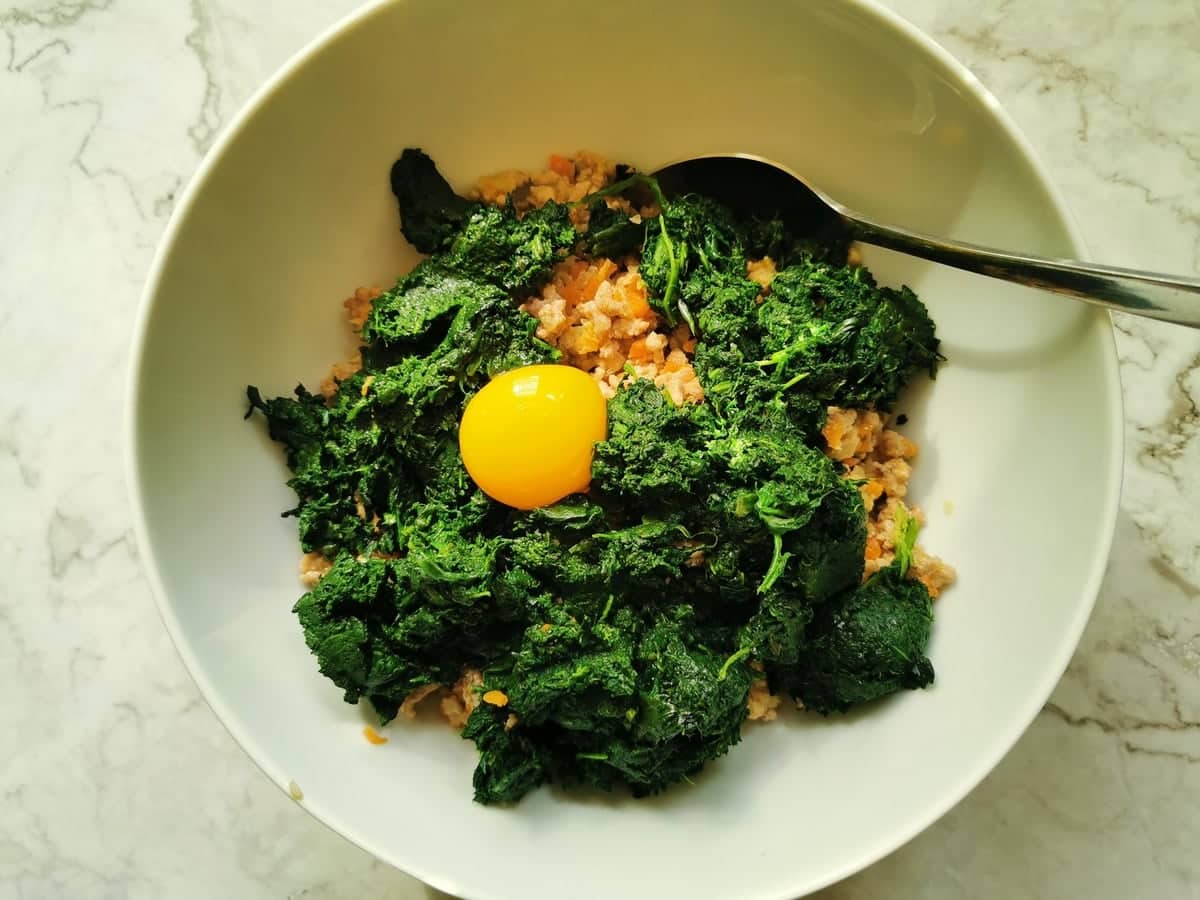 The original version is out of this world, but to make this ravioli at home, it's far easier to use ground meat. So, this version of meat filled agnolotti calls for ground pork leg meat and ground veal shoulder.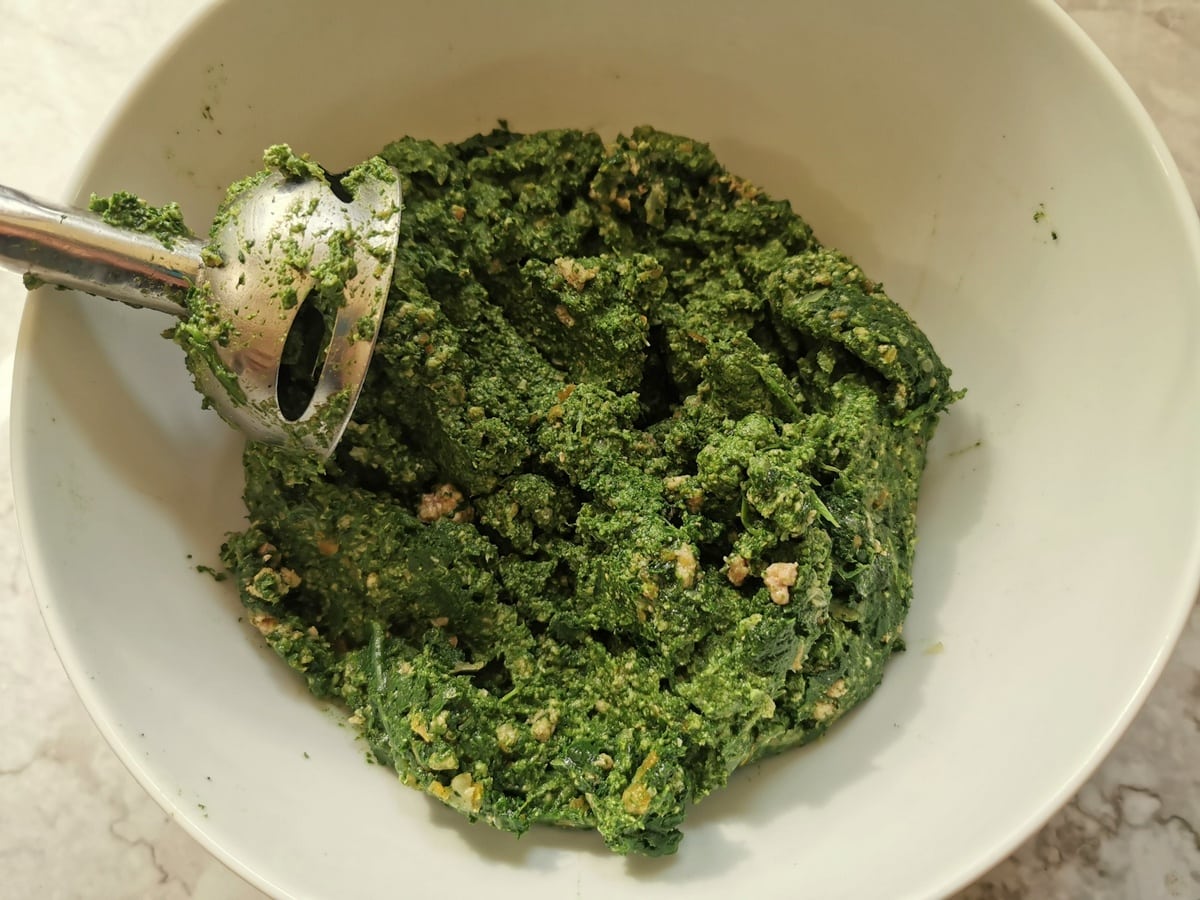 Of course, you can also use other cuts of pork and veal or replace the veal with beef. You can also add sausage meat and even ground chicken.
Other filling ingredients.
Apart from the meat, this filling calls for spinach, an egg, Parmigiano, an onion, carrots, celery, white wine, a bay leaf and fresh rosemary.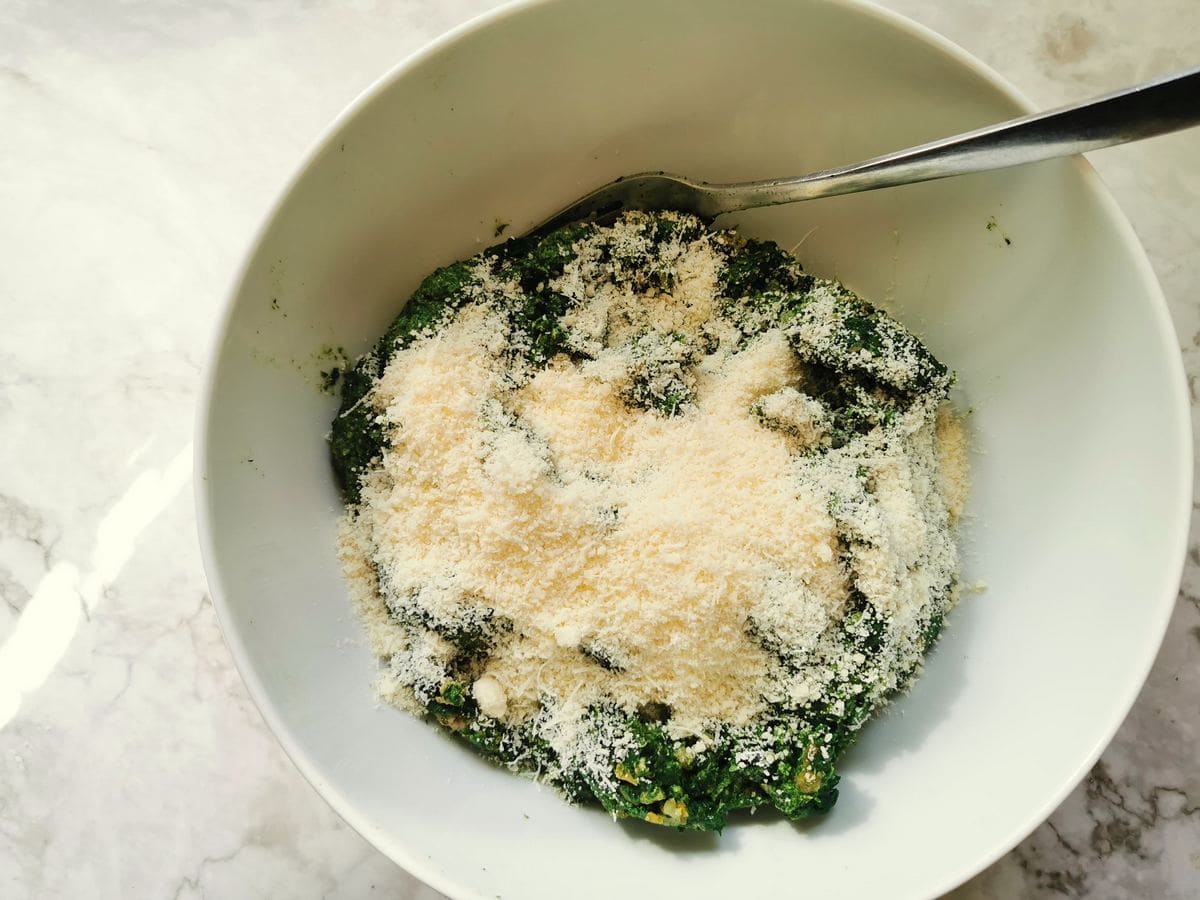 How to make this meat filling.
The first step to making the filling is to cook the meat in olive oil with finely chopped onion, carrot, and celery. Then simmer everything in some white wine, after adding the herbs, salt and pepper.
While the meat is cooking, wilt the spinach in a little water. Then drain it very well and chop finely.
Once the spinach and meat have cooled put them in a bowl with an egg and some grated nutmeg . Next roughly purée everything together using an immersion blender.
Lastly, add some grated Parmigiano and mix it into the filling.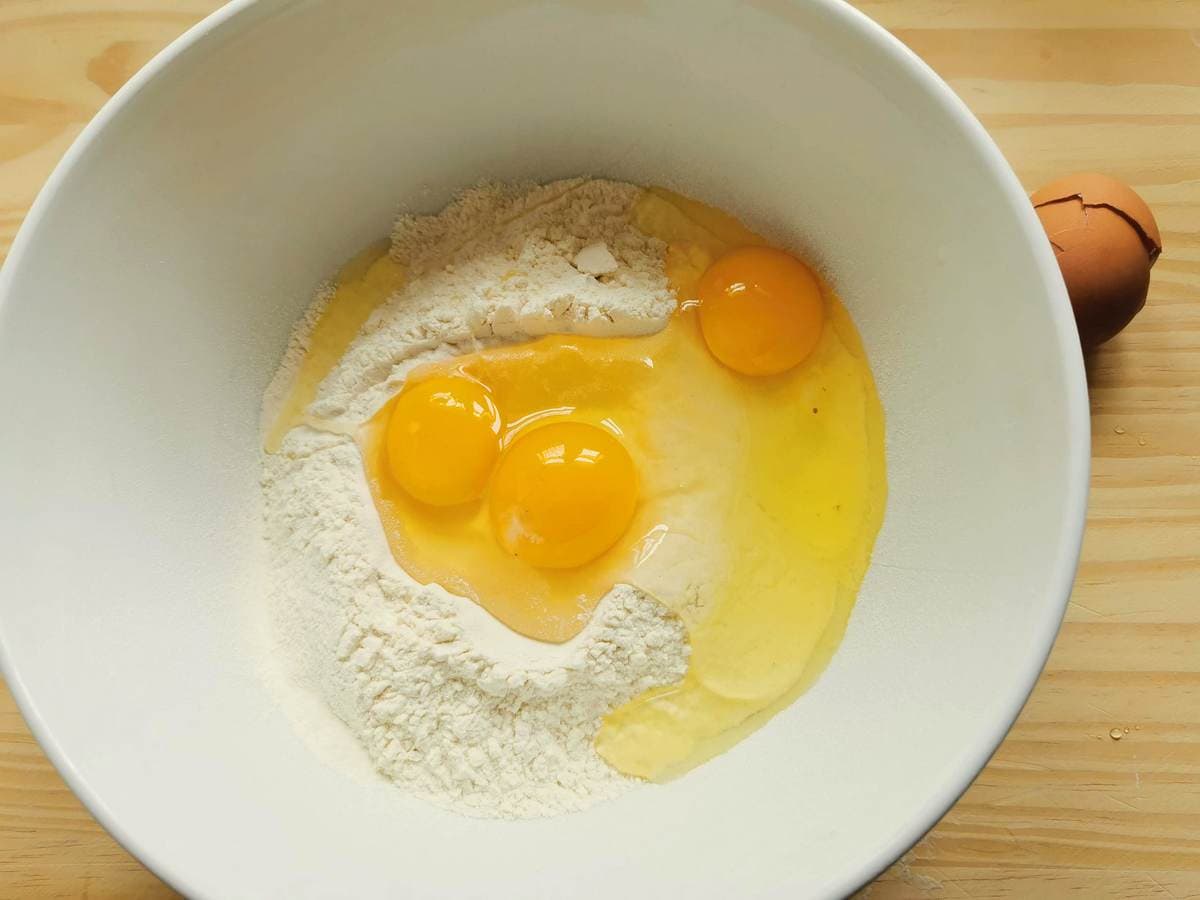 How to make the agnolotti dough
The dough for this meat filled agnolotti contains, soft wheat flour, eggs, a little olive oil and salt. I used 300g (10.5oz) of flour and 3 large eggs. This was enough to make around 90 small raviolis.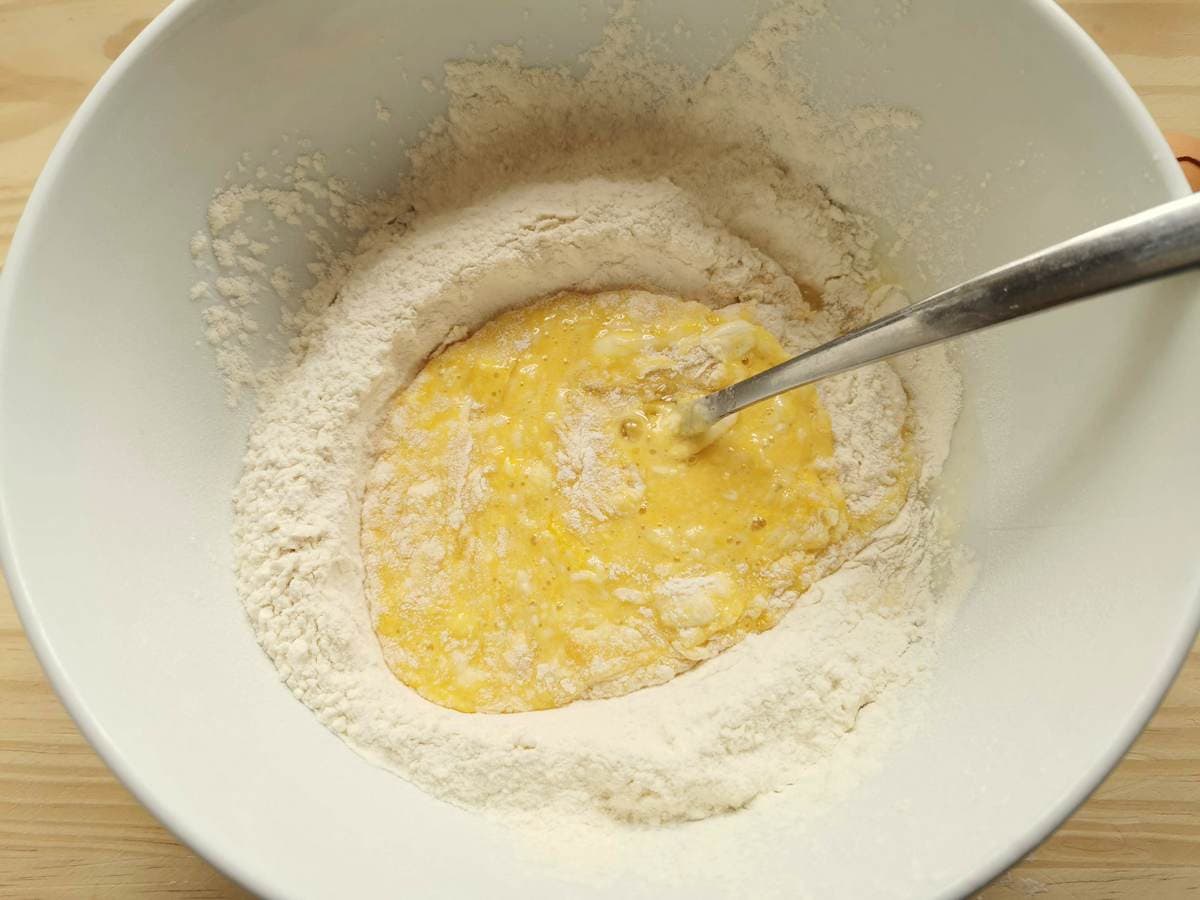 Traditionally, a serving of small, filled pasta is about 20-24 pieces per person. But obviously the actual size, how the pasta is served, and personal taste make a difference to how many each person has.
The dough in this meat ravioli recipe is made in the same way as most egg pasta dough.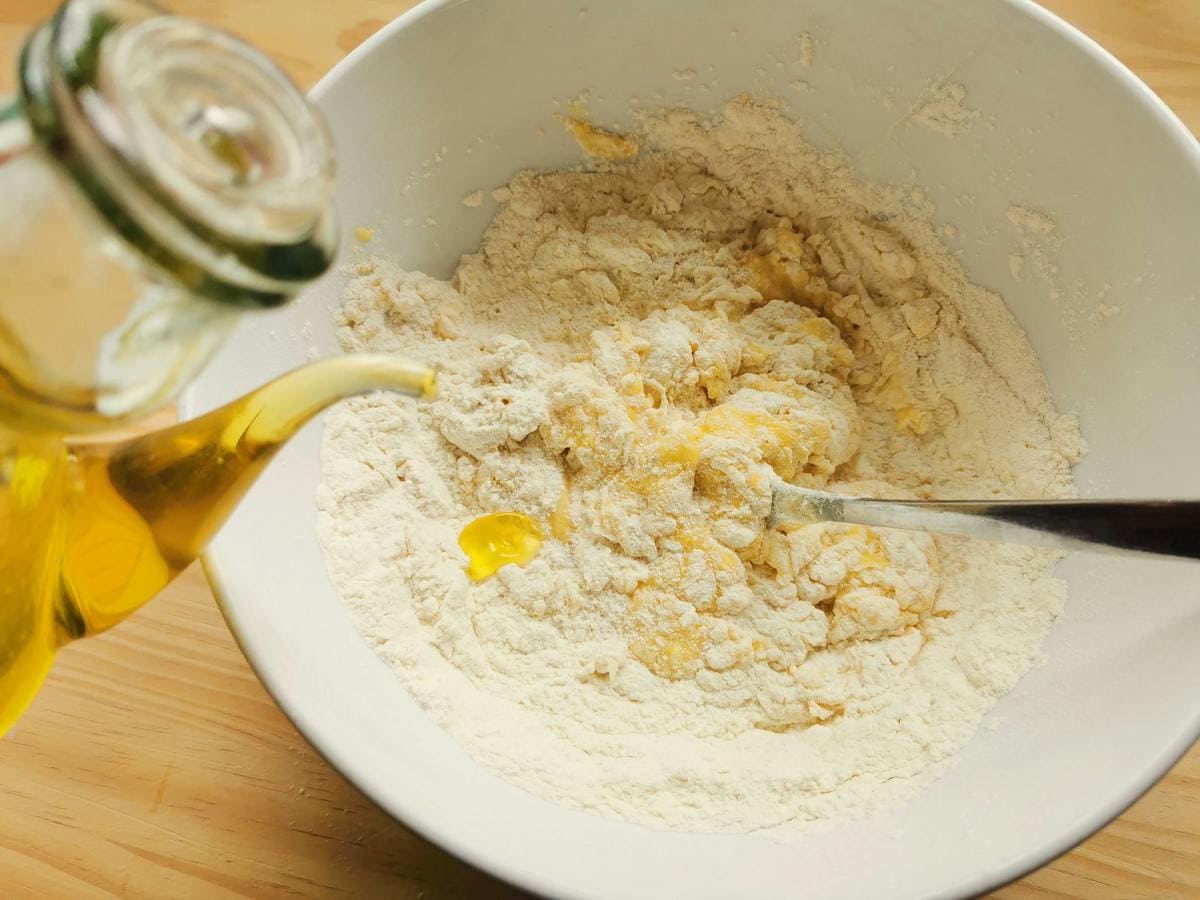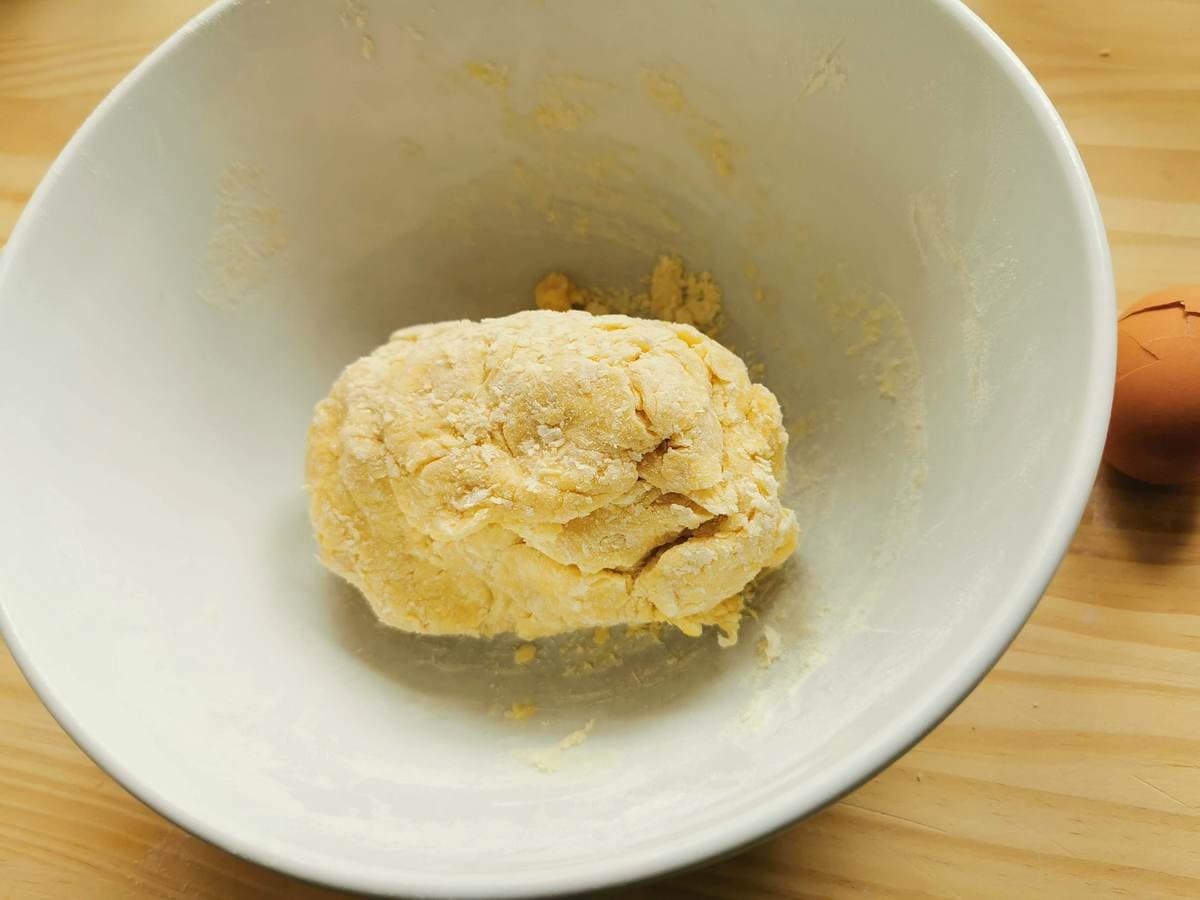 First mix the eggs, flour, olive oil and salt together. I do this in a large bowl using a fork. Many Italians start the dough on a wood pastry board.
Once the dough starts to come together, I continue mixing and then kneading with my hands until it no longer sticks to the sides of the bowl.
Finally, I turn the dough out onto a floured wood pastry board and knead for about 10 minutes until it's quite soft, smooth and pliable.
The final step is to roll the dough into a ball, wrap it in cling film or a damp tea towel and let it rest for 30 minutes.
You can also make the dough in a stand mixer.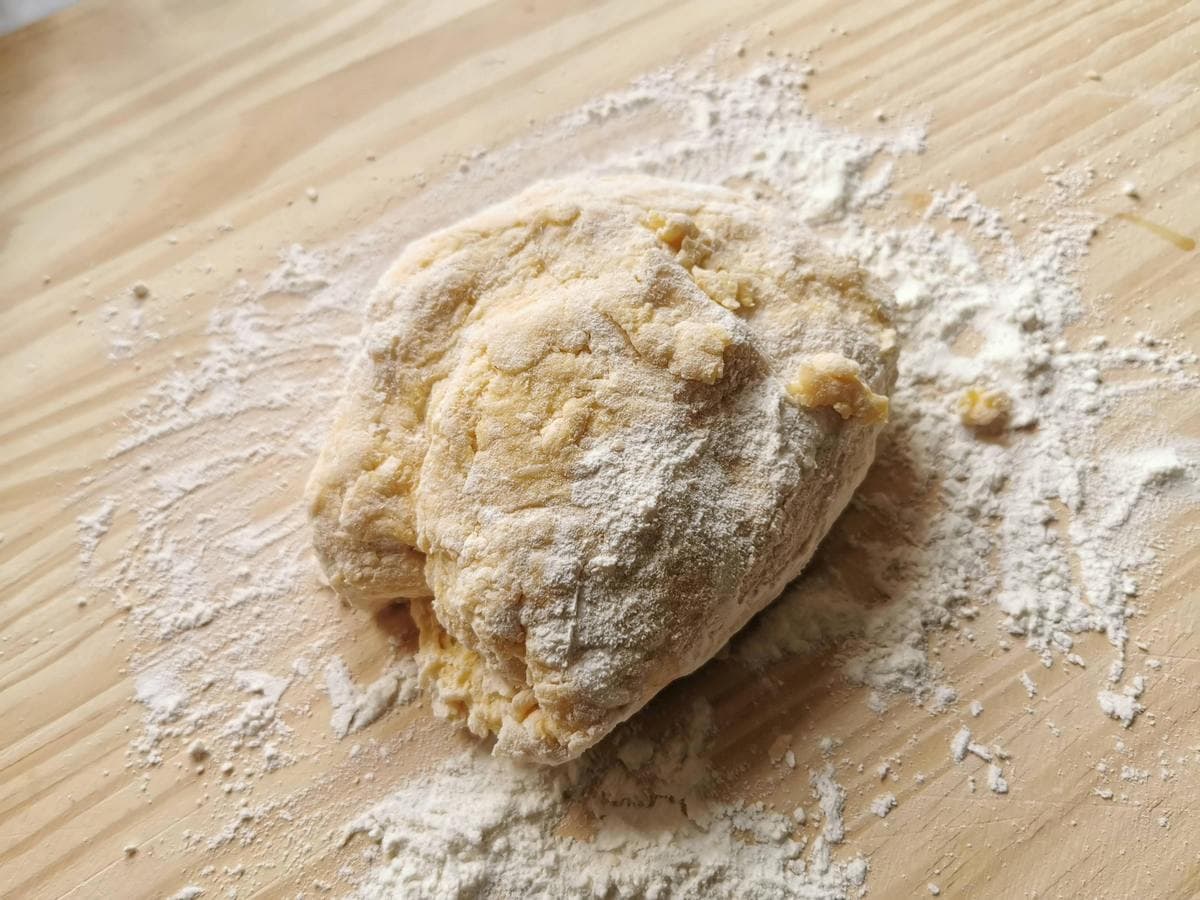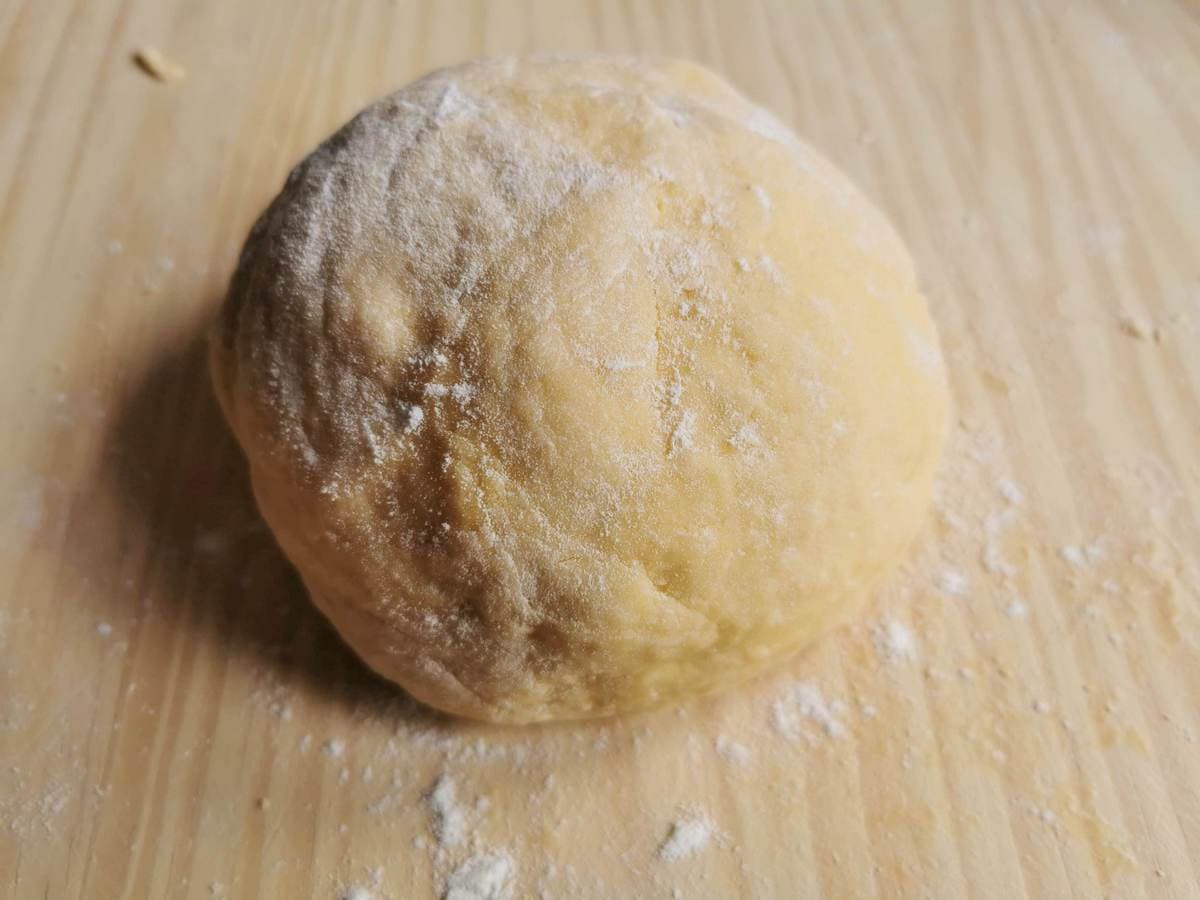 How to make ravioli with a mold/press.
Once the dough has rested, cut off about ¼ of it. Flatten this piece using the palms of your hand or a rolling pin and then pass it through a pasta machine until it's the right thickness. (see the recipe instructions for details). You can also roll the pasta sheets out using just a rolling pin.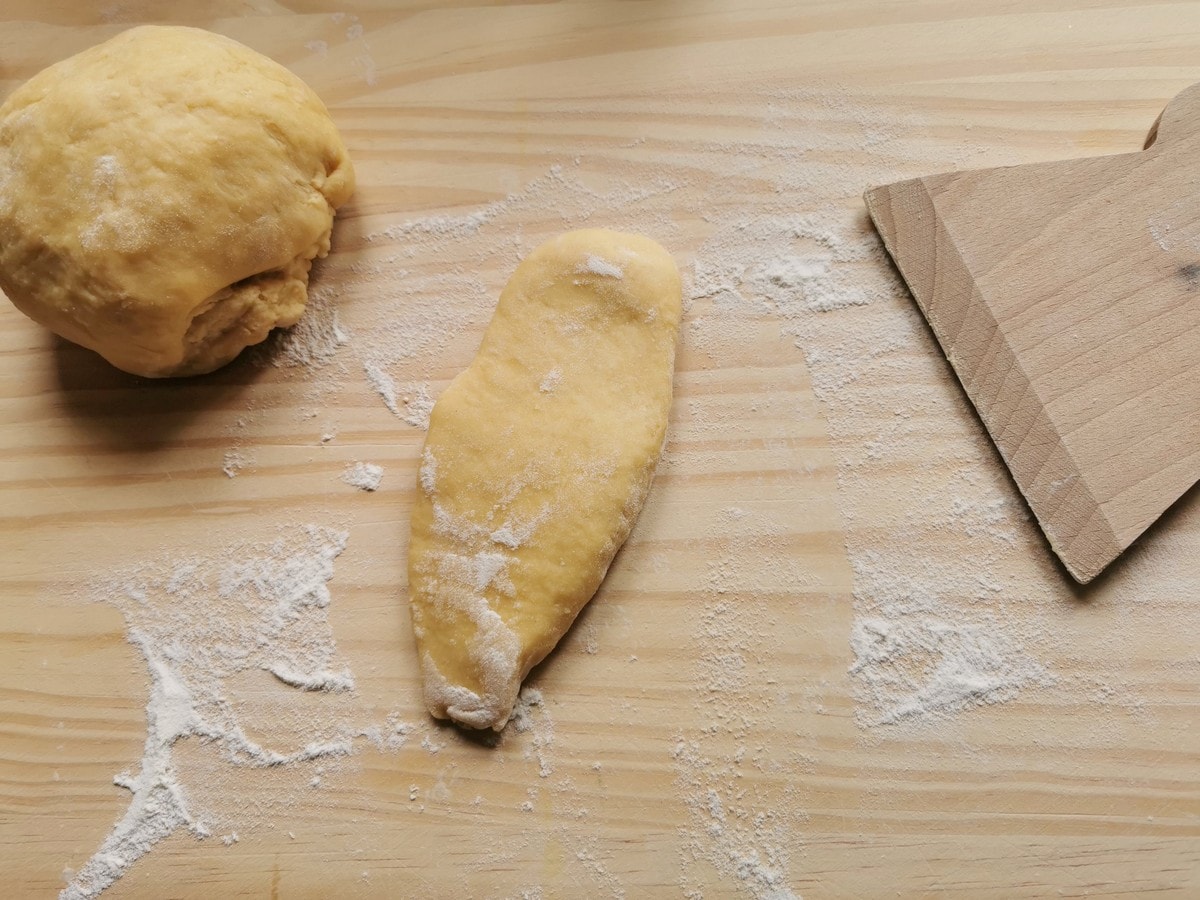 I used an aluminium ravioli mold/maker to make my agnolottis. But, they can also be made without. However, the mold makes it easier to produce small pasta parcels and get them all the same size. The mold I used makes 24 agnolotti at a time each measuring 2.5cm x 2.5cm (just over an inch).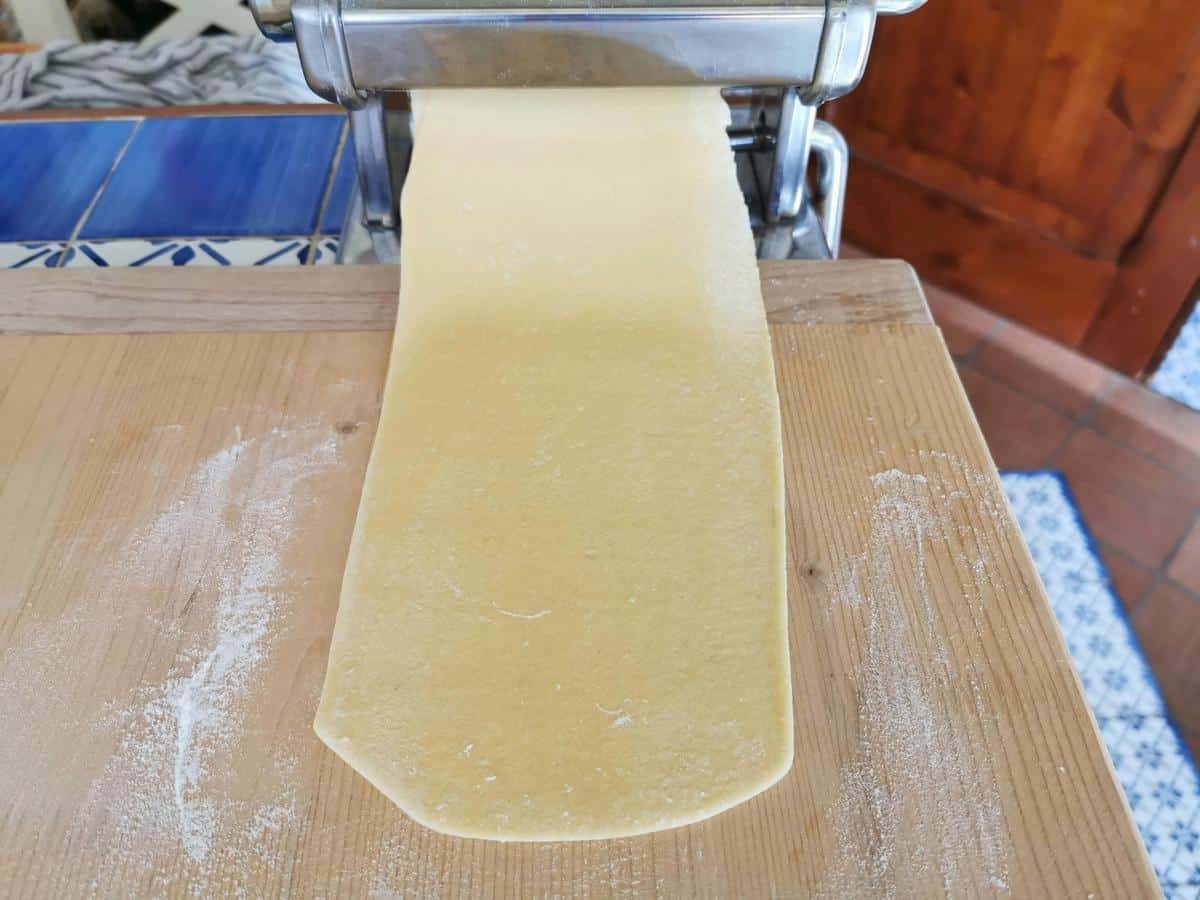 The idea is to lay a rectangular sheet of rolled out pasta dough over the whole mold after dusting the latter with flour. The sheet needs to be a bit bigger than the ravioli maker.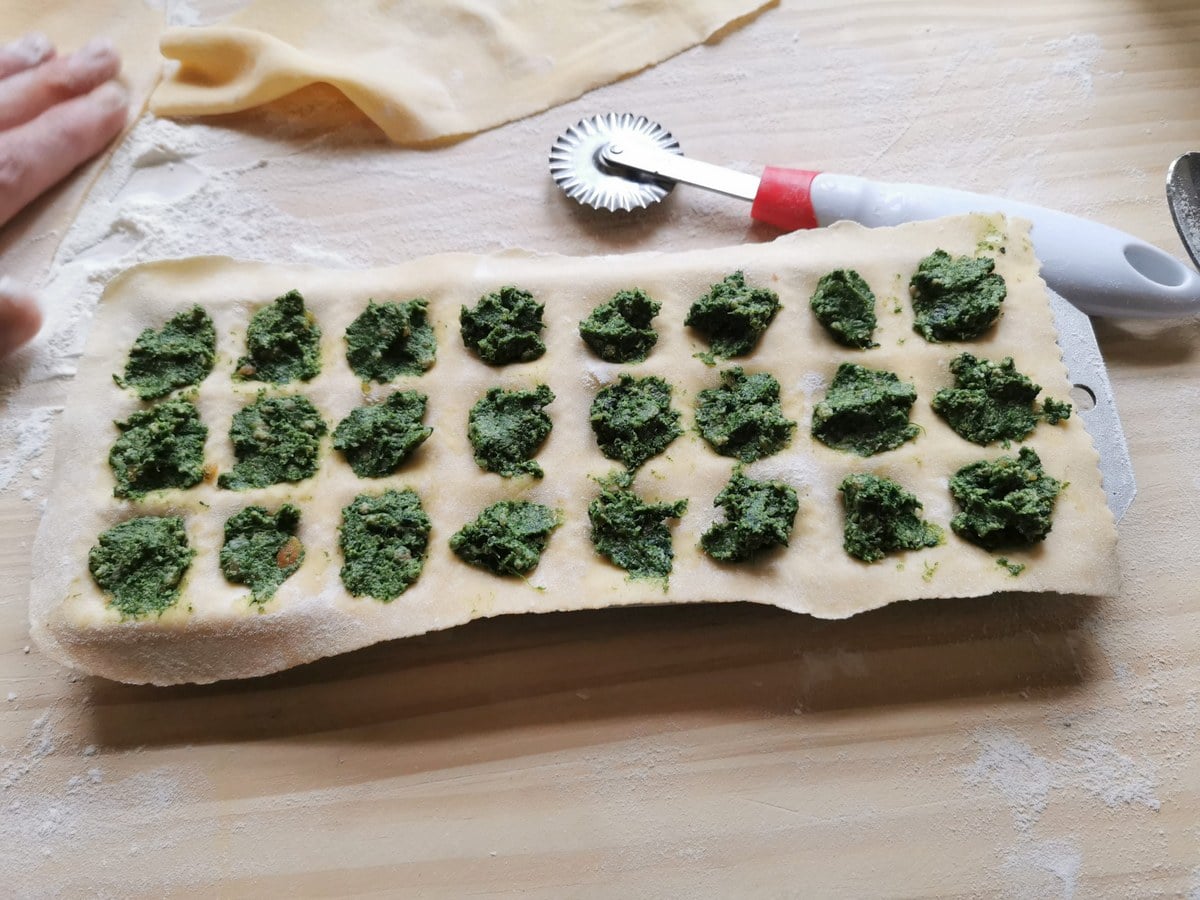 Then press down slightly into each depression. Add a teaspoon or two of filling to each one and then cover with another pasta sheet. Use a rolling pin to crimp and seal the edges.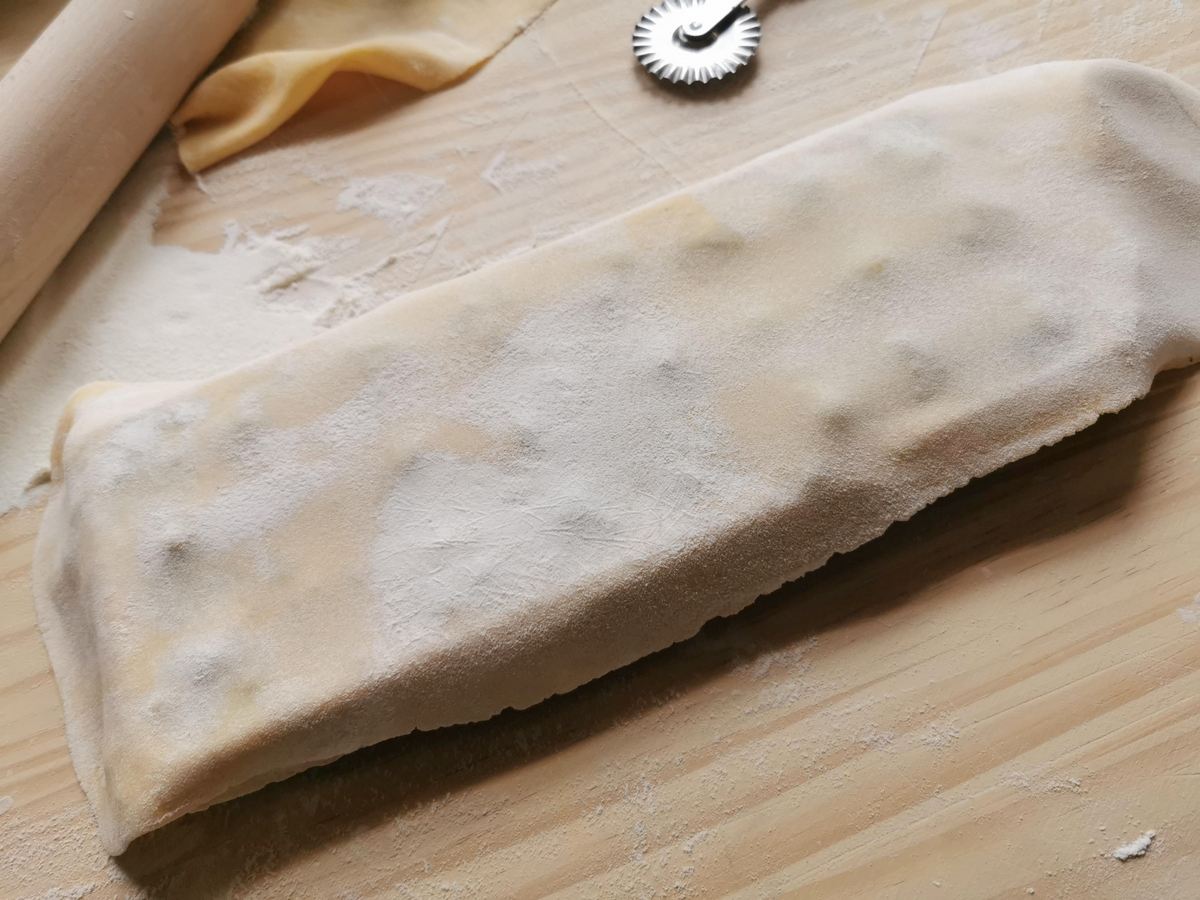 Finally, turn the mold upside down and all the agnolotti should come out easily. Remove the extra dough from around the edges and separate the filled pasta pieces from each other.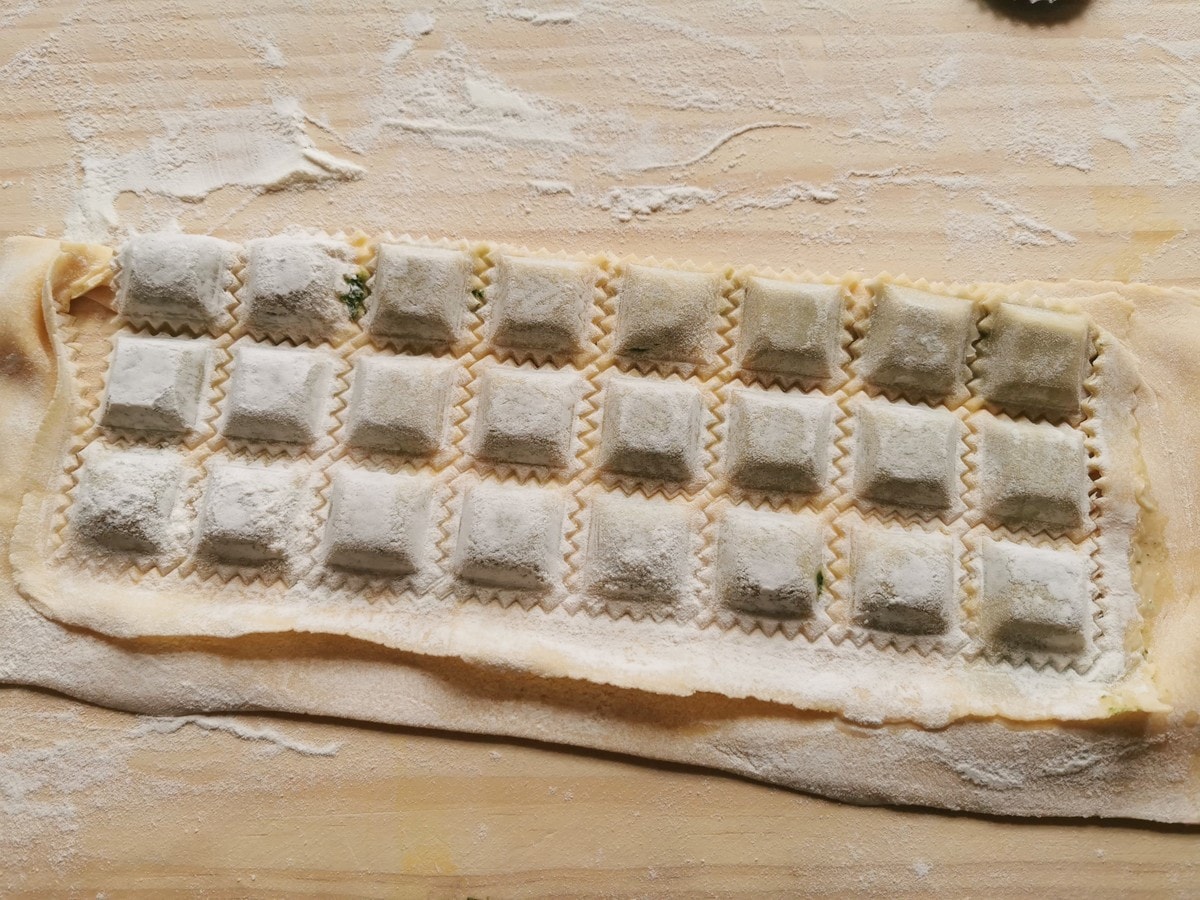 Place ready meat ravioli on a floured tray while you repeat the process with the rest of the dough. I like to place a sheet of baking paper on a tray, dust it with flour and place the ready agnolotti there until it's time to cook it.
How to serve your meat ravioli (agnolotti).
Because we were only two people, I served my pasta two ways on two different days. The first was cooked and served in a clear beef broth with some Parmigiano grated on top.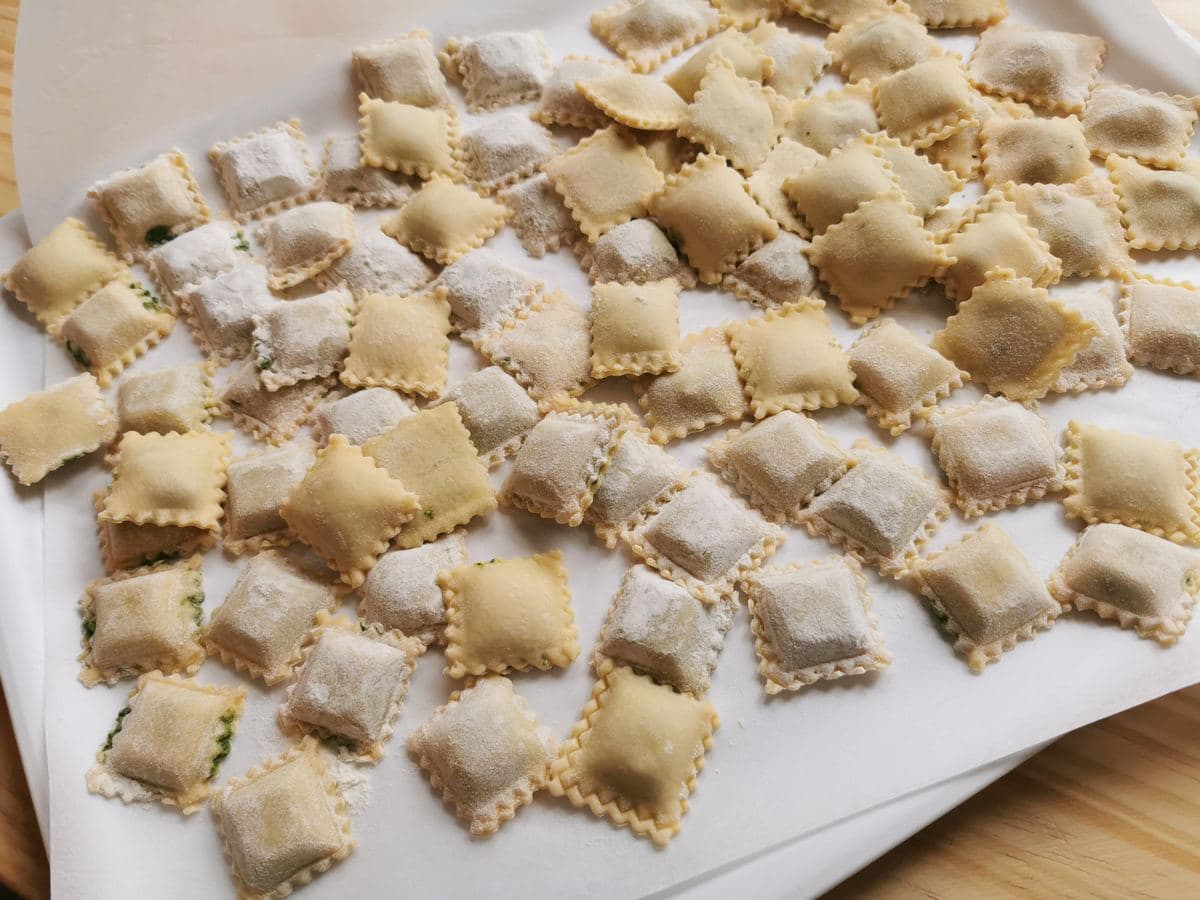 The second time, I still cooked the pasta in broth but removed it with a slotted spoon and served with melted butter and crispy sage.
Ravioli or agnolotti cooked in broth even when served in a sauce is really delicious. You can use a ready made broth or make it yourself.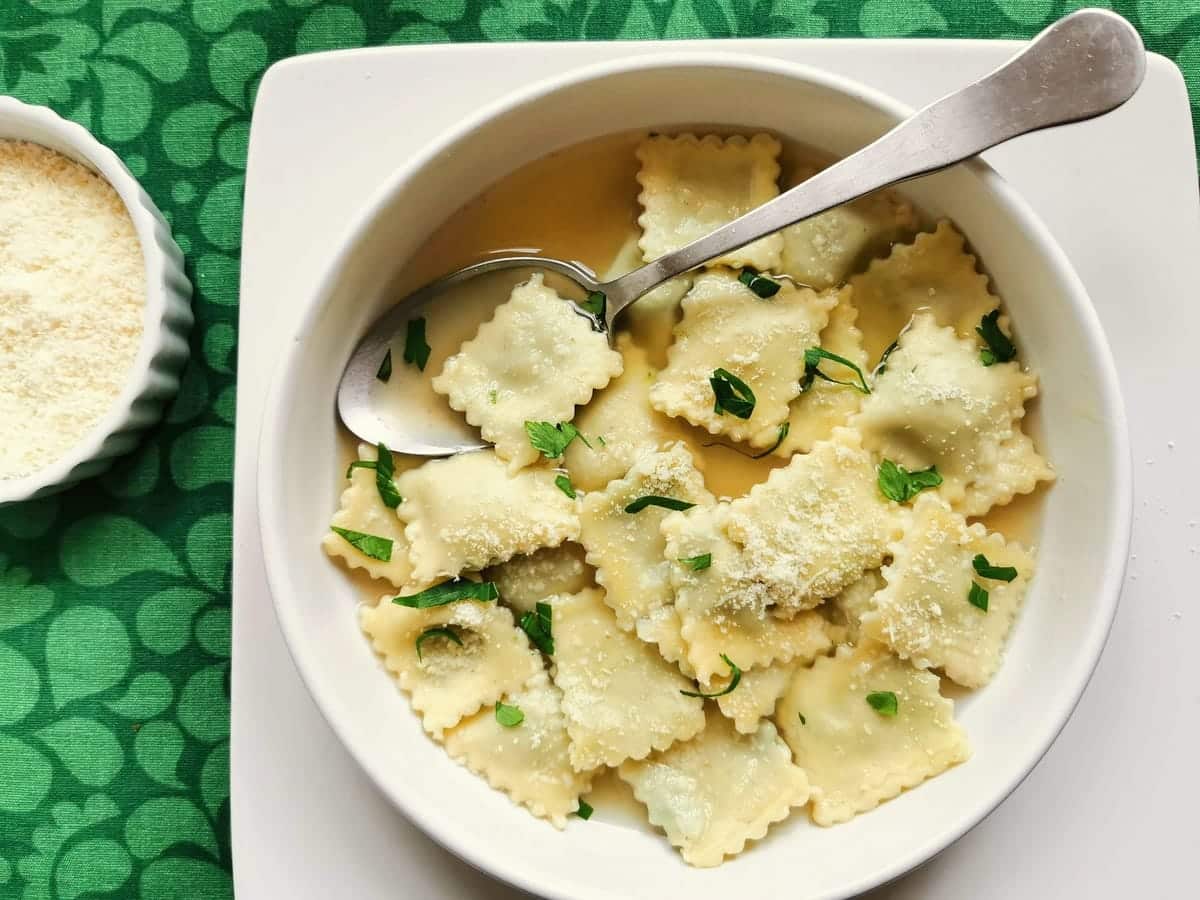 What to do with leftovers.
You can keep any leftover meat filled agnolotti in broth sealed in the fridge for a day or two. Just reheat quickly on the stove or in the microwave. If you have leftover uncooked pasta, you can freeze it for another day and then cook from frozen!
The best way to freeze uncooked ravioli or agnolotti is to place the pasta on a tray that will fit in the freezer. Once frozen, you can transfer your ravioli to a freezer bag.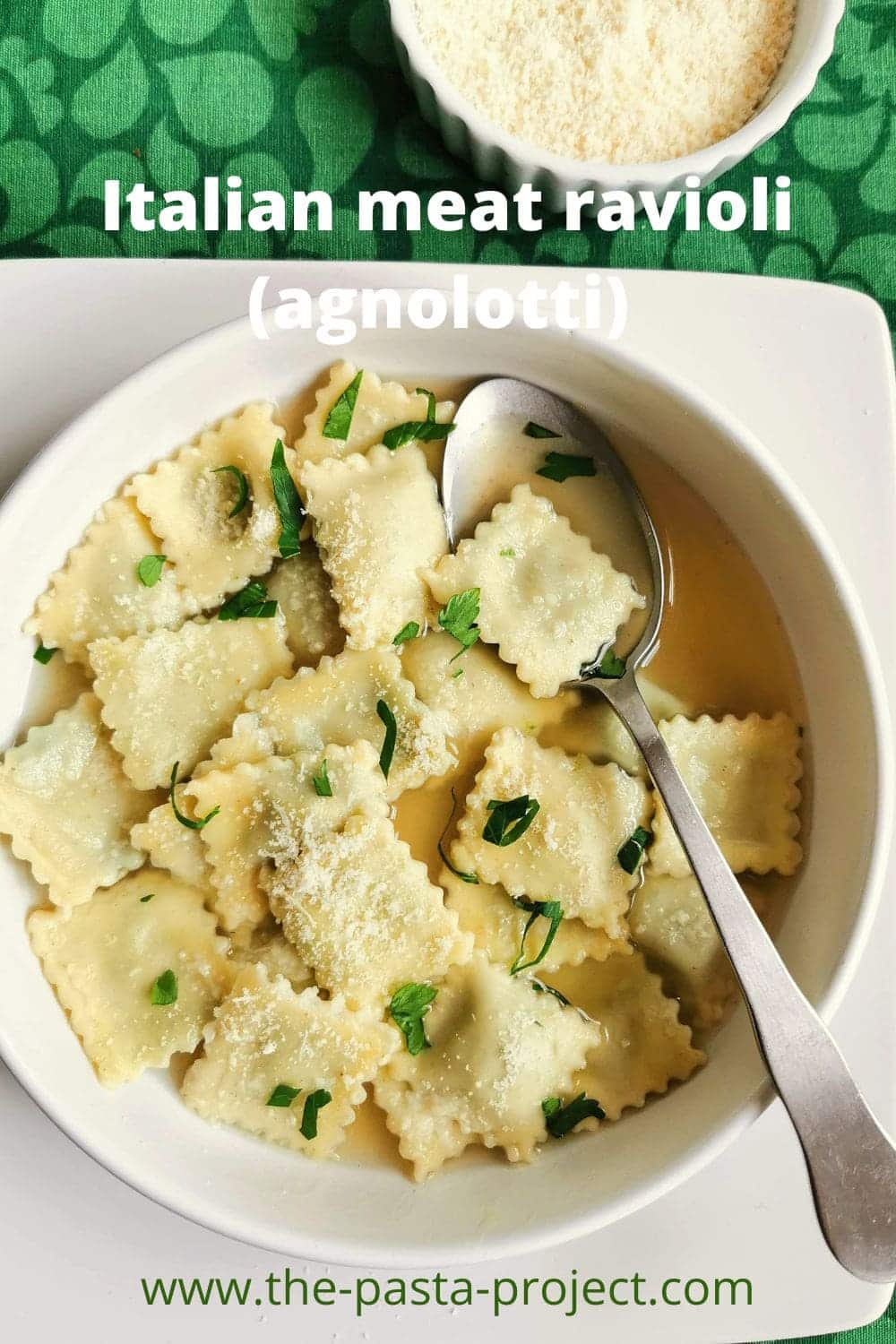 Let me know what you think.
Whether you serve your meat ravioli in broth, with butter and sage or in your favourite sauce, I'm sure you'll love this agnolotti recipe. Ready-made ravioli are nowhere near as delicious as when you make it at home yourself.
If you do try this recipe, I'd love to know what you think. Please write a comment here on the blog or post a comment on the Pasta Project Facebook page.
Your feedback means a lot to me!
Buon Appetito!
More homemade ravioli recipes to try.
Ligurian potato and mint ravioli
Fried rye flour ravioli from Trentino-Alto Adige
Baked fish ravioli from Liguria
Sweet ravioli from Friuli Venezia Giulia
If you are interested in learning how to make homemade pasta and different types of gnocchi, check out my shop page for some great video online courses from my friends in Rome! Nothing beats learning to make pasta from Italians! Plus while you're there why not order a copy of my autumn/winter pasta recipes cookbook!?