Tagliolini with white truffle.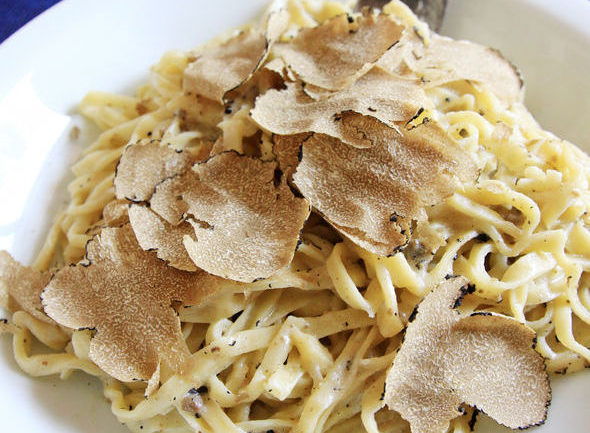 Tagliolini al tartufo bianco.
It's truffle season here in Northern Italy and tagliolini are among the most popular pastas eaten with this king of the Italian kitchen. Truffles are most definitely an acquired taste and not everybody likes them. However, those who do will tell you there's almost nothing better in the world of mother nature's culinary delicacies.
Truffles in Italy.
There are basically two main types of truffles, black and white. Black truffles are harvested in autumn and winter and can be found in a number of parts of Italy, including here in Veneto where I live. Because they are more common than their white cousin, they are less expensive, but still highly valued in the kitchen. White truffles, on the other hand, are rarer. Here in Italy they are found mostly in the Piemonte (Piedmont) region, most famously, in the countryside around the cities of Alba and Asti, as well as in Marche near Urbino, in Molise and Abruzzo and in Tuscany near the town of San Miniato.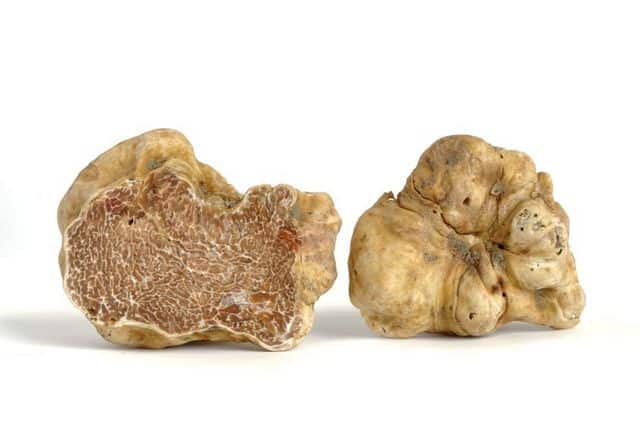 White Truffles.
White truffles are so highly prized that they sell for thousands of euros per kilo. The current price is around 150 euros an ounce (approx 30 grms)! Because of their value, strong aroma and taste white truffles are used quite sparingly in cooking. The most common method of serving them is simple with just butter, a generous amount of cheese and pasta, such as tagliolini. This is how they eat pasta with white truffles in Piemonte and how we ate the white truffle we were lucky enough to find at a local chestnut fair recently.
The pasta.
Tagliolini pasta looks like very narrow tagliatelle. In fact, the main difference between the two pasta types is in the cut, rather than the dough. However, tagliolini from Piemonte (known locally as tajarin) is often very thin and usually the dough is egg yolk rich. In restaurants in Piemonte you can see it on the menu as '40 yolk tajarin' meaning they use 40 egg yolks per kilo of flour to make tajarin. Of course this pasta is very rich. But it's the perfect pasta for white truffles!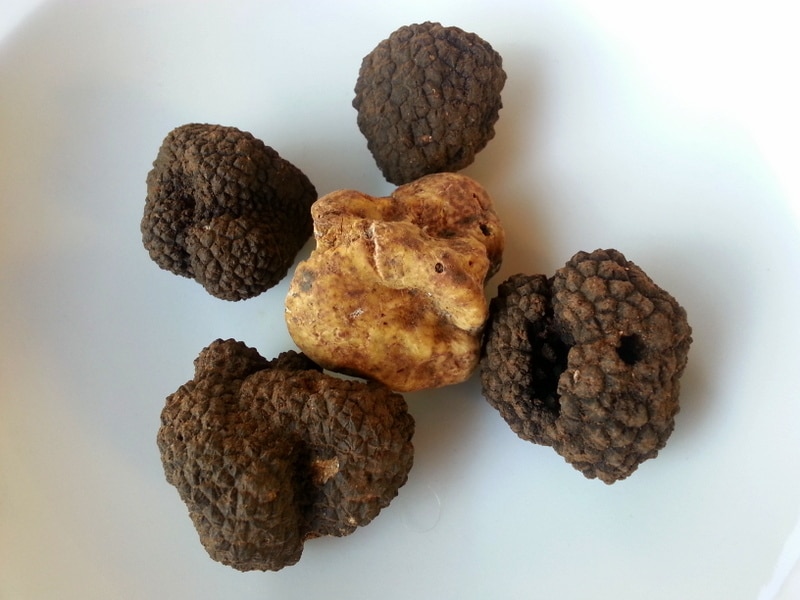 Our white truffle!
Local produce fairs, of which there are many in Italy, often have stalls selling different seasonal and local produce. The fair we went to was the annual chestnut fair in the village of San Mauro di Saline, famous for its chestnuts. However we came across a stall selling local black truffles and the stall keeper had one white truffle left to sell. We decided to treat ourselves and buy it. Out tagliolini with white truffle dinner was, needless to say, delicious!
Because truffles have such a strong taste they aren't usually served with pasta and many other ingredients. This recipe for tagliolini with white truffle is the simplest and most traditional way to eat white truffle with pasta. However, some recipes also include cream and others porcini mushrooms, which I really like and want to cook soon!
If you make this recipe I'd love to hear how it turns out and if you liked it. Please leave a comment here on the blog or on The Pasta Project Facebook page. Looking forward to hearing from you.
Buon Appetito!
Other pasta and truffle recipes on The Pasta Project! (You can use white or black truffles)
Save this recipe for later?
If you want to save this recipe for later, you can print it, bookmark this page or save it to Pinterest.