Nothing makes an Italian meal more decadent than including a truffle or two. And, this tagliolini pasta with truffles and mascarpone cream is probably the most luxurious truffle pasta I have ever eaten! This 5-star, restaurant-worthy dish needs only 4 ingredients apart from the pasta and takes just 30 minutes to prepare! Perfect for special occasions like Valentine's Day, anniversaries and birthdays.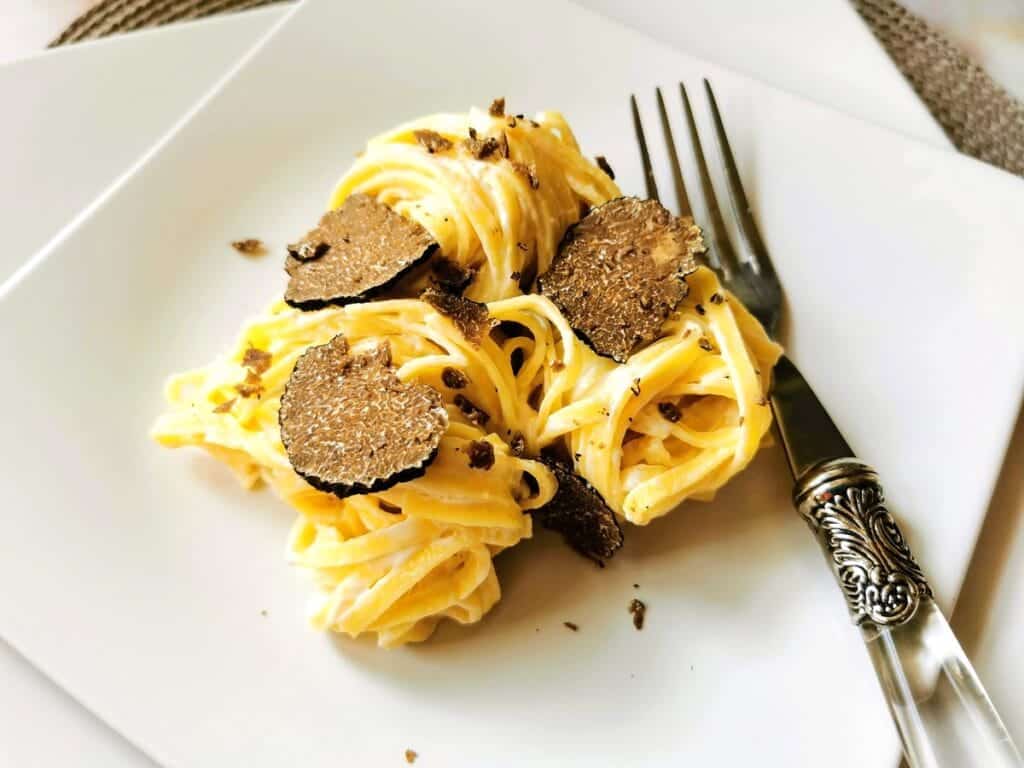 Pasta al tartufo e crema di mascarpone.
At Christmas, we received a very special gift from close friends, at least special if you love truffles! The gift was a lovely truffle shaver/serving set in a wooden box (see pic below). With the set was a beautiful fresh black truffle! So, of course, I wanted to find a pasta with black truffle recipe to use it in.
Coincidently, I'd been planning to do a mascarpone pasta recipe to publish here on The Pasta Project. Pasta with mascarpone is traditional in Lombardy, where mascarpone was first made in the late 16th and early 17th century. There they make a pasta al mascarpone with maltagliata pasta, egg yolks, nutmeg, mascarpone and Parmigiano cheese. That was the recipe I had in mind and will be doing soon.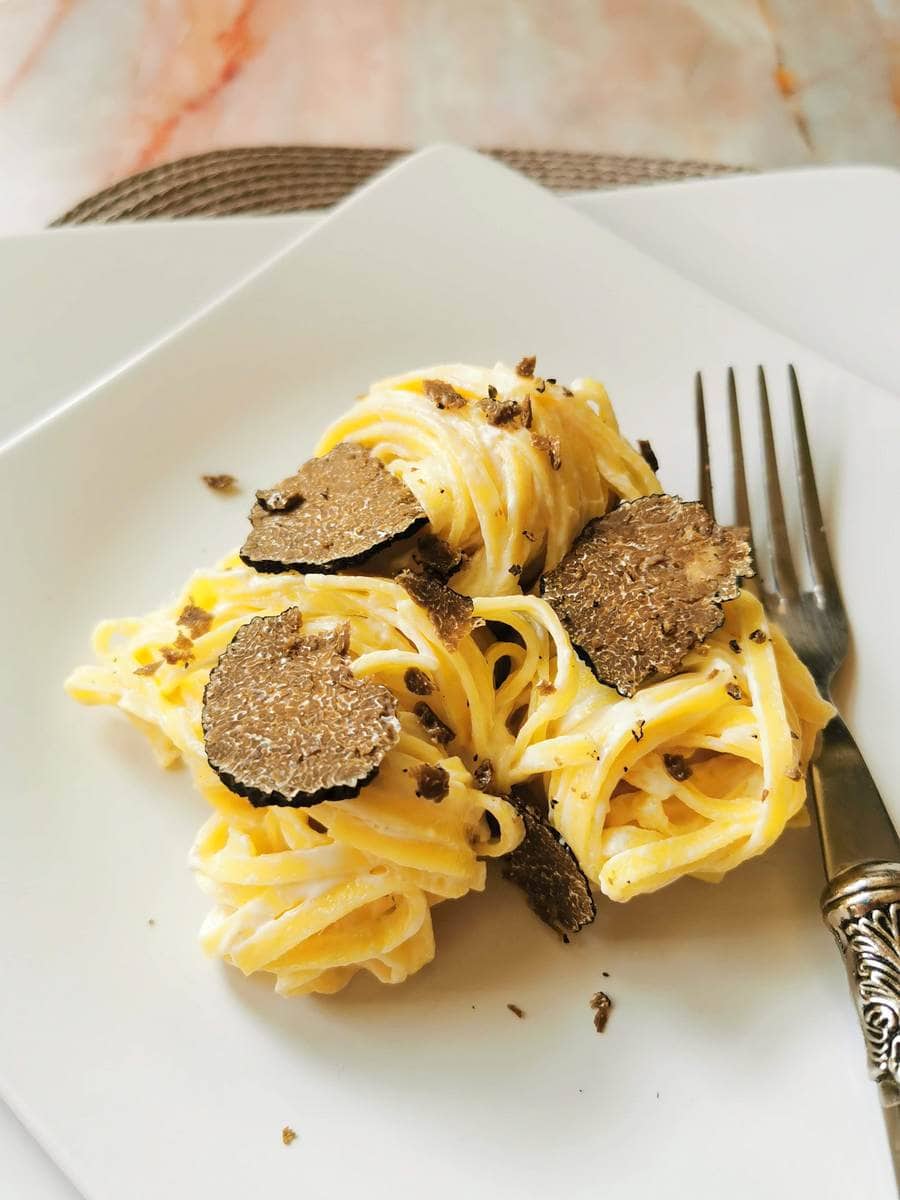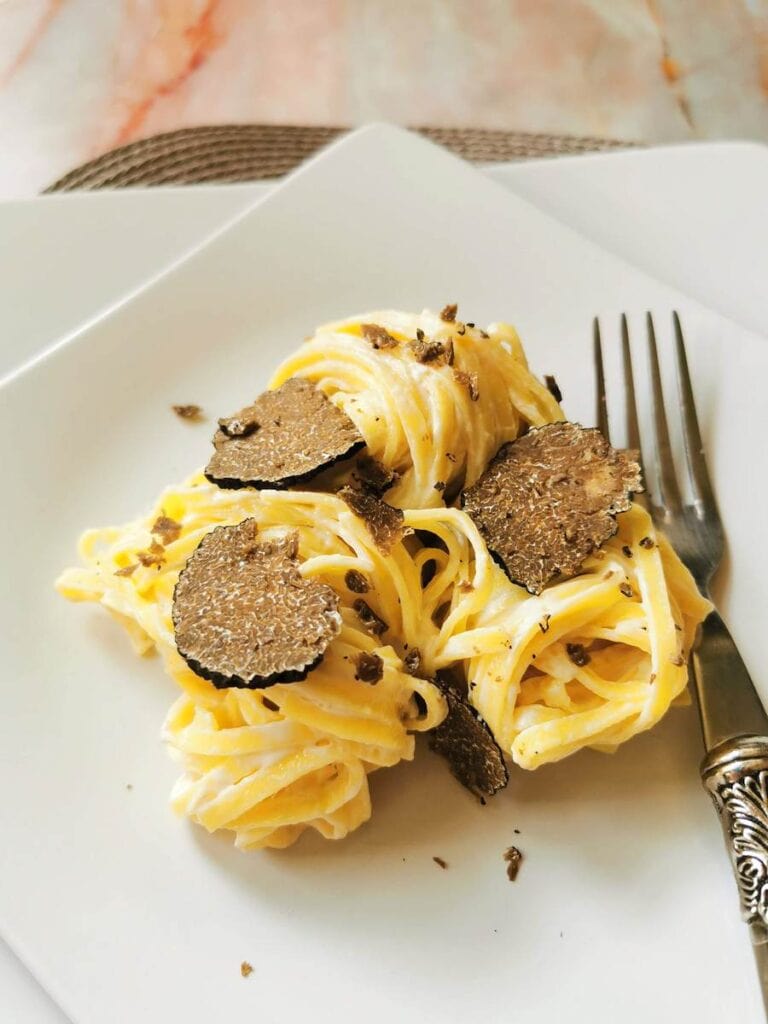 But receiving the truffle changed my plans a little. Although not traditional in any one part of Italy, pasta with truffles and mascarpone is a pretty popular Italian truffle pasta recipe. At least, I found quite a few versions of it on Italian language recipe sites. However, the most popular way to make this dish is as in this recipe using egg ribbon pasta, mascarpone, garlic and anchovies!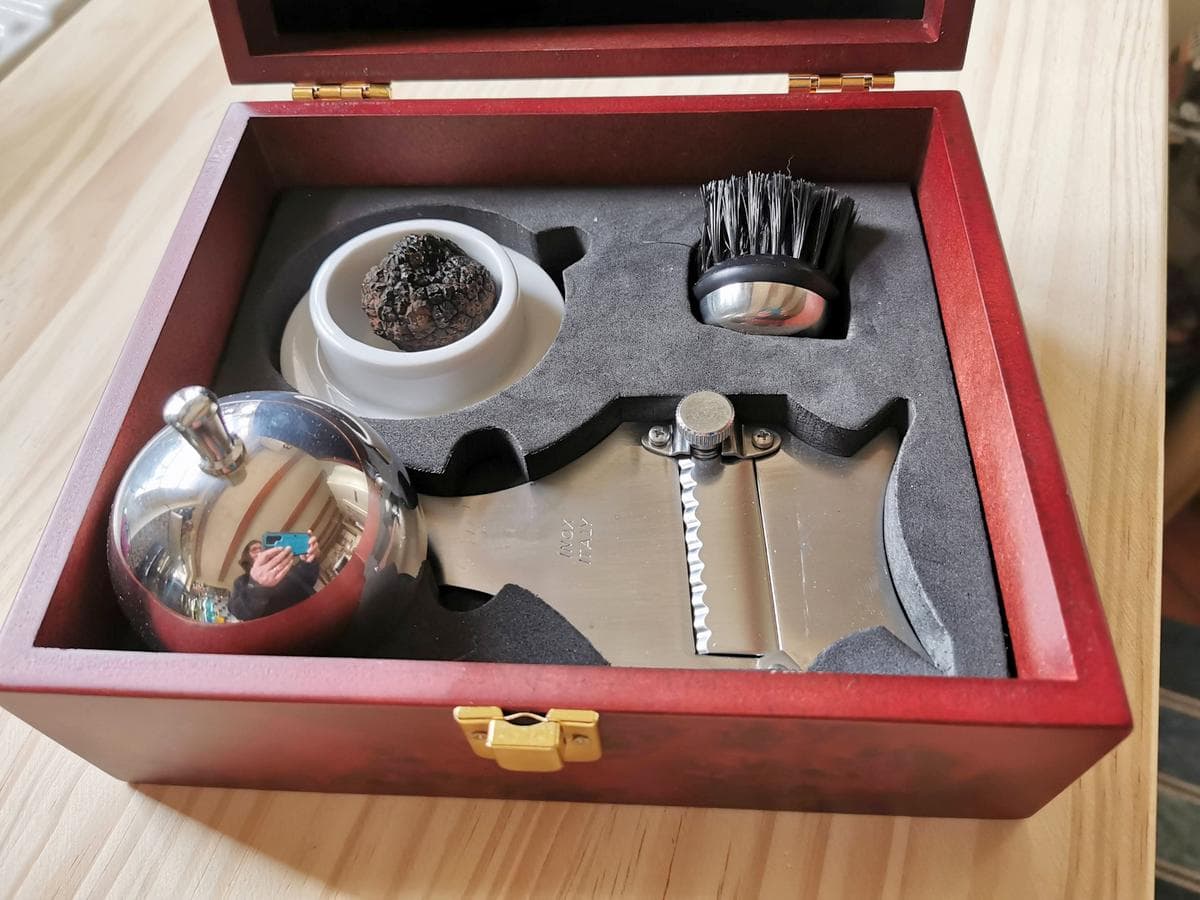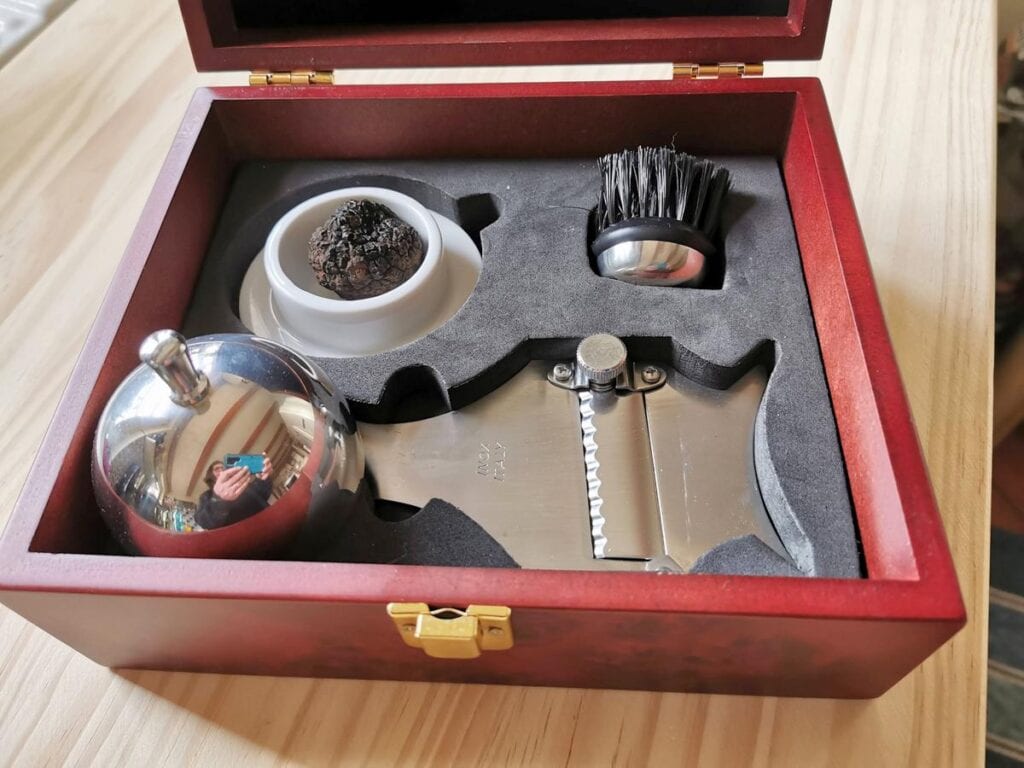 What exactly are truffles?
Truffles are a type of fungus that grows near tree roots, mostly the roots of chestnut, oak, hazel, and beech trees. The word 'truffle' derives from the Latin 'tuber', which means outgrowth. Truffles have been eaten and enjoyed since the time of the Sumerians and ancient Egyptians. The Egyptians loved them and ate them covered in goose fat!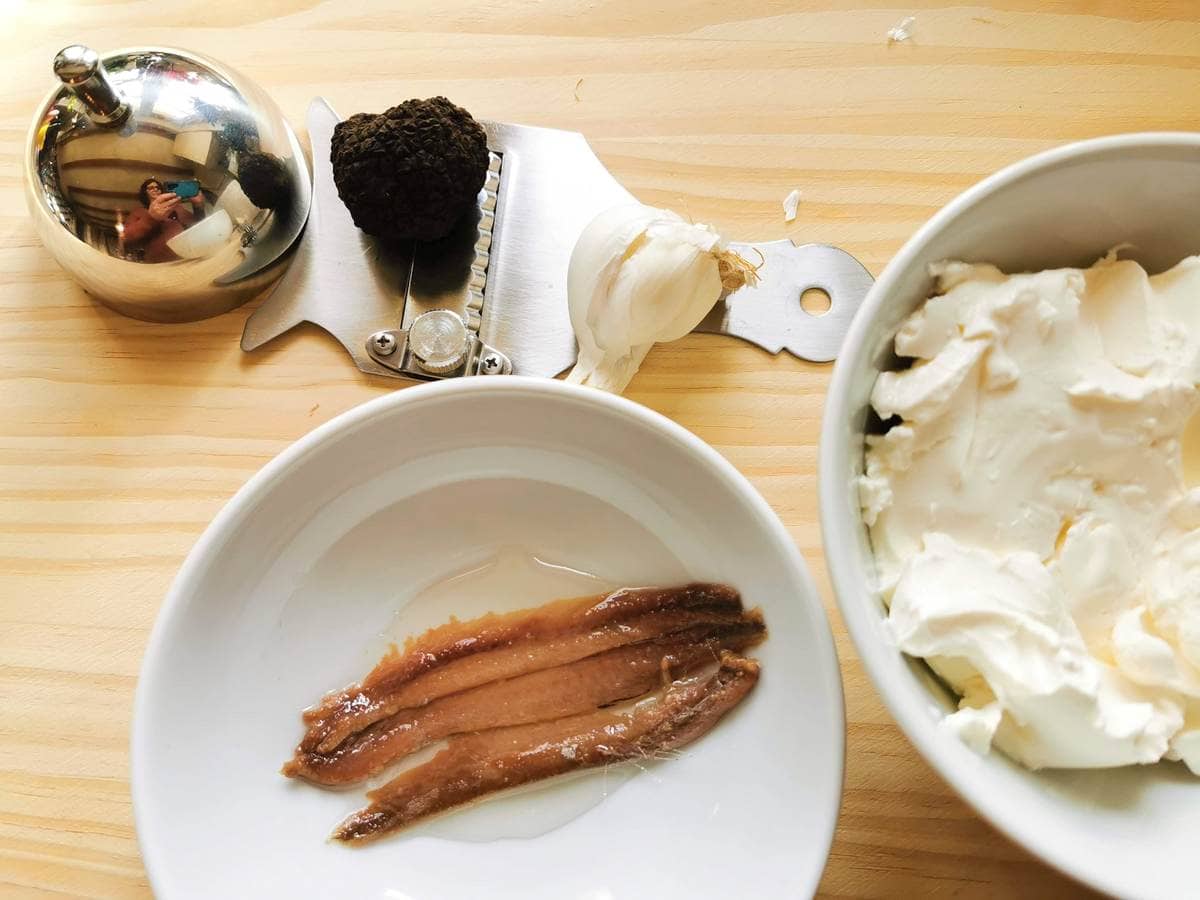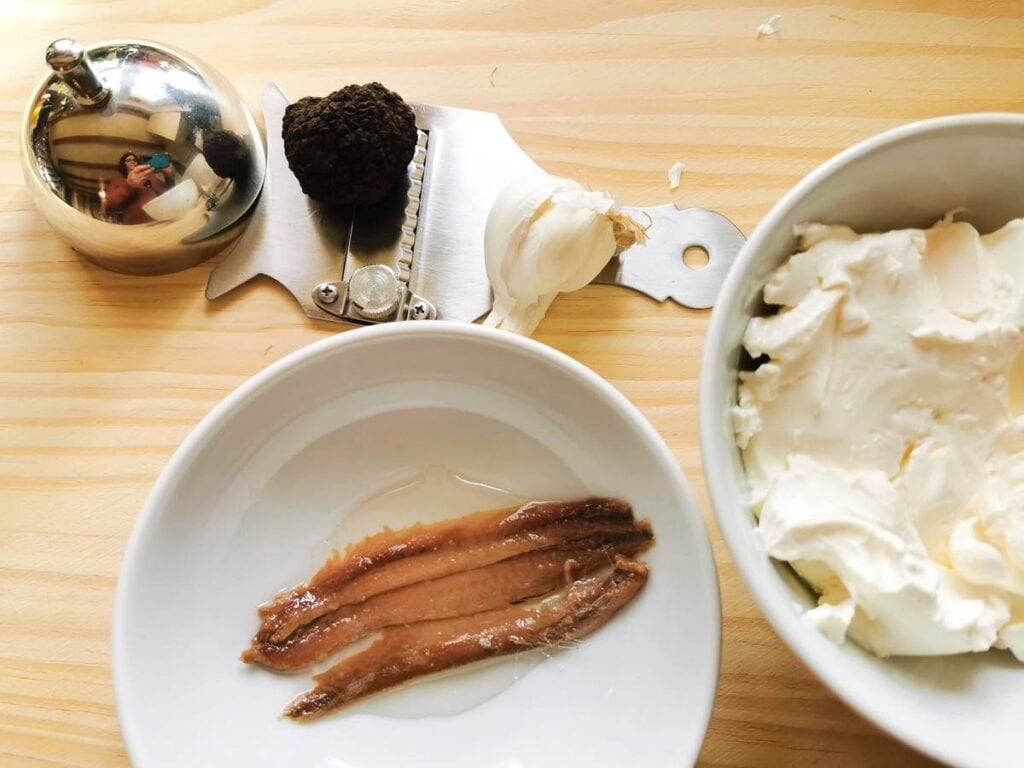 What is the difference between black and white truffles?
There are two main kinds of truffles: white and black. White truffles are smooth with a slightly yellow tinge and a heady musky aroma. They are rarer and much more expensive than black truffles because they are almost impossible to farm. Black truffles have a rough exterior which looks like tree bark and have an earthy more subtle flavour than white truffles. They are much more common. Plus, they are easier to farm and there are black truffle farms in other countries including the USA.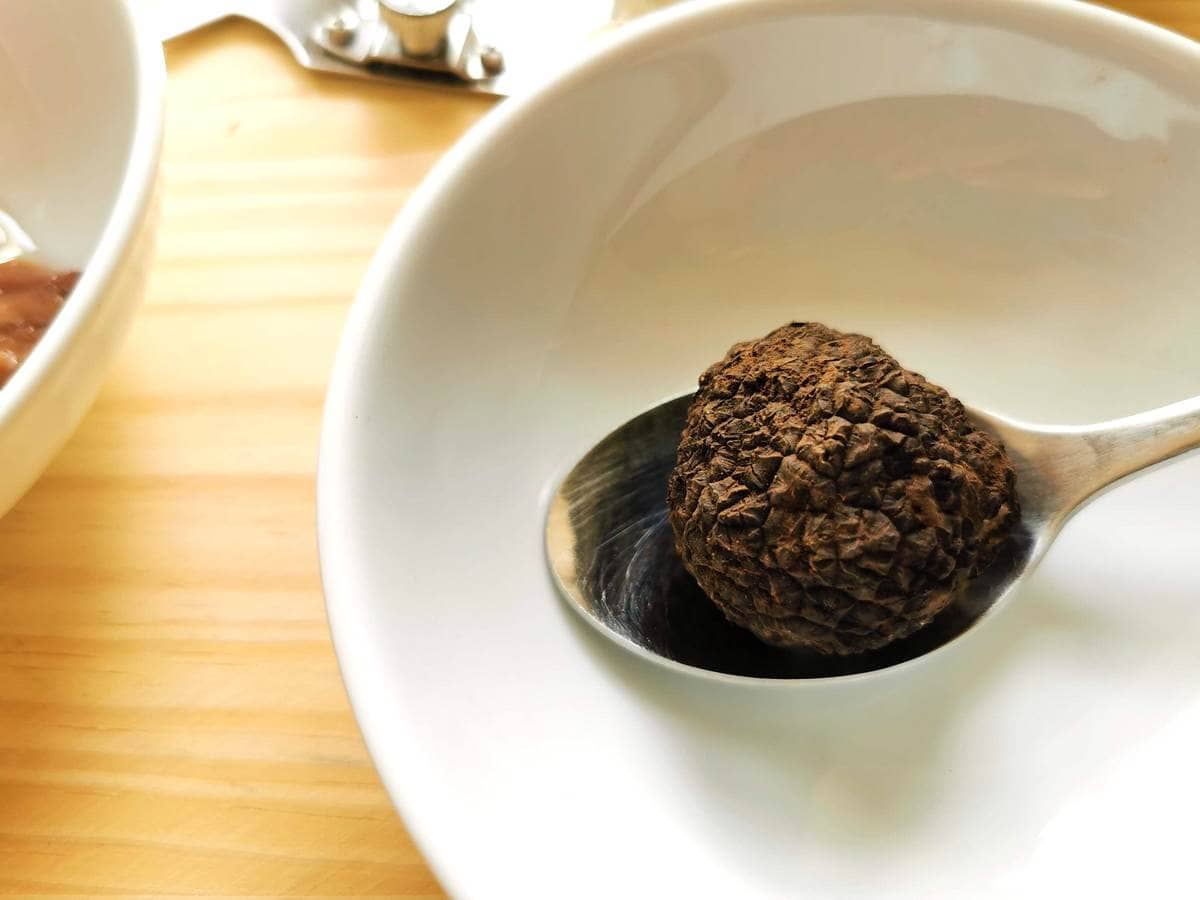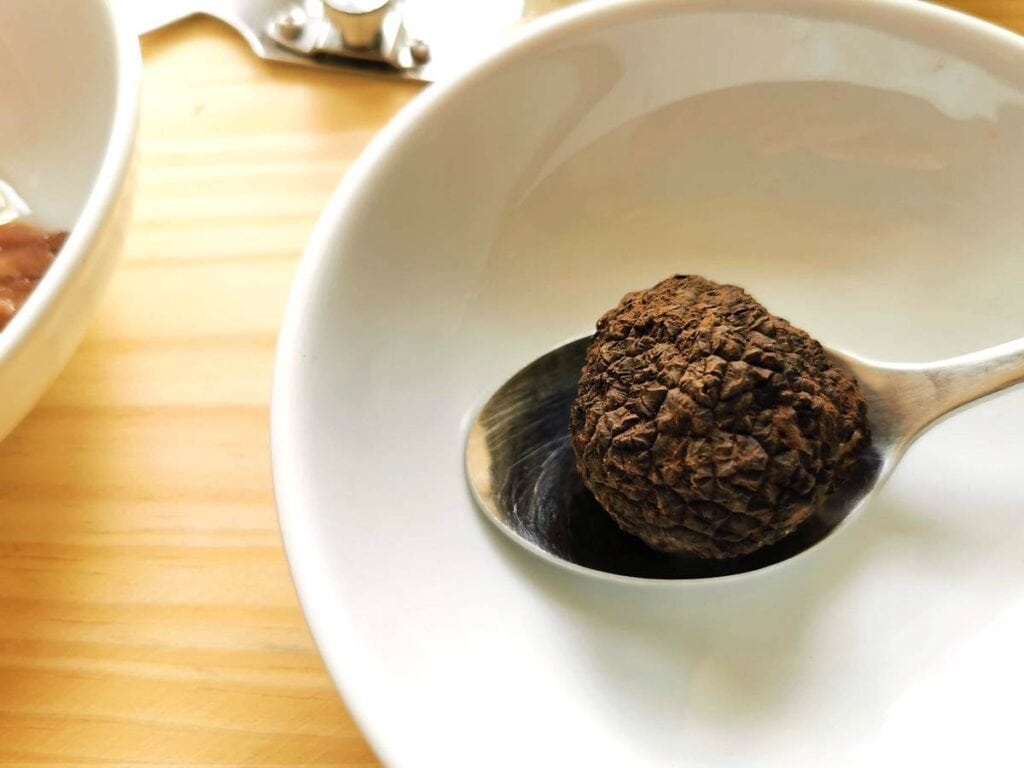 Here in Italy, black truffles are harvested or foraged nearly all year round. But, the type of black truffle varies with the season. There are summer black truffles called tartufo estivo or scozone. These truffles are found from the beginning of May to the end of August and again in September and November.
Then there are different kinds of winter black truffles which appear on restaurant menus from the middle of November to the middle of March! So, it's obviously winter black truffle season now! These truffles can be found in several parts of Italy, including Veneto where I live.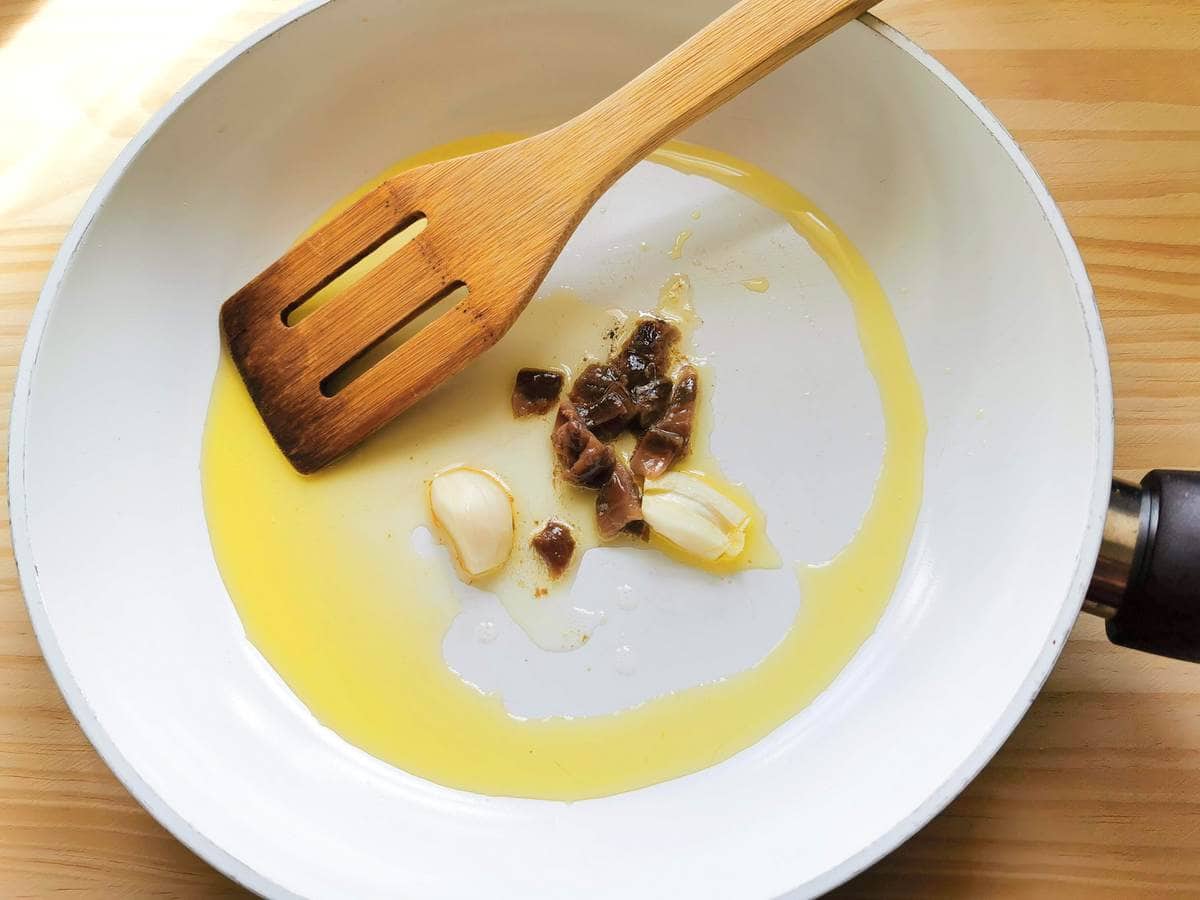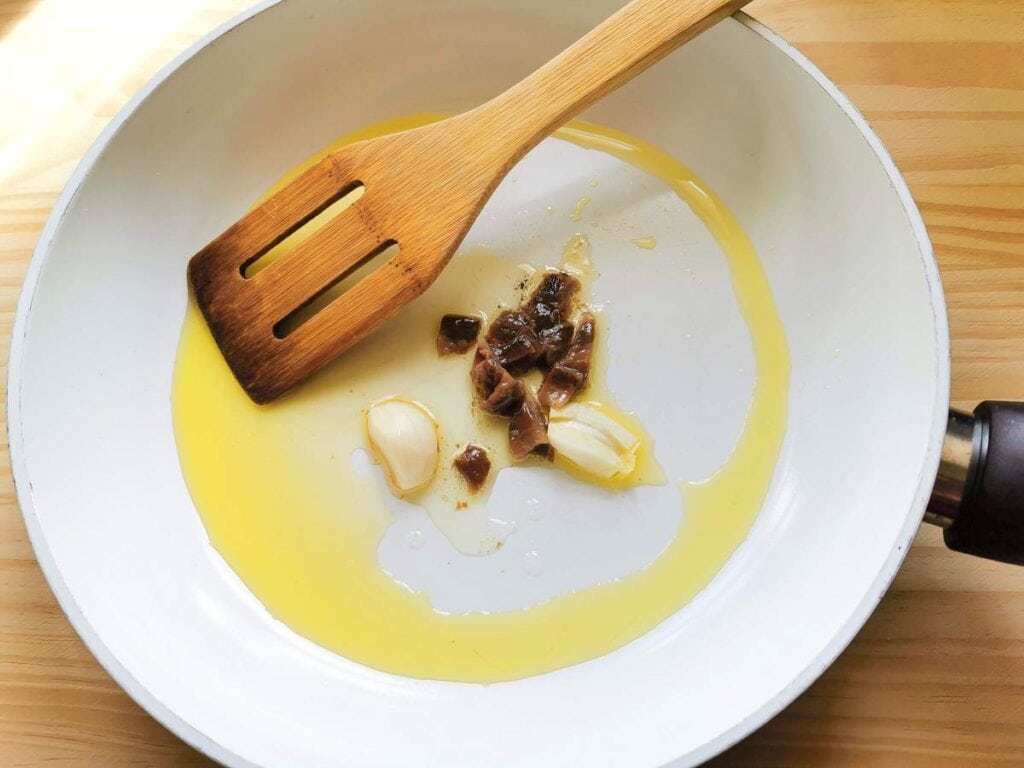 How much do truffles cost?
Because they are more common than white truffles, black truffles cost less, but they are still highly valued in the kitchen. Nor are they that cheap. Today, the best black truffles cost around 730 euros per kilo (2.2lbs). Not surprisingly, Italians often refer to them as 'black gold'.
White truffles are rarer, so they subsequently cost much more. The most famous white truffles come from the countryside around the cities of Alba and Asti in Piemonte, Northern Italy. However, they are also found in Marche near Urbino, in Molise and Abruzzo and in Tuscany.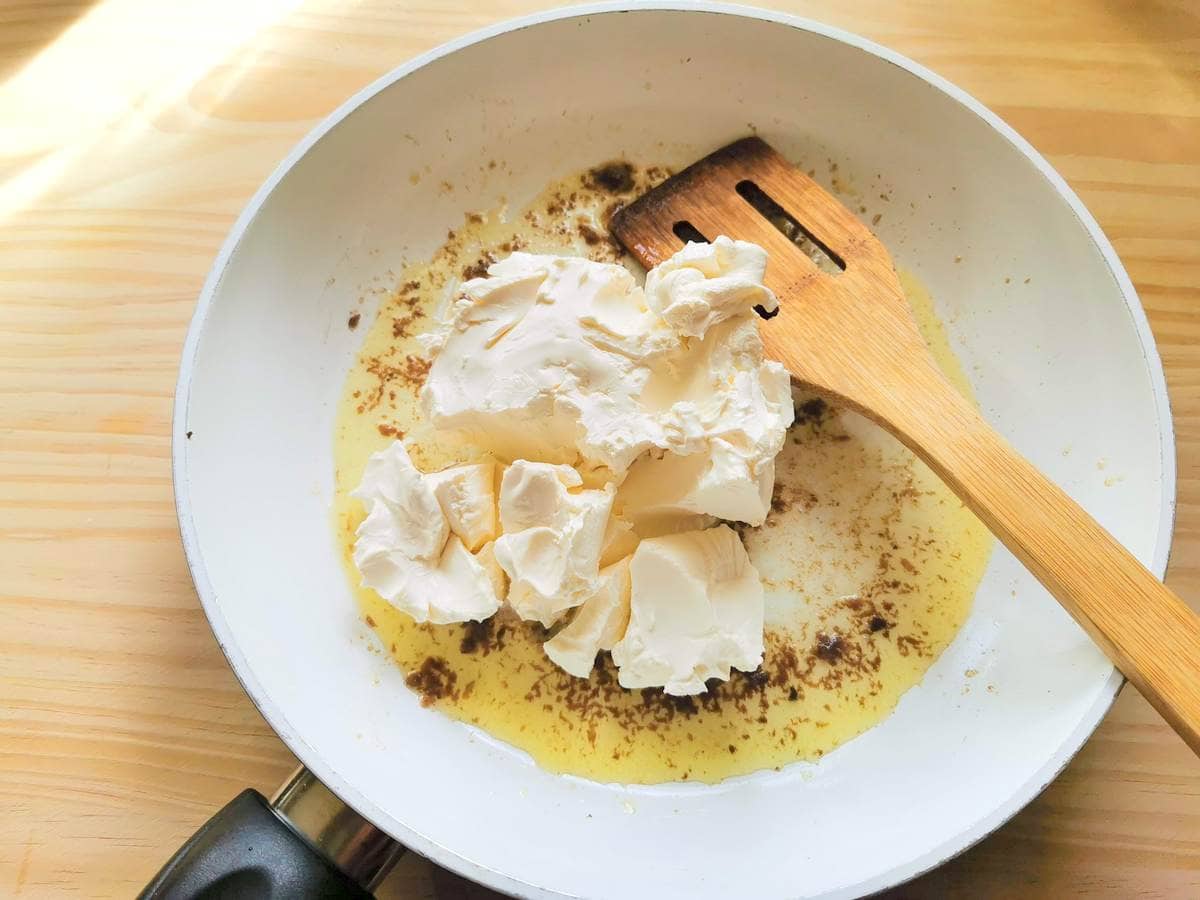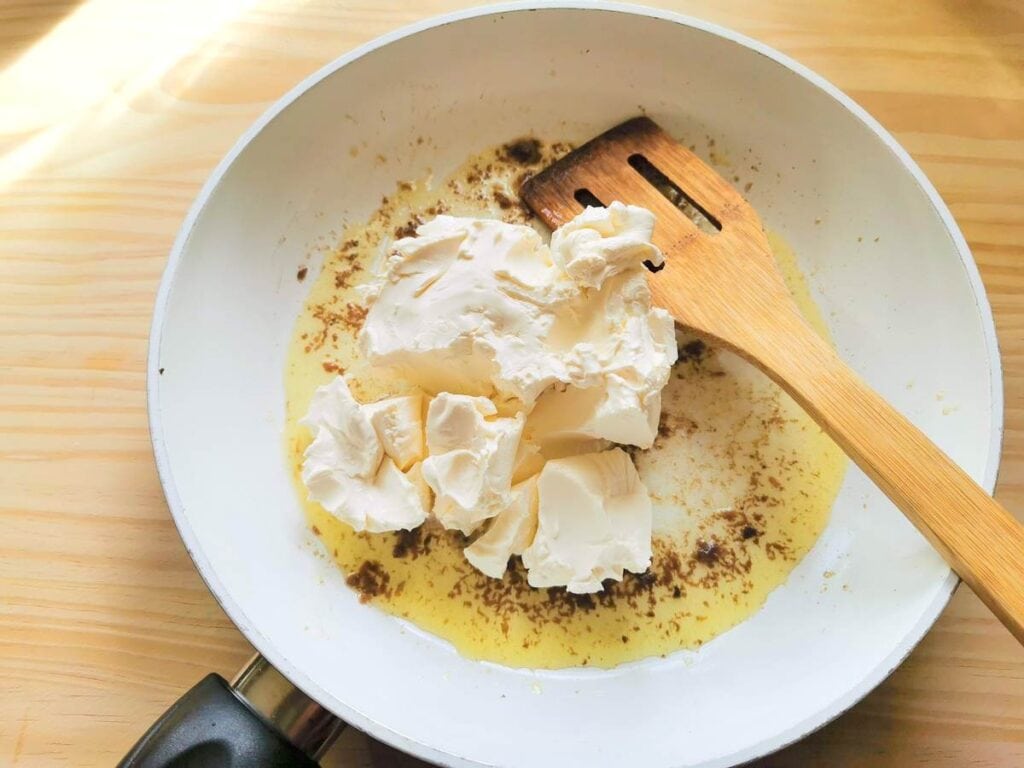 This year, fresh white truffles are expected to cost between 130 and 350 euros per 100g (3.5oz), depending on the size of the truffle!! These prices are according to the truffle stock exchange. And, yes, there's a truffle stock exchange!
How do Italians eat black truffles?
Truffles are a bit of an acquired taste. But, it's one I have definitely acquired! My favourite way to eat them is actually shaved onto a fried egg! However, Italians eat truffles with different dishes. The most popular is in pasta recipes like this truffle and mascarpone tagliolini. In risotto is also very traditional, especially here in Northern Italy. I've also had truffles on steak, eggs, bruschetta and pizza! Although the dish can depend on the type of truffle being used.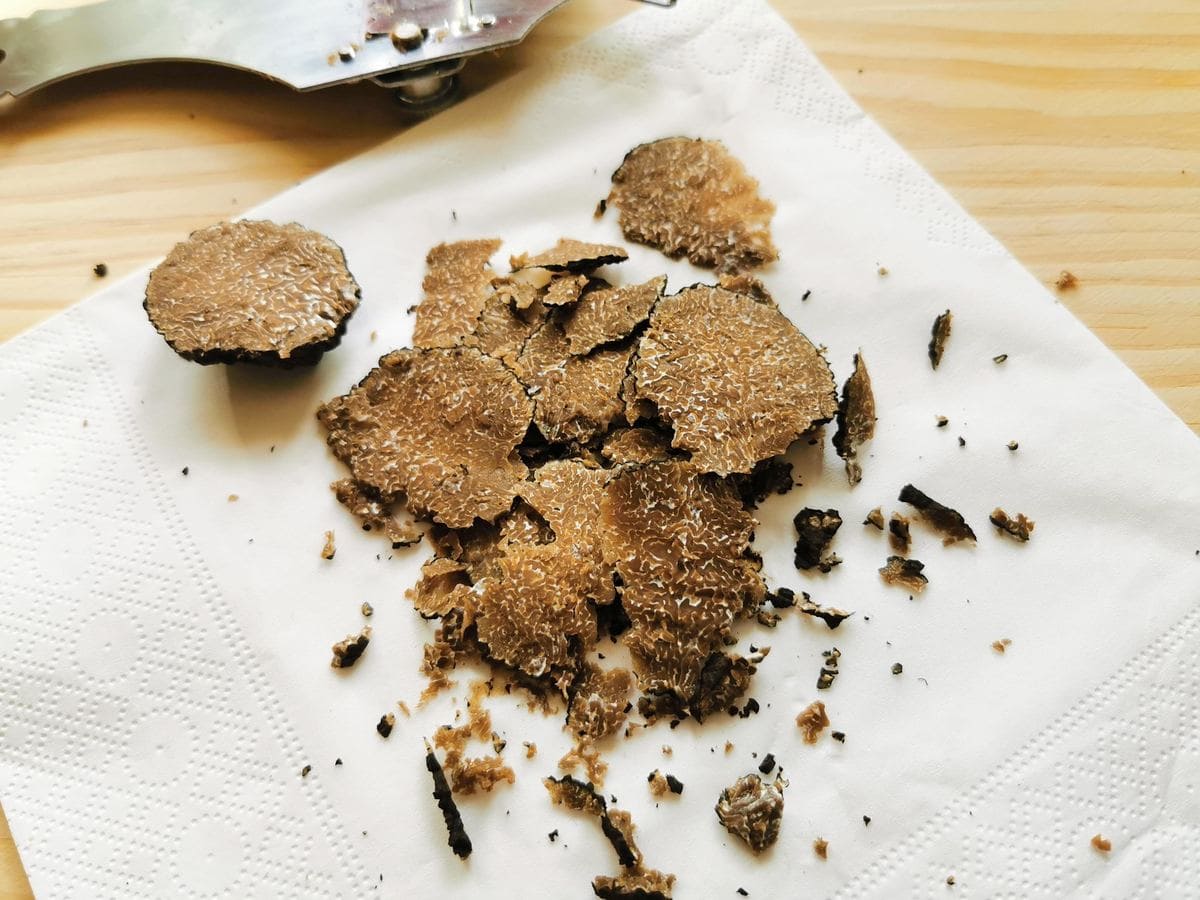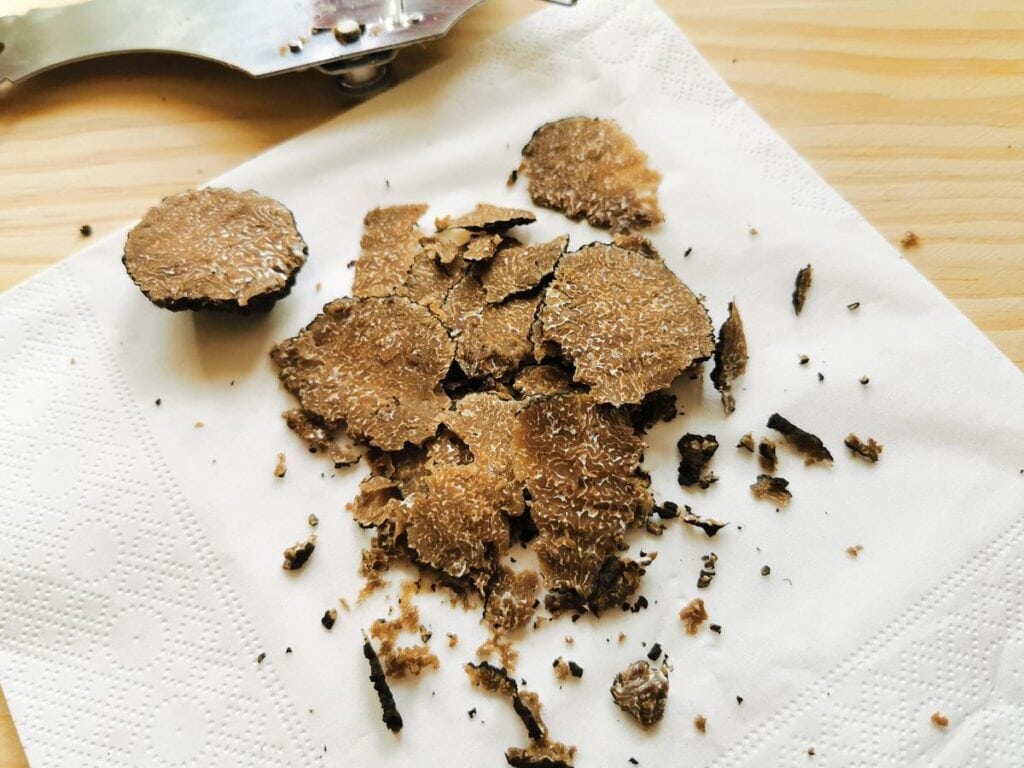 What is mascarpone?
As I mentioned above, mascarpone original comes from Lombardy, where it was first made in the late 16th and early 17th century. Mascarpone is similar in taste and texture to crème fraiche or British clotted cream. It's what's called an acid-set cream cheese, meaning it's been curdled by natural souring. Sometimes, it's made using cream and tartaric acid residue from barreled wine.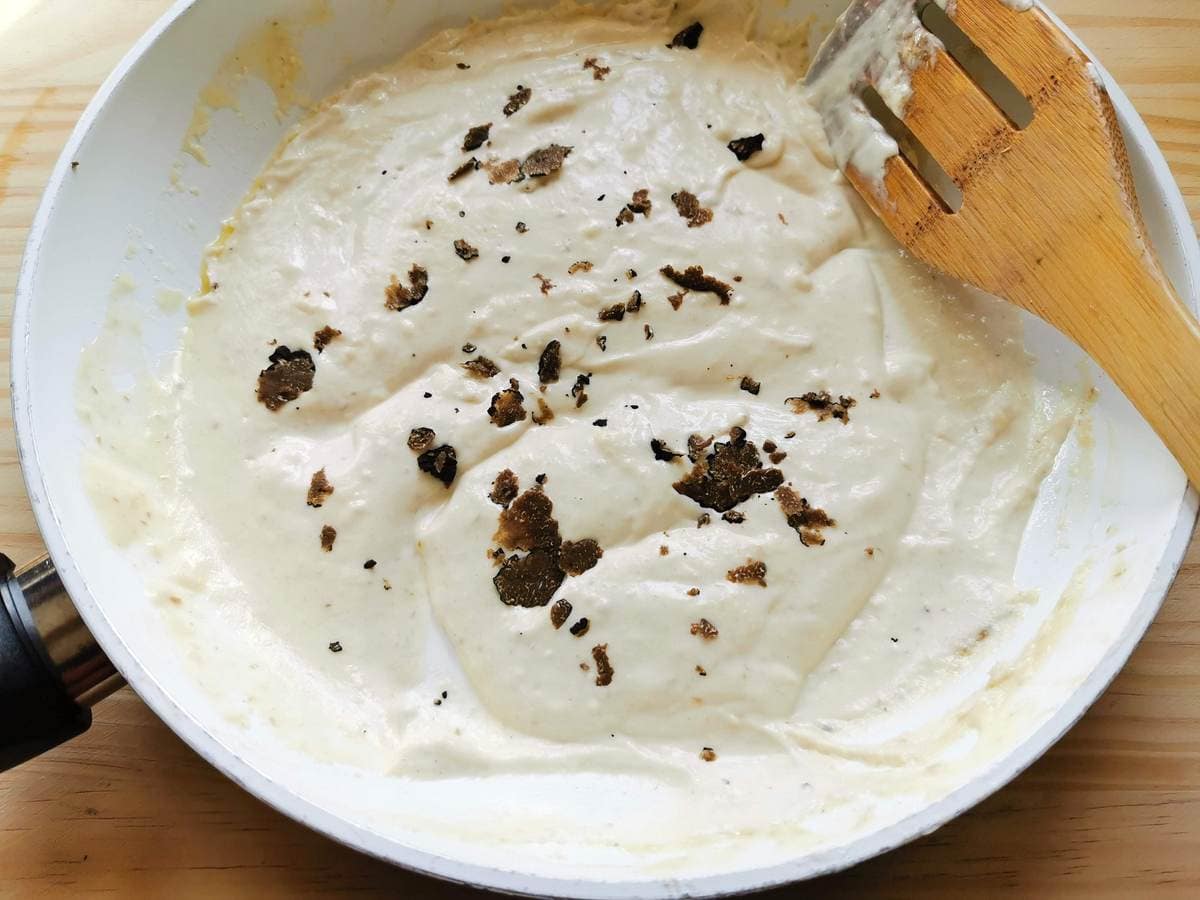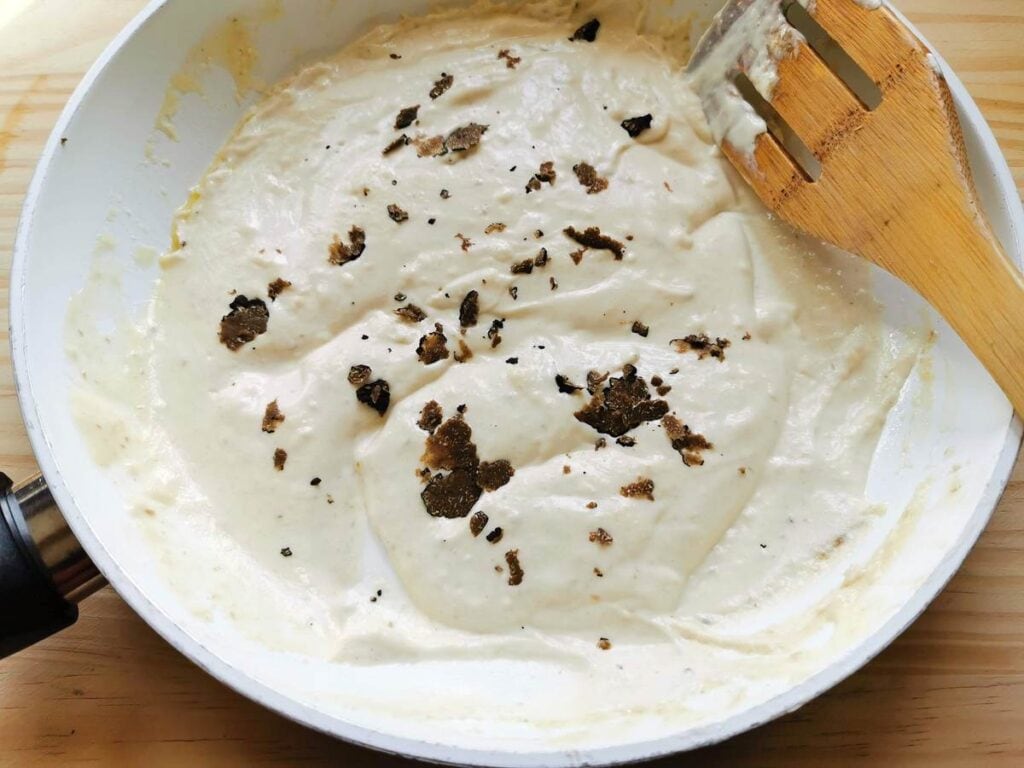 Most people know mascarpone as the main ingredient in tiramisu. But, here in Italy, it's used in lots of other dishes. Italians use it in risottos, cheesecake, other cakes, in pies, on pizza and in lots of pasta recipes like this truffle pasta recipe.
Apparently, mascarpone is easy to make at home with cream and lemon juice, although I have never tried it! My favourite way to eat mascarpone is with gorgonzola. In fact, we can buy ready combined mascarpone and gorgonzola in most supermarkets. Absolutely delicious!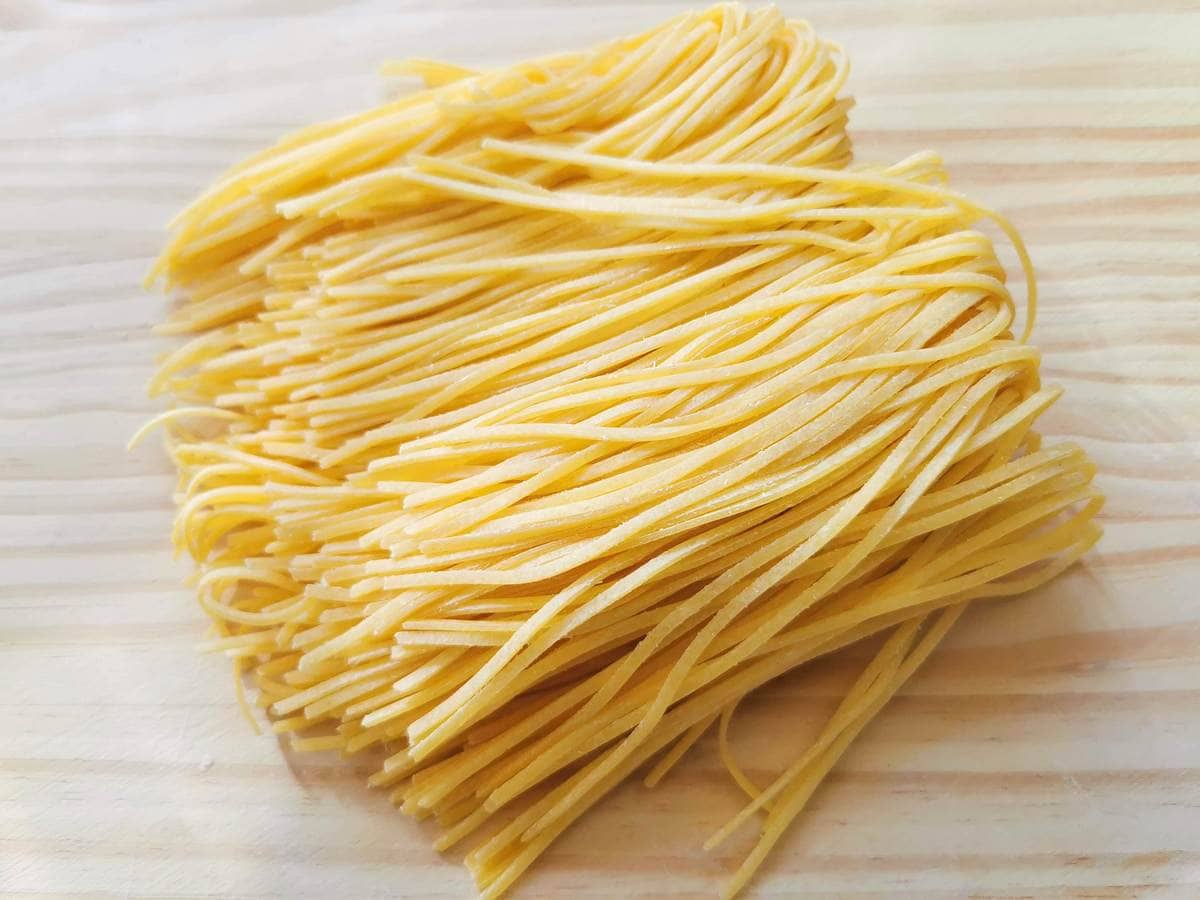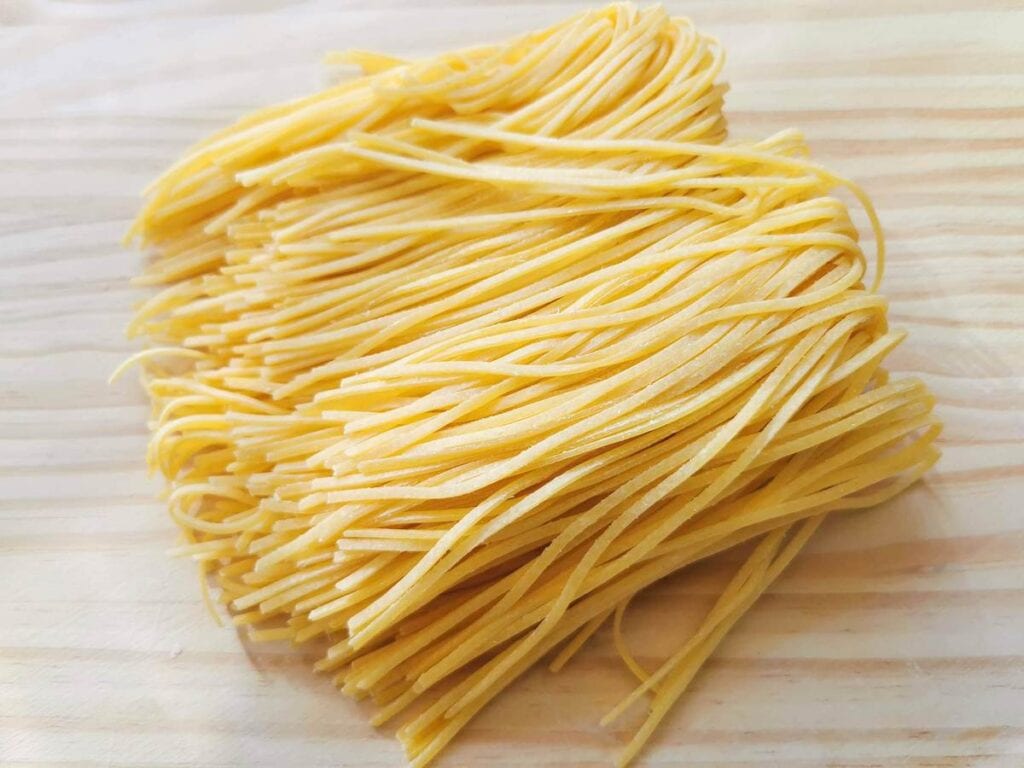 Other ingredients in this pasta with truffles and mascarpone.
Apart from the truffles and mascarpone, the sauce for this recipe contains just garlic and anchovies. Yes, anchovies. Vegetarians can, of course, leave the anchovies out. But, melting anchovies into sauces is a popular Italian culinary 'trick'. Contrary to what many people may think, anchovies don't add a fishy taste to dishes. Instead, they give a sauce a more umami flavour.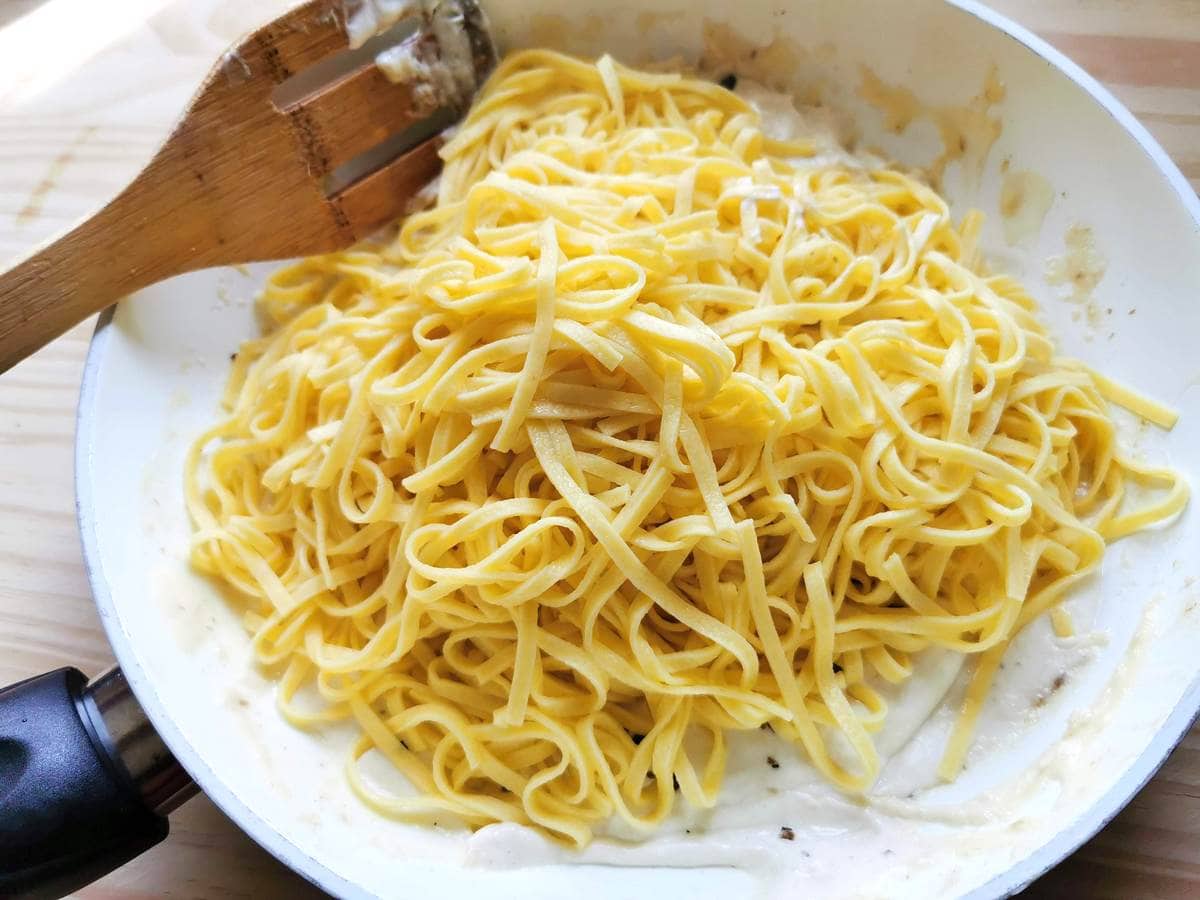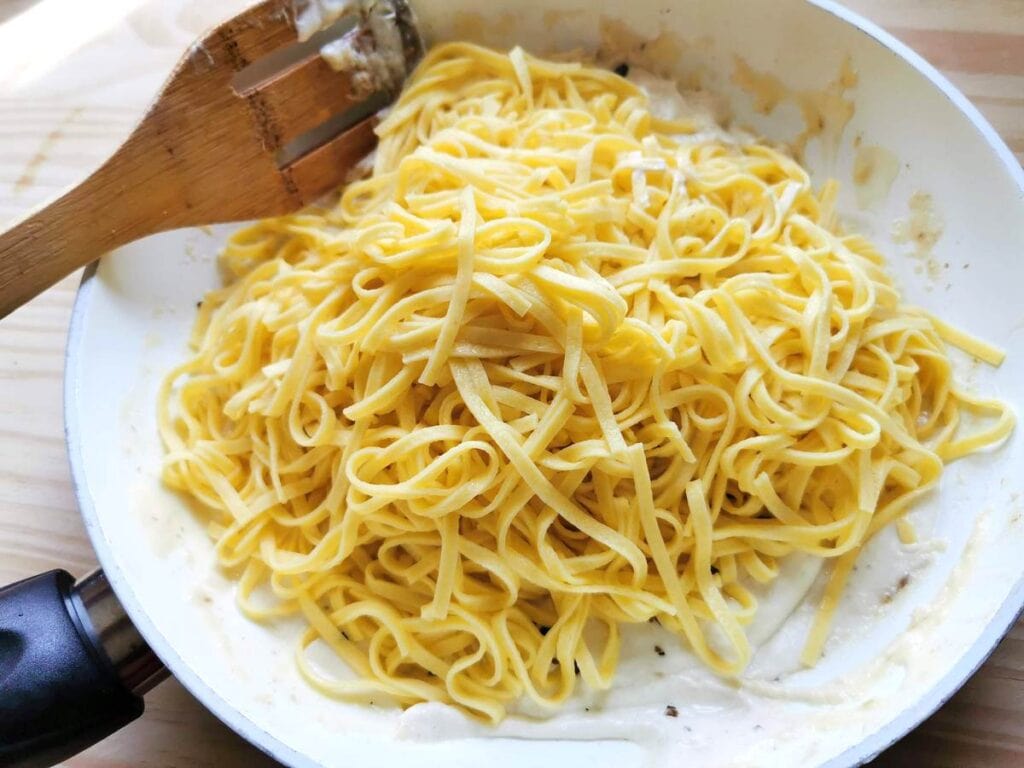 Because this pasta with truffles and mascarpone is so special, I used Cantabrian anchovies from Northern Spain. Cantabrian anchovies are considered to be the best anchovies in the world and have become quite à la mode. Of course, they cost more than other types so you can use normal anchovies. Choose anchovy fillets preserved in oil.
The best pasta to use.
Most recipes for pasta with truffles and mascarpone call for egg pasta ribbons such as tagliatelle, pappardelle or tagliolini. I used the latter because not only is it my favourite long egg pasta, but it's also the most traditional type in truffle and pasta dishes. You can read more in my tagliolini post.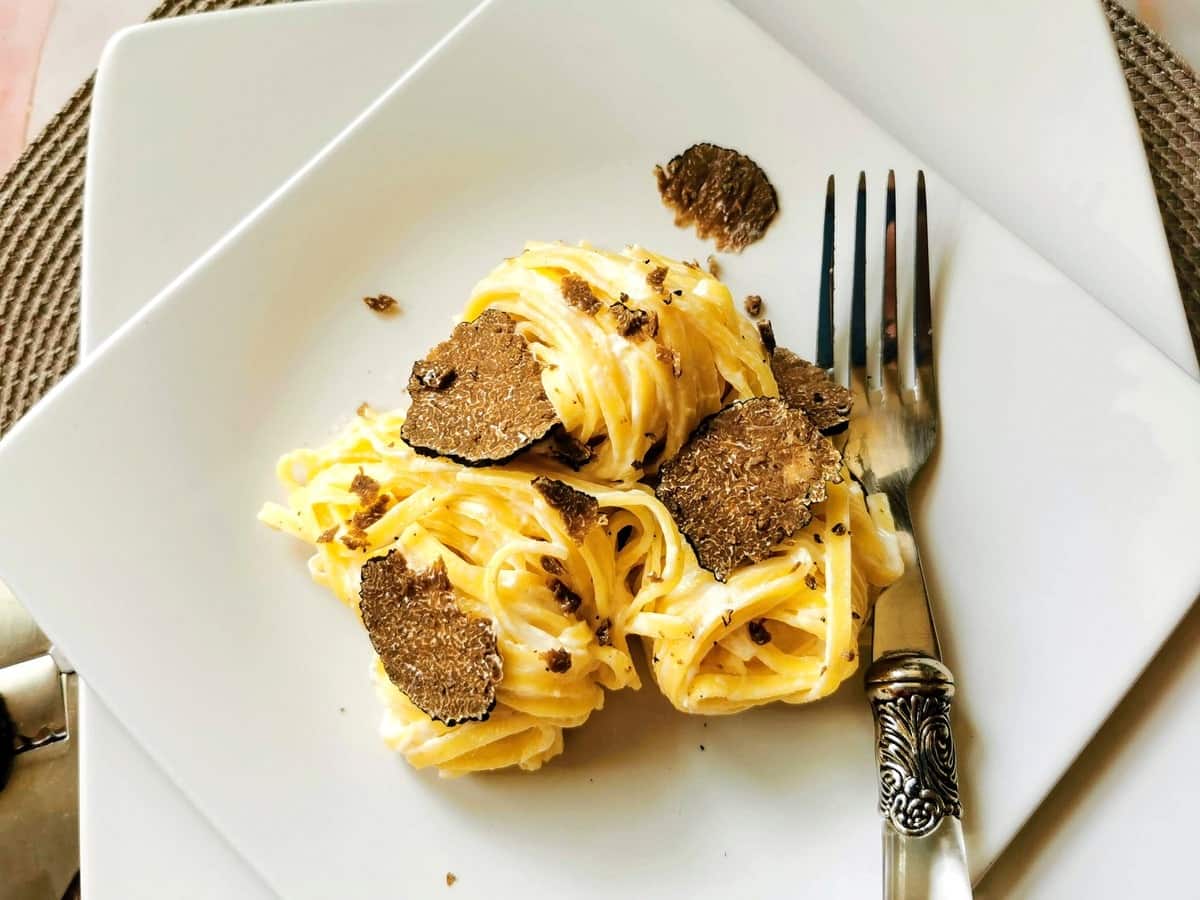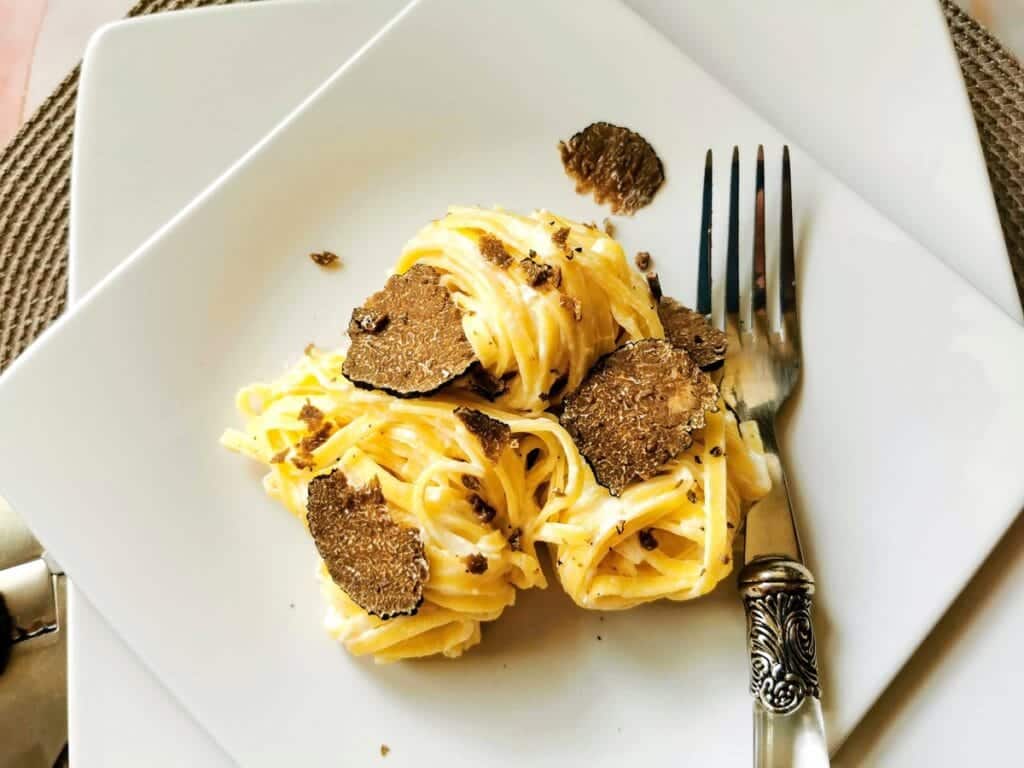 How to make pasta with truffles and mascarpone.
Making this divine pasta with truffles is very easy. All you have to do is sauté the garlic in olive oil. Add the anchovies and stir until they 'melt'. Then remove the garlic and add the mascarpone and stir again. Once the mascarpone has become more liquid add salt and pepper to taste and some pieces of chopped black truffle and the sauce is ready! It's important not to let the mascarpone boil, so keep the heat low.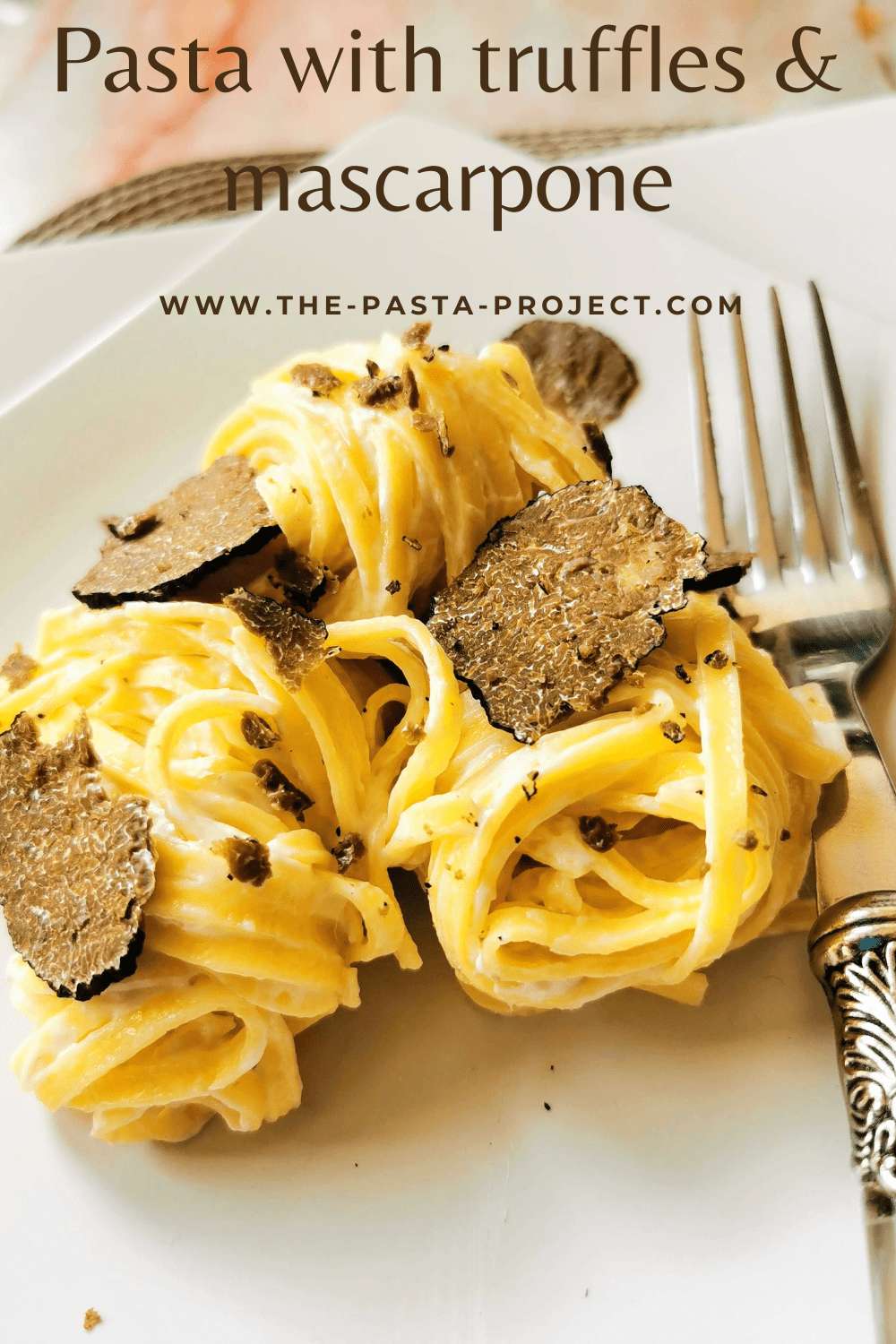 While you are making the sauce, you can have a pot of water on to boil for the pasta. Add salt once it starts to boil and then cook the pasta al dente. If using fresh egg pasta, it won't take very long to cook. Drain the pasta and add it to the mascarpone sauce. Mix well and plate. Add shaved slices of truffle over each plate. How much you use depends on how much you like truffles and how much you have!
If you make this truffle pasta recipe, I'd love to hear how it turns out. Please write a comment here on the blog, email me or post a comment on the Pasta Project Facebook page.
Your feedback is really appreciated!
Buon Appetito!
Other truffle pasta recipes on The Pasta Project.
Truffle substitutes.
Truffles are expensive but if you love the flavour and can't afford or find fresh truffles, there are some substitutes. These include truffle oil, paste, butter, salt and truffles preserved in oil. The most important thing to look out for with some products is to be sure they have been made with real truffles! Very often and particularly with lower cost products the flavouring is artificial. Check the label!
For this recipe, I think truffles preserved in oil would be a good substitute for fresh or some truffle paste or butter melted in the pan before adding the mascarpone. Alternatively, you can substitute the truffles with other ingredients such as dried porcini mushrooms, which have a similar earthy flavour.
Check out my shop page!
If you are interested in learning how to make homemade pasta and different types of gnocchi, check out my shop page for some great video online courses from my friends in Rome! Nothing beats learning to make pasta from Italians! Plus while you're there why not order a copy of one of my pasta recipe cookbooks or checkout some recommended pasta making tools? All great prezzies for pasta lovers!