Tortelli and Ravioli; filled pasta.
There isn't much difference between tortelli and ravioli in the world of Italian filled pasta. By that I mean the dough is more or less the same (sometimes with eggs, sometimes without) but the fillings, shapes and name depend more on the region, or even the town, the tortelli or ravioli is made in and considered traditional.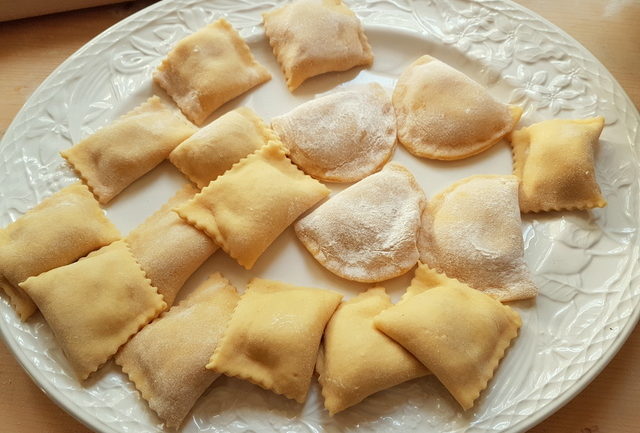 Differences between Tortelli and Ravioli
However, in general,  ravioli are almost always square or round. Whereas, tortelli can be large squares, rectangular, sometime semi-circular or may even look similar to cappelletti (little hats). There are also 2 kinds of tortelli shaped like bonbons or sweets. One is known as tortelli Piacentini or Petrarca's tortelli named after the famous poet and traditional in Piacenza, Emilia-Romagna. The other is better known as caramelle (meaning sweets).  Like many traditional pasta shapes, tortelli and ravioli have ancient origins. But there are varying opinions on exactly when, where and how the idea of these filled pastas was born.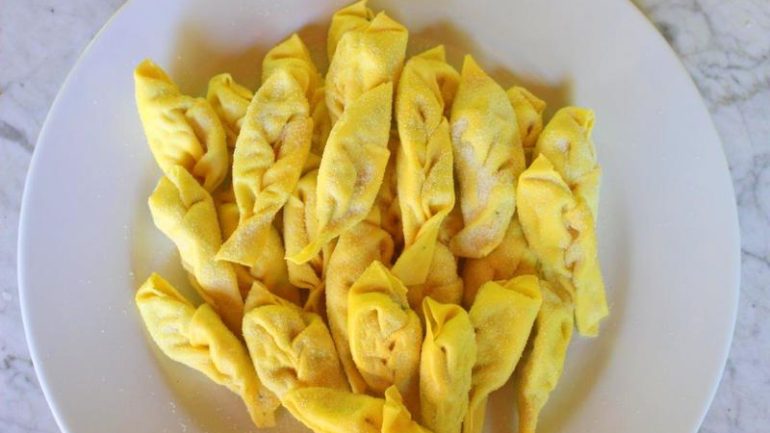 Some tortelli and ravioli history.
Though types of filled pasta are known to date back to early Roman times, it wasn't until the 12th century that the first written evidence can be found describing raviolus (square or round shaped pasta, most likely filled with ricotta and other ingredients). The word tortelli, as they were also then called, is believed to originate from the 'torta', a savory medieval pie.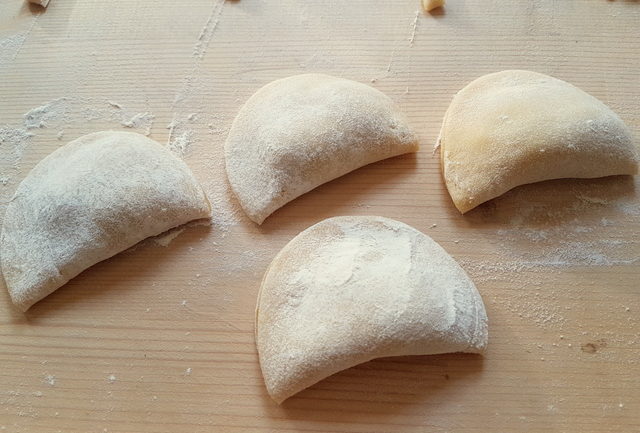 From torta, the Italians got to tortelli, tortellini, and tortelloni (a typical example of the Italian linguistic device for expressing variations in size), ravioli and cappelletti. Although the word 'riavvolgere' means 'to wrap' in Italian, some people think ravioli were actually named after Ravioli, a renowned 13th-century chef in the Genova Republic (now Liguria). He is believed by some to have invented ravioli, although there are other contenders for the title of inventor of ravioli! Either way, by the 14th century, all kinds of filled pasta began to appear throughout many parts of central and northern Italy.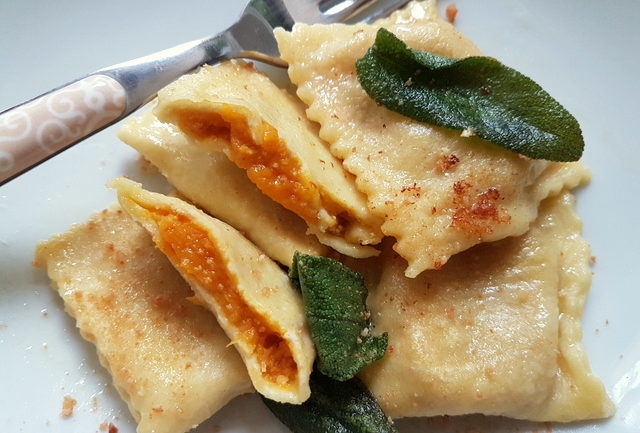 Traditional ways to serve tortelli and ravioli.
Before tomatoes started being used in Italian cuisine, most filled pastas were served in a broth often made with capon or with a butter and cheese or sage dressing. Both ways are still traditional in most the regions where this type of pasta is eaten. However these days Italians also serve filled pasta with a tomato sauce or ragu.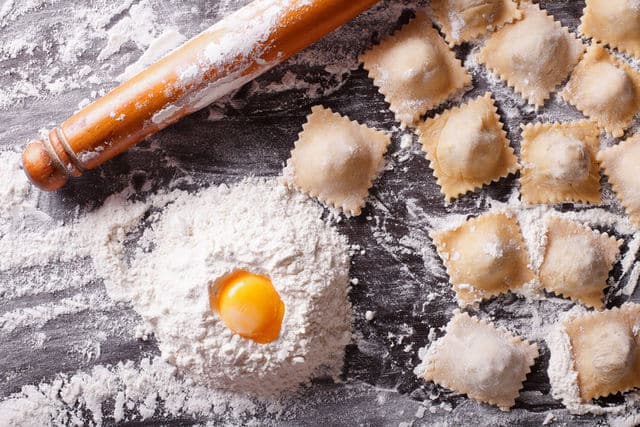 Many of these filled pastas are still traditional today and, of course, there are also contemporary recipes for filled pasta too. The shapes have also changed and there are many different ones. However, most simple round, square or rectangular filled pasta is called ravioli or tortelli.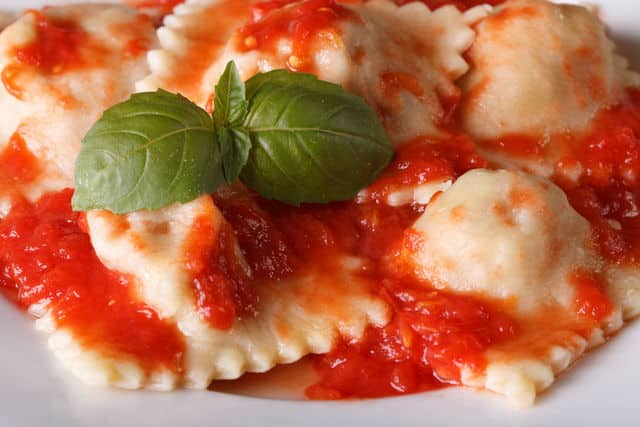 The name tortelli is used mostly in Lombardy, Tuscany and Emilia-Romagna, although it appears in other regional cuisines. Among the most delicious traditional tortelli and ravioli recipes which I am looking forward to making or really want to try are...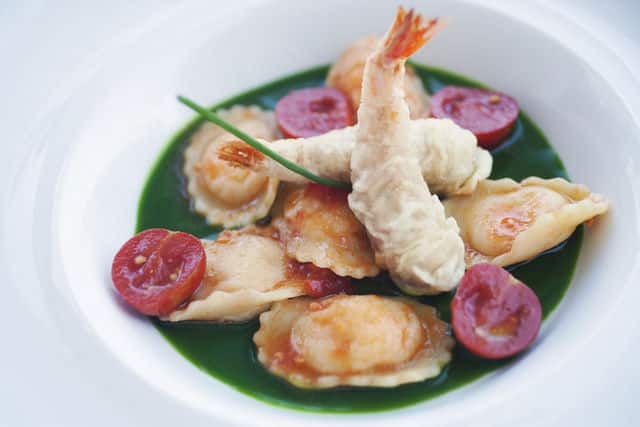 Tortelli from Tuscany
Tortelli alla lastra from Tuscany, originated in the mountains between Tuscany and Emilia and were originally cooked on a piece of sandstone over a fire (alla lastra). The dough is flour and water, rolled out into thin large squares. The filling is mainly mashed potatoes, sometimes with pancetta. These tortelli are usually served with a sauce made of braised onions, carrots, celery, tomatoes, sage and garlic.
Also from Tuscany are tortelli di patate (potato tortelli) These large, square pasta parcels are stuffed with potato puree with some ripe tomatoes or tomato concentrate, plus garlic and sometimes fresh rosemary. They are served with a meat-based ragù, a porcini mushroom sauce, or simply butter and parmesan.
Tortelli maremmani are another Tuscan tortelli. They come from the Maremma region. These filled pasta squares are stuffed with an aromatic blend of nutmeg, spinach and ricotta and topped off with a generous helping of ragù sauce.
Tortelli from Abruzzo
Tortelli abruzzesi di Carnevale. Carnival tortelli from Abruzzo. This dish is usually served mostly on the last Sunday of Carnival. The filling consists simply of sheep's ricotta, eggs and cinnamon. These tortelli are traditionally cooked in a meat broth and served with grated pecorino.
Ravioli from Molise
Ravioli scapolesi come from a small village in Molise called Scapoli. The filling for this ravioli is made of boiled and chopped chard, roasted ground meat, sausage, eggs, ricotta and young pecorino cheese. These large raviolis are first boiled, then seasoned in a pork and sausage ragù,and finally baked!
Ravioli from Campania
And finally baked.Ravioli di ricotta di pecora (sheep's cheese ravioli) also called 'ravaiuoli' or 'slim ravioloni' are an ancient traditional specialty of Campania. Normally handmade, these ravioli are filled with fresh sheep ricotta. The dough is made with eggs and then cut out into circles or half-moons filled with ricotta, ground pecorino, herbs and seasoning. The traditional sauce for these ravioli 'di magro', so called because they're meatless, is tomato sauce or castrated lamb.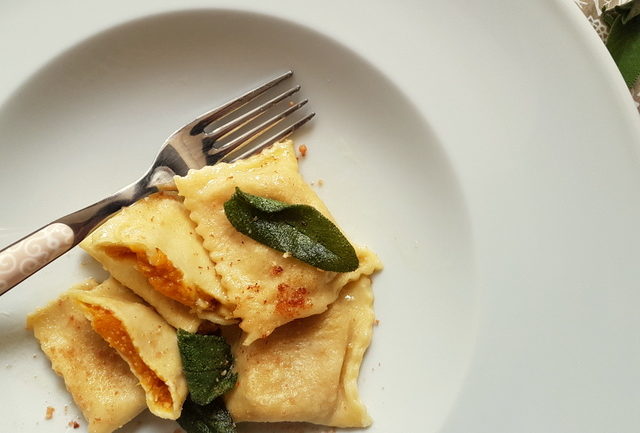 Reading through this list of different traditional tortelli and ravioli may make you hungry! It does me! Why not try your hand at making the first tortelli recipe I have made myself for The Pasta Project; tortelli di zucca mantovani. These tortelli from Mantova in Lombardy are filled with pumpkin, crumbled amaretti biscuits and mostarda (a quince and mustard essence condiment which is very common in Lombardy). They are boiled and traditionally served with a sage butter. Why not check out the recipe for pumpkin tortelli and try your hand at making them?