Tortelli Piacentini or Petrarca's Tortelli.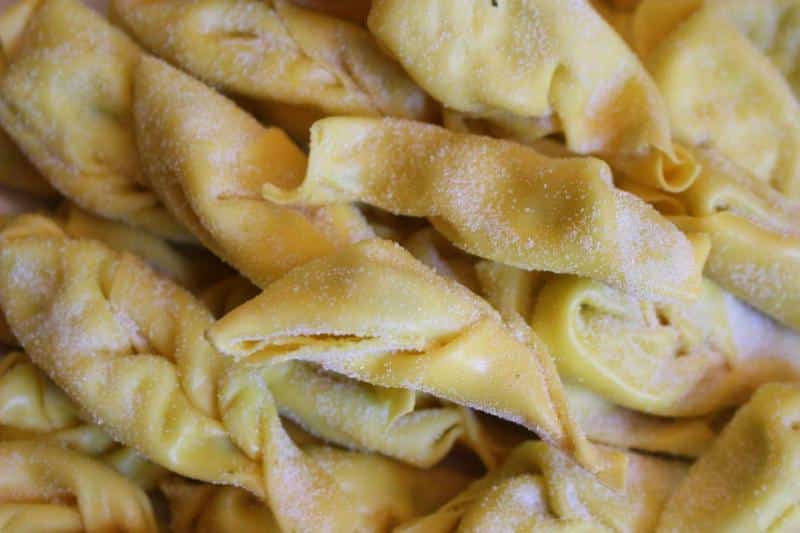 Tortelli Piacentini al burro e salvia.
I love filled pasta such as ravioli, don't you? But, did you know that there are actually quite a few filled pasta shapes here in Italy? Of course, most people know shapes such as ravioli and tortellini. However, during my years living in Italy and whilst doing research for this blog, I have come across about 25 filled pasta shapes. So far that is (there may well be more!). Have you ever heard of agnolotti, casoncelli, panzerotti or caramelle? Many of these more unusual filled pastas are particular to the region in which they originated and, unlike ravioli, aren't found all over Italy or abroad. (go straight to sage butter recipe)
Some Pasta History!
The Italian tradition of making a pasta with filling (meat, cheese, vegetables) is actually very old. In fact, lovers of gastronomic history will be interested to know that the oldest versions date back to the early 14th century. One that has a pretty ancient history is tortelli Piacentini. This kind of tortelli appears to date back to 1351; the year in which, food history tells us, a nobleman called Bernardo Anguissola was host to the famous poet Francesco Petrarca at the castle of Vigolzone, Emilia-Romagna.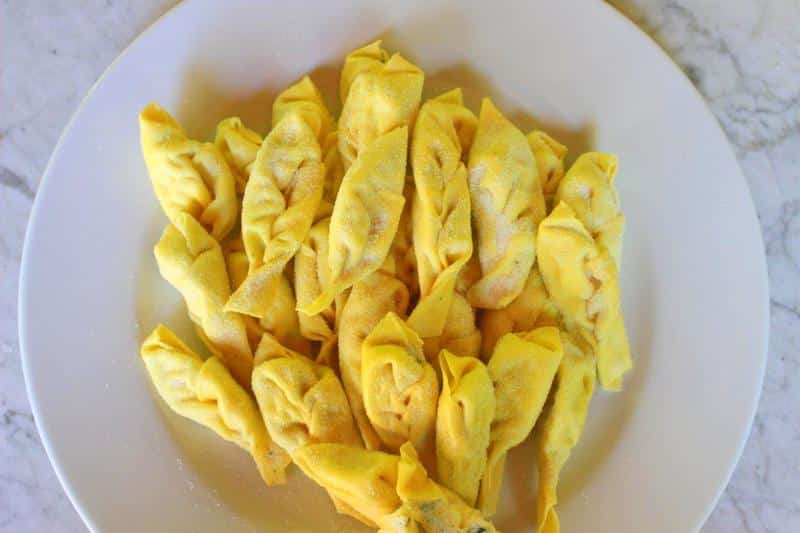 Anguissola apparently asked his cooks to turn normal every day ravioli into something more original and visually pleasing to the famous poet. The cooks in the castle kitchen produced a pinched pie-shaped braid for the occasion and, so, tortelli Piacentini were born.
Tortelli with many names.
Today this pasta is also called tortelli with a tail - con la coda - or turteil cun la cuà in the local dialect or Petrarca's tortelli. A similar type of tortelli also exists with two 'tails' giving it a distinctive bonbon shape. These, however, are known more commonly as 'caramelle' or sweets (candies) in Italian.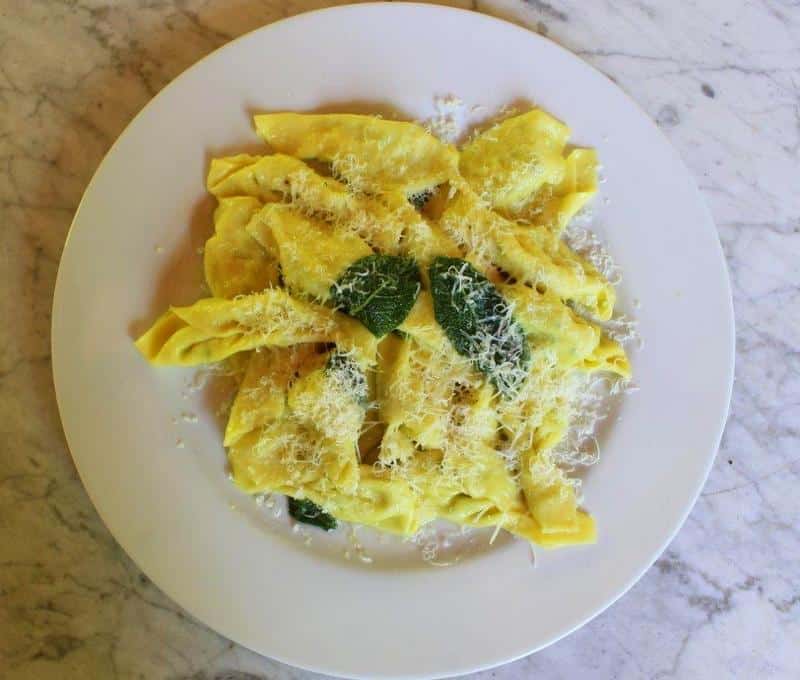 Tortelli Piacentini are traditionally made, like other fresh pasta, with flour, eggs, oil and salt. They are then filled with a mixture of ricotta, spinach, nutmeg and Grana Padano cheese. The shape is obtained by cutting small circles out of rolled out pasta dough. Then, a small amount of filling is put in the middle of each circle. The folding, plaiting and pleating of the pasta shapes is done by hand. I definitely want to try making these tortelli. But I know they're not easy and have to practice first!
Pasta al burro e salvia.
These tortelli are traditionally cooked in boiling salted water and served with melted butter, sage and grated grana or Parmesan. This recipe for serving pasta, which Italians call 'pasta al burro e salvia', is very simple to make and requires few ingredients. It is also very popular with other filled pastas such as tortelloni, especially when the filling is also ricotta and spinach or pumpkin or potato and pancetta.
Where I ate this dish.
I didn't actually do the cooking for this post but was lucky enough to be a guest at friends who have a wonderful guest house called Villa Arabella in the Oltrepo Pavese a beautiful part of Lombardy which lies very close to the border with Emilia-Romagna and Piacenza. My friends are both great cooks and whenever we visit, we are always treated to the most wonderful food! If you are ever in the area (it's not far from Milan) you should consider staying with them.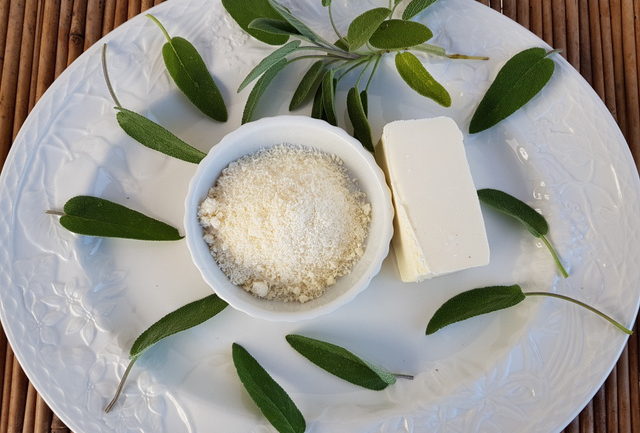 Both tortelli Piacentini and caramelle are usually homemade and not easily found produced commercially although it's possible to buy them fresh from artisan pasta makers (pastificio) in the areas where they are traditionally eaten. I have also found a couple of online specialist Italian food suppliers that deliver them in UK. I'm not sure about other countries. However if you are feeling creative you can try to make tortelli piacentini yourself.(This is not my video I found it on YouTube)
At the very least do look out for them if you happen to be in Emilia-Romagna, especially somewhere near Piacenza. I'm sure you'll love them. And in the meantime try the recipe for 'burro e salvia' on other types of filled pasta. It's simple yet very tasty! A great go-to option when you don't have much time to cook or an empty fridge!
Buon Appetito
A fresh filled pasta I have made myself and served with sage butter is pumpkin tortelli from Mantova. Check it out by clicking here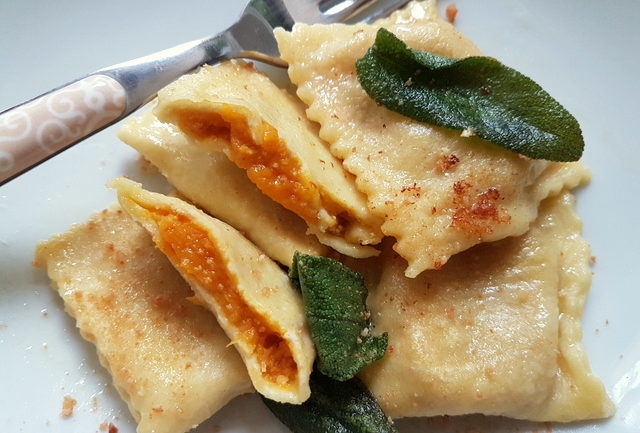 (see the recipe on the next page. Just scroll down and click 2)