Ravioli made with gnocchi dough, recipe from Friuli Venezia Giulia.
Ofelle alla Triestina are an unusual and tasty homemade ravioli from Trieste in Friuli Venezia Giulia filled with sausage, veal and spinach and served dressed in melted butter and grated cheese! These gnocchi ravioli are a delicious dish from a region full of culinary treasures!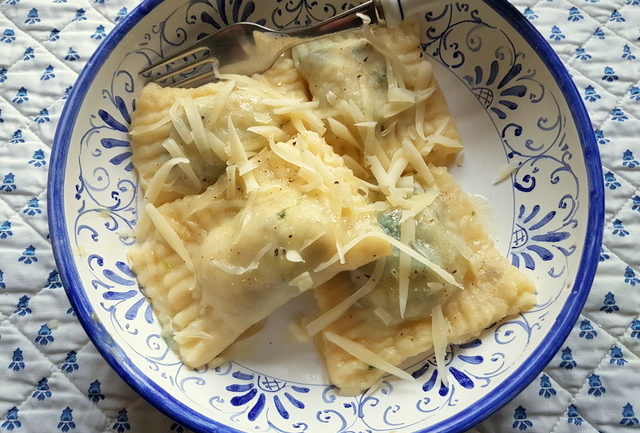 So what are ofelle alla Triestina?
Some people call them potato ravioli, others say gnocchi ravioli. But, whichever description you use, ofelle Triestine or ofella alla Triestina are a unique type of ravioli filled with sausage meat, ground veal and spinach. These ravioli are unique because they are only made in Friuli Venezia Giulia and the dough is similar to an gnocchi dough. Yes it contains potatoes. But, the finished filled pasta looks like ravioli! So, gnocchi ravioli!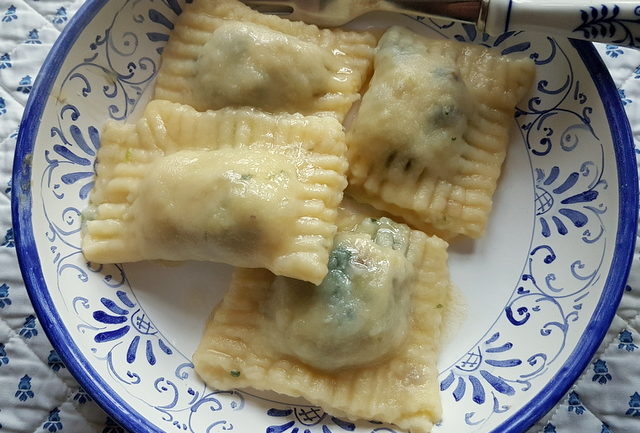 I discovered this recipe whilst researching pasta from Friuli Venezia Giulia. This is Italy's most eastern region. It not only borders Austria and Slovenia, but has a complex history of occupation through the ages. This includes parts or all of the region being ruled at one time or another by the Byzantines, the Roman Empire, the Venetian republic, Napoleon and the Austro-Hungarian Empire.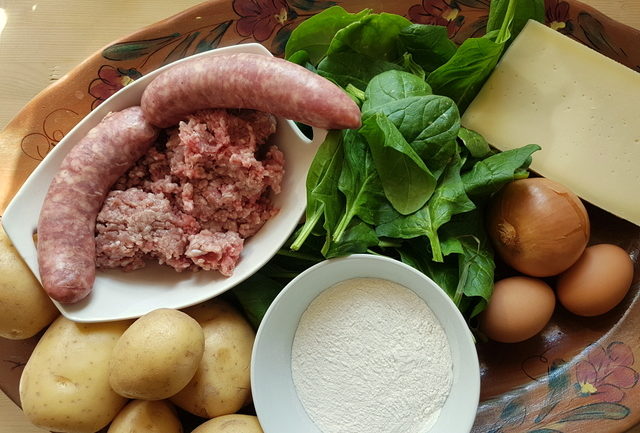 Friuli Venezia Giulia.
Without going into a long narrative about the history of this Friuli Venezia Giulia, suffice to say that the cuisine in this part of Italy has been influenced not only by its neighbours but also by the occupying states. Here, you can find dishes you won't see in other parts of the Italian peninsula. Even some of the ingredients are unique to this region.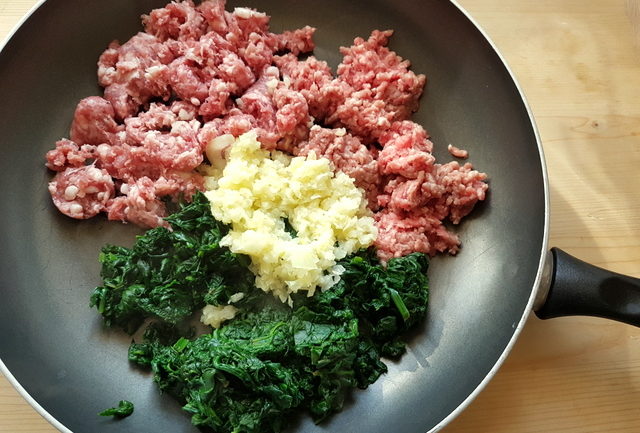 Two examples of this use of unusual ingredients are two recipes I posted recently for cinnamon spiced pork ragu and another for tagliolini alla San Daniele with poppy seeds.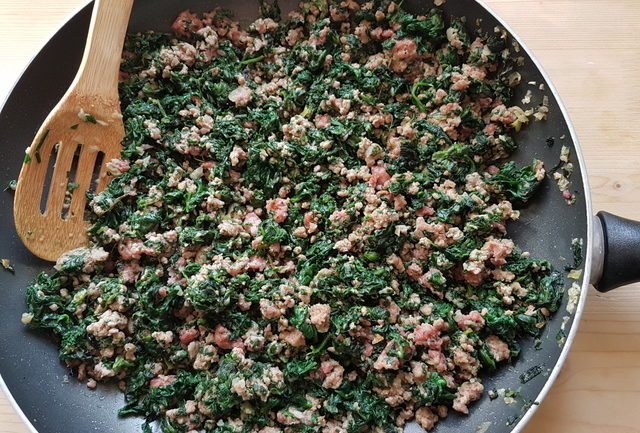 Both filled pasta and gnocchi are ancient traditional foods in Italy, particularly in Northern Italy. However, the only traditional example I have found of potatoes used to make ravioli dough is this recipe for ofelle alla Triestina. This is not a pasta that you will find ready-made. So, the only way to try it is to travel to Trieste or make it yourself!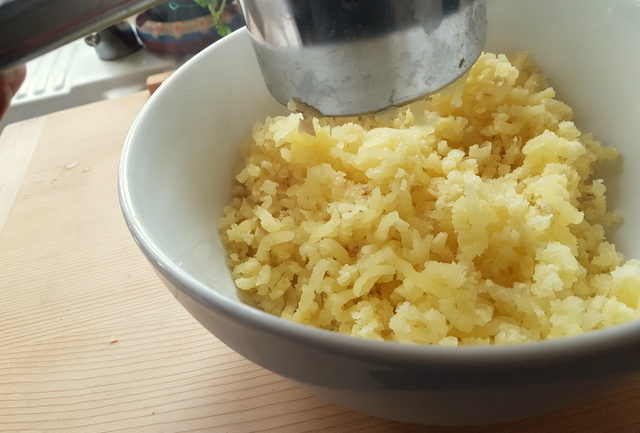 Making ofelle alla Triestina.
The method for making the dough for ofelle is much the same as making potato gnocchi. However instead of forming gnocchi you need to roll the dough out like for ravioli. Getting the right consistency and thickness is a little more difficult. However, the rolled out dough can, and needs to be, a little thicker that ravioli dough.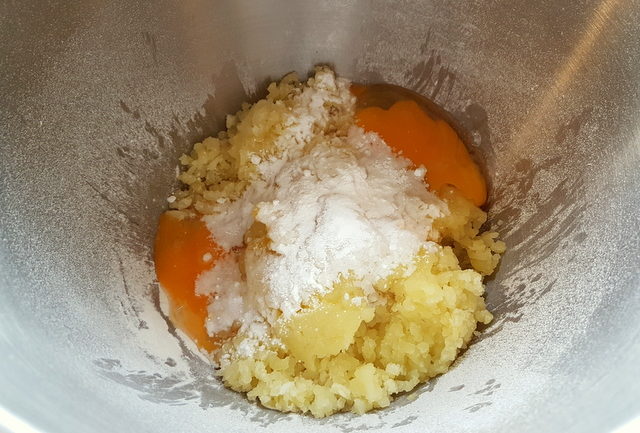 At first, I was a little skeptical about the thickness. But, actually, if you make them too thin, the ofelle will fall apart. And, although they are thicker than ravioli, they taste like gnocchi, so no excessive doughy flavour.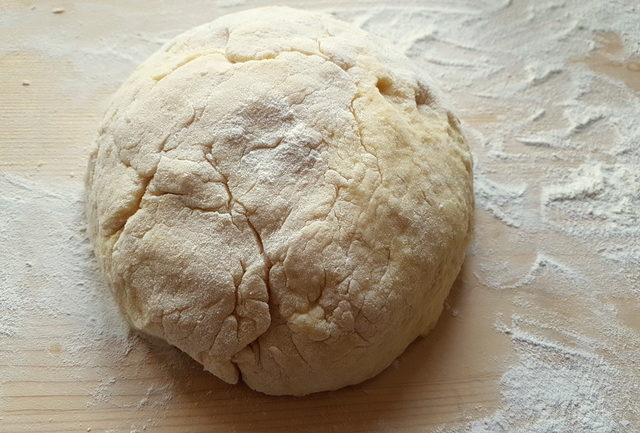 The filling is pretty easy to make and very tasty. These ravioli don't need a sauce as such.Traditionally, they are served with melted butter and a mountain cheese called Montasio. However, you can use Parmigiano Reggiano or Grana.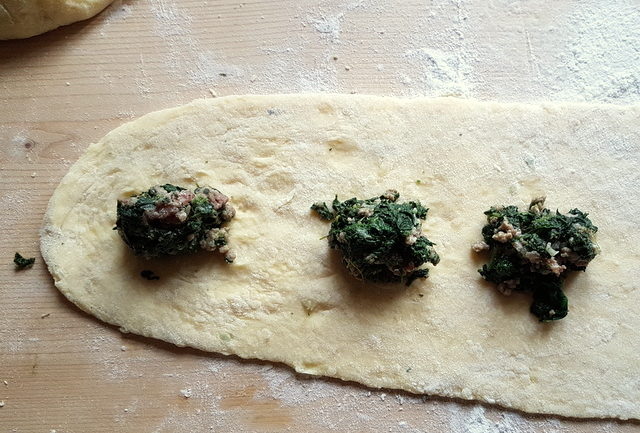 This is an unusual type of pasta that does require a little bit of work. However, it's more or less the same as making homemade ravioli or gnocchi. I'm sure that if you try these ofelle alla Triestina, you'll love them as much as I do!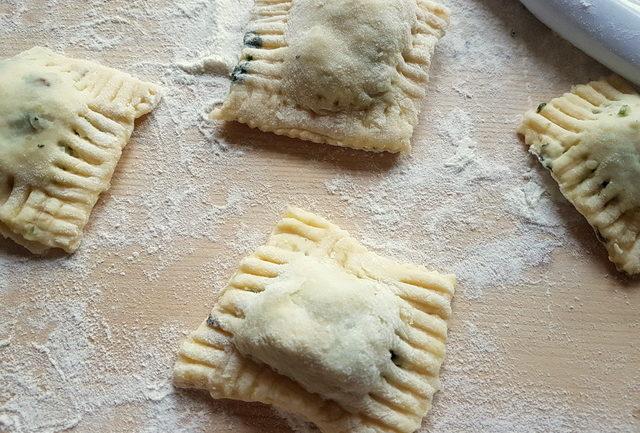 If you do try this ofelle alla Triestina recipe, I'd love to hear what you think. Please write a comment here on the blog or post a comment on the Pasta Project Facebook page.
Your feedback means a lot to me!
Buon Appetito!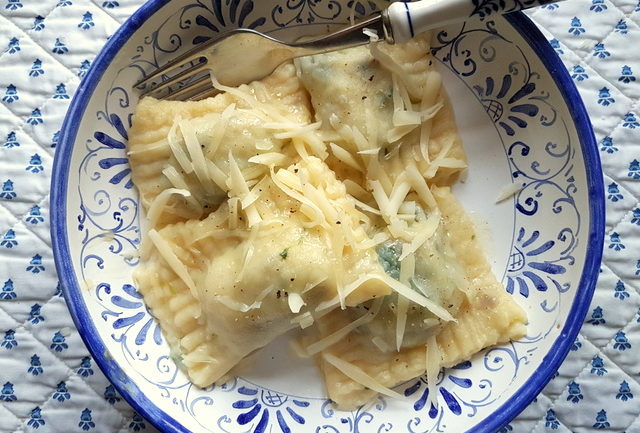 Save this recipe for later?
If you want to save this recipe for later, you can print it, bookmark this page or save it to Pinterest.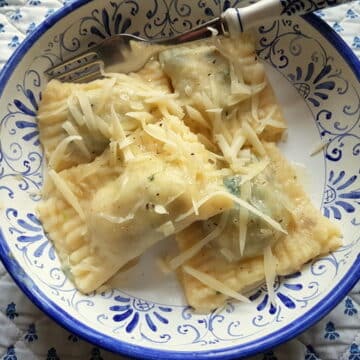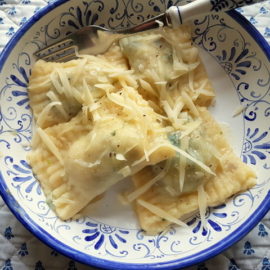 Ofelle alla Triestina (Gnocchi Ravioli)
These delicious unusual gnocchi ravioli are made with gnocchi dough and filled with sausage meat, ground veal and spinach like ravioli. If you've ever made gnocchi or ravioli, you'll love making ofelle!
Ingredients
For dough
1

kg

potatoes

(2.20 lbs) Best to use starchy potatoes. Russets or King Edwards are good

250

g

All purpose flour

or Italian 00 flour (9oz)

2

eggs

1

tsp

yeast (for baking)

1

pinch

salt
For filling
700

g

fresh spinach

(1.5lbs)

200

g

ground veal

(7oz)

150

g

Italian sausages

(5oz) casing removed and chopped

1

onion

peeled and finely chopped

20

g

butter

(0,7 oz)

salt

to cook pasta and to taste

ground black pepper to taste
For dressing
100

g

butter

(3.5oz)

80

g

Montasio or Parmigiano Reggiano

grated (3oz)
Instructions
Make the dough
Boil the potatoes whole in salted water until very tender. Drain and, while still warm, peel, and press through a ricer or food mill. (I actually press the potatoes without peeling as the peel stays inside the ricer)

Place the riced potatoes in a large bowl and add the eggs, a pinch of salt, the yeast and enough flour to make a dough that is the same consistency of gnocchi dough. (I started with 250g but added a bit more as the dough seemed too wet) 

Mix ingredients together. Then turn out onto a floured pastry or pasta board. Knead the dough for about 5 minutes, then let rest covered with a cloth or tea towel for 30 minutes.
Make the filling
In the meantime, cook the spinach with just a tablespoon of water until wilted. Drain and press out any excess liquid. Chop finely

Peel and finely chop the onions and fry until soft in melted butter.

In a large frying pan or skillet, heat a little olive oil over , then add the cooked onion, cooked spinach, ground veal, and chopped sausage meat, and cook over a medium-high heat until the meat is nicely browned. Season with salt and pepper. Turn off the heat and allow to cool.
Make your ofelle alla Triestina
Cut the dough into 4 pieces. Roll one quarter of pasta dough out into a rectangle of 9-10 cm wide until it is about 3-5 mm thick. You can use a pasta machine to do this, but I didn't. Place a scant tablespoons of the filling along one side of the rectangle at about 3-5 cm apart and 1cm away from the edge.

Fold the pasta over the filling and press down around the filling. Cut out the ofelle/ravioli squares with a serrated pasta wheel. I then used a fork to make a 'frill' along each side of the ofelle and seal the filling inside. Set the ofelle aside on a floured surface or plate.

Bring a pot of water to a boil, add salt and bring to a boil again. Cook the ofelle in the boiling water until they are tender and cooked through. They will probably rise to the surface when almost ready. Then cook for another minute. In total give them about 4 minutes.

While the ofelle are cooking melt the rest of the butter in a small pan.

Drain and place the ofelle in a serving bowl or plate. Drizzle some melted butter over them, top with grated Montasio or Parmigiano Reggiano and serve immediately.
Pin for Later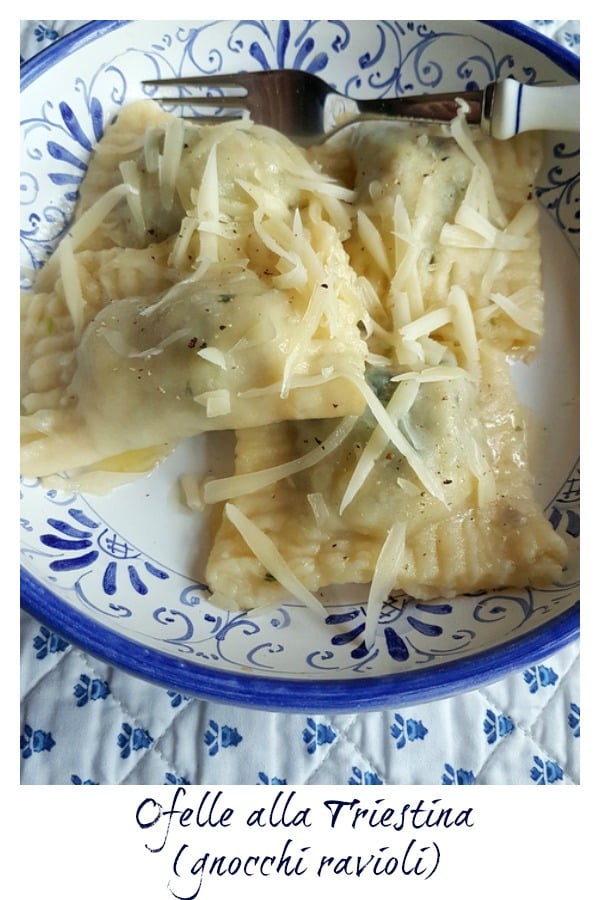 If you are interested in learning how to make homemade pasta and other types of gnocchi, check out my shop page for some great video online courses from my friends in Rome! Nothing beats learning to make pasta from Italians! Plus while you're there why not order a copy of one of my pasta recipe cookbooks or checkout some recommended pasta making tools?