Friuli Venezia Giulia.
Friuli-Venezia Giulia is very different in some ways to what many people think of as Italy. This North Eastern region borders Austria and Slovenia to the North and East with the Adriatic sea and the Veneto region on its Southern and Western borders. It has a very complex history, which includes parts or all of it being ruled at one time or another by the Byzantines, the Roman Empire, the Venetian republic, Napoleon and The Austrian Empire.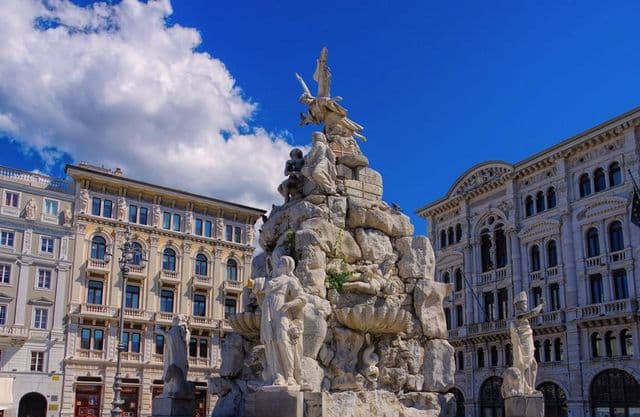 It wasn't until after the second world war that Friuli Venezia Giulia's borders were finally established as they are today. Interestingly the city of Venice isn't in this region, despite the name. The capital is Trieste.
As you can imagine both the previous ruling states/empires and the bordering countries have had an influence on the culture of this region, making it rather unique. This is very evident in the cuisine, which includes many foods you would expect to eat in Austria or the ex-Yugoslavian countries. However, dishes vary throughout the region also because of the geographical diversity.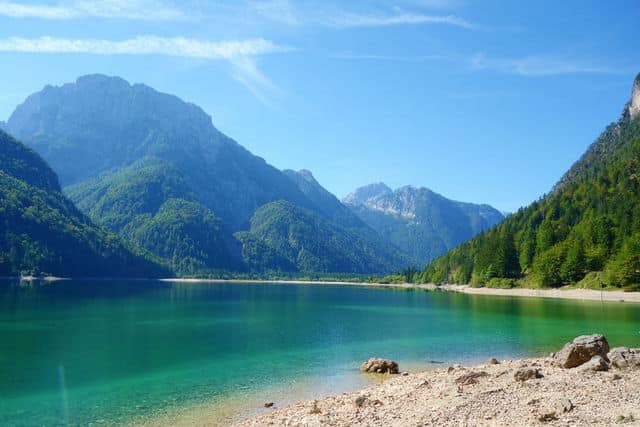 The landscape of Friuli Venezia Giulia varies dramatically. In the northern areas, it is mountainous (more than 50% of the region is mountains and hills). Here the cuisine includes a lot of game, grilled meats and freshwater fish. In the South, towards the Adriatic Sea seafood plays a large role in local dishes.
A few typical dishes.
Polenta is a staple in Friuli Venezia Giulia, as it is here in Veneto and much of the rest of Northern Italy. It is served in many ways. For example, it's cooked with milk and pumpkin in a soup called 'zuf' or served with sausage and spinach in another soup called paparot. Here goulash is a typical dish usually served with polenta. In fact, all kinds of soups and stews are made and eaten throughout this region. Jota, to mention another, is a bean and sauerkraut soup eaten in Trieste.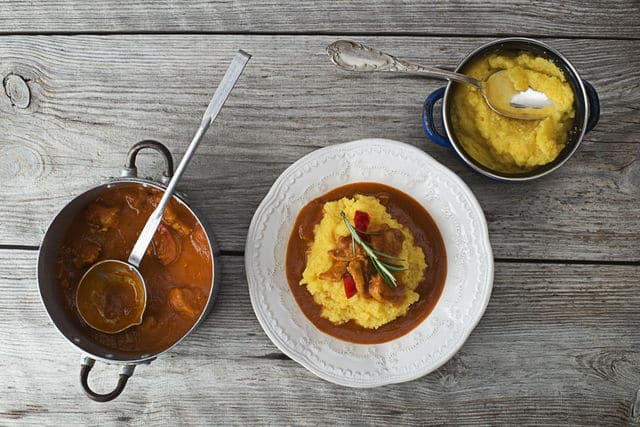 The most popular meat in Friuli Venezia Giulia is pork and pork products. Although beef, poultry, veal and game are eaten too. The region is famous for its prosciutto (especially San Daniele), as well as sausages and salumi made from game and even goose, as well as pork. Apart from the goulash,; cevapcici, Viennese cutlet (wiener schnitzel) and Bohemian hare are popular meat dishes worth trying, along with a spicy pork which is often prepared over an open hearth.
Another well-known must-try dish from Friuli Venezia Giulia is frico. This is a cooked cheese dish usually made with Montasio cheese. There are two versions. Soft frico which may be served with potatoes or onions and thin frico which is eaten like cheese crisps or shaped into cheese baskets.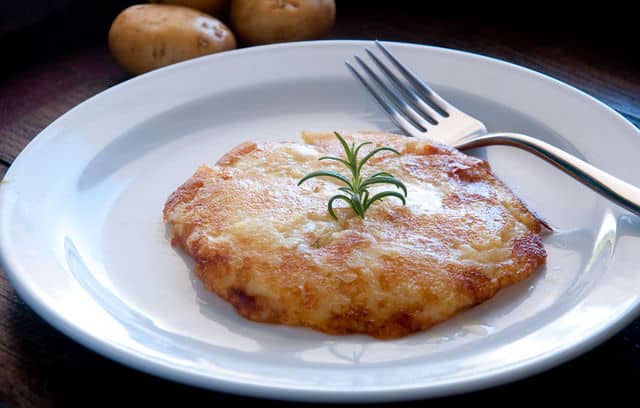 Sweet dishes are popular and they use a lot of spices like cinnamon and cloves and dried fruit. These are even added to meat, pasta, rice and polenta. You can find what are said to be some of the best cake shops in Italy. Lots of cakes and desserts, for example, strudel, obviously have Austrian origins but there are also many local desserts. Tiramisu is said to have been invented in Friuli Venezia Giulia!
Gnocchi.
Although pasta is eaten in this part of Italy, gnocchi are the more traditional first course (primo). However, the types of gnocchi are pretty varied, as are the way they are served. The most common are gnocchi made of bread, potatoes and pumpkin. There are even some with cherries or plums inside!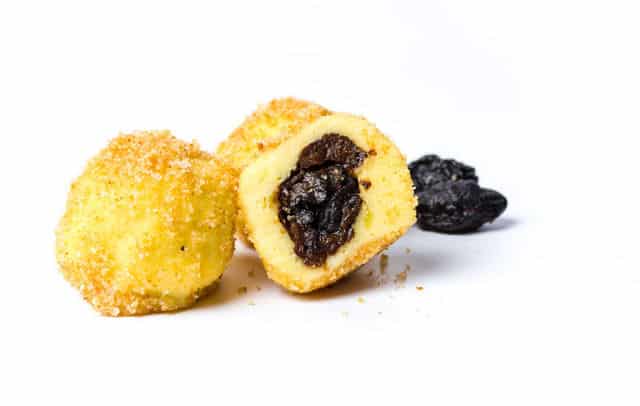 I'm looking forward to making some bread gnocchi. These as you can imagine derive from Austrian cuisine. They are usually served with meat or tomato sauce, or with melted butter, sage, smoked ricotta, porcini and other wild mushrooms sauces, especially in the mountains and foothill areas.
Pasta from Friuli Venezia Giulia.
When it comes to pasta, this is traditionally fresh. The most popular regional pasta types include biechi or becs, a type of maltagliati made with buckwheat flour. These are usually boiled and then served with butter and cheese.
Filled pasta.
Cialzons or agnolotti carnici (from Carnia) are another pasta typical of Fruilia Venezia Giulia, especially the mountain areas. These are usually half-moon shaped or round pasta parcels filled with a variety of ingredients depending on the area. Fillings include ricotta and herbs in the province of Udine; roasted onion, polenta and raisins in the Val Degano; herbs, smoked ricotta, dried figs and raisins in the Val Calda and stale rye breadcrumbs and apples in theVal del But.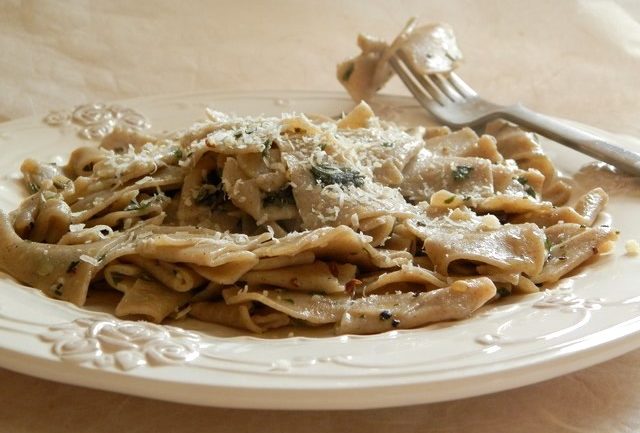 Other delicious filled pasta are bauletti filled with ham and cheese and served in broth and Krafi, originally from Istria. The latter are half-moon ravioli made with flour, eggs and oil, filled with cheese, eggs and sometimes a pinch of sugar, served with a braised meat sauce. Finally offelle which are a type of ravioli made with flour, potatoes, eggs and yeast and stuffed with meat, sausage and spinach. Usually served with melted butter and cheese.
Other pasta.
Like in Veneto, bigoli pasta is made and cooked with anchovies and with duck in Friuli Venezia Giulia. It's also served in a seafood recipe known as la casso pipa. This is a very old recipe that originated as a way for fishermen to use up shellfish they couldn't sell.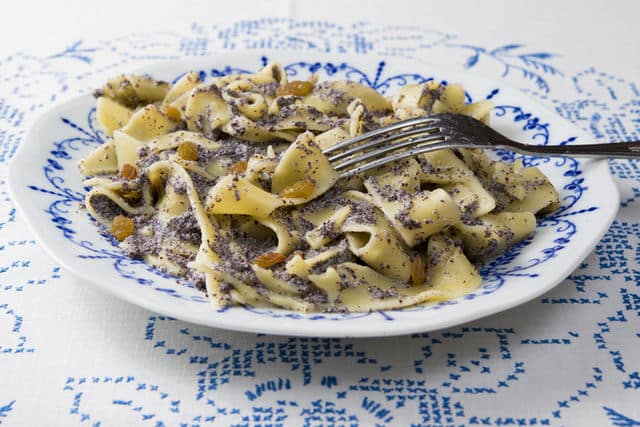 Tagliatelle or other ribbons such as Mafaldine or Lasagnette are also eaten in this region. However, a very unique way of serving them you won't find elsewhere is with poppy seeds. This is actually a sweet butter sauce made with poppy seeds and sugar which is served over fresh pasta ribbins or gnocchi.
Friuli Venezia Giulia is a unique region!
There are both more traditional ingredients, dishes and even pasta recipes in Friuli Venezia Giulia I could mention, but that would meaning writing another 1,000 words! This region is famous for its cheese, vegetables, seafood, wine and grappa! The best would be to visit it! It is a unique region and has so much to offer and is surprisingly not as popular with tourists as other parts of Italy!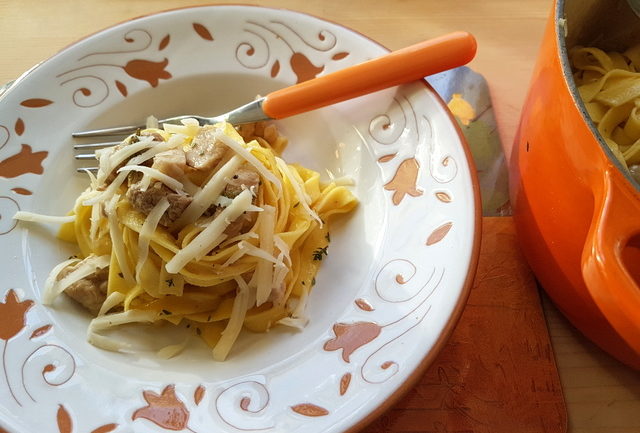 The first recipe I have posted from Friuli Venezia Giulia is for tagliatelle with cinnamon spiced pork ragu. Flavoured with cinnamon, cloves and herbs, this is a delicious yet very different type of ragu that will give you an idea of what the cuisine of Friuli Venezia Giulia is all about. I hope you'll try it and the other recipes I plan to post in the future!