Prune and Fig Cjarsons di Pontebba. Sweet Ravioli from Friuli.
Also sometimes called agnolotti di Pontebba, these prune and fig cjarsons (cjalsons) are a traditional sweet ravioli from the town of Pontebba in Friuli Venezia Giulia, near the border with Austria. This is one of many types of cjarsons typical in this part of Italy, particularly the Alpine mountain area of Carnia in Friuli.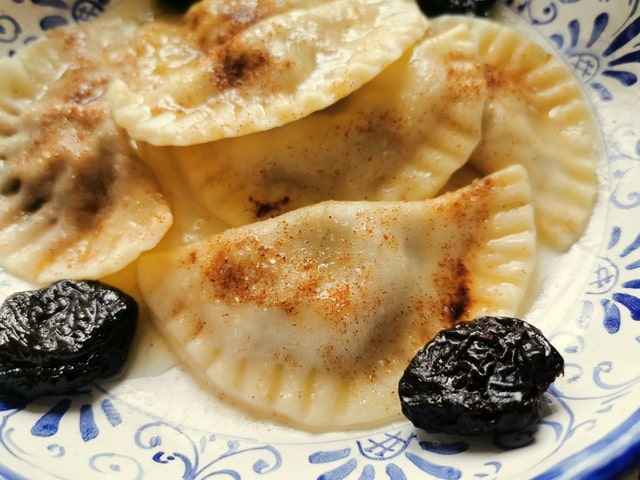 Different kinds of cjarsons.
Cjarsons can be very rich and elaborate or simpler like these sweet ravioli from Pontebba. Some recipes have a lot of ingredients in the filling which is traditionally a combination of sweet and savoury. In fact, the filling differs from town to town or even village to village!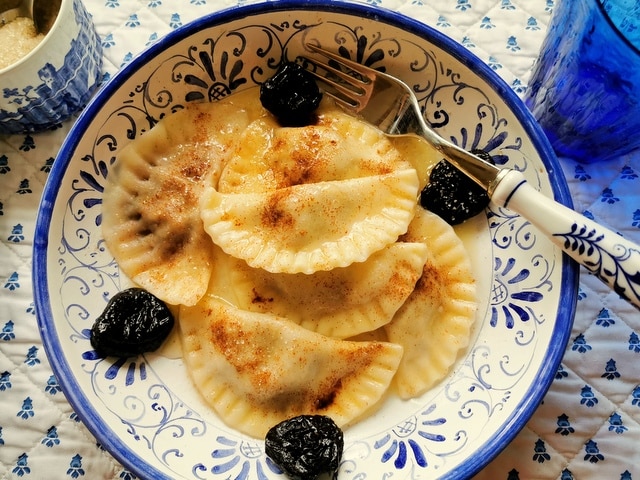 The dough differs too. In some places, it's made with just flour and water. In others, it includes potatoes, like gnocchi. Sometimes it has eggs in it, but often not.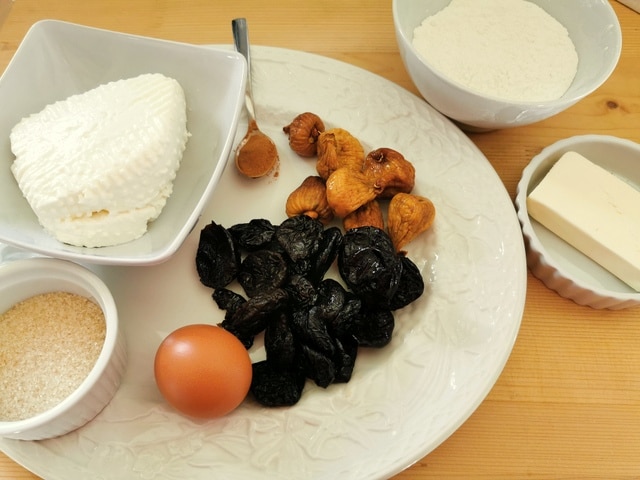 Cjarsons also have an interesting history. They have long been a way for Friulian housewives to use up leftover spices and other ingredients. However, in many places they are a special dish served on village feast days, religious holidays like Christmas Eve and at weddings. You can read more about this unique filled pasta in my post about cjarsons.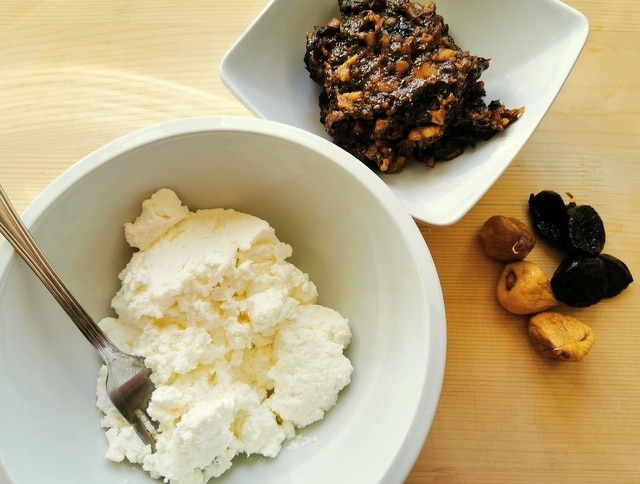 These prune and fig cjarsons from Pontebba.
The dough for these prune and fig cjarsons from Pontebba does have an egg in it. I first found this recipe in a wonderful book I got for Christmas. It's an English version of an Italian cookbook called La Cucina, The Regional Cooking of Italy, published by the Italian Academy of Cooking (L'Accademia Italiana della Cucina).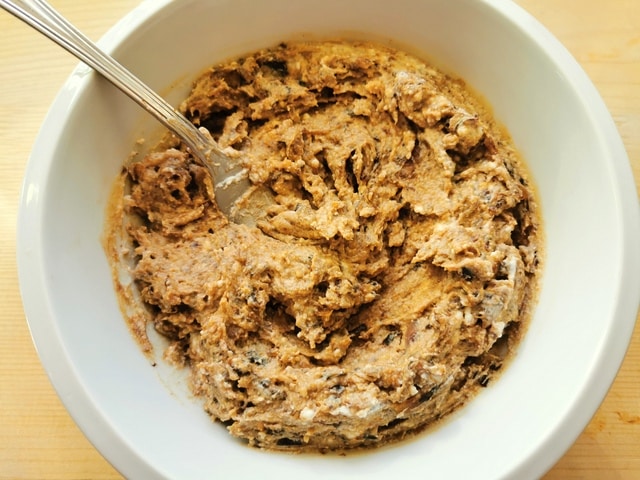 This book was definitely one of my favourite Christmas presents. Of course, there are lots of other recipes in it, not just pasta (2,000 in all). However, the pasta section is pretty extensive! I'll definitely be sharing lots of pasta recipes from it in the future!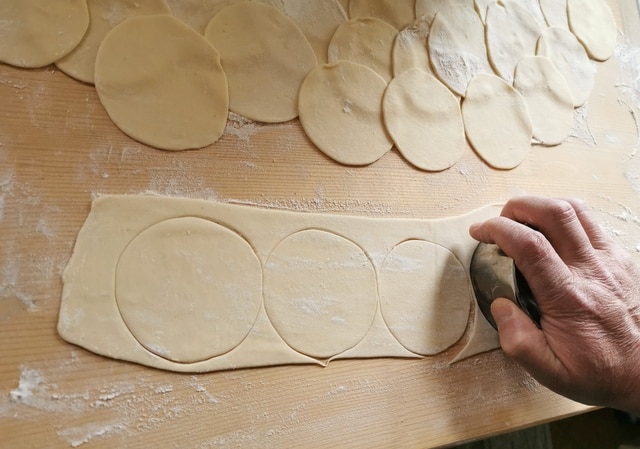 My hubby and I spent a Sunday recently making fresh pasta, including these prune and fig cjarsons di Pontebba. I love it when he helps me! Two pairs of hands are definitely better than one when it comes to making filled fresh pasta.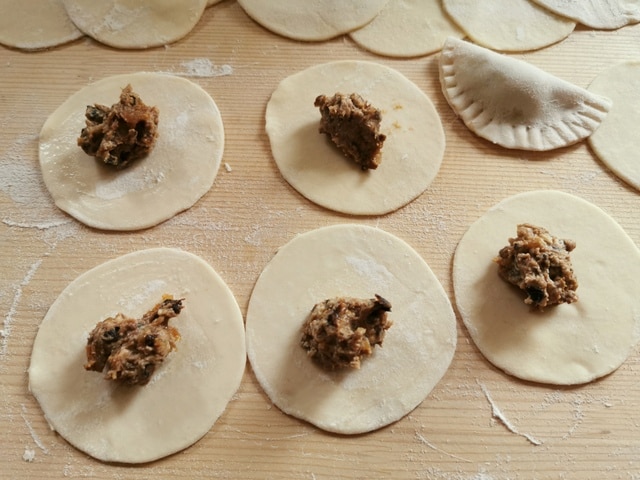 Not that I can't do it alone, but it certainly goes much faster when there are two of you! Having said that we also made a baked fish ravioli with a seafood sauce! Also from the above mentioned book and absolutely fabulous!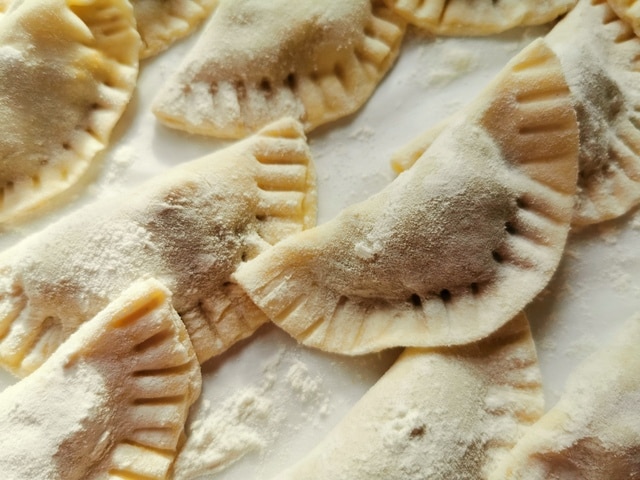 When to serve these sweet ravioli from Friuli
As far as I could ascertain, cjarsons are normally eaten either as a first course (primo), like other pasta here in Italy, or as part of a celebration. Some of the very sweet versions are eaten as dessert. I think these prune and fig cjarsons would be a fabulous and unusual dessert! However, you can choose how you want to serve them.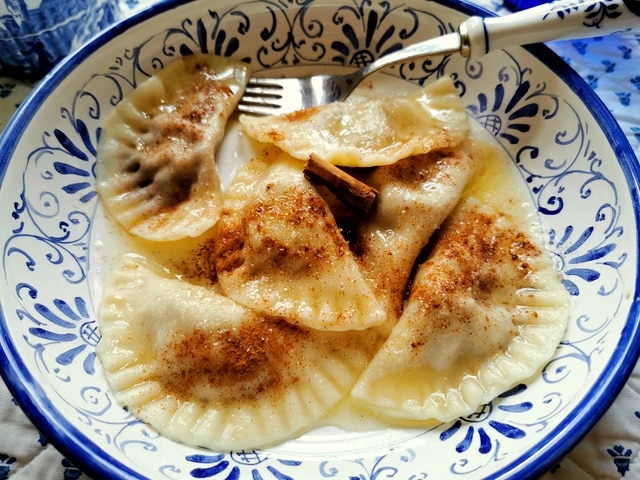 The ingredients for cjarsons di Pontebba.
For the pasta dough, you need 250g Italian soft wheat 00 flour. But, you can also use all-purpose flour. Apart from the flour the dough contains some water, salt and an egg. We used a pasta machine to roll out the dough sheets and then cut circles in it using a round pastry cutter. We mixed the dough in my Ferrari stand mixer. Traditionally, everything would be done by hand and it's not so difficult but takes longer!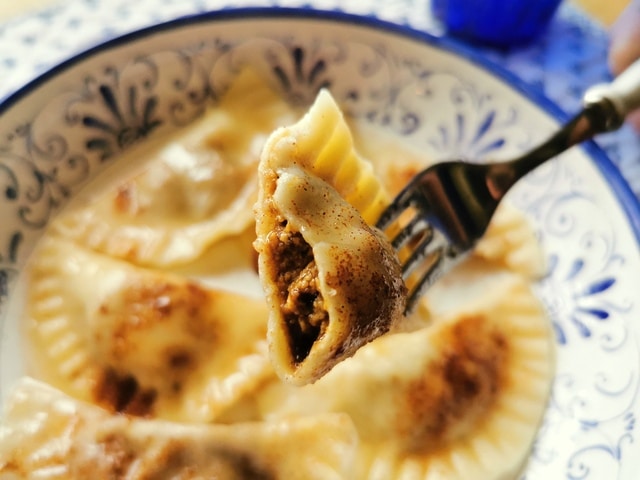 The filling for these sweet ravioli from Friuli contains fresh ricotta, which has been well drained, as well as boiled prunes and dried figs. Just chop the boiled figs and prunes and mix them into the ricotta with a bit of sugar. I used brown sugar as I far prefer the flavour to white.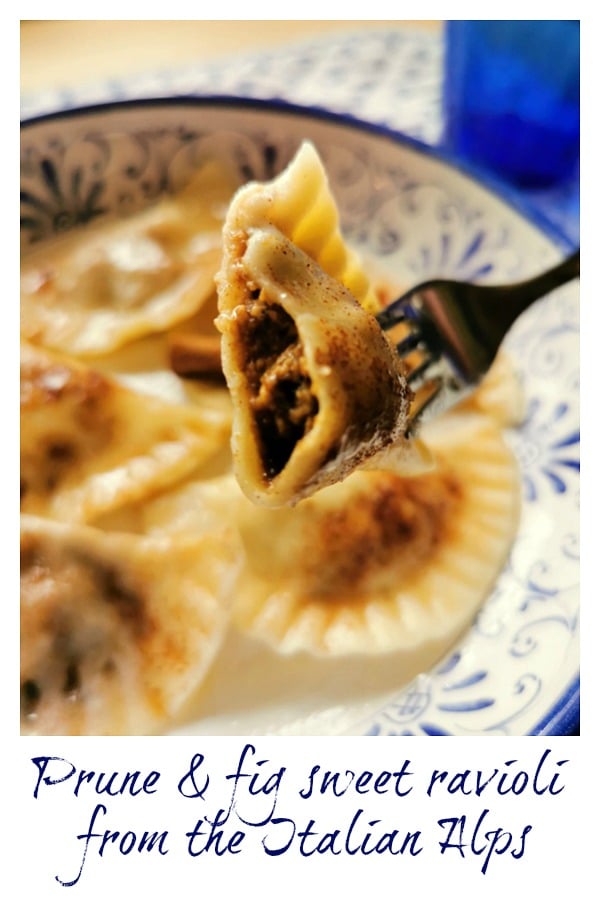 These prune and fig cjarsons di Pontebba are served with melted butter, cinnamon and sugar. However, many types of cjarsons are dressed with smoked ricotta too. I'm not sure how well the latter would go with these cjarsons.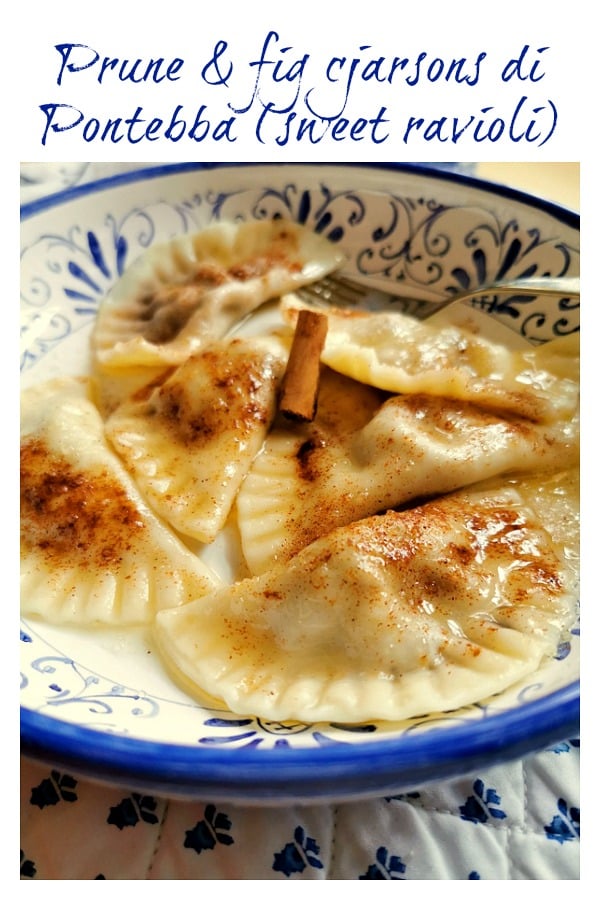 Until now, I haven't tried a lot of sweet pasta but these cjarsons from Pontebba really gave me a taste for more. They are so so delicious! I'm sure if you try them, you'll think the same!
If you make this sweet ravioli recipe, I'd love to hear how it turns out and if you liked it. So, please leave a comment here on the blog or on The Pasta Project Facebook page.
Looking forward to hearing from you!
Buon appetito!
Other pasta recipes from Friuli Venezia Giulia.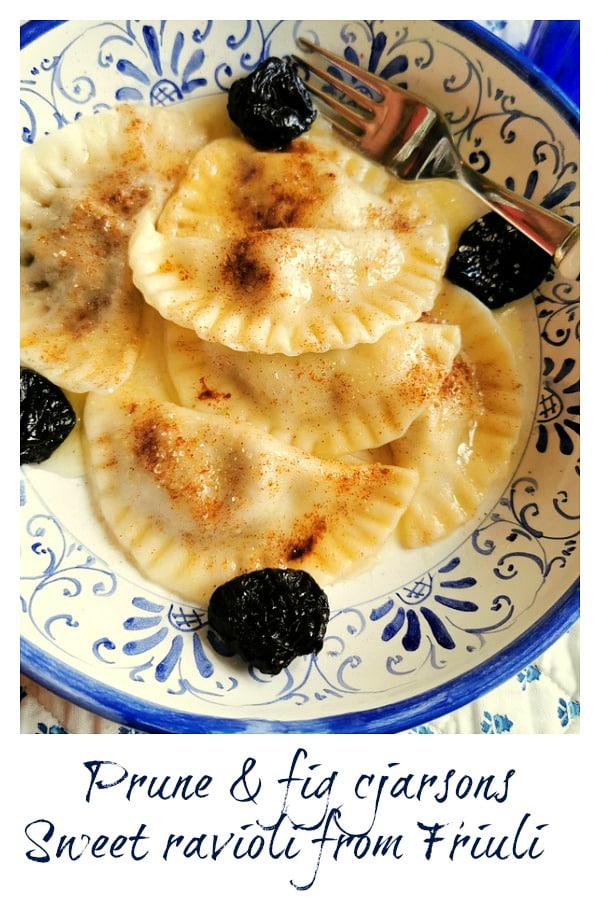 Save this recipe for later?
If you want to save this recipe for later, you can print it, bookmark this page or save it to Pinterest.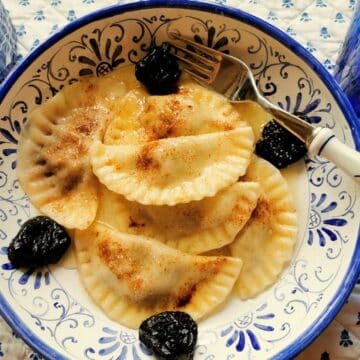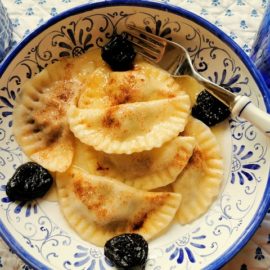 Prune and Fig Cjarsons di Pontebba (sweet ravioli from Friuli)
These traditional Northern Italian sweet ravioli are a unique and delicious way to serve pasta. These cjarsons are filled with prunes, figs and ricotta and served with melted butter, cinnamon and sugar!
Ingredients
To make filling
100

g

dried prunes

(3.5oz)

100

g

dried figs

(3.5oz)

250

g

fresh ricotta

(8-9oz)

1

tbsp

sugar

I used brown sugar

1

pinch

salt
For pasta dough
250

g

Italian '00' soft wheat flour

(8-9oz) or All-purpose flour

1

egg

1

pinch

salt

100ml

tepid water

(3floz)
Instructions
Make the dough
Put the flour in a mound on a pastry board or in your stand mixer, add the egg, the water and the salt. Mix and knead until you have a homogeneous dough that is only slightly sticky to touch. Form the dough into a ball and leave it to rest for 20-30 minutes covered with a tea towel or covered in plastic wrap.
Make the filling
In the meantime, in a pan full of hot water, blanch the prunes and dried figs for a few minutes until they are soft, then drain them, chop them quite small. You can use a food processor for this. Then mix the dried fruit with the ricotta and sugar. Add a pinch of salt.
Make and cook your cjarsons (sweet ravioli)
Roll the dough into thin sheets a couple of millimeters thick with a rolling pin or with the help of a pasta machine. Cut out discs of 4 or 6 centimeters in diameter (1.5-2") using a round pastry cutter or a glass. Keep your pastry board floured while you are making the ravioli so the dough doesn't stick to the board.

In the middle of each pasta disc place a little of the previously prepared filling. (about a large teaspoonful). Then wet around the edges with a little water using your finger. Close the discs into half-moons. Press the edges with your fingertips or a fork.

Let the cjarsons rest for about 20 minutes while you boil salted water to cook them.

Cook the sweet ravioli in boiling salted water for 5 minutes. Drain them with the help of a slotted spoon so that they do not break, place them directly on the plates and season with melted butter, sugar and cinnamon
Want to know more about my life in Italy? Go to the homepage and subscribe to my newsletter. New subscribers get a free recipe e-book too! https://www.the-pasta-project.com