Tagliolini al Prosciutto di San Daniele with Poppy Seeds; Recipe from Friuli Venezia Giulia.
Tagliolini al prosciutto di San Daniele is a creamy, rich and luxurious pasta recipe from Friuli Venezia Giulia. It is made with one of Italy's best melt-in your-mouth prosciutto crudo and egg pasta ribbons. An elegant pasta dish perfect for special occasions.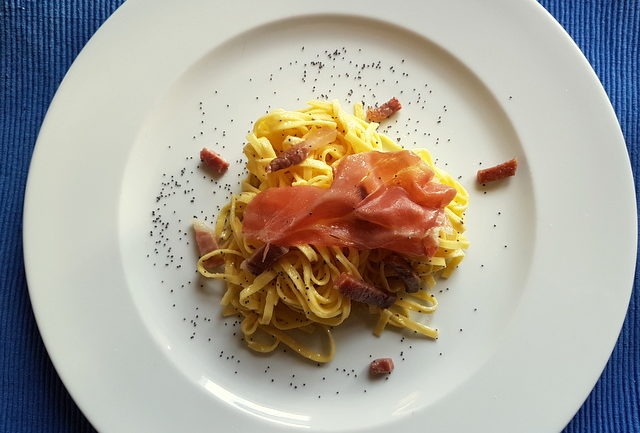 Prosciutto crudo in Italy.
Italians have been preserving pork meat with salt since before the times of Ancient Rome. However, it was the Romans who first started air curing salted pork to make what, today, we call Italian prosciutto crudo.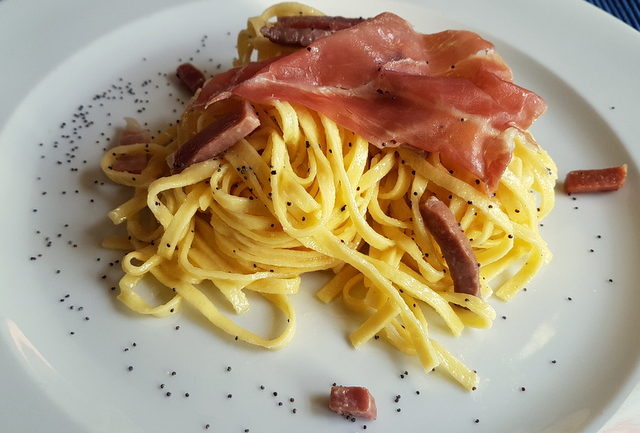 There are a number of different types of prosciutto crudo here in Italy. But, only 7 have DOP certification (according to the information I found). This means these cured hams were granted a Protected Designation of Origin by EU and are guaranteed to come from a particular geographical area of production.
They are also cured using only sea salt (no additives) and conform to strict methods of maturing and drying. In addition, they are made from the meat of pigs born and bred in Italy.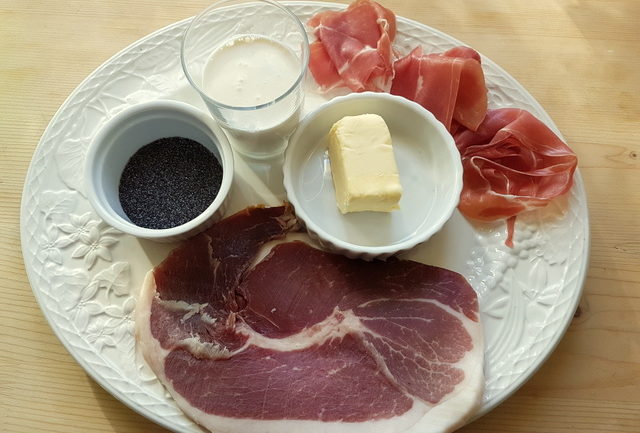 Prosciutto di San Daniele.
The two most prized prosciutto crudo in Italy are prosciutto di Parma, from Parma in Emilia-Romagna and prosciutto di San Daniele from the town of San Daniele del Friuli in Friuli Venezia Giulia. These two towns have the longest tradition of curing ham in Italy. Many non-Italians know prosciutto di Parma (Parma ham) but, have you ever tried prosciutto di San Daniele?
Both these hams are, of course, fantastic. However, of the two, I think I love the San Daniele a little more. It's sweeter than Parma ham, which can have a nuttier taste. This is because sometimes Parmigiano Reggiano whey is added to the pigs' diet.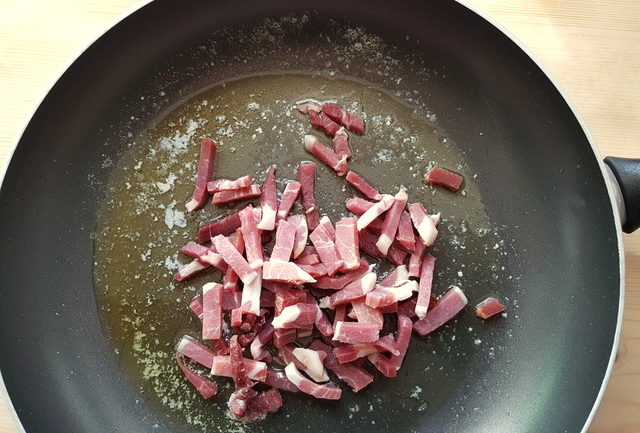 Making this tagliolini al San Daniele with poppy seeds.
This tagliolini al San Daniele recipe is a traditional dish from San Daniele del Friuli, where the ham of the same name comes from. However, it's popular throughout the Friuli Venezia Giulia region. Like so many Italian pasta recipes, this is super simple to make and contains only a handful of ingredients. It really is the prosciutto that makes this pasta recipe so flavourful.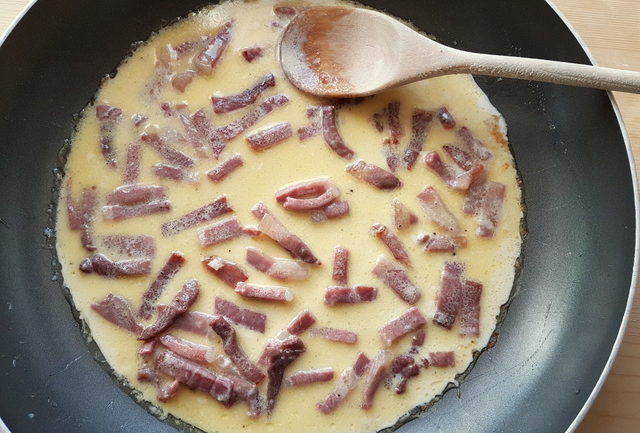 To make this prosciutto with pasta dish, firstly, the prosciutto di San Daniele needs to be cut in two ways. You will need a thicker slice which you then cut into small cubes or juliennes. Plus, a few thin slices to serve on top of the pasta and sauce.
The sauce for this tagliolini al prosciutto di San Daniele is made by frying the small pieces of prosciutto in butter until they change colour and then adding cream and poppy seeds. To finish off, just add the cooked tagliolini to the sauce, mix well and serve with slices of San Daniele and more poppy seeds (if required).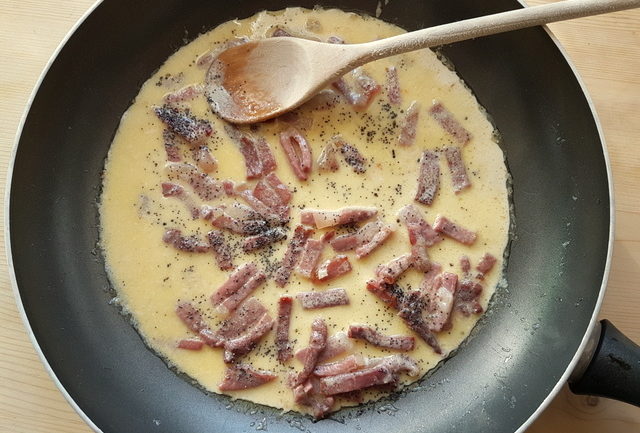 The poppy seeds.
Pasta with poppy seeds is actually an Eastern European dish. Versions of it are eaten in Slovakia, Poland, Hungary, The Czech Republic and Austria. Since parts of Friuli Venezia Giulia once belonged to the Austro- Hungarian Empire, it's not surprising that the food in this region was influenced by those countries' cuisine.
Plus, the capital of this region, Trieste, was an important spice port for the Empire and many spices arrived in Trieste on their way to Hungary and Austria. There is also a regional recipe for pasta with poppy seeds (no prosciutto) which is popular in Trieste.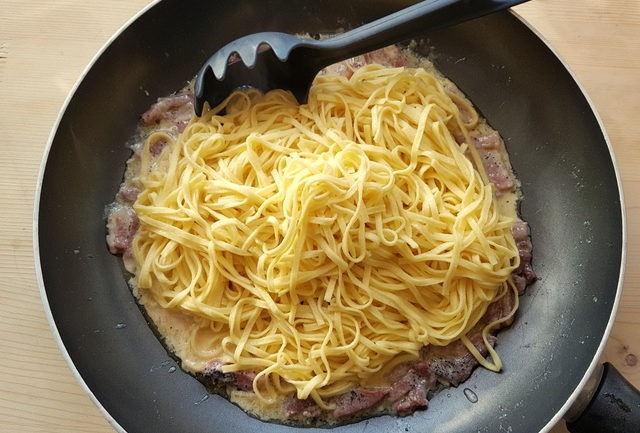 The only variations I found for this tagliolini al prosciutto di San Daniele recipe involved the poppy seeds. Some recipes say just to sprinkle them over the pasta and sauce once plated. Others recommended adding them to the sauce and in some cases toasting them first. I toasted them to bring out the flavour and added them to the sauce too.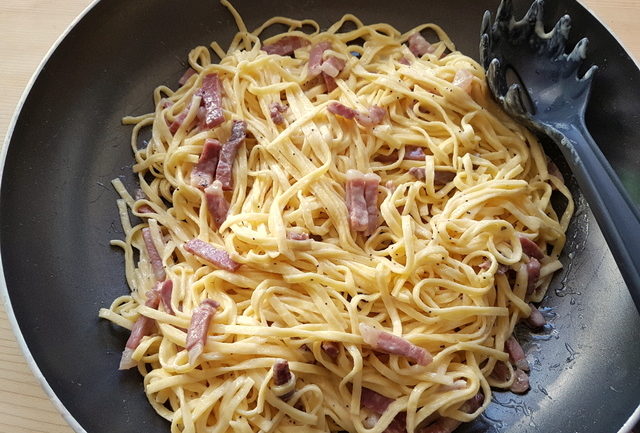 Let me know what you think.
You can also make this tagliolini and prosciutto dish without poppy seeds if they are unavailable. However, I would recommend using cured ham from San Daniele rather than Parma ham to be able to really appreciate the authentic flavours. But, if you can't find San Daniele then, of course, other types of prosciutto crudo would work too!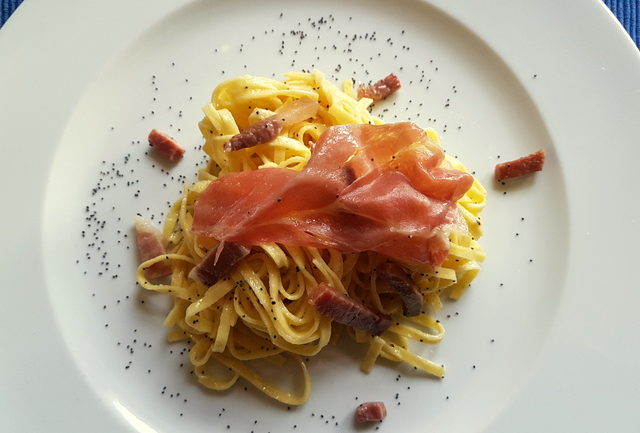 If you do try this tagliolini al prosciutto di San Daniele, I'd love to hear what you think. Please write a comment here on the blog or post a comment on the Pasta Project Facebook page.
Your feedback means a lot to me!
Buon Appetito!
Some other delicious tagliolini recipes on The Pasta Project
Save this recipe for later?
If you want to save this recipe for later, you can print it, bookmark this page or save it to Pinterest.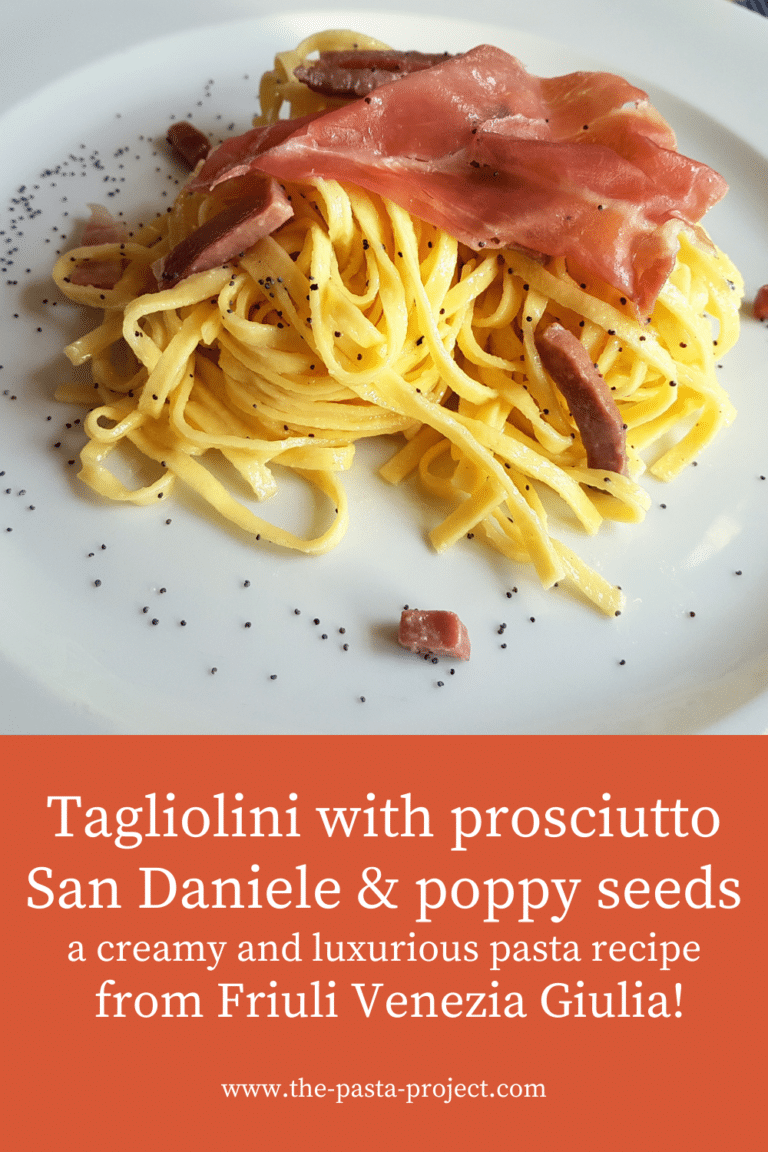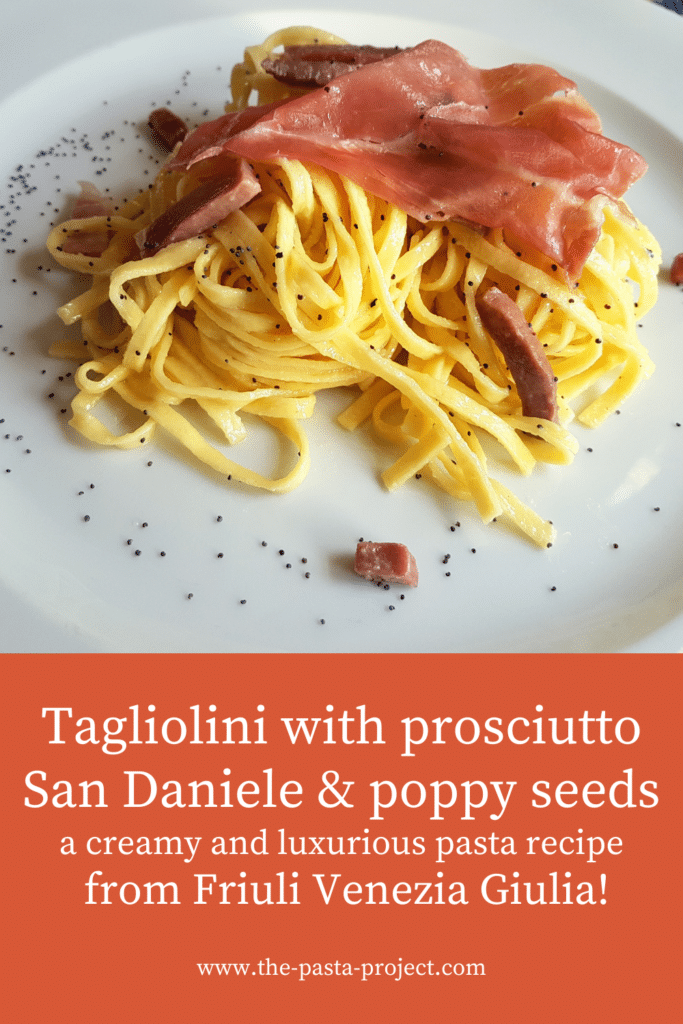 If you're a fan of tagliolini make sure to check out my favorite tagliolini recipes.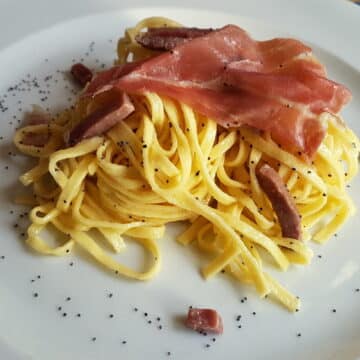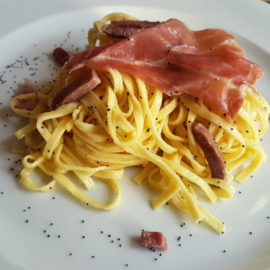 Tagliolini al prosciutto di San Daniele with poppy seeds
A creamy, rich and luxurious pasta recipe from Friuli Venezia Giulia made with melt-in-your-mouth Italian prosciutto crudo (cured ham)
Ingredients
400

g

tagliolini pasta

(14oz) I used fresh tagliolini from Giovanni Rana. You can also use fettuccine or tagliatelle

150-200

g

prosciutto di San Daniele

1 thick slice (5-7oz) or other Italian cured ham

4

slices

prosciutto di San Daniele

or parma ham cut as thin as possible.

200

ml

fresh cream

(7floz)

50

g

butter

(2oz)

1

tbsp

poppy seeds

salt

for pasta and to taste

black pepper

to taste
Instructions
Cut the thick prosciutto slice into small cubes or juliennes. Dry toast the poppy seeds in a small frying pan until they are fragrant (2-3 minutes). Don't let them burn.

Bring a large pot of water to a boil for the pasta. Add salt once it starts to boil and bring to the boil again.

Heat butter in a deep frying pan or skillet. Add the cut pieces of prosciutto and let it saute for 1-2 minutes, until it changes colour. Add the cream, stir and add some of the toasted poppy seeds. Let the cream reduce slightly and then remove from the heat. Add black pepper and salt to taste.

Cook the tagliolini until al dente according to the instructions on the packet. If fresh or homemade the pasta will cook very quickly.

Drain the tagliolini and add to the pan with the sauce. Stir everything together well and let it cook for a couple more minutes on a low heat, until the sauce is partially absorbed.

Plate the pasta and sprinkle some more poppy seeds on top. Arrange a thin slice of prosciutto on top and serve immediately.
Notes
You can use other pasta ribbons such as fettuccine or tagliatelle instead of tagliolini.
This recipe is best made with prosciutto di San Daniele, but other prosciutto crudo such as Parma ham would work too.
Nutrition
Calories:
833
kcal
Carbohydrates:
77
g
Protein:
21
g
Fat:
49
g
Saturated Fat:
24
g
Polyunsaturated Fat:
5
g
Monounsaturated Fat:
15
g
Trans Fat:
0.5
g
Cholesterol:
114
mg
Sodium:
402
mg
Potassium:
380
mg
Fiber:
4
g
Sugar:
4
g
Vitamin A:
1069
IU
Vitamin C:
0.3
mg
Calcium:
92
mg
Iron:
2
mg
Pin for Later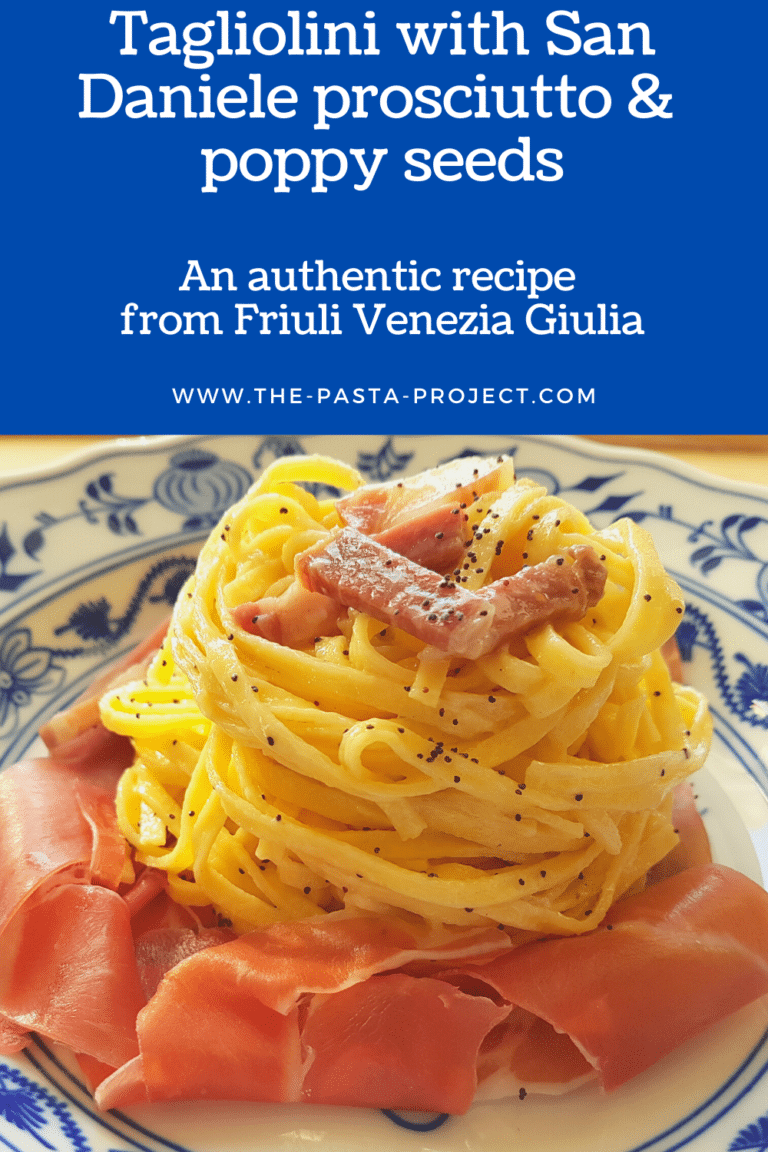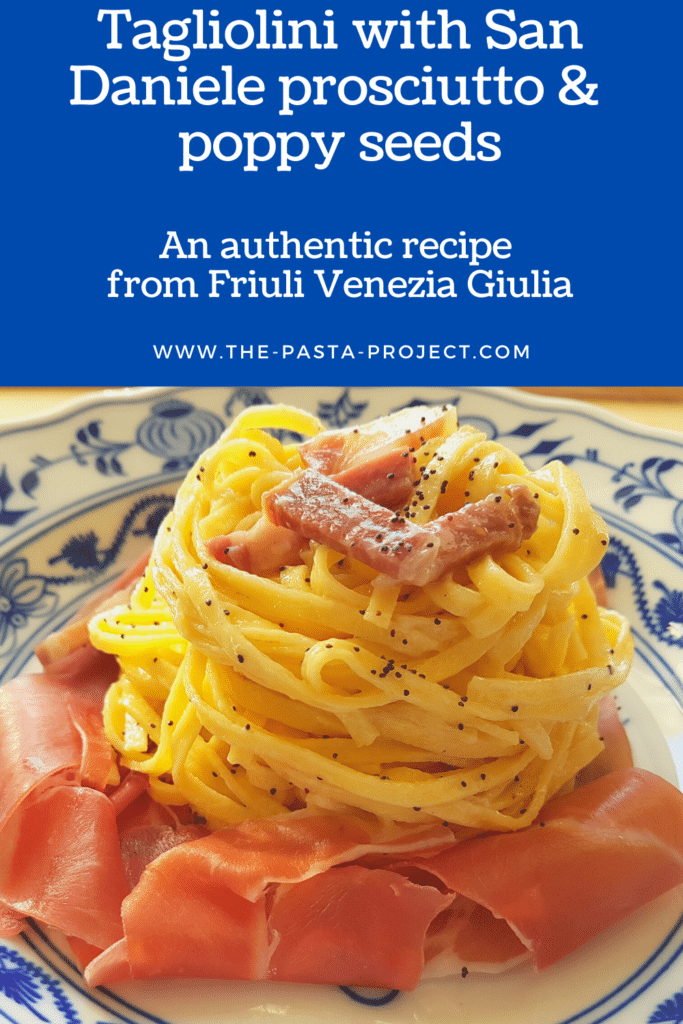 Want to know more about my life in Italy? Why not subscribe to my newsletter? New subscribers get a free series of recipe e-books too!