7 Italian Tagliolini Recipes You Will Love!
Tagliolini is probably my favourite fresh egg pasta ribbon. Although I love wider ribbons like pappardelle, these often delicate egg-rich pasta strands are so delicious and flavourful. In fact, you can even eat them on their own just with some melted butter and grated cheese! However, if you'd like to have a taste of how this pasta is eaten here in Italy, check out these 7 Italian tagliolini recipes here on The Pasta Project.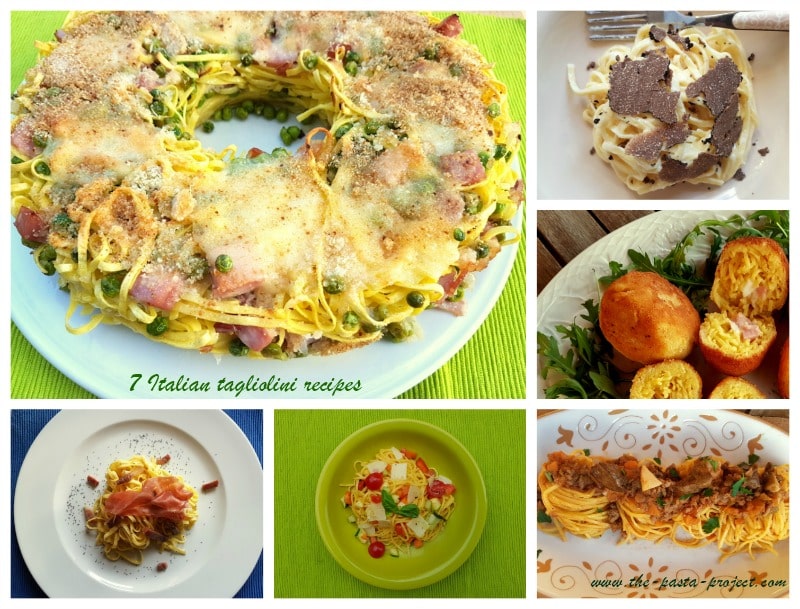 Tagliolini v tagliatelle!
Most pasta lovers know tagliatelle but have you heard of tagliolini? As the name suggests there are some similarities between these two types of pasta. Both are egg pasta ribbons traditionally cooked from fresh. However, you can buy these pastas dried too, usually in nests. The main difference is in the cut or 'taglia'. Tagliolini ribbons are narrower than their better known cousin! And often eaten with lighter more delicate sauces. If you'd like to read more about this pasta click this link to my tagliolini post.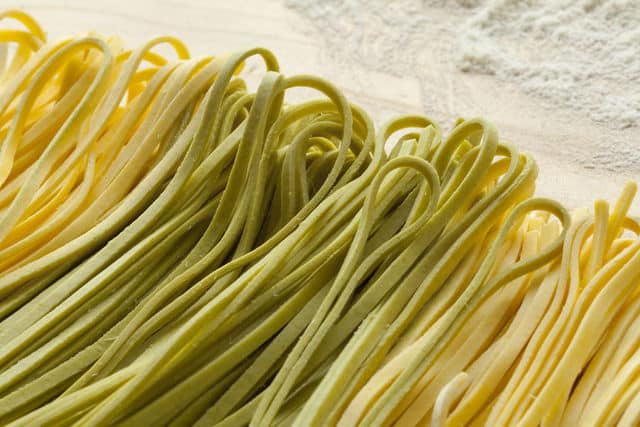 7 delicious ways the Italians eat tagliolini.
Here are 7 scrumptious Italian tagliolini recipes for you to try. They include both vegetarian and meat pasta dishes. So, there's something for everyone, including something to wow your guests, something for vegetarians and something the kids will love!
Tagliolini al prosciutto di San Daniele.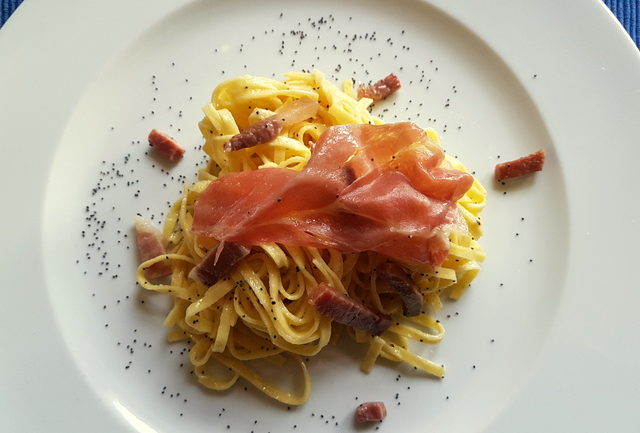 This is a creamy, rich and decadent tagliolini recipe from Friuli Venezia Giulia in North East Italy. It is made with one of Italy's best melt-in your-mouth prosciutto crudo, San Daniele, plus fresh cream and poppy seeds. This is a recipe to wow guests with! Click here for this delicious recipe.
Summer tagliolini with marinated vegetables.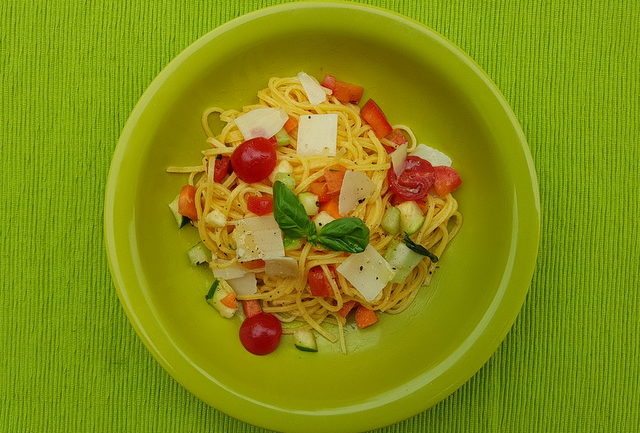 This light summer tagliolini pasta recipe from a restaurant in Bologna is so fresh, healthy and seriously tasty! Plus, the sauce is a no-cook sauce, meaning all you have to cook is the pasta. Perfect for hot summer days when meals need to be lighter and you don't want to spend much time in the kitchen! Can easily be vegan. Click here for this Italian recipe
Neapolitan tagliolini pasta pie (crostata).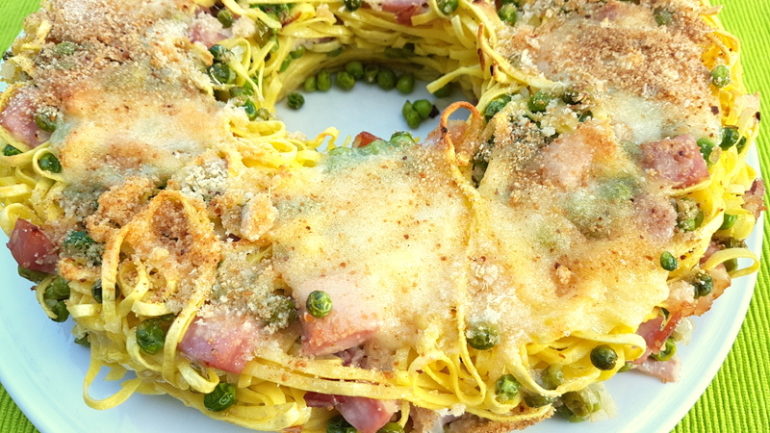 Baked pasta comes in many forms here in Italy, especially in the Southern regions. This fabulous looking tagliolini pasta pie from Naples is pretty easy to make. It's super tasty and looks fantastic! Another recipe to impress your guests with! Click here if you want to try this recipe.
Tagliolini pasta arancini.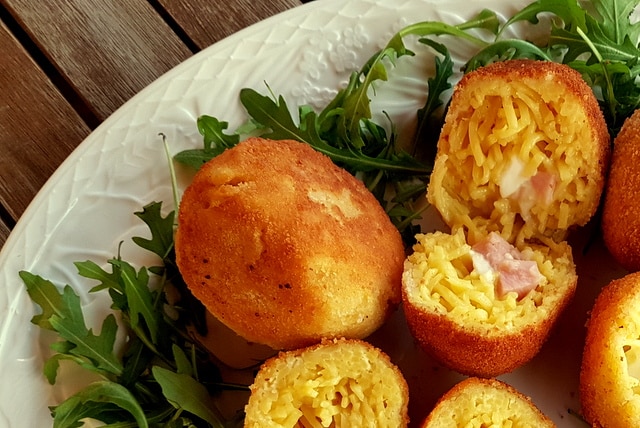 Arancini fans will love this pasta version also from Naples. Mostly eaten as street food, these tagliolini pasta arancini date back to the 1800s! They are made with filled tagliolini pasta nests that are then breaded and fried. These balls of pastaliciousness will win you over on the first bite! Kids love them too! Click here to check out this super recipe!
Tagliolini au gratin with ham!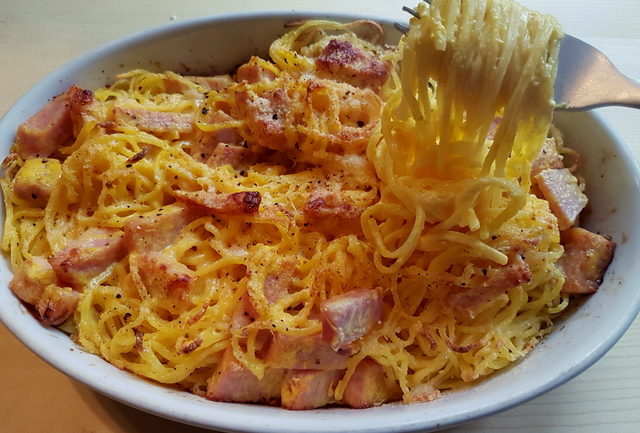 This is another recipe kids love! Tagliolini au gratin is based on a dish from Cipriani's Harry's bar in Venice. All you need is pasta, eggs, ham, grated Parmesan and cream. It's budget friendly and easy to make! One of my favourite Italian tagliolini recipes! Click here to make this family friendly recipe!
Tagliolini pasta alla Langarola with sausage, chicken liver and porcini ragu from Piedmont.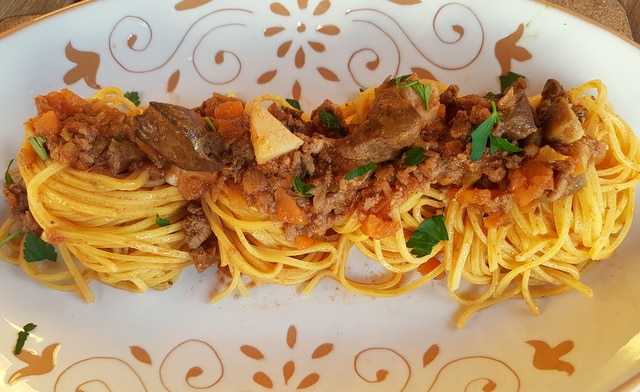 Tagliolini pasta alla Langarola is a rich and hearty pasta dish typical of the beautiful Langhe area in the Piemonte (Piedmont) region in North West Italy. This is perfect comfort food for cold days. A meat-lovers dream! Here's this recipe!
Tagliolini with black truffles and taleggio.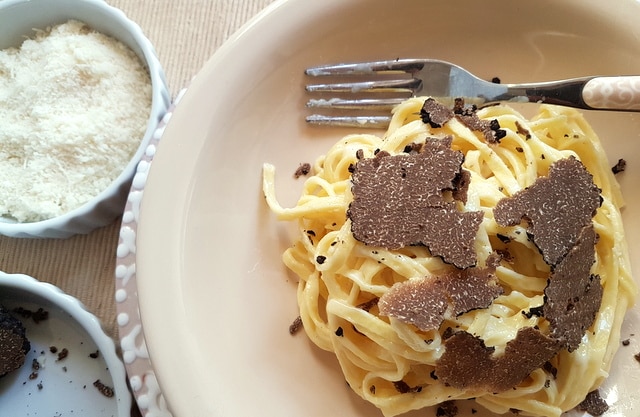 Pasta doesn't get much more luxurious than this tagliolini with black truffle recipe. With just one mouthful of this divine Northern Italian recipe, you will fully understand why truffles are the most prized of foraged foods and tagliolini pasta is traditionally eaten with them.
If you do try any of these 7 Italian tagliolini recipes, I'd love to hear what you think. Please write a comment here on the blog or post a comment on the Pasta Project Facebook page.
I'd love to see your photos too, if you take any!
Your feedback means a lot to me!
Buon appetito!
Pin for Later