A traditional holiday recipe from Umbria.
This chocolate and walnut sweet pasta recipe from Umbria in Central Italy is a unique dessert that's so easy to make. This pasta cake is a traditional dessert for Halloween and Christmas Eve. But, I think it's a fabulous way to wow your guests any time of year!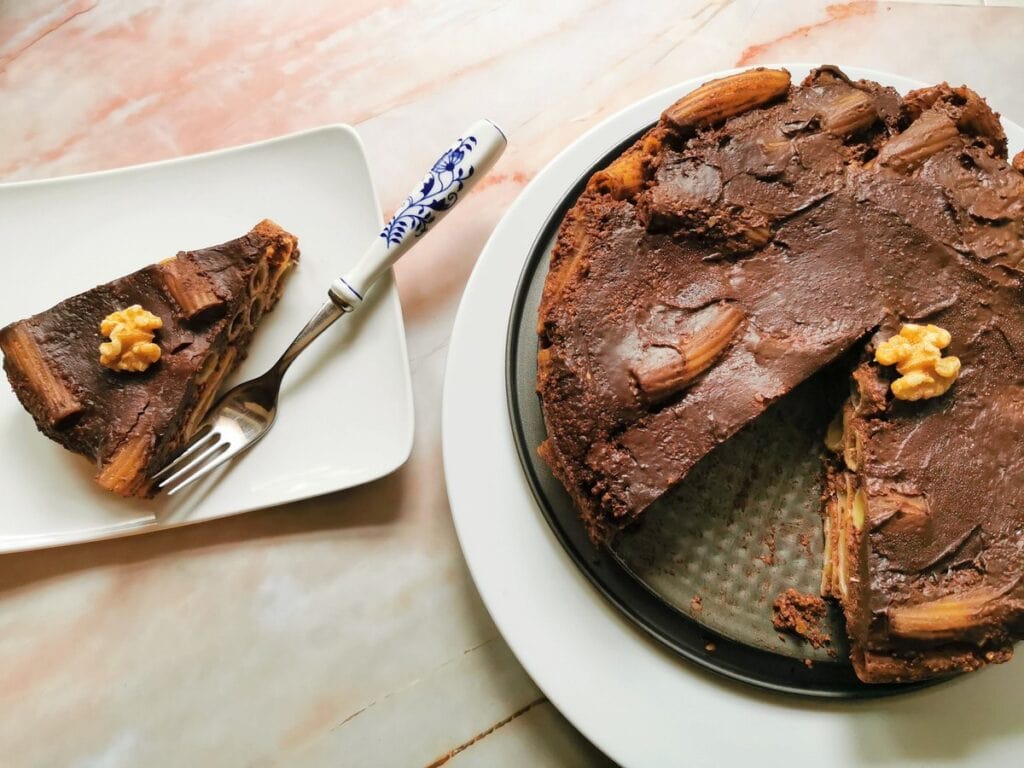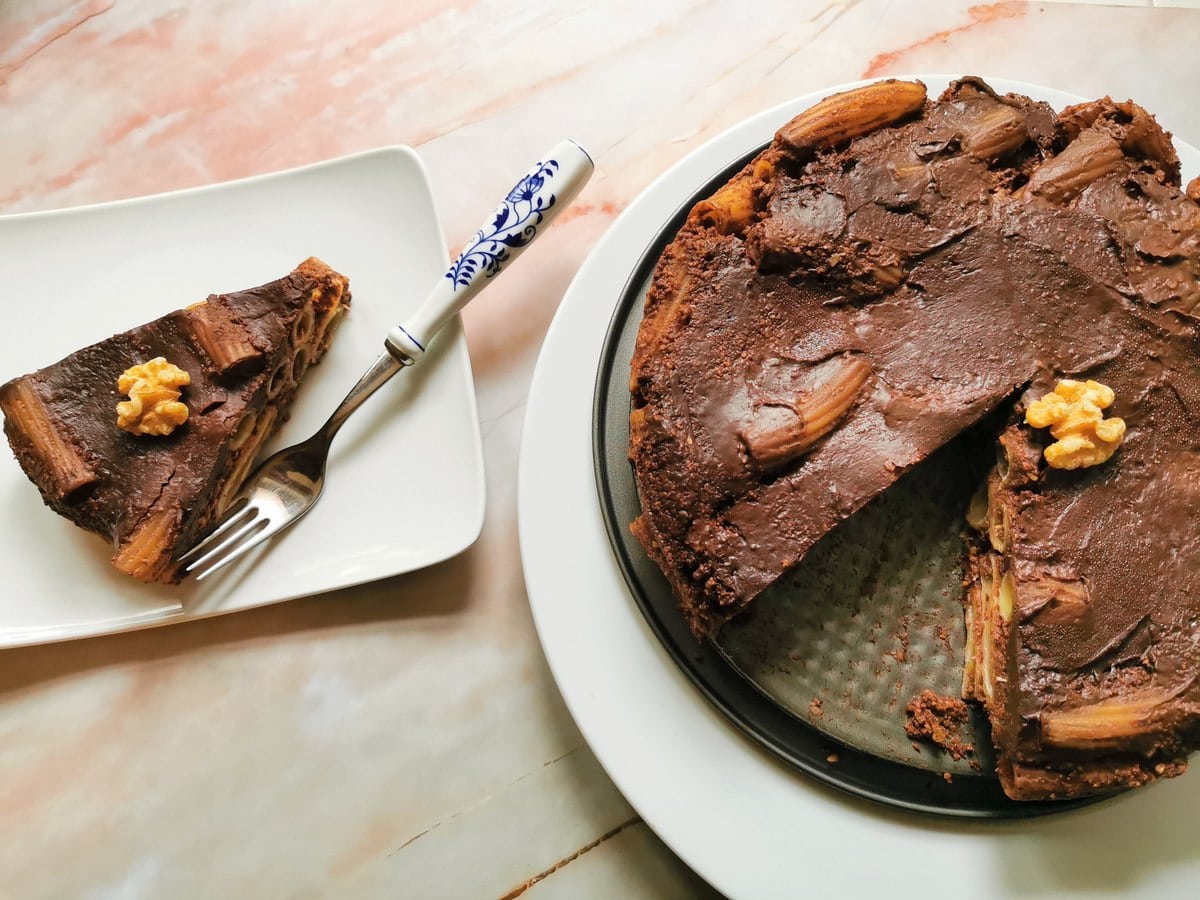 Sweet pasta recipe traditions.
As I have discovered since starting The Pasta Project, there are lots of Italian sweet pasta recipes. Mostly, these are dishes Italians make for feasts and holidays like Carnival, Easter and Christmas. Both sweet and savoury traditional holiday dishes vary from region to region in Italy. In fact, there are very few that are made and eaten throughout the country, like turkey in the US at Thanksgiving and in UK at Christmas. The exception to this is lamb at Easter, although the lamb isn't cooked the same way everywhere.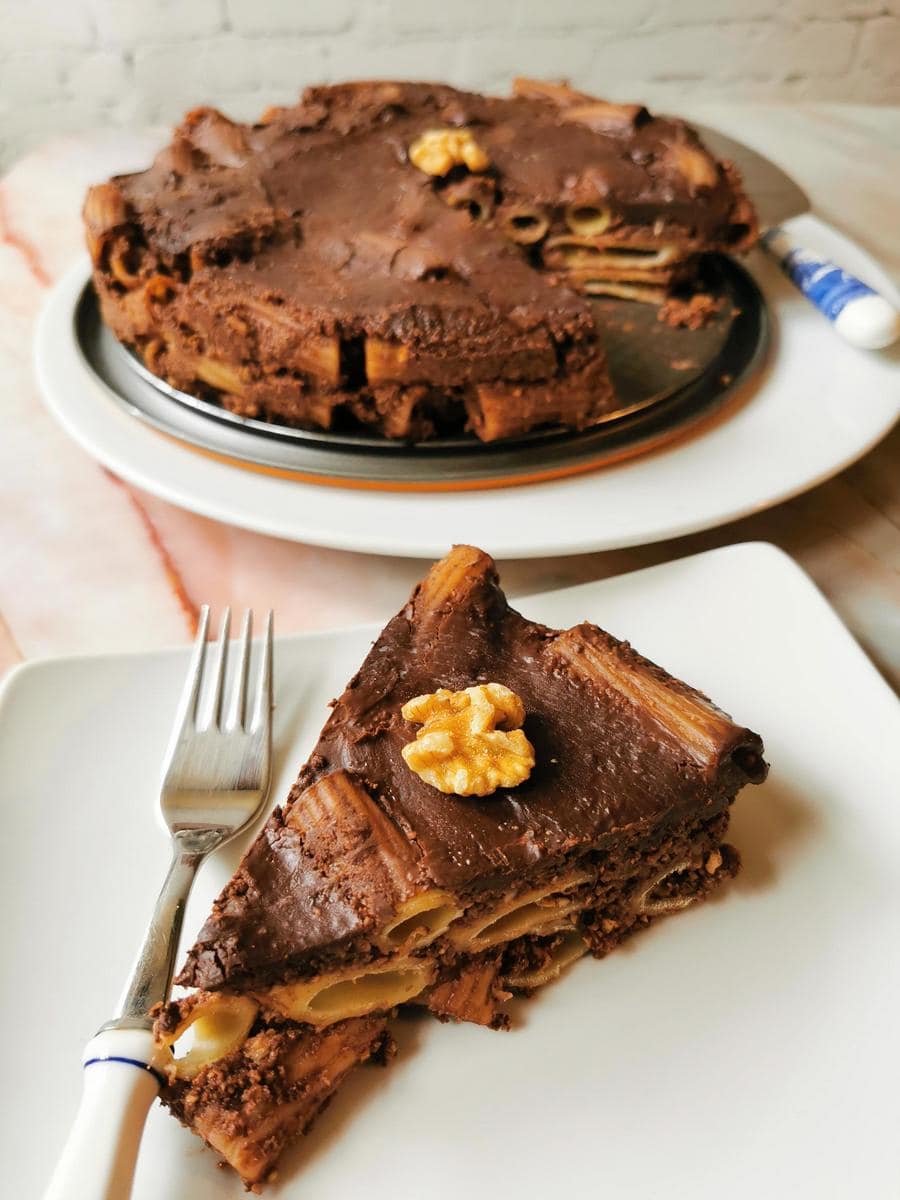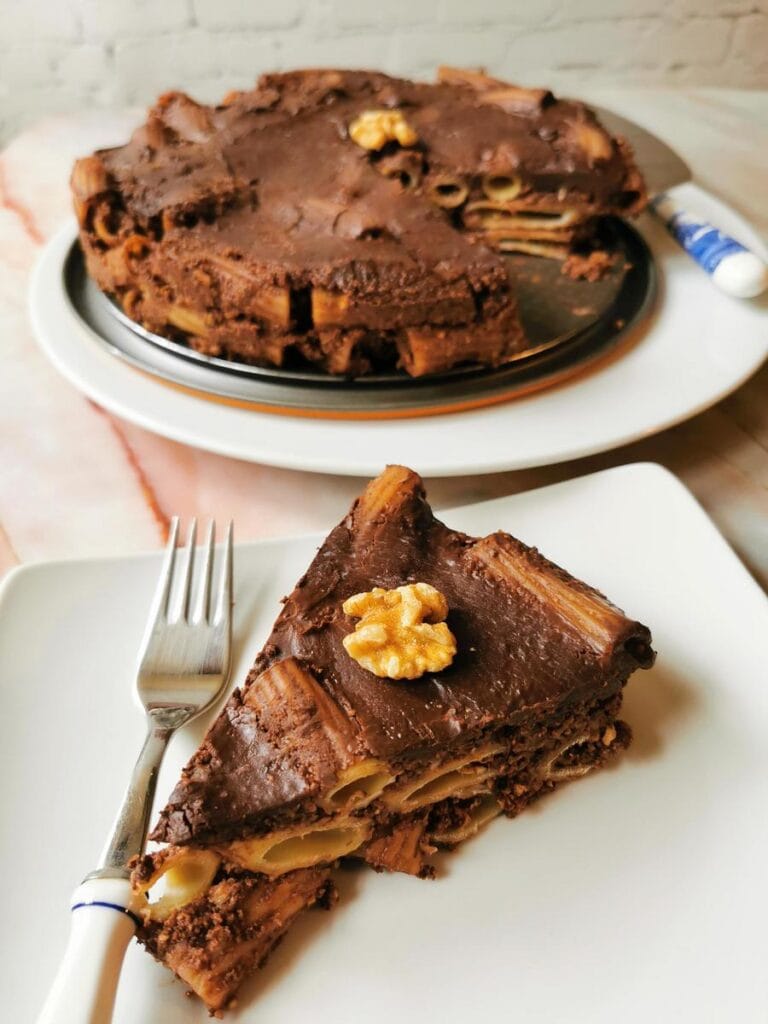 The sweet exception is panettone at Christmas. However, even though it's now popular throughout Italy and abroad, panettone actually comes from Milan. Most sweet pasta recipes are unique to the region or even just the town where they originated. For example, pasta pastiera is an Easter dessert only eaten in some parts of Naples and its surroundings and Cjarsons are sweet special occasion ravioli from the Carnia Alps in Friuli Venezia Giulia.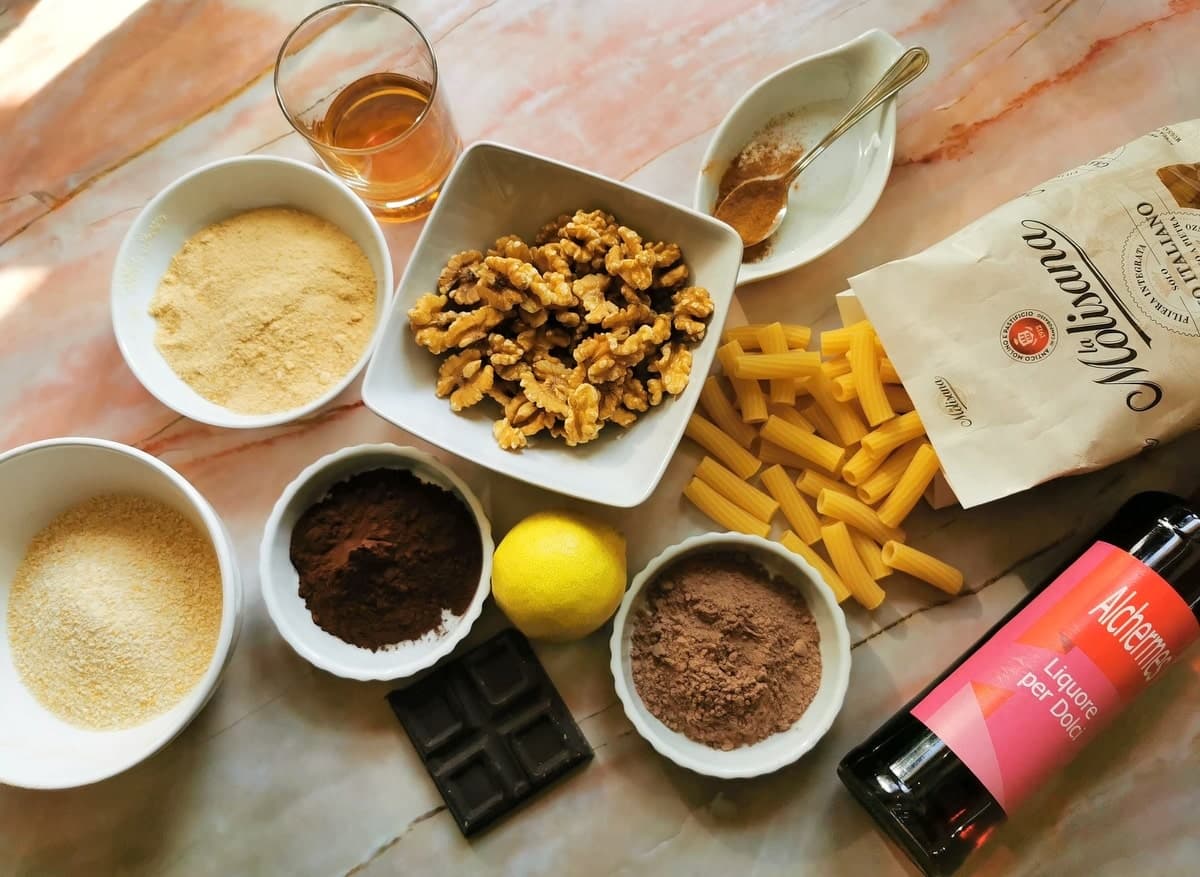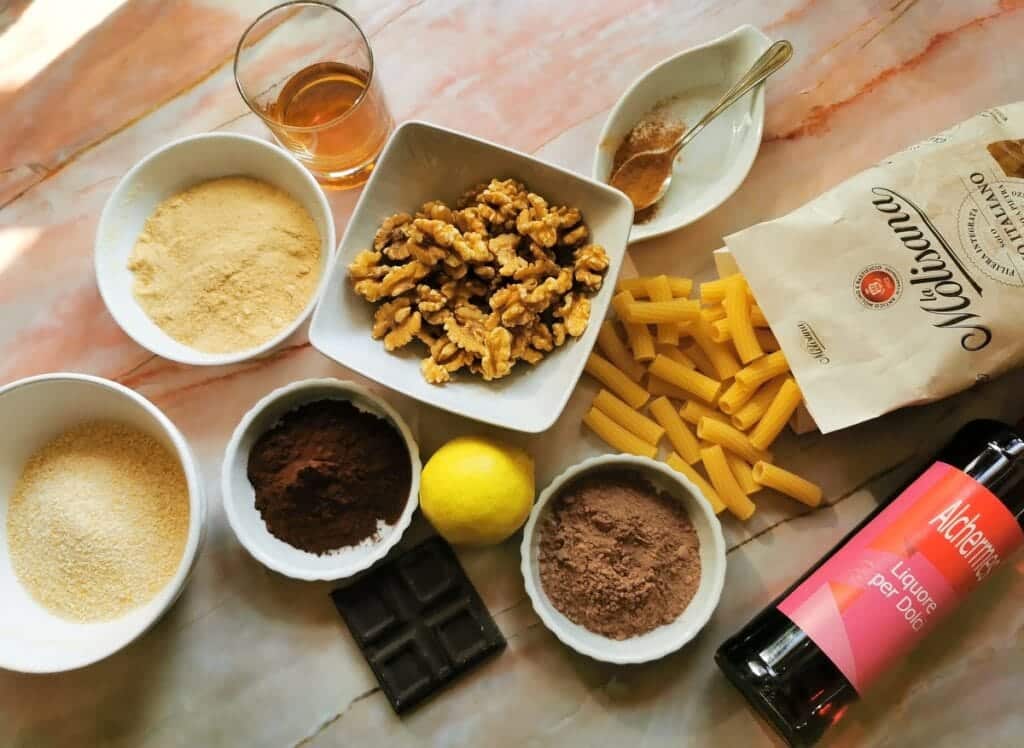 The origins of chocolate and walnut sweet pasta from Umbria.
This Umbrian sweet pasta cake is traditionally eaten on two holiday occasions, the Eve of All Saints Day (actually Halloween) and Christmas Eve. Halloween isn't as big a deal here in Italy as it is in the USA, although it's becoming more popular.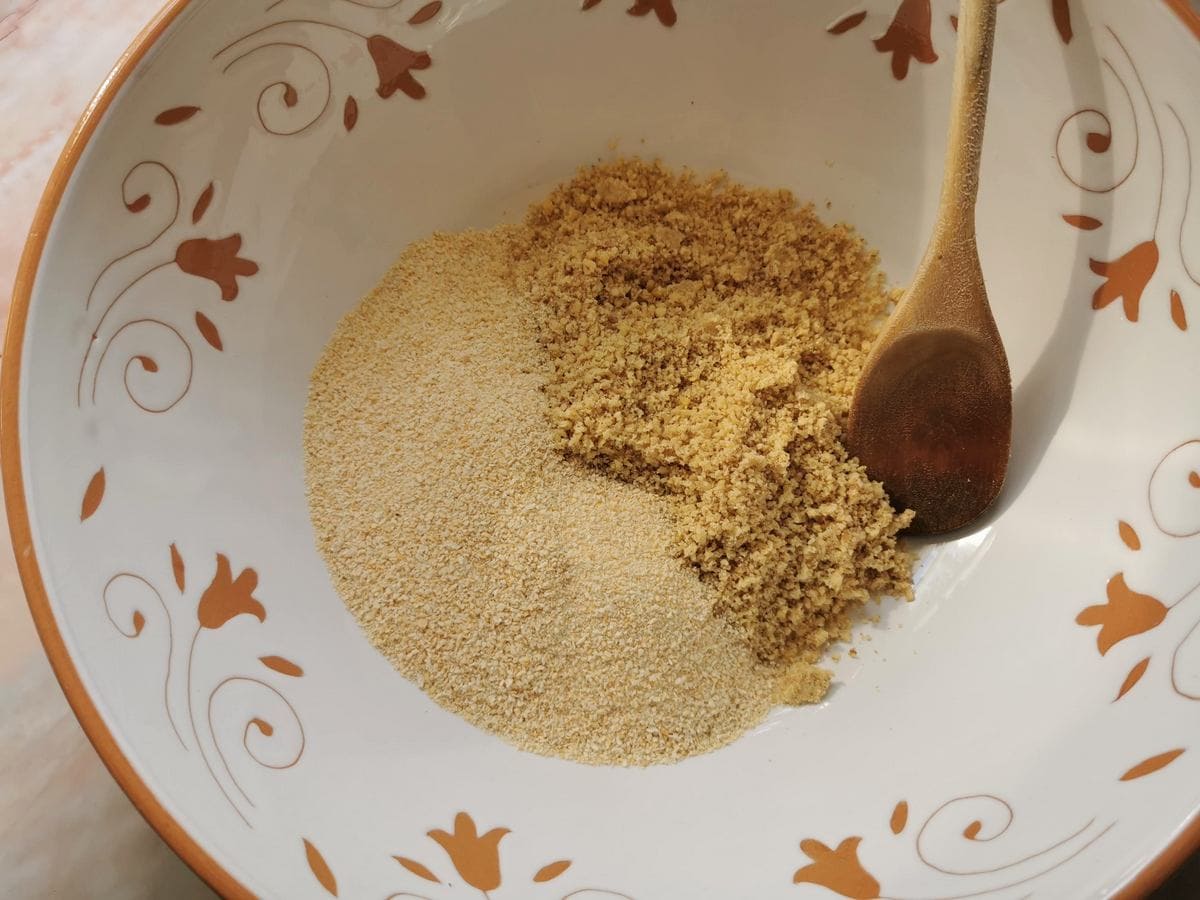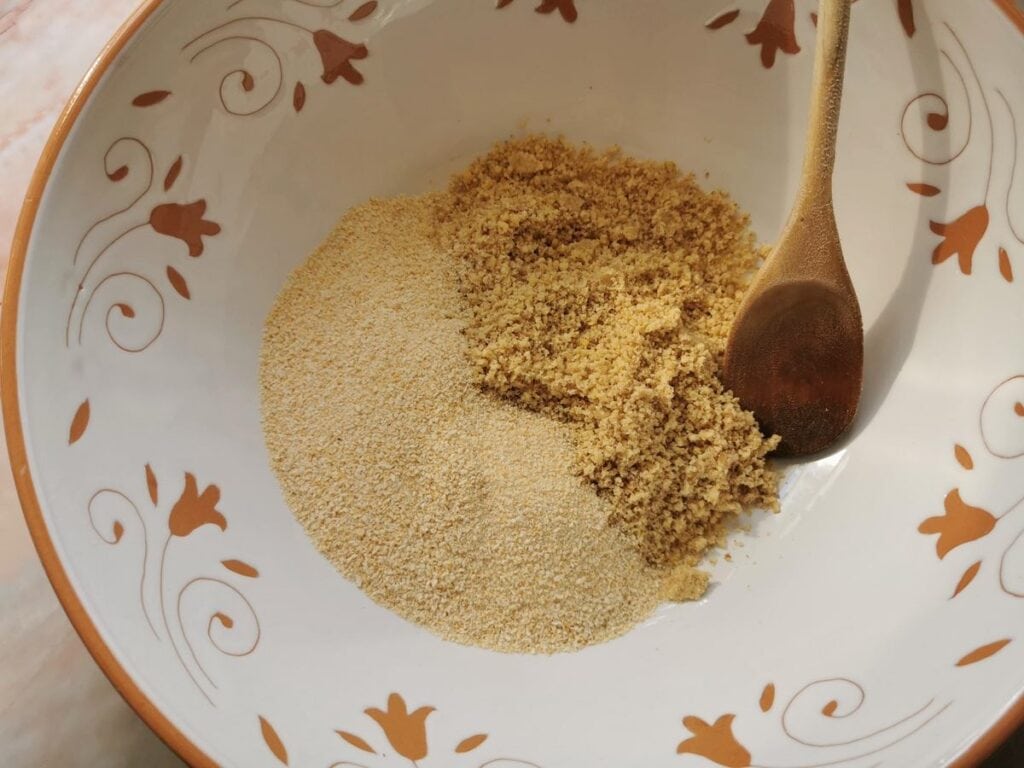 For Italians, the more important days are 1st November (All Saints Day) and 2nd November (All Souls Day). In English, the other name for All Saints Day is All Hallows' Day from which the name Halloween originated. Halloween is the eve of All Hallows' Day, which celebrates all the saints of the Christian church.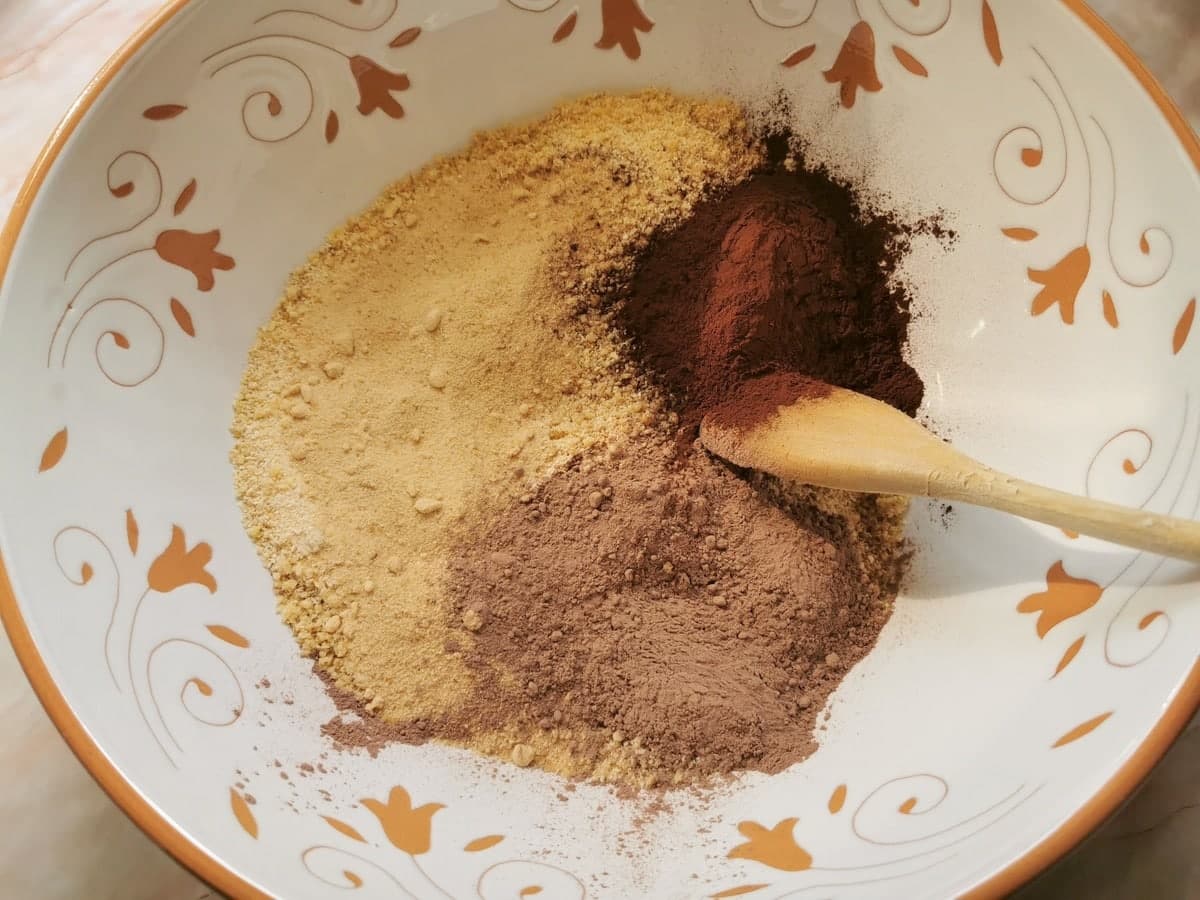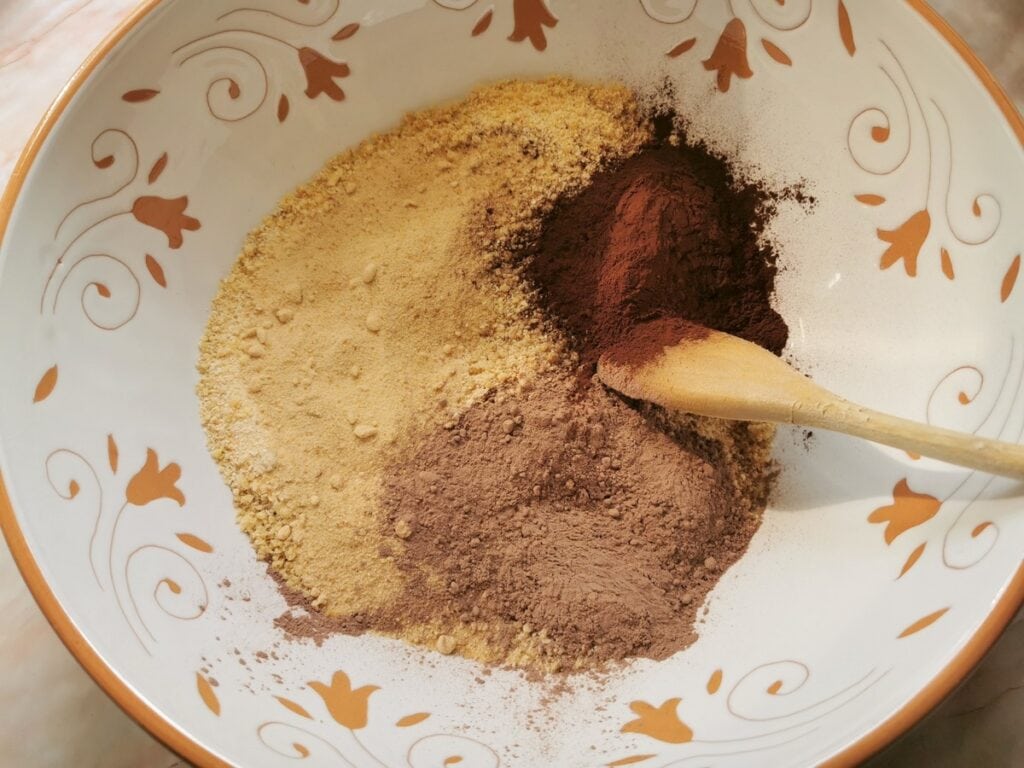 The origins of this recipe are pretty antique. I've read that sweet pasta in Umbria dates back to the ancient Romans and the Etruscans. Of course, there was no chocolate in those days. Like tomatoes, potatoes and pumpkins, chocolate was brought to Europe from the Americas in the 16th century. So, older recipes had only honey, walnuts and breadcrumbs.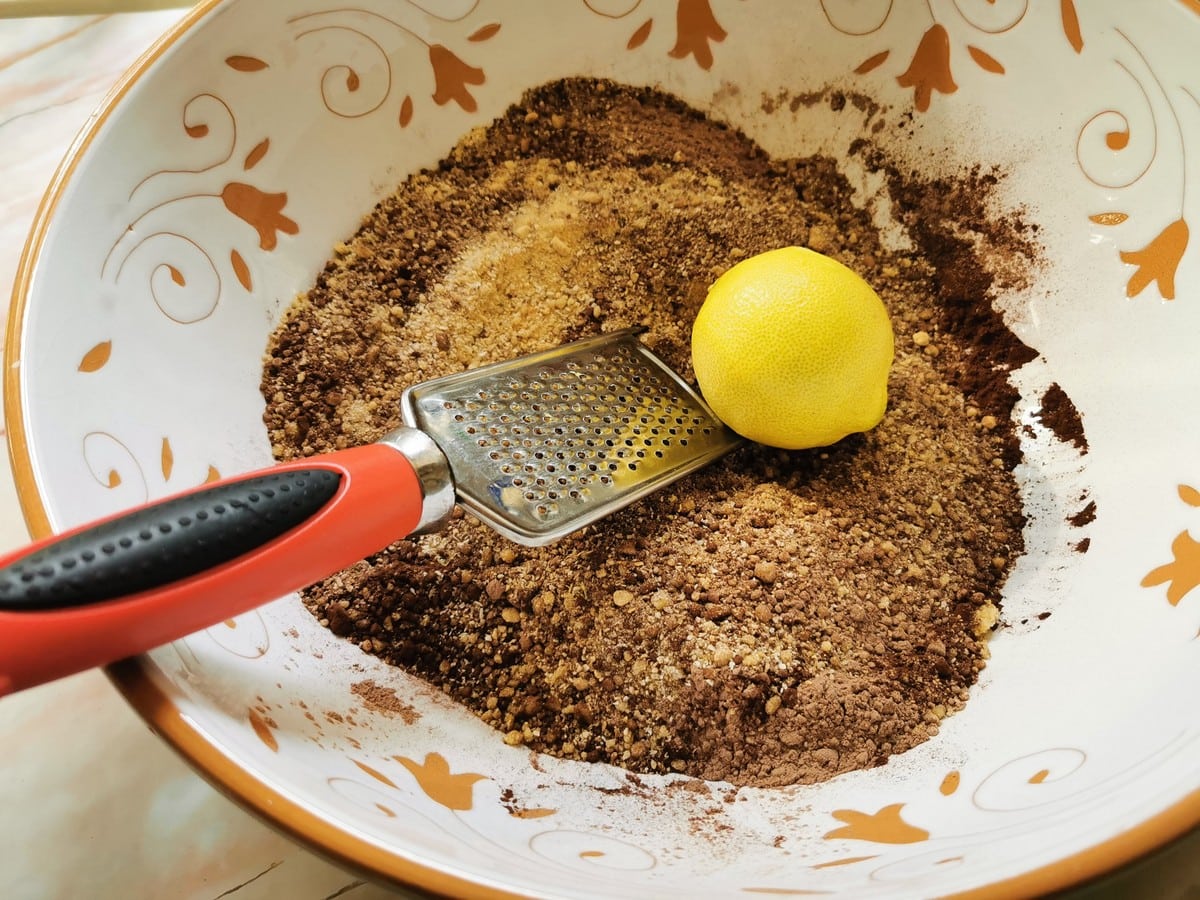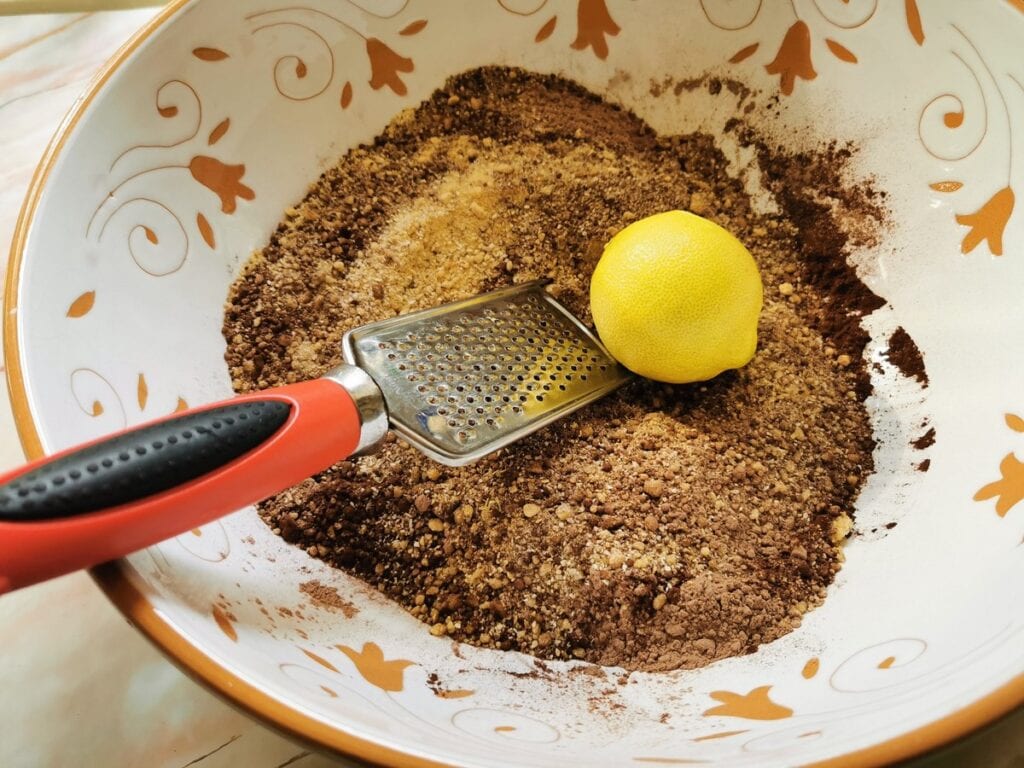 Ingredients in this sweet pasta recipe.
Over time, people added other ingredients to this traditional holiday treat. Of course, like other Italian recipes that date back hundreds of years, there are variations in the ingredients. However, nowadays, chocolate is omnipresent, as is walnuts and sugar, although you can use honey instead.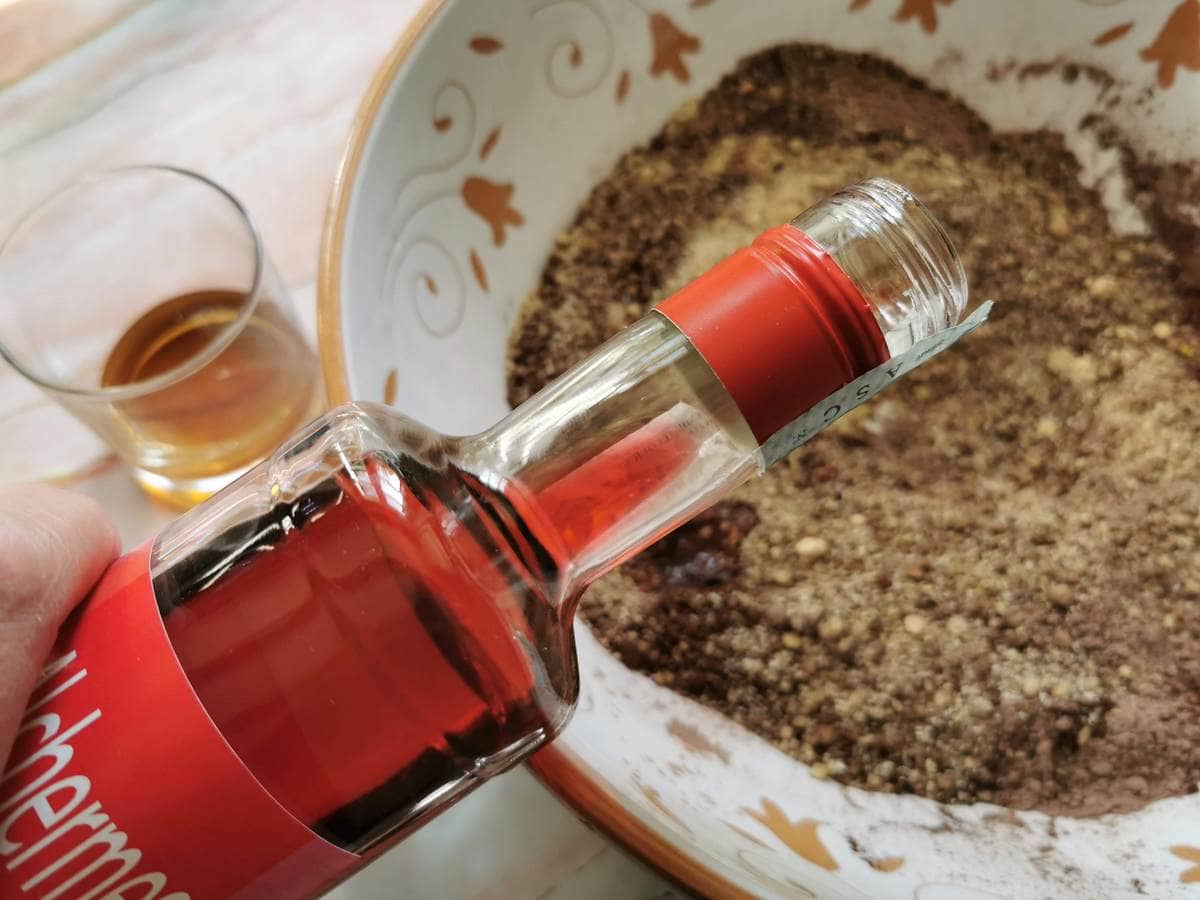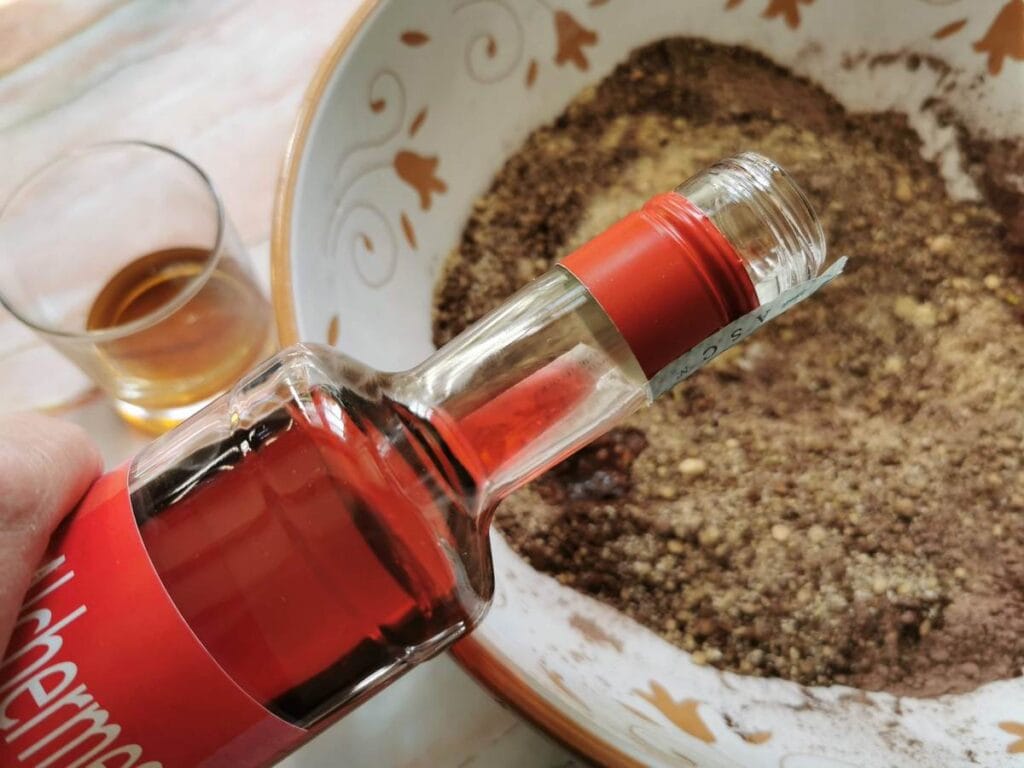 Breadcrumbs are also included in most recipes, but not all. I added them. The recipe I followed called for cinnamon, lemon zest, Alchermes liqueur and rum. Nutmeg is also a popular spice in Umbrian sweet pasta, although I didn't use it.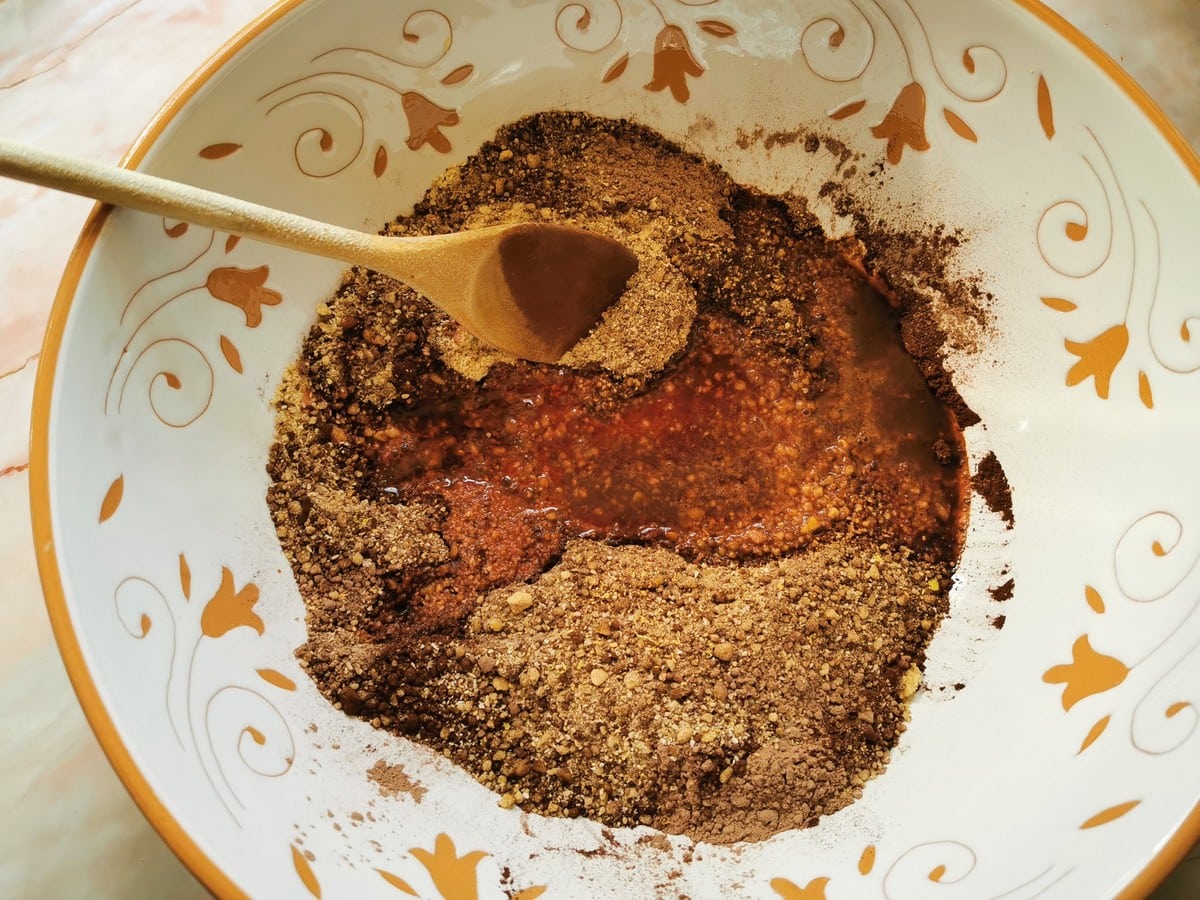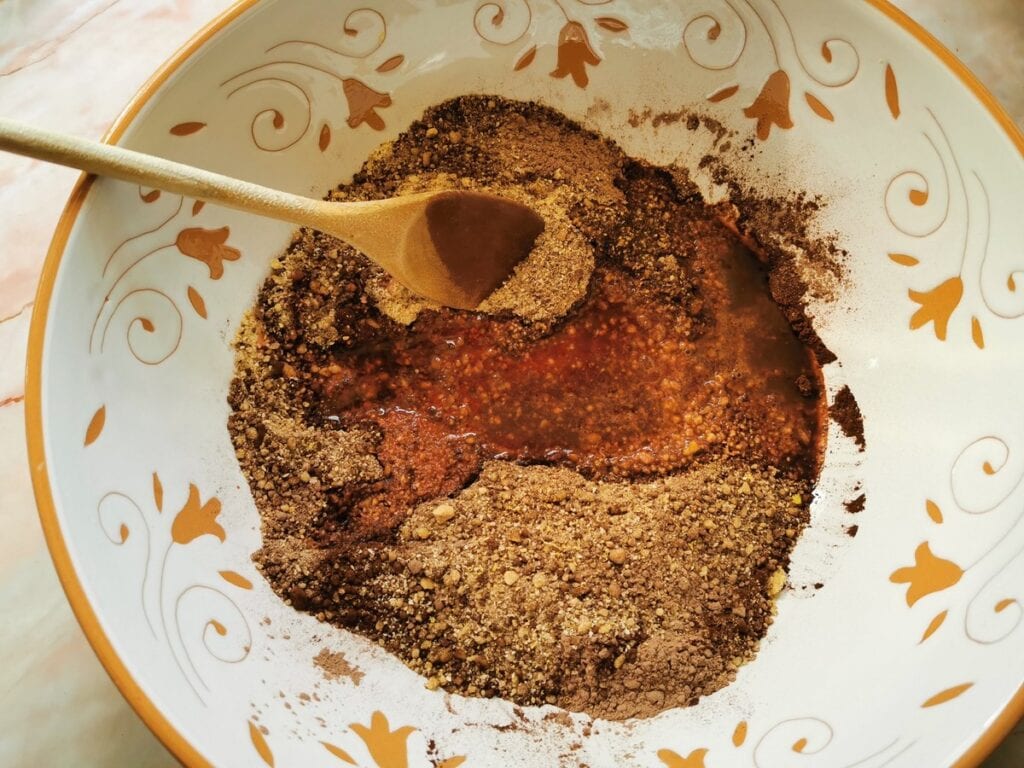 What is Alchermes liqueur?
At this point, you may be asking yourself what Alchermes is! This is a dessert liqueur that is a modification of an 8th century potion, used as a heart tonic and in the treatment of smallpox and measles! Nowadays, it's made with alcohol, sugar, cinnamon, cloves, nutmeg, vanilla, orange peel and other flavourings.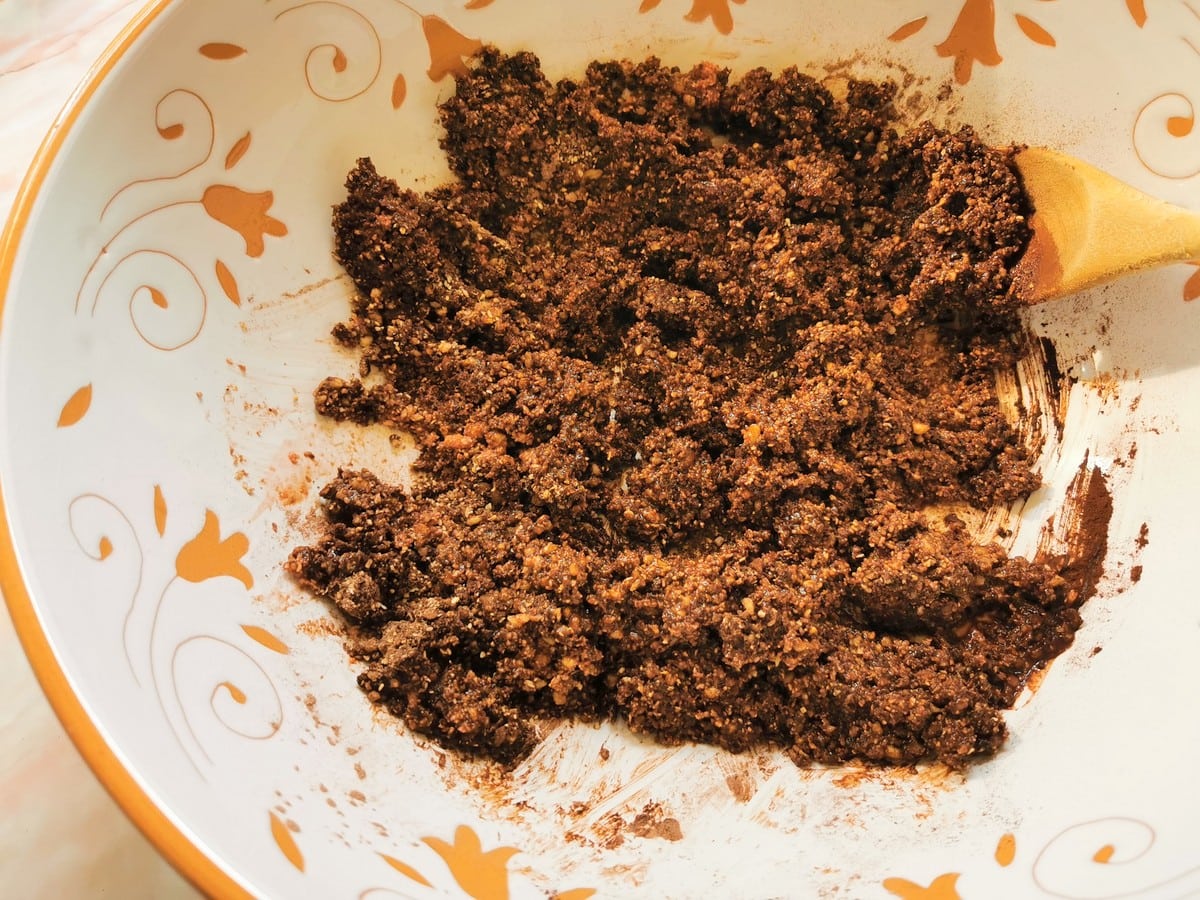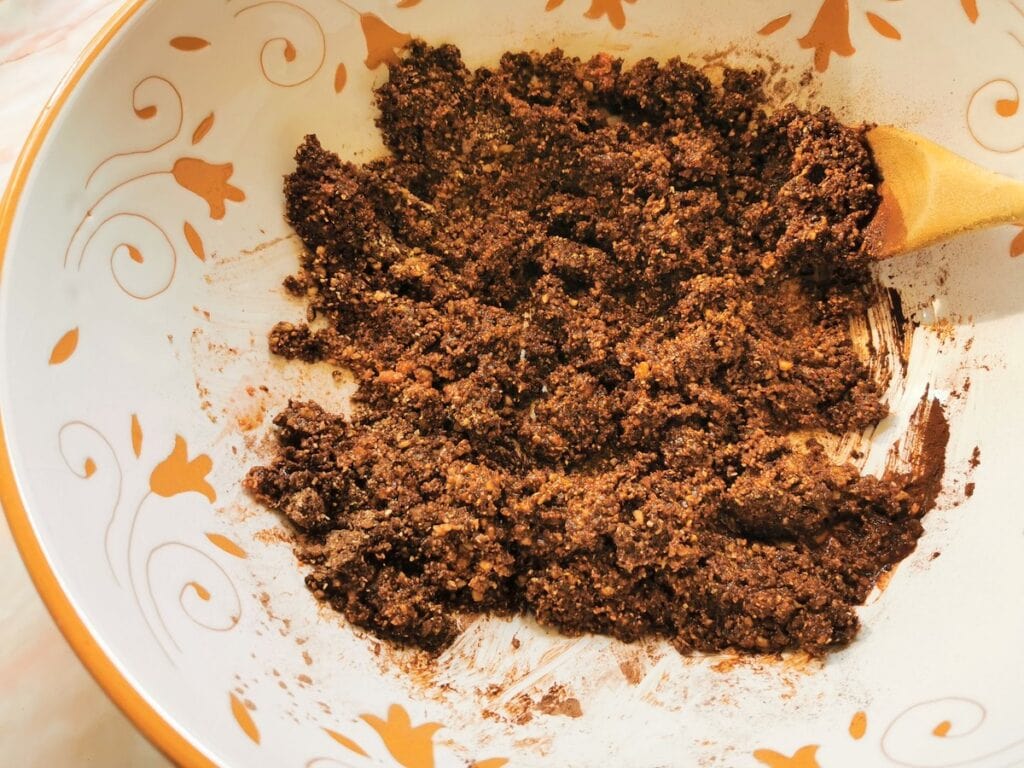 The bright scarlet colour originally came from a tiny insect called Kermes, hence the name of the liqueur! Today, they use food colouring. Alchermes is most famously used in the Italian trifle recipe 'zuppa inglese'. Alchermes can be substituted with rum. This recipe includes a bit of both. But, you can use only rum.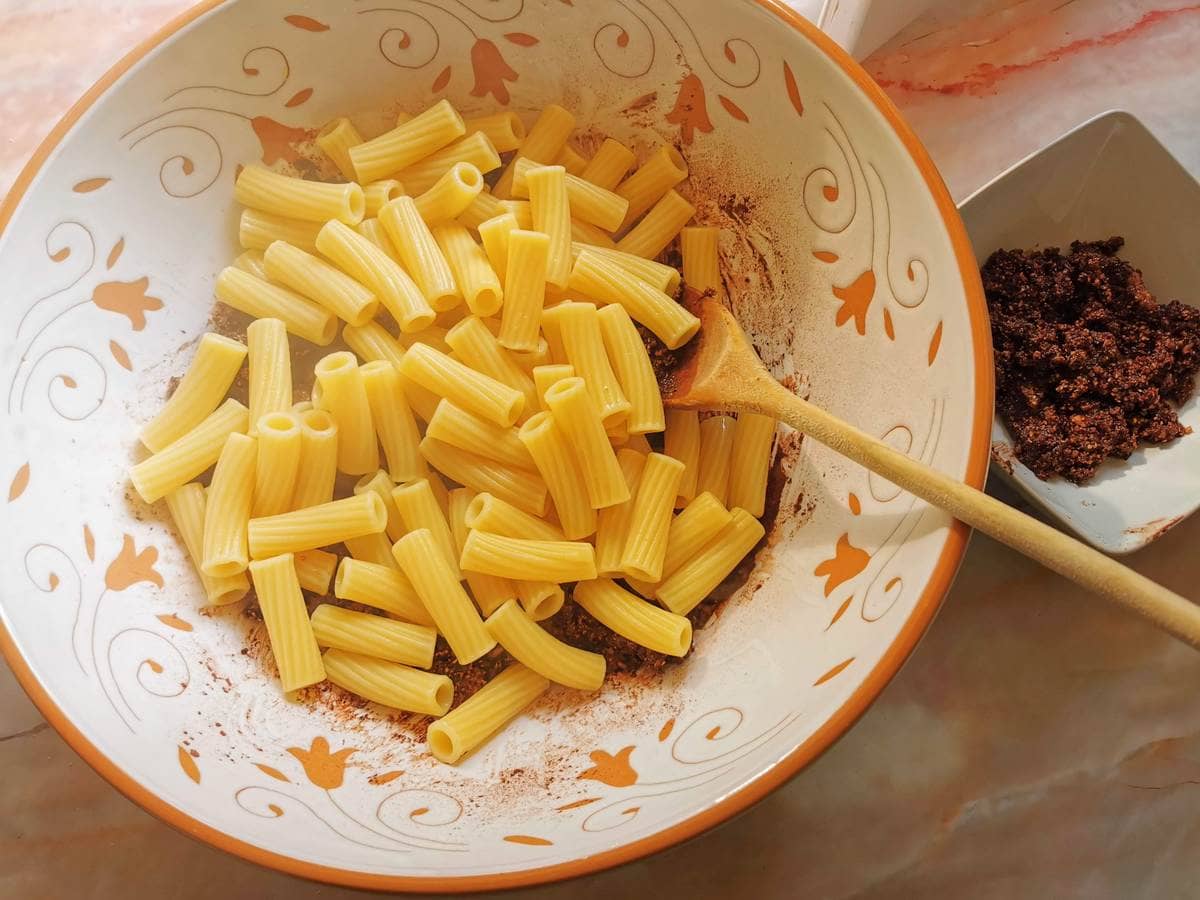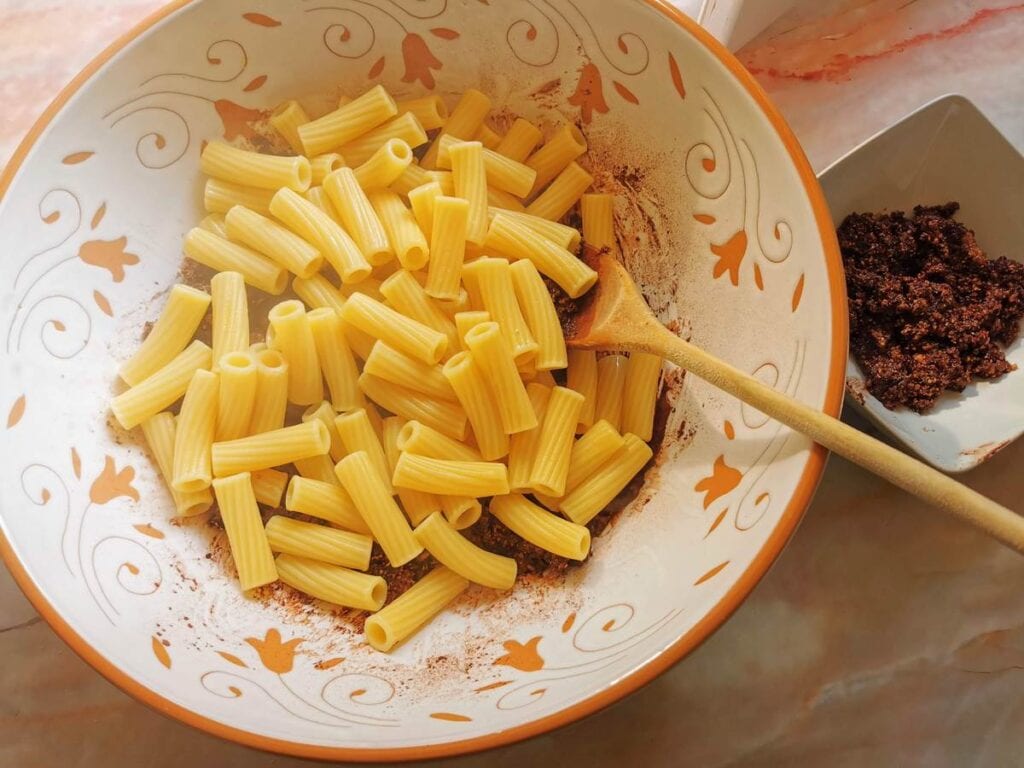 The pasta for Umbrian maccheroni dolce.
Because this chocolate and walnut sweet pasta recipe is traditionally made on Christmas Eve and the Eve of All Saints Day, the original pasta was a homemade flour and water tagliatelle. Umbrians didn't make the pasta with eggs as these are days of fasting and abstinence. In the past, no animal derivatives were allowed during religious fasts. Nowadays the rule usually on applies to meat.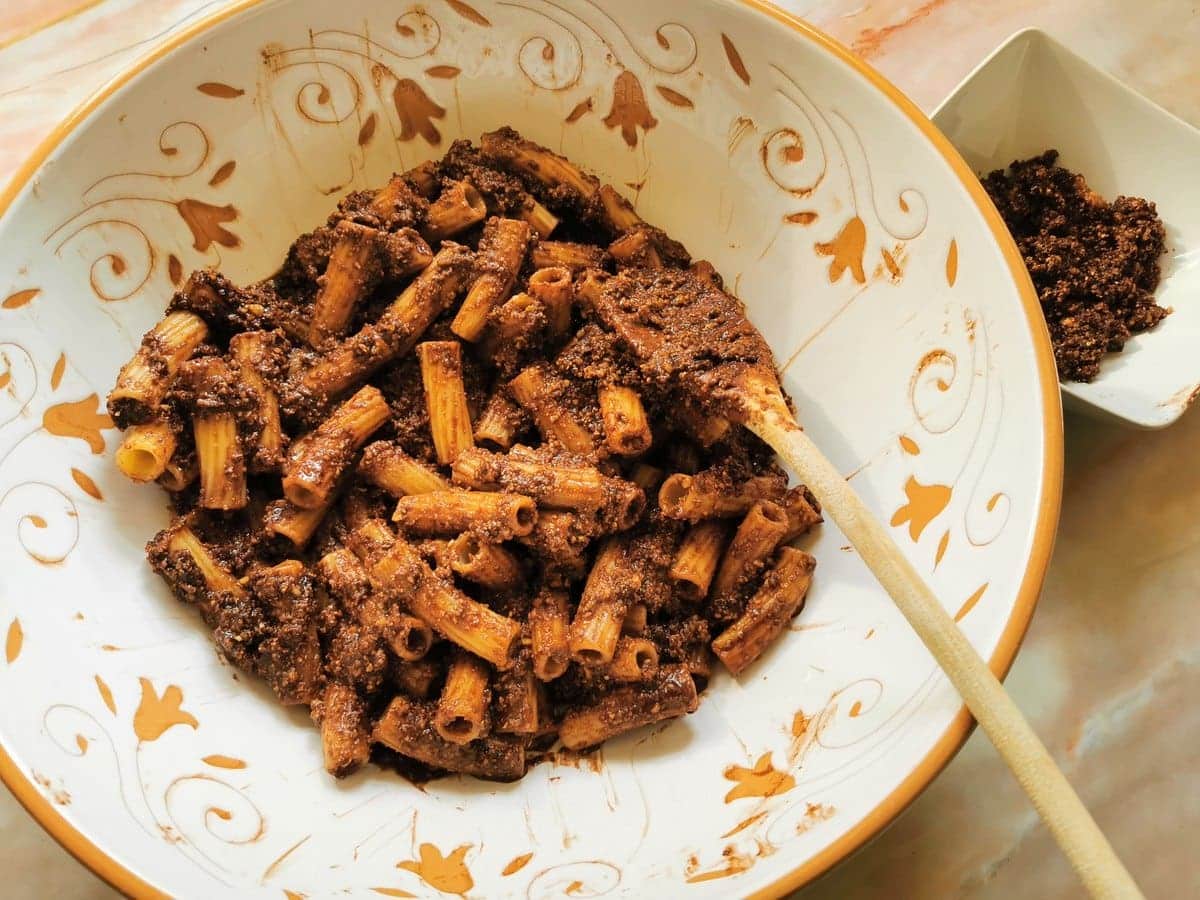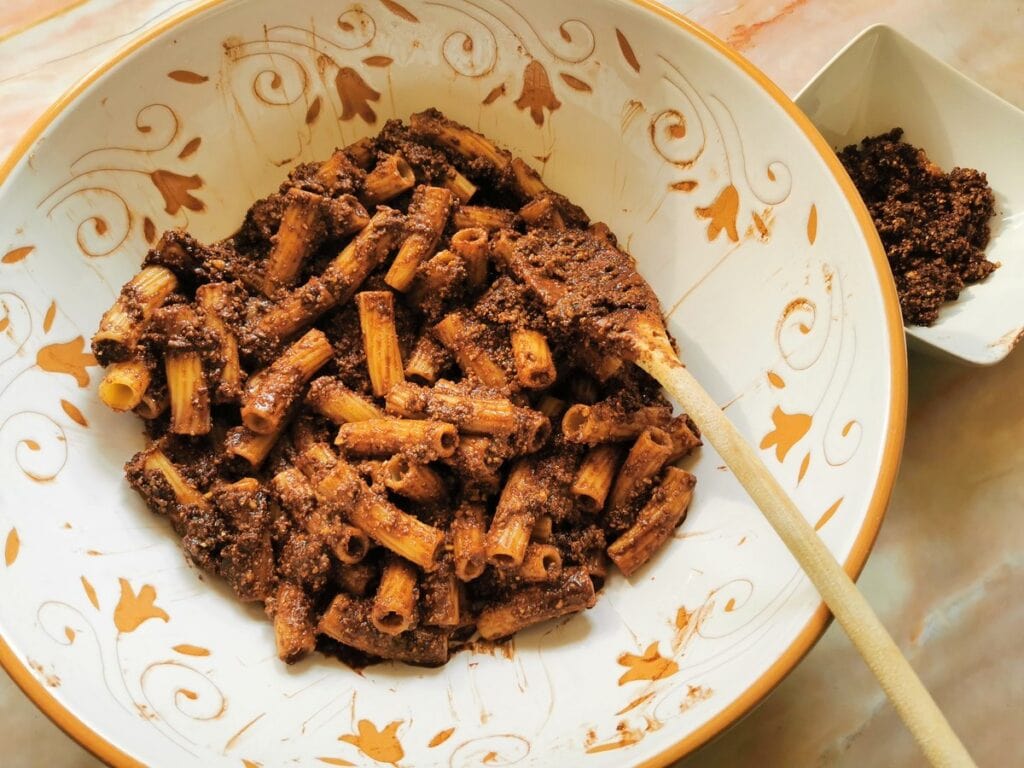 You can still find this sweet pasta cake made with homemade eggless tagliatelle in Umbria. However, many people use dried pasta, particularly pasta tubes like maccheroni, rigatoni, tortiglioni. Italians often use maccheroni as a generic term for many types of pasta. However, there are pasta companies that label some types of pasta tubes as maccheroni. I used maccheroni from La Molisana.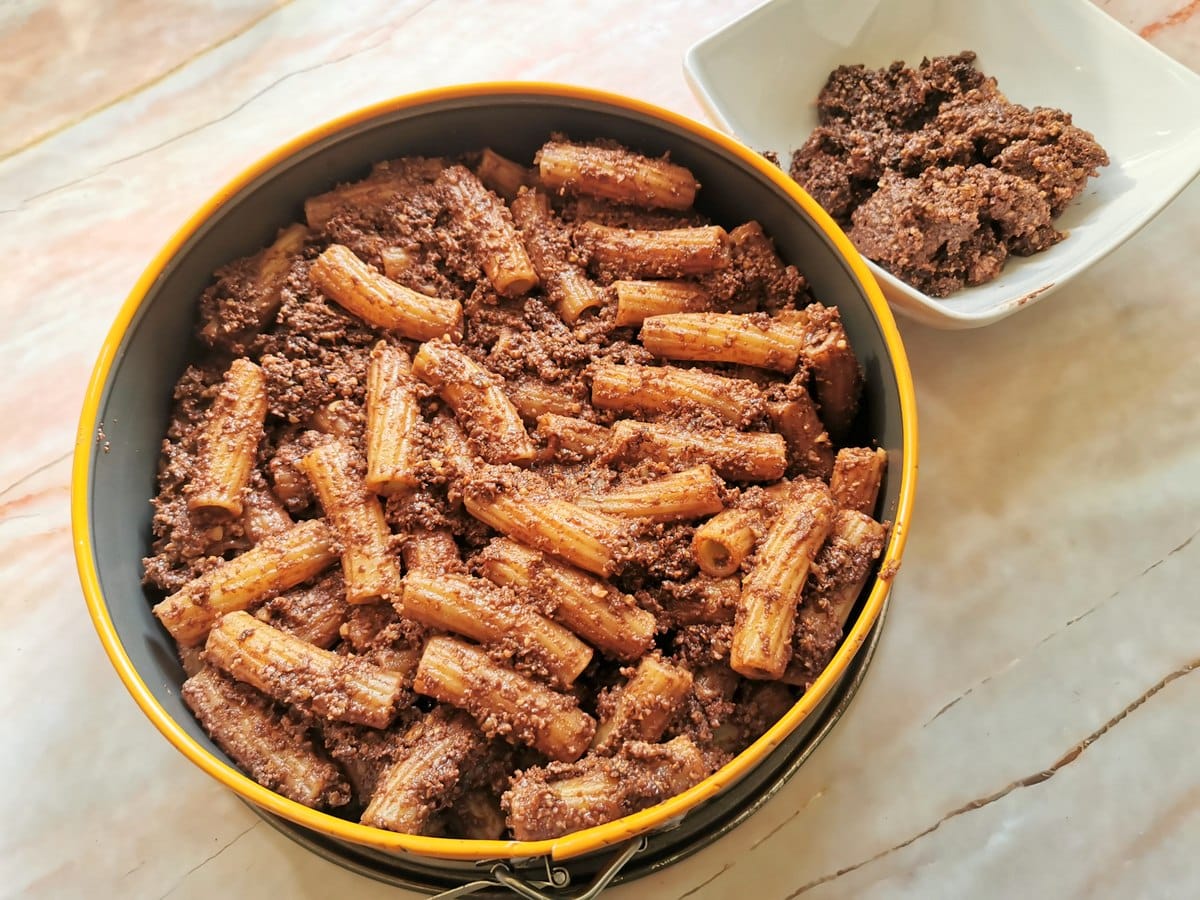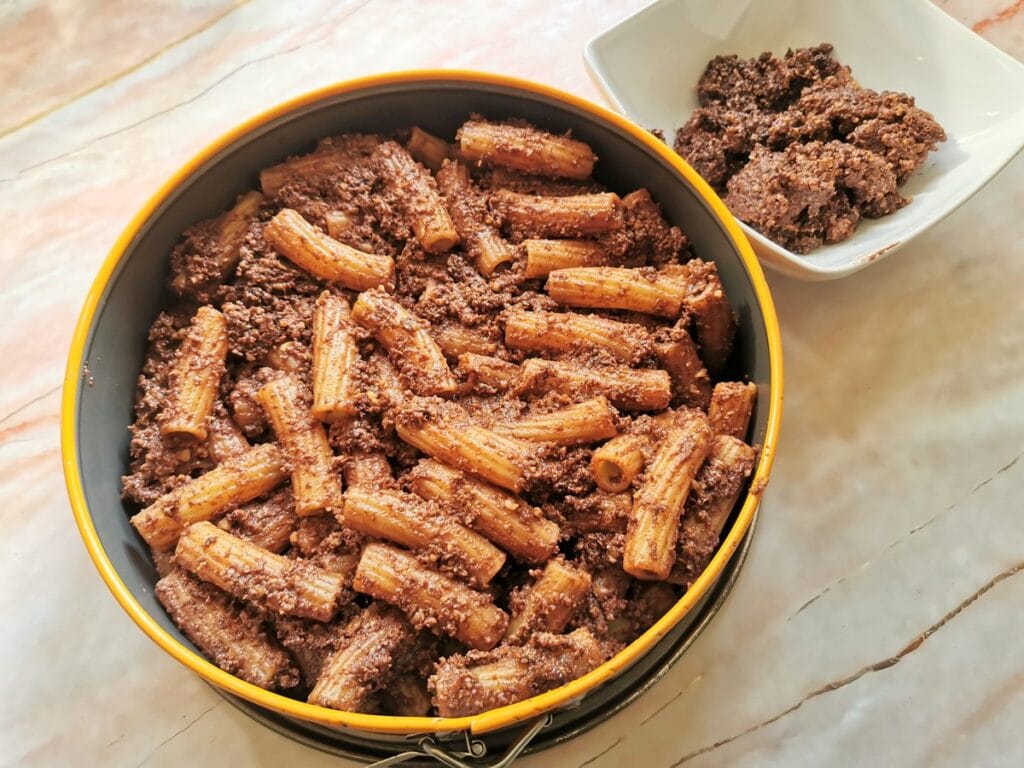 How to make this sweet pasta from Umbria.
This pasta cake is pretty easy to make. The pasta has to be cooked a little more than normal, so it becomes a bit sticky! The other ingredients are mixed together in a bowl. Then, you remove a bit of the chocolate mixture and add the cooked pasta, mix everything together well. If it seems dry, add some pasta cooking water.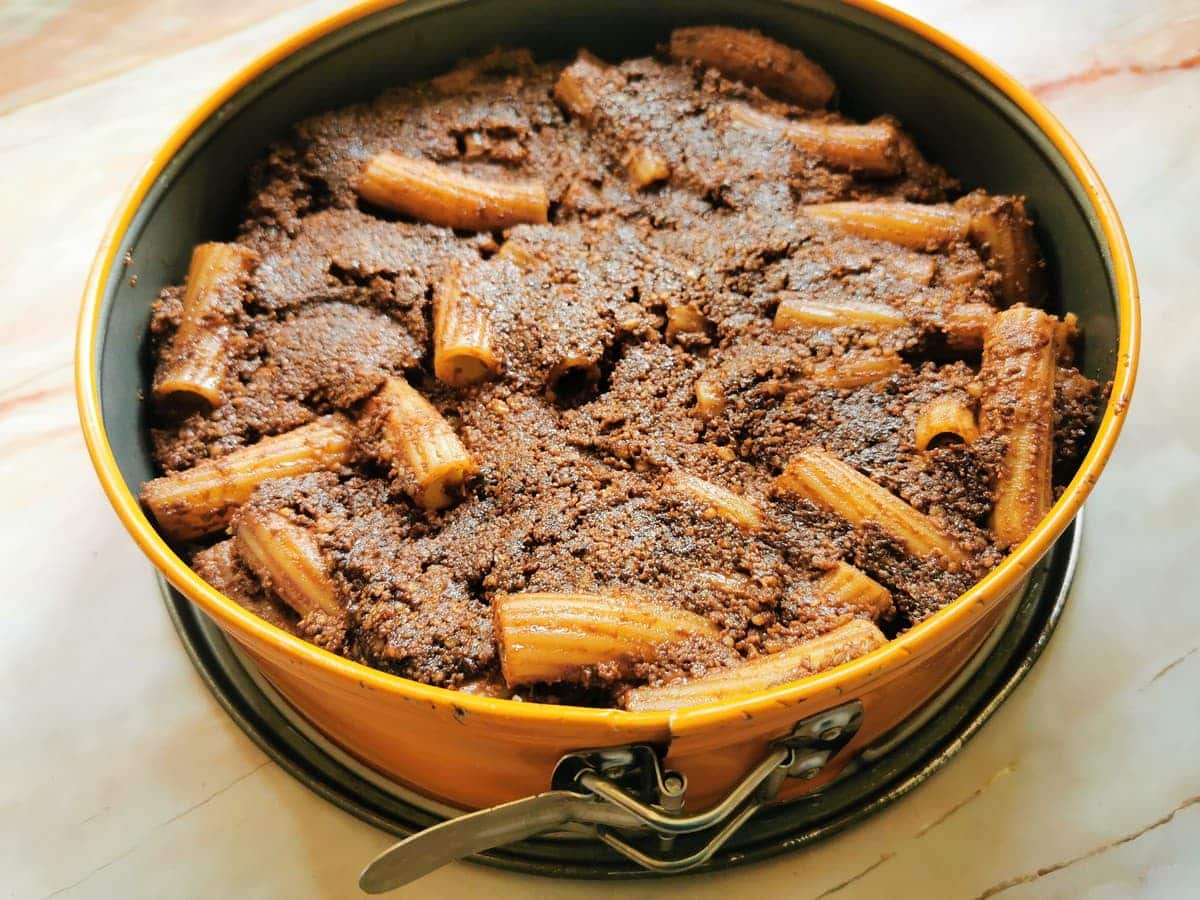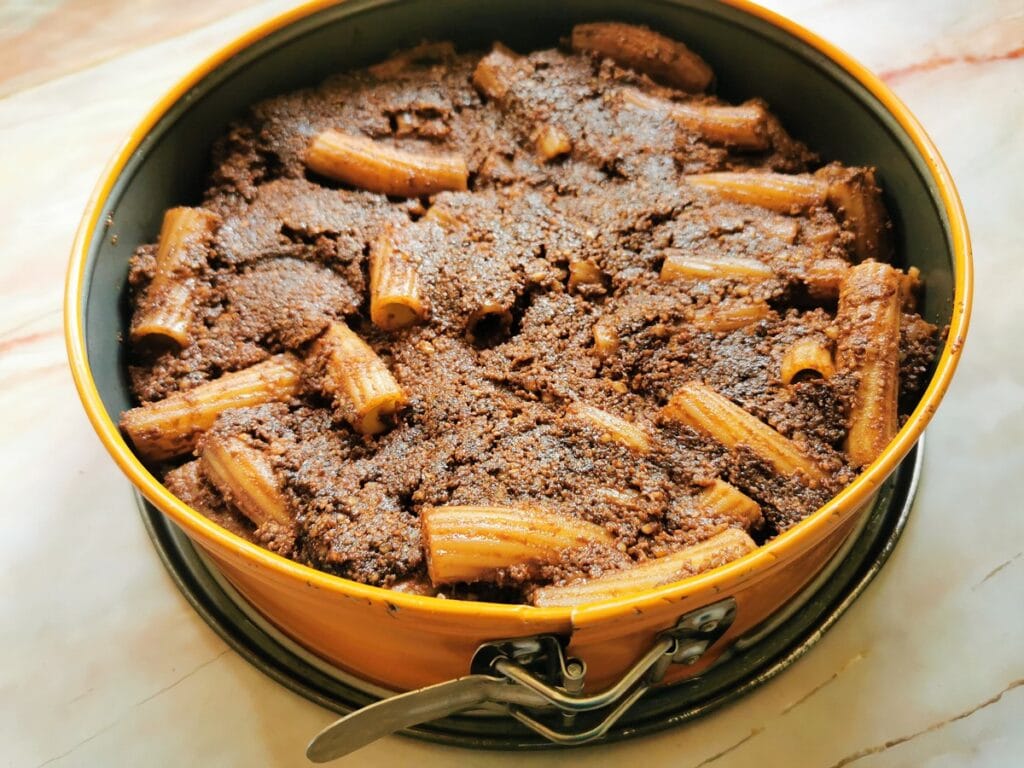 Next, put the pasta and chocolate into a serving dish or cake tin. Cover the top with the extra chocolate mixture and some melted chocolate. Leave in the fridge overnight and serve cold!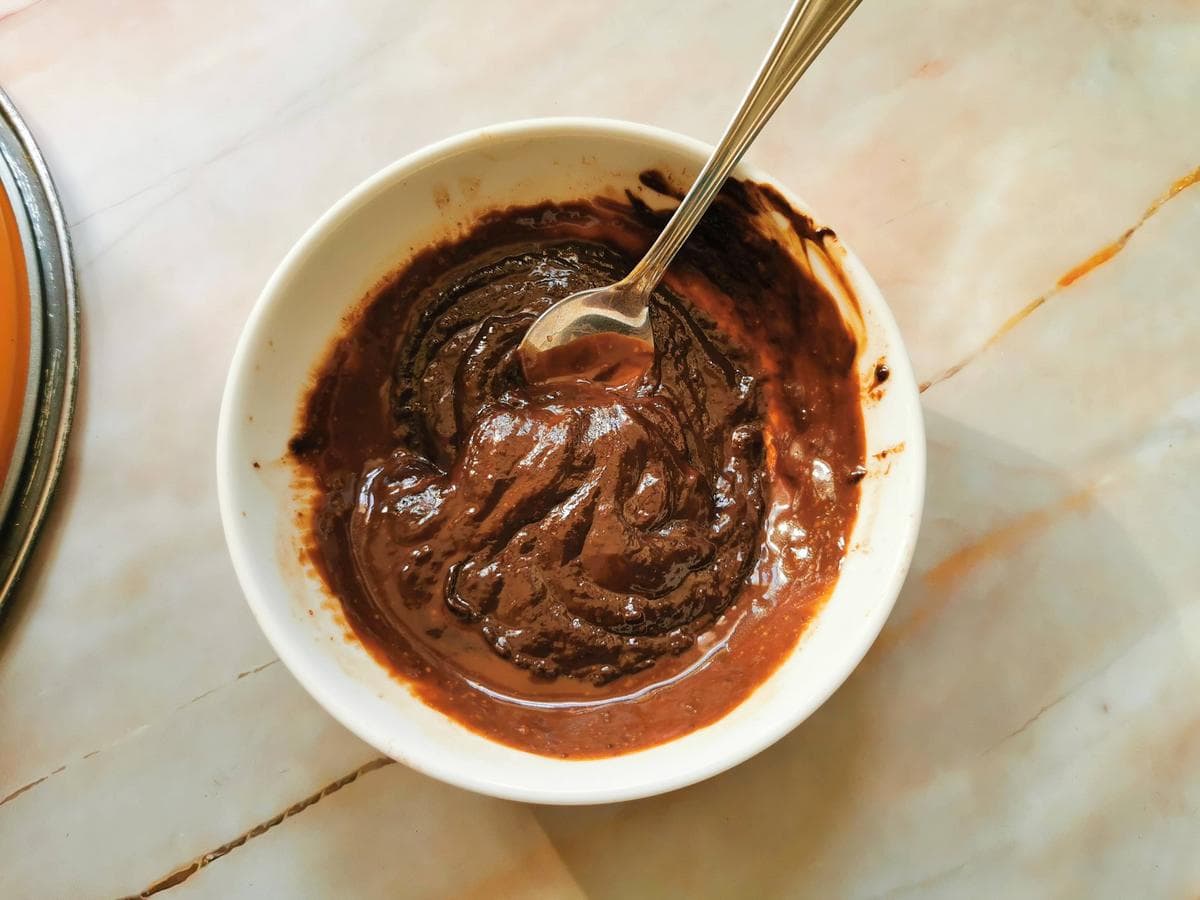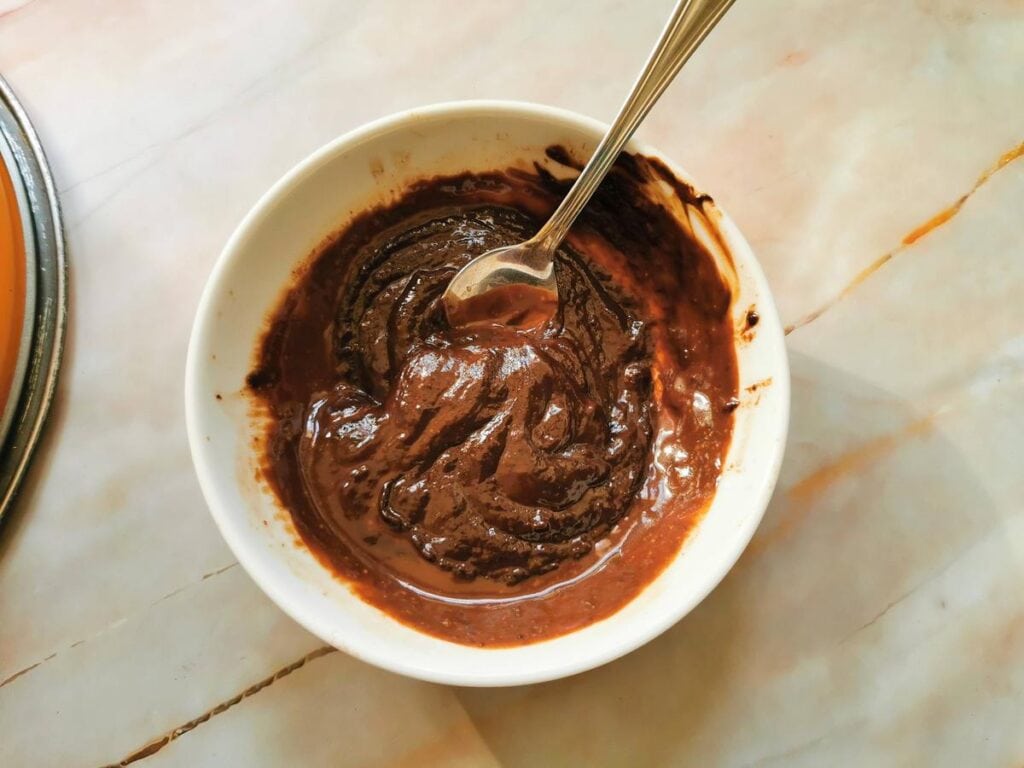 I've also seen this sweet pasta from Umbria served in individual dessert glasses. Although I haven't tried that, I would like too. For this recipe, I used a spring form cake tin. I think it looks so nice and made it easier to cut cake-like slices! But, it's okay to use a square or rectangular dish.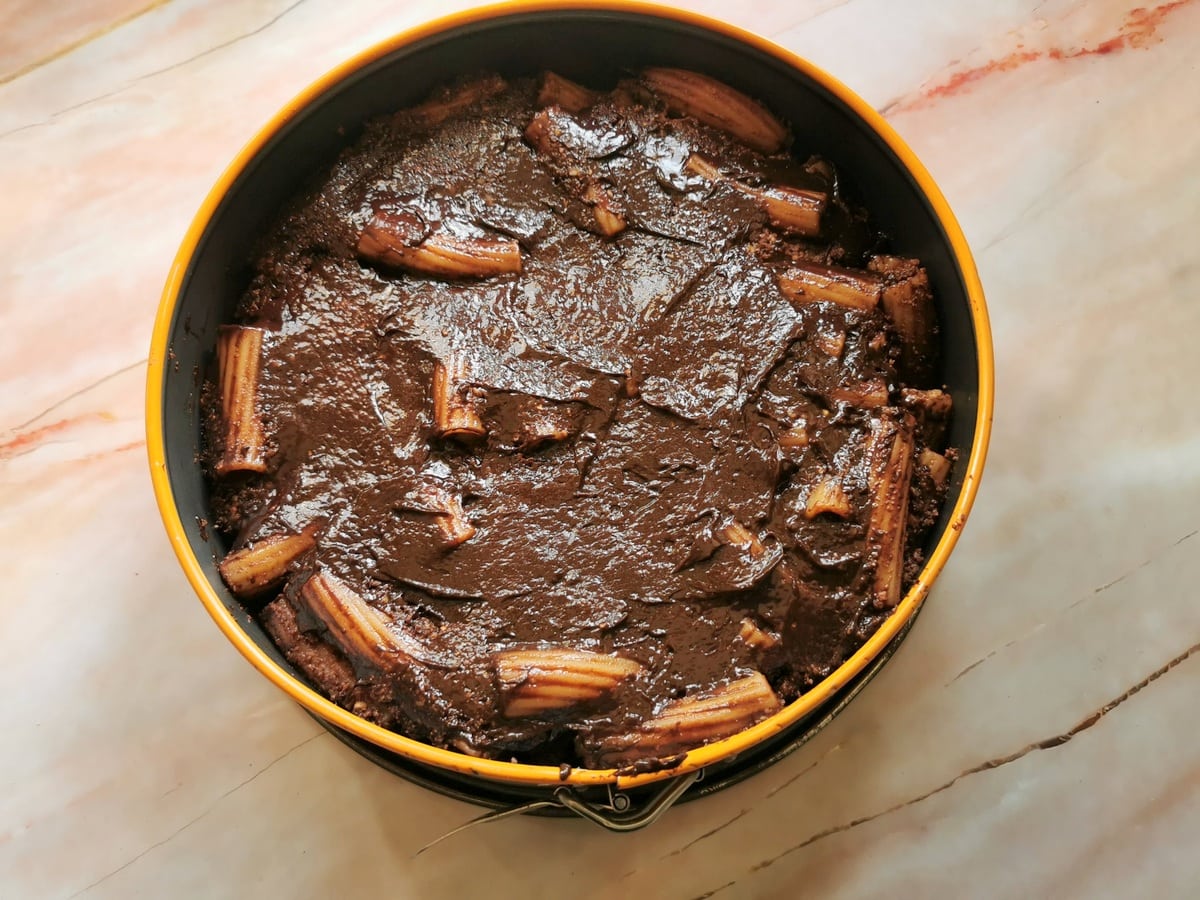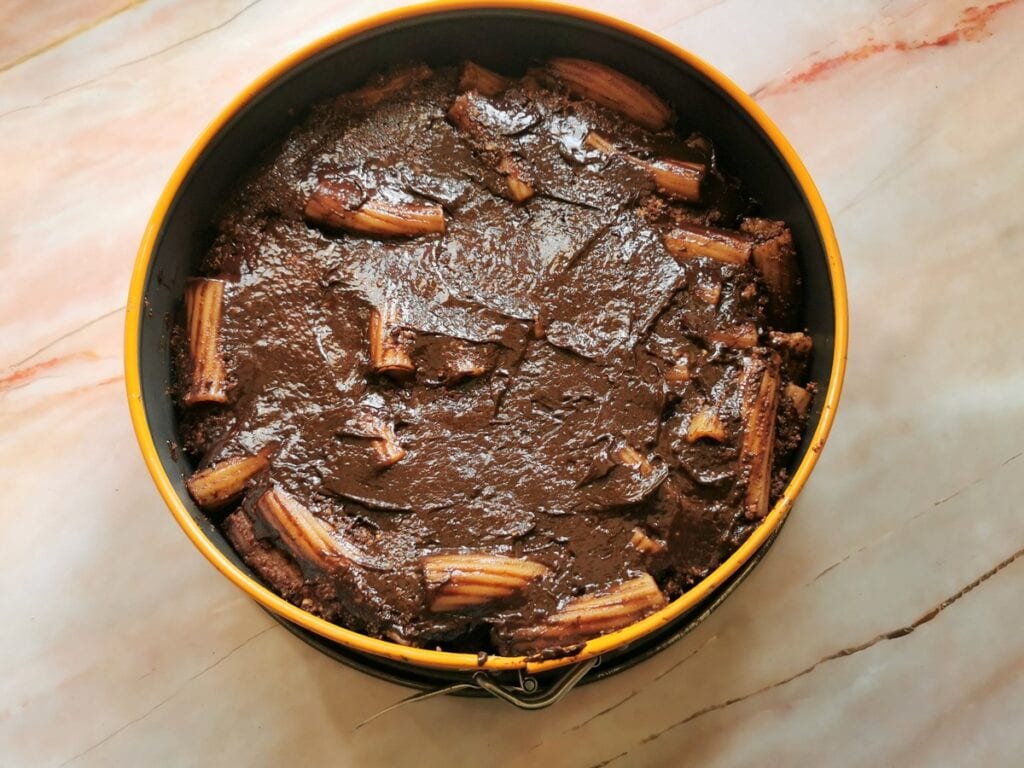 Let me know what you think.
Whichever way you serve this sweet pasta, I'm sure you'll love it as much as the Umbrians do. You are also bound to seriously impress your guests as this is such a unique dish.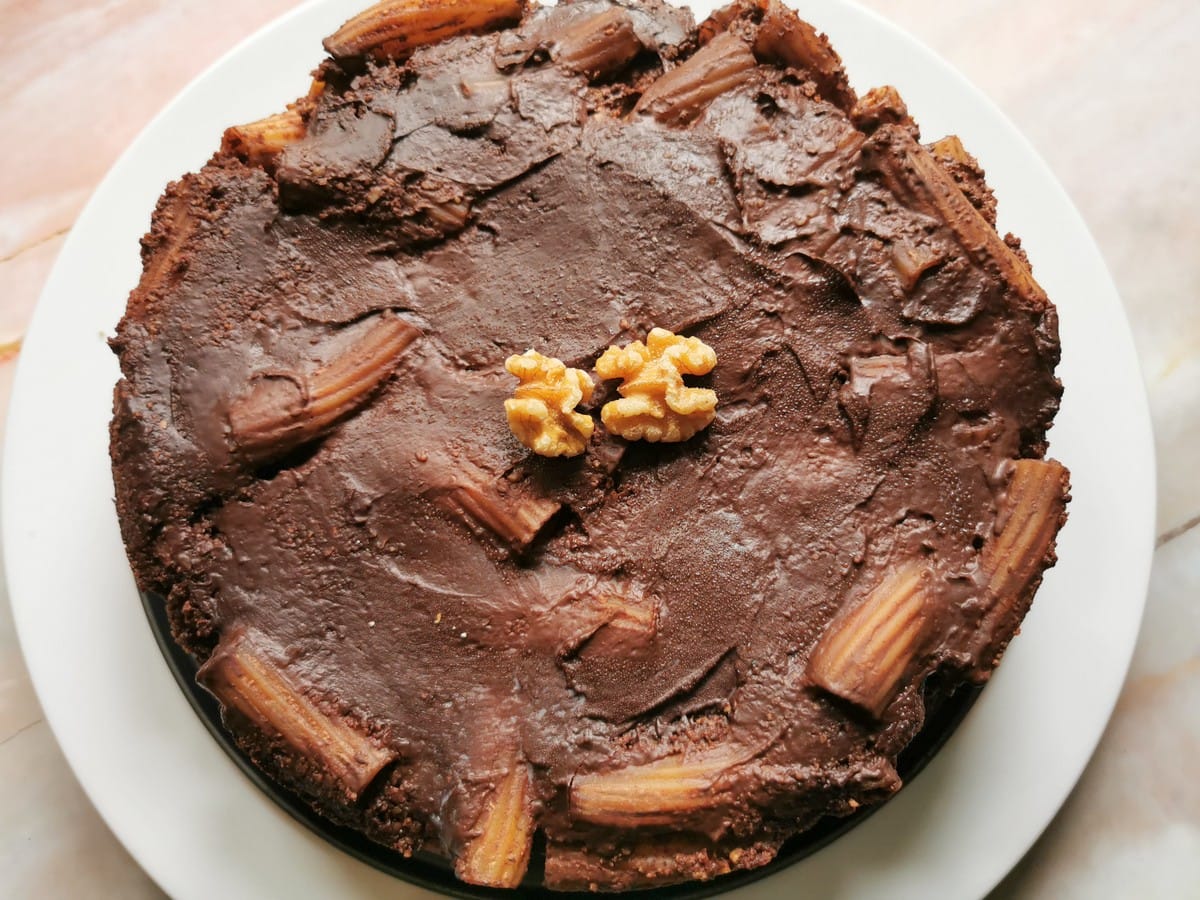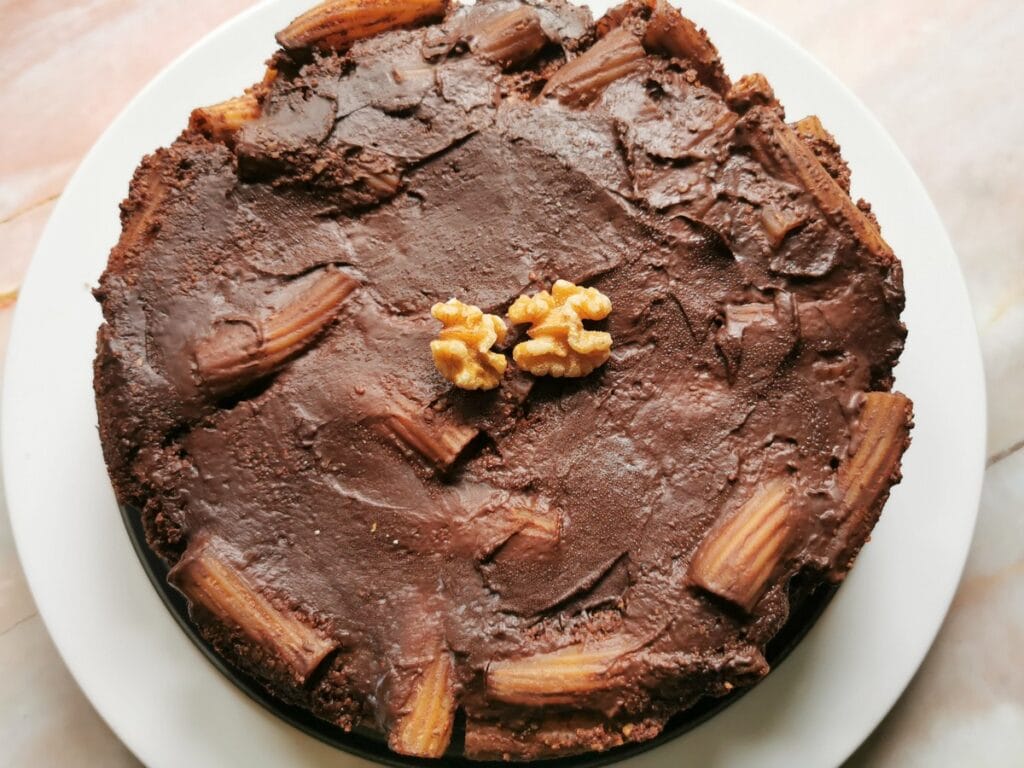 If you do try it, I'd love to hear what you think. Please write a comment here on the blog or post a comment on the Pasta Project Facebook page.
Your feedback means a lot to me!
Buon appetito!
SAVE THIS RECIPE FOR LATER?
If you want to save this recipe for later, you can print it, bookmark this page or save it to Pinterest.
Other sweet pasta recipes worth trying.
More recipes from Umbria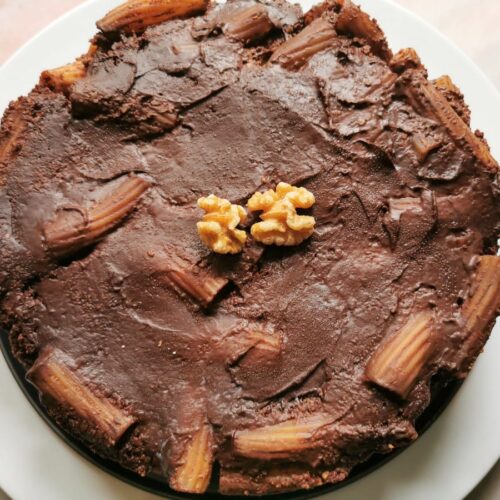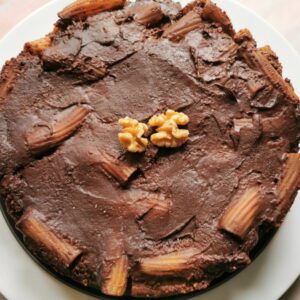 Chocolate and walnut sweet pasta recipe (maccheroni dolce). A traditional holiday recipe from Umbria.
This easy to make chocolate and walnut sweet pasta recipe from Umbria in Central Italy is a unique dessert. This 'cake' is traditional at Halloween and Christmas Eve. But, I think it's a fabulous way to wow your guests any timeof year!
Ingredients
200

g

pasta tubes (7oz)

maccheroni, rigatoni, tortiglioni etc

200

g

breadcrumbs (7oz)

200

g

walnuts (7oz)

ground or finely chopped

100

g

sugar (3.5oz)

I used fine cane sugar

25

g

sweet cocoa (1oz)

25

g

bitter cocoa (1oz)

50

g

dark chocolate (2oz)

1

tsp

cinnamon powder

zest of half a lemon

100

g

Alchermes (3floz)

1

shot

rum (1.5 floz)

or 2 if not using Alchermes
Instructions
Grind or crush the walnuts into small pieces (not too fine) in a food processor. You can also put them in a bag and crush them with a rolling pin or mallet.

Put the ground walnuts in a bowl, add the breadcrumbs and sugar and mix. Then add the 2 kinds of cocoa and mix again. Next put in the cinnamon and lemon zest and finally add the rum and Alchermes (or just rum). Mix everything together well. Remove a cupful of the mixture and set aside.

Put a pot of water on to boil for the pasta. I didn't add salt. Cook the pasta a little more than al dente so it's a bit soft and sticky. Once the pasta is ready, save a cupful of the cooking water, drain and add it to the chocolate mixture. Mix well until all the pasta is incorporated in the chocolate condiment. Add some of the saved pasta cooking water if it seems to dry.

Put the pasta and chocolate mix into a round, square or rectangular dish. I used a springform cake tin. Using a spatula or wooden spoon press the cake down so that the surface is even and the sides are full. You don't want gaps along the edges ofthe cake.

Spread the extra chocolate and walnut mixture over the top of the cake. Then melt the dark chocolate with some of the pasta cooking water in the microwave or on the stove top. Then pour and spread this sauce over the top of the cake.

Refrigerate for 12 hours or overnight. Bring your Umbrian sweet pasta cake to room temperature before slicing and serving!
If you are interested in learning how to make homemade pasta and different types of gnocchi, check out my shop page for some great video online courses from my friends in Rome! Nothing beats learning to make pasta from Italians! Plus while you're there why not order a copy of one of my pasta recipe cookbooks or checkout some recommended pasta making tools?