Pasta is nearly always on the menu in Italy on holidays and special occasions, including Christmas. In fact, on special occasion menus, both homecooked and in restaurants, there is often more than one pasta dish to enjoy.
So, why not bring a taste of Italy to your Christmas table and offer your guests a choice of one, two or even three of these Christmas pasta recipes from Italy?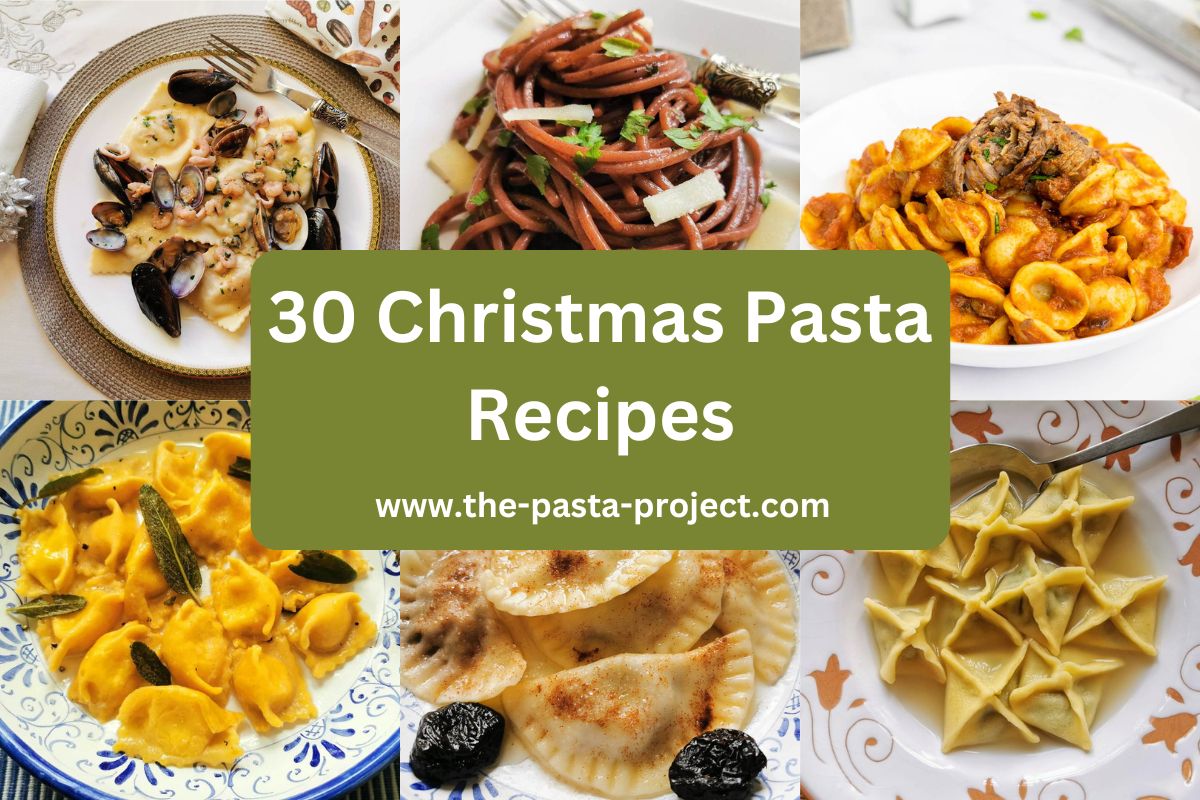 Christmas in Italy
Traditionally, Italians don't have a 'Christmas menu' that is popular throughout the country like roast turkey in the UK. However, the majority of Italians eat seafood or meatless dishes (including pasta) on Christmas Eve. This is because it's a religious day of abstinence from meat.
Today, seafood is quite expensive. But, in the past, it was more affordable, and meat was consumed on special occasions and even then, mostly by those who could afford it. Abstaining from meat was therefore considered more of a sacrifice.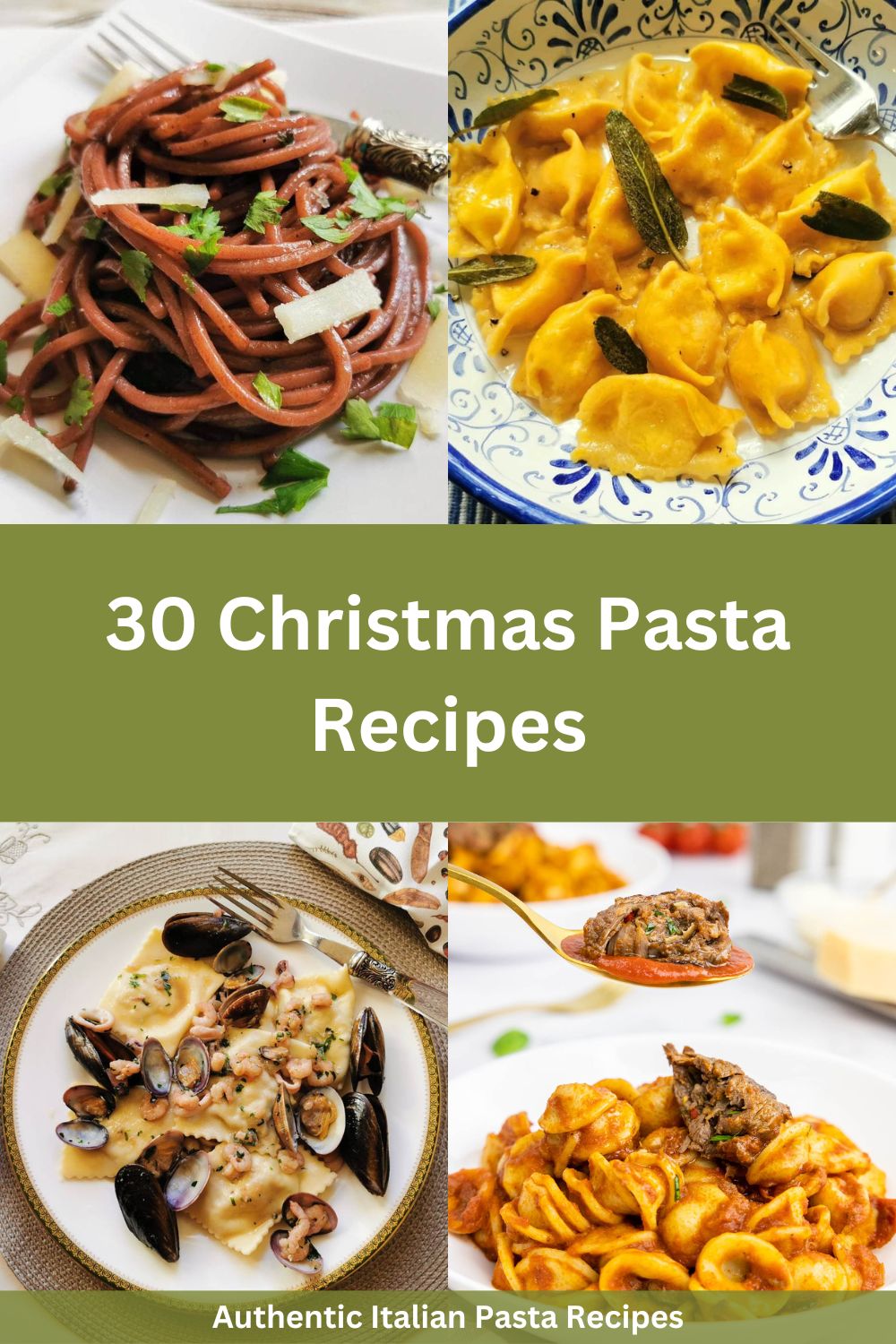 Apart from Christmas Eve, meat dishes are enjoyed by most Italian families on Christmas day and New Year's Eve/Day. The recipes differ from region to region but are often more elegant and gourmet or labour intensive and elaborate than for normal everyday meals. You are unlikely to find spaghetti with tomato sauce on an Italian Christmas table!
Below is a selection of special pasta and gnocchi recipes that would make a delicious addition to any Christmas or holiday meal. Here in Italy, we eat pasta as a first course or primo before the main course. Alternatively, some of these recipes make really nice side dishes if that's what you prefer.
Click on the recipe name for instructions and more info.
Easy gourmet Christmas pasta recipes.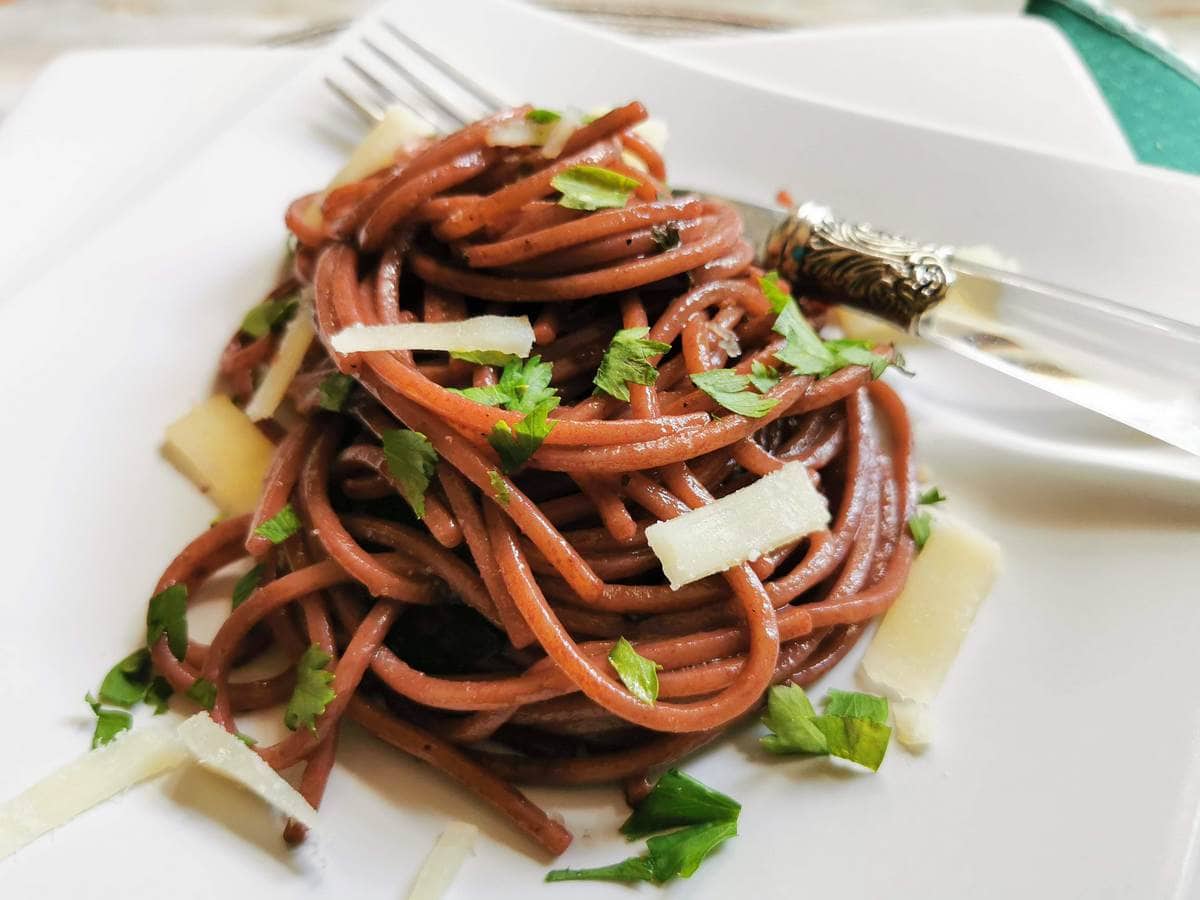 This red wine pasta is perfect for festive occasions like Christmas or Valentine's Day. The spaghetti is simmered in red wine, giving it a rich plum hue.
Most of the alcohol cooks off during preparation, leaving the pasta with a subtle, sweet wine flavor that's both unique and delightful.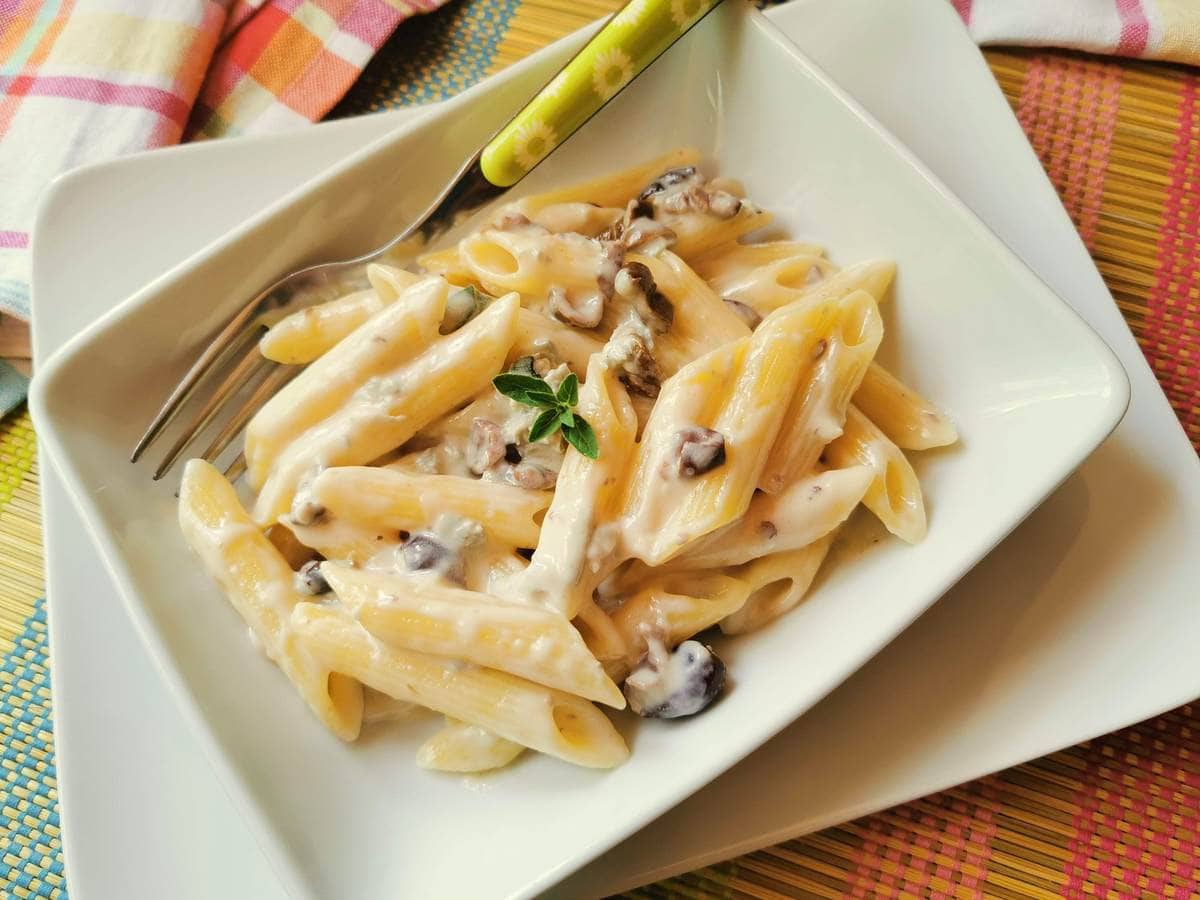 In Italy, this dish is known as pasta alla cenere. Made with gorgonzola and olives, this creamy pasta offers a gourmet experience with just three main ingredients.
Though it can be prepared in under 30 minutes, its rich flavors make it perfect for a festive Christmas dinner. It complements main courses like chicken, pork, or beef, making it a versatile choice for the holiday table.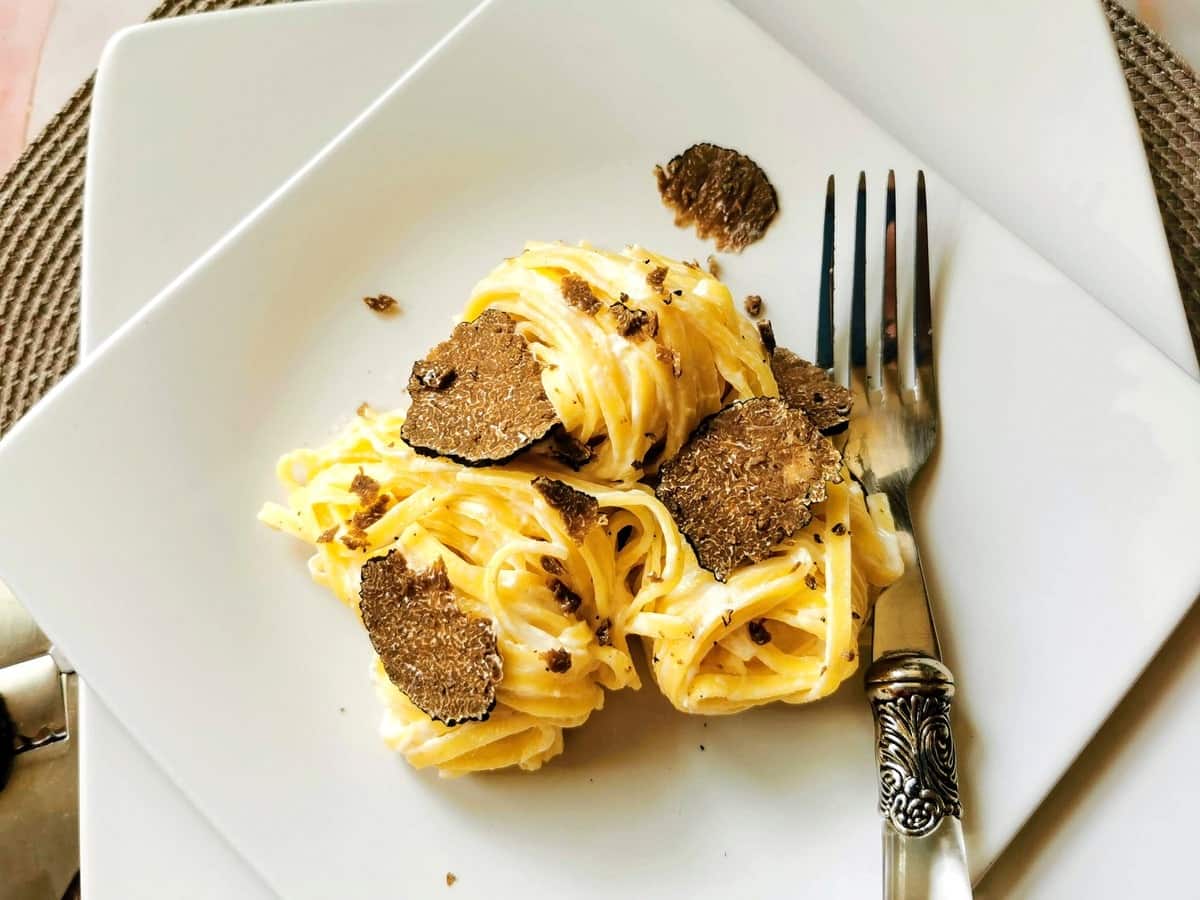 This exquisite Italian pasta boasts the luxury of truffles and creamy mascarpone. With only four additional ingredients beyond the pasta, you can whip up this 5-star dish in just 30 minutes.
This is an impeccable choice for festive celebrations like Christmas, making any holiday gathering feel even more special.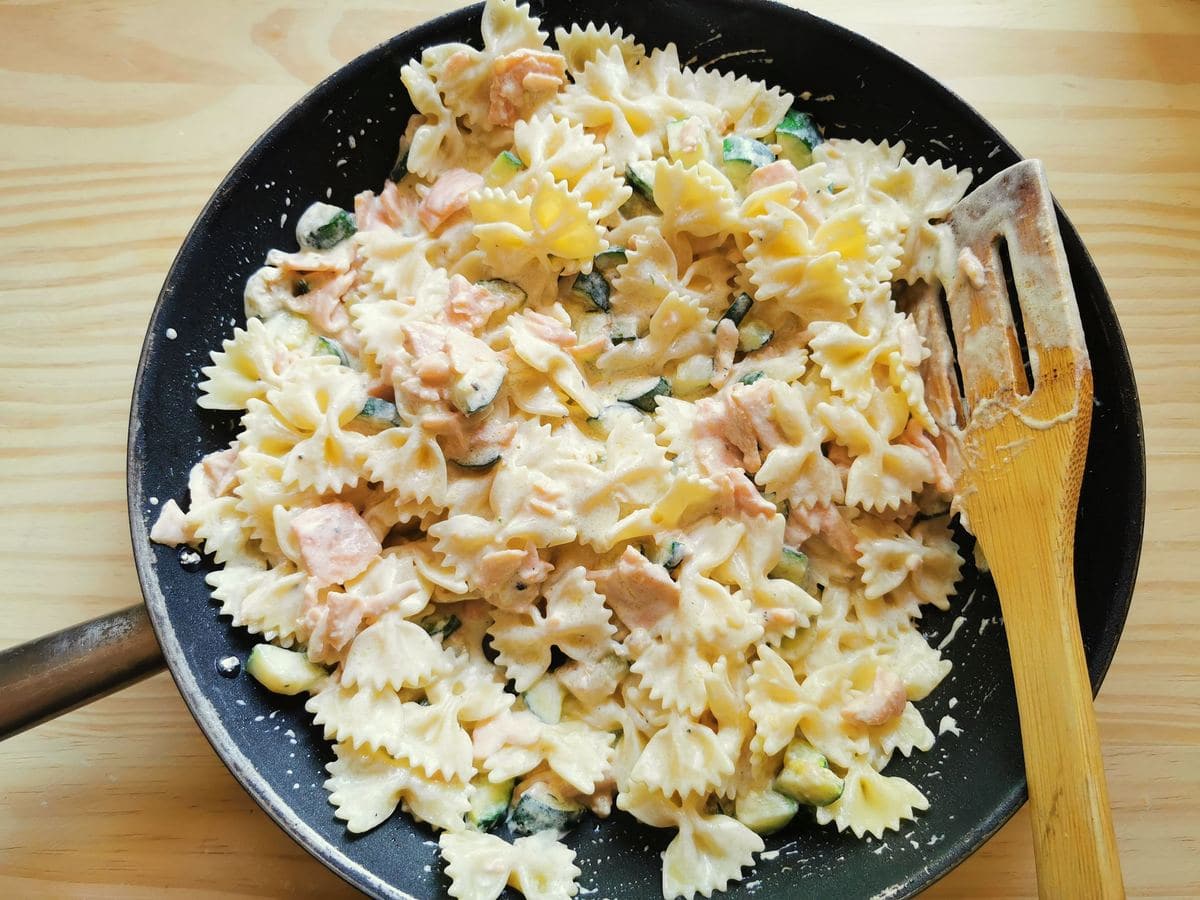 Indulge in the flavors of contemporary Italian cuisine with this farfalle pasta, paired with smoked salmon and zucchini.
This dish takes on an aromatic twist with a hint of fresh ginger and orange zest. It's easy to make yet elegant enough to serve as a Christmas pasta!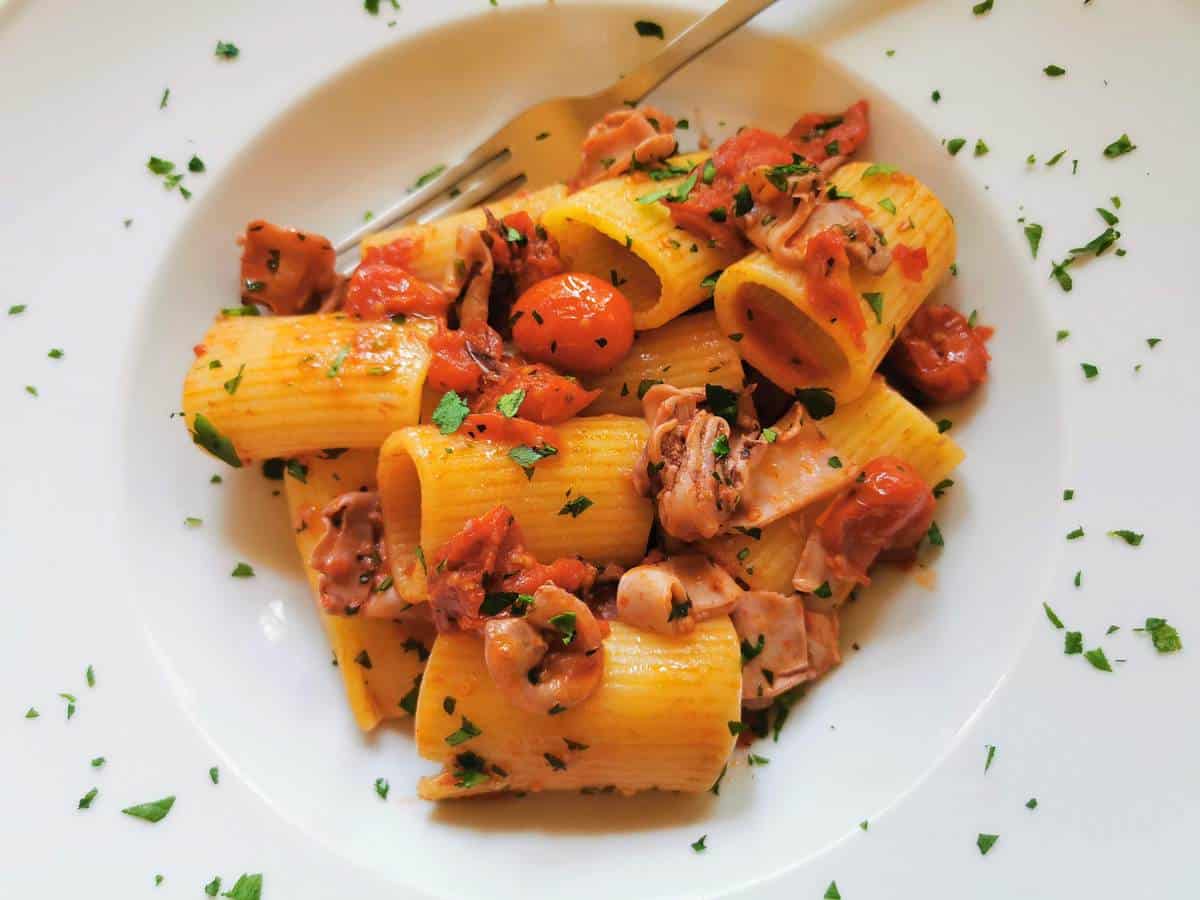 This easy-to-make seafood pasta dish with calamari and tomatoes is a testament to the magic of minimalist ingredients.
Despite its rich flavors, it's ready in just 40 minutes, making it an excellent choice for a festive yet time-crunched holiday dinner.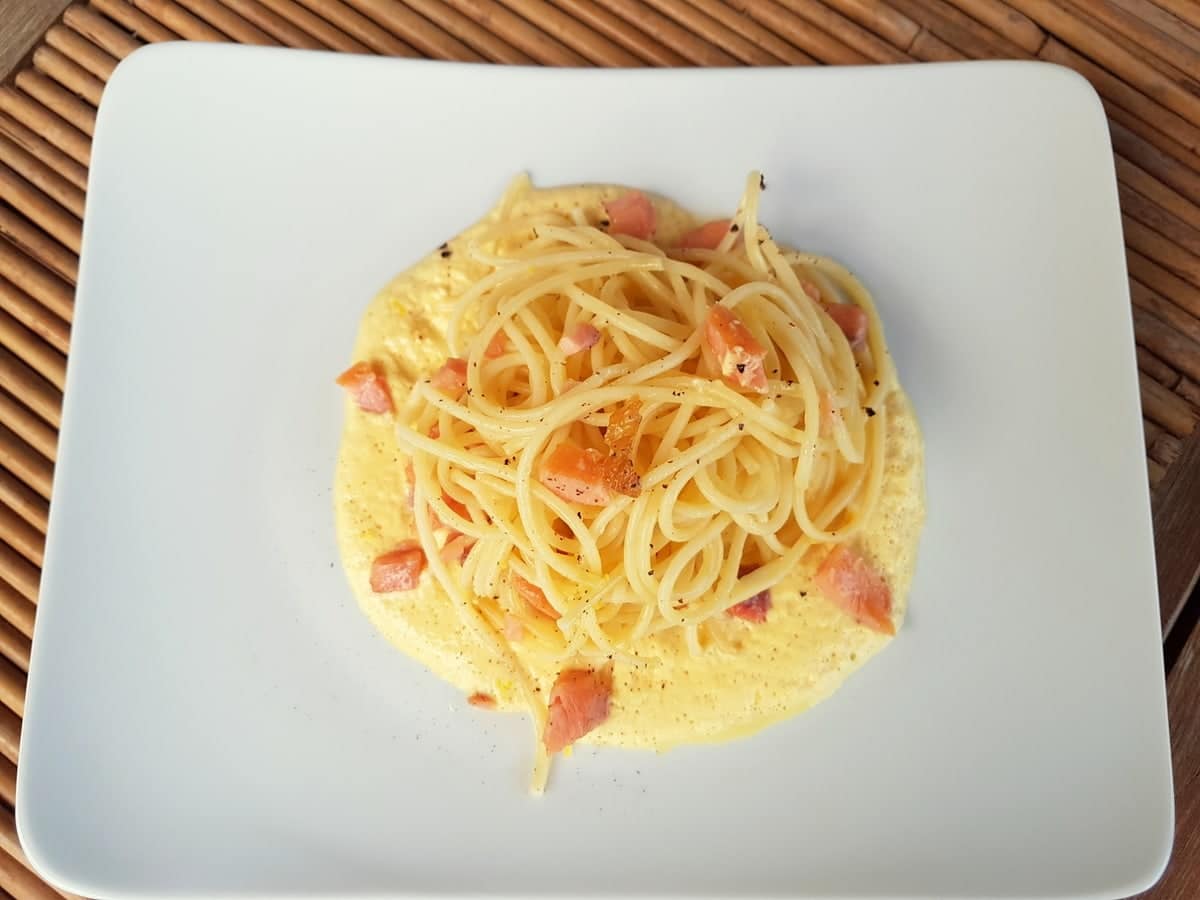 Inspired by a carbonara recipe from a Michelin-star restaurant on Lake Garda in Veneto, this spaghetti dish with smoked trout offers a gourmet experience. Its preparation is pretty straightforward and takes only 30 minutes
A perfect showstopper for festive occasions, ensuring your Christmas meal leaves an impression.
Homemade pasta recipes for Christmas.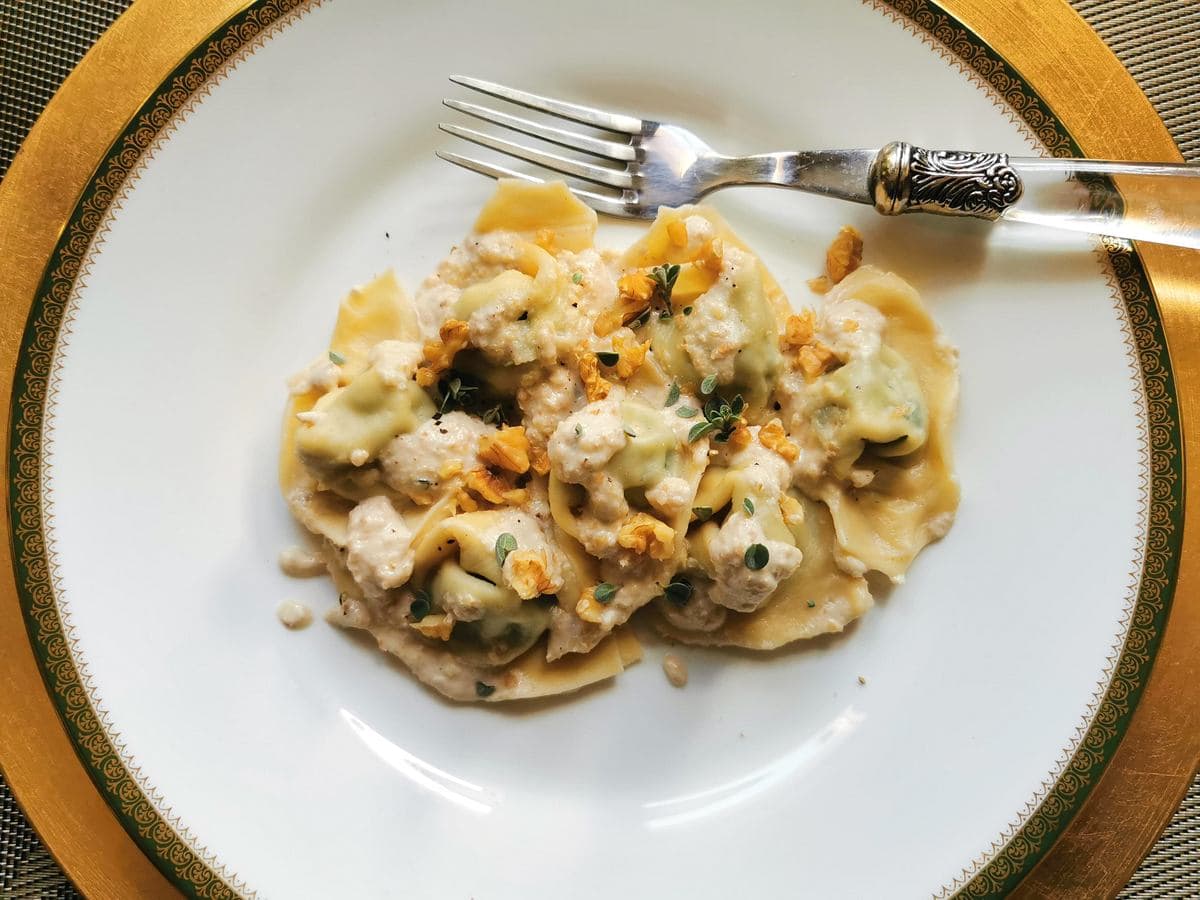 Delve into the traditions of Northwest Italy with this pansotti pasta adorned with a rich walnut sauce. Similar to cappelletti or tortellini, pansotti (or pansoti) is stuffed ravioli-like pasta filled with ricotta and a variety of herbs and greens.
This is a delicious and easy to make vegetarian pasta recipe that is popular on Sundays and religious days of abstinence from meat such as Christmas Eve and particularly during Lent.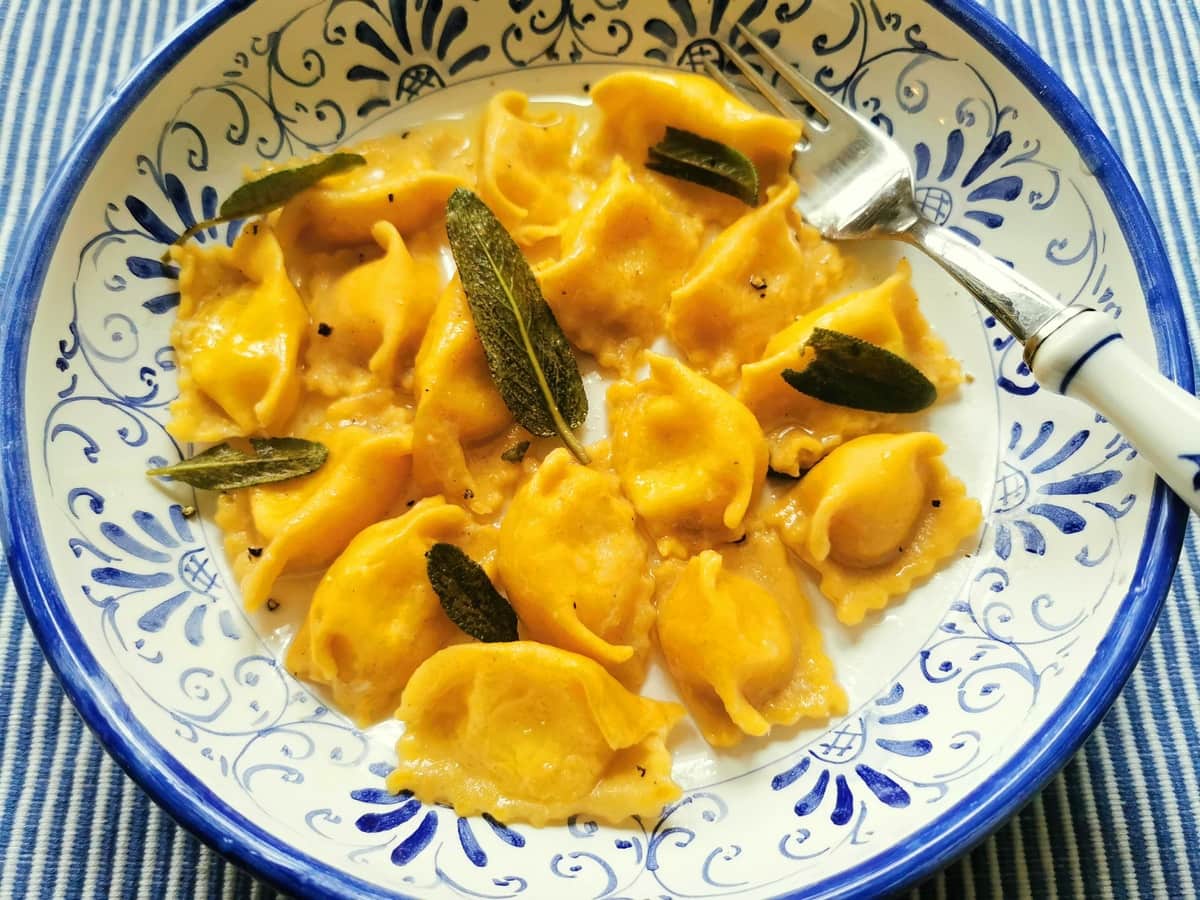 This fabulous homemade agnolotti del plin or ravioli del plin is filled with cheese fondue and served in a traditional butter and sage sauce. It's a delightful Christmas pasta recipe that is sure to impress.
We stuffed ours with a cheese fondue, but this recipe can be easily adapted. You can use other fillings, including with meats and vegetables.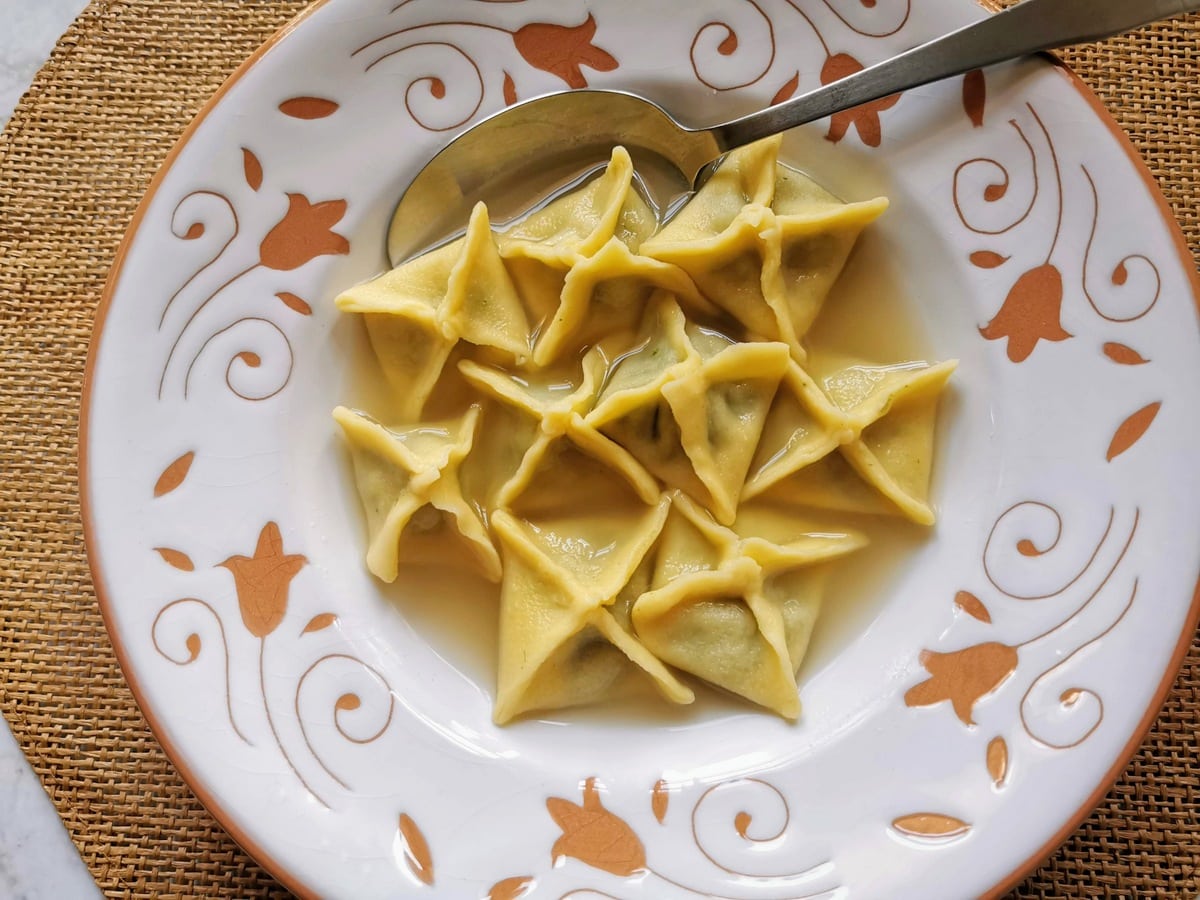 Fagottini pasta, also known in some regions as sacchetti or saccottini, is a stunning type of Italian tortellini that adds a touch of elegance to any meal. Made from fresh egg pasta, this dish stands out with its unique shape and variety of fillings.
Here, you'll find two traditional methods to fill and serve your own homemade fagottini, with four cheeses or with meat and spinach.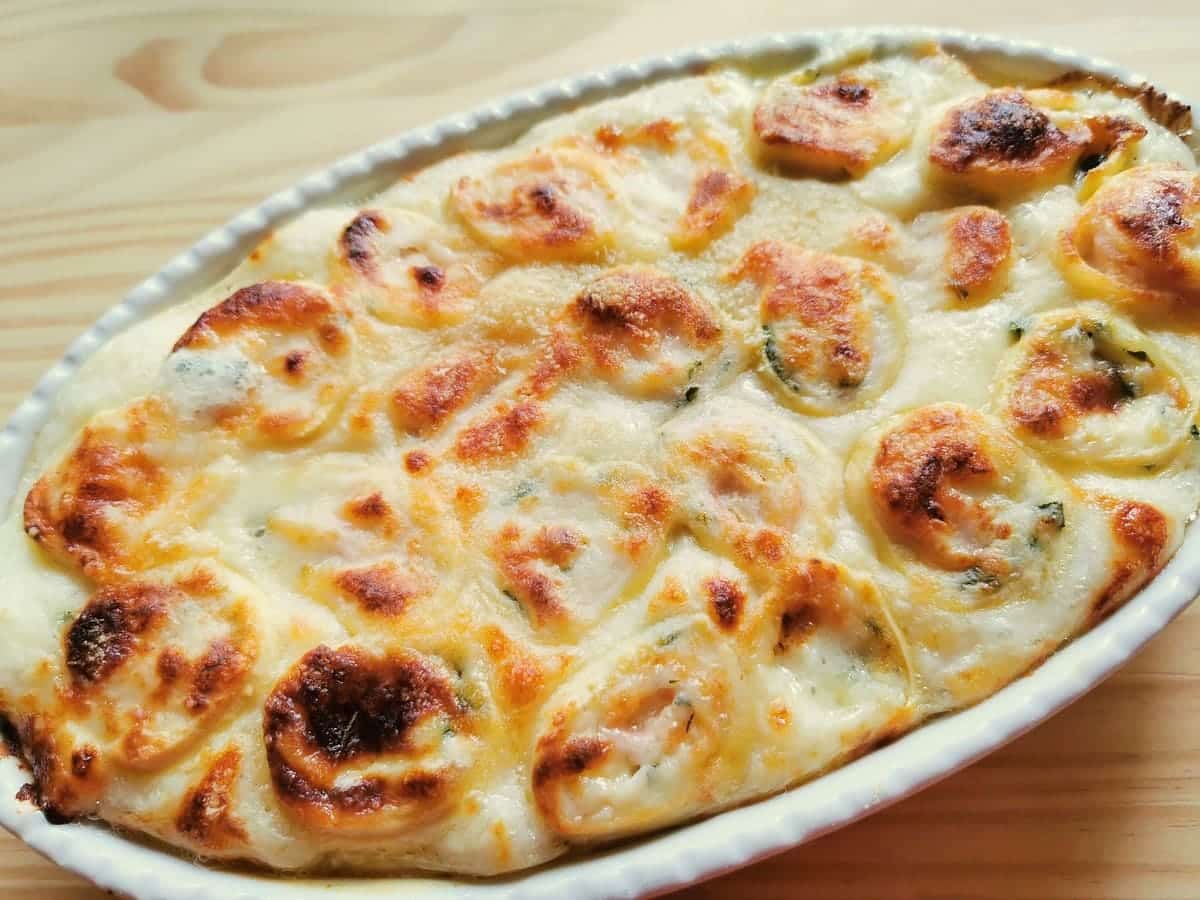 These exquisite baked smoked salmon pasta rosettes are inspired by a traditional pasta bake from the region of Emilia-Romagna.
Utilizing lasagne sheets, this recipe uniquely combines ingredients like stracchino cheese, smoked salmon, parsley, silky béchamel, and a generous dusting of grated Parmigiano. It's a perfect Christmas pasta as you can serve it as an appetizer, starter or main course.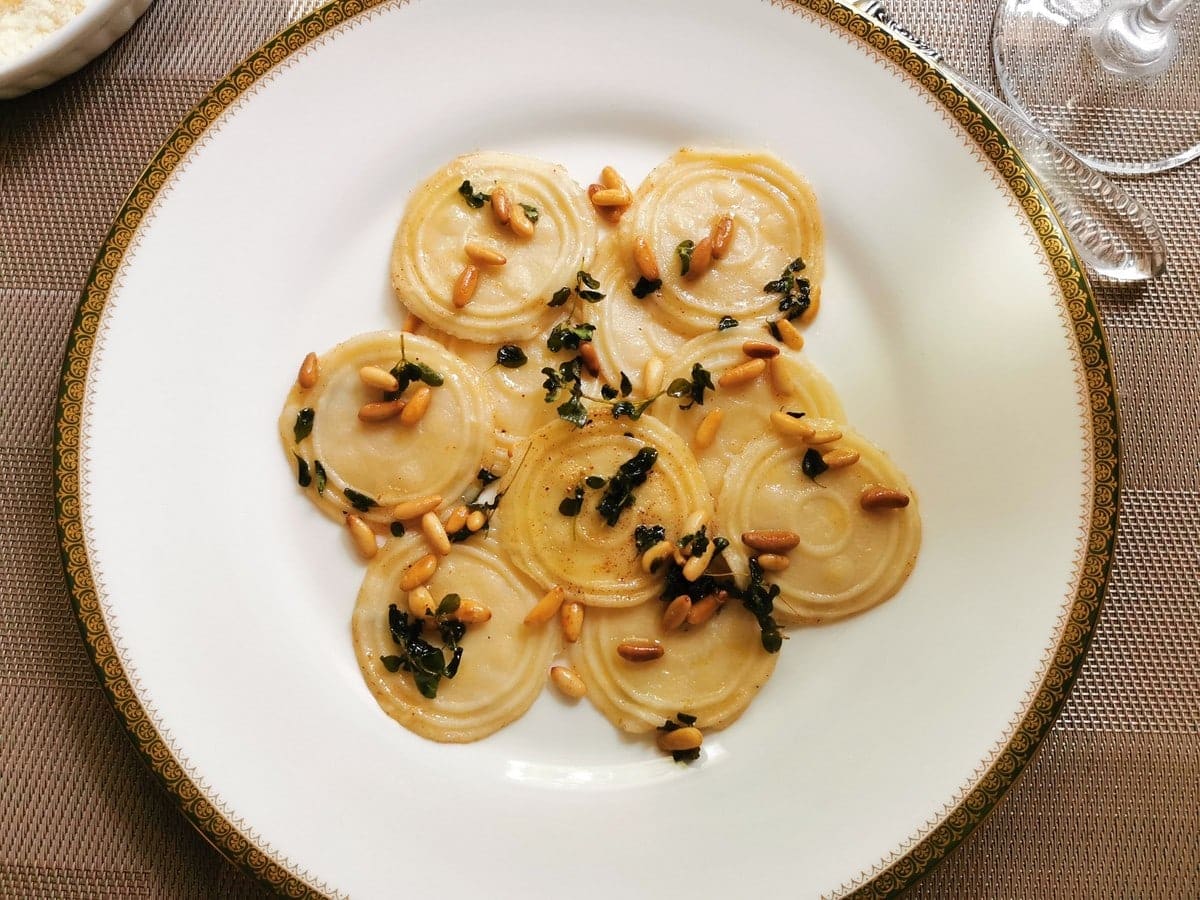 Originating from Liguria, the homemade corzetti pasta combined with marjoram and pine nuts is both elegant and mouthwateringly delicious. This is a 5-star dish made with just a few simple ingredients.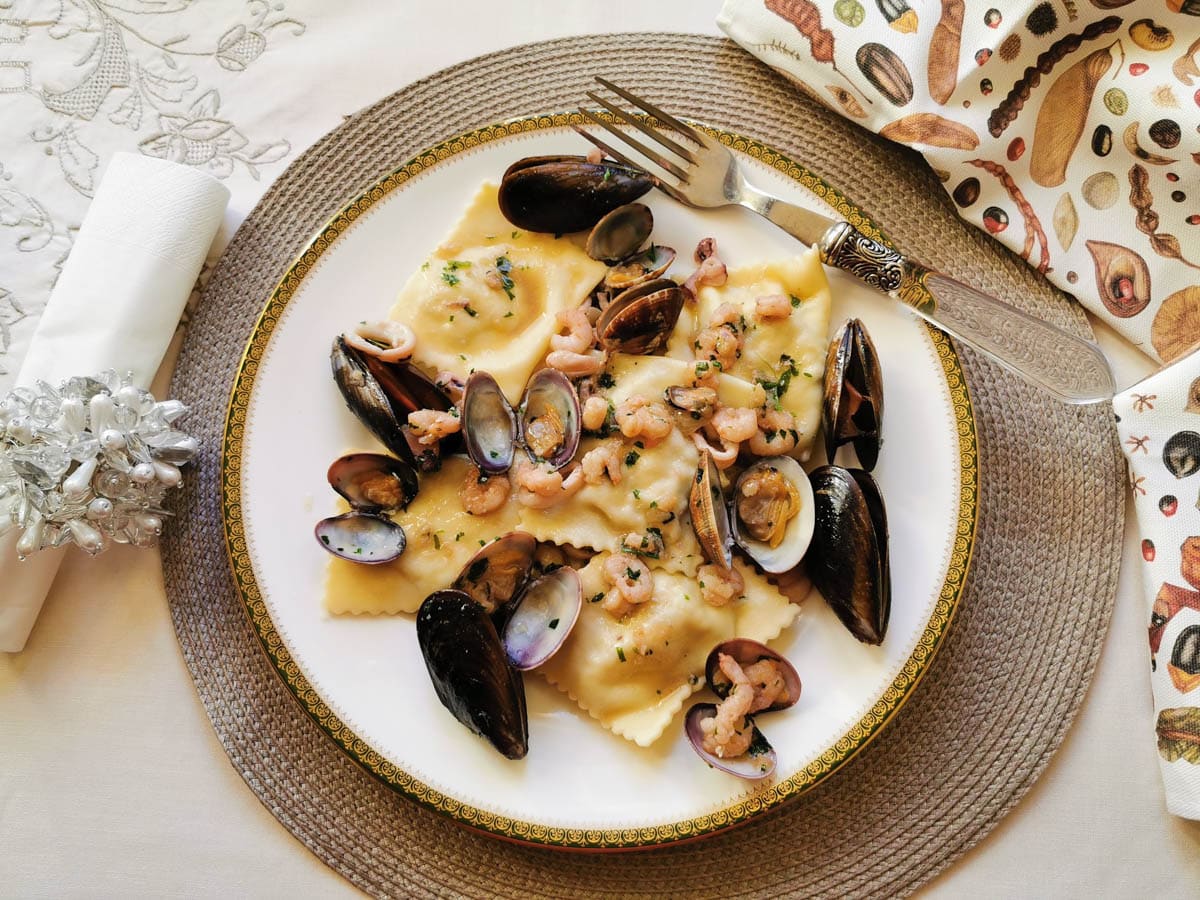 Fresh seafood and homemade pasta are a match made in foodie heaven! If you are a fish and seafood lover, this baked fish ravioli from Liguria in Northern Italy is a must-try!
The rich flavors and beautiful presentation make this an outstanding choice for special occasions, including Christmas and New Year celebrations.
More elaborate dried pasta Christmas recipes.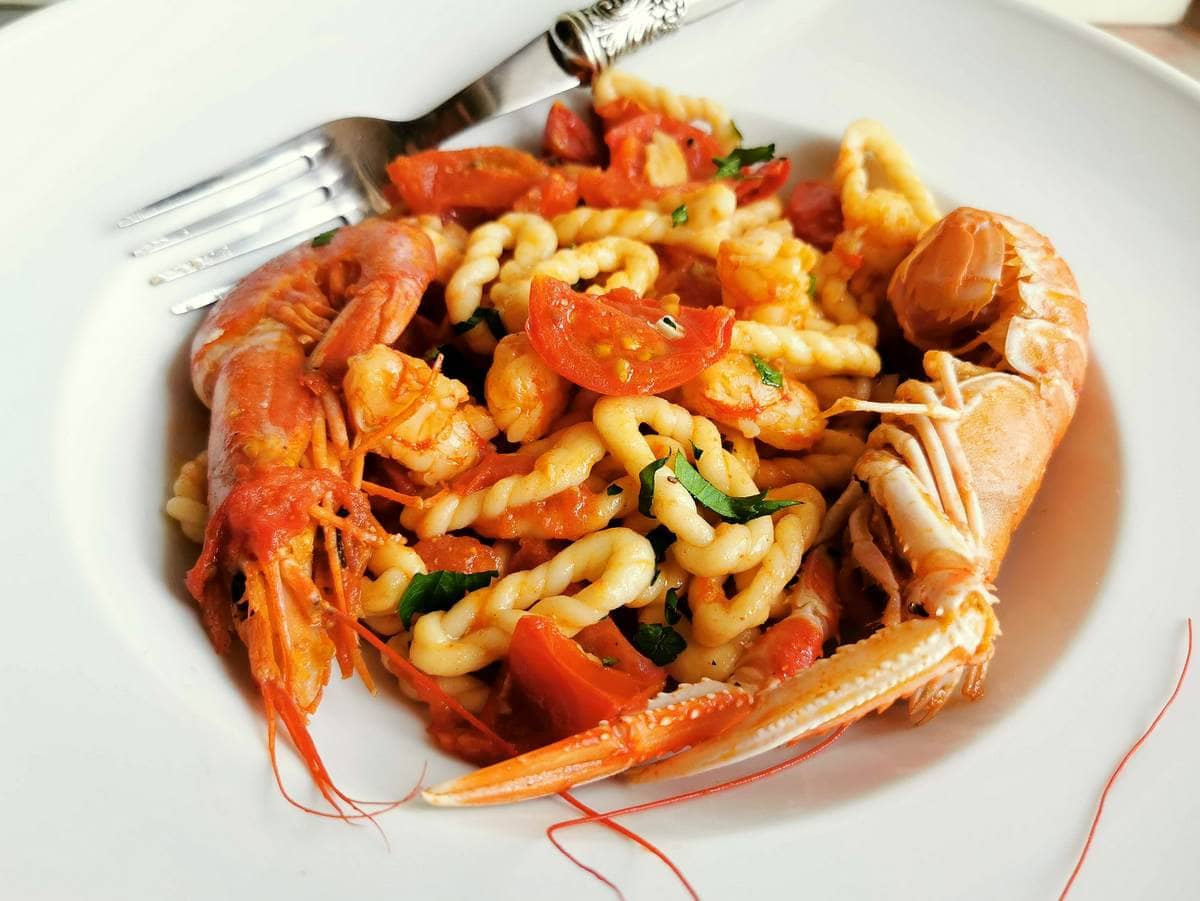 This Sardinian lorighittas pasta, combined with shrimp and scampi, offers a dining experience comparable to fine Mediterranean restaurants.
This dish is rather special because Sardinia is the only part of Italy where you can have it made for you! Of course, you can use other pasta instead.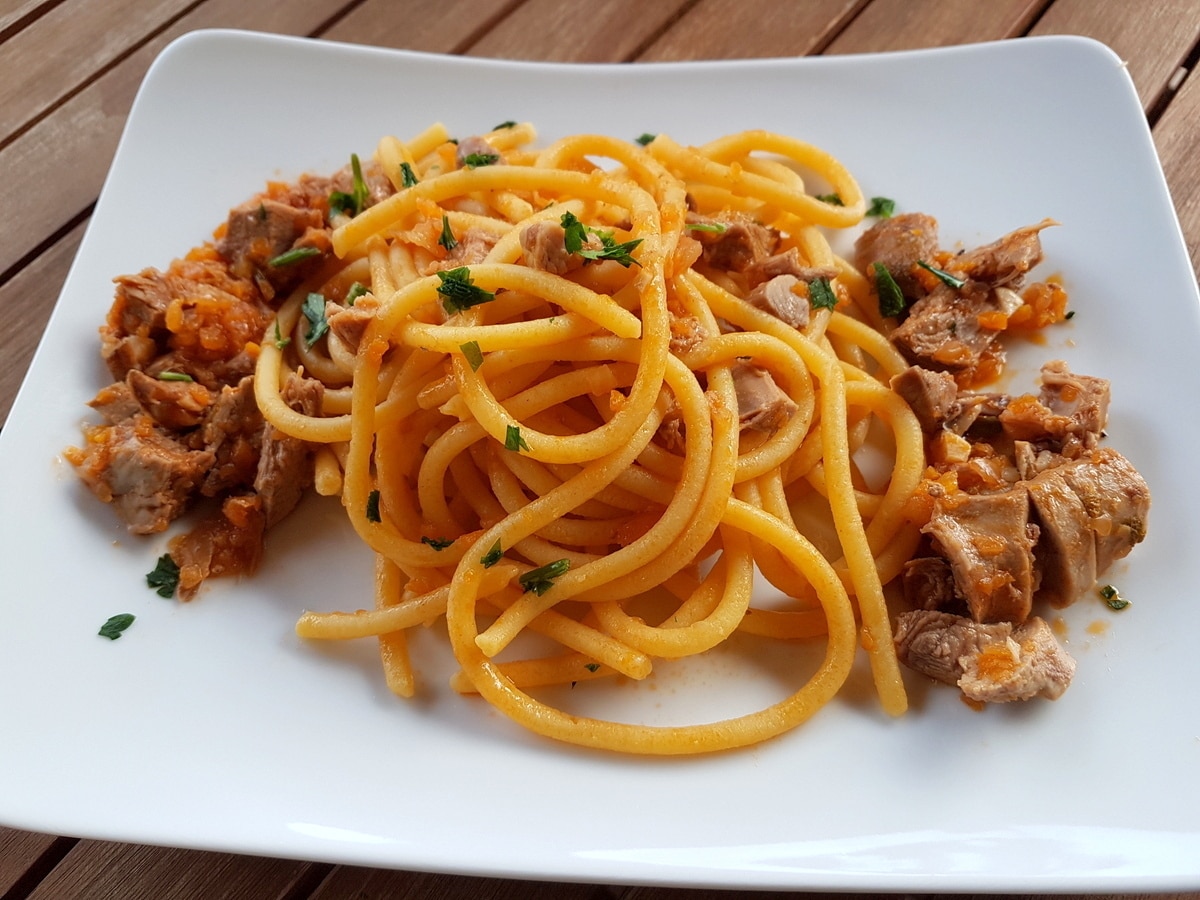 Bigoli with duck ragu is a popular dish in Veneto, Italy. Often found gracing the tables during festive occasions, this flavorful dish offers a taste of authentic Italian cuisine.
With its rich textures and deep flavors, it's sure to be a centerpiece at your Christmas table.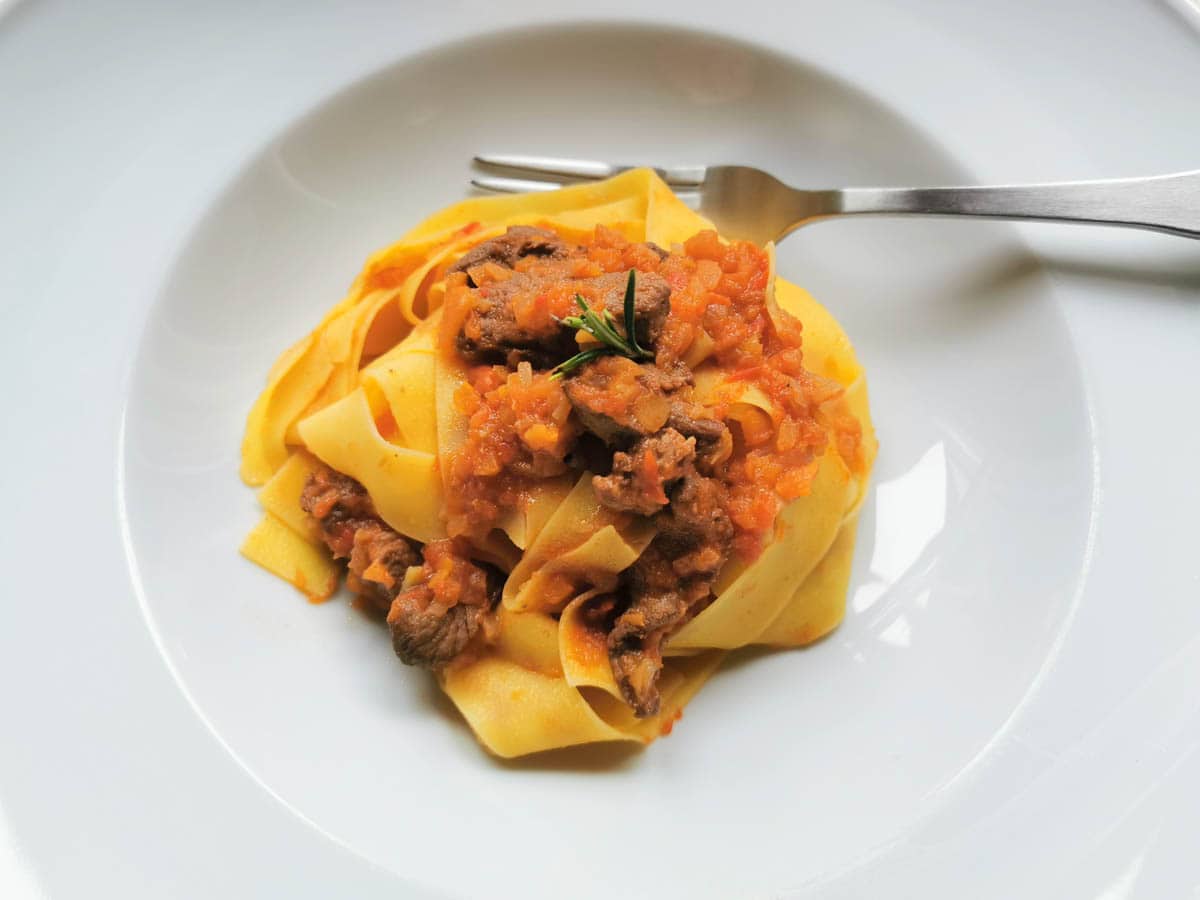 Direct from the heart of Tuscany comes this rich wild boar ragu, a truely special Christmas pasta. While this dish holds its roots in Tuscany, it enjoys popularity across several Italian regions, including Veneto.
Living in Veneto we actually often see wild boar near our house. But, of course, we don't hunt them! However, this is a dish I often serve during the Christmas/New Year holiday season.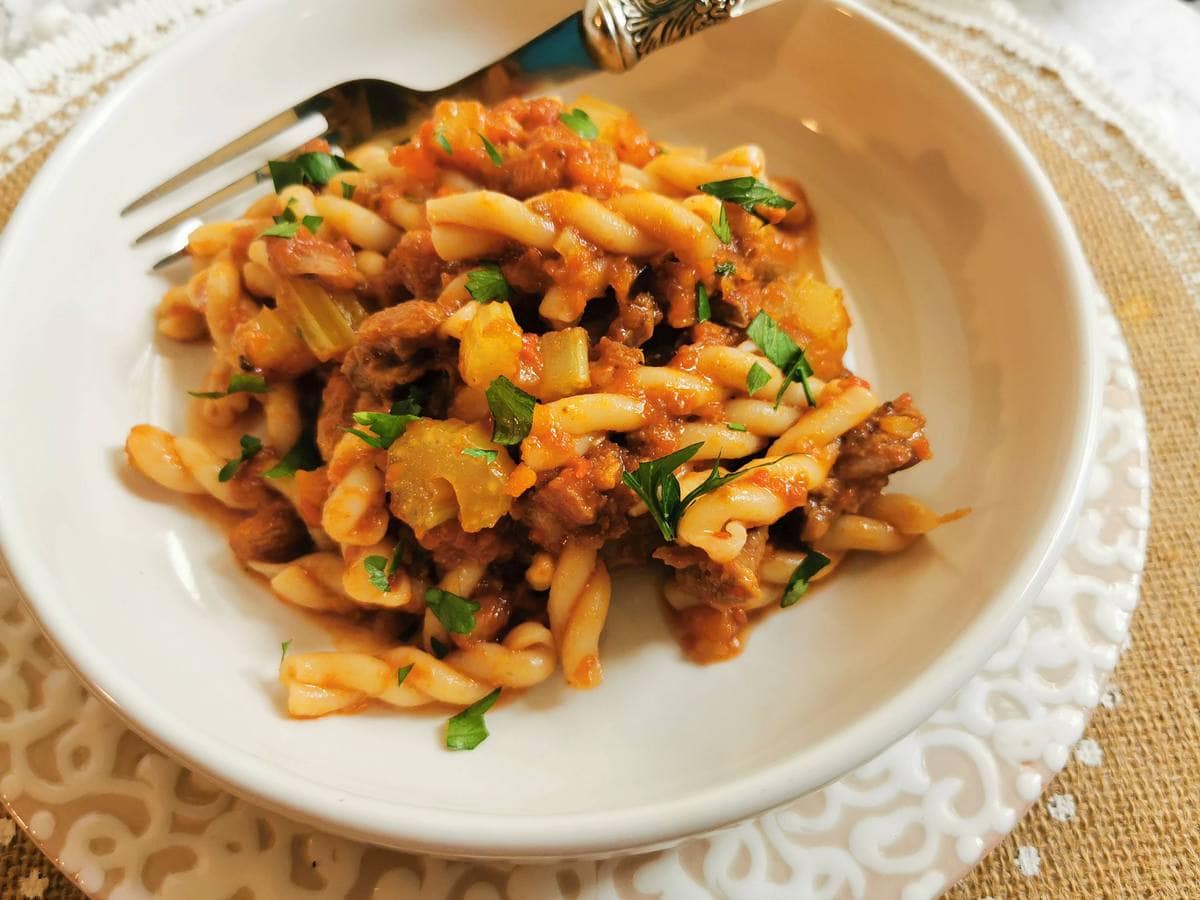 A dish with a legacy that stretches back centuries, this Italian braised oxtail ragu recipe is a signature of Roman cuisine.
The oxtail is simmered slowly in a luscious tomato sauce until it reaches a level of tenderness where it simply falls off the bones. Sure to be a hit with your holiday guests.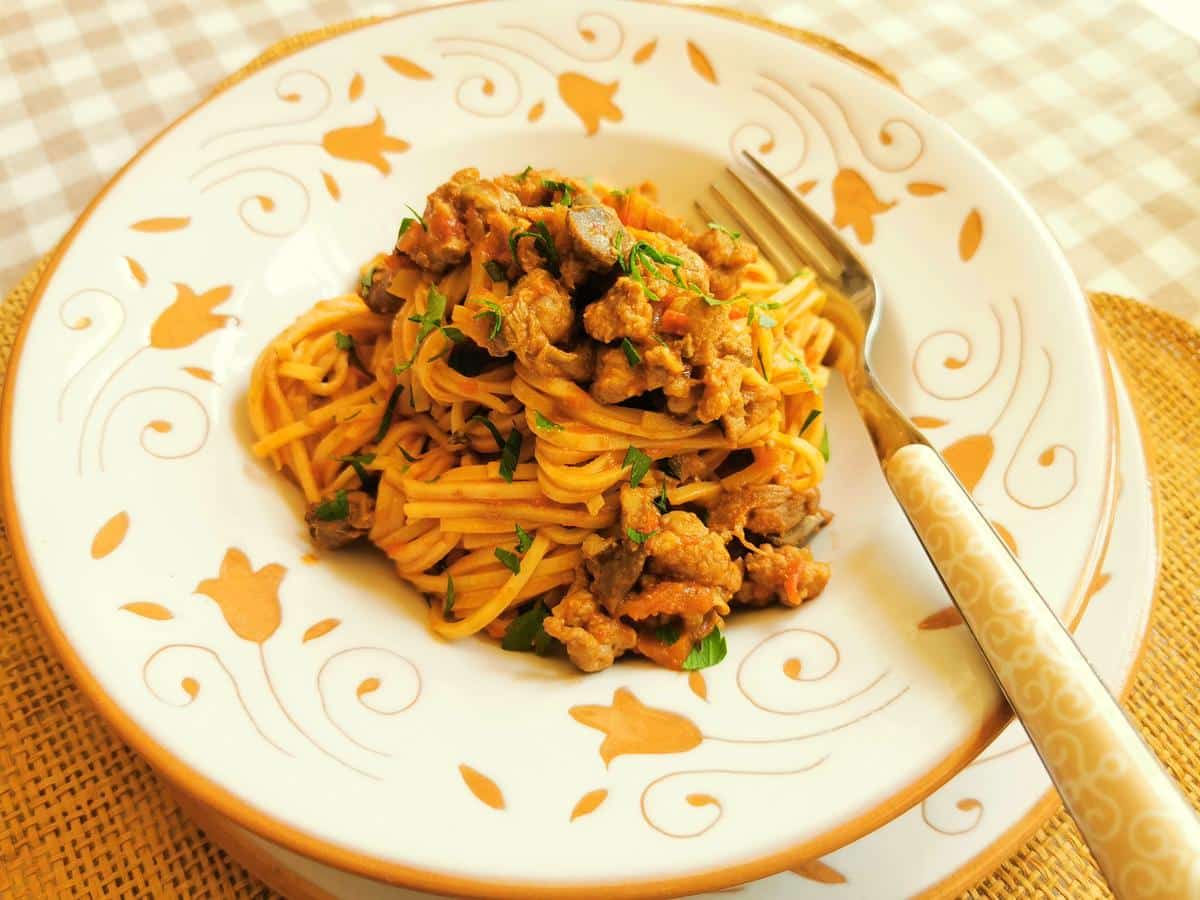 Tagliolini alla Langarola is a rich and hearty sausage pasta dish typical of the beautiful Langhe area in the Piemonte (Piedmont) region in North West Italy.
The name 'langarola' comes from the word 'Langa', which is the local name for the area. Recognized as a UNESCO World Heritage site, this area is famed not just for its pasta but also its white truffles, renowned Barolo wines, and hazelnuts.
This warm and fulfilling pasta dish is an excellent choice for those especially cold Christmas days.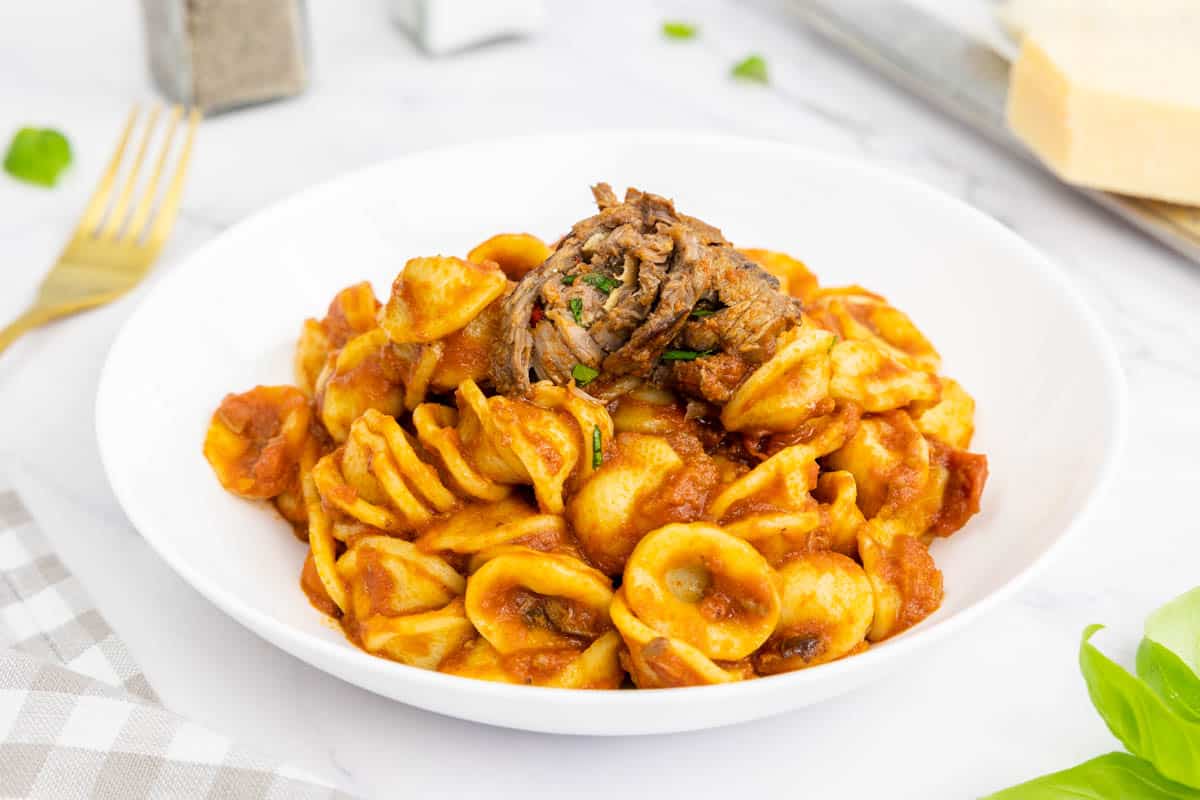 This rich and tasty beef braciole with orecchiette pasta is an authentic Italian recipe from Bari in the Southern Italian region of Puglia (Apulia). Known locally as orecchiette alla barese or braciole alla barese, this dish is often termed a 'Sunday sauce'.
The beef rolls are cooked until incredibly tender and the sauce is infused with the flavors of the meat and the filling, making a flavorful and unique tomato sauce.
Gnocchi recipes for Christmas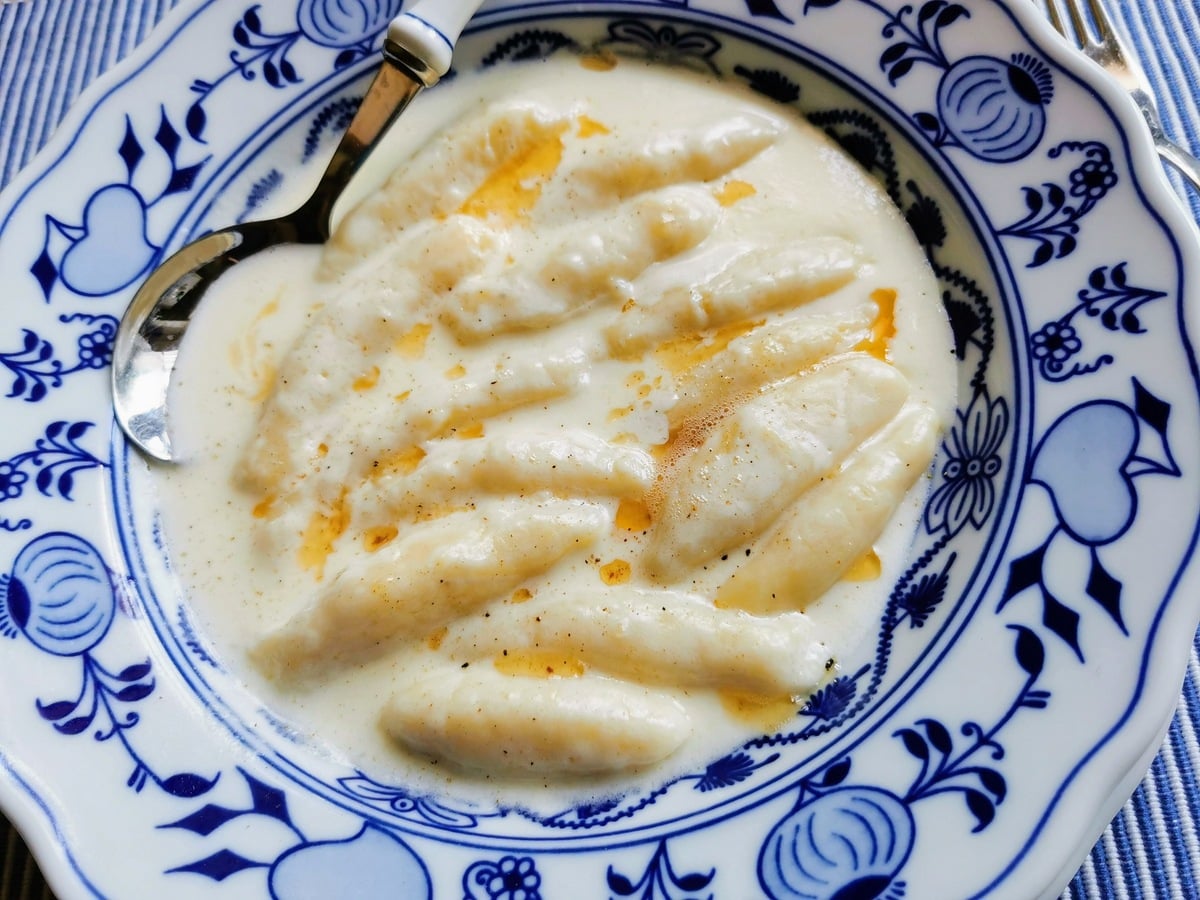 Emerging from the Alpine valleys of Piemonte (Piedmont), this traditional potato and cheese gnocchi, referred to locally as gnocchi della Val Varaita or ravioles de Melle, are heaven on a plate!
They're served in a creamy cheese sauce and dressed with browned butter and are a must-try for cheese lovers!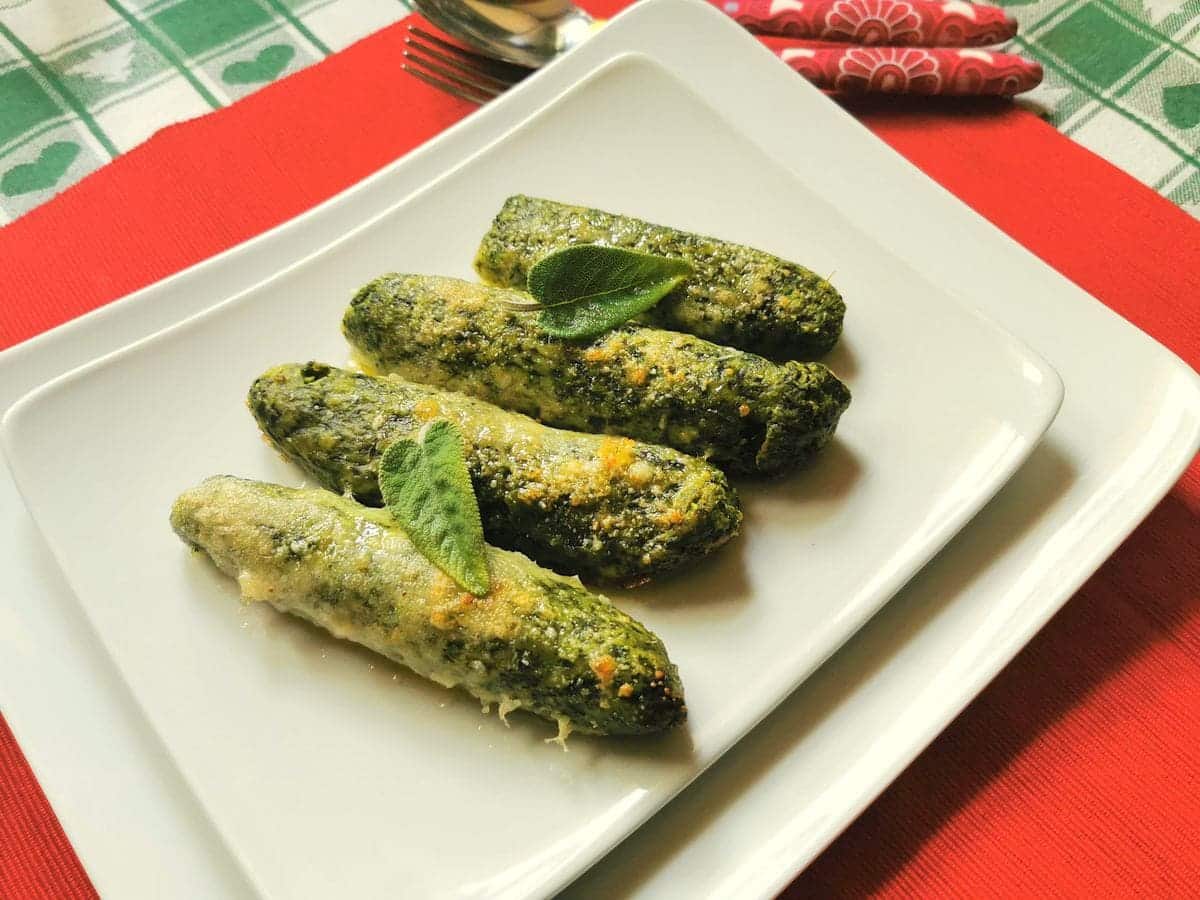 Originating from Alessandria in Piemonte (Piedmont), this delightful spinach and ricotta gnocchi, known as 'rabatòn' in the local dialect, is a true Italian delicacy.
Made from a blend of spinach, Swiss chard, and ricotta, these dumplings offer both richness and lightness. Traditionally baked with butter and sage, they stand out as an exquisite choice for festive gatherings and special occasions.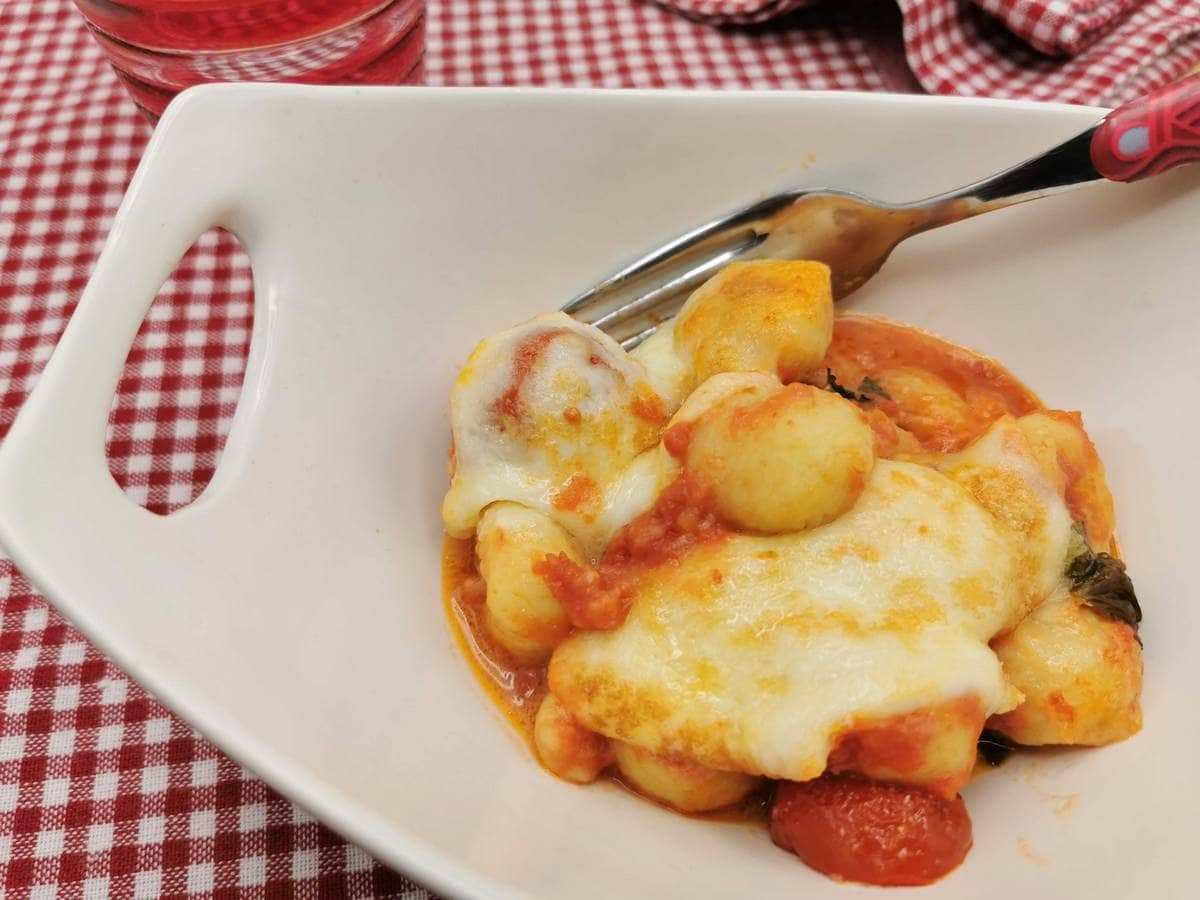 Gnocchi alla Sorrentina is a classic dish from Campania, Italy that is usually made with potato gnocchi.
It's oven-baked with the classic Italian ingredients of tomatoes, mozzarella and basil. This is a simple and delightful recipe which is great for children and adults alike.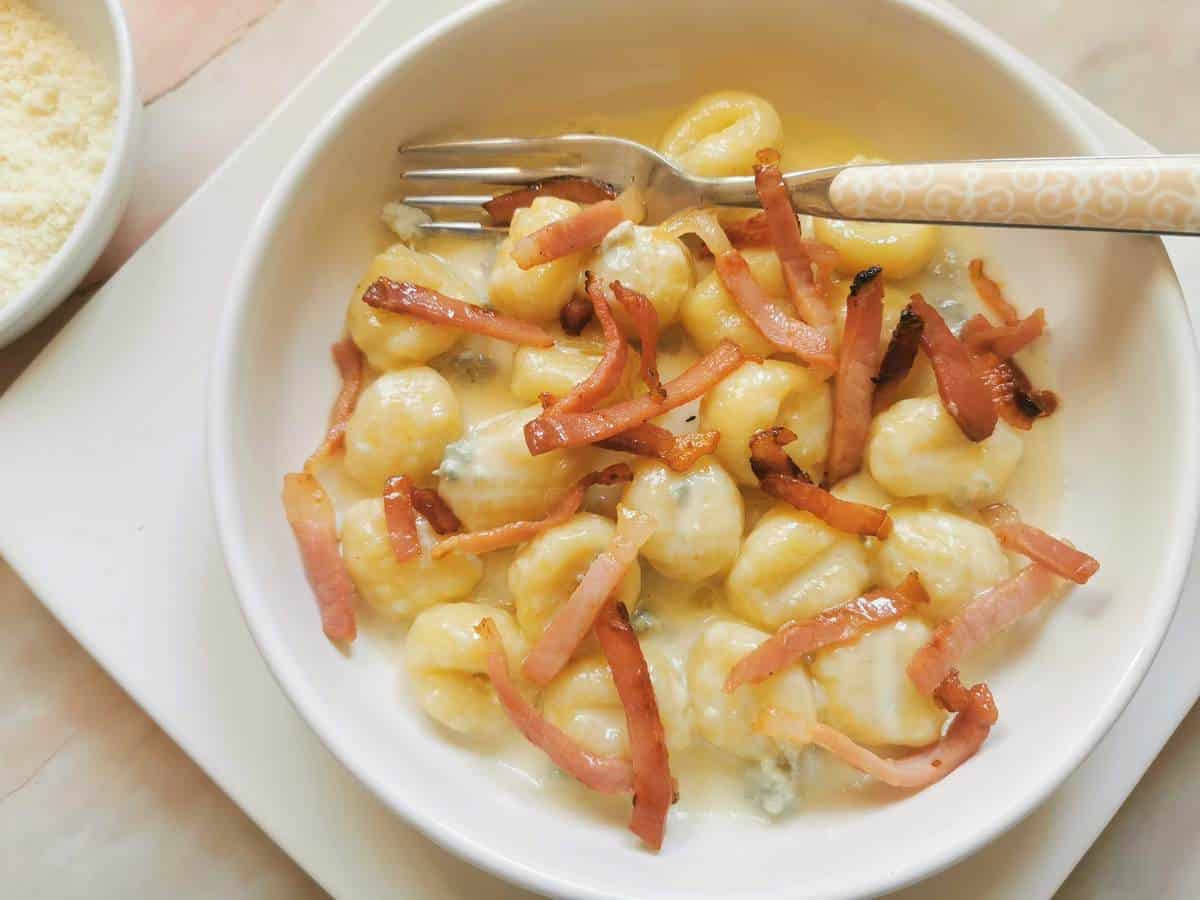 Gnocchi with gorgonzola is a cherished tradition in Northern Italy, especially when it involves potato gnocchi. This dish is packed with flavor and has a bunch of delicious optional add-ons like walnuts, figs, speck or make it with all three.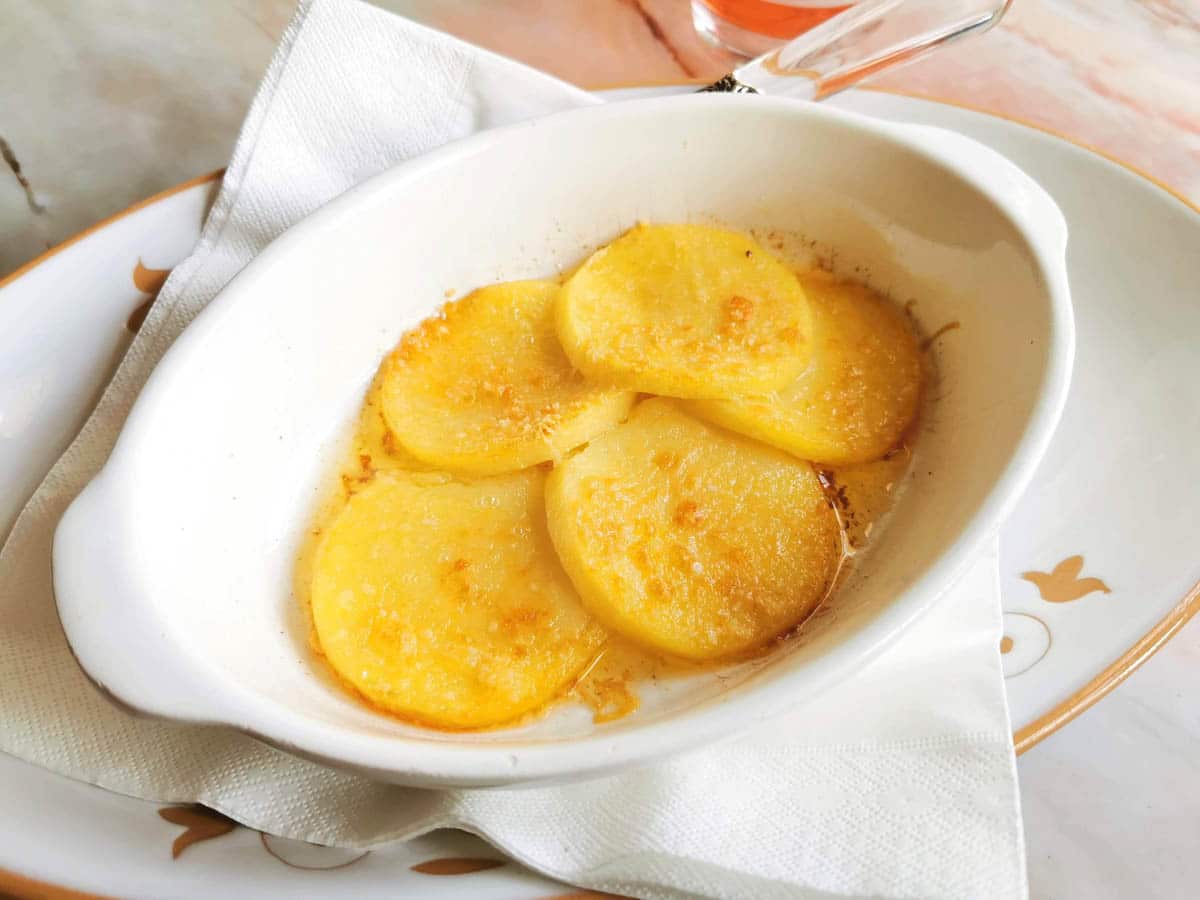 Originating from Rome, Gnocchi alla Romana is a classic semolina-based dish. These gnocchi are absolutely divine and a must-try if you have never had them!
Make them in one big dish for all the family to tuck into or serve them in individual portions for an elegant starter or side dish.
These easy to make semolina delights are a hit with both kids and adults, making them ideal for the Christmas table.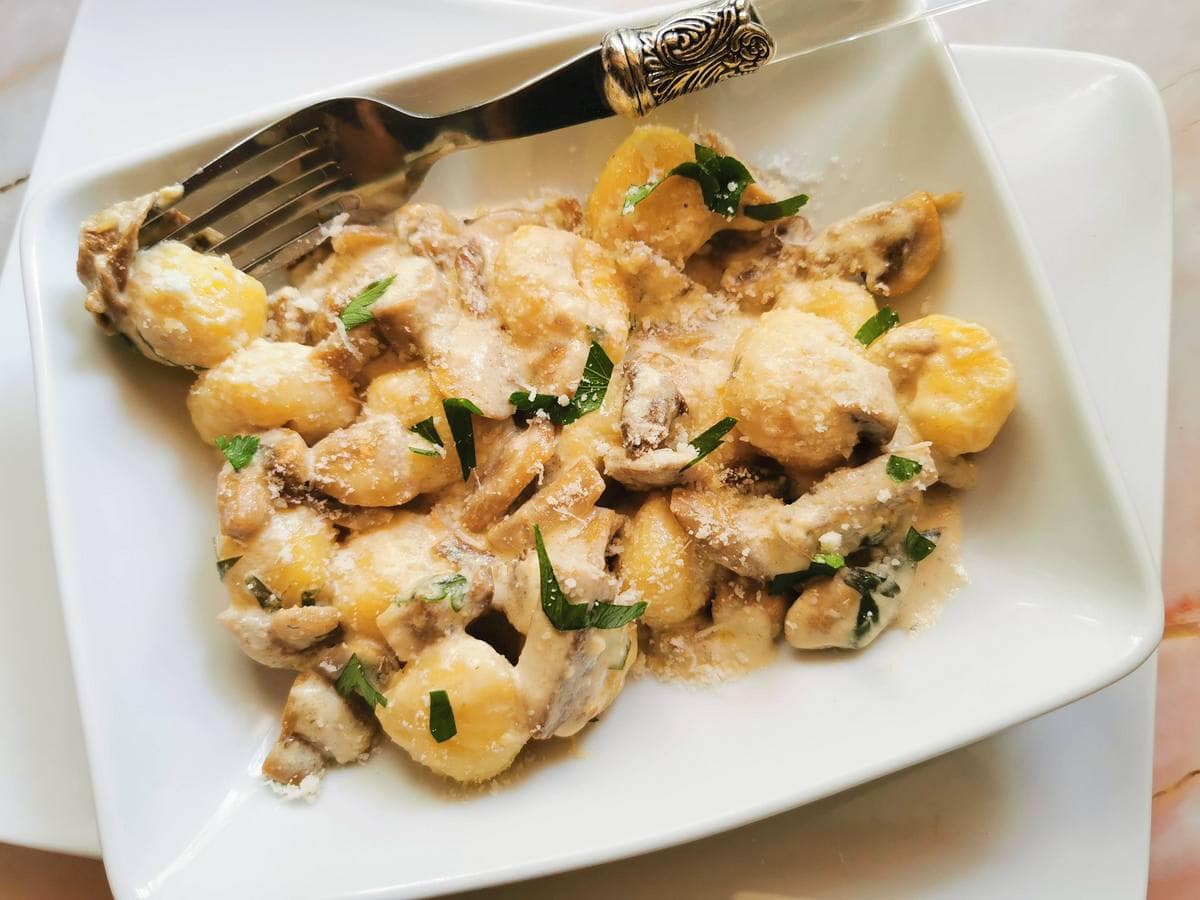 This creamy mushroom gnocchi with stracchino is rich and packed with flavor. Whether you're using homemade or store-bought potato gnocchi, the combination with a creamy porcini and button mushroom sauce is a culinary delight.
Italian family favorite Christmas pasta.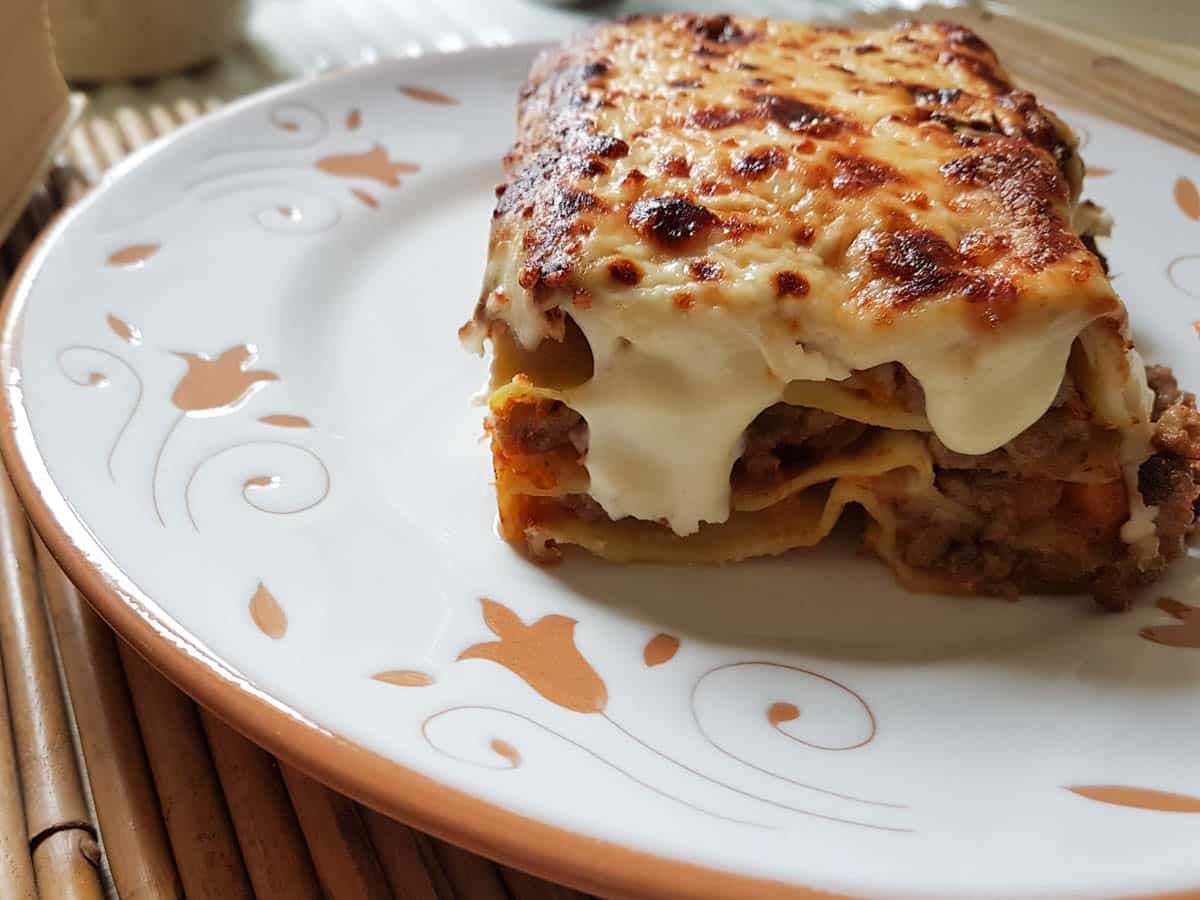 One of the most famous Italian baked pasta recipes, lasagne al forno with Bolognese sauce, is a testament to Italy's rich culinary heritage.
This is a delicious classic that so many love and it's excellent for batch cooking for a big Christmas dinner. In fact, this is a popular Christmas pasta recipe in many Italian homes.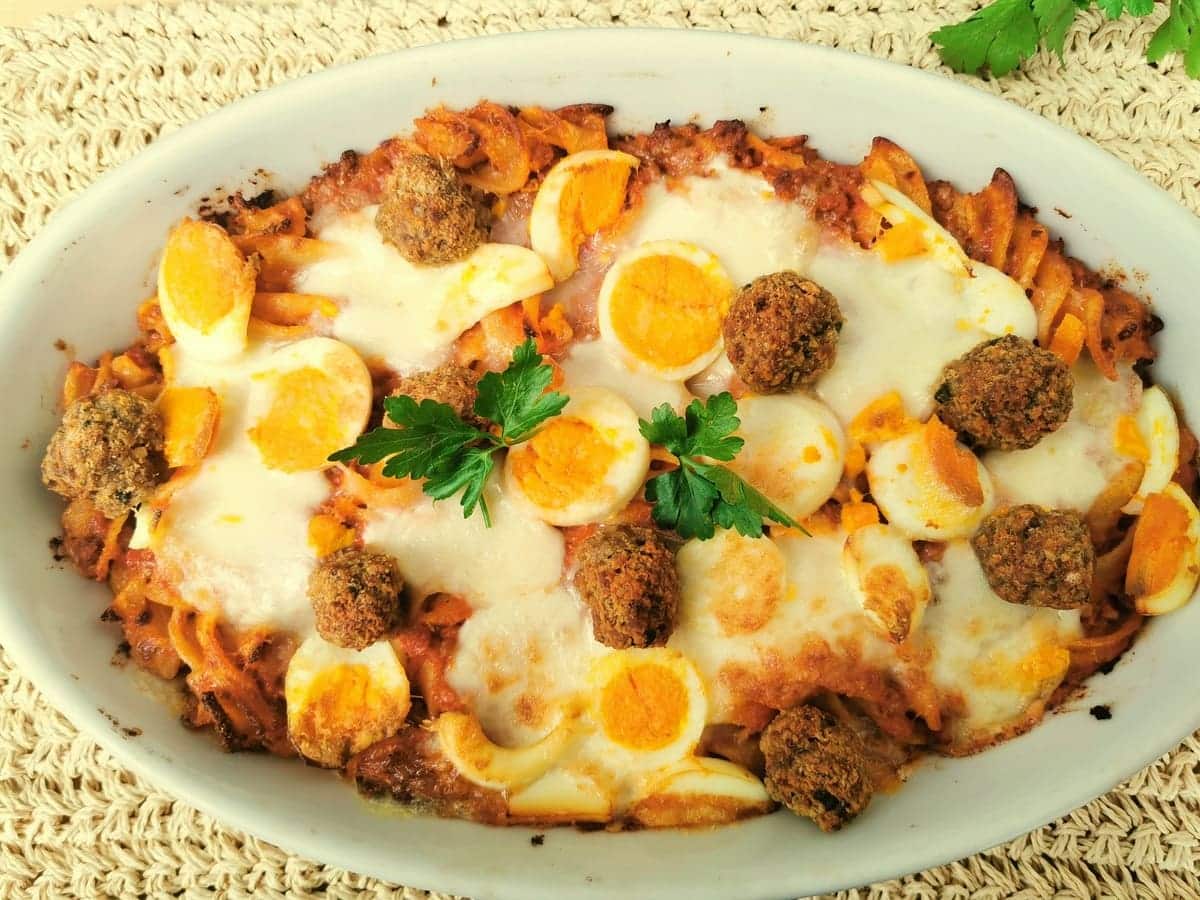 Calabrian baked pasta, known locally as pasta 'mbruscinata or pasta chijna, is a beloved dish from the southern region of Calabria in Italy.
This dish boasts a hearty combination of pasta and meatballs that are baked to perfection. A great Christmas pasta if you are feeding a crowd.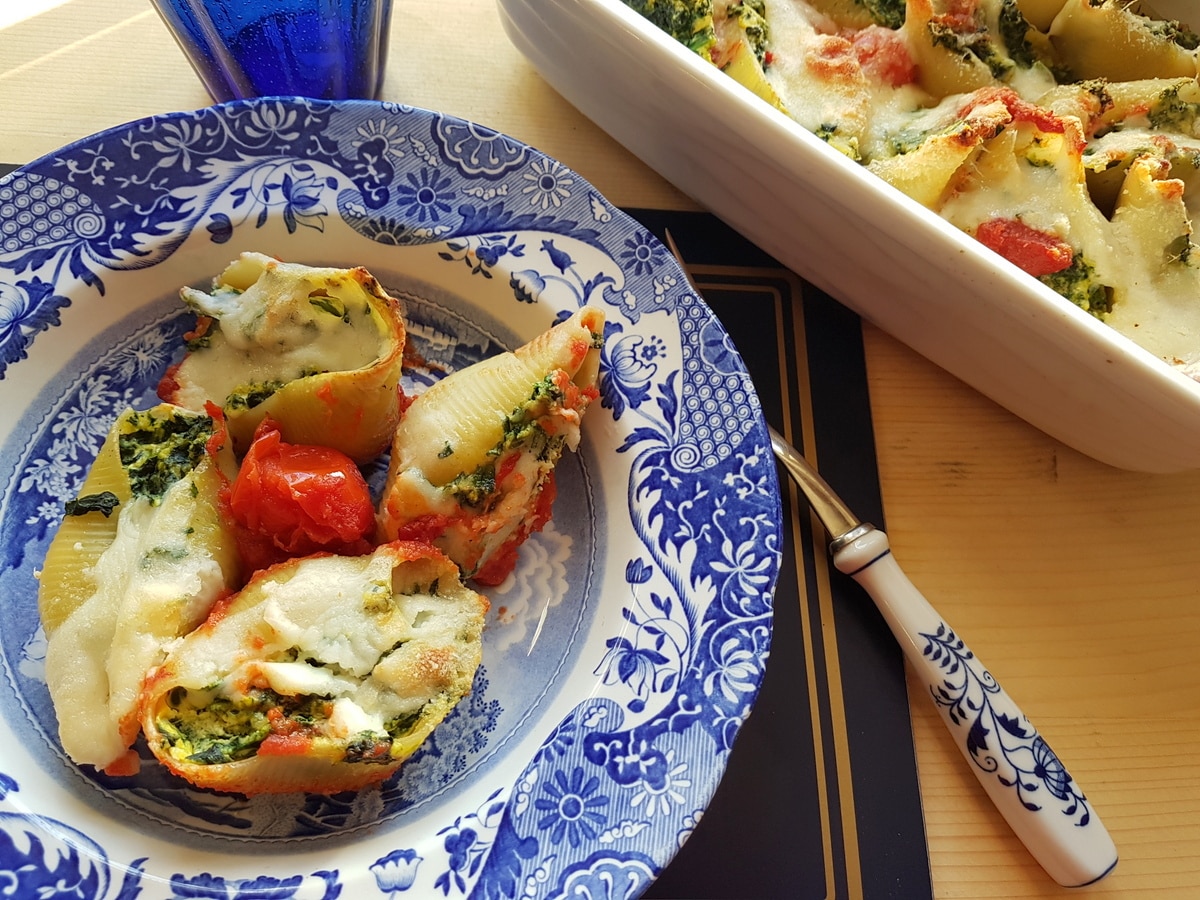 Experience the delightful flavors of a classic Italian pasta bake these baked conchiglioni pasta shells filled with a creamy blend of spinach and ricotta.
A favorite for festive occasions and Sunday lunches in Italy, these large pasta shells not only make a rich Christmas pasta recipe but will be loved by all.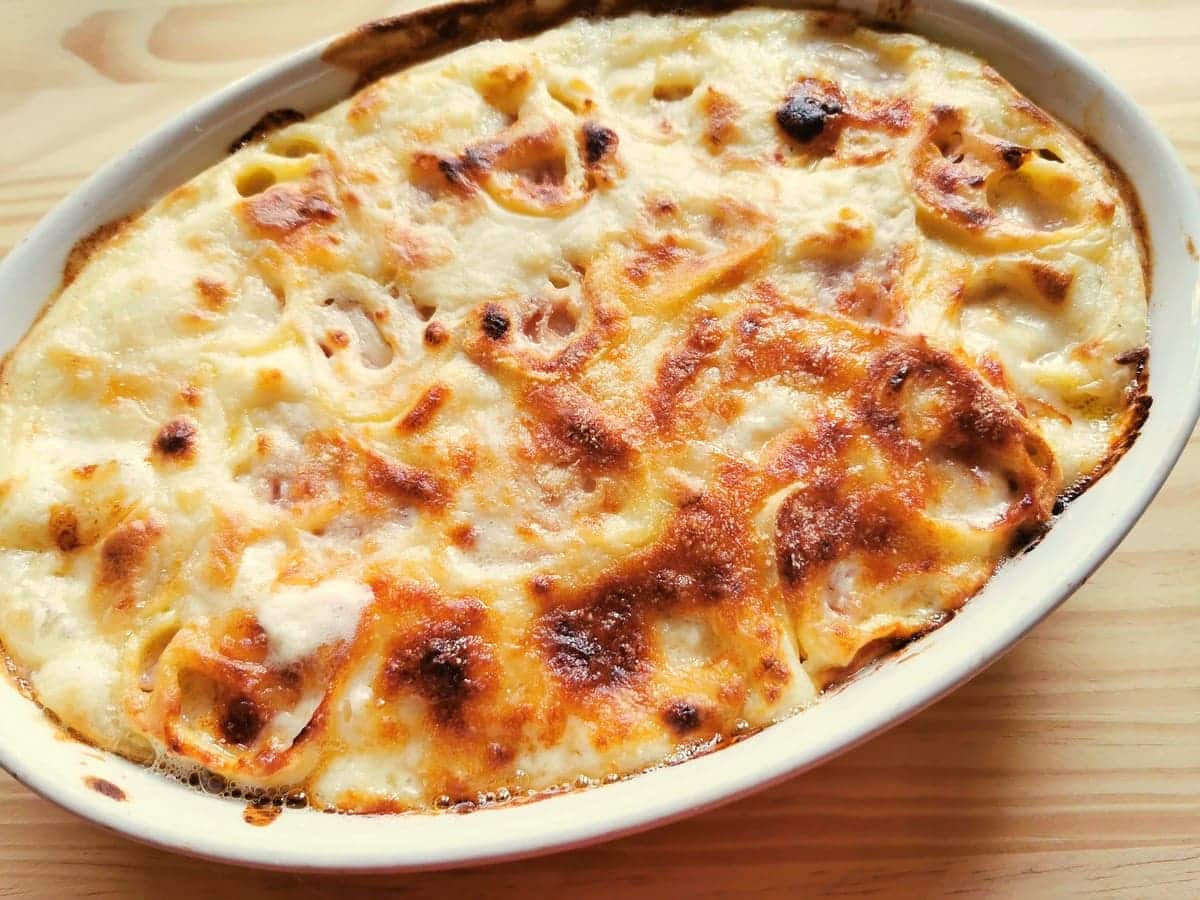 This baked pasta roses recipe from Emilia-Romagna is one of the best ways to use homemade, fresh or dried lasagne pasta sheets. Also known as pasta rosettes this beautiful dish is easy to make and yet seriously delicious.
I'm sure your family will love it as much as mine! Perfect for Christmas, Sunday lunch, Mother's Day and Easter.
Sweet Pasta recipes for Christmas.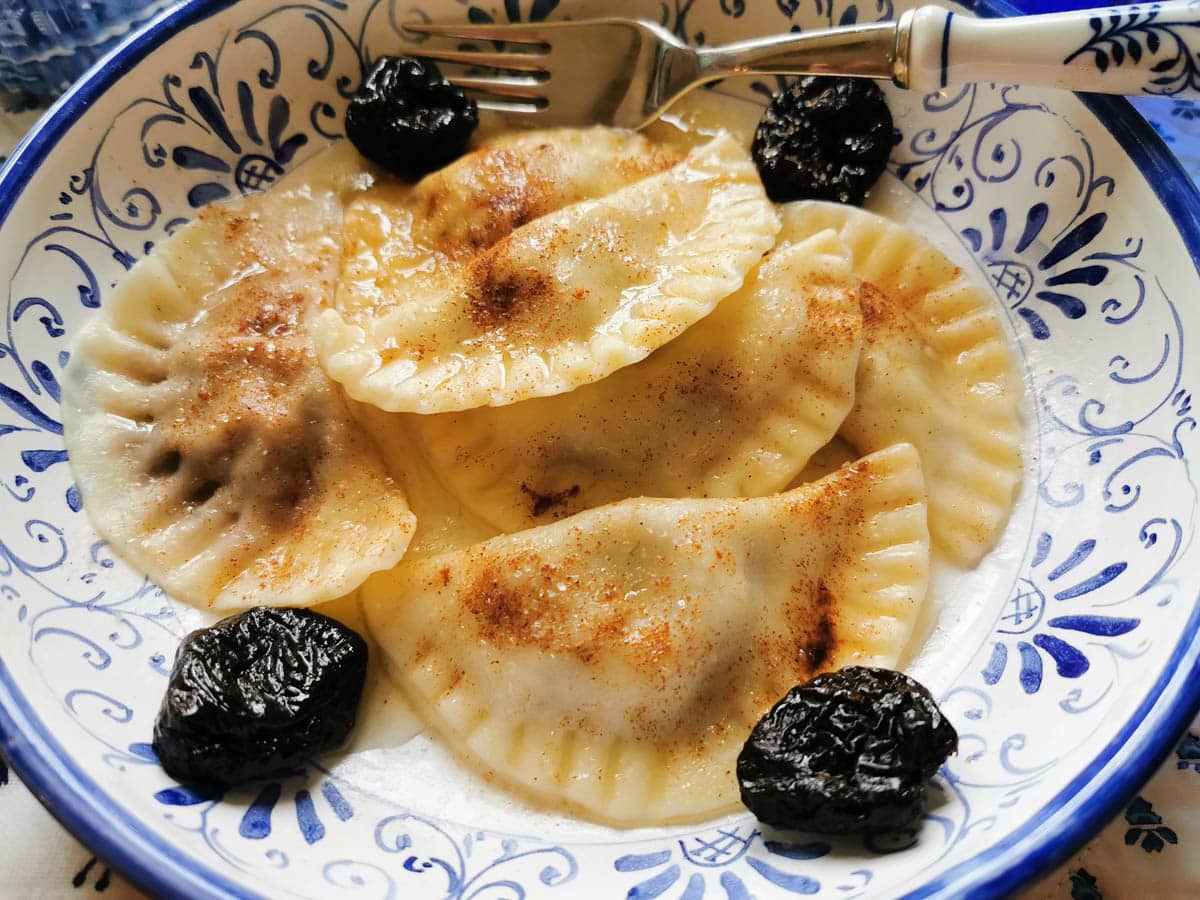 Also sometimes called agnolotti di Pontebba, these prune and fig cjarsons (cjalsons) are a traditional sweet ravioli from the town of Pontebba in Friuli Venezia Giulia, near the border with Austria.
This is one of many types of cjarsons typical in this part of Italy, particularly the Alpine mountain area of Carnia in Friuli.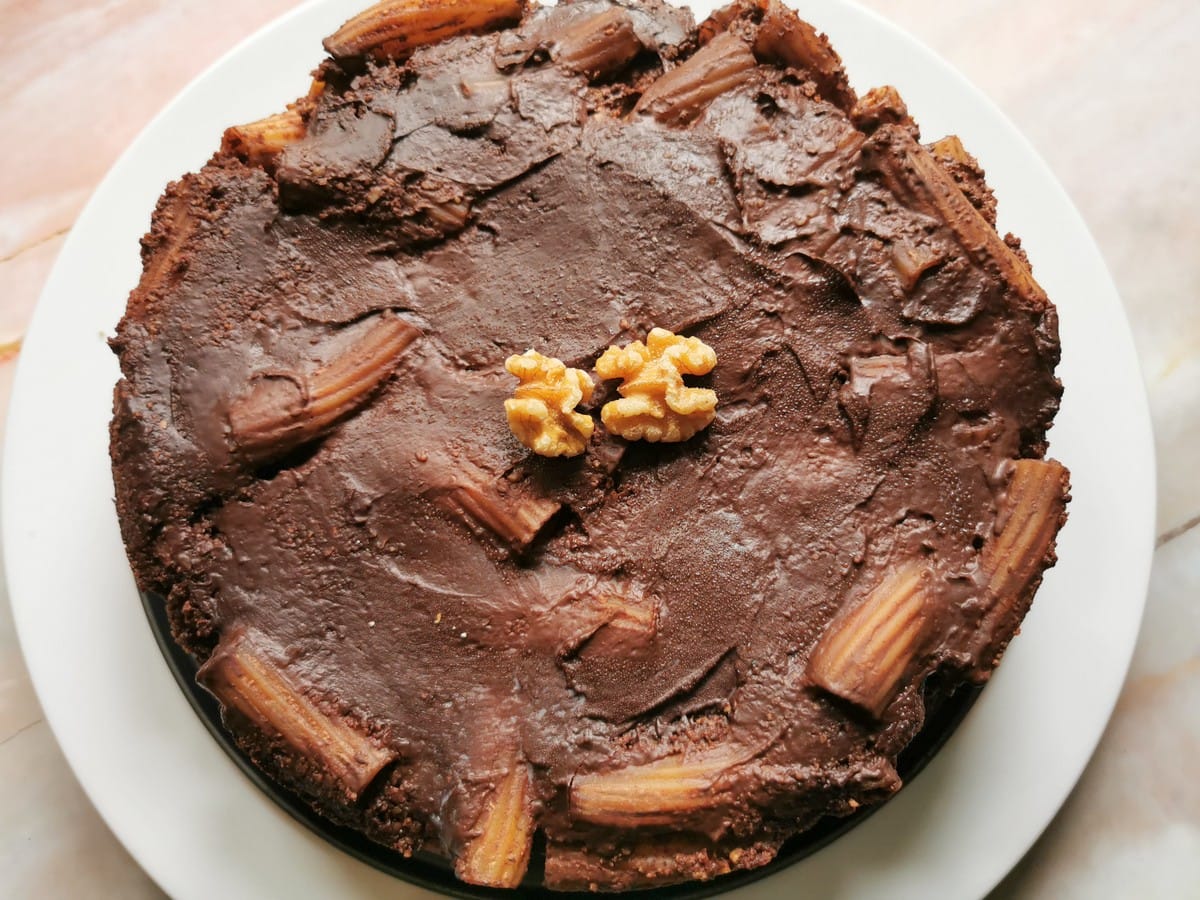 This chocolate and walnut sweet pasta recipe from Umbria in Central Italy is a unique dessert that's so easy to make. This pasta cake is a traditional dessert for Christmas Eve and Halloween. It's also great for when you want to surprise your guests with something new and creative.
Let me know what you think.
If you make any of these Italian Christmas pasta recipes, I'd love to hear how they turn out and if you liked them. Please leave a comment here on the blog or on The Pasta Project Facebook page.
Looking forward to hearing from you!
Buon appetito and Merry Christmas from Italy!