Known as spaghetti all' ubriaco or ubriachi here in Italy, this simple but elegant red wine pasta recipe is a fabulous choice for special occasions like Valentine's or Christmas! Drunken spaghetti involves cooking the pasta in red wine almost like a risotto. This dish actually doesn't have a high alcohol content as cooking burns off most the alcohol. The result is plum coloured noodles with a slightly sweet and spicy wine flavour!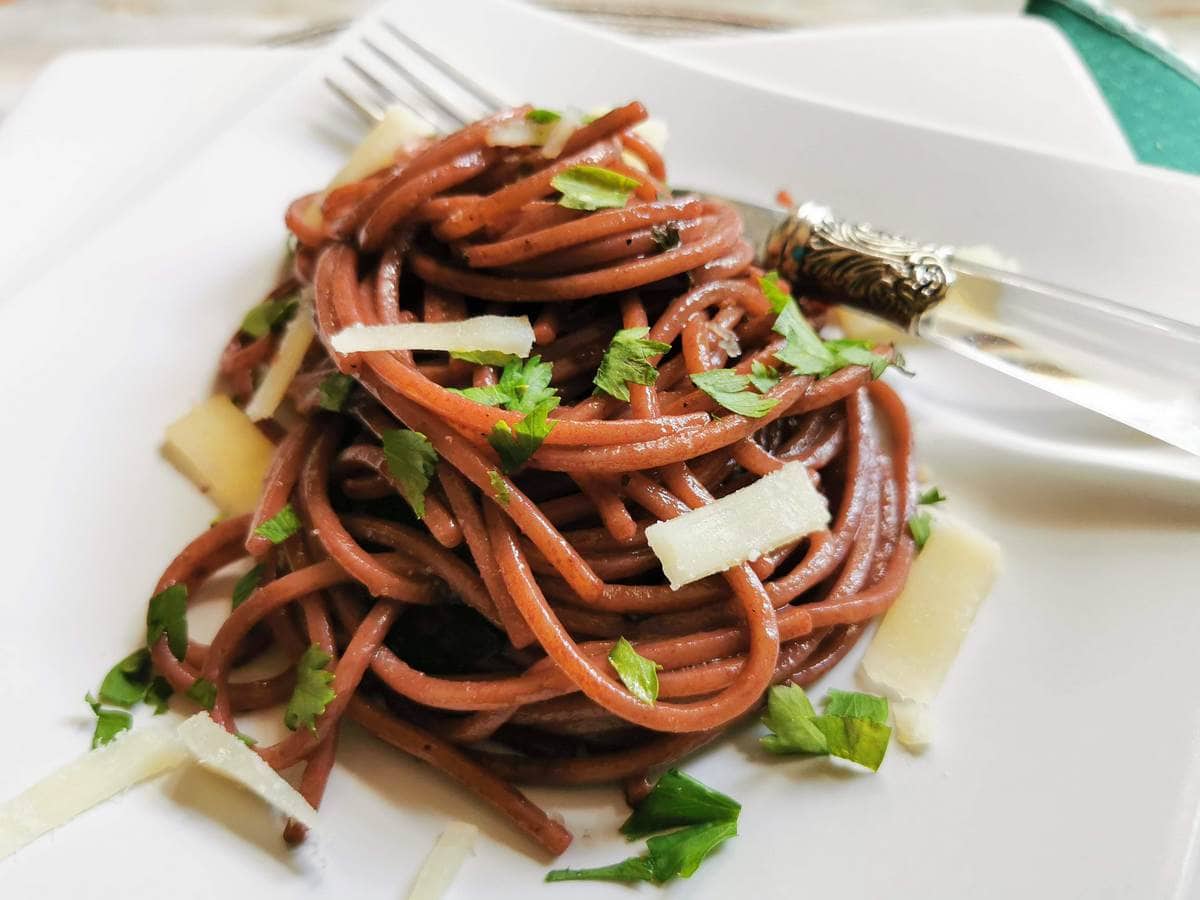 Different versions of drunken spaghetti.
Many people think this recipe is from Tuscany. Certainly, a version of it is popular there. But, if you understand Italian and search for drunken spaghetti on Italian websites you will find a lot of versions. Some are from other regions, others 'invented' by chefs and a few personal adaptions.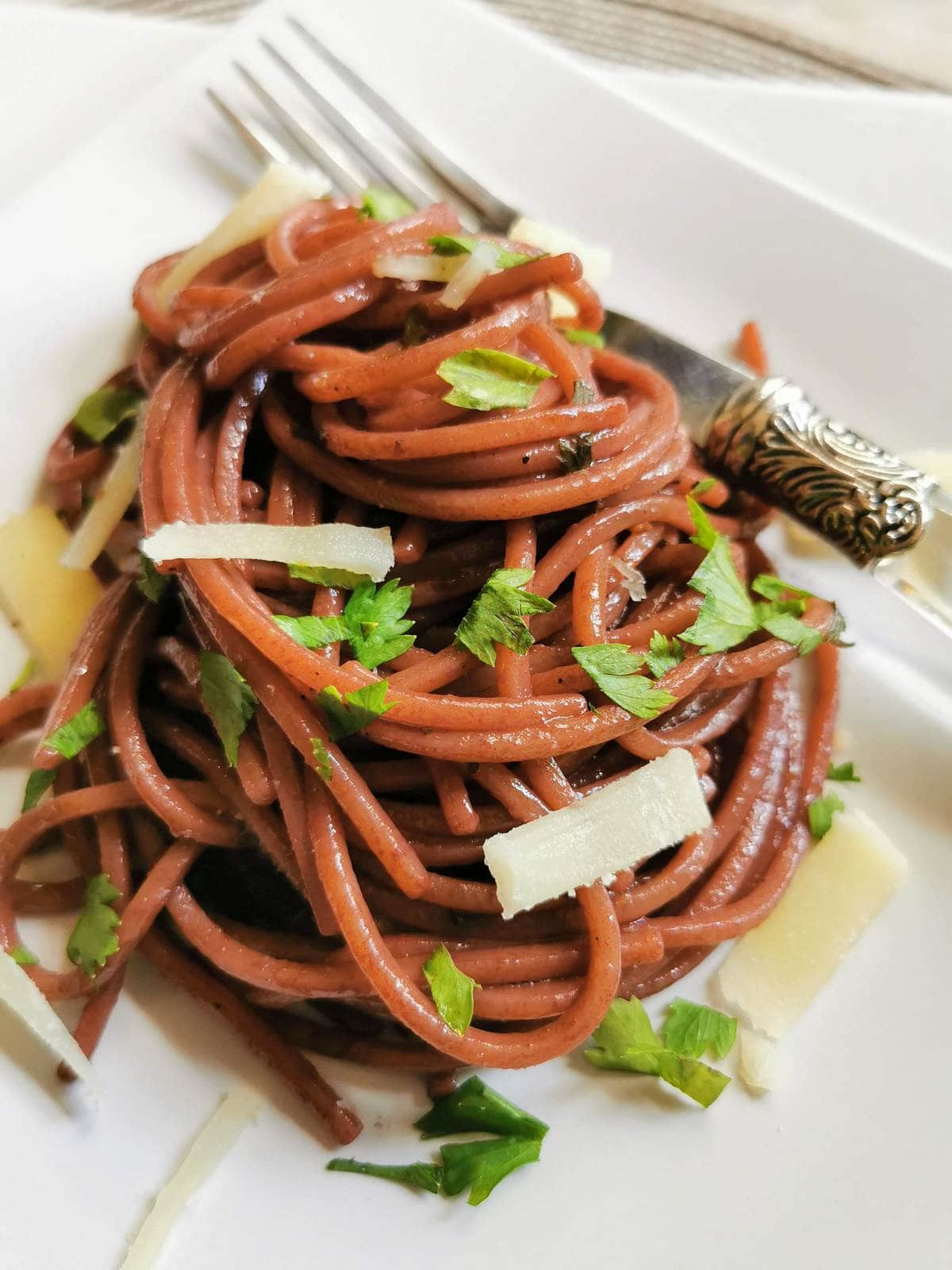 Of course, like many Italian recipes, not all versions of drunken spaghetti have the same ingredients, except for the red wine and pasta of course! I've seen recipes with leeks, nutmeg, sugar and butter. In Tuscany, they also use nutmeg and sugar. In Sicily, red onions are a popular ingredient and the Italian celebrity chef, Alessandro Borghese, adds edible gold leaf to his!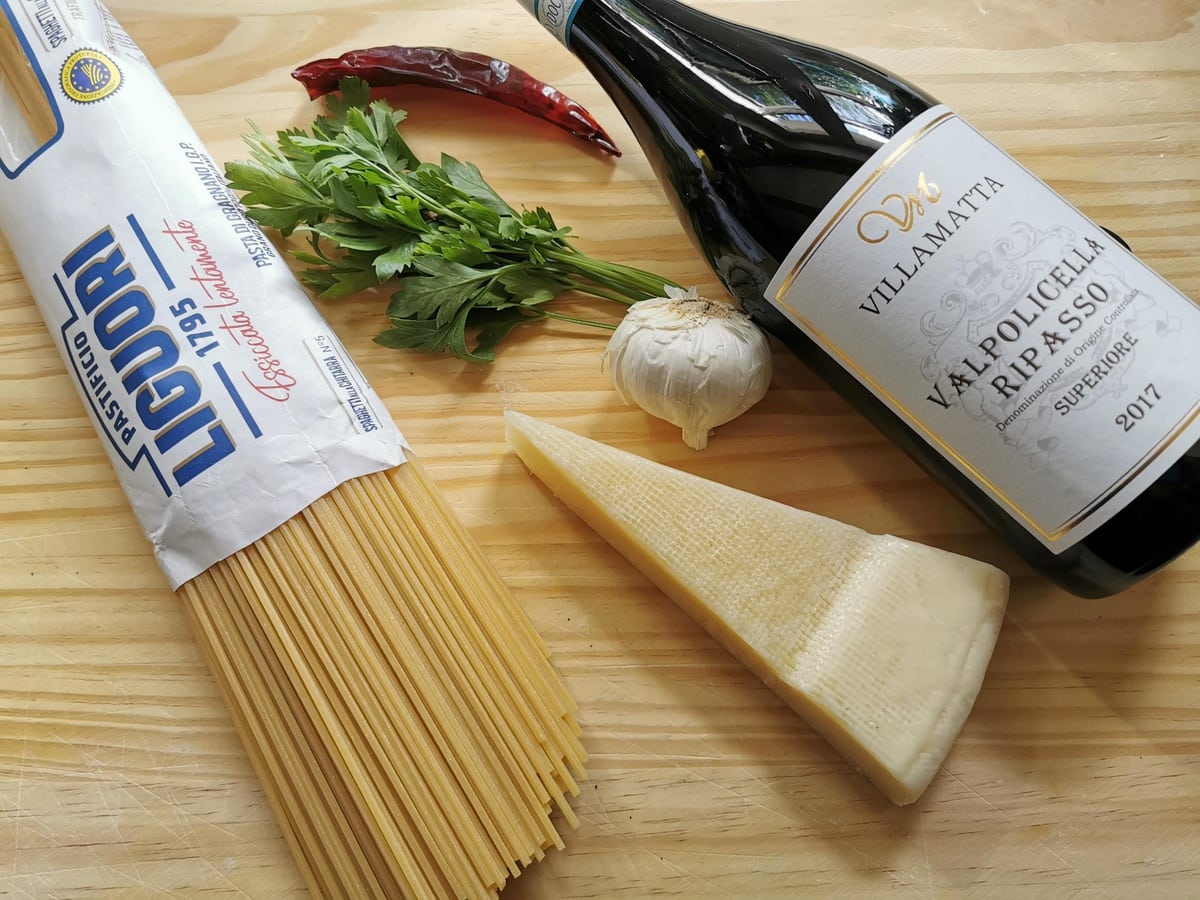 This version is quite simple. It has garlic, peperoncino (red chili pepper) and parsley. It's a bit like a pasta aglio olio e peperoncino with red wine! However, it doesn't have the strong garlicky flavour of aglio olio and is only slightly spicy. Given that some aged red wines are a little spicy, I found the addition of chili really complimented the flavour.
What kind of red wine is best?
All recipes for drunken spaghetti call for a medium to full bodied red wine. The type most often depends on the region. In Tuscany, Chianti is the most popular wine of choice, and they often call this dish spaghetti al Chianti. In Sicily, they make it with Nero d'Avola and other recipes suggest Merlot.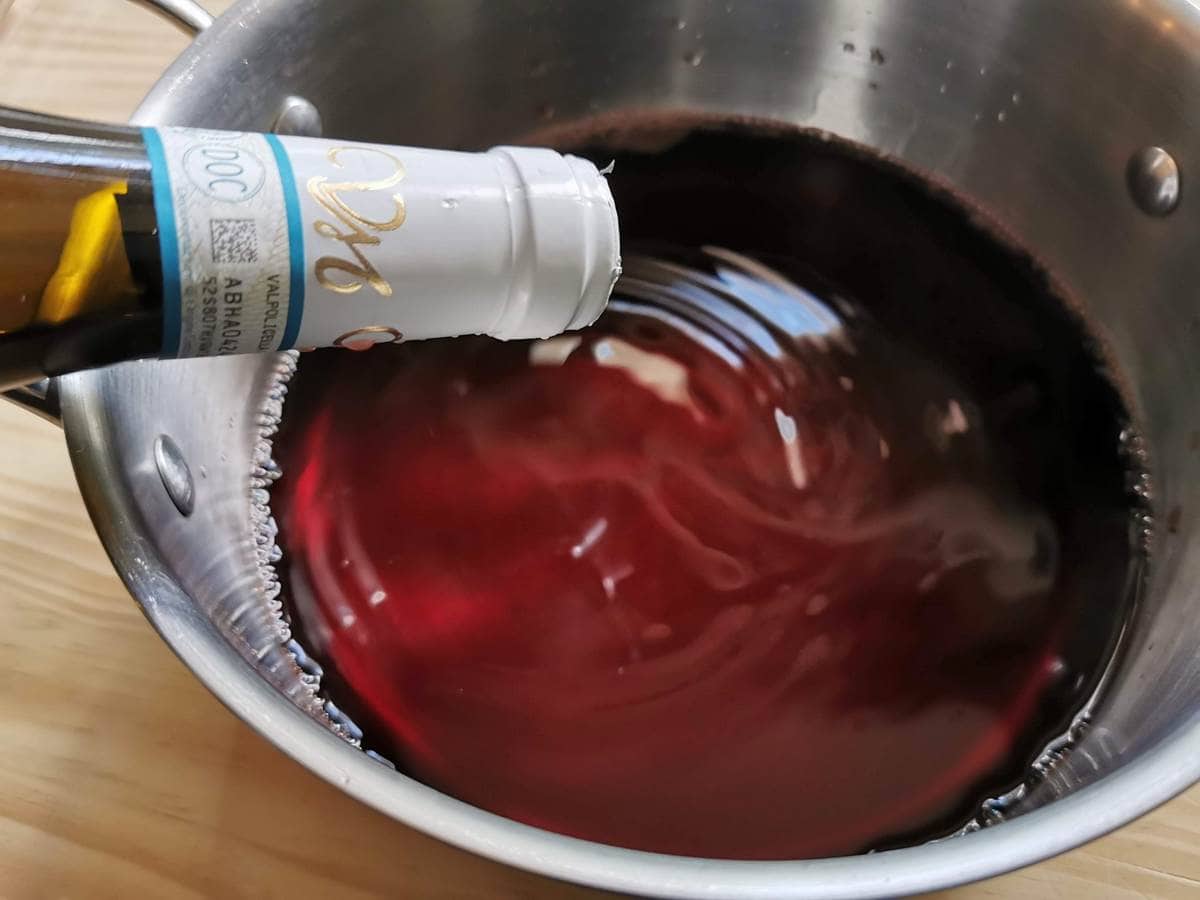 Since we live in the Valpolicella DOC area, I used a 2017 Valpolicella Ripasso Superiore. Ripasso is a unique ancient technique that 're-passes' basic Valpolicella wine onto the dried grape skins (pomace) of Amarone while it is still warm and rich in sugar after fermentation.
The Valpolicella wine remains in contact with the pomace for 10-12 days, during which a second alcoholic fermentation takes place. The Ripasso method gives the Valpolicella wine more structure and a softer acidity. It actually becomes more rounded, complex and suitable for aging in barrels for 18 months.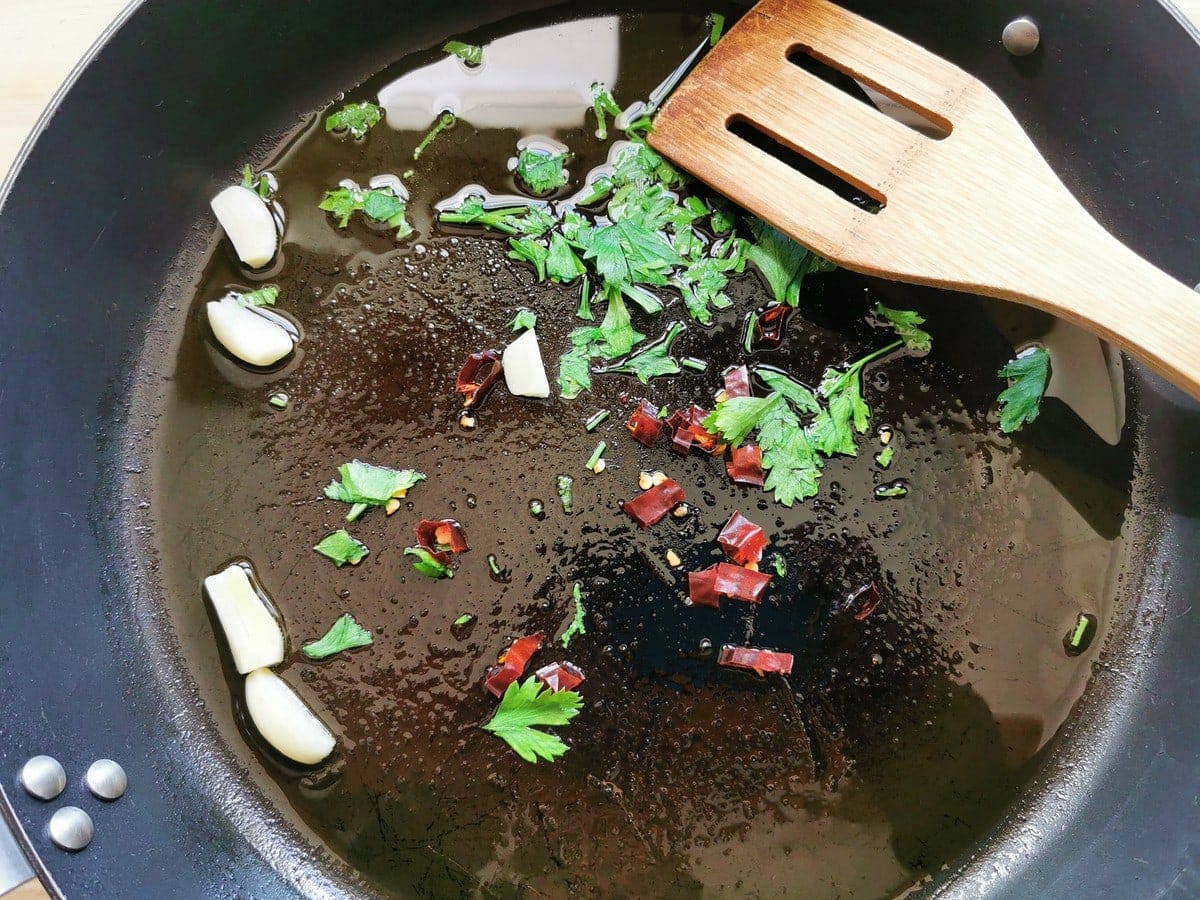 Valpolicella Ripasso isn't a cheap wine, but I think this recipe calls for something more than just table wine! Here in Verona, there's a traditional risotto recipe called risotto all'Amarone the flavours of which are similar to this drunken spaghetti. Amarone is the most prestigious and expensive of the Valpolicella wines.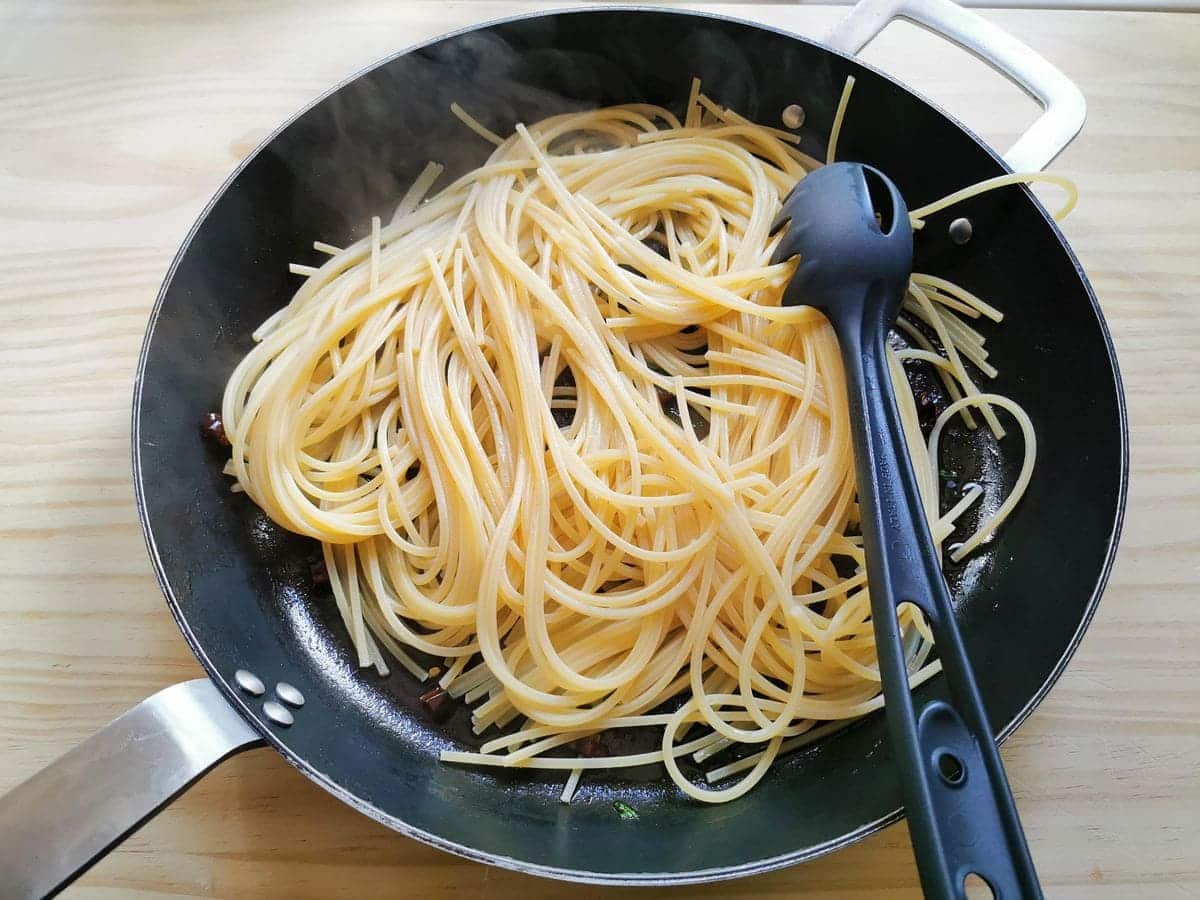 Other Italian 'ubriaco' foods and recipes.
As you may well imagine, any Italian dish called 'ubriaco' contains lots of wine. Most often this is red wine. But, sometimes they have white wine instead. Apart from spaghetti or pasta ubriaco, other popular and traditional 'drunken' recipes are polpo ubriaco (octopus) and torta ubrica (red wine cake), as well as pork, chicken and steak in red wine. Plus, there are a few kinds of formaggio ubriaco (cheese made with red wine).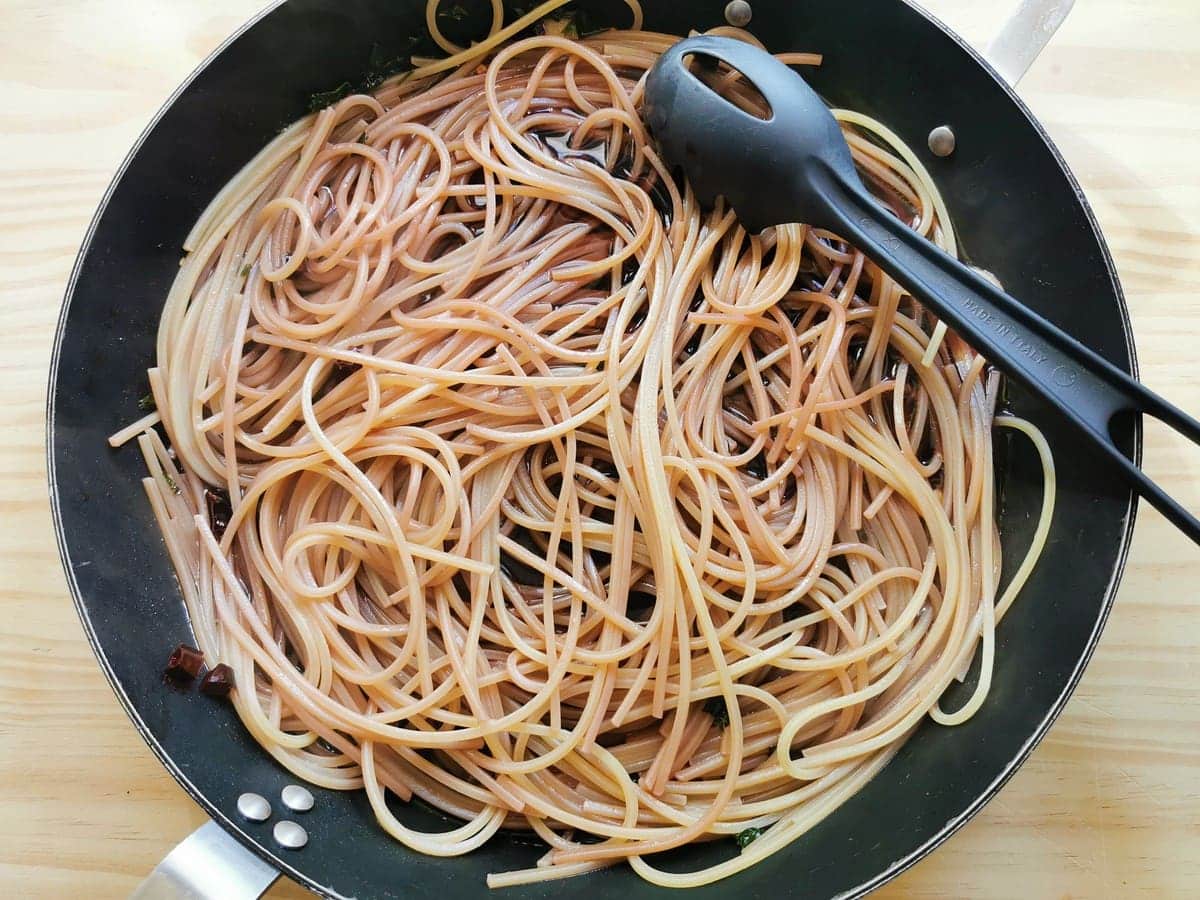 The pasta for this recipe.
As the name implies, the most popular pasta for this recipe is spaghetti. However, some people make it with short pasta such as penne. I used square cut spaghetti alla chitarra (guitar spaghetti) by pasta makers Liguori.
This company is one of about 15 pasta makers in the town of Gragnano near Naples. There they have been making dried pasta for more than 500 years. Most pasta made in Gragnano carries a IGP certification which guarantees its origin.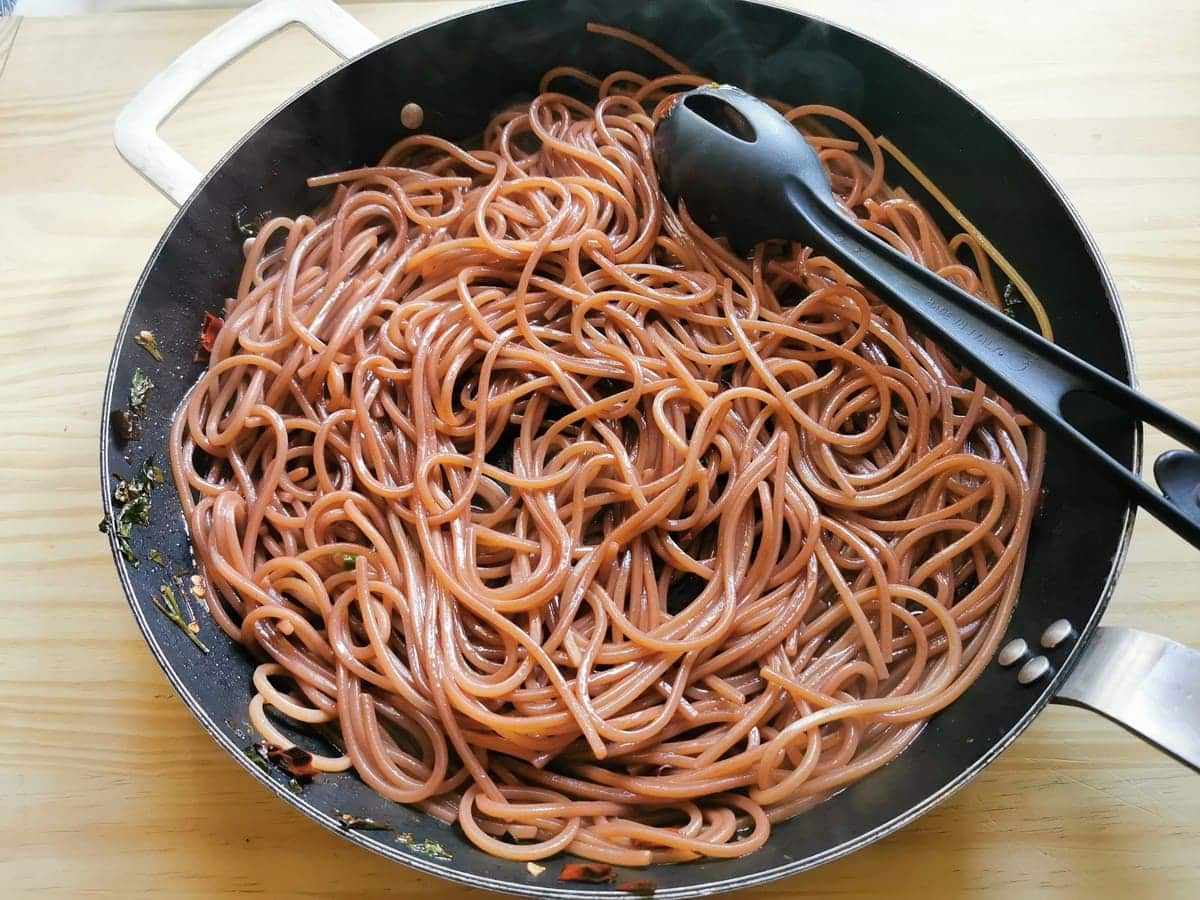 Like other artisan pastas, pasta di Gragnano is bronze drawn, also called bronze cut or extruded. This means they pass the dough through a bronze mold or die to shape it. Bronze drawn pasta has a rougher surface and is more absorbent than other pasta.
This is exactly what you need when cooking pasta like risotto (Italians say risottata). So, to get perfect spaghetti all'ubriaco it's best to use artisan bronze cut pasta.
How to make this red wine pasta.
Making this drunken spaghetti is quite easy and requires very little prep. You first need to pour most of the red wine into a saucepan, bring it to a boil and simmer for 15-20 minutes. This will not only cook off the alcohol but also reduce the wine and intensify the flavour.
Then the next step is to peel the garlic, wash and chop the parsley and chop the peperoncino if using fresh or whole dried chili peppers. Lastly, put a pot of water on to boil for the pasta and add salt once it starts to boil.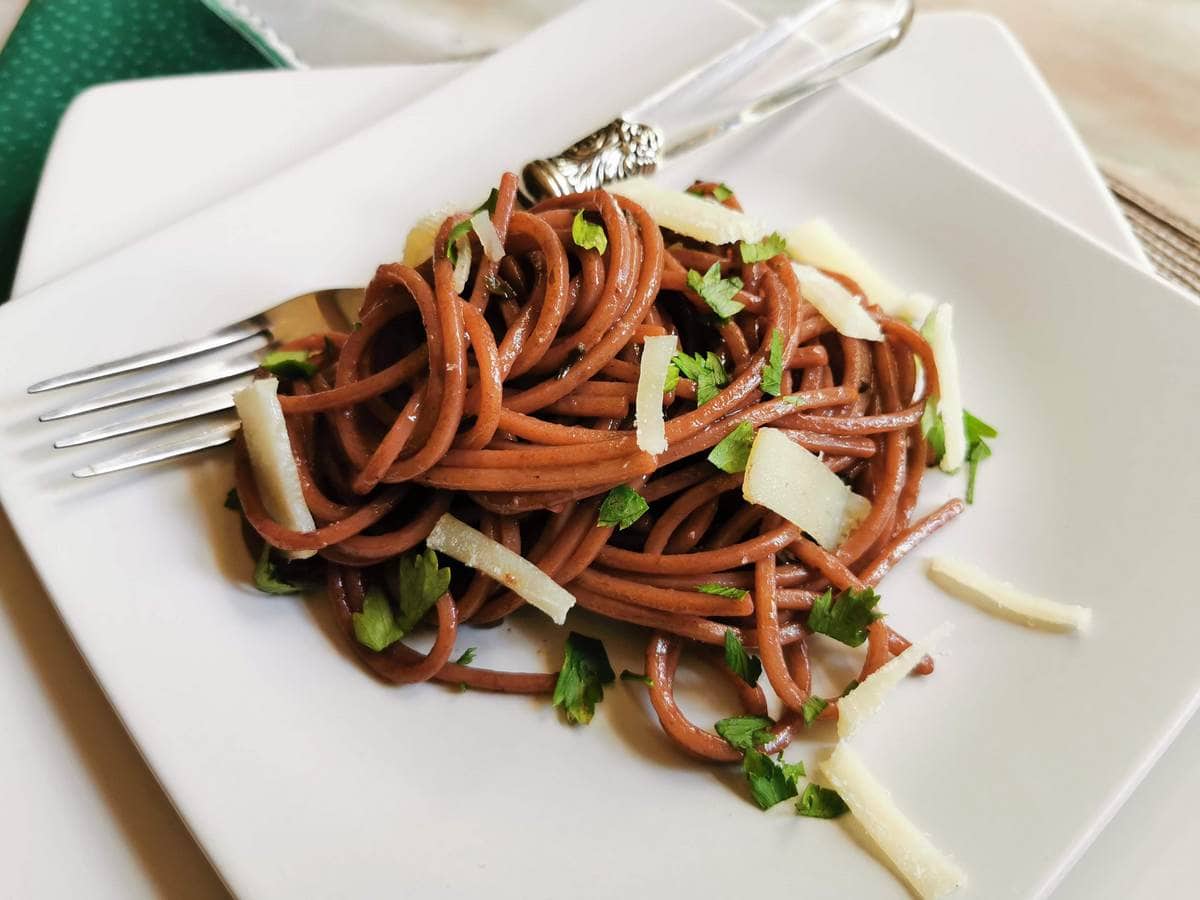 The next step is to sauté the garlic, chili pepper and parsley in olive oil, while you half cook the pasta. Then transfer the spaghetti to the pan with the garlic, chili pepper and parsley. Add a ladle of the hot wine to the pan and start to cook the spaghetti as you would a risotto, stirring continuously and adding more wine as the liquid gets absorbed by the pasta.
When your spaghetti is al dente, it's almost ready to serve. Just remove it from the heat and mix in a little uncooked red wine. Serve with more chopped parsley and grated cheese if required.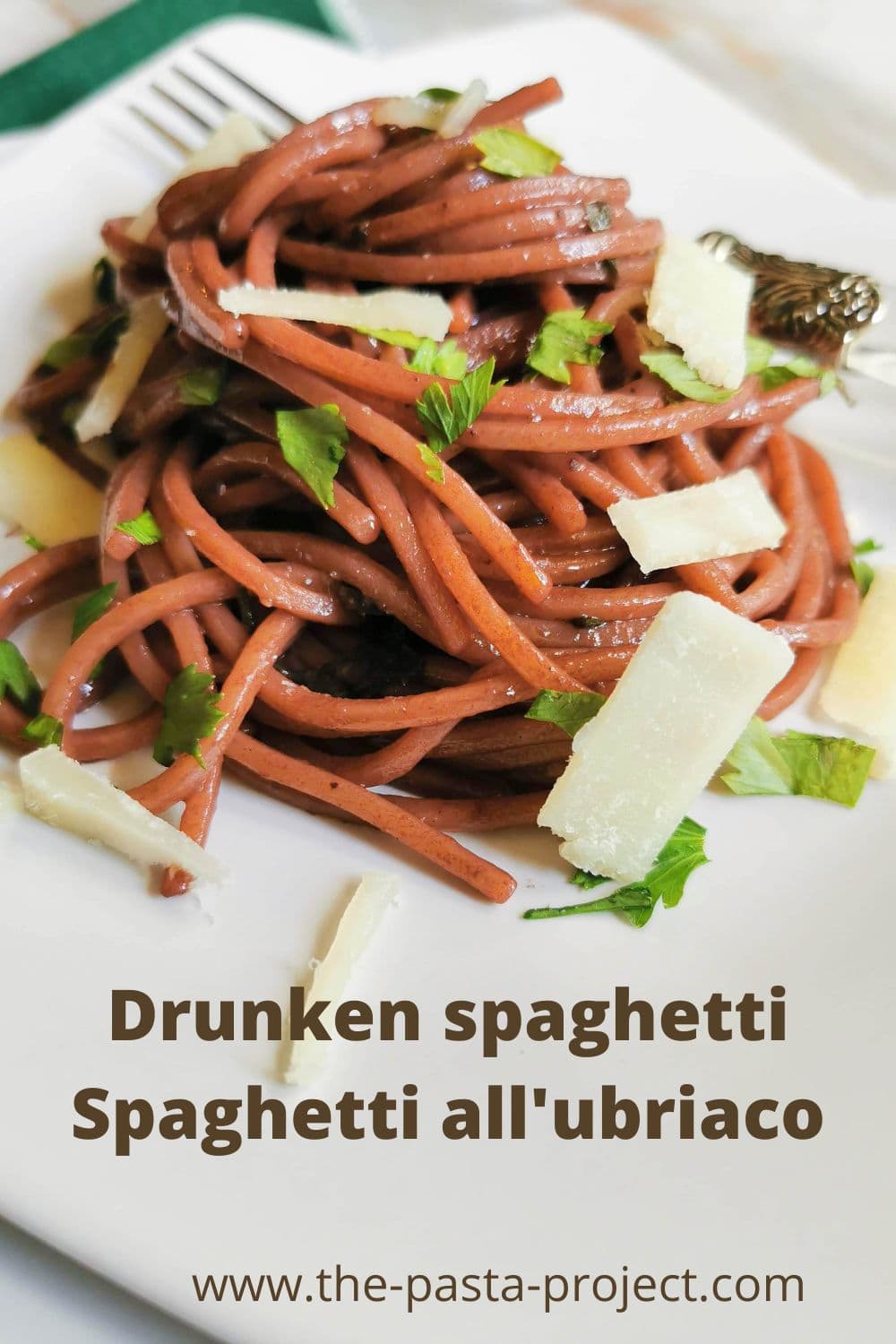 Is this red wine pasta vegetarian?
As is, this drunken spaghetti is vegan. I added slivers of pecorino cheese which isn't vegetarian as it contains animal rennet. So, to make this recipe vegetarian use a vegetarian parmesan or hard cheese.
What to do with leftovers.
I doubt you will have leftovers of this red wine pasta because it really is so very good. But, if you do, you can keep them in the fridge in a sealed container for a couple of days. Reheat on the stove top with a little water and red wine.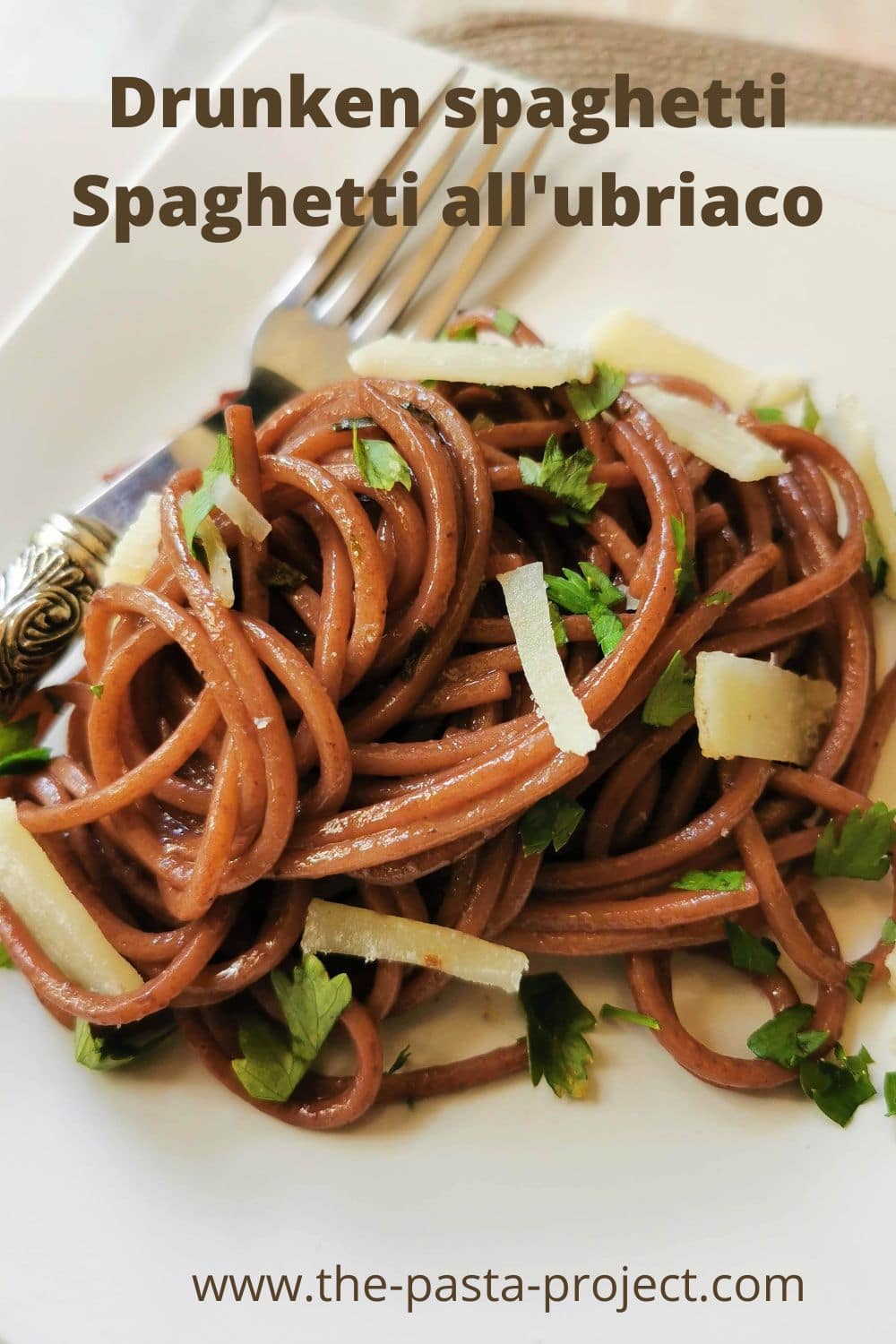 Let me know what you think.
We love everything about this dish from the colour to the flavours and I'm sure you will to. If you try it, please do let me know what you think. I'd love to hear how it turns out. Please write a comment here on the blog, email me or post a comment on the Pasta Project Facebook page.
Buon Appetito!
Do check out the links to other risotto style pasta recipes after the recipe.
Other recipes for pasta cooked risotto style.
If you are interested in learning how to make homemade pasta and different types of gnocchi, check out my shop page for some great video online courses from my friends in Rome! Nothing beats learning to make pasta from Italians! Plus while you're there why not order a copy of one of my pasta recipe cookbooks or checkout some recommended pasta making tools?