If you have never made pasta risotto style this zucchini flower pasta risotto is a fabulous recipe to start with. It only has a few ingredients and doesn't take long to make. However, in my opinion it's a restaurant worthy dish that family and friends will be so impressed by!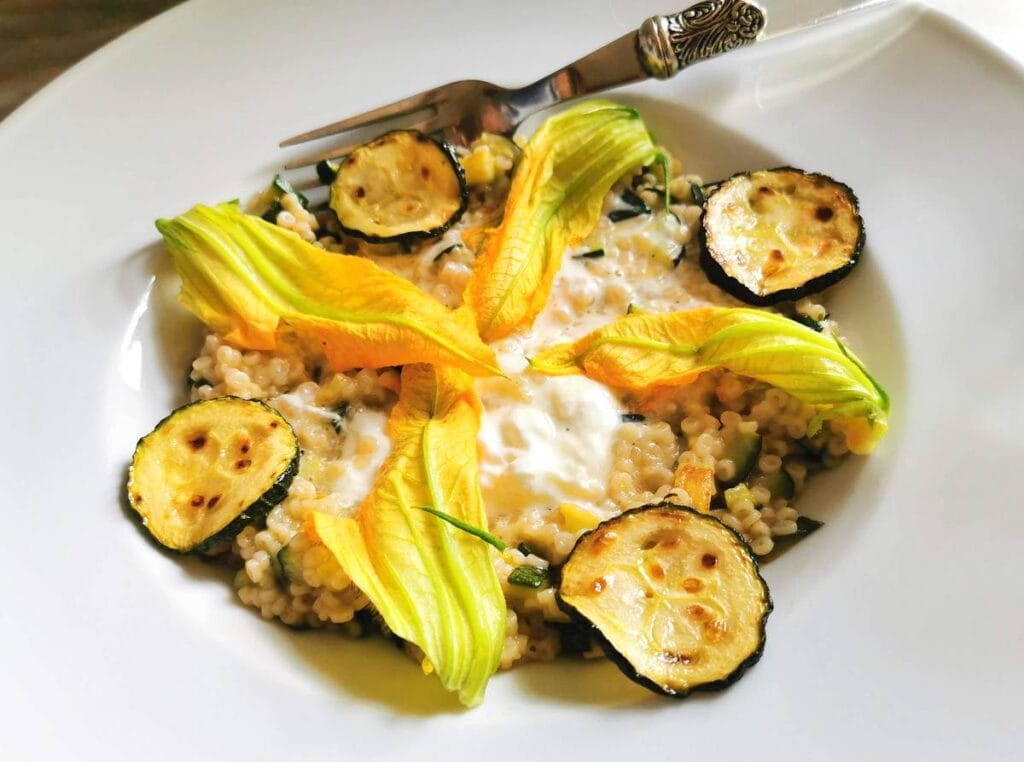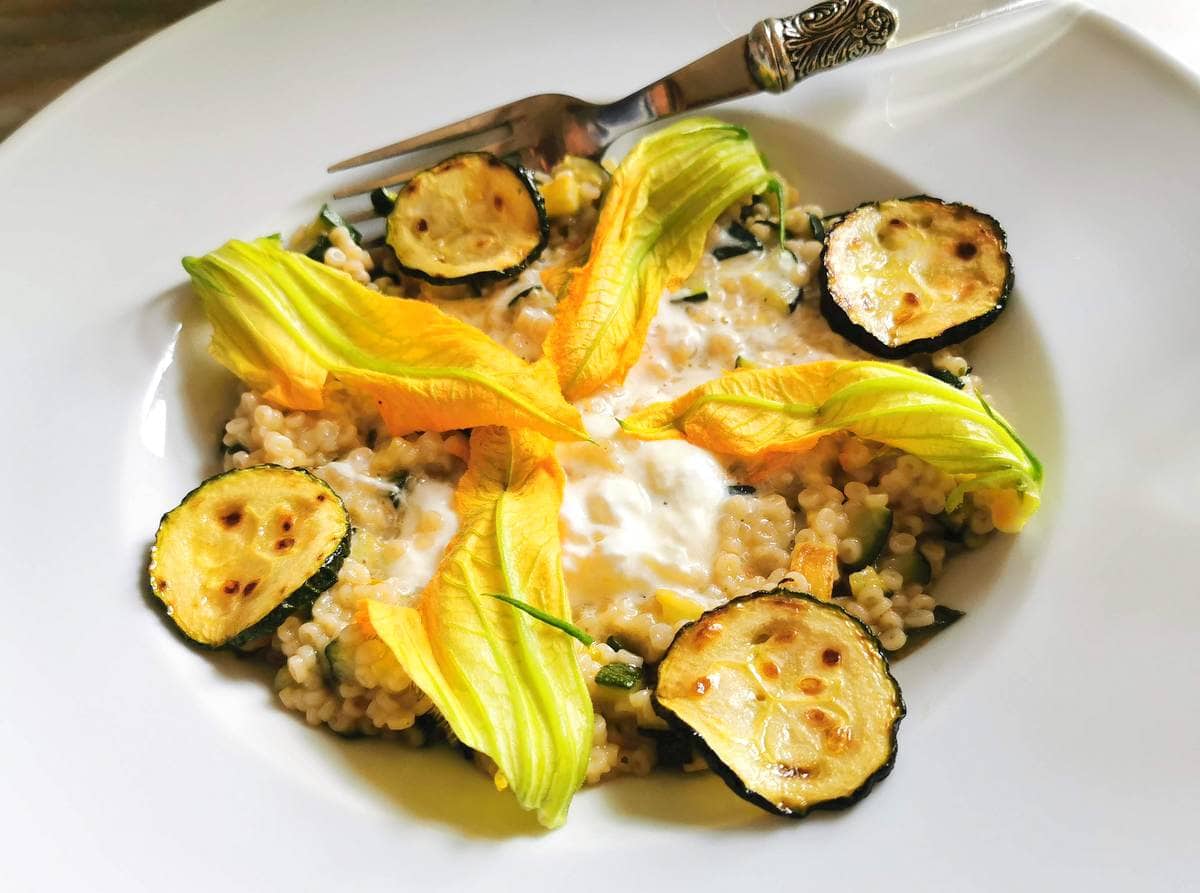 Corallini di farro risottati con fiori di zucca
There are 3 main ways to cook pasta. You can cook it in boiling salted water and add it to your sauce and then serve or bake. If it's fresh, you can bake it without pre-boiling. Finally, you can cook it risotto style in a pan with the sauce ingredients. Here in Italy, the latter method is called pasta risottata. This zucchini flower pasta risotto is a divine example of risotto style pasta.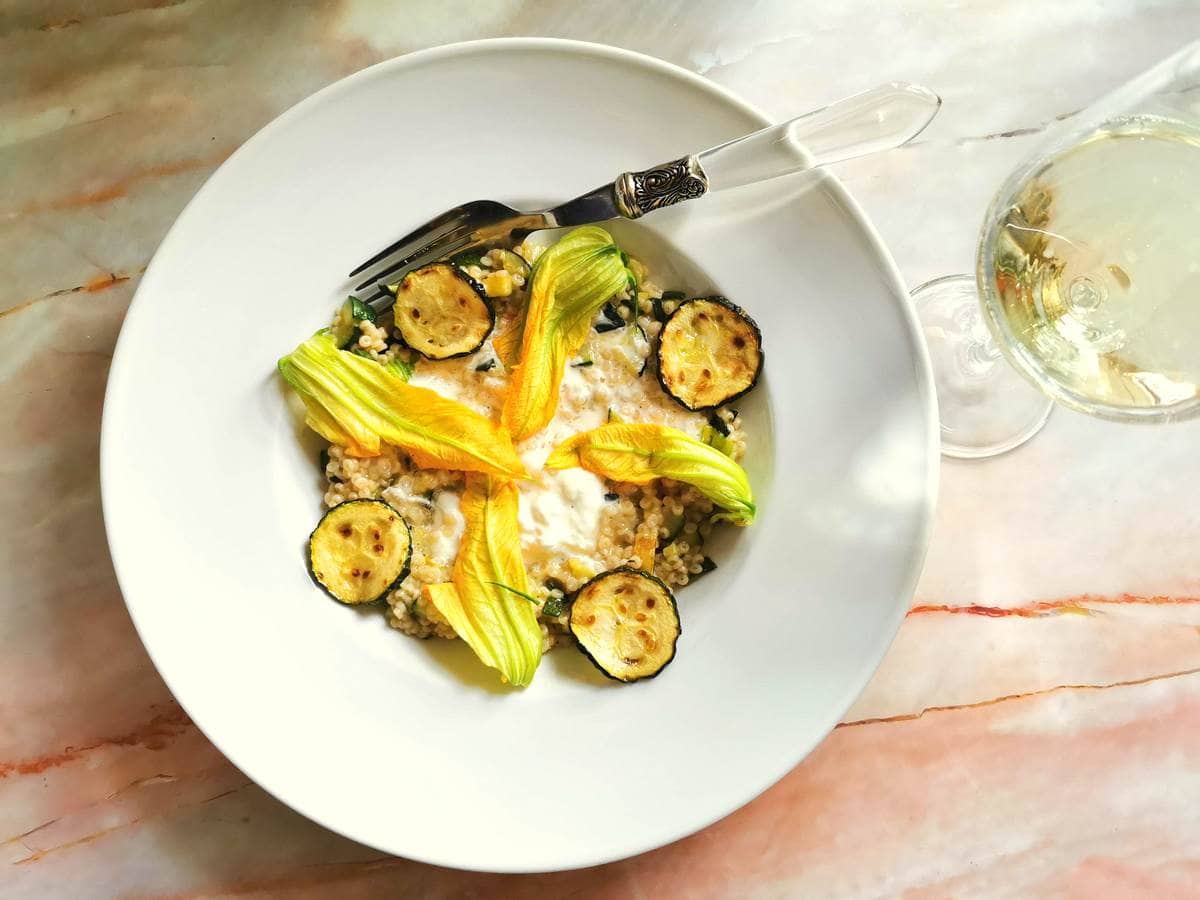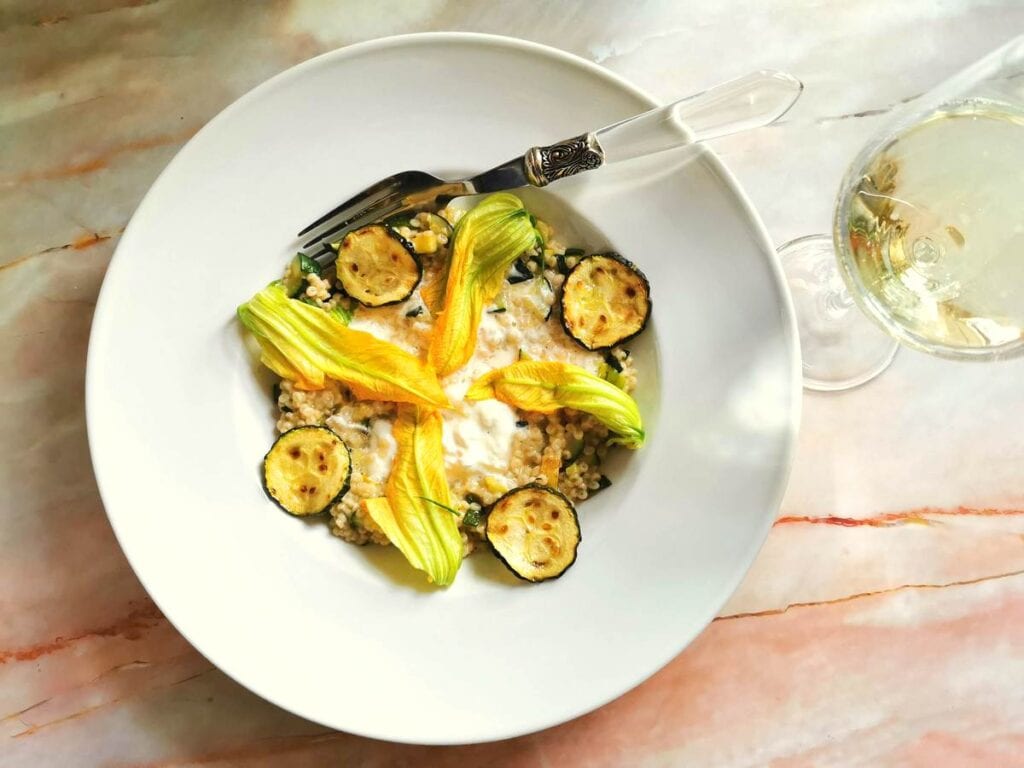 What is pasta cooked risotto style?
The traditional method for cooking risotto in Italy is to first 'toast' the rice in some olive oil in which onions or garlic have already been softened. Next, add whichever other ingredients are going into the risotto (separately cooked mushrooms, asparagus etc) and then pour in a ladle of stock or broth and start cooking the rice slowly, adding more liquid a ladle at a time and stirring continuously until the rice is cooked.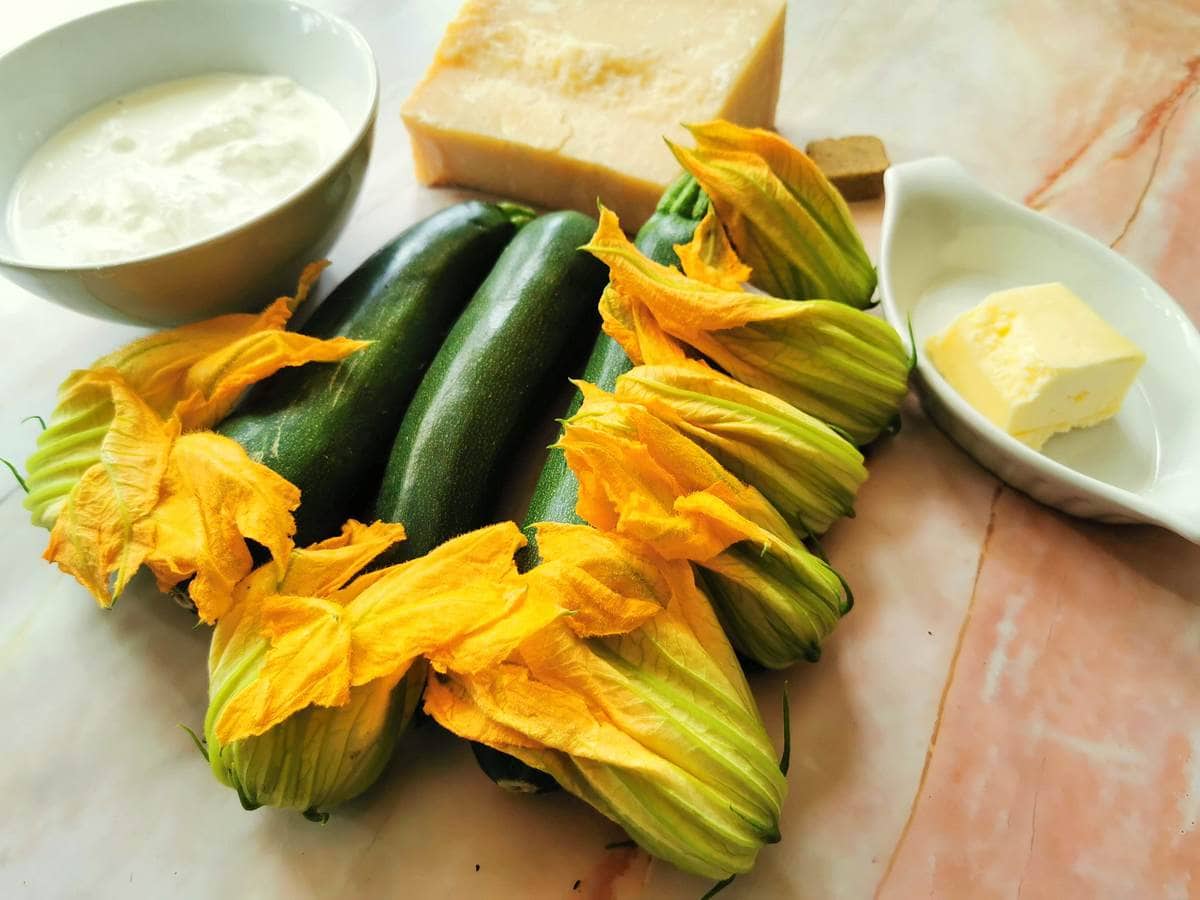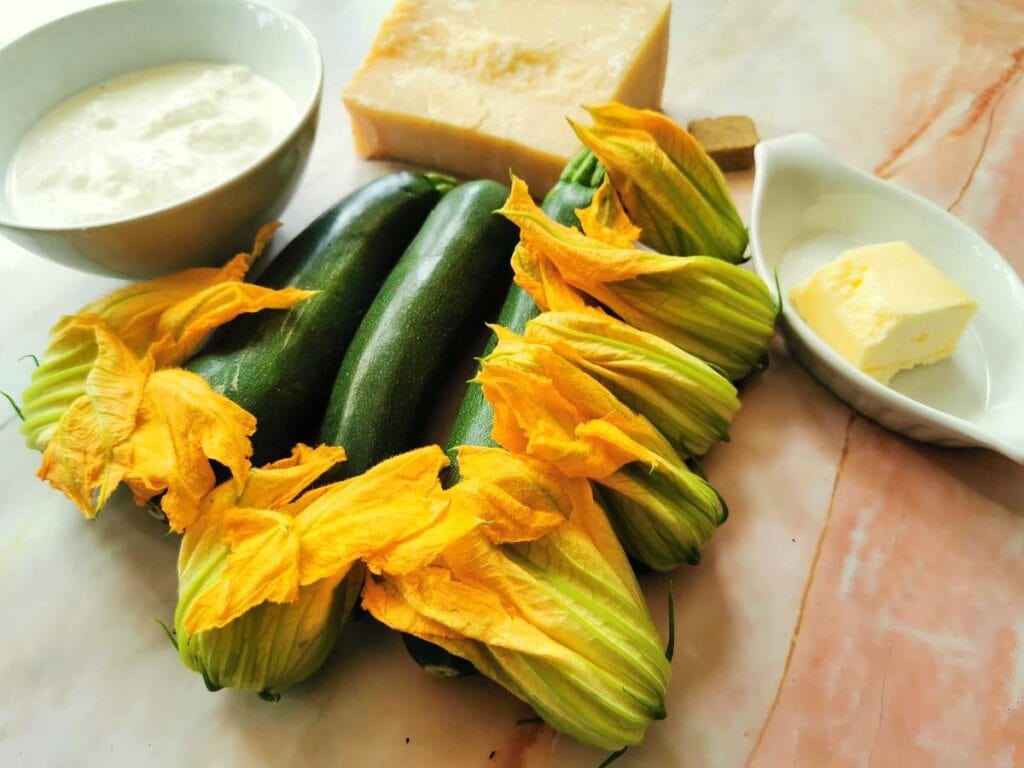 In recipes with small types of pasta, pasta risotto is made almost the same way as rice risotto. Just replace the rice with pasta. With recipes that call for long pasta like spaghetti, the dried pasta is added to the pan where there's already some liquid and is cooked in that liquid. Although more liquid is added as necessary, and the cook starts to stir the pasta only once it's softened.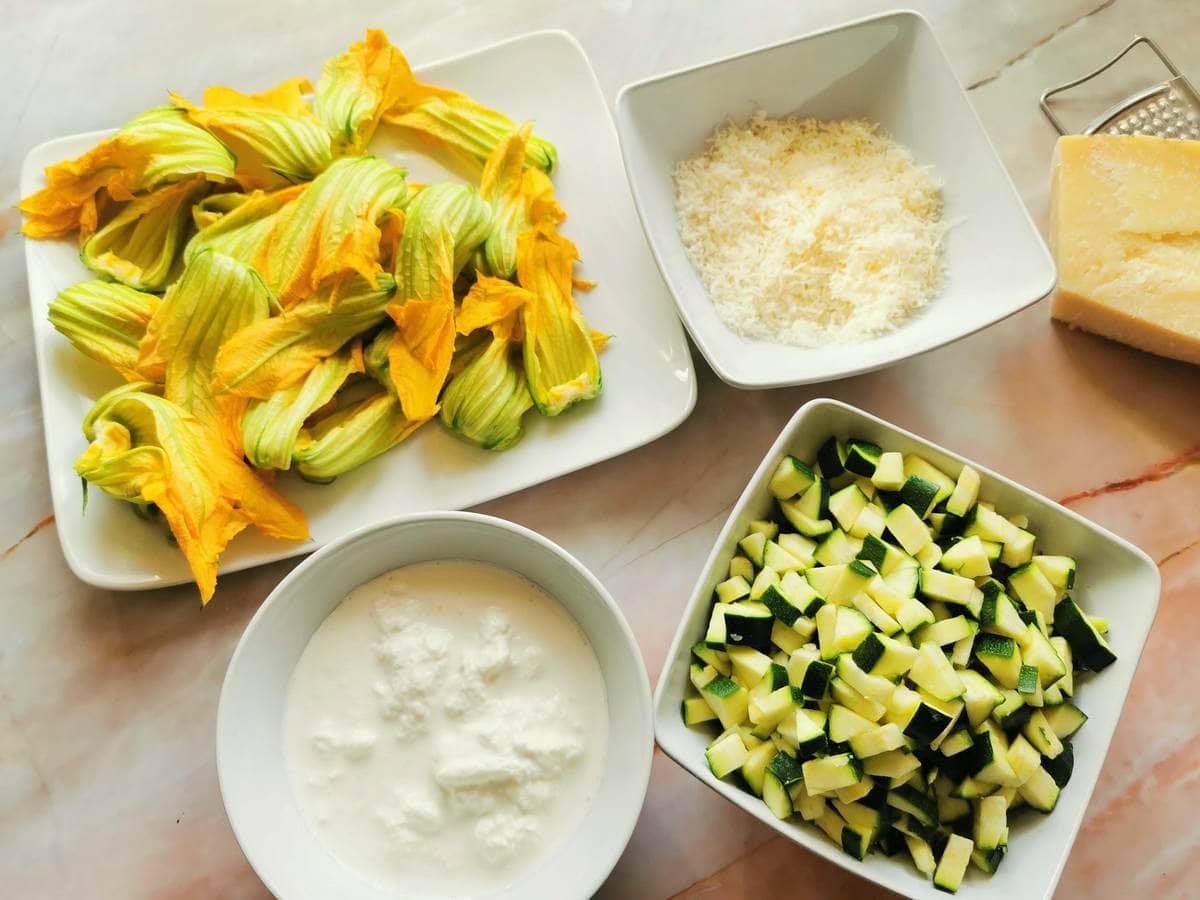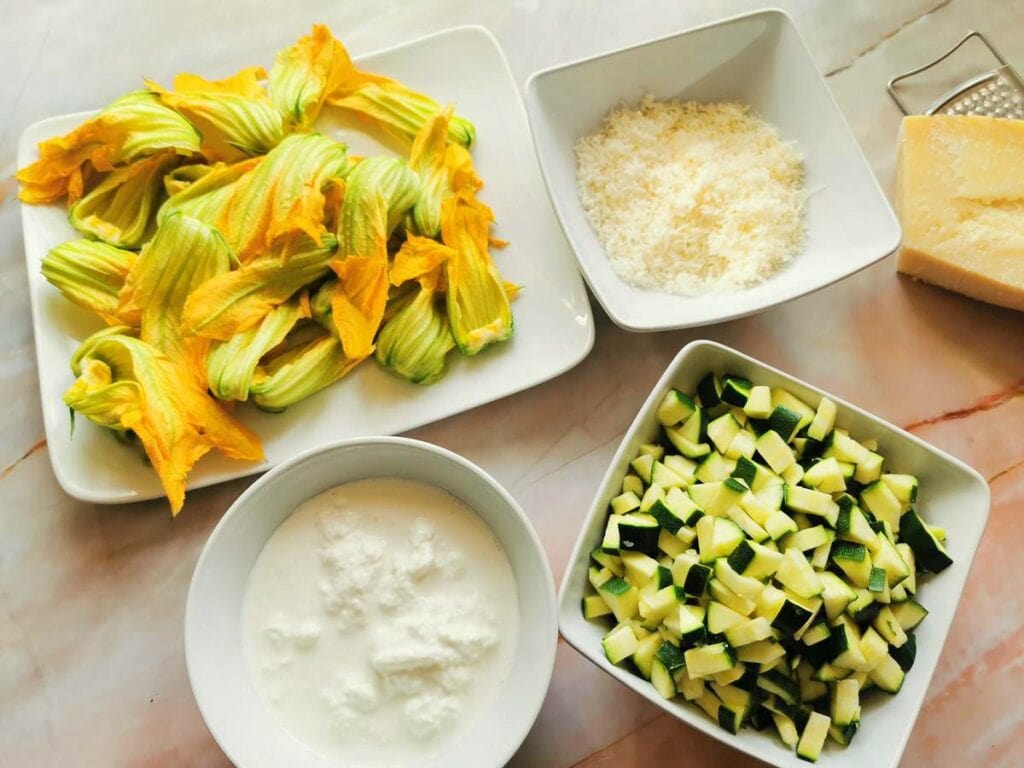 Cooking pasta risotto style has become pretty popular in Italy over the last decades. However, some Italian pasta recipes have been made risotto style for a long time. For example, fregola is cooked risotto style in Sardinia and there are some other traditional pasta risottata recipes dating back to the 60s. The first that comes to mind is spaghetti all'assassina from Puglia. (a recipe I'm planning to make soon).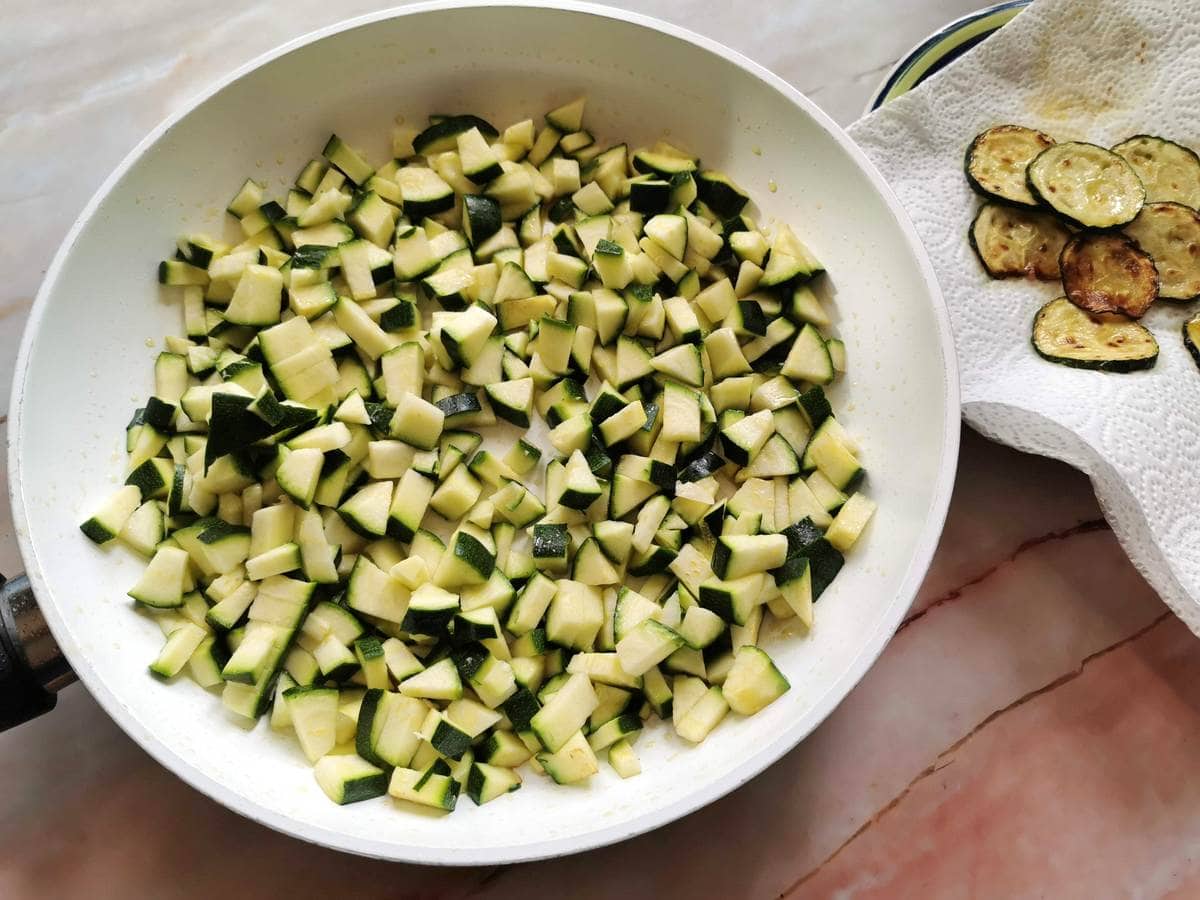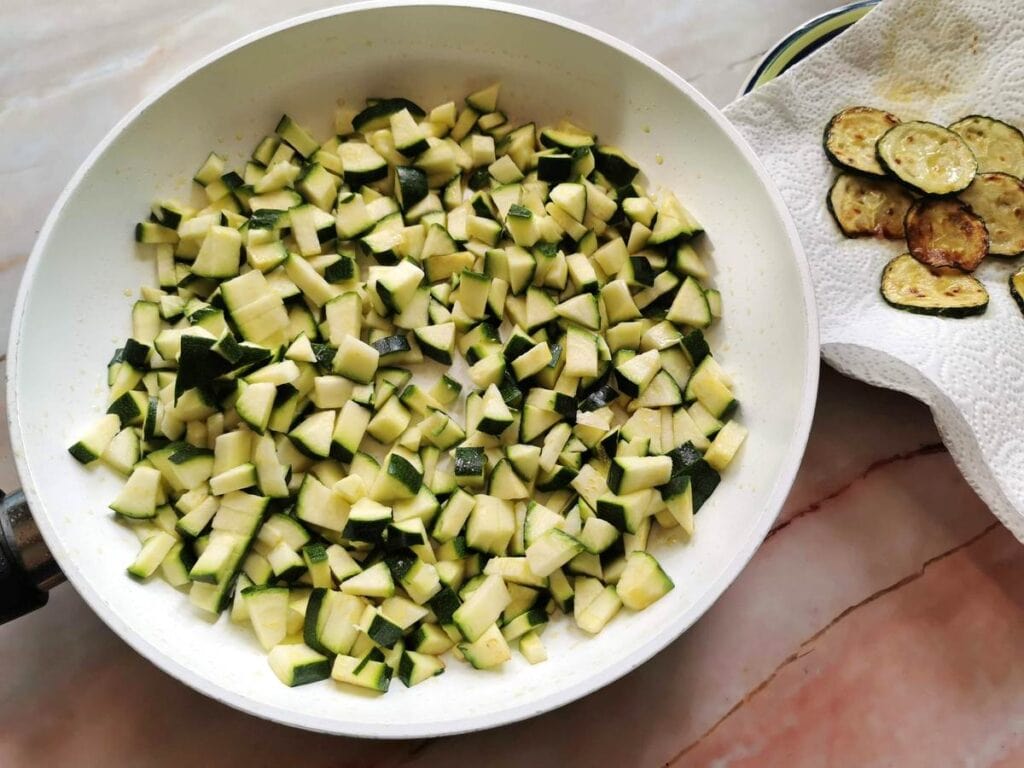 What are the advantages of cooking pasta like risotto?
There are a couple of reasons why pasta risottata has become more popular. Firstly, it's faster and doesn't require so many pots and pans. In the traditional method, pasta is cooked in a lot of salted water previously brought to a boil, then drained and seasoned. Pasta risotto, on the other hand, requires the pasta to be cooked directly in the sauce.
In addition, many Italians, particularly chefs, think the pasta and the ingredients blend better together. When you cook pasta like a risotto, the starch is not lost in the cooking water as happens with classic cooking. The presence of starch makes the pasta creamier and the sauce adheres better to it. The flavour of the pasta is also a little more intense.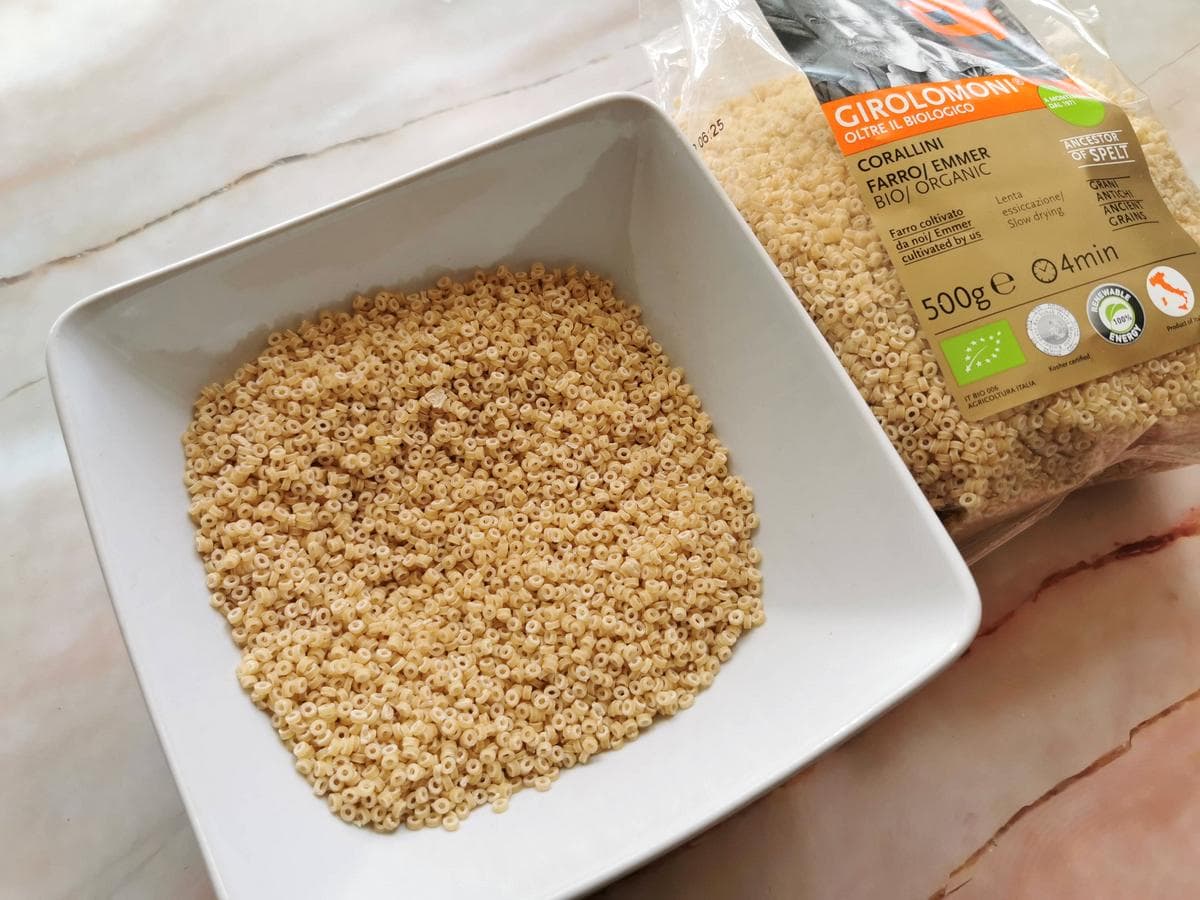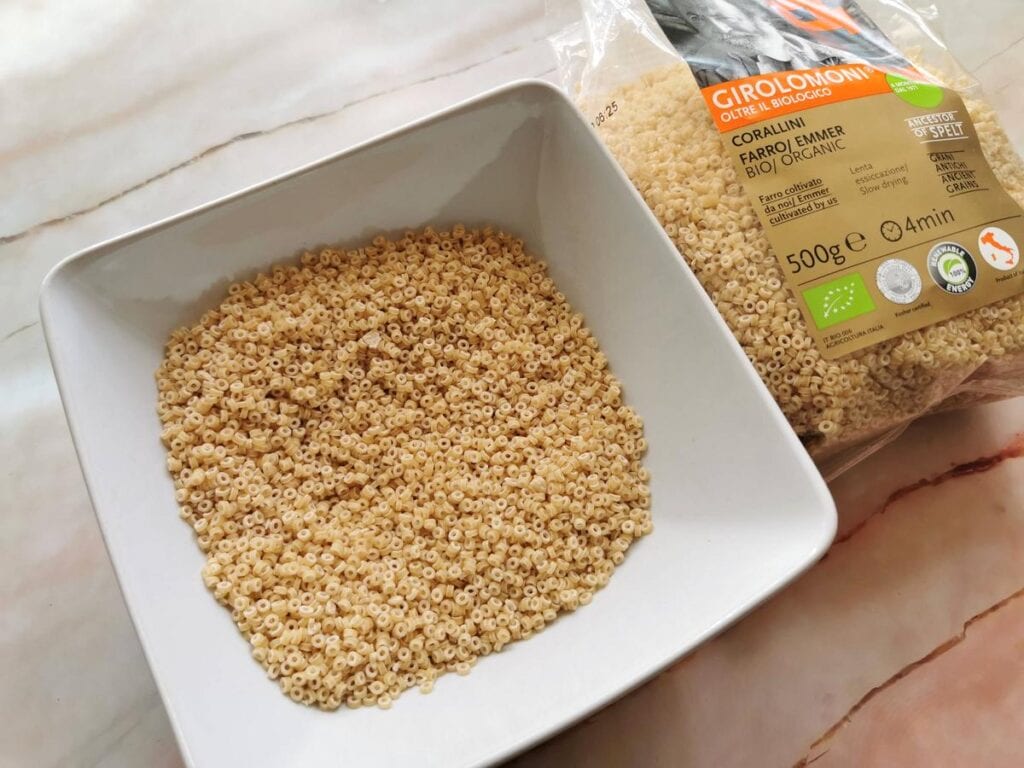 What kinds of pasta can you use in pasta risotto?
The most popular types of pasta are small soup pasta (pastina) like orzo or the corallini I used in this zucchini flower pasta risotto. However, mid-sized short pasta such as penne or fusilli work too. Spaghetti and other similar dried pasta are also good. In fact, I have published a couple of recipes that involve cooking spaghetti risottata. One is the best spaghetti in tomato sauce ever and the other is spaghetti cooked in lemon water.
Pasta shapes that are too large are not recommended because the pasta can't be completely covered by water. And, if you add too much water, you risk getting a very liquid sauce. Fresh pasta or pasta with fast cooking times don't work either.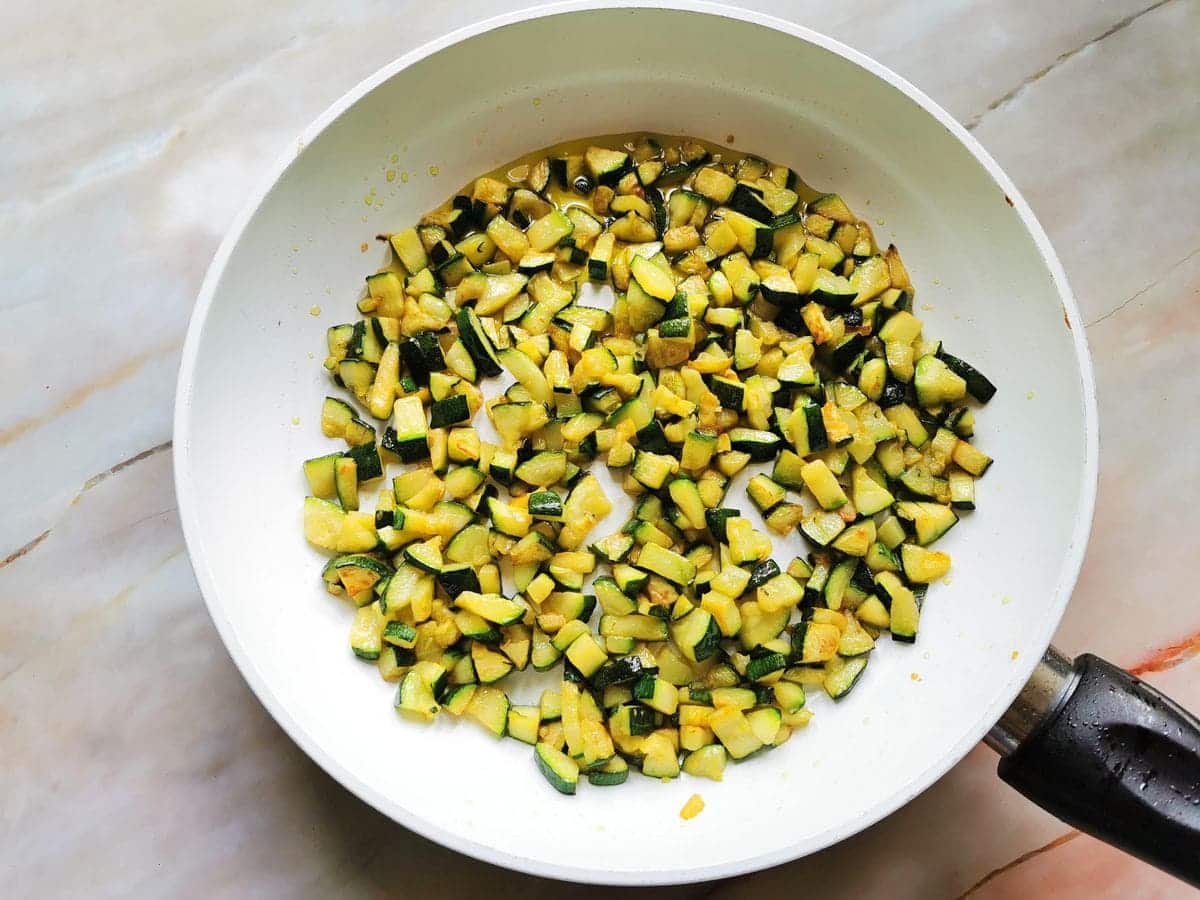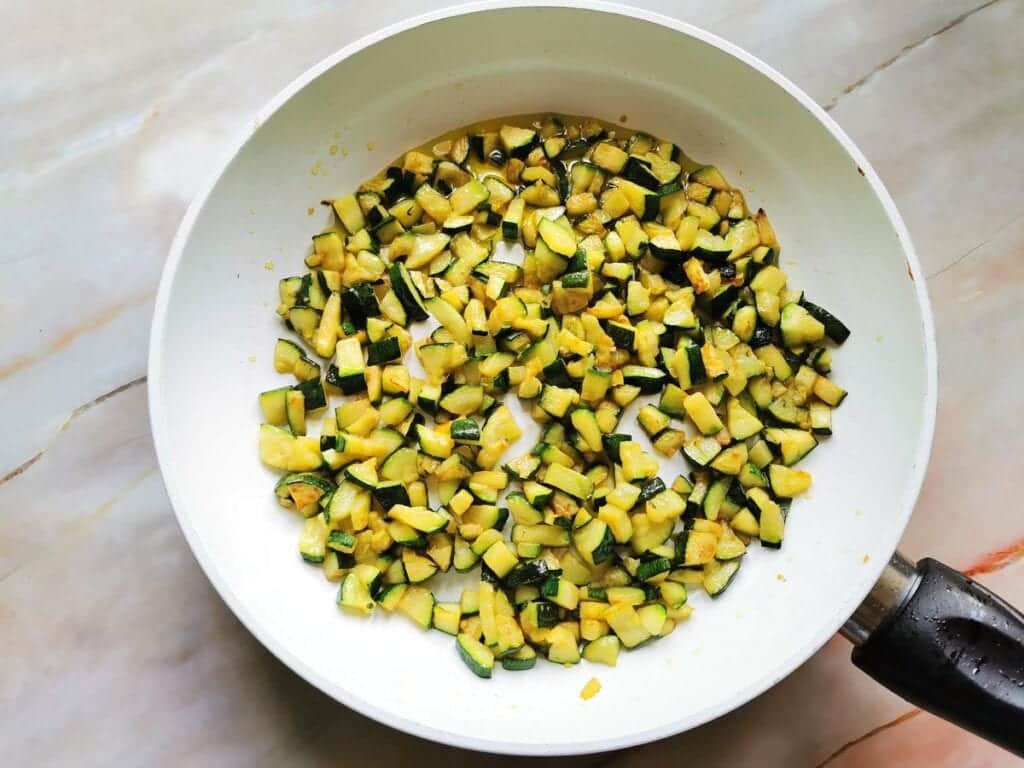 This zucchini flower pasta risotto.
When deciding on recipes to publish here, I usually look for traditional seasonal recipes or traditional recipes for a certain type of pasta or from a particular region. I found this recipe because I had some pastina pasta called corallini to use. But, I didn't want to make a soup AND I had just bought the first zucchini flowers this year. It seemed a tall order to find a recipe that combined both. Of course, this is a contemporary recipe. However, I am so happy to have discovered it. Totally divine!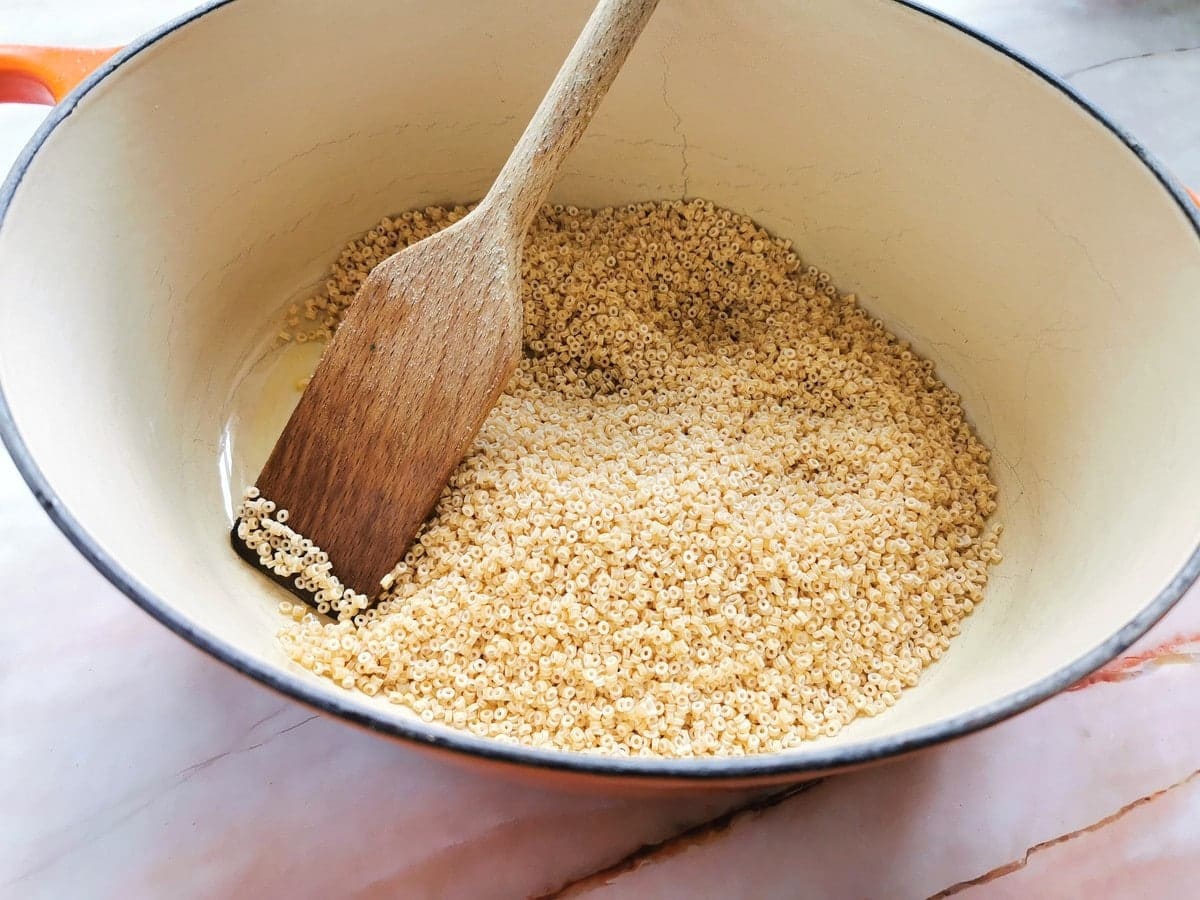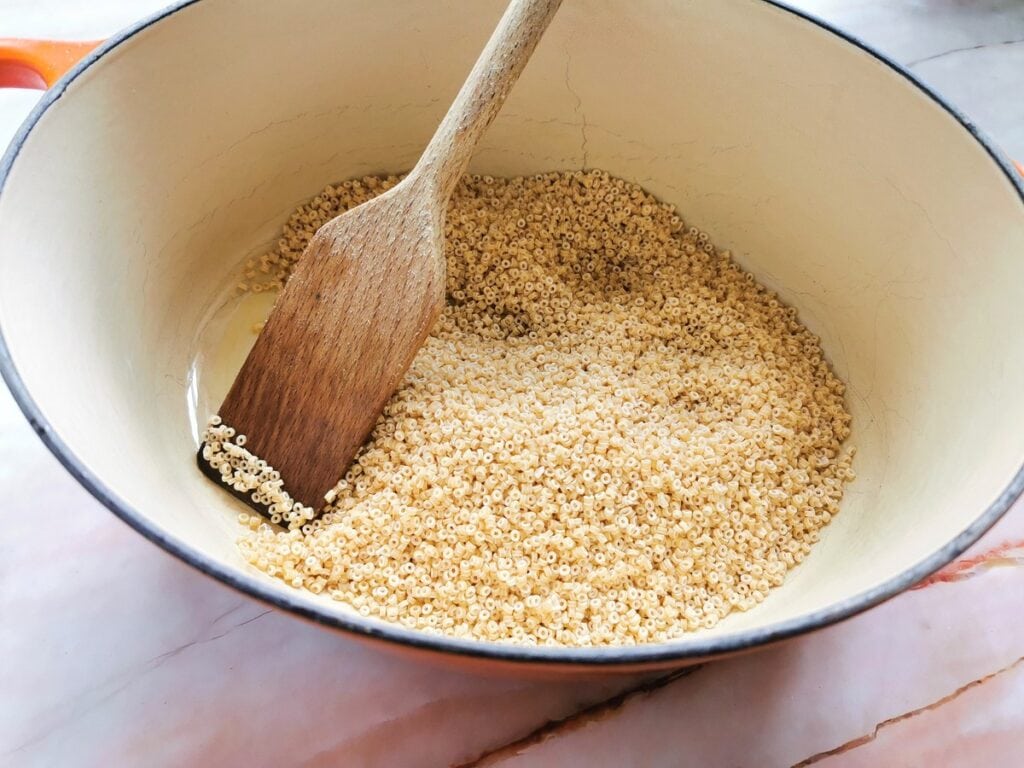 The zucchini flowers.
Zucchini flowers or blossoms are in season here through the spring and summer. These edible flowers are very popular in Italy and Italians cook them in many different ways. They fill them, coat them in batter and fry or bake them…totally divine! In the South, they also just batter and fry them without filling. One of the most well-known filled and fried zucchini flower recipes is 'fior di zucca alla Romana'.
Other dishes with zucchini flowers include frittata, risotto and, of course, pasta! Like in this pasta risotto, recipes with pasta and zucchini flowers usually include the zucchini too, cut into small rings, cubes or slices. In addition to being tasty, these flowers are rich in vitamins and minerals, including vitamins A, C and B. They also contain iron, calcium, phosphorus, potassium and magnesium!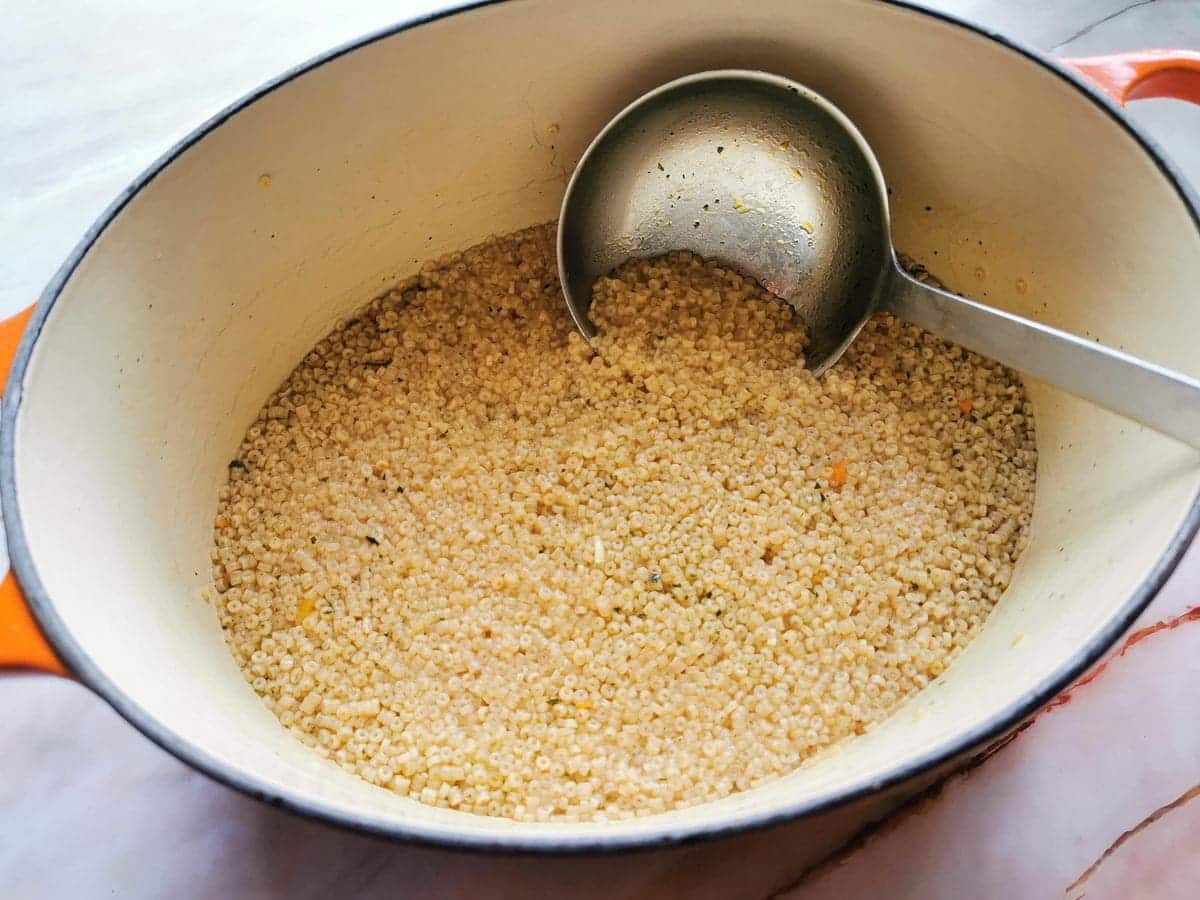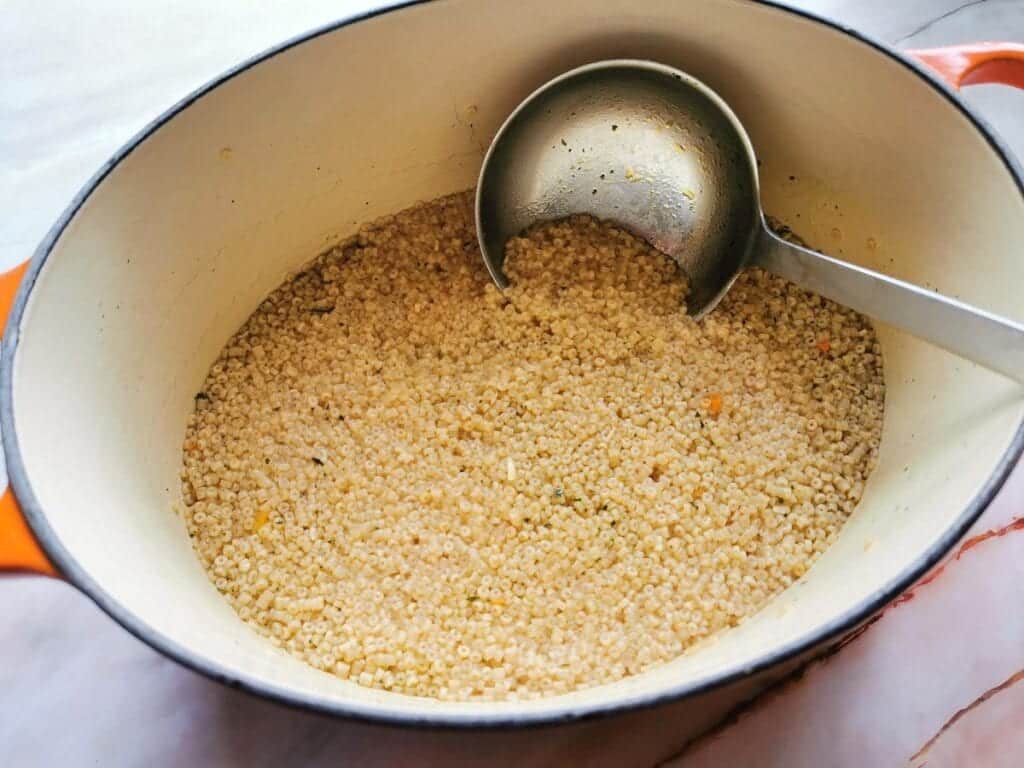 What pasta can you use?
As I mentioned above, small pastina pasta is great for making pasta risotto. Italians mostly use these pastas in soups, particularly broths and minestrone. There are about 30 types of pastina in Italy! Some are pretty small, others a little bigger. I used corallini for this zucchini flower pasta risotto. But, you can use other types. I think orzo (risoni) would work very well too.
Corallini are tiny little pasta tubes. There's a bigger version called coralli. The name means corals and refers to a female ornament that was common among the people of the Mediterranean, where coral fishing was practiced in the past. The simplest coral bead was a small tube!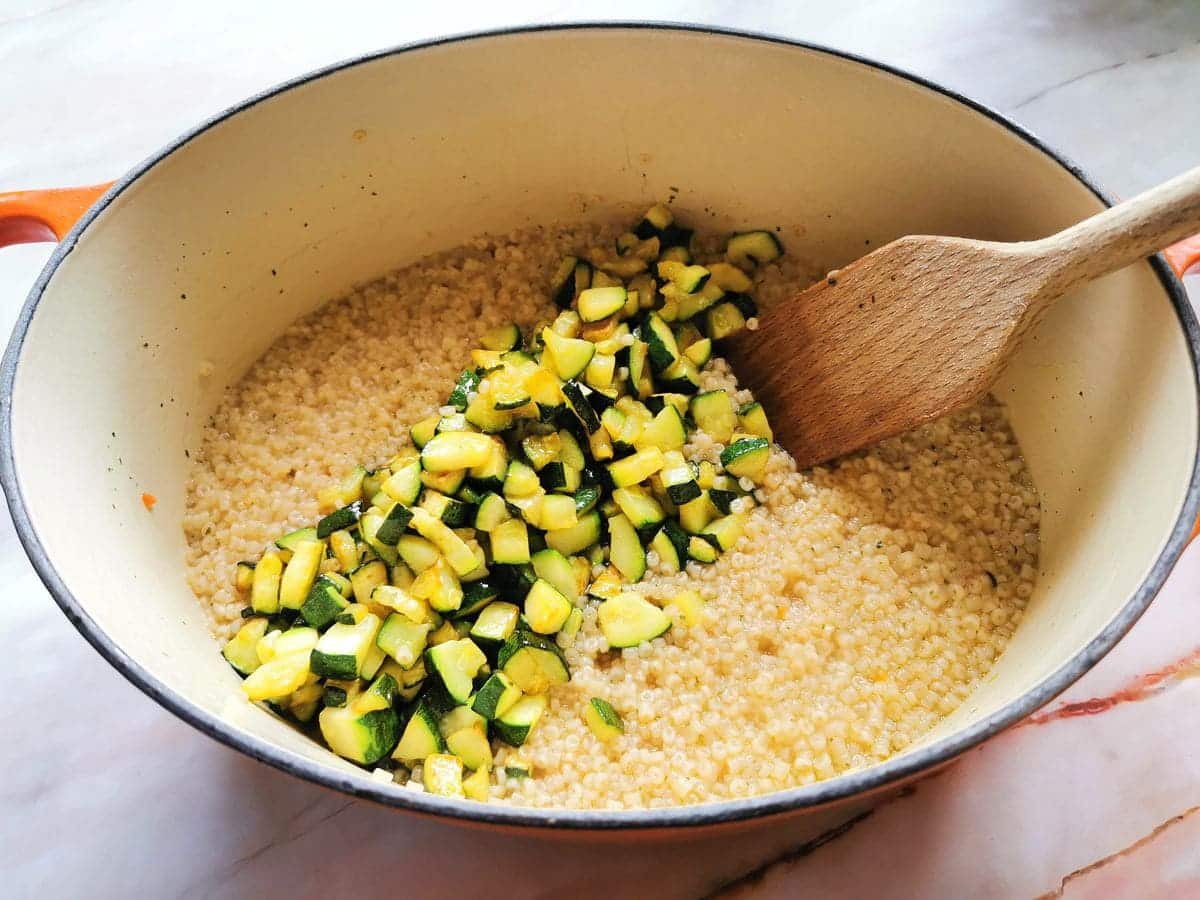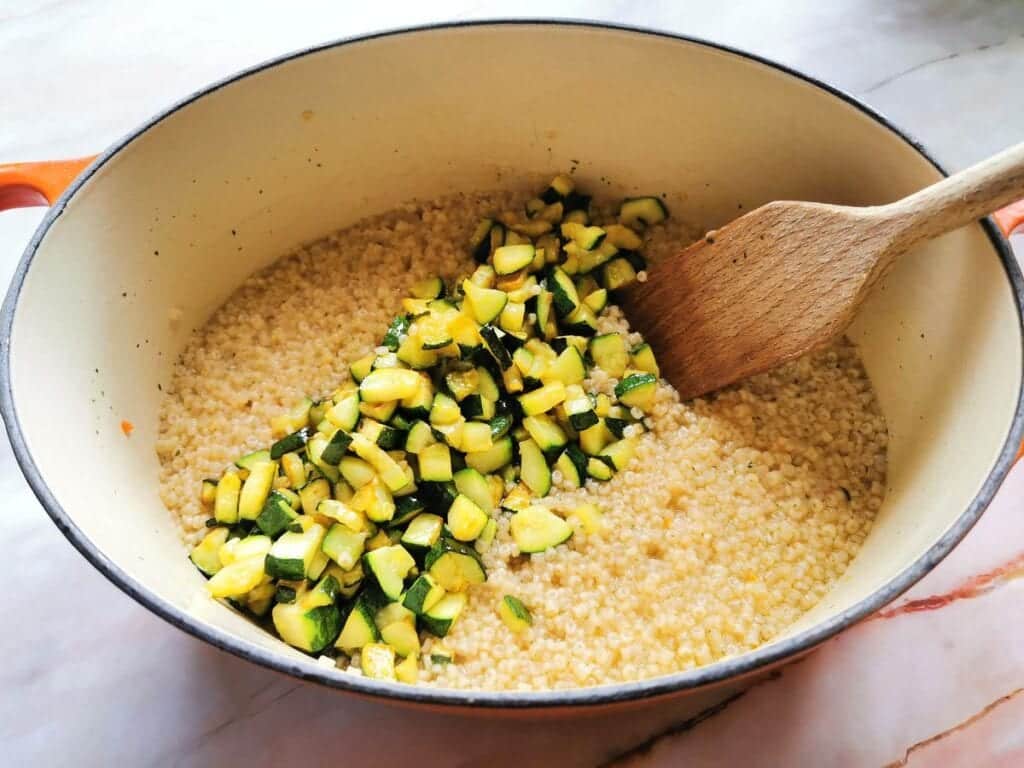 Lots of companies make corallini pasta. The one I used is quite special because it's made from organic emmer wheat (farro in Italian). Emmer is an antique grain said to be the ancestor of spelt. It's high in fibre protein and nutrients. My pasta came from one of my favourite organic pasta makers, Girolomoni. I got it when I visited them last year.
This company is unique in the world of Italian pasta. Firstly, they make only organic pasta with 100% Italian durum wheat flour or heritage/antique grains. In fact, they were one of the first companies to do so. Secondly, they are actually a cooperative rather than a privately owned company. You can read more about Girolomoni in my post about my visit.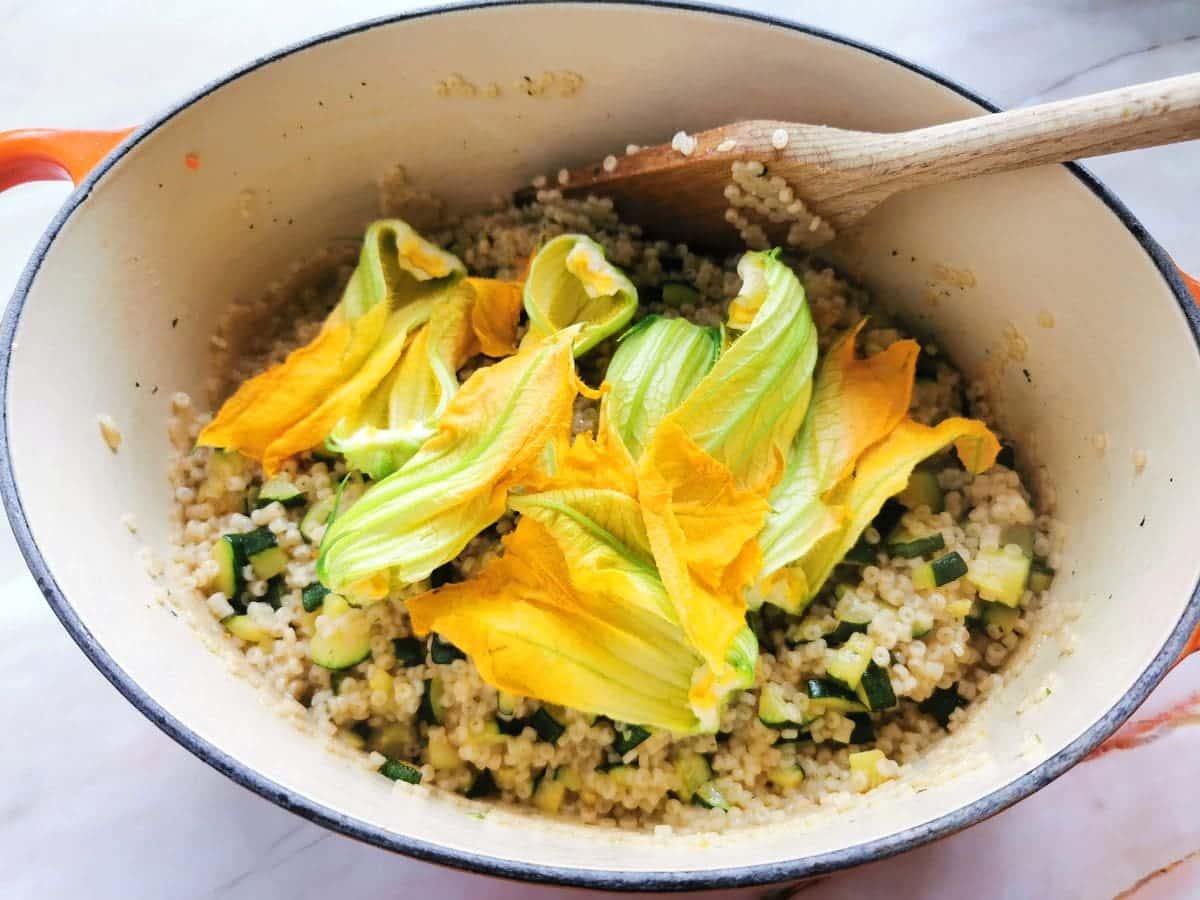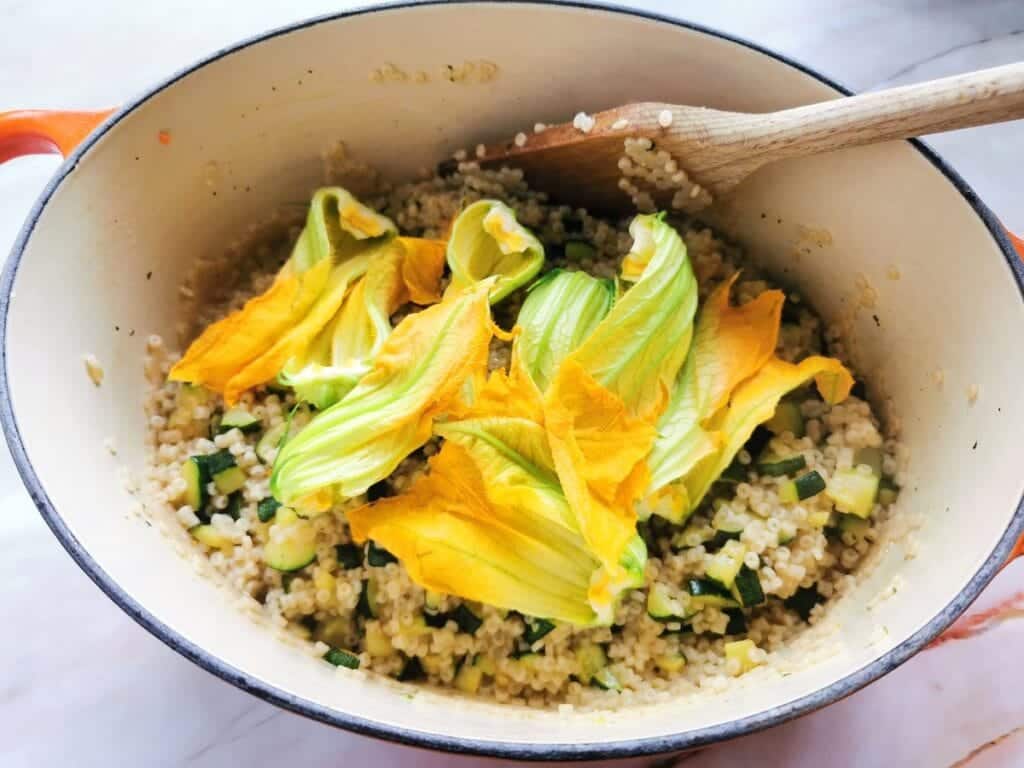 Other ingredients in this pasta risotto
Apart from the pasta, zucchini and zucchini flowers, this recipe has very few ingredients. No garlic or onions, just some vegetable broth, butter, Parmigiano and stracciatella. The latter is a creamy stretched fresh curd cheese. It's usually mixed with cream and used to make the delicious centre of burrata. Here, we can buy fresh stracciatella on its own. If you don't have this cheese you can use other creamy cheeses such a fresh ricotta or burrata.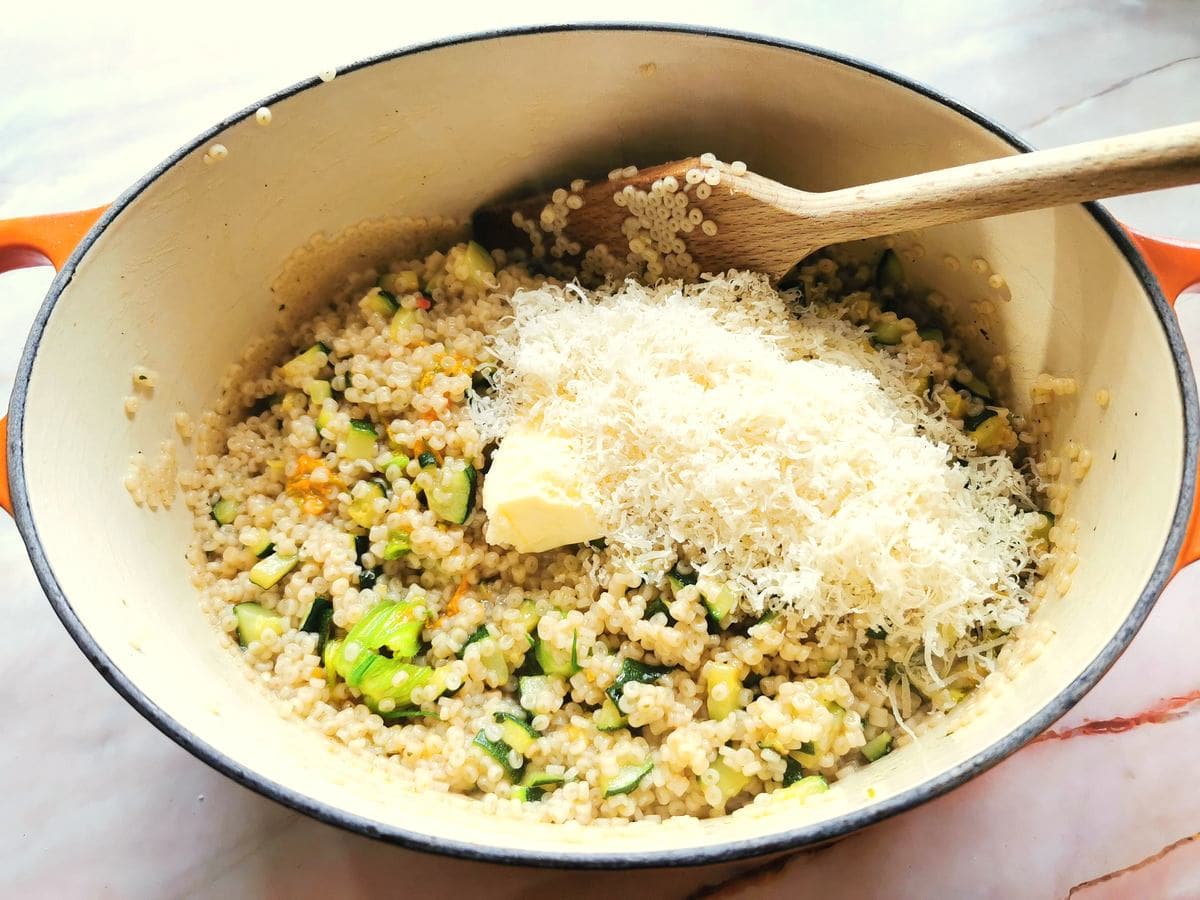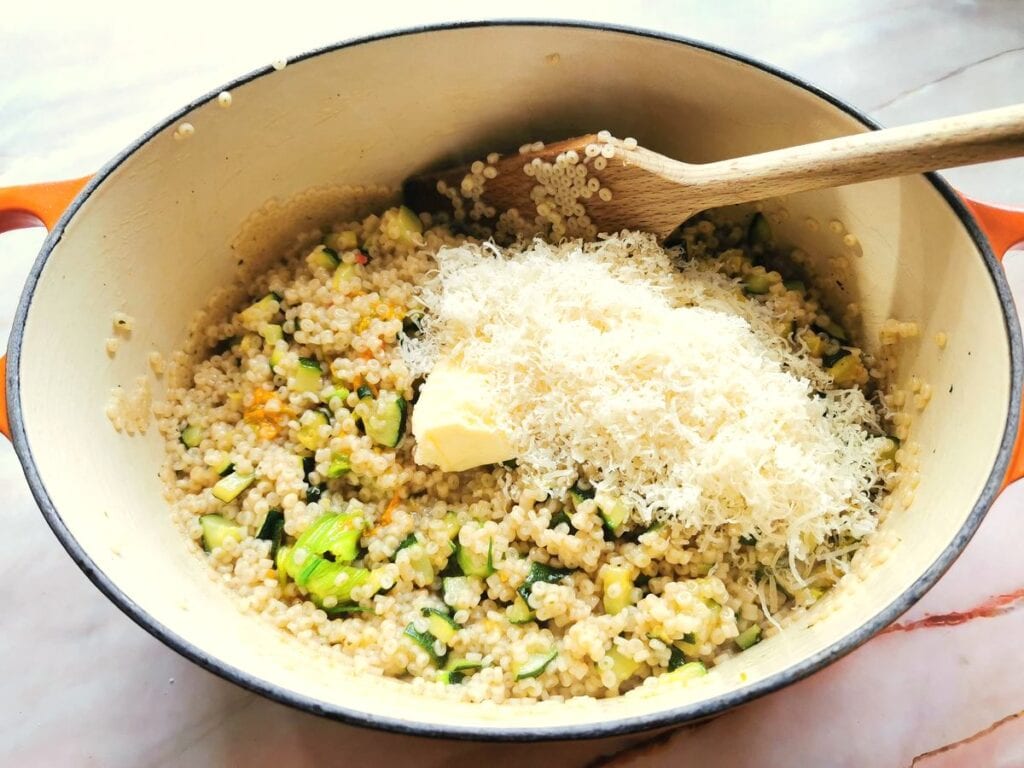 I was so impressed with this recipe, my hubby too. It is very delicate but creamy and just divine. Definitely a dish I will be making for guests as soon as we are free of covid restrictions and able to invite friends and family again! I'm sure if you try this zucchini flower pasta risotto, you'll love it as much as we do.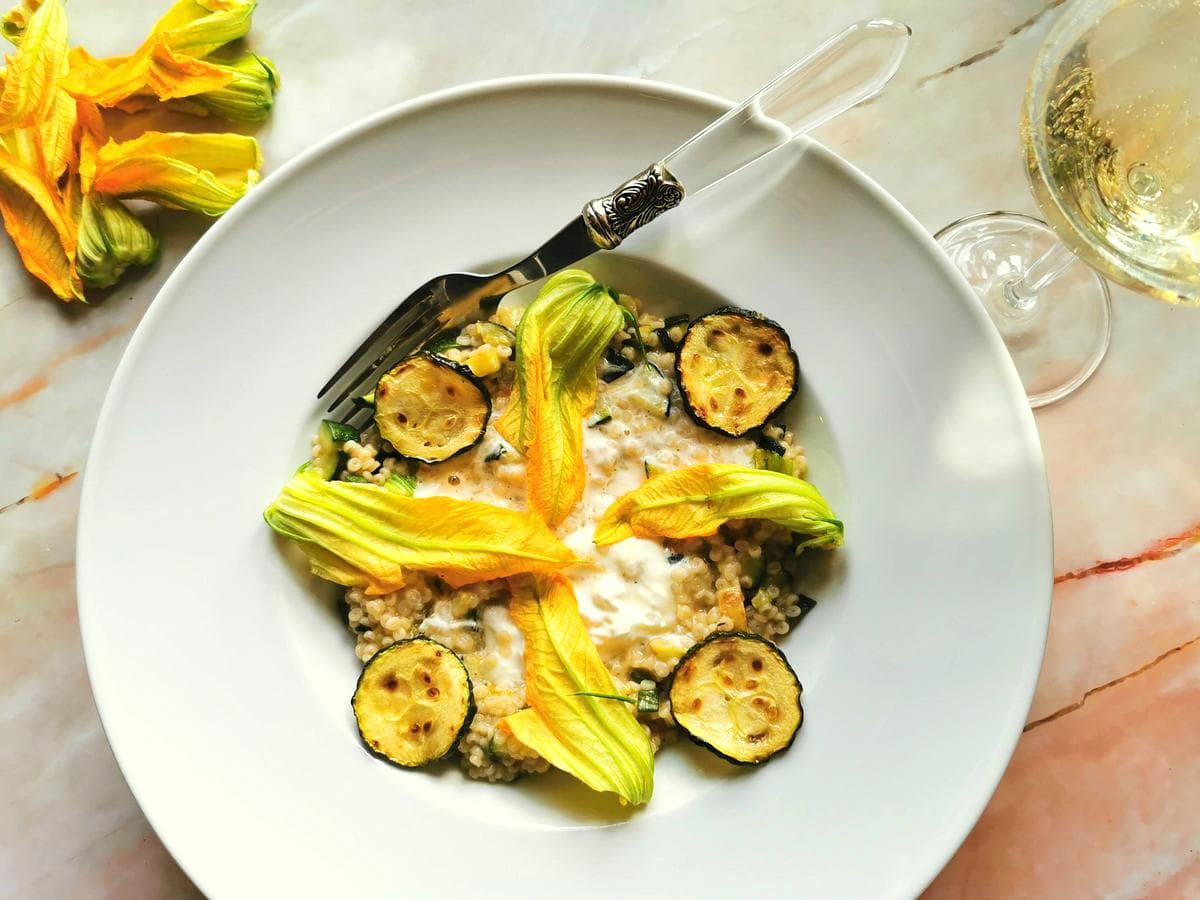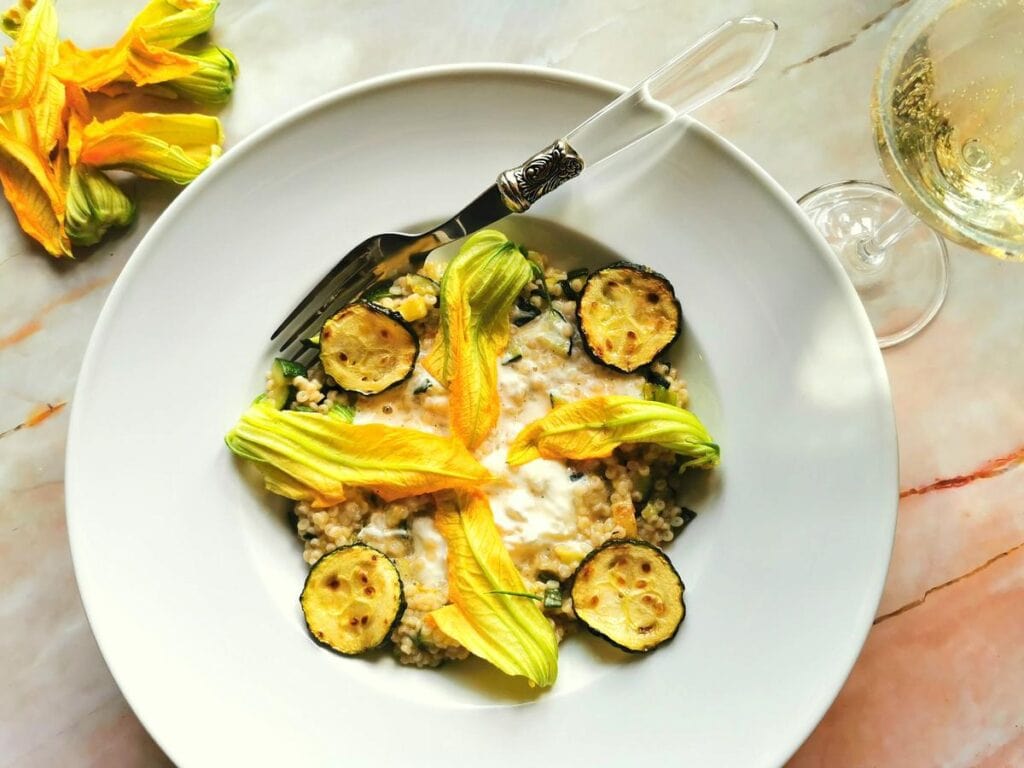 Let me know what you think.
If you do try this zucchini flower pasta risotto, I'd love to hear what you think. Please write a comment here on the blog or post a comment on the Pasta Project Facebook page.
Your feedback means a lot to me!
Buon Appetito!
Save this recipe for later?
If you want to save this recipe for later, you can print it, bookmark this page or save it to Pinterest.
Other pasta recipes to impress your guests with!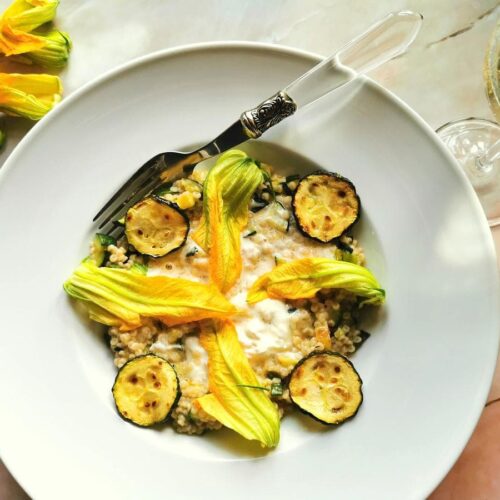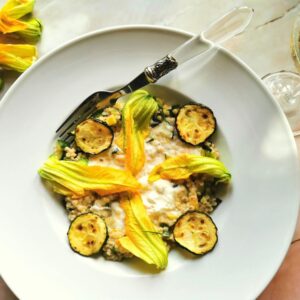 Zucchini Flower Pasta, Risotto Style
This easy to make risotto style pasta with zucchini flowers and zucchini is creamy and delicate and perfect for when you have guests.
Ingredients
300

g

corallini pasta

(10oz) or other small pasta like orzo

2-3

zucchini

8

zucchini flowers

500

ml

vegetable broth

2 cups (you may need less)

50

g

butter

(2oz) unsalted

50

g

Parmigiano Reggiano

grated (2oz) vegetarians should use cheese made without animal rennet.

200

g

fresh stracciatella

(7oz) or fresh ricotta

salt

to taste

3-4

tbsp

extra virgin olive oil.
Instructions
Prepare the ingredients
Wash the zucchini and cut into small cubes. I made some zucchini rounds for decoration. Cut the flowers in half and remove the stamens. Cream the Stracciatella using a immersion blender
Cook the zucchini
Sauté the zucchini rounds and then the cubes in a frying pan with olive oil. Place the rounds on kitchen paper to absorb some of the oil.
Cook the pasta
Put 2 tbsp of extra virgin olive oil in a deep pan and toast the corallini pasta for a few moments. Add some hot vegetable broth a little at a time and cook the pasta. You will need to keep stirring and adding more broth as necessary (same as making a risotto) until the pasta is almost cooked.

Then add the zucchini cubes to the pasta and mix together.
Finish and serve
When the pasta is ready take off the heat and mix in some zucchini flowers. Then mix in in the butter and Parmigiano. Plate and serve with a tablespoon of creamed stracciatelle on top plus some uncooked zucchini flowers and the zucchini rounds.
Notes
I used corallini for this zucchini flower pasta risotto. But, you can use other types. I think orzo (risoni) would work very well too.
If you don't have stracciatella cheese you can use other creamy cheeses such a fresh ricotta or burrata.
Leftovers can be kept in the fridge for 2-3 days. The pasta will become softer but it still tastes good. I baked my leftovers with some grated Parmigiano cheese and pieces of butter on top and it was so delicious!
Nutrition
Want to know more about my life in Italy? Why not subscribe to my newsletter? New subscribers get a free series of recipe e-books too!
Girolomoni pasta is sold in USA by Stonewall Kitchen under the brand name Montebello. (affiliate link)
Pin for later.
If you are interested in learning how to make homemade pasta and different types of gnocchi, check out my shop page for some great video online courses from my friends in Rome! Nothing beats learning to make pasta from Italians! Plus while you're there why not order a copy of my newly published autumn/winter pasta recipes cookbook?