Fregola is a traditional Sardinian pasta with a rich culinary history. Recently, this unique pasta type has started to become more popular outside of Sardinia.
In this article, we will explore the interesting world of Sardinian fregola, covering how it's made, its variations, storage, popular recipes, and its comparison to similar types of pasta.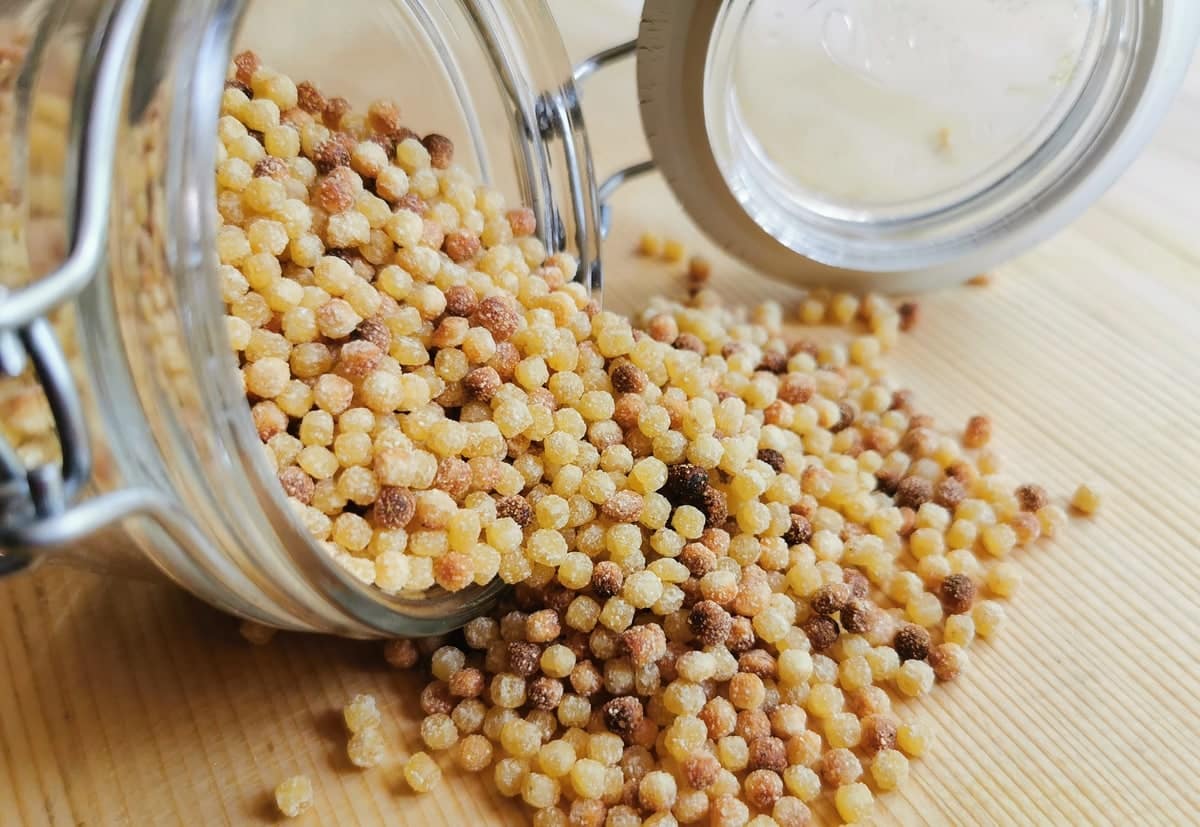 What is fregola?
Fregola is a small pasta typical of the Italian island of Sardinia and is sometimes referred to as Sardinian fregola or Italian couscous. It is made of balls of durum wheat semolina and water, rolled by hand and toasted in the oven giving it a distinct nutty flavor and golden color.
What does 'fregola' mean?
Many Italians and pasta makers call this Sardinian pasta 'fregola'. But, apparently the proper name is fregula. This is a word that derives from the Latin 'ferculum' but came into the venacular as 'fregolo'. In modern Italian, this would be briciolo or minuzzolo meaning 'crumb'. I guess to indicate the tiny size of the pasta.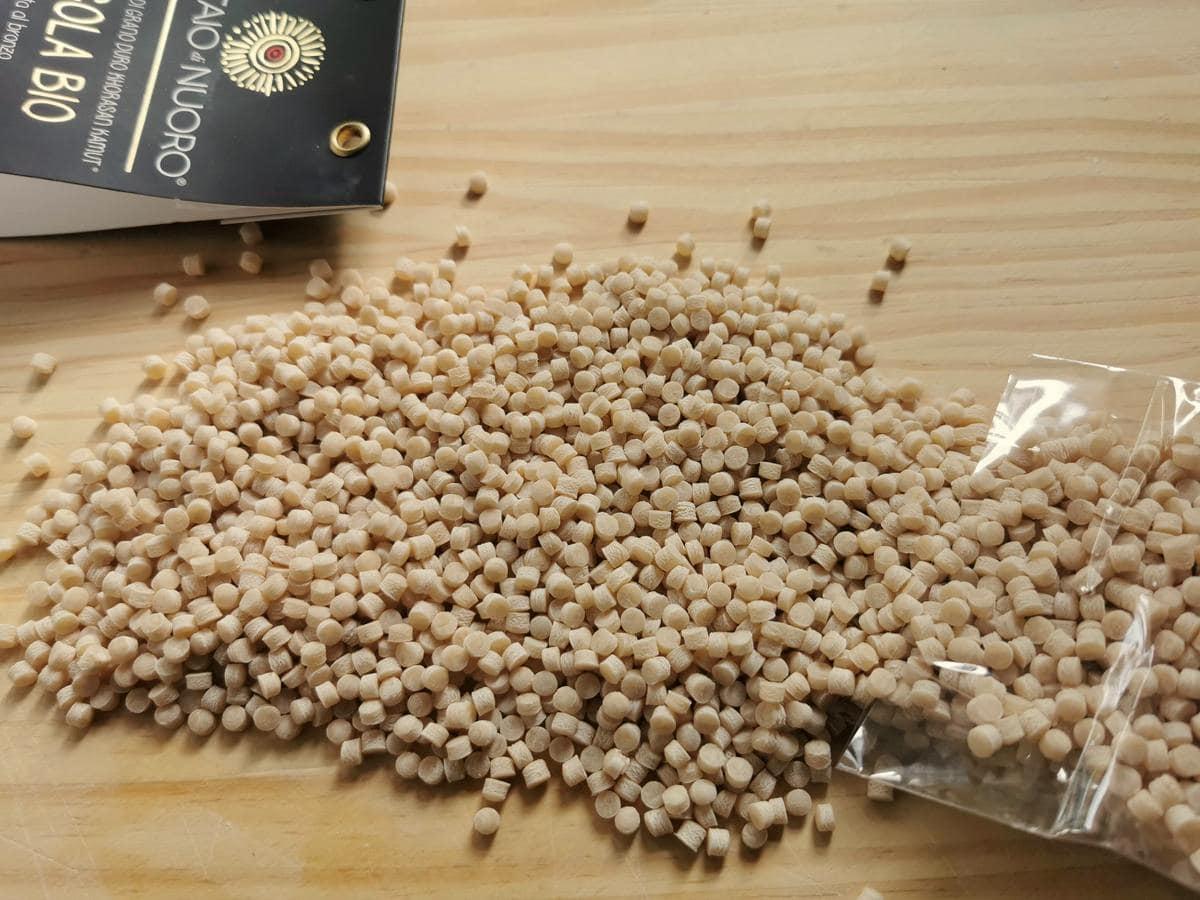 A little fregola history!
Sardinian fregola has a very ancient history. According to some sources, this type of pasta existed in the 10th century! Some food historians believe that it derives from couscous and either the Phoenicians, the Punics or the Carthaginians brought it to Sardinia. However, many Sardinians are quick to refute that, saying there's no evidence to prove that fregola isn't a Sardinian invention!
Although Sardinian fregola dates back to the 10th century, the first historical document to mention it is a 14th century statute of the millers of Tempio Pausania, a town in Northern Sardinia.
Millers were the first people to make pasta commercially. The statute regulated the preparation of pasta, which was only permitted from Monday to Friday. Apparently, this was so that farmers could use the supplies of fresh water on the fields on Saturdays and Sundays!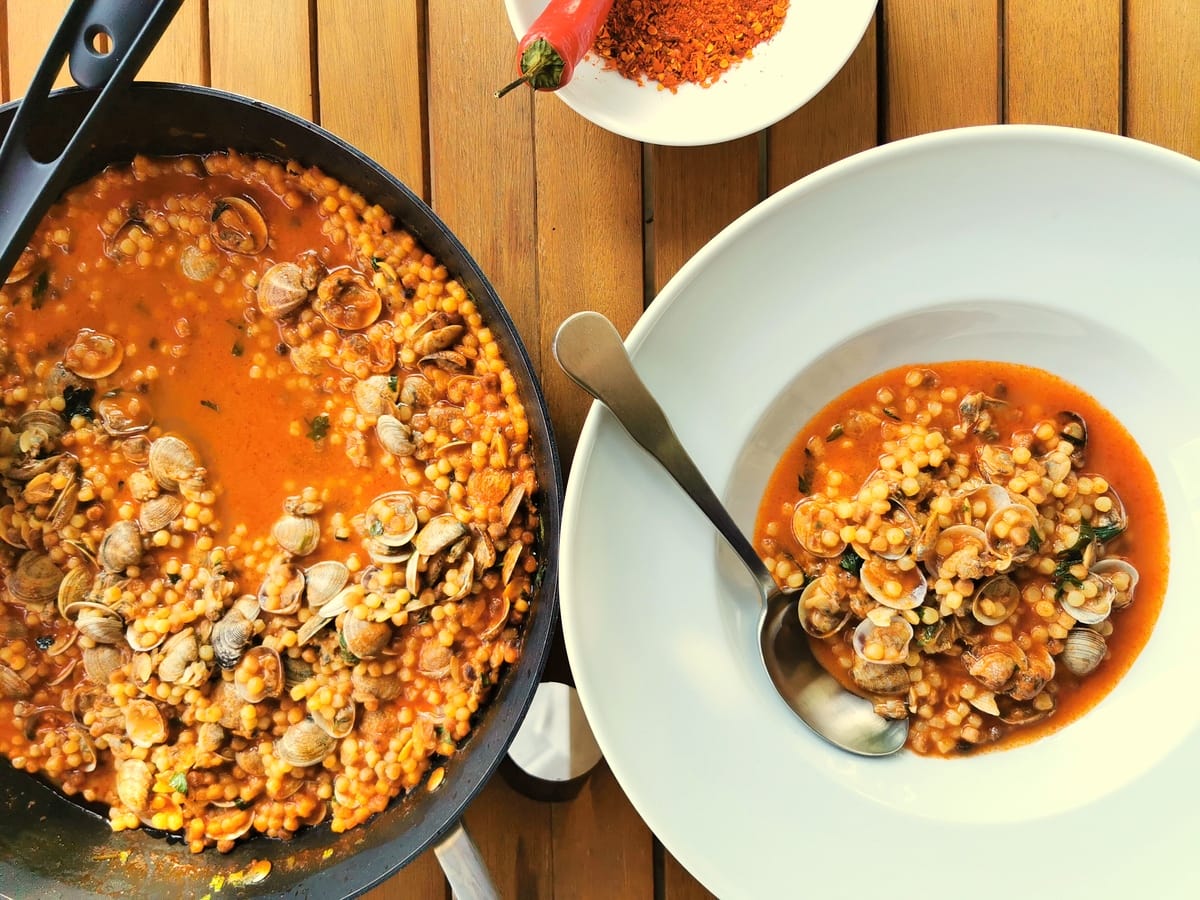 How is Sardinian fregola made?
The technique for making fregola is the same as for North African couscous. In fact, like couscous, this very old, still popular pasta was (and is) made in a terracotta or wooden bowl.
In Sardinia, they call it a 'scivedda'. Making Sardinian fregola requires some skill. There is an old Sardinian proverb that goes 'Koiaimì ca sciufai frégula' meaning 'give me a husband, because I know how to make fregula'! Interestingly, in the past, it was an important dowry requirement for women!
The ingredients to prepare fregola are coarsely ground durum wheat semolina, warm water and salt. The semolina flour goes into the terracotta bowl and then they add slightly salted warm water a little at a time, while constantly rolling the semolina to form small balls.
Once the raw fregola is ready, it is left to dry on a cloth before they toast it in the oven for fifteen minutes. This process is what give this pasta its golden color and nutty taste.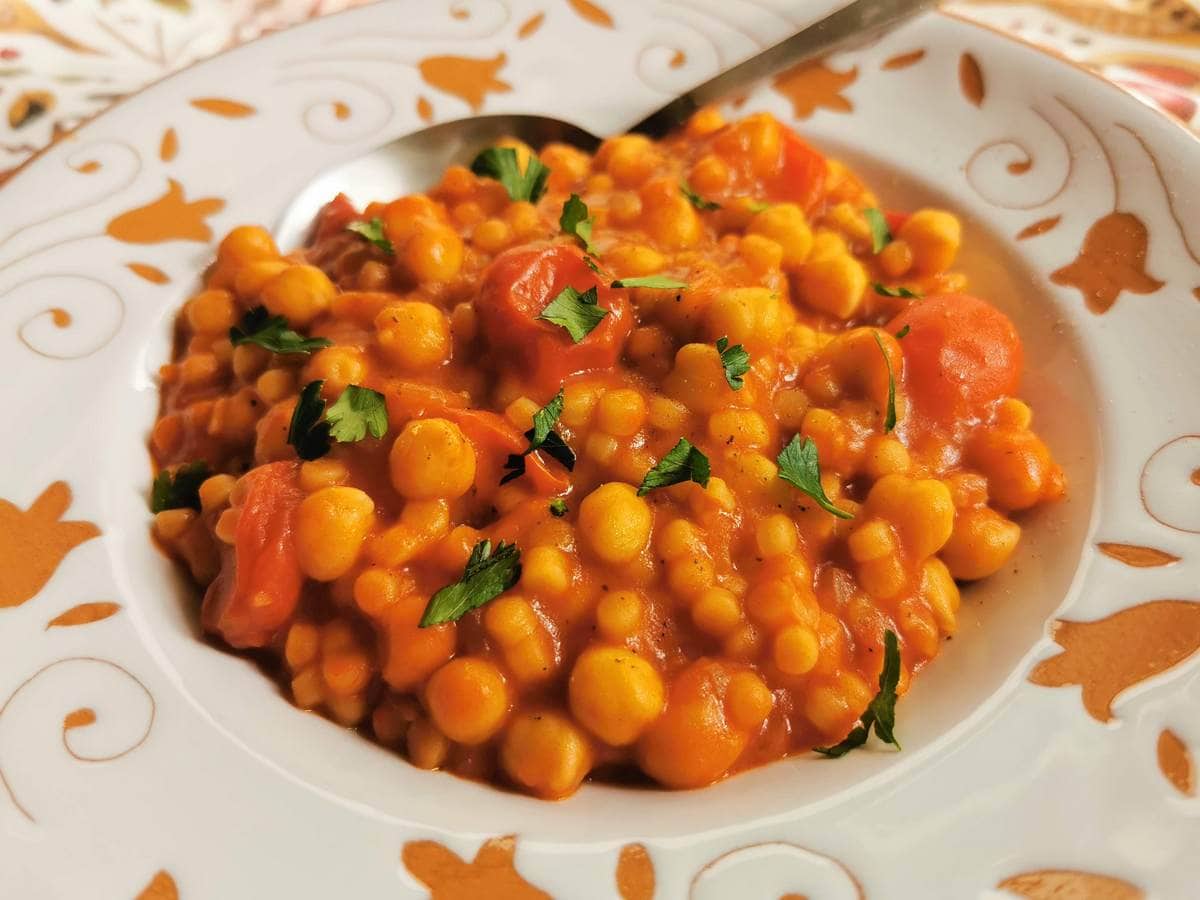 How should to store fregola?
Proper storage is important for maintaining the freshness and quality of both homemade and store-bought dry fregola.
Store-Bought Dried Fregola
To store store-bought dried fregola, place it in a dry airtight container or keep it sealed in its original packaging. Store the container in a cool, dry place like a pantry or cupboard, away from direct sunlight.
Dried fregola can last up to 1-2 years when stored correctly, but always check the expiration date on the package to be sure.
Homemade Fregola
When storing homemade fregola, let the freshly made pasta dry completely at room temperature before storage. Once fully dried, transfer the fregola to a dry airtight container and store it in a cool, dry place such as a pantry or cupboard.
Because homemade fregola contains no eggs it can keep for several weeks, although its quality might diminish over time.
Cooked Fregola
For cooked fregola, whether homemade or store-bought, it should be stored in an airtight container in the refrigerator and consumed within 3-5 days.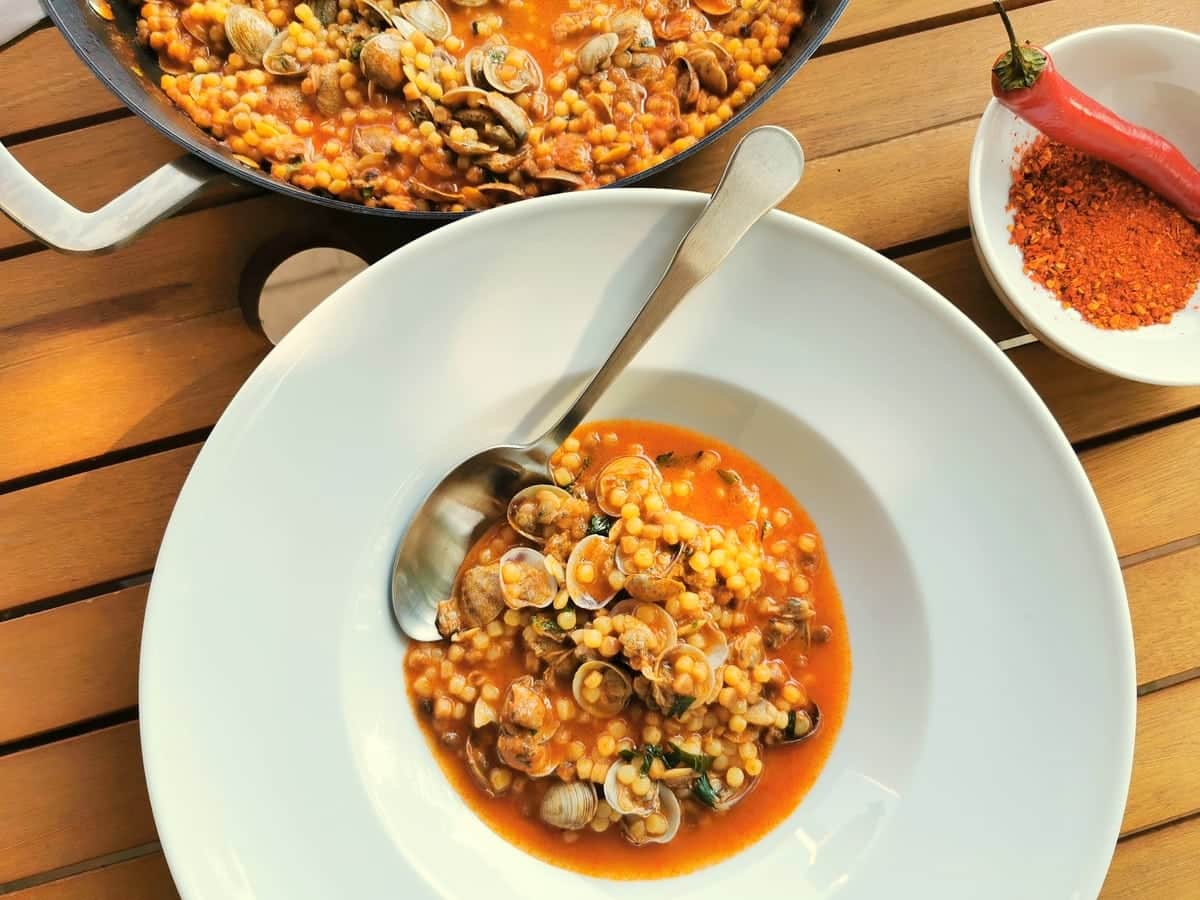 Common fregola recipes
I have been wanting to make my own fregola for a long while but haven't got down to it yet!! However, I recently bought some ready-made toasted Sardinian fregola. I used it in one of the most traditional Sardinian seafood pasta recipes, fregola with small clams, or as the Sardinians say 'fregula con le arselle'. This dish was so amazing! I hope you'll check out the recipe!
In general, Sardinians eat fregola in seafood or vegetarian broth dishes or they cook it like risotto. Some people add saffron to the pasta dough. Some typical recipes are fregola with chickpeas, with mussels, with mixed seafood and with bottarga (mullet or tuna roe). However, there are a few traditional fregola meat recipes such as fregola with lamb or saffron and sausage!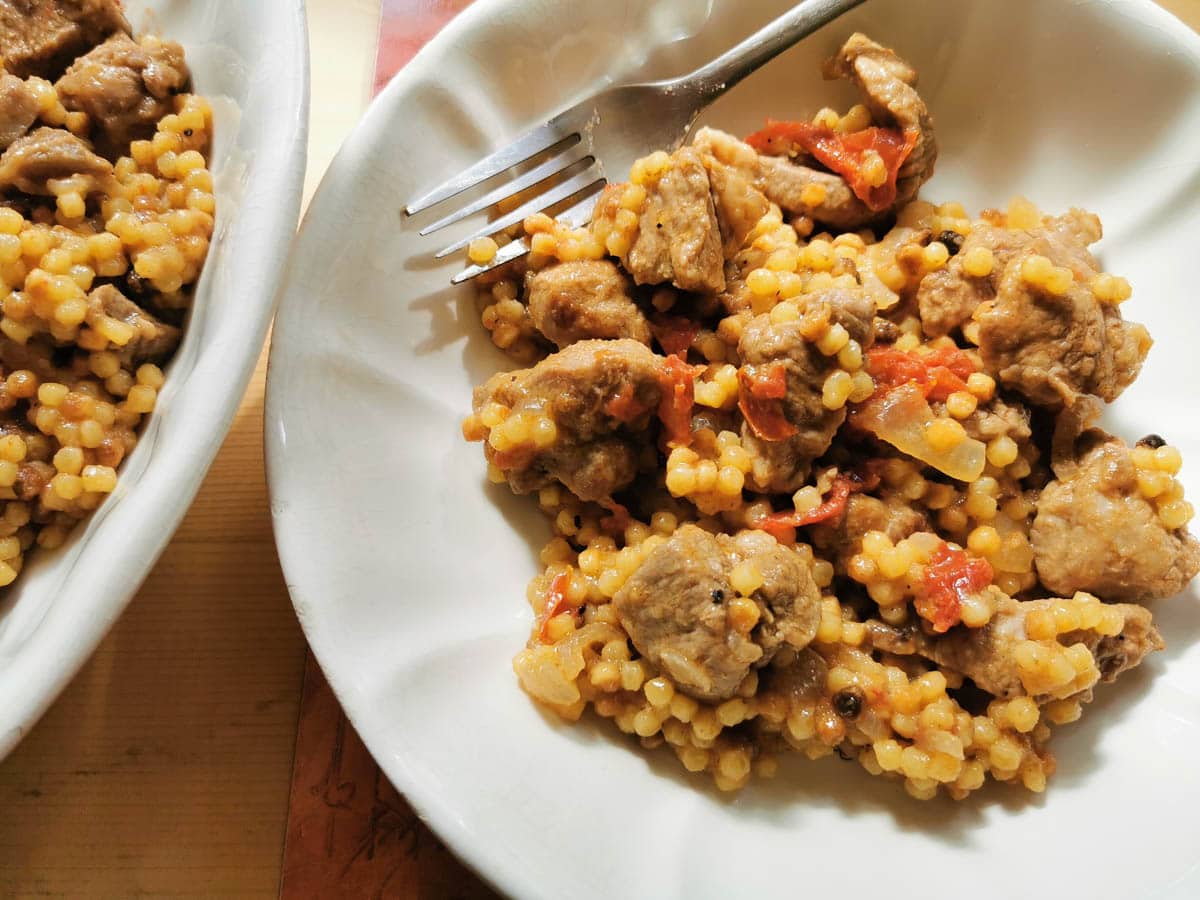 Where to buy fregola?
Although not as widely available as other typical Italian pastas, Sardinian fregola is for sale online or at some Italian specialty shops.
US readers can buy it online from Supermarket Italy, a well-known online gourmet Italian food store that I worked with recently.
Of course, an alternative to buying fregola is to make it!! Definitely on my to do list! In the meantime, you can watch how they make fregola in Sardinia in this video from Pasta Grannies.
FAQs
What's the difference between fregola and couscous?
Given the size and shape of Sardinian fregola, it's not surprising that some people refer to this pasta as Italian couscous or Sardinian couscous. However, traditional North African couscous is smaller than fregola and made from crushed durum wheat semolina.

Like other types of Italian pasta, fregola is made from milled durum wheat semolina. Also, couscous is usually steamed before eating. Fregola, on the other hand, is toasted when still raw and then boiled in salted water or cooked in broth or sauce.
What is the texture of fregola like?
Fregola has a unique, slightly chewy texture due to its small, round shape and the toasting process it undergoes. The chewy texture allows it to hold well against over ingredients, making it an excellent choice for pasta salads and sauced dishes.
Are there any variations of fregola, like different sizes or flavors?
Fregola typically comes in two sizes: small (fregola piccola) and large (fregola grossa). The small size is more common and used in a variety of dishes, while the larger size is usually reserved for soups or stews where it can absorb more liquid. Both sizes offer the same toasted, nutty flavor characteristic of fregola.
More Sardinian Pastas
Pin for Later: