A unique lake fish carbonara from Lake Garda.
This divinely delicious spaghetti with smoked trout carbonara is based on a lake fish carbonara recipe from a Michelin star restaurant on Lake Garda, Veneto. It is so much easier to make than it looks and I have to say my hubby and guests were seriously impressed!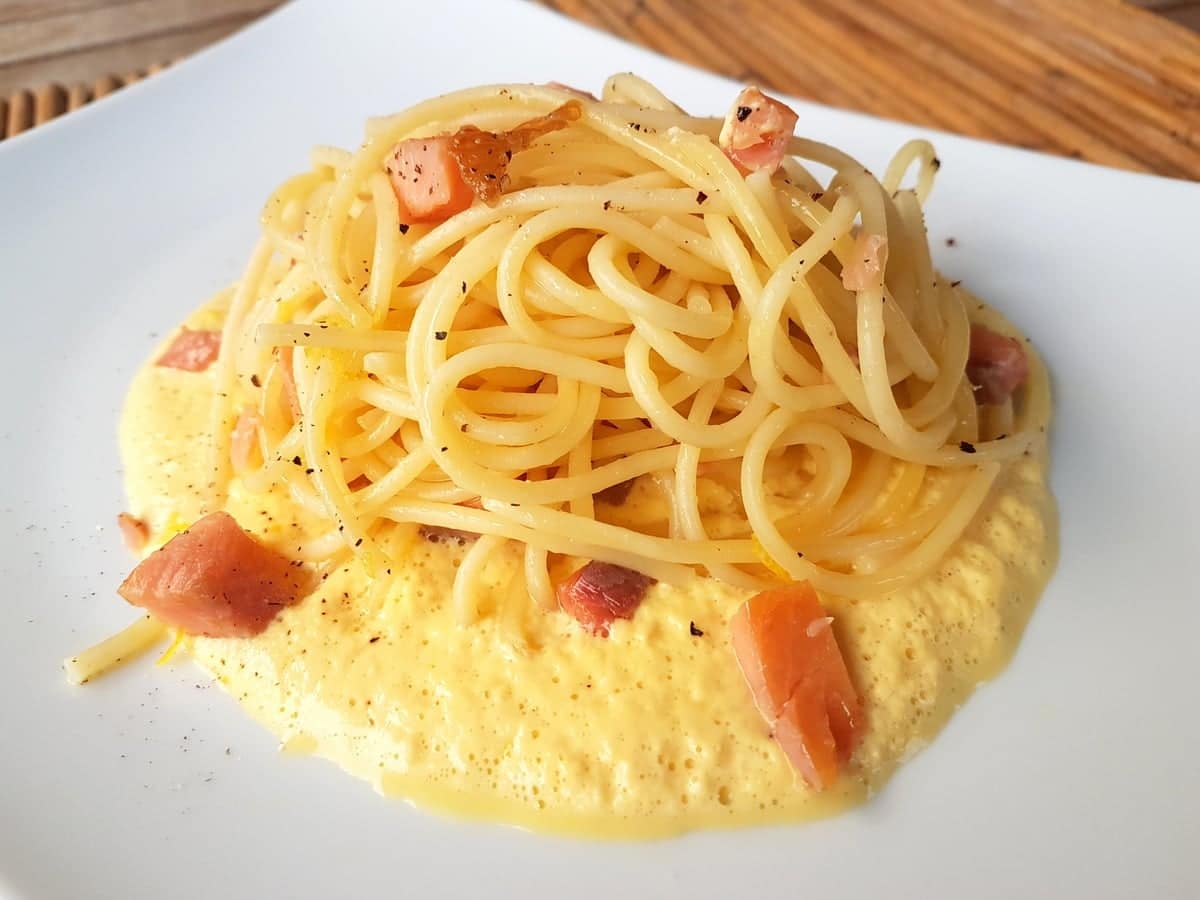 Eating fresh water fish at the Italian lakes.
I used to spend summers at Lake Como. During these trips, we often ate at one particular typical trattoria close to the water. Although I can't remember the name of the restaurant, I do remember how much I liked their spaghetti with smoked trout. Italians who live on or near any of the many beautiful Italian lakes or mountain rivers eat quite a lot of fresh water fish; trout, perch and lavaret being about the most popular.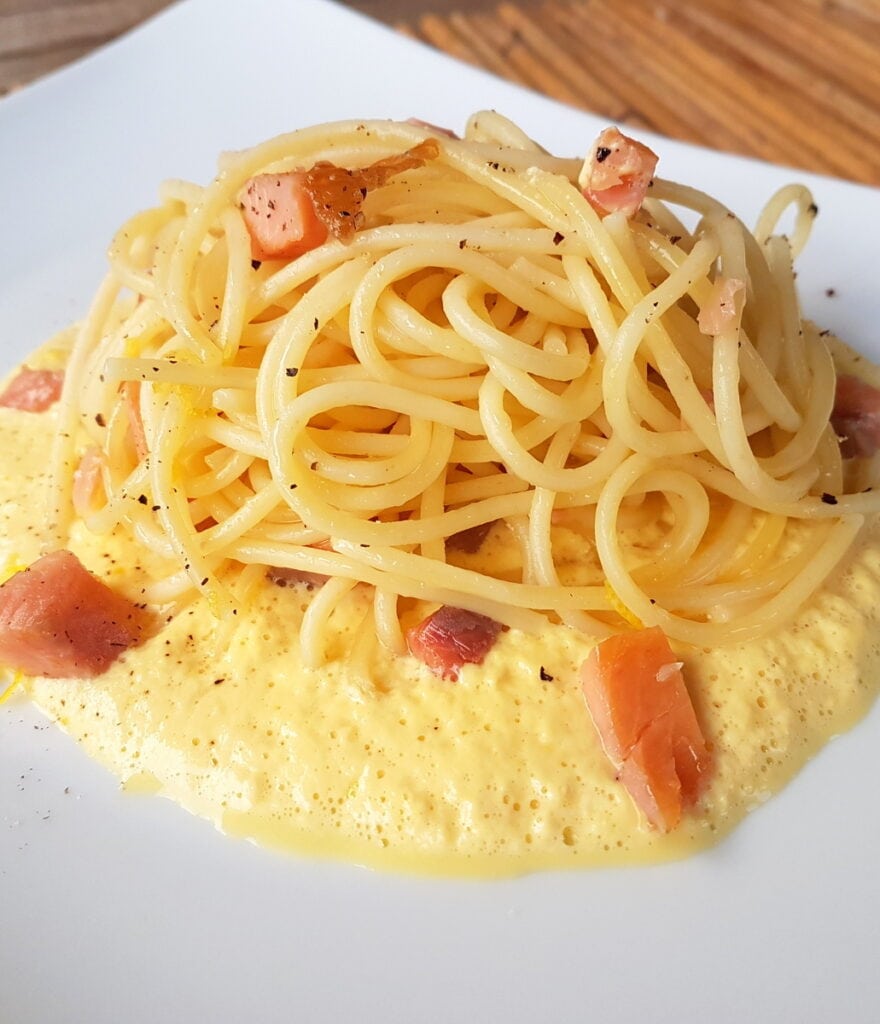 Fresh water fish can be found on most restaurant menus around the lakes and are prepared and eaten as antipasti, primi (pasta and risotto dishes) and main courses. Away from the lakes, it's not easy to find a restaurant menu with fresh water fish or a shop that sells it, except for smoked fish, most usually trout.
There are many delicious recipes for pasta with lake fish, often made with more than one type of fish; for example ragù di pesce di lago (lake fish ragu) which is made with fresh trout, perch and lavaret. Unfortunately, my hubby isn't so keen on lake fish. Being a Sicilian, he prefers his fish to come from the sea!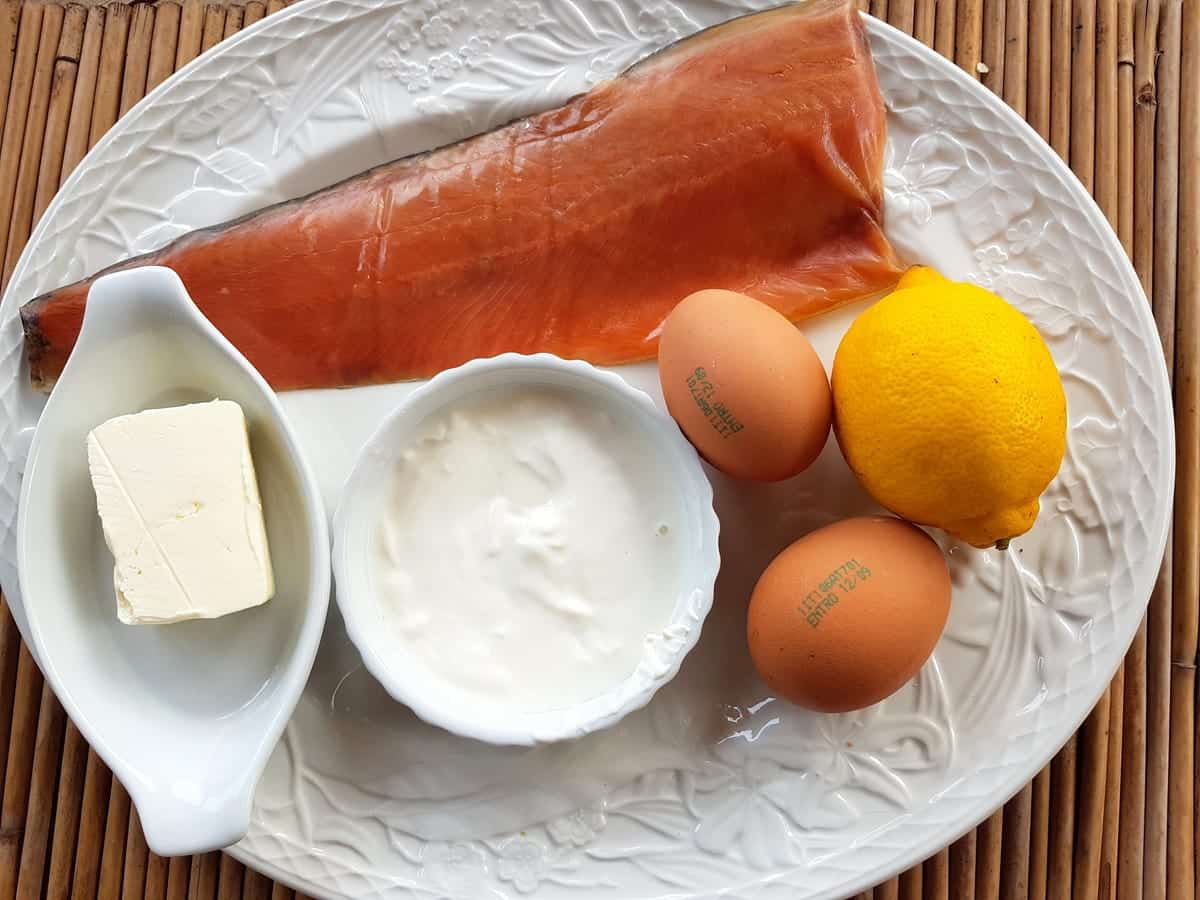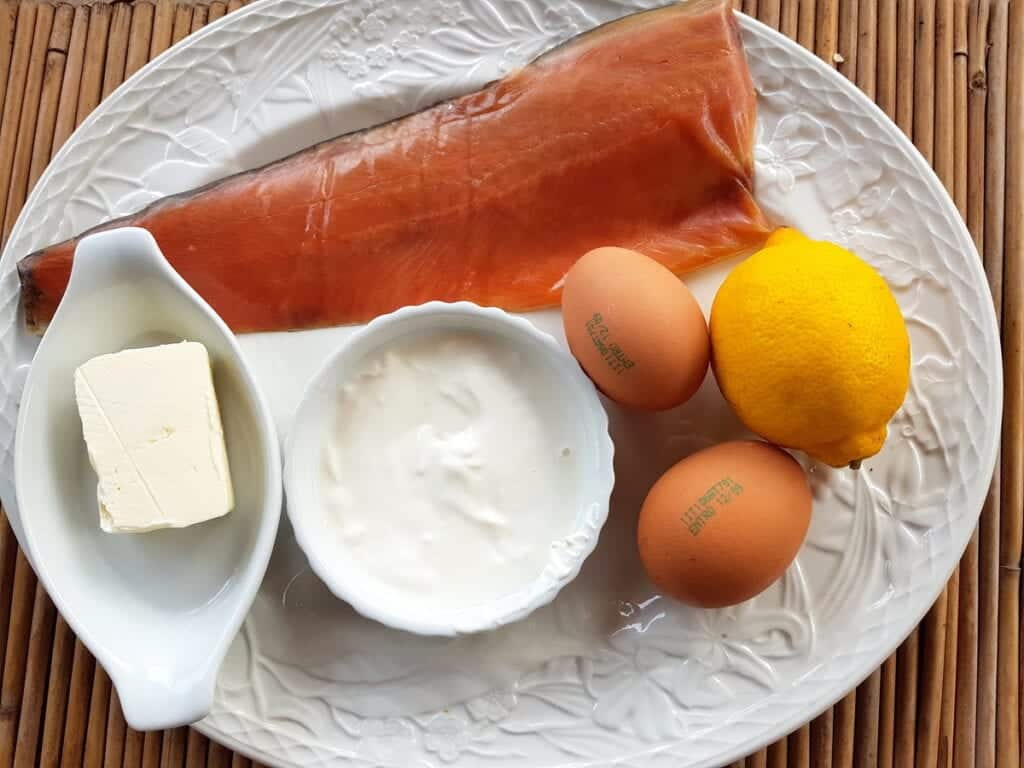 Consequently, we don't eat lake fish often. Having said that, he loved this recipe for spaghetti with smoked trout carbonara, so I think I can get away with serving lake fish or at least smoked trout more often!
Cold smoked trout.
The smoked trout I bought for this recipe came from Trentino and was cold smoked. This means that it has to be cooked before eating as opposed to hot smoked fish which can be eaten raw, Apparently, cold smoked salmon is an exception to this rule and can be eaten raw. But I don't know why.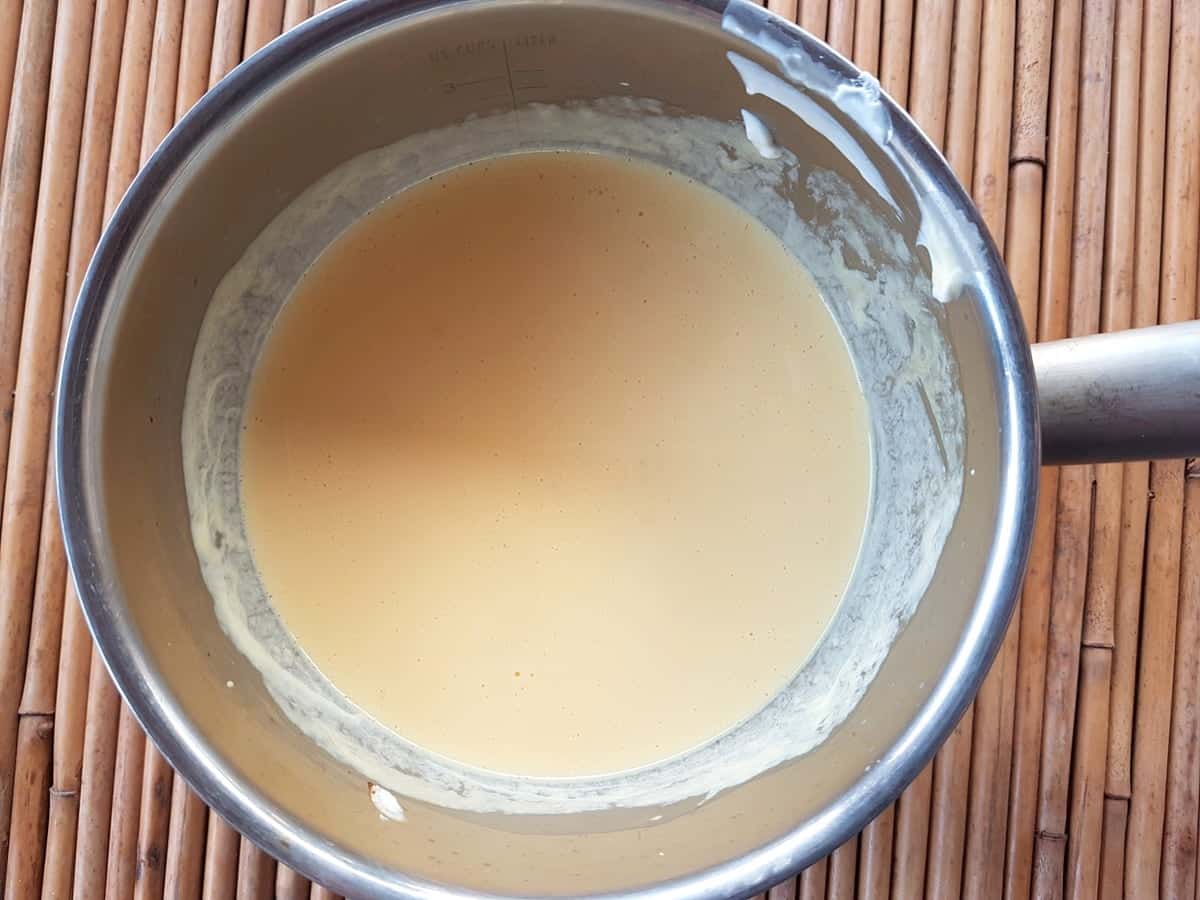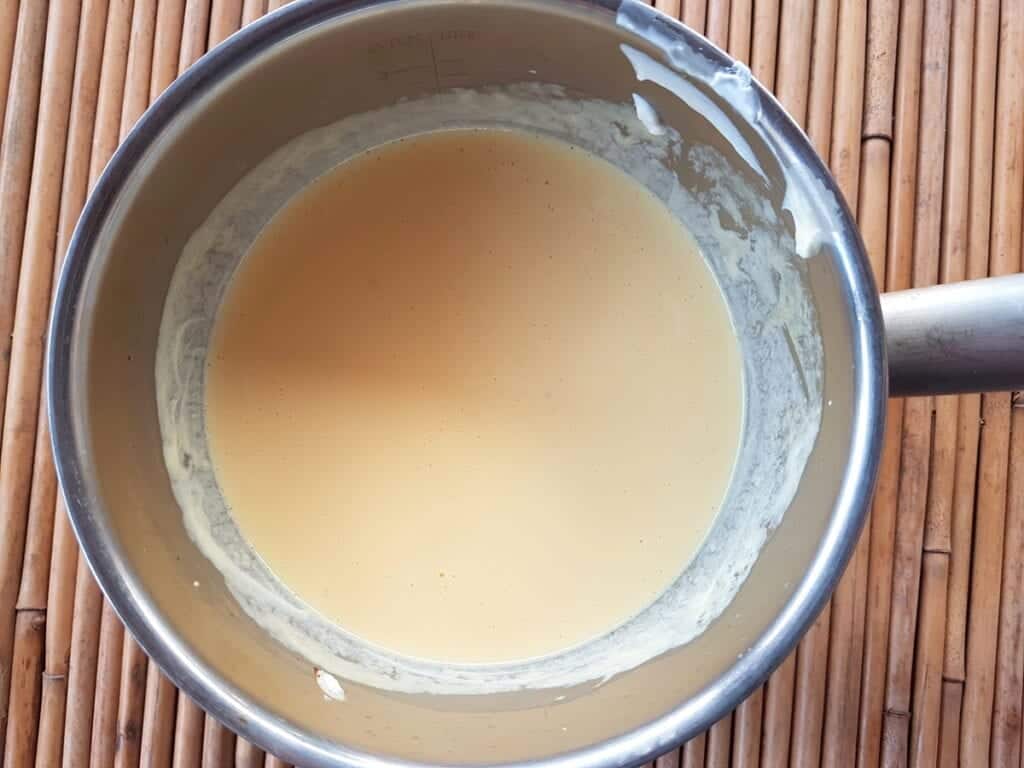 The origins of this smoked trout carbonara.
This smoked trout carbonara recipe was inspired by two things. My memory of the spaghetti with smoked trout I used to eat at Lake Como and my desire to try out another fish carbonara after the success of the tuna carbonara I first posted some time ago.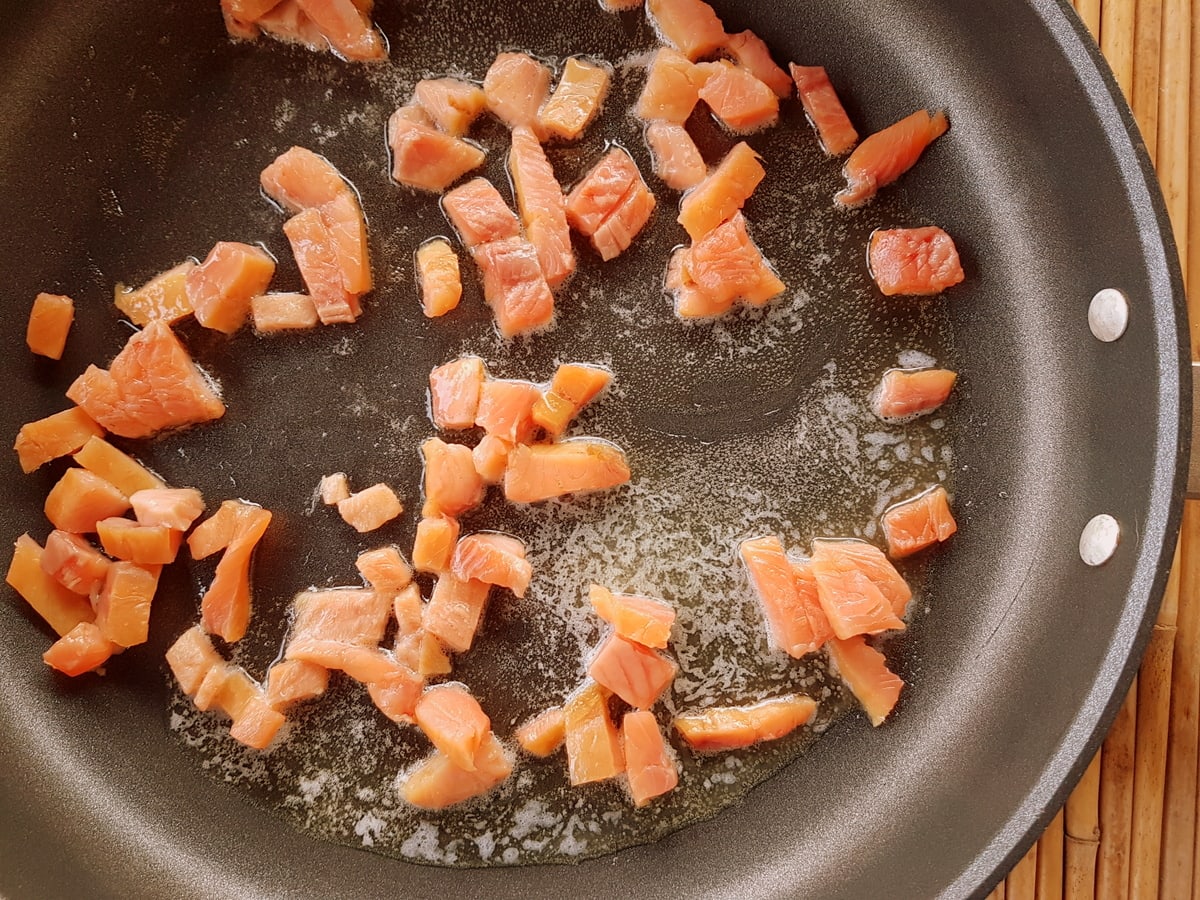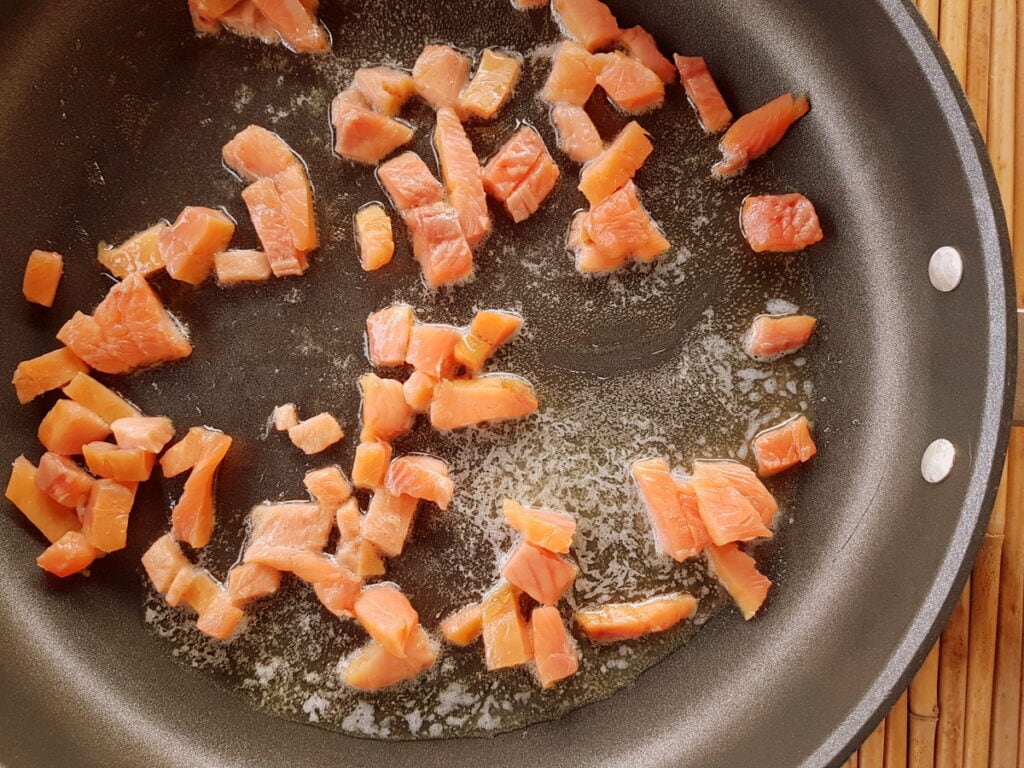 I found this spaghetti with smoked trout carbonara on an Italian food blog site. However, the original recipe comes from Leandro Luppi, chef and owner of the Michelin star restaurant 'Vecchia Malcesine' in Malcesine, Lake Garda. This is a slightly simplified version of the original. But, I have to say it was not only divine but much easier to make than I thought it would be.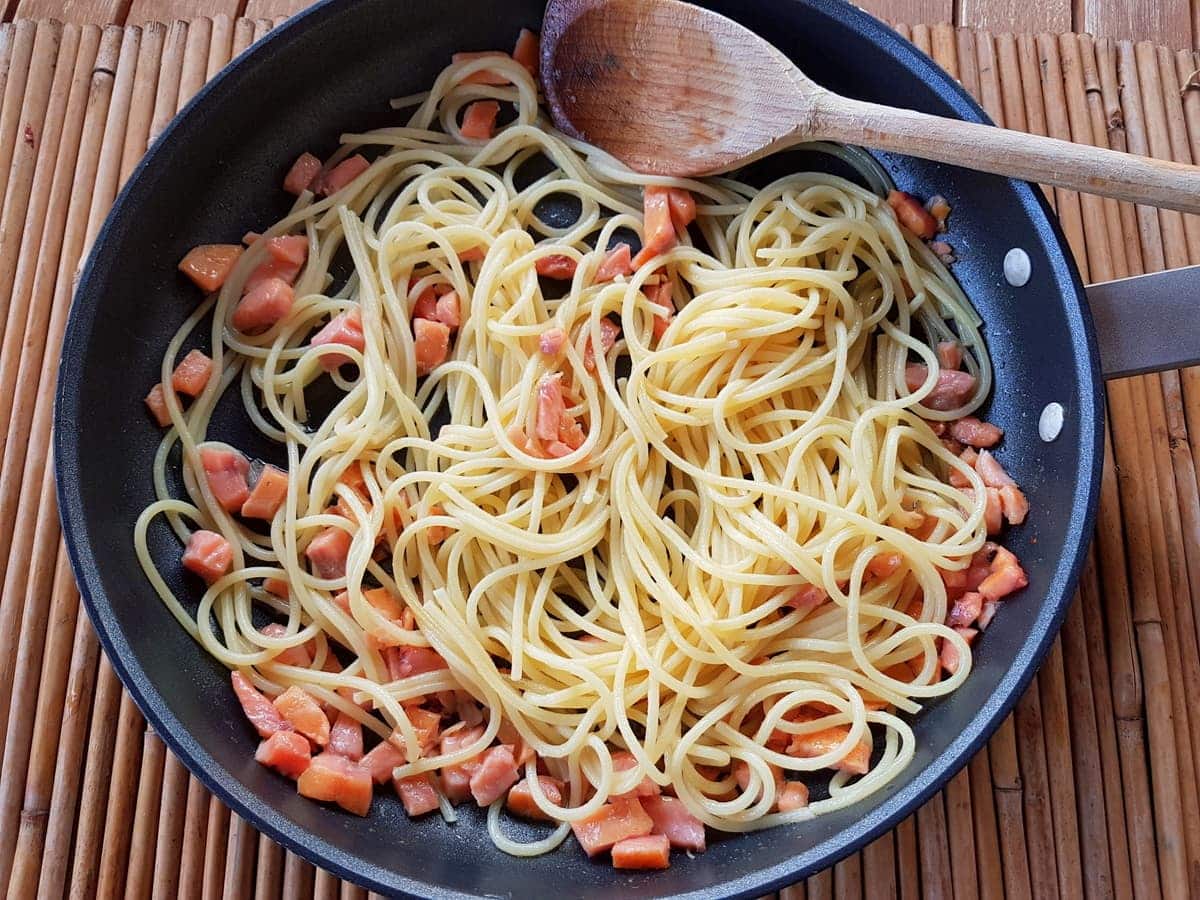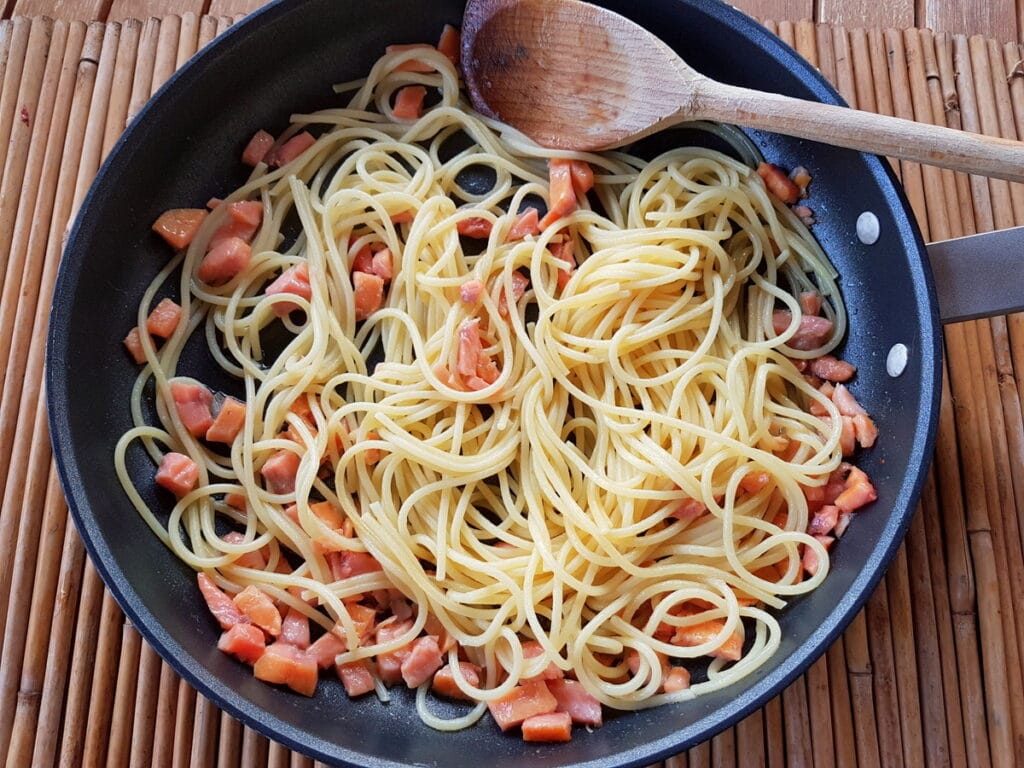 I made this recipe with smoked trout, the original uses fresh trout or tench. I think fresh salmon would work too. I'm not sure about smoked salmon but you could give it a try. Whichever fish you use, I just know you are going to love this and your guests will be as impressed as my hubby was!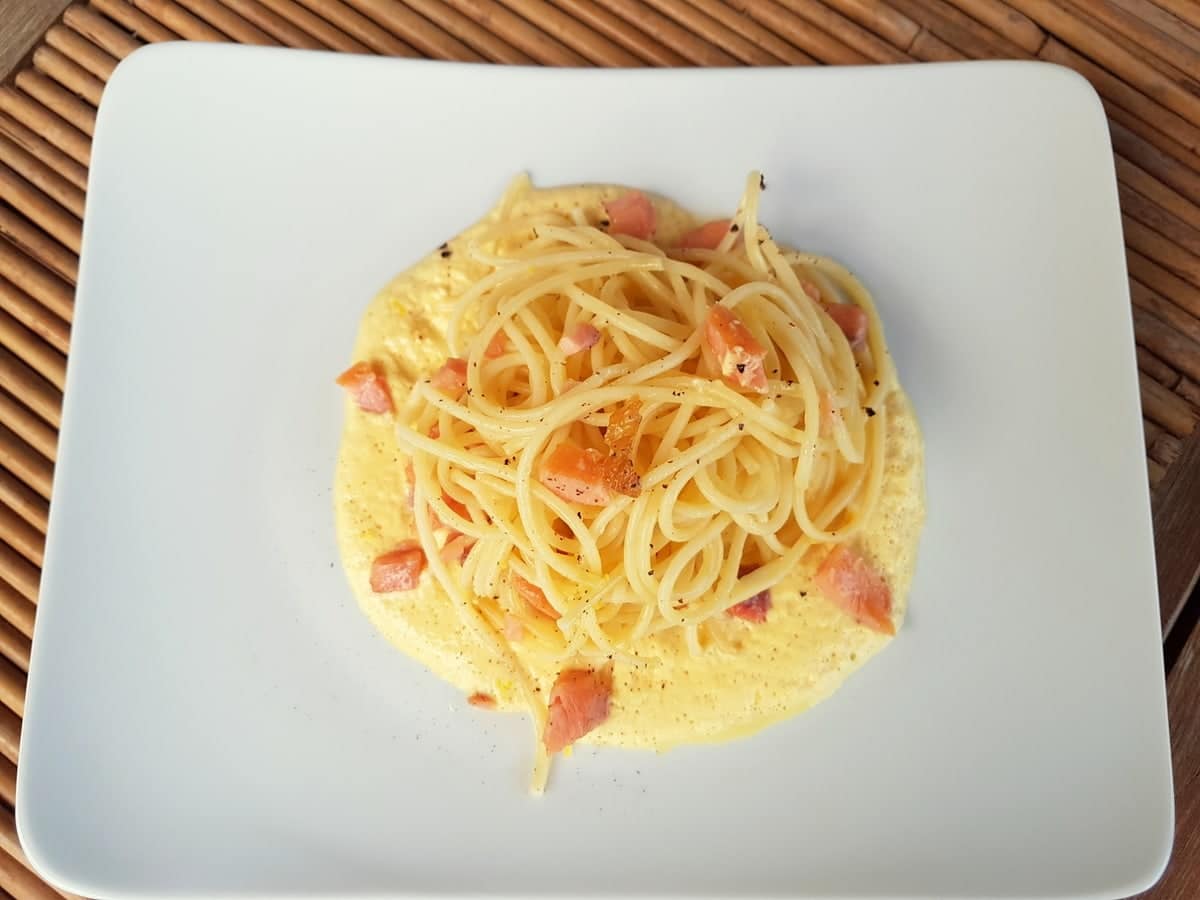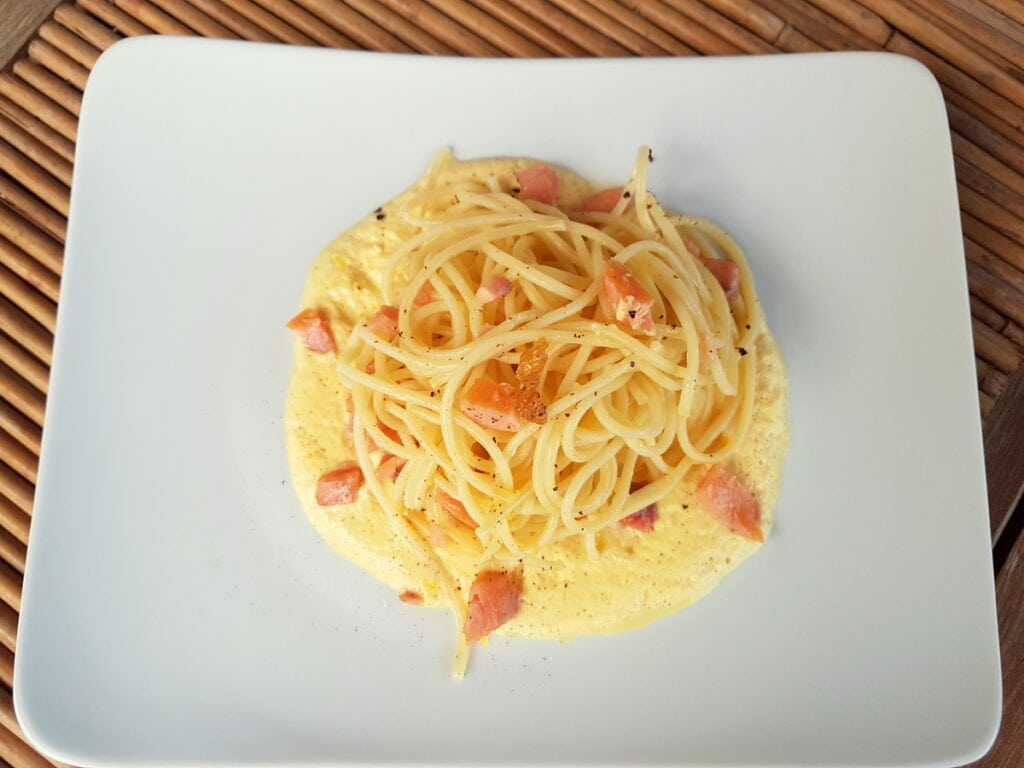 If you make this recipe I'd love to hear how it turns out and if you liked it. Please leave a comment here on the blog or on The Pasta Project Facebook page. Looking forward to hearing from you.
Buon Appetito
Other carbonara recipes on The Pasta Project.
2. Traditional Roman carbonara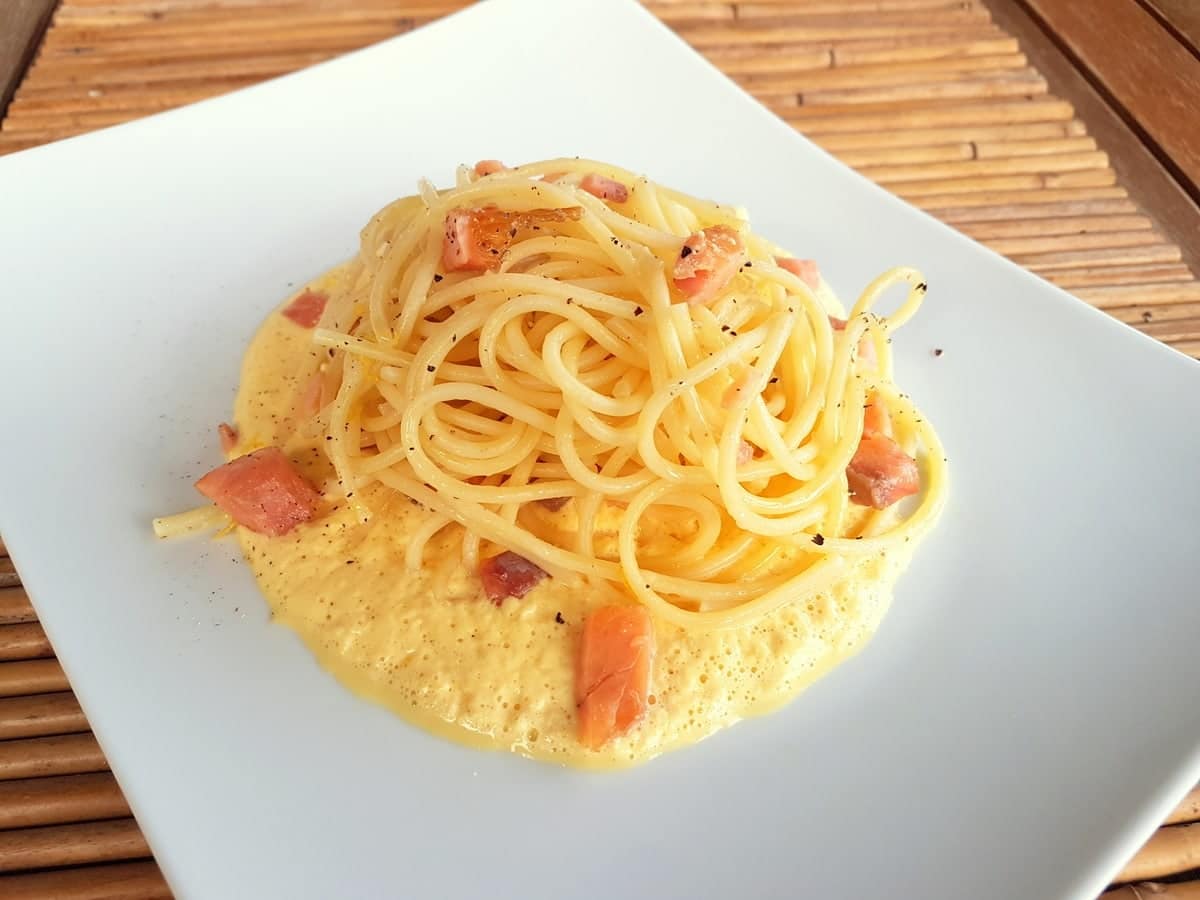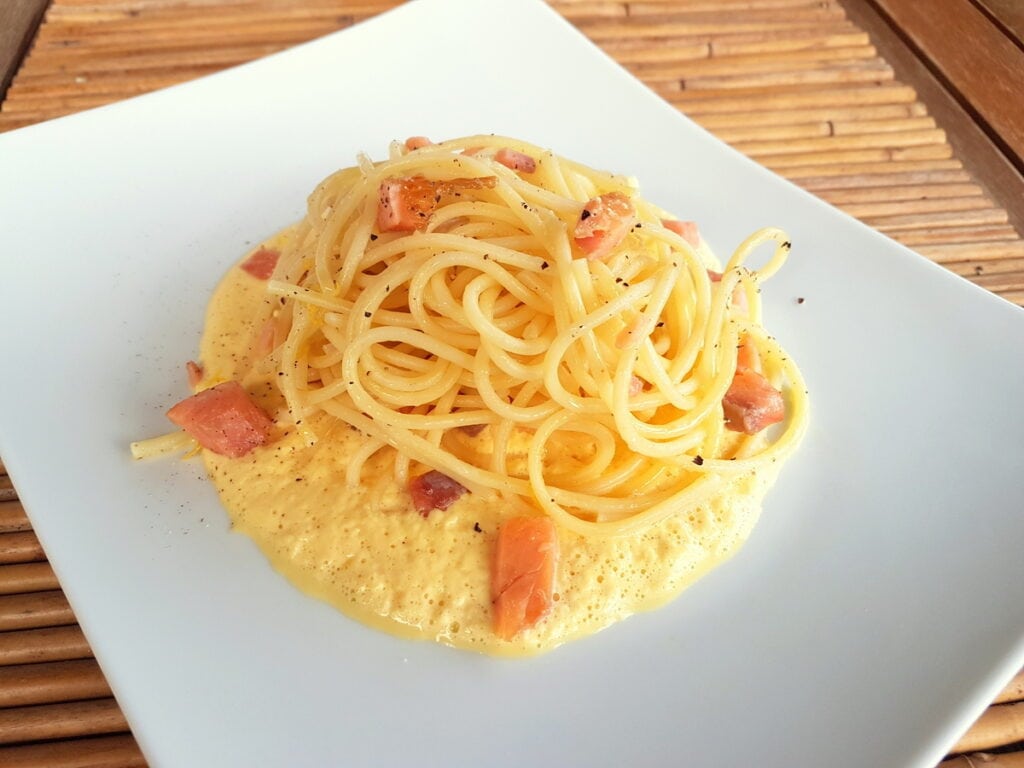 This recipe post was originally published in September 2017 but I have updated and republished it.
Save this recipe for later?
If you want to save this smoked trout carbonara recipe for later, you can print it, bookmark this page or save it to Pinterest.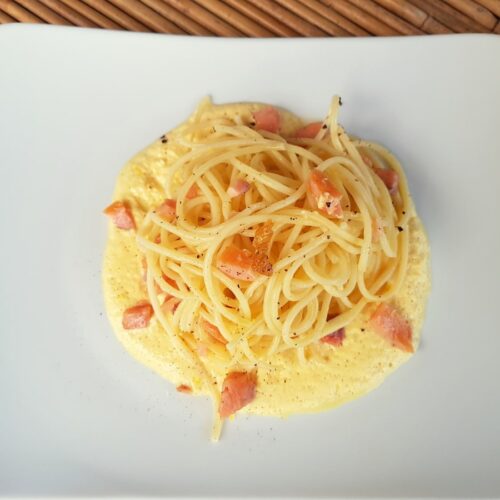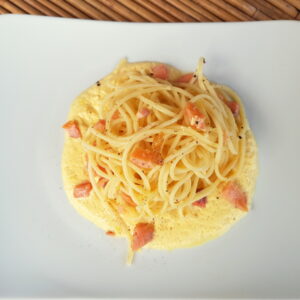 Spaghetti with smoked trout carbonara
This divine lake fish carbonara is actually quick and easy to make and a fabulous dish to serve when you have guests! Perfect for special occasions like Valentine's Day, birthdays and anniversaries.
Ingredients
320

g

spaghetti (11oz)

I used De Cecco

150

g

smoked trout (5oz)

(if possible cold-smoked)

2

eggs

beaten

150

g

fresh or cooking cream (5oz)

1

lemon

for zest

50

g

butter (2oz)

salt

for pasta and to taste

freshly ground black pepper

to taste
Instructions
Put a pot of water on to boil for the pasta. Add salt once it starts to boil.

In a saucepan, reduce the cream slowly over a low heat to 50%, add the beaten eggs and cook them like you are making creamy scrambled eggs stirring all the time until the sauce starts to thicken. Emulsify with a hand blender.

Remove the skin from the trout and cut it into small pieces and fry in butter until it starts to change colour.

Cook the pasta al dente according to the instructions on the packet. Drain it and add it to the pan with the butter and trout. Mix together well with a sprinkling of grated lemon zest.

Pour a little egg cream onto the bottom of each plate and pile the spaghetti and trout on top. Grate some lemon zest over each plate and a little black pepper. Serve immediately.
Notes
I made this recipe with smoked trout. The original uses fresh trout or tench. I think fresh salmon would work too. I'm not sure about smoked salmon but you could give it a try.