An authentic seafood pasta recipe from Sardinia.
Sardinian lorighittas pasta with prawns and scampi is a restaurant worthy Mediterranean seafood pasta recipe. It is rather special because the only part of Italy where you can have it made for you is Sardinia! This is because lorighittas is a unique handmade Sardinian pasta. Of course, you can make this wonderful dish yourself using homemade or dried lorighittas or even a different type of pasta.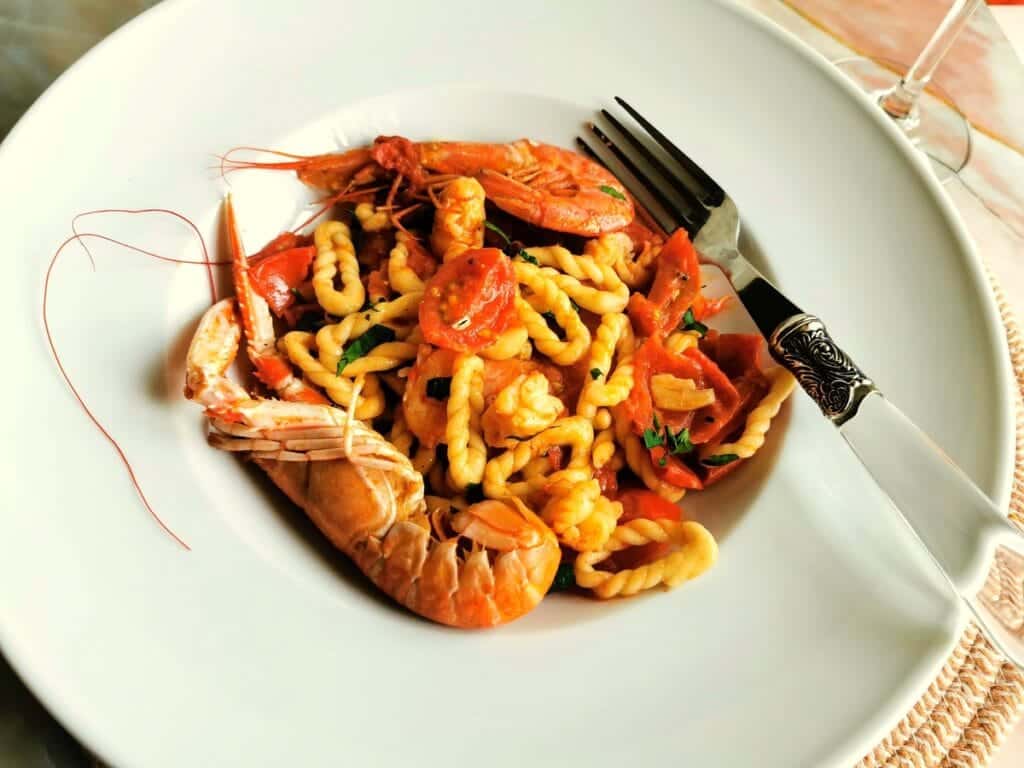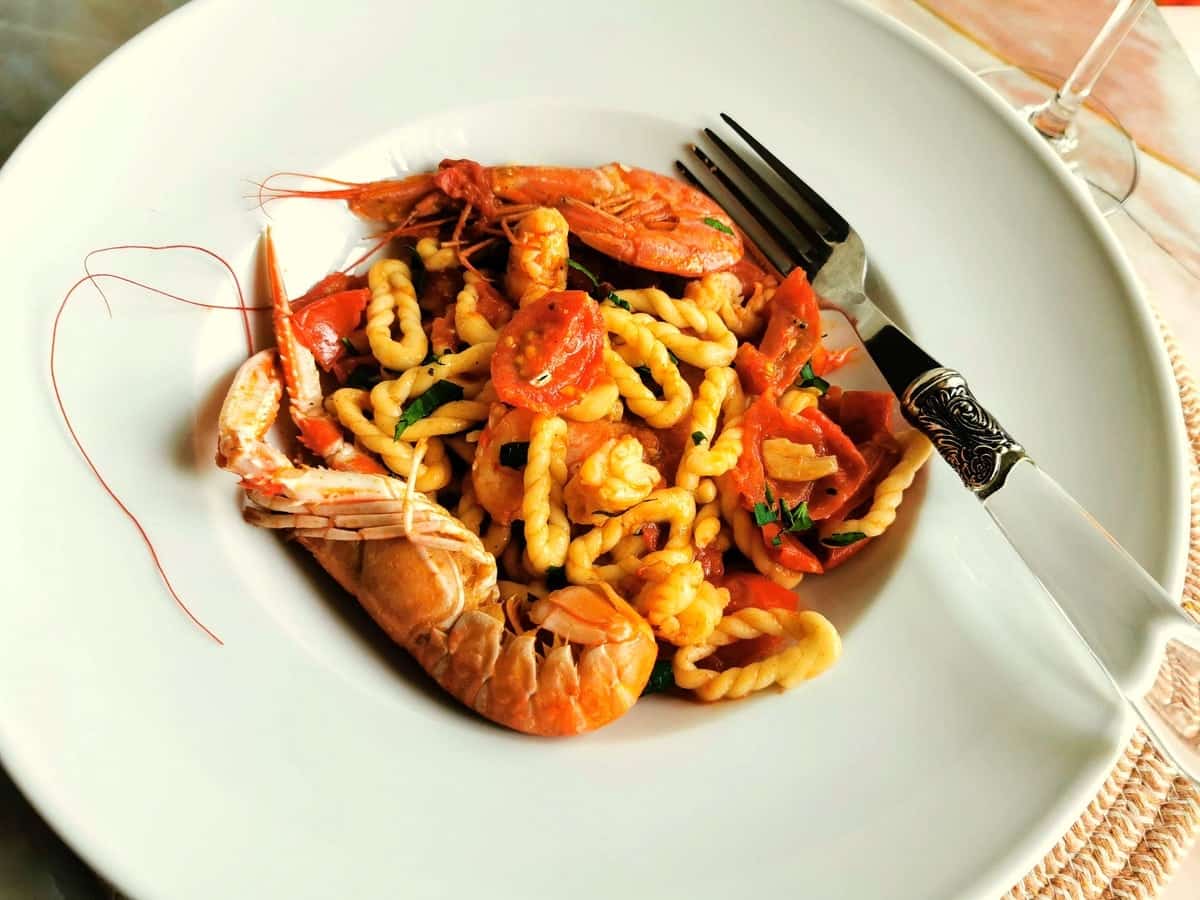 Lorighittas ai crostacei.
Known as lorighittas ai crostacei (with crustaceans) in Italian, this seafood pasta recipe from Sardinia usually includes 3 different types of crustaceans: prawns (jumbo shrimps), scampi (Norway lobster/langoustine) and astice (European lobster). I made my lorighittas pasta with prawns and scampi because I couldn't find astice. You can use all three if you have them, or just scampi or just prawns.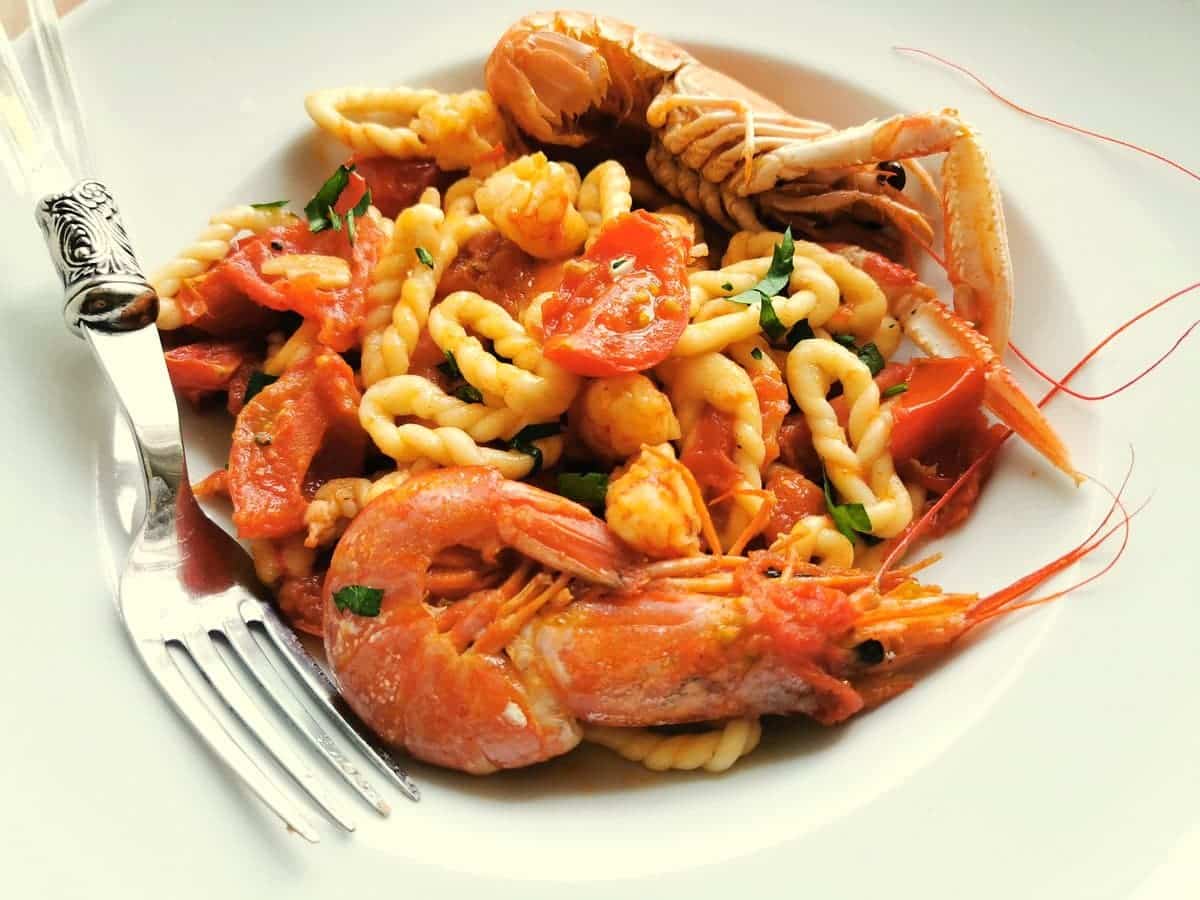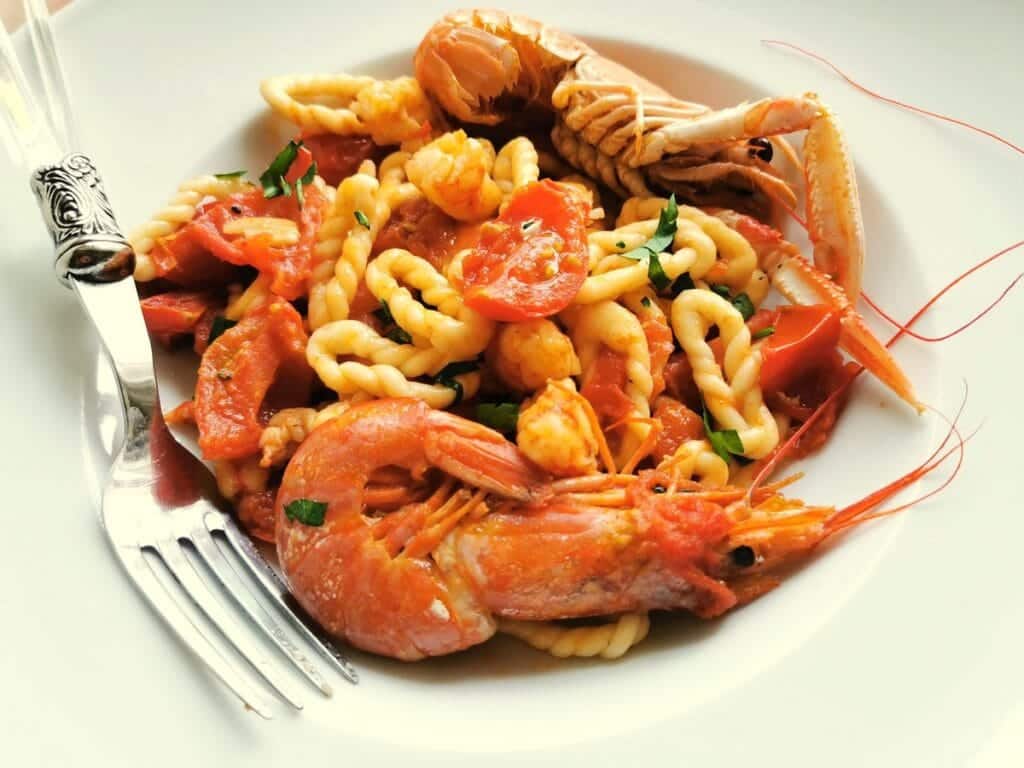 Scampi is not shrimp.
When it comes to scampi, it seems that in America some people confuse this crustacean with shrimp. I think this is probably due to the popularity in the USA of an Italian American dish known as shrimp scampi. This dish originated as a method of cooking shrimp in the same way scampi is often cooked here in Italy. Apparently, it was invented by Italian immigrants who were unable to find scampi in the US.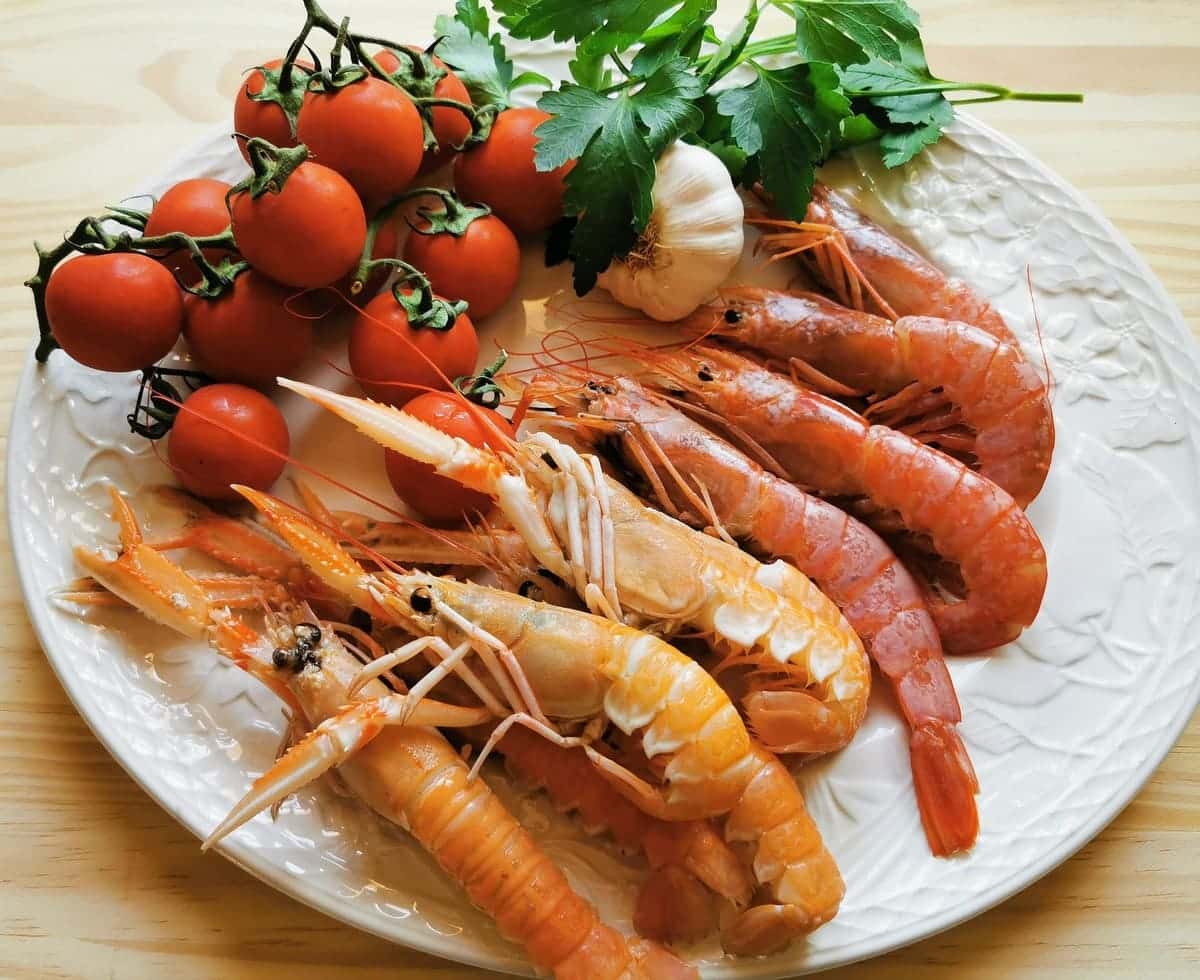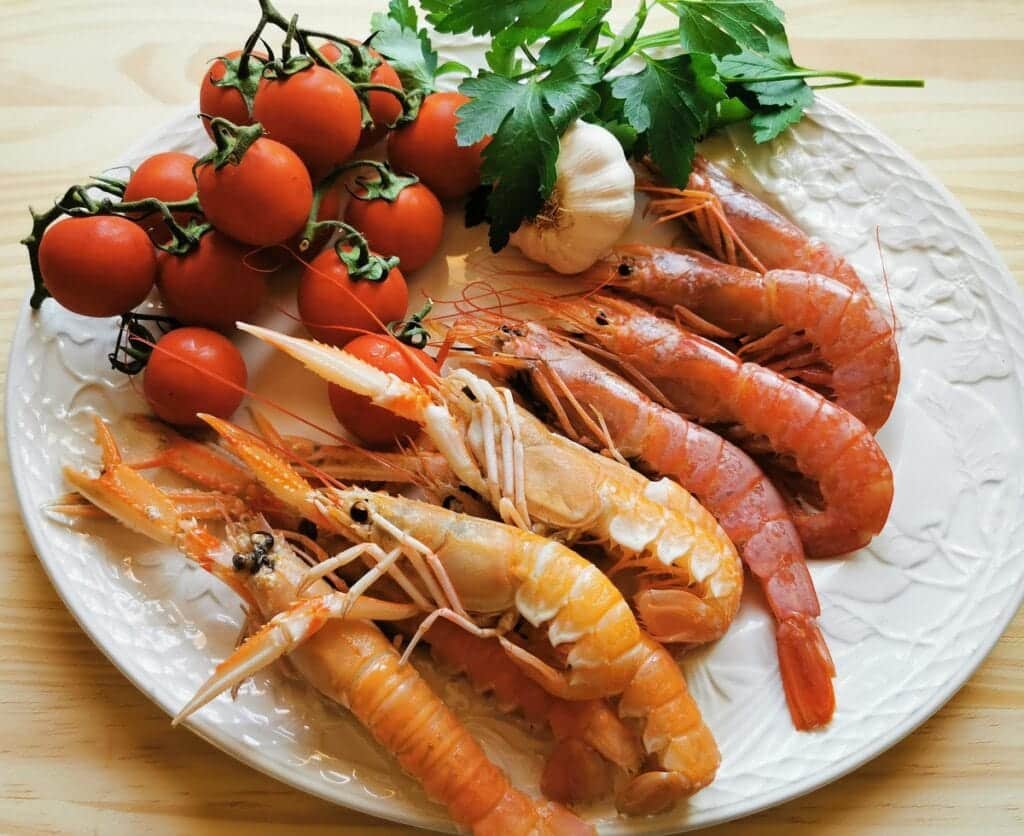 So, scampi is not shrimp but instead a type of lobster known as Norway lobster or langoustine. Usually, orange to pale pink in colour, scampi have 3 pairs of claws and can reach 10 to 30 centimetres in length. They live in burrows on the seabed. The meat in the tails is popular in the UK where it is often breaded or battered. The Brits just refer to this as 'scampi' and it's a popular pub food.
The French call this crustacean 'langoustine'. Langoustines are very popular in France, although most recipes call for just the tail meat, rather than the whole langoustine. A traditional French recipe worth trying is Scampi provençal. The French also use them in bouillabaisse.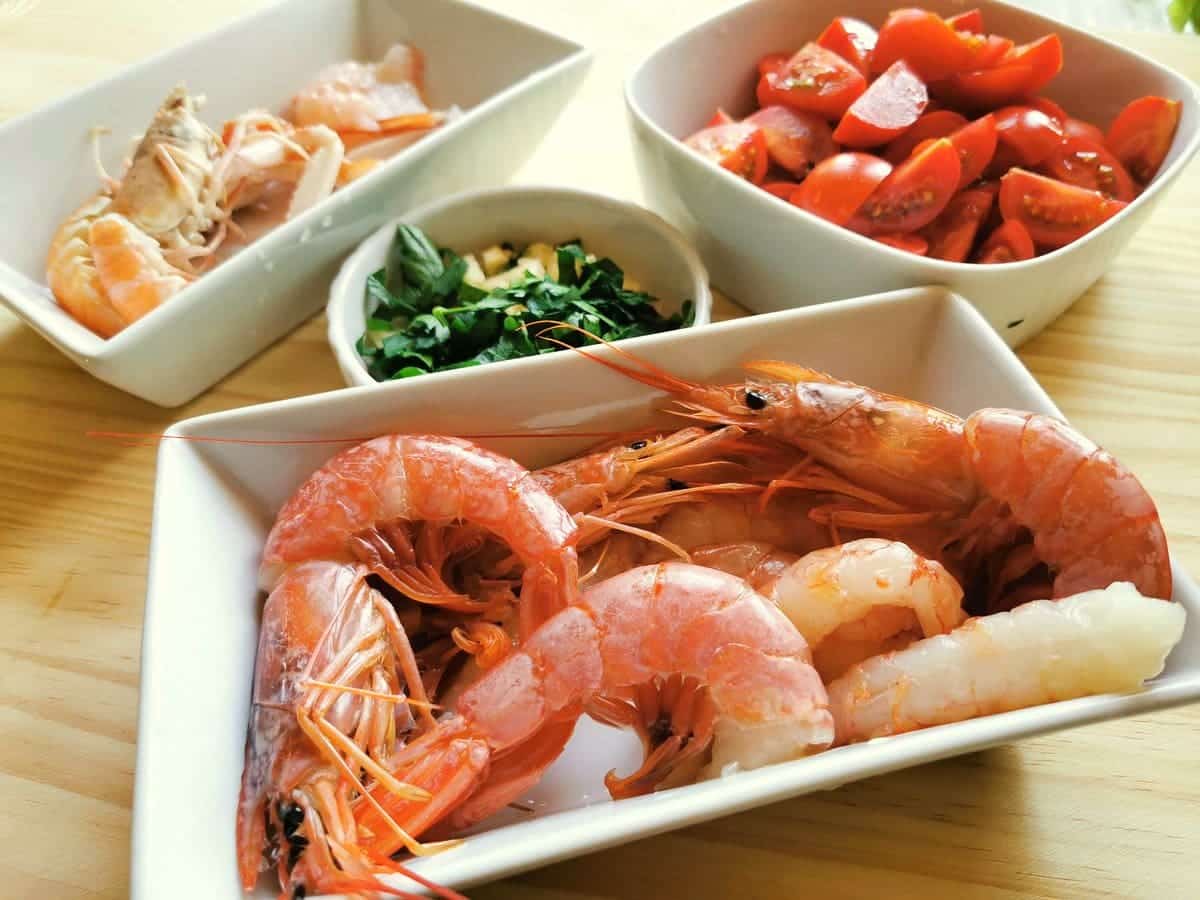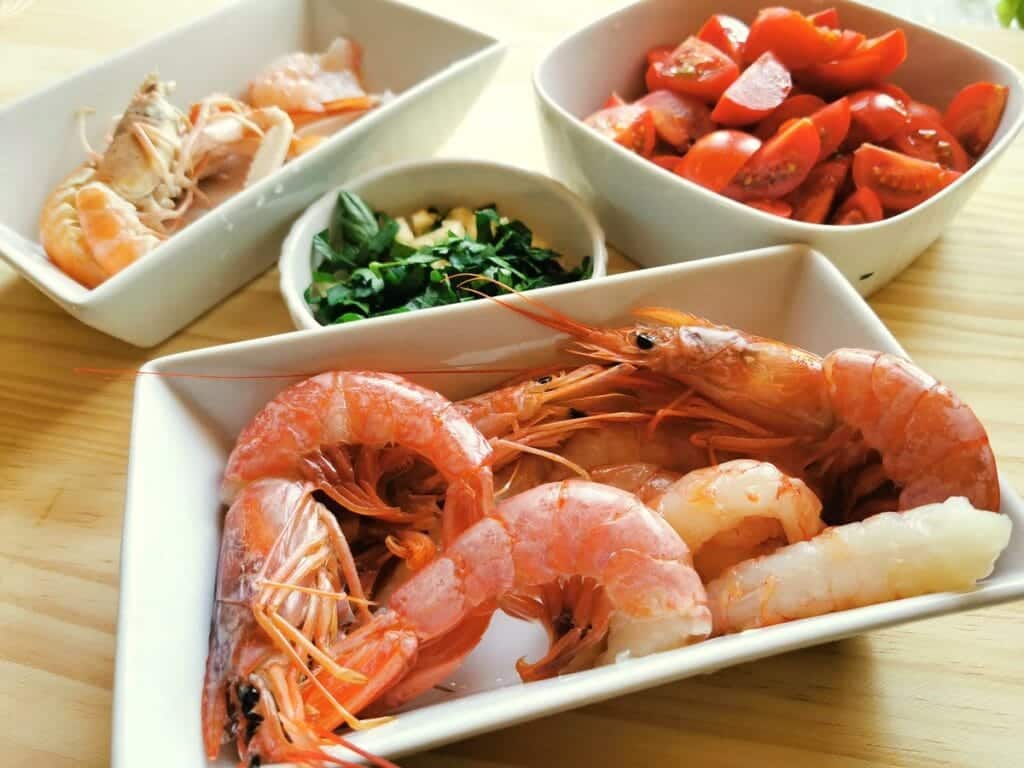 The prawns.
Italians refer to shrimp as gamberetti and prawns 'gamberi or gamberone', so, fairly similar names. In the UK, shrimp are the smaller and often freshwater crustaceans and prawns the bigger, darker ones. Whereas in the US, shrimp is the common name for all sizes and Americans often call prawns 'jumbo shrimps'.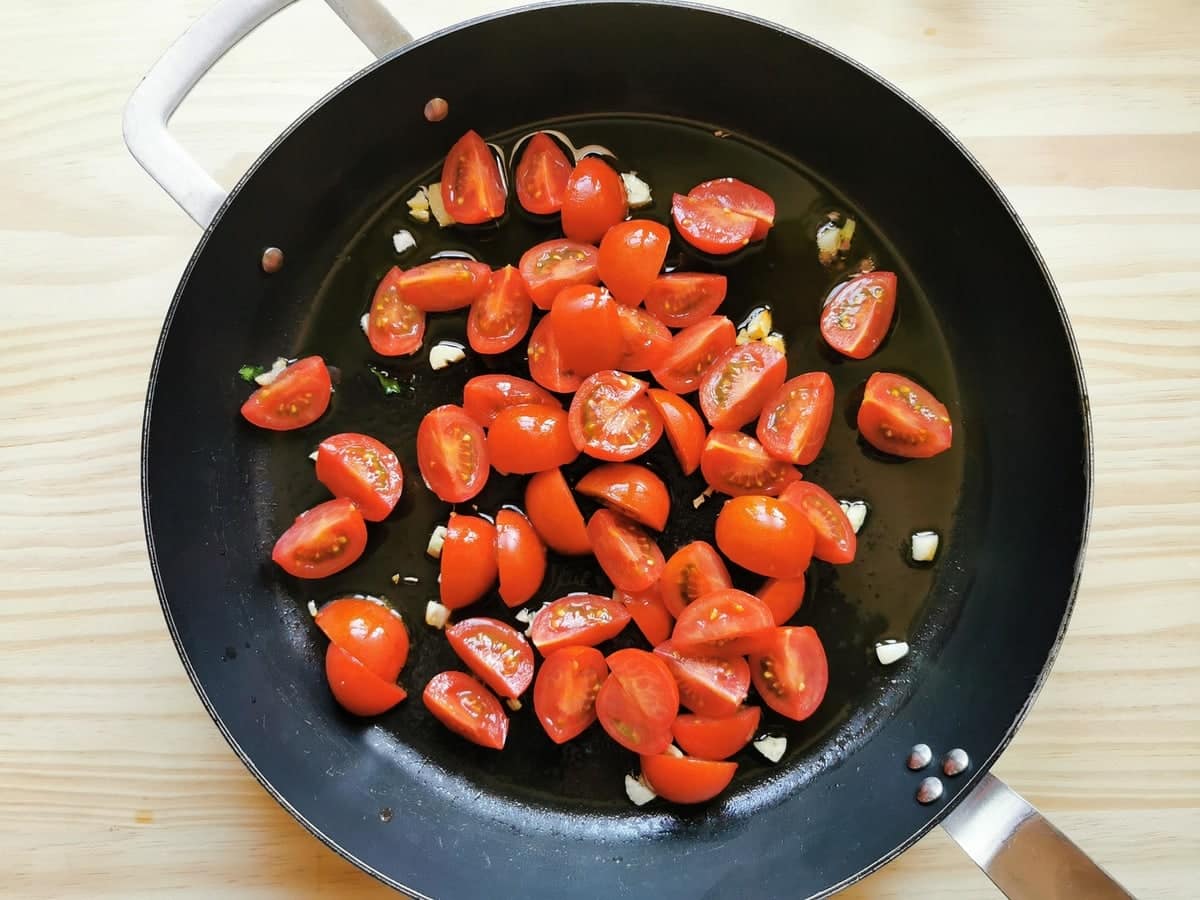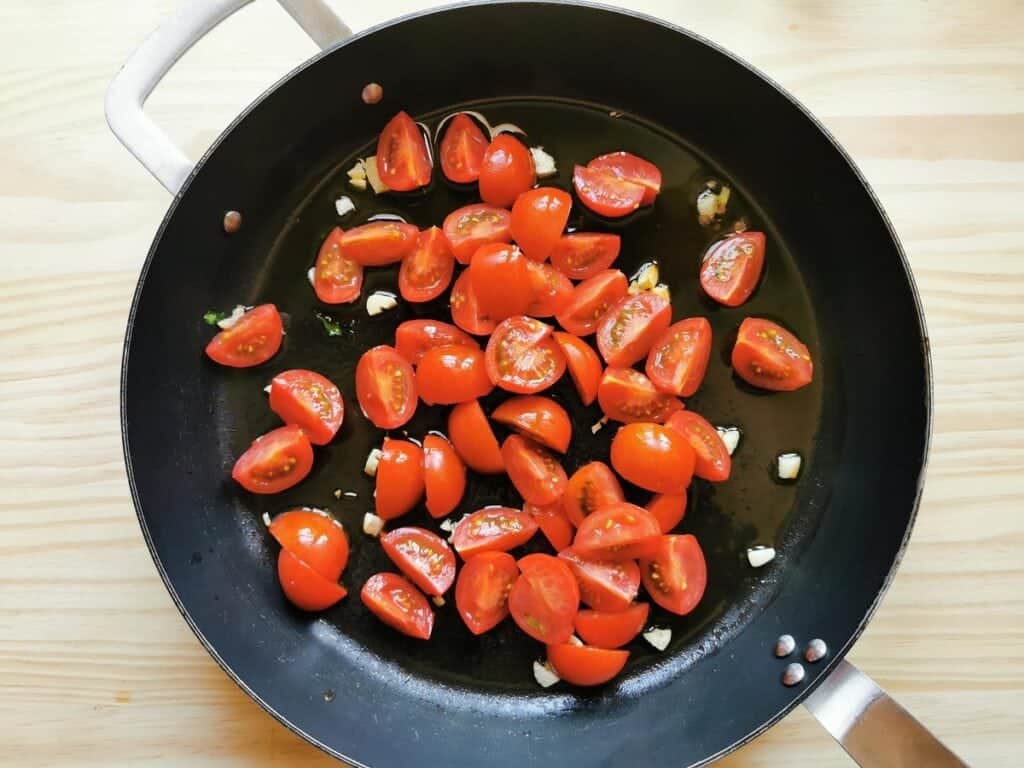 Some parts of Italy, particularly Sicily and Puglia are famous for their fresh red prawns. Sicilian red prawns (gamberi rossi di Mazara) are one of the most sought-after crustaceans in restaurants throughout Europe. Sardinia is also famous for its red prawns. In fact, you may well find this Sardinian lorighittas pasta with prawns and scampi made with them in restaurants on the island!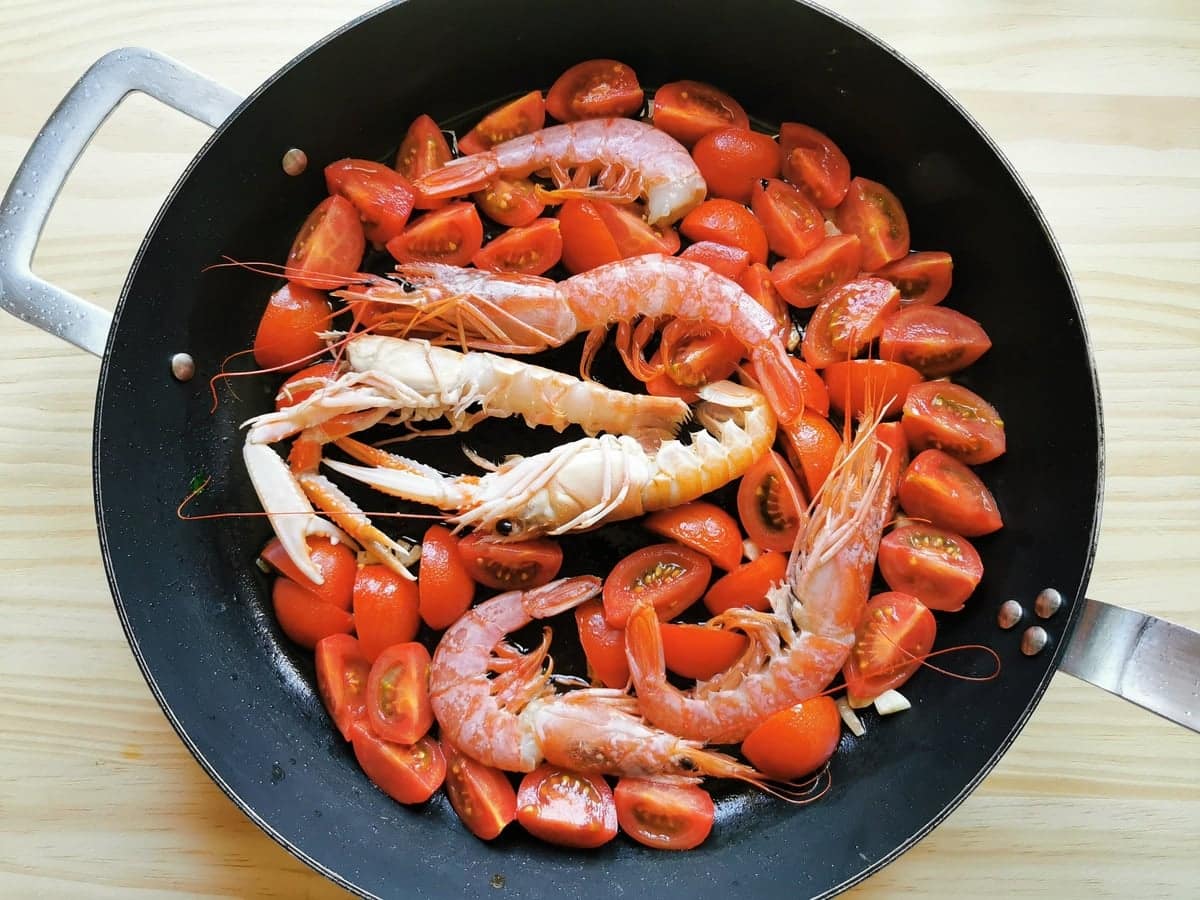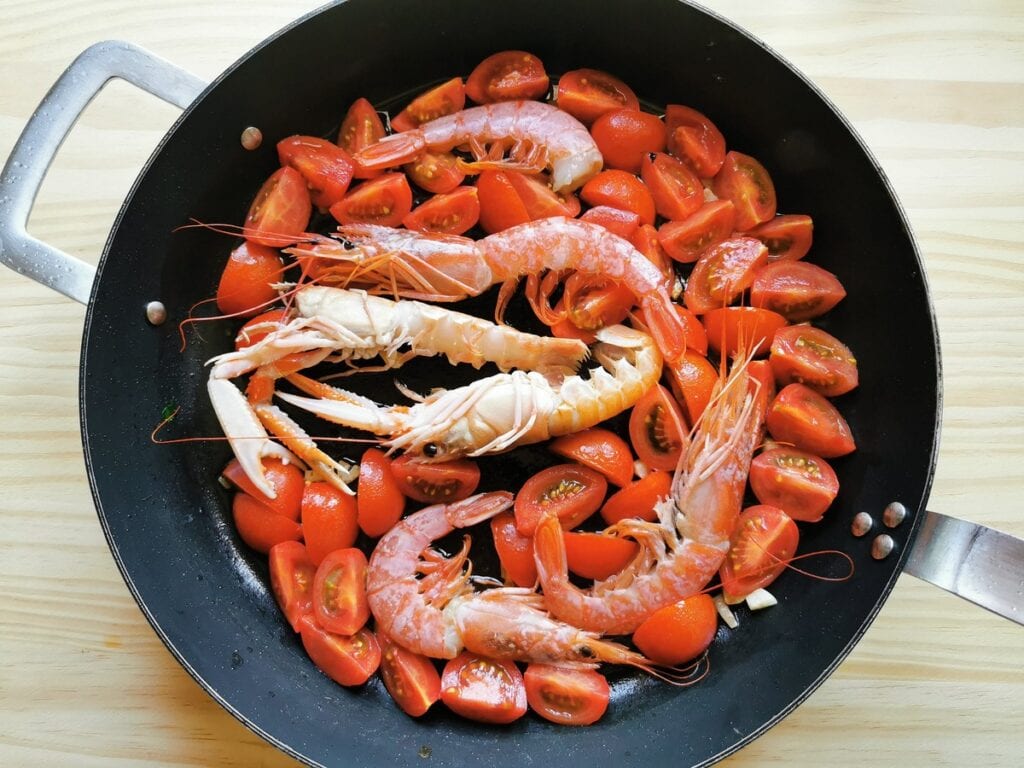 Peeled or unpeeled prawns and scampi?
Italians love to eat prawns and scampi unshelled, meaning they peel them by hand while eating. This is common when the crustaceans are grilled or cooked on their own. Although also when they're in a sauce or soup like stew or brodetto. Most Italian restaurants will provide customers with lemon scented hand wipes and/or a lemon scented finger bowl to help with their messy fingers!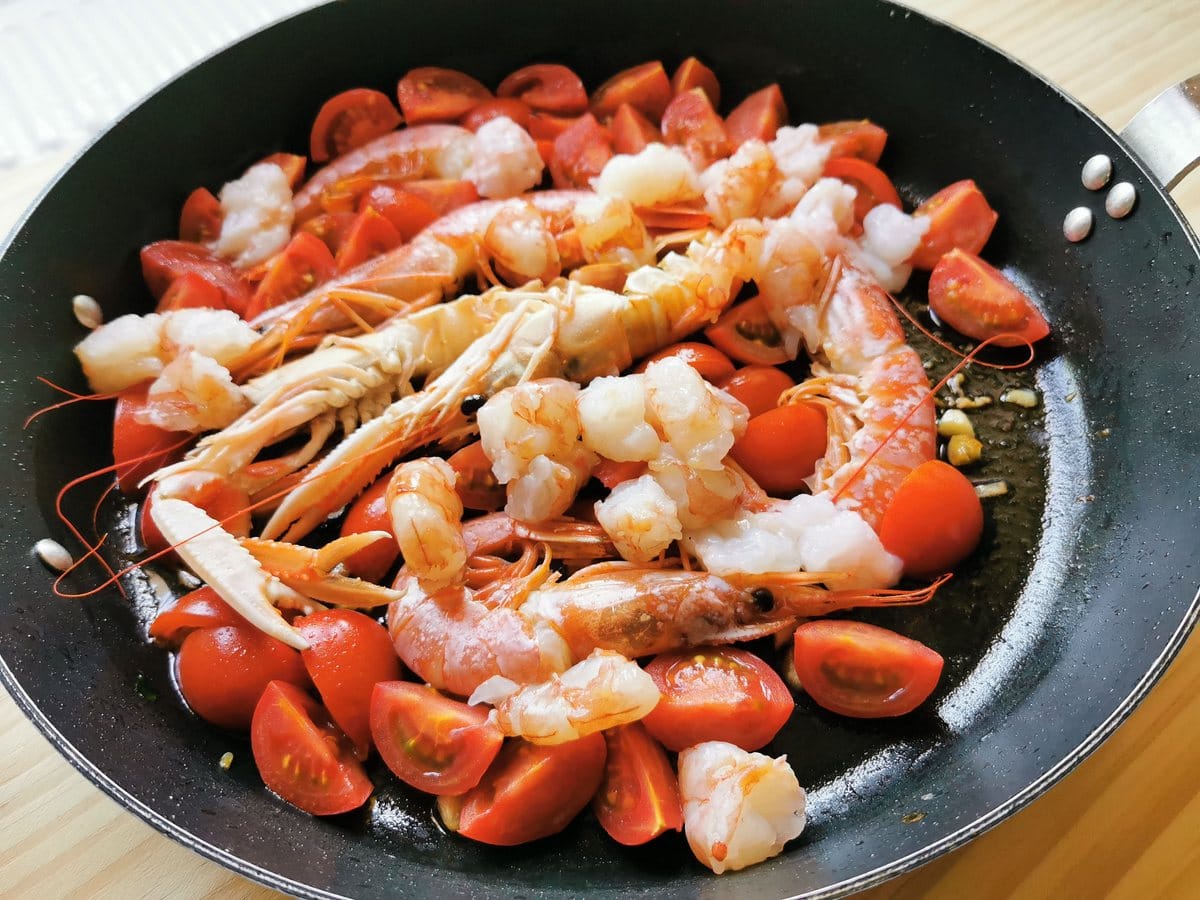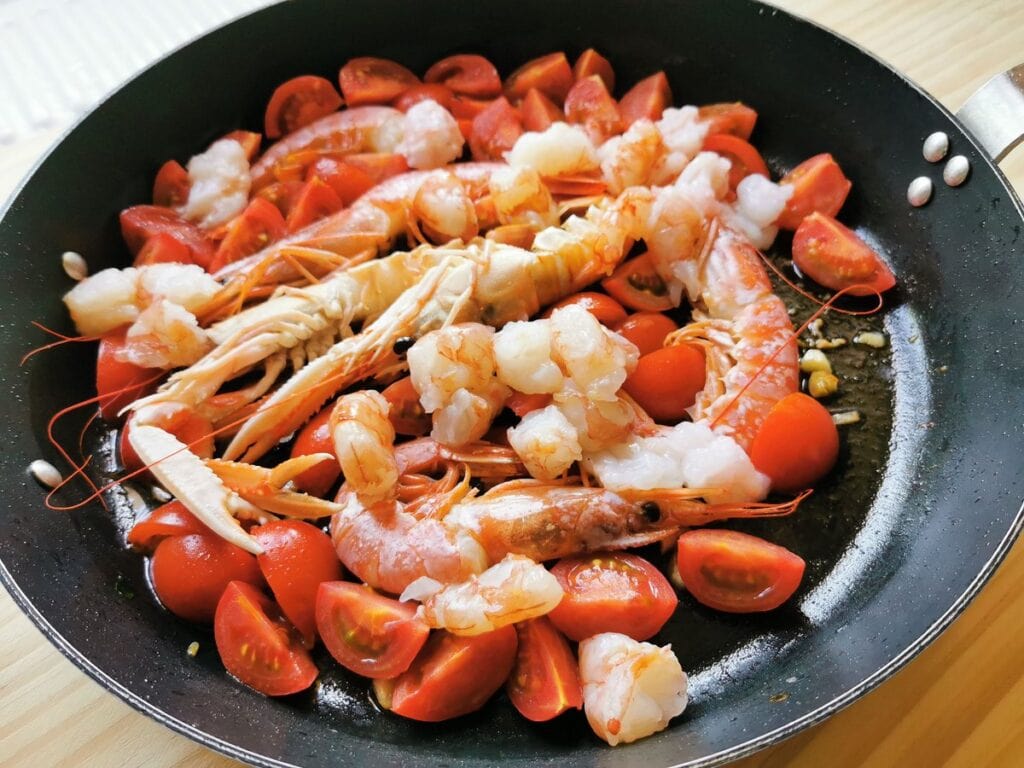 For this Sardinian lorighittas pasta with prawns and scampi, I left some of the shellfish unpeeled. The others I peeled. Of course, you can peel them all or make this dish with ready peeled crustaceans. HOWEVER, both scampi and prawns have more flavour if they are unpeeled and uncooked before using them (frozen is okay). Also, the shells add more flavour to the sauce and having a few whole shellfish makes the dish more attractive. At least, I think so.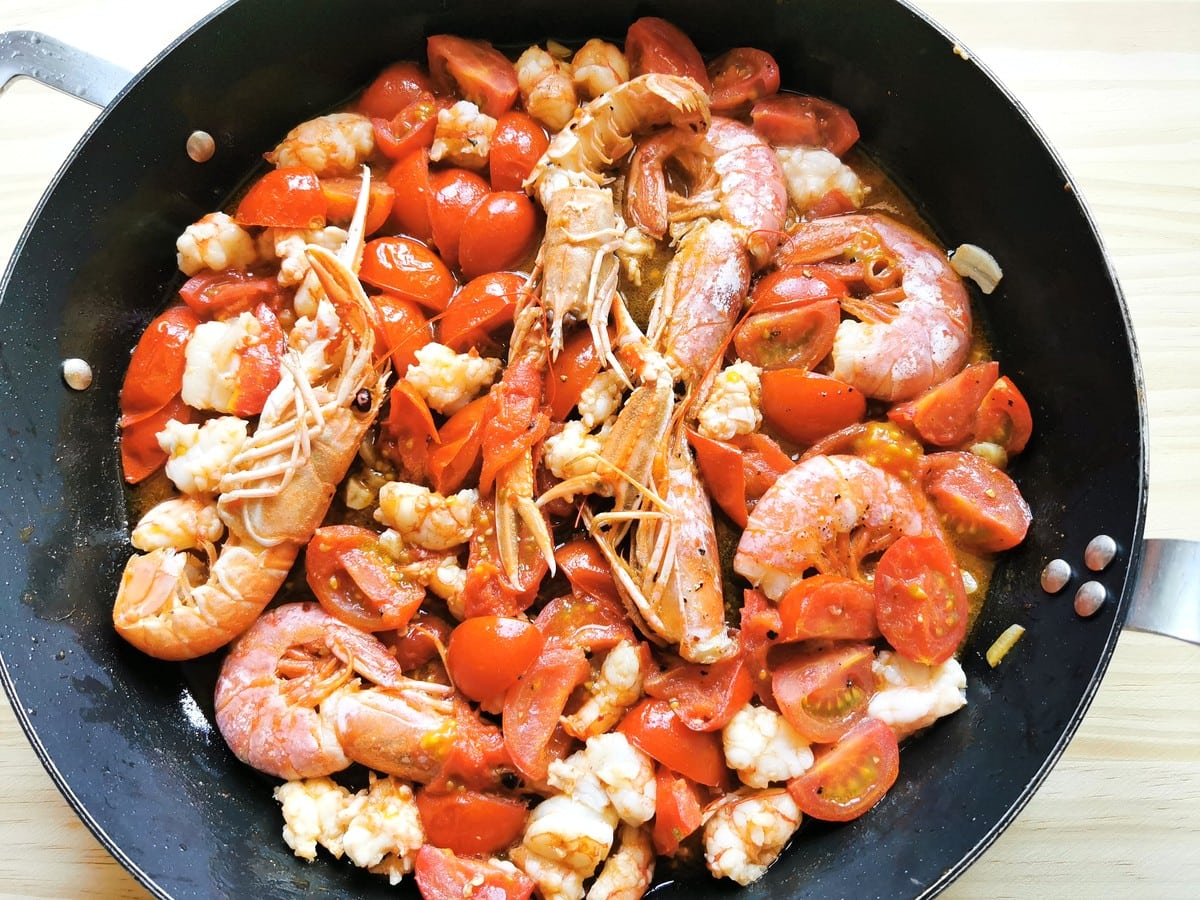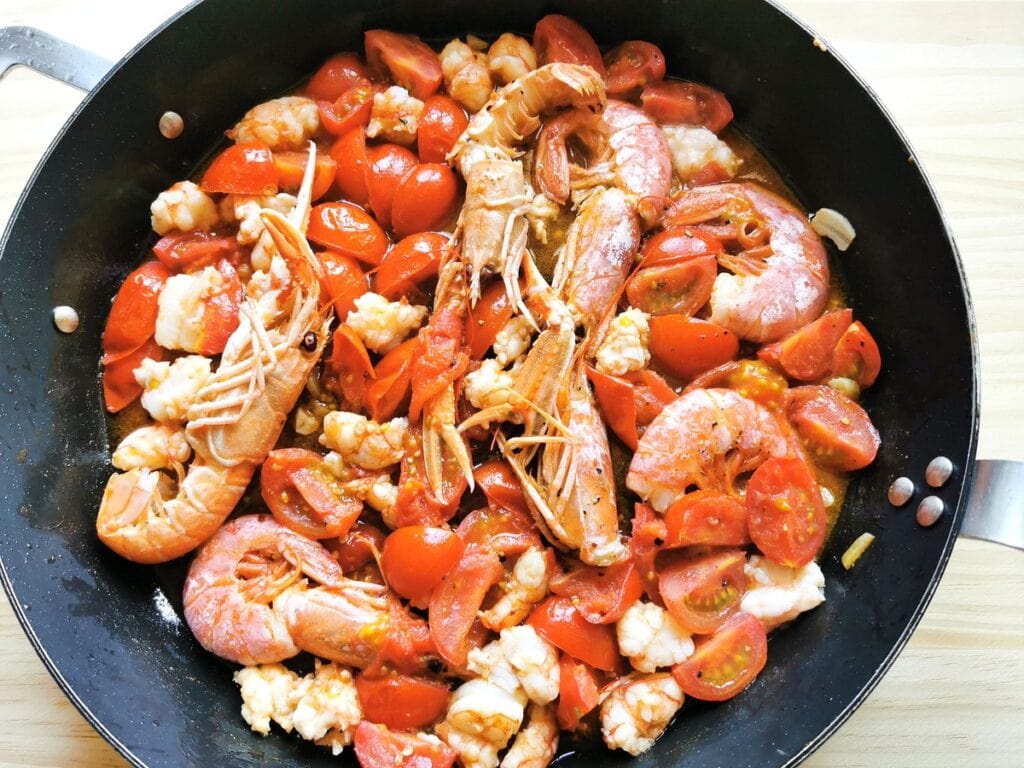 Preparing the shellfish.
Whether you are using fresh or defrosted frozen shellfish, the first step to making this Sardinian seafood pasta recipe is to peel most the scampi and prawns. For both, you will need to remove the heads, then remove the meat from inside the body and tail. Prawns are easier than scampi. You can open them up pushing your thumbs into the soft underbelly and peeling back the shell to remove the meat.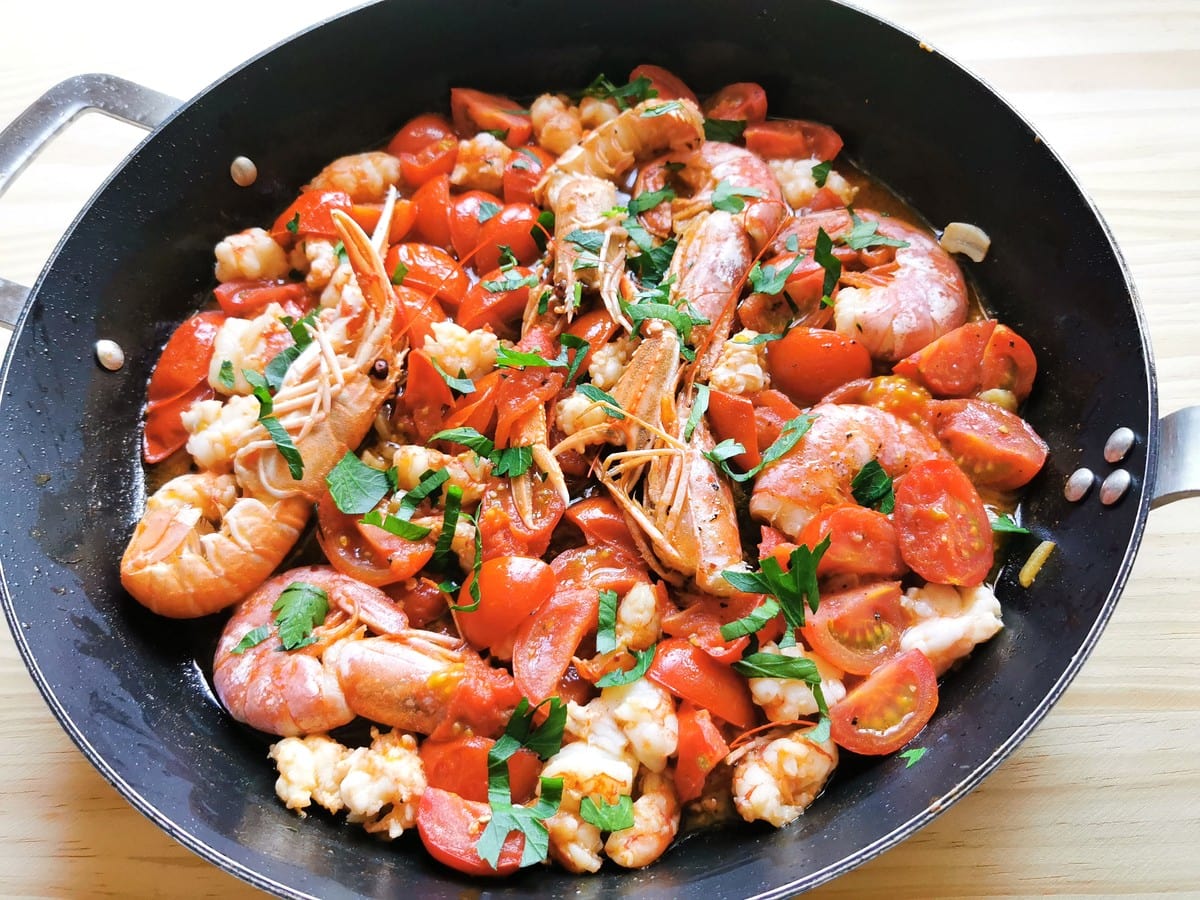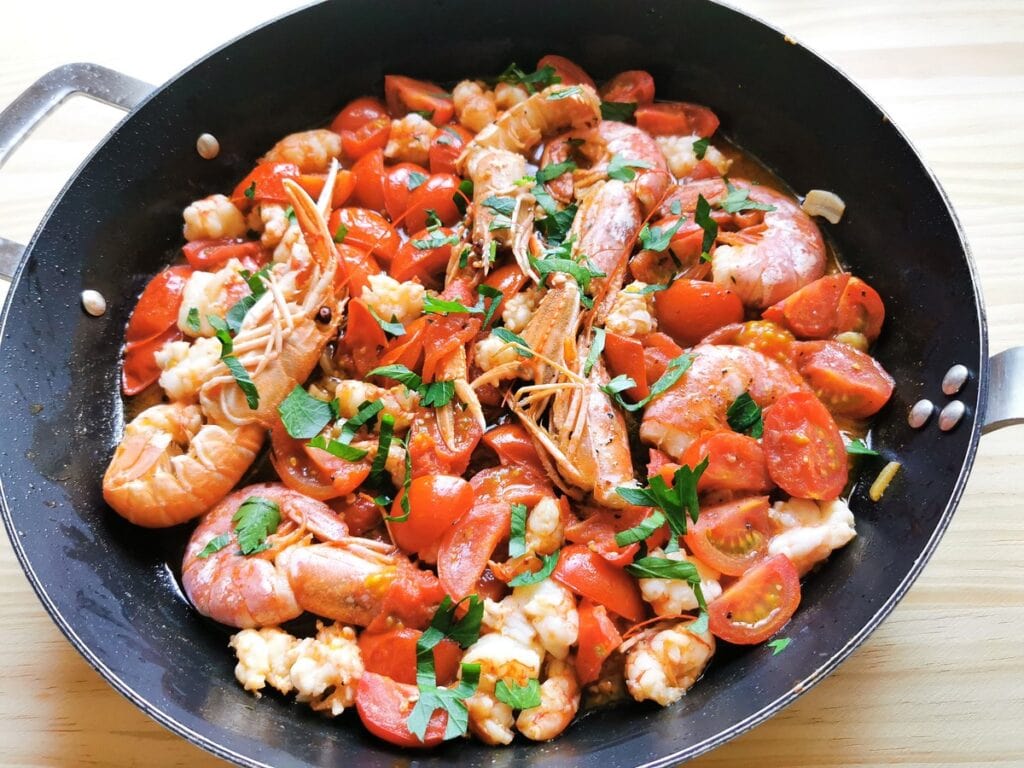 For scampi, the best way is to twist off the head and tail and then 'push' the meat out of the wide end by pushing your index finger into the narrower end where the tail was. Alternatively, you can use a knife or kitchen scissors to cut along the underbelly, although this is quite hard. However, you can blanch the scampi in boiling water beforehand to make it easier.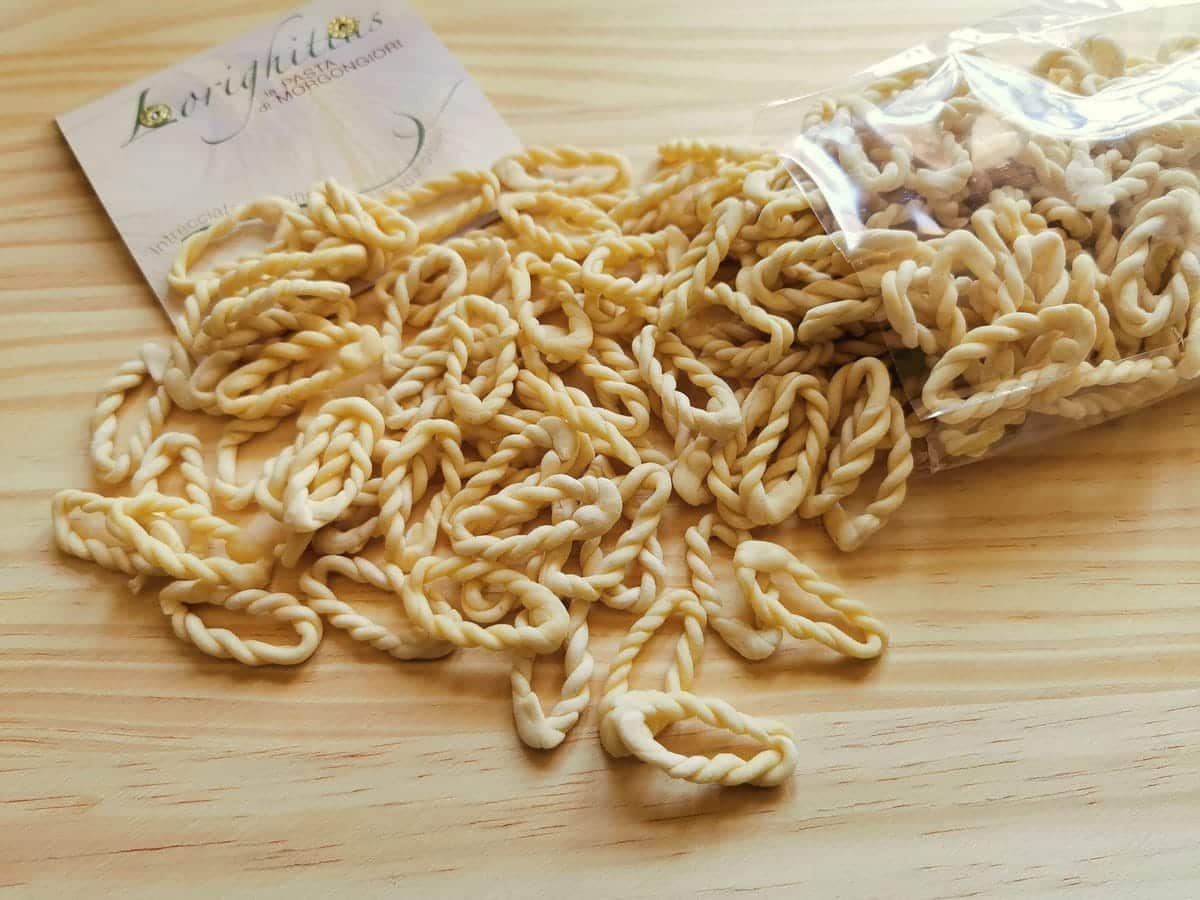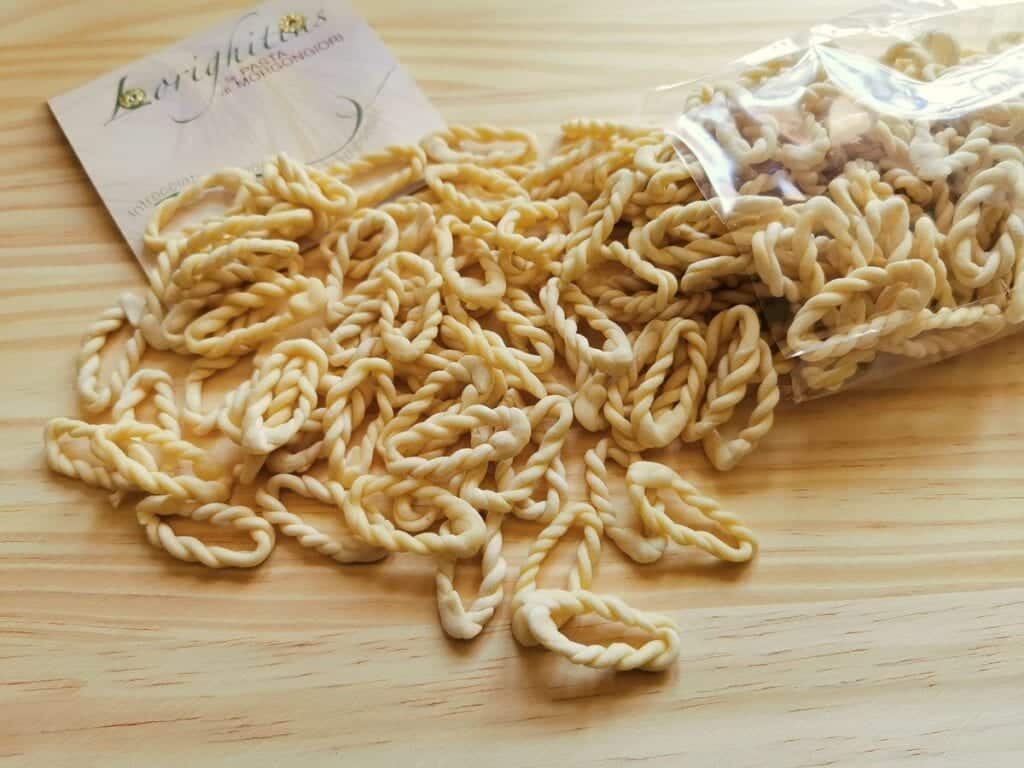 Once peeled, the prawns will need deveining. Normally, there's a fine black vein running along the length of the prawn's back. This 'vein' is actually the prawn's intestinal tract and although it's not bad for you, prawns taste better without it. Just remove with a small sharp knife and discard. If you choose to leave some prawns and scampi unpeeled, just wash those well under running water. Don't throw away the removed heads and shells. Use them to make a stock which you can add to the pasta sauce or buy some extra prawns and make bisque with them.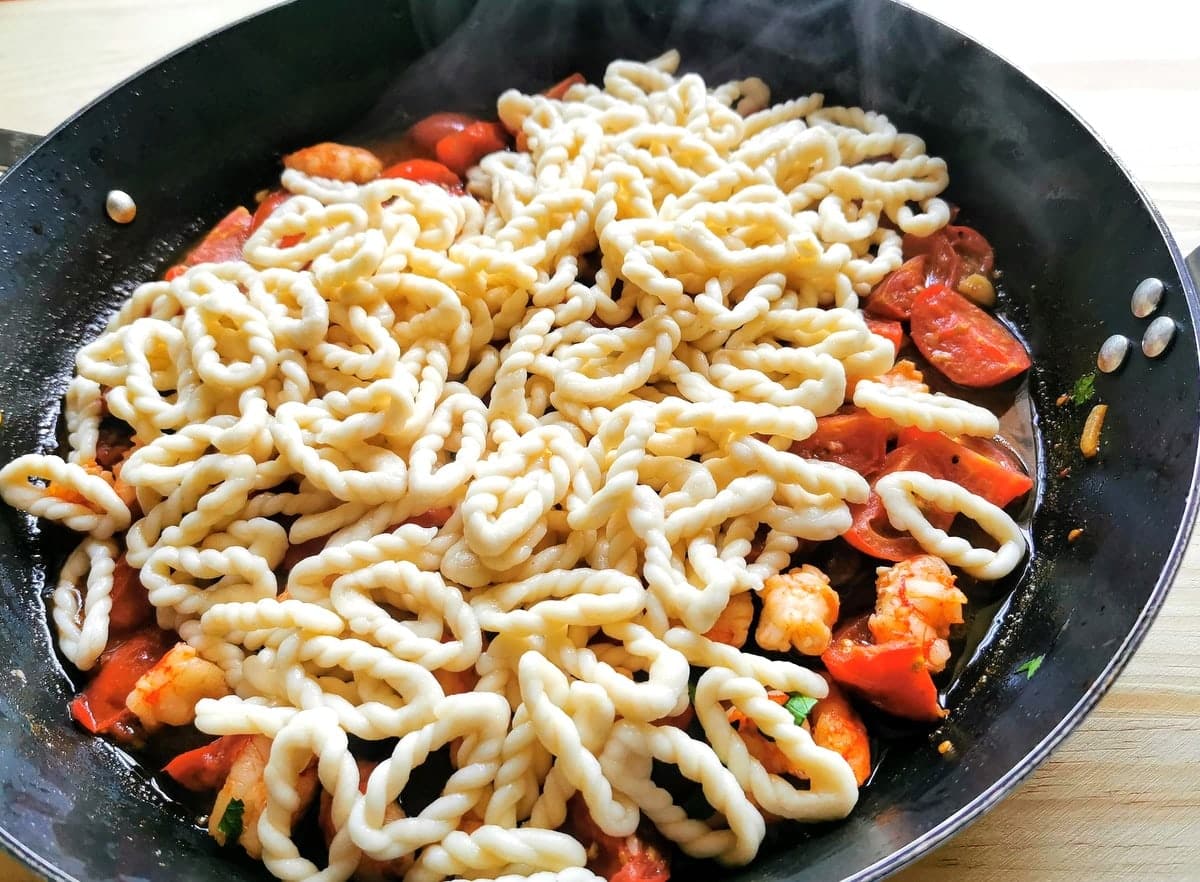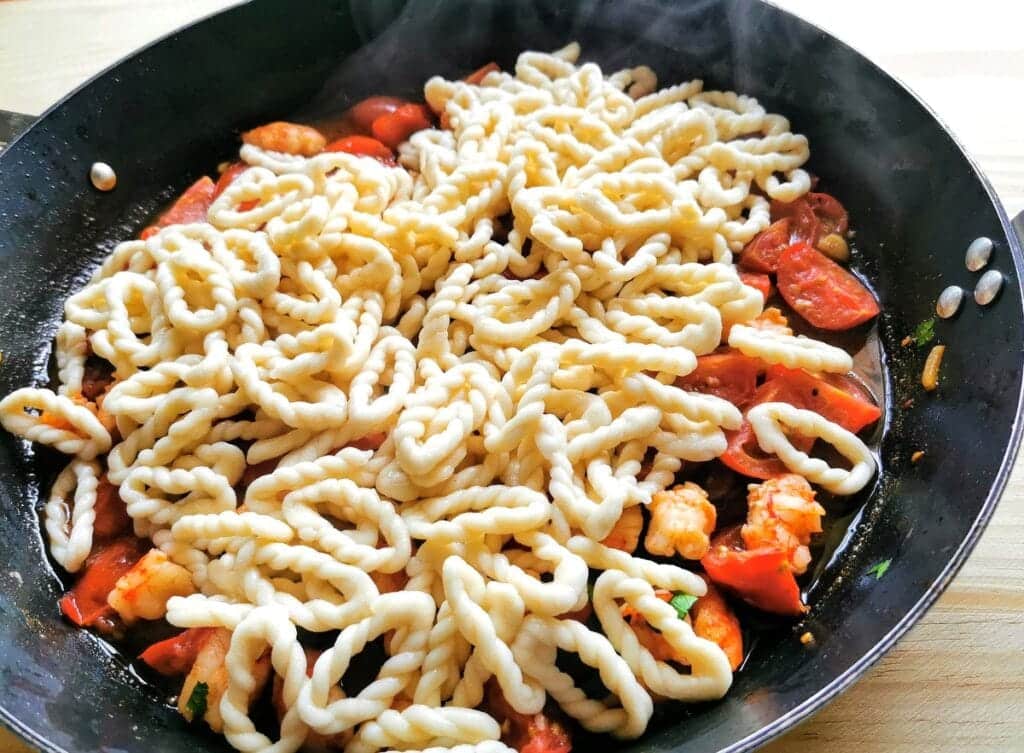 Lorighittas pasta.
As I mentioned above lorighittas is a unique handmade pasta found only in Sardinia. These braided rings of pasta have been made in Sardinia since the 16th century. They actually originate from one village on the island called Morgongiori. You can read more about this beautiful pasta in my lorighittas post. Lorighittas pasta is available dried, but only from Sardinia. For this pasta with prawns and scampi, I used dried lorighittas I bought from a company called Sardinia E-Commmerce. Even dried lorighittas is made by hand, so it's not cheap. But I think worth it for a treat.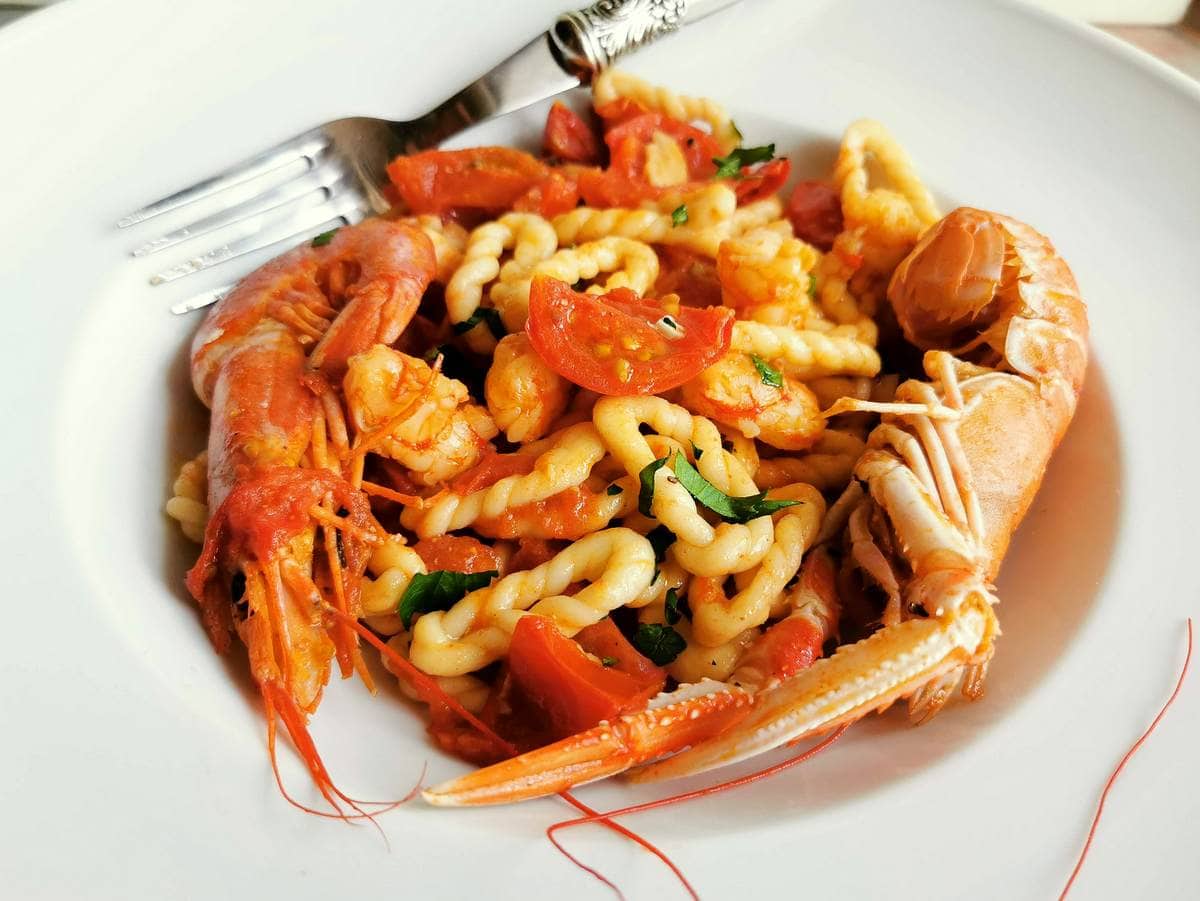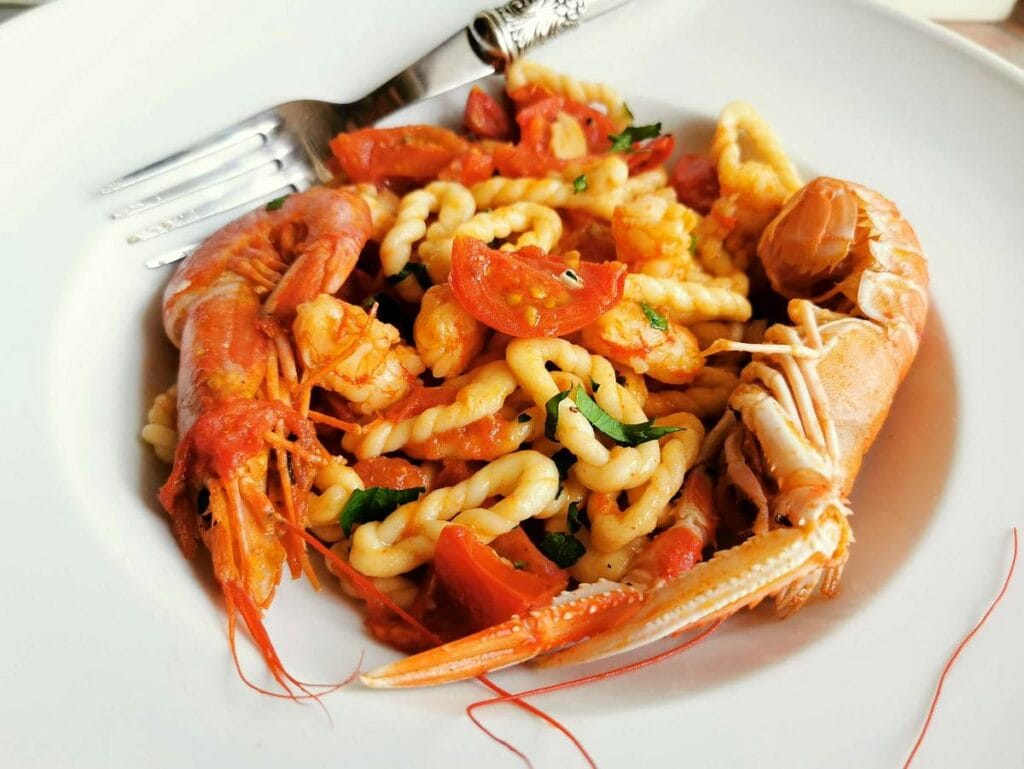 Alternatively, you can make your own lorighittas. My hubby and I made some not so long ago and served it with a traditional chicken ragu! Check out my homemade lorighittas post if you'd like to try it for yourself. Of course, you can make this prawn and scampi pasta recipe with other types of pasta. I think linguine or spaghetti would be good or even fusilli or malloreddus (Sardinian gnocchi).
Other ingredients in this pasta with prawns and scampi.
Apart from the pasta, prawns and scampi this lorighittas recipe doesn't have a lot of other ingredients. In fact, all you need is some fresh small tomatoes, garlic, white wine, parsley and red chilli pepper if you'd like to add some spice.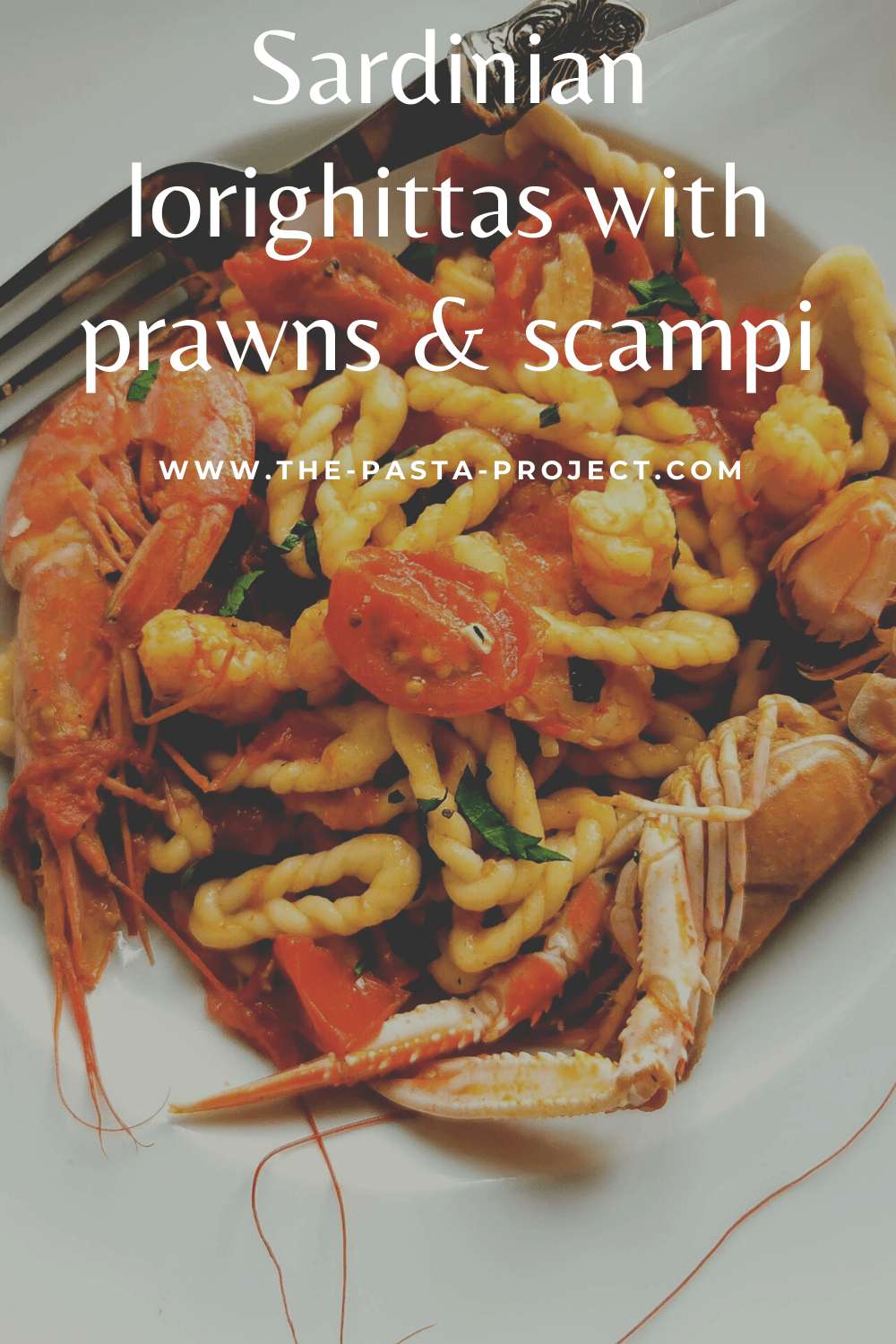 Apart from preparing the shellfish, this seafood pasta recipe from Sardinia is pretty simple and quick to make. In fact, once you've prepped the ingredients, you can have it on the table in the time it takes to boil the water and cook the pasta!
Let me know what you think.
I really love how easy this pasta with prawns and scampi is to make. The good thing about cooking shellfish is that they don't take long. This is now one of the recipes on my impress your guests list. I'm sure if you try it, you'll be adding it to yours too!
If you do try this Sardinian lorighittas pasta with prawns and scampi, please let me know what you think! Write a comment here on the blog or post a comment on the Pasta Project Facebook page.
Your feedback means a lot to me!
Buon appetito!
If you like this seafood pasta recipe from Sardinia you'll love these other recipes for Italian pasta with prawns.
Want to know more about my life in Italy? Why not subscribe to my newsletter? New subscribers get a free series of recipe e-books too!
If you are interested in learning how to make homemade pasta and different types of gnocchi, check out my shop page for some great video online courses from my friends in Rome! Nothing beats learning to make pasta from Italians! Plus while you're there why not order a copy of one of my pasta recipe cookbooks or checkout some recommended pasta making tools?