This light summery seafood pasta recipe for farfalle pasta with prawns and orange is a flavourful elegant dish that's perfect for dinner parties and summer lunches!
(scroll down to see recipe)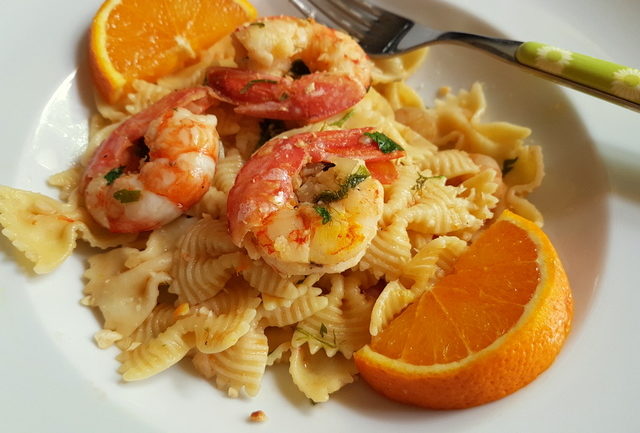 Pasta con gamberoni all'arancia.
I love using oranges in cooking and, here in Italy, there are some wonderful tasty oranges especially those grown in Sicily. In fact, Sicilian oranges, especially the Tarocco blood oranges, are the most sought after and eaten of all types of oranges grown on the Italian peninsula. I used untreated Sicilian oranges to make this farfalle pasta with prawns and orange recipe, but not blood oranges. I'd like to try it with those next time!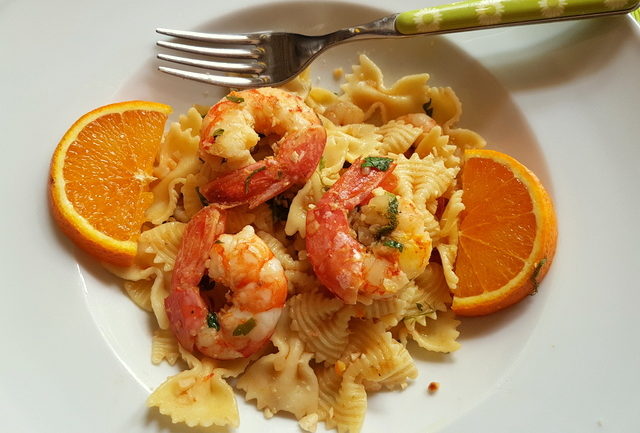 Oranges in Italy.
Sicily was also the first Italian region to grow oranges, which were introduced by the Arabs back in the 7th and 8th century. However, the original oranges were bitter. The first sweet oranges arrived in Europe from China and South East Asia in 15th and 16th century aboard Genovese and Portuguese trading ships. Blood oranges came later.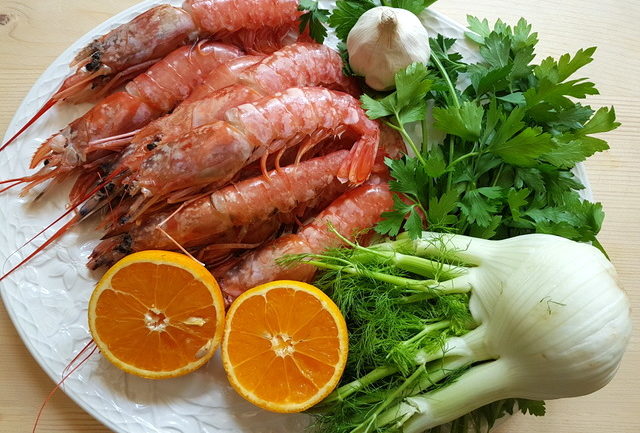 Today, Italy is the second biggest producer of oranges in Europe, after Spain. However, the Italians eat more fresh fruit than any other European nation and oranges and apples are the most popular fruits. Interestingly, apart from desserts, cakes and marmalade, Italians don't use oranges very much in cooking, particularly not in savoury dishes. They prefer to eat their oranges fresh or squeeze them for juice!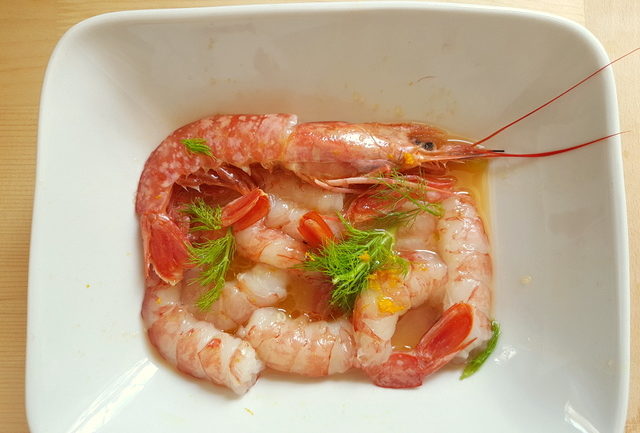 Having said that, oranges are popular in salad in Sicily. My Sicilian husband introduced me to Sicilian orange salad and boy is it good. This orange salad usually includes olives, oranges (of course!) and fennel or onions, although there are some different versions!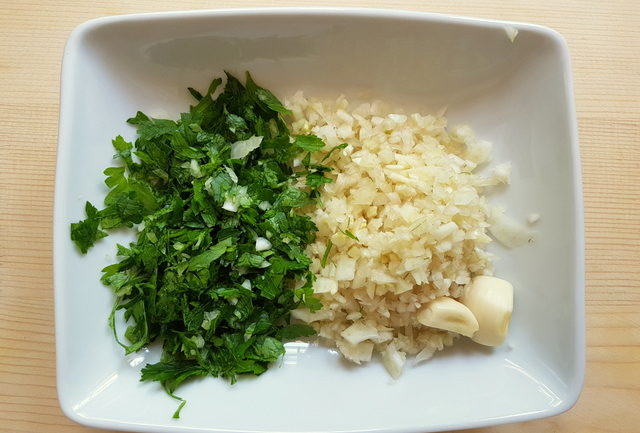 Pasta with orange recipes.
When it comes to pasta, the most common Italian pasta recipes that include oranges are with seafood like this farfalle with prawns and orange recipe. I have already posted a couple of delicious lemon pasta recipes. Pasta al limone, which originated in the Amalfi and Sorrento area of Campania, is much loved throughout Italy. Pasta with oranges less so, but in my opinion it's just as delicious! In fact, I posted a recipe for farfalle pasta with smoked salmon last year which also has some orange in it! That recipe is the most popular recipe on the Pasta Project to date!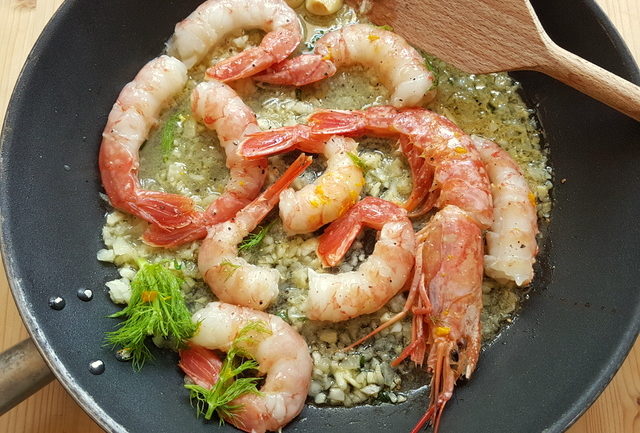 A contemporary recipe.
Unlike pasta al limone, pasta with oranges is not a traditional Italian recipe, but one that is contemporary and has become popular over recent years. As I mentioned previously, pasta with orange most usually includes seafood. The most common of these recipes is with tuna or with anchovies or, like this recipe, with prawns or shrimps. In fact, this recipe can be made with shrimps too. But, I used prawns because I think they have more flavour and are meatier!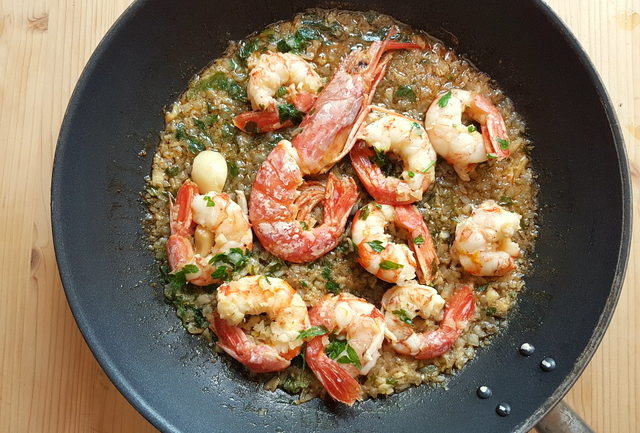 Making this farfalle pasta with prawns and orange recipe.
This farfalle pasta with prawns and orange has a lovely delicate flavour and looks very elegant. However, it's easy to make. Apart from the oranges and prawns, you only need some parsley, garlic, olive oil, white wine and fennel . I love fennel, but not everyone likes it. I got the idea from my hubby's Sicilian orange salad and thought the flavours combined beautifully! If you are not a fennel fan you can leave it out or replace it with spring or white onions. I also added some toasted ground almonds as a last minute inspiration (that's why there are no almonds in the photo of the ingredients!)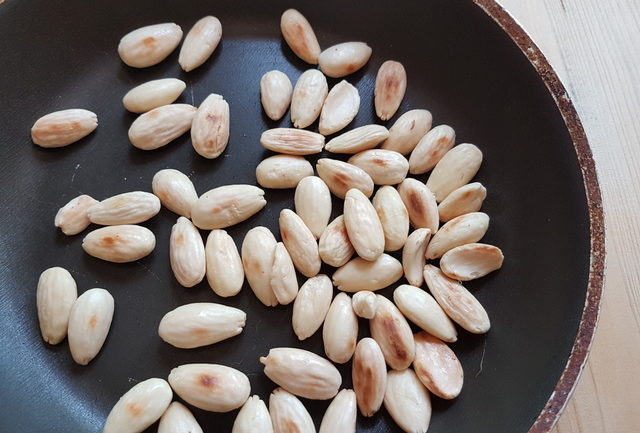 This recipe also doesn't take very long to make. Except, you will need to marinate the prawns beforehand. I marinated them for about 30 minutes. Apart from that, the sauce can be ready in the time it takes you to boil the water and cook the pasta.. Alternatively you can make the sauce in advance and then just reheat it quickly with some of the pasta cooking water, just before you drain the pasta and mix it with the prawns.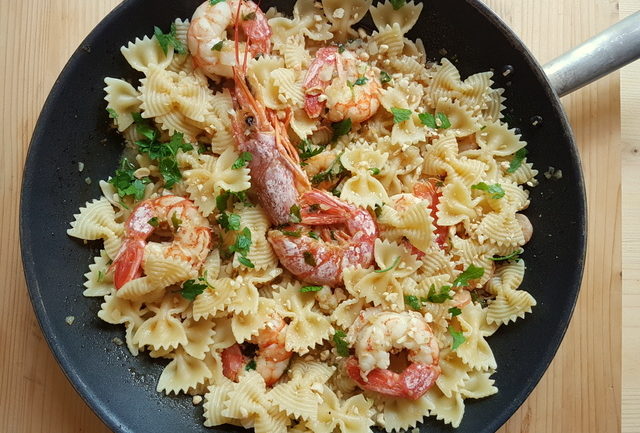 The pasta.
The pasta I used was farfalle, also known as bow-tie pasta in the US. This farfalle (bow-tie pasta) had ridges or grooves on one side (farfalle rigate) and is made by La Molisana. I love this pasta as it not only looks so pretty and tastes great, but the ridges help the sauce adhere to the pasta, making each piece of pasta taste even better. If you can't find ridged farfalle, you can also use normal farfalle or penne.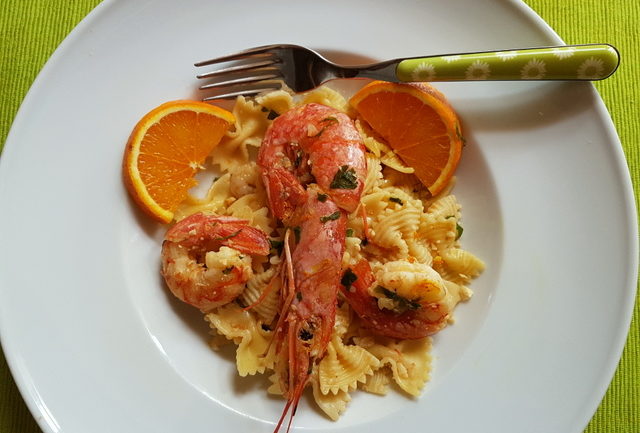 If you make this farfalle pasta with prawns and orange recipe I'd love to hear how it turns out and if you liked it. Please leave a comment here on the blog or on The Pasta Project Facebook page. Looking forward to hearing from you.
Buon appetito!
Save this recipe for later?
If you want to save this farfalle with prawns and orange recipe for later, you can print it, bookmark this page or save it to Pinterest.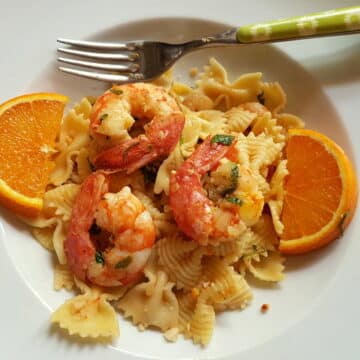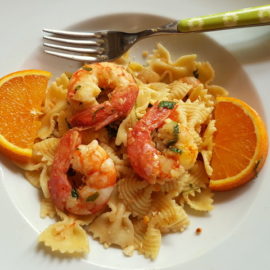 Farfalle Pasta with Prawns and Orange
The combination of farfalle (bow-tie) pasta with orange infused prawns, fennel and almonds makes this a very elegant looking and delicious dish which your guests are going to love!
Ingredients
400

g

Farfalle (bow-tie) pasta

or short pasta of your choice

12

large prawns (4 per person)

fresh or frozen

2

organic oranges

or untreated (unwaxed)

1

fennel bulb

or white onion

2

garlic cloves

peeled

1

handful

almonds

(optional)

1/2

glass

white wine

3-4

tbsp

extra virgin olive oil

salt

for pasta and to taste

black pepper

to taste

1

bunch

fresh parsley

chopped

fresh dill

(if using onion or you have no fennel greens)
Instructions
Wash the prawns and remove the heads and the peel but keep the tails on. I also kept one prawn intact for decoration and flavour. Dry the prawns with absorbent paper and put them in a small bowl.

Wash one orange and dry it. Grate the peel from the orange being extremely careful not to grate the white part under the skin which could be bitter. Add half the zest to the prawns.

Squeeze the orange and pour the juice onto the prawns as well. Add a dash of olive oil and some of the fennel greens (if you are using fennel) or dill would be good too. Cover the bowl and let the prawns marinate for about 30 minutes.

In the meantime, wash the parsley, dry it and chop it finely. Wash the fennel, remove the first layer and chop it finely (as you would an onion). Peel the garlic. Wash the other orange and cut into slices. If you are using almonds dry fry them until they start to brown and then mince them in a food processor.

Heat the olive oil in a frying pan or skillet. Add the garlic cloves and cook on a medium heat until they start to brown slightly. Add the fennel (or onion) to the pan and cook until it starts to soften.

Remove the prawns from the marinade and add to the pan with the fennel/onion. Brown them on both sides for a couple of minutes. Then add the white wine and some of the parsley. Turn up the heat and cook until the alcohol evaporates.

Add the remaining marinade to the pan and continue to cook for a couple of minutes more on a medium high heat to reduce the liquid. Taste the sauce. Add salt if necessary.

While you are cooking the sauce put a pot of water on to boil for the pasta. Add salt once it starts to boil and bring to the boil again. Cook the pasta al dente according to the instructions on the packet. Before draining the pasta, save a cup of the cooking water.

Drain the pasta al dente and add it directly into the pan with the prawns. Keeping the heat very low, sauté the pasta in the pan and stir for a few seconds. If your sauce seems dry add some of the saved pasta cooking water.

Turn off the heat, add the chopped almonds if using, some orange slices, some black pepper and give it a final stir Before serving sprinkle each plate a little more chopped parsley, toasted almonds and a pinch of the remaining orange zest.
Notes
I made this farfalle pasta with prawns and orange recipe with ridged farfalle (bow-tie pasta) from La Molisana. But you can also use normal farfalle or another short pasta. I think penne would work very well.
This recipe can be made with shrimps too or half shrimp and half prawns. However, unpeeled precooked shrimps (or prawns) need very little cooking and so the dish wouldn't be as flavourful. If you do use precooked seafood, I would suggest marinating it for longer so it absorbs more of the orange flavour and reduce cooking times.
Nutrition
Calories:
590
kcal
Carbohydrates:
90
g
Protein:
21
g
Fat:
16
g
Saturated Fat:
2
g
Polyunsaturated Fat:
3
g
Monounsaturated Fat:
10
g
Trans Fat:
0.01
g
Cholesterol:
38
mg
Sodium:
217
mg
Potassium:
769
mg
Fiber:
8
g
Sugar:
12
g
Vitamin A:
1480
IU
Vitamin C:
61
mg
Calcium:
136
mg
Iron:
3
mg
If you like farfalle (bow-tie) pasta you would probably enjoy these other recipes..
Pasta with lemon is also divine. Take a look at these recipes
Pin for Later