Calabrian baked pasta with meatballs.
Known as pasta 'mbruscinata or pasta chijna in the local dialect, this rich and hearty Calabrian baked pasta with meatballs is a traditional dish for Sundays, holidays and family occasions in Calabria. Although Italians would traditionally eat this pasta bake as a first course (primo), it's so loaded with delicious local foods and ingredients that it makes a filling main course too.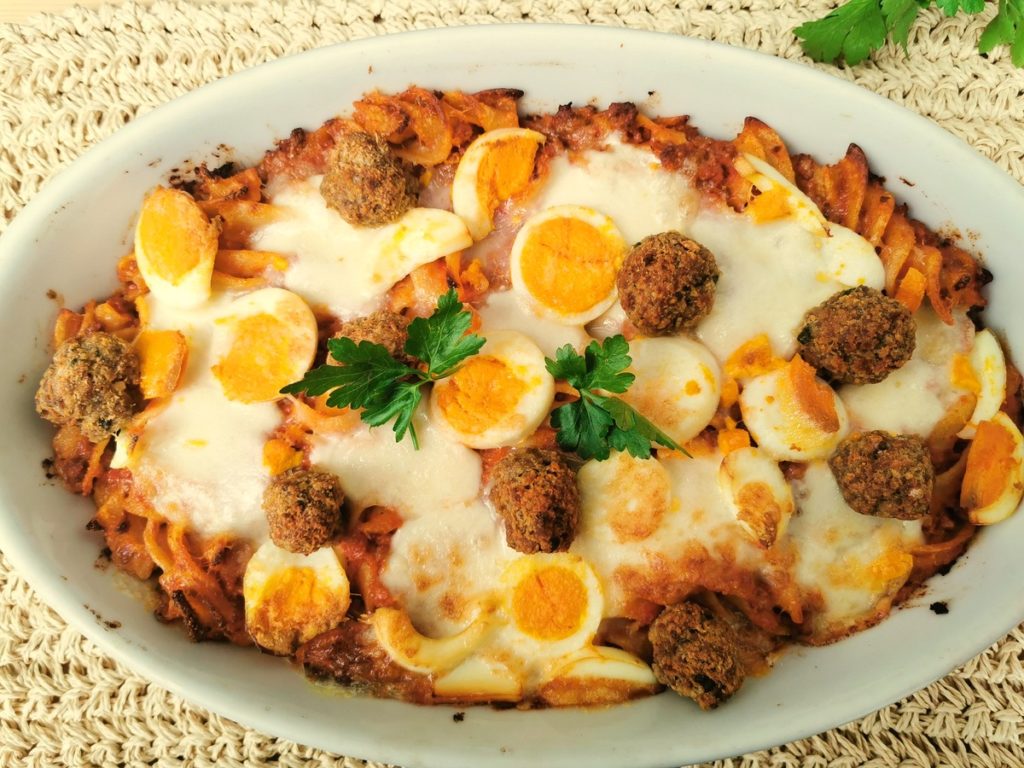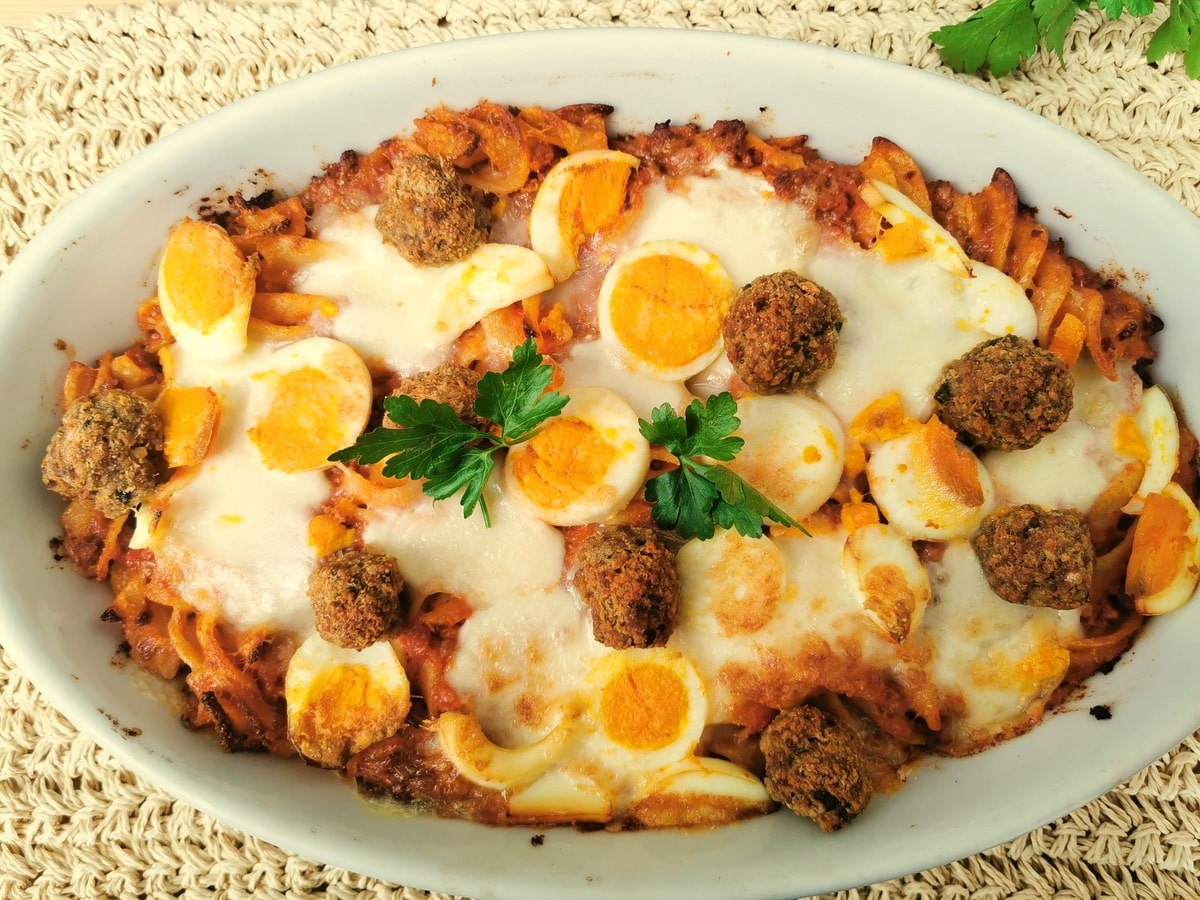 Sunday isn't Sunday in Italy without a baked pasta.
I'm sure you'll agree, the most filling pasta dishes are the baked ones. In Italy, they are traditionally served on Sundays and special occasions in many homes. In fact, Sunday isn't Sunday here without a pasta bake.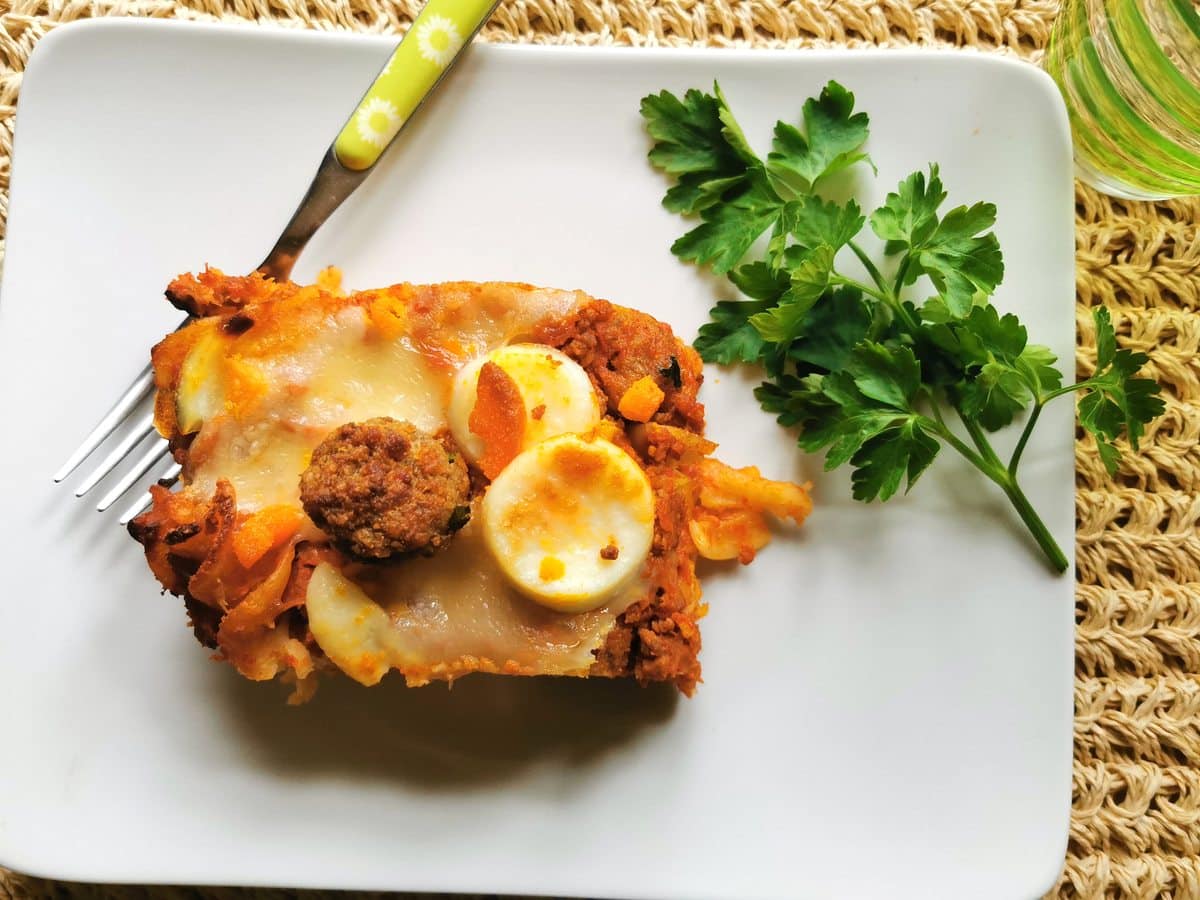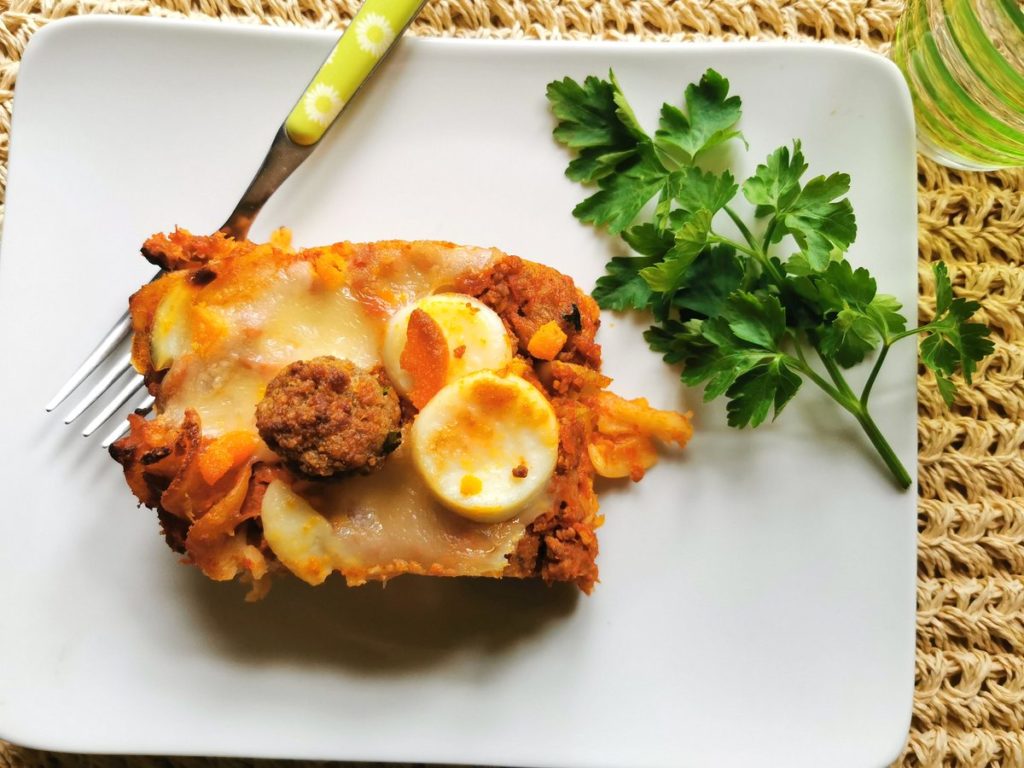 Of course, each region has its own typical baked pasta recipes. Italians say 'pasta al forno'. Pasta Mbruscinata, or pasta chijna, is a typical seriously hearty baked pasta dish in Calabria.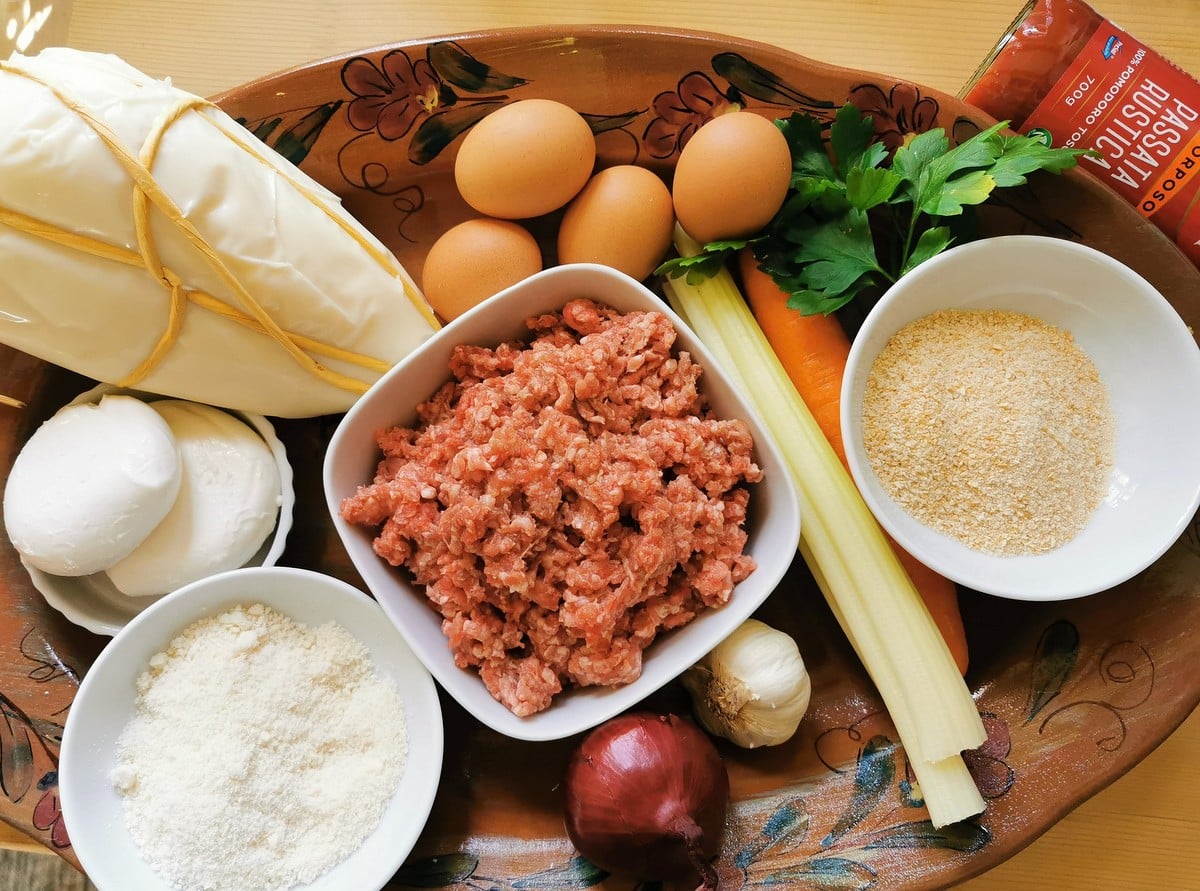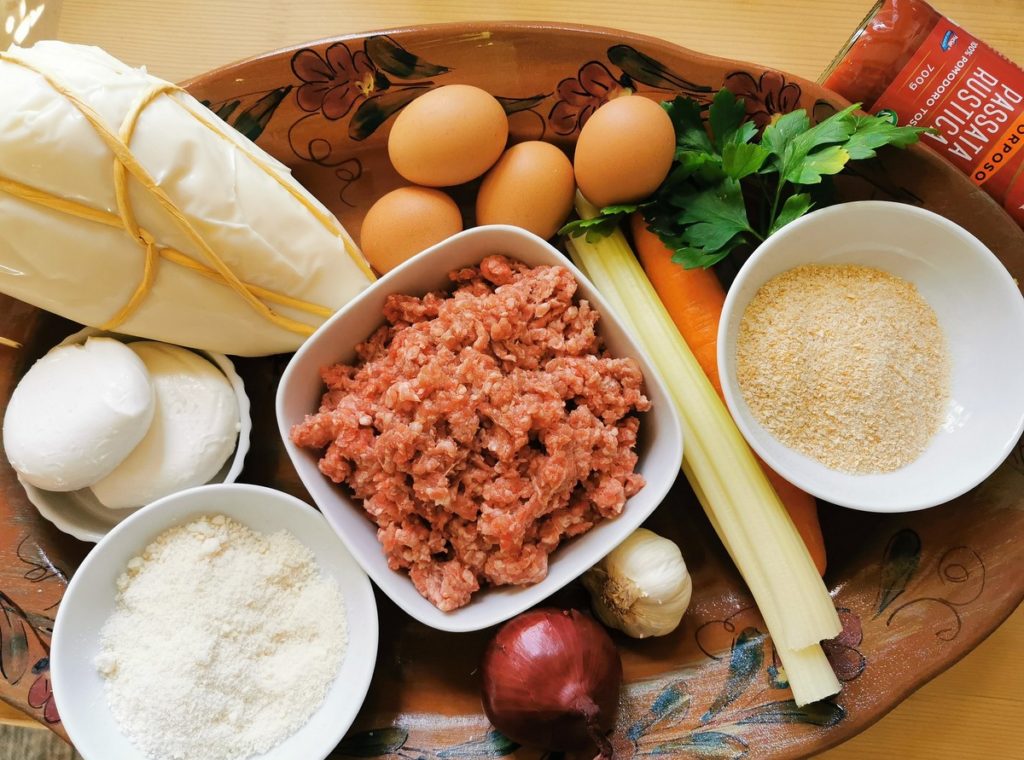 Traditionally, pasta dishes are a first course or 'primo' for Italians, even though, they usually follow an antipasto or appetizer! Having had their fill of pasta (which on special occasions could mean 2 or 3 different pasta dishes!), Italians then move on to a main course of fish or meat.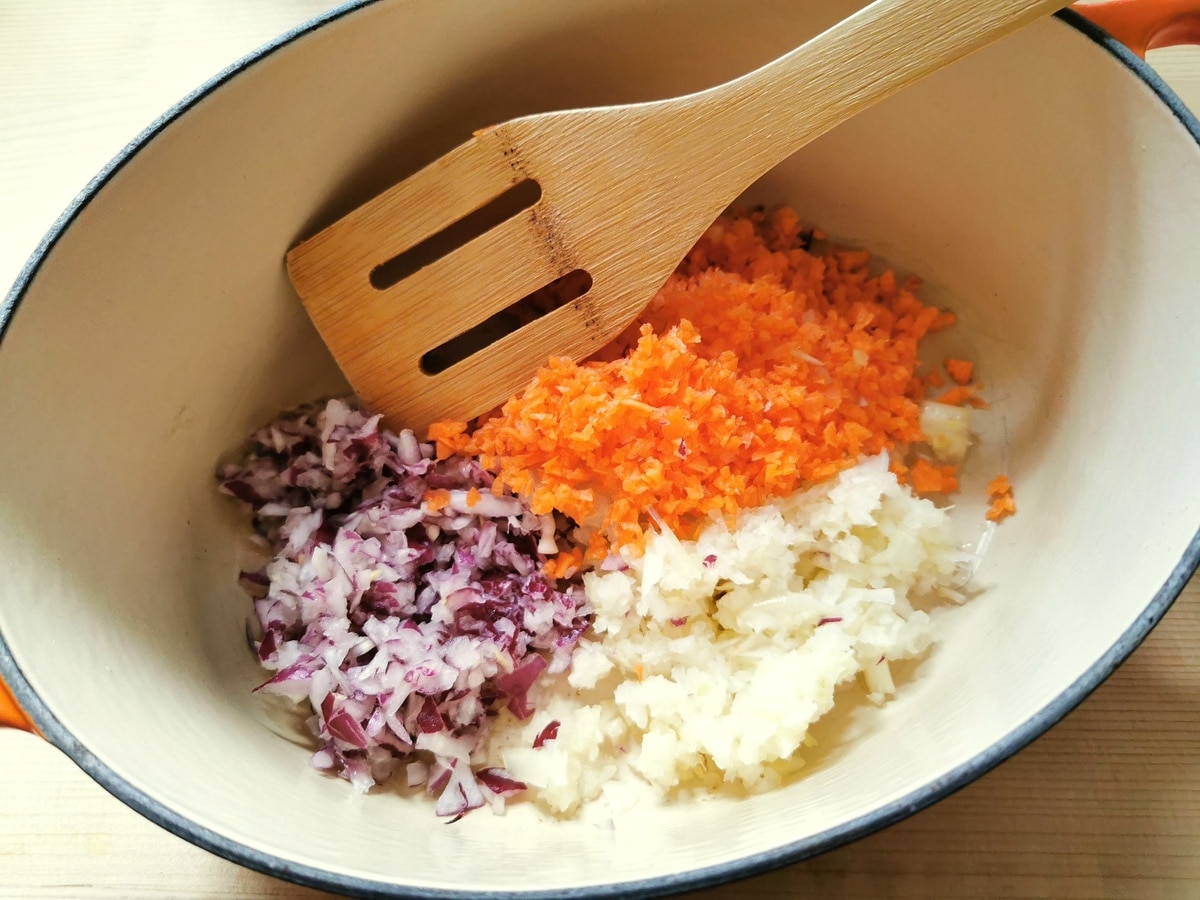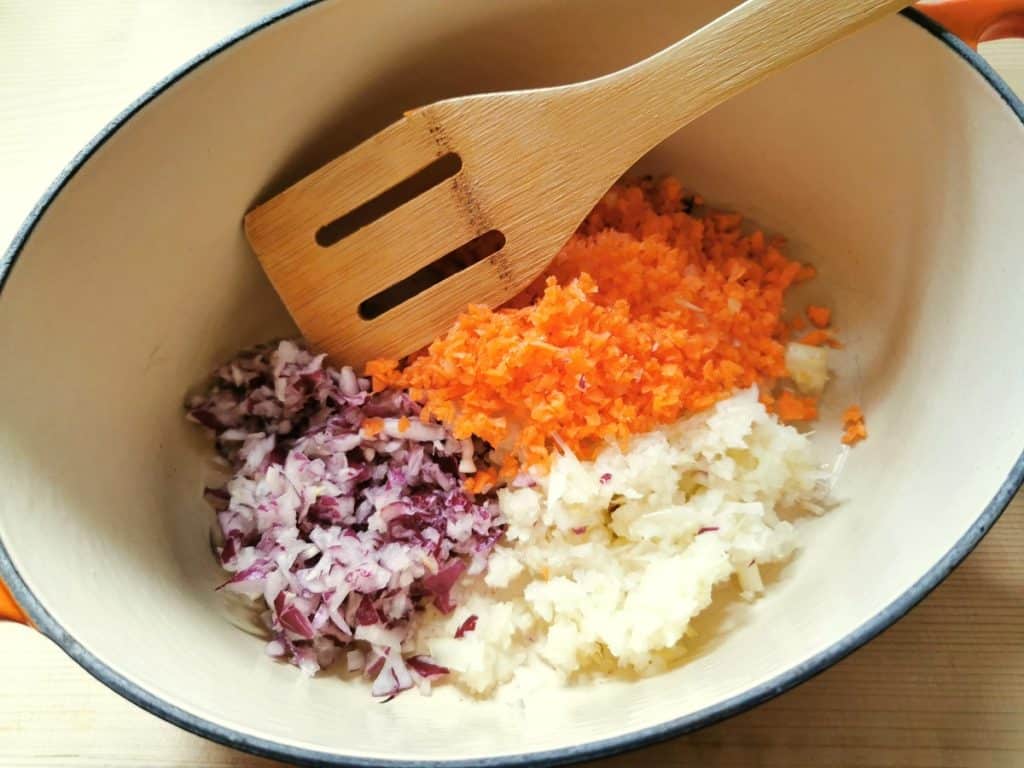 When I first moved to Italy, I found this quantity of food hard to swallow, literally! However, I've learnt to be less indulgent and take it easy with the first courses. Now, I prefer to eat only half a portion or skip one course altogether. Even if that means missing out on something delicious!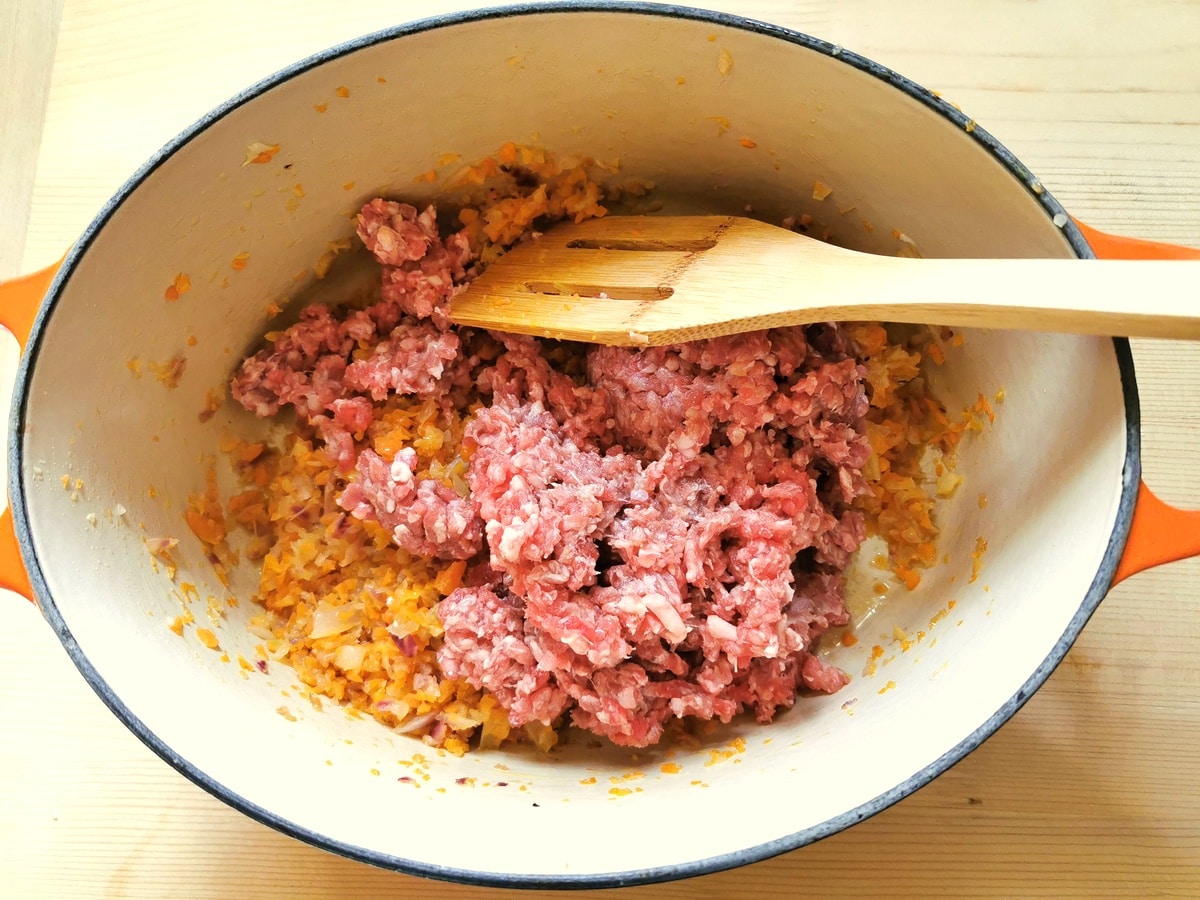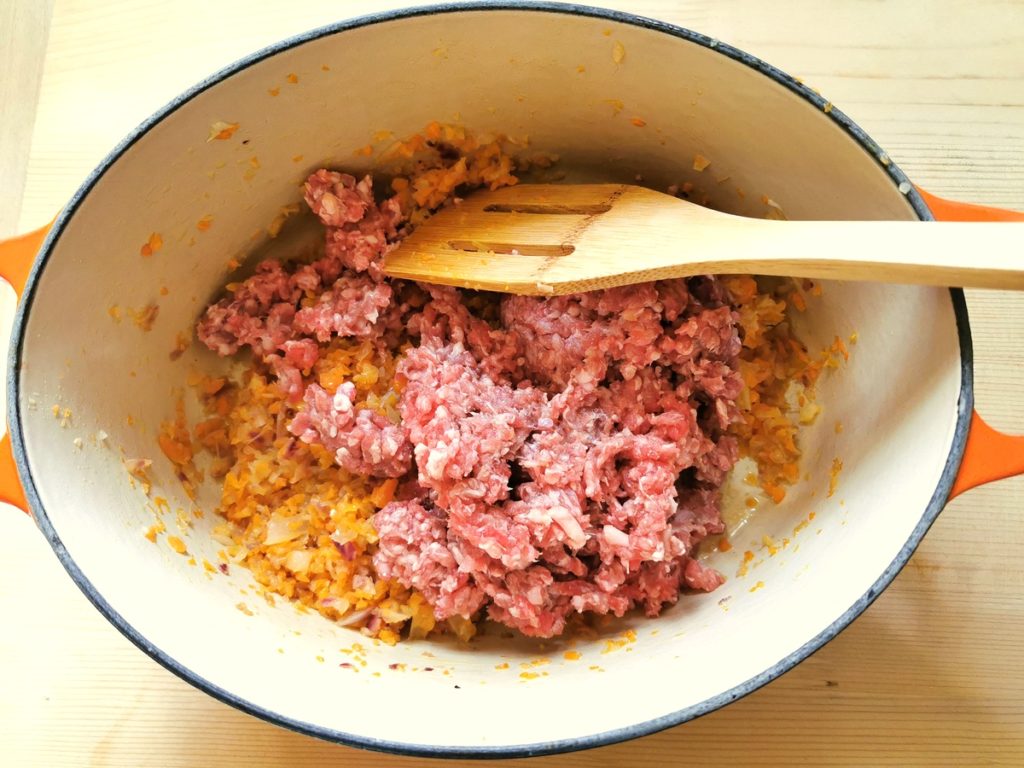 So, if you ever get invited to an Italian wedding, special occasion or even just dinner at Italian friends be warned. It's best not to eat too much antipasto and/or pasta or you'll never reach dessert!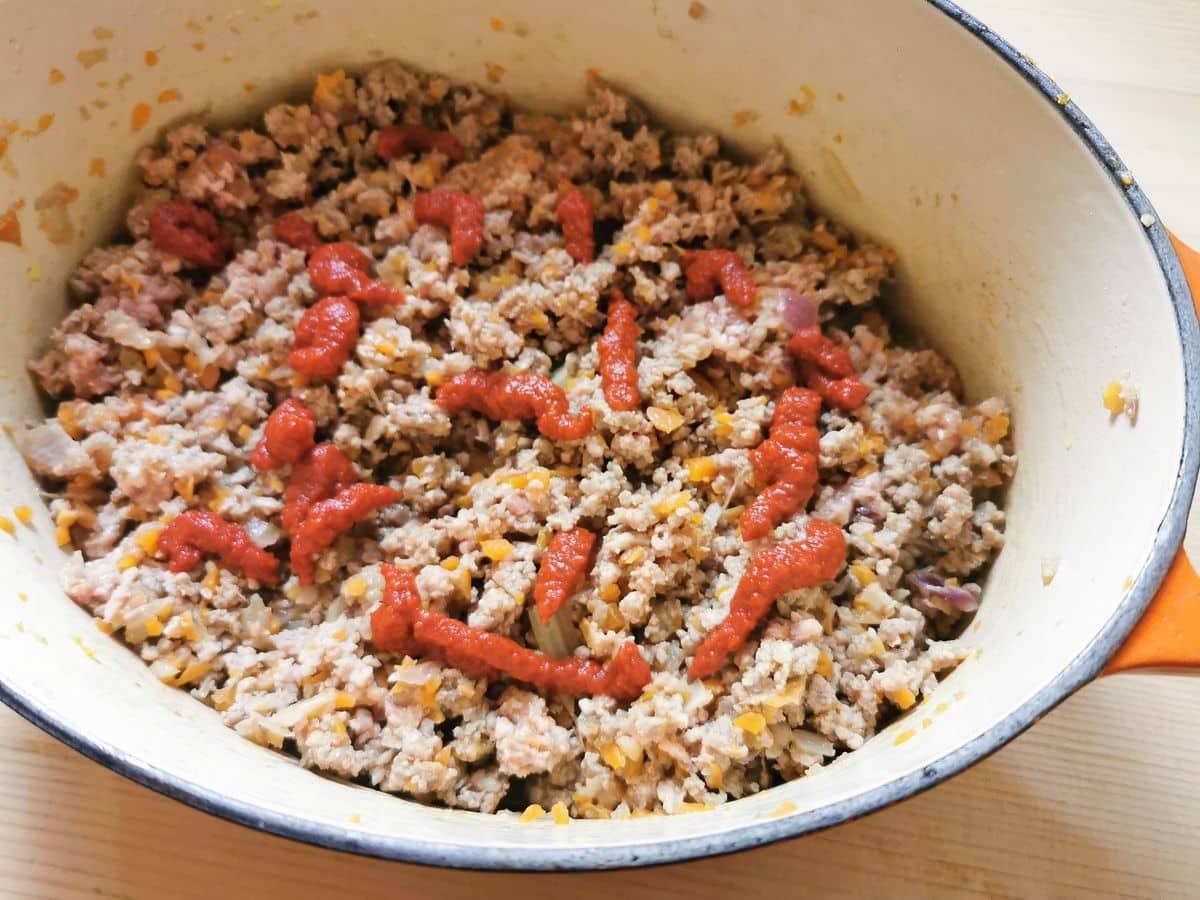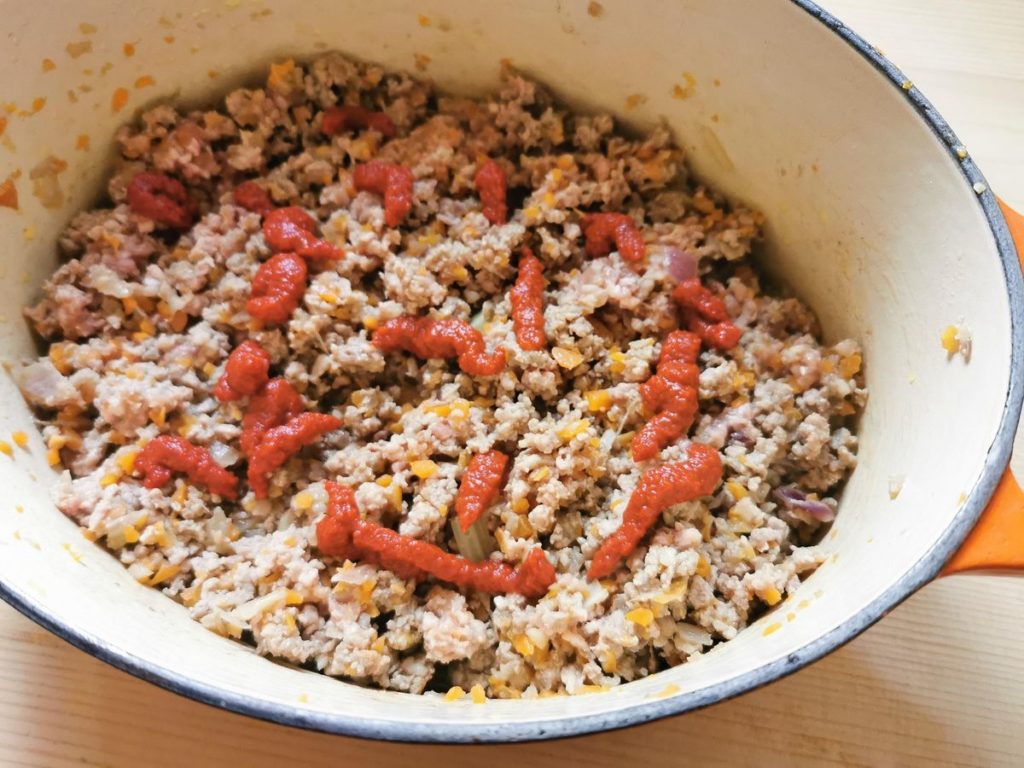 Different versions of Calabrian baked pasta.
The recipe for this Calabrian baked pasta varies from town to town. However, the general rule for pasta Mbruscinata seems to be put as many ingredients in it as you can!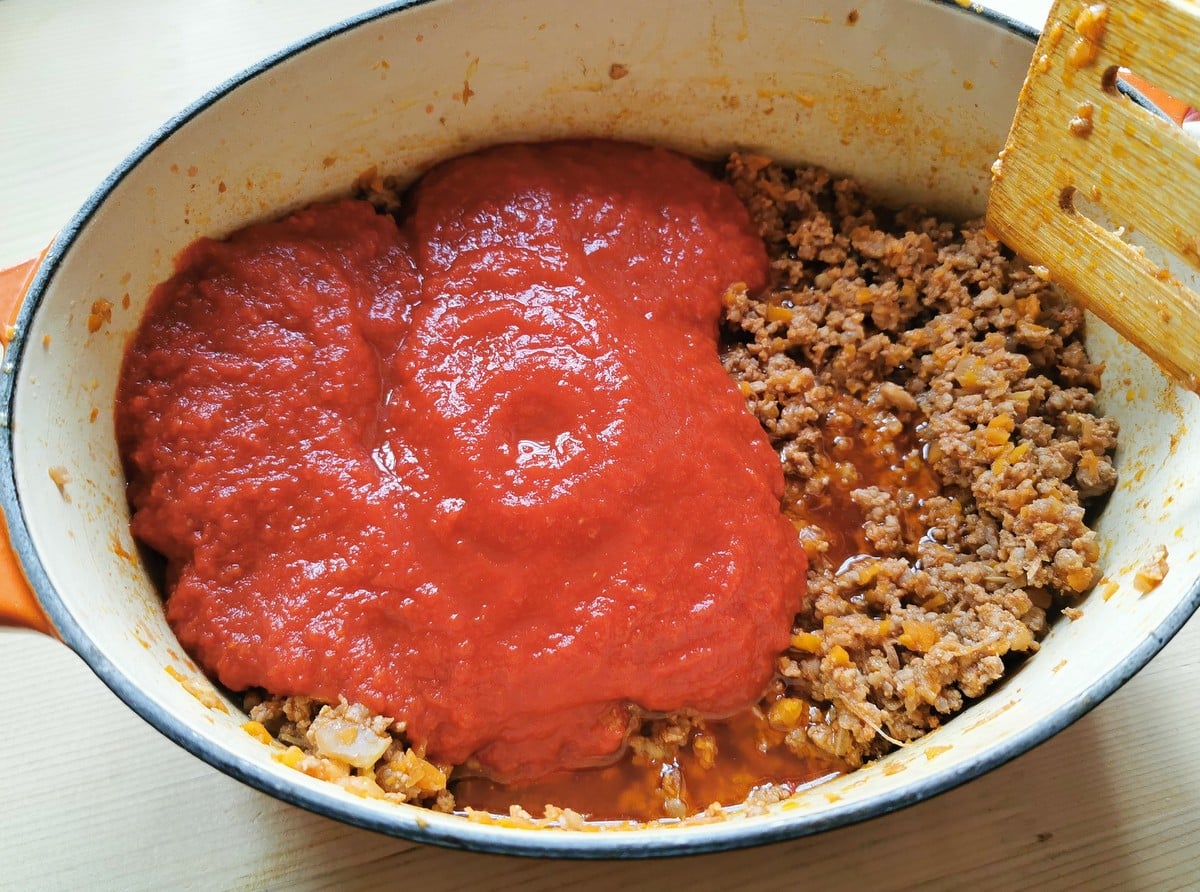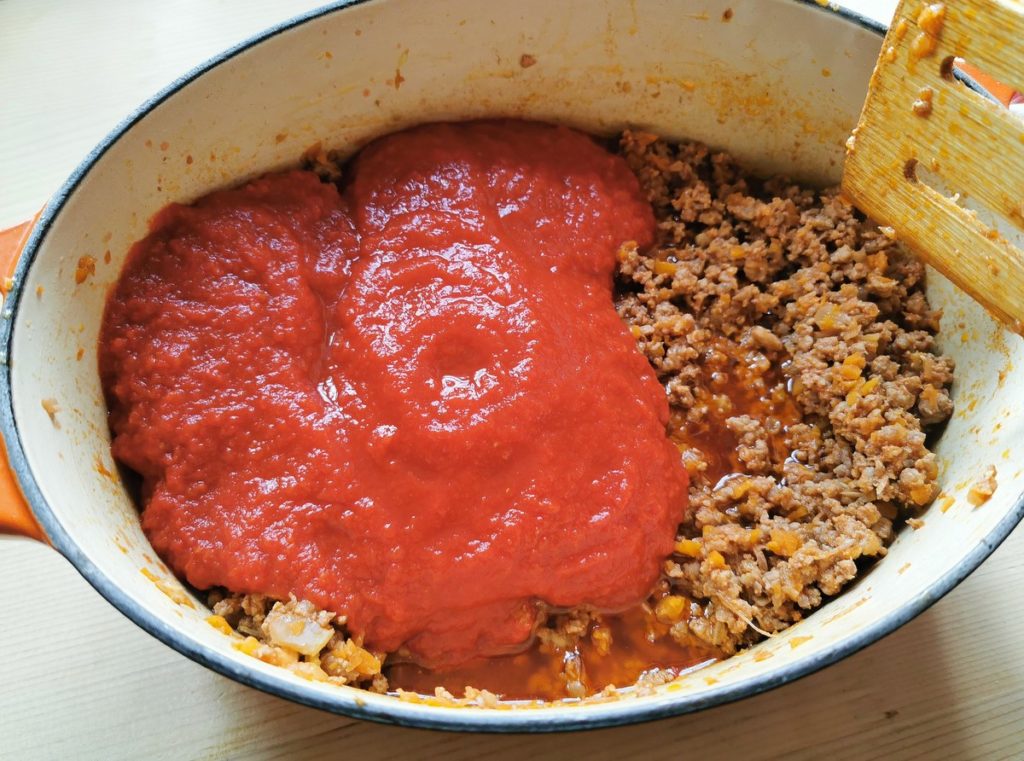 Most Calabrians make a bolognese type sauce, prepared with a mixture of ground meat such as pork and veal. Some people also add sausage. Others use a tomato sauce instead of the ragu. Then, they add mozzarella, provolone or cacciocavallo cheese, hard boiled eggs, salami, ham, and meatballs! Yes, baked pasta with meatballs!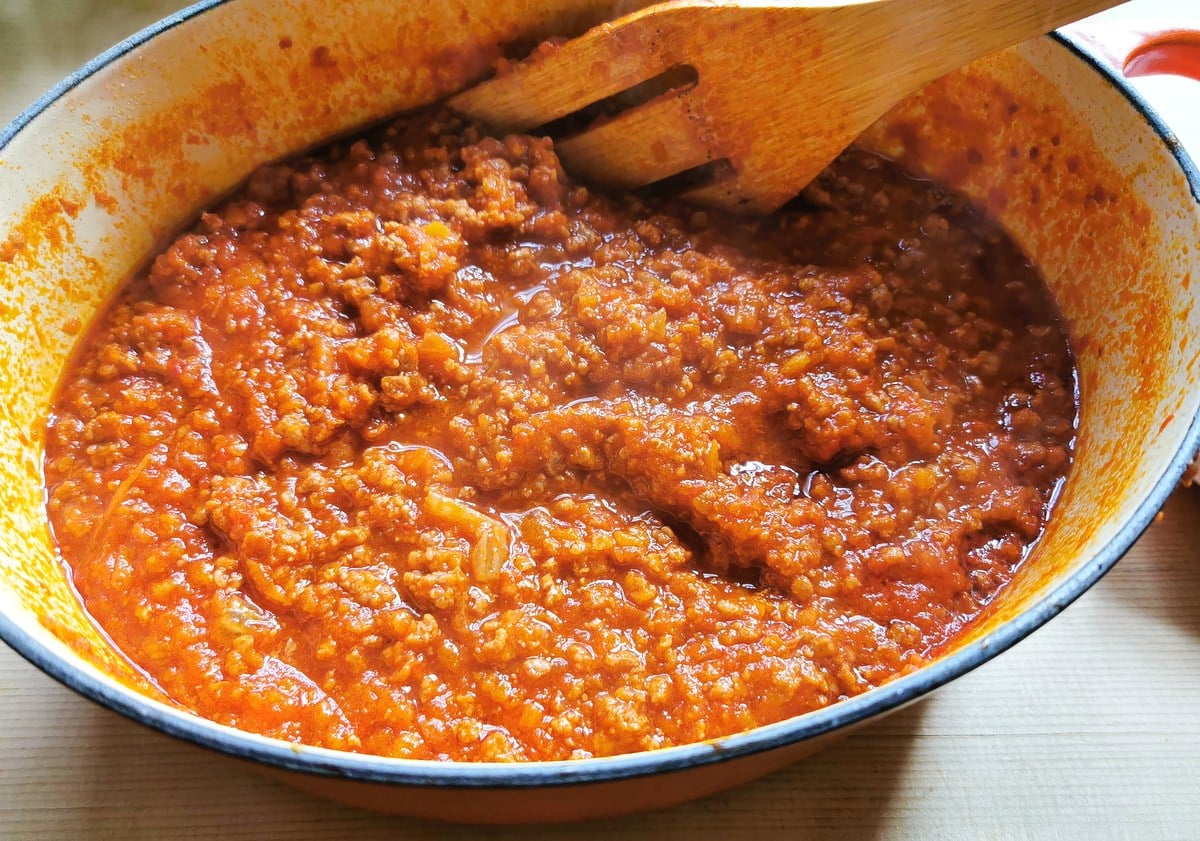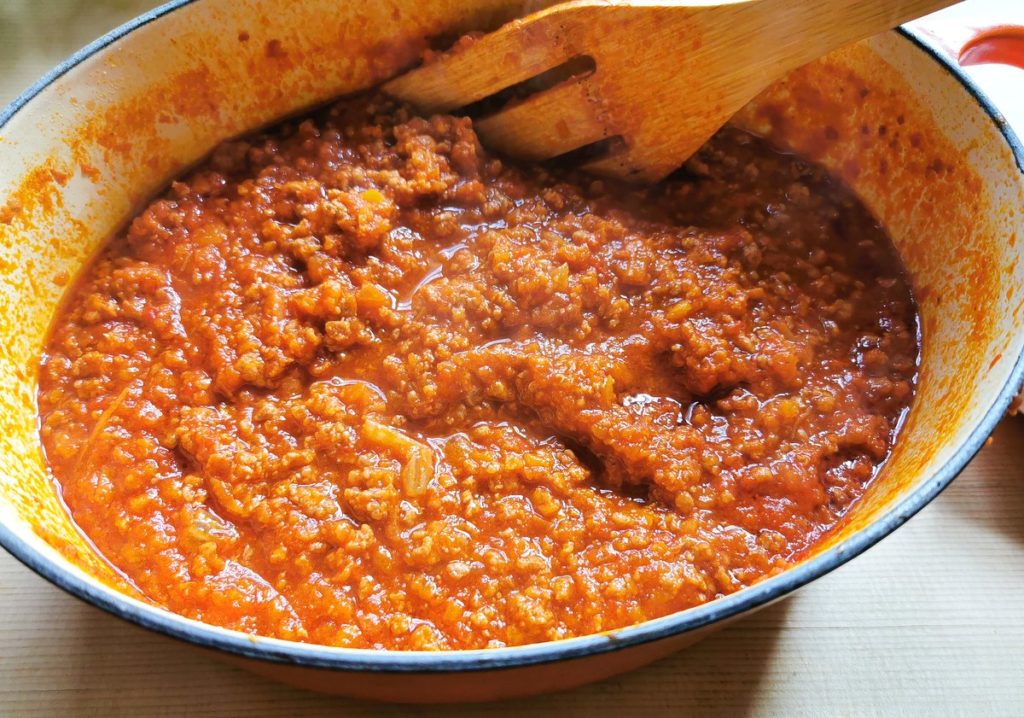 I made the version that I like most of all, without sausage or ham, but with meatballs, boiled eggs, mozzarella and provolone. The meatballs are an important part of the dish and I'm going to give you a few secrets to making good meatballs.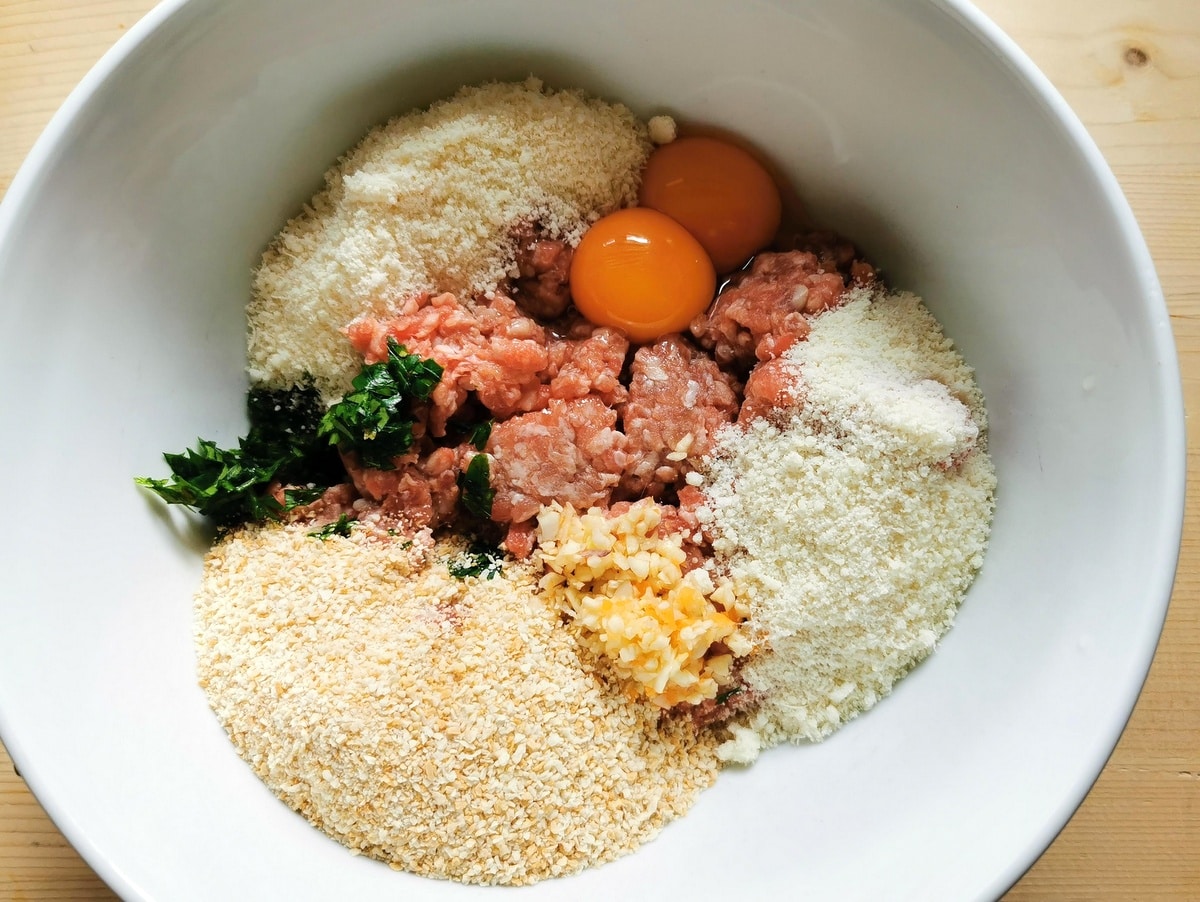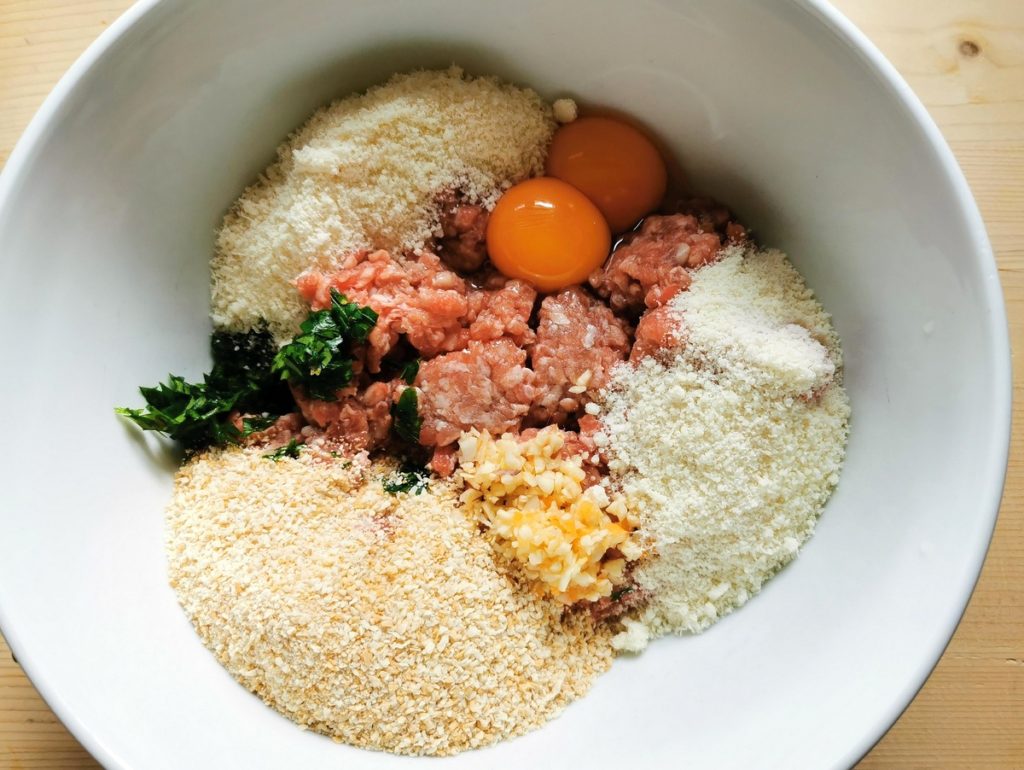 Making great Italian meatballs!
To make delicious Italian meatballs, it's important that the mixture is well seasoned. Don't skimp on the salt or the grated cheese, whether Parmigiano or pecorino. Also important to remember is that Italian meatballs are quite small, especially if they are going into a pasta dish.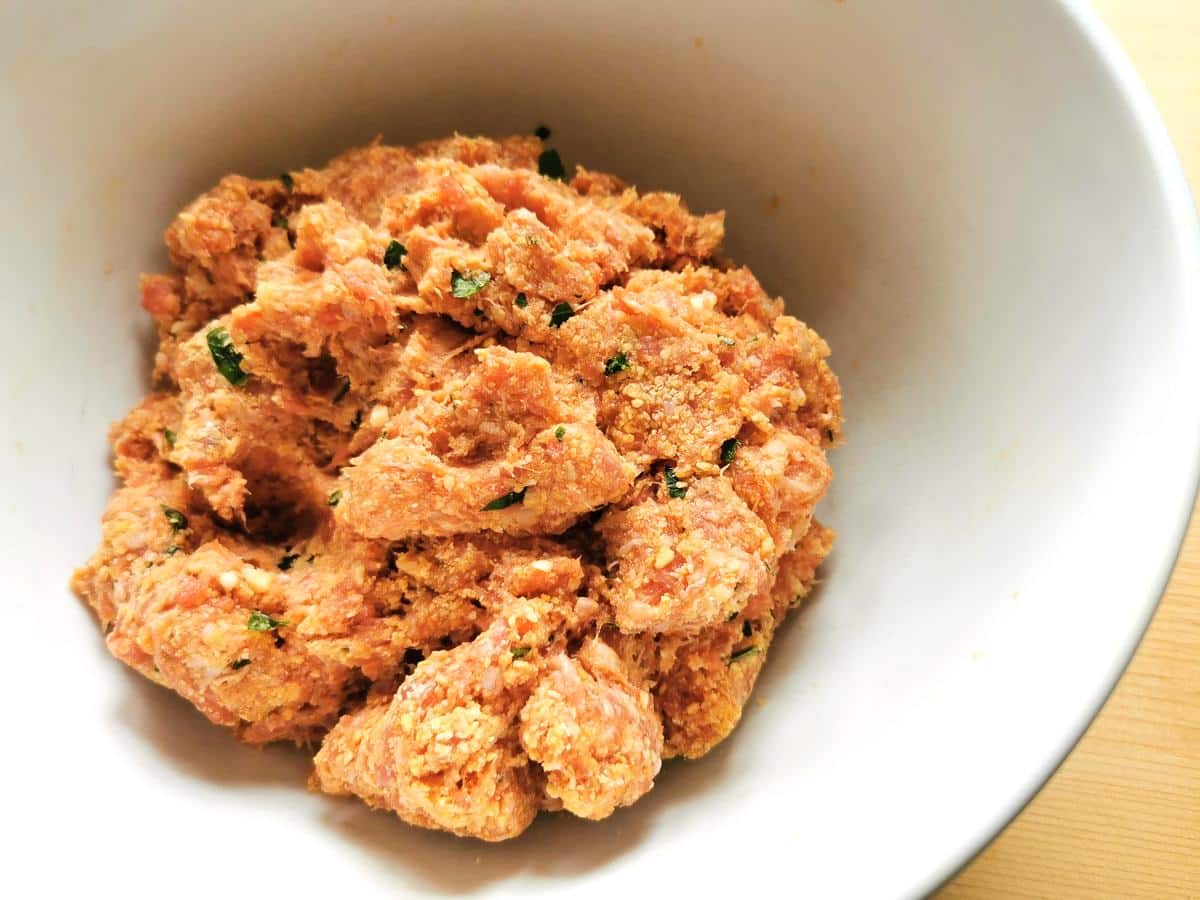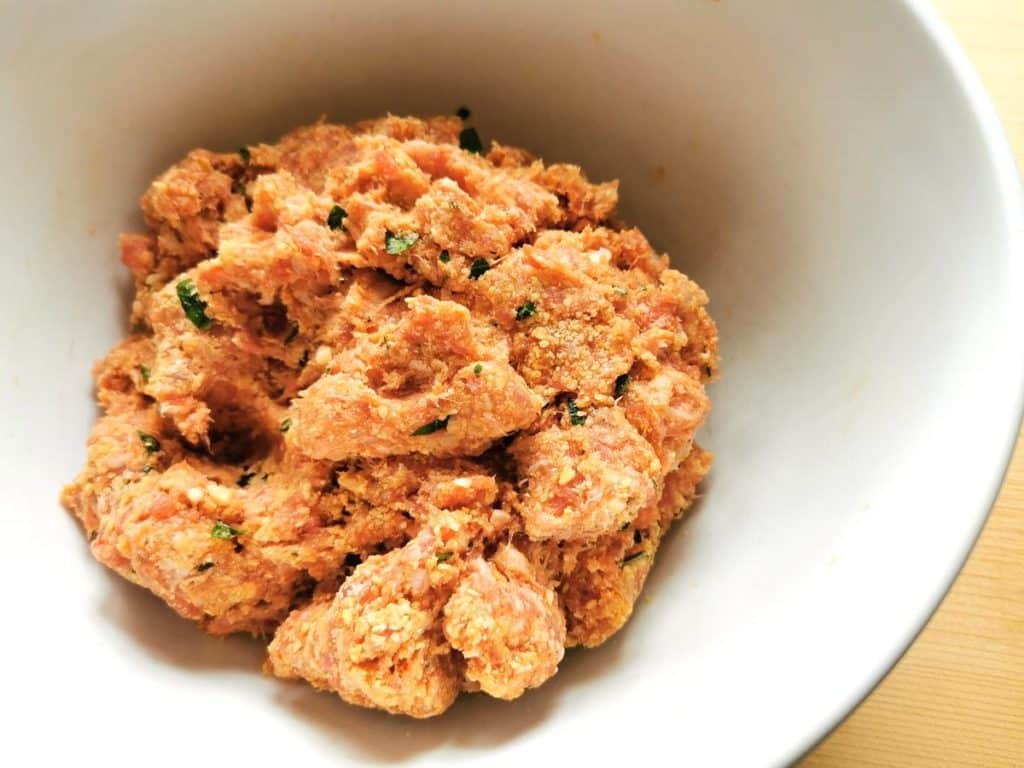 Secondly, use enough milk-soaked bread or breadcrumbs so that the texture is not too soft nor too dry. The more bread or breadcrumbs you use, the softer the meatballs will be.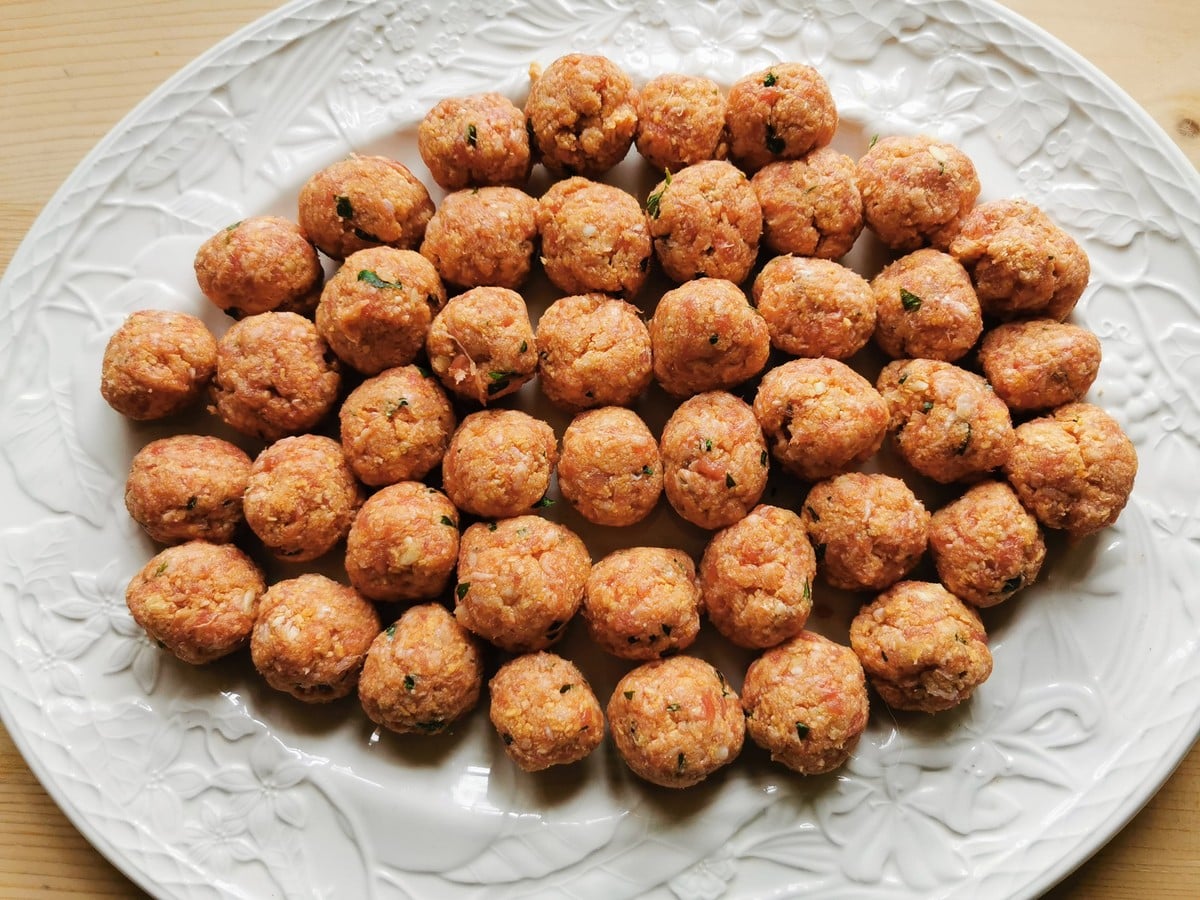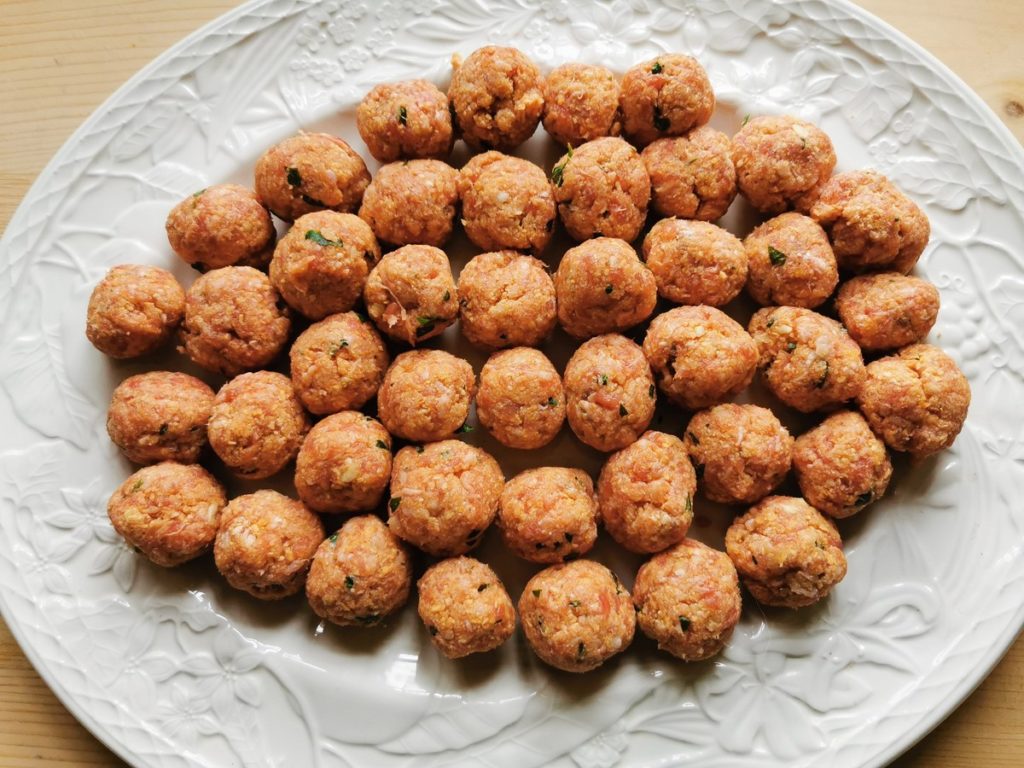 Thirdly, make sure that you shallow fry the meatballs in light olive oil (or vegetable oil) over a moderate heat. You don't want them to cook too fast. The bread content means they brown quickly and can burn. But cook them too slowly and they'll become dry and greasy. The oil should bubble up gently around the meatballs when you place them in it.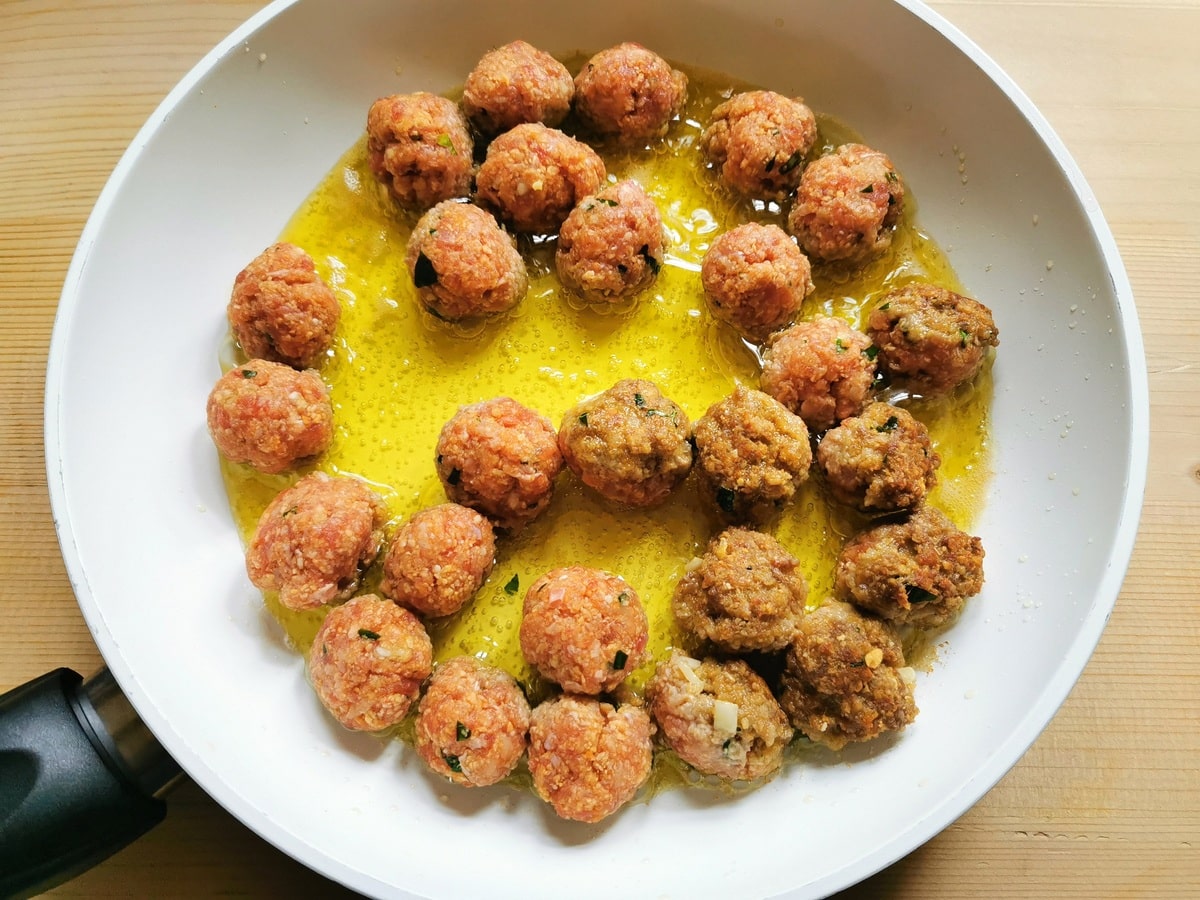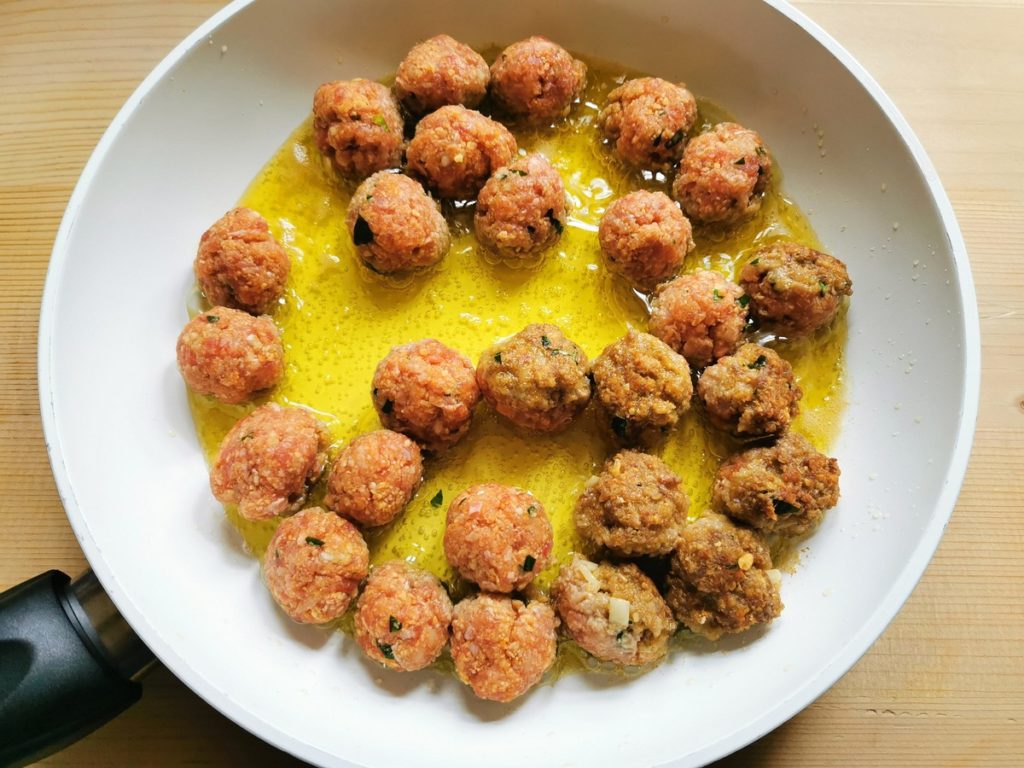 To be sure that your mixture is properly seasoned and of the right texture, it is a good idea to make one meatball, fry it and taste it. If you are happy with the taste and consistency, cook the rest. If not, adjust the seasoning or other ingredients.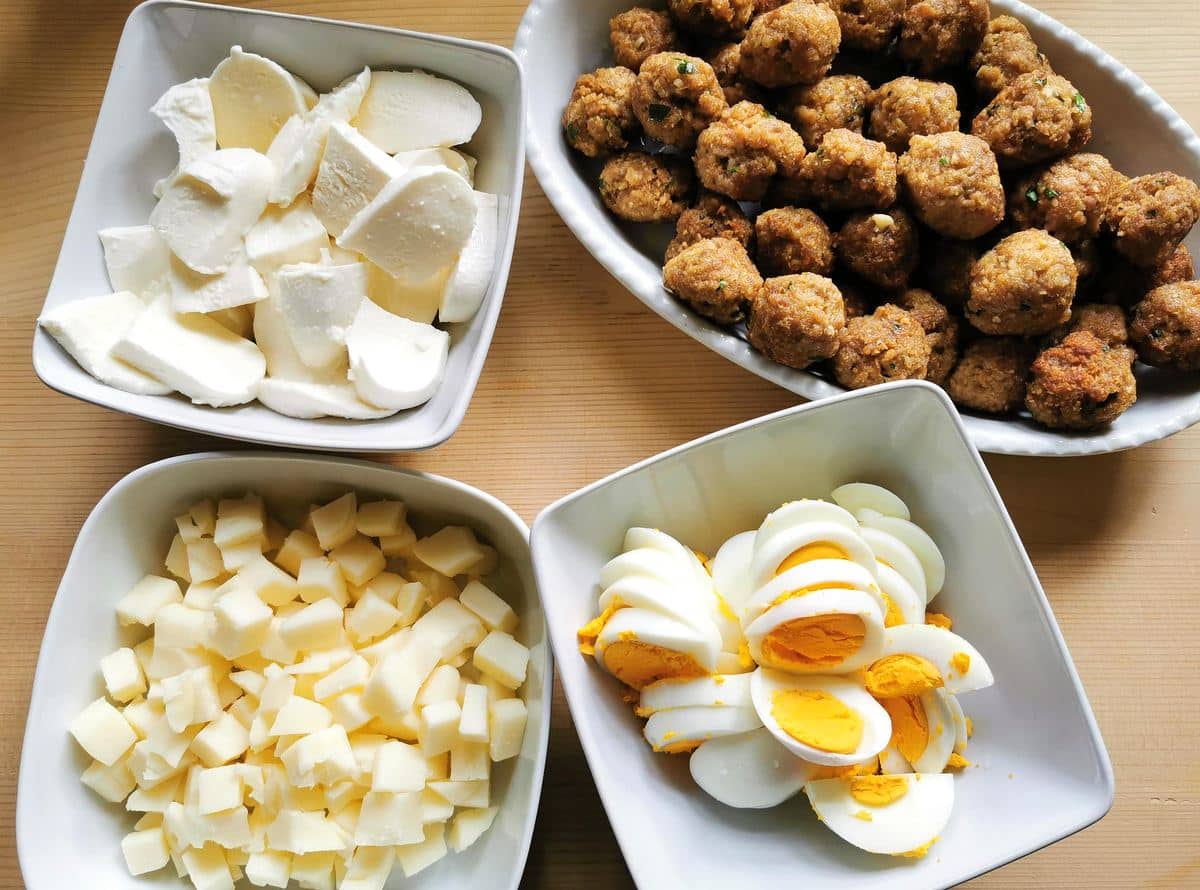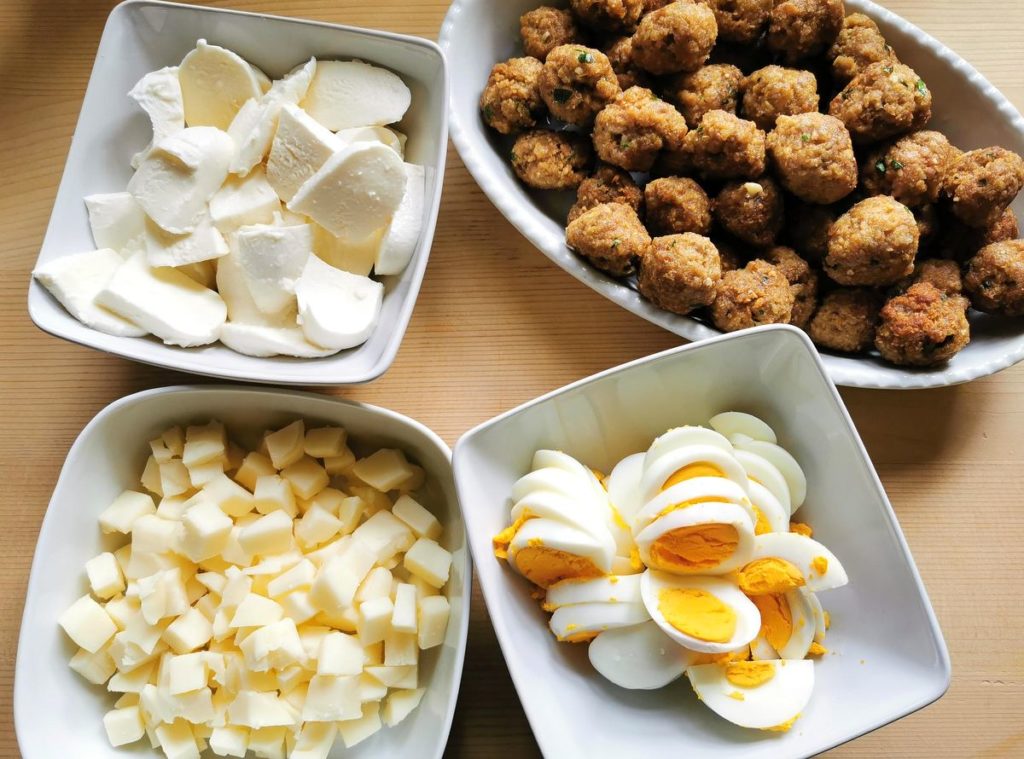 Making this Calabrian baked pasta.
As I'm sure you can imagine, this baked pasta takes a bit of time to make. But, don't be put off! It is so worth it. You can also make the ragu in advance and assemble the dish the day before. So, it's ready to bake and you can spend more time with family and guests!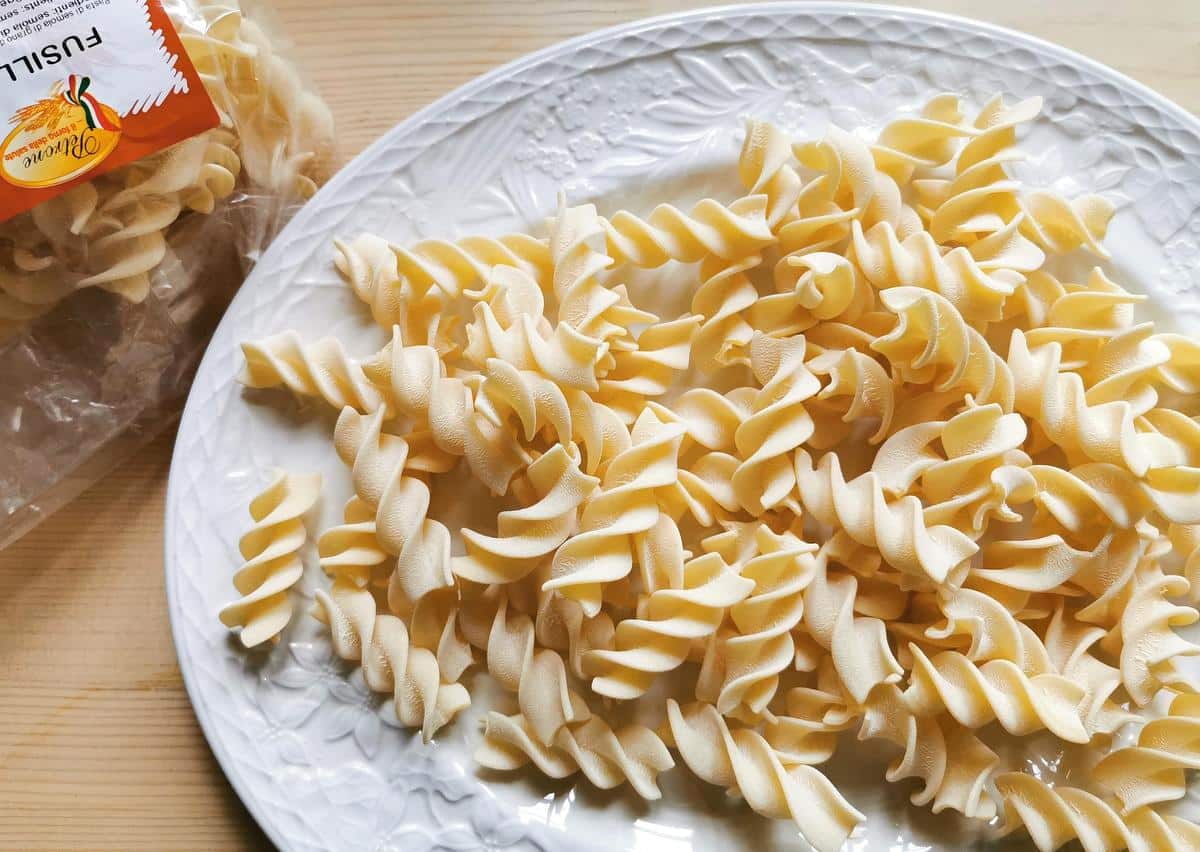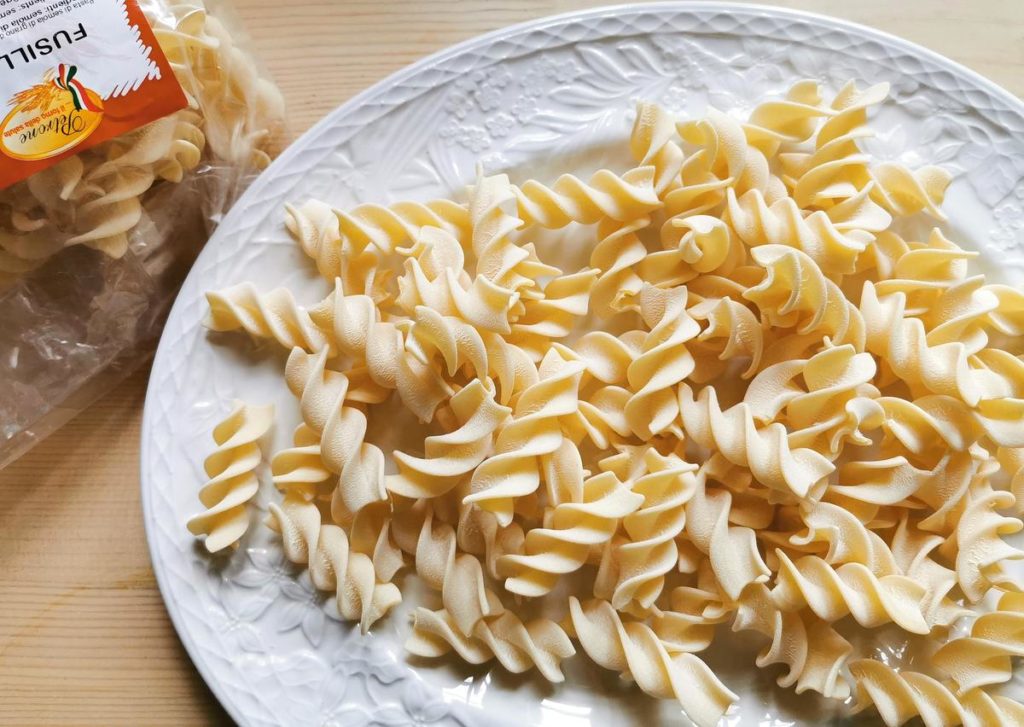 The first step is to make the ragu or Bolognese. The longer you simmer ragu, the better it tastes. And, while the sauce is cooking you can get on with the rest of the dish!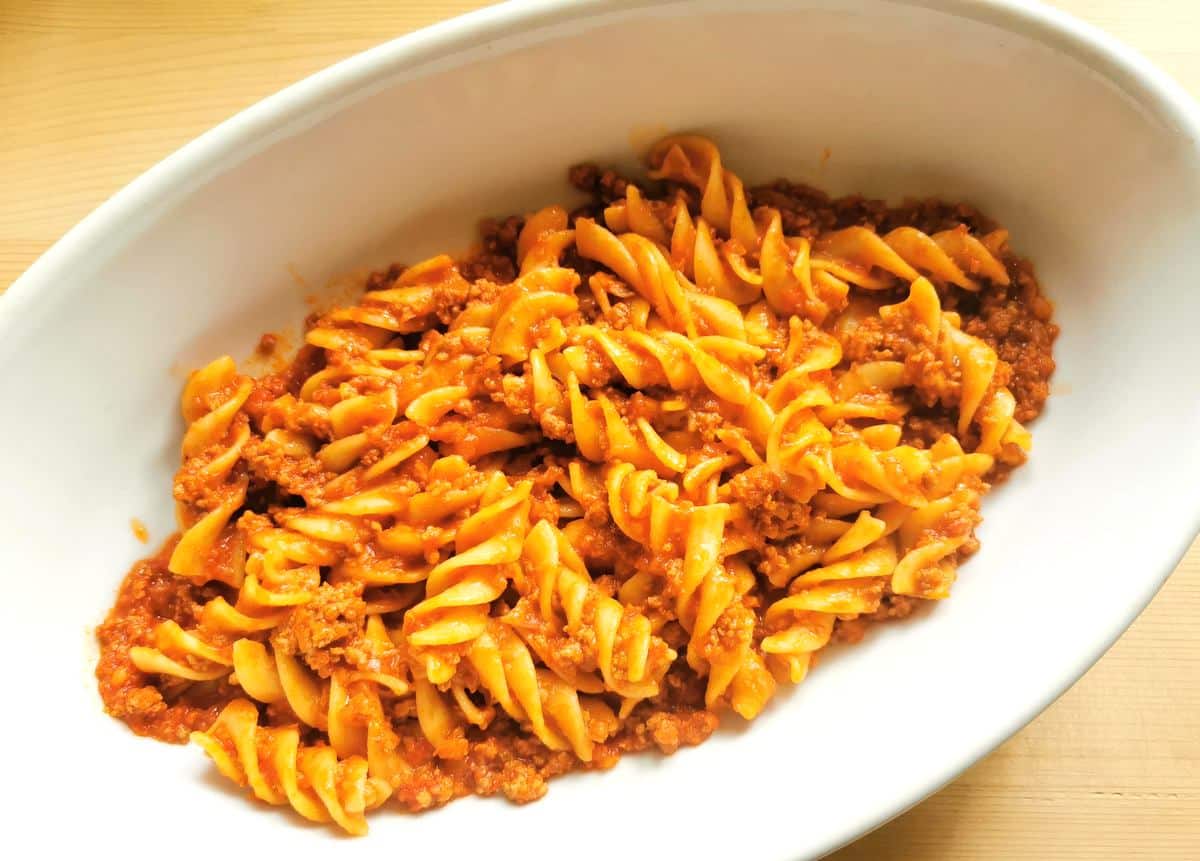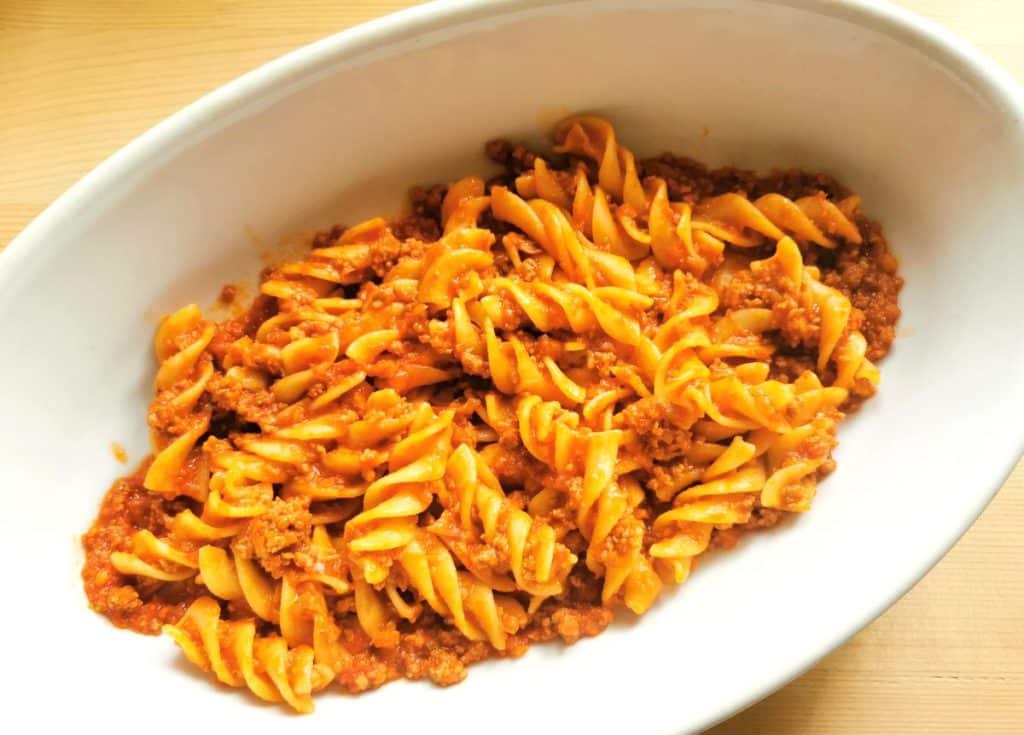 The next step is to make the meatballs and then fry them. They can be set aside on some kitchen paper while you boil the eggs and cut the cheese in cubes. Finally cook your pasta and mix it with the ragu. If you're not baking immediately, let the pasta and ragu cool before assembling your Calabrian baked pasta!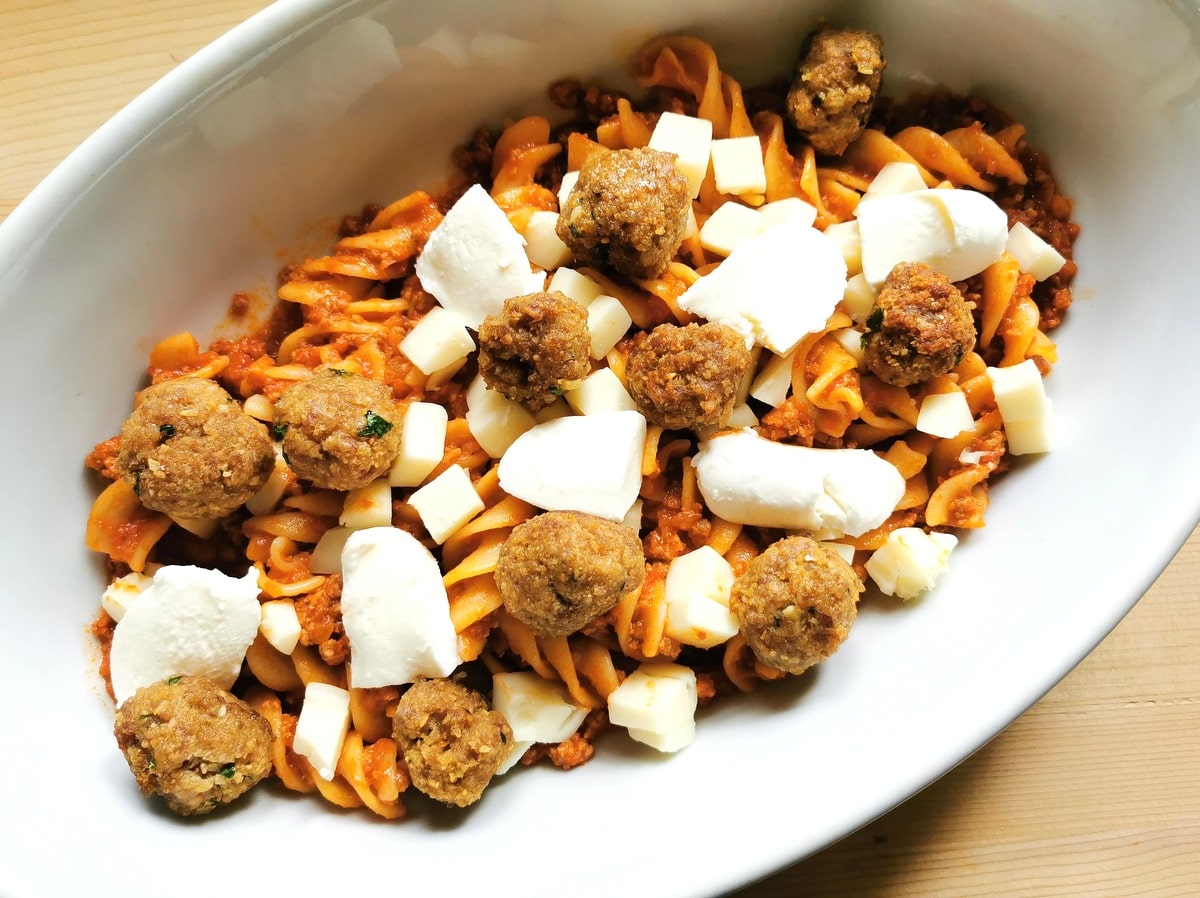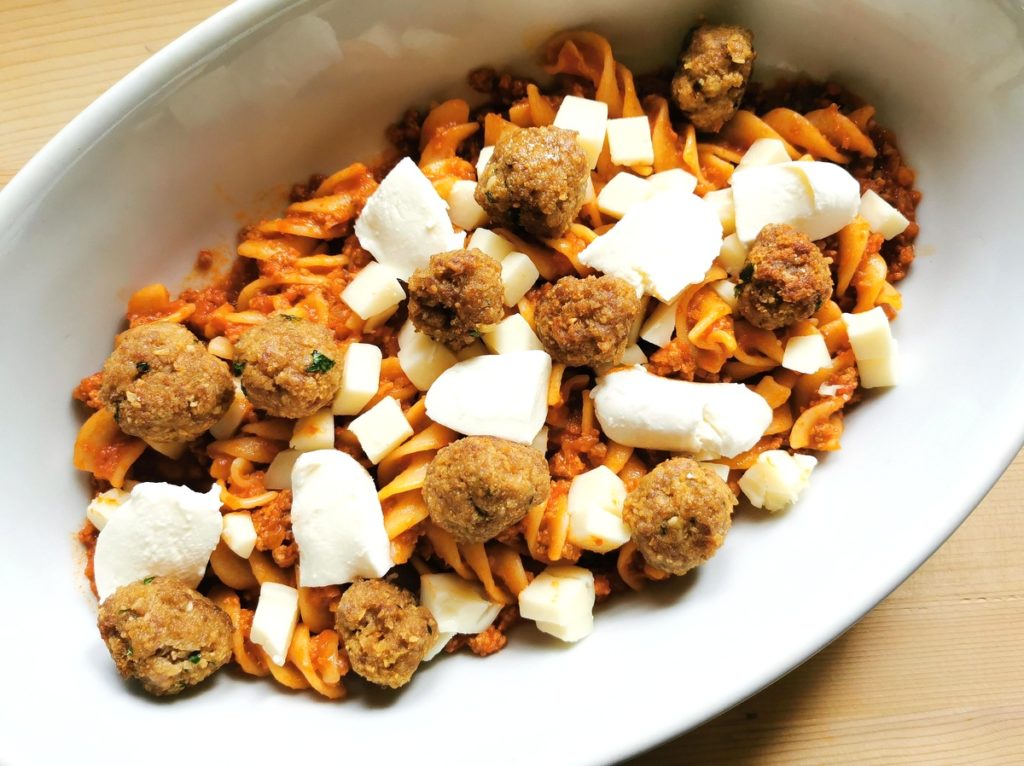 The Pasta.
This Calabrian pasta bake is usually made with short pasta tubes such as penne, rigatoni or short ziti. This time I used giant fusilli called fusilloni I bought in Calabria! I thought this pasta was fantastic but use your favourite!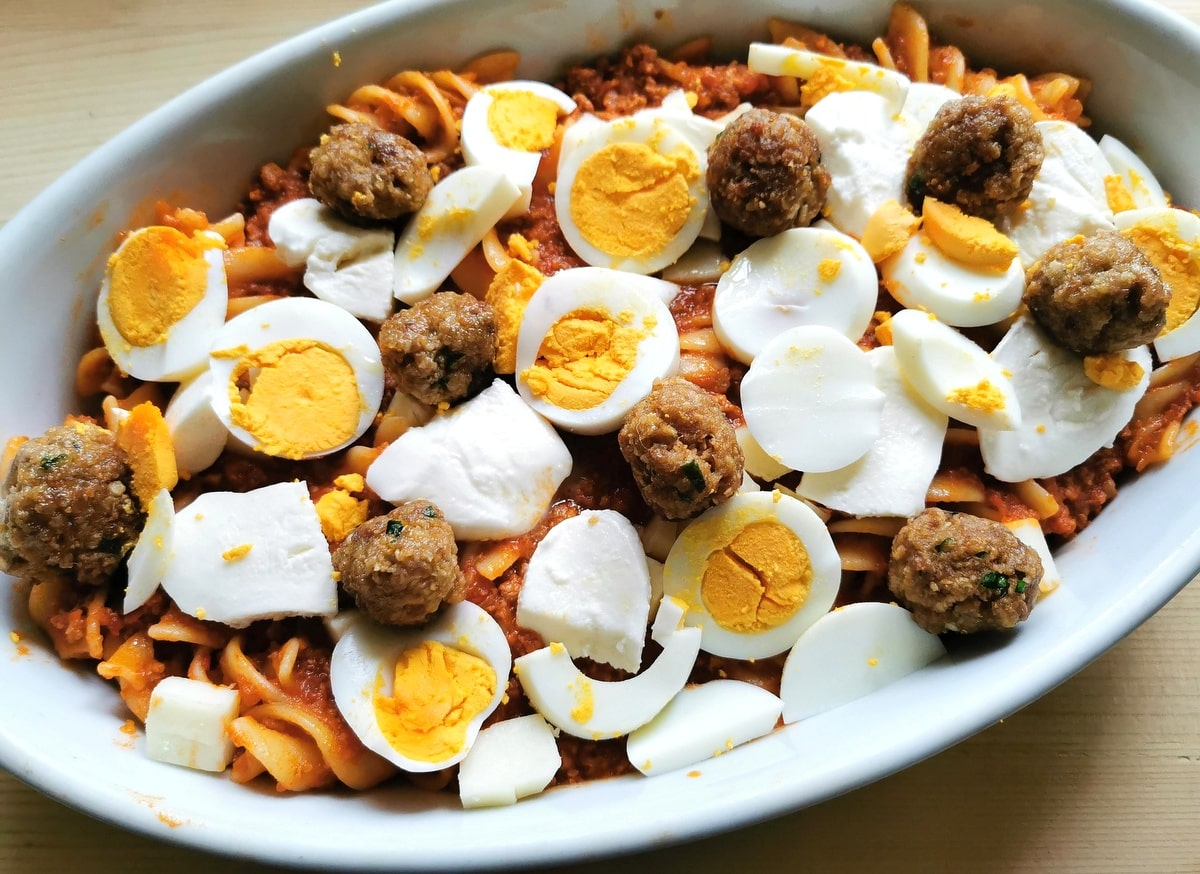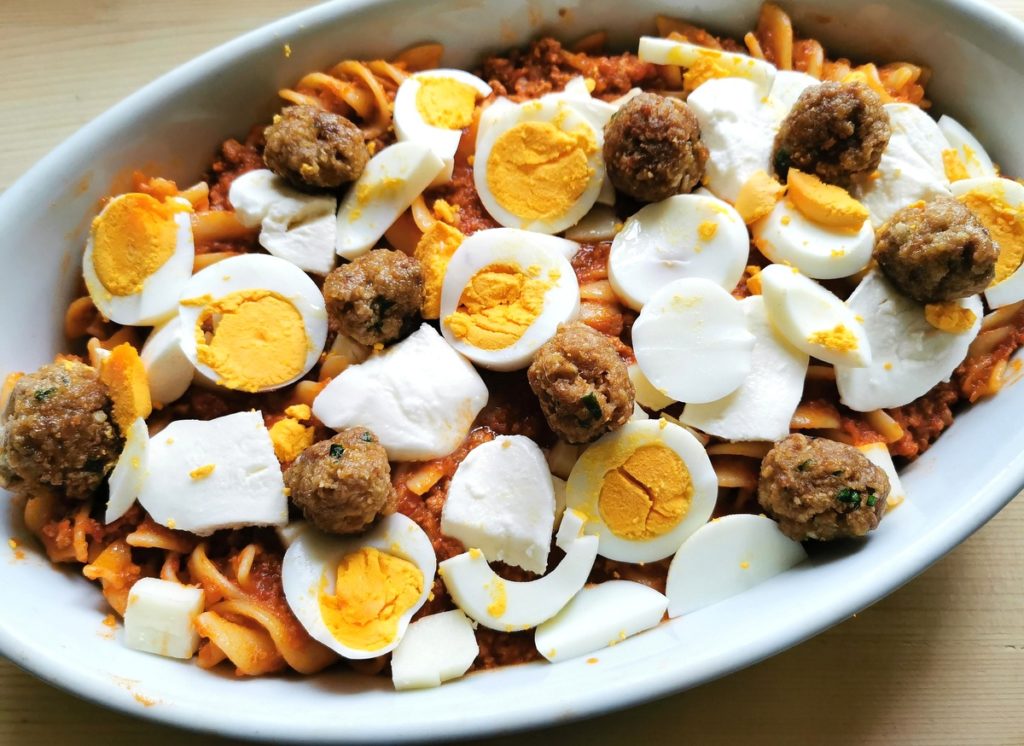 Pasta Mbruscinata makes for great leftovers too!
This dish makes great leftovers! Yes, the consistency is different. It's drier than when served right out of the oven. But, the flavors are stronger. I love leftovers of this Calabrian baked pasta. I've even had them 2 days running!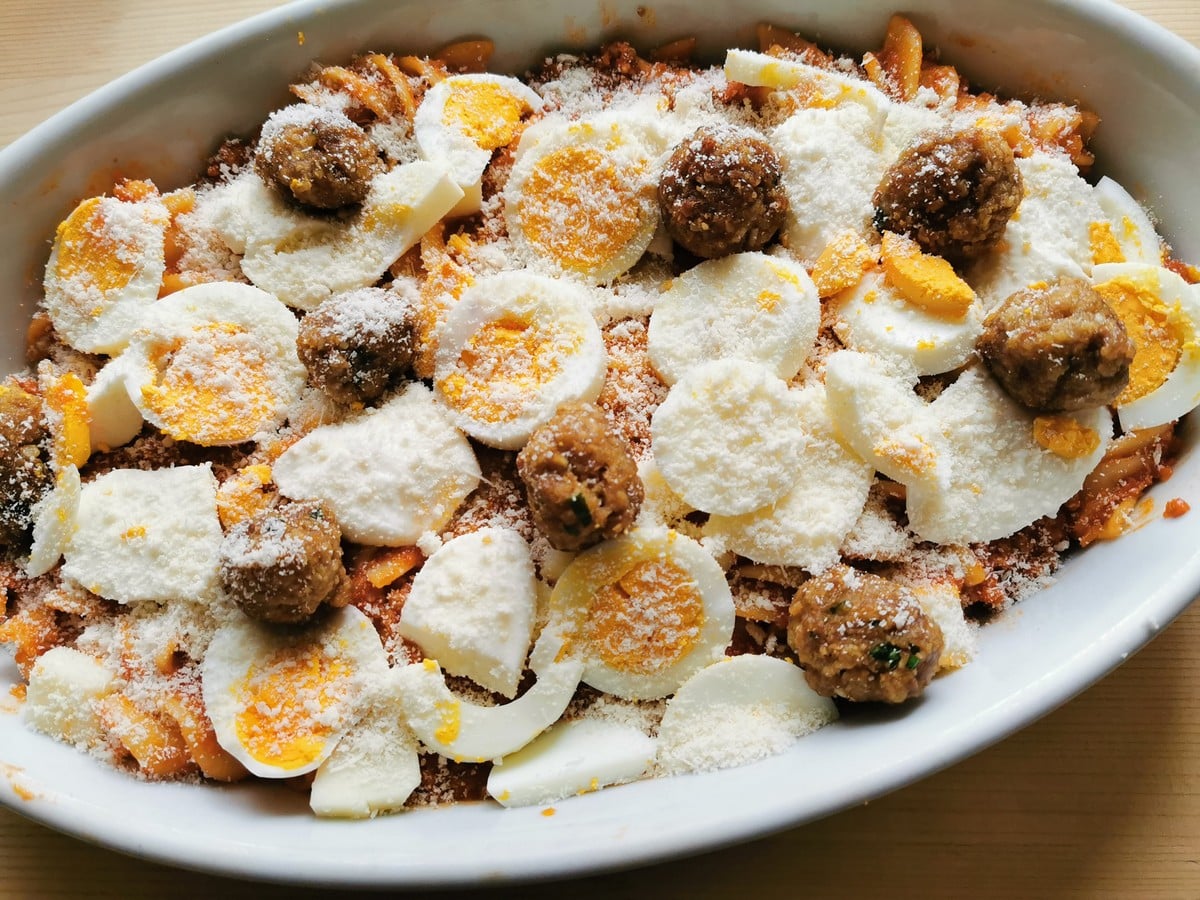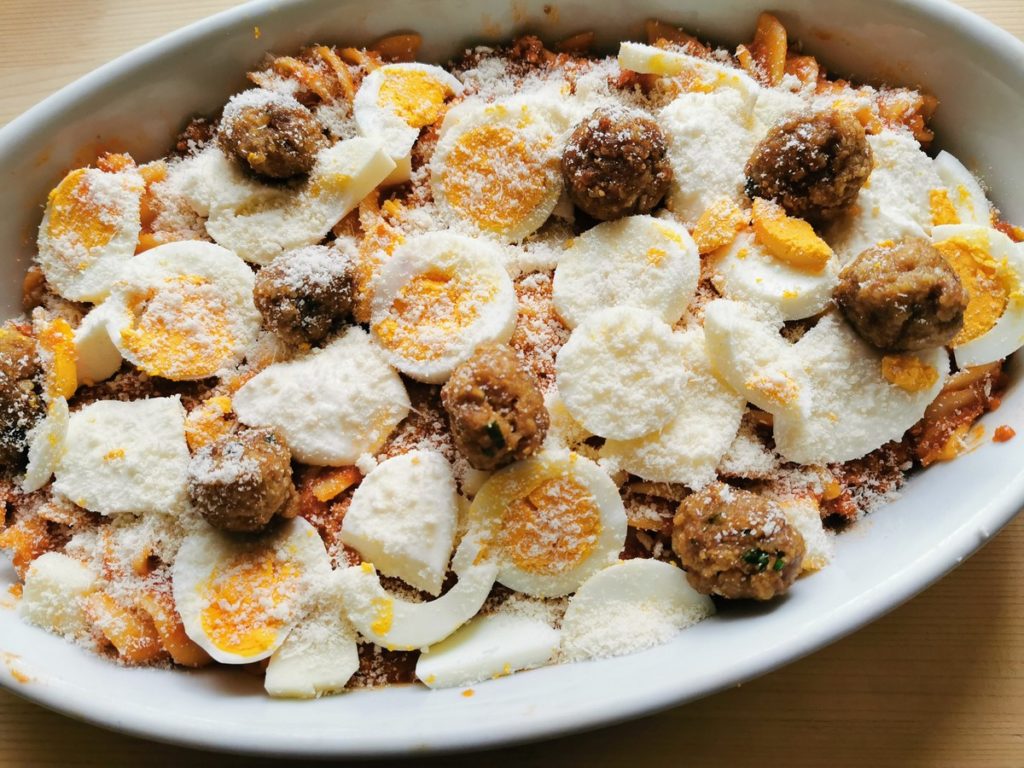 In my opinion, this wonderful dish is more than a one-plate meal. It's an absolute bomb and I can't imagine being able to eat a main course afterwards! Having said that it is absolutely delicious and your family and guests will probably be wanting a second helping, so make sure you make enough!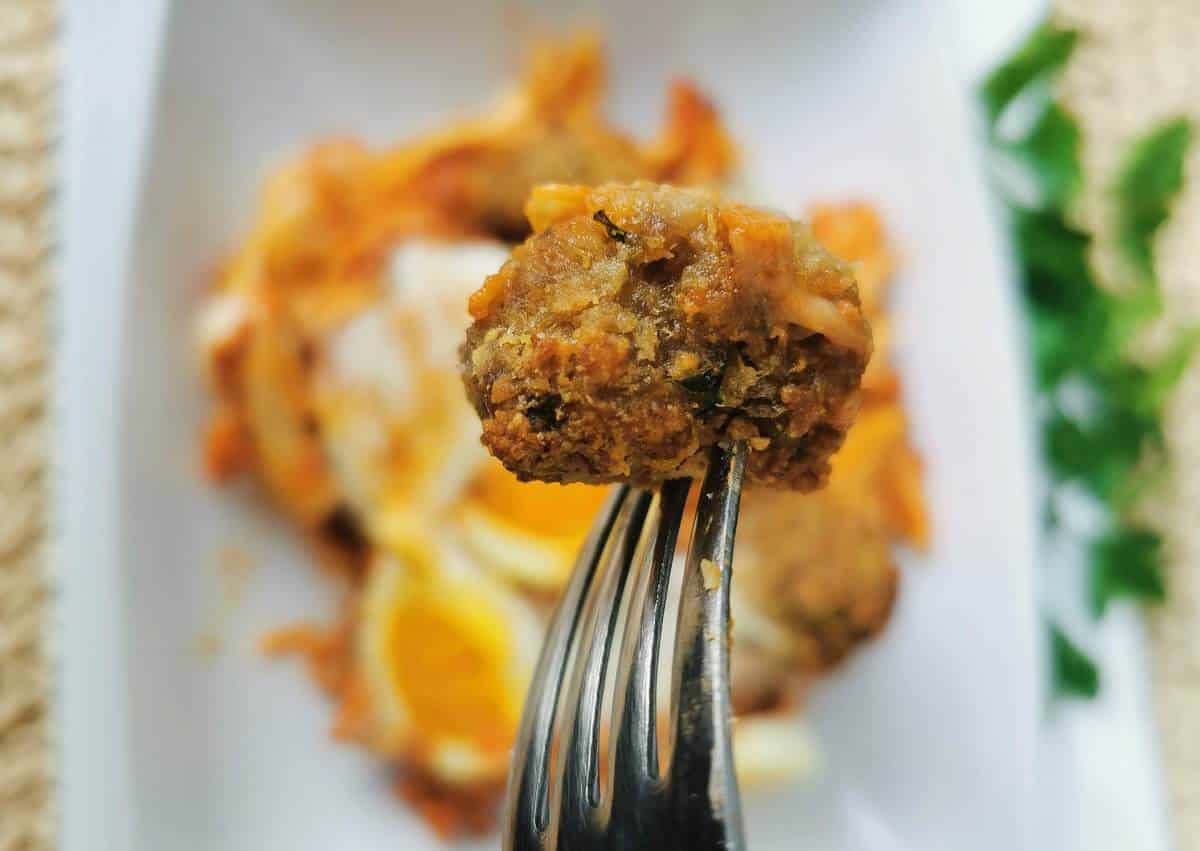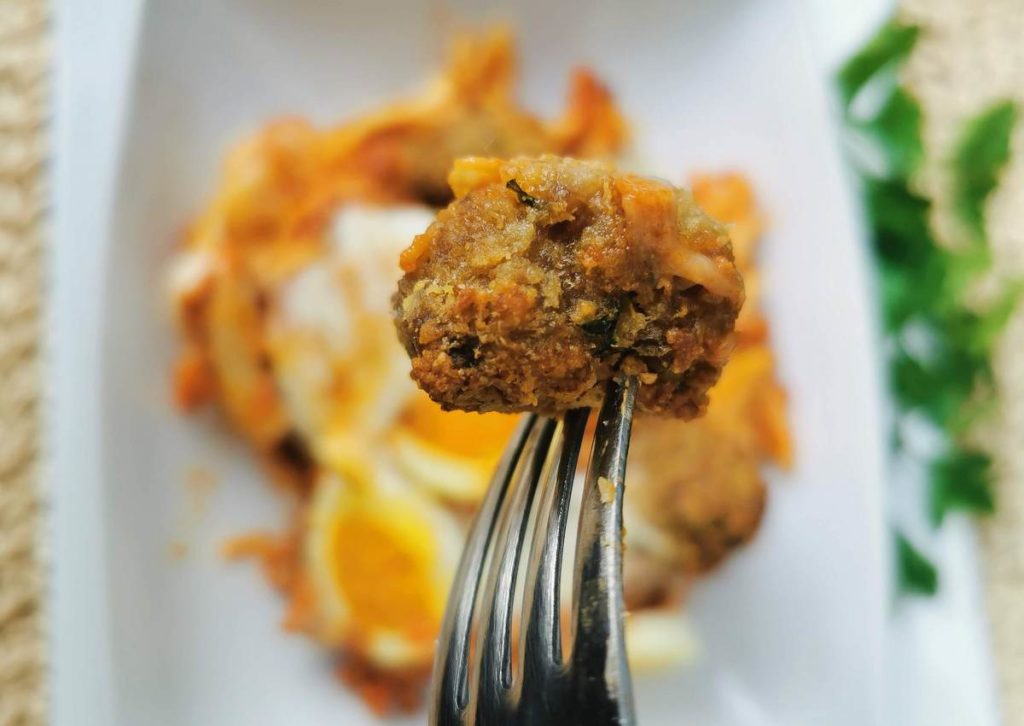 If you make this Calabrian baked pasta recipe I'd love to hear how it turns out and if you liked it. Please leave a comment here on the blog or on The Pasta Project Facebook page.
Looking forward to hearing from you!
Buon Appetito!
Other baked pasta recipes for Sunday lunch!
If you are interested in learning how to make homemade pasta and different types of gnocchi, check out my shop page for some great video online courses from my friends in Rome! Nothing beats learning to make pasta from Italians! Plus while you're there why not order a copy of my newly published autumn/winter pasta recipes cookbook!
WANT TO SAVE THIS RECIPE FOR LATER?
If you want to save this recipe for later, you can print it, bookmark this page or save it to Pinterest.
Pin for later.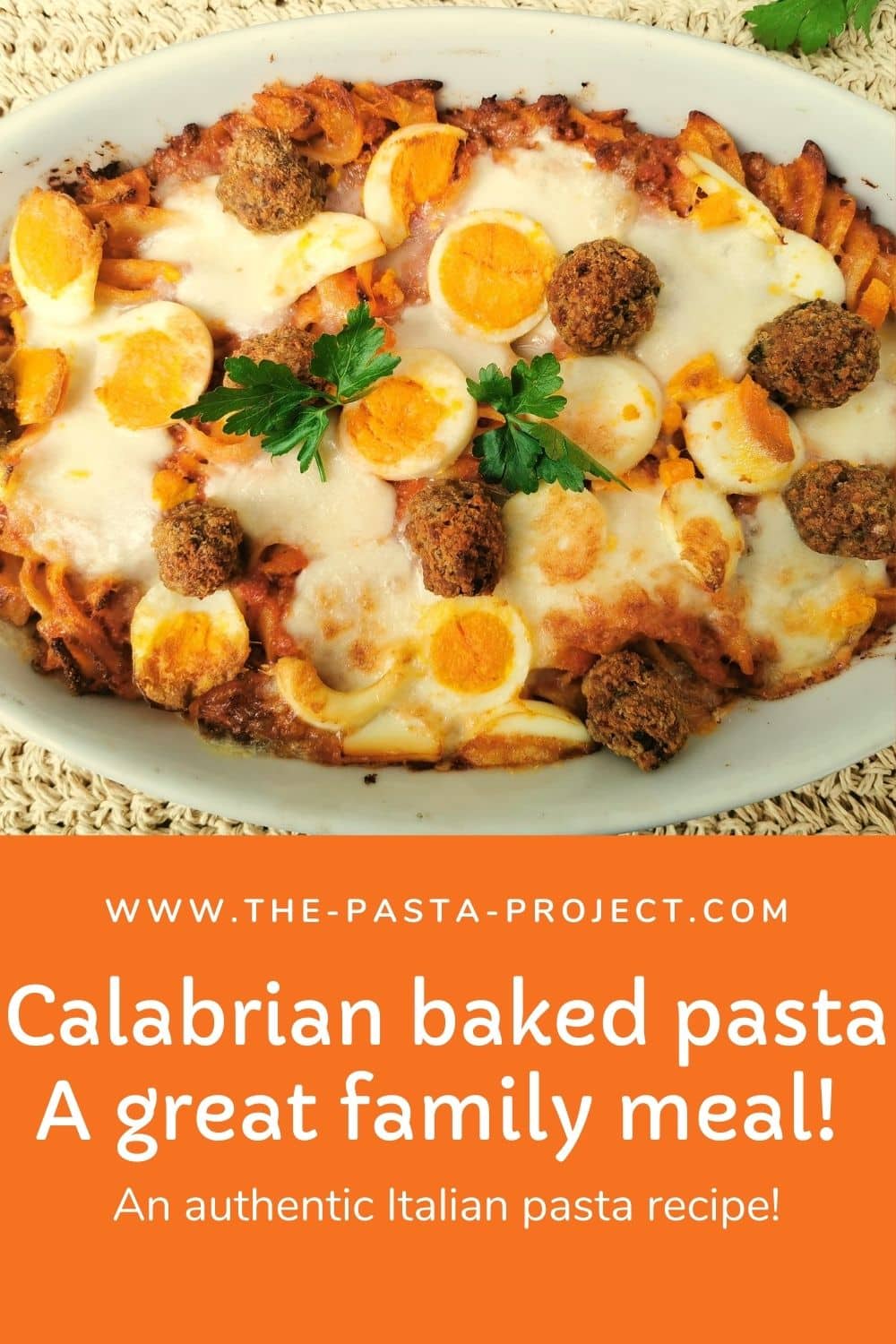 If you love Calabrian cuisine have a look at my favorite pasta recipes from Calabria.
Want to know more about my life in Italy? Go to the homepage and subscribe to my newsletter. New subscribers get a free recipe e-book series too!
Pin me!