12 Authentic Pasta Recipes from Calabria.
These 12 pasta recipes from Calabria are just a taste of what this Southern Italian region has to offer. Calabrian cuisine is based on traditional dishes made with locally produced or grown foods. It's hearty and rich and full of authentic Mediterranean flavours!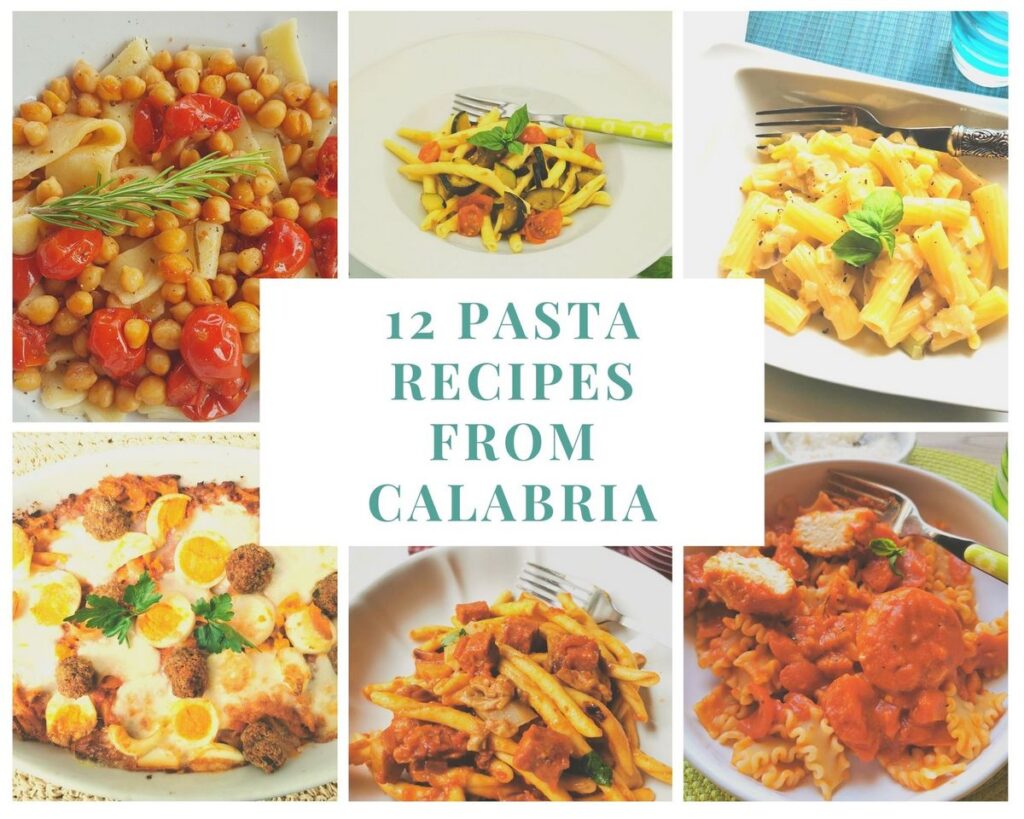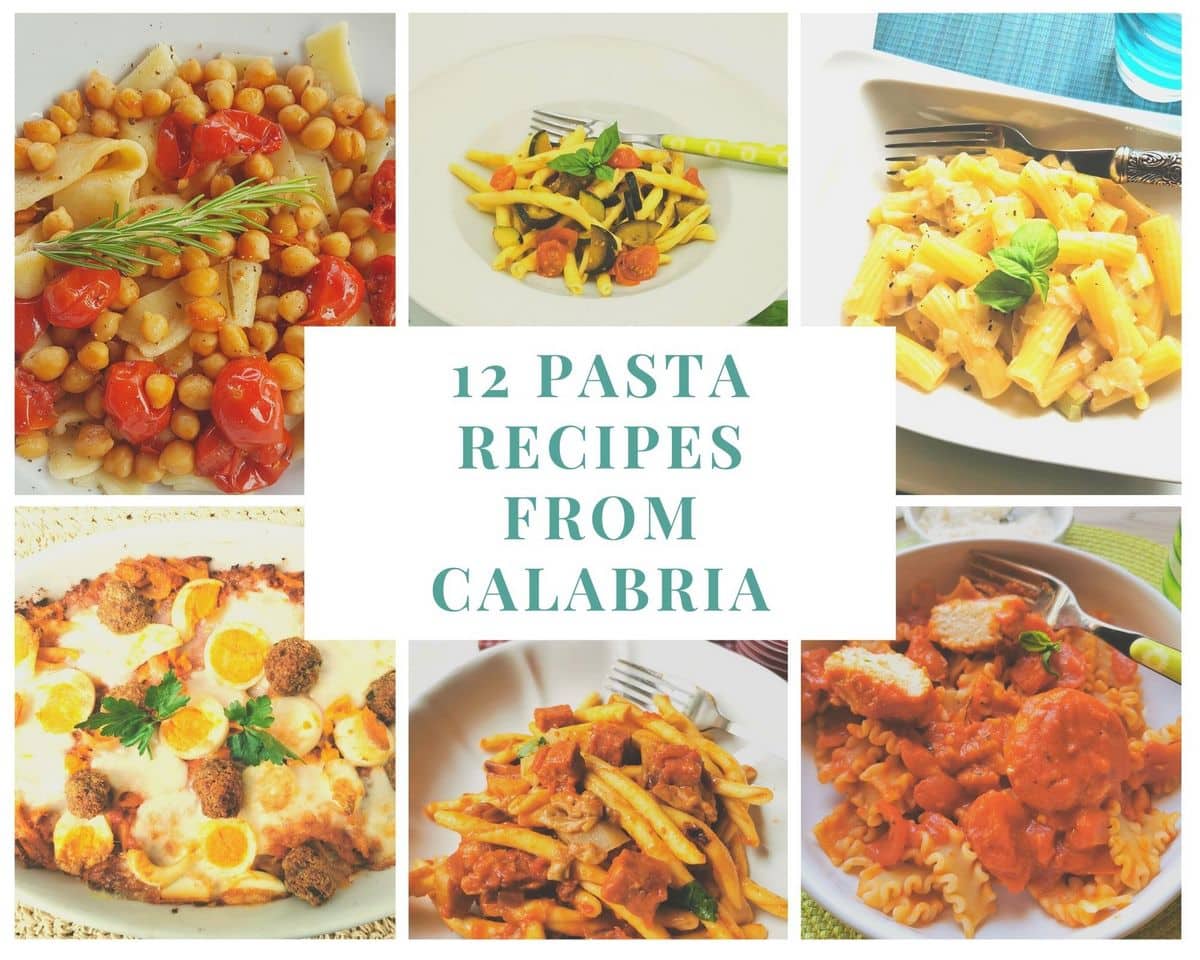 Since spending some time in Calabria last year, I'm totally in love with the region and the food! We ate so well both on the coast and in the mountains. The Calabrians make and cultivate a lot of great foods and produce. I guess the most well-known are sweet Tropea red onions, olive oil, cacciocavallo cheese, Sila potatoes and the soft spicy sausage, nduja.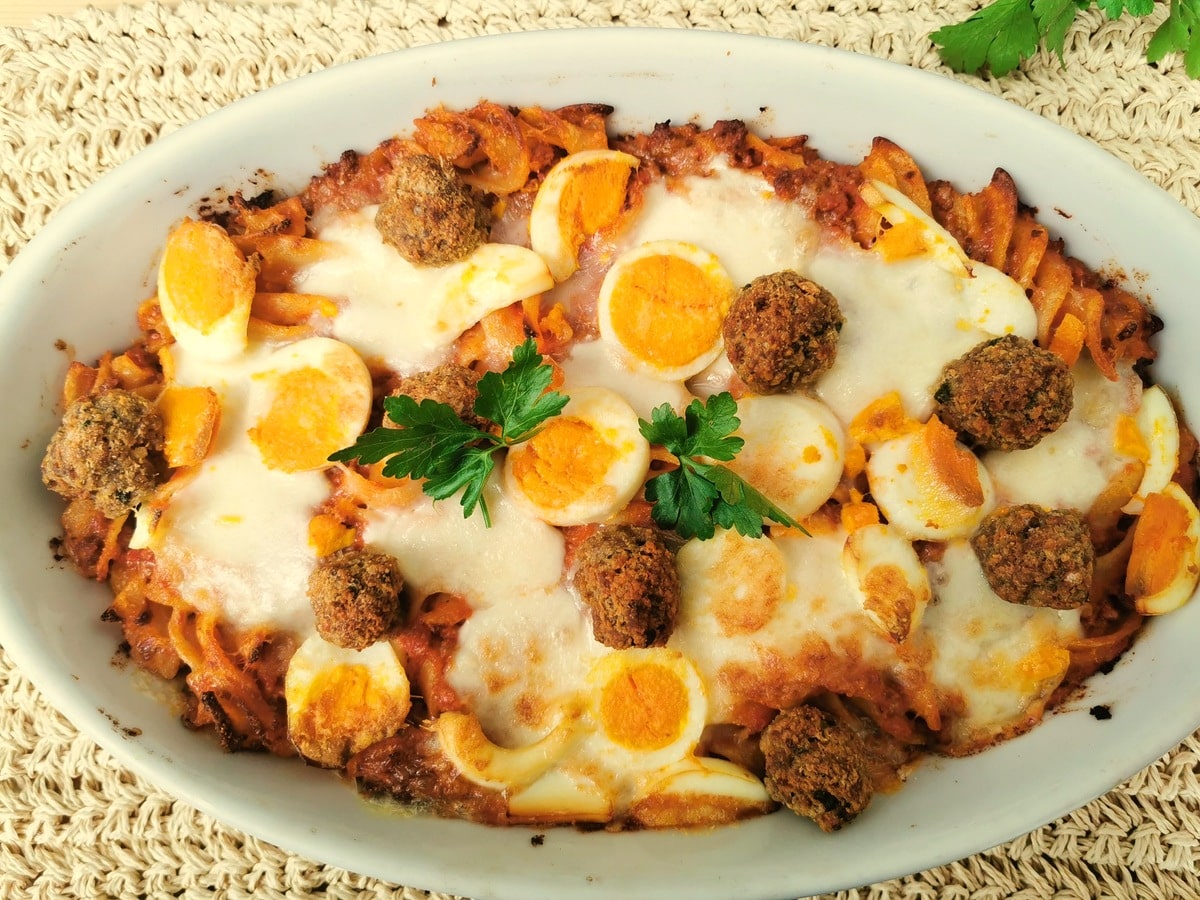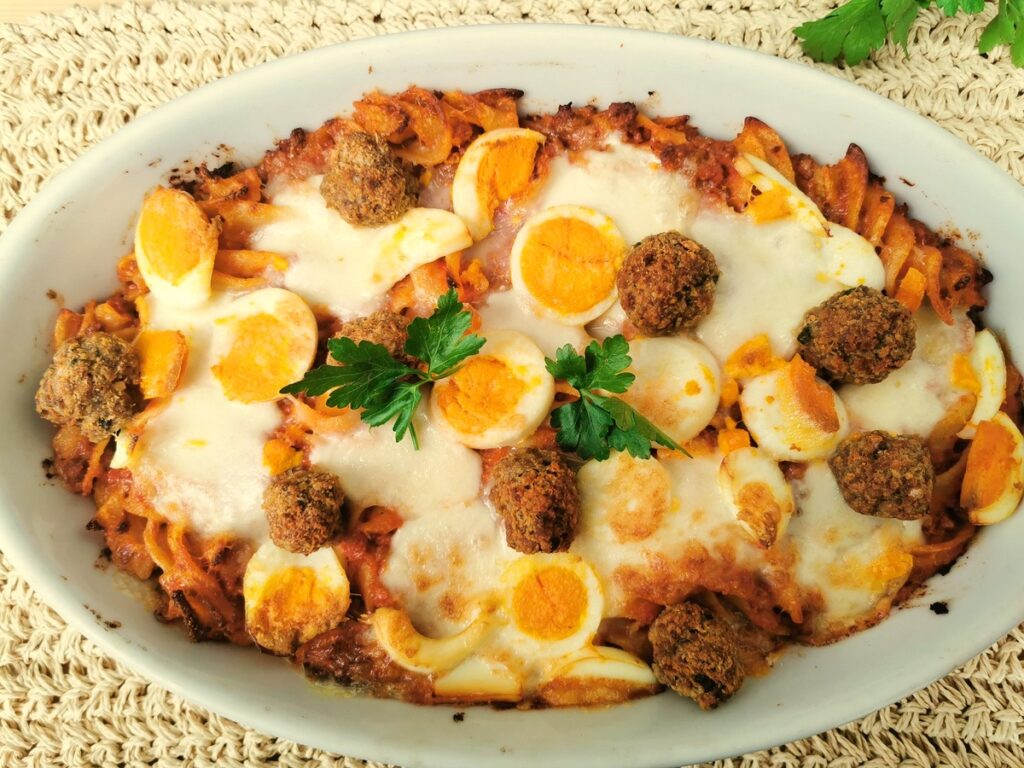 However, there's so much more! And when it comes to pasta, there are some amazing dishes! Why not bring a taste of Calabria to your table with some of these 12 pasta recipes.
Click the recipe name to go to the recipe post and instructions.
Some info about Calabrian Nduja.
One of the most popular ingredients in pasta recipes from Calabria is nduja. For those who don't know it, nduja is a soft, spicy, spreadable sausage/salami. It's made with pork meat (typically from the throat, underbelly, head and shoulder), a bit of fat, salt and a lot of peperoncino (Italian red chilli pepper).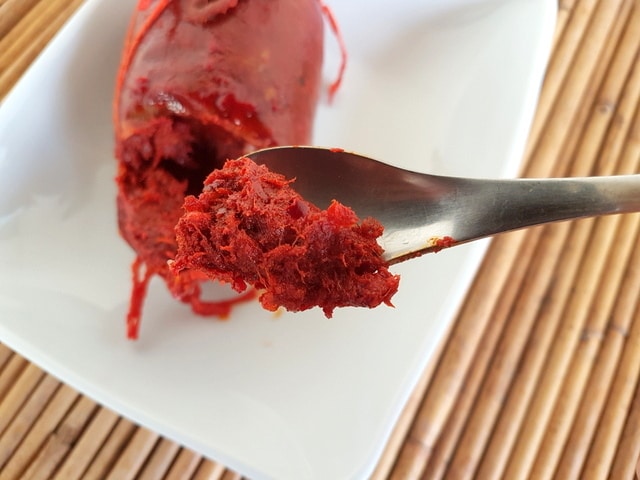 Nduja is one of the most well-known, if not the most famous, of Calabrian salumi. Nowadays you can find it for sale both online and in Italian specialty shops. There are also companies producing it in USA and UK.
12 pasta recipes from Calabria - meat.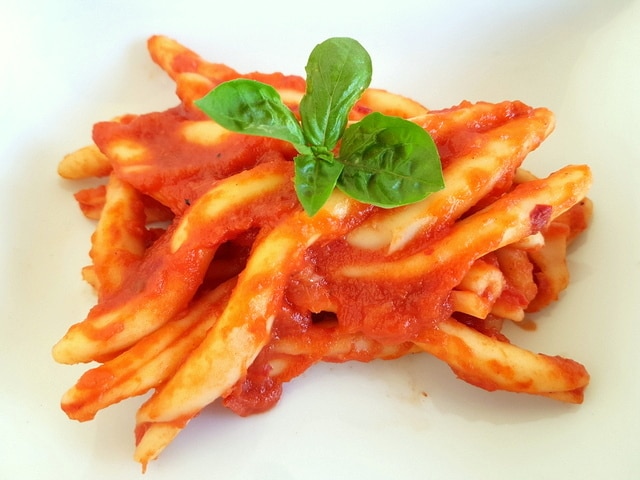 This is the simplest and most traditional pasta with Nduja recipe. The sauce is basically a homemade tomato sauce with nduja melted into it. The more nduja you put, the spicier it becomes. Calabrians make this dish with fileja, a traditional and ancient type of flour and water pasta. However, you can use any short pasta or even spaghetti.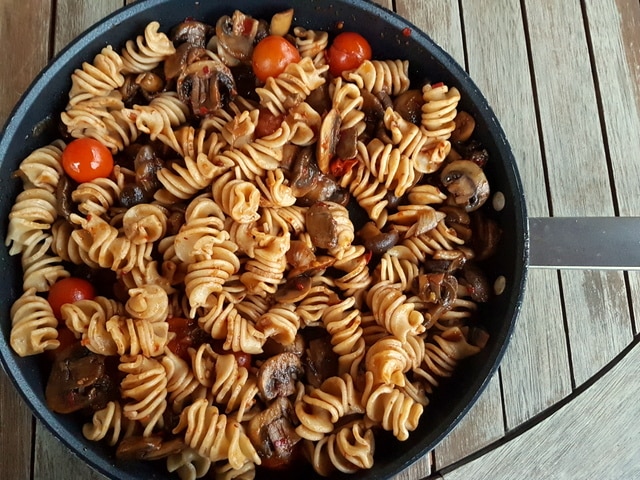 Mushrooms are a popular and delicious choice to pair with nduja. Traditionally, the mushrooms would be foraged or dried porcini. Calabria's mountains are full of forests where a large selection of wild mushrooms grow. I used fresh champignons and pioppini (poplar mushrooms). But, you can use any of your favourite mushrooms.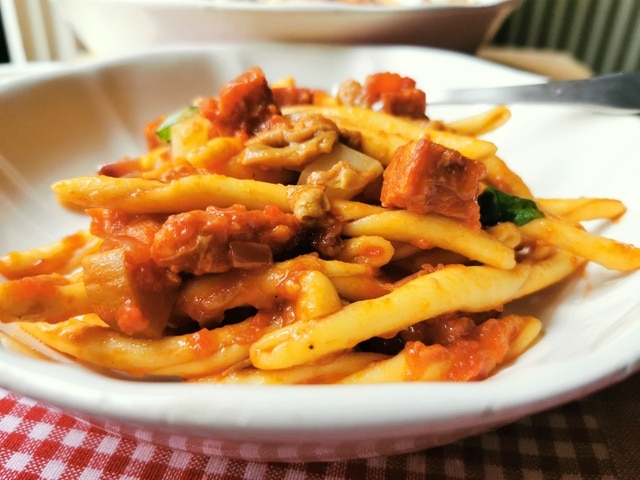 Pasta alla Silana is one of the most well-known Calabrian pasta dishes. It comes from the mountainous Sila region. This very filling and hearty recipe is full of typical Sila foods. It is actually a pretty popular recipe in other parts of Italy and Calabria, so there are some slightly different versions. However, the main ingredients are mostly the same, tomatoes, sausage, guanciale, porcini mushrooms, caciocavallo cheese, peperoncino and pecorino.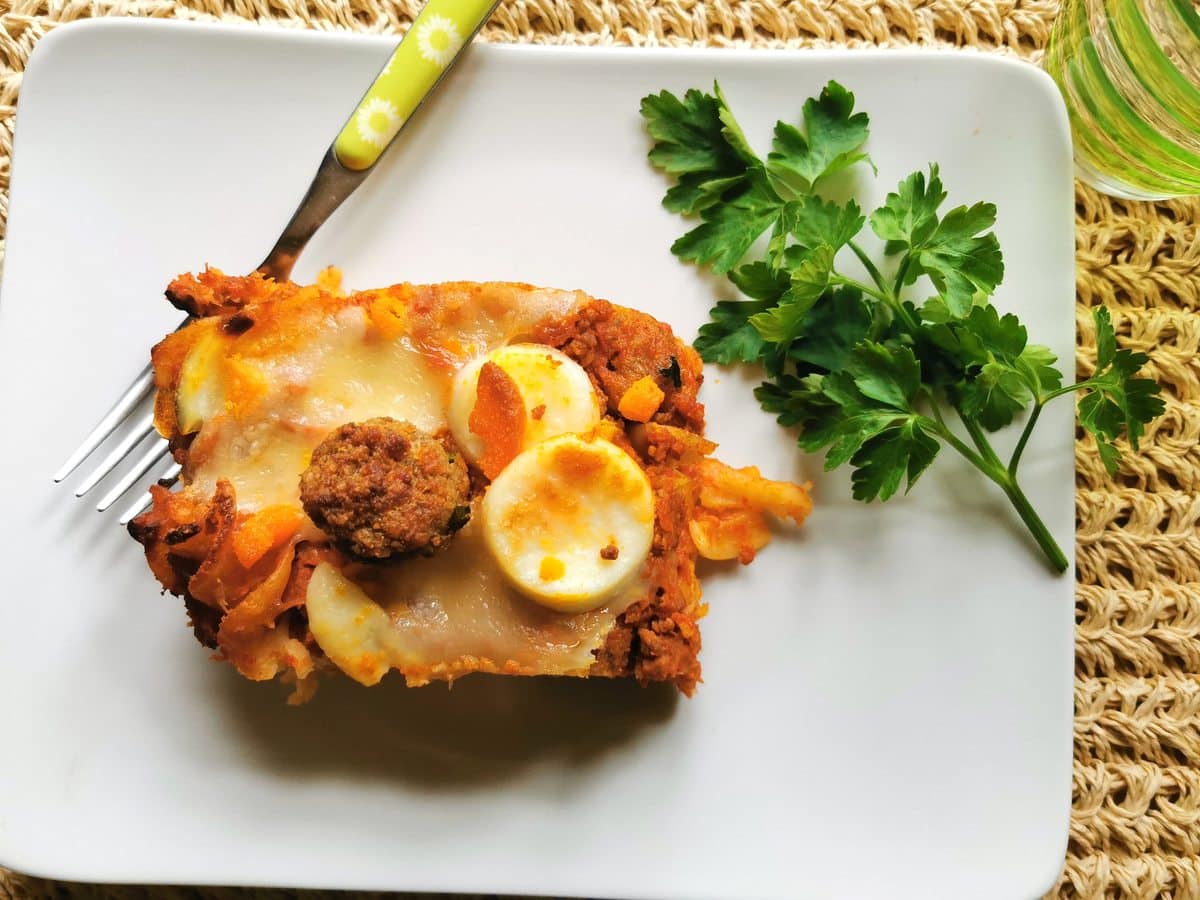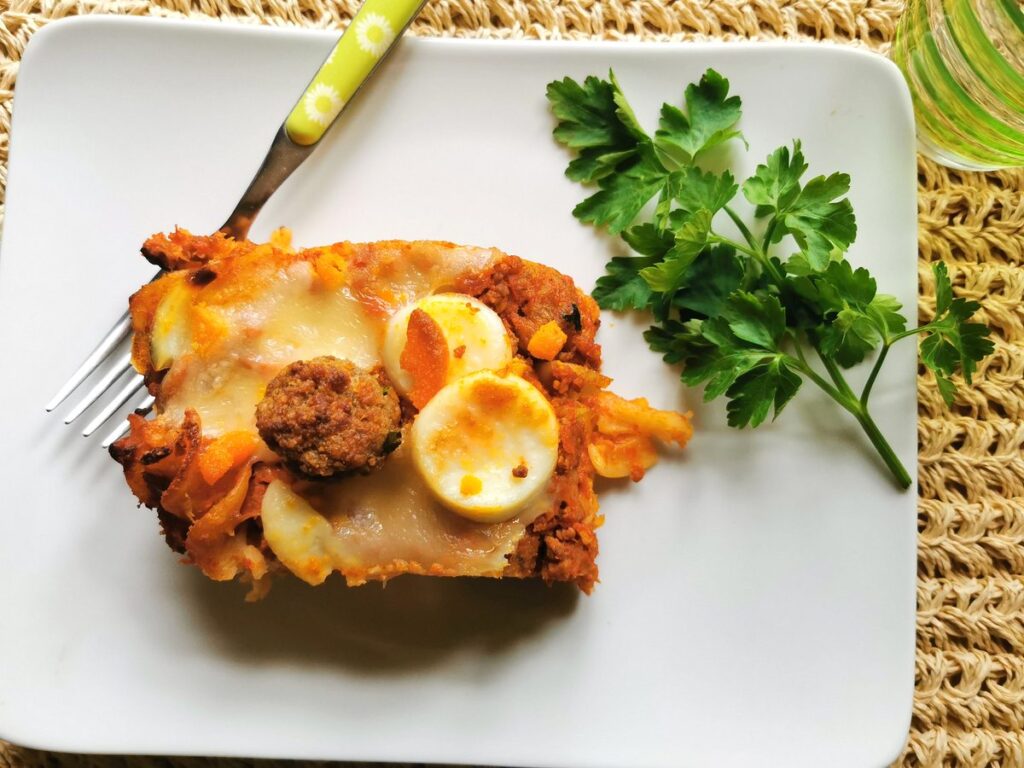 Known as pasta 'mbruscinata' or pasta chijna in the local dialect, this rich and wholesome Calabrian baked pasta with meatballs is a traditional dish for Sundays, holidays and family occasions. Although Italians would traditionally eat this pasta bake as a first course (primo), it's so loaded with delicious local foods and ingredients that it makes a substantial main course too.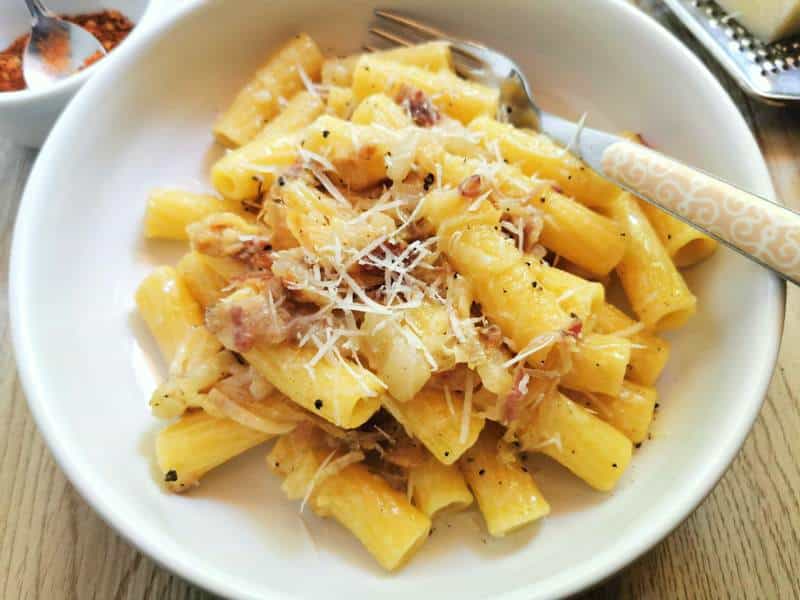 Pasta alla Toranese is a tasty Calabrian dish made with Tropea onions and lardo (not lard). This recipe comes from the town of Torano Castello in Cosenza Province, Calabria. It is super simple with only 3 main ingredients; Italian lardo, Tropea onions and pecorino cheese. So full of Calabrian flavour and easy to make!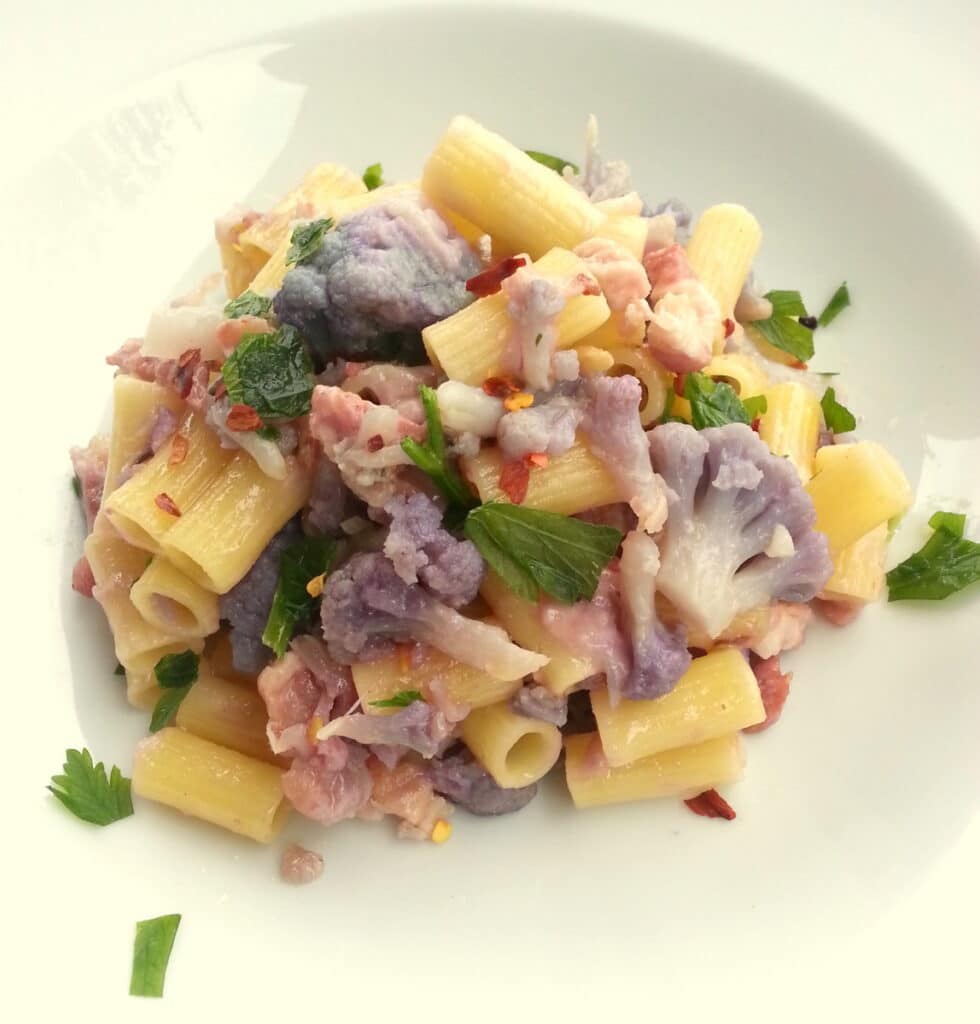 I loved the idea of this Calabrian ditaloni with purple cauliflower because it looked so pretty in the pictures I found when I first came across the recipe. But it's not just a pretty plate of pasta! It's very tasty too!
12 pasta recipes from Calabria - vegetarian/meatless
Click the recipe name to go to the post and recipe instructions.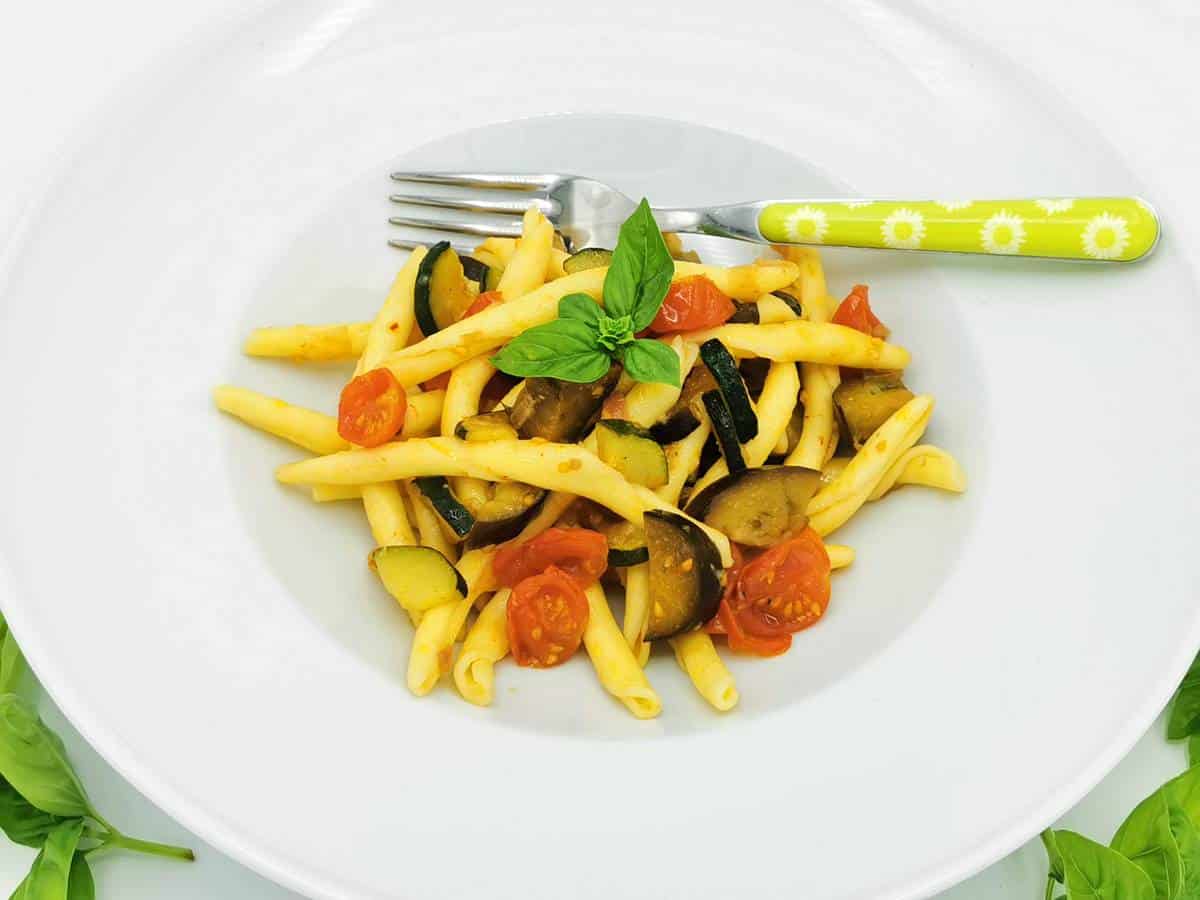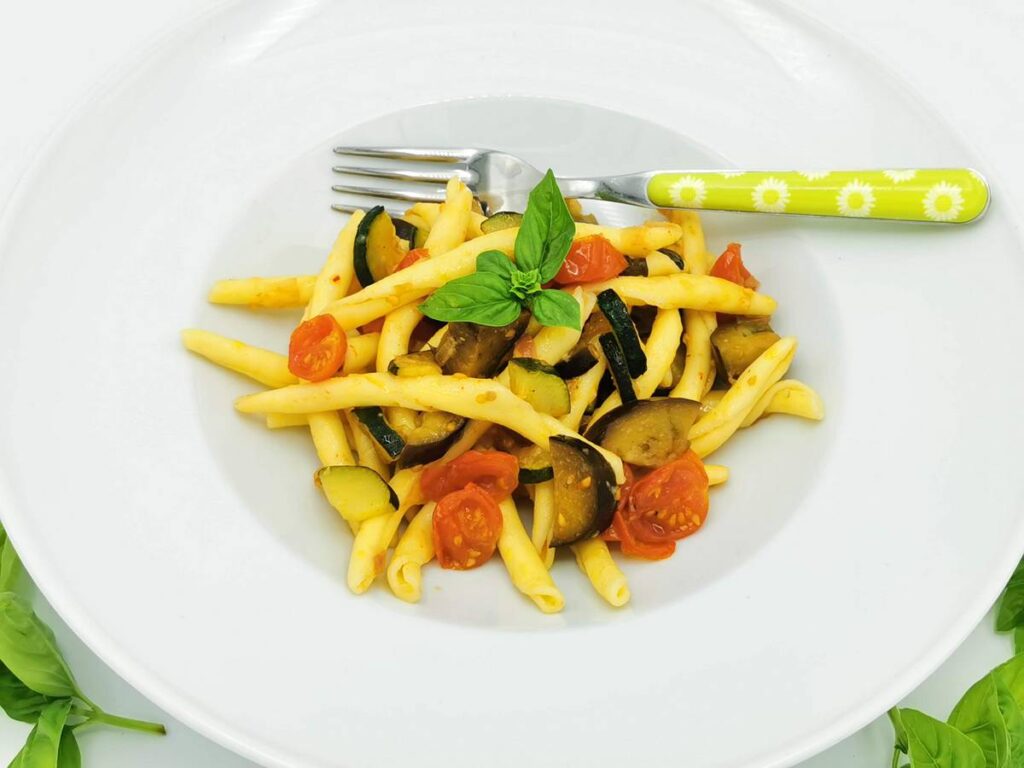 Fileja Tropeana has a colourful and fragrant sauce of summer vegetables; zucchini, eggplant, tomatoes and Calabria's famous red Tropea onion. There's also some peperoncino (red chili pepper) which gives this dish a bit of a kick! Of course, you can use other sweet red onions instead and your favourite short pasta.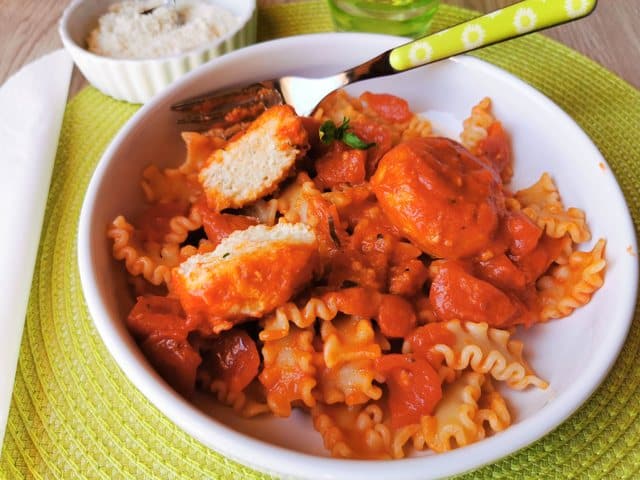 Ricotta balls in tomato sauce is a Calabrian recipe that originated among the region's poorer farming and peasant population, particularly in the mountainous Sila area. Like so many of Italy's traditional recipes, this is a combination of simple staple ingredients. The delicious ricotta balls are easy to make and you then cook them in a tomato sauce and serve over pasta.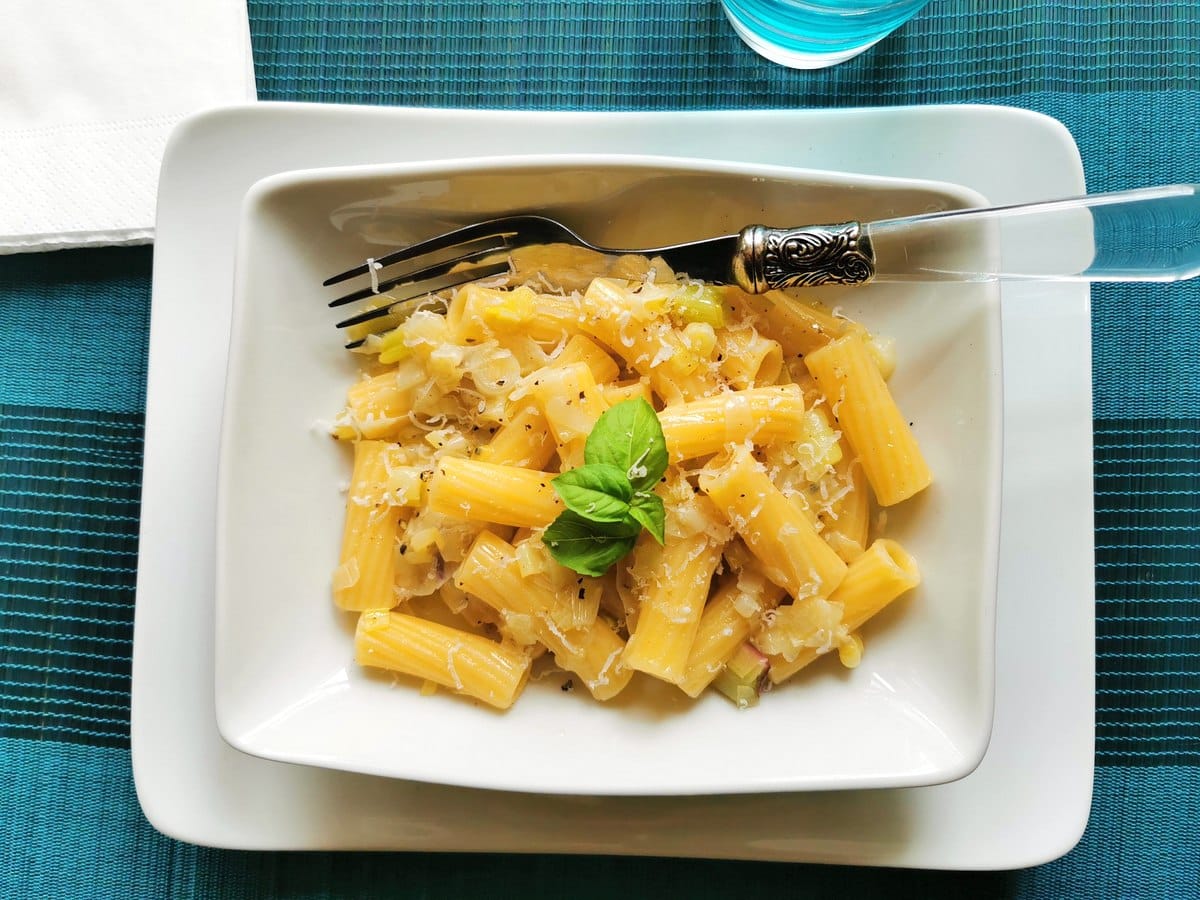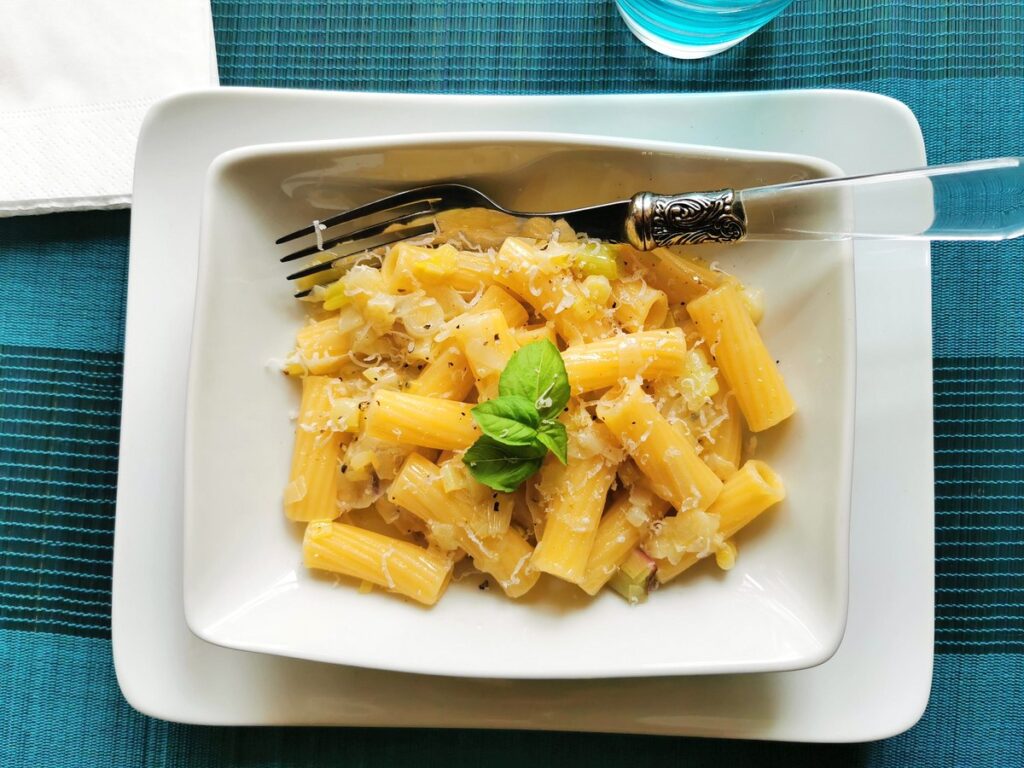 An easy but flavourful pasta recipe made with Calabrian red Tropea onions, white wine and Pecorino. Perfect for anyone who loves the combination of cheese and onions!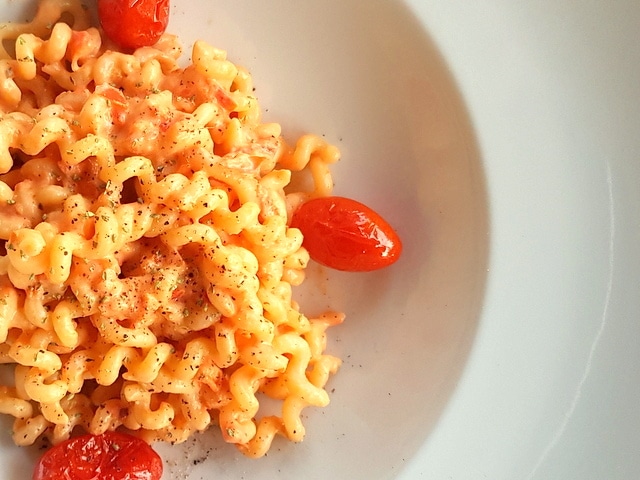 Here's a recipe to spice up your pesto life. Pesto Calabrese is a cold creamy sauce made from tomatoes, red bell peppers and ricotta. It's very aromatic and slightly or very spicy, depending on your preferences, because of the addition of Calabria's famous peperoncino (red chili pepper).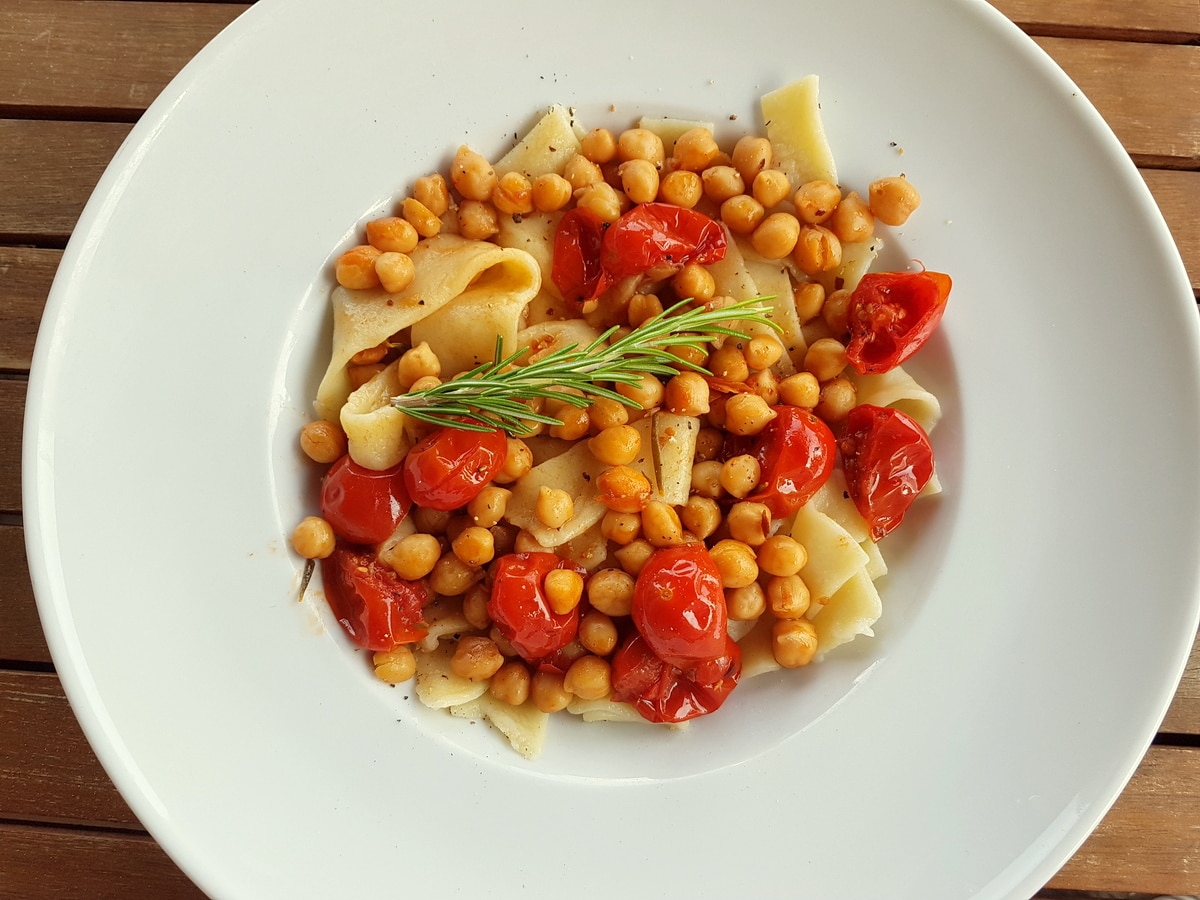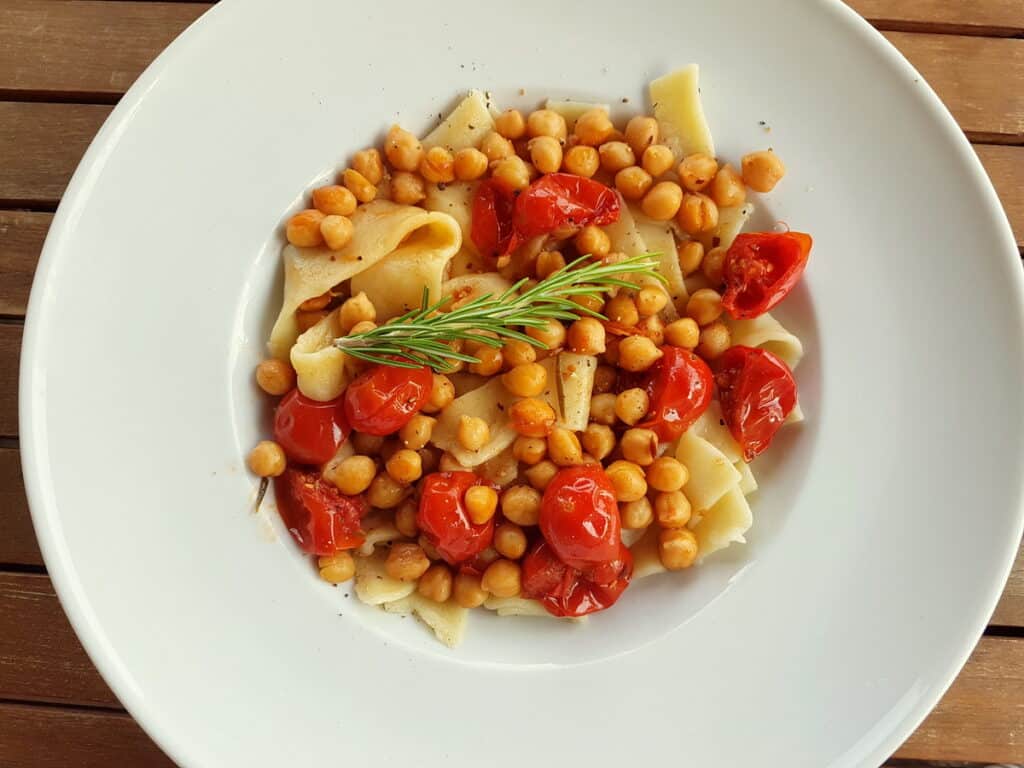 Made with traditional flour and water pasta this nutritious vegan/vegetarian recipe is probably one of the oldest known pasta recipes. Versions of it were eaten by the Ancient Romans! It's easy to make and, of course, you can use other types of pasta instead.
12 pasta recipes from Calabria - fish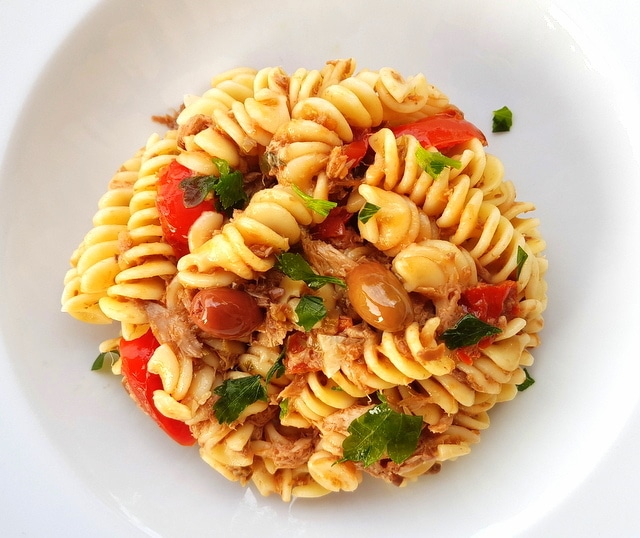 I'm always on the lookout for tasty pasta recipes which work well as salads too and don't take long to make. This recipe for pasta with black olive pesto and tuna from Calabria ticked all the boxes. It takes no time at all to make, it's very tasty and can be eaten warm or as a salad!
Let me know what you think.
If you do try any of these 12 pasta recipes from Calabria, I'd love to hear what you think. Please write a comment here on the blog or post a comment on the Pasta Project Facebook page.
Your feedback means a lot to me!
Buon Appetito!
Save this post for later in Pinterest.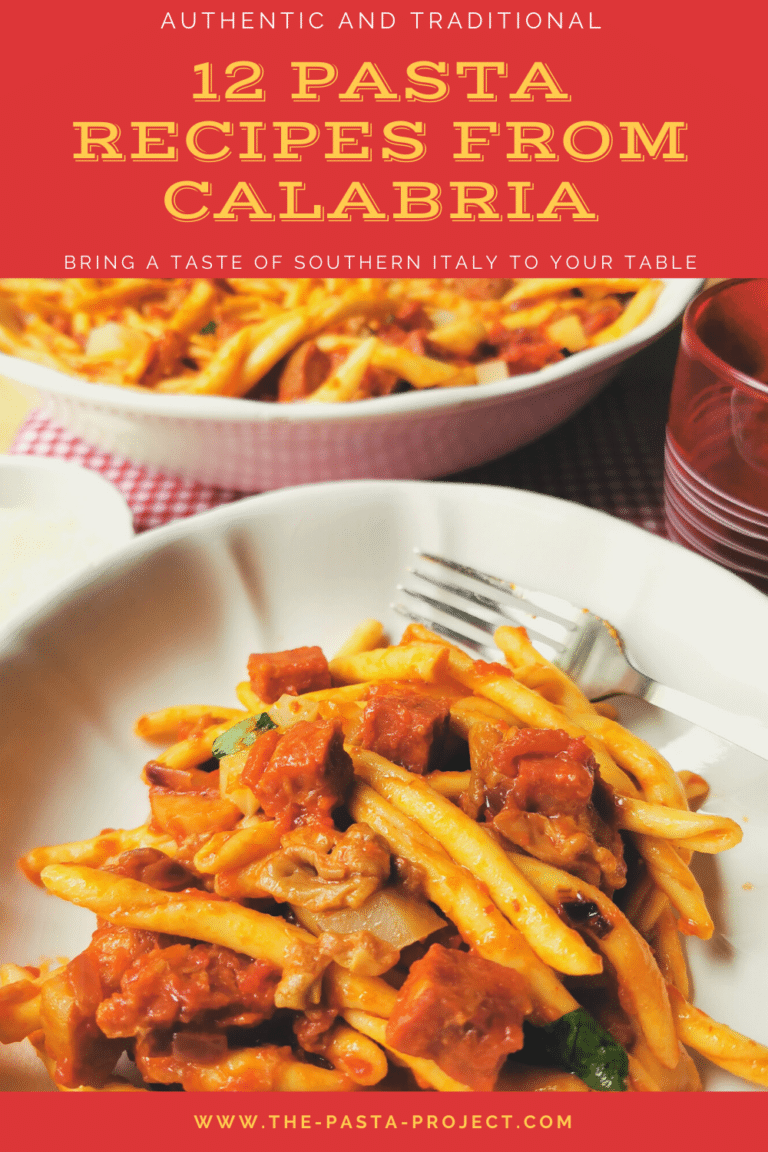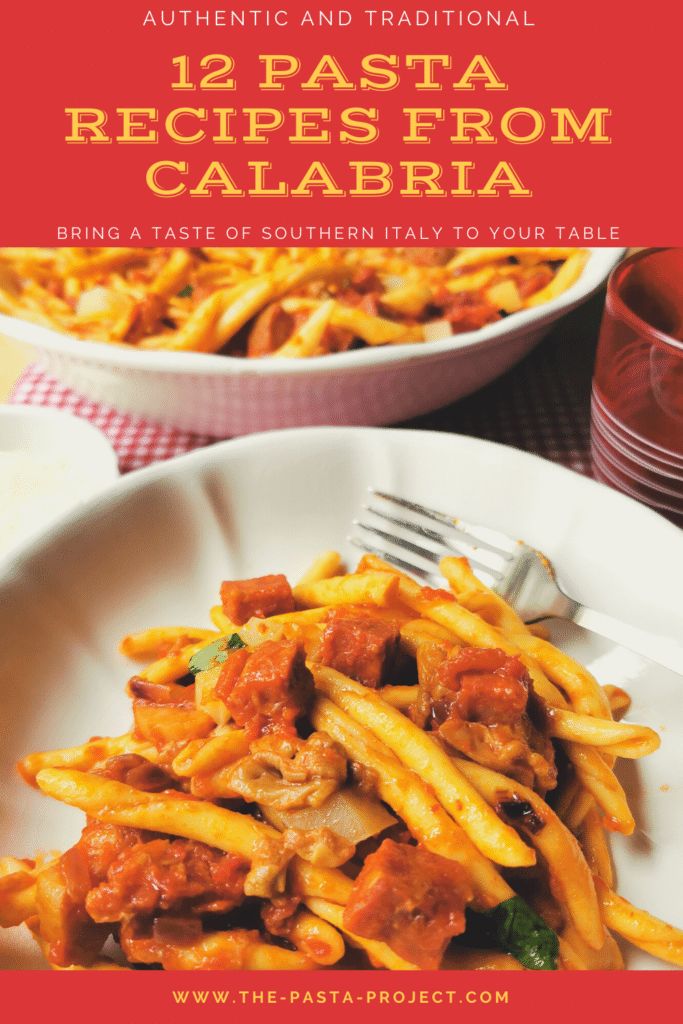 Want to know more about my life in Italy? Why not subscribe to my newsletter? New subscribers get a free recipe e-book too!