12 Authentic Pasta Recipes from Naples and Campania.
Many of the world's most popular Italian dishes come from Naples, think pizza, caprese salad, eggplant parmigiana and spaghetti with tomato sauce. The latter is just one of many iconic pasta recipes you can find in Naples and the rest of Campania! These 12 Authentic Neapolitan pasta recipes are just a sample of those wonderful pasta dishes.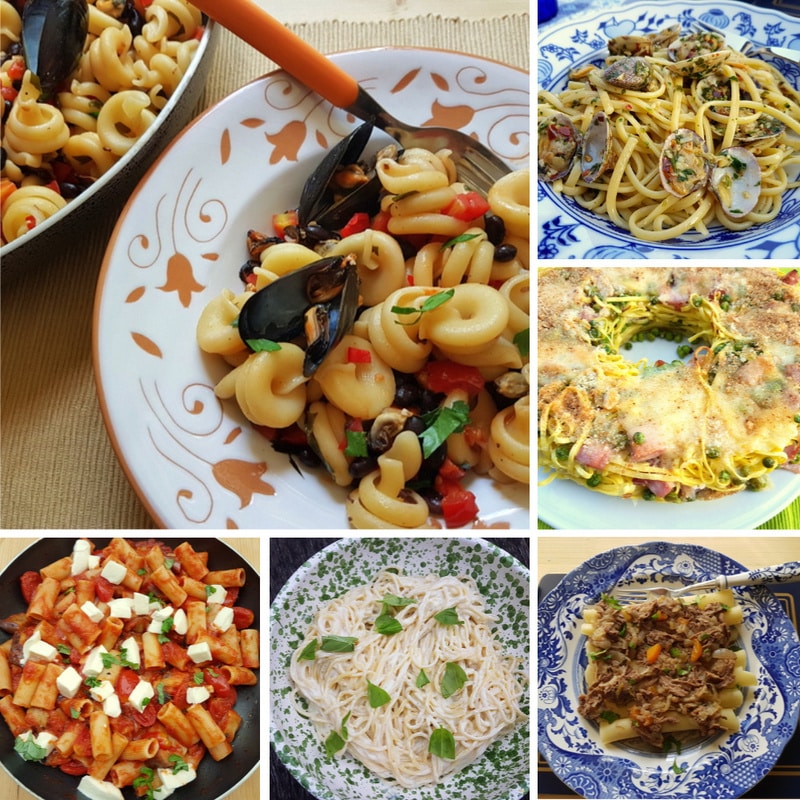 Naples and the rest of Campania is a pasta lover's dream! In this Southern Italian region, you can find the largest number of high quality artisan pasta producers in Italy. Dried pasta has been made here for more than 500 years and many popular pasta shapes were created here. Paccheri, ziti, linguine, calamarata, mafaldine, fusilli, elicoidale, vermicelli, vesuvio, scialatielle and candele are just a few of the pasta shapes from Campania.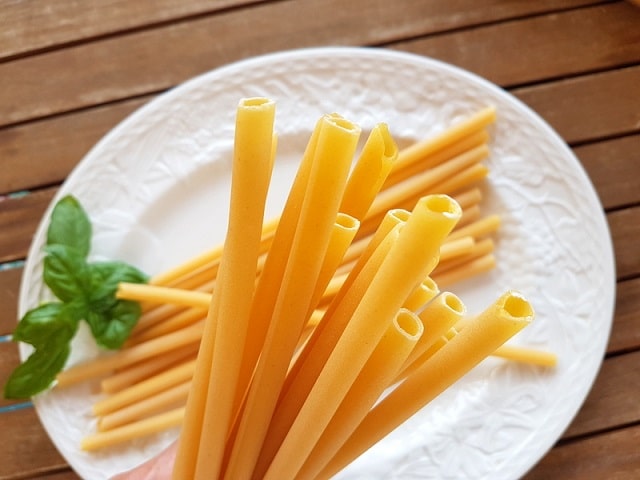 Campania is also home to some of the best fruit and vegetables in Italy. In fact, it is the agri-food centre of the country, producing more than 500 traditional foods. Tomatoes (San Marzano and Piennolo del Vesuvio), eggplants, sweet peppers, zucchini, spring onions, broccoli, olives, olive oil and citrus fruits are just a few of the local ingredients that go into Neapolitan cuisine.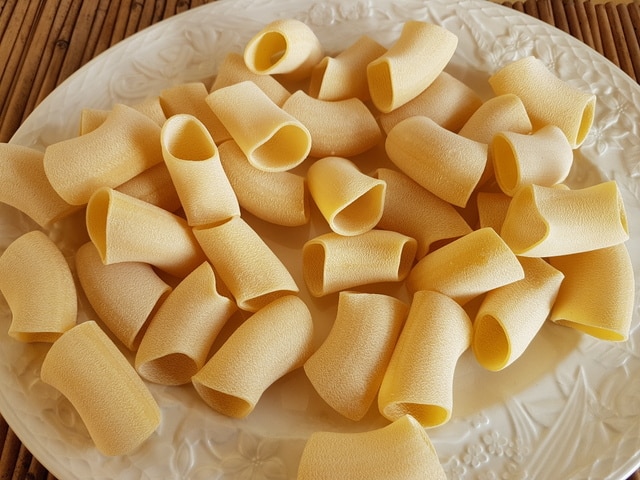 Apart from fruit and veg, you can also find amazing seafood, cheeses (e.g. mozzarella di bufala), salumi and other types of sausage, and meat such as rabbit, quail, pork and lamb. All these above mentioned foods are used in Neapolitan pasta recipes, of which there are many! These 12 authentic Neapolitan pasta recipes are just some of the ones on The Pasta Project. And, of course, there are hundreds more to be discovered!
Click the recipe name to go to the recipe post.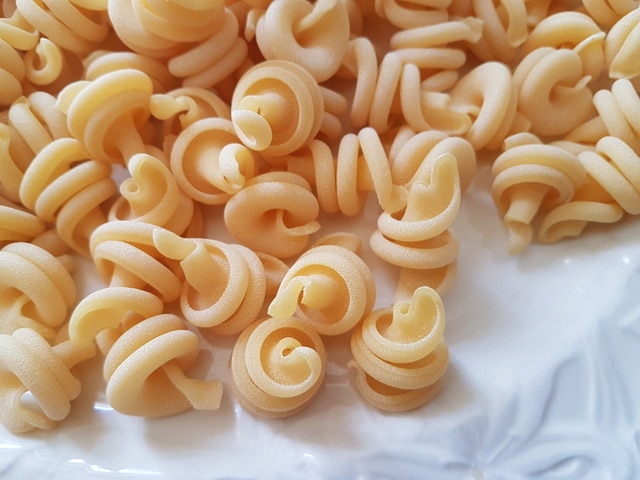 Seafood Pasta Recipes from Naples.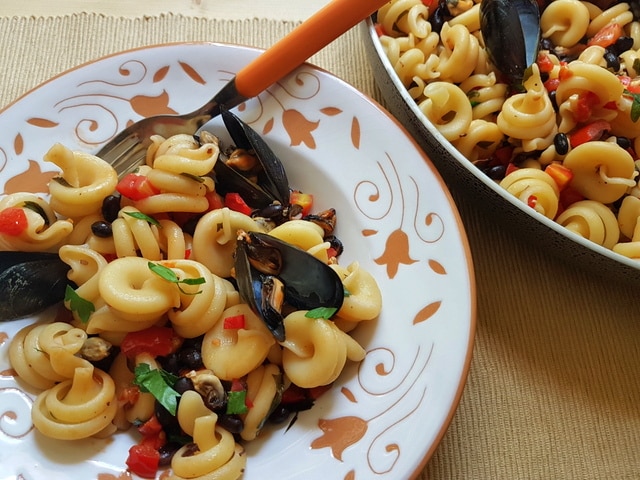 Pasta and beans is one of the most traditional dishes in the Italian kitchen. This simple dish is eaten throughout Italy. Each region has its own recipe or recipes! One of the most well-known versions is this pasta with mussels and beans, also called Neapolitan pasta and beans.
In Naples, this dish is often like a thick soup. However, some prefer a drier version like in this recipe. In the soup version, the pasta is usually cooked together with the beans in broth. This is definitely more filling and heavier. So, probably better suited to the cooler seasons! In this drier version, I cooked the pasta very al dente separately and then finished it off with the tomatoes and black beans.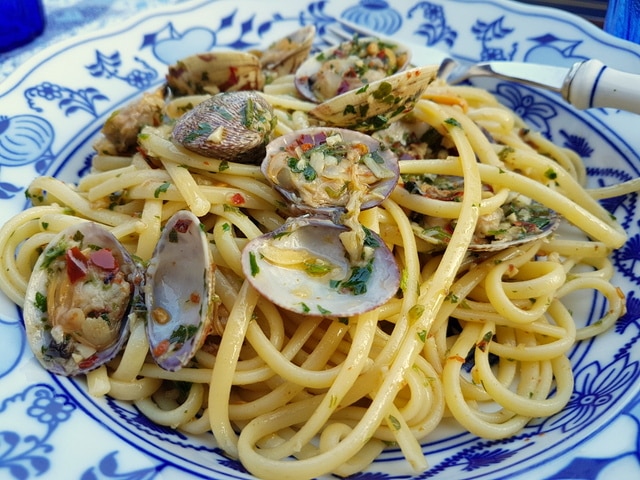 Linguine with clams is an iconic Neapolitan pasta recipe that is loved around the world. It's also THE most popular seafood recipe here on The Pasta Project. This is my Sicilian hubby's version. He's pretty generous with the garlic and peperocino (red chili pepper) but it's just the way I like it! Of course, you can use less for a milder version.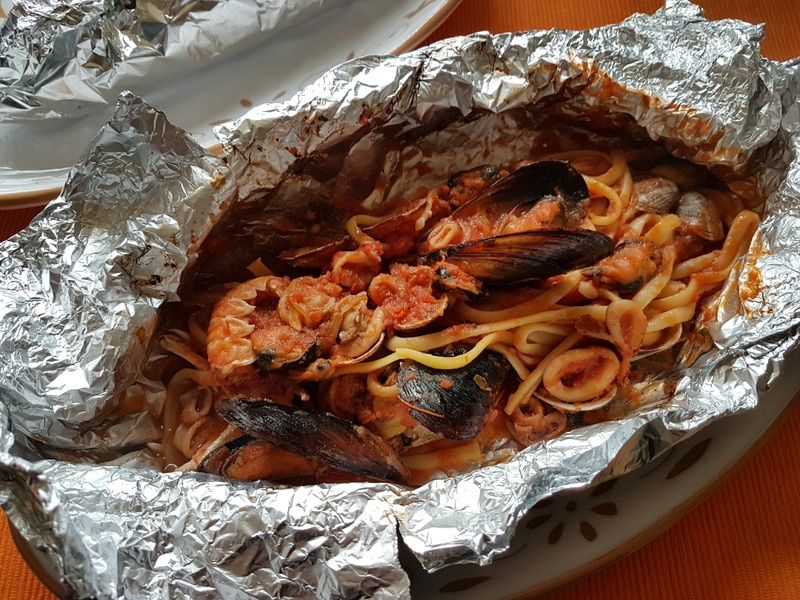 Linguine with seafood in foil is a fabulous dish to serve to guests! This popular Central-Southern Italian recipe is made with a delicious fresh seafood sauce which is mixed with very al dente pasta and then finished off in foil or baking paper packages in the oven! Although this seafood pasta recipe is popular in a number of coastal regions, its invention is claimed by two Neapolitan restaurants, both of which are still famous for this dish today.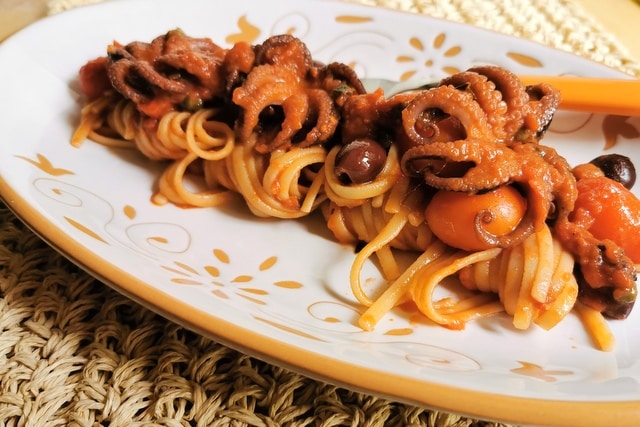 Pasta with baby octopus alla Luciana is a traditional Neapolitan dish with very ancient origins. It is apparently inspired by fishermen from the historical seaside neighbourhood of Santa Lucia, Naples.
These local fishermen, also called 'luciani', were well known for their octopus fishing skills! They caught octopus using terracotta amphorae placed on the seabed and then cook fresh 'purpetielli' (baby octopus in the local dialect) in a very simple way, with tomatoes, garlic, peperoncino and, sometimes, with capers and black olives too. Just like this recipe!
Meat Pasta Recipes from Naples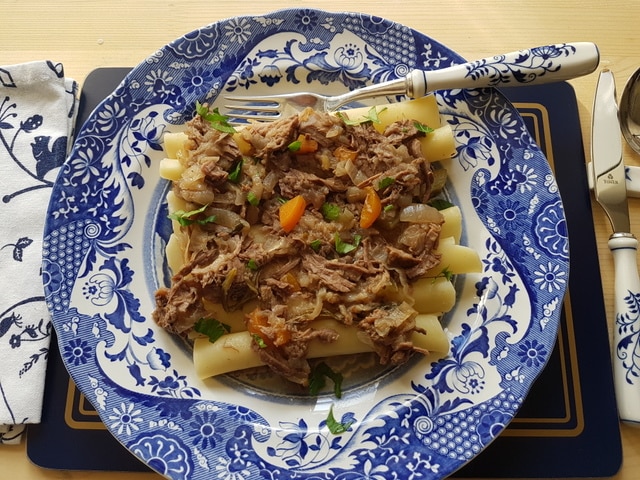 Pasta la Genovese, or alla Genovese, is an ancient Neapolitan recipe. In fact, this dish was apparently created in the 15th century and is probably the oldest of these 12 authentic Neapolitan pasta recipes.
This is one of the most traditional dishes that Neapolitan families prepare for Sunday lunch, important holidays and special occasions. This recipe is basically onions (lots of onions!) and beef slow cooked together for 3 to 4 hours (yes 4 hours!!) to create a thick rich sauce, which is served with pasta, normally ziti or zitoni.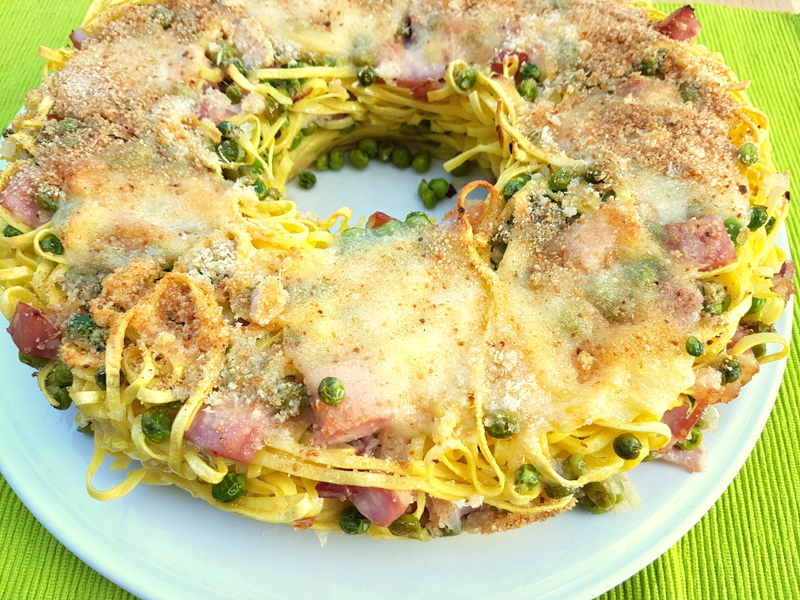 Pasta pies are especially popular in the south of Italy, where they often eat them on feast days and holidays. There are 2 main types of pasta pies, 'crostata' and 'timballo'. This is a crostata, meaning it's made without being encased in pastry, breadcrumbs or vegetables like eggplants. There are different versions of tagliolini pasta pie. This is one of the simplest. However, it looks beautiful, tastes great and isn't so time-consuming to make!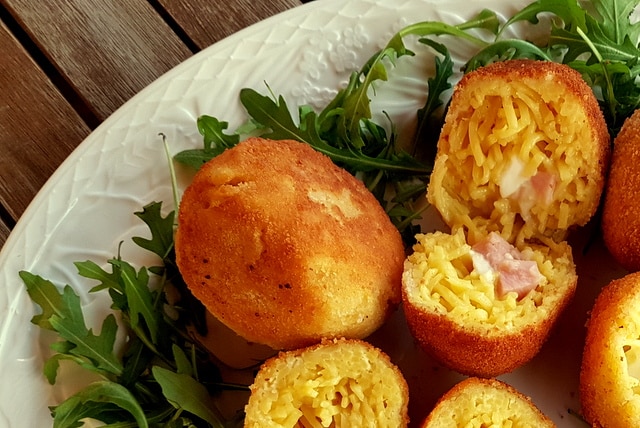 In Italian, these pasta croquettes or arancini are also called crochette di tagliolini or ordura di tagliolini. These are a popular Neapolitan snack or street food. And, they date back to the 1800s. Made with stuffed egg pasta that is then breaded and fried, these balls of pastaliciousness are popular with kids and adults alike!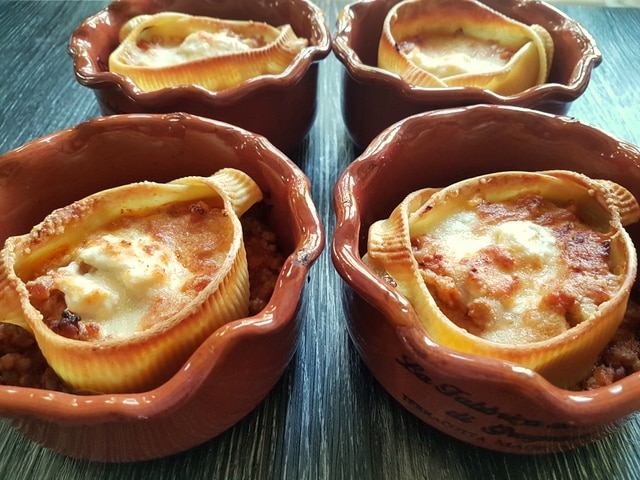 Caccavelle pasta alla Sorrentina is a flavourful and rich traditional baked pasta recipe from Campania, in particular Sorrento. Some versions of alla Sorrentina don't include meat but this one does. Here, the pasta is giant 50 g pasta shells said to be the biggest pasta in the world! The shells are filled with meat ragu and cheese and then baked in the oven in individual terracotta pots. Perfect for Sunday lunch and holiday menus.
Vegetarian Pasta Recipes from Naples.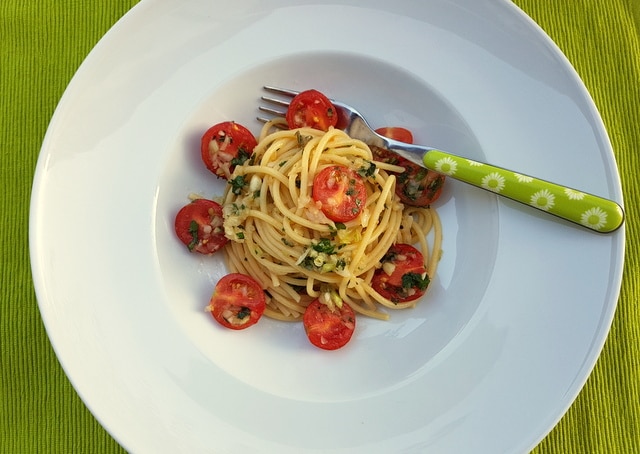 There are a number of recipes for pasta di Positano or alla Positano and they're not always the same! This particular version is perfect for summer. Not only is this recipe light, but it's also a super easy no-cook recipe, meaning you only have to cook the pasta. The rest of the ingredients, mostly tomatoes and herbs, are marinated in extra virgin olive oil for an hour or two.
Once you have cooked your pasta you just have to mix it with the marinated veggies and serve! This Neapolitan pasta recipe is my hubby's favourite summer dish. If you try it I'm sure you'll love it just as much as he does!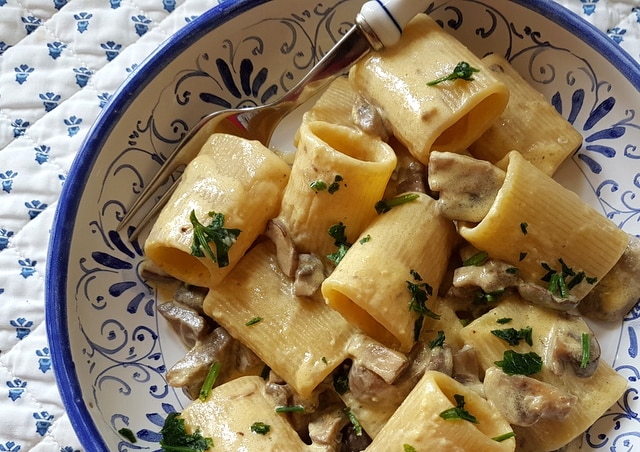 Known as 'miezi paccheri alla capa 'e' mbrello in the local dialect, this Neapolitan pasta recipe for mezzi paccheri with mushrooms and cream is super simple to make and outstandingly delicious!
This dish is a bit like a carbonara with cream, with mushrooms instead of guanciale. The combination of the eggs, cream and grated Parmigiano combined with the mushrooms cooked in butter create a fabulous sauce that really needs no other seasoning or flavours.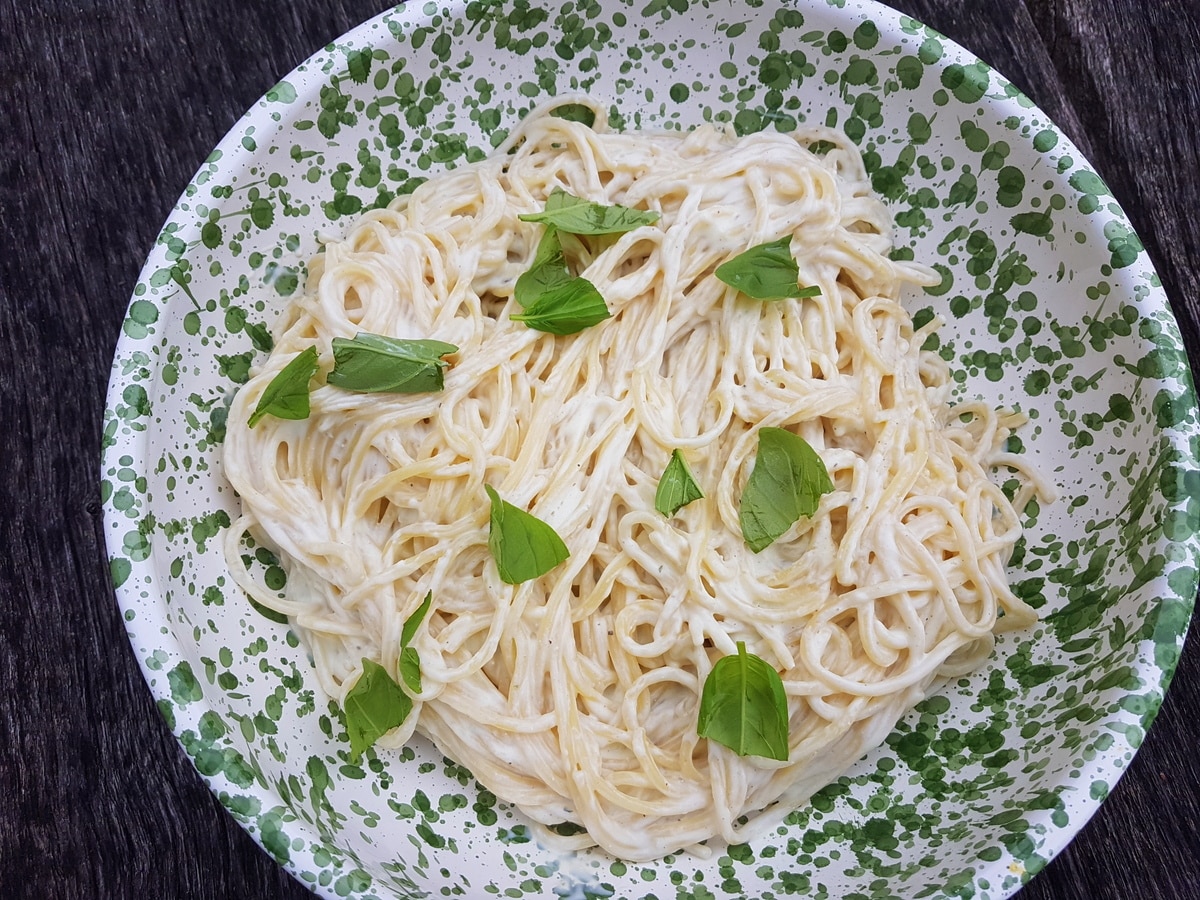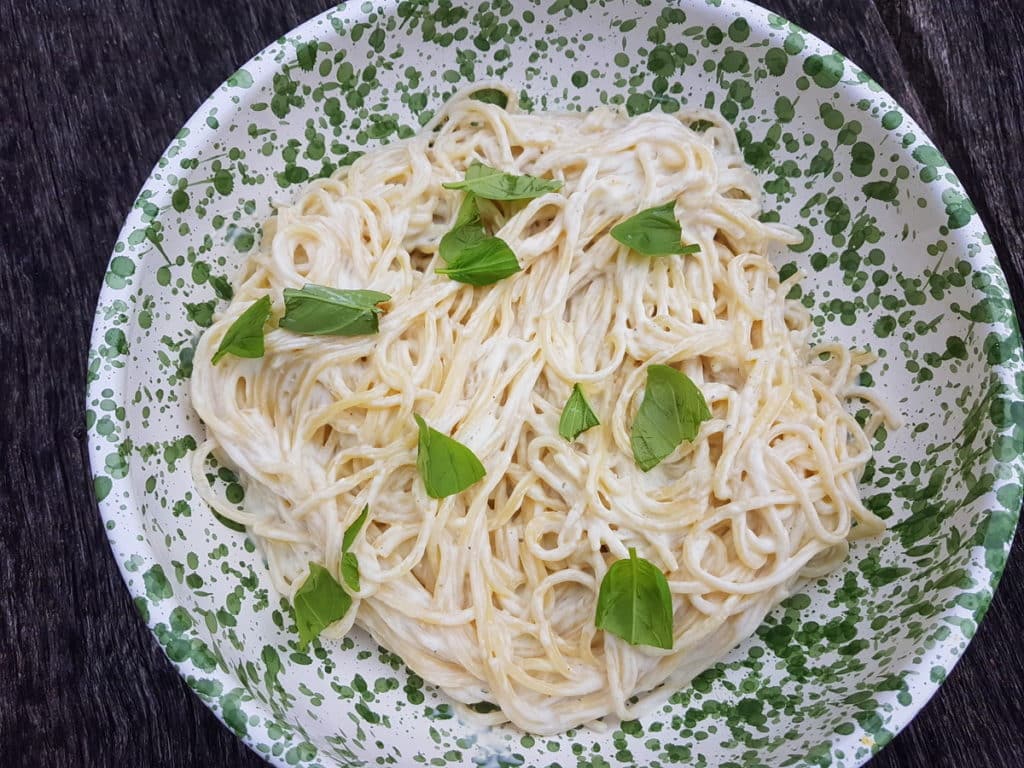 Spaghetti al limone has a wonderful fresh summer taste, with an intense lemony flavour. Close your eyes and you can even imagine you are eating it sitting on a terrace overlooking the sea on the Amalfi coast or Capri! This is a no-cook recipe. In other words, the sauce isn't cooked, only the pasta. So, it's perfect as a summer dish. Or, when you just want a quick light meal. You can even make the sauce a day in advance and keep it sealed in the fridge until you are ready to make this divine pasta recipe from Naples.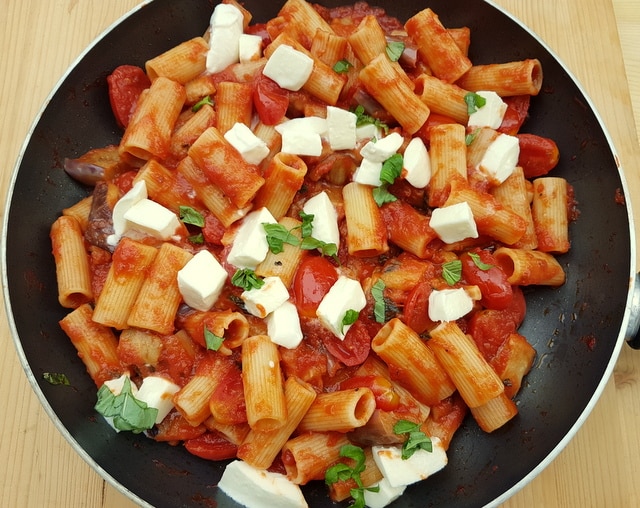 Eggplant parmigiana is practically a symbol of Southern Italian cuisine, particularly Naples and Sicily. This rich and tasty vegetarian rigatoni pasta alla parmigiana recipe is made with the same ingredients as eggplant parmigiana and tastes just as wonderful! You can bake it or eat it without baking. A pasta recipe from Naples that's full of Mediterranean flavour!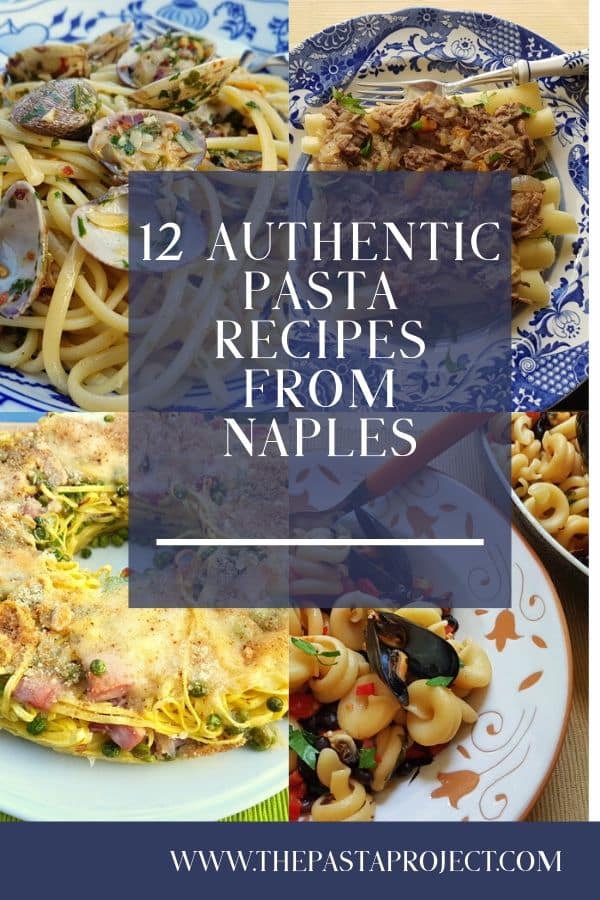 If you do try these 12 authentic Neapolitan pasta recipes, I'd love to hear what you think. Please write a comment here on the blog or post a comment on the Pasta Project Facebook page.
Your feedback means a lot to me!
Buon Appetito!