Bucatini Pasta with Rabbit all'Ischitana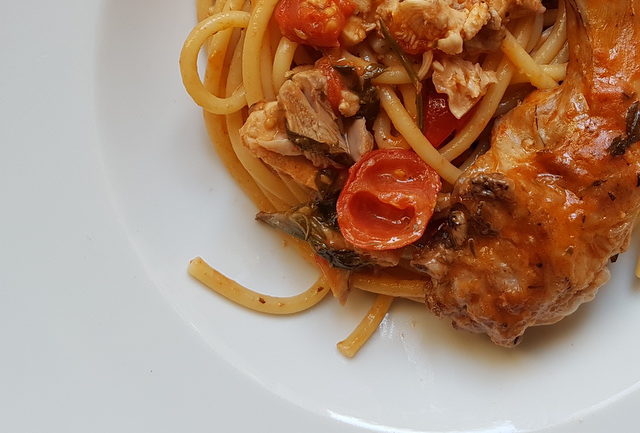 Bucatini con coniglio all'Ischitana
The first time I ate pasta with rabbit wasn't actually in Italy, but on the Mediterranean island of Malta. There rabbit is a very traditional food, usually served with spaghetti or as a main course with potato chips, or both. Meaning people often start with pasta and the sauce from stewed rabbit and then have the pieces of rabbit with chips and vegetables after! I recently discovered that almost the exact same tradition exists on the island of Ischia, off the coast of Naples in Campania. Although the recipe for cooking the rabbit in Malta is different to how they make it in Ischia, both are delicious!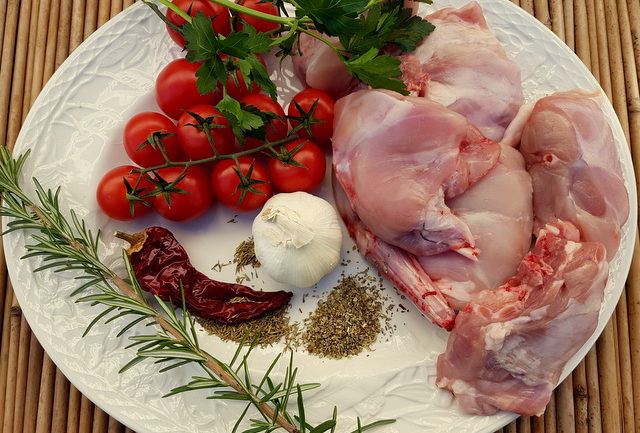 Rabbits on the island of Ischia.
Apparently rabbits were introduced to the island by the Phoenicians and quickly became an important food source for the islanders. Originally the rabbits were wild, but in time the islanders started to farm them. The traditional way to breed rabbits in Ischia is to let them live in a semi-wild environment in ditches with narrow tunnels which run 3 or 4 metres underground and that the rabbits dig themselves. Rabbits bred with this method are called "Conigli di fossa" (meaning 'ditch or cave'). Today ditch or cave rabbit is a Slow Food presidium.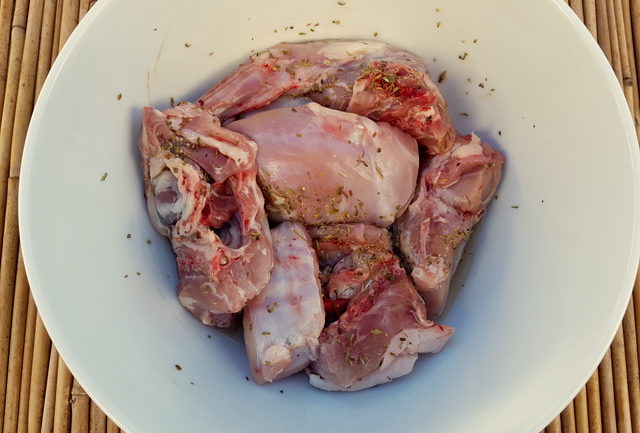 Coniglio all'ischitana.
The oldest and most well-known recipe for cooking rabbit on Ischia is called, unsurprisingly 'coniglio all'ischitana' (meaning Ischian rabbit). This dish, which is considered the signature dish of Ischian cusine, involves braising or stewing rabbit pieces in wine with herbs and tomatoes.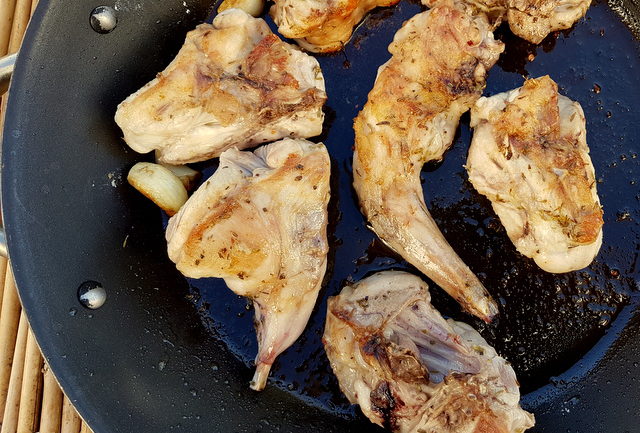 On Ischia, traditionally, the rabbit braising sauce is served with bucatini pasta as a first course (primo piatto) and the rabbit pieces are then eaten after along with fried potato slices. However, a number of Italian recipes I found also suggest adding some of the rabbit meat to the sauce to give it more body and serve the pasta along with extra pieces of rabbit if you're not planning to have a second course with potatoes or use the cooked rabbit another day.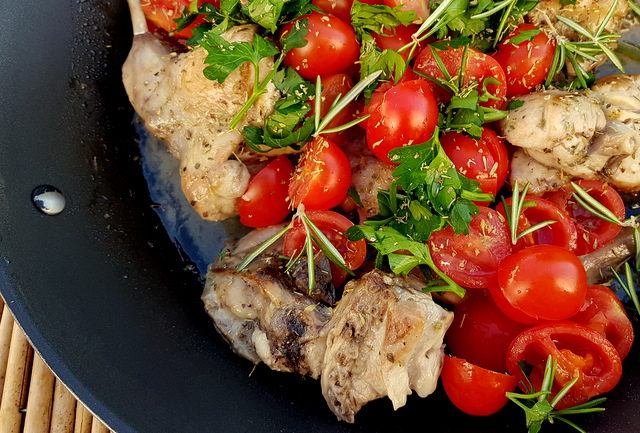 This is what I did! However, I could have served the braised rabbit the next day or even frozen it for another time. So, although this dish takes a couple of hours to make, it is really worth it! First and foremost because it is really delicious and, secondly, because you can get two meals out of the work for one!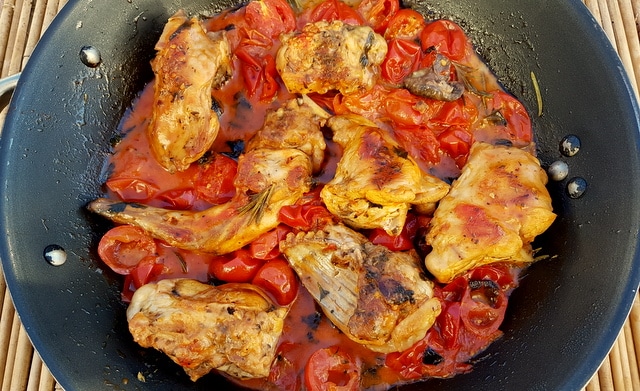 What pasta should you use?
As I mentioned before, this pasta with rabbit dish is normally served with bucatini. For those who don't know it, bucatini is a long pasta very similar to spaghettoni, meaning large spaghetti . However, bucatini have a tiny hole running through them, which some Italians say makes it a great pasta for hearty or creamy sauces as the sauce actually gets inside. I'm not sure that the sauce really gets inside, unless you suck the bucatini like a straw (yes! you can, but be warned it's messy!) This pasta is exceptionally good with Ischian rabbit sauce. Of course, you can also use other pasta. Long types such as spaghetti or bigoli would work well, as would fusilli or penne.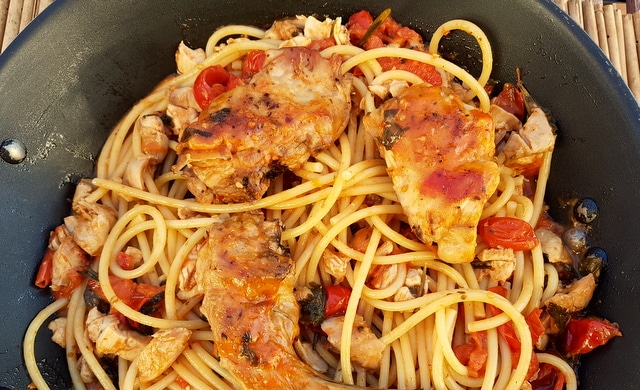 My hubby isn't a great fan of rabbit but he devoured this dish! I personally like rabbit. It's a 'healthy' meat, low in fat, high in protein (more than beef or chicken) and has a high concentration of iron and other minerals. In addition, it's low in calories and when cooked well rabbit can be really tender and tasty (like in this pasta with rabbit recipe!!)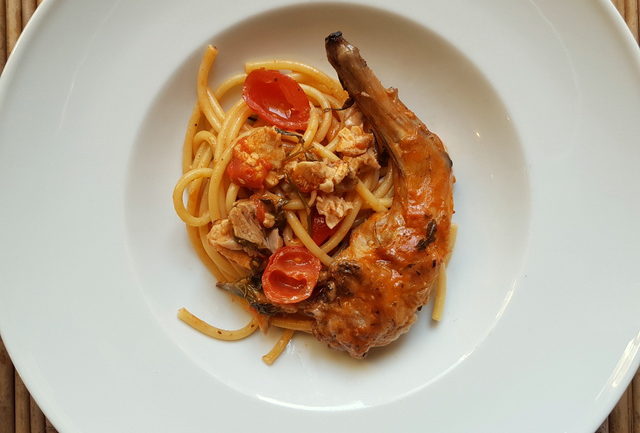 If you like eating rabbit, you'll love this recipe. If you've never tried rabbit and would like to, I think this would be a great dish to start with. Do let me know if you try this Ischian pasta with rabbit recipe. You can write a comment here on the blog, email me or comment on the Pasta Project Facebook page. I'd love to hear from you.
Buon appetito!
(see the recipe on the next page. Just scroll down and click 2)