Caccavelle Pasta alla Sorrentina.
Caccavelle pasta alla Sorrentina is a flavourful and rich traditional baked pasta recipe from Campania, in particular Sorrento. In this version, the pasta is giant 50g pasta shells said to be the biggest pasta in the world!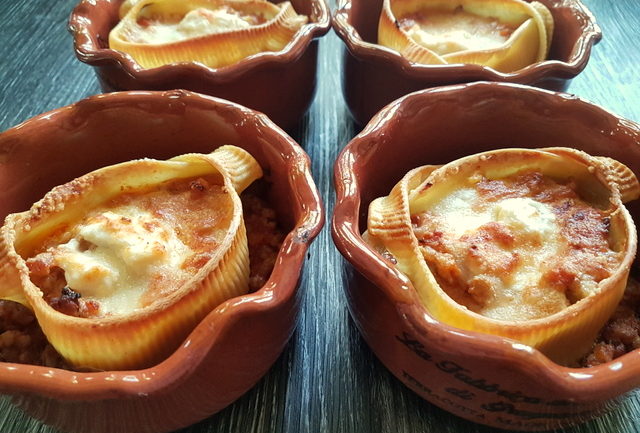 Pasta alla Sorrentina.
Baked pasta alla Sorrentina is a typical Neapolitan recipe the most famous version of which is gnocchi alla Sorrentina. For the gnocchi version, potato gnocchi are baked in a tomato sauce with mozzarella and basil. However, there are a number of different 'alla sorrentina' recipes. Many Italians also serve other types of pasta this way and I have found recipes for paccheri, strozzapreti, scialatielli and fusilli alla Sorrentina; either al forno (baked) or served without baking.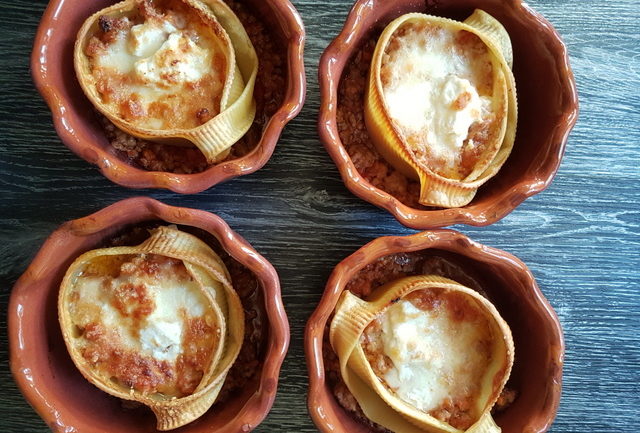 In addition, there are 'alla Sorrentina' recipes that include meat. These are most often those made with filled pasta such as cannelloni (manicotti) or conchiglioni. This caccavelle pasta alla Sorrentina recipe includes meat and could also be made with conchiglioni instead of caccavelle.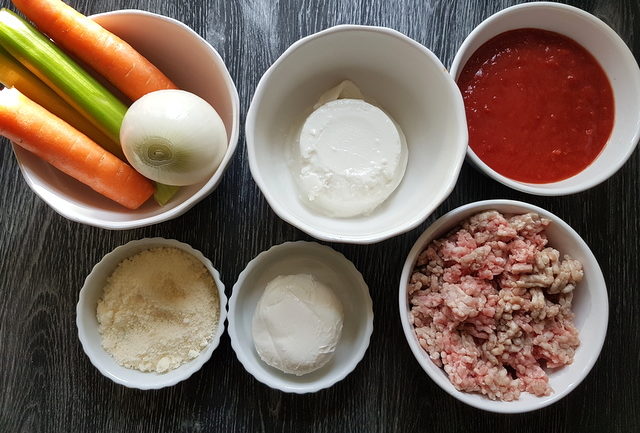 Caccavelle giant pasta shells from Gragnano.
As I mentioned above caccavelle are giant pasta shells which weigh 50 grams each. It seems that they are made by only one company; The Gragnano Pasta Factory in Gragnano, near Naples.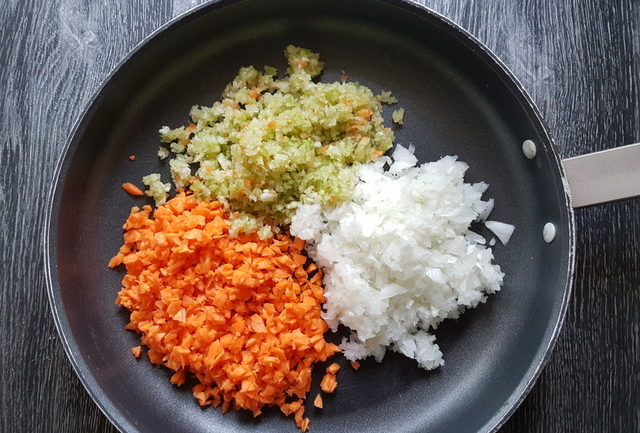 You can read more about caccavelle and pasta di Gragnano if you click here! I bought this pasta online and as far as I know you can order it through the producers or online Italian food retailers.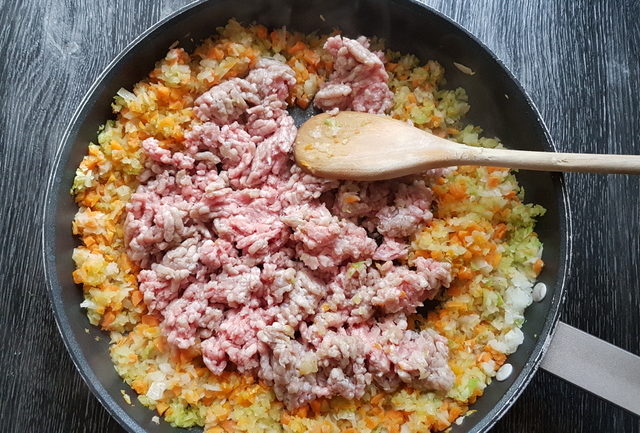 Cooking caccavelle.
Caccavelle are usually cooked in individual glazed terracotta pots. In fact, the word 'caccavelle' means 'pots' in Neapolitan dialect. I'm not sure if the name derives from the fact that these large pasta pieces look like little pots or because they're traditionally cooked in little pots!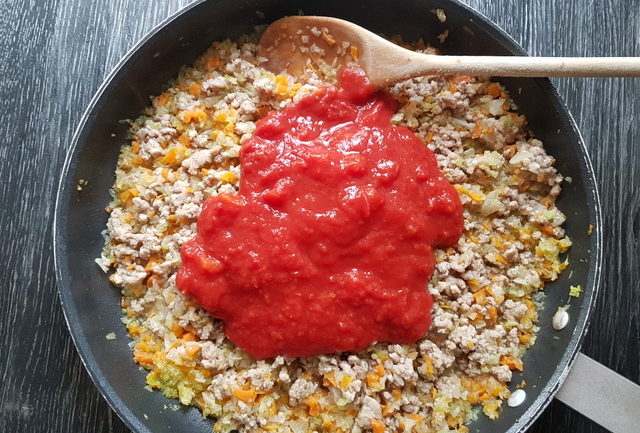 Either way, when I ordered this pasta online, I also bought the typical terracotta pots to cook the dish in. However, you can bake these giant shells in one large oven dish or use small individual oven to tableware.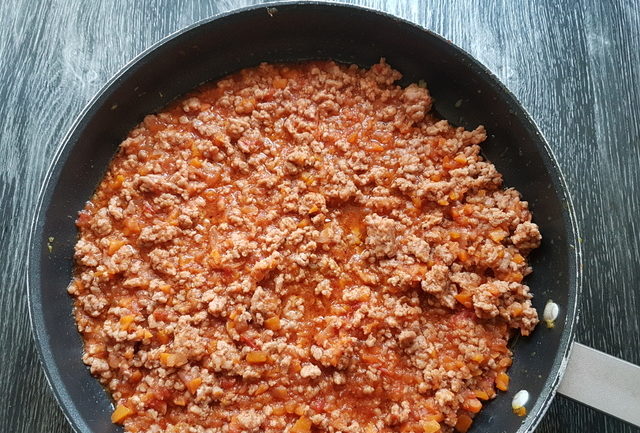 Making this Caccavelle alla Sorrentina recipe.
Like many other Italian al forno recipes, this caccavelle pasta alla Sorrentina takes a little while to prepare as it includes a meat ragu which you have to make first.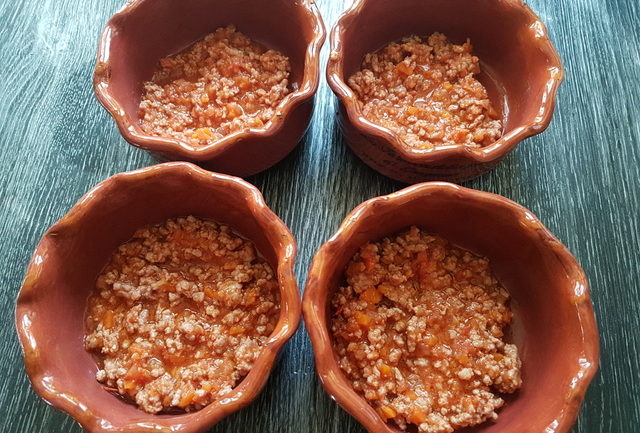 Italians usually eat these kinds of baked pasta dishes on Sundays or holidays in Italy because they are more time consuming to make. However, they are so well worth the effort and so delicious!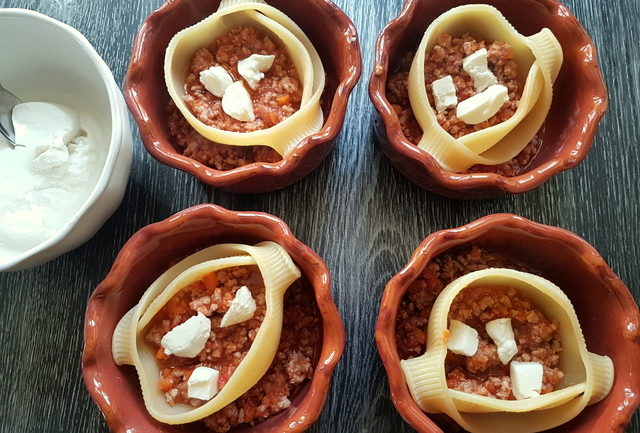 Apart from the ingredients needed to make the meat ragu this caccavelle pasta alla Sorrentina includes some fresh mozzarella, fresh ricotta and grated Pecorino or Parmigiano Reggiano.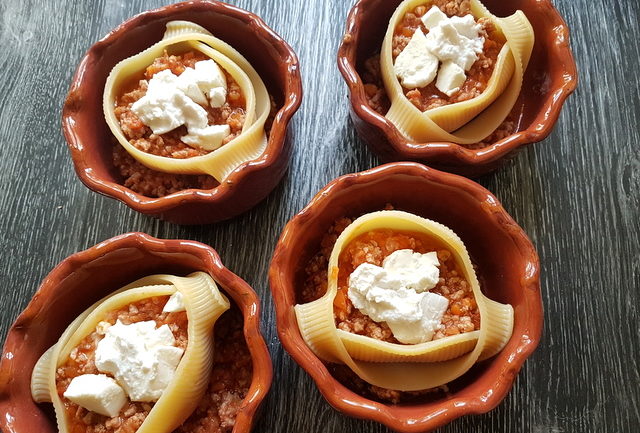 Because the caccavelle are large, you need to pre-boil before assembling the final dish and baking it. Each giant pasta shell is then filled with a layer of ragu, then some mozzarella and ricotta, another layer of ragu, mozzarella and ricotta and finally the grated parmigiano.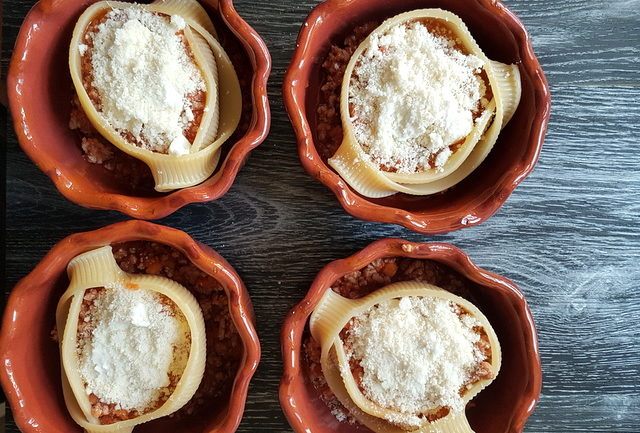 If serving in individual portions you can leave the caccavelle in their pots. Otherwise plate with some of the sauce from the bottom of the dish. Whichever way you serve this recipe, I'm sure you're going to fall in love with this dish AND the pasta.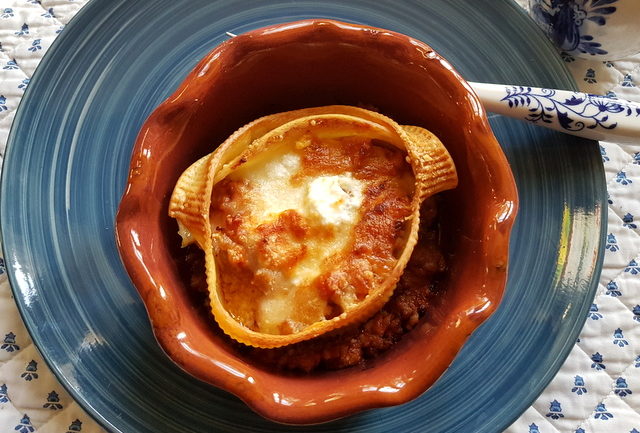 Do let me know if you enjoyed this baked pasta.
If you make this caccavelle alla Sorrentina recipe, I'd love to hear how it turns out. Please write a comment here on the blog or post a comment on the Pasta Project Facebook page.
Your feedback means a lot to me!
Buon Appetito!
If you are interested in learning how to make homemade pasta and different types of gnocchi, check out my shop page for some great video online courses from my friends in Rome! Nothing beats learning to make pasta from Italians! Plus while you're there why not order a copy of my newly published autumn/winter pasta recipes cookbook!
Save this recipe for later?
To save this recipe for later, you can print it, bookmark this page or pin it to Pinterest.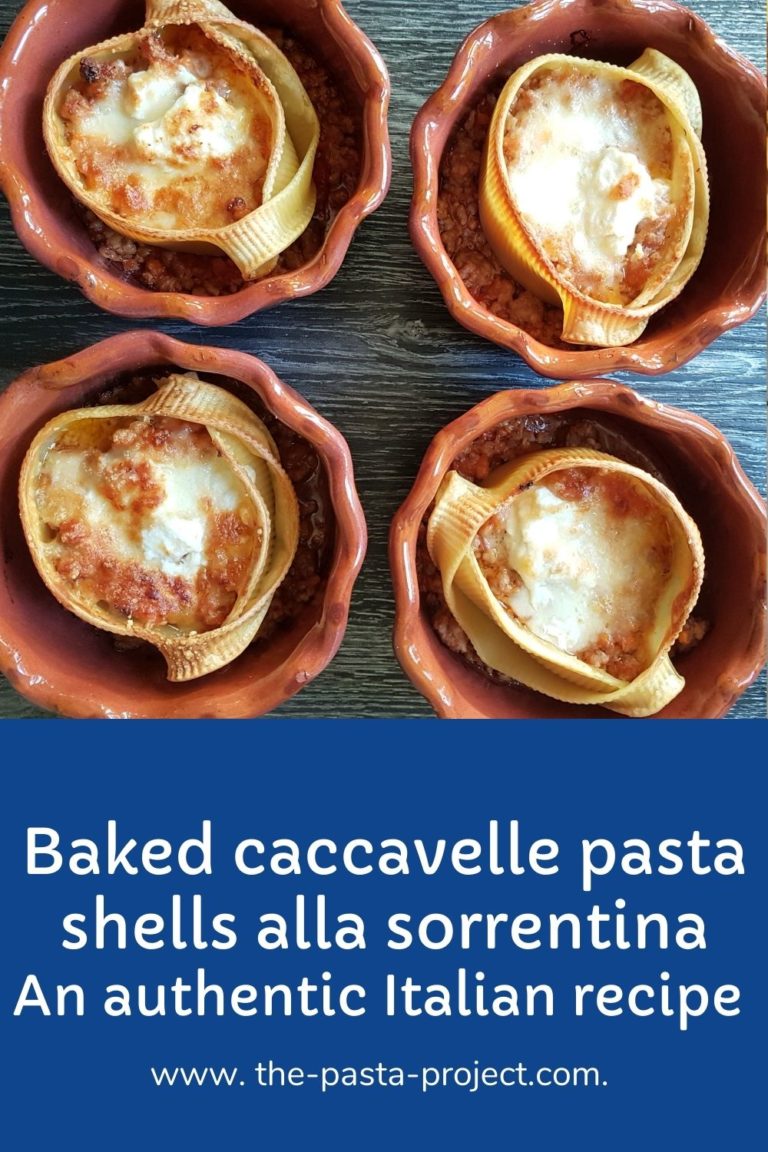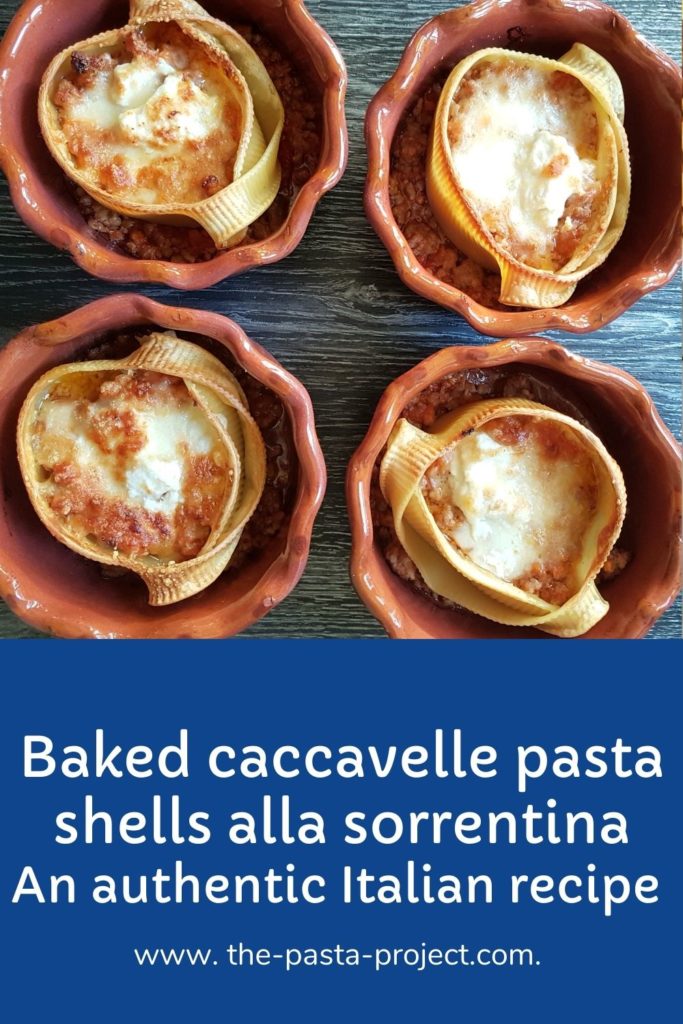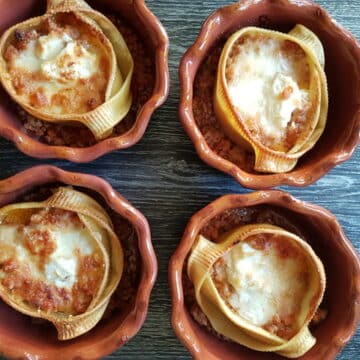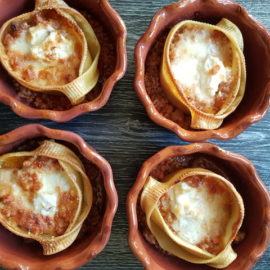 Caccavelle pasta alla Sorrentina
This delicious Neapolitan baked pasta recipe is made with the biggest pasta in the world filled with meat ragu and cheese and baked in the oven. Perfect for Sunday lunch and holiday menus.
Ingredients
4

caccavelle giant pasta shells
For the ragu
1

onion

peeled and finely chopped

2

carrots

washed and finely chopped

2

celery stalks

washed and finely chopped

300

g

veal

(10oz) ground. you can also use beef or pork

1

Lt

tomato passata

(33floz) I use Cirio rustica which is thicker.

salt

for pasta and to taste

1/2

glass

red or white wine

black pepper

to taste

3-4

tbsp

extra virgin olive oil
Other filling ingredients
200

g

mozzarella

(7oz) drained and cut into small pieces

200

g

fresh ricotta

(7oz)

50

g

Parmigiano Reggiano

(2oz) grated
Instructions
Start preparing the ground meat ragu which is the main part of the caccavelle filling. 

Wash and finely chop the celery and carrot. Peel the onion and chop finely too.

Heat the olive oil in a deep frying pan or skillet and soften the chopped vegetables in the heated oil.

Then add the meat and brown it. Use a wooden spoon to separate and mix it. When the meat has browned add the wine. Let the alcohol evaporate and then add the tomato passata. Mix everything together well.

Add salt and pepper to taste. Lower the heat and simmer covered for at least 30 minutes. The longer you cook the ragu, the better it tastes.
Cook the pasta
In the meantime, put a large pot of water on to boil for the pasta. Add salt once it starts to boil and bring to the boil again. Cook the caccavelle until they are al dente. Usually about 10-12 minutes.

Save a cup of the pasta cooking water. Drain the pasta. Make sure there's no water inside the pasta shells. 
Finish the dish
Cut the mozzarella and ricotta into small pieces.

If your sauce is too dry, add some of the saved pasta cooking water and mix.

Put a little sauce in each individual small oven dish.

Place a caccavella in each pan and fill the pasta shell half way with some meat sauce. Add the diced mozzarella and a little ricotta. Cover with more sauce, then add more mozzarella, ricotta and again ragu. Finally sprinkle with grated Parmigiano.

Bake the caccavelle in a preheated oven at 180 degrees for 30 minutes. Serve immediately.
Notes
If you don't have caccavelle you can make this recipe with other large pasta shells such as conchiglioni or lumaconi. 
The sauce needs to be quite liquidy as the pasta will absorb it and you don't want it to dry out.
Pin for Later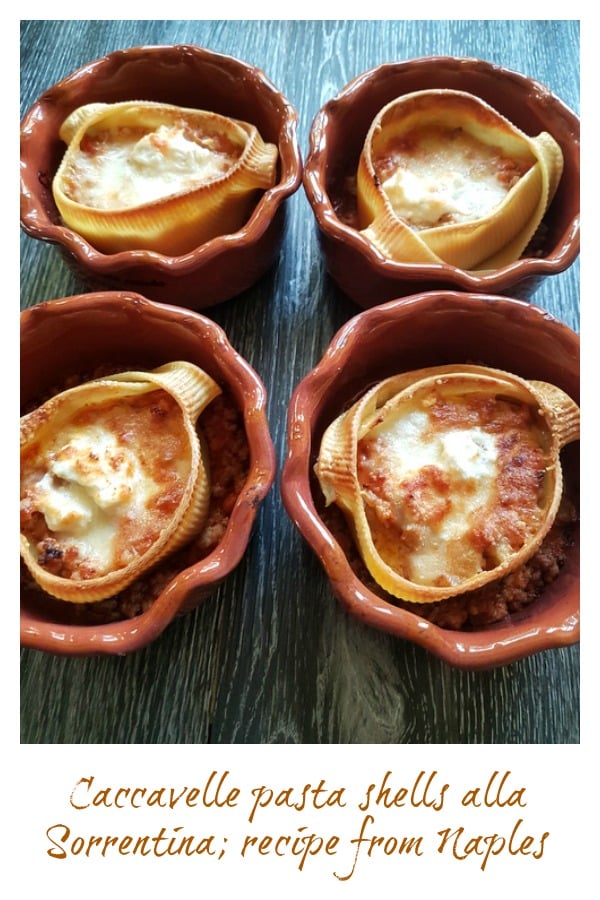 Want to know more about my life in Italy? Go to the homepage and subscribe to my newsletter. New subscribers get a free recipe e-book series too! https://www.the-pasta-project.com