Scialatielli pasta from the Amalfi coast.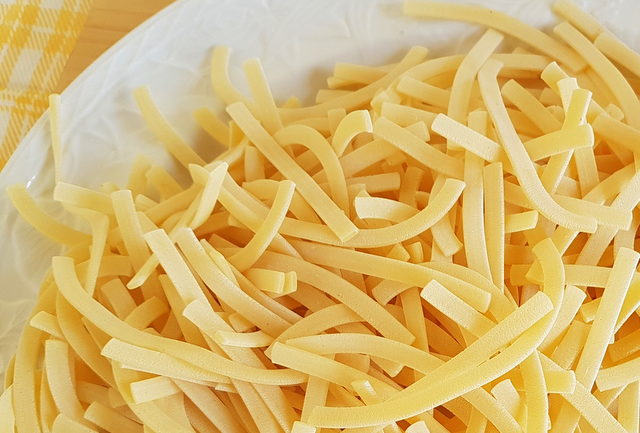 Scialatielli is a normally fresh pasta typical of Campania, particularly the Amalfi region, although nowadays it has become popular throughout the entire coastal area of Campania and in Sicily.
The name, Scialatielli, apparently derives from the union of two words from the Neapolitan dialect; 'scialare' (to enjoy) and 'tiella' (pan). This pasta has long been recognized as a PAT food in Campania meaning a Traditional Agri-food Product.
A 20th century pasta invention!
Scialatielli were originally created by a chef called Enrico Cosentino, who, during the 1960s and 70s, began experimenting with different kinds of pasta. As a result of his experiments, Cosentino created a pasta dough with flour, milk in place of eggs and with the addition of basil leaves, extra virgin olive oil and Parmesan cheese. Cosentino, who later won the first Michelin star in Campania, was awarded a prestigious International Entremetier Chef prize in 1978 for this pasta.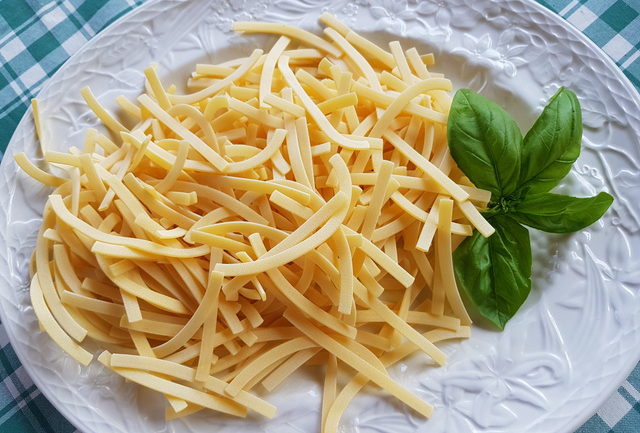 Scialatielli pasta is normally cut slightly unevenly, to a similar shape to tagliatelle but shorter (about 10 cm) and a bit thicker and wider (10mm). When handmade, flour, water and / or milk, grated Parmesan cheese, oil, chilled fresh basil and salt are used to make the dough. However, nowadays, it is also possible to find a dried version as this pasta is now produced by commercial and artisan pasta makers. The dried version isn't made with milk, basil and cheese.
Scialatielli Recipes.
The most well-known recipe for this pasta is scialatielli all'amalfitana, a seafood pasta dish with typical seafood from the Amalfi coast; normally clams and/or mussels, prawns and cuttlefish. Scialatielli are also served 'alla Sorrentina' with tomatoes and mozzarella.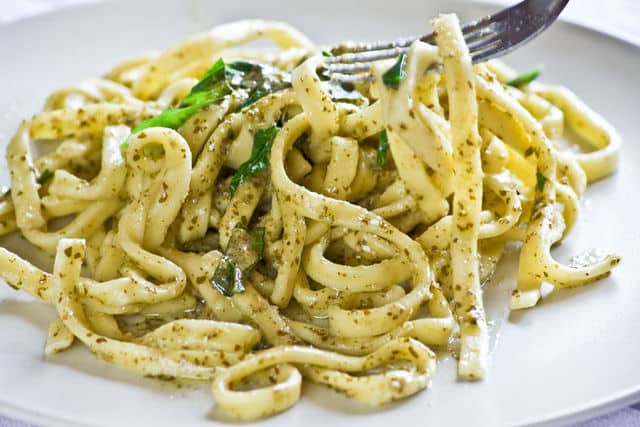 However, one of the many advantages of this pasta is its versatility. In fact, there are many recipes for it, even though served with seafood is generally the most popular way. However, it is not so rare to find it served with other ingredients such as sausage, broccoli rabe (cime di rapa) , mushrooms or bell peppers. I recently made a very nice dish of Scialatielli with yellow bell peppers, you might want to have a look at. In Sicily they often serve this pasta with pistachio pesto.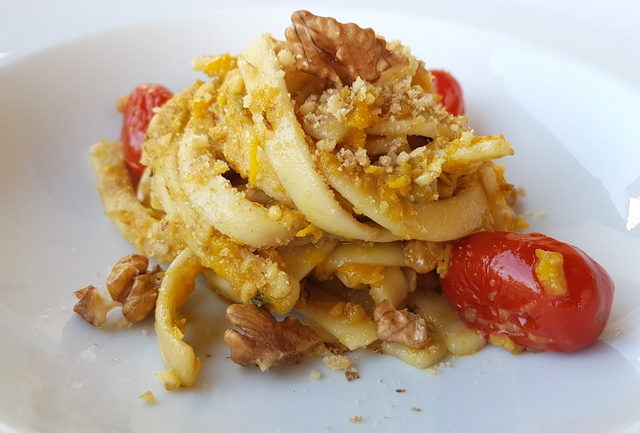 If you decide to make this pasta by hand, you can also use Pecorino as a substitute for the Parmesan cheese. This gives an even stronger flavor to the final dish. I have been wanting to make this pasta by hand but haven't been able to do that yet. So, I used the dried version the first time I cooked this pasta. Admittedly, homemade scialatielli taste different due to the inclusion of milk, basil and cheese. However, maybe because of the quality of the pasta maker, my dried scialatielli were pretty delicious. Recipes for scialatielli can also be served with tagliatelle or fettuccine, which if fresh could be cut to shorter lengths. However, these pasta ribbons are usually thinner than scialatielli.
To make homemade Scialatielli for 4 people you need..
200 g soft wheat '00' flour
200 g durum wheat semolina flour (farina di semola rimacinata di grano duro)
120 ml milk
1 egg (optional)
4 basil leaves
2 tablespoons of extra virgin olive oil
20 g of grated cheese (Parmesan cheese, pecorino cheese, caprino cheese )
Prepare the dough making a fountain with the flour, add a little milk at a time and start to knead, then add the egg (if using) and oil, grated cheese and crushed basil, continue to knead until you get a smooth and homogeneous mixture . (10-15 minutes)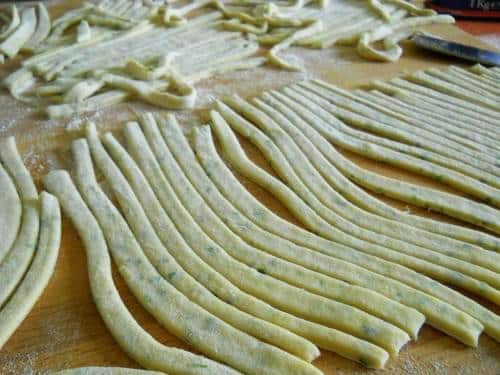 Roll the dough into a bowl and keep it covered for at least half an hour, then roll it out with a rolling pin or pasta machine until it is a few millimeters thick (it should not be as thin as tagliatelle). Fold or roll the dough on itself and cut pieces off with a knife keeping in mind the proportions (10 cm in length for 10 mm in width). See how it's done in this video.