Scialatielli pasta with pistachio pesto.
Pistachio pesto is a traditional recipe in Sicily where it is eaten with pasta or used to make arancini. If you've never tried it, you really should!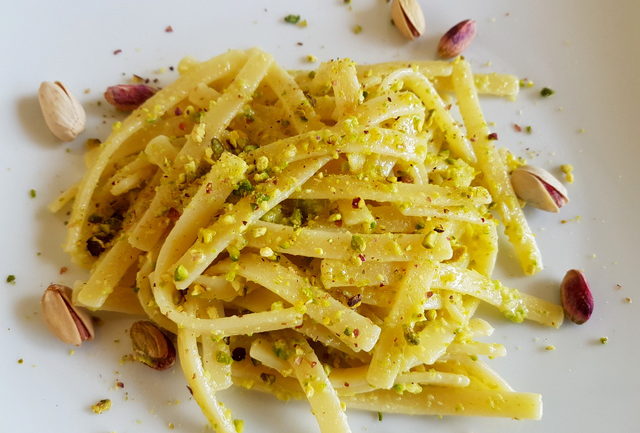 The best pistachios come from Bronte.
Have you ever heard of a town in Sicily called Bronte? Needless to say, I hadn't before moving to Italy and being taken there by my Sicilian hubby. However, if you ask any Italian if they know Bronte, most will say of course because Bronte is where the best pistachios in Italy come from.
Italians love pistachios, above all in the form of pistachio ice-cream but also in Sicily's most famous dessert, cannoli, and in nougat and even cured meats like mortadella. And my personal favourite, as a pesto sauce for pasta. Pistachio pesto is divine. If you have never eaten or made it, you definitely should!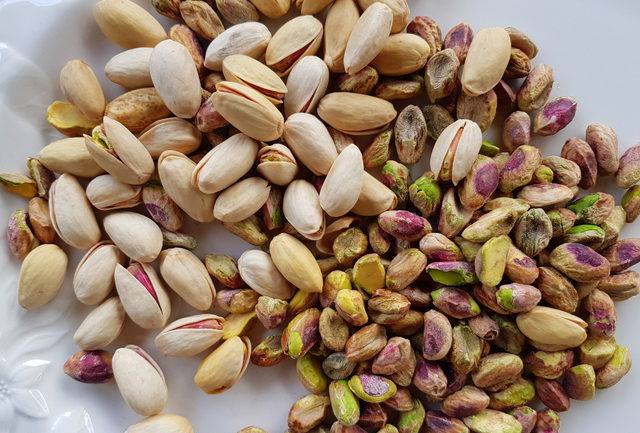 About pistachios from Bronte in Sicily.
Apparently pistachio plants can live between 200 and 300 years, and they really thrive in Bronte. Pistachios originally came to Europe from ancient Persia and they are grown in a number of places but Bronte pistachios have very unique characteristics , even compared to other Sicilian pistachios, and they are known as 'pistacia vera'meaning the true pistachio.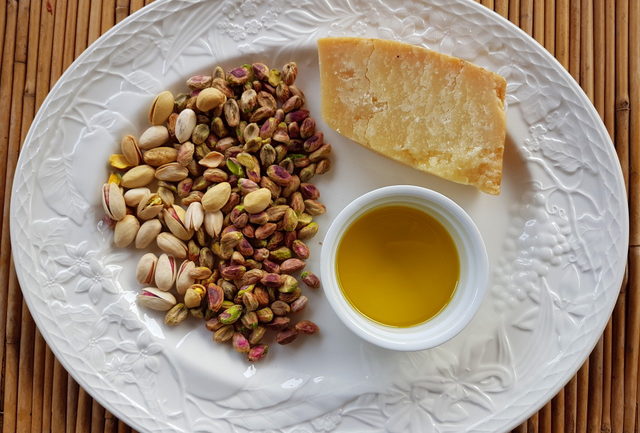 In Bronte, pistachios are cultivated in volcanic soil, on the sun baked terrain of Mount Etna and the Nebrodi mountains. The harvest takes place every two years between late August and early September and is, of course, an important event for the entire population of Bronte. Even today pistachios in Bronte are picked by men, women and children who climb the slopes to pick and shell the nuts, one by one.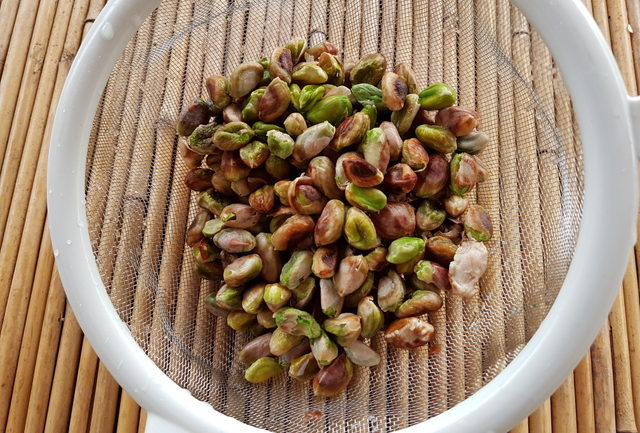 My visits to Bronte.
My hubby took me to Bronte some years back and I loved the fact that the confectioneries and patisseries are filled with green cakes and sweets. They put pistachios in everything and, needless to say, you can even buy ready-made pistachio pesto to take home. We are going to be in Sicily next week and I'm hoping to visit Bronte again, not only to buy some pistachios but also to enjoy the pistachio festival which is held in the village every year towards the end of September!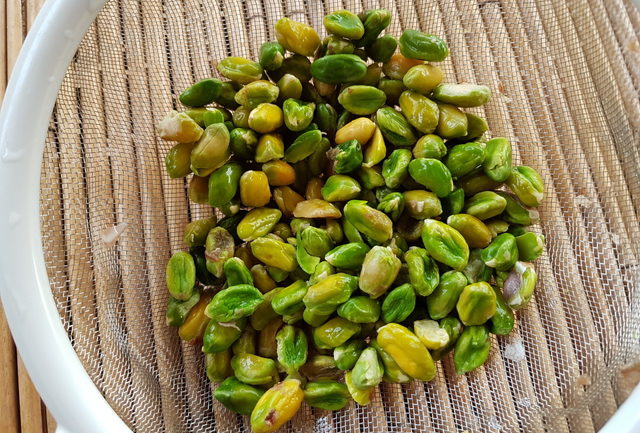 There are a number of different pistachio pesto recipes. In Sicily the pistachios used in pesto are freshly picked and still greenish but slightly dried, unsalted and untoasted. In other words, they are raw. This, of course, enhances the sauce's green colour making it slightly yellowish if no other greenery is added.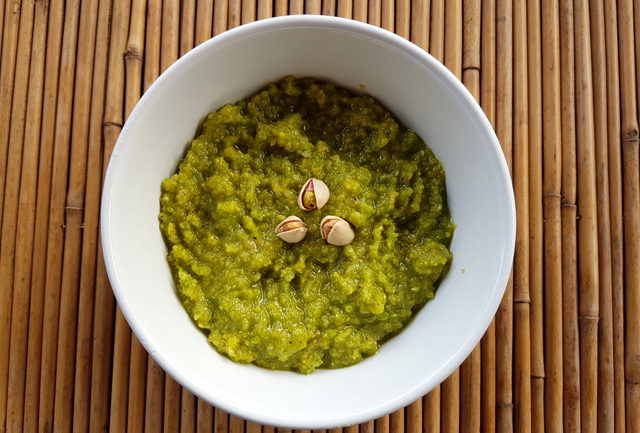 Different versions of pasta with pistachio pesto.
This recipe is the simplest version and contains only pistachios, olive oil, salt and parmesan cheese. However, you can also experiment by adding other ingredients such as the basil and mint , which are popular additions. Some people also include lemon zest and garlic. The important thing to remember is that traditional pistachio pesto contains no other nuts, but should be nuttier than basil pesto Genovese so normally it is at least two-thirds pistachio.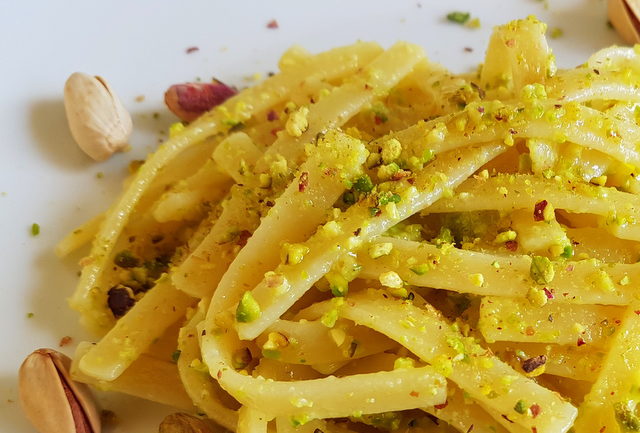 Alternative types of pistachio.
Of course not everyone can find Sicilian pistachios but any good, raw pistachios work well too. If raw pistachios aren't available you can try toasted ones, but preferably unsalted. I know lots of people use them. If you are adding basil and mint they need to be fresh and, most importantly, the olive oil should be extra virgin as this is an uncooked sauce and extra virgin olive oil is the best you can use.
The most commonly used pasta for pistachio pesto is spaghetti, although I used scialatielli which is another popular choice in Southern Italy. You can also use spaghetti all chitarra. Whichever pasta you choose, you are bound to love this simple but delicious Sicilian pasta with pistachio pesto.
Buon appetito!
(see the recipe on next page. Just scroll down and click 2)
Want to make this dish creamier? Try adding ricotta.
Pasta with ricotta and pistachio