Seafood Linguine

in foil packets.

Seafood linguine al cartoccio is a fabulous dish to serve to guests! This popular Central-Southern Italian recipe is made with a delicious fresh seafood sauce and pasta, wrapped in foil or baking paper and baked in the oven.
Linguine con frutti di mare al cartoccio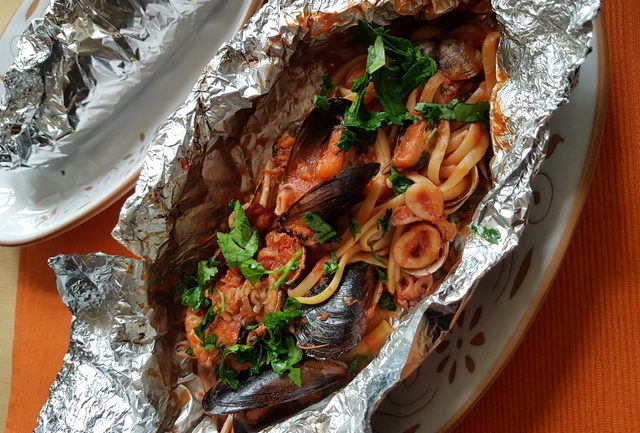 What is 'al cartoccio'?
Al cartoccio is the Italian term for baking food in a foil or oven paper packet. This method is used mostly for seafood here in Italy. Probably the most well-known and appreciated of those seafood dishes is spaghetti or linguine al cartoccio (in foil).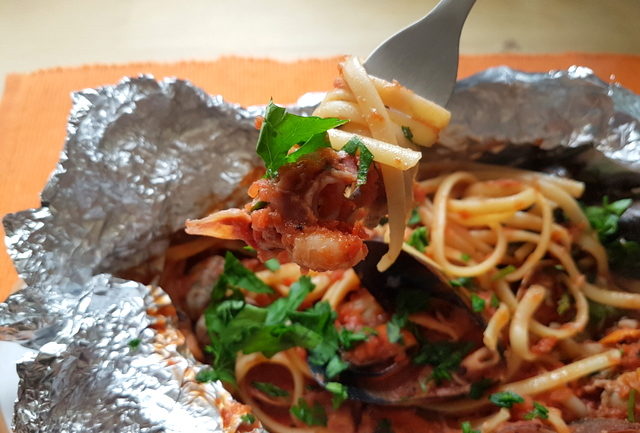 What seafood can you use?
I first ate seafood pasta al cartoccio in Sicily many years ago! It was love at first bite (or forkful) The sauce is made with a mixture of different seafood; usually clams and/or mussels, prawns and/or scampi plus calamari or octopus. Some people add fish, such as red mullet or sea bass. The ingredients depend on what's fresh and available. Here in Italy, restaurants usually serve seafood pasta with fresh seafood. To make this recipe at home, you could use frozen uncooked seafood. I wouldn't use canned.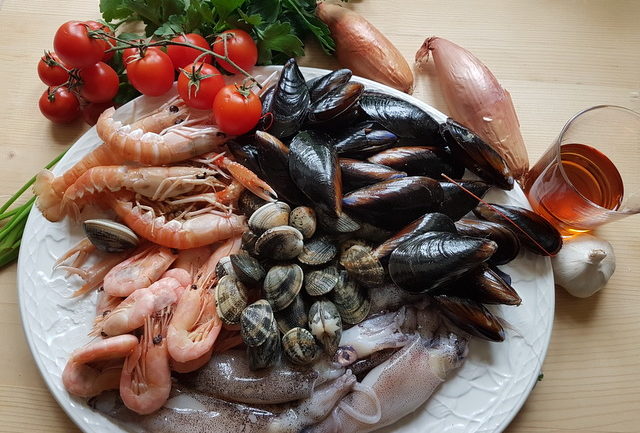 Once the sauce is ready, the pasta (usually spaghetti or linguine) is cooked very al dente and then mixed with the sauce and everything is enclosed in a foil packet and baked in a very hot oven for 10 minutes. You can make individual foil or oven paper packets or one large one. We like to make individual ones.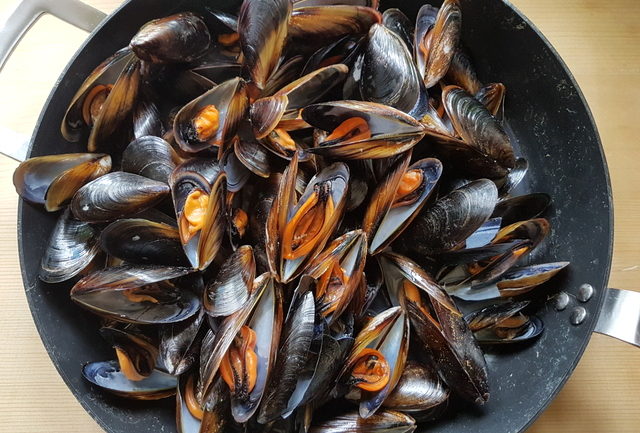 Some seafood pasta al cartoccio history.
Although I ate seafood pasta al cartoccio for the first time in Sicily, this dish (or something very similar) is popular in Tuscany, Abruzzo, Sardinia, Puglia and, of course, in Campania. All regions with long coastlines and a long history of fishing!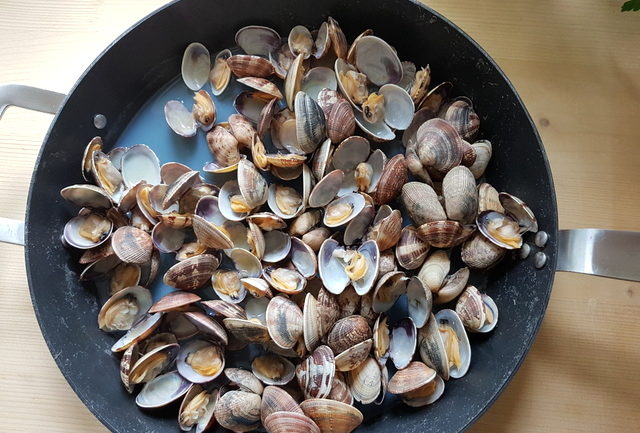 In fact, spaghetti al cartoccio is a signature dish in the Amalfi Coast, near Naples, where they claim its invention. There, they say a certain Salvatore Cavaliere invented seafood spaghetti cooked 'al cartoccio' in 1965, and it became the key menu item of his brother's restaurant, the Ciccio Cielo Mare Terra. This restaurant is still famous today for this dish and apparently celebrities such as Jackie Kennedy and Marcello Mastroianni have eaten it there!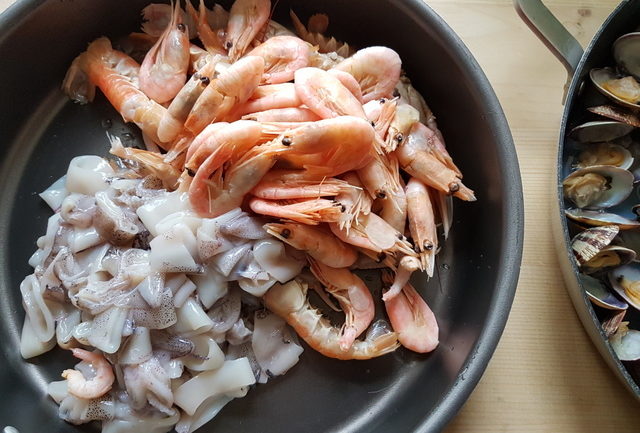 However, there's another restaurant in Naples called Il Bellini, where the seafood linguine al cartoccio is a big draw. Especially as they also claim its invention, saying that the present owner's grandfather created the dish with 3 other cooks. Certainly Il Bellini is famous for their seafood linguine in foil. Actually they don't use foil these days, but some kind of vegetable paper!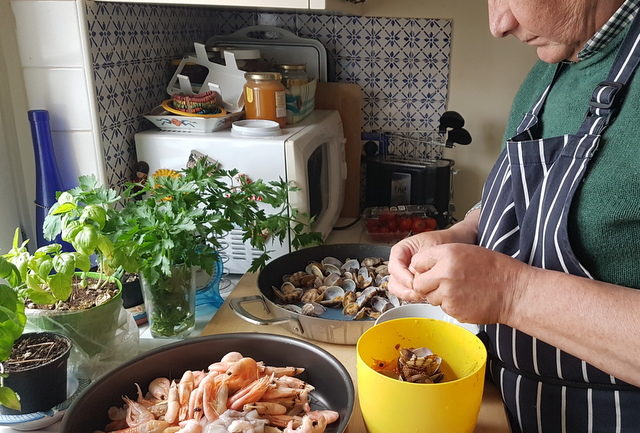 Restaurants don't like to give out the ingredients of their star plates and I haven't eaten spaghetti or linguine al cartoccio at either place (much as I'd like to!). So, I don't know how different their dishes are. I do know that this is one of the best seafood pasta recipes ever!!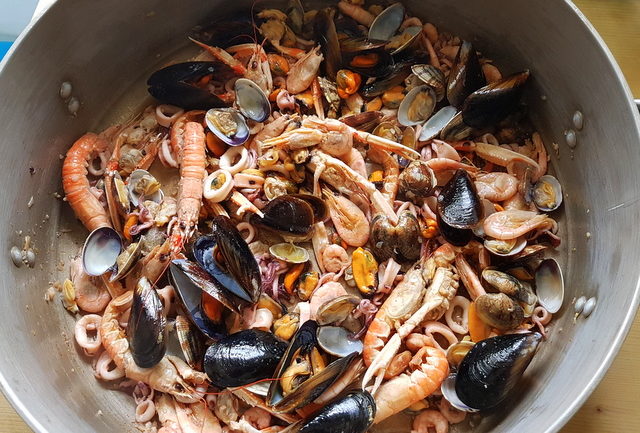 Foil or oven/baking paper?
We used a double layer of foil for each packet! I say 'we' because my lovely Sicilian hubby helped me make this dish. Actually, he did most of the work! When it comes to seafood he's the boss in our kitchen! Most recipes I found online called for foil too. However, nowadays many people prefer to use foil less than in the past. For this dish, there are 2 schools of thought. Some say foil is better because it really seals the steam in. Others prefer oven/baking paper because they say foil can burn the pasta or the pasta may stick to it.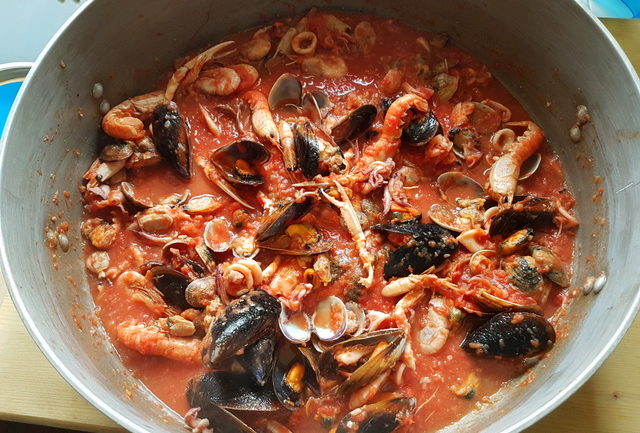 Seafood linguine al cartoccio will impress your guests.
Although it takes time to make (mostly to prepare the seafood), this seafood linguine al cartoccio is seriously worth it. Those last 10 minutes the sauce and pasta finish cooking in the oven, make this an incredibly flavourful dish. We used linguine, you can also use spaghetti. But, we like linguine because this pasta is slightly flat and has more surface area. It really absorbs the flavours of the seafood and tomatoes.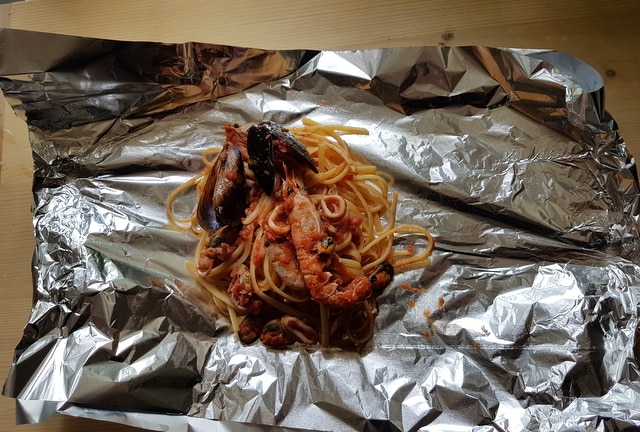 The other great thing about this recipe is you can prepare it in advance and cook in the oven just before serving. I wouldn't prepare it days before. However, we have made seafood linguine al cartoccio in the morning and served it to guests for dinner. My guests are always totally impressed by this dish and yours will be too.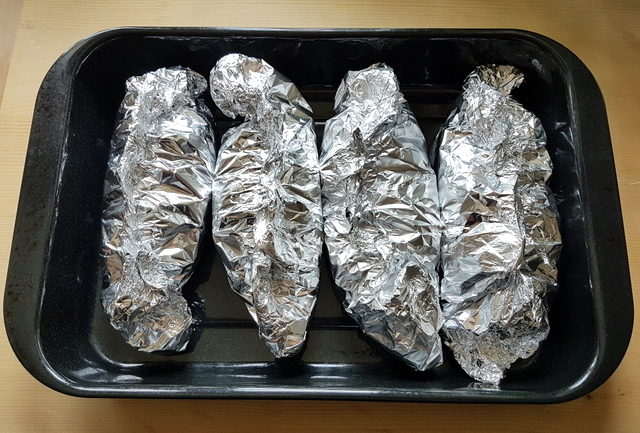 If you do try this seafood linguine al cartoccio recipe, I'd love to hear what you think. Please write a comment here on the blog or post a comment on the Pasta Project Facebook page.
Your feedback means a lot to me!
Buon Appetito!
Some other seafood pasta recipes on The Pasta Project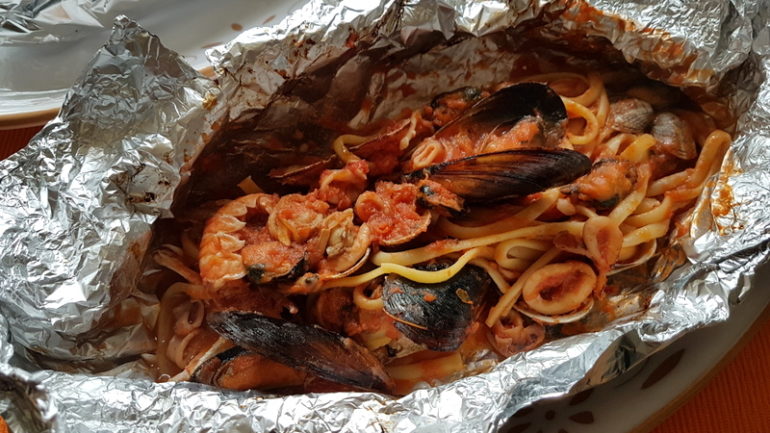 Save this recipe for later?
If you want to save this recipe for later, you can print it, bookmark this page or save it to Pinterest.
Have a look at these other authentic Neapolitan pasta recipes for more delicious pasta recipes like this one!
Pin for later