Baked ziti pasta with spicy sausage.
Baked ziti pasta with spicy sausage, sometimes also called 'ziti alla diavola' (devilled), is a great Neapolitan dish for those who love spicy food. Pasta prepared in this way is really flavourful and this recipe is simple and fast to make.

Ziti alla diavola al forno.
Ziti and its slightly wider cousin zitoni are long pasta originally from Campania, usually made from durum wheat semolina and water. They look like narrow tubes, but are both about 25 cm long! This pasta is traditionally broken into smaller pieces by hand before cooking. But, for this recipe you can keep the pieces long or break them. Already cut ziti and zitoni are also available to buy.

Use Ziti instead of other pasta tubes.
There are a number of delicious Italian recipes for baked Ziti or Zitoni from Campania, as well as Puglia, Calabria and Sicily where this pasta is also popular. In addition, Ziti can be used in other baked pasta recipes such as those for candele (an even longer pasta!) or penne or rigatoni (pasta tubes) . In the same way, if you can't find long tubes, you can use short ones instead.

My family loved this baked ziti dish!
In this recipe for baked ziti pasta with spicy sausage, the pasta is dressed with spicy Calabrian sausage (it looks like chorizo or pepperoni) cooked in a tomato and onion sauce with basil.

The ingredients are layered in an oven dish and enriched with slices of scamorza and mozzarella. The result is cheesy, spicy and so very moreish! Both my hubby and my eldest son had second helpings, so make sure you make enough. Leftovers are tasty too, so don't worry if you make too much. Stick it in the fridge and eat it the next day!

Which kind of spicy sausage?
It's better to use spicy Calabrian sausage or salami if you can find it to obtain the right kind of spicy! I used a semi-soft salami but the sausage can also be fresh. I think chorizo would work well too if Calabrian sausage is hard to find.

The pasta.
For this recipe, I used long ziti made by a small pasta company called Pastificio Sorrentino, I visited in Gragnano, Naples back in June. This company produces 2 ranges of pasta. One is a bio range made with organic durum wheat semolina and it's sold under the L'Anima di Gragnano label. I used this pasta in my mezzi paccheri with fresh tuna recipe. The other is sold under the L'Oro di Gragnano label and is a certified Pasta di Gragnano IGP. The latter is the type of pasta I used for this baked ziti recipe!

You can read all about Gragnano and what Pasta di Gragnano IGP means in my post about my visit. But in short, Gragnano is a town located close to Naples. It's been a hub of dried pasta production for nearly half a century! Pasta carrying the Pasta di Gragnano IGP certification is made under strict production and ingredient quality regulations. It's like saying DOC for wine!

Scamorza or mozzarella?
Some versions of this recipe are made with only mozzarella or only scamorza. This time I used both. It made the dish really cheesy! But, I have also made it before with smoked scamorza, which was delicious too. You can choose to use any of these cheeses or two kinds together.

Easy to make!
This baked ziti pasta with spicy sausage recipe is pretty easy to make. All you need is some small tomatoes, tomato passata, some cheese (scamorza and/or mozzarella) spicy sausage, basil and the pasta, plus some wine, an onion and grated pecorino.

Layer everything in an oven dish ( I used a terracotta one) bake for 20 minutes and serve. It's perfect for Sunday lunches or other days when you need to feed a bigger number. The only important thing to keep in mind is that every one has to like spicy food!

Let me know what you think!
If you are like me and love baked pasta dishes, this is going to be one you'll love. If you give it a try do let me know how it turns out, either by commenting below or on the Pasta Project Facebook page. And if you feel it's worth sharing with friends please do. All your feedback and support is much appreciated!
Buon Appetito!
This recipe was originally published on 5th August 2017 but has been updated.
Pin for Later

Want to know more about my life in Italy? Go to the homepage and subscribe to my newsletter. New subscribers get a free recipe e-book too! https://www.the-pasta-project.com
Other ziti recipes you may want to try!
Save this recipe for later?
If you want to save this recipe for later, you can print it, bookmark this page or save it to Pinterest.
Pin for Later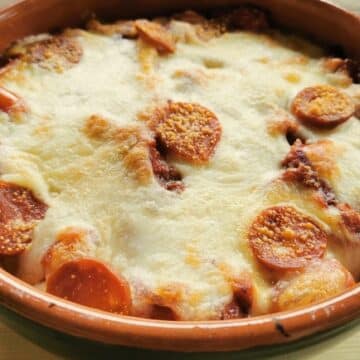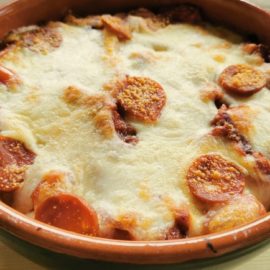 Baked Ziti or Zitoni pasta with spicy sausage.
A delicious Southern Italian baked pasta recipe that's perfect for those who like spicy food.
Ingredients
300

g

Ziti or Zitoni pasta

(10 oz)

200

g

Sausage or soft salami (spicy)

( 7oz)

200

g

scamorza cheese

and/or mozzarella or smoked scamorza (7oz)

400

g

peeled tomatoes or tomato passata

(14) I like to use cherry tomatoes and passata together

1

onion

6-8

basil leaves

chopped

1/2

glass

white wine

60

g

pecorino

grated (2oz)

2-3

tbsp

extra virgin olive oil
Instructions
Cut the sausage/salami into thick slices, remove the skin from each slice and cut it into small pieces. If you are using a soft sausage you can save some pieces to be added when layering the dish.

Peel and chop the onion and let it simmer in a frying pan or skillet with extra virgin olive oil. When it becomes transparent, add two thirds of the spicy sausage pieces if they are soft and all if you are using a harder sausage.

Let the sausage brown a little, then add the wine. Increase the heat until the alcohol evaporates, then add the cherry tomatoes (if using) let them cook a little. Then add the peeled tomatoes or passata.

Add salt to taste and then, cover the sauce and let it cook on a medium heat for about 30 minutes, stirring occasionally. When nearly ready add chopped basil.

Put a pot of water on to boil for the pasta. Add salt once it starts to boil and bring to the boil again. Break the pasta into pieces if it's too long for your pot. Cook the pasta very al dente according to the instructions on the packet.

In the meantime, cut the mozzarella and/or scamorza into slices.

Save a cup of the pasta cooking water, then drain the pasta and add it to the prepared sauce. If the sauce seems too dry had some of the pasta cooking water first.

Grease a baking dish with olive oil. Put part of the pasta with sauce in an even layer on the bottom of the dish. ( I used a terracotta dish)

Cover the pasta with some slices of cheese and some of the remaining sausage pieces (if soft sausage). Make a second layer of pasta and continue this way until the ingredients are exhausted, ending with the pasta

Finish the dish with some more pieces of scamorza and mozzarella and a generous sprinkling of grated pecorino.

Bake in a preheated oven at 200 ° for about 20 minutes or until the cheese on top starts to brown. You can also finish it off under the grill for 2 minutes if it isn't brown enough after 20 minutes in the oven.

Let the baked pasta rest for a few minutes before serving.
Notes
If you can't find long ziti or zitoni, this dish can be made with candele pasta, broken into smaller pieces or already cut ziti or zitoni or other pasta tubes like penne, rigatoni etc.
If you can't find spicy Calabrian sausage, you could also use chorizo.