Pasta with Tropea Onions and Lardo alla Toranese Recipe from Calabria
Pasta alla Toranese is a tasty Calabrian dish of pasta with Tropea onions and lardo (not lard). This recipe comes from the town of Torano Castello in Cosenza Province, Calabria. It is a super simple dish with only 3 main ingredients; Italian lardo, Tropea onions and pecorino cheese. So full of flavour and easy to make!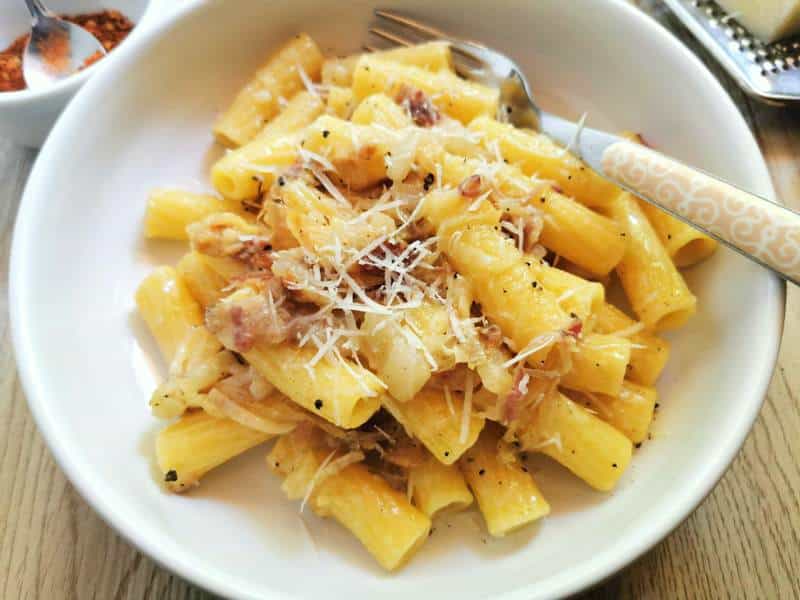 Like many simple Italian pasta recipes pasta alla Toranese uses ingredients that are traditional and typical of the regional cuisine! Of course, you can substitute other foods if the original isn't available. Instead of Tropea onions, you can use other sweet red onions. You can swap out the lardo with guanciale or fatty bacon and use Parmigiano instead of Pecorino. But, although still delicious, the flavours won't be exactly the same!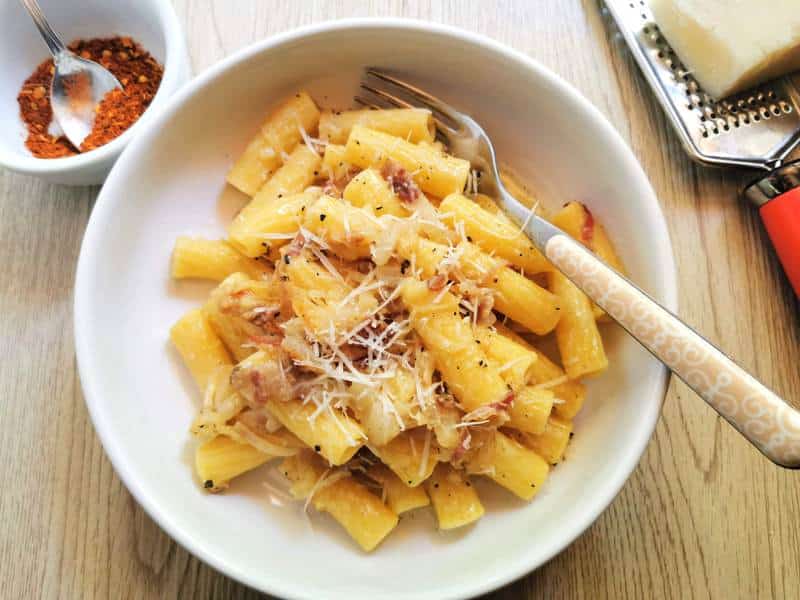 What are Tropea onions?
'Cipolla di Tropea' or the Tropea onion is Italy's most famous and appreciated type of onion. The main growing area for these onions is south of the town Tropea, around Ricardi and Capo Vaticano, in Calabria . However, these onions are grown all over the region. Although, the ones planted closest to the sea are the sweetest because of the sandy soil and the mild climate.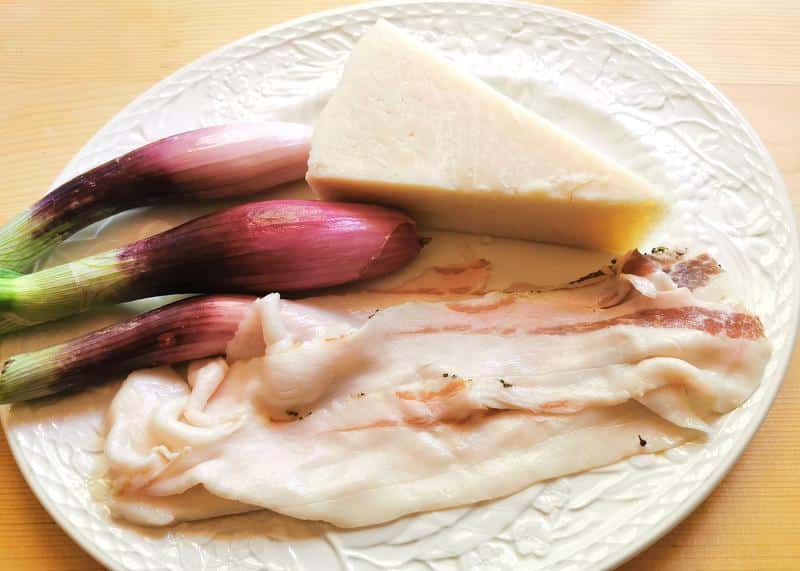 Apparently, Tropea onions were introduced to Calabria by the Greeks. They, in turn, had discovered them thanks to the Assyrians and Babylonians. However, it was the Arabs who perfected cultivation in Tropea and contributed to the spread of this onion throughout the region. By Medieval times, Tropea (the town) had become famous for its onions.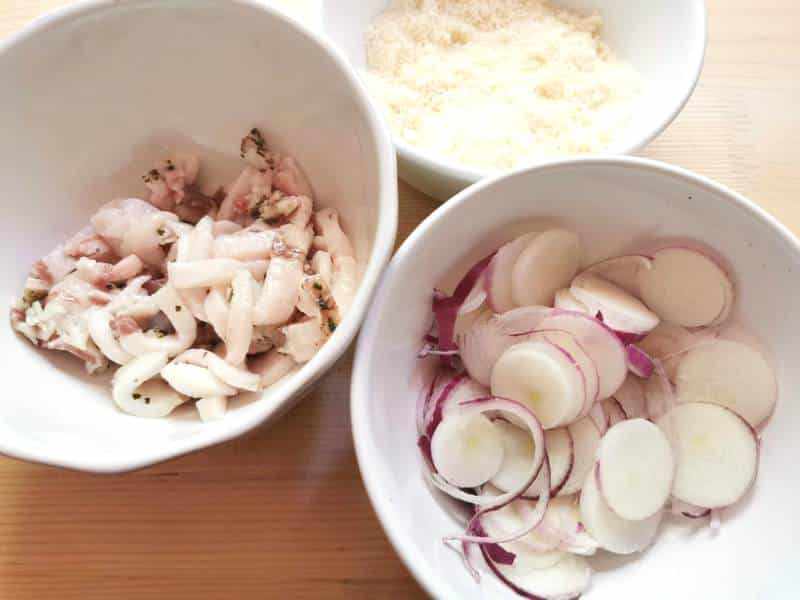 Types of Tropea onions.
Tropea onions come in 3 types. The cipolla fresca, harvested in April has a long stem and reddish-purple bulb. In June, they harvest the 'cipolla da serbo'. This is the bright red, torpedo-shaped onion that we usually think of as a Tropea onion. I have this type growing in my garden and, in fact, used them in this pasta alla Toranese recipe.
There is also the sweet white cipollotto which is ready to harvest in October. This onion resembles a spring onion in both appearance and flavour.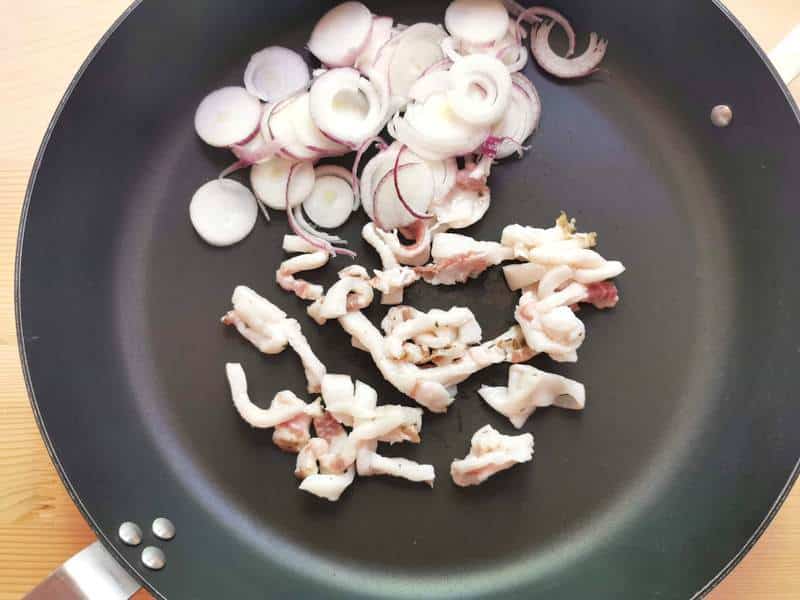 A good Tropea onion is a lot sweeter than most other red onions. But, this isn't because they have a higher sugar content. Actually, what they have is a much lower pyruvic acid content. This is what makes them less pungent and allows the natural sugars to come through.
A good Tropea onion can be eaten like an apple!
According to Calabrians, a good 'cipolla rossa di Tropea' can be eaten like an apple! Italian cooks love them for their sweet taste and the fact that they don't make you 'cry' when you peel and chop them!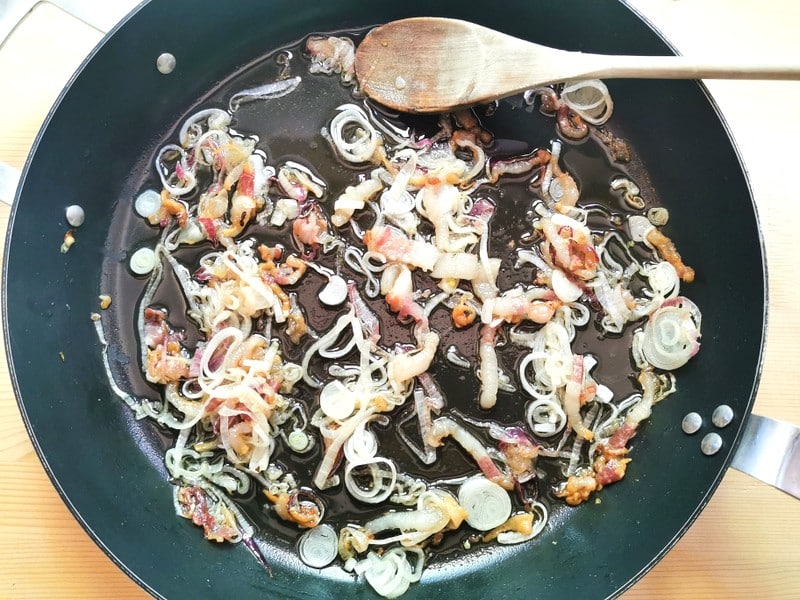 What is Italian lardo?
In the past,  Italian families who owned pigs would slaughter them in the late summer/early autumn so they could preserve every part of the animal to see the family through the colder winter months. In fact, there is a well-known Italian expression 'del maiale non si butta via niente' – one throws nothing away from the pig!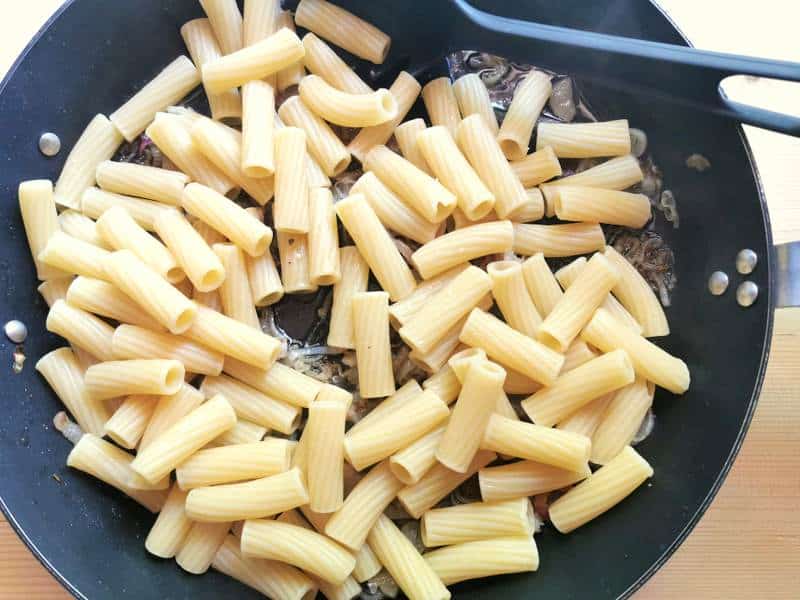 Throwing nothing away also meant using the pig fat or lard. Actually, there are two types of Italian lard; lardo and strutto. The latter is rendered pig fat which was, and still is, used for cooking (instead of olive oil) and making pastry (instead of butter). Lardo, on the other hand, is pig back fat which has been preserved in various ways and is eaten on bread or added to recipes such as this one for pasta alla Toranese.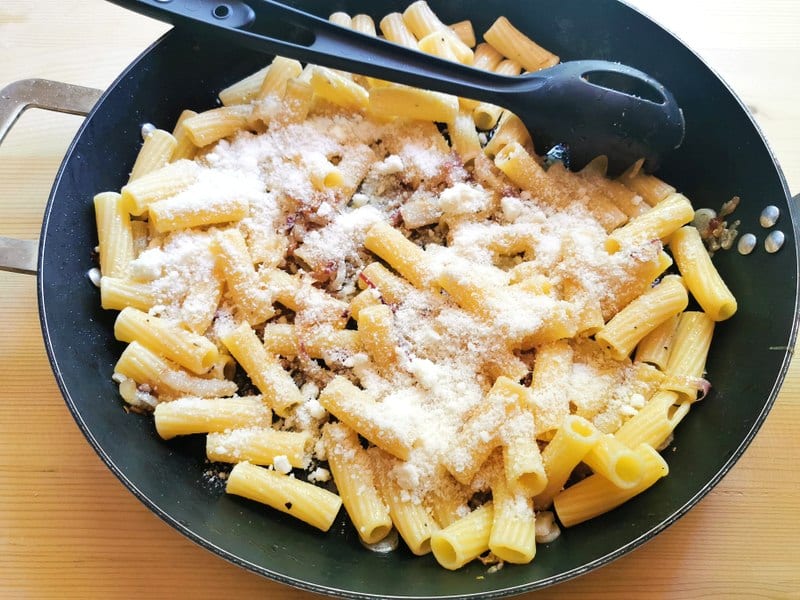 In the old days, farming families made their own lardo by preserving the back fat in salt. Obviously this tradition is less common now. However, there are types of lardo which continue to be produced and are much loved here and even considered a delicacy.
The two most famous ones are Lardo di Colonnata and Lardo di Arnad. You can read more about how these types of lardo are made in another recipe for pasta with lardo, Ziti Lardiati. I used Lardo di Colonnata from Tuscany for this pasta with Tropea onions and lardo.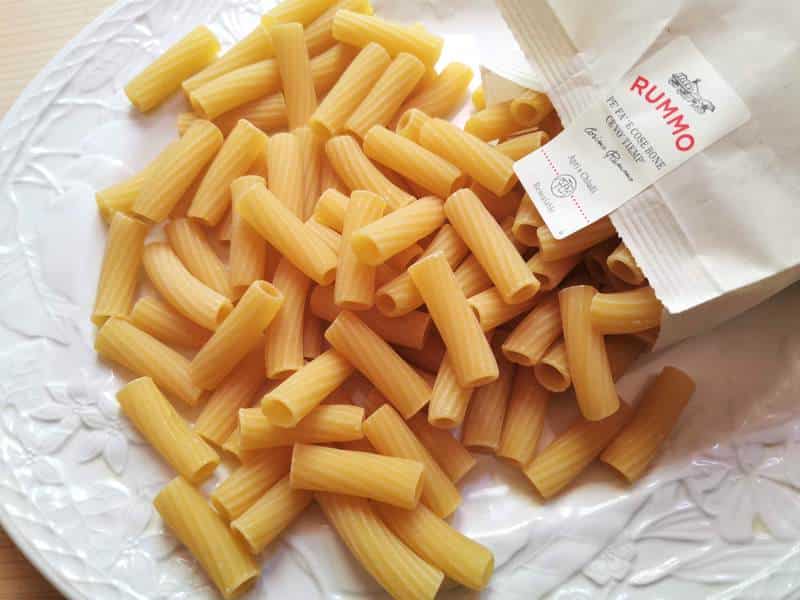 However, lardo is produced in Calabria. One of the best there is made from the back fat of black Calabrian pigs also called the Apulo-Calabrese pig breed. These pigs are bred and raised in the wild or semi-wild and their meat is really good quality! I haven't tried this lardo but would love to!
What type of Pecorino?
There are a number of different types of Pecorino produced in Italy, particularly in the Central and Southern regions where sheep farming is more common than in the North. The word 'pecorino' comes from the Italian 'pecora' which means sheep! Of course, the most famous is Pecorino Romano, which actually comes from Sardinia. Pecorino Romano is great with this pasta with Tropea onions and lardo.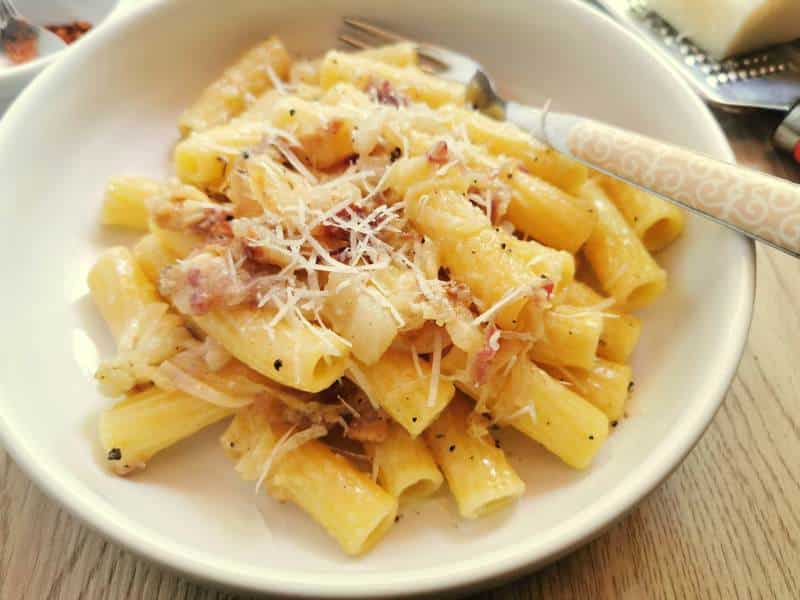 Of course, they also produce pecorino in Calabria. The most well-known pecorino from Calabria is Pecorino Crotonese DOP. This cheese comes from the province of Crotone. Here in Italy, you can buy it fresh, semi-hard and seasoned. It can be aged for a maximum of 2 years.
Making pasta alla Toranese.
As I mentioned above, this is a very simple and fast recipe. All you have to do is cook the onions and lardo together while boiling the water for the pasta. Then add the cooked pasta to the onions and lardo with some of the pasta cooking water. Finally mix in the cheese till everything becomes a bit creamy. Serve immediately. I'm sure you'll love this pasta with Tropea onions and lardo.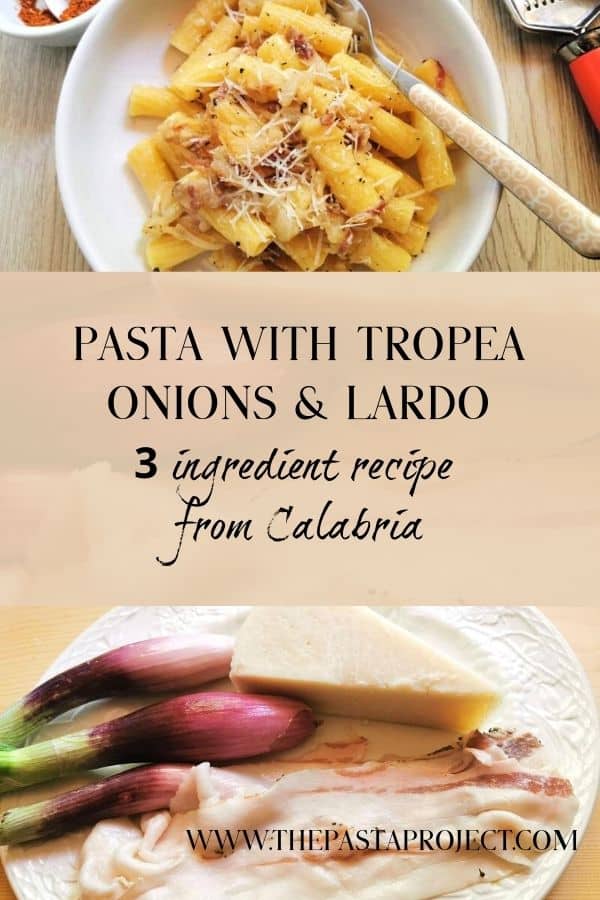 The pasta.
Most recipes I found for pasta alla Toranese call for rigatoni or 'maccheroni'. The latter is often used in Italy as a generic term to refer to pasta, particularly short pasta tubes. I used elicoidali made by Rummo. You can also use rigatoni, short ziti, penne or casarecce.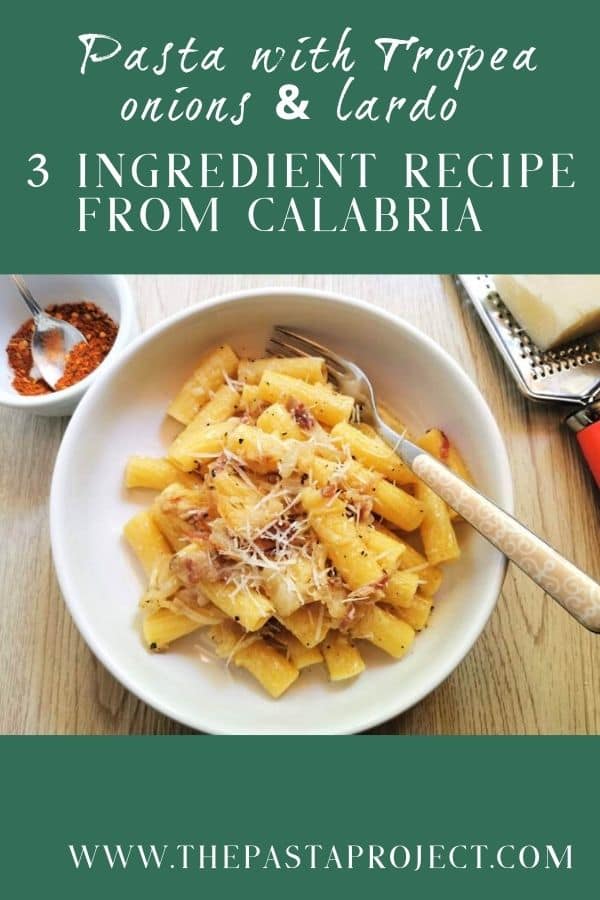 Whichever pasta you chose, I'm sure you'll love this simple tasty pasta with Tropea onions and lardo. If you give it a try do let me know how it turns out, either by commenting below or on the Pasta Project Facebook page. And if you feel it's worth sharing with friends please do.
All your feedback and support is much appreciated!
Save this recipe for later?
If you want to save this recipe for later, you can print it, bookmark this page or save it to Pinterest.
Pin for later.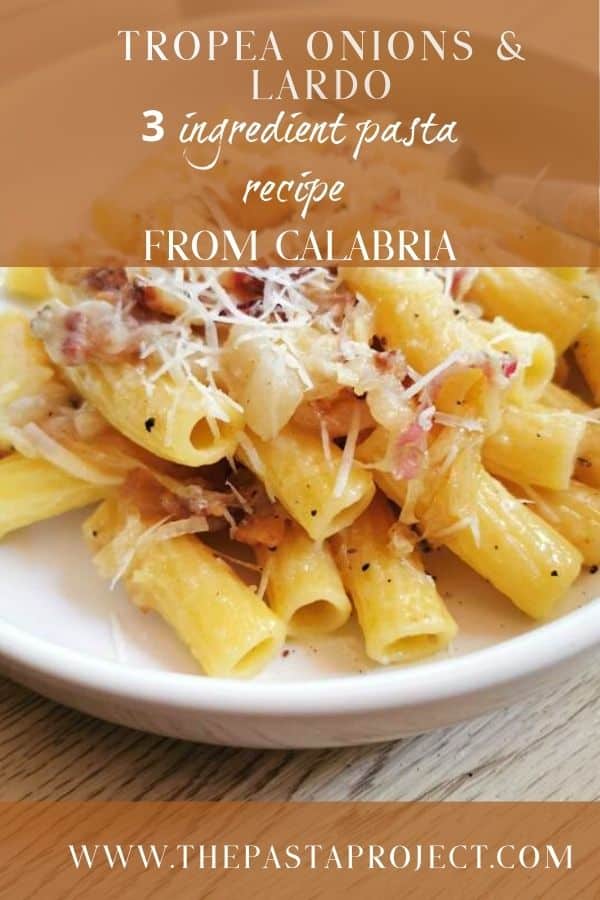 Other traditional recipes from Calabria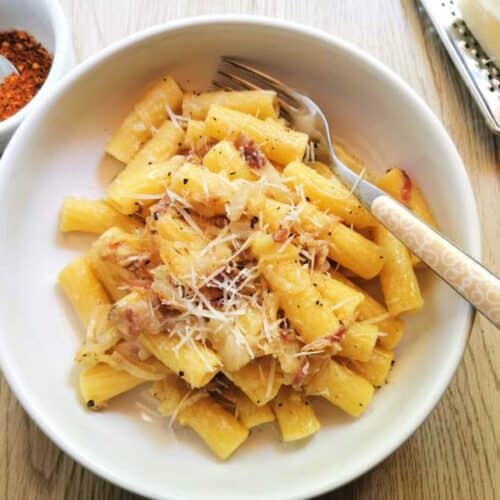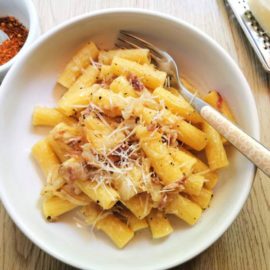 Pasta with Tropea onions and Lardo alla Toranese
This delicious 3 ingredient traditional recipe from Calabria is fast and easy to make! An authentic Italian recipe that is perfect for weeknights!
Ingredients
320-400

g

elicoidali pasta

(12-14oz) or rigatoni, penne, etc

150

g

Italian lardo

(5-6oz) or guanciale, fatty bacon.

2

Tropea onions

or other sweet red onions

50

g

Pecorino cheese

(2oz)

salt

for pasta and to taste

Freshly ground black pepper.

to taste

1

tbsp

extra virgin olive oil.

peperoncino flakes

optional and to taste
Instructions
Prepare ingredients
Peel the onions and cut into fine slices. Cut the lardo into small pieces.

Put a pot of water on to boil for the pasta. Add salt once it starts to boil and bring to the boil again.
Make your pasta alla Toranese
Fry the chopped lard and the onions together in a little olive oil (You don't need much as the lardo will render fat too) until the onions are translucent and the lardo has started to melt.

Cook the pasta al dente according to instructions on the packet. When ready, save a cup of the cooking water and drain. Add the pasta to the sauce with a little of the cooking water.

Mix well then add some grated pecorino cheese. Mix again and serve immediately with a sprinkling of ground black pepper, more pecorino and some peperoncino for a little spice if desired.
Notes
I used elicoidali made by Rummo. You can also use rigatoni, short ziti, penne or casarecce etc.
Want to know more about my life in Italy? Go to the homepage and subscribe to my newsletter. New subscribers get a free recipe e-book too! https://www.the-pasta-project.com