Fileja Tropeana, a great vegetarian pasta option.

Fileja Tropeana is a typical pasta recipe from Calabria, Southern Italy. It's made with a colourful and fragrant sauce of zucchini, eggplant, tomatoes and red Tropea onion. There's also some peperoncino (red chili pepper) which gives this dish a bit of a kick!
Fileja alla Tropeana.
In Calabria and most of Southern Italy, vegetable based pasta dishes are especially popular in summer, when the heat makes eating heavier meat sauces less appetizing. Calabrians would normally eat fileja Tropeana as a 'first course' or primo. However, it make a delicious lunch or light weeknight meal.
What does Tropeana mean?
This fileja recipe is named after the town it comes from, Tropea. Tropea is a historic seaside town on the coast of Calabria opposite the Egadi Islands. This town dates back to Roman times and is well-known for its turquoise sea and beaches. In fact, it's kind of a well-kept secret and not so popular with foreign tourists. Italians love it and I'm actually planning a visit very soon!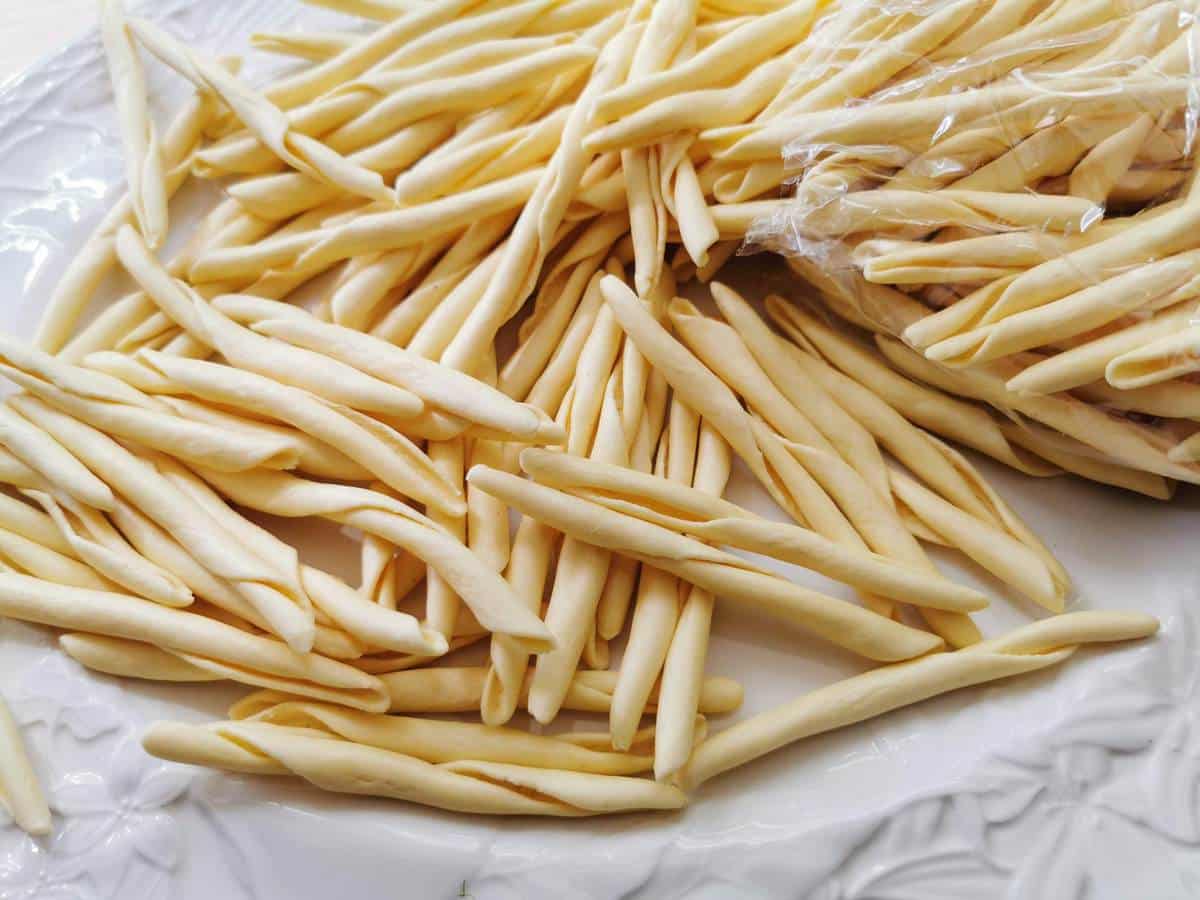 If you have heard of Tropea onions, then you'll know that Tropea is also famous for its sweet red onions. Apparently, these onions were introduced to Calabria by the Greeks, who, in turn had discovered them thanks to the Assyrians and the Babylonians. However, it was the Arabs who perfected cultivation in Tropea and contributed to the spread of this onion throughout the region. By Medieval times, Tropea had become famous for its onions and remains so today!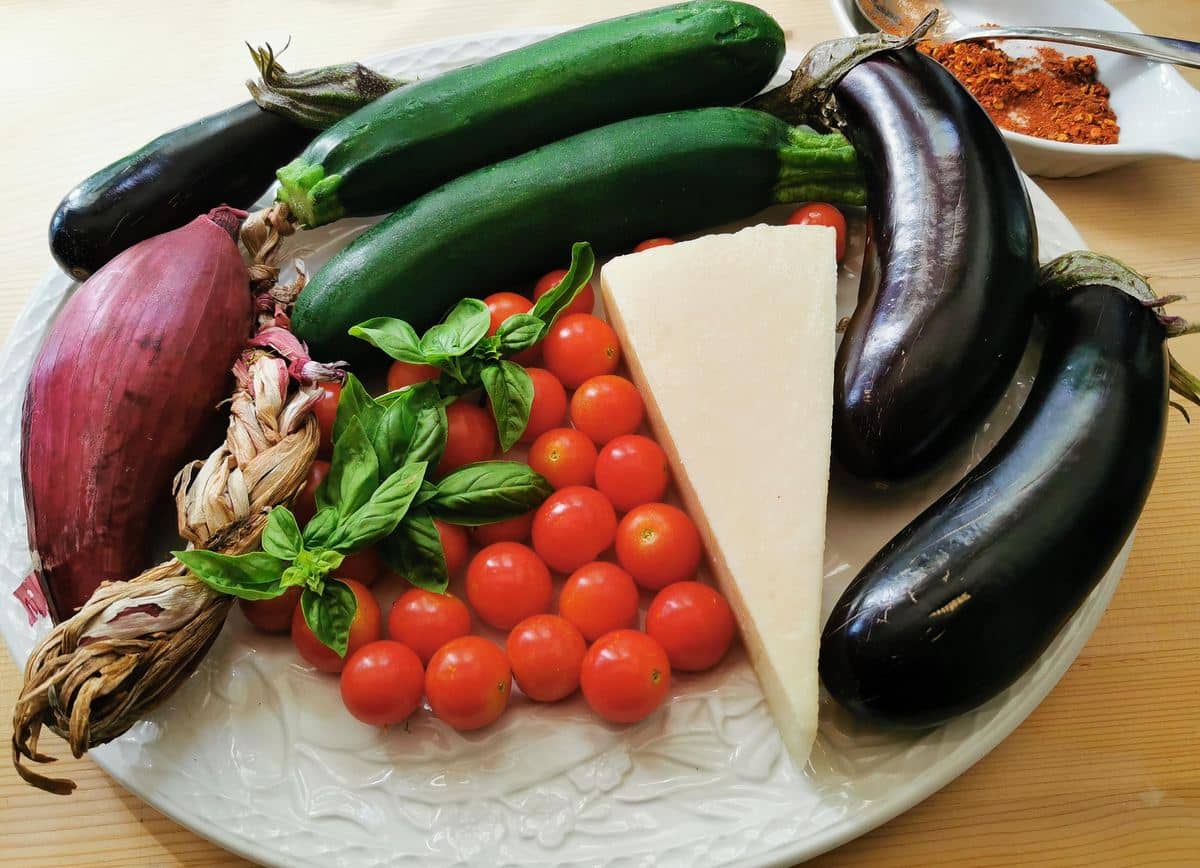 What is Fileja pasta?
Fileja is a typical Calabrian pasta. In fact, when Italians talk about Calabrian pasta, fileja is what usually comes to mind! This pasta is similar to homemade fusilli in shape, but more elongated. Fileja is quite thick and larger than other similar pastas. It's made with only warm water, a pinch of salt and durum wheat semolina flour.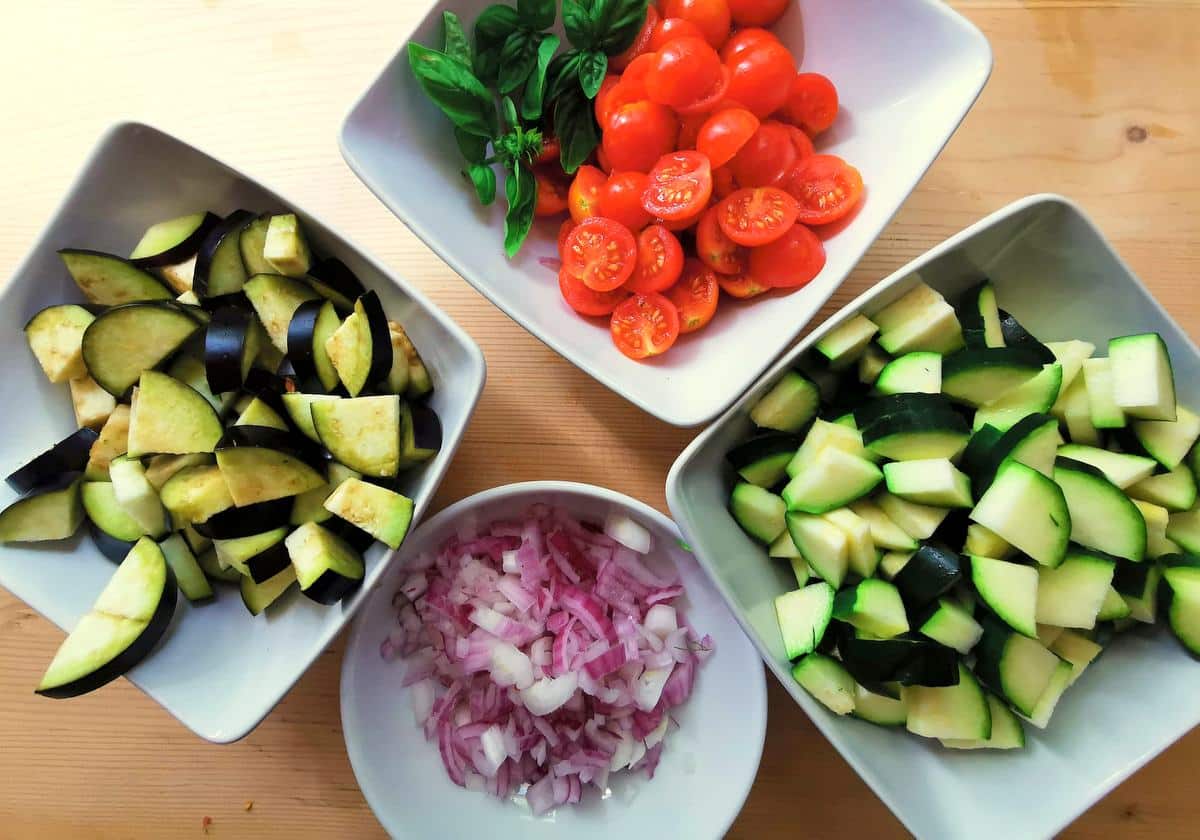 Compared to soft wheat flour, durum wheat semolina gives the dough more body and makes it perfect for serving with some of the hearty Calabrian toppings. Some people do actually refer to this pasta as fusilli, but it is quite different in shape to the fusilli most of us know and eat.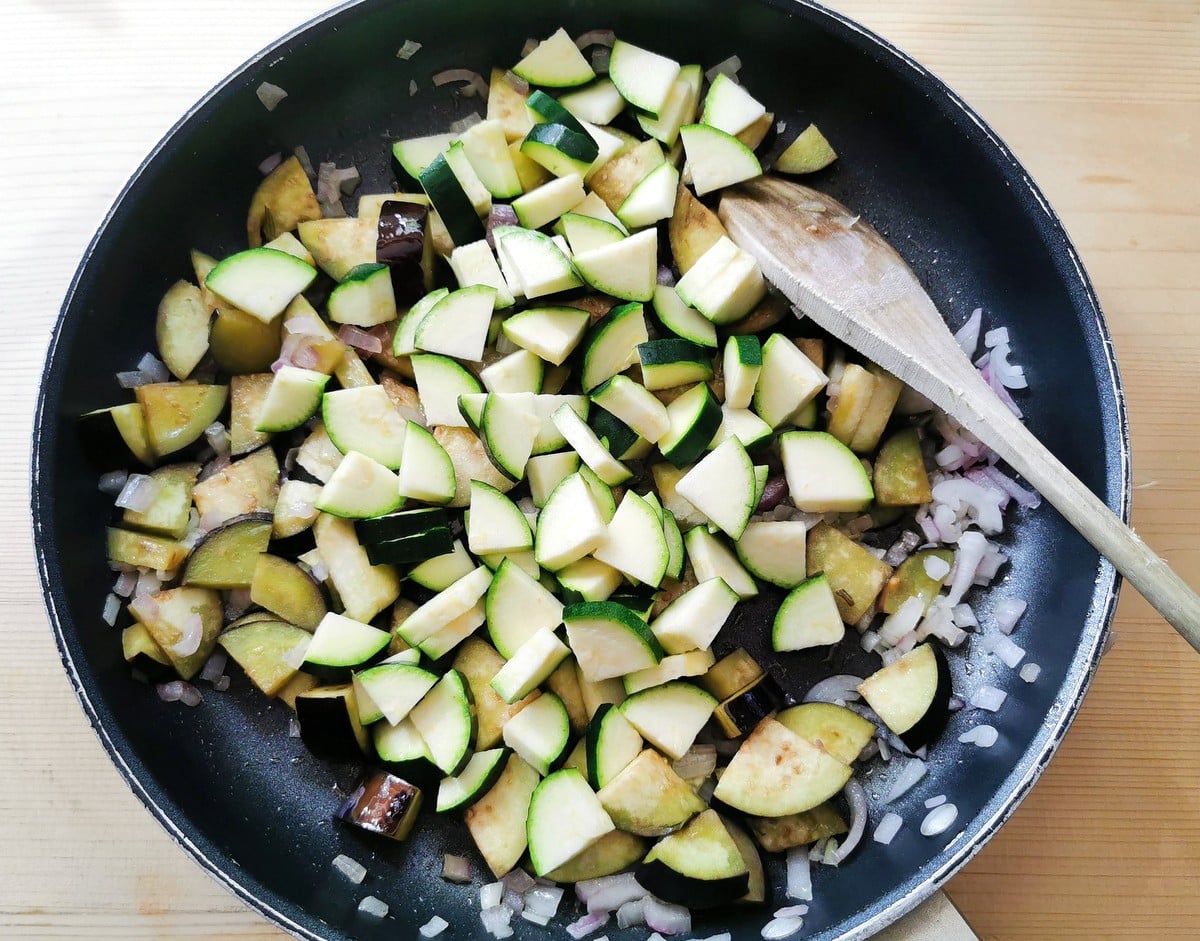 Like many other Southern Italian durum wheat pasta types, Fileja is usually homemade. Calabria actually boasts a rich variety of homemade pasta, mostly made from recipes which have been handed down from generation to generation.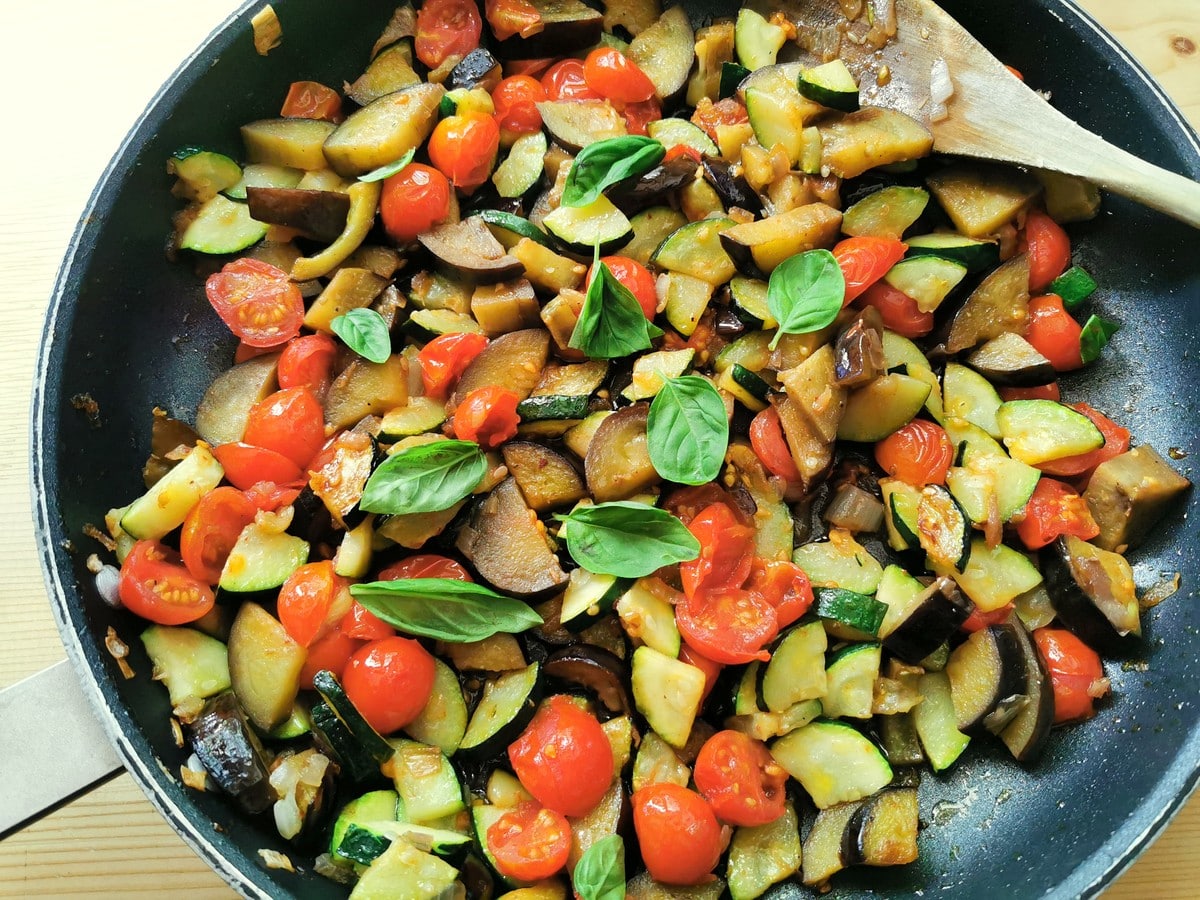 The tradition of fresh pasta is so ingrained that, until a few years ago, girls about to marry were expected to be able to prepare at least 15 different shapes!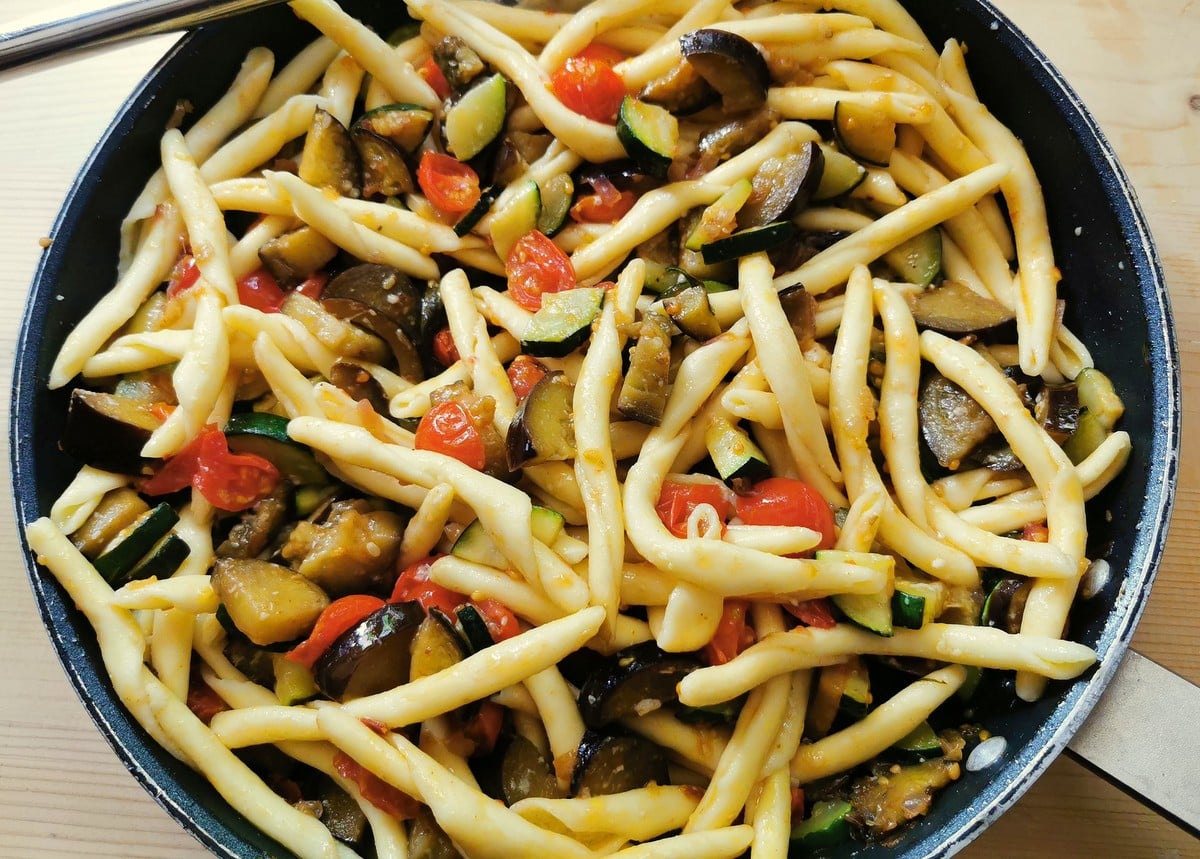 How to make fileja Tropeana.
This is a pretty simple pasta recipe. The first step is just to prepare your veggies. Peel and cut the onion. Wash and cut the zucchini and eggplant into similar sized cubes/pieces. Wash and cut the cherry tomatoes in half. If you are using a fresh peperoncino, you'll want to remove the seeds and cut it into very small pieces. The amount you use depends on how spicy you want your fileja Tropeana to be!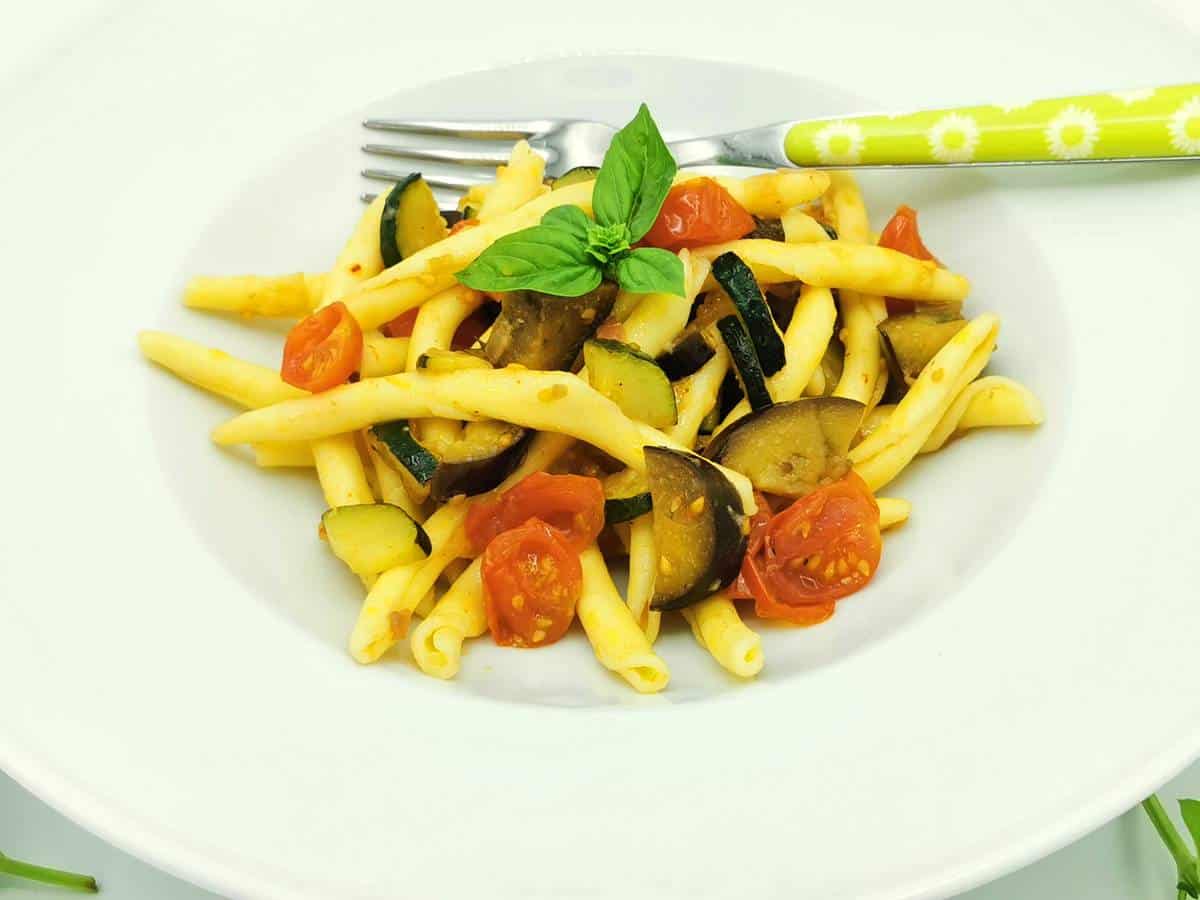 Once you have prepared the veggies, cook them in the olive oil in the order stated in the recipe instructions below. First the onion, then add the zucchini and eggplant and then the peperoncino and tomatoes. You don't want the veg to get too soft. Aim to keep them al dente!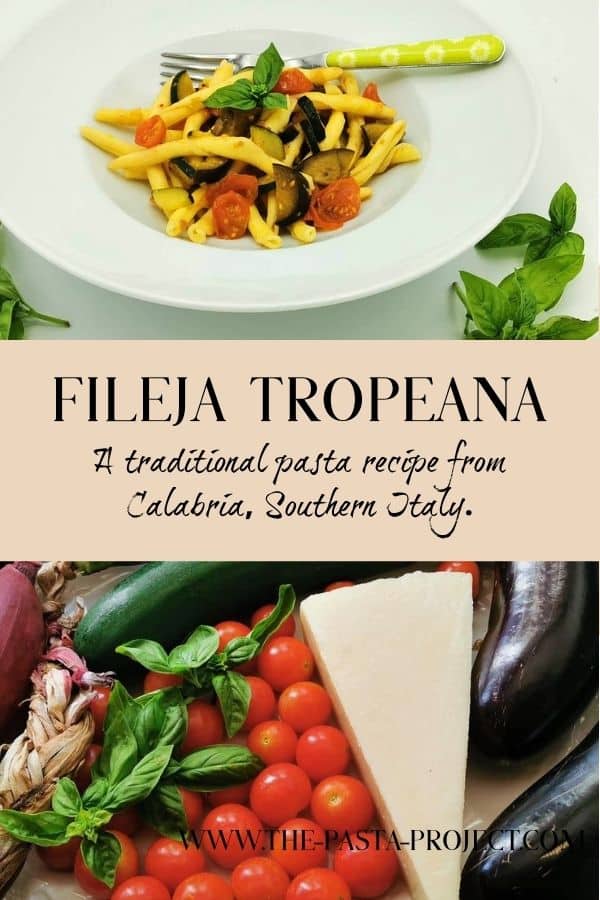 Finally, cook the pasta and add it to the sauce along with some of the pasta cooking water and the parmigiano. Italians often add some pasta cooking water to sauces that don't have tomato passata or cream. The water contains starch from the pasta and helps to create a thicker sauce.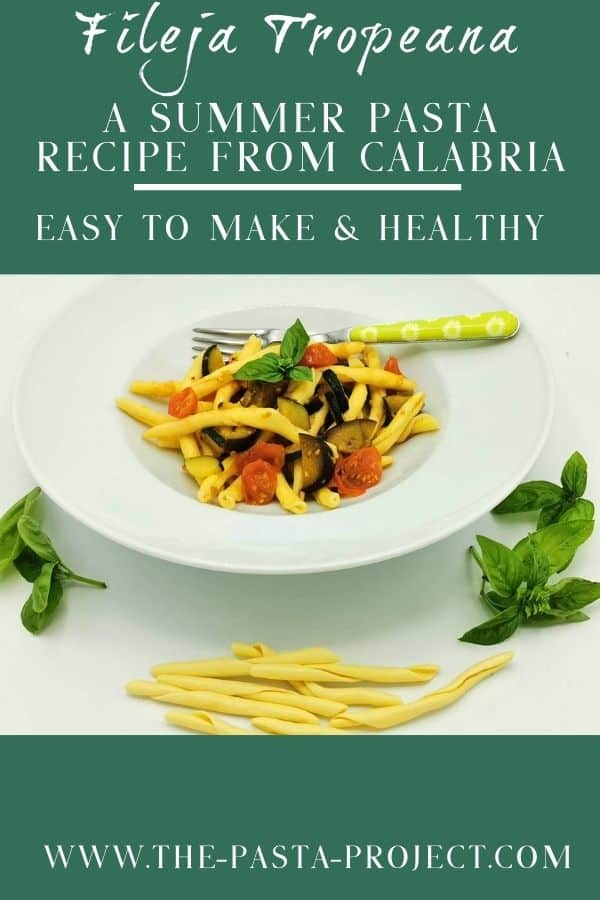 Let me know what you think.
This fileja recipe is slightly spicy but, if you prefer, you can make it less spicy by reducing the amount of peperoncino or just leave it out. Spicy or not, I'm sure you'll love this Calabrian pasta recipe full of Southern Italian flavour! 
If you give this fileja Tropeana a try do let me know how it turns out, either by commenting below or on the Pasta Project Facebook page. And if you feel it's worth sharing with friends please do.
All your feedback and support is much appreciated!
Buon Appetito!
WHY NOT SAVE THIS RECIPE FOR LATER?
If you want to save this recipe for later, you can print it, bookmark this page or save it to Pinterest.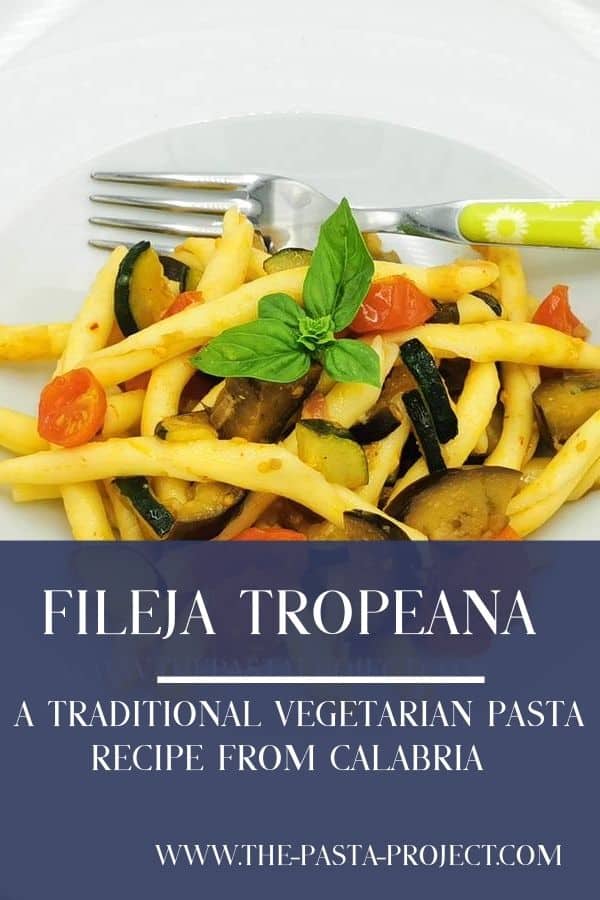 Other fileja recipes on The Pasta Project to check out!
This recipe was first published in 2016 but has been updated with new photos and text.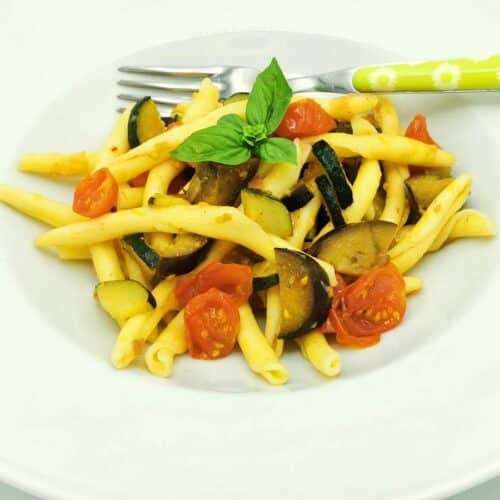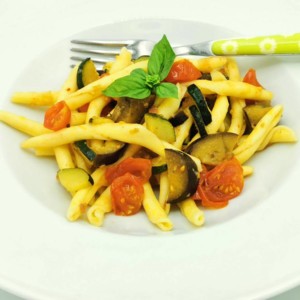 Fileja Tropeana
A delicious and easy vegetarian pasta dish from Calabria made with fresh summer veggies, peperoncino and Tropea onion! Perfect for lunch or dinner!
Ingredients
350

g

fileja

(12oz) or fusilli

3

zucchini

1-2

eggplants

8-10

cherry tomatoes

cut in half

1/2

Tropea onion

peeled and finely sliced

30

g

Parmigiano Reggiano

(1oz) grated

3

tbsp

extra virgin olive oil

salt

for the pasta and to taste

1

handful

basil leaves

chopped

1/2

red chili (peperoncino)

chopped ( or 1 tsp dried flakes)
Instructions
Wash and trim the zucchini and eggplant and cut into small chunks. Peel and finely chop the onion. Wash and cut the cherry tomatoes in half. If using, remove the seeds from the peperoncino and cut into very small pieces.

Put a pot of water on to boil for the pasta. Add salt when it starts to boil and bring to the boil again.

In a frying pan or skillet, fry the finely sliced onion in the olive oil.

Add the zucchini and the eggplant and sauté over medium heat until they start to soften slightly.

Add the cherry tomato halves and the finely chopped chili . Continue to cook for 5-10 minutes. The vegetables should remain crunchy.

Finally add the handful of chopped basil.

Cook the fileja al dente according to the instructions on the packet in the boiling salted water. When the pasta is ready save some of the cooking water, drain the pasta and add to the pan with the sauce.

Stir the pasta and sauce together on the stove with some tablespoons of cooking water from the pasta and grated Parmigiano cheese.

Serve hot with extra grated Parmigiano as required.
Notes
If you prefer, you can replace the tomatoes with tomato passata.
Fusilli or trofie pasta work well in this recipe too if you can't find fileja.
For strict vegetarians, replace the parmigiano with a vegetarian cheese. Italian parmigiano contains animal rennet.