The Marche region, also called Le Marche (meaning the Marches), lies on the Adriatic coast in Central Italy. Italians refer to this beautiful region as 'the next Tuscany'. However, it doesn't get the tourist invasions that Tuscany does. Much of the region is mountainous and hilly, unspoilt, and rural. Apparently, the people of Marche eat more meat than in other parts of Italy, a fact that is evident in the number of meat recipes in this collection of 12 pasta recipes from Marche.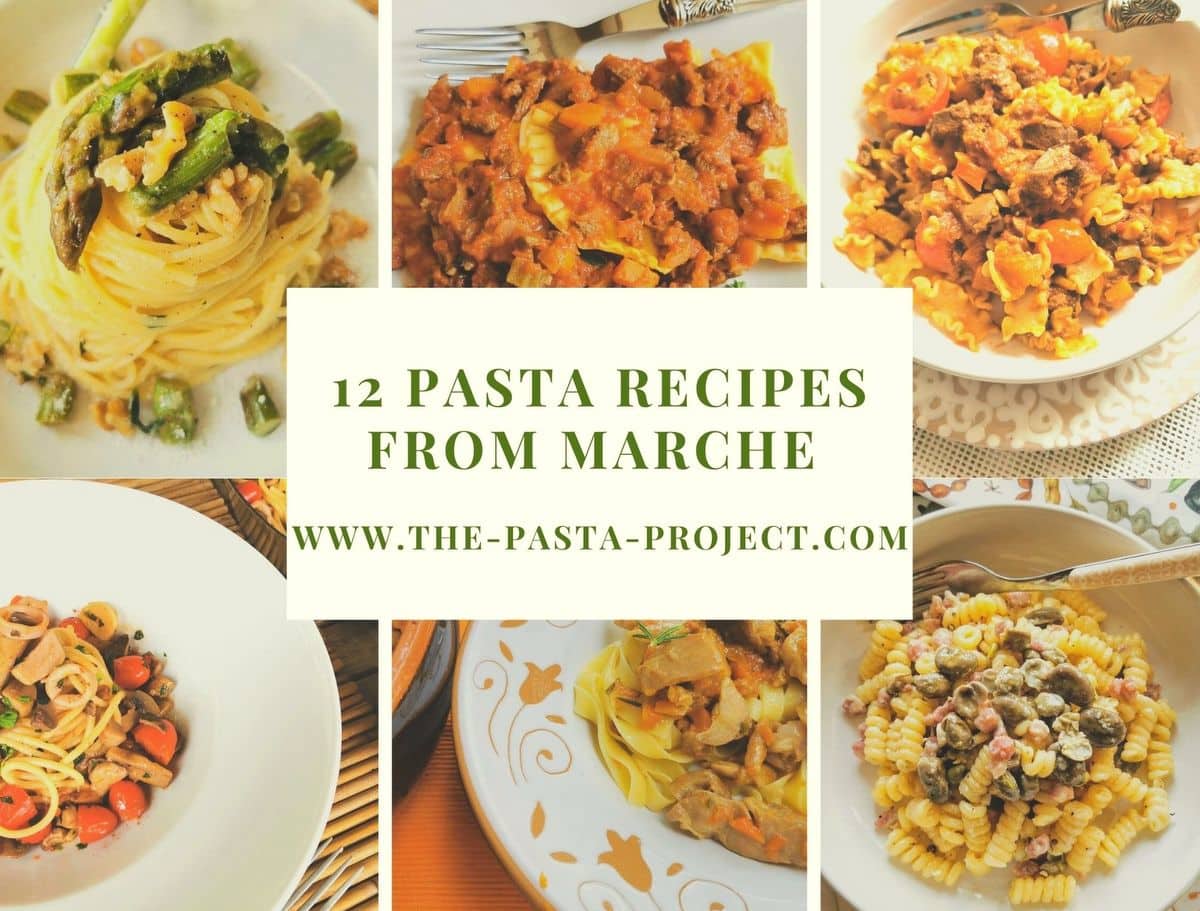 Food and pasta in Marche.
The Marche cuisine is based on the food nature provides. Game, truffles, foraged mushrooms, and seafood feature in many traditional recipes along with typical produce from sheep and goat farming.
There are a number of traditional homemade pasta types as well. Some, like tagliatelle and ravioli are similar to egg pasta from other regions. Others are unique to the region. However, dried pasta like spaghetti is very popular too.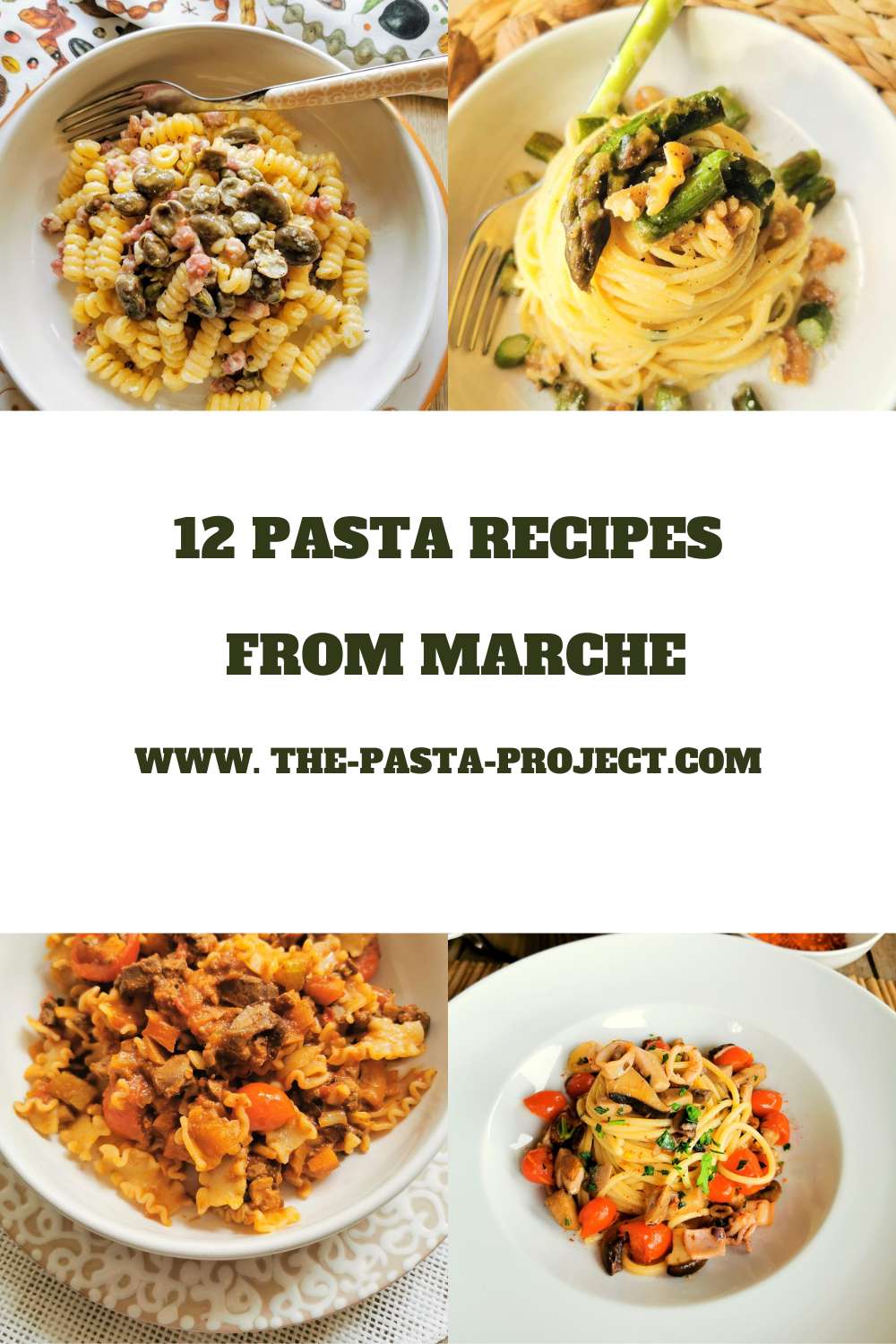 These 12 pasta recipes from Marche.
Here is a selection of some of my favourite pasta recipes from Marche. Many include different types of meat. But, there's also seafood and meatless recipes as well. These are dishes you are unlikely to find in other parts of Italy or abroad. So, why not bring a taste of Marche to your table and make some yourself?
Just click the recipe name to go to recipe info and instructions.
Seafood pasta recipes from Marche.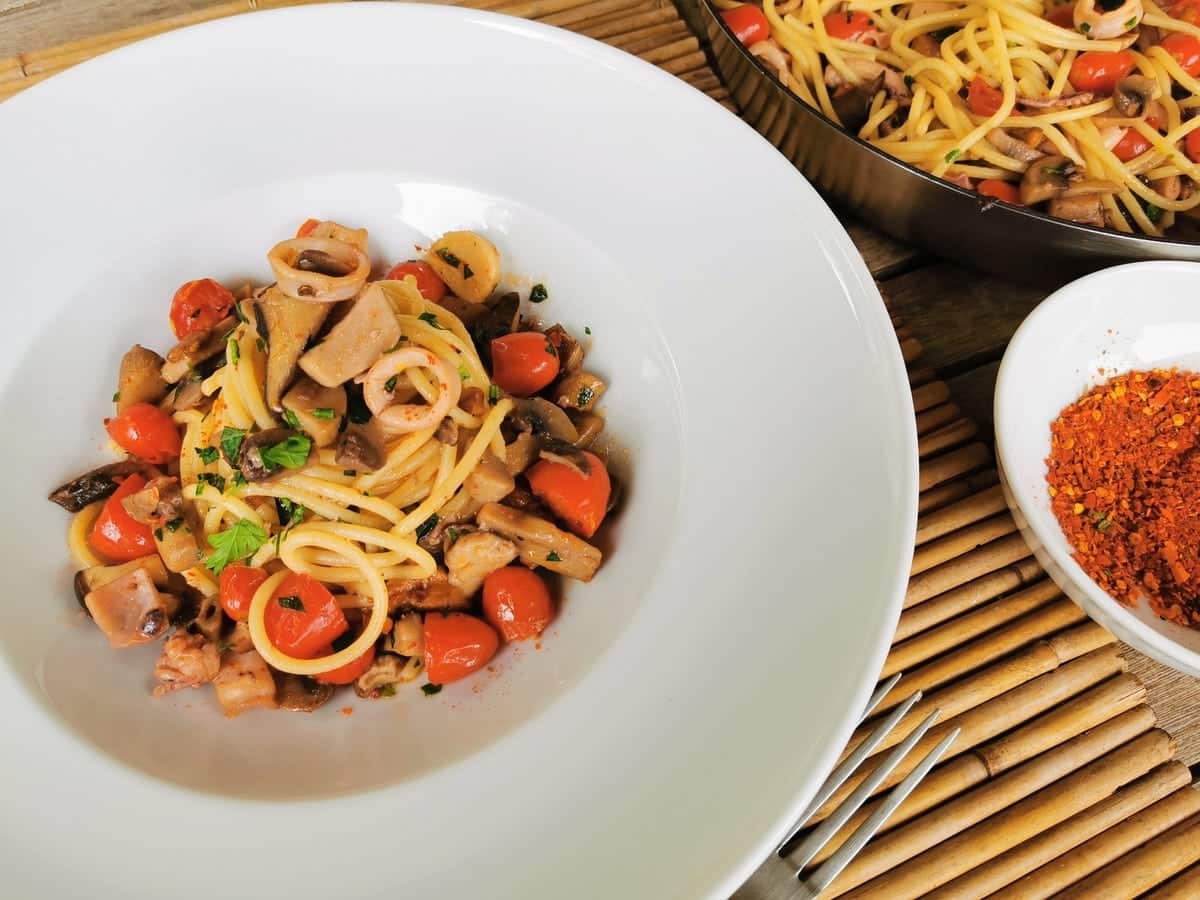 This classic 'surf and turf' pasta recipe is very characteristic of the Marche cuisine as it combines ingredients from land and sea. Use your favourite mushrooms and fresh or frozen calamari together with tomatoes, garlic, parsley, chilli pepper and wine to create a simple and healthy dish that's also easy to make.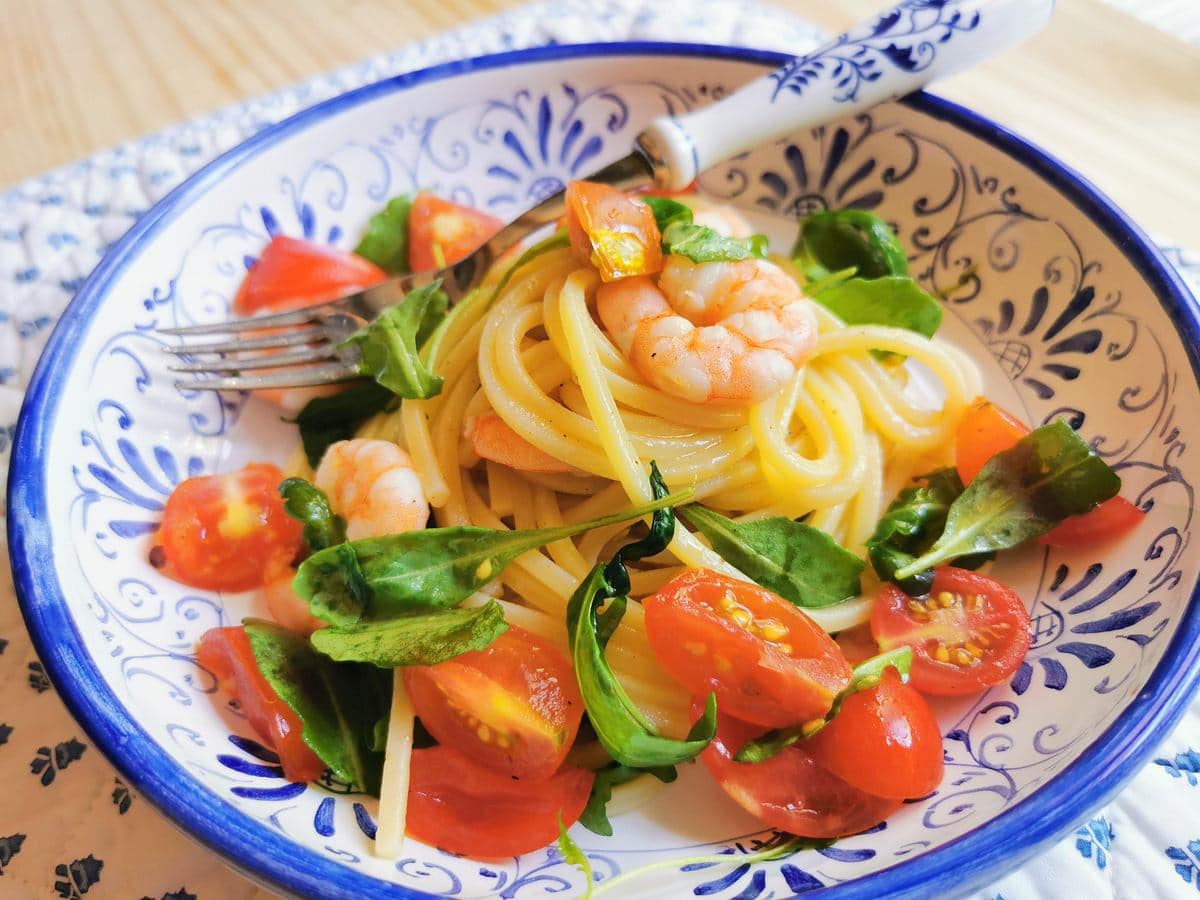 This unique pasta salad calls for pre-cooked shrimps or tiger prawns, rocket (arugula) and cherry tomatoes tossed together with spaghetti in a simple oil and vinegar dressing. This is a pasta salad Italians love to take to the beach. It's also perfect for a light lunch, potluck or buffet.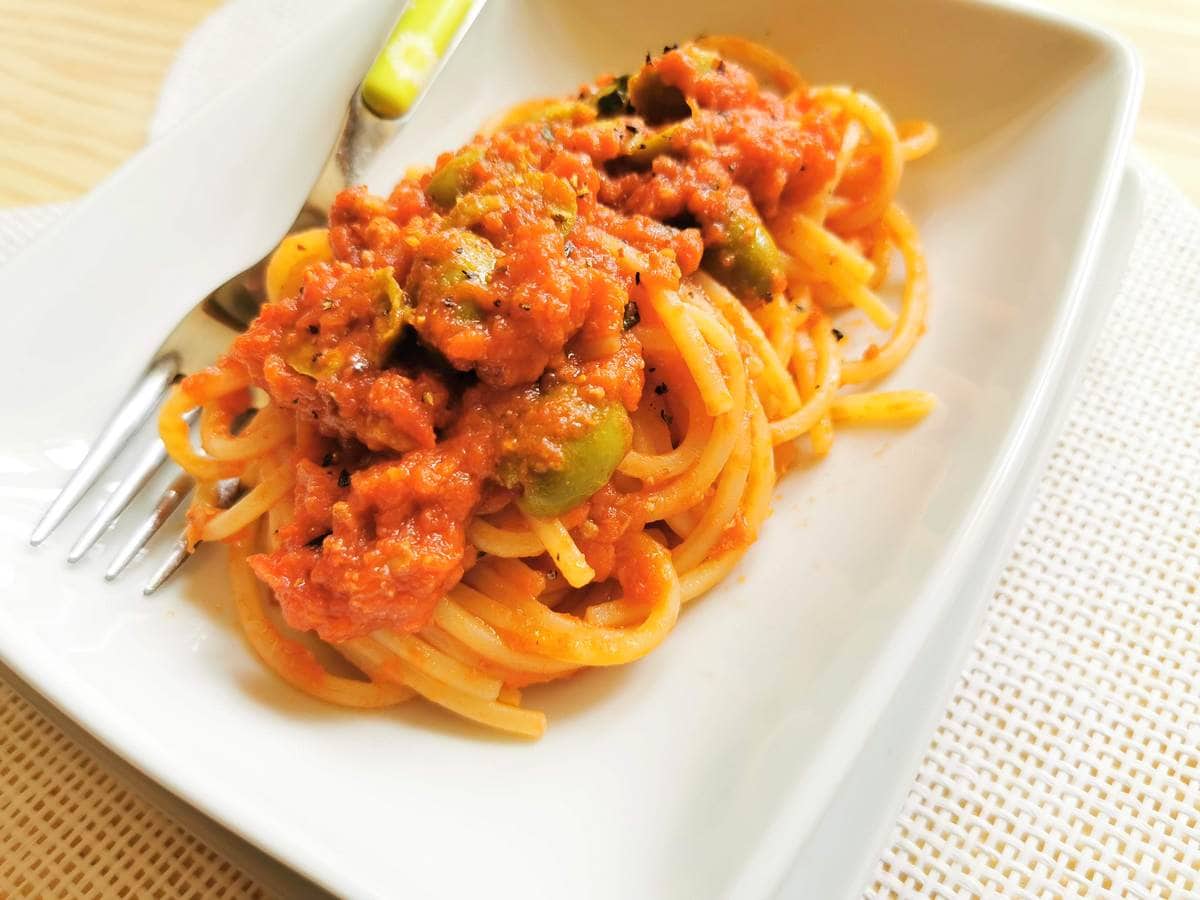 Spaghetti all'Ascolana is an easy olive and canned tuna pasta from the Ascoli Picena province in Marche. The star of this dish is the local large green olive variety called Ascolana olives. Of course, you can use other varieties of large green olives. So easy to make and perfect for weeknight meals.
Meat pasta recipes from Marche.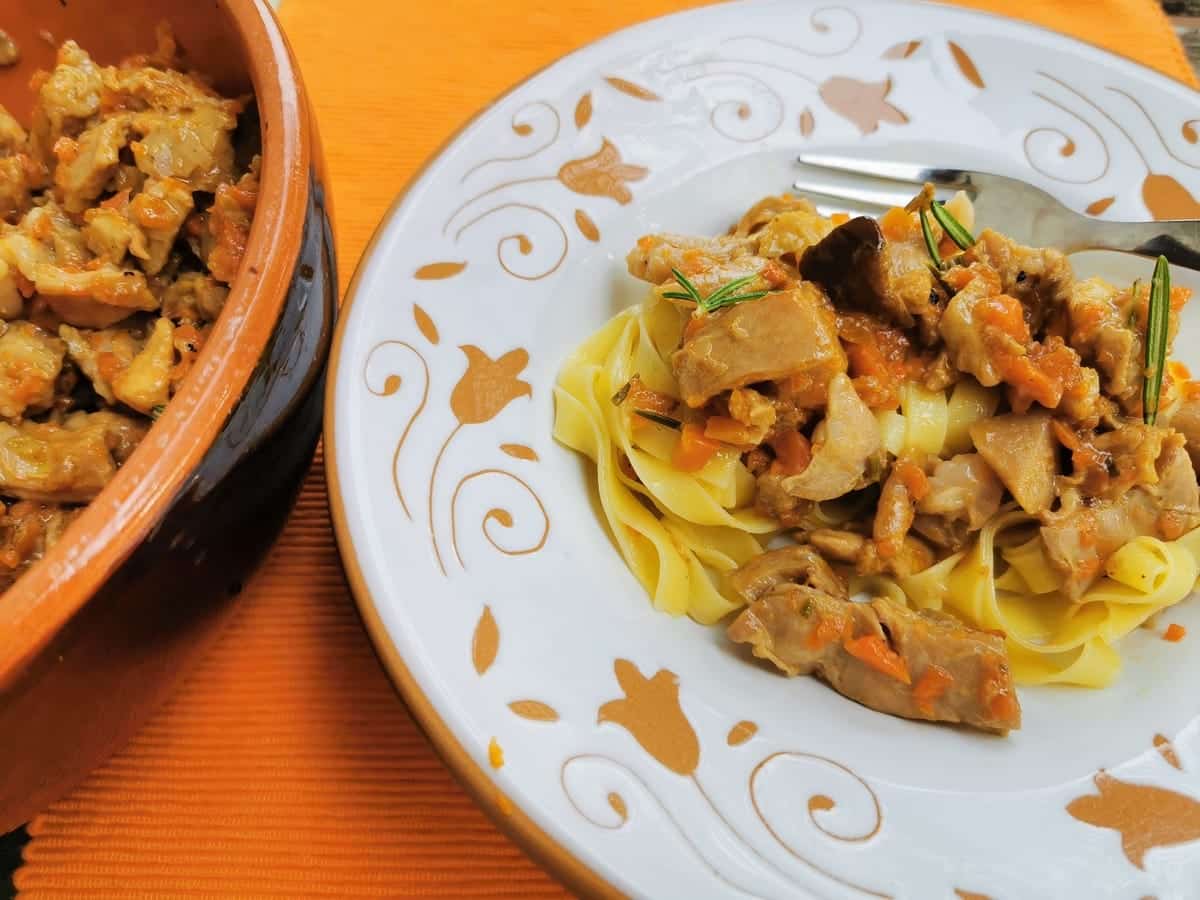 Rabbit is a very healthy and lean meat that is very popular in a number of Italian regions, including Marche. This tagliatelle with rabbit ragu is a traditional dish I have actually eaten in Marche. It's made with deboned rabbit meat, porcini mushrooms, carrots, garlic, rosemary, chicken stock and wine. A really delish dish reminiscent of the rural kitchen of the past.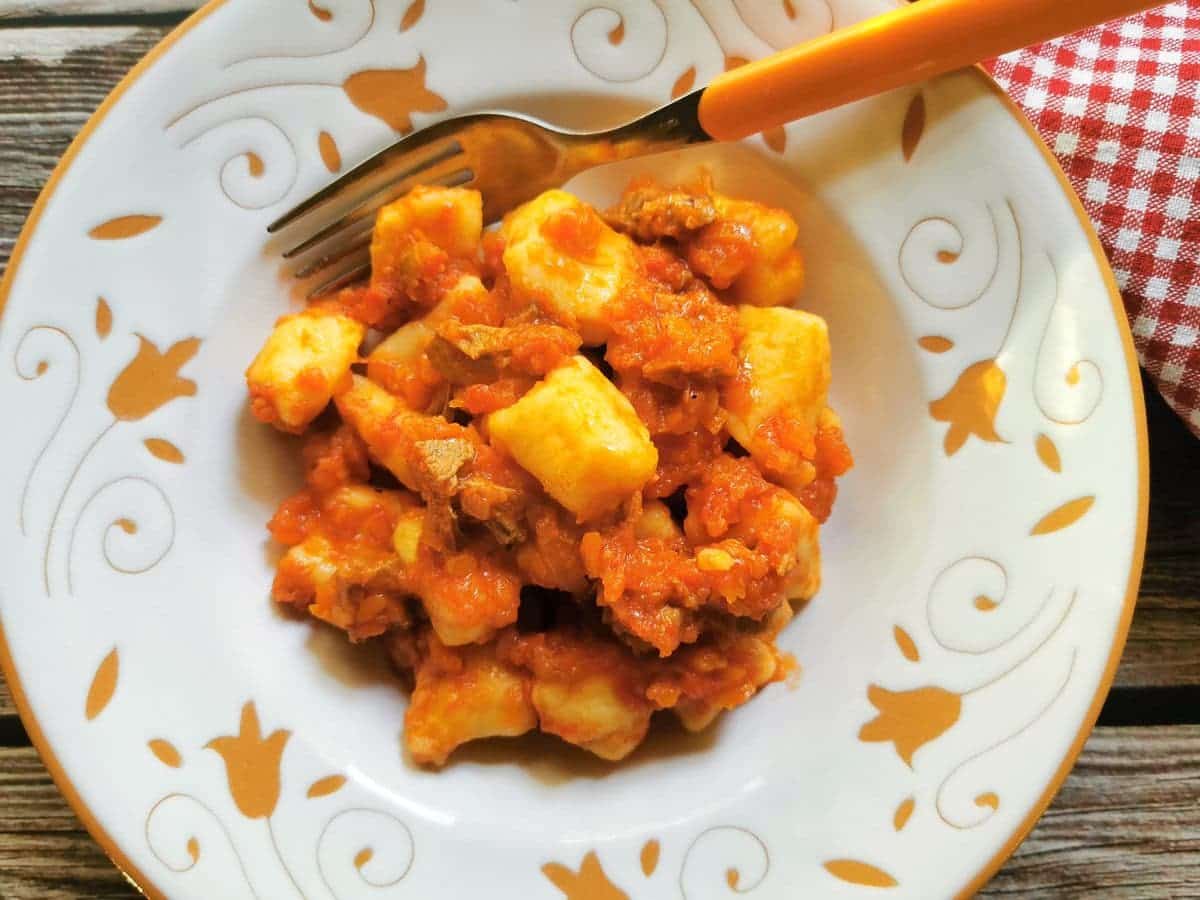 Known as 'gnocchi col sugo di papera' in the local dialect, this traditional dish is served in many trattorias and restaurants in Marche. This is mostly an autumn/winter meal, but since ducks are also typical farmyard birds it is prepared throughout the year. The potato gnocchi in this recipe are homemade and have Parmigiano in them but you can use store-bought instead.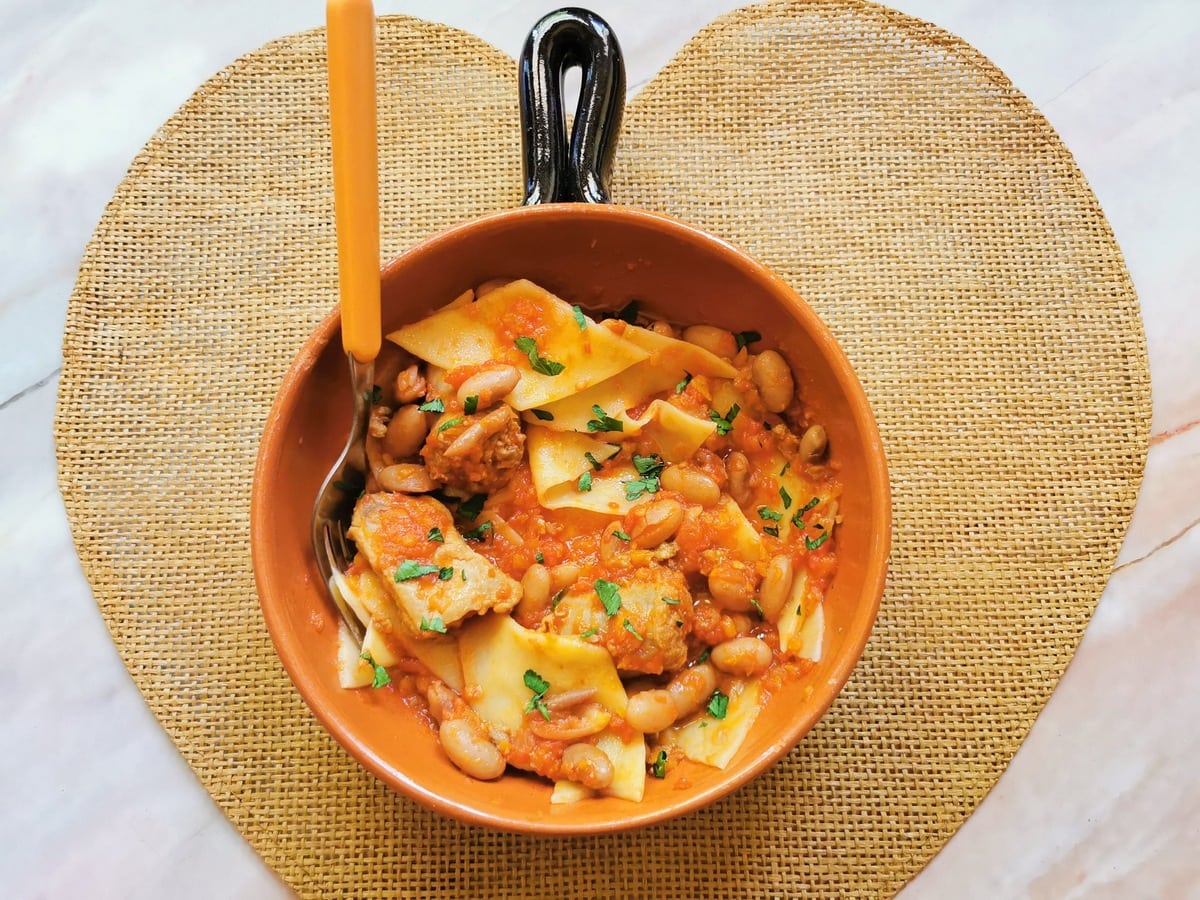 Known as cresc' tajat in the local dialect, this corn and wheat flour maltagliati pasta is really easy to make. The hearty rustic sauce has pork ribs, sausages, beans, and tomatoes. A filling one plate sausage pasta meal typical of the Italian cucina povera, meaning peasant kitchen. Of course you can use other types of short pasta or ready dried maltagliati instead.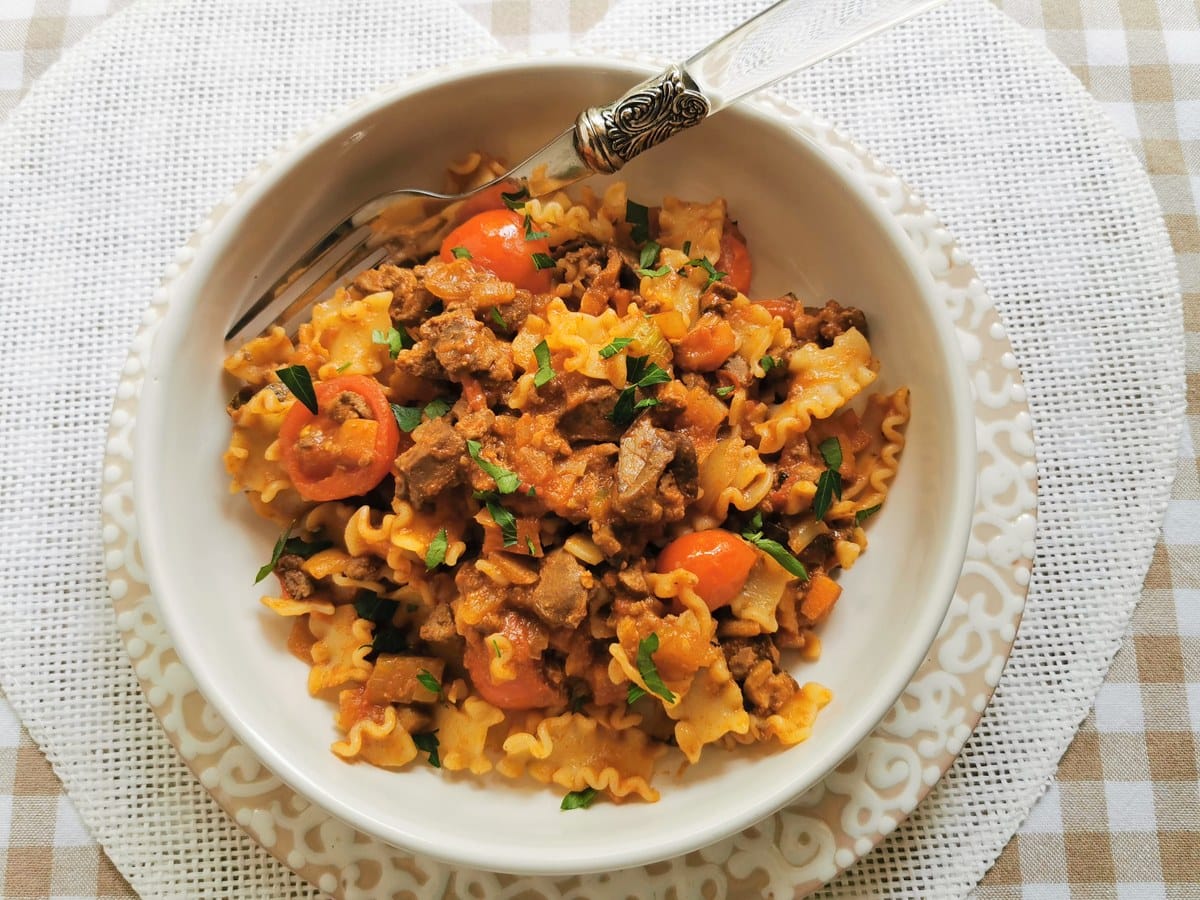 The ragu in this chicken liver pasta recipe is made with chicken livers, porcini mushrooms, onions, garlic, white wine, carrots, celery, parsley and bay leaves. It has a fabulous rich and deep flavour that is really special! Plus, it doesn't take very long to make. I used gluten free short mafaldine pasta, but other short pasta shapes go well too.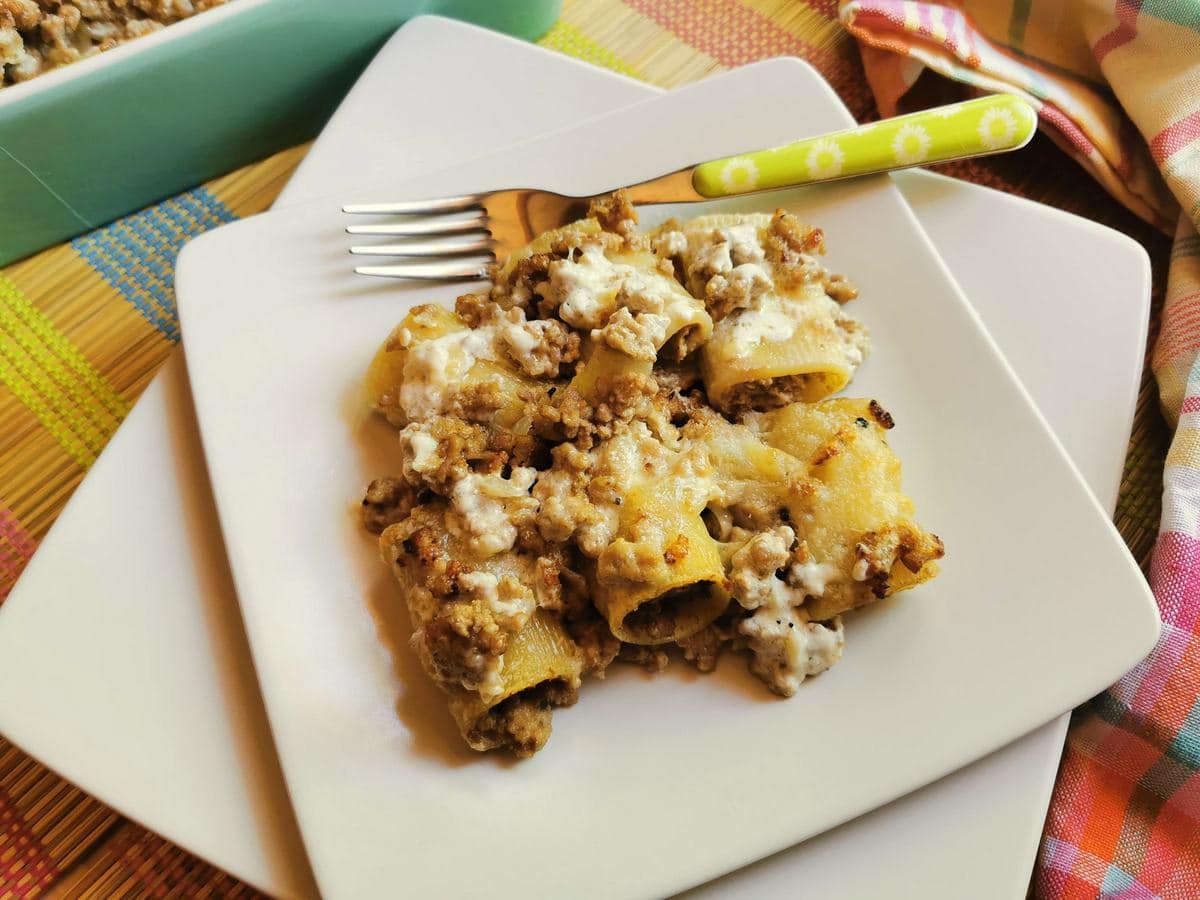 This stuffed paccheri al forno recipe is a meat-lovers dream from the ancient town of Pesaro on the Adriatic coast. The pasta tubes are stuffed with a paté of chicken livers, ham and turkey breast. They are then baked with a simple ground veal ragu, cream and gruyere. Quite easy to make and outrageously delicious!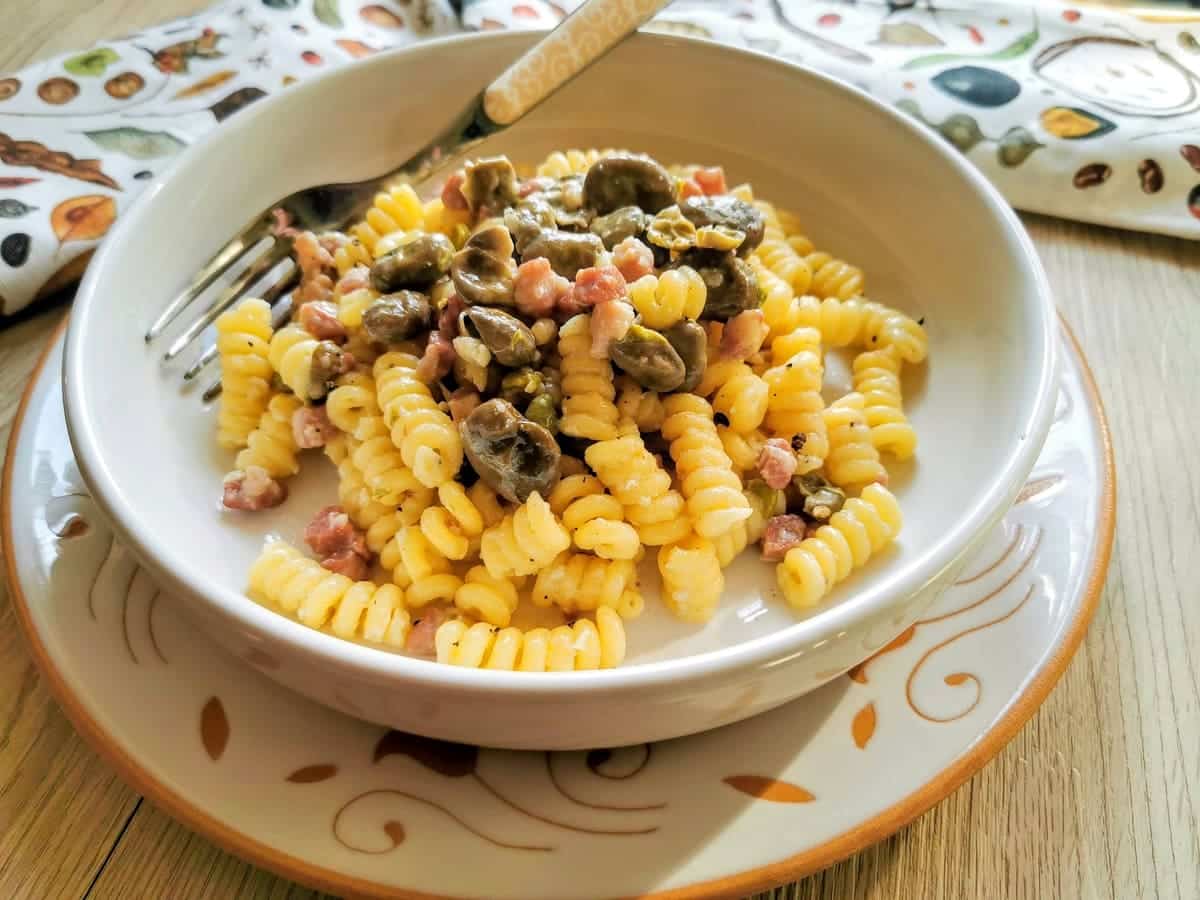 The way they prepare the fresh fava beans in this recipe is known as 'fave in porchetta'. The fava or broad beans are cooked with pancetta or guanciale, garlic and wild fennel. These beans are really delicious eaten as a side dish with meat or with pasta. Traditionally they make this recipe with tagliatelle or tagliolini. I used fusilli bucatini (fusilli with a hole). It was so good. But, use your favourite pasta long or short.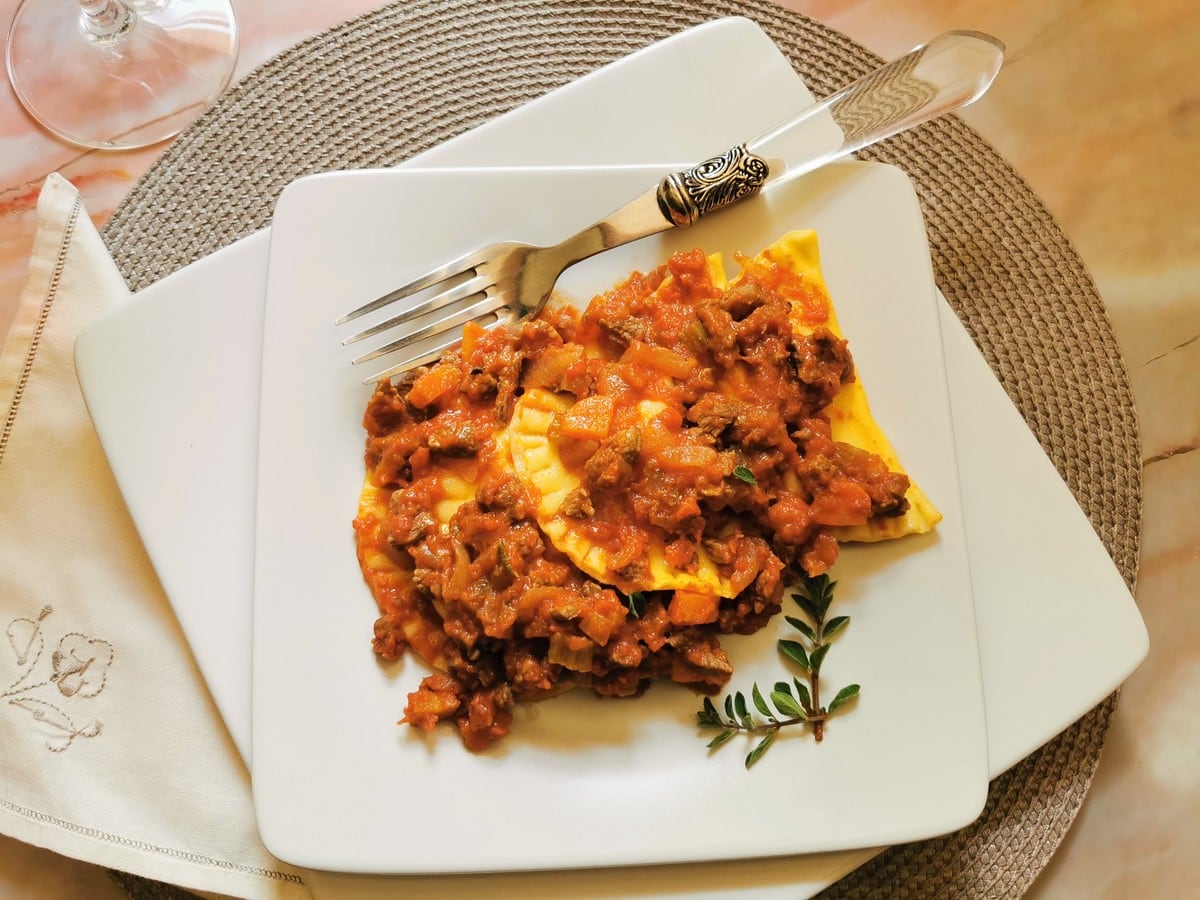 Known as calcioni or cargiù in Marche, the ravioli in this recipe is usually filled with sheep ricotta, which is what I used. Of course, you can use fresh cow's milk ricotta instead. The meat sauce is made with small pieces of beef steak instead of ground beef and is really delicious! Of course, you can serve your ravioli with a vegetarian tomato or vegetable sauce for a just as yummy meatless meal.
Meatless pasta recipes from Marche.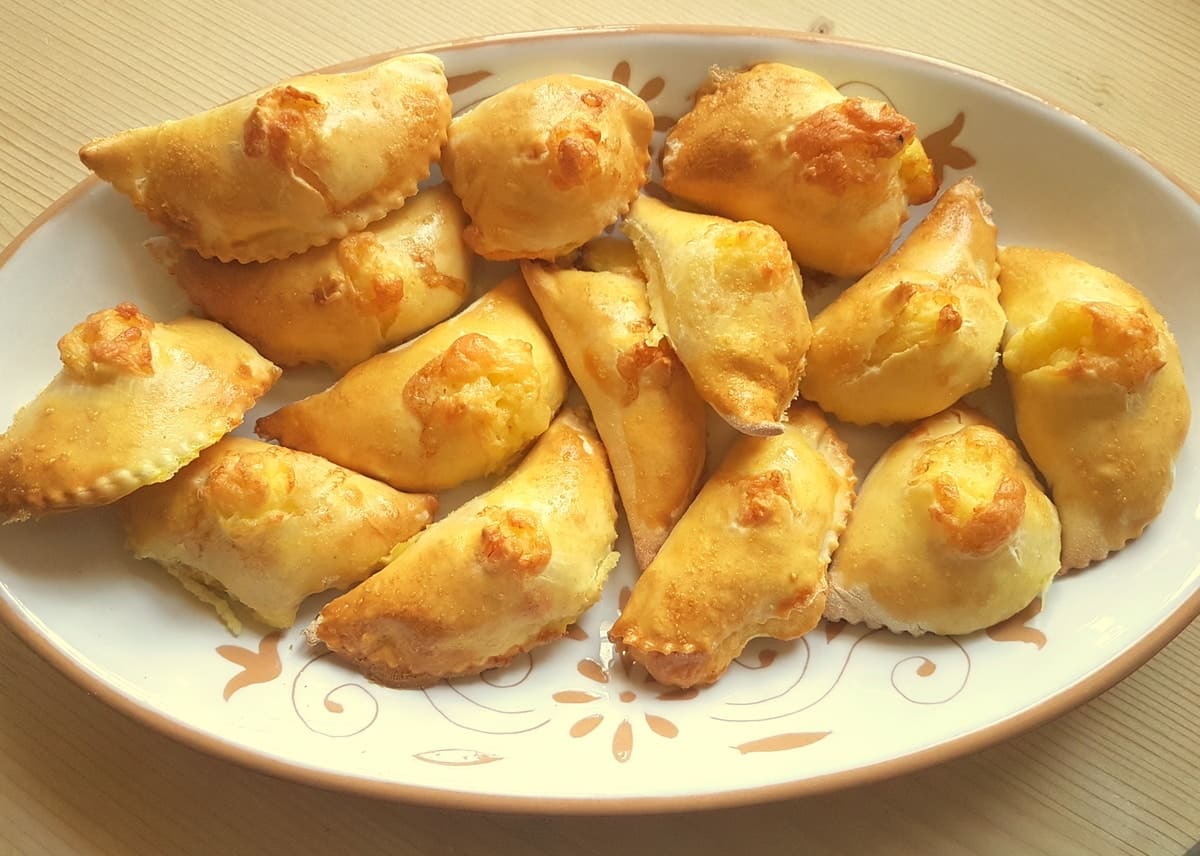 This delicious baked ravioli is a typical Easter recipe known as Piconi Ascolani. The raviolis are not difficult to make and so very good. They are filled with pecorino and Parmigiano cheese, eggs and lemon zest. Piconi are traditionally eaten for Easter breakfast but are great as a finger food, snack or antipasto on any occasion.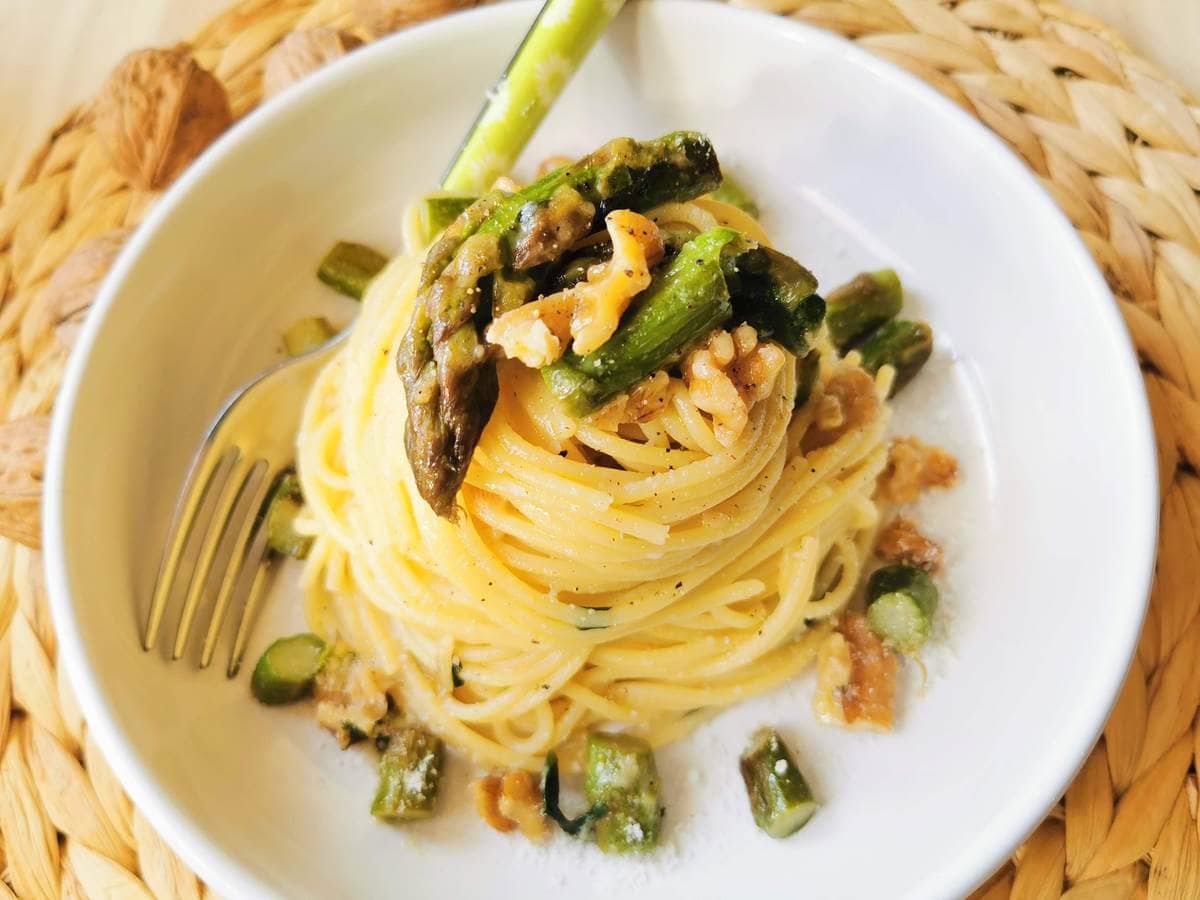 This asparagus pasta with walnuts is one of the many delicious ways Italians combine asparagus with pasta. This traditional recipe is very easy to make, super nutritious and delicious. It's also easily made vegetarian by just replacing the pecorino with a vegetarian parmesan.
Let me know what you think.
If you do try any of these 12 pasta recipes from Marche, I'd love to hear what you think. Please write a comment here on the blog or post a comment on the Pasta Project Facebook page.
Your feedback means a lot to me!
Buon Appetito!
Pin for later.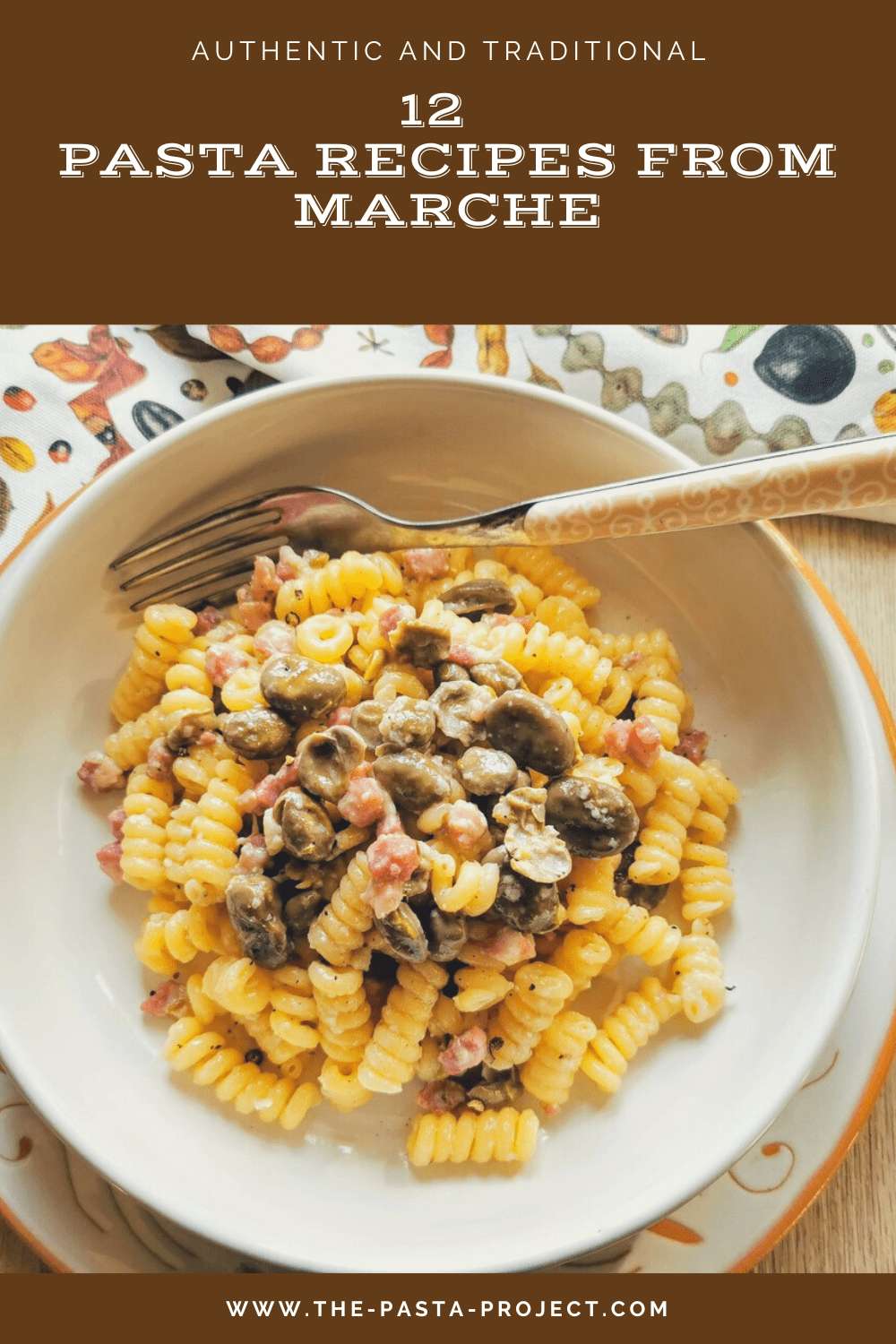 If you are interested in learning how to make different types of homemade pasta and different types of gnocchi, check out my shop page for some great video online courses from my friends in Rome! Nothing beats learning to make pasta from Italians! 
Plus while you're there why not order a copy of one of my pasta recipe cookbooks or checkout some recommended pasta making tools? All great prezzies for pasta lovers!