Homemade Gnocchi with Duck Ragu Recipe from Le Marche.
Homemade gnocchi with duck ragu is a fabulous traditional recipe from the Marche region in Central Italy. It's one of those hearty and filling Italian recipes that I think are perfect for special occasions and holidays through the autumn and winter!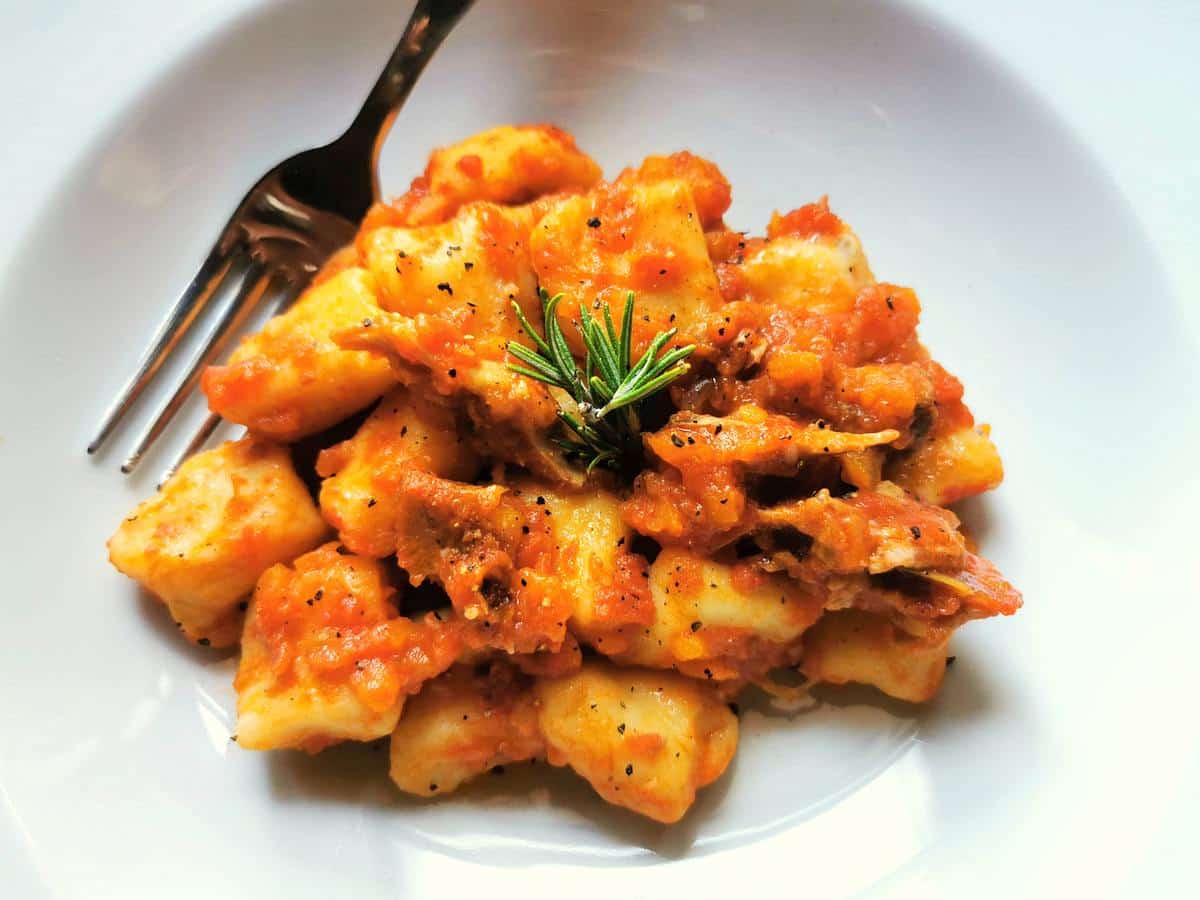 Gnocchi col sugo di papera.
Known as gnocchi col sugo di papera in the local dialect, this traditional dish can be found on offer in many trattorias and restaurants in the Marche region. Although this is mostly an autumn/winter dish enjoyed during the cold weather months, ducks are also typical farmyard birds and, therefore, eaten throughout the year.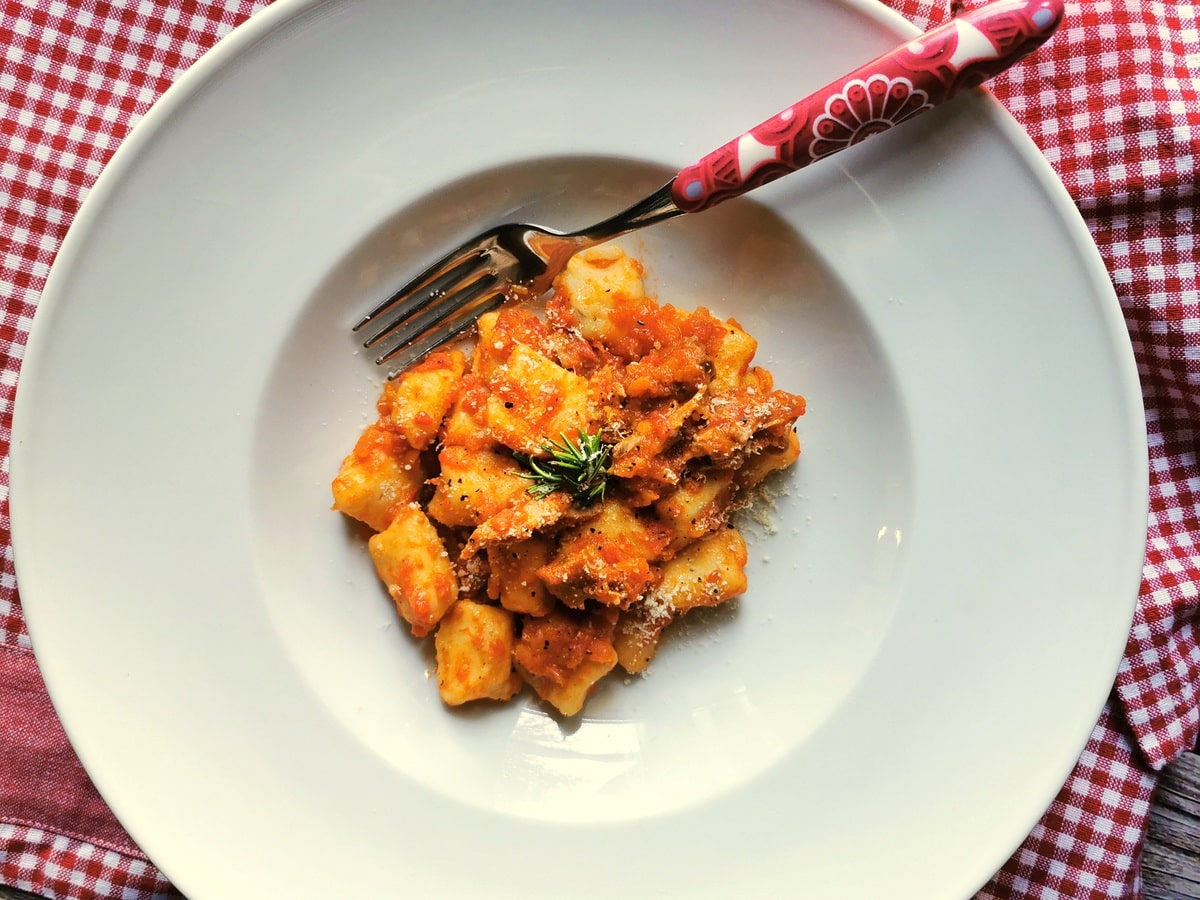 In Le Marche, they also serve this duck ragu with fregnacce (fazzoletti pasta), tagliatelle or pappardelle pasta ribbons. However, with potato gnocchi is the most common combination. In fact, in a number of towns and villages of the region, they also have annual gnocchi with duck festivals (sagra in Italian). Duck is eaten with pasta or gnocchi in other Italian regions too. Here in Veneto, where I live, bigoli with duck ragu is practically a signature dish.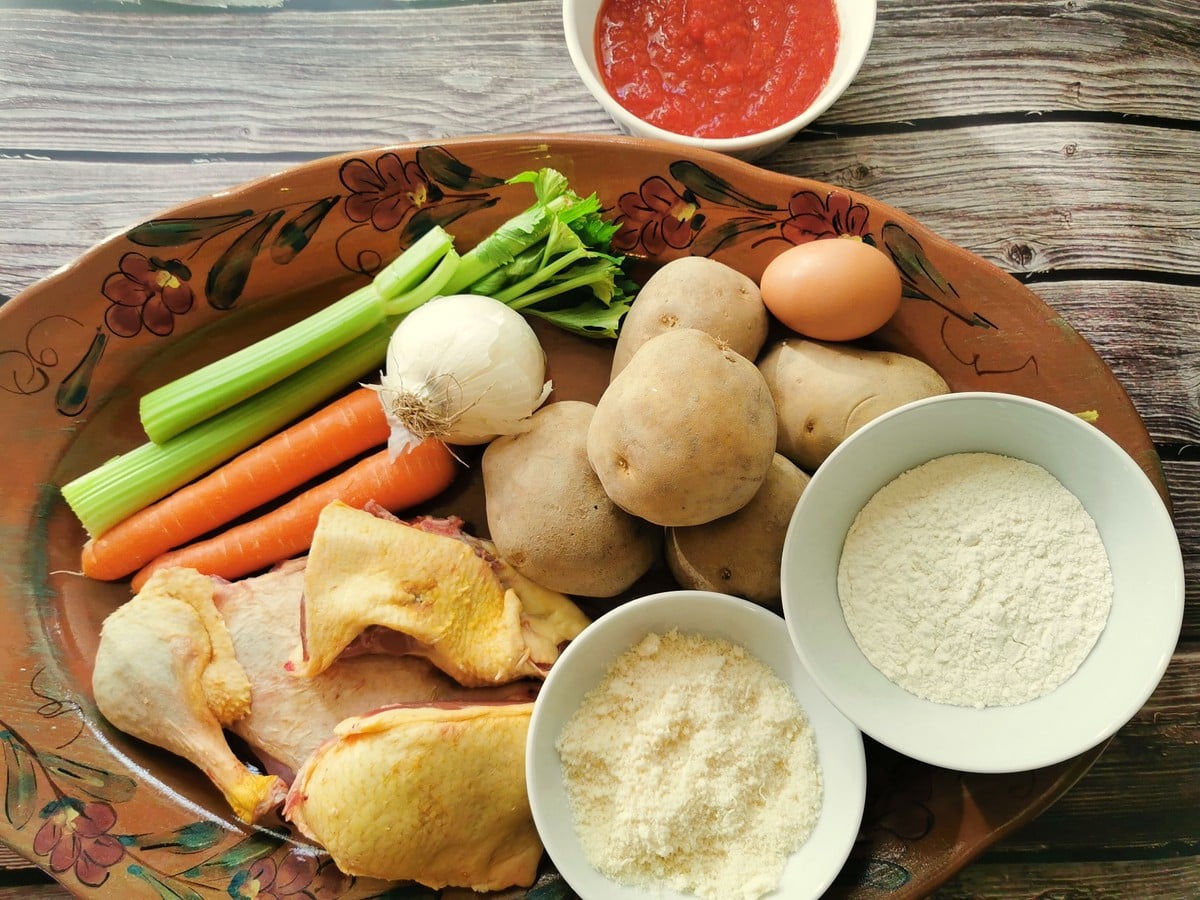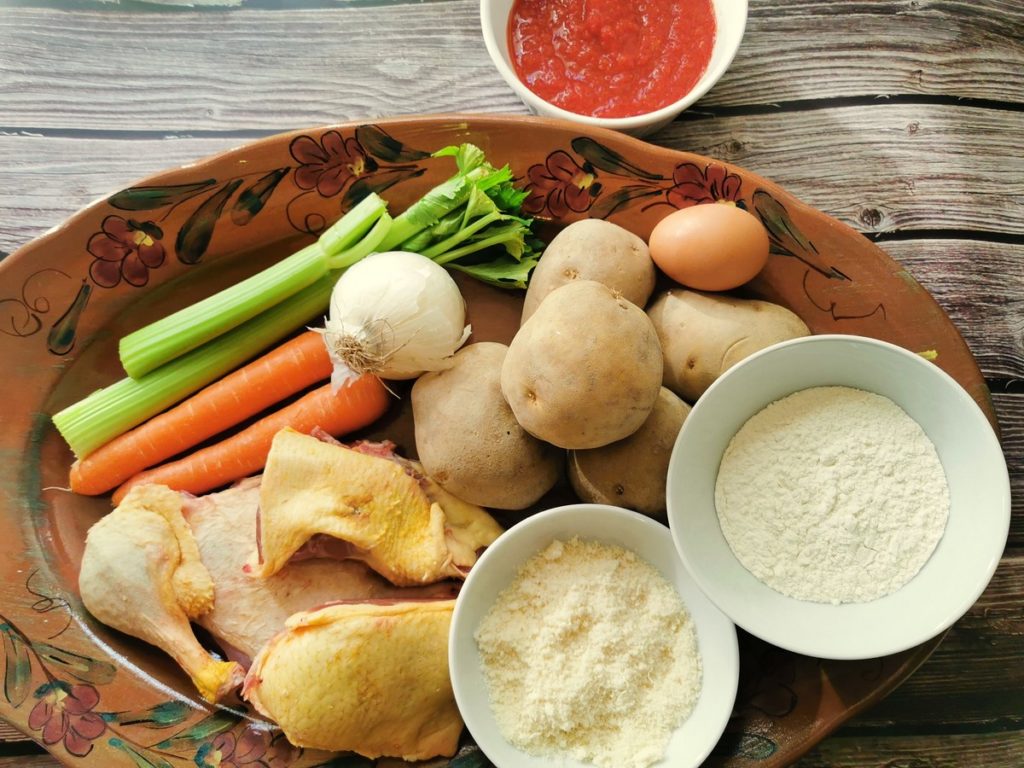 A little about potato gnocchi.
Although Italians have been eating some kind of gnocchi since Roman times, potato gnocchi only date back to the start of the 18th century. This is long after potatoes were brought to Europe from South America by Spanish explorers and introduced to Italian kitchens. During the 16th and 17th century, potatoes were regarded with suspicion in most parts of Europe. In fact, they were used only as animal feed, as food for prisoners of war and as sustenance for the starving!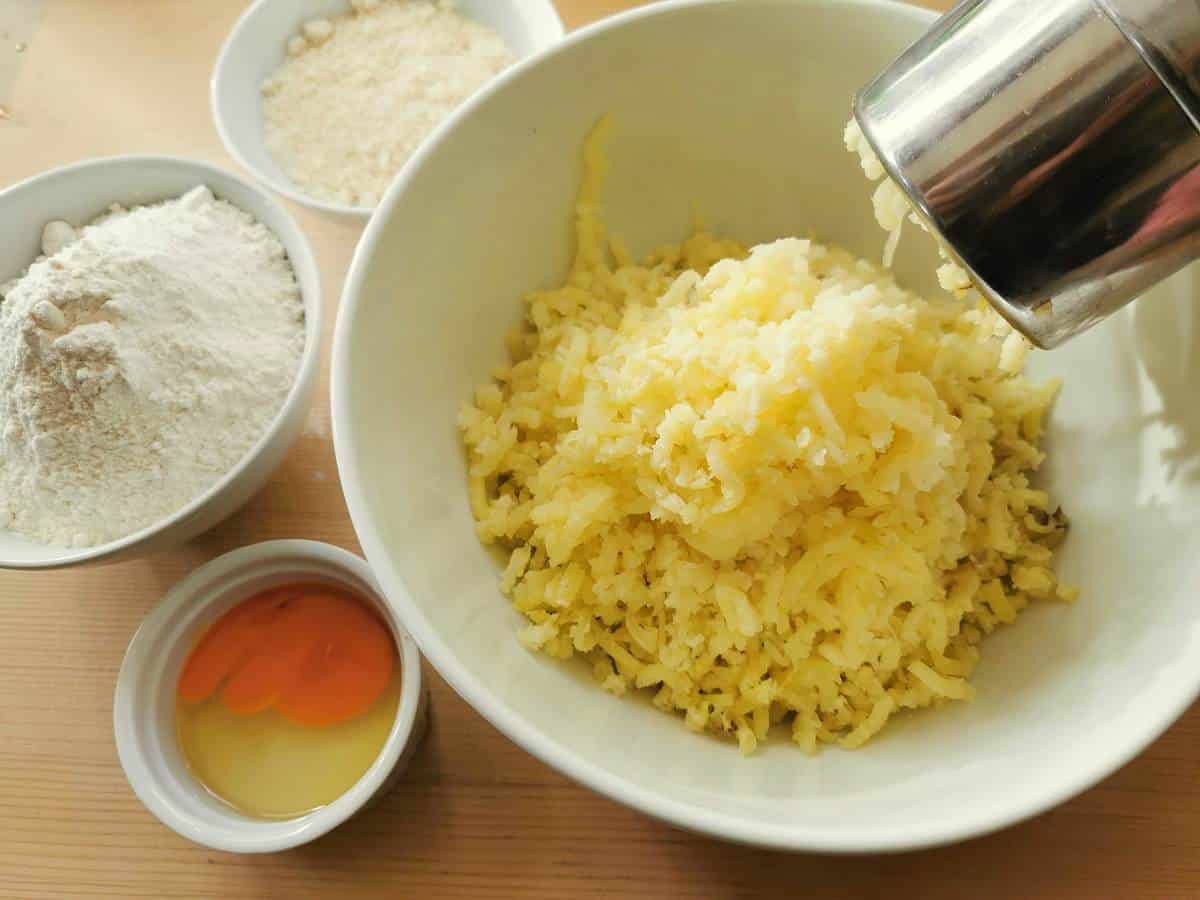 Today, potato gnocchi are traditional throughout Northern and Central Italy. You can find them made with eggs, like in this recipe, or with just flour and water. With eggs or without, potato gnocchi are pretty easy to make. The secret is in the type of potato. The best potatoes are dry and floury with white or light yellow flesh. I often use Russet potatoes, which are the most popular here in Italy. But I have read you can also use Desiree potatoes or even King Edwards.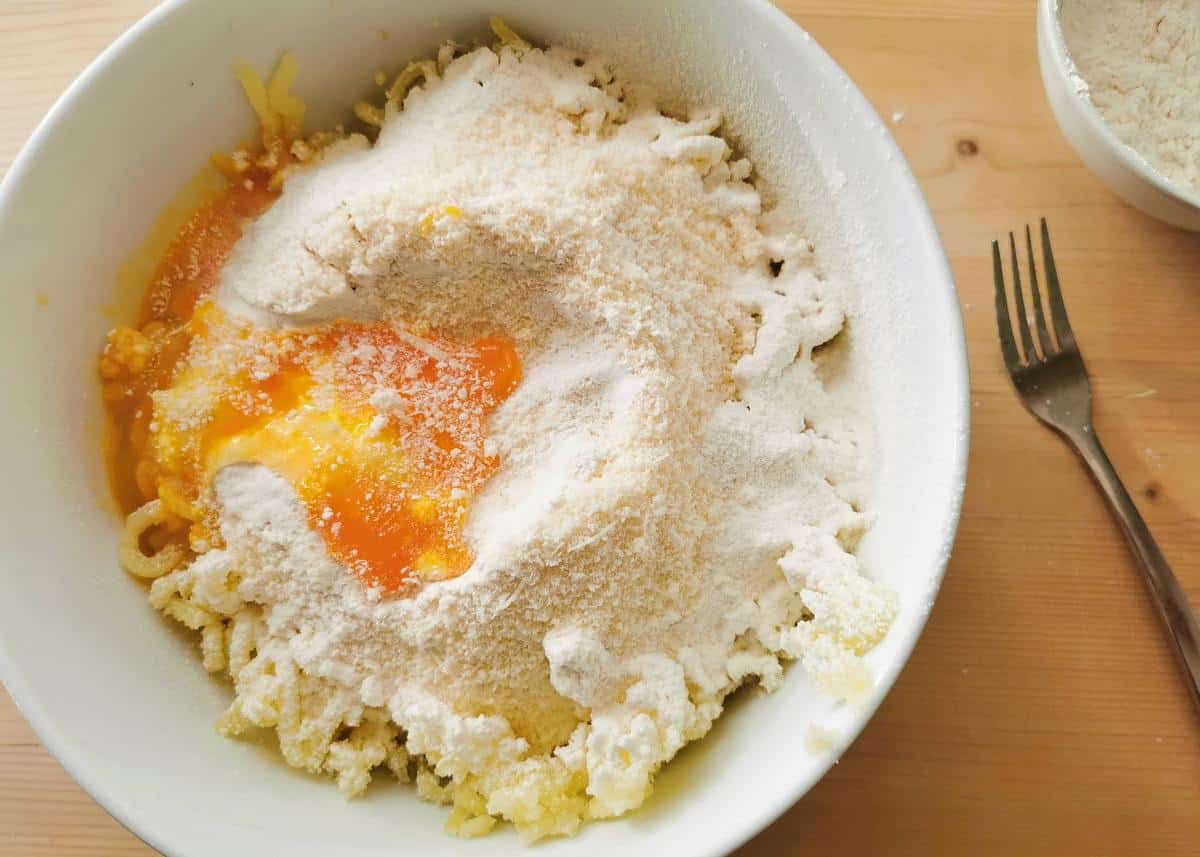 For this recipe I used potatoes from Bologna (patate di Bologna DOP). These are oval with a light yellow flesh. Apparently, the variety of this potato is 'primula' and it's only really grown here in Italy. However, seeds and even the potatoes themselves can be bought in other countries. If you find them, grab them! The gnocchi I made with them were divine, so light and pillowy!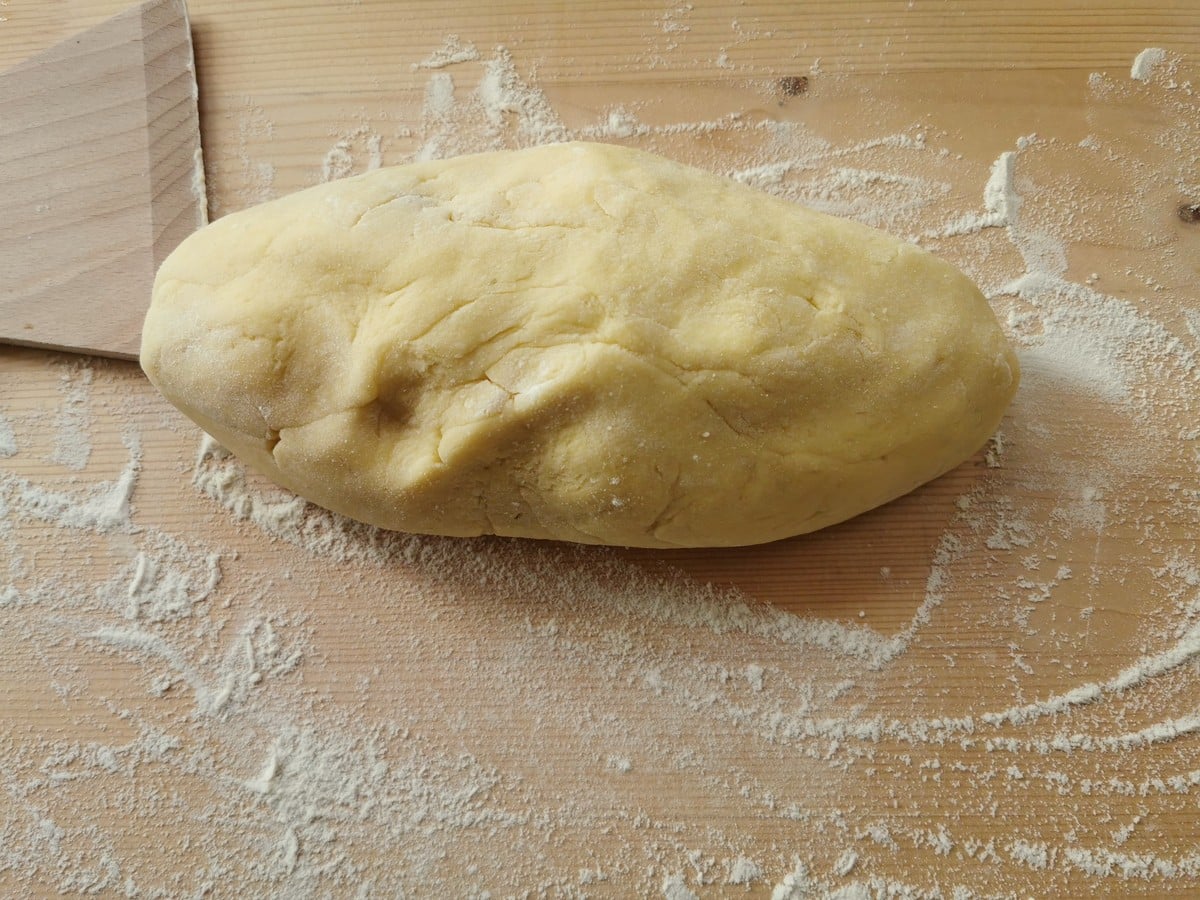 But, if you can't make your own gnocchi, don't despair! Use ready-made gnocchi. This duck ragu gnocchi dish will taste wonderful anyway!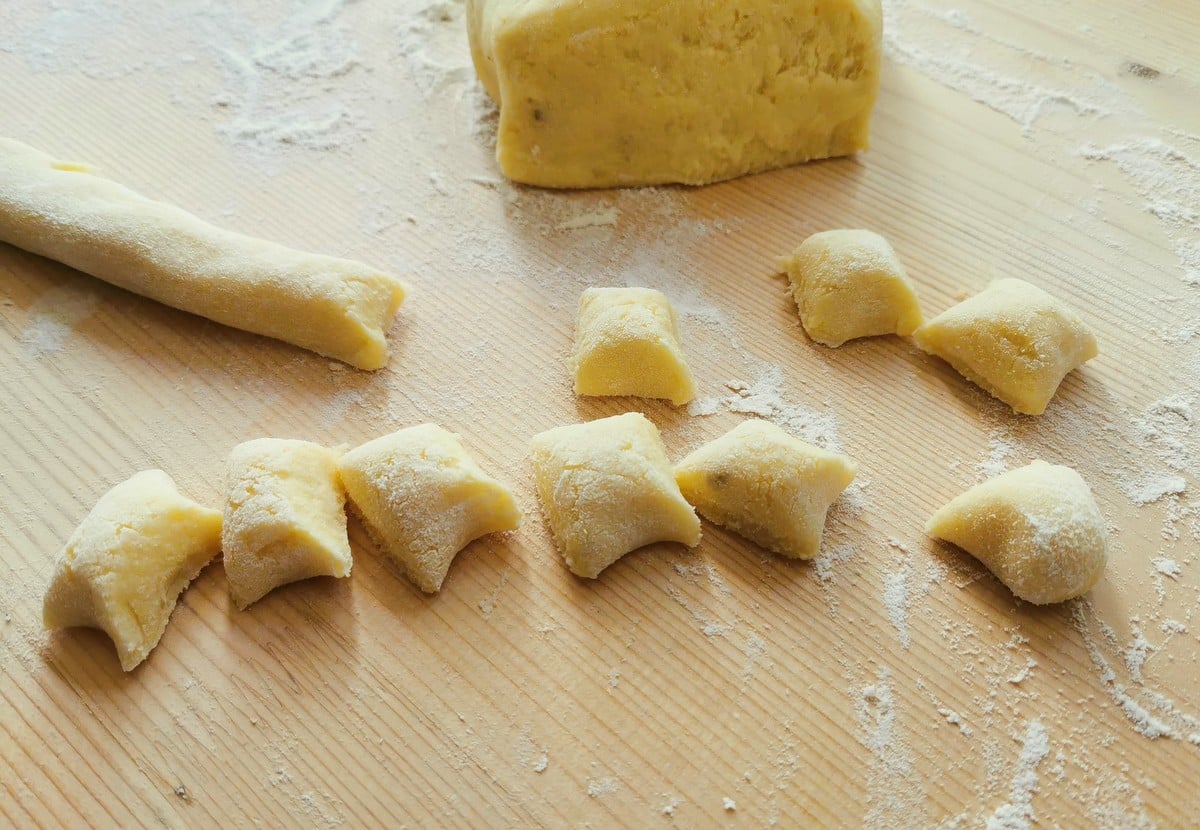 Making these potato gnocchi.
The recipe for these homemade potato gnocchi is much like most others. The main difference is that the gnocchi dough has Parmigiano cheese in it. Also, these gnocchi are not normally grooved. In fact, these are small squares of dough that you need to squash down a little to make a slight cavity in them. This is the traditional way they make them in Le Marche.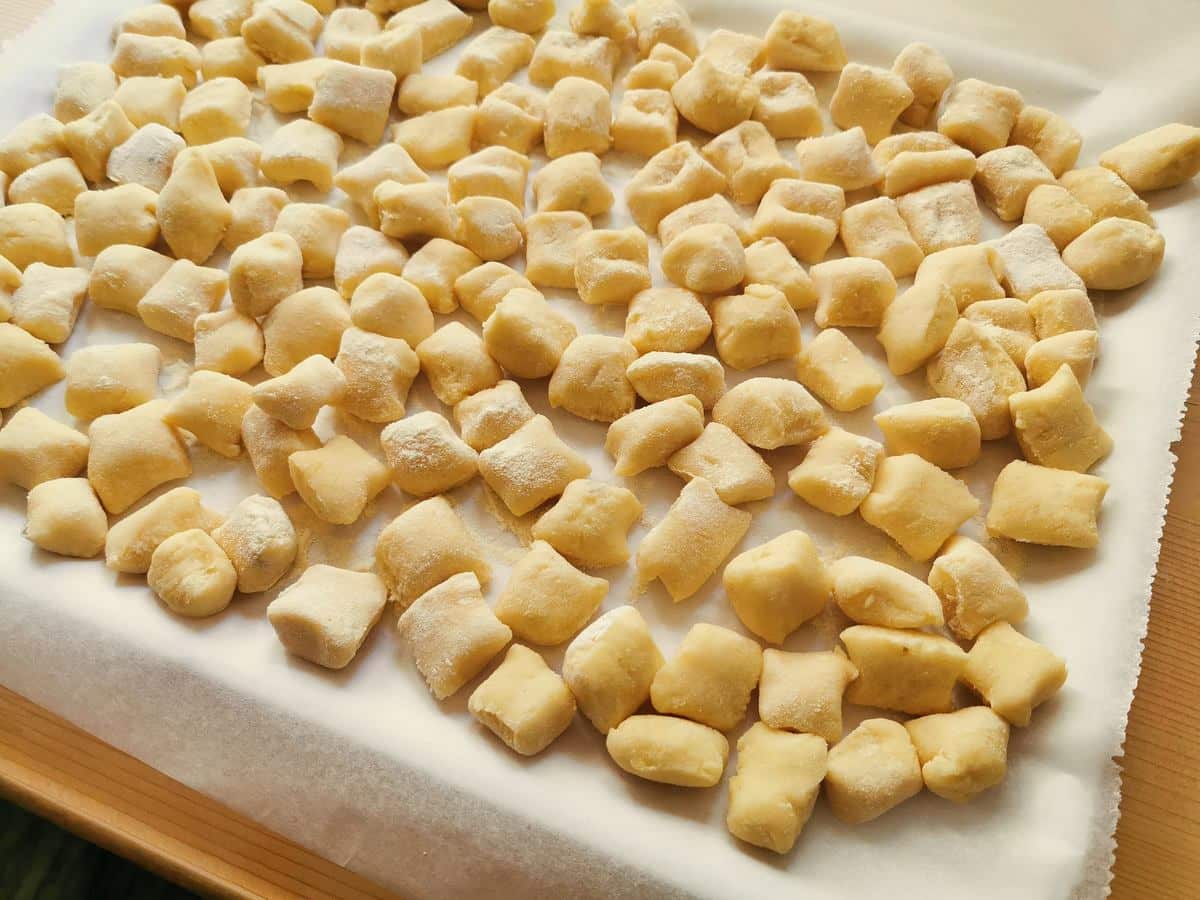 But, you can also make grooves in them using the tines of a fork or a gnocchi board. Check out my homemade potato gnocchi recipe or the pumpkin gnocchi recipe to see what those look like. You can even serve this duck ragu with pumpkin gnocchi if you prefer! I haven't tried it but I bet it's delicious!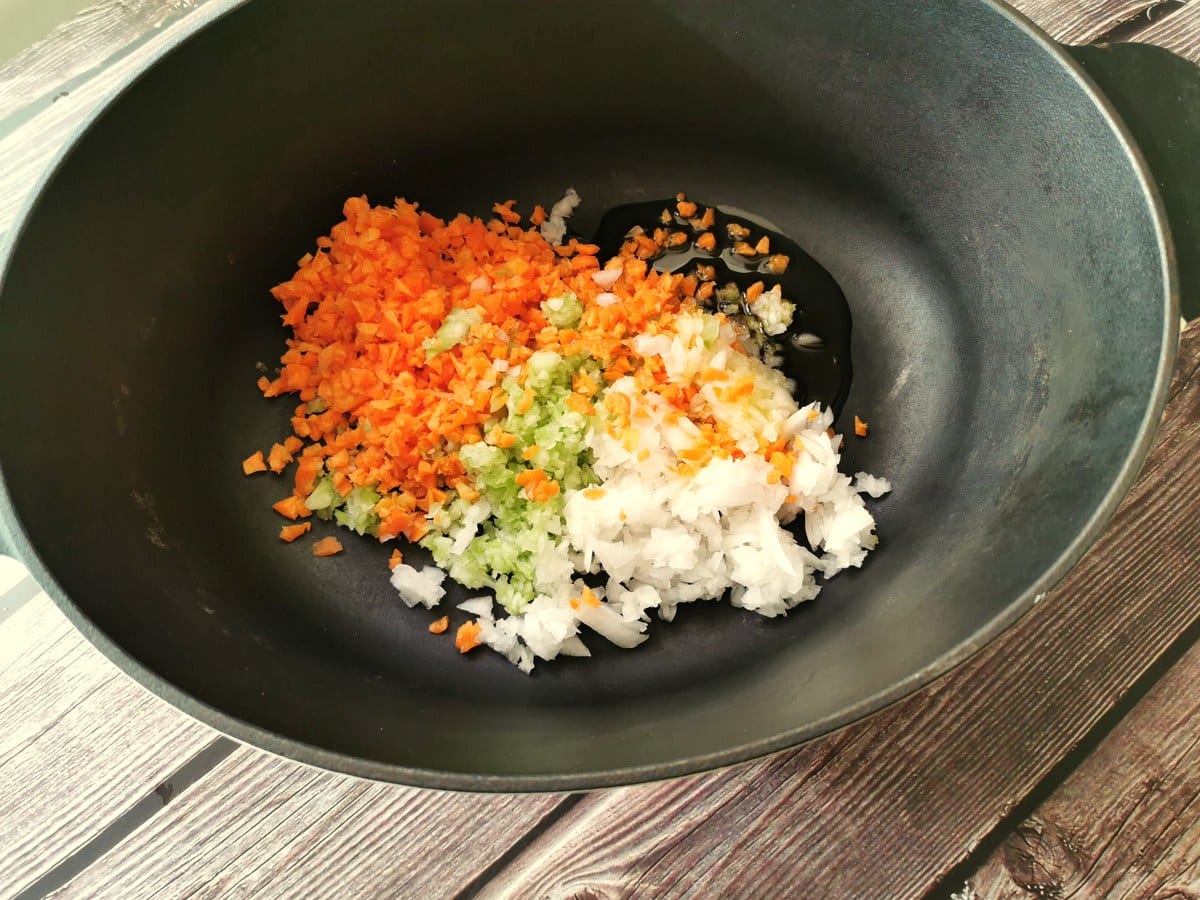 The duck ragu for this recipe.
The only other recipe I have for duck ragu on The Pasta Project is the one I mentioned above from Veneto. These two recipes are pretty similar, but not identical. In fact, this one is a little simpler as it has fewer ingredients. But, that doesn't mean it doesn't taste as good! Both are delicious!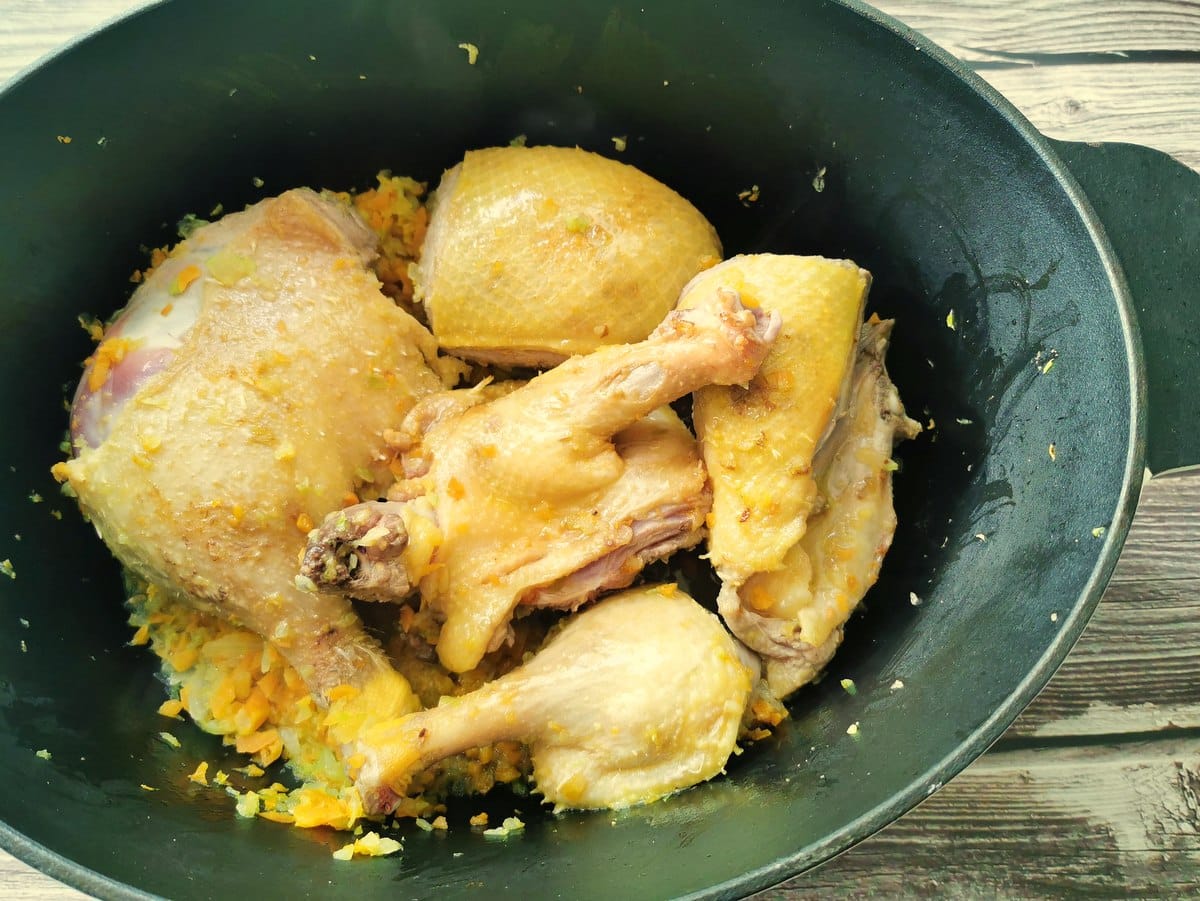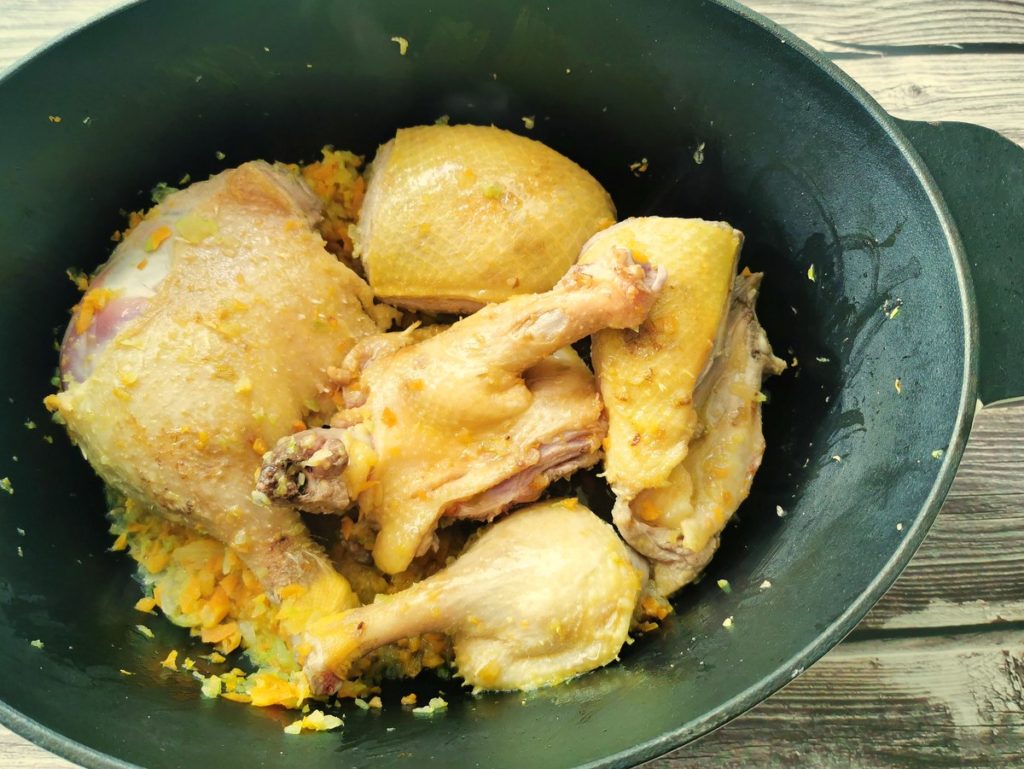 For this duck ragu, you will need duck pieces, onions, celery, carrots, white wine, tomato passata and tomato paste. The steps for making this sauce are similar to many Italian pasta ragu recipes. Sauté the 'sofritto' (onions, carrots and celery), add the duck, brown it, add the wine and let the alcohol evaporate. Finally add the tomato passata and tomato paste. Then just simmer until the duck is cooked. Pretty easy, right?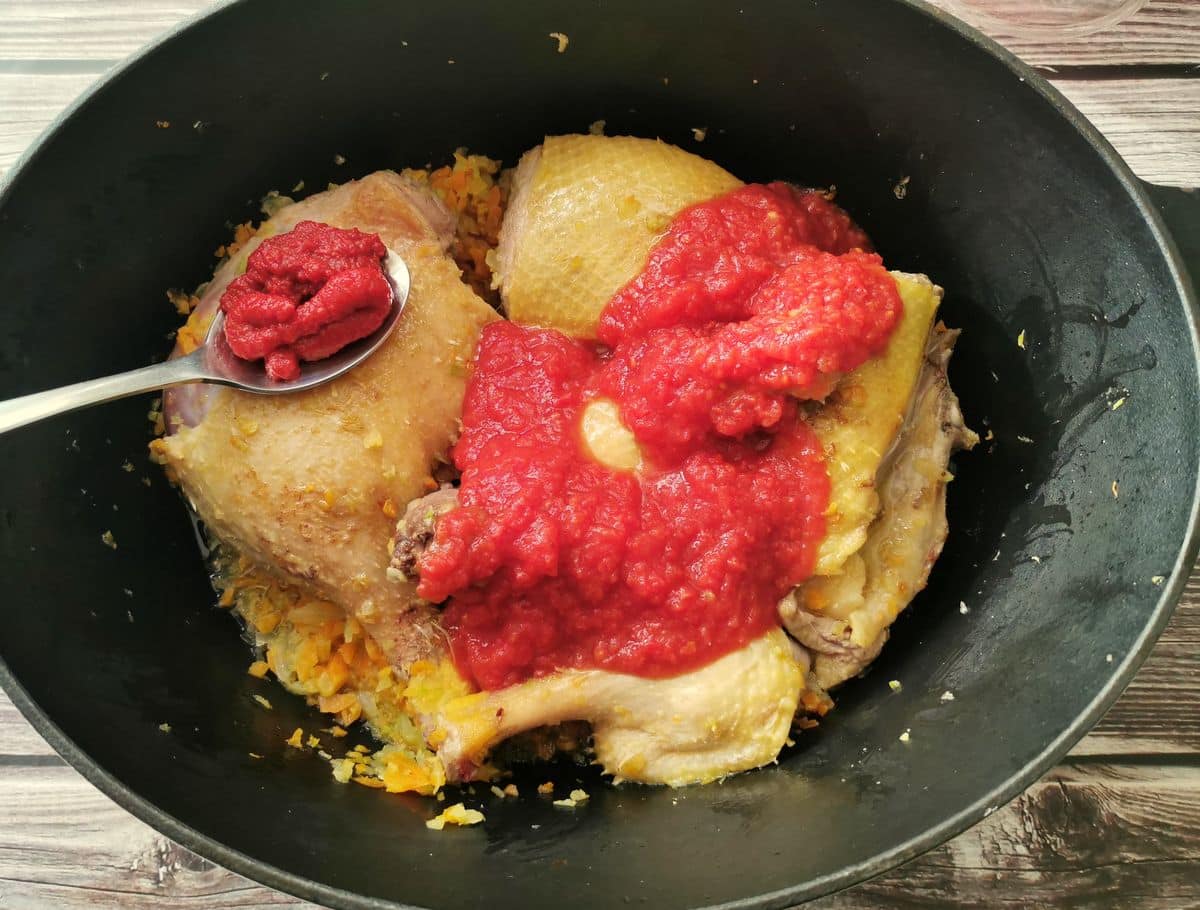 Variations of this duck ragu from the Marche.
I found this recipe in my favouite Italian cookbook called La Cucina: The Regional Cooking of Italy. This book is published by the Italian Academy of Cuisine, so all the recipes are authentic. However, like every popular Italian recipe, there are slightly different versions.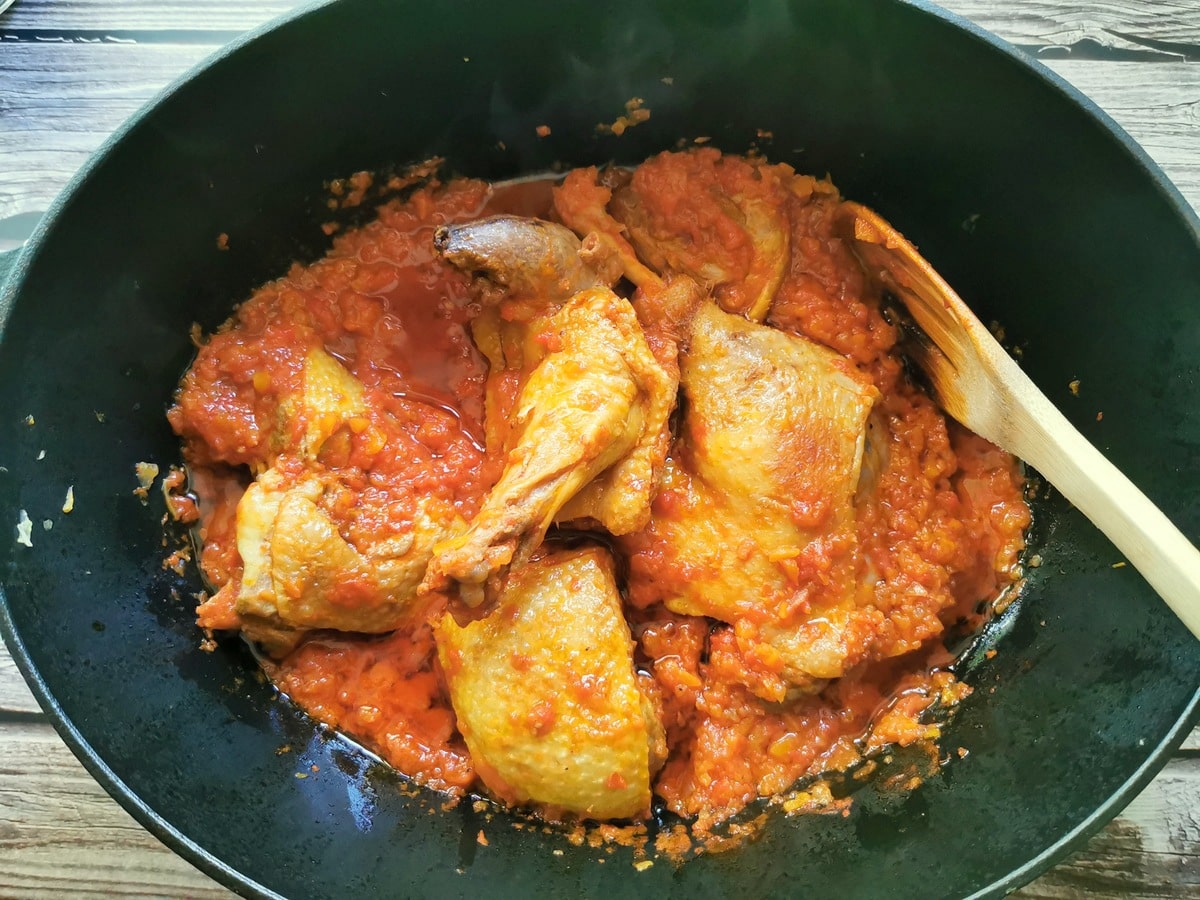 My only deviation from the original recipe was to add a little fresh rosemary. However, some recipes include a couple of cloves and some nutmeg and marjoram. Others add parsley and sage. I also came across recipes for this gnocchi with duck which had other meat in the sauce, particularly veal hind shank or other cuts that need slow cooking. I didn't add other meat.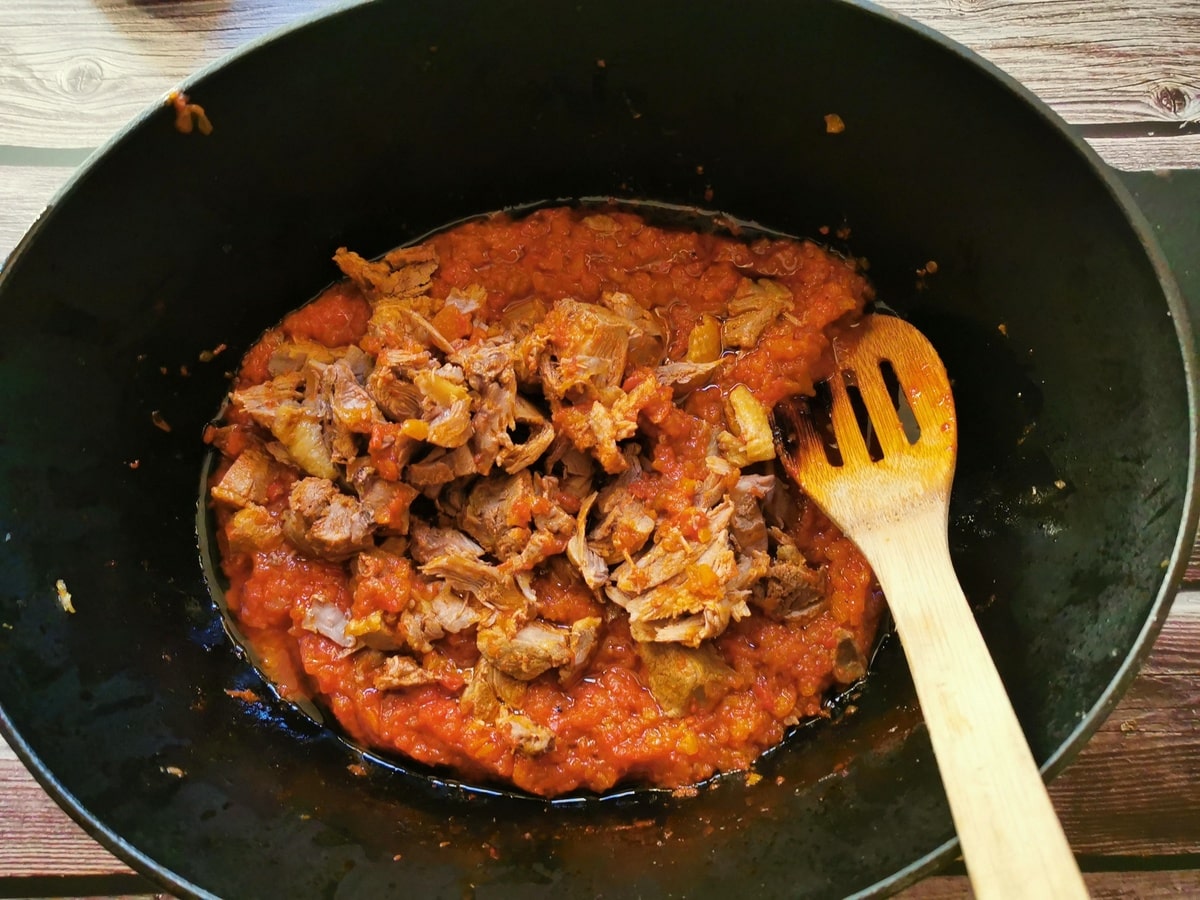 Duck can be fatty! So if you prefer, it's an idea to remove the skin and fat from the duck pieces before cooking. I think the fat adds flavour. So, I usually drain off any excess oil once the ragu is ready.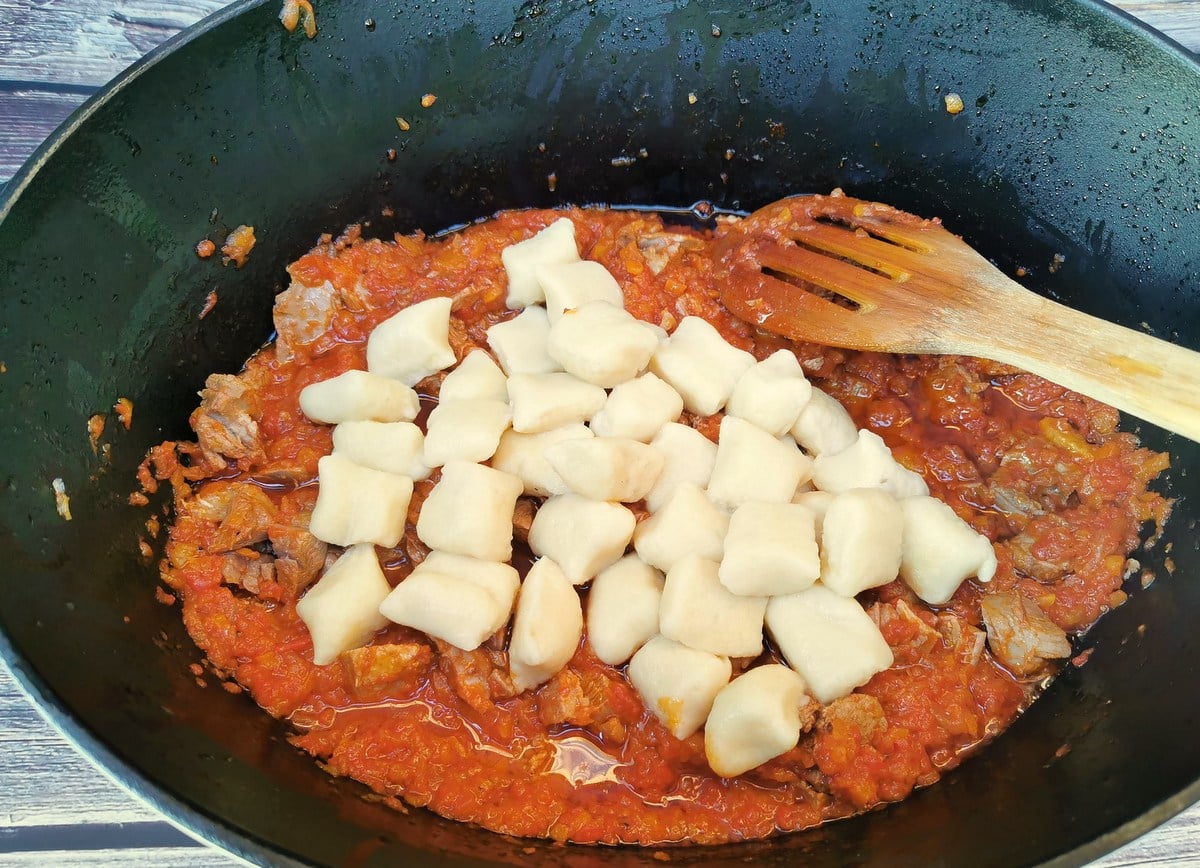 Make this recipe faster.
If you want to get this dish on the table faster, you can also make this dish using ready-made potato gnocchi and ready deboned duck. Whether you make it that way or as I have done, I'm sure you'll be adding this dish to your special occasion menu!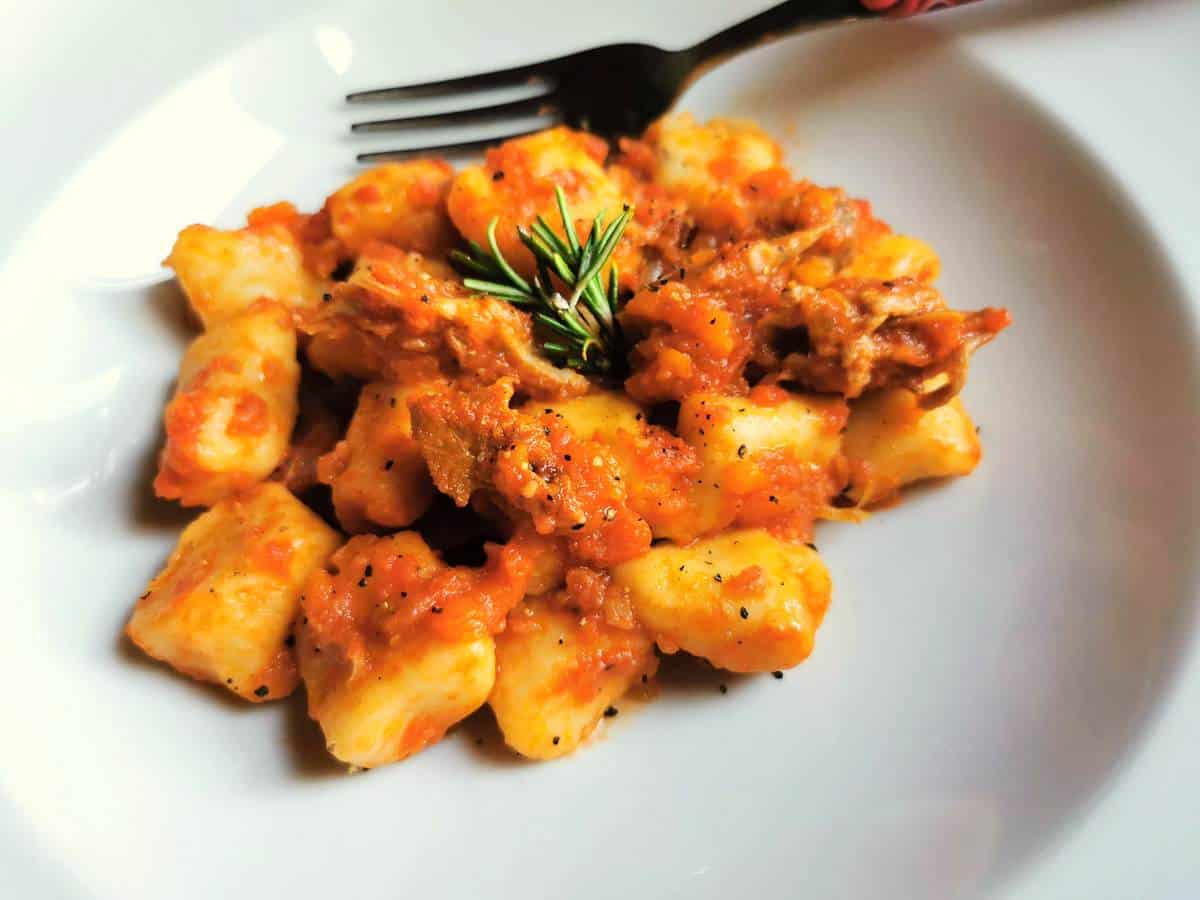 Please do let me know if you make this super dish. I'd love to hear how it turns out and if you liked it. Please leave a comment here on the blog or on The Pasta Project Facebook page.
Looking forward to hearing from you!
Buon Appetito!
Save this recipe for later?
If you want to save this recipe for later, you can print it, bookmark this page or save it to Pinterest.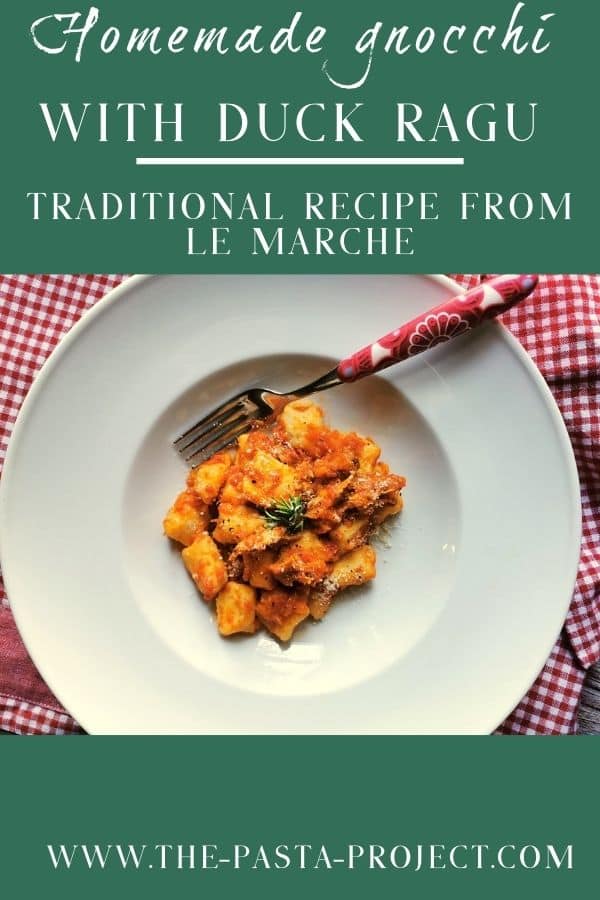 Other delicious gnocchi recipes to try.
If you are interested in learning how to make homemade pasta and other types of gnocchi, check out my shop page for some great video online courses from my friends in Rome! Nothing beats learning to make pasta from Italians! Plus while you're there why not order a copy of my newly published autumn/winter pasta recipes cookbook!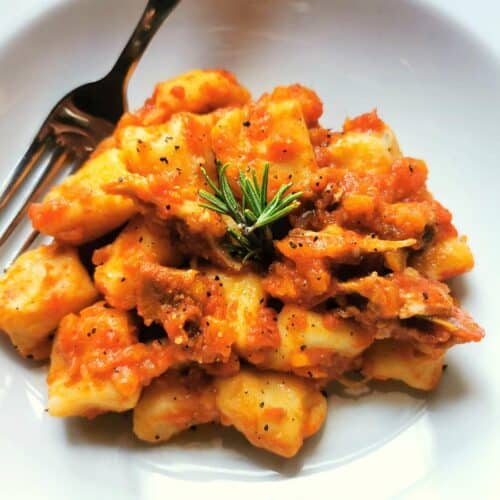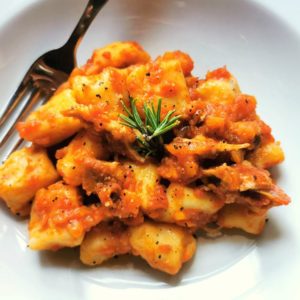 Homemade Gnocchi with Duck Ragu: Recipe from Le Marche
A rich and tasty recipe of homemade potato gnocchi served with duck ragu. A perfect special occasion or Sunday lunch dish that will definitely impress your friends and family.
Ingredients
For the gnocchi
1

kg

potatoes

(2lbs) with white or light yellow floury flesh such as Russets, Primula, Desiree,

250

g

all-purpose flour

(9oz) or Italian '00' flour.

1

egg

large

1

pinch

salt

2

tbsp

Parmigiano Reggiano

grated
For the duck ragu
1

kg

Duck pieces

(2lbs)

1

onion

peeled and finely chopped

2

carrots

washed and finely chopped

2

stalks

celery

washed and finely chopped

450

g

tomato passata

(16oz)

2

tbsp

tomato paste/concentrate

mixed with hot water

1/2

glass

white wine

1

tsp

fresh rosemary

chopped

3-4

tbsp

extra virgin olive oil.

salt

to cook gnocchi and to season duck

freshly ground black pepper.

to taste
Instructions
Make the potato gnocchi
Boil the potatoes in lightly salted water until soft. Drain and let them cool a little. I pass the potatoes through a potato ricer to puree them. So I don't peel them first because the peel stays in the ricer. But if you are going to use a food mill or just mash them with a fork, you'll need to peel them first.

Gnocchi need to be made with potatoes that are still warm and fluffy so don't let them get cold! But mind you don't burn your fingers when peeling them.

Next put the potato puree in a bowl with the flour, egg, cheese and a pinch of salt. Mix together well then turn out onto a floured pastry board and knead until you have a soft elastic dough! Don't knead too much or too heavily as your gnocchi will be chewy. You need the same lightness you would use for pastry.

Cut a quarter of the dough off and cover the rest with a tea towel to prevent it drying out too quickly. Re-flour your work surface. I used semolina flour (semola in Italian).

Divide the quarter into two and roll each piece out into a rope or snake about as thick as your thumb and cut it into pieces about 2-3 cm wide (3/4-1in). Press your thumb lightly into the gnocchi to form a slight cavity or press against an gnocchi board or the tines of a fork to create grooves. Set the ready gnocchi aside on a lightly floured tray.

 
Make the duck ragu.
Wash the celery and carrots and chop finely. Peel and chop the onion finely too. I use a food processor to chop them very small. Wash the duck pieces and pat dry. Rub a little salt and pepper into the skin.

Heat the olive oil in a deep heavy skillet or Dutch oven. Sauté the onions, carrots and celery until they start to soften. Add the duck pieces skin down and cook until the skin begins to brown. Then turn them over and brown the other side slightly. Pour in the wine and allow the alcohol to evaporate.

Add salt and pepper to taste, and the tomato passata and tomato paste slightly dissolved in hot water. Simmer until the duck is cooked through, about 45-60 minutes depending on the size of your duck pieces. Duck can be eaten slightly pink and may get chewy if overcooked.

When the duck is ready. Remove the pieces from the sauces. Allow them to cool a little and cut the meat off the bones and remove the skin. Cut the duck meat pieces into small chunks. If the sauce seems fatty remove some of the oil before returning the meat to the sauce.
Finish the dish.
Cook the gnocchi in lightly salted boiling water. They are ready when they rise to the surface. Scoop them out with a slotted spoon and add to the duck sauce. Mix everything together with a couple of tablespoons of grated Parmigiano cheese. Serve immediately with a sprinkling of fresh rosemary and more grated cheese if required.
Notes
If you want to get this dish on the table faster, you can also make this gnocchi with duck ragu using ready-made gnocchi and ready deboned duck. The duck will cook faster without bones so make sure it doesn't overcook.
The gnocchi can be frozen uncooked and then cooked from frozen without defrosting. If you cook frozen gnocchi, do so a few at a time as too many will lower the temp of the water. 
To reduce fat content (duck can be fatty) remove skin and fat from the duck before cooking it. 
Nutrition
Calories:
927
kcal
Carbohydrates:
109
g
Protein:
66
g
Fat:
24
g
Saturated Fat:
6
g
Polyunsaturated Fat:
3
g
Monounsaturated Fat:
11
g
Trans Fat:
0.01
g
Cholesterol:
235
mg
Sodium:
360
mg
Potassium:
2583
mg
Fiber:
11
g
Sugar:
11
g
Vitamin A:
6099
IU
Vitamin C:
83
mg
Calcium:
132
mg
Iron:
19
mg